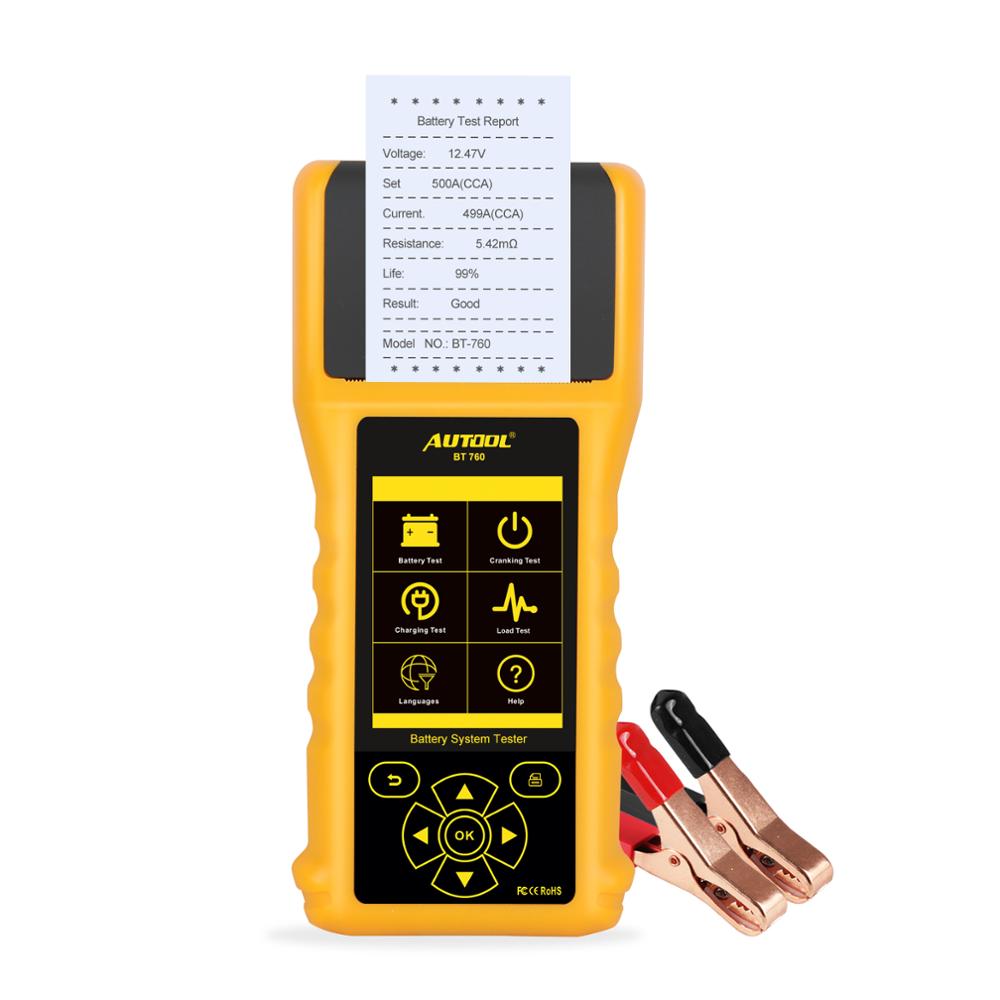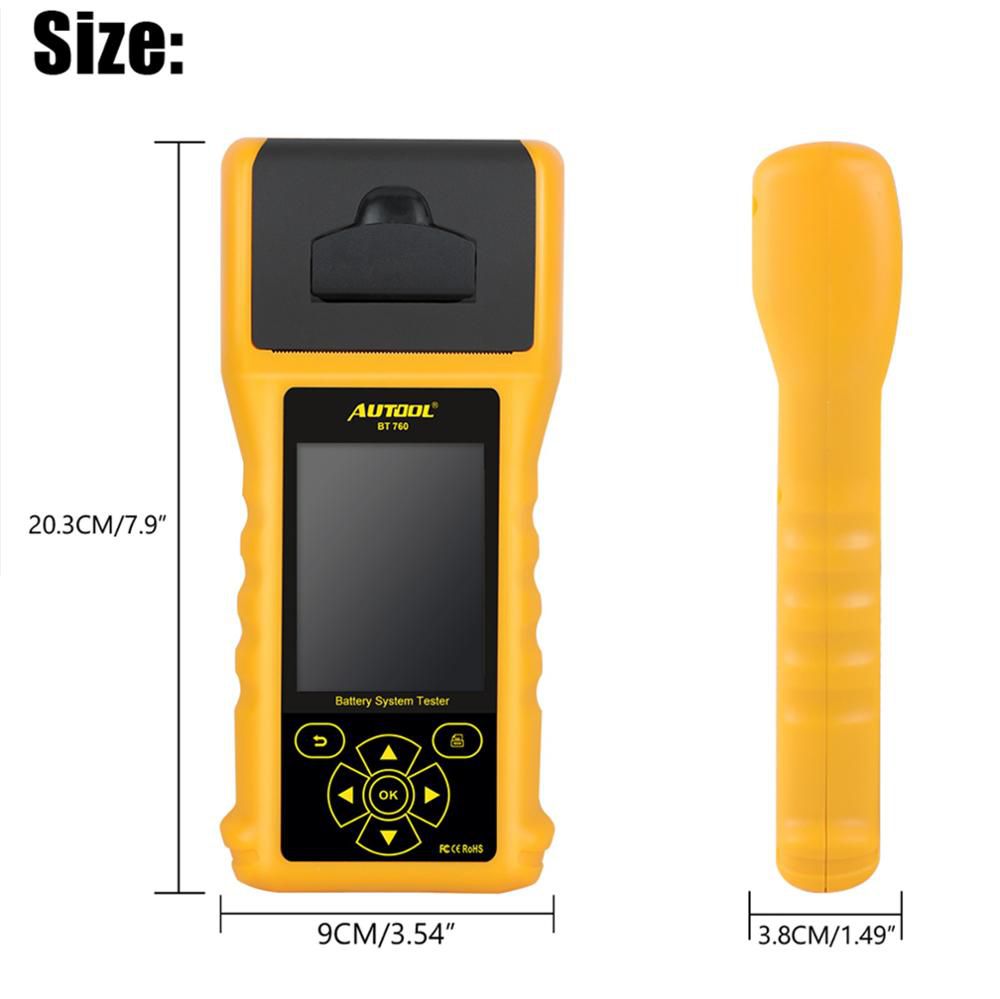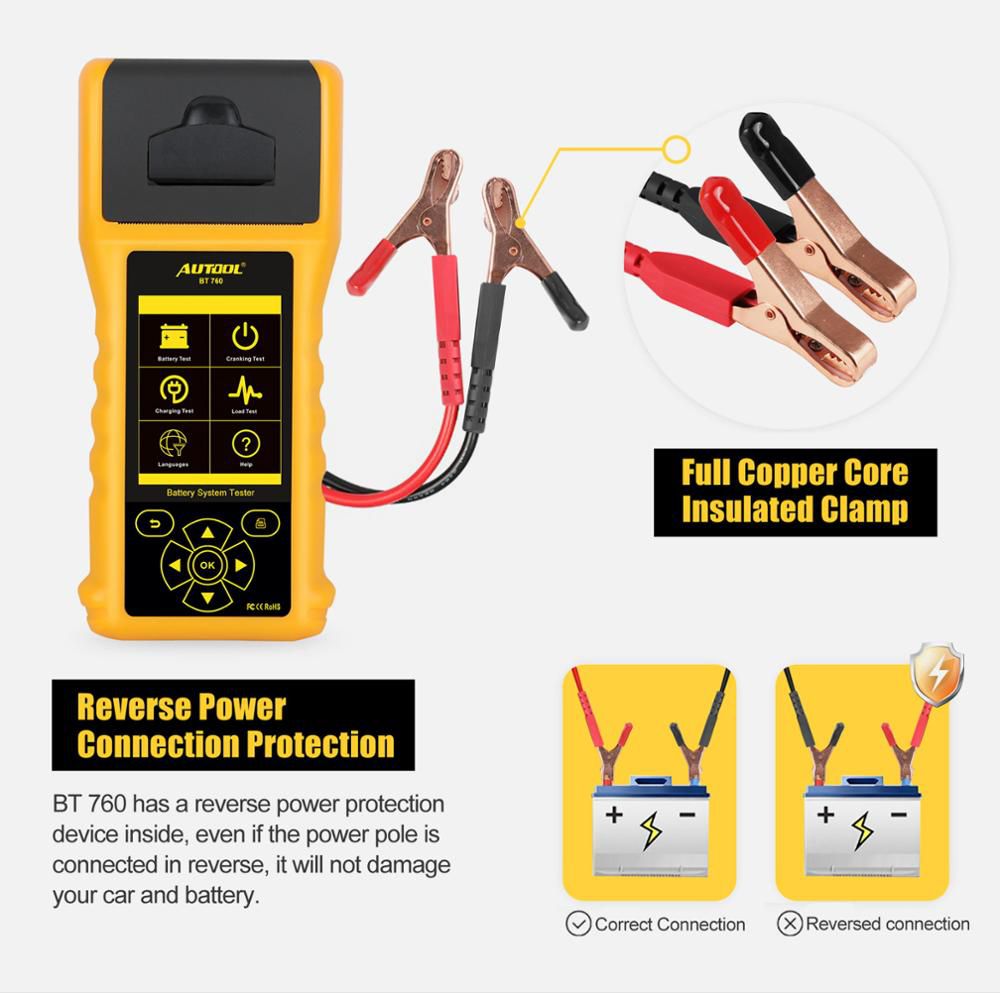 Description
AUTOOL BT760 12V 24V Car Battery Tester 10-2200CCA Car Battery Analyzer Quick Cranking Charging Diagnostic with Thermal Printer
1. Product Summary
1)BT760 can do tests on automotive and motor batteries such as battery test, cranking test, charging test and maximum load test. 2)Test all automotive cranking lead acid battery, including ordinary lead acid battery, AGM flat plate battery, A
GM
spiral battery, and Gel battery, etc. 3)Directly detect bad cell battery. 4)Polarity reverse connection protection, reverse connection will not damage the tester or affect the vehicle and battery. 5)Directly test the battery with power shortage, no need to fully charge it before testing. 6)Testing standards include currently the world's majority of battery standards, CCA, JIS, DIN, IEC, EN, SAE, GB. 7)Support multiple languages, customer can select different language package, which including English, Russian, Spanish, French, German, etc. Other customized language version are also provided.

2. Product Function
Battery test is mainly targeted to analyze the battery healthy status to calculate the actual cold cranking capability of the battery and the aging extent, which provide reliable analysis evidence for the test and maintenance of the battery. It notifies the user to replace battery in advance when the battery getting aged.Cranking test is mainly to test and analyze the starting motor. Through testing the actual required cranking current and cranking voltage of the starting motor, it can find out whether the starting motor works fine. There are several reasons why the starting motor is abnormal: lubricating system fault causing the starting loaded torque increasing or rotor friction of the starting motor causing the increasing friction of the starting motor itself.Charging test is to check and analyze the charging system, including generator, rectifier,rectifier diode, etc., thus to find out whether the output voltage of the generator is normal,the rectifier diode works fine and the charging current is normal. Suppose one of the above mentioned parts is not in normal situation, it will lead to over charge or incomplete charge of the battery, thus the battery will be quickly damaged and also greatly shorten the using life of other loaded electrical appliance. Load test is the test of battery pack, DC power supply, UPS backup battery maintenance and capacity detection.

3. Working Steps
Shake the clamps back and forth to make sure they are well connected. Tester requires the two clamps well connected with the battery poles, otherwise, the test can not go on. The red to the positive and the black to the negative, then the tester display will show the starting interface. * When the measured battery voltage is lower than 6.0V, the normal test cannot be performed. Press OK to continue. * Cold Cranking Amps Measure Range: CCA (USA): 20-3000; IEC (International): 20-2500; EN (Europe): 20-3000; DIN (Germany): 20-2500; JIS (Japan): 26A17-N200Z ; Other Species. 2.Voltage Measure Range: 6v~ 30v DC.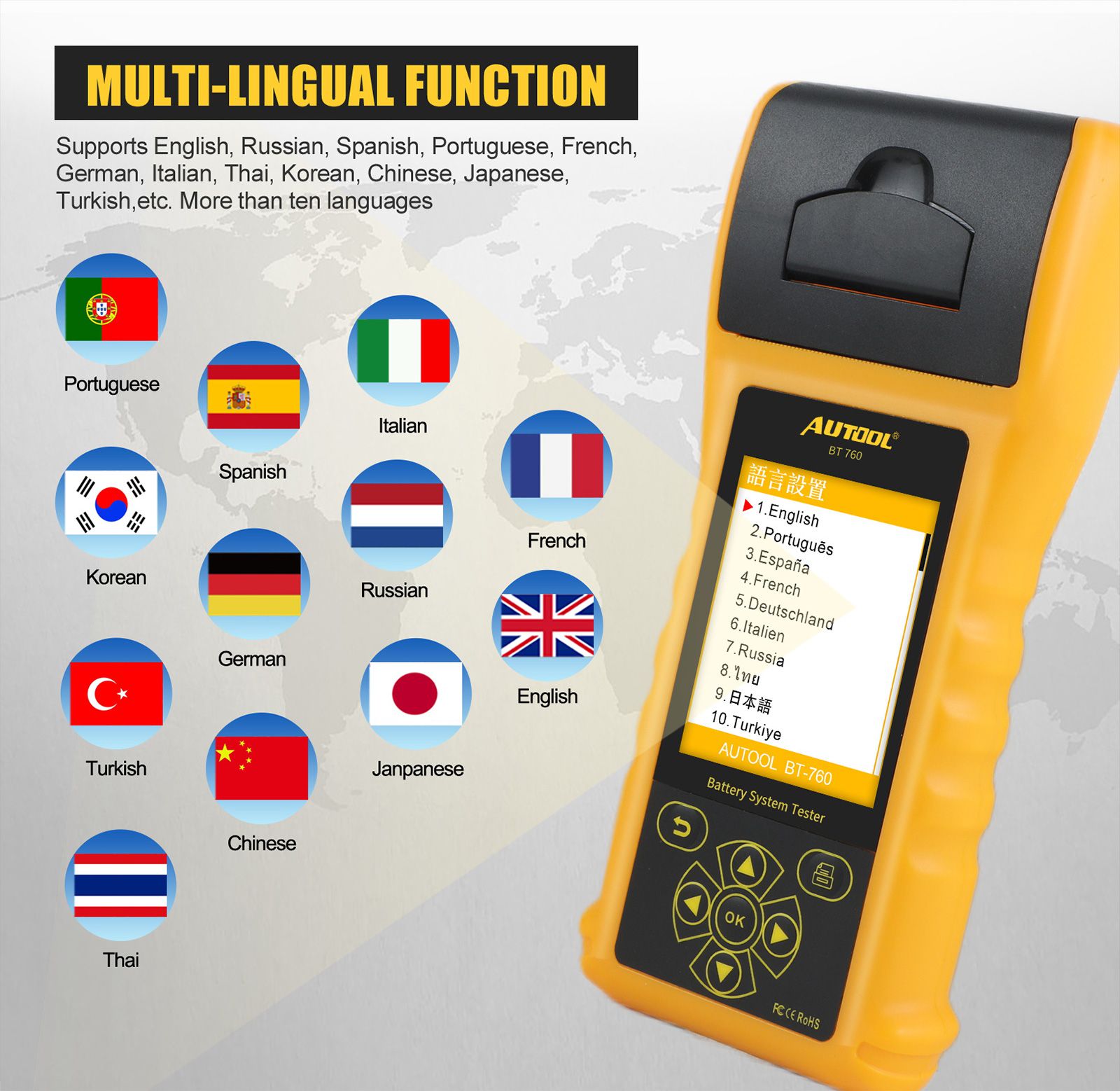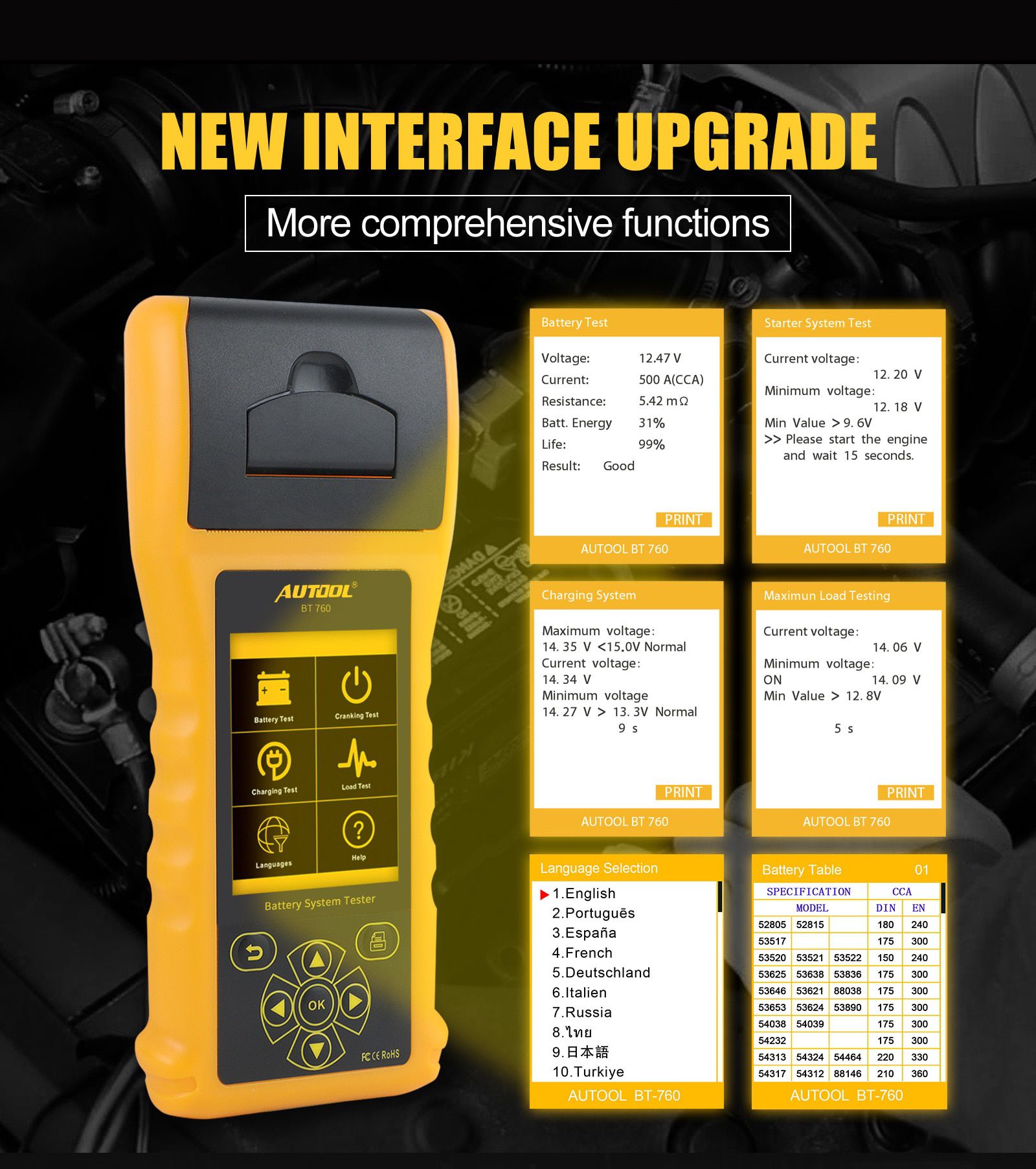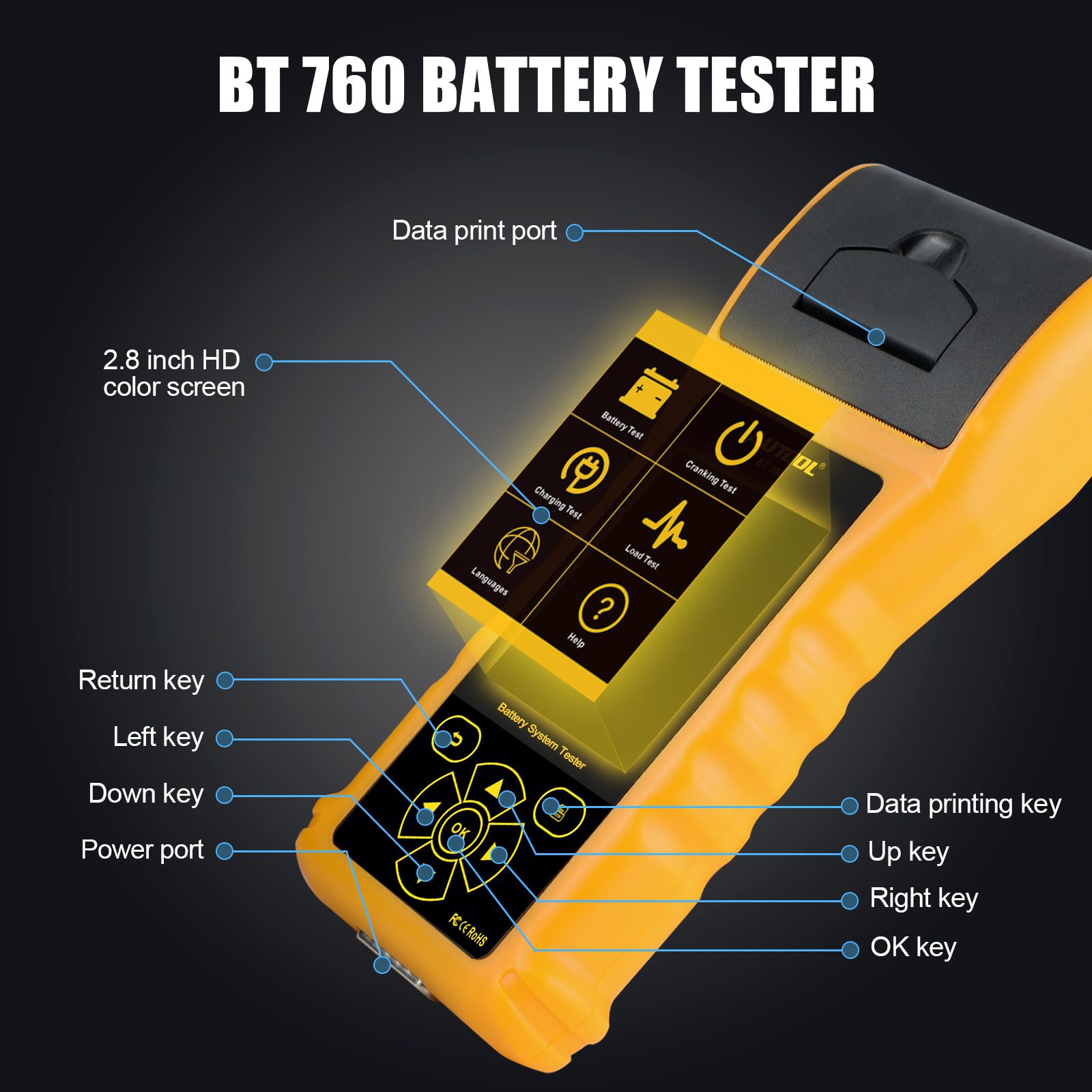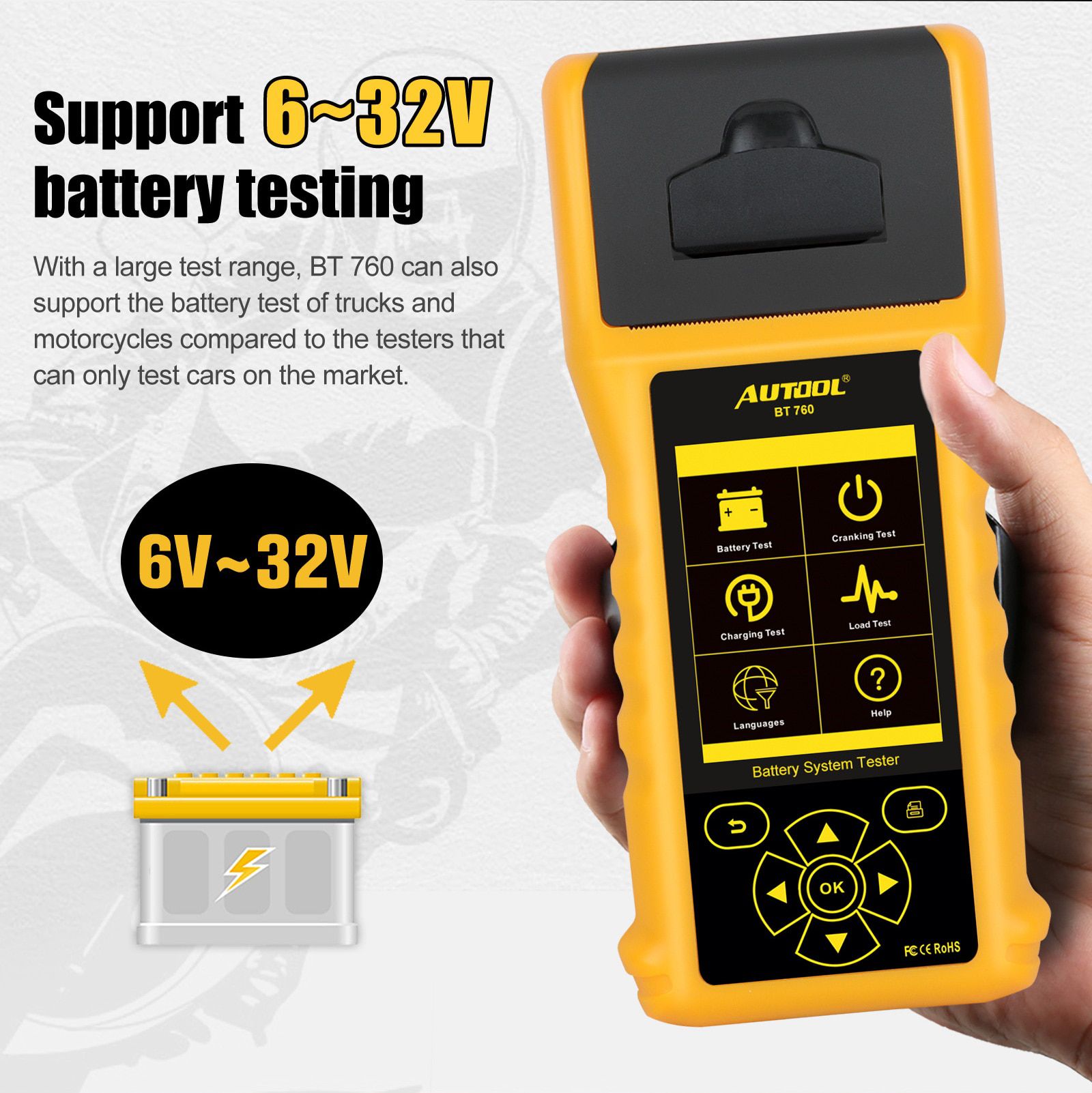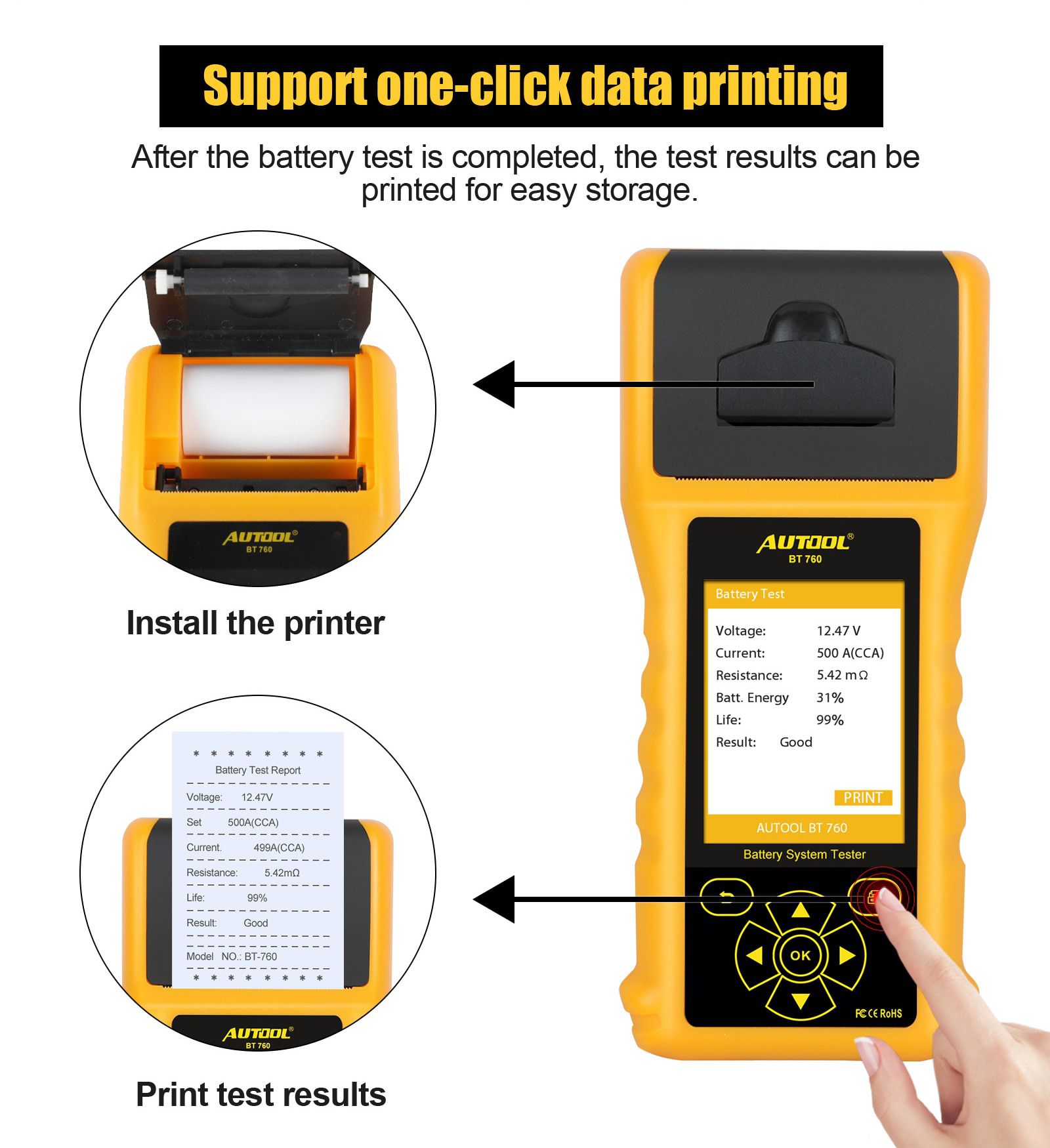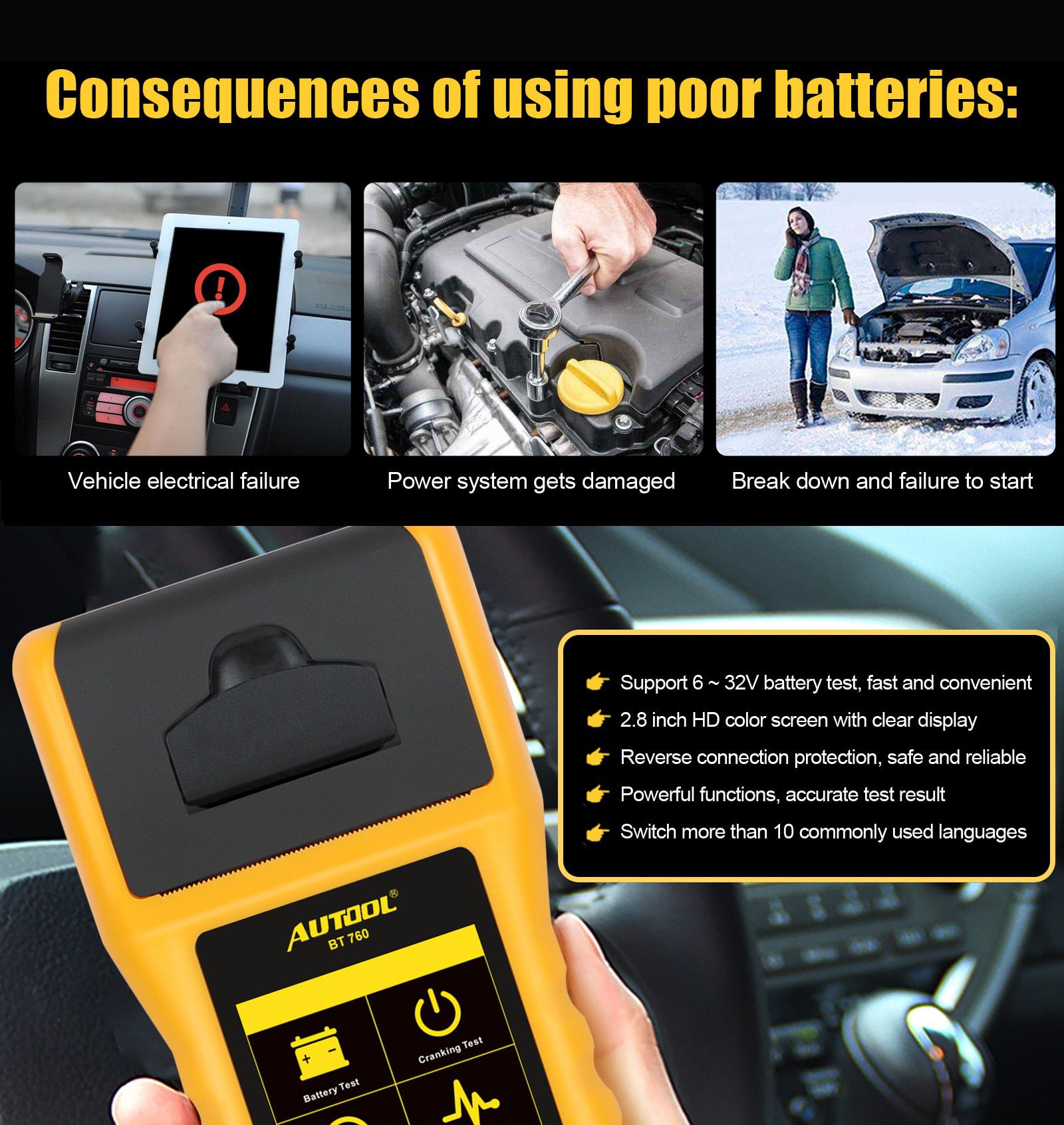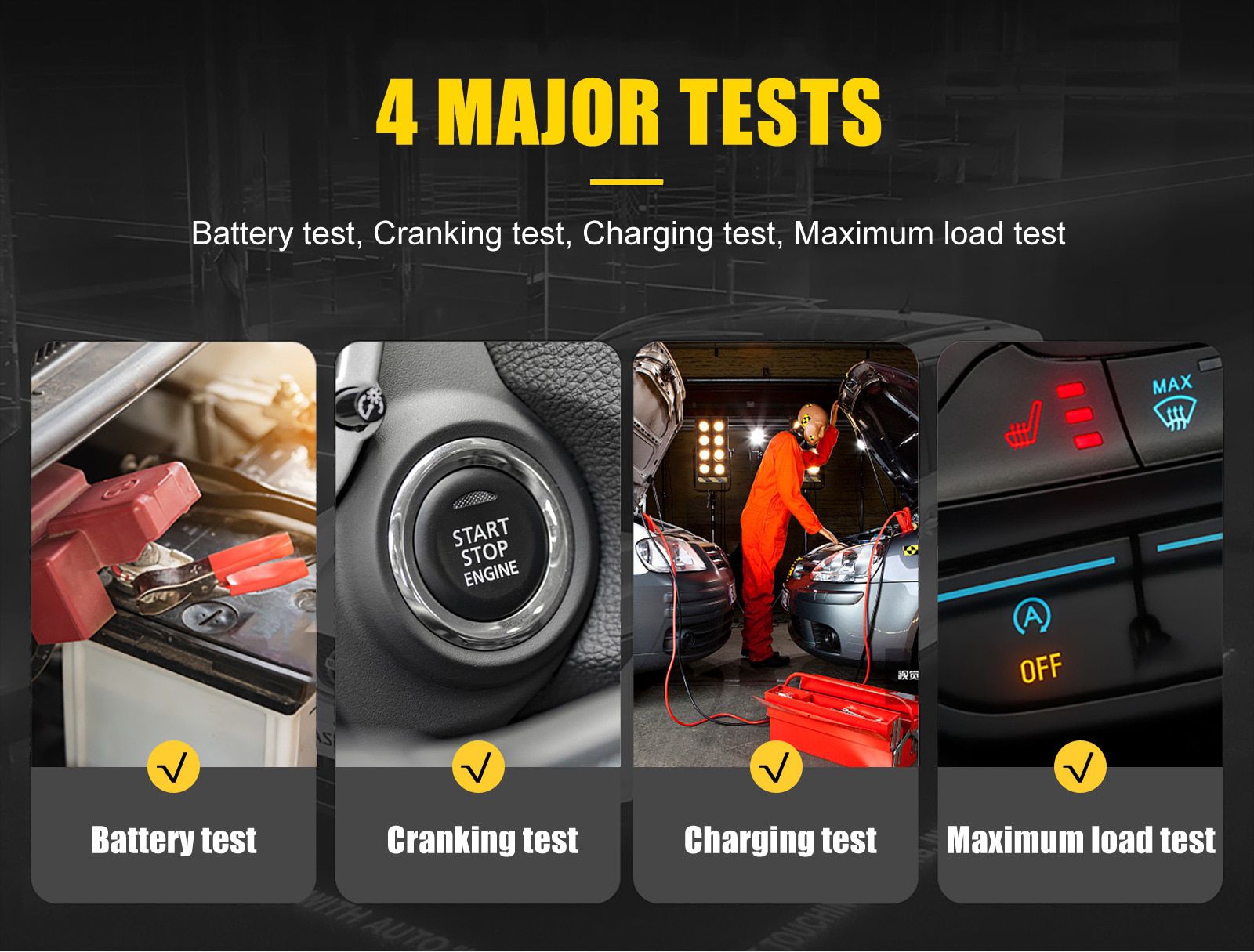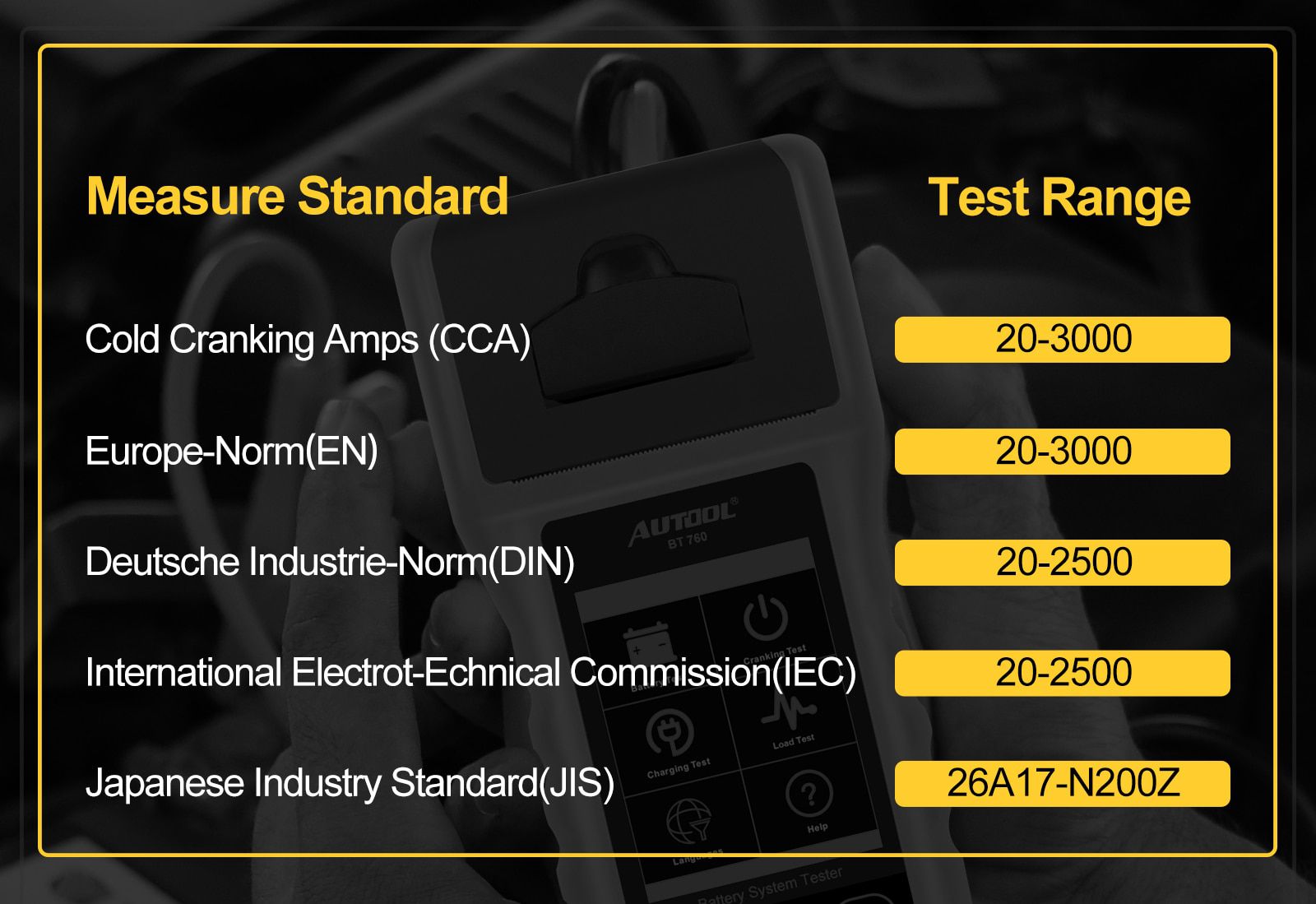 Package Included
1* BT760 Unit;
1* USB Cable;
1* User's Manual;
1* Packing Box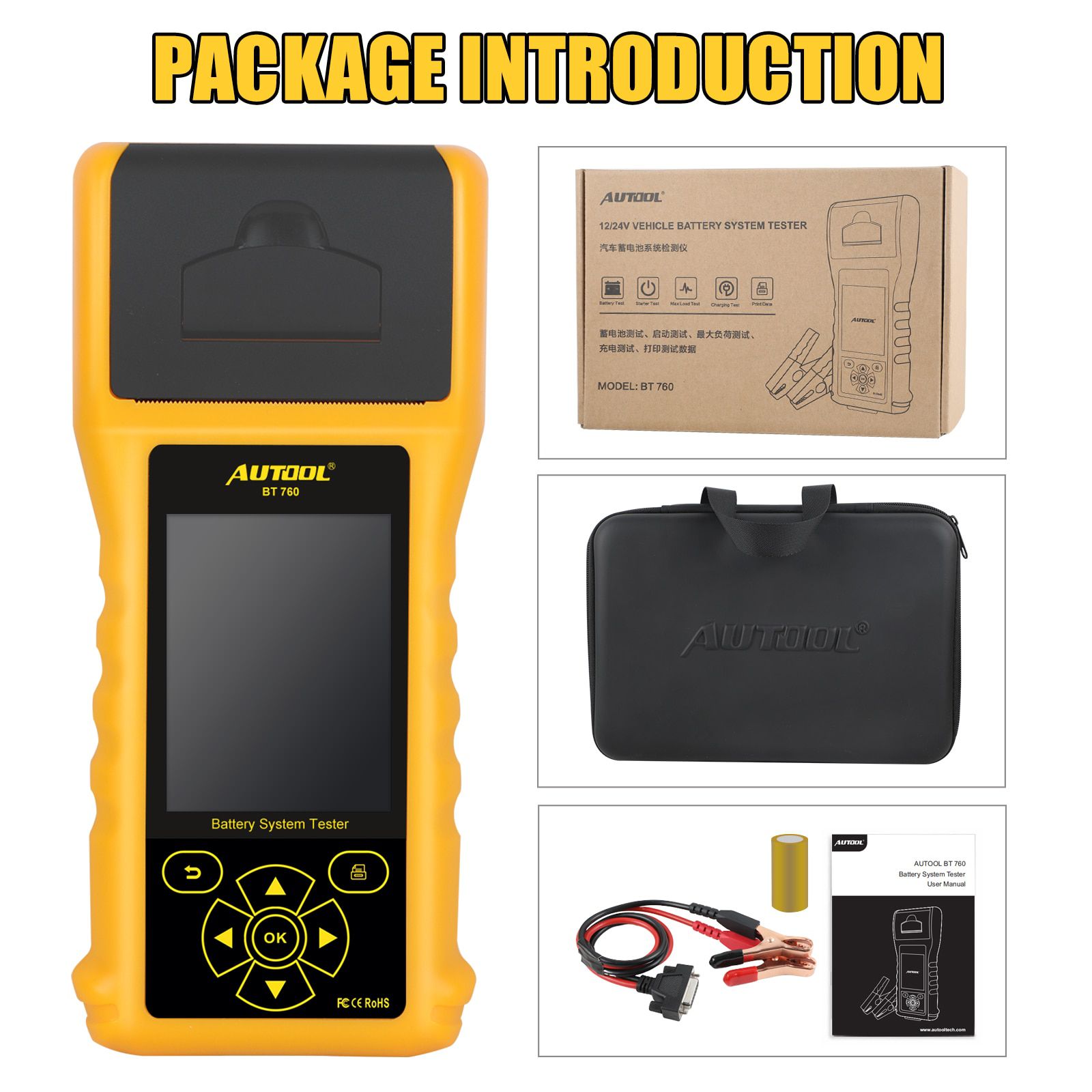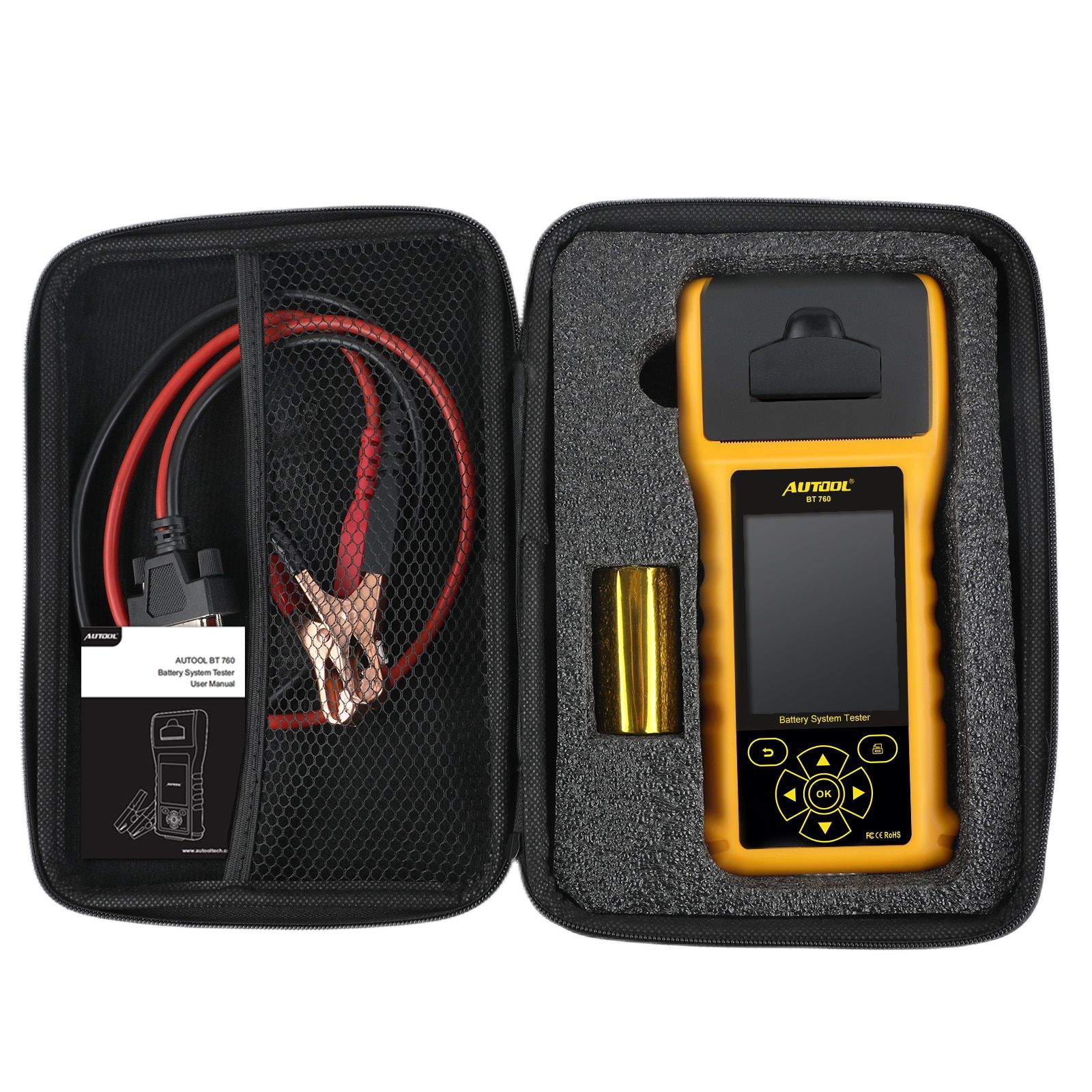 Previous: V86 Software for iProg+ Programmer (only software)
Next: Second Hand Panasonic CF19 I5 4GB Laptop for Porsche Piwis Tester II or other diagnostic Tools (No HDD included)