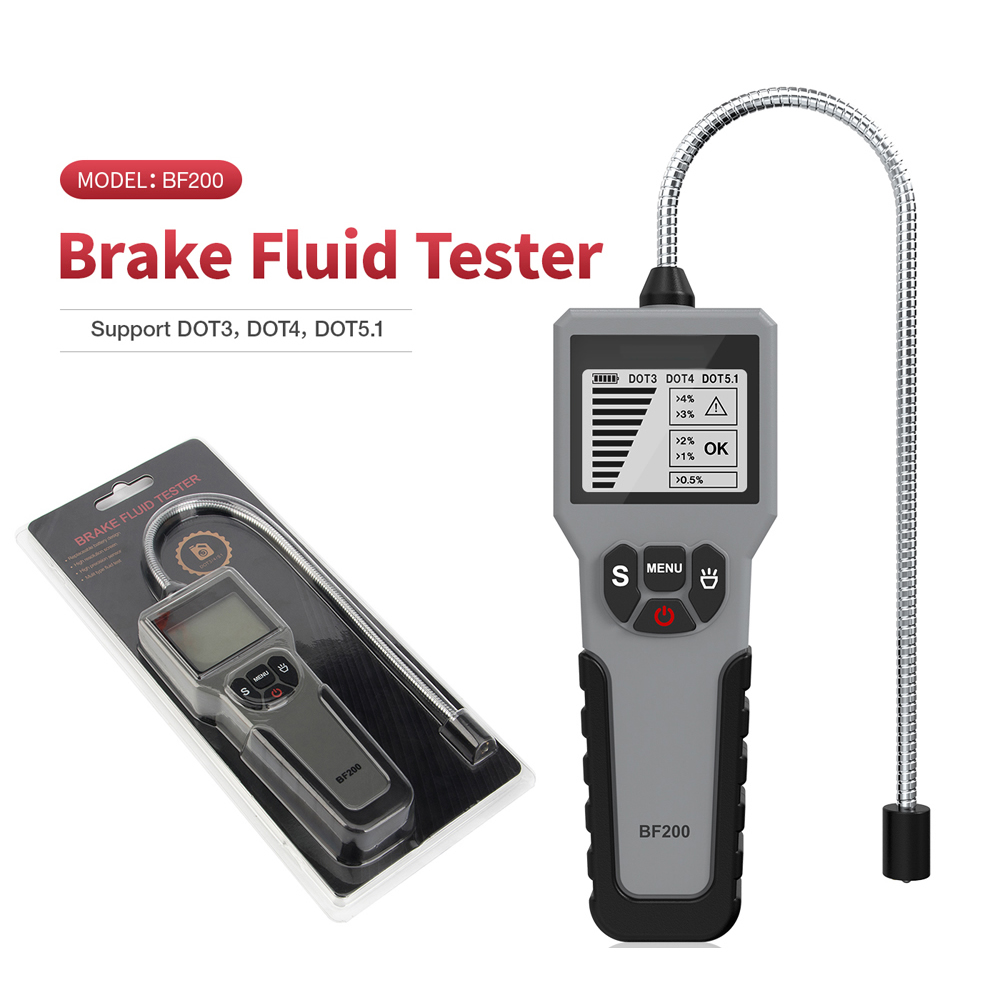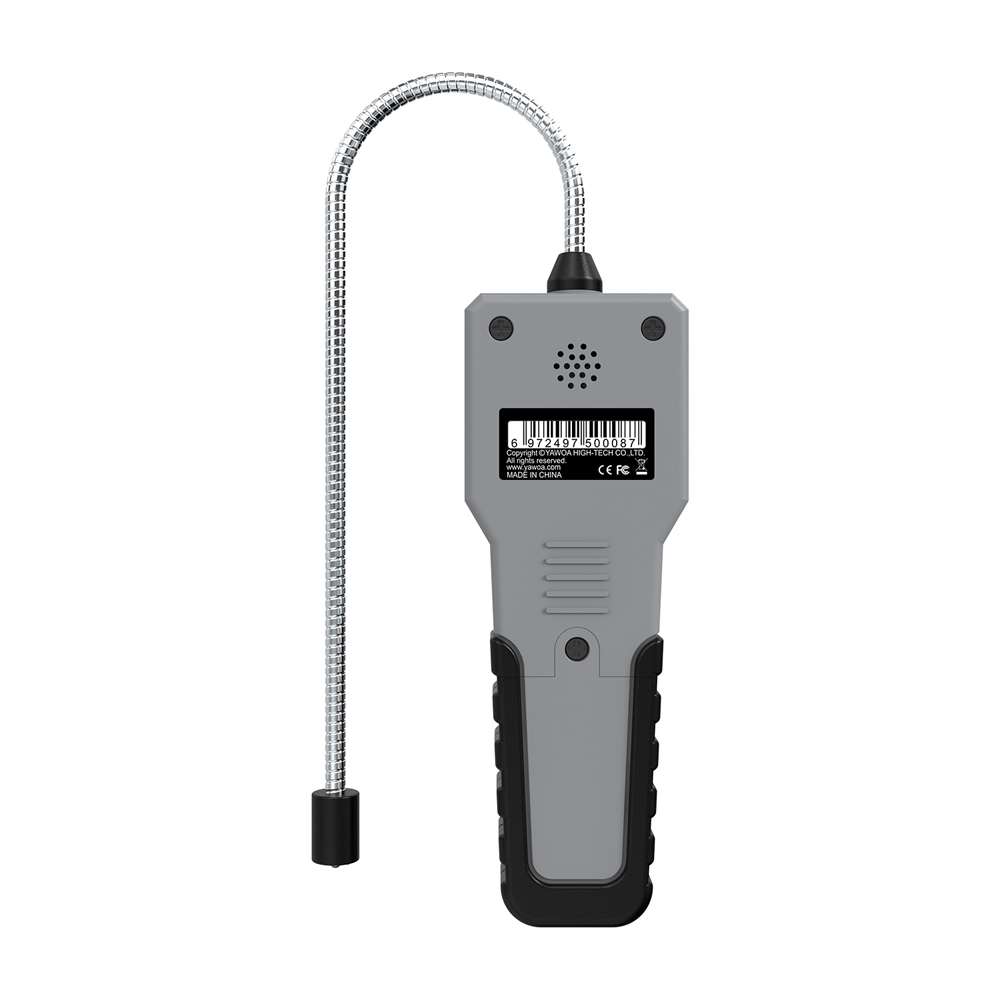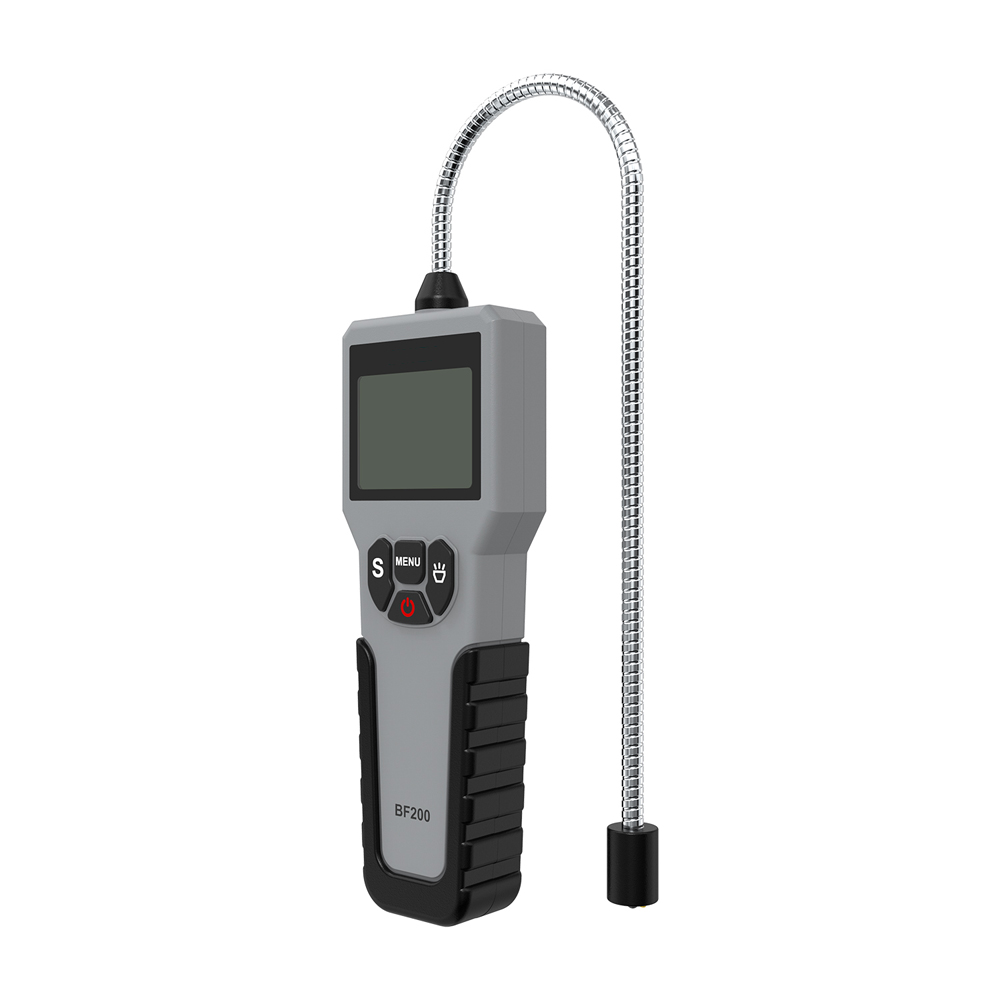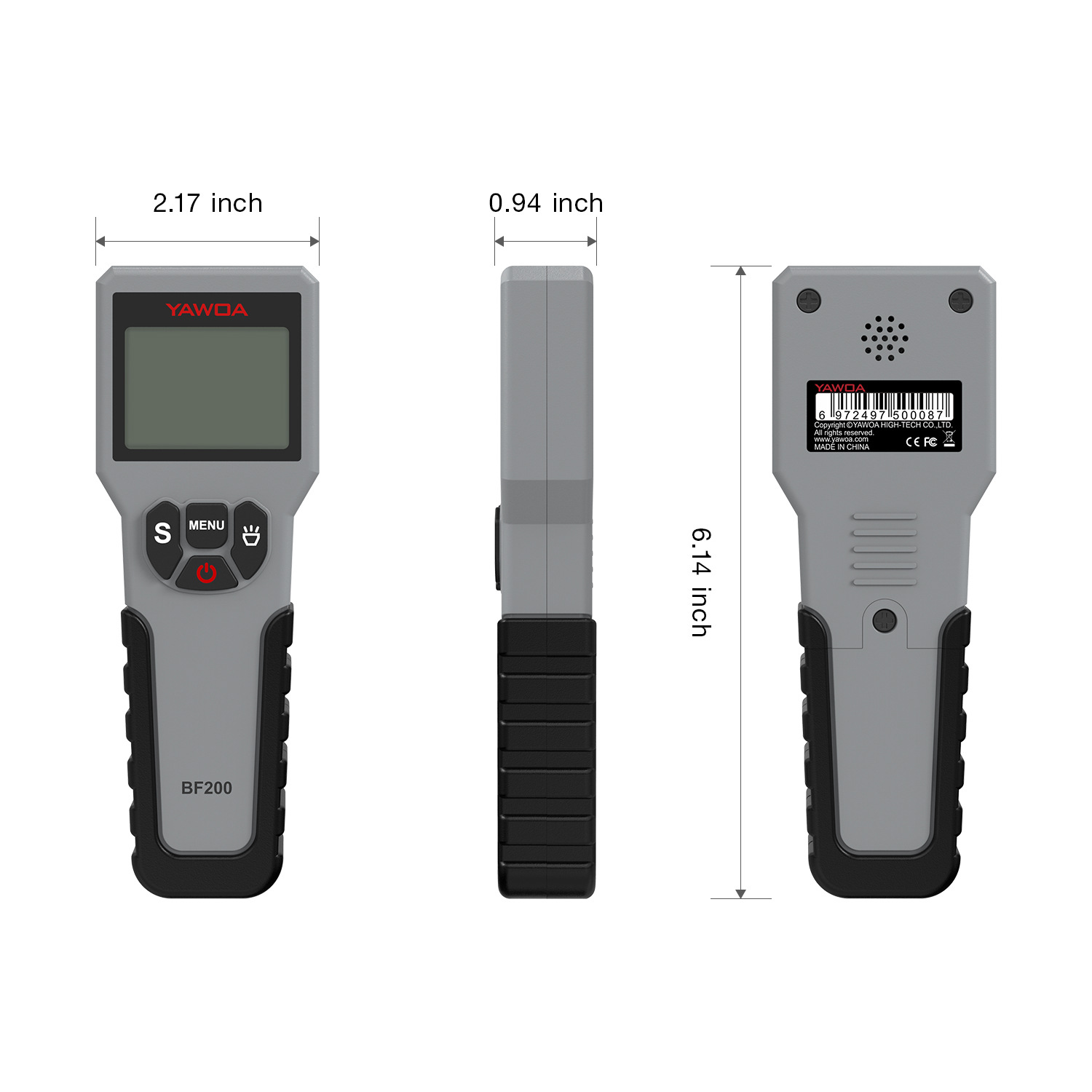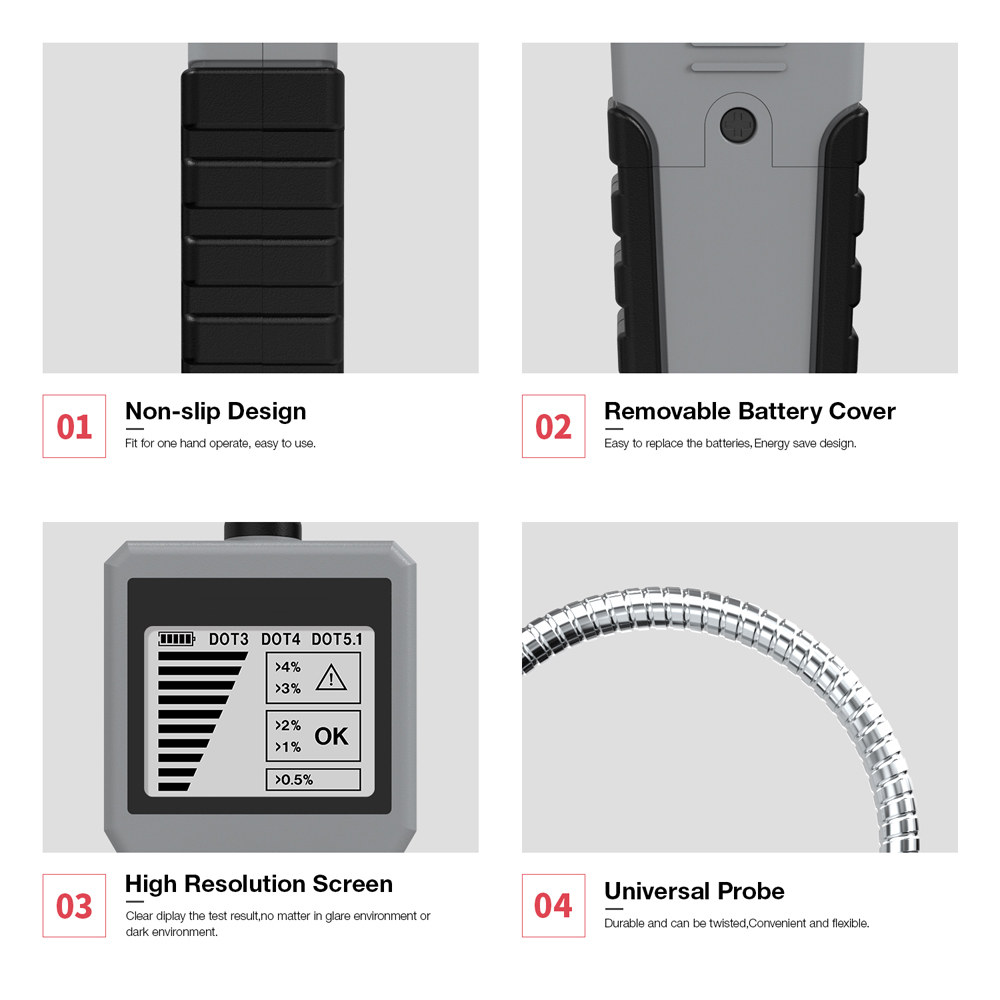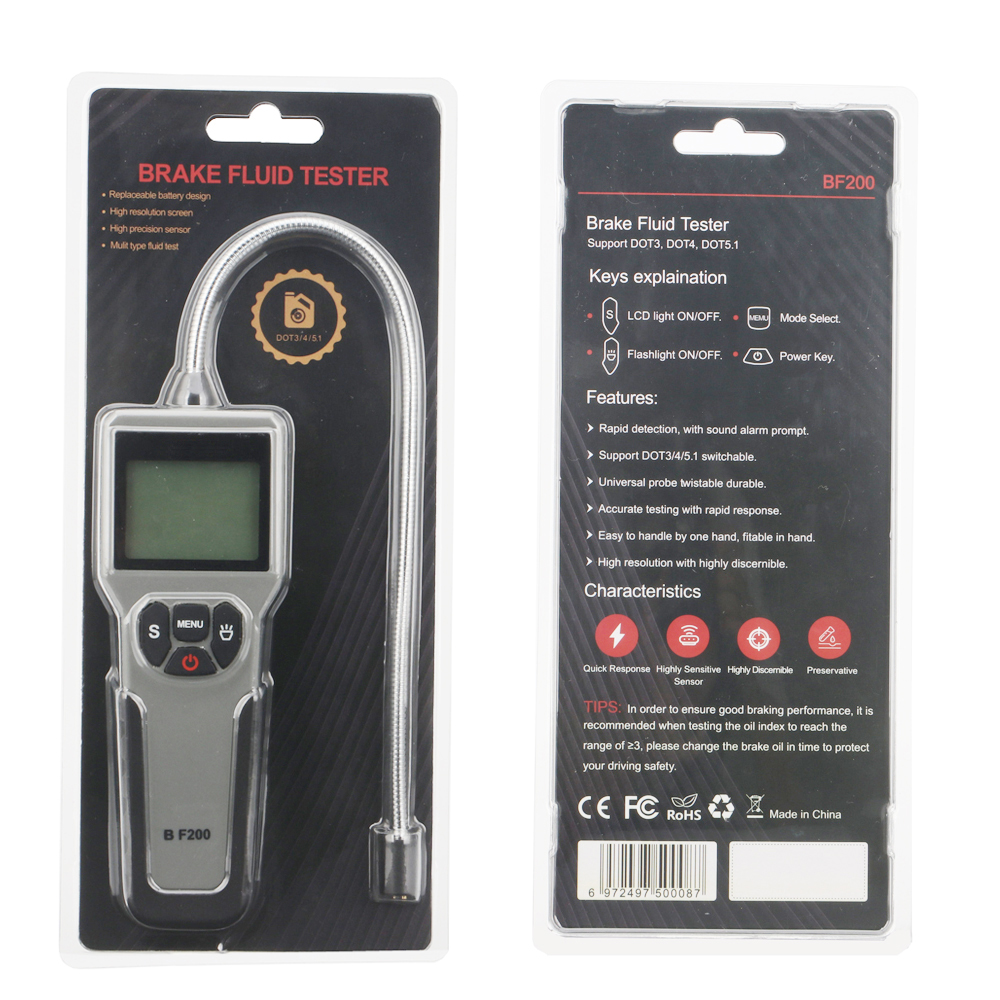 Related Accessories/Similar Items
Description
BF200 Brake Fluid Tester for DOT 3 DOT4 DOT5.1

Packing List :
1pc * BF200 brake fluid tester (no battery, please buy battery by yourself)

How much do you know about brake fluid?
Every drivers know how important of the brake fluid when driving, It is directly related to the safety of the vehicle and personal safety, so in the automotive industry. that's why so many people called the brake fluid as "safety guard".
The general brake oil replacement cycle is 2 years. Brake oil itself has strong water absorption characteristics, it will
ABS
orb the moisture in the surrounding air, for example car wash, humidair, etc., which will directly cause the brake oil quality drop and might cal use accidents:
1. Rear-end Accident
2. Brake Failure
3. Vehicle out of Control
4. Traffic Accident .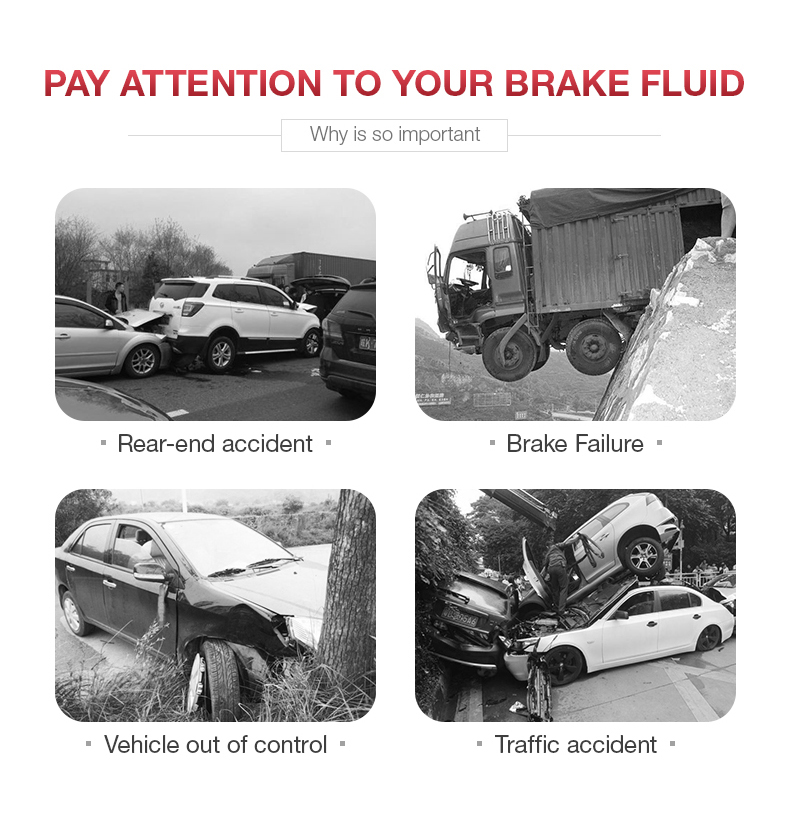 Why does Brake Fluid Tester is essential tool?
1. What is brake fluid?
Brake fluid is a type of hydraulic fluid used in hydraulic brake and hydrauli clutch applications in automobiles, motorcycles, light trucks, and some bicycles.
2. Take precautions and drive with peace of mind.
After 1 year of use, the water content of the brake oil will reach a higher level. When the water content in the brake oil reaches a certain level, the braking force will be weakened and the braking distance will be extended.

Why Choose BF200 Brake Fluid Tester ?
1. BF200 support DOT3, DOT4, DOT5.1
2. BF200 is with high precision sensor
3. BF200 supports mulit type Fluid test
4. BF200 is with replaceable battery design
5. BF200 is with screen , can know the detailed more Clearly .
6. BF200 is with Safe , fast , protable , easy ,trust and accurate function !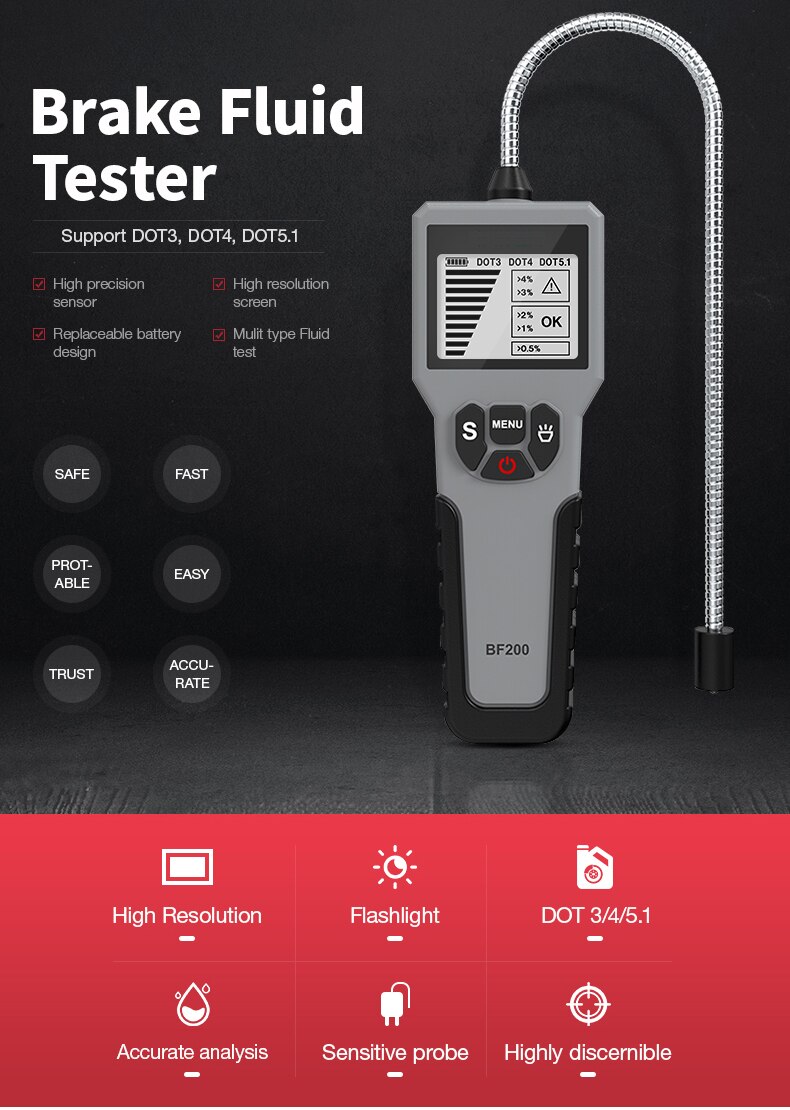 The Function of BF 200 Brake Fluid Tester :
BF200 Relieve hidden dangers! A variety of features in one, to protect your driving safety.
Function 1 : Rapid detection, with sound alarm prompt
Function 2 : Support DOT3/4/5.1 switchable.
Function 3 : Universal Probe Twistable durable
Function 4 : Accurate testing with Rapid response
Function 5 : Easy to handle by one hand, fitable in hand
Function 6 : High resolution with Highly discernible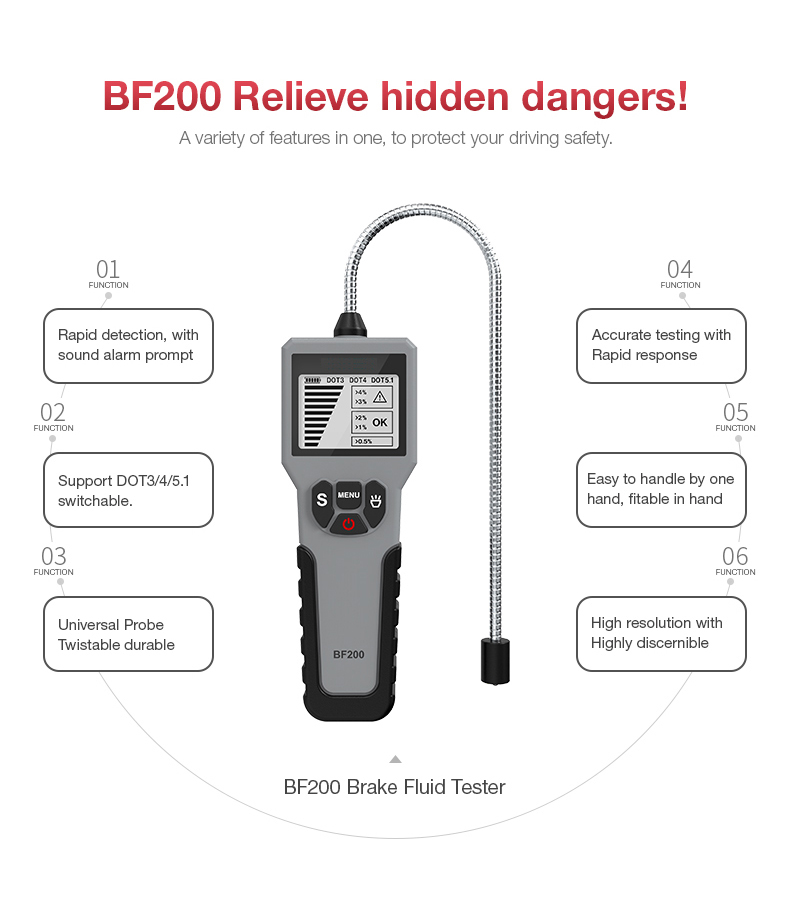 BF 200 Brake Fluid Tester description :
The BF200 is a hand-held vehicle inspection device that detects whether the brake oil needs to be replaced by detecting the water content in the brake fluid. It can be used to detect the brake oil DOT3, DOT4, DOT5.1, and the user can use it according to his own testing needs.
1. High Sensitivity Probe
With advanced high-quality sensors, it is highly sensitive and quick to respond, convenient to use.
QUICK RESPONSE
HIGHLY SENSITIVE SENSOR
FLASHLIGHT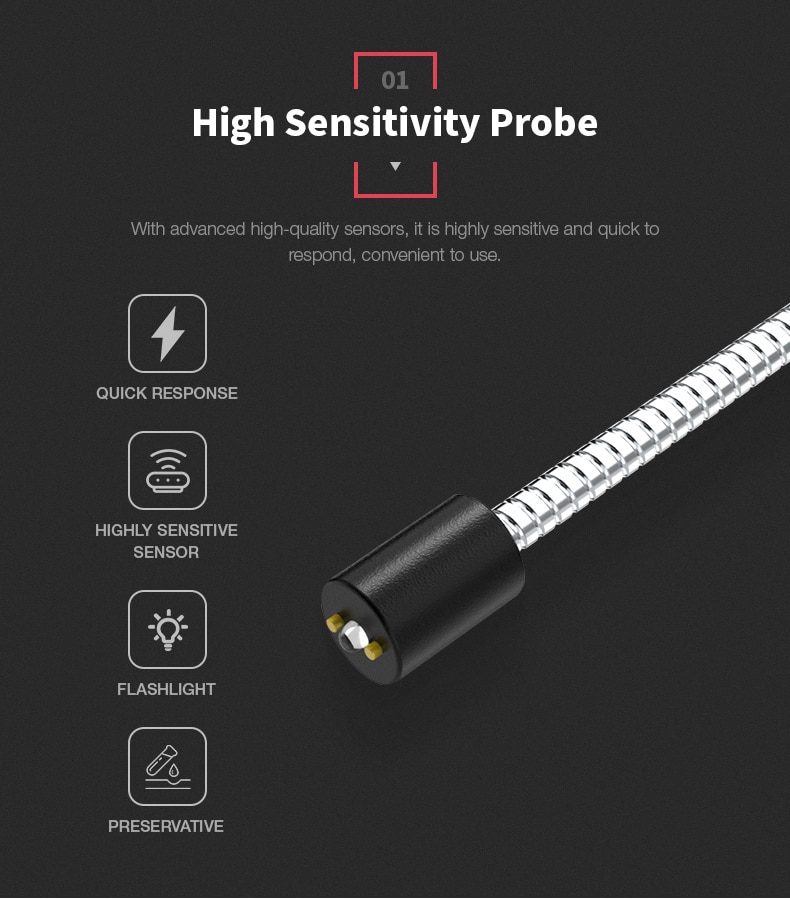 2. Sound Alarm
When the moisture content of the brake fluid is detected to exceed the standard, alarm will be sounded to replace the brake fluid.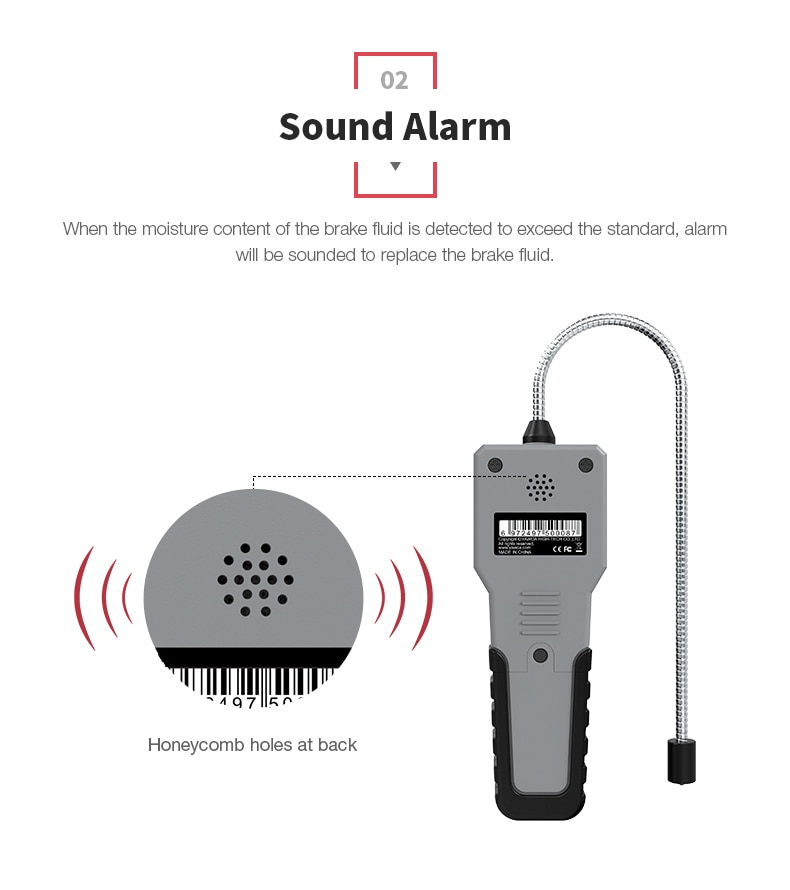 3. Water Content Description
LCD display the test result to tell you the quality of brake fluid.
To DOT3 : lower than 1% High Purity
To DOT4 : lower than 2% Status is acceptable
To DOT5 : higher than 4% Need to Replace
TIPS:
In order to ensure good braking performance, It Is recommended when measuring the oil
Index to reach the range of 23, Please change the brake oll in time to protect your drlving safety.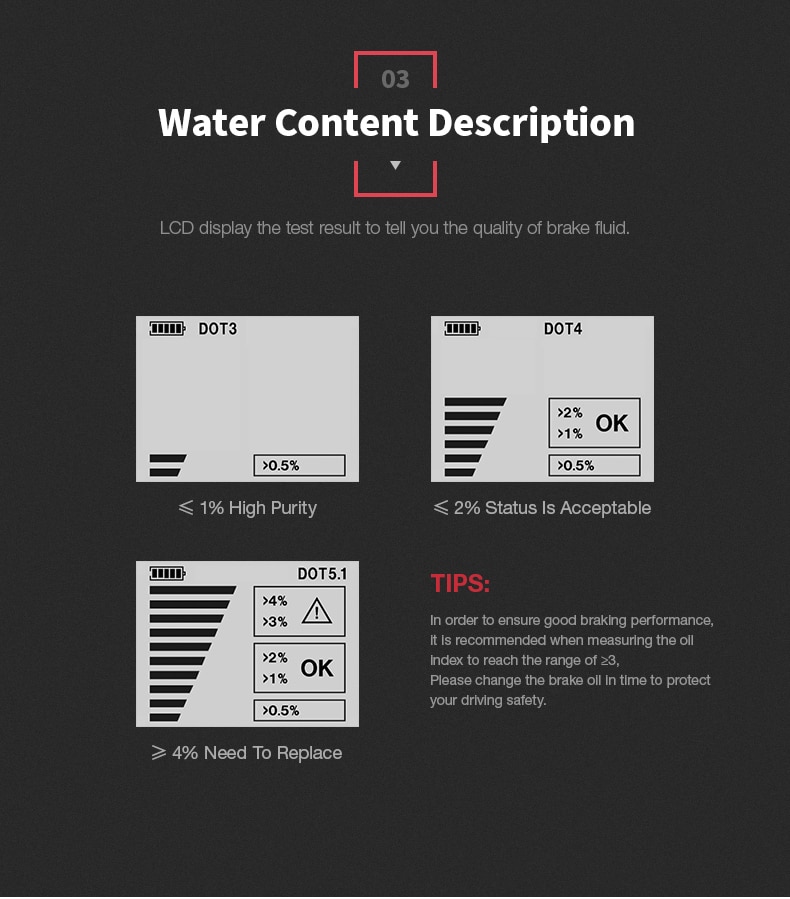 4. DOT3 /4/ 5.1 Support
Support multiple types of brake fluid in one tool.
5. High Resolution Screen
Display the clear test result even in the dark night, as well as in the brightest day.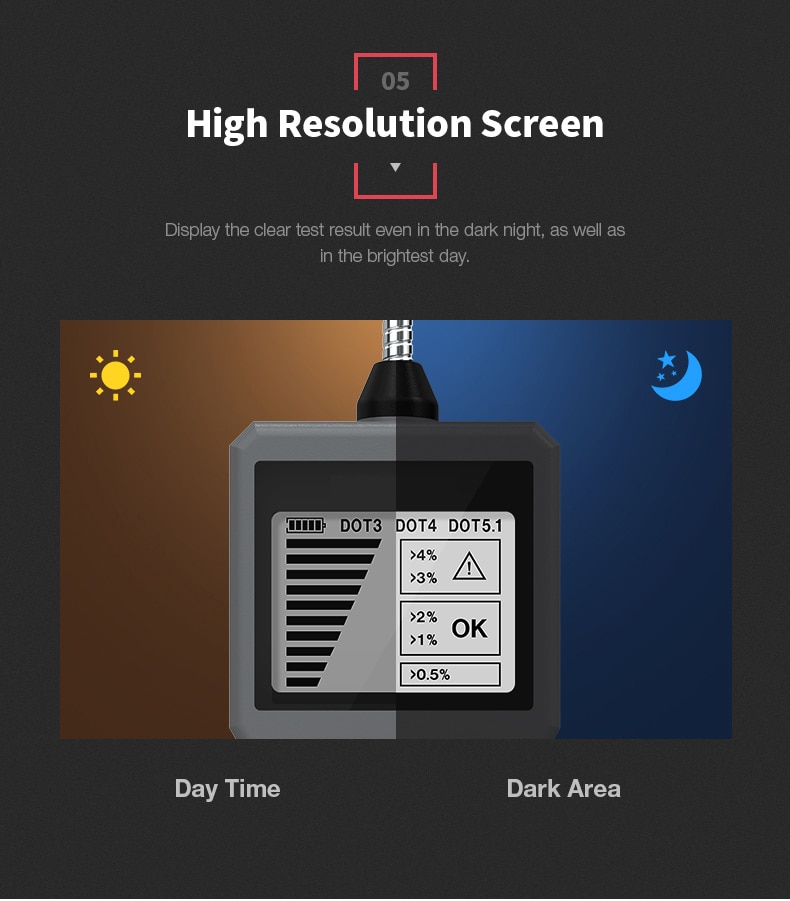 6. Panel ExplainationThe Advantage of BF 200 Brake Fluid Tester :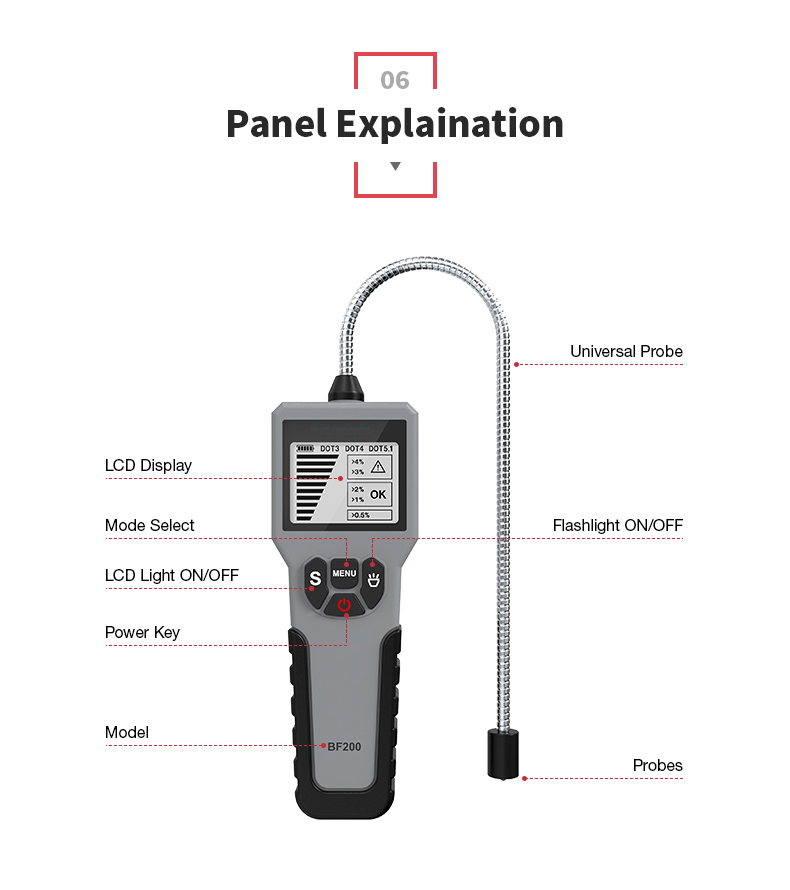 1. Non-slip Design
Fit for one hand operate, easy to use.
2. Removable Battery Cover
Easy to replace the batteries, energy save design.
3. High Resolution Screen
Clear diplay the test result, no matter in glare environment or dark environment
4. Universal Probe
Durable and can be twisted, convenient and flexible.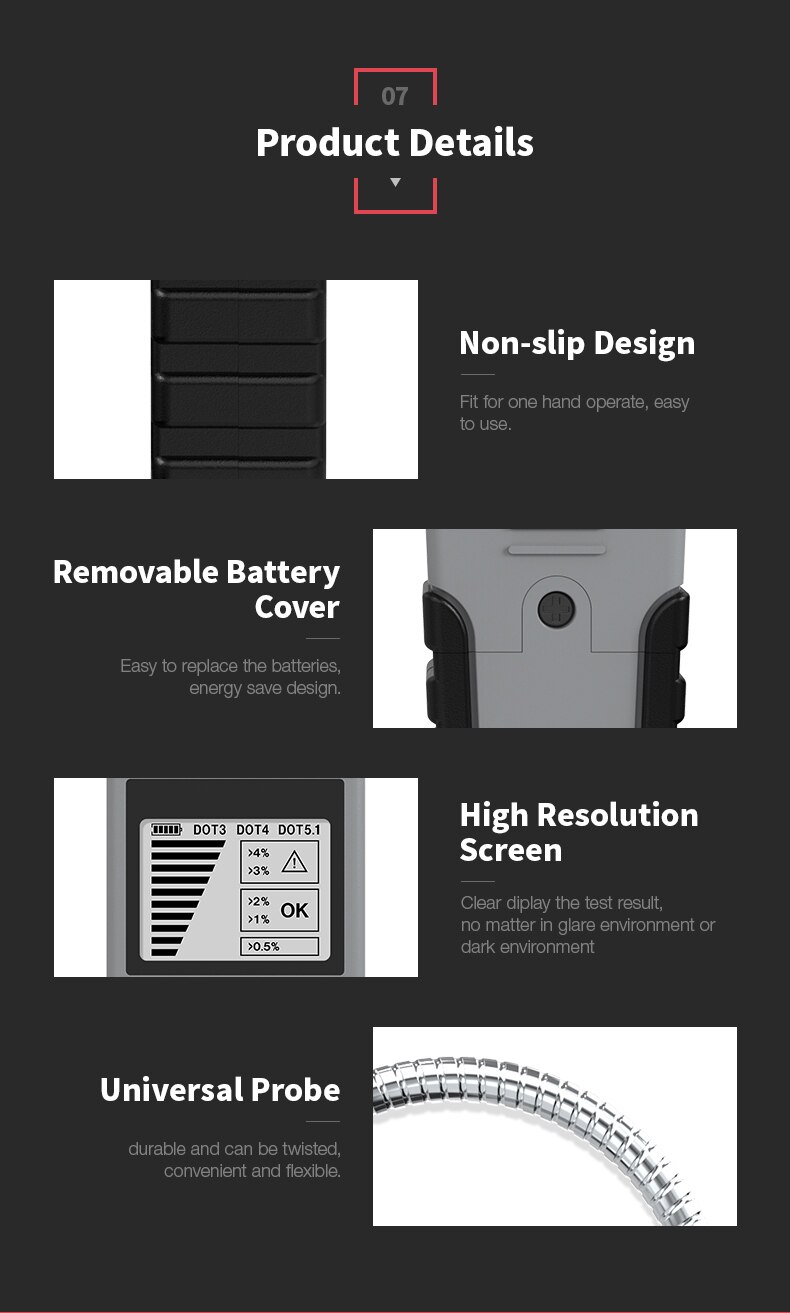 The Parameters of BF 200 Brake Fluid Tester :
Model: BF200
Name: Brake Fluid Tester
Material: ABS
Size: 6.14 inch*2.17 inch*0.94 inch
Temperature: -10°C~50°C
Battery: 2 pcs AAAA batteries (not included)
Test Range: DOT3、 DOT4、DOT5.1
Display: High resolution screen
Color: Gray and black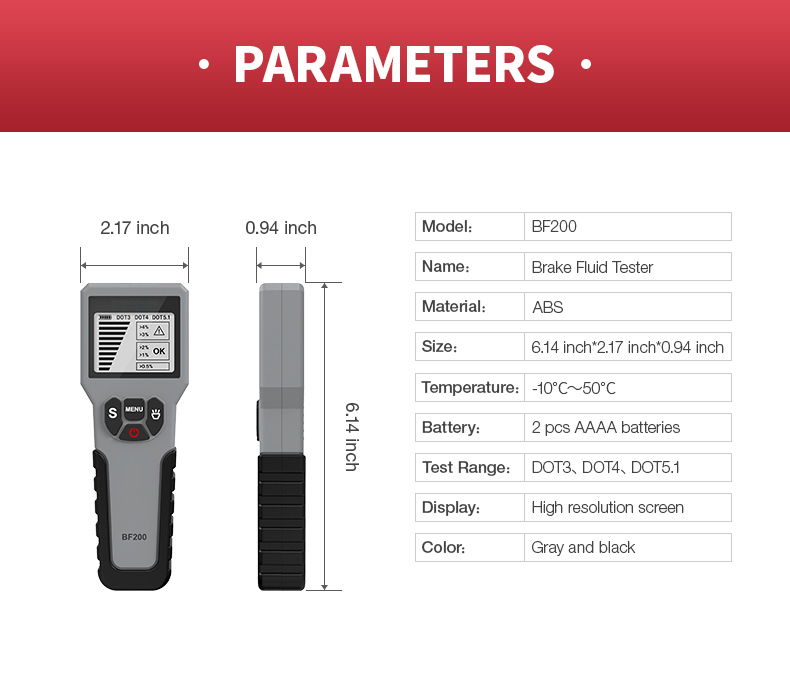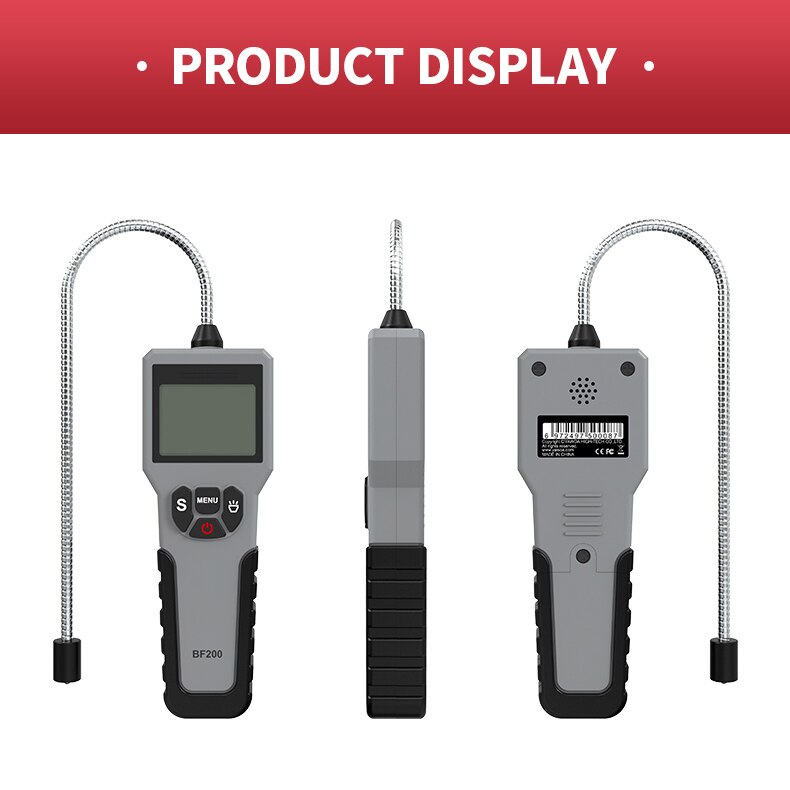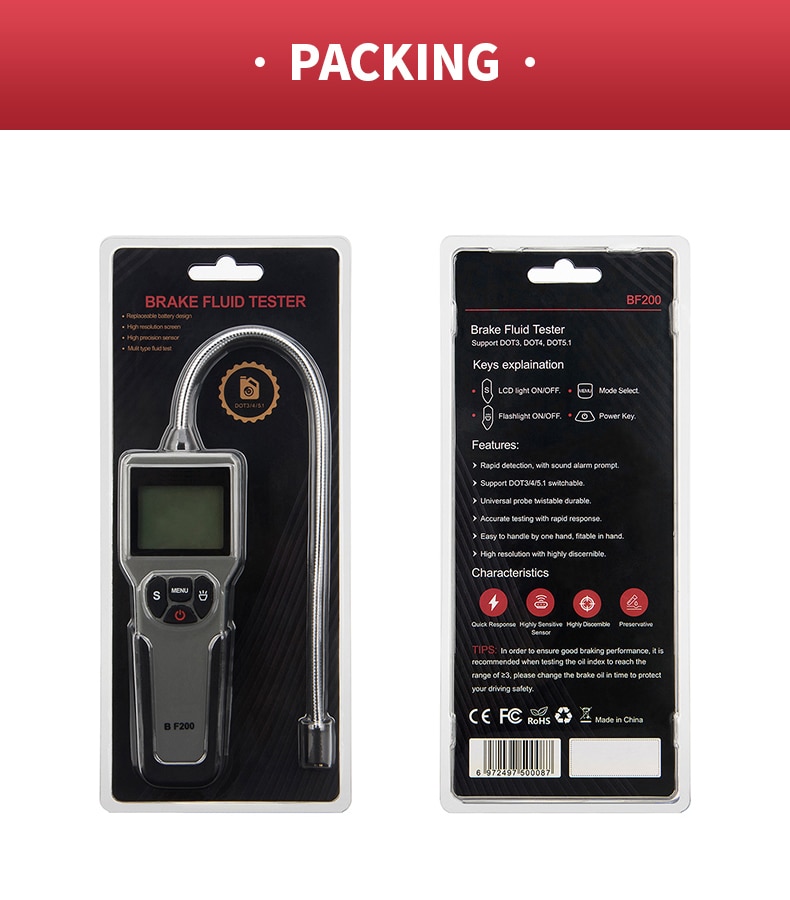 Previous: Foxwell NT624 Elite OBD2 Diagnostic Tool Full System ABS SRS ECP PCM Code Reader Oil EPB Reset ODB2 OBD2 Car Automotive Scanner
Next: B100 Brake Fluid Tester LED Display for DOT3/DOT4/DOT5.1 brake fluid tester BF100 Accurate brake Oil Quality Check Pen