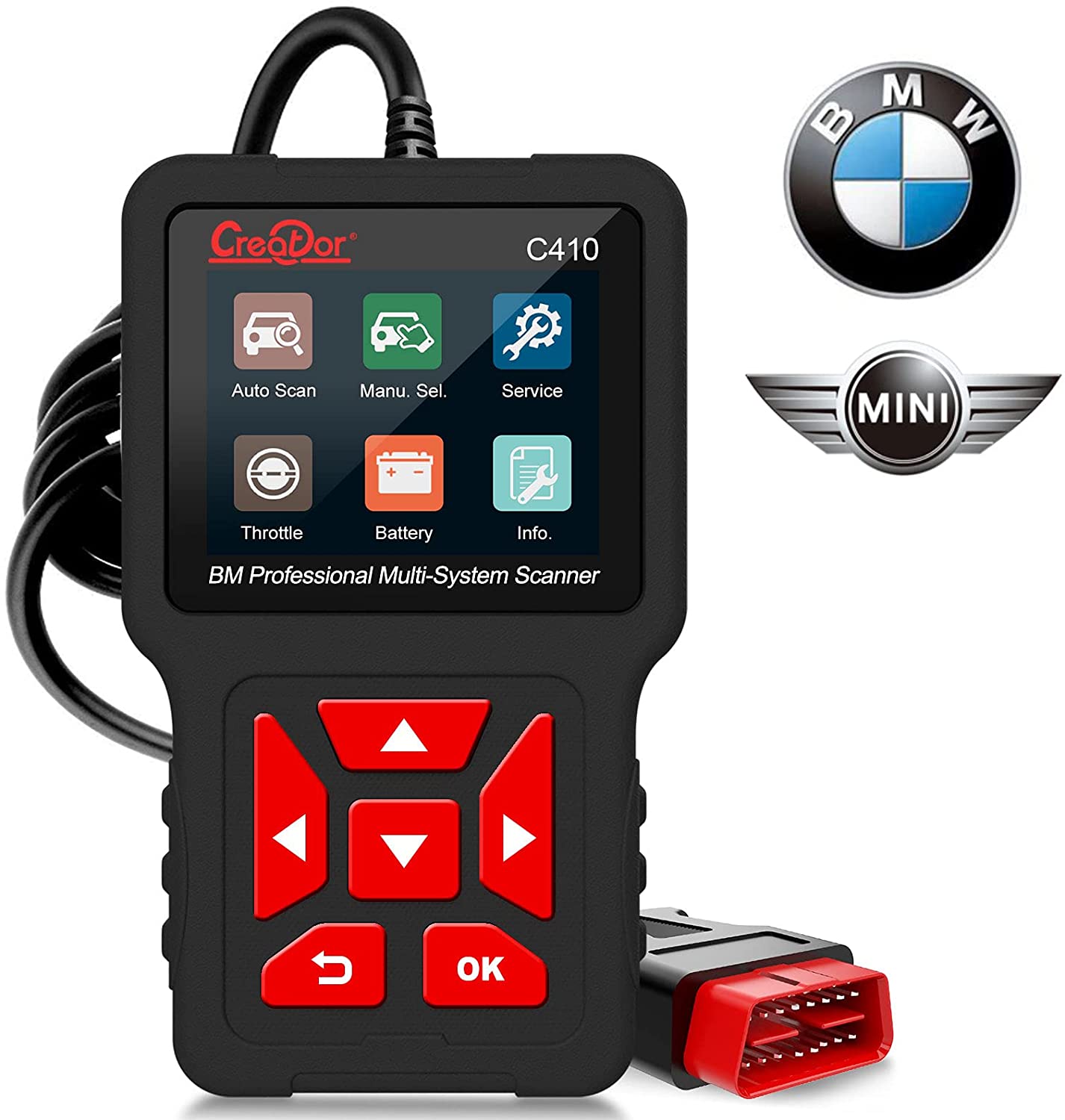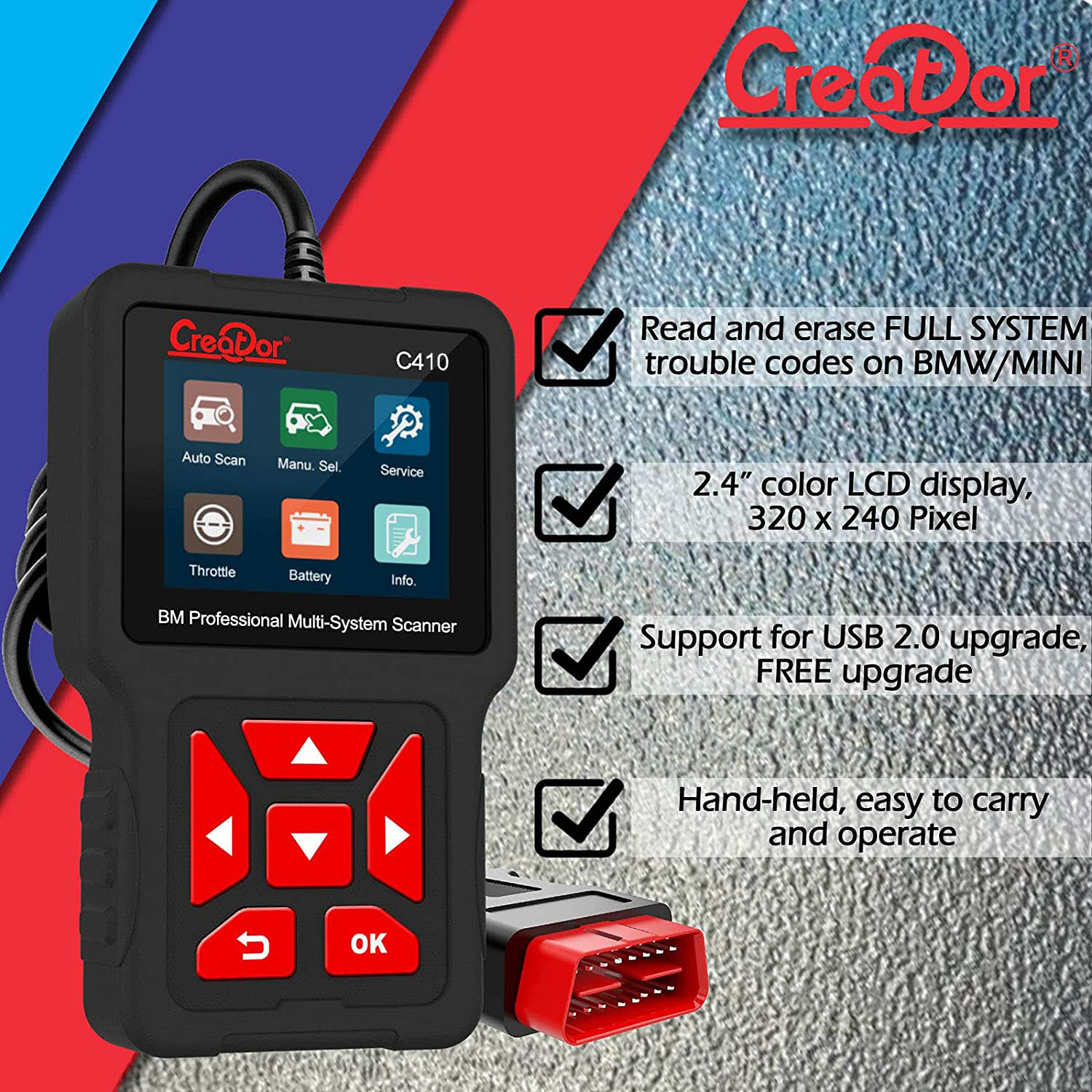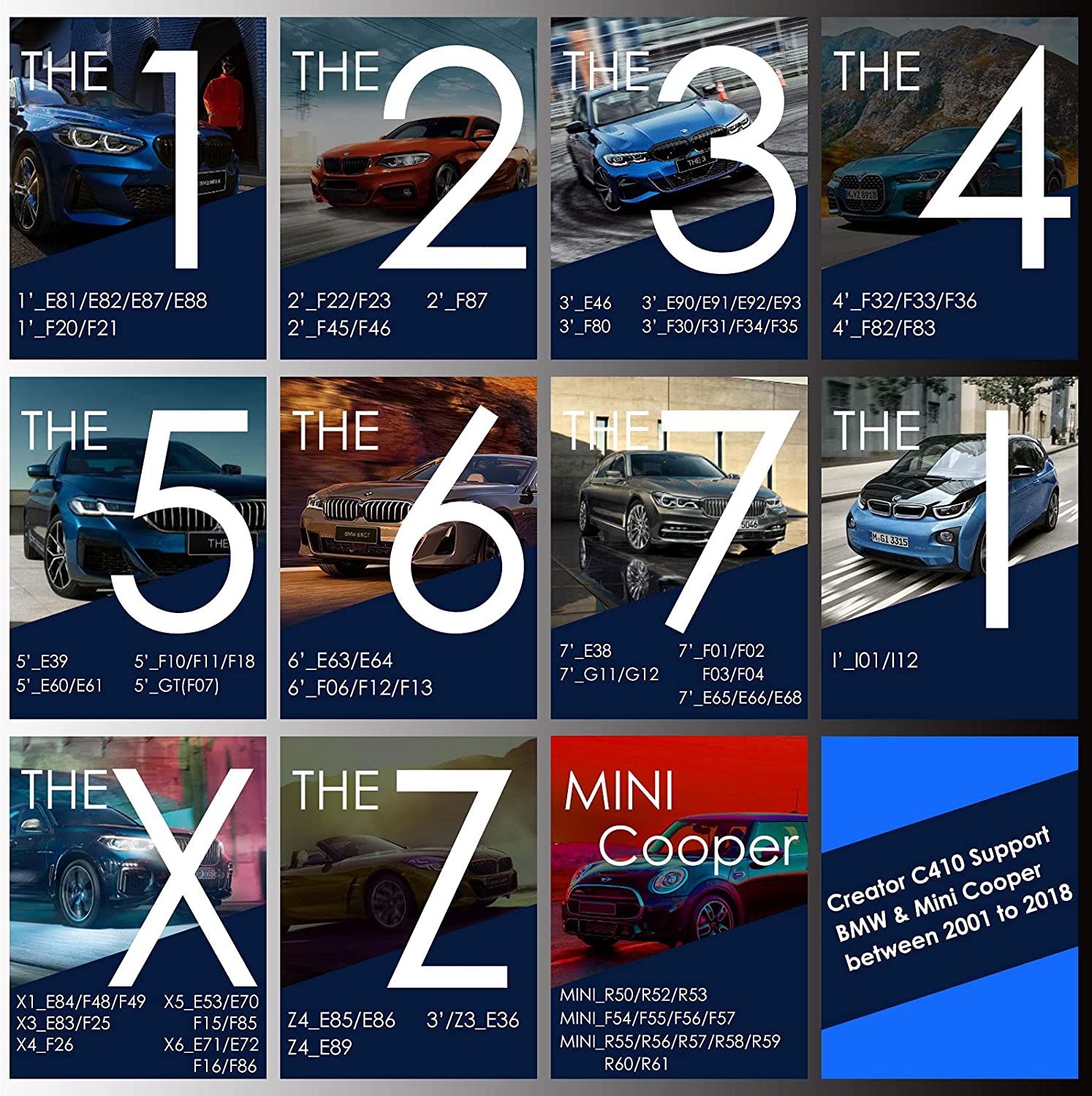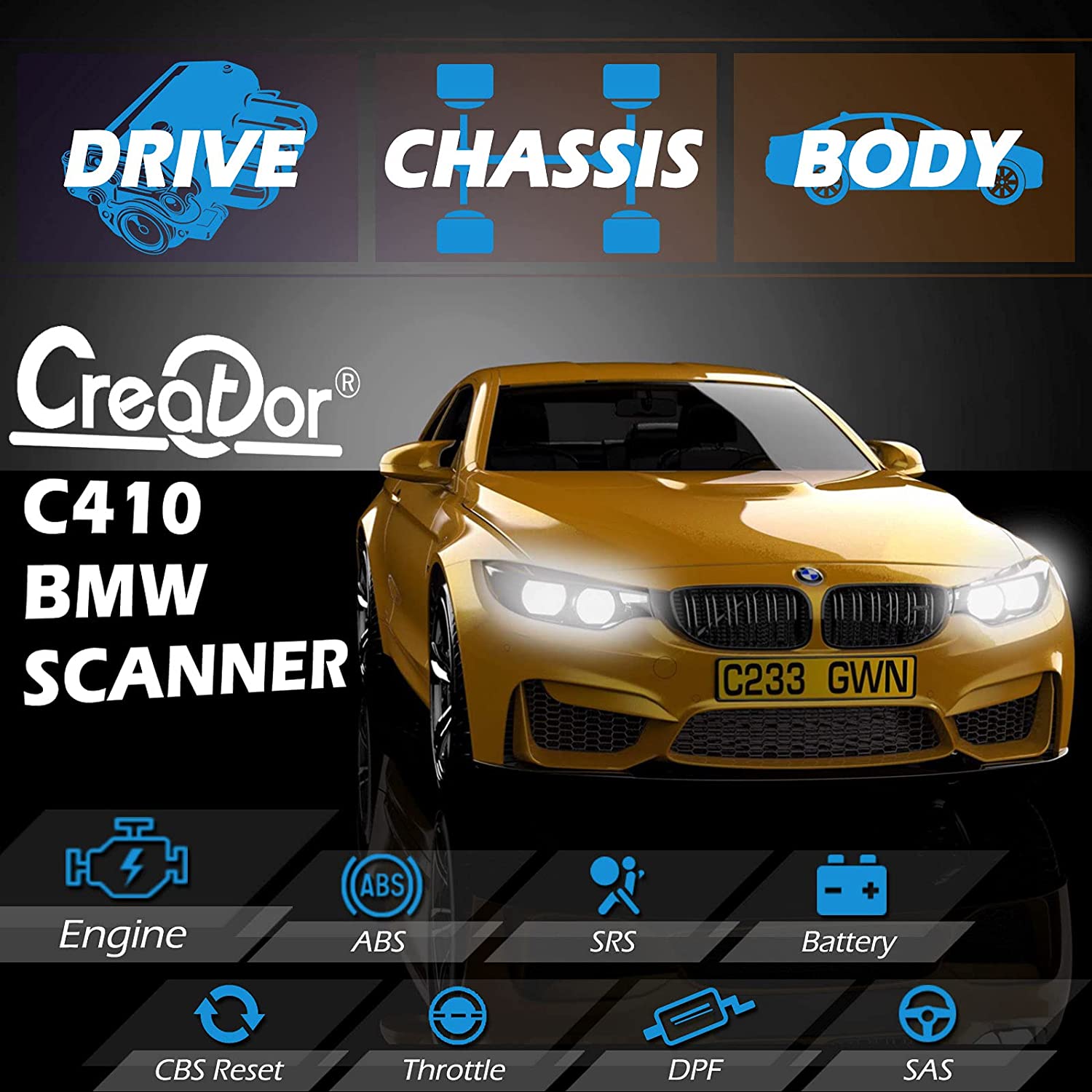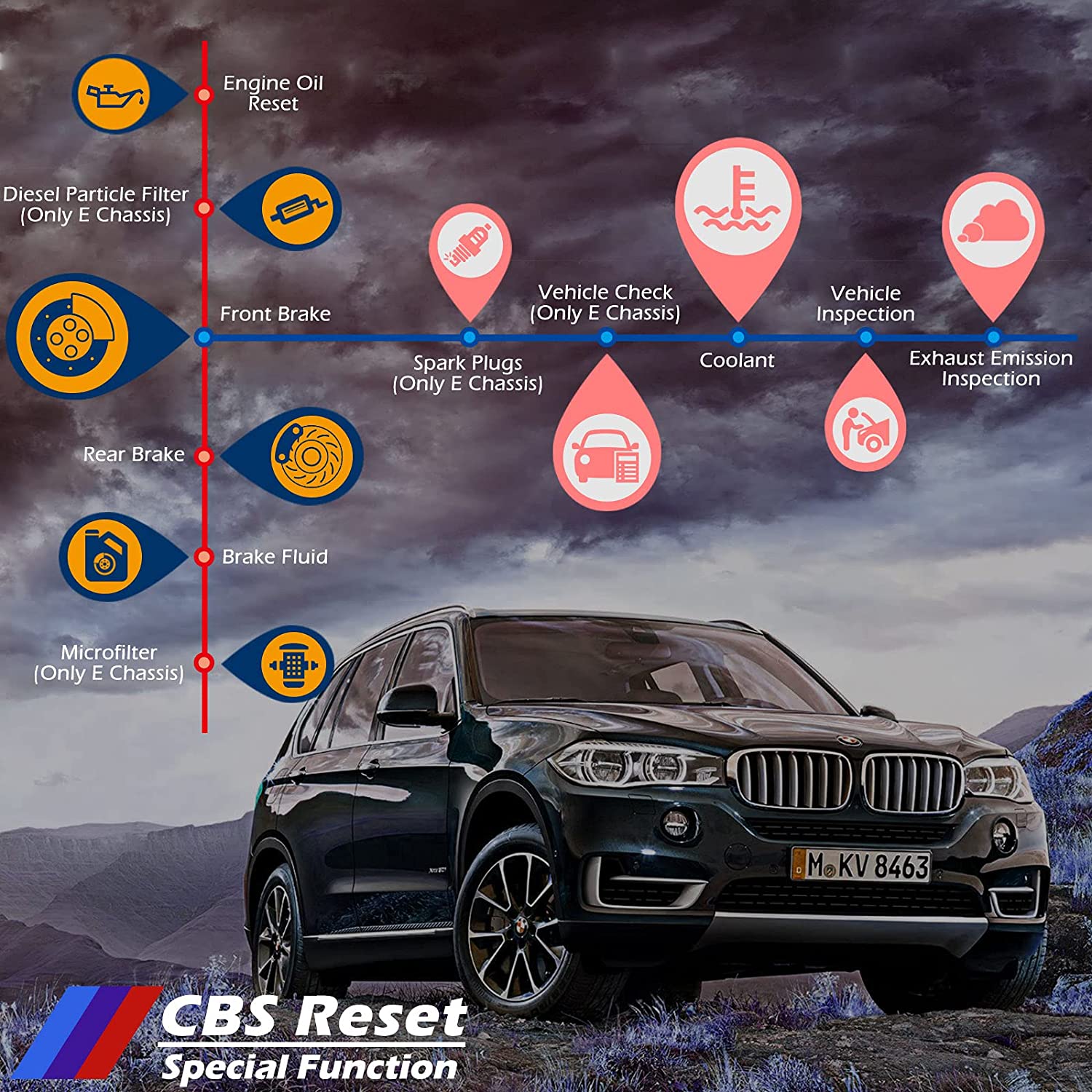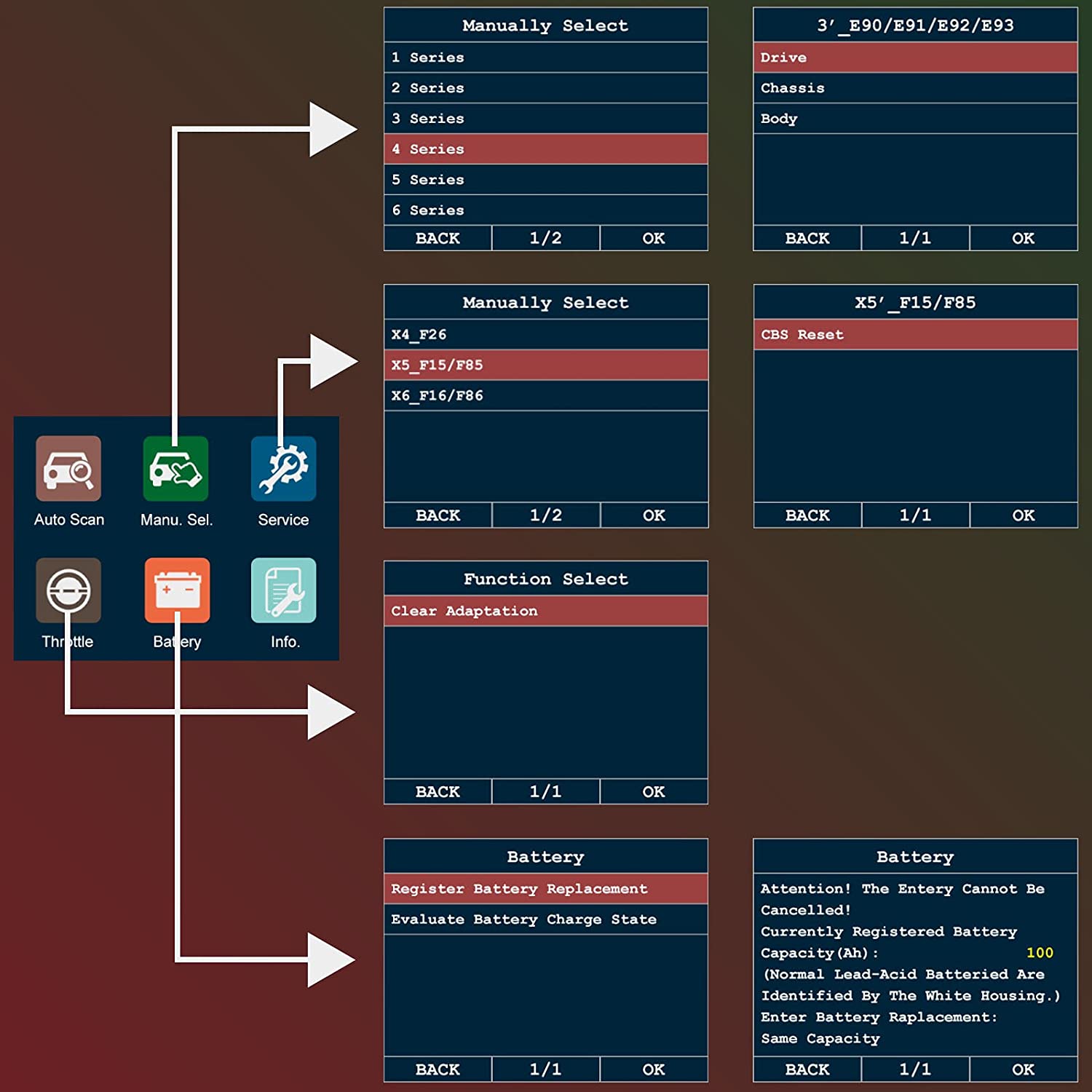 Description
*
[FOCUS ON BMW]
- As what you've seen, we have a variety of
OBD2
code readers compatible for BMW/MINI, C410 is one of the most cost-effective scan tools for
BMW
/MINI vehicle owners.
C410 Supports BMW/MINI between 2001 to 2018. 1997-2004 cars need a 20 pin adaptor (not included).
* [FOR BMW/MINI COOPER] - Compatible ECU systems including Drive, Chassis and Body all system. Supported function including read and clear trouble codes, display live data stream, graph display, vehicle version information, clear adaptation, CBS reset and reset Engine oil.
* [EASY TO OPERATE] - C410 car diagnostic tool via 2.4" TFT 240K true color LCD display screen to indicates the test results , with the silicone keypad you can easy to access the each of menu options, Rugged drop-proof case Prevent falling, the menu layout on the screen is easy to understand and you will no trouble to figuring out how to do what you needed.
*
[LIFETIME FREE UPDATE]
- Many
OBDII
scanners for BMW require to pay an additional fee for new upgrades after the warranty period has expired. C410 supports lifetime free software upgrades, new parameters, functions and the latest vehicle data are constantly updated via the USB port over the Internet. Just a few easy steps, the scanner will always be up to date with the latest system within minutes.
* [SATISFACTION GUARANTEED] - If you are unsatisfied with your purchase for any reason, please contact us, we provide 100% warranty for all of our products. Customer satisfaction is our highest pursuit.
Product Description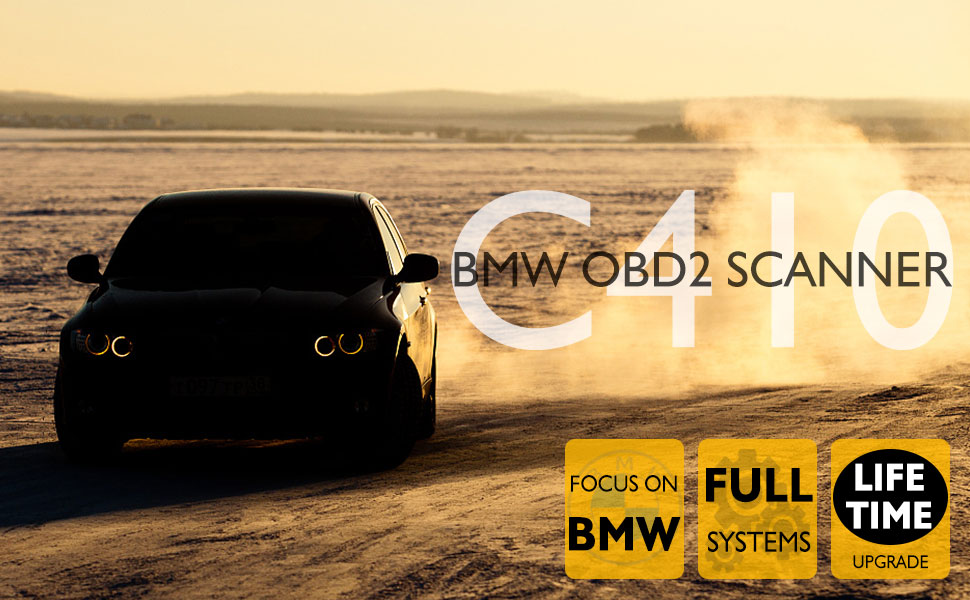 Creator C410 OBD2 scanner for BMW & Mini is a professional scan tool for non-mechanics to do your home diagnostic work. This car code reader supports all
OBD2
functions and full BMW systems diagnosis to read & clear the fault codes, show you the live data in graph on the 2.4" TFT screen and turn off the MIL after repair or maintenance.
Simply insert C410 into your BMW's
OBD-II
receptacle and retrieve information or error codes. It will typically point you in the direction of the problem. These types of concerns don't necessarily have to mean an expensive repair. A little patience and some mechanical aptitude you can pinpoint and repair most of these concerns yourself. It's easy and your car will run better for it.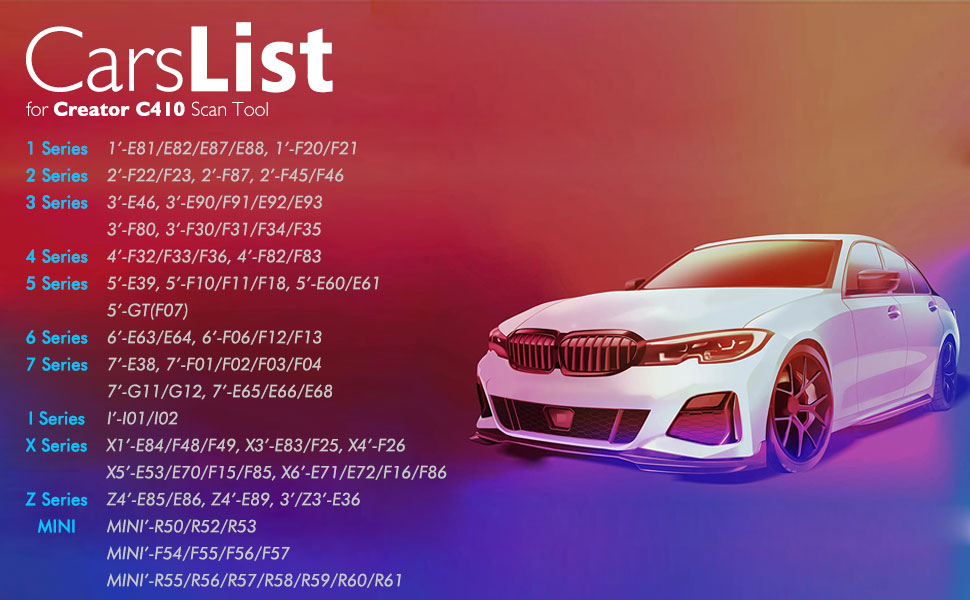 1 Series: 1'_E81/E82/E87/E88, 1'_F20/F21

2 Series: 2'_F22/F23, 2'_F45/F46, 2'_F87

3 Series: 3'_E46, 3'_E90/E91/E92/E93, 3'_F30/F31/F34/F35, 3'_F80

4 Series: 4'_F32/F33/F36, 4'_F82/F83

5 Series: 5'_E39, 5'_E60/E61, 5'_GT(F07), 5'_F10/F11/F18

6 Series: 6'_E63/E64, 6'_F06/F12/F13

7 Series: 7'_E38, 7'_E65/E66, 7'_F01/F02/F03/F04, 7'_G11/G12

X Series: X1_E84/F48/F49, X3_E83/F25, X4_F26, X5_E53/F15/F85/70, X6_E71/E72/F16/F86

Z Series: Z4_E85/E86, Z4_E89

I Series: I'_I01/I02

Mini: MINI_R50/R52/R53, MINI_R55/R56/R57/R58/R59/R60, MINI_F55/F56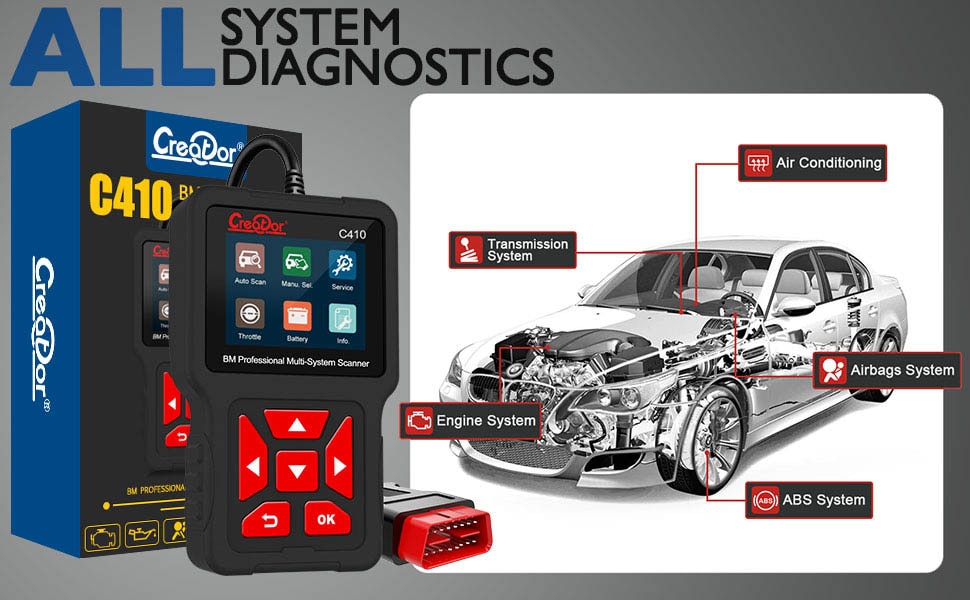 Creator C410 scan tool for BMW is a professional diagnostic Scanner which can Diagnose all available ECU module, such as: Engine,Transmission,
ABS
, SAS,
TPMS
, Airbag, BMS, DPF, EPS, EPB, EVAP, Body System etc. C410 offers comprehensive and swift diagnosis, through Read Codes, Erase Codes, Read ECU Module Info and Live Data, making itself an excellent Diagnostic scanner for professional technicians.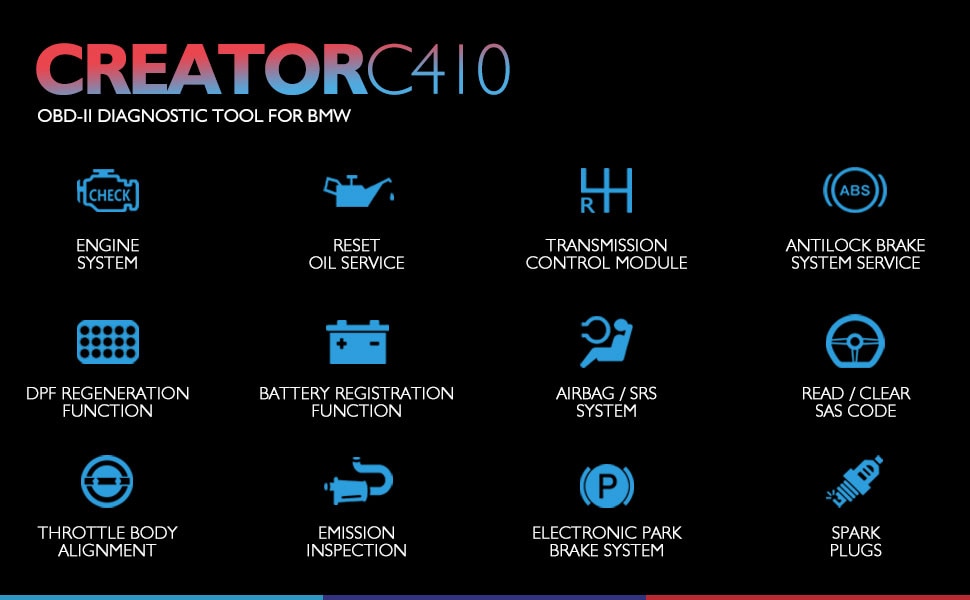 CBS Reset:Including Engine oil, Spark plugs, Front brakes, Rear brakes, Coolant,
Diesel particle filter, Brake fluid, Microfilter, Vehicle inspection,
Exhaust emission inspection, Vehicle check, etc.
Battery Register & Maintenance: Evaluate the battery charge state, monitor the closed-circuit current, register the battery replacement, etc.
Oil Service Reset: Allows you to reset the service lamps on the instrument cluster.
Antilock Brake System(
ABS
) Service: Allows you to use the scanner temporarily to activate or control anti-lock brake system.
Read & Clear SAS Codes: Read
the DTCs(Diagnostic Trouble Codes) of the SAS(Steering Angle Sensor)
system, quickly locate the cause of the fault, and clear them.
Electronic Parking Brake(EPB) Service:Allows you to perform service and maintenance, including deactivation
and activation of brake control system, bleeding brake fluid, opening
and closing brake pads, and setting brakes after disc or pad
replacement, on where electronic brake systems are fitted.
Injector: Code new injector numbers to replace the previous one when fitting the new injectors or after the replacement is completed.
Electronic Throttle Position Reset & Learn: Initialize the throttle actuators so that the 'learned' values stored on ECU are returned to the default state.
Tire Pressure Monitor
ing System(
TPMS
):Allows you to check the tire sensor IDs from the vehicle ECU and to
perform
TPMS
and reset after tires sensors are replaced or rotated.
Previous: LAUNCH X431 Tablet V4.0 PAD For LAUNCH X431 V+ /X431 PRO3 / X431 Pro3S+
Next: THINKCAR THINKTOOL PAD8 OBD2 Auto Diagnostic Tool ECU Coding Active Test IMMO ABS EPB Oil Reset Professional Automotive Scanner