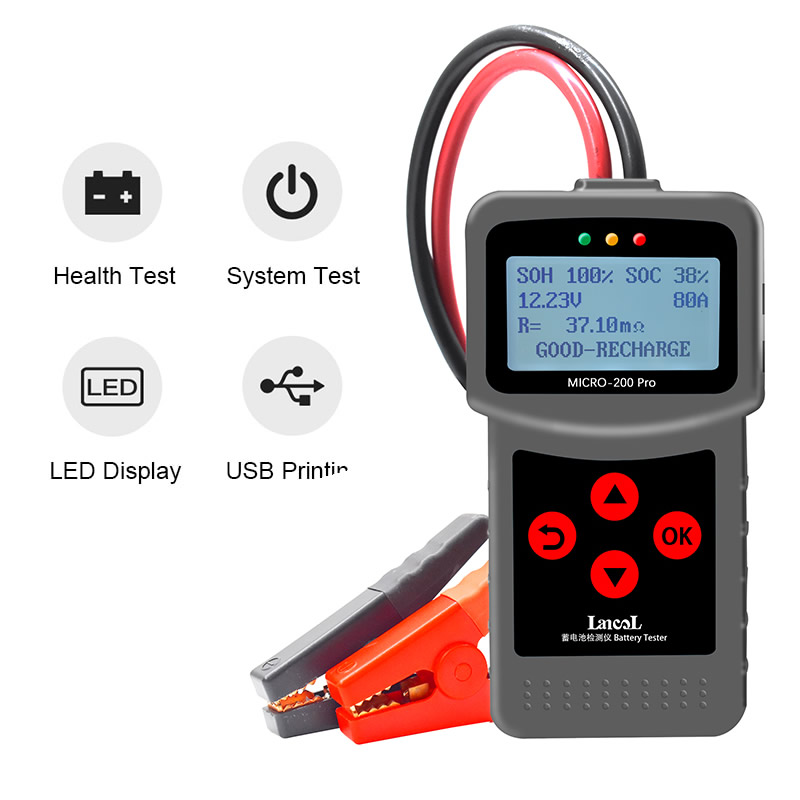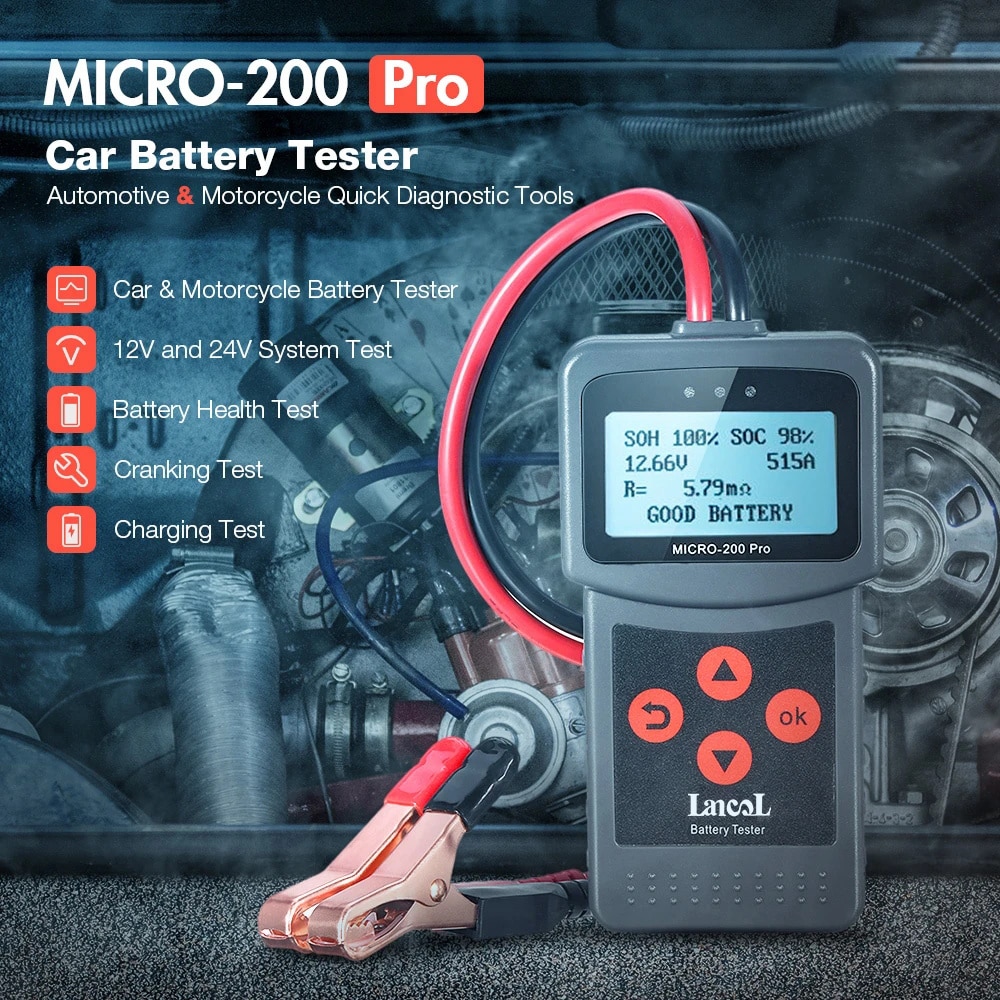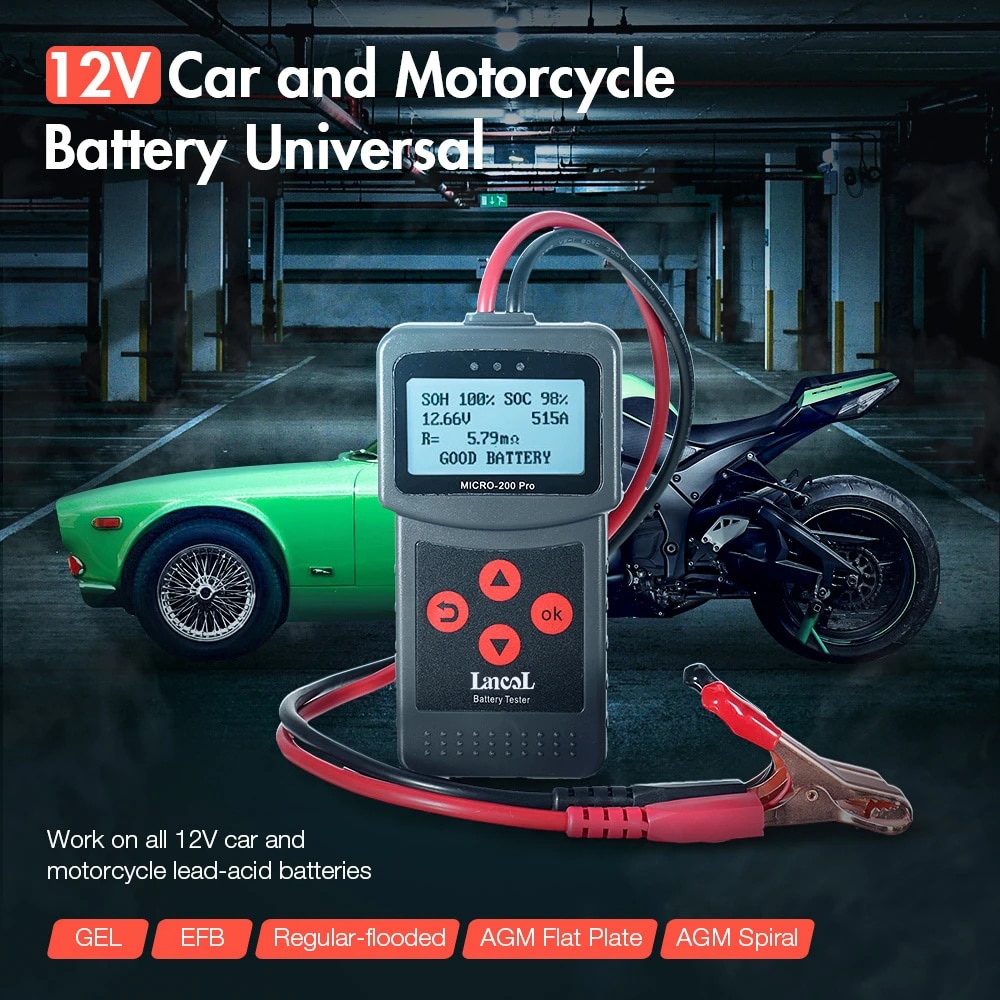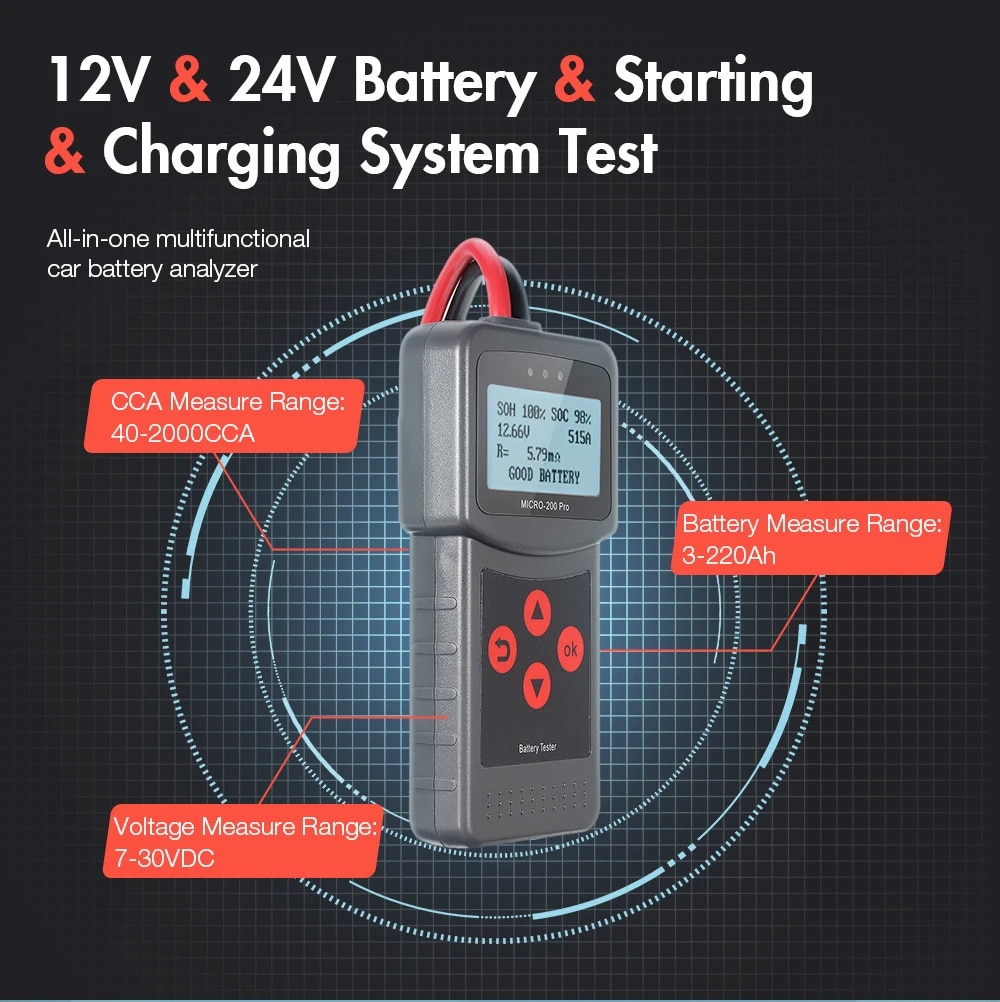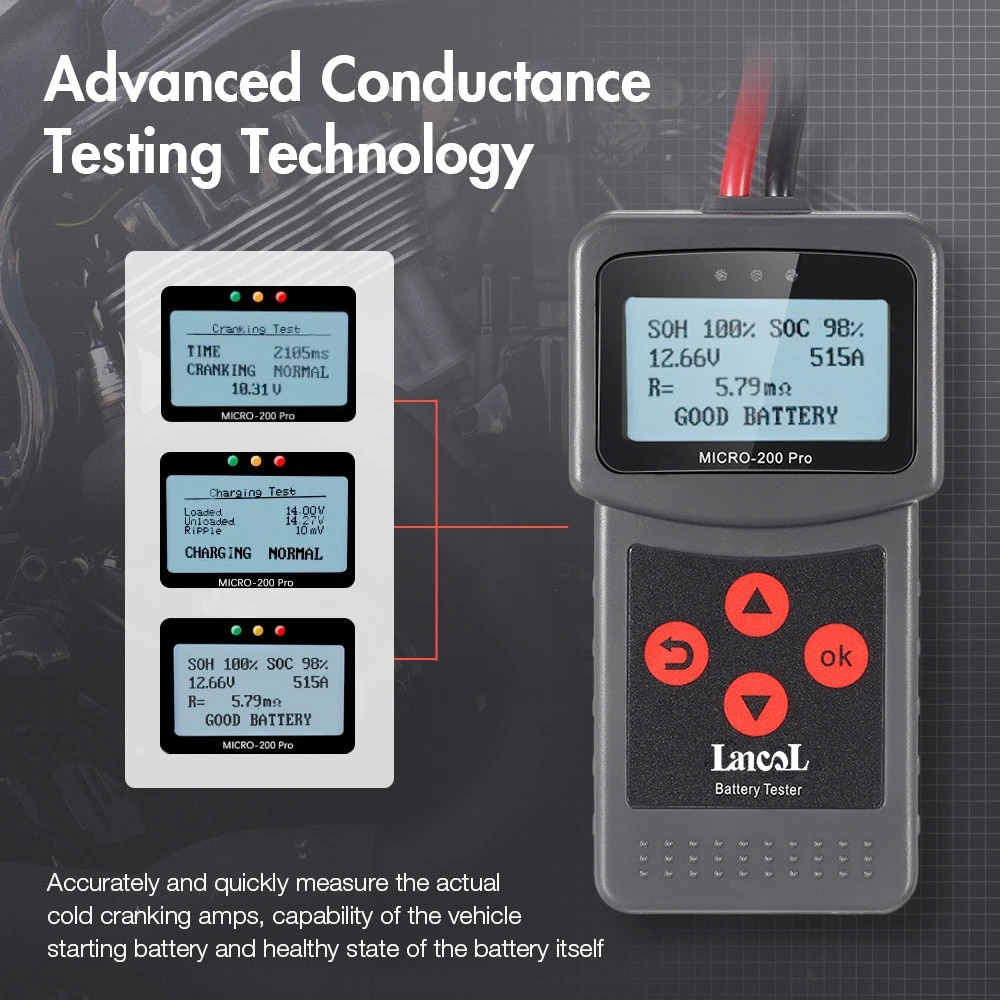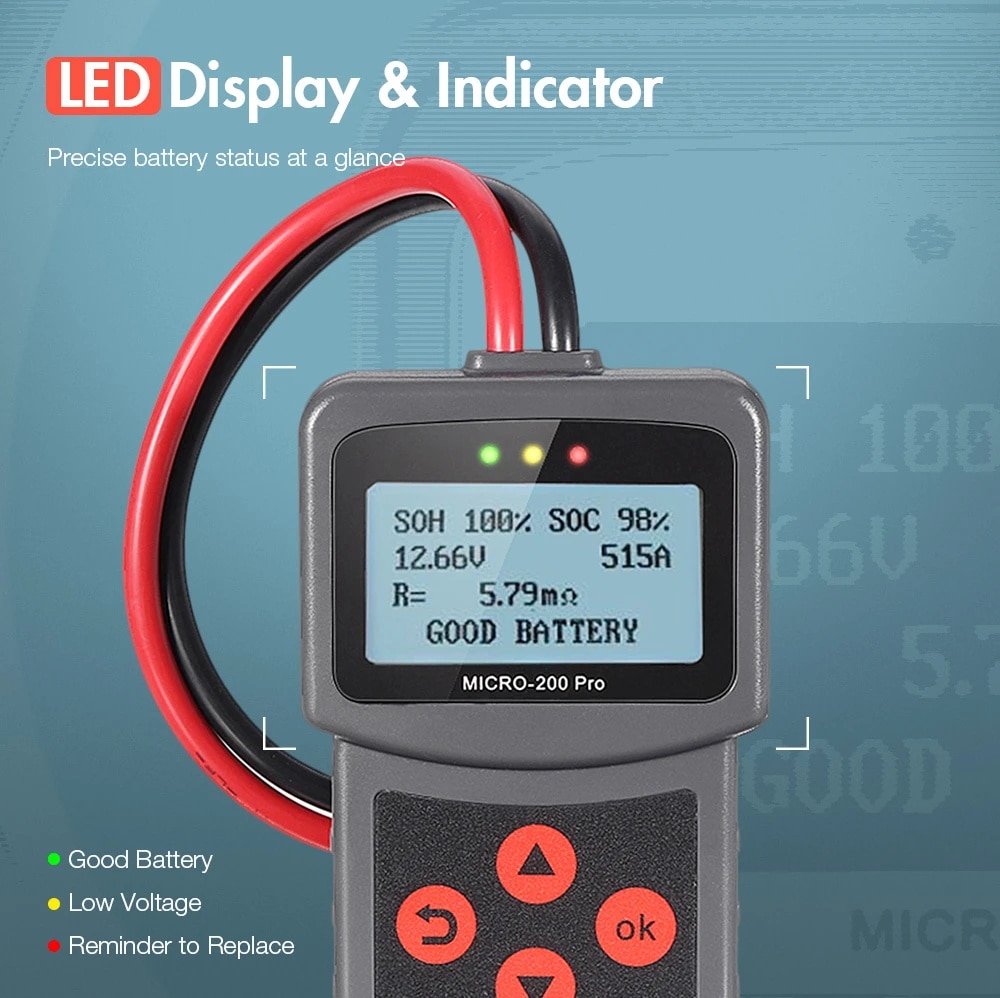 Description
Lancol Micro200 Pro Car Battery Tester Analyzer 12V 40-2000CCA EFB AGM Gel Lead Acid Battery Cranking Charging Diagnostic Tool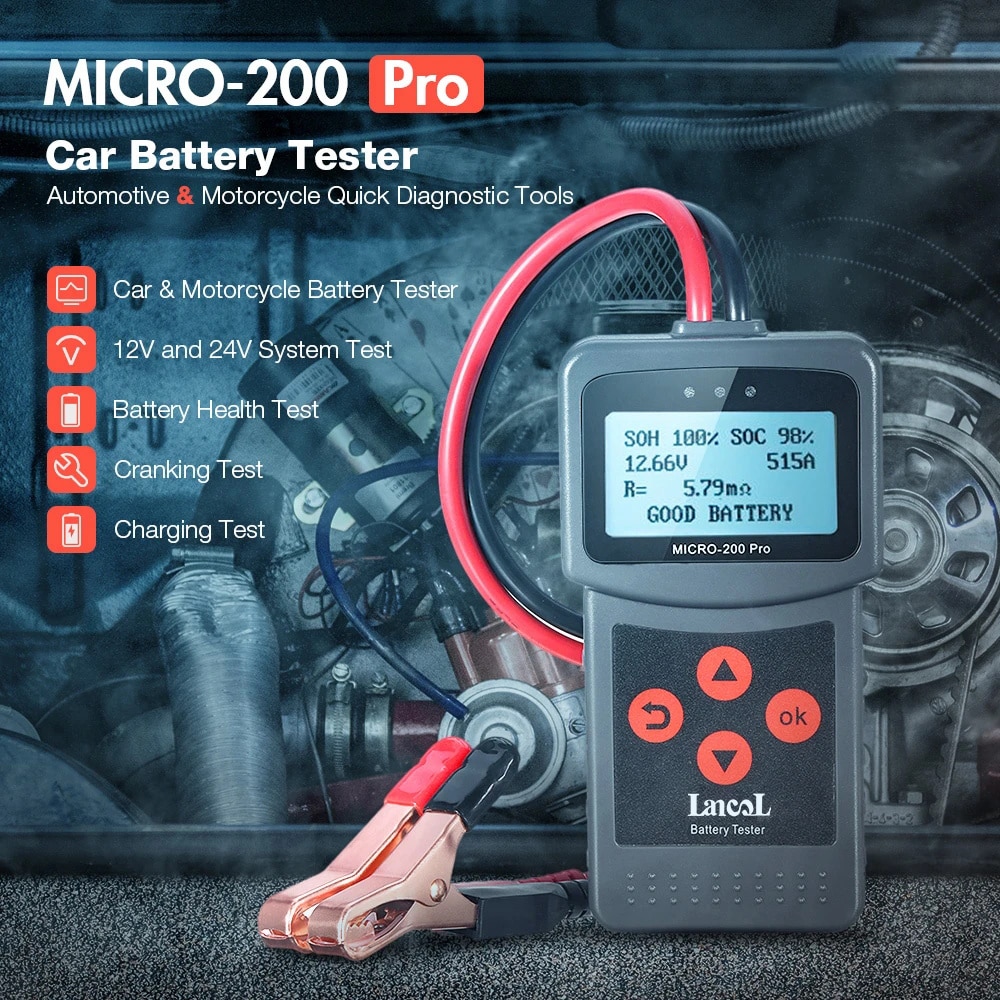 Functions:
Battery Cranking Test, load test
Battery Charging Test, Ripple Test
Test results storage and review
Print test results and battery report on PC
Led Lighting Status: Good(Green) Weak(Yellow) Replace(Red)
For testing 12 volt batteries.(Car.Motorcycle)
For testing 12 and 24 volt charging systems (Car.Motorcycle.Truck)
Tips: Truck only could test the 24V system.not the 24v battery.
Check Battery Capacity - Cold Cranking Amps (CCA), DIN, EN and IEC information relative to battery rating. Check Internal resistance value (m)
NOTE:For ensuring the accuracy of test results, please stop the engine more than one hour and turn off all electrical equipments in the car.
Questions & Answers:
Q: Does this battery tester have power?
A: No, it can only be powered by the tested battery.
Q: Can it Charge the Battery?
A: No, it will not charge any batteries, But it can detect the battery.
Q: Can it test the battery life?
A: Yes,it can test the State of Health,the State of Charge,the Internal Resistance and the Testing Conclusion .
Q: What batteries can it be used on?
A: It can test 12 volt lead-acid batteries with the CCA range (40-2000CCA)
Q: Why is the result of the MDXT600 test inaccurate?
A: Maybe the parameter you set is wrong. Please input the correct data from
the battery label.
Q: Why nothing is displayed?
A: Please make sure your battery voltage is higher than 8V and The positive and negative clamp are connected correctly.
Q:What is CCA?
A:CCA: Cranking Amps Standard, effective starting current value at 0'C
Features:
【A Must Tool For Car Owner】Professional battery tester applied for automobile. The measure range is 40-2000CCA . It covers all battery rating Standards such as CCA, BCI, CA, MCA, JIS, DIN, IEC, EN, SAE, GB .Suitable for most types of 12V lead-acid batteries including Regular Floded,A
GM
,GEL and EFB etc.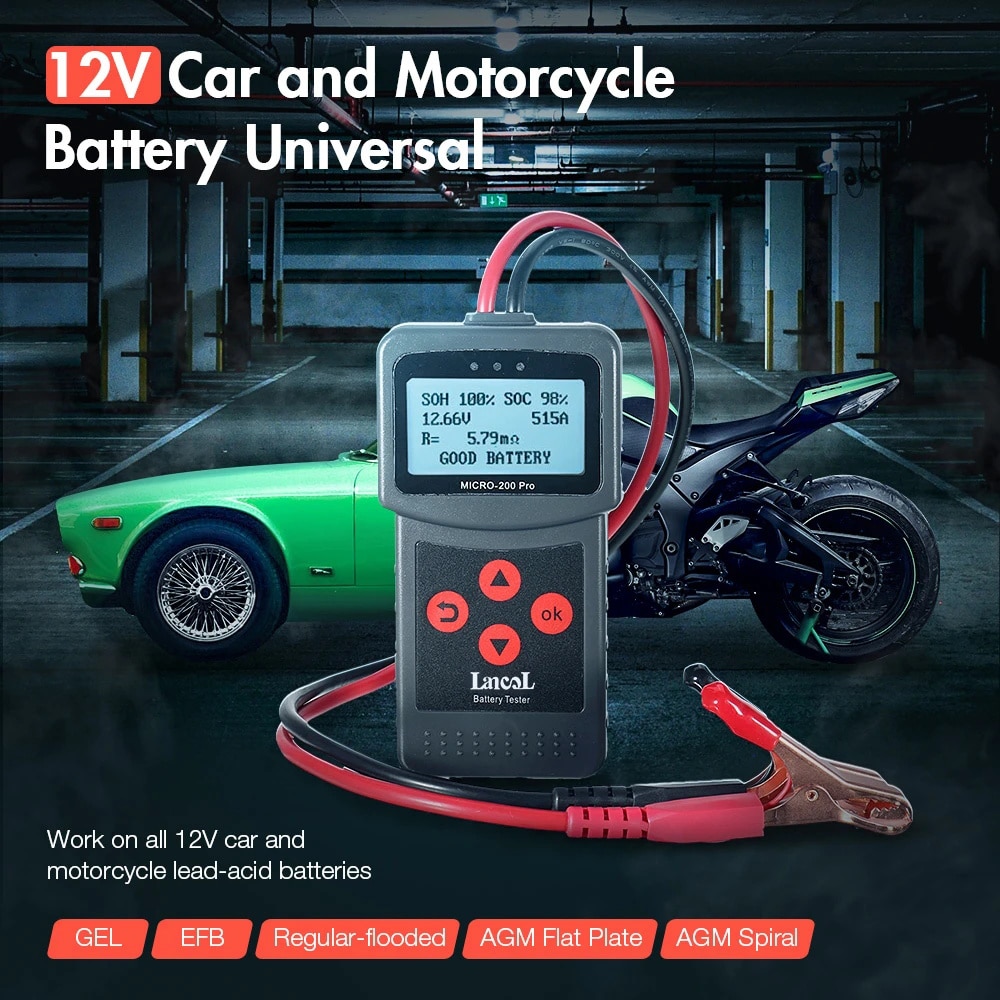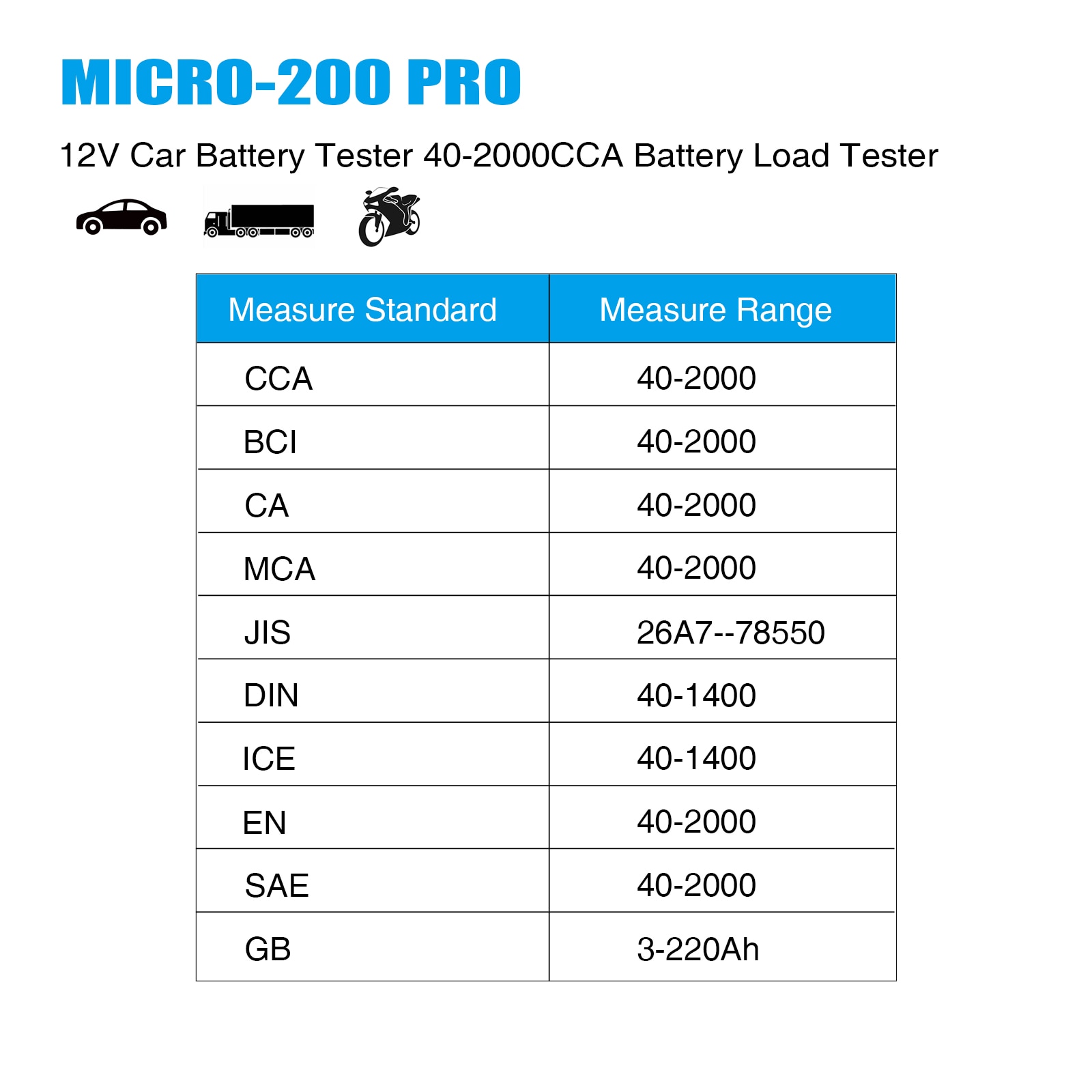 【Accurate and Fast Test】With the bulit-in intelligent microprocessor which makes test fast and accurate, compared with the US Midtronics.the accuracy rate is as high as 99.5%,we could guarantee the accuracy and stability of the tester. At the same time, the test results can be displayed within two seconds.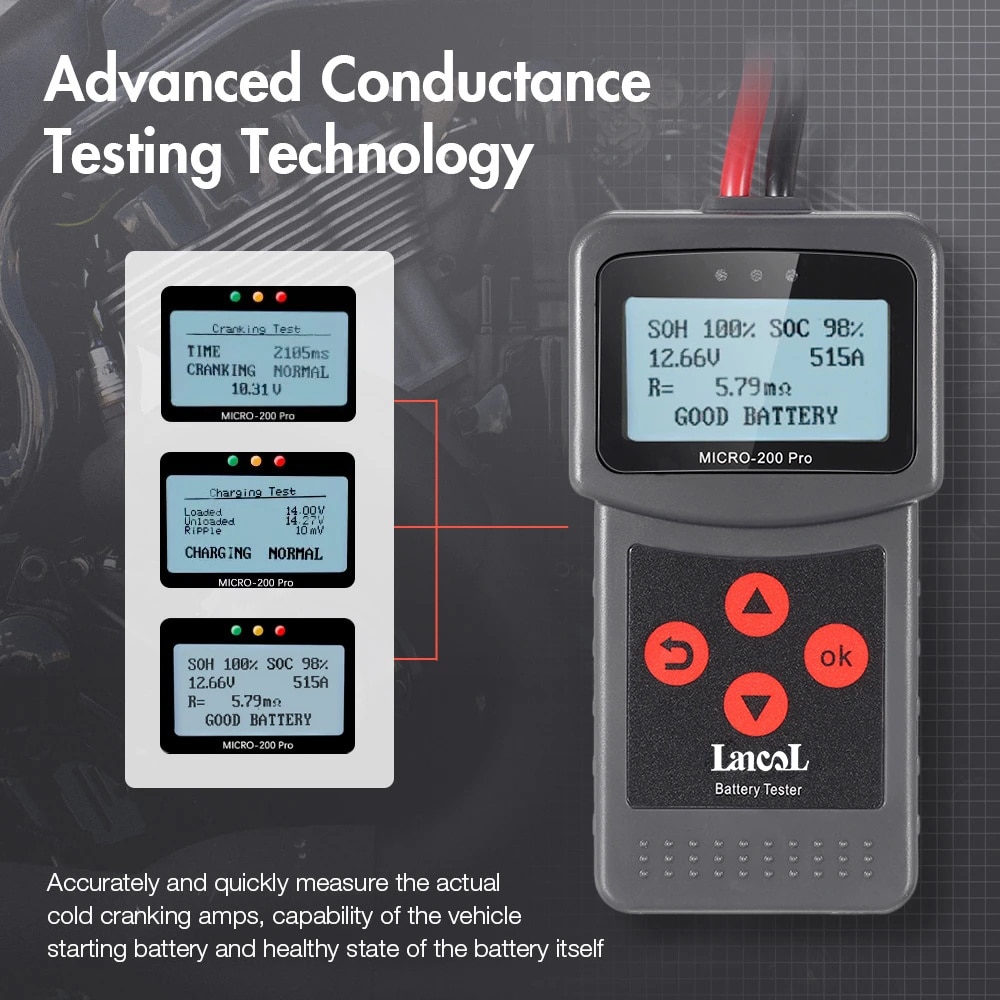 【Battery Health Test】It adopts currently the world's most advanced conductance measurement technology to measure the actual cold cranking amps capability of the battery,the State of Health,the State of Charge,the Internal Resistance and the Testing Conclusion (Good, Weak,Replace)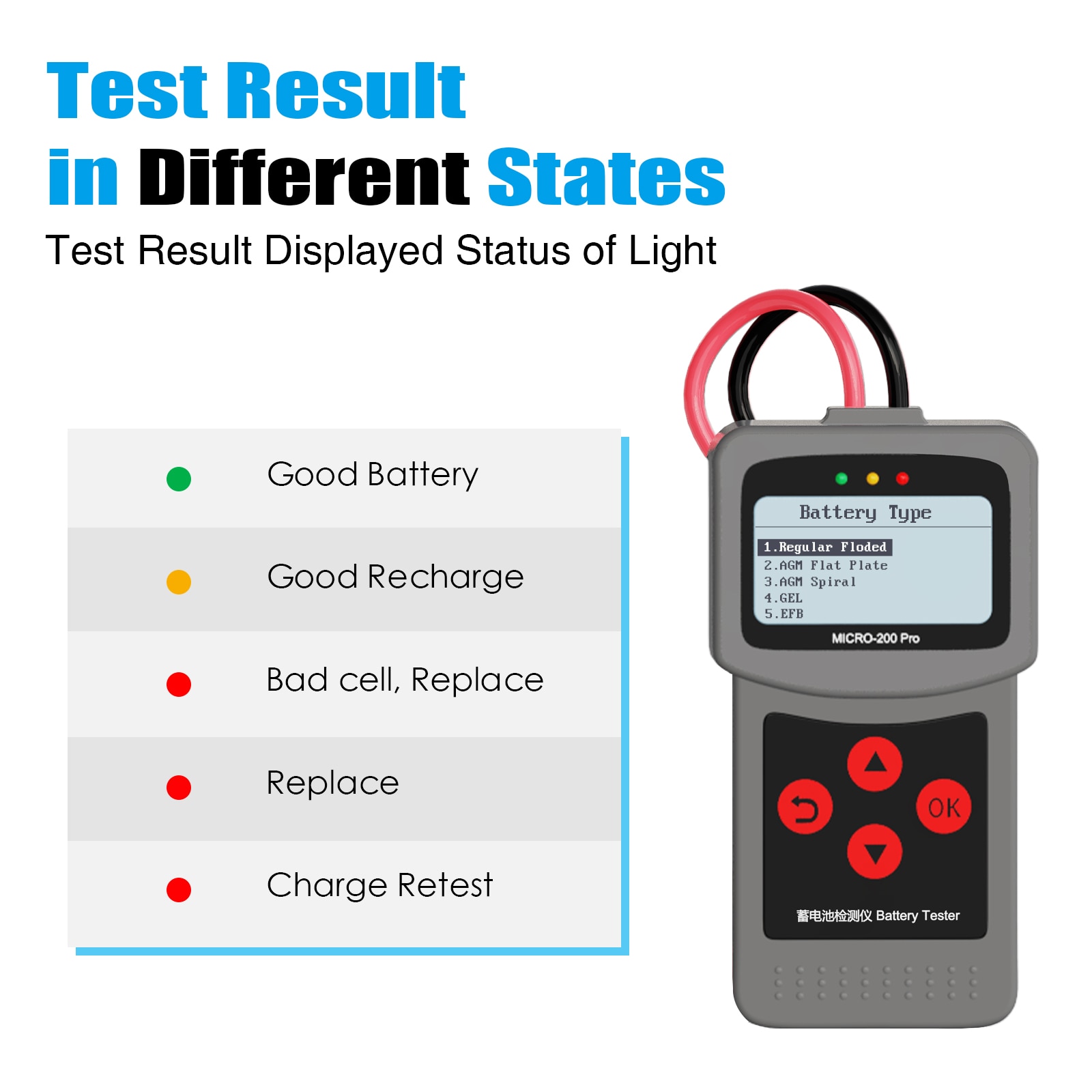 【Starter& Alternator Test】Micro200Pro not only a great battery load tester that tests batteries cranking & charging system but also can test alternator's charging and starter's cranking conditions.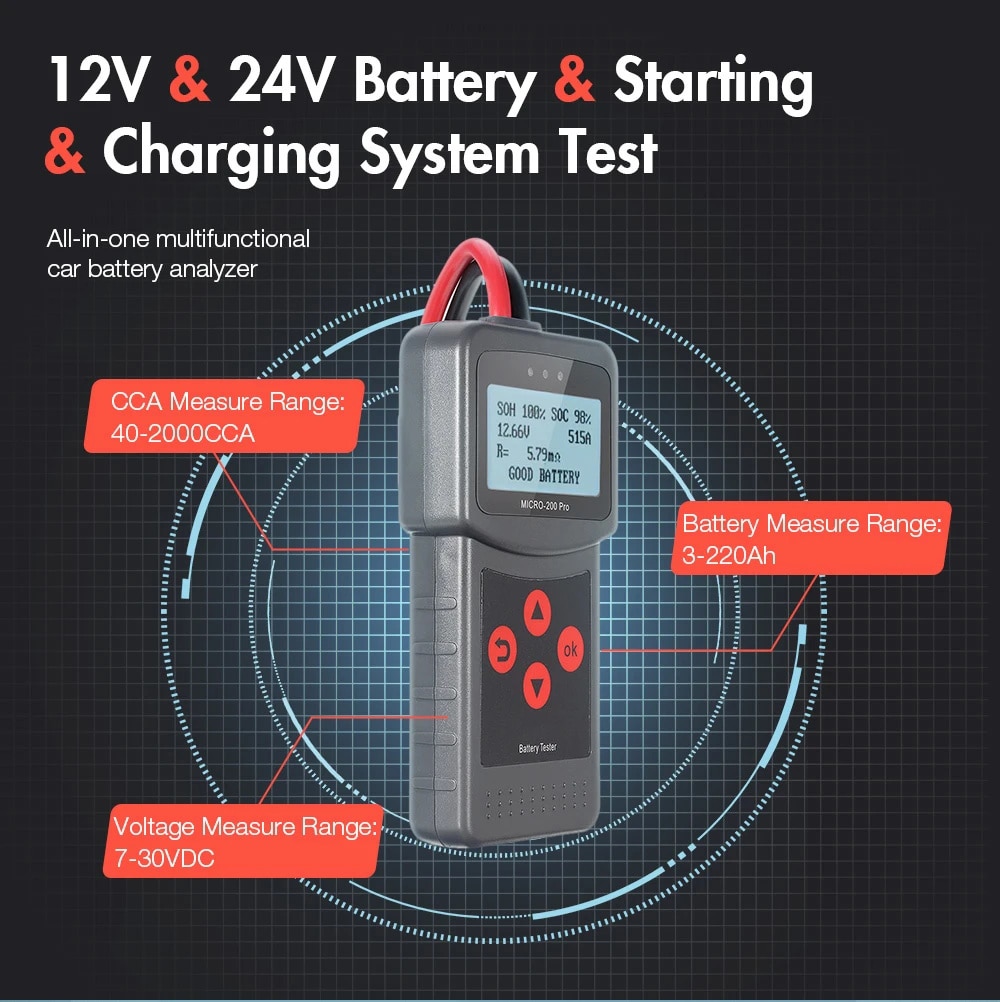 【Safty and Protection】Deigned with polarity reverse connection protection.If the positive and negative poles are reversed,it won't damage the device or affect the car or the battery.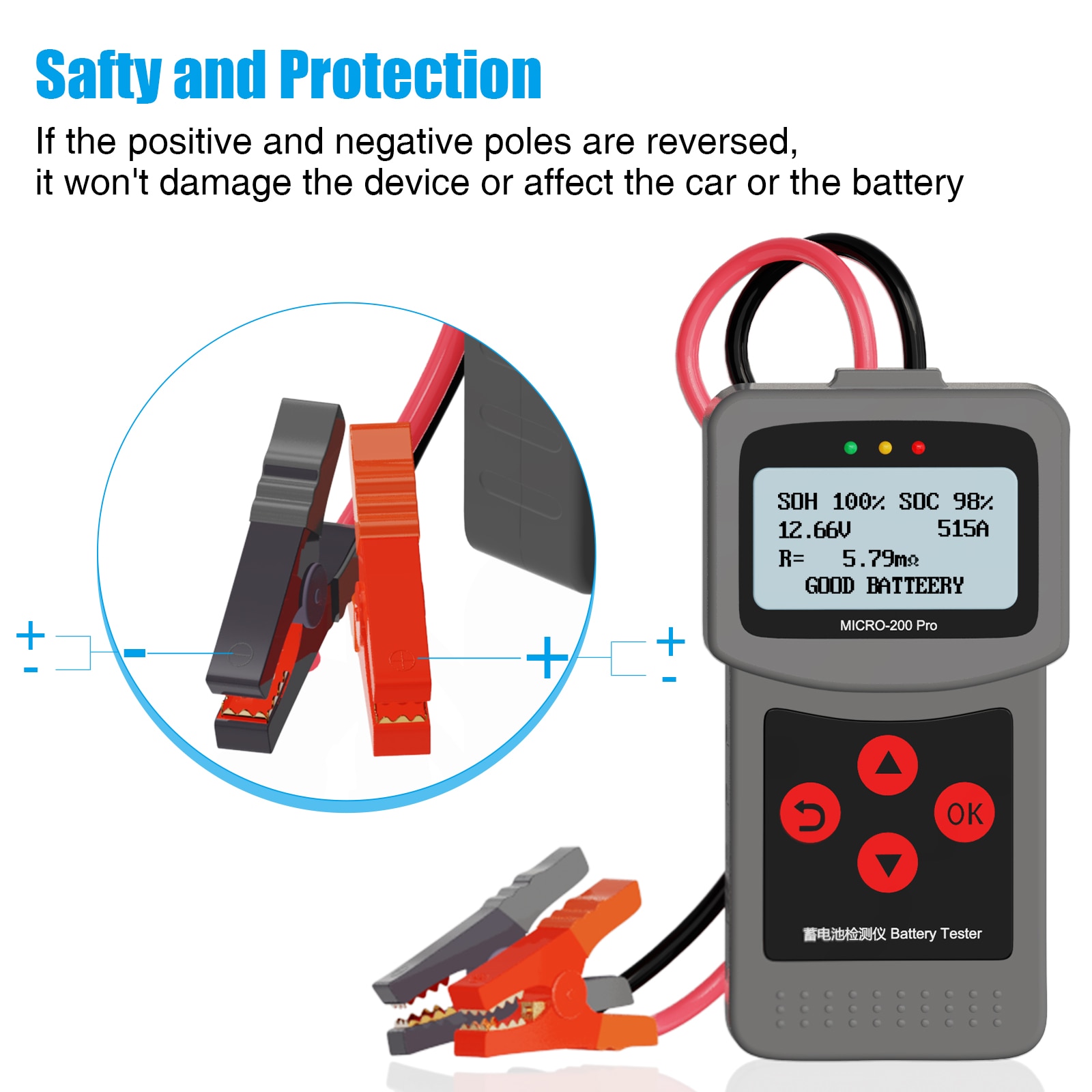 【Support Multi-language】It provides 14 languages versions for different need ,including: English, Russian, Korean Japanese.French, Spanish, Italian, German.Finnish, Dutch, Norwegian, Swedish, Danish and Portuguese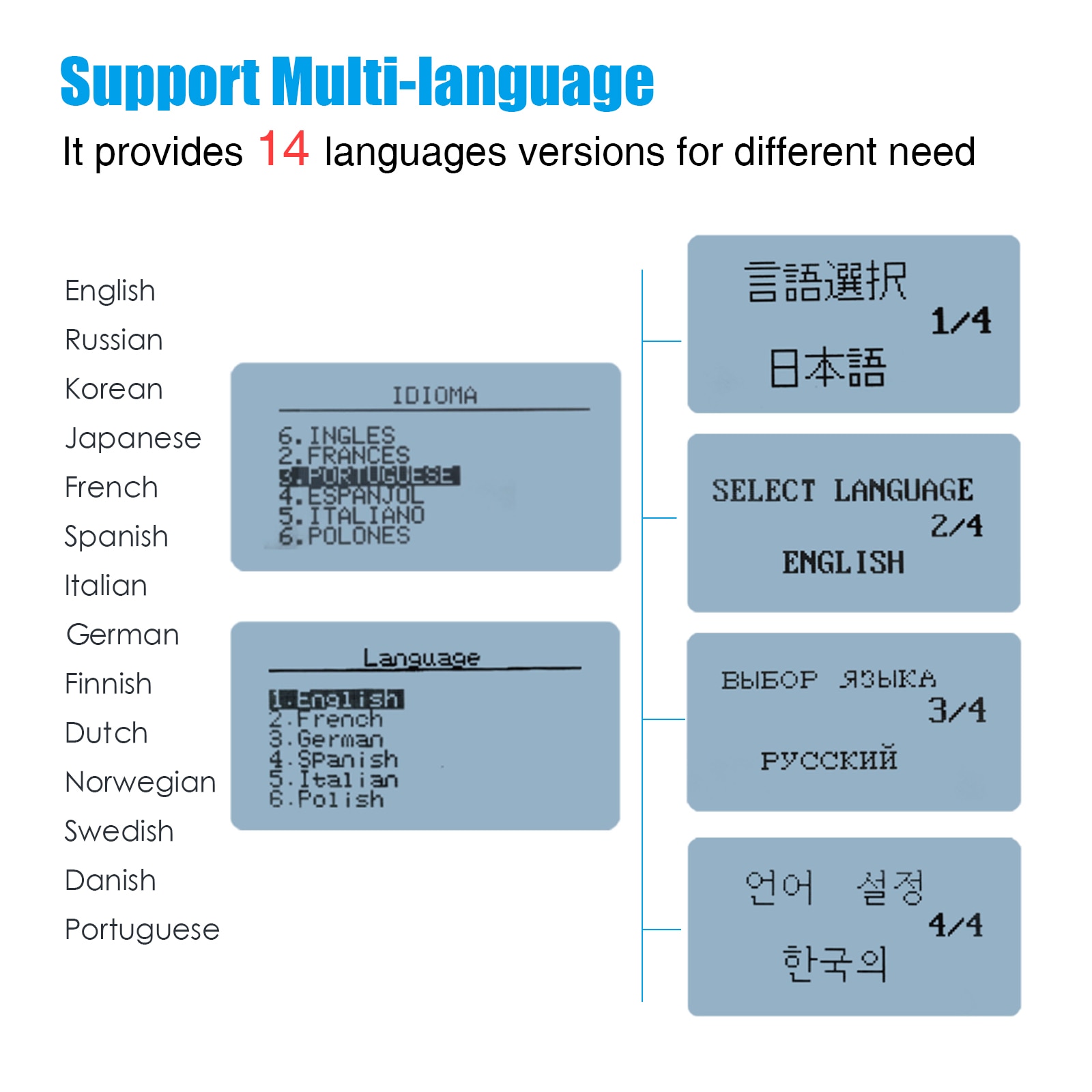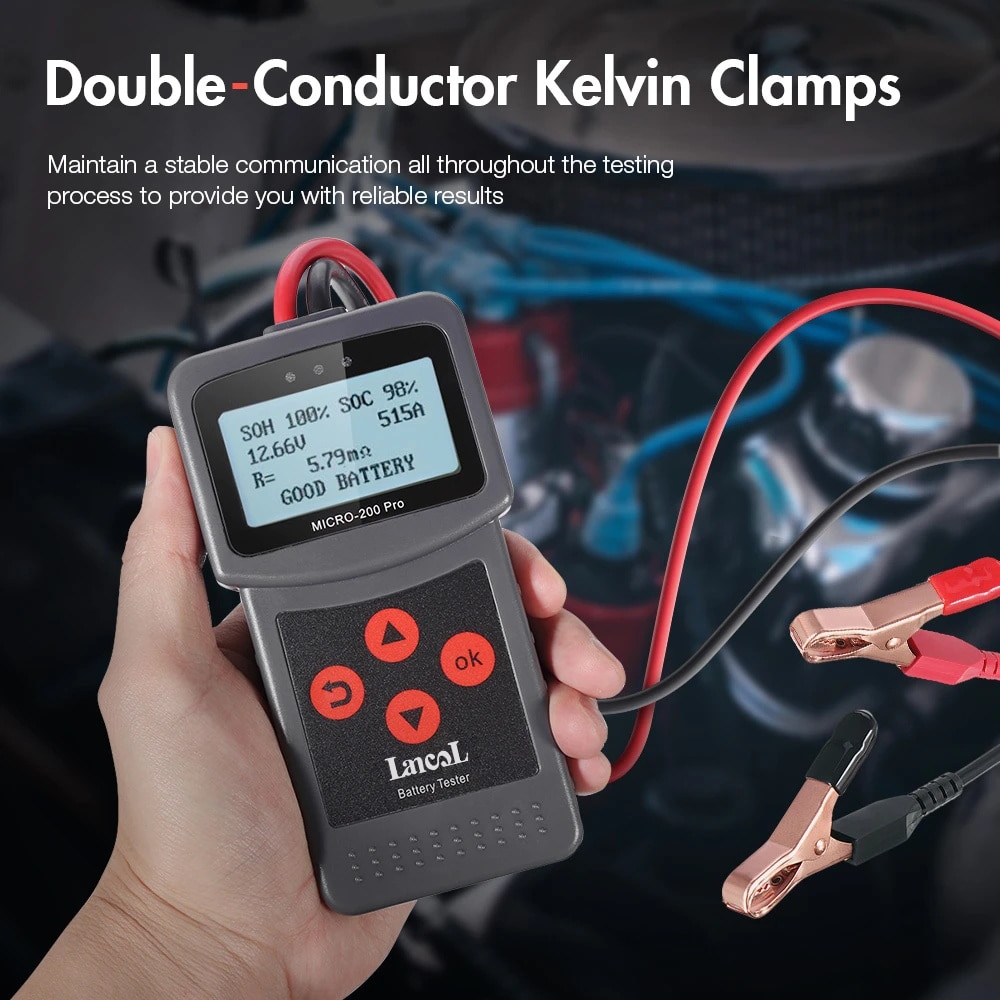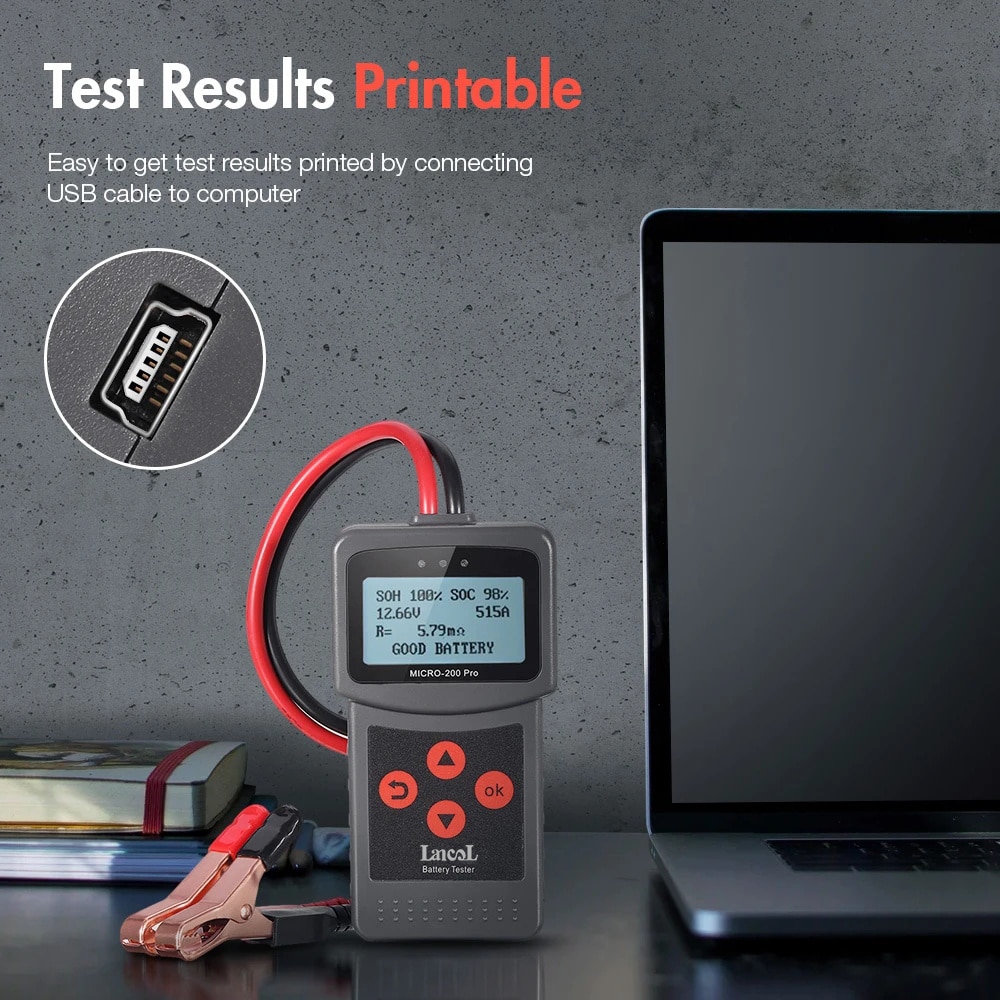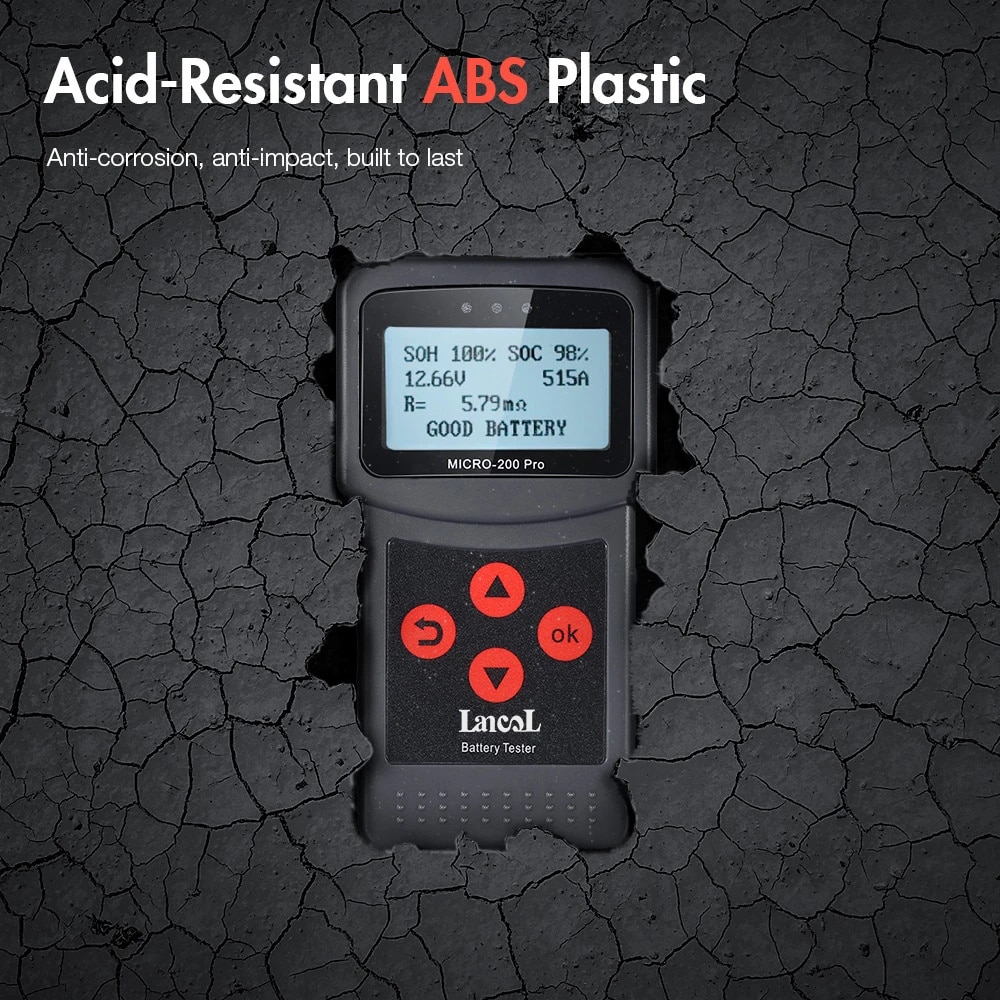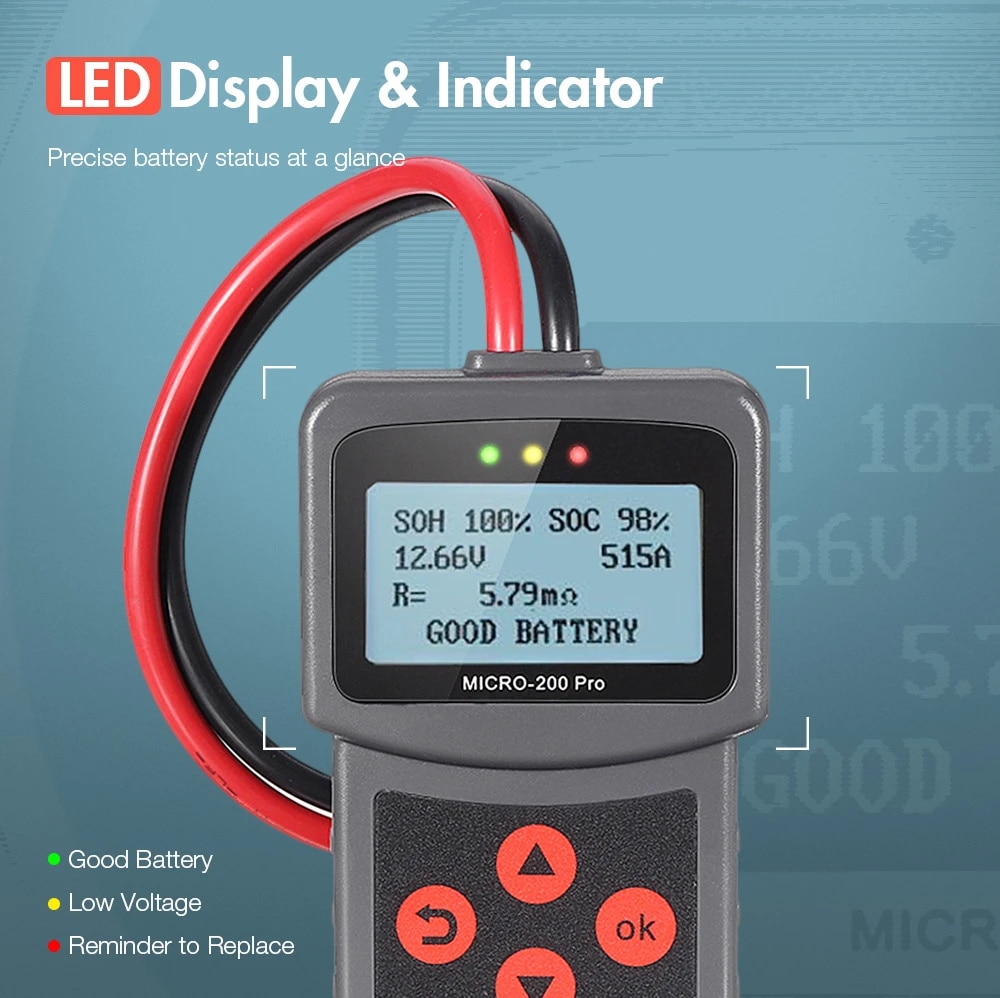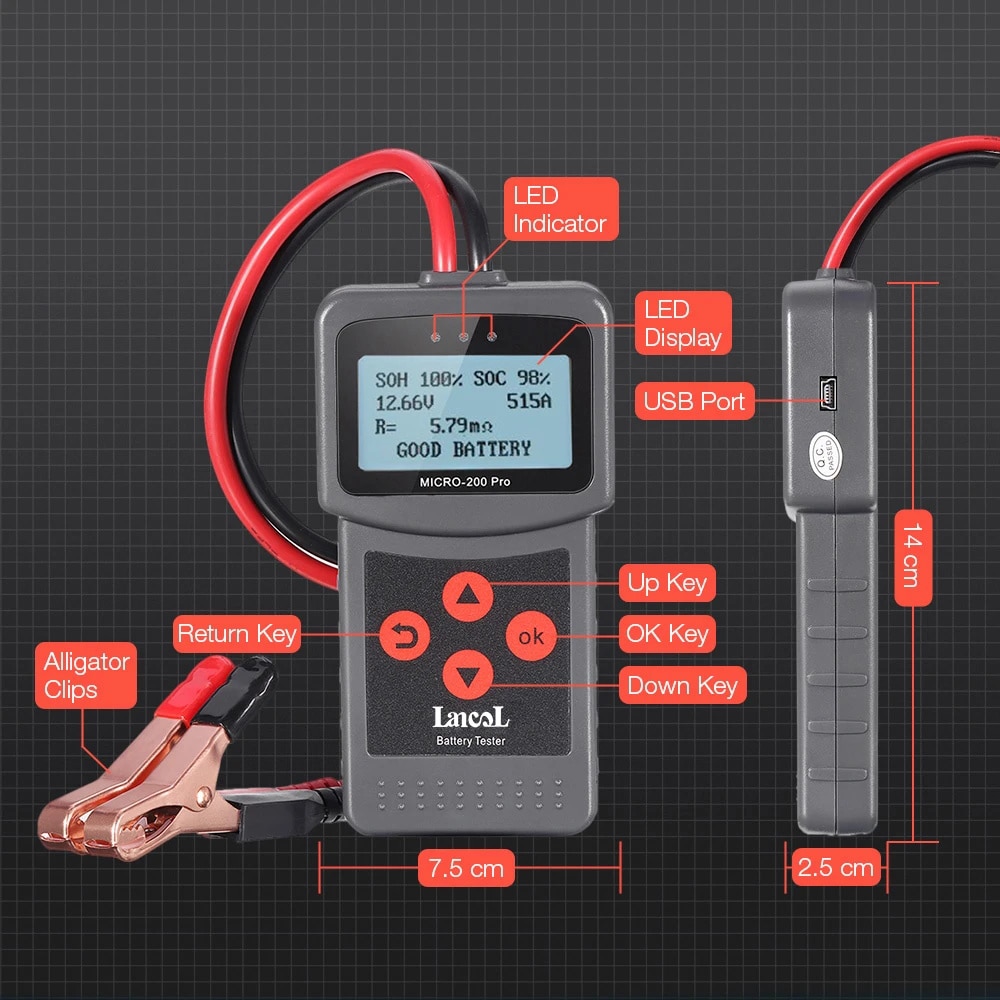 【Compare with Micro-200 Tester】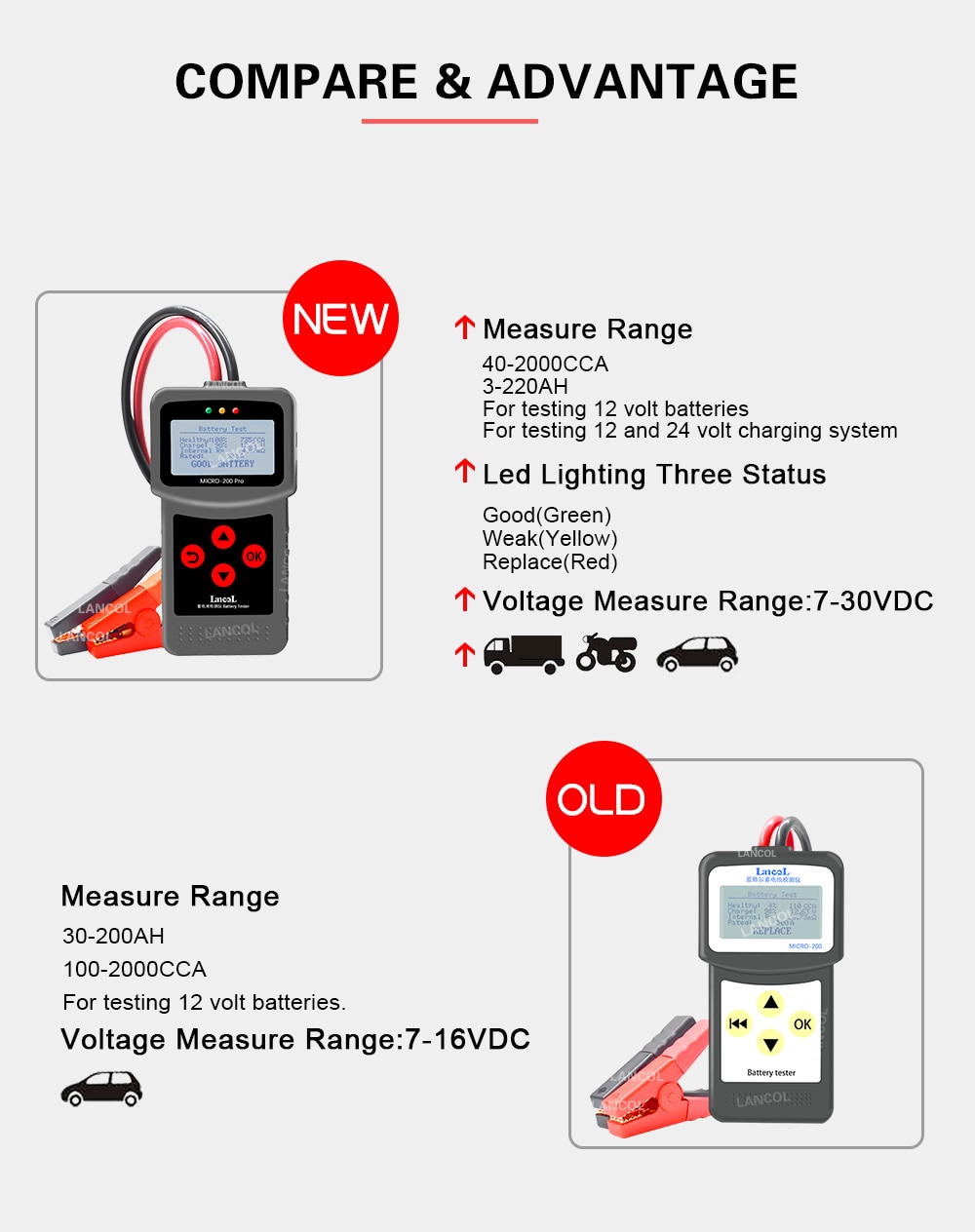 【The difference of Big clamps and small clamps】
Big clamp has a large opening, which is suitable for all car battery It can be easily clamped on the battery pile head.

Small clamp suit for motor and some car battery.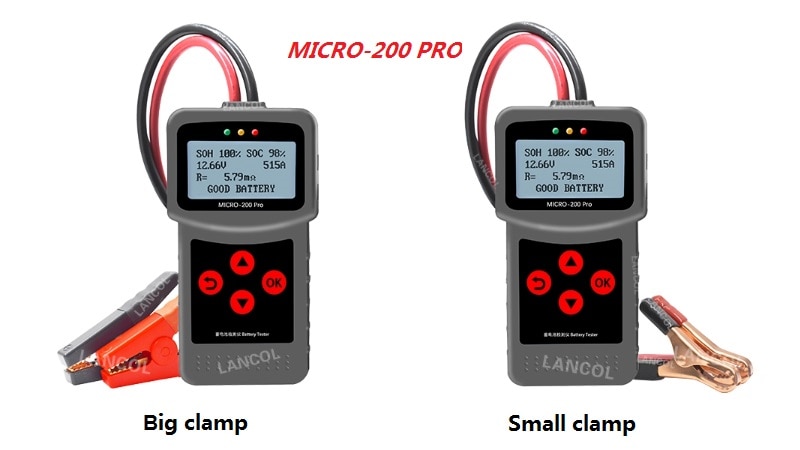 【Package List】
1* MICRO-200 Pro Battery Tester
1*USB cable
1* English User Manual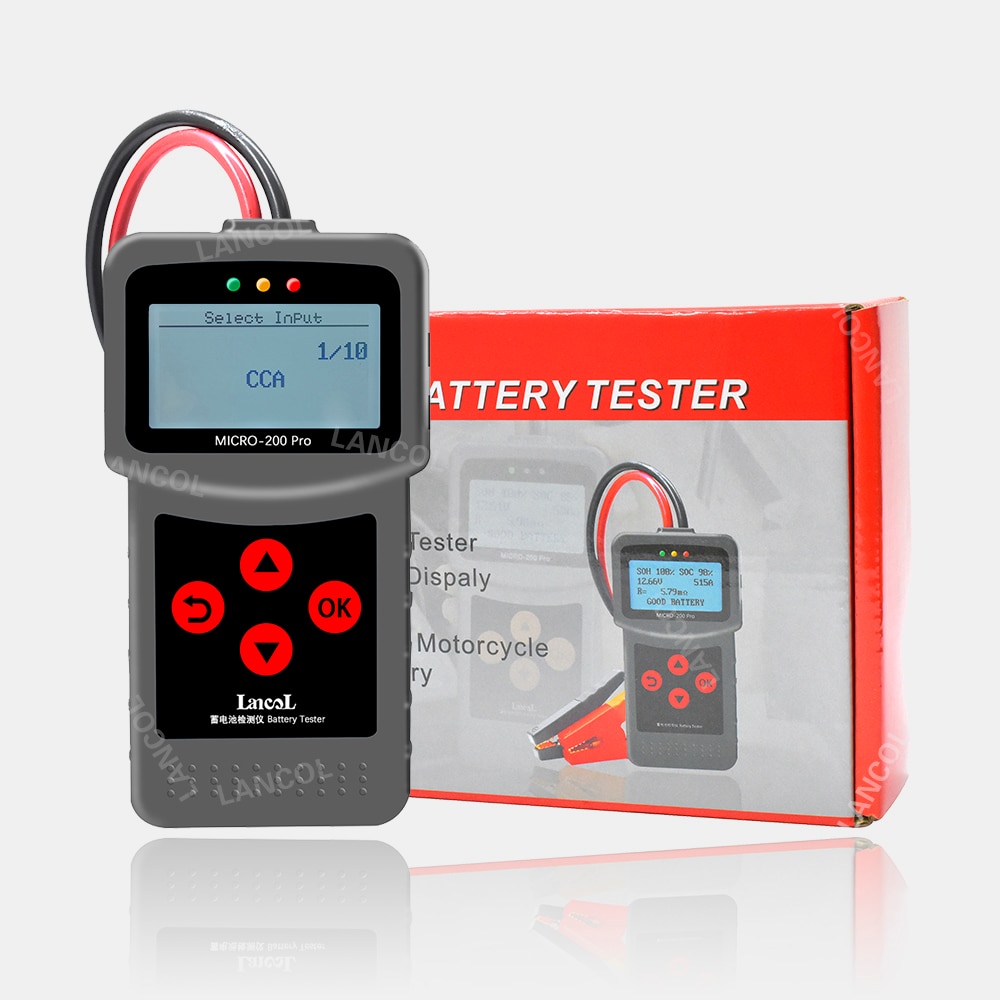 Reviews

16
#1 Paulo Caramujo
Mar 9, 2021

It came quickly. Everything works.Thank you to the seller. I will buy more here!
#1 Richard Blair
Apr 9, 2021

Fast delivery, everything works
#1 Madlen Kosinski
May 9, 2021

working good
#1 flaviane pontes
Apr 9, 2021

As the product description, only think the seller could give a support
#1 warren mcclung
Feb 9, 2021

Everything is ok. Thank you to the seller.
#1 dan utt
Feb 9, 2021

OK. Now received the email files right
#1 Pearl Hudgins
May 9, 2021

working good this Lancol Micro200Pro 12v Battery Capacity Tester Car Battery Tester For Garage workshop Auto Tools Mechanical is good quality, working very well
#1 alberto alvarado
Mar 9, 2021

the best!!!!!!!!!!
#1 sing wai simon so
Jul 9, 2021

fits my machine perfectly
#1 antonio rodrigues
Feb 9, 2021

working good
Previous: Autophix BAS300 Plus 2-in-1 Automotive Scanner Code Reader OBD 2 Car Diagnostic Tools OBD2 Engine Check 6/12/24V Battery Tester
Next: Top quality OBD2 to USB Cable 88890305 for Volvo Vocom II 88890300 Truck Diagnostic Scanner