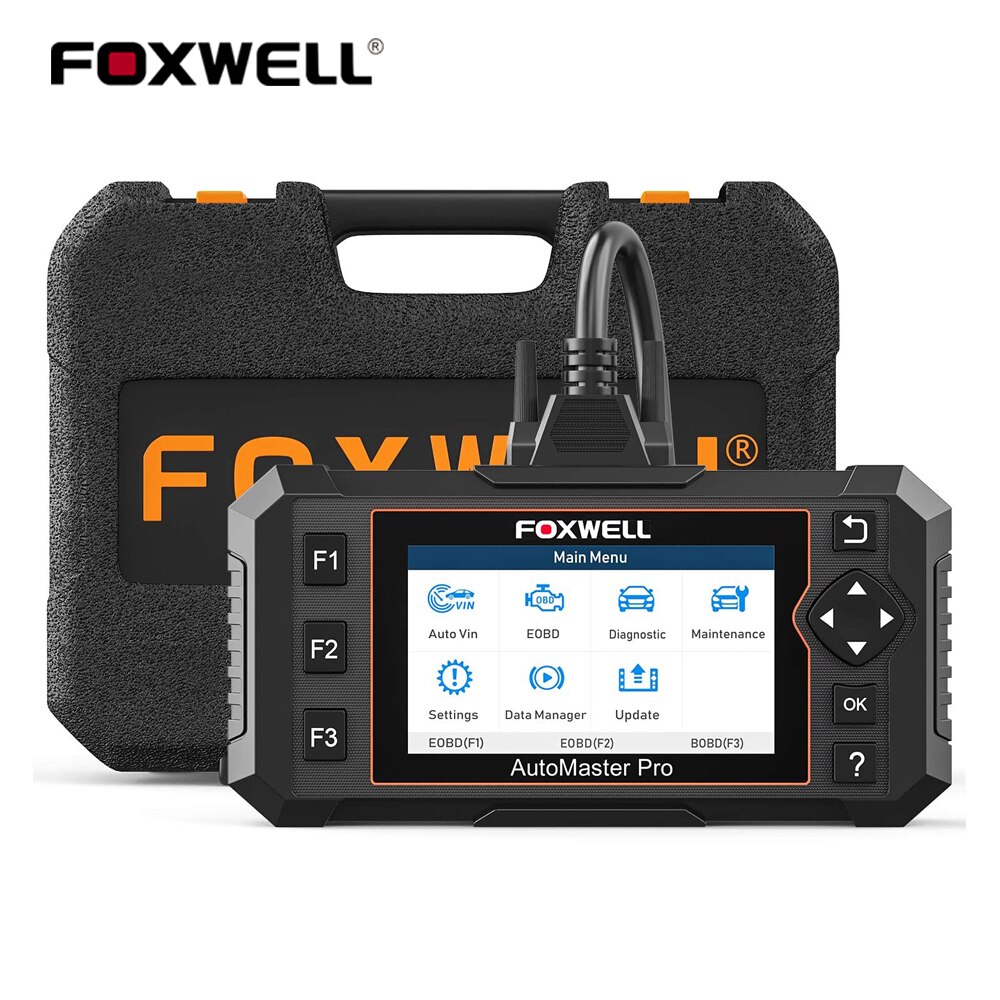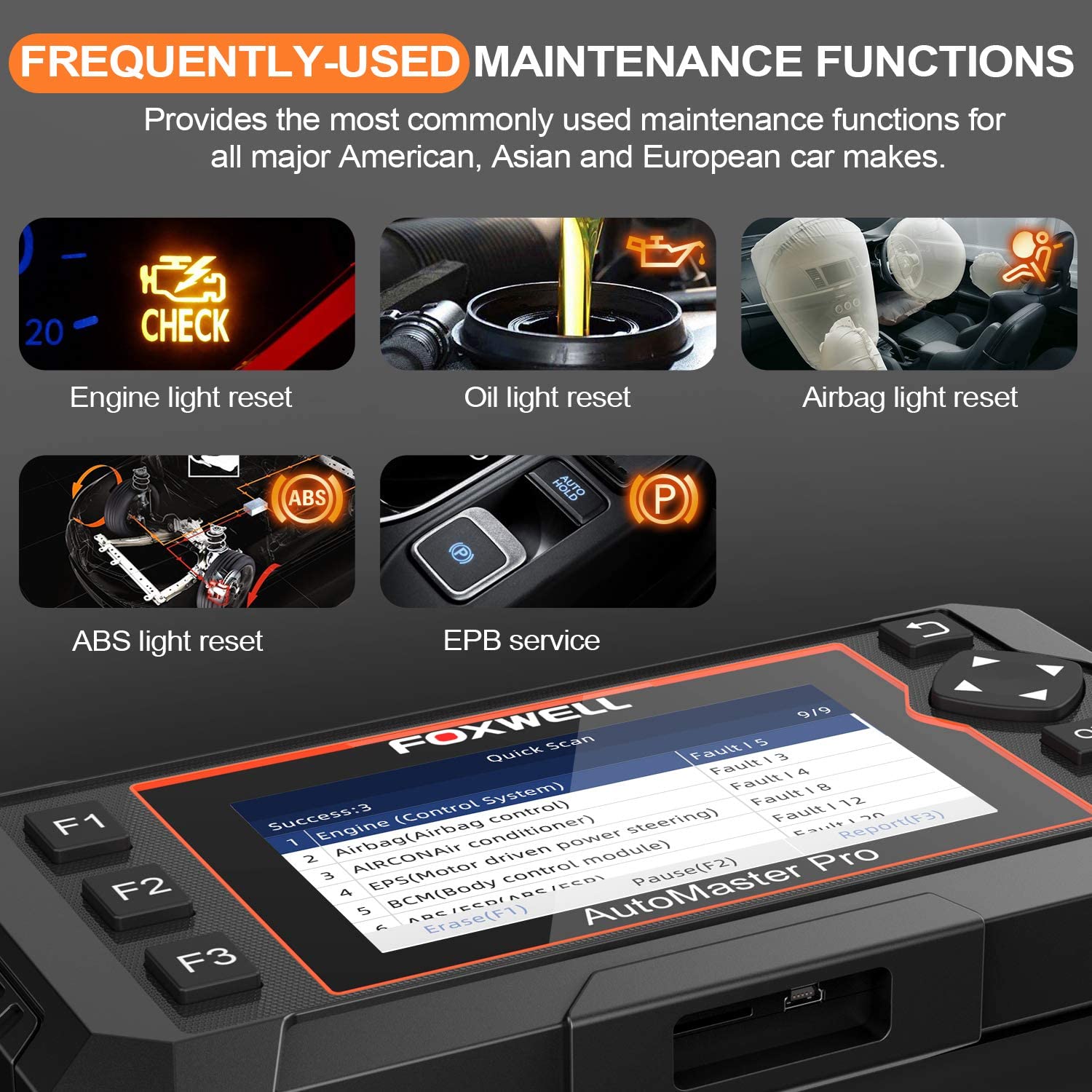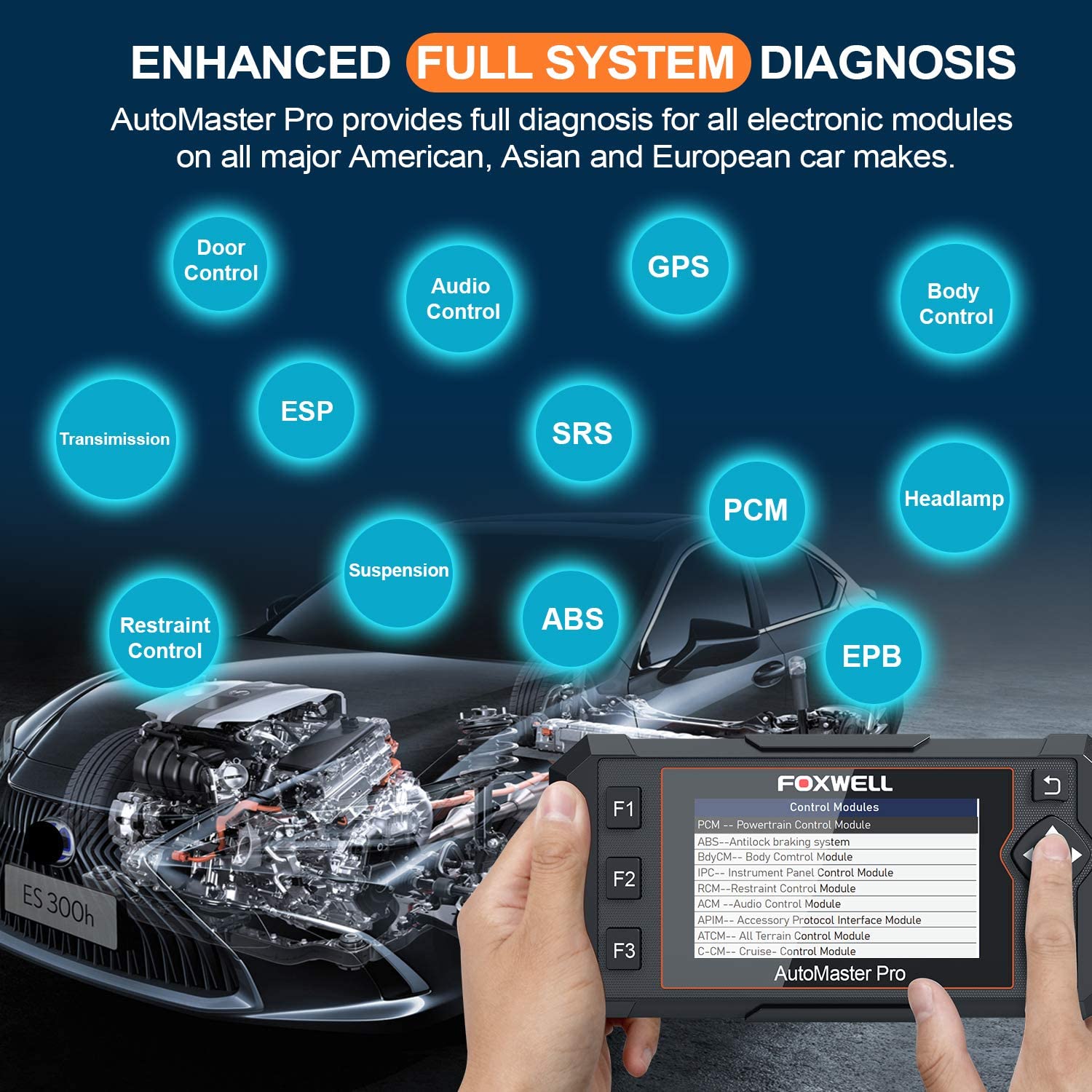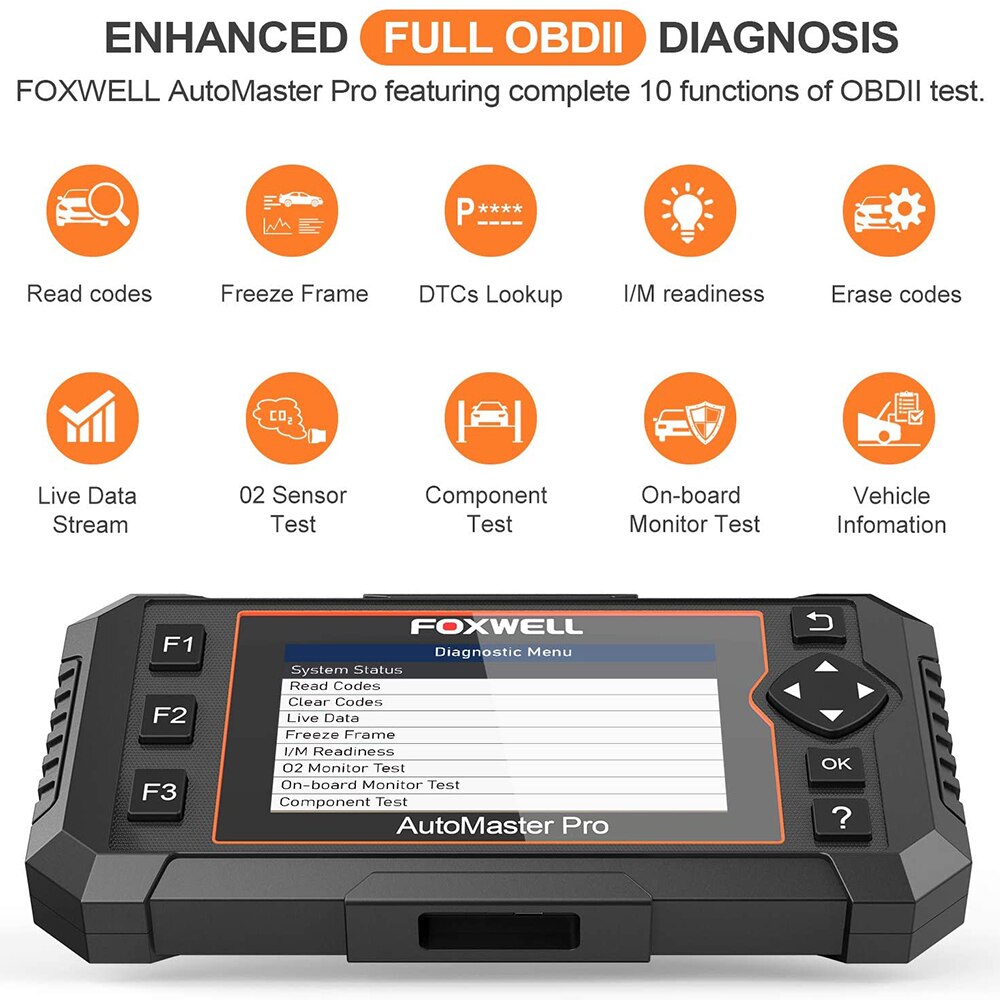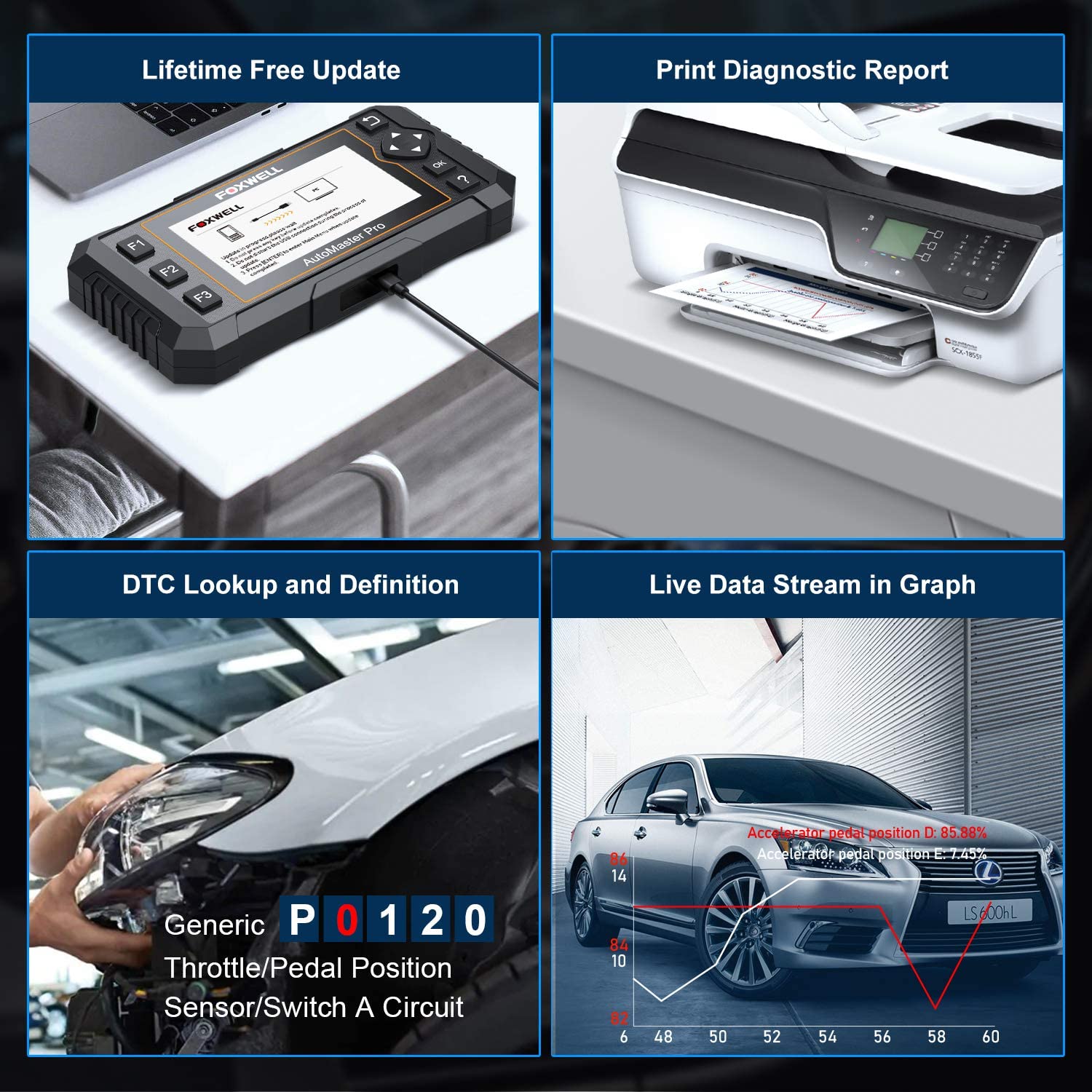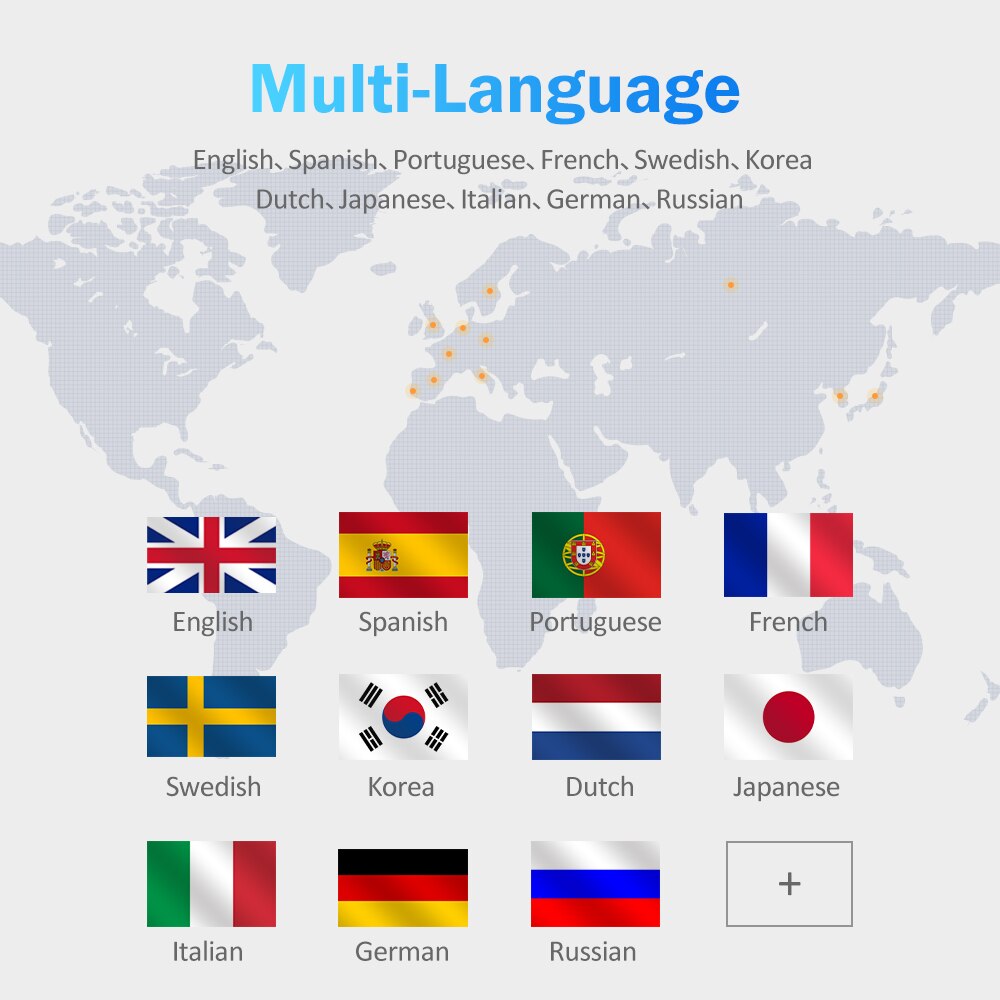 Related Accessories/Similar Items
Description
Foxwell NT624 Elite OBD2 Diagnostic Tool Full System ABS SRS ECP PCM Code Reader Oil EPB Reset ODB2 OBD2 Car Automotive Scanner
Foxwell NT624 Elite is a new full system car scanner,horizontal screen design, hand-held operation, easy to use. it offers techinicians and enthusiasts an easy and affordable solution to pinpoint troubles of all system on major American, Asian and European makes. In addition, the oil light reset and EPB sevice features are big plus.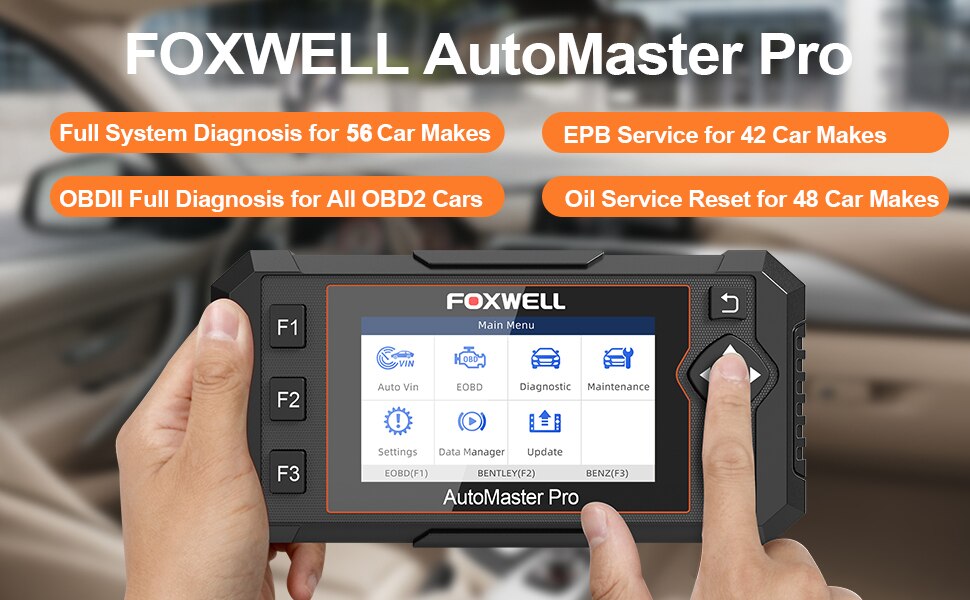 Foxwell NT624 Elite Support Functions:
1. Universal OBDII/EOBD engine scan: obd2 diagnostic Code Reader provides comprehensive OBDII diagnostics for global OBDII/EOBD vehicles, reads and clear codes, turns off MILs, requests and records live sensor data, ect. except live data reading. In addition, it supports all 10 OBDII test modes, includs the mode 6 test. Powerful graphing capability gives you the "real picture" of what's going on in the vehicle, which allows you focus on any suspicious or symptom-specific data parameters.

2. Full System Diagnostic & Scan: This car obd2 scanner is capable of reading and clearing trouble codes of all major systems , including engine, Airbag/SRS, Transmission, ABS, SAS, Air Conditioning, ACC, Audio, Headlight ,Center Lock, ESP,Suspension failures, ect. It also can temporarily start and control your vehicle's systems for active testing, provide you with accurate data results about troubleshoot and diagnostic problems.

3. Advanced Features: Oil Service reset, EPB(Electronic Park Brake) Service Reset.

4. Fast Identifies VIN Number: one-click get you vechicle information, include VIN number, release year, model and engine type. then you can enter full system diagnosis directly. it is very convenience and fast.

5. Date Manager: Review the test date you saved, help you analyze the problem


6. Wide Vehicle Coverage: Compatible with almost all OBD II cars, SUVs, minivans, light-duty trucks sold worldwide since 1996 to 2019. Dealer level oil service light reset functions on 48 manufactures, advanced EPB functionalities on42 manufactures.

7. Lifetime free upgrade: you will always have the latest bug fixes, new vehicles, newly added parameters and functionality at your fingertips

8. Multilingual: support 13 kinds of language, include English,Spanish, Portuguese, French, Thai, Hungarian, Swedish, Dutch, Japanese, Italian, Russian, German, Korea, Meet the needs of customers in various countries.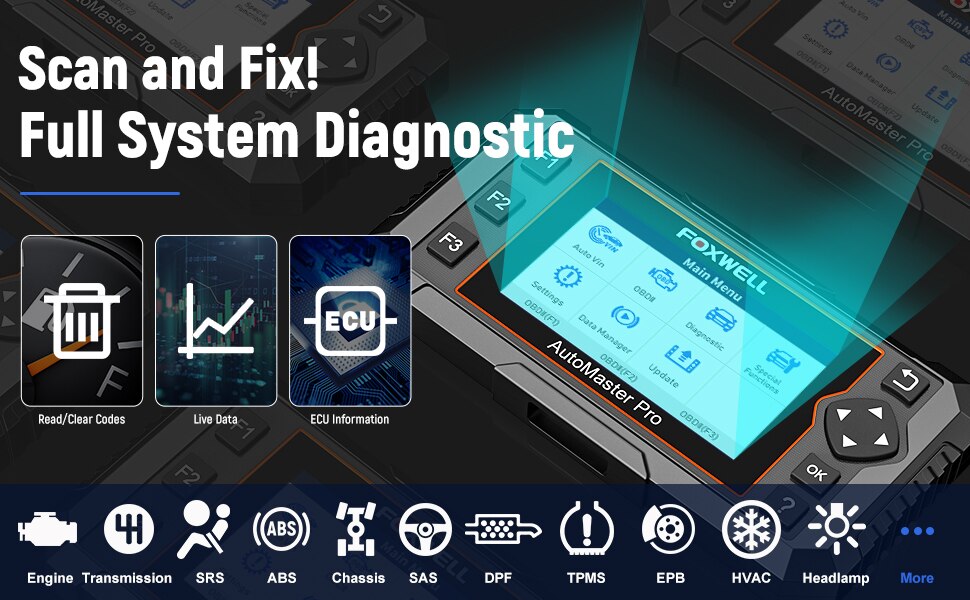 Full System Diagnosis
Foxwell NT624 elite-- New generation full systems diagnostic Code Reader, supports reading codes, clearing codes and live data of all electronic control modules, bringing you cost-effective vehicle diagnosis and maintenance. This car diagnostic tool support comprehensively scanning includes Fuel system, Transmission, Engine, Body, Power train and more.It can diagnose various systems via reading and clearing DTCs data flow and then turns the warning light off.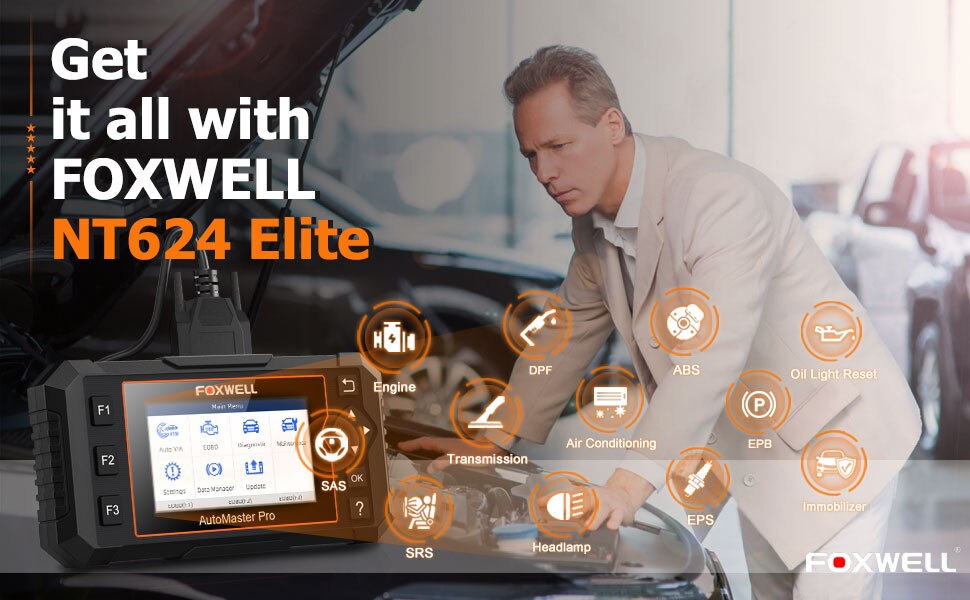 Foxwell NT624 Elite Scanner Support Special Functions:
Oil Service Reset

Oil Light Reset allows you to reset the service after car service
Oil reset with one button offers quick and simple oil service reset for GM models only
Manual reset prodices step-by-step on-screen instruction for all Asian vehicles and most American and European vehicles
Auto reset is a bi-directional communication prodedure directed by NT644 PRO

EPB Service Reset
EPBD Service allow you perform the service and maintance of brake systems, include de activation and activation of brake control system. bleeding brake fluid, opening and close brake pads, and setting brakes after disc or pad replacement, on multiple brands of vehicle where electronic brake systems are fitted.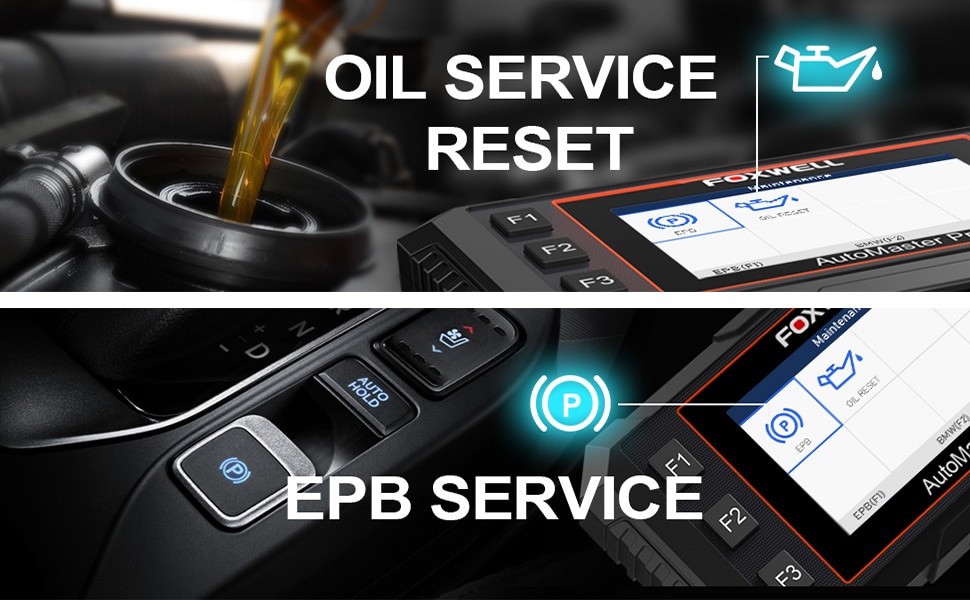 Fast VIN AutoDetect: Press "AutoVin" to quickly detect VIN module. it shows VIN, vehicle type, release year and engine type.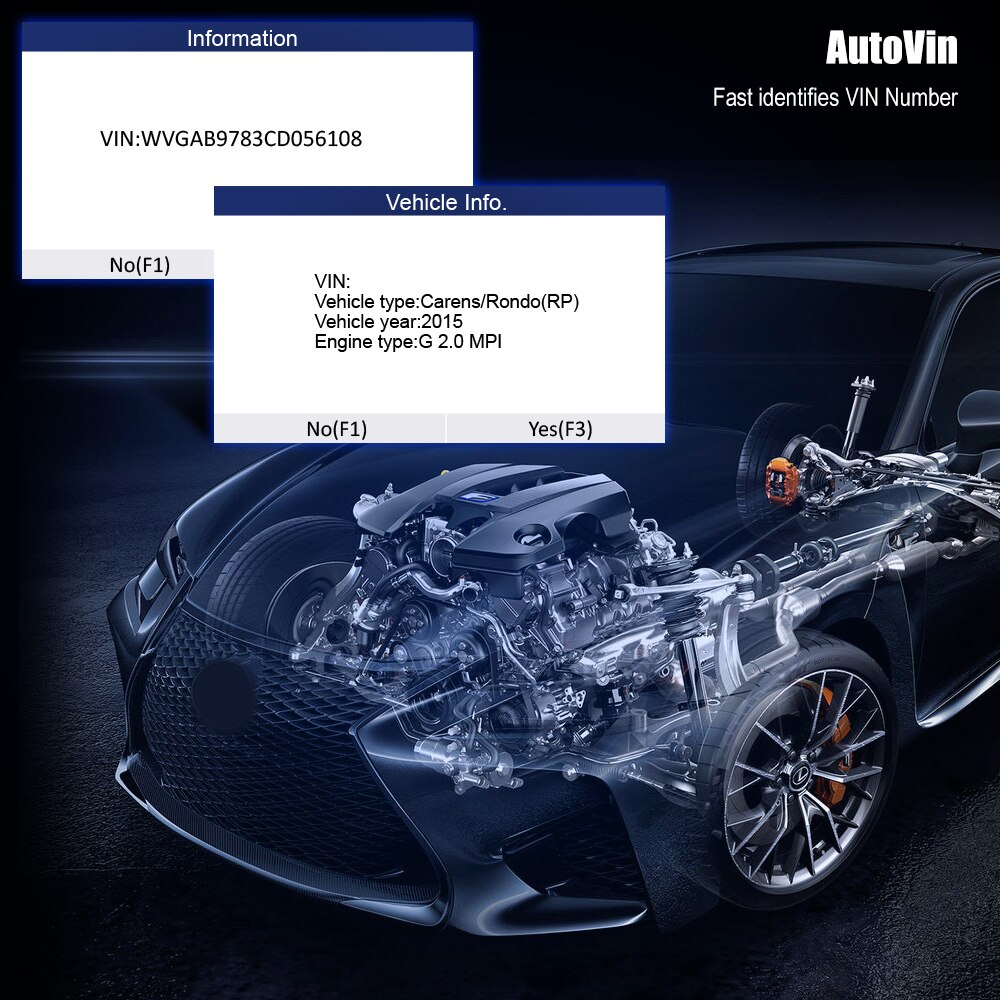 Foxwell NT624 Full System Diagnostic Support Vehicle Coverage:
America (1996-Now model) :
for Chrysler, for Ford, for GM ( including brazilian car maker )

Asia(2003 to Now model):
for Acura, for Daewoo, for Honda, for Hyundai, for Infiniti, for Isuzu, for Kia, for Lexus, for Mahindra , for Mazda, for Mitsubishi, for Nissan, for Perodua (For Malaysian Market Only), for Proton (For Malaysian Market Only), for Scion, for Subaru, for Suzuki, for TATA , for Toyota, for Daihatsu, for Hyundai_CV, for Ssangyong, for Proton

European (2001-Now model):
for Abarth, for Alfa-Romeo, for Audi, for AstonMartin, for BMW, for Bugatti, for Bentley, for Citroen, for Dacia, for EU Ford, for Fiat, for Jaguar, for Lancia, for Land Rover,for Maserati, for Maybach, for Mercedes Benz,for Mini, for Opel, for Peugeot, for Porsche, for Renault, for Saab, for Seat, for Skoda, for Smart, for Sprinter, for Vauxhall, for Volvo, for VW, for VW_CV, for Ferrari, for Lamborghini, for Maybach, for Rolls-Royce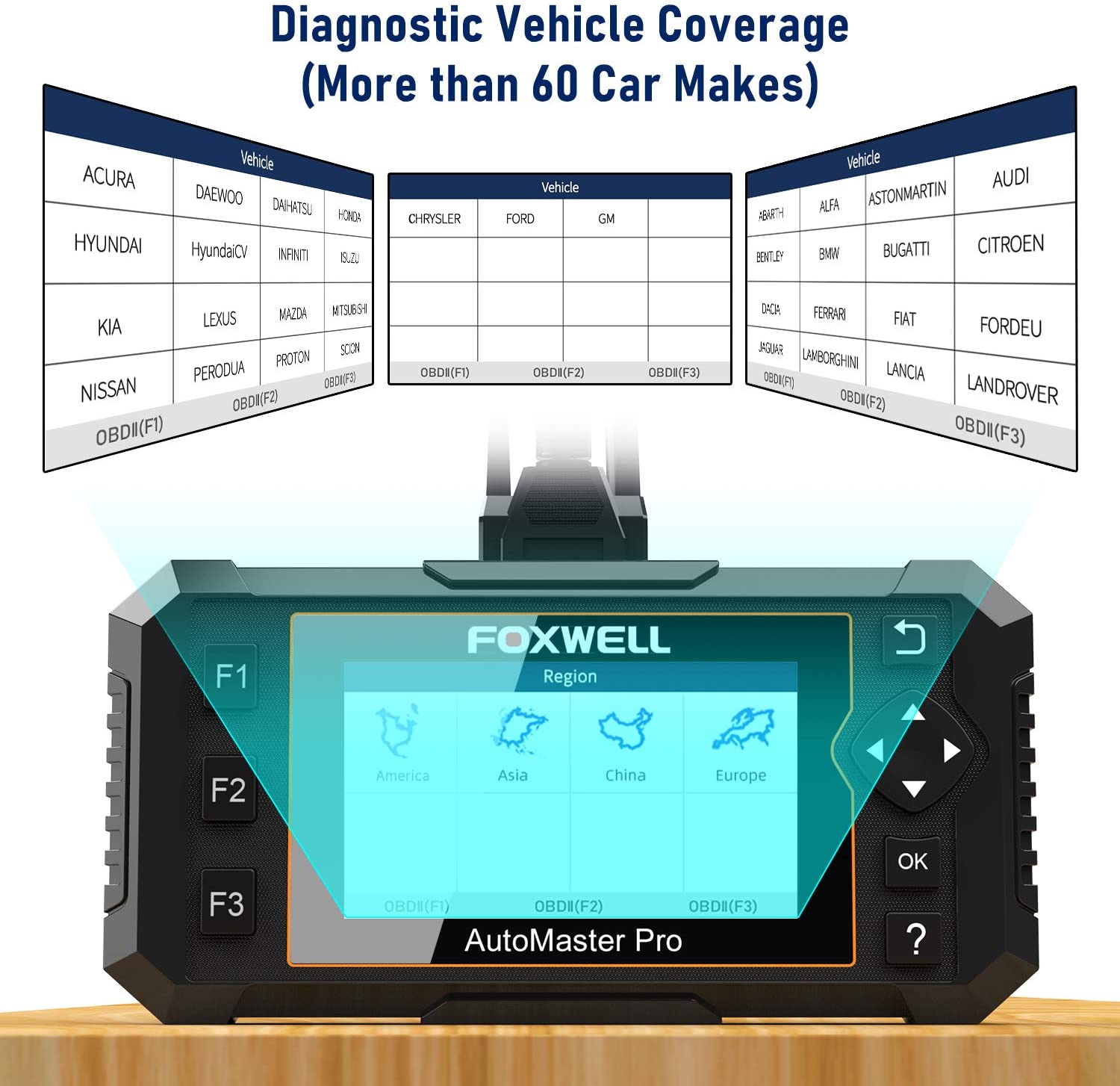 Foxwell NT624 Elite Special Function Support Car List:
Oil Light Service Reset
for Chrysler ,for Ford ,for Fiat ,for GM ,for Acura ,for Honda ,for Hyundai ,for Infiniti ,for Isuzu ,for KIA ,for Lexus ,for Mazda ,for Mitsubishi ,for Nissan ,for Scion ,for Suzuki ,for Toyota ,for Abarth ,for Alfa Romeo,for Audi ,for Bugatti,for BMW ,for Bentley ,for Citroen ,for Fiat ,for Jaguar ,for LANCIA ,for Landrover ,for Mercedes-Benz ,for MINI ,for Opel ,for Peugeot ,for Porsche ,for Renault ,for Rolls-Royce,for SAAB ,for Seat ,for Skoda ,for Smart ,for Sprinter ,for Vauxhall ,for Volkswagen ,for Volvo ,for AstonMartin ,for Dacia ,for Ferrari ,for Maserati ,for Subaru, for Smart


EPB (Electronic Park Brake Reset)
for Acura ,for Audi ,for Bentley ,for Citroen ,for EU Ford ,for Ford ,for GM ,for Honda ,for Hyundai ,for Jaguar ,for KIA ,for Landrover ,for Lexus ,for Maybach, for Mercedes-Benz ,for MINI,for Opel ,for Peugeot ,for Porsche ,for Roewe ,for Renault ,for SAAB ,for Scion ,for Skoda ,for Toyota ,for Vauxhall ,for Volkswagen ,for Volvo ,for Abarth ,for Alfa Romeo ,for Chrysler ,for Daewoo ,for Fiat ,for Ferrari ,for Luxgen ,for Maserati ,for Rolls-Roye,for Subaru ,for Seat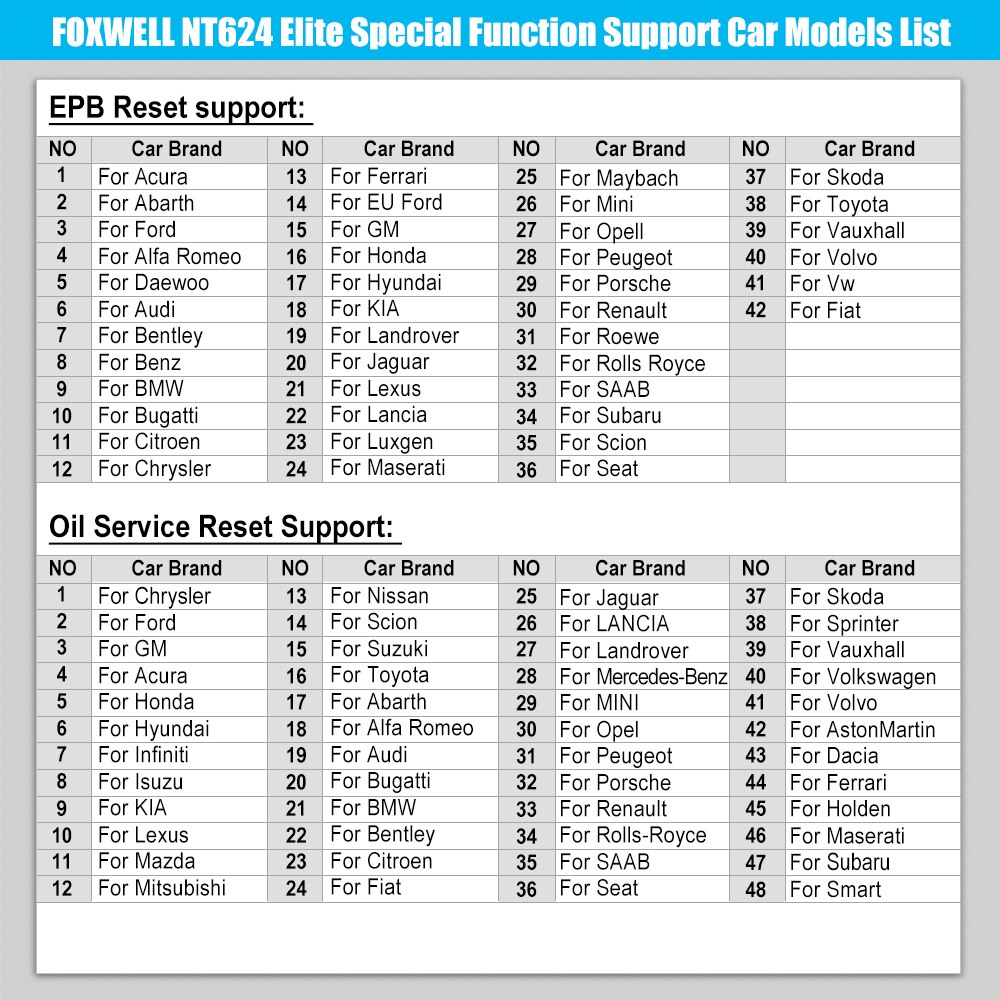 Foxwell NT624 Elite OBD2 Diagnostic Tool Support Languages:
The device only can install 2 languages , one is English , the other one you can choose from the following :

Korea, Spanish, Portuguese, French, Swedish, English, Dutch, Japanese, Italian, German,Russian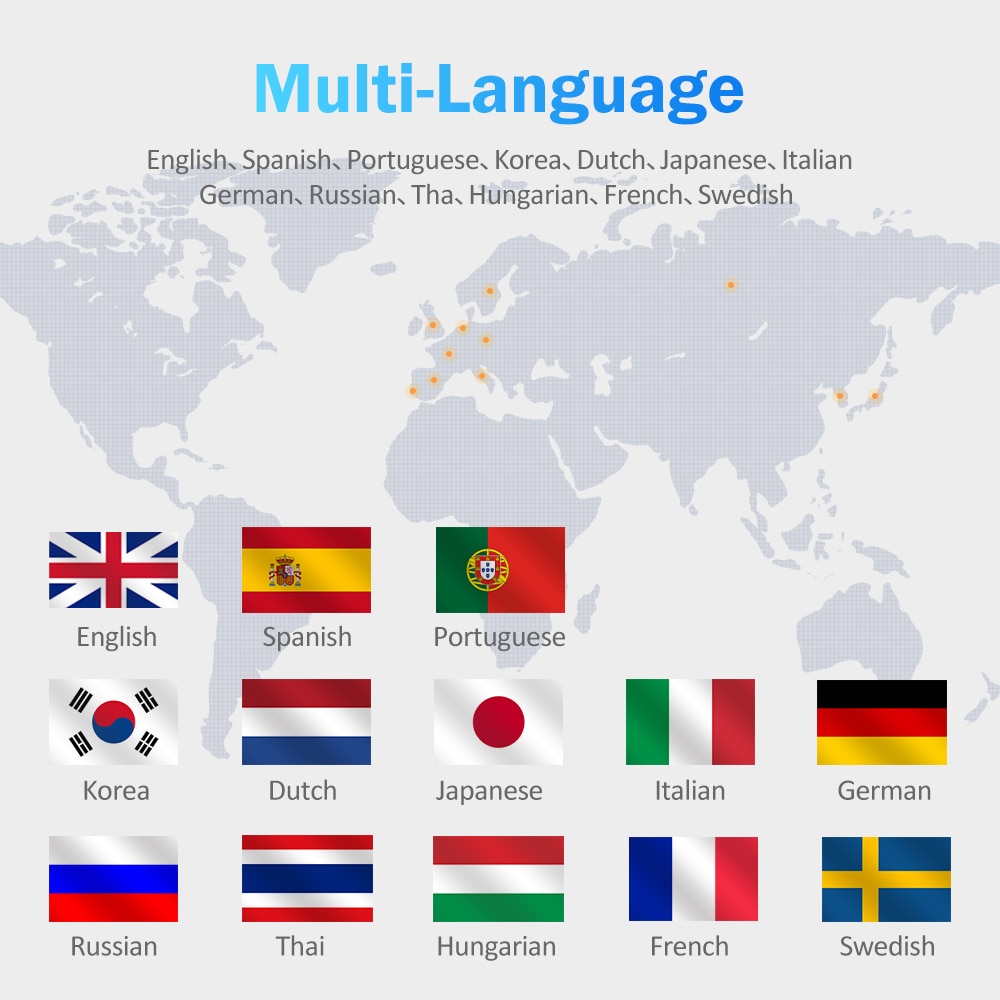 Configure Shortcuts Keys: set a Hot-key for your Cars, Help you one-click diagnostic
Selectng Shortcuts option let you to change the functionality of the shortcuts button
Steps: Main Menu------Setting------Shortcuts------Edit ShortCuts (F1/F2/F3)Fuction, Choose your car brand. After edit completed, you can click F1/F2/F3 to diagnostic your car directly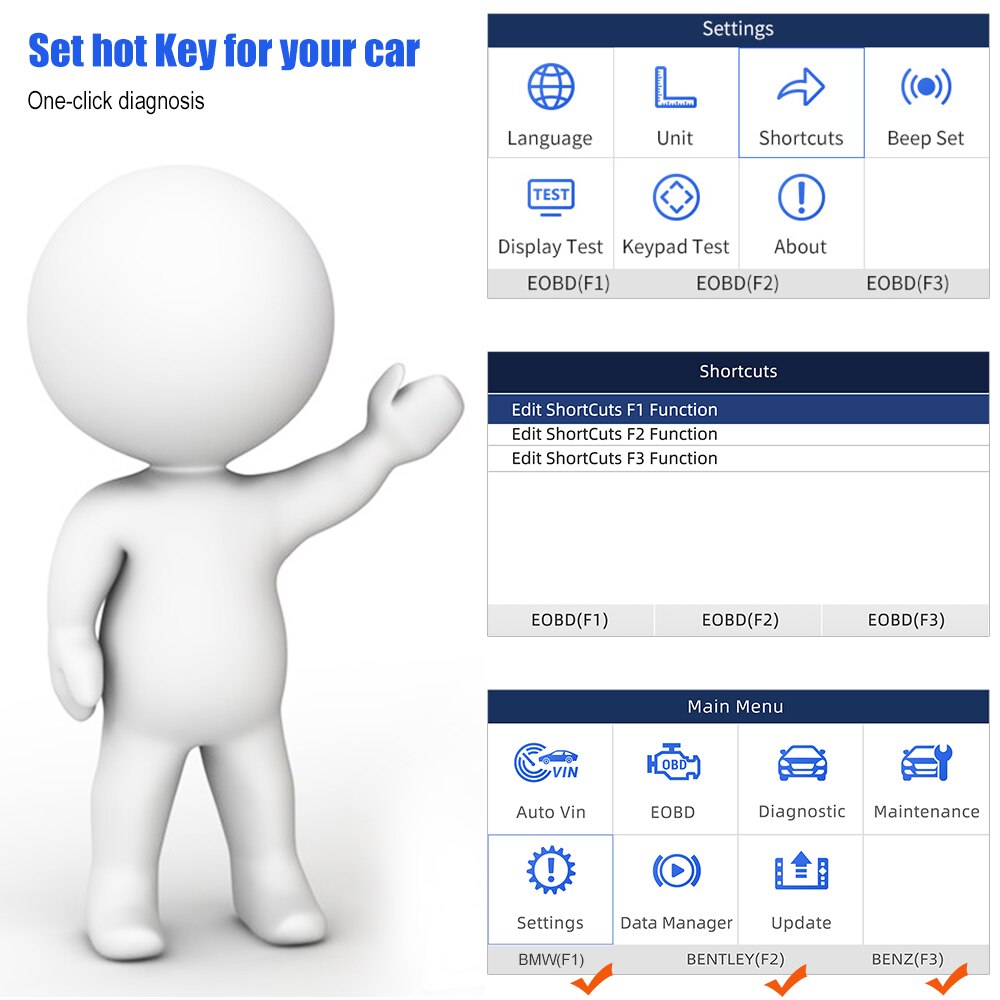 Foxwell NT624 Elite OBD2 Diagnostic tool Update Service :
Our Product Support Lifetime Free Update Online, you will always have the latest bug fixes, new vehicles, newly added parameters and functionality at your fingertips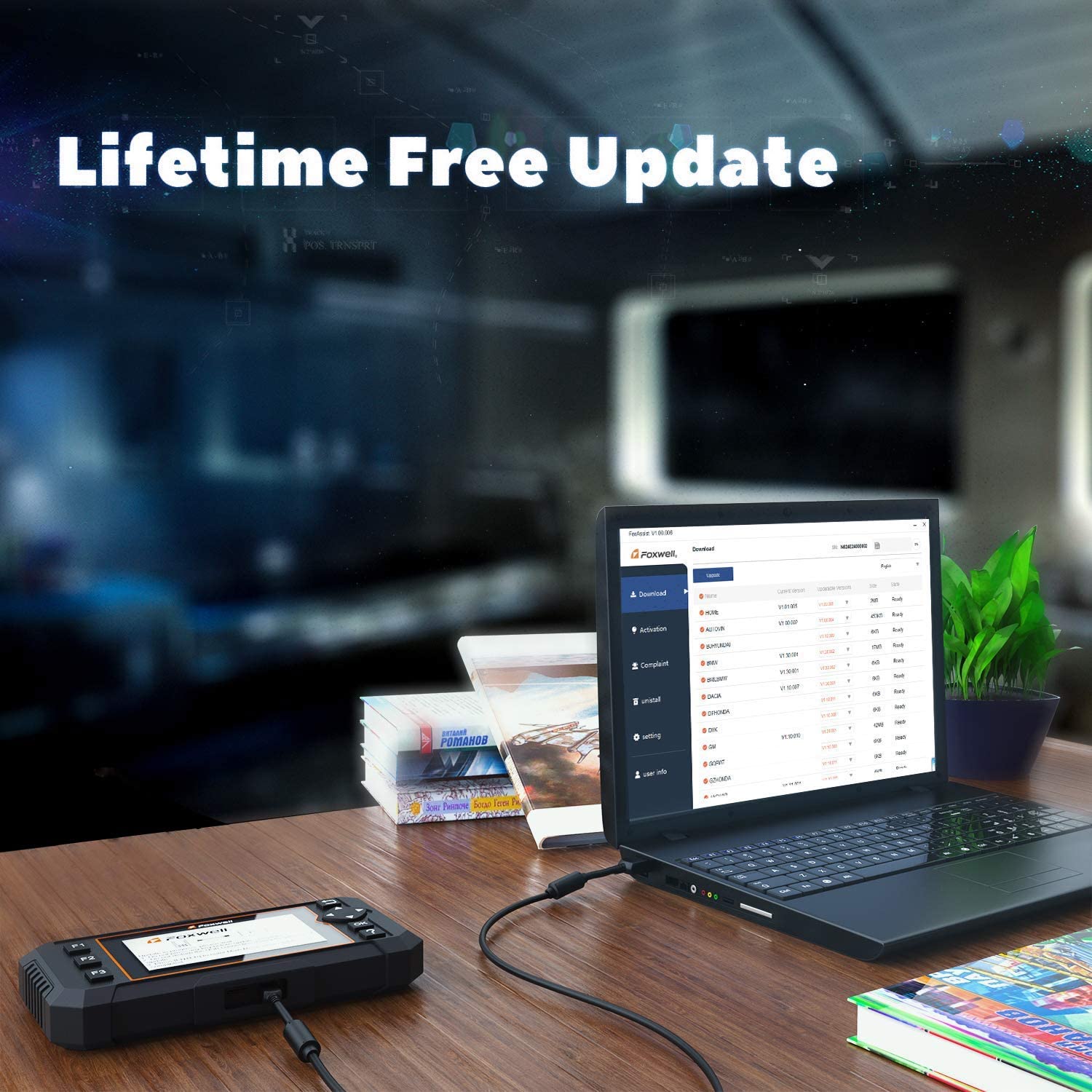 The new highlights of NT624 Elite:
4.3" LCD color Screen, Non-slip Button, easy to opeate. horizontal screen design, the recessed design of back, it is very convenience for hands-held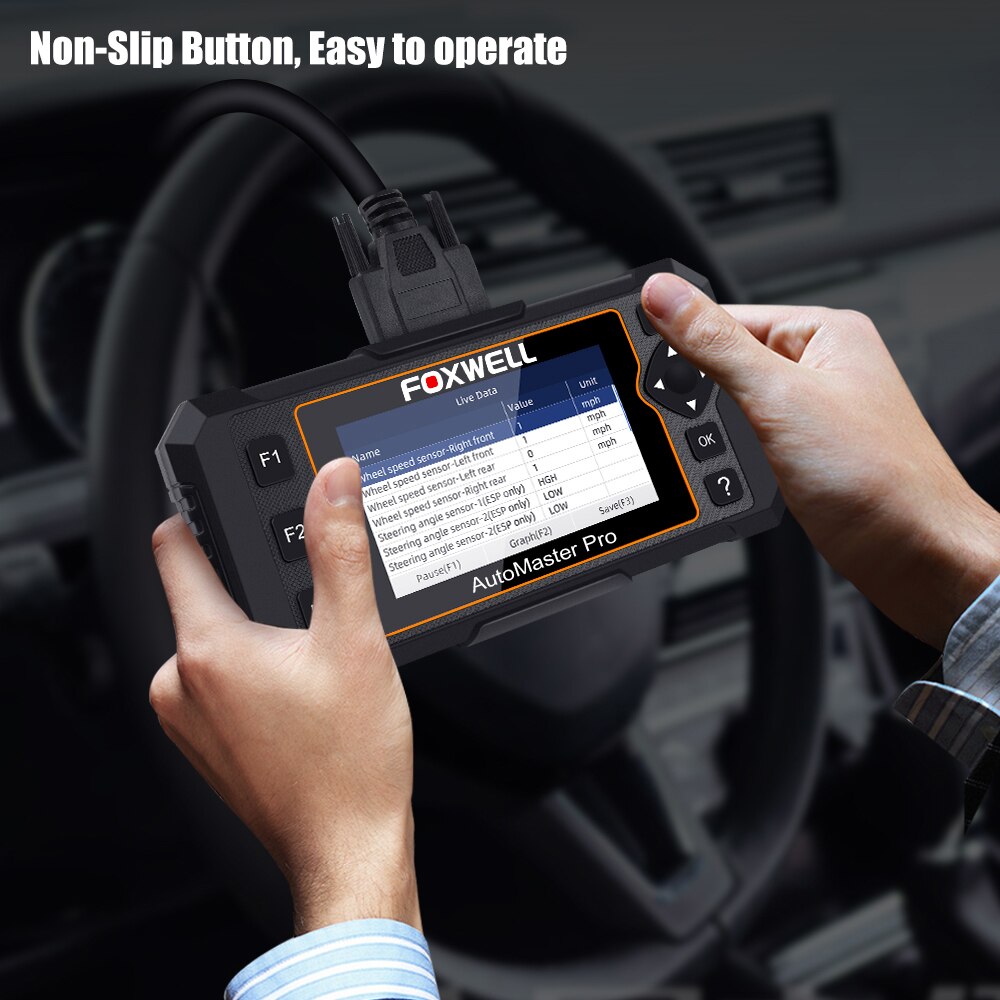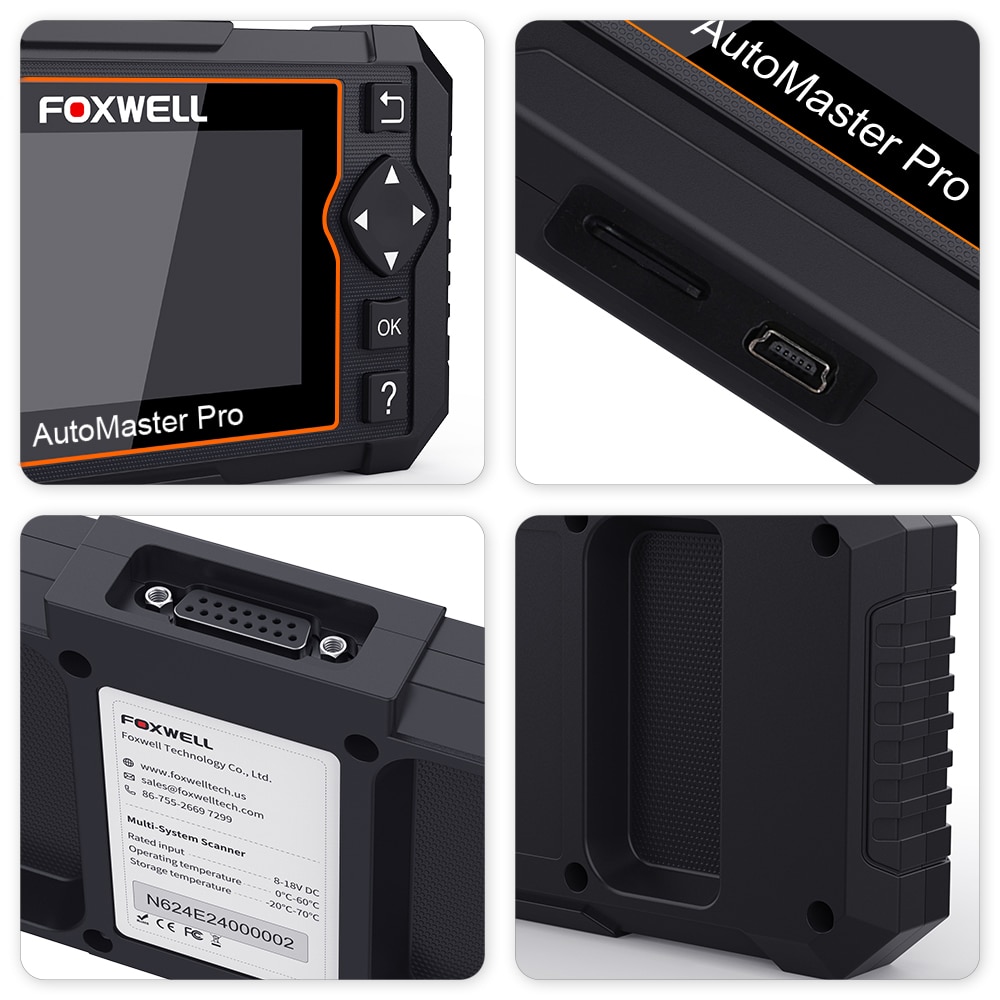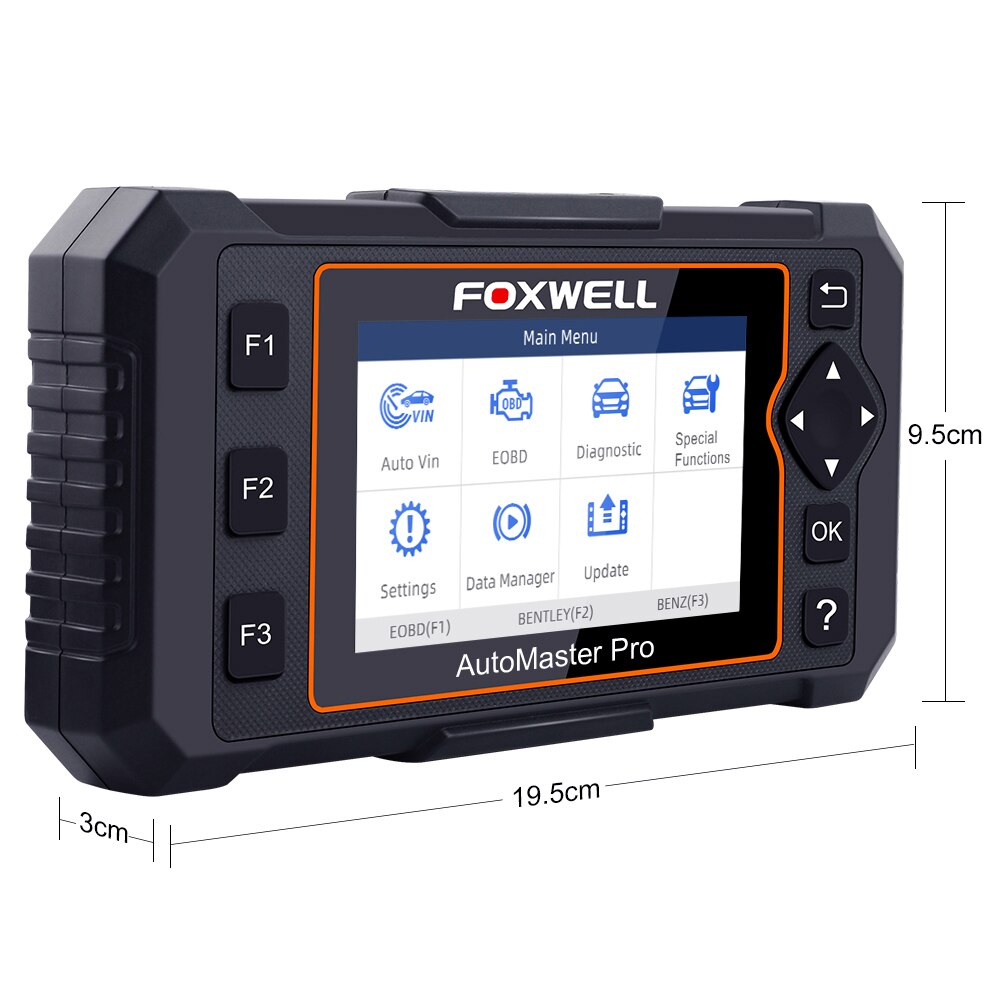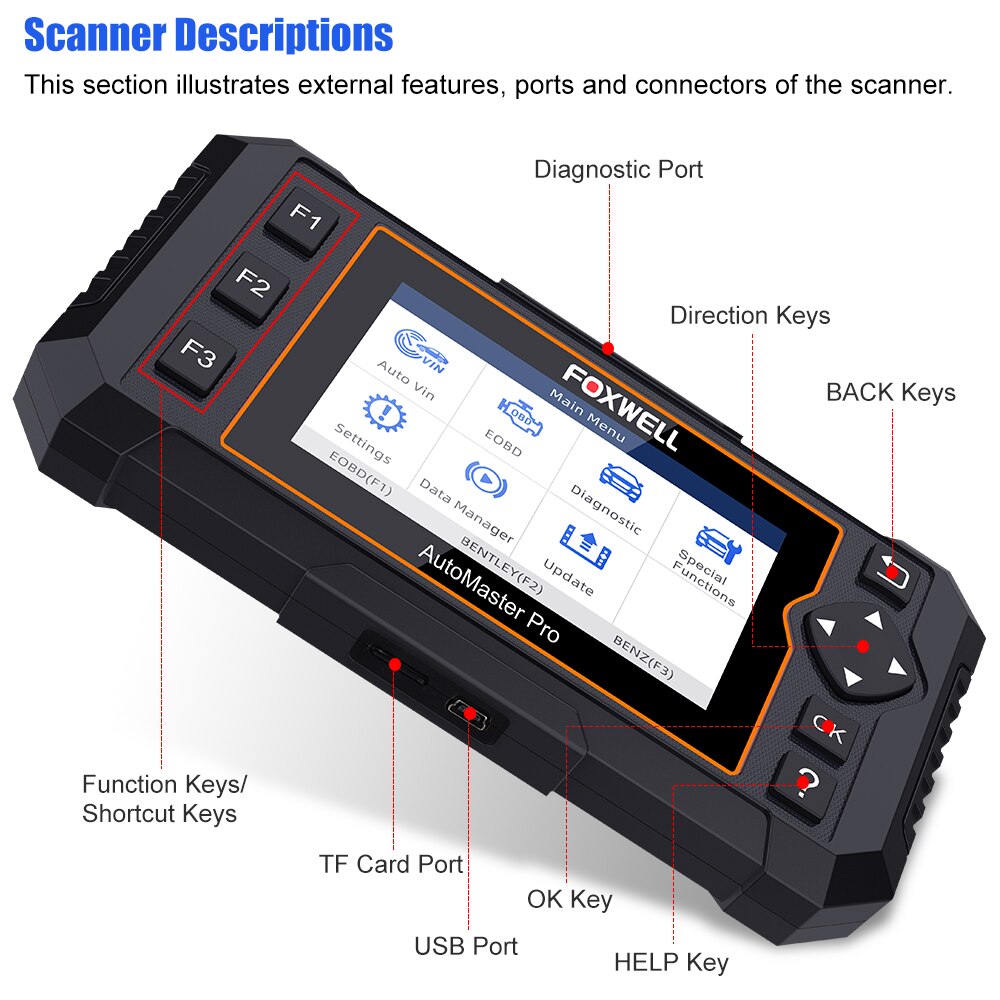 Foxwell NT624 Elite Package List:
1 pc x Foxwell NT624 OBD2 Diagnostic-Tool
1 pc x User Manual
1 pc x Memory Card
1 pc x USB Cable
1 pc x Diagnostic Cable
1 pc x Blow Molding Case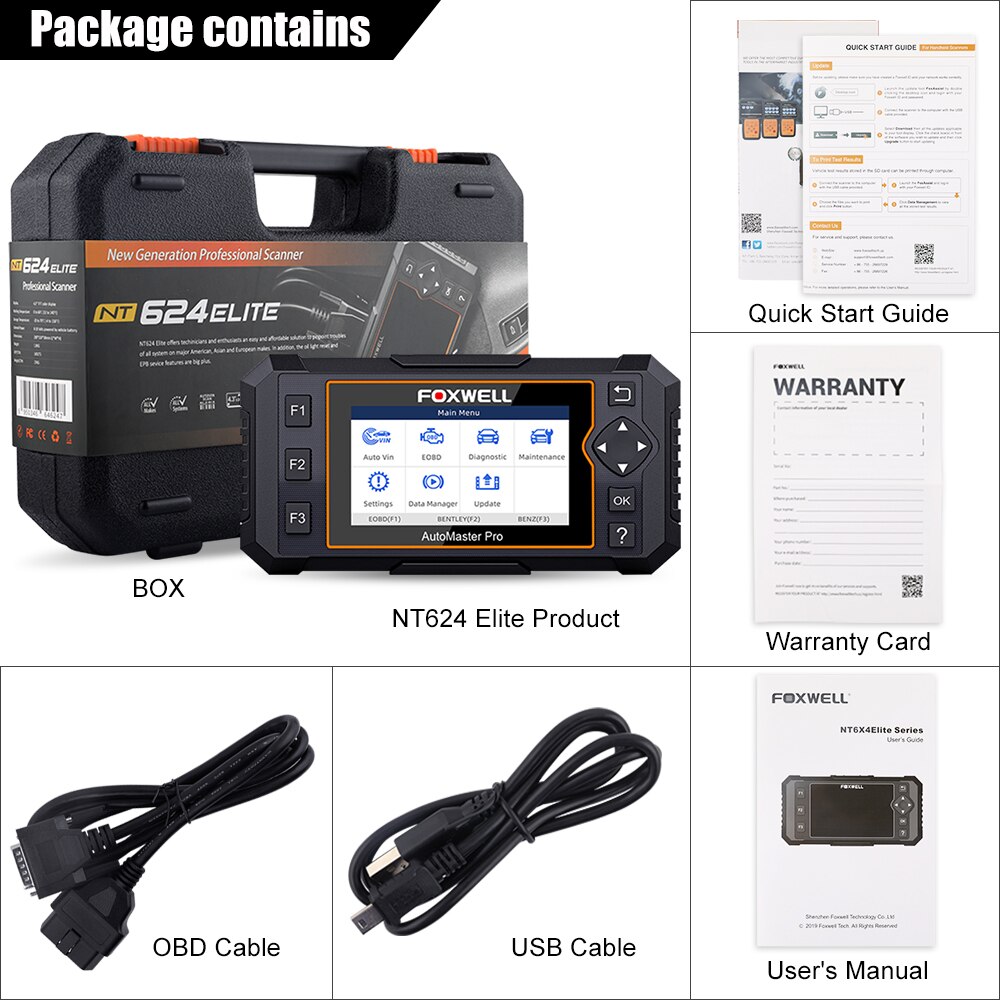 Previous: VXDIAG VCX SE Pro Diagnostic Tool with 3 Free Car Software GM /Ford /Mazda /VW /Audi /Honda /Volvo /Toyota /JLR /Subaru
Next: BF200 Digital Brake Fluid Tester for DOT3 DOT4 DOT5.1 Water Content Detector LED Display Oil Quality Test Pen Car Accessories