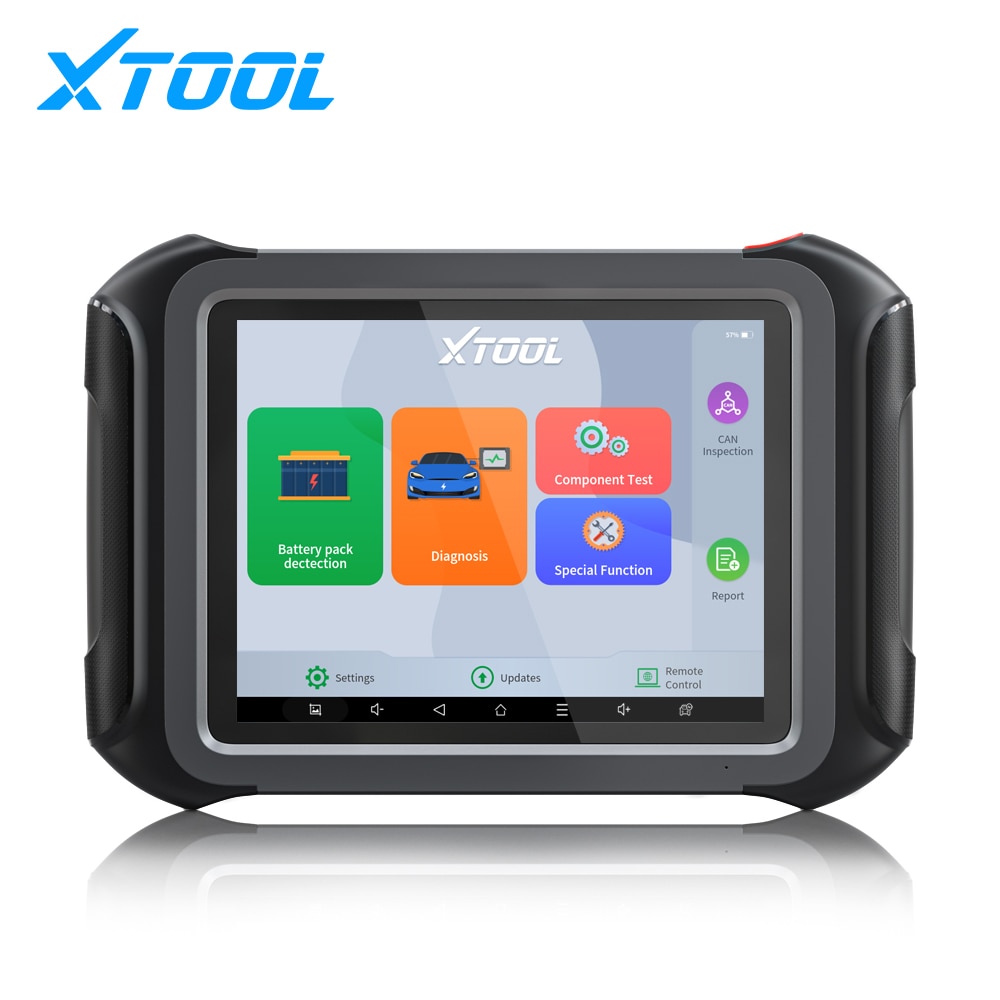 Description
Core Competence:
①TESLA Adapters with OEM-level diagnostic functions;
②Battery Pack Detection;
③Special functions;
④Topology Mapping function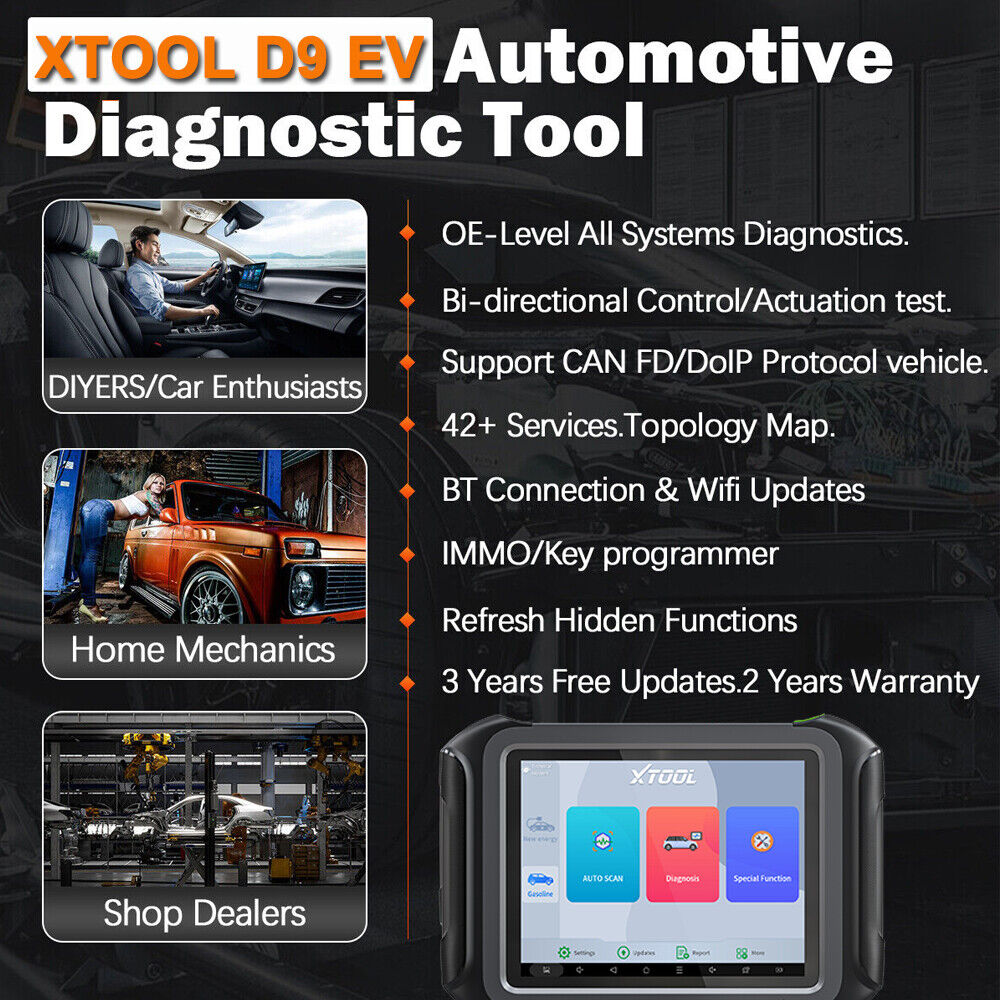 XTOOL
D9 EV - The Most Powerful Scanner with the Highest Investment Potential.
XTOOL
D9 EV is A Professional Ev Smart Diagnostic System, Making The Scanner Possible To Diagnose New Energy Vehicles, Including For Tesla,For Byd,For
BMW
, For Vw,For Au-Di, Etc. This Automobile Diagnostic Scanner Combines Together Almost Every High-End Diagnostic Feature You Can Think Of, Bringing Repair Stores More Orders.
XTOOL
D9 EV Equipped With A 9.7-Inch High-Performance Long-Lasting Tablet. The System Supports
Bluetooth
Communication, Doip Protocol, And Can-Fd Protocol. N9ev Supports Most Ev Models In The Market, And All The Software Including App, Diagnostic Software, And Operating System Support Online Updates. N9ev Covers Extensive Diagnostic Functions, Including Battery Pack Detection, Tesla Diagnosis, Reading Ecu Information, Reading/Clear Dtcs, Reading Live Data, And Immo Functions More Than 42+ Special Functions.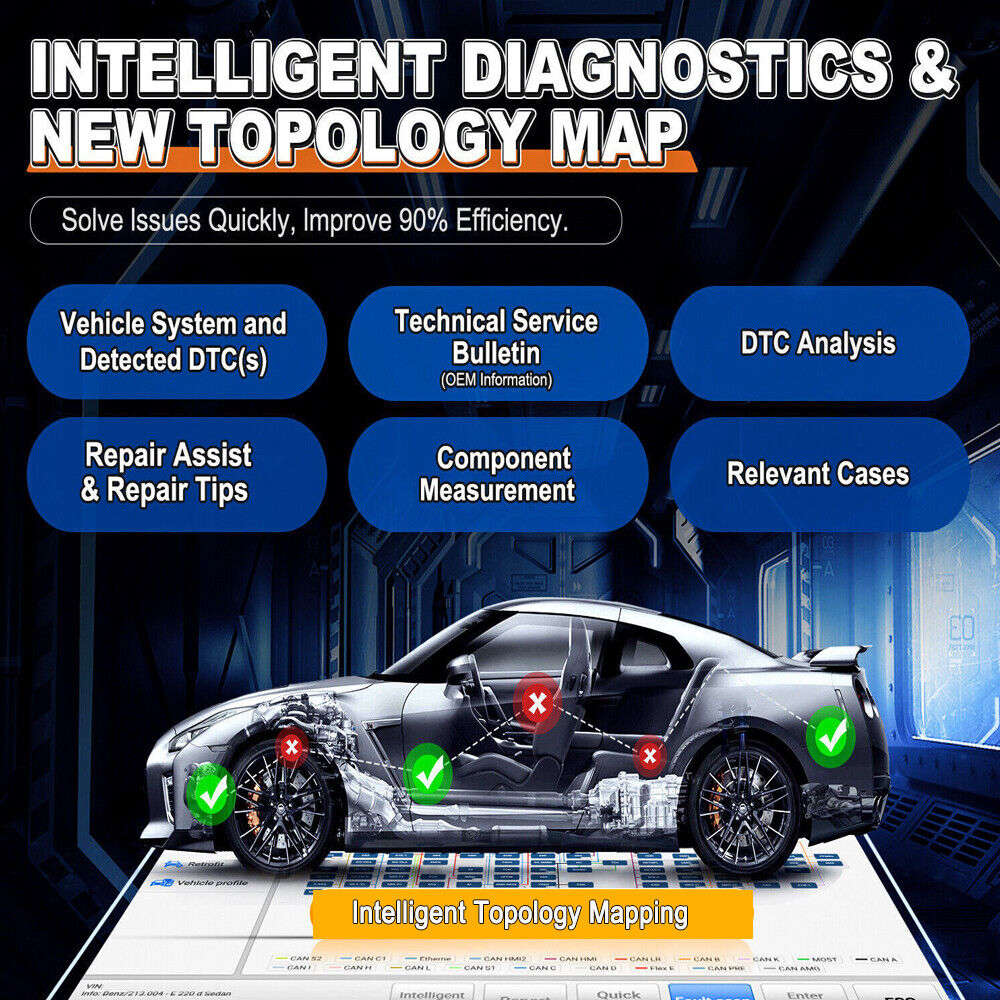 Smart Topology Module Mapping Capability:
Visualize any abnormal modules/systems in your vehicle and their working status.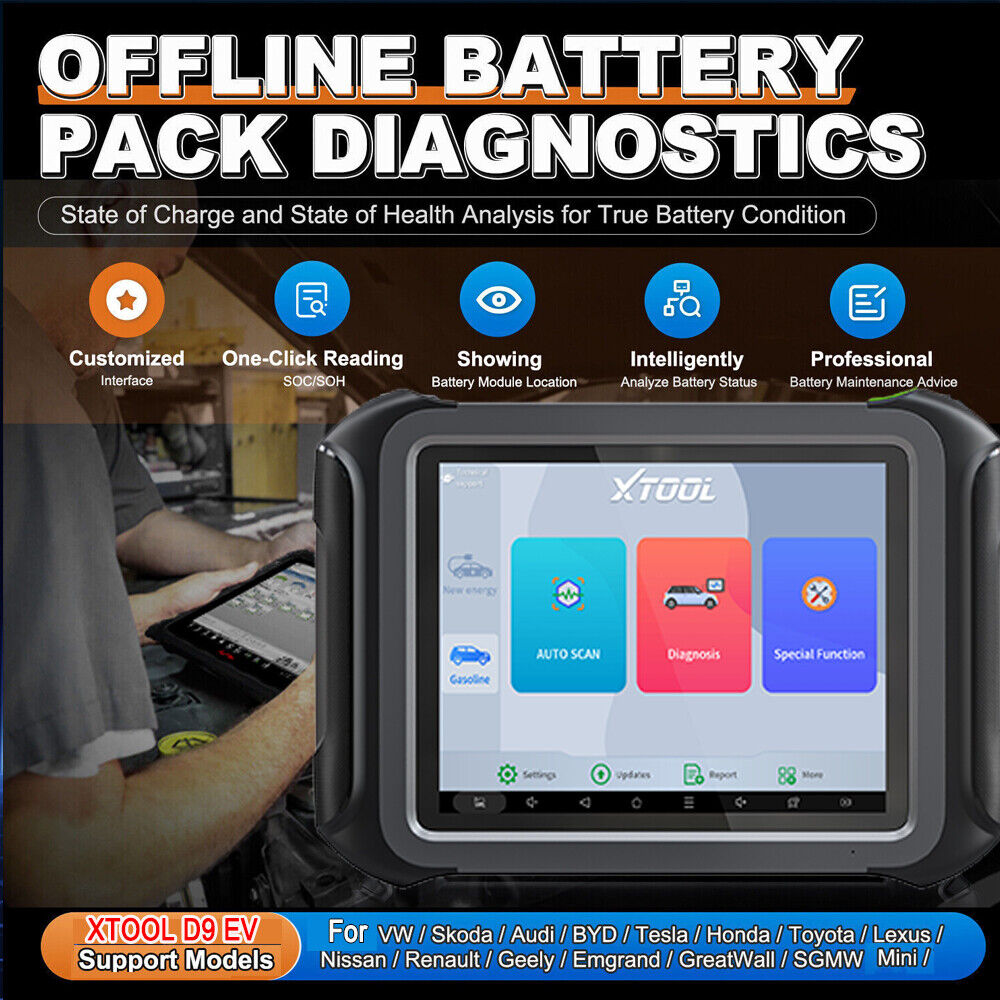 Battery Pack Test:
Connected through OBD,Reading battery pack data through the port is simple to operate in this case,The OBD port has power supply and can perform complete diagnostic OBD testing.Departure testAfter the battery is removed from the vehicle, the battery pack interface is used to read the electrical discharge test Pool packet data needs to be connected to the lower computer through a jumper, And both the battery pack and the lower computer require external power supply.
Programmable Module Installation (PMI):
Essential Advanced Functions for Ford/Lincoln/
Mazda
Owners, upload the data from old module to the new module.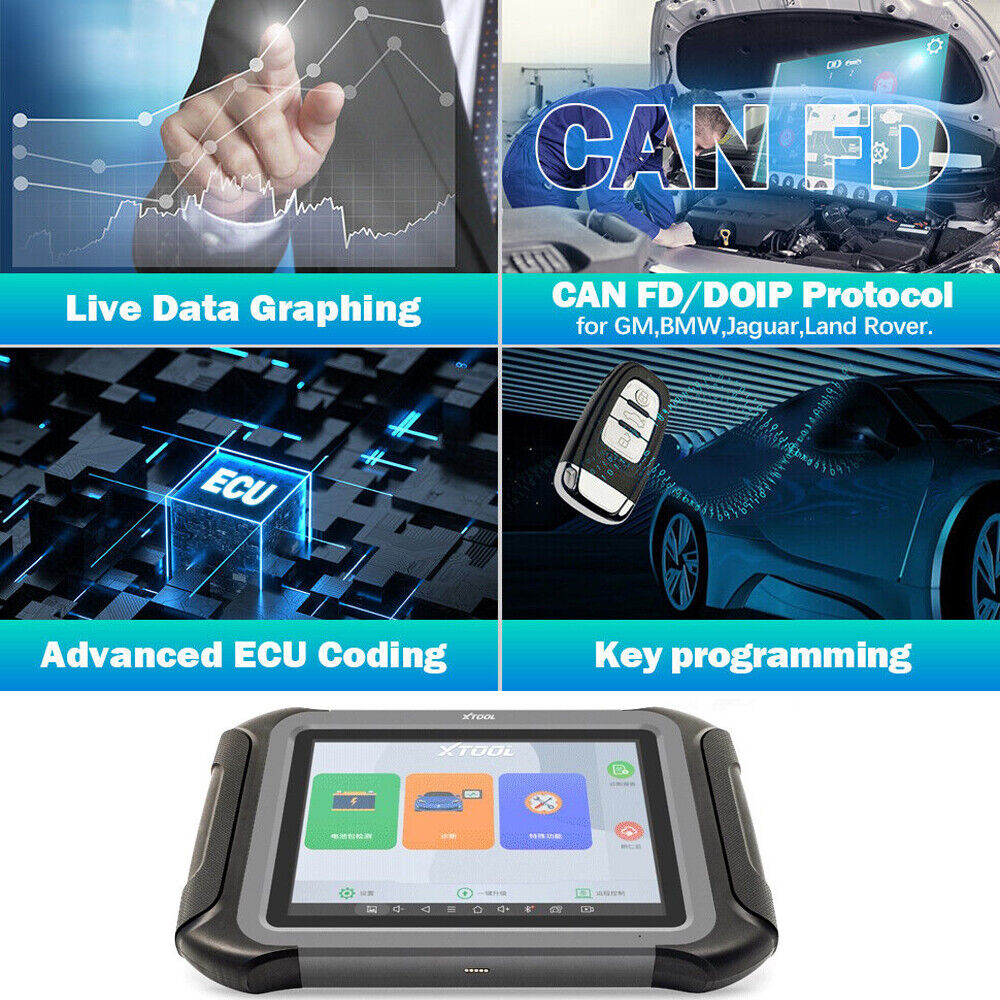 Advanced ECU Coding:
Allow you to re-flash the Hidden Functions for personalization, Components Matching after making repairs or replacements, Reinforce Vehicle Performance, etc.
Support CAN FD & DoIP Protocol:
For BUICK/CHEVROLET/ CADILLAC/
GM
C/HOLDEN/
BMW
/JAGUAR/LAND ROVER, etc., saving budget on buying adapters.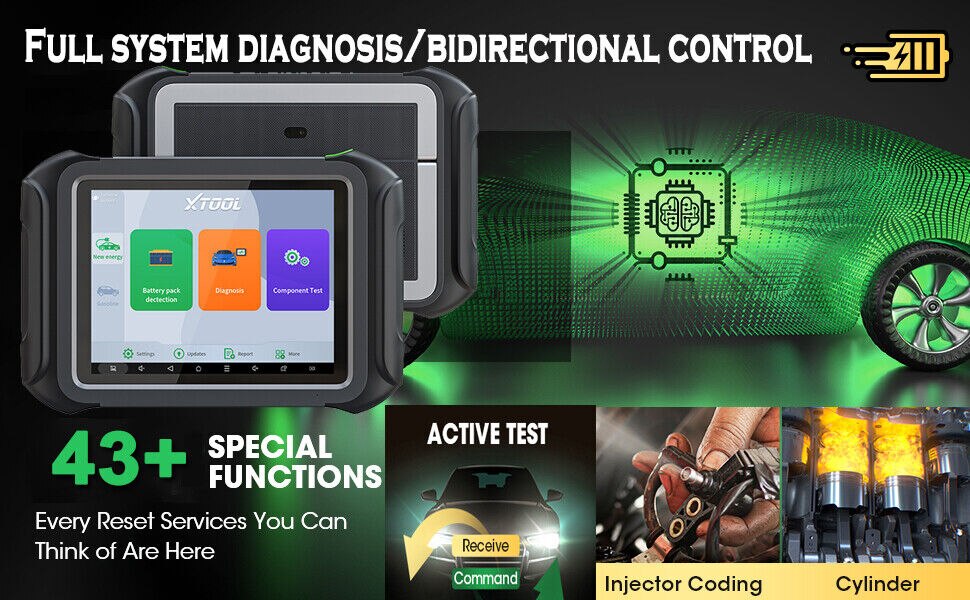 42+ Special Functions:
Complete a wide array of maintenance functions, such as Camshaft Position Sensor Relearn, Throttle Body/Position Relearn, Zero-Point Calibration, Fuel Trim Reset, and more, which will help you LOWER your maintenance costs.
Powerful Key Programming capability:
Read Pin~code + Add New Keys (Fob/Smart)+ Remote Learning + Key Matching, ALL-KEYS-LO*ST, etc.
Full Bi-Directional Controls:
Send the commands to the ECU and receive the response to perform the actuator tests include the pump / solenoid / injector to find problems and possible solutions.
Dealership Level Full System Diagnostics:
Access ALL diagnostic capable vehicle system, Read/Clear Trouble Codes + 8-in-1 Live Data in Graphing/Text & Data Export/View + Retrieve Freeze Frame + Read ECU Information + Perform Active Tests to quickly locate the issue and troubleshoot it, saving you from missing work in time and going to the dealer.
XTOOL D9 EV Highlights:
OE-Level Full System Diagnostics
Bi-Directional Control/Active Tests
Smart AutoVin & Auto Scan
Smart Topology Module Mapping Capability
Advanced ECU Coding
Battery Pack Test
Programmable Module Installation (PMI)
Powerful Key Programming capability
Stable Wireless BT Connectivity
42+ Special Functions
Support CAN FD & DoIP Protocol
Wide Vehicle Coverage
Android
10.0 OS + Dual-Band
WIFI
Frequency
3-Year Free Updates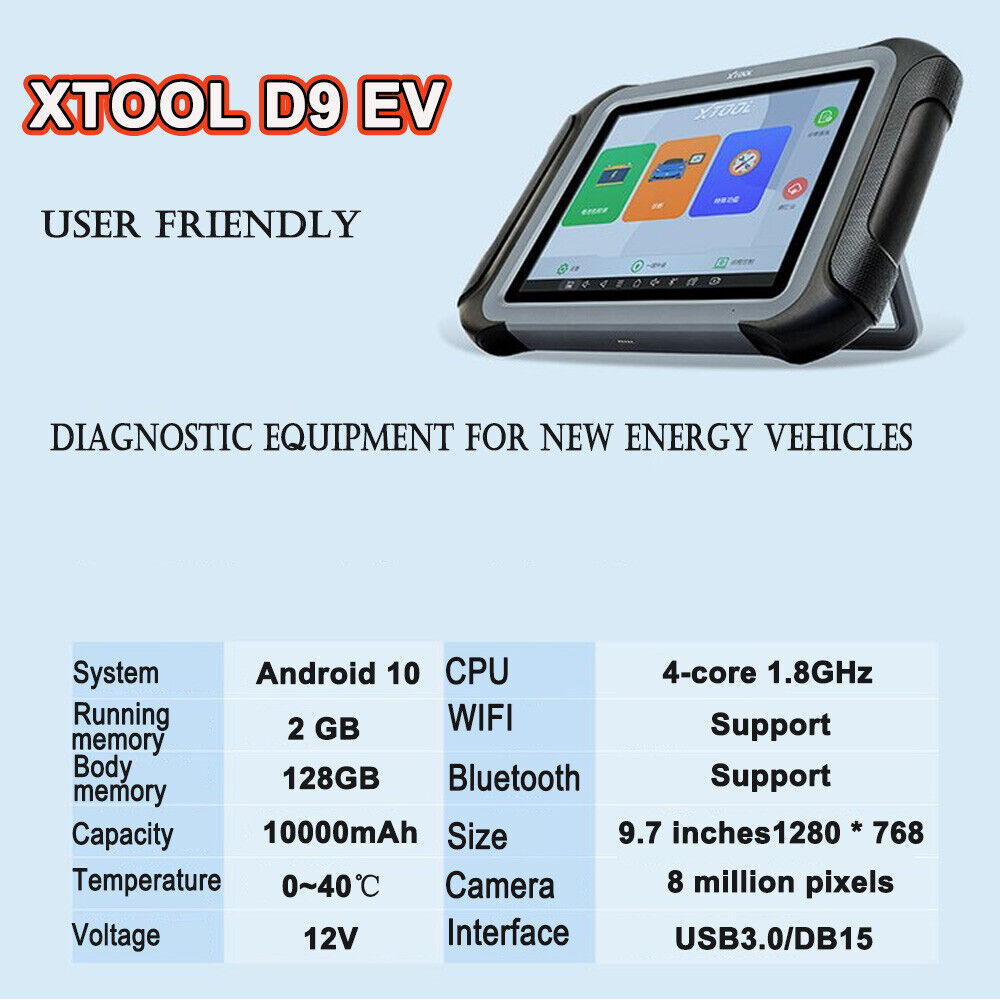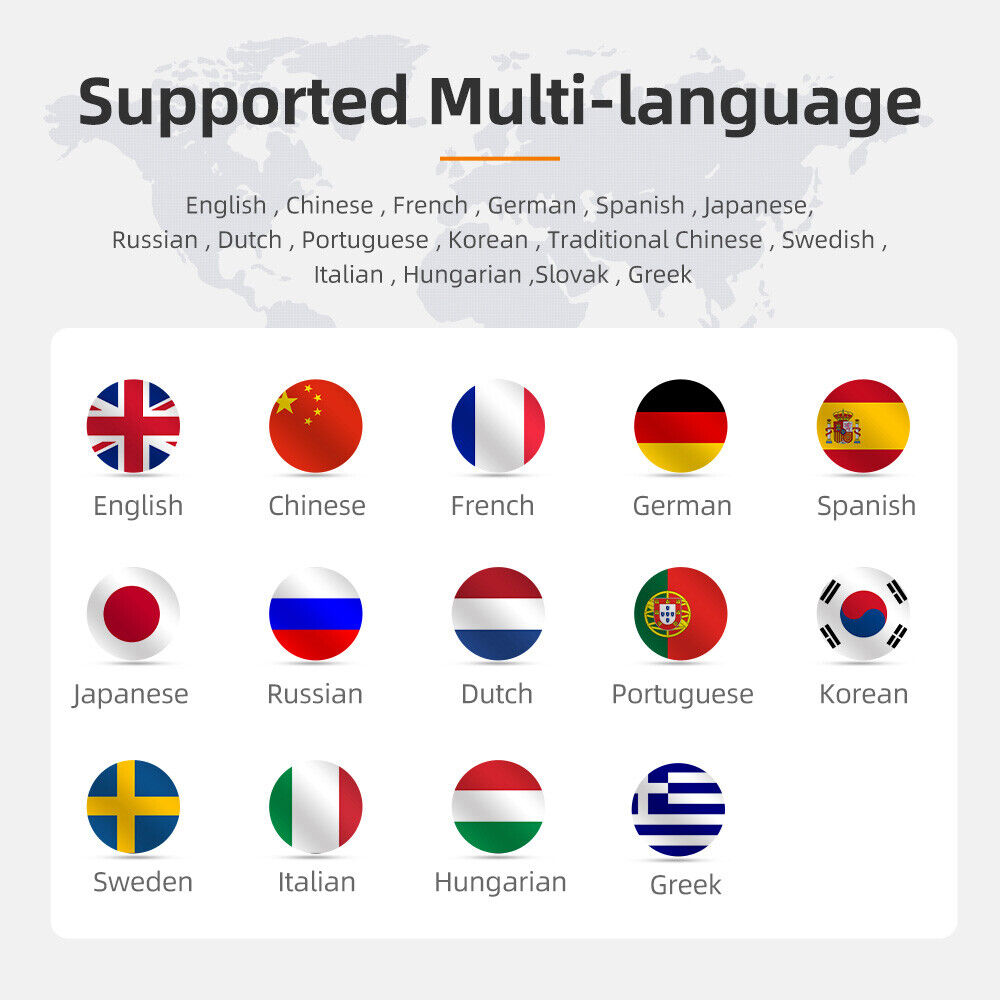 Specification
Operating System:
Android
10
Processor:4 Core 1.80GHz
Memory:2G RAM, 128 ROM
Display:9.7-inch capacitive touch screen with 1024×768P resolution
Connectivity
● BT
●
WIFI
2.4/5G Hz
● USB
Connectivity
●
Bluetooth
● Wired
Camera:Rear camera, 8.0 Megapixel, AF with Flashlight
Sensors:Gravity Accelerometer, Ambient Light Sensor
Auto Input/Output
● Microphone
● Dual Speakers
Battery:10000mAh, 3.7V lithium-polymer battery
Working Voltage:+ 9 ~ +36V
Input Voltage:12 V AC/DC power supply
Working Hours:12 hours
Operating Temperature:-10 to 50℃
Storage Temperature:-20 to 60℃
Humidity:<90%
Dimension (L×W×H)
313mm X 218mm X 30mm
Protocol Compatibility:CAN-FD, DoIP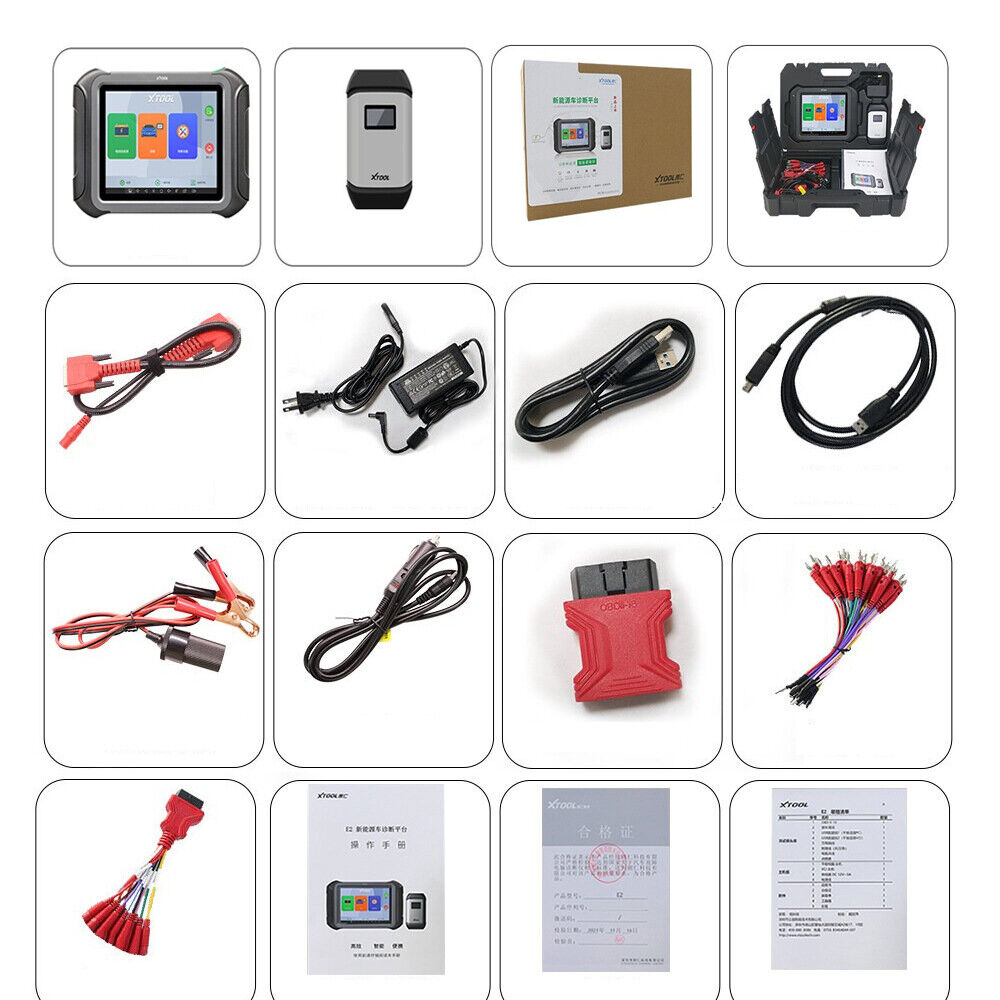 Previous: XTOOL D9 Automotive Scan Tool Topology Map Bi-Directional Control ECU Coding Full Diagnostics & 42+ Resets Support DoIP & CAN FD
Next: 2023 Newest Cylinder Stethoscope For Auto Mechanics Stethoscope Car Engine Block Diagnostic Tools Hearing Car Repair Tool