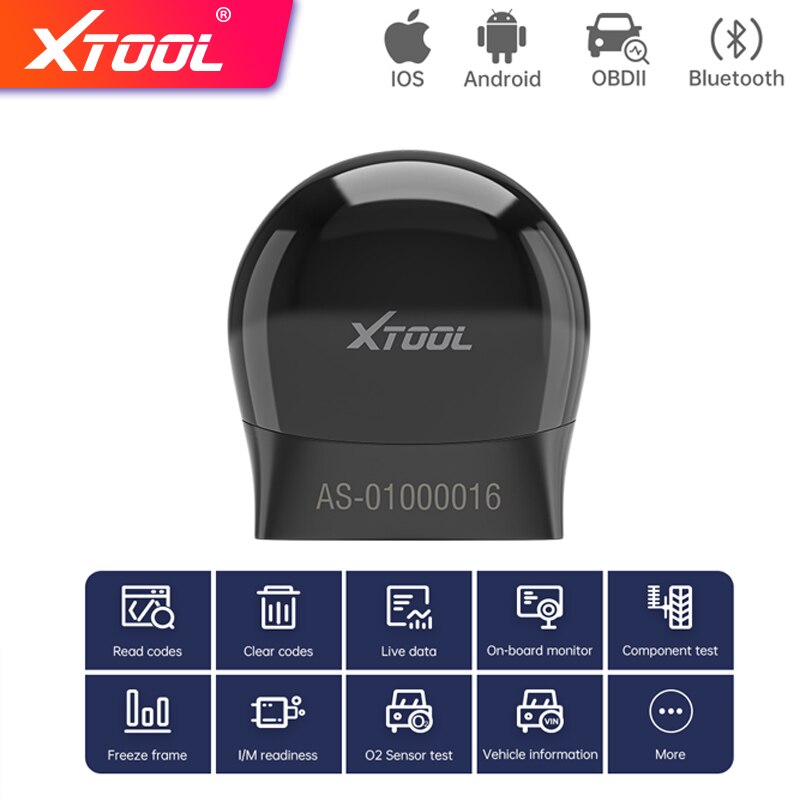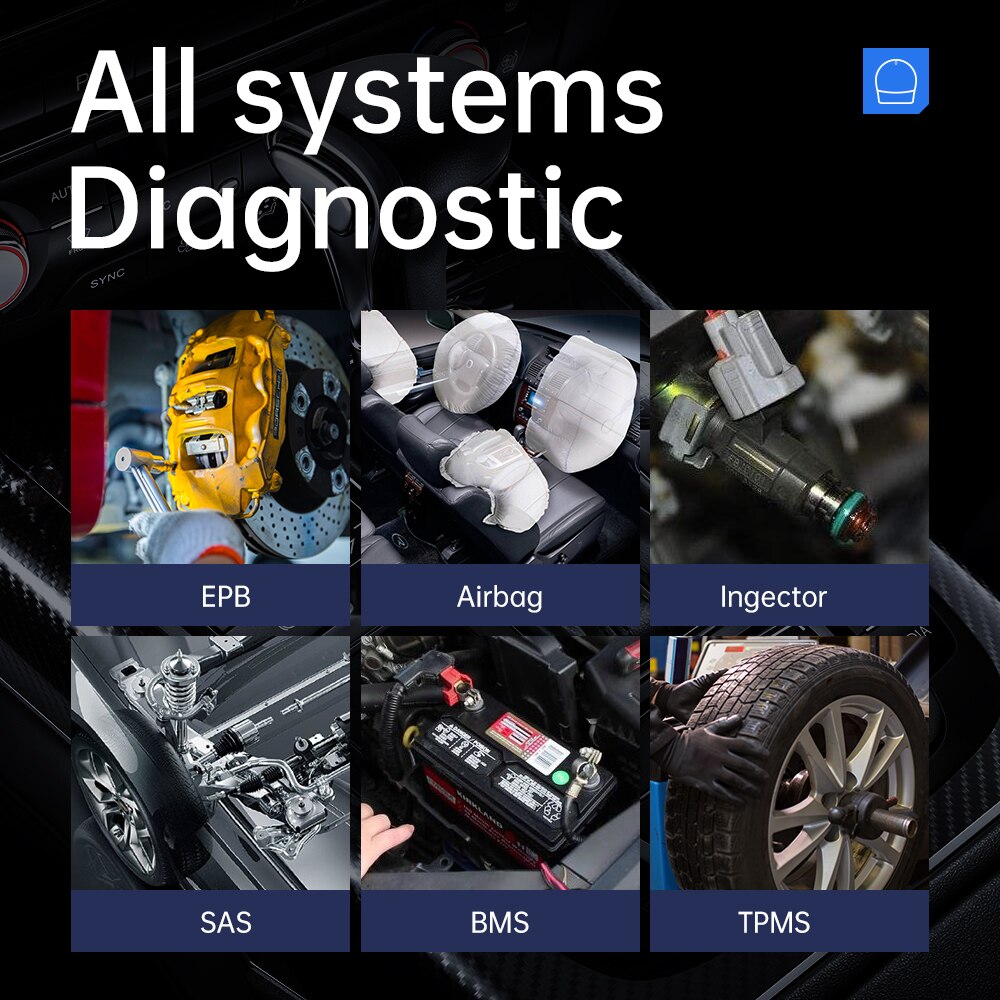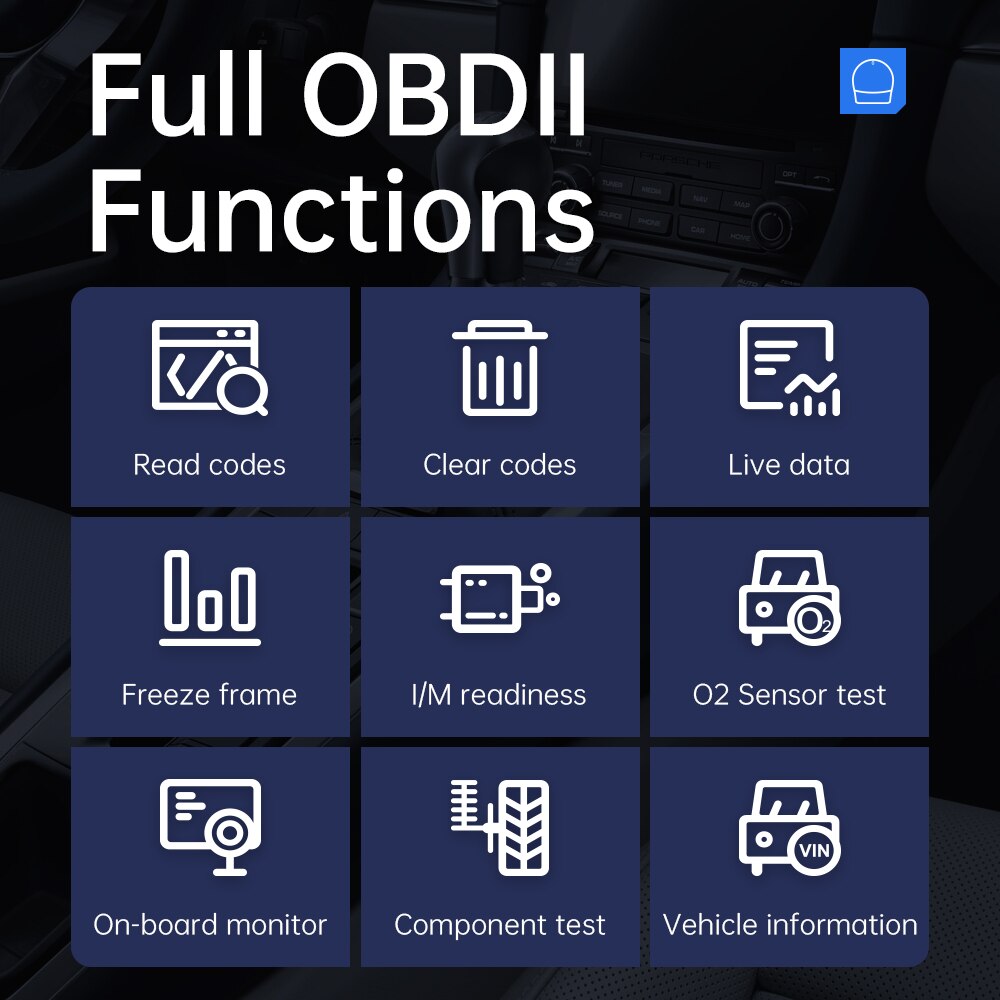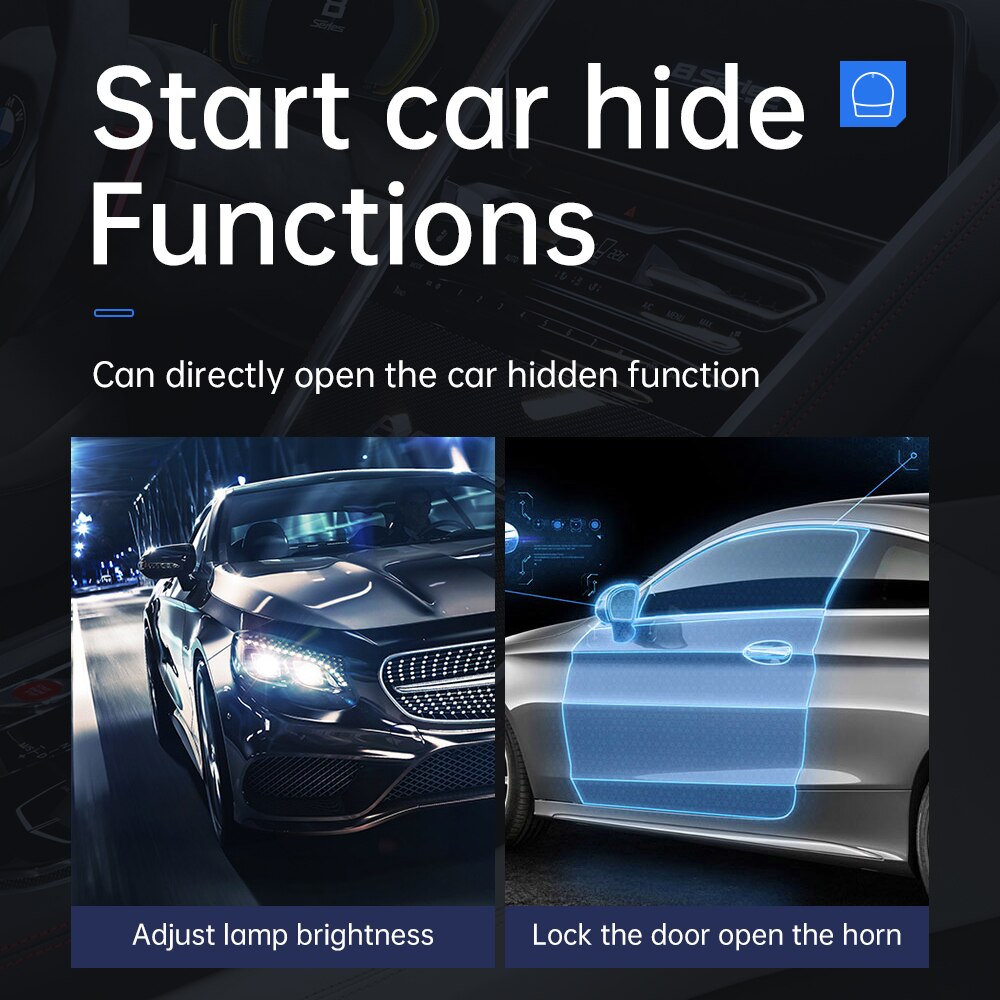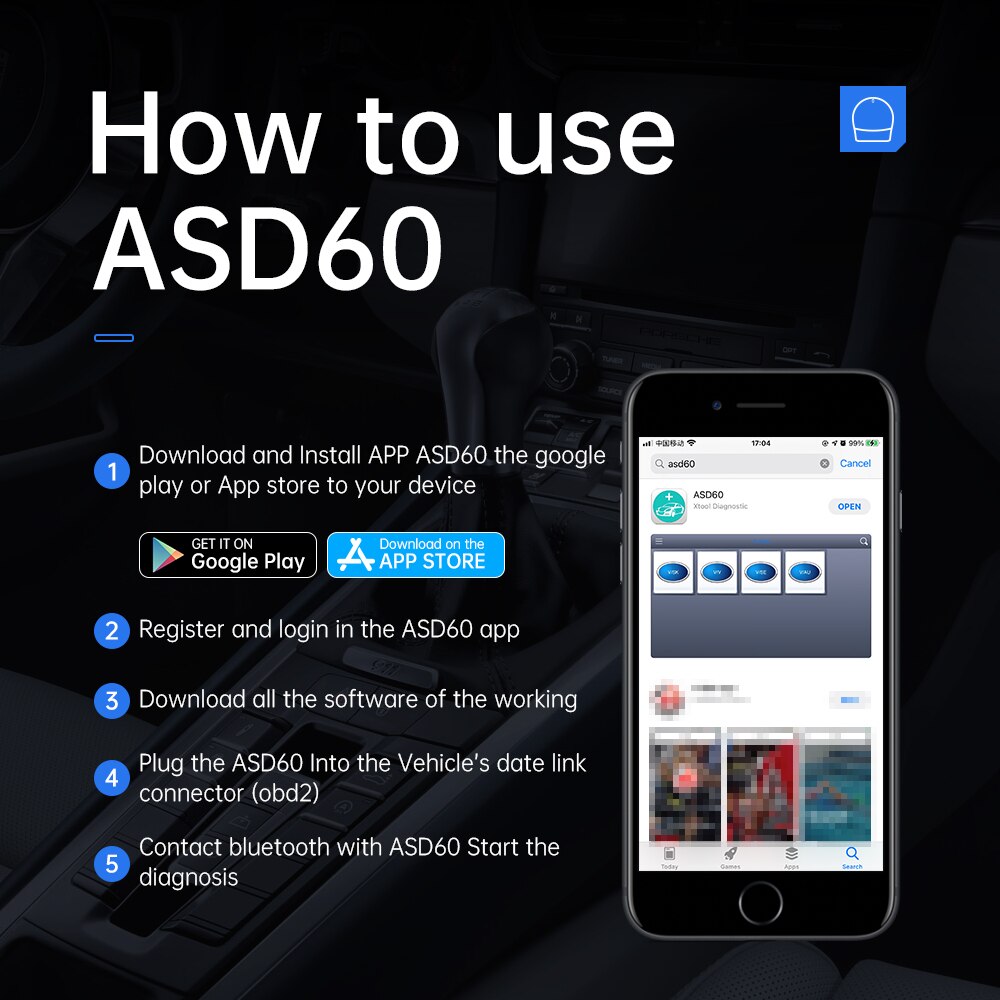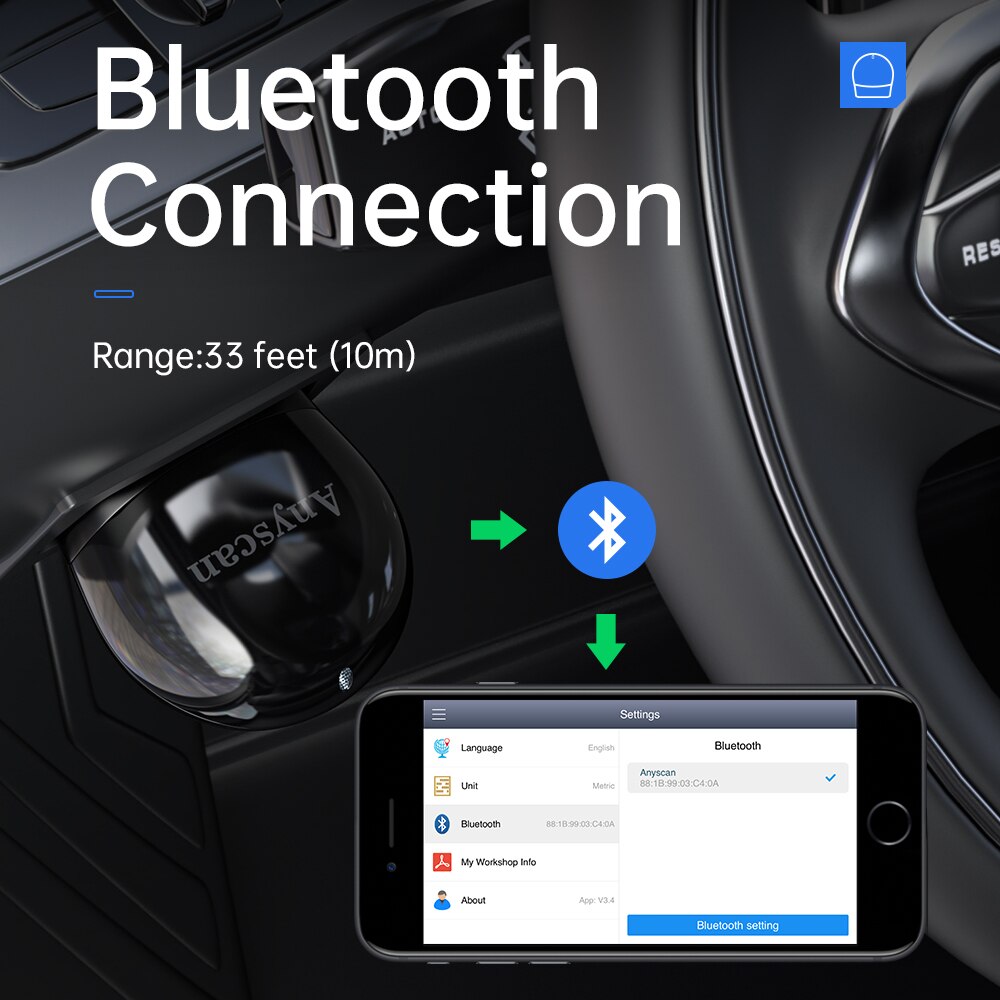 Description
XTOOL ASDD60 For VW OBD2 Diagnostic Tools Programmer Car hidden function Code Reader Scanner Andriod/IOS For Vag 20.4
XTOOL ASDD60 For Benz Full Diagnosis Functions With 15 Reset Function Free UpdateXTOOL ASDD60 For BMW Full Diagnosis Functions With Read/Clear error codes,Read I/M readiness,Perform O2 sensor test Full OBD2 diagnostic Function
ASD60 is the latest OBD2 diagnostic tools developed by XTOOL for VW. It is mainly aimed at the full-functional diagnosis of each system For VW vehicles such as
engine
, gearbox, and airbag. It Including the special performance For Vag 20.42-programming Hidden function For
VW
,for Benz,For
BMW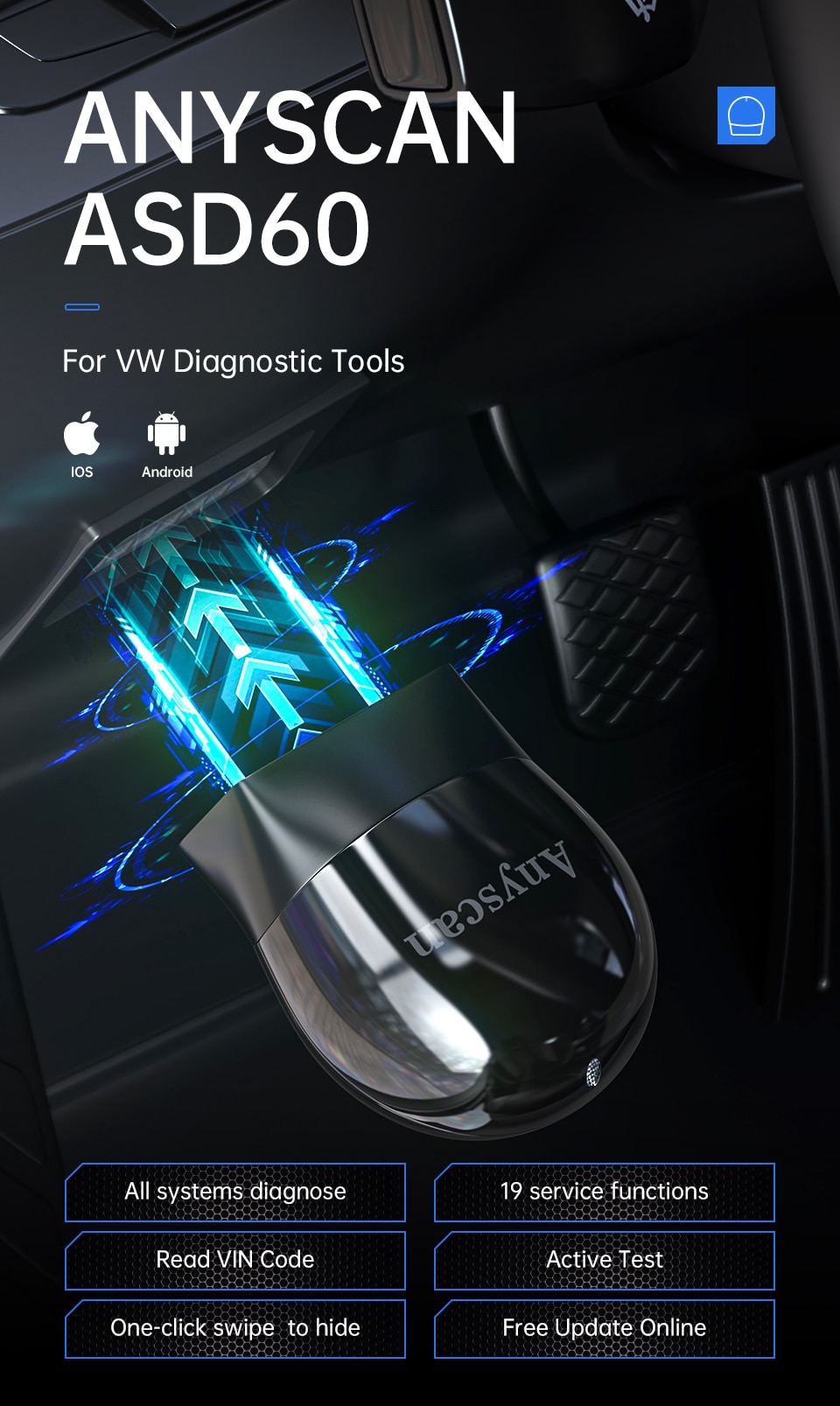 ASD60 scanner can read DTCs and data streams, perform active test, Coding for ALL systems. 1. For instance:
engine
s/AutoTransmission/Airbags/
IMMO
bilizer/Key Coding/
ABS
/Cruise Control/Instruments/Self Leveling Suspension systems/
Seat
s/Doors/Gateway/Steering Angle/Air Suspension/Body Systems/Electronic Power Steering & Motor Assisted/Power Steering/Tyre Pressure/Rain Sensors/4WD System/Stabilizer/Intelligent Parking Assist/Door Motors/
Audi
o Systems/Air Conditioning/Tiptronic/Anti Theft/Soft Top/Headlamp Leveling/Central Locking/Automatic Clutch/ DPF Reset/Electric Windows/Plip Programming/Heated Rear Window/Xenon Headlights/Wash Wipe/Fuel Burning Heater/Transfer Box/Seat Memory/Oil Life Service Reset/Sliding Doors/Electronic Throttle/Navigation System/Rollover Sensor/Cruise Control/ Multi Function Steerin
Multiple Languages
English, traditional Chinese, French, German, Spanish, Portuguese, German, Polish, Korean, Japanese, Russian, Italian.
Breif Introduction
XTOOL ASD60 as an innovative
Bluetooth
OBD2 scanner, equipped with its own App -'ASD60', complete OBD2 functions, along with various reset services (Oil/EPB/BMS/
TPMS
/SAS Resets, DPF Regeneration and
IMMO
Service etc.), is a compact option for family DIYers to troubleshoot vehicle's issues in no time.
Quick
Bluetooth
Connection
This portable OBD2 scanner is characterized by
Bluetooth
connection, and you can download the free APP 'ASD60' on your iOS or
Android
devices to get the car diagnosis going on without any worries about the compatibility.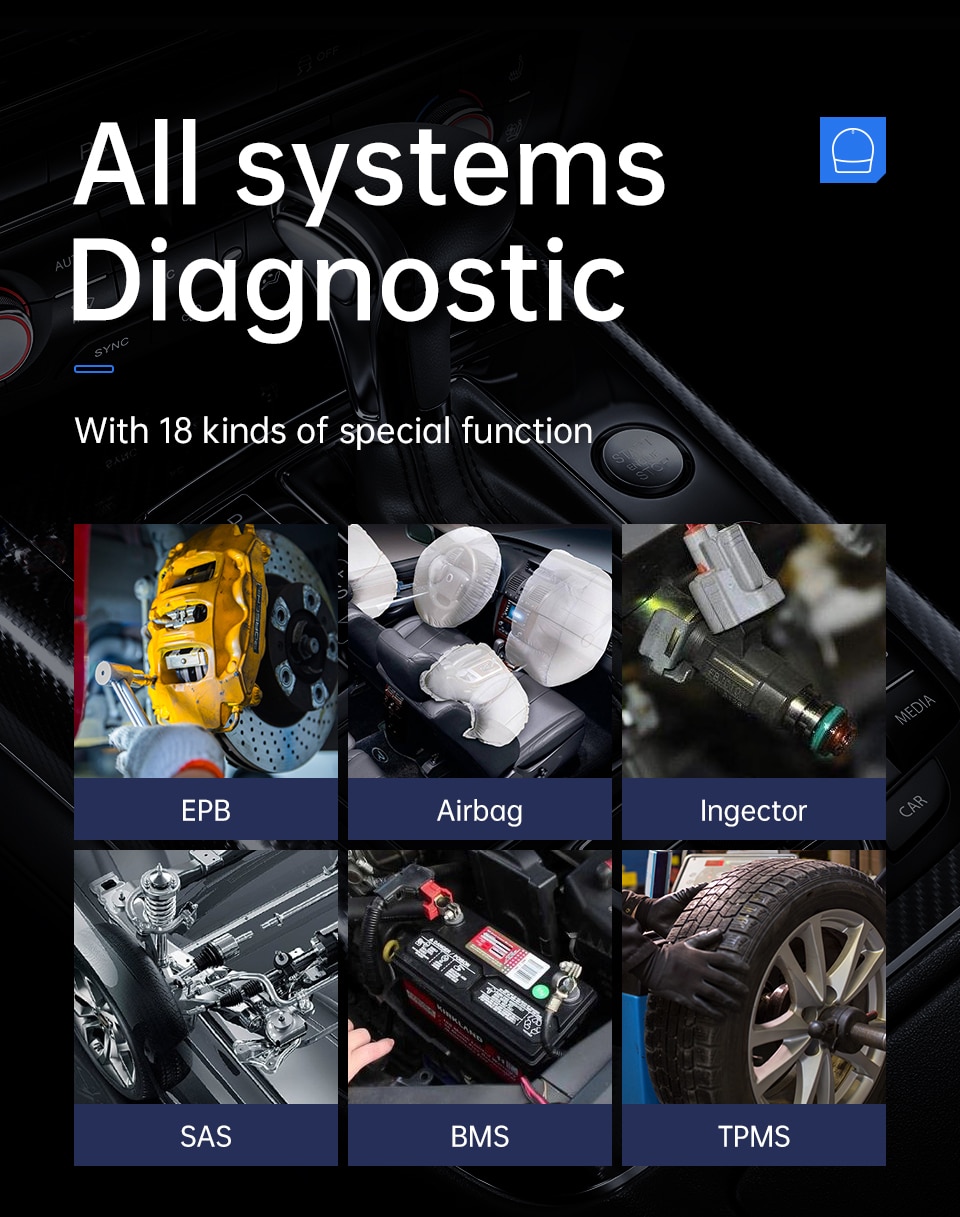 19 Powerful Reset Service
This Bluetooth OBD2 scanner is specially designed to provide you with quick access to the vehicle systems for various scheduled service and maintenance performances. There is some commonly-used special reset services are listed for your reference:
Oil Reset
Perform reset for the
engine
Oil Life system, which calculates an optimal oil life change interval depending on the vehicle driving conditions and climate.
EPB Reset
Maintain the electronic braking system safely and effectively by deactivating and activating the brake control system, setting brakes after disc or pad replacement, etc.
BMS Reset
Evaluate the battery charge state, monitor the close-circuit current, register the battery replacement, and activate the rest state of the vehicle.
SAS Reset
perform calibration for the Steering Angle Sensor, which permanently stores the current steering wheel position as the straight-ahead position in the sensor EEPROM.
TPMS Reset
quickly look up the tire sensor IDs from the vehicle's ECU, as well as to perform
TPMS
replacement and sensor test.
IMMO Service
Disable the
lost
vehicle keys and program the replacement key fob.
DPF Regeneration
Manage DPF regeneration, DPF component replacement teach-in and DPF teach-in after replacing the engine control unit.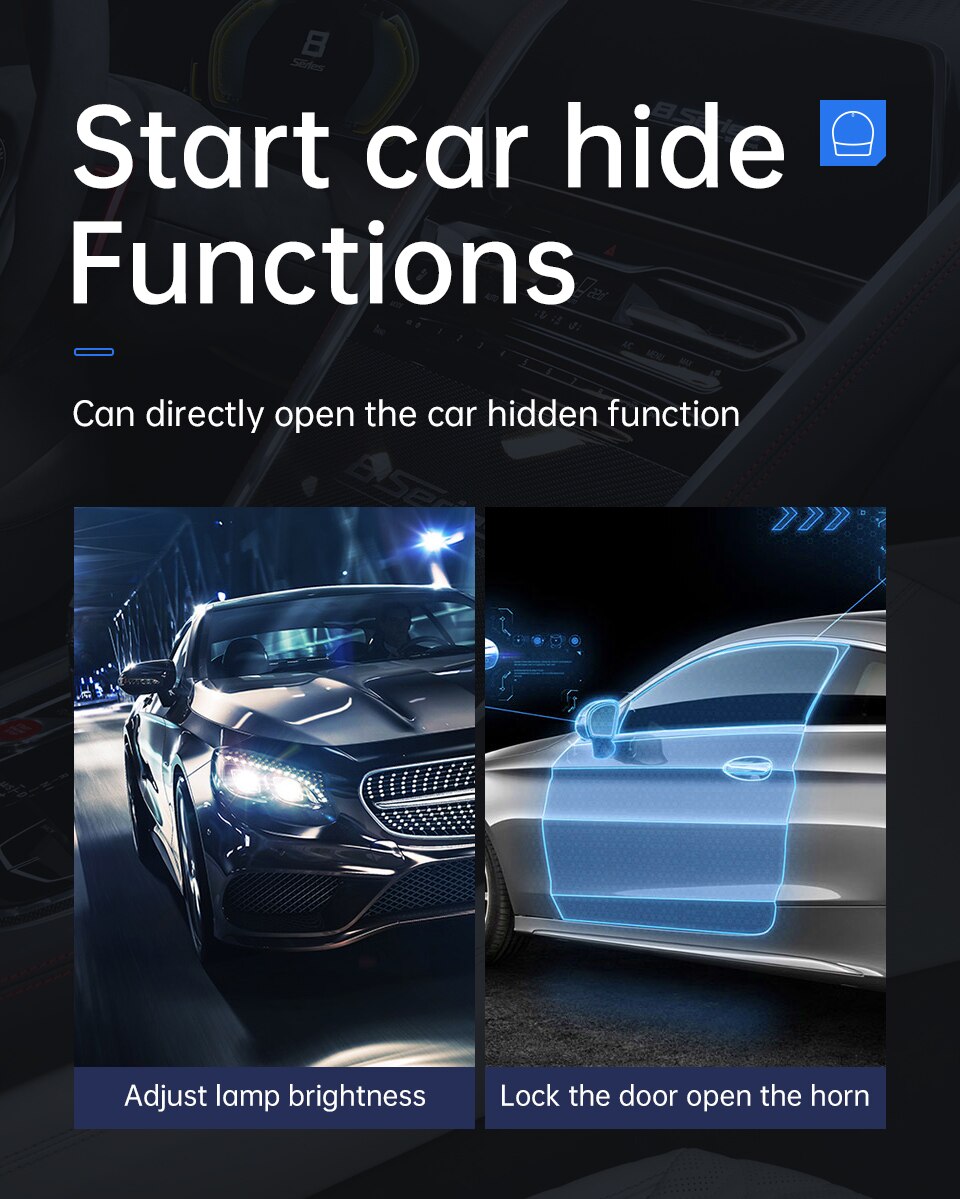 ASD60 can program the hidden functions of the vehicle



1. Adjust the brightness of the car lights

2. The horn will sound when the door is locked

......

Each car has different hidden functions, the above functions are not specific to each car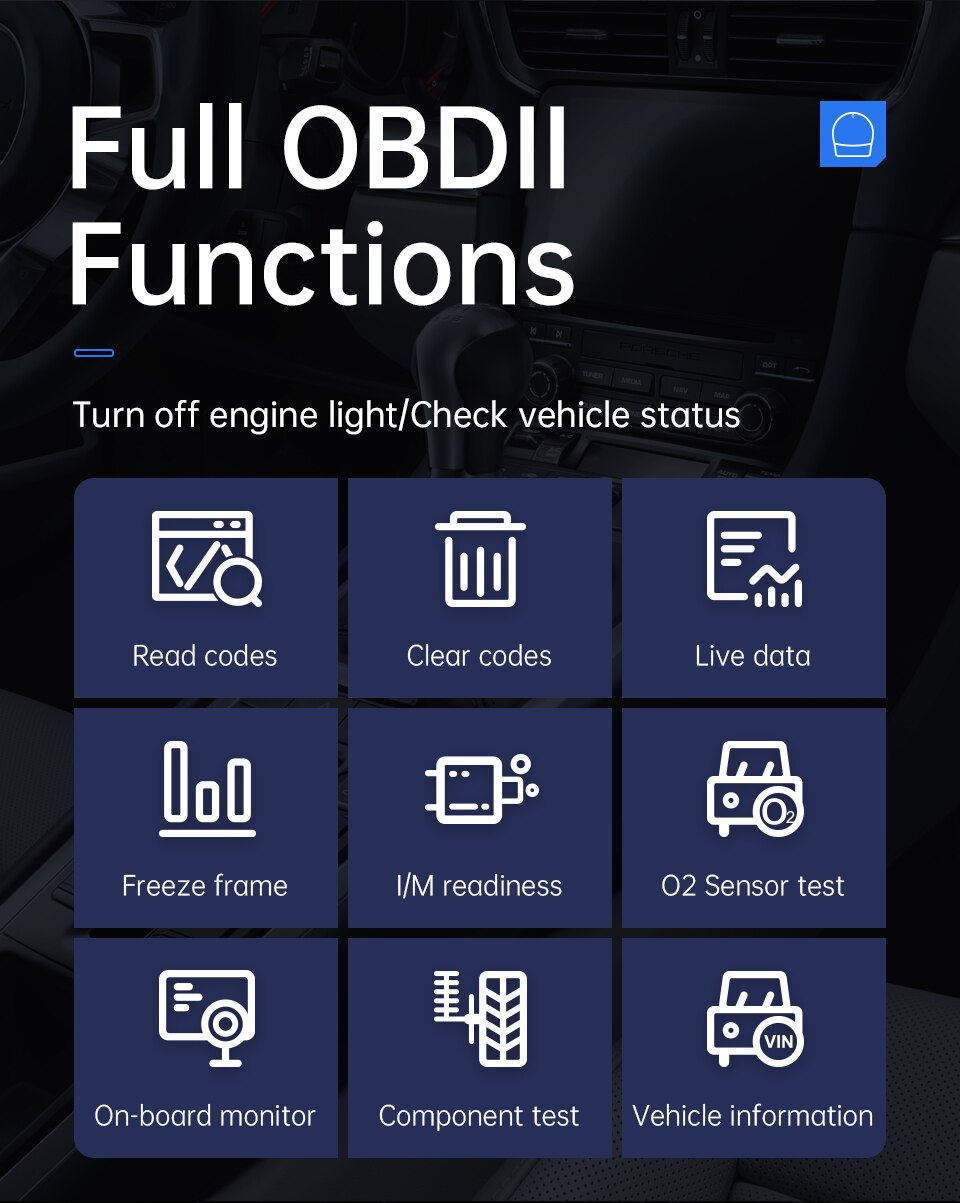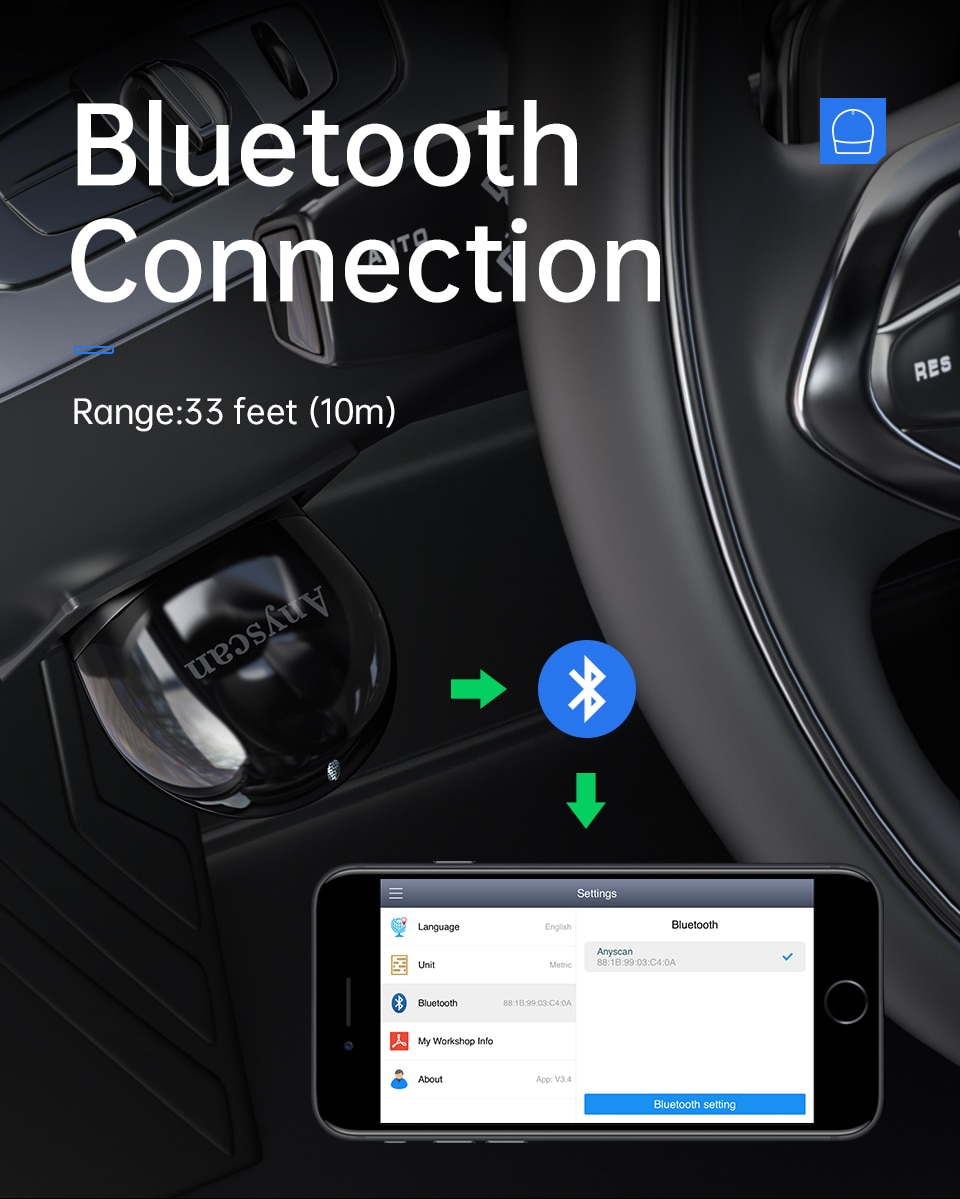 Comprehensive OBD2 Function

- Read extensive current, pending and permanent codes in OBD system quickly

- Clear detected fault codes and turn off the Check Engine Light efficiently

- View graphical live data of vehicle's computer module(s) for easy analyses

- View the vehicle's operating parameters at the moment a DTC is detected

- Read I/M readiness status to have a vehicle inspected for state emissions compliance

- Perform O2 sensor test to check fuel efficiency and vehicle emissions

- Read the results of on-board diagnostic monitoring tests for specific components/systems

- Retrieve the vehicle information of VIN, CINs, and CVNs completely

- Perform the component Test by allowing initiating a leak test for the vehicle's EVAP system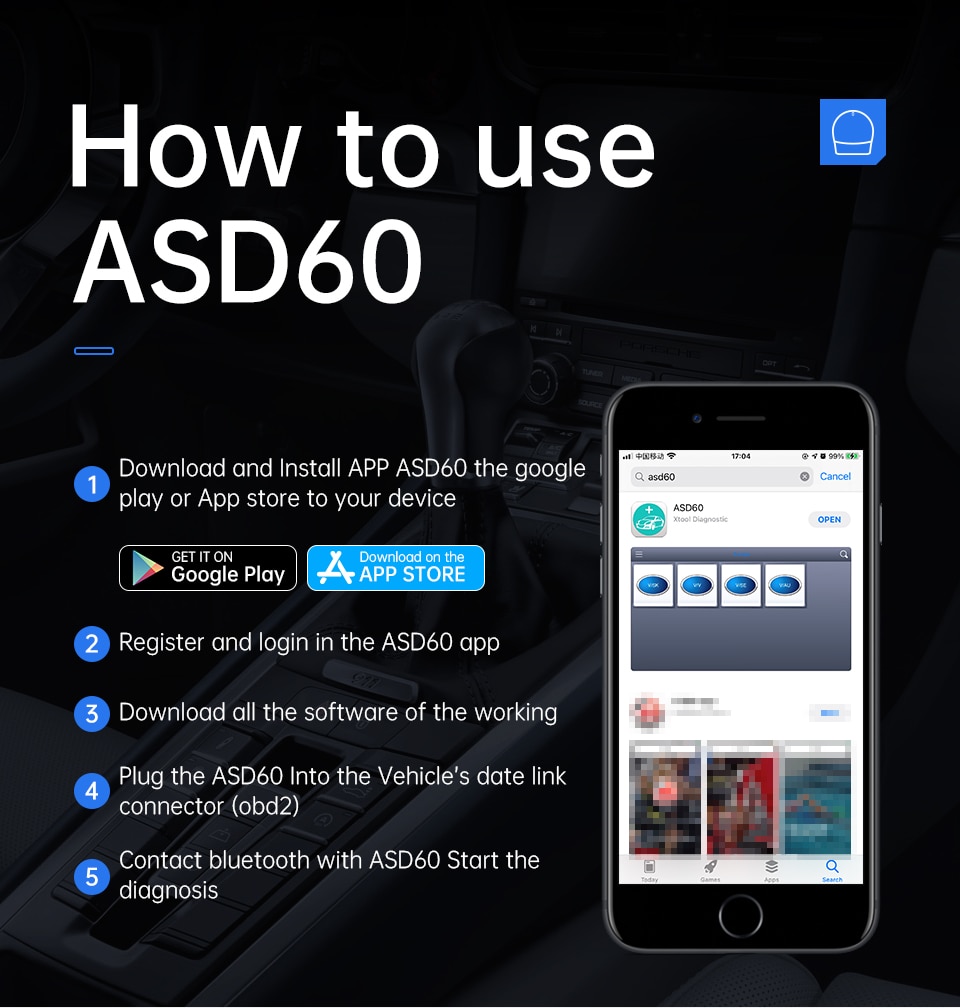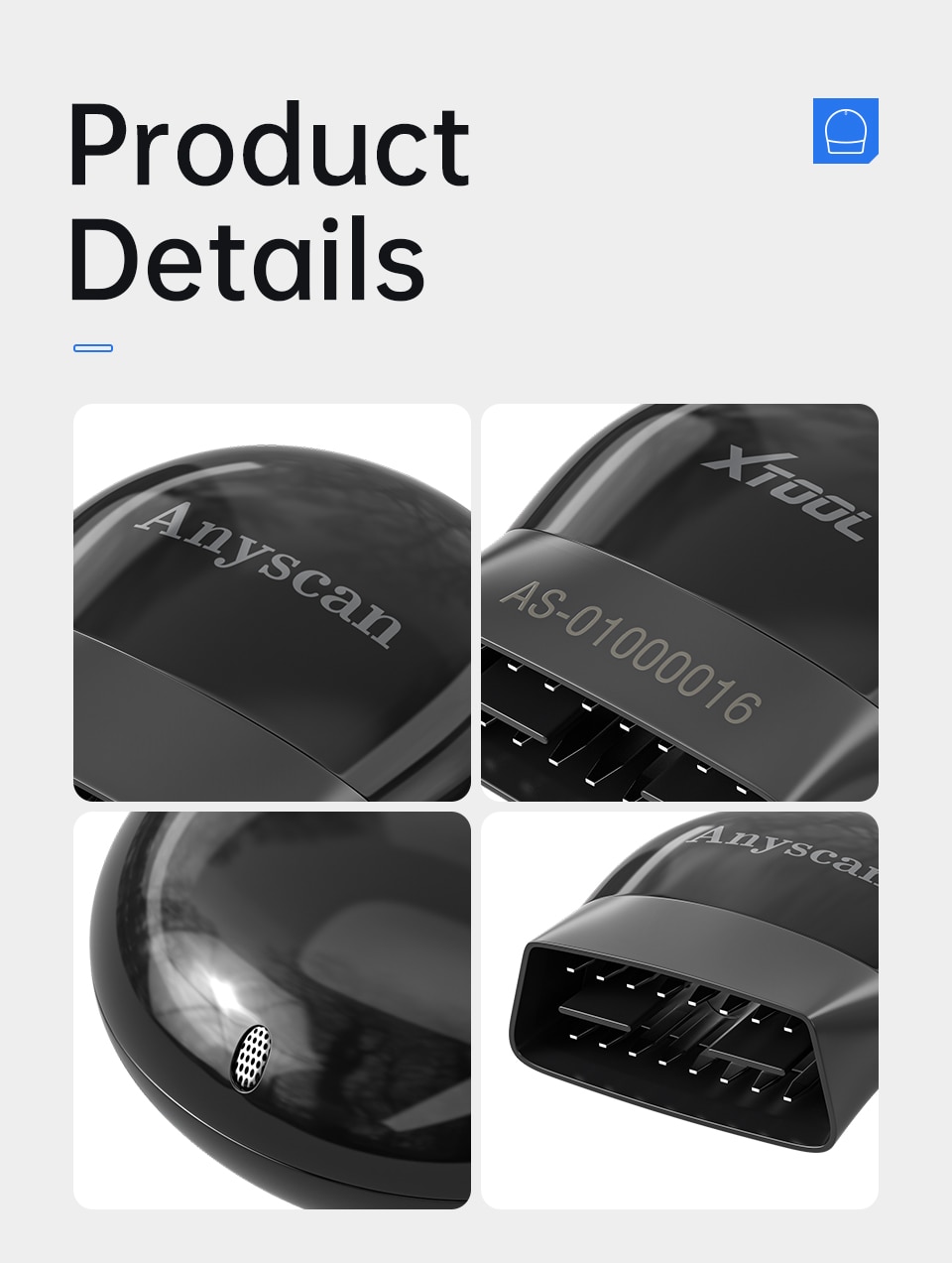 Note:
- All
OBDII
functions are available and free.
- All software get free update with life time no any extra cost again ,we will add more functions in the app
Quick Guide:
1. Download and install the app-ASD60 in Google Play or App Store to your device;
2. Register and log in the APP;
3. Download All the software inside the Upadte
4. Plug the AS60 tool into the vehicle's Data Link Connector (DLC);
5. Turn on the vehicle ignition while turn the engine off;
6. Tap Me/Setting button of your device to pair the ASD60 with your device;
7. Start to diagnose your car.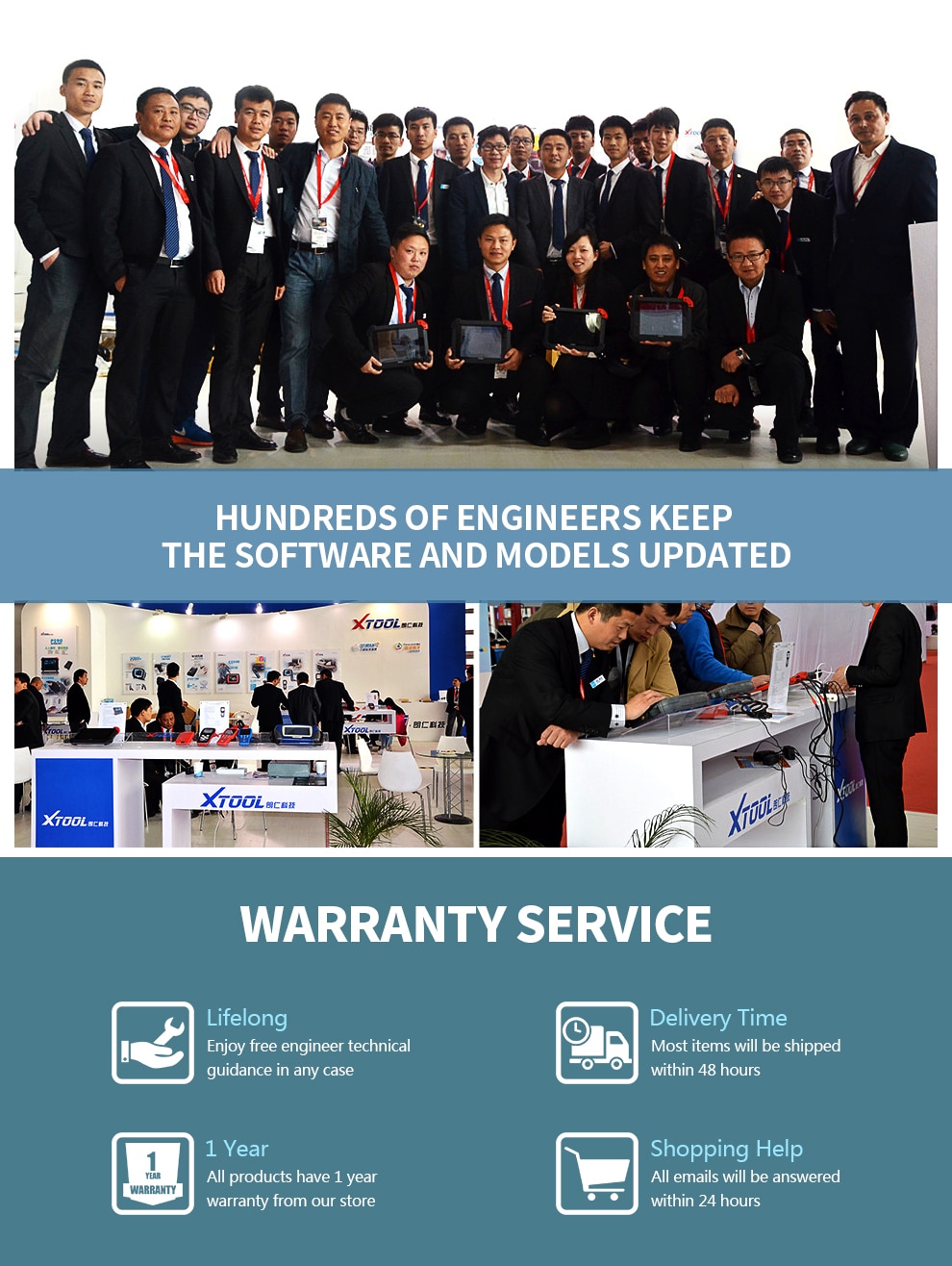 Reviews

11
#1 Vic Guerra
Apr 9, 2021

Good afternoon my dear, Very fast shipping. All material arrived. Good communication. Recommended seller. I am happy because all works well. Thank You for all attention. Best Regards.
#1 Hymnfrany Hymnfrany
Mar 9, 2021

Excellent prduto. Arrived before the Expected. very good.
#1 Grigory Buteyko
May 9, 2021

The delivery was fast, all came days in 10.
#1 BladyBupBug BladyBupBug
Jul 9, 2021

Product as described request. Very fast. Recommend all p.
#1 Eric Despatie
Mar 9, 2021

Delivered quickly, the seller is very Quickly answers all questions and tries to help if there is a problem
#1 Vitali Minasyan
Apr 9, 2021

Excellent!
#1 Nikolay Lisnevskiy
Jul 9, 2021

All the best, very fast! Thank you! this XTOOL ASD60 OBD2 Scanner For Benz VW BMW Full Automotivo OBD II Code Reader Support IOS/Android With 15 Reset Functions is good quality, working very well
#1 Rick Thomas
Apr 9, 2021

pretty good to use,thanks for your help!
#1 david regan
Feb 9, 2021

Okay okay thanks
#1 vasiastiliagaizmsk vasiastiliagaizmsk
May 9, 2021

Thanks working perfect!!!!!
Previous: Handheld PDA Android 6.0 Touch Screen 2D Barcode Scanner Payment Terminal
Next: Lonsdor FT01-0020 312/433MHz Smart Key PCB for Toyota/Lexus