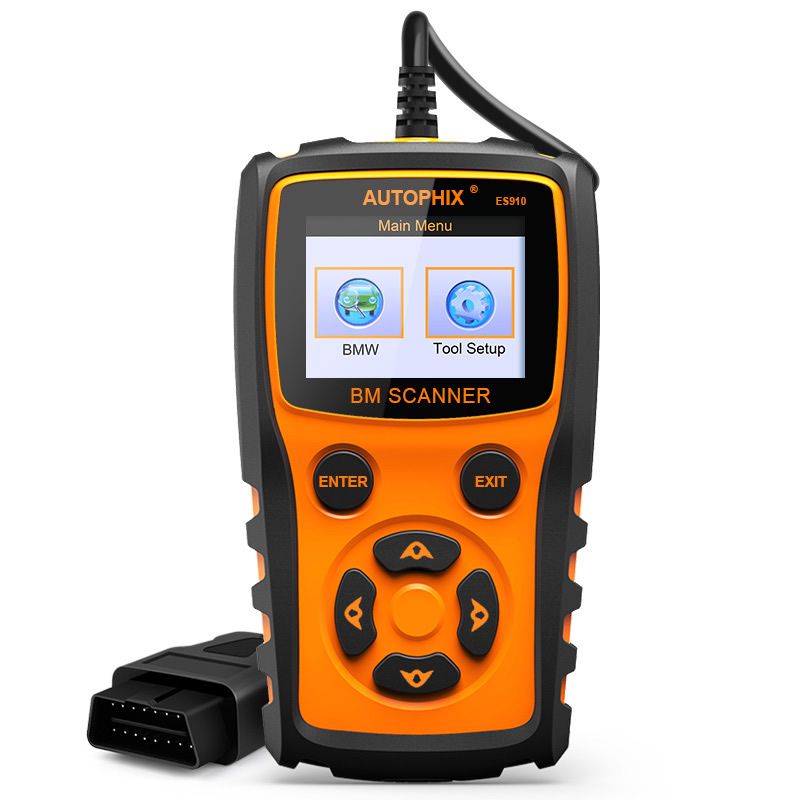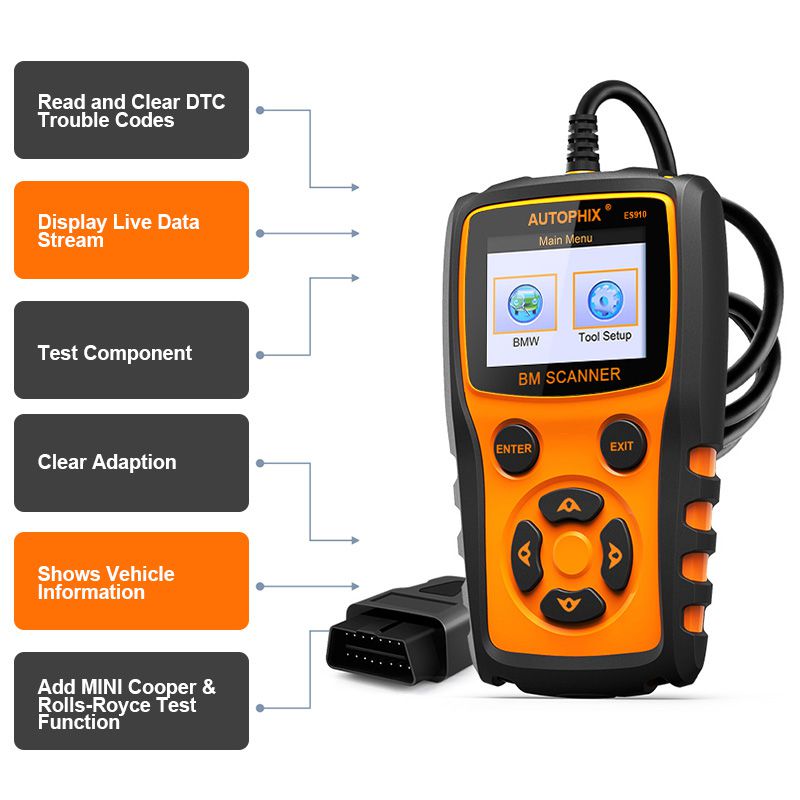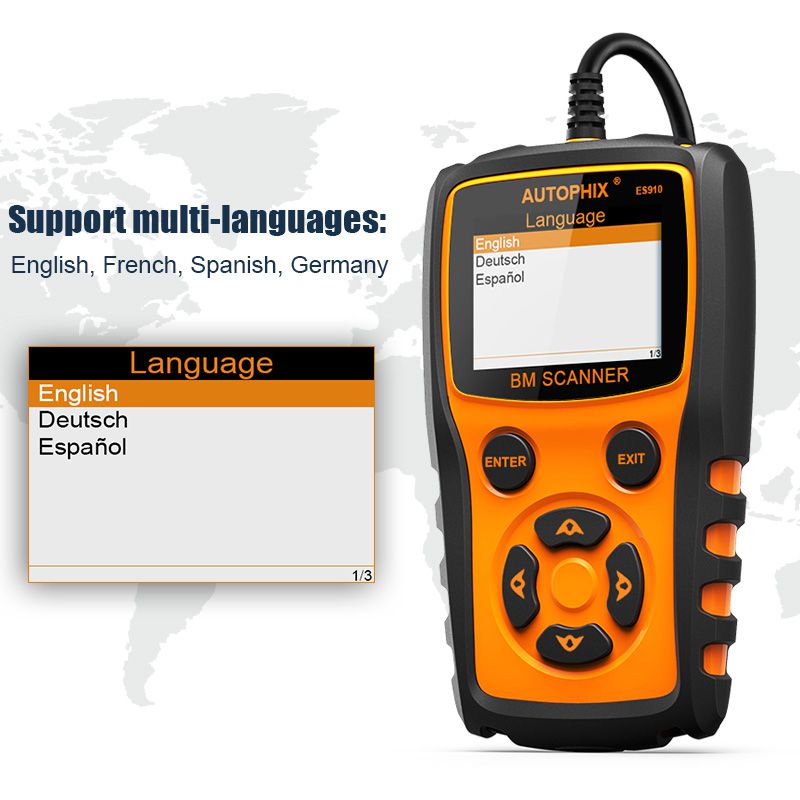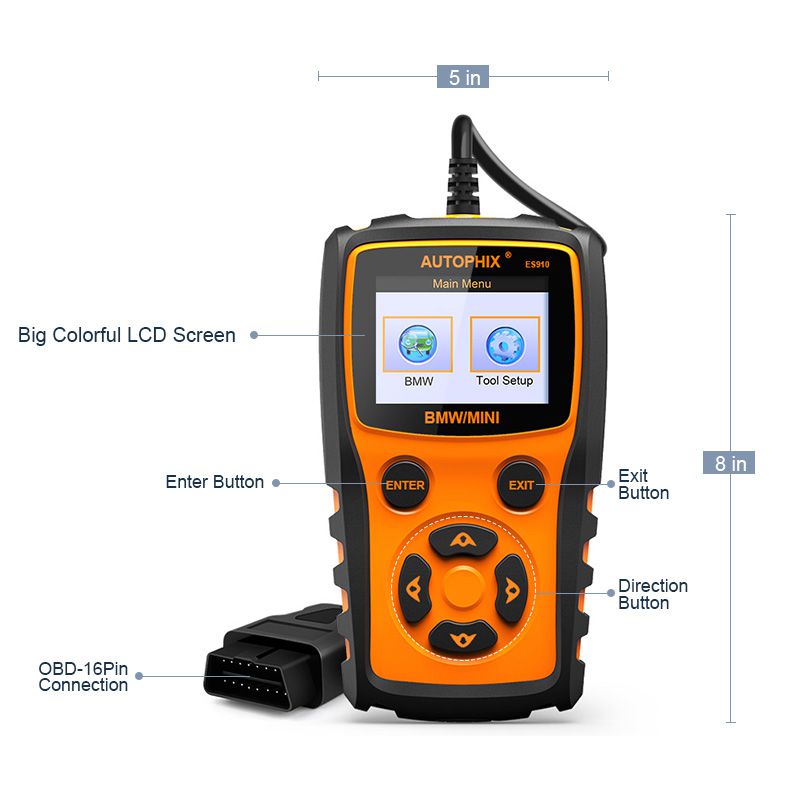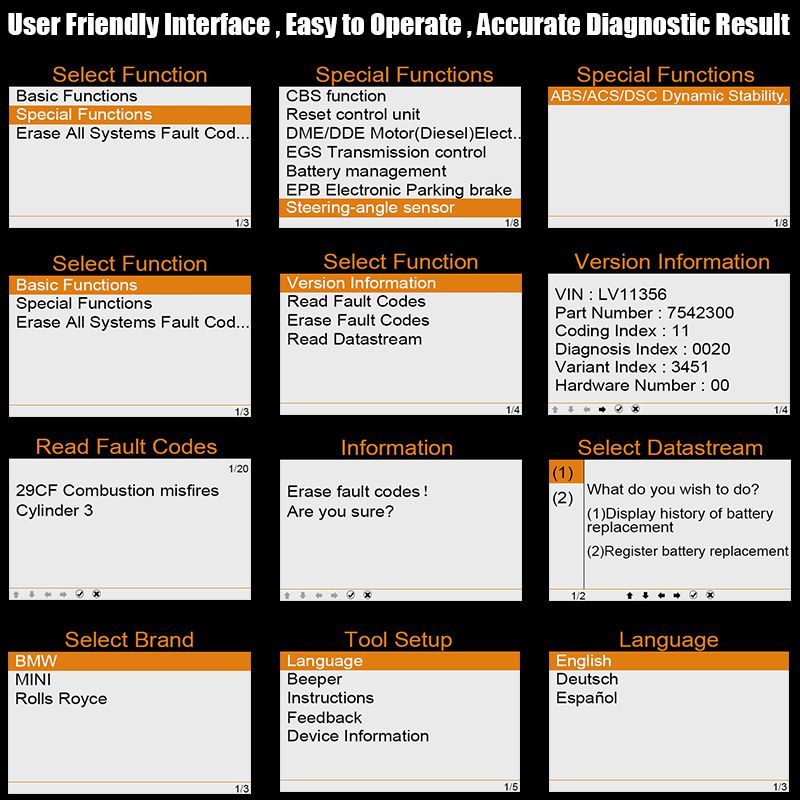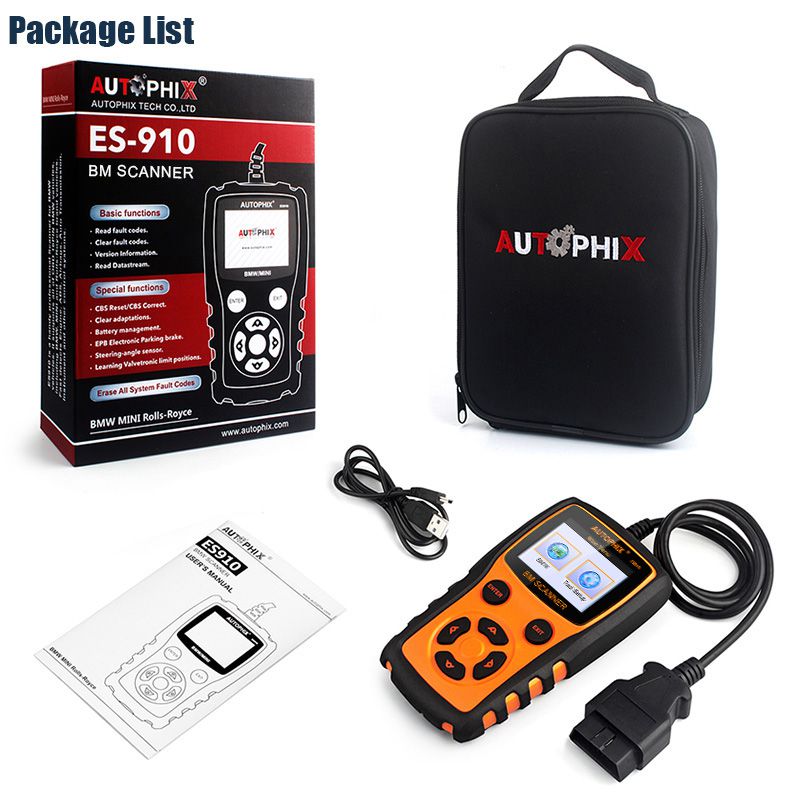 Description
Autophix ES910 BMW OBD2 Automotive Scanner ABS Airbag EPB Transmission ODB2 Code Reader OBDII Diagnostic Tool Lifetime Free Update
ES910 is a handy professional Scanner for
BMW
vehicles. It supports most of the BM vehicles between 1998 to 2001,and works on all models after 2001.
Supports BM models
1 Series, Chassis systems: E81/E82/E87/E88/F20/F21/F52 (2017-present);
2 Series, Chassis systems: F22/F23/F45/F46/F87 (2015-present);
3 Series, Chassis systems: E30 (1982-1994)/E36/E46,E90/E91/E92/E93,F30/F31/F34/F35/F80/G20 (2018-present);
4 Series, Chassis systems: F32/F33/F36/F82/F83;
5 Series, Chassis systems: E28(1981-1988)/E34(1988-1996)/E39/E60/E61/F07/F10/F11/F18/F90(2017-present)/G30/G31(2017-present)/G38(2017-present) ;
6 Series, Chassis systems: E24(1976-1989)/E63/ E64/F06/F12/F13/G32(2017 - present);
7 Series, Chassis systems: E23(1977-1987)/E32(1986-1994) /E38/E65/E66/E67/E68/F01/F02/F03/F04/G11/G12(2015 - present);
8 Series, Chassis systems: E31(1990-1999)/G14/G15/G16(2018-present);
X Series, Chassis systems: X1 E84/F48/F49 (2011-2017); X2 F39 (2018-present);X3 E83/F25/G01(2018-present);X4 F26/G02(2018-present);X5 E53/E70/F15/F85/G05(2018-present);X6 E71/E72/ F16/F86/X7/G07(2018-present);
Z Series, Chassis systems: Z1 E30(1990-1999)/Z3/E36/Z4/E85/E86/Z4/E8/Z8/E52
I Chassis systems: I3/I01/I8/I12
MINI:R50/R52/R53/R55/R56/R57/R58/R59/R60/R61/F54/F55/F56/F60(2017-present)
Include: Drive , Chassis and Body all system
MINI: R series and F series of Chassis systems Rolls-Royce: All of RR Chassis systems ES910 support systems: CAS, DDE, DME, EGS, MRS/ACSM, ABS/DSC, IHKA, KOM/INSTR, EMF etc. Multi-languages: English, French, Spanish, Germany
BM Basic functions
Read fault codes
Clear fault codes
Version Information
Read data stream
BM Special functions
CBS Reset/CBS Correct
Clear adaptations
Battery management
EPB Electronic Parking brake
Steering-angel sensor
Learning valvetronic limit positions
Specifications of ES910:
Display:Backlit, Colorful, 320x240 pixel
Operating Temperature:0 to 60°C (32 to 140 F°)
Storage Temperature:0 °C to 80°C (32 to 176 F°)
External Power:8.0 to 18.0 V power provided via vehicle batter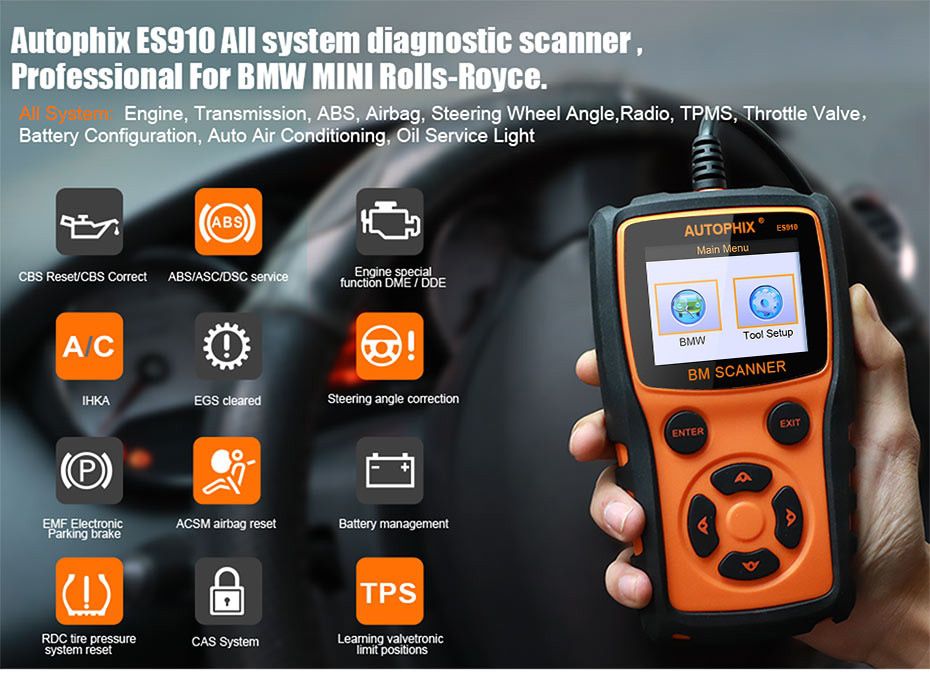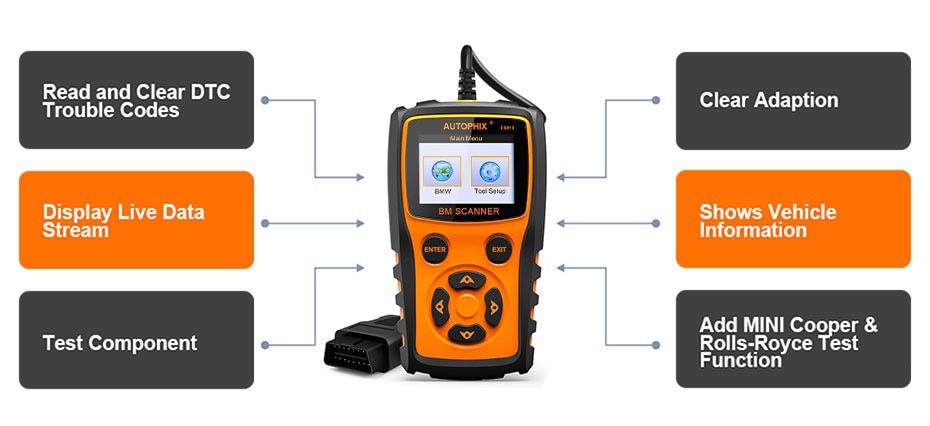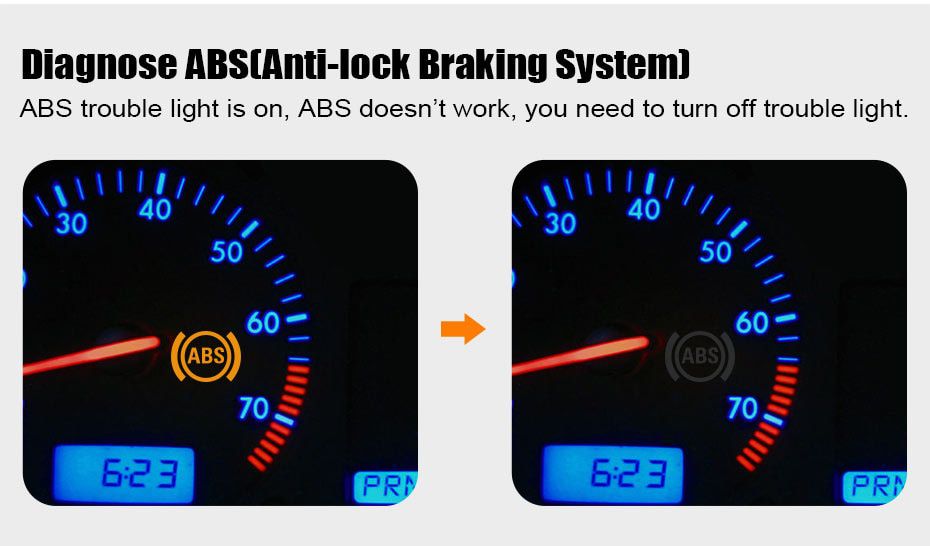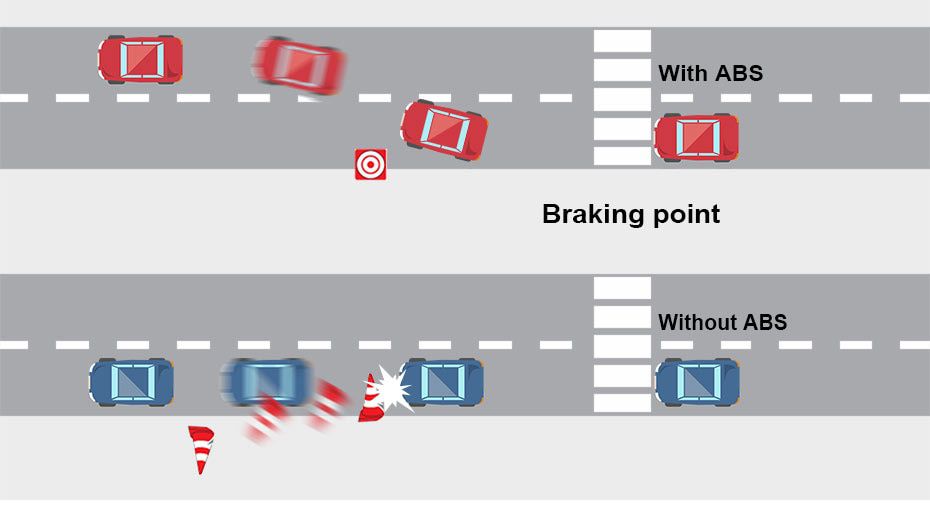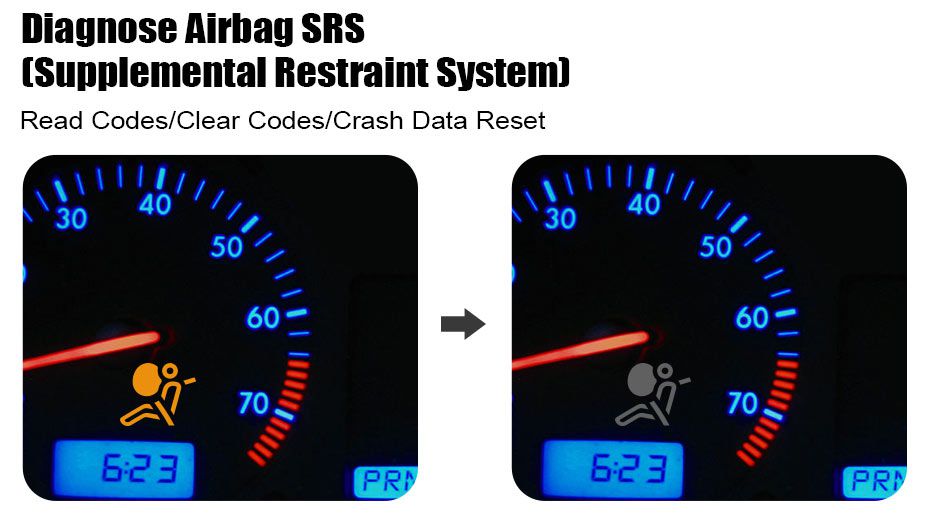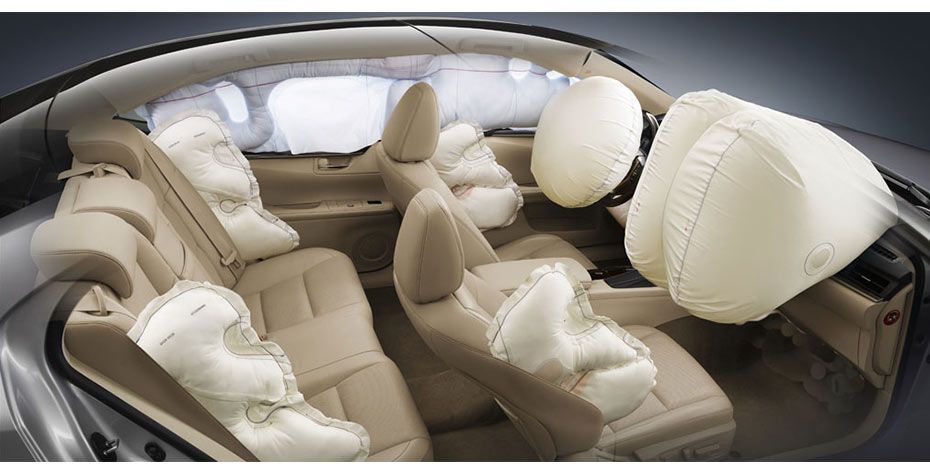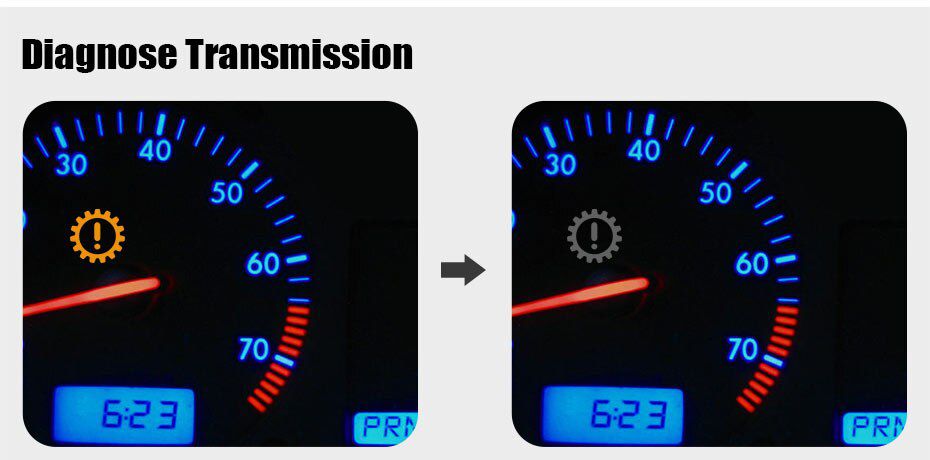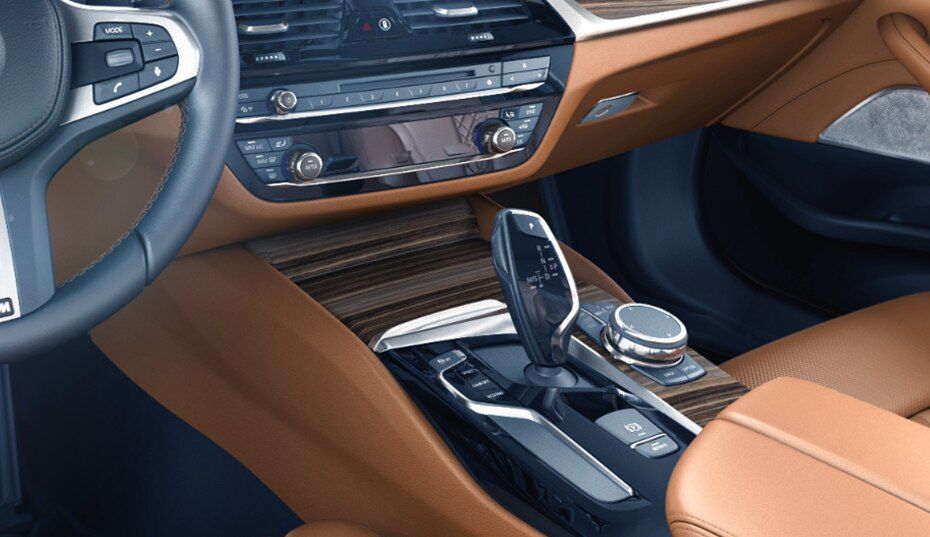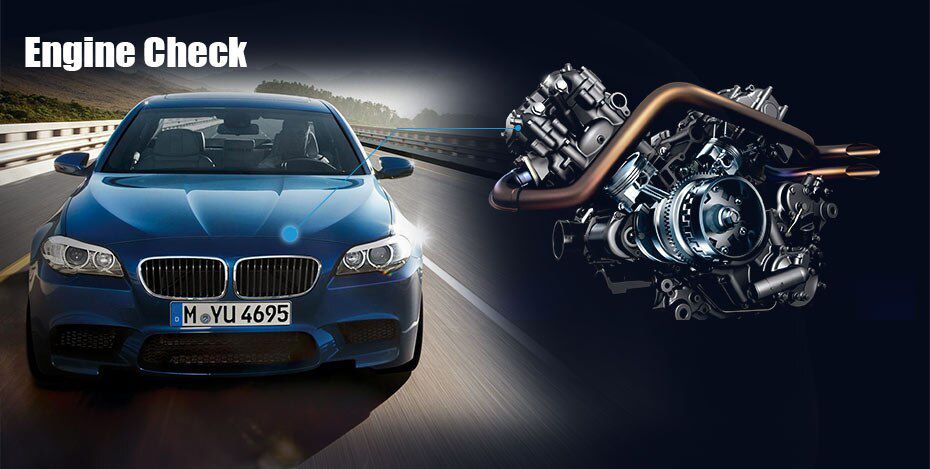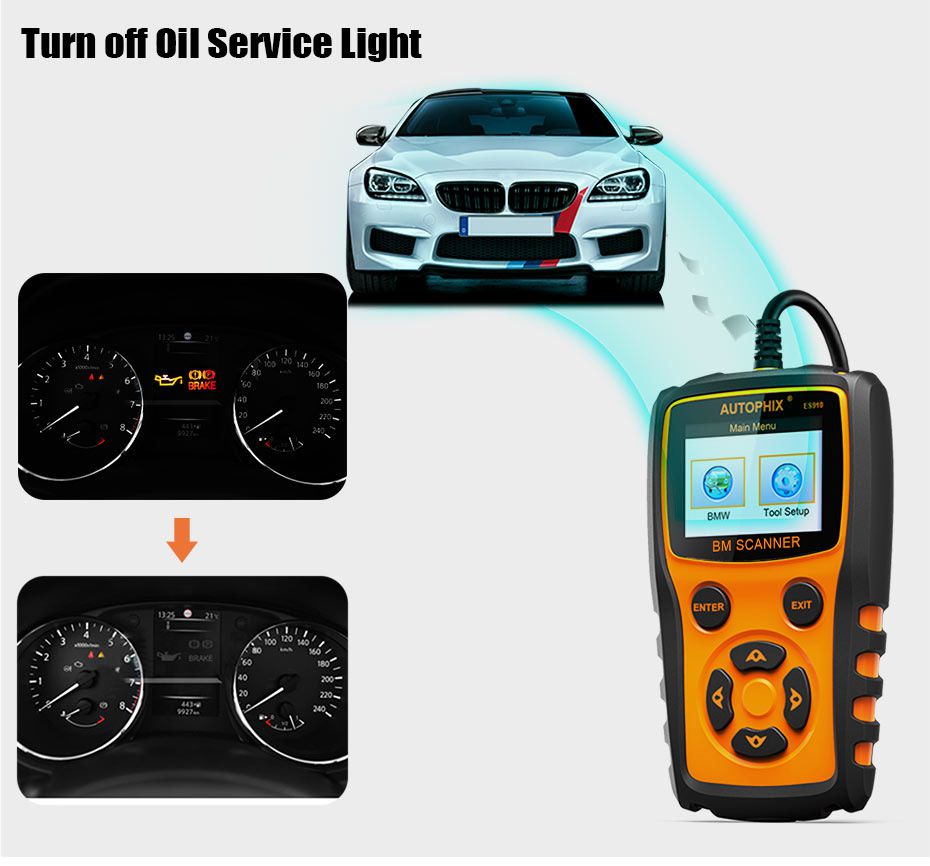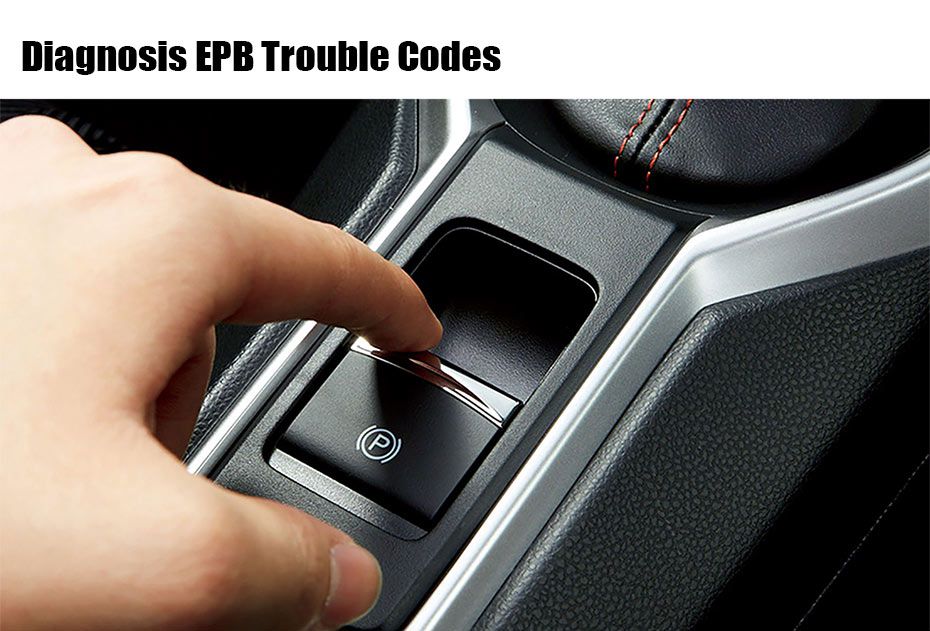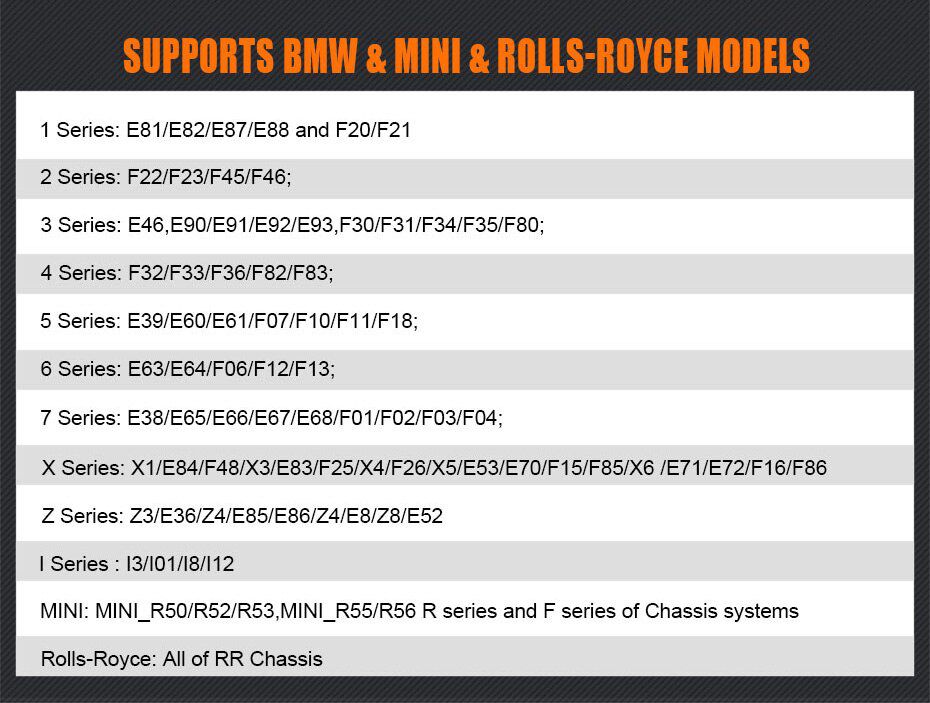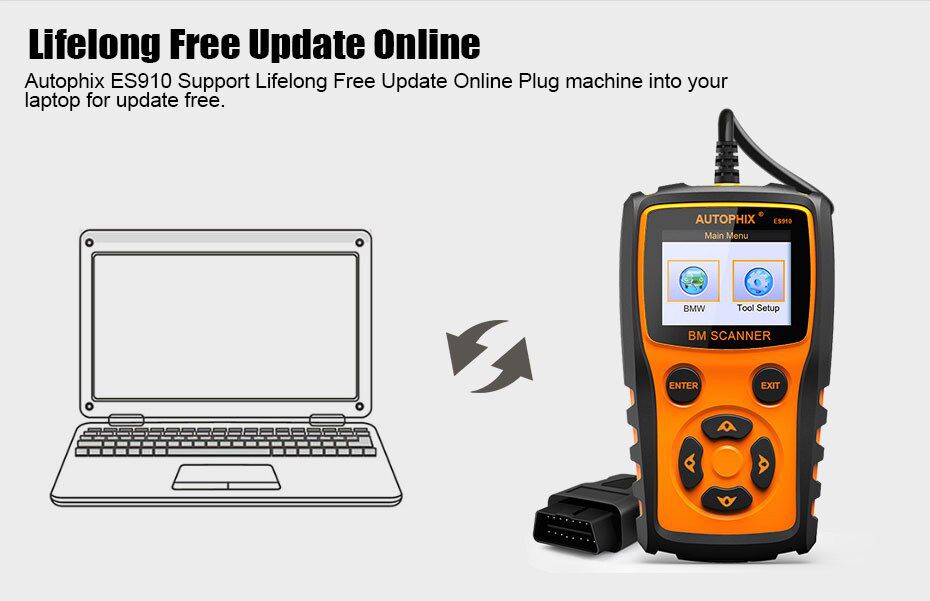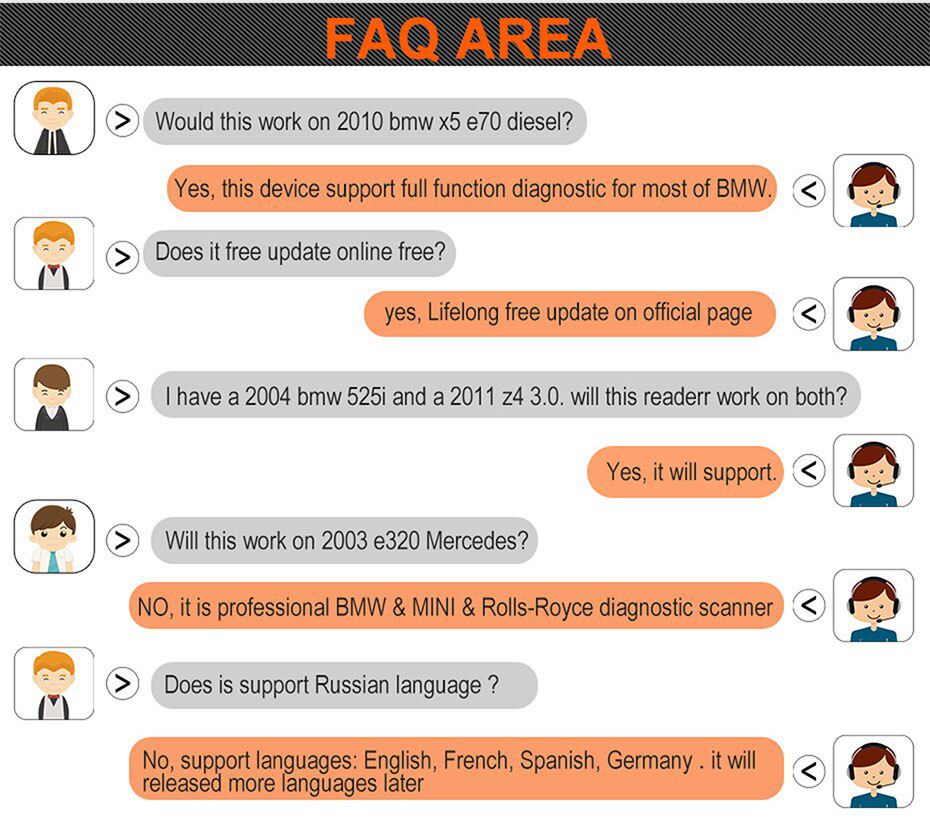 Reviews

10
#1 Jim Donnelly
Jan 9, 2019

All OK!
#1 BuyAnafranilOnline BuyAnafranilOnline
Aug 9, 2018

very good
#1 Goran Cepe
Apr 9, 2019

Excellent!
#1 sergey
Feb 9, 2019

very good are satisfied with fast shipping
#1 mark sigala
Feb 9, 2019

has not been tested yet but everything looks perfect
#1 chapambbbs chapambbbs
Apr 9, 2019

Fast delivery, the machine good quality. Investment zwróciła after first use. Recommend.
#1 Ricardas Eniulaitis
Jul 9, 2018

Received it via DHL,all good.thank you. this Autophix ES910 BMW OBD2 Automotive Scanner ABS Airbag EPB Transmission ODB2 Code Reader OBDII Diagnostic Tool Lifetime Free Update is good quality, working very well
#1 rodolfo bonjoc
Apr 9, 2019

Good stuff. All as in the description
#1 valeriy sumarokov
Jan 9, 2019

A professional approach, I recommend the seller
#1 dpresidenkale Holland
Dec 9, 2018

Thanks working perfect!!!!!
Previous: VAG COM Cable VCDS V23 HEX USB Interface for VW, Audi, Seat, Skoda Support Multi-Launguage
Next: Car Valve Spring Wrench Compressor Pusher The Replacement of Valve Springs and Valve Stem Oil Seals Auto Tool for Car Motorcycle