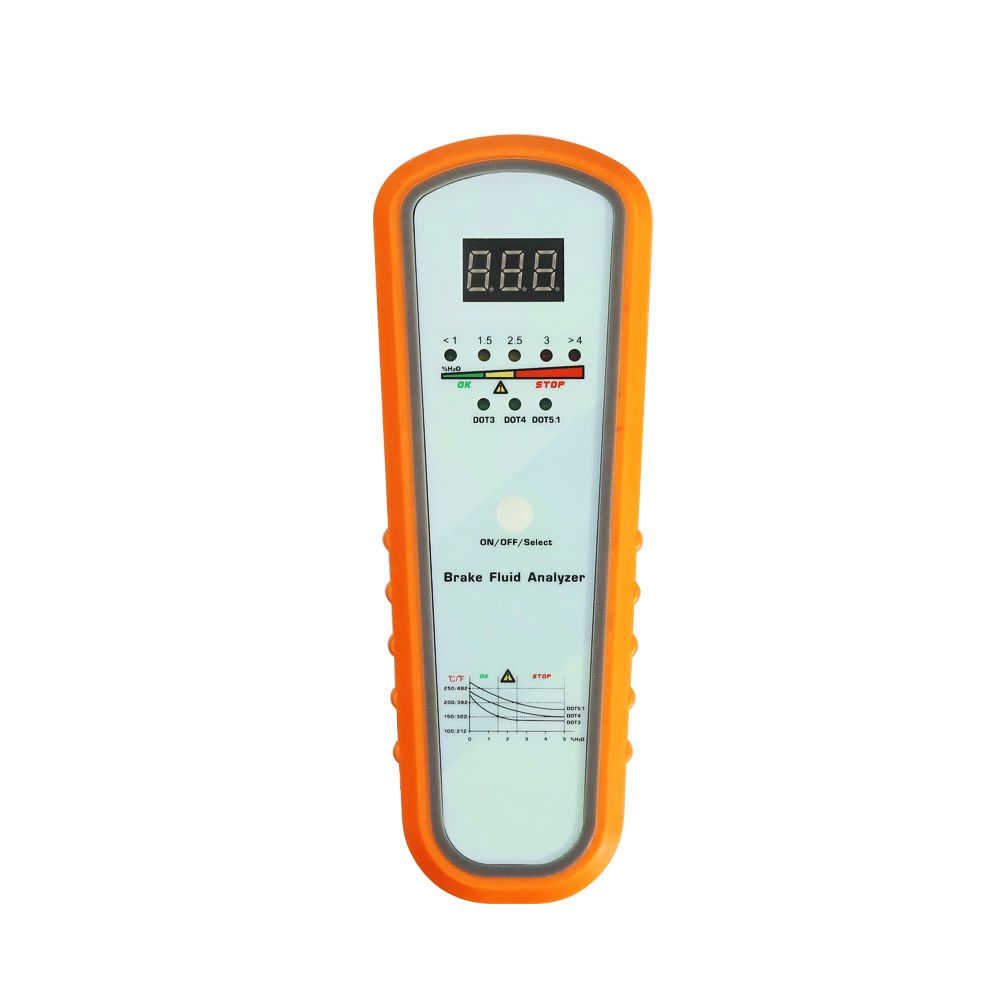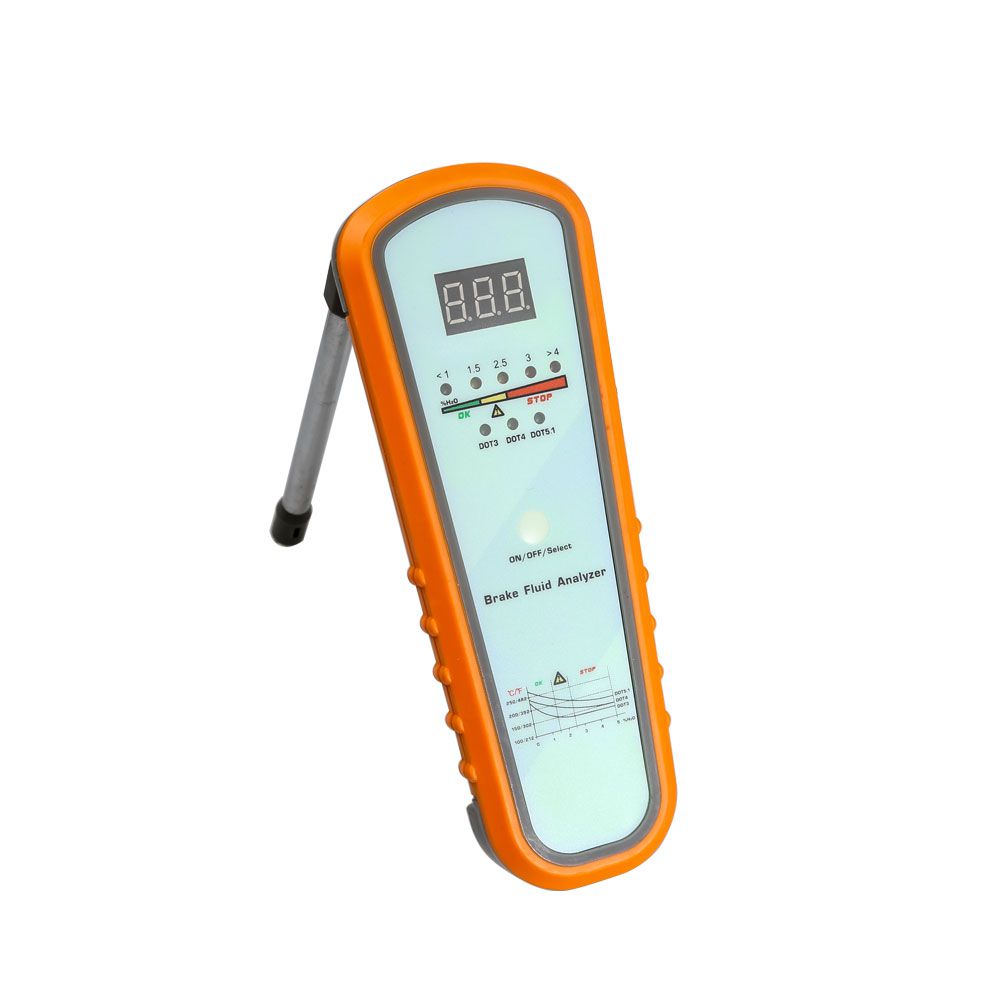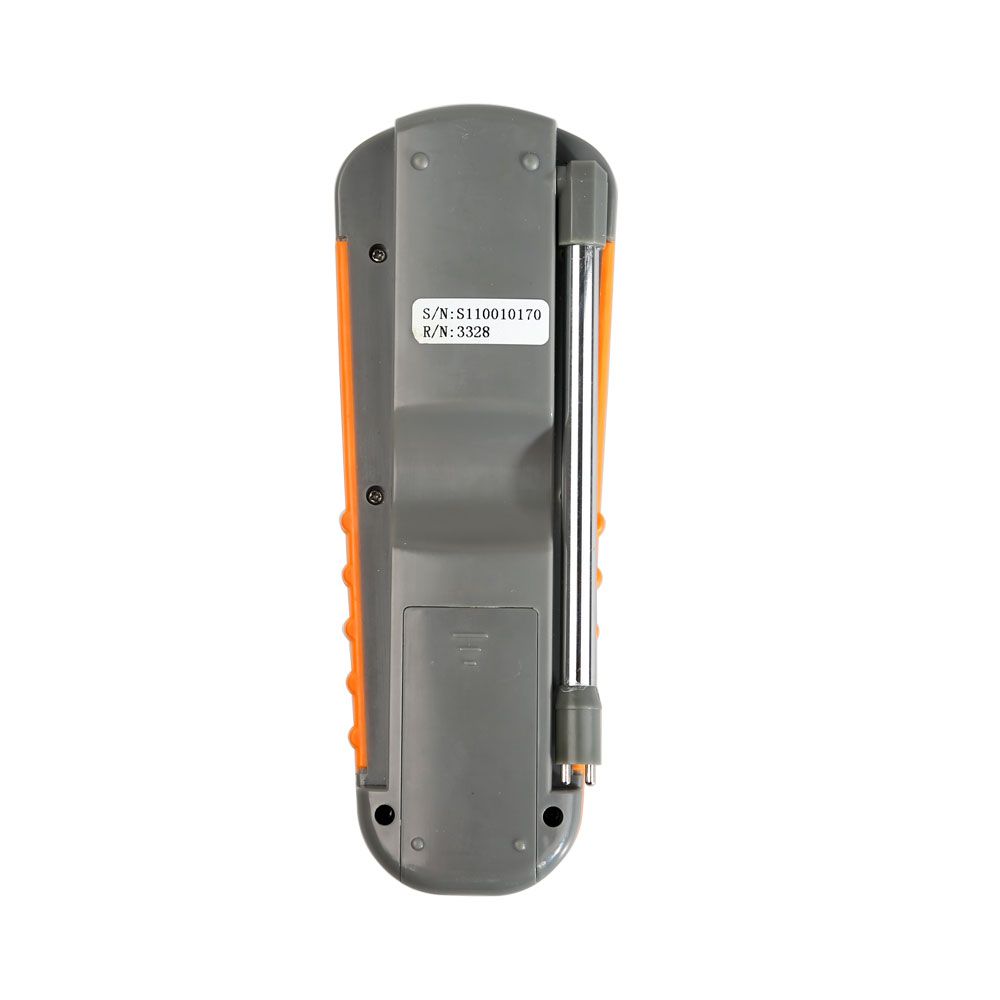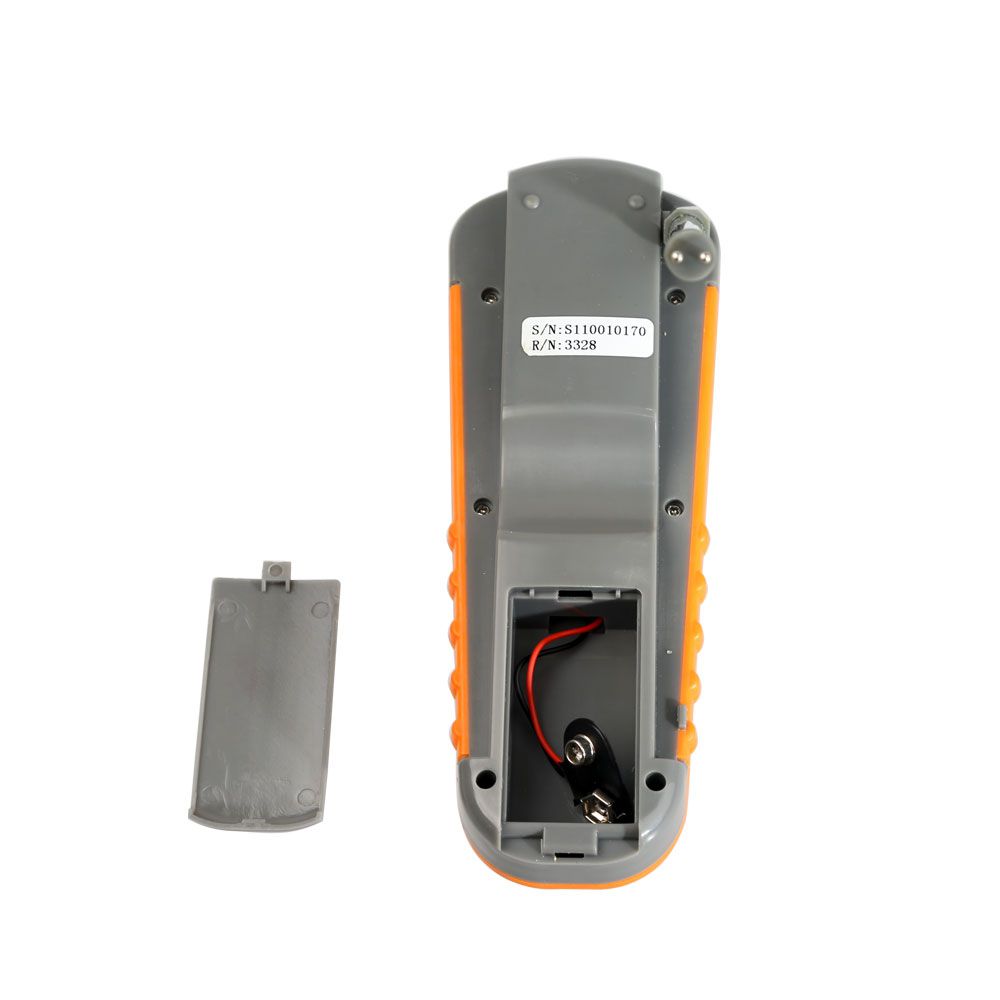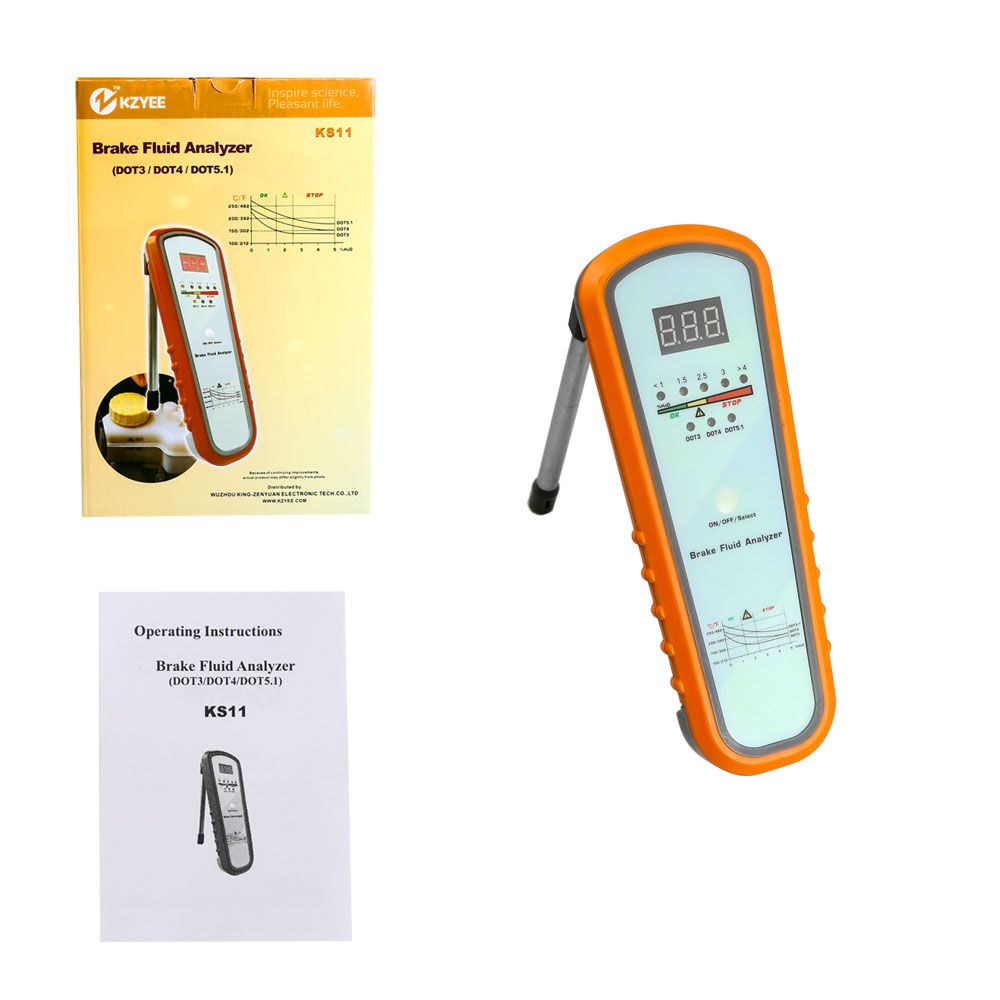 Description
KZYEE KS11 Brake Fluid Analyzer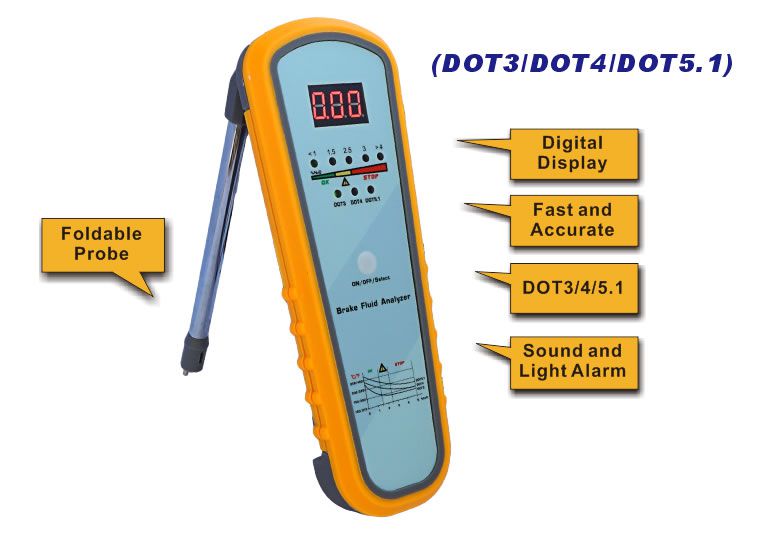 The Automobile Brake Fluid ( Hereinafter referred to as brake fluid )is a kind of liquid that used to transfer pressure to stop the rotation of wheels in the hydraulic braking system. Its quality,selection and using correctly or not will relate to the driving safety directly.
The Brake Fluid Analyzer which developed and produced by our company can test the brake fluid quality quickly and accurately, check the humidity to indicate you the brake fluid state, and providing you with reliable basis for the maintenance and replacement.
Different types of brake fluid will vary according to the different boiling point of the water contained, the brake fluid should be replaced timely when its water content is over standard, to ensure your driving safety
Top 9 reasons to get KZYEE KS11 Brake Fluids Quickly Checker:

This product is specially designed for measuring brake fluid"DOT3", "DOT4" and "DOT5.1"
Probe waterproof design
Power supply:7th(AAA)Battery (Without Battery Please purchase locally)
Working Voltage: 2.0V~3.5V
Working current: 40mA, Shut off current less than 5uA
Support low power alarm and low power automatically shut off, protect Rechargeable battery.
Auto Power Shut Off: No operation Auto Power Shut Off 1 Minute later
Operating Temperature:-0-40 degree
Storage Temperature:-20-60 degree

KZYEE KS11 Brake Fluid Analyzer Features:
Detect the brake fluid performance quickly by measuring the water content of the brake fluid, in order to replace the brake fluid timely.
This instrument applies to DOT3, DOT4 and DOT5.1 these three types of brake fluid testing, using the AC pulse testing method, greatly to reduce the polarization phenomenon during the brake fluid testing, the test result is accurate and the measuring speed is fast.
This instrument is equipped with digital tube digital display, sound and light alarm combining LED lights and buzzer, automatic power off function to save power, it is intuitive and easy to understand, convenient to carry.
Interpretation of test results:
Green LED (<1%) ON: The brake fluid performance is excellent
Yellow LED(>1.5%) ON: The brake fluid performance is fine
Yellow LED(>2.5%) ON: The brake fluid performance is OK, but it need to be detected and observed in the near future
Red LED(>3%) ON: The brake fluid performance is poor, it need to be replaced
Red LED(>4%) ON: The brake fluid performance is extremely poor, it need to be replaced immediately !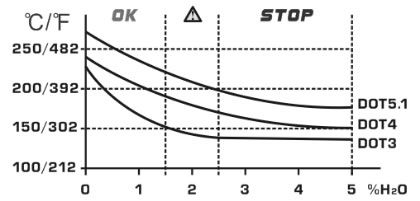 Note:
After the completion of each test, please use the dry cloth or paper towel to wipe the fluid of the test point.
This product support Ni-MH recharging batteries.
After finishing testing,please clean the probe in case the Retention of stains will affect usage next time.
If Unused for long periods, it is recommended to remove the battery, put the product stored at room temperature and dry place.
Package includes:
1pc x KZYEE KS11 Brake Fluid Analyzer
1pc x User Manual
Reviews

17
#1 circumciserzs circumciserzs
May 9, 2018

Very good product super fast
#1 gerardo villanueva
Mar 9, 2019

The goods received. visually everything is fine. the disc under the string with a gift software. while the impression from the seller is only positive.
#1 ilko Georgiev
Mar 9, 2019

working good
#1 Jonathan Motta
Oct 9, 2018

fast shipping ,awesome
#1 Noralle Thompson
Jun 9, 2018

Excellent prduto. Arrived before the Expected. very good.
#1 Louis Thompson
Nov 9, 2018

Product as described request. Very fast. Recommend all p.
#1 salima benmessahel
Mar 9, 2019

Everything is fine this KZYEE KS11 Brake Fluid Analyzer Professional Brake Fluid Tester Digital Brake Fluids Analyzer with 5 LED Indicator Calibrated for Truck Car Diagnosis is good quality, working very well
#1 Thabelo Tshiangwana
Oct 9, 2018

The order came for 3 days, everything would be so!!!! I'll check, i'll add a review.
#1 Collin Fox
Dec 9, 2018

Could you put low value as import duty for the package?
#1 Viduran Krishnar
Nov 9, 2018

Thanks to the producer everything came on time all the whole works quality assembly meets the requirements of the description
Previous: KZYEE KC10 OBD II & CAN Code Reader Universal Classical OBDII Automotive Code Reader Diagnostic Scan Tool Check Engine Light for 12V
Next: KZYEE KS20 Battery Analyzer for 12/24V Cars 100-1700 CCA Automotive Battery Load Tester Cranking and Charging System Diagnostic Tool