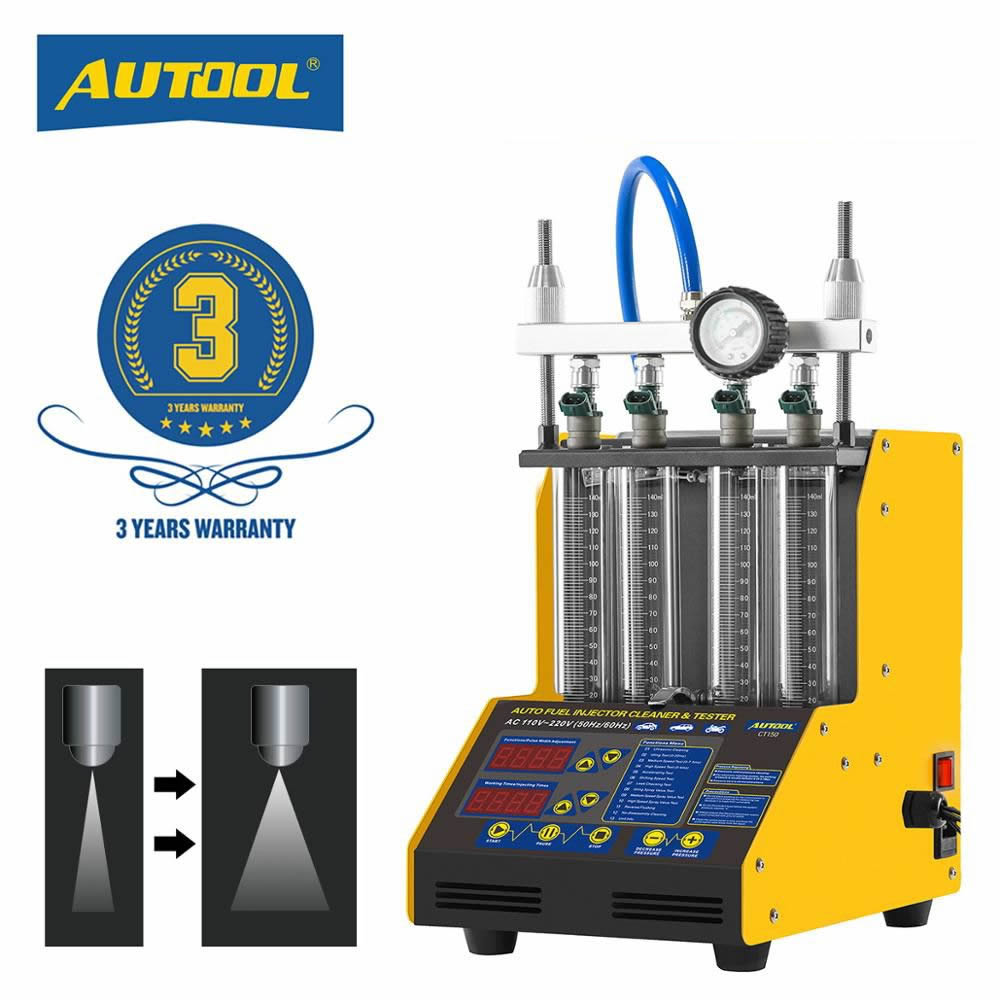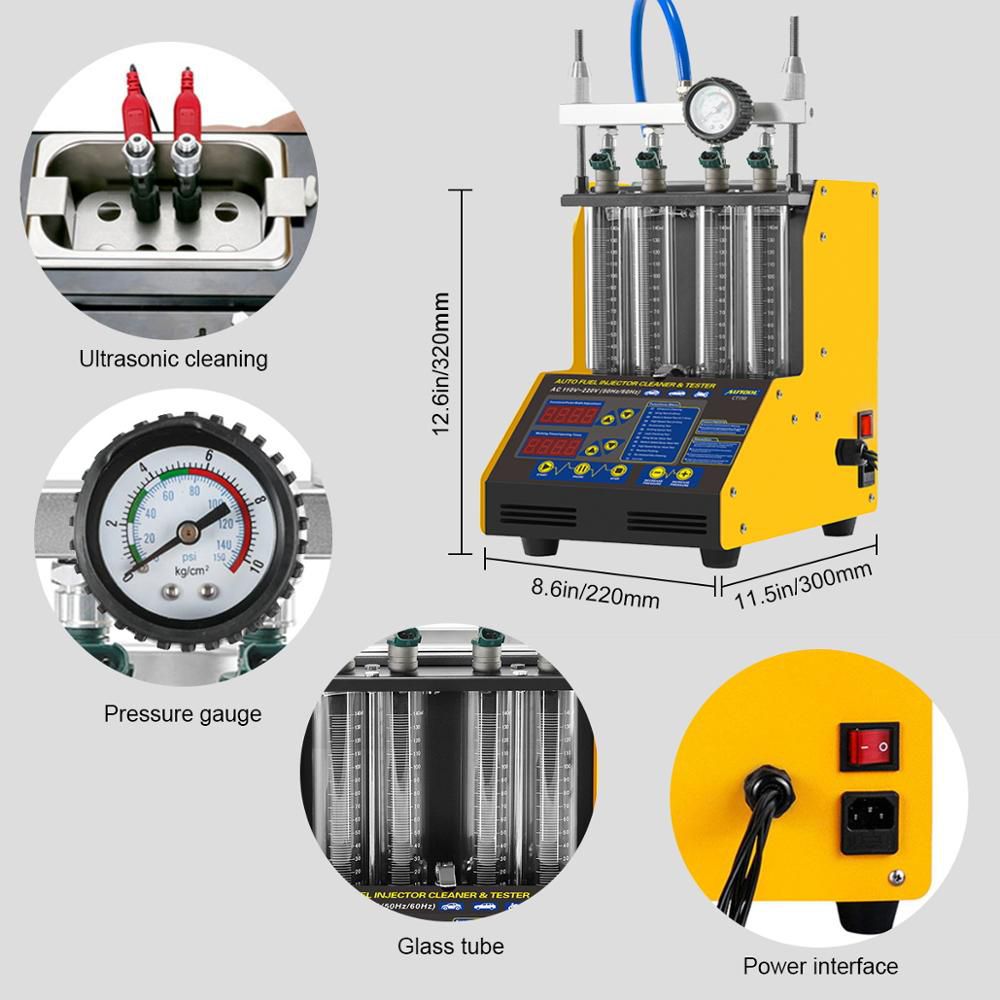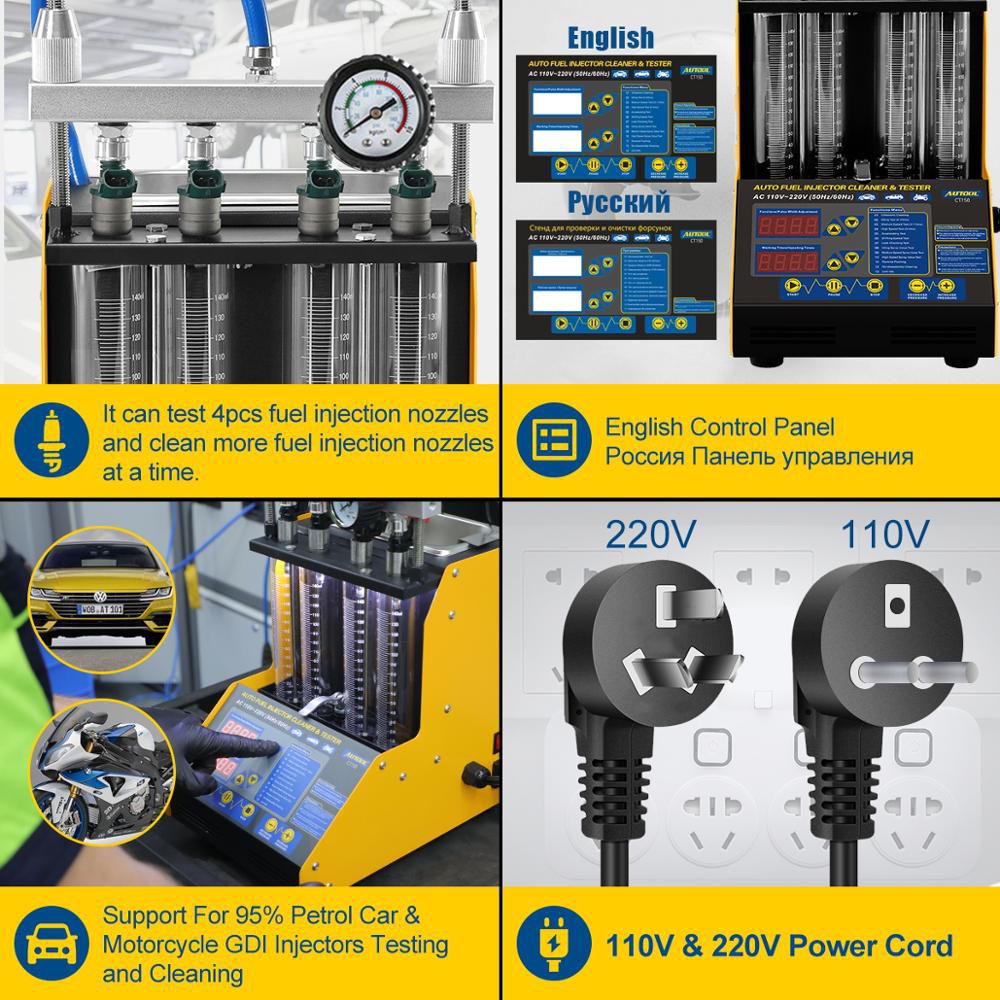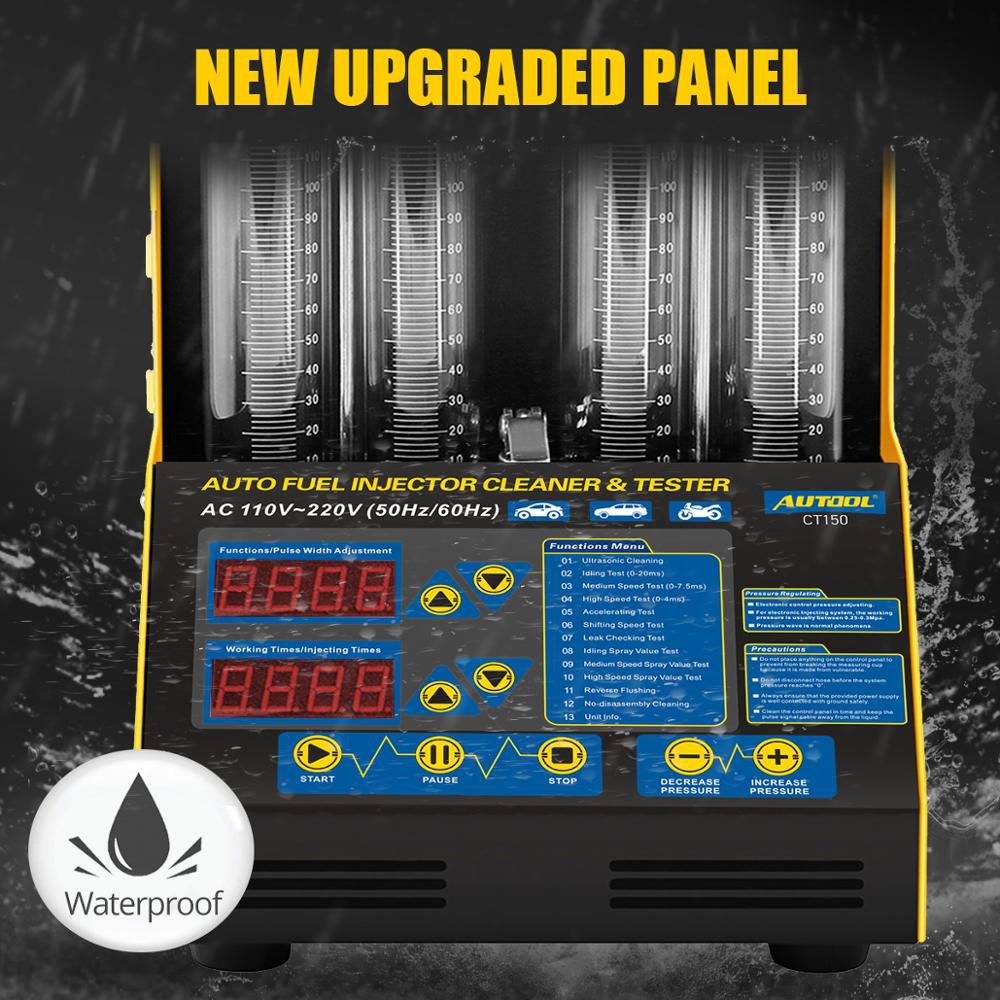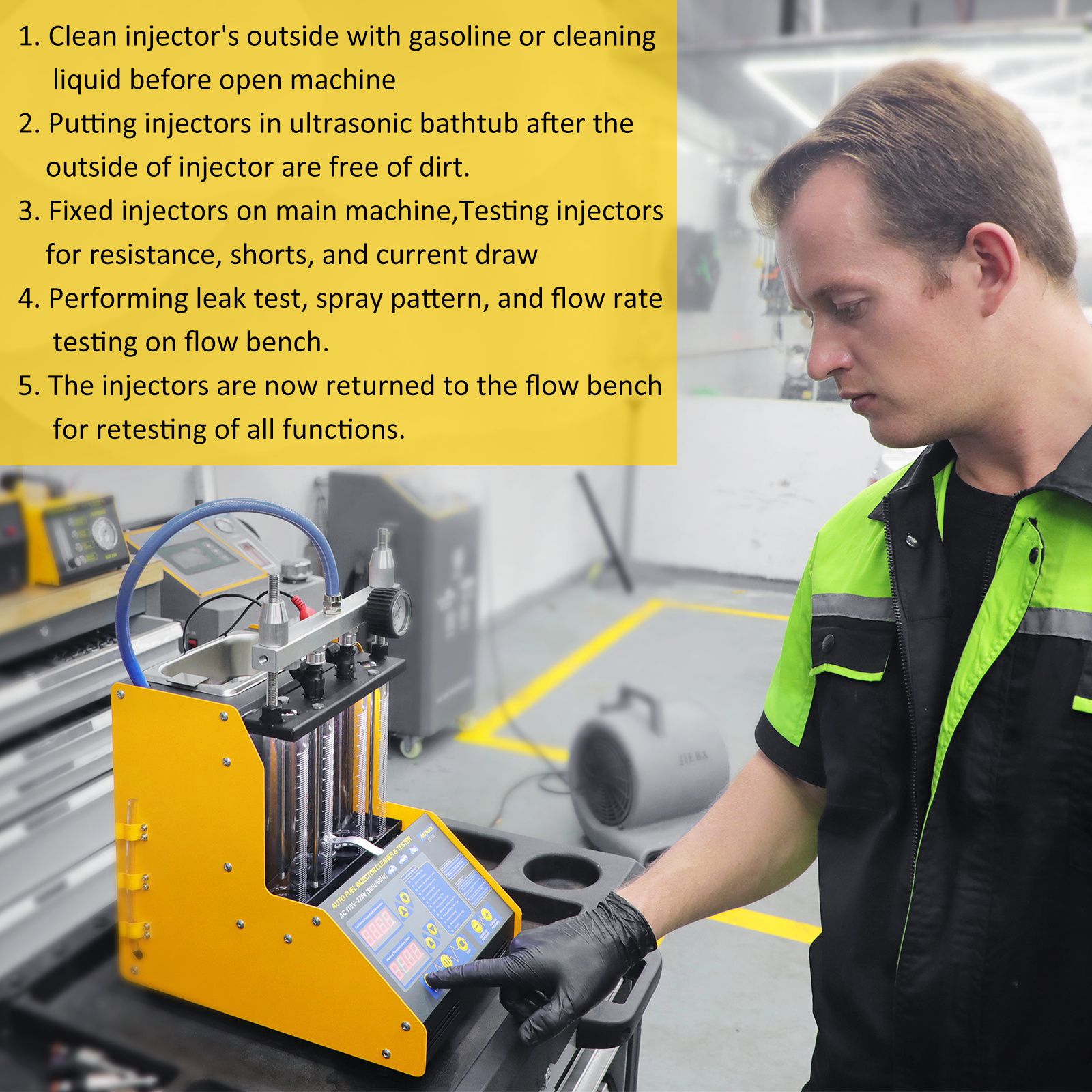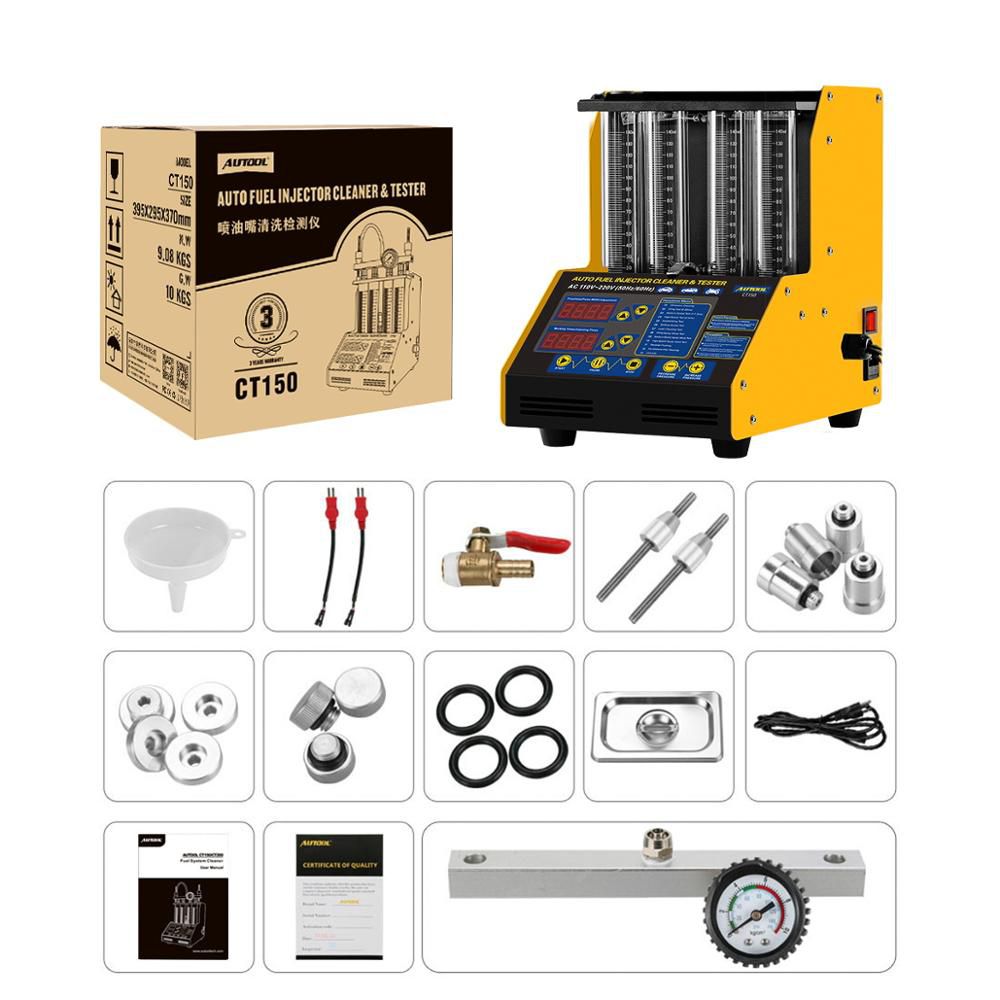 Description
Support For 99% Cars & Motorcycles
Support for Audi,for Australia Ford,for Benz,for BMW,for Brilliance,for Chevrolet,for Chevy,for Chrysler,for Citroen,for Dacia,for Dadi,for Daewo,for Daihatsu,for Demo,for Fiat,for Ford,for GM,for Holden,for Honda,for Hyundai,for Isuzu,for Jaguar,for Kia,for Lancia,for Land Rover,for Mahindra,for Maruti,for Mazda,for Mitsubish,for Nissan,for Opel,for Peugeot,for Porsche,for Renault,for Romeo,for Rover,for Saab,for Seat,for Skoda,for Smart,for Subaru,for Suzuki,for Tata,for Toyota,for Volvo,for VW,for Yamaha.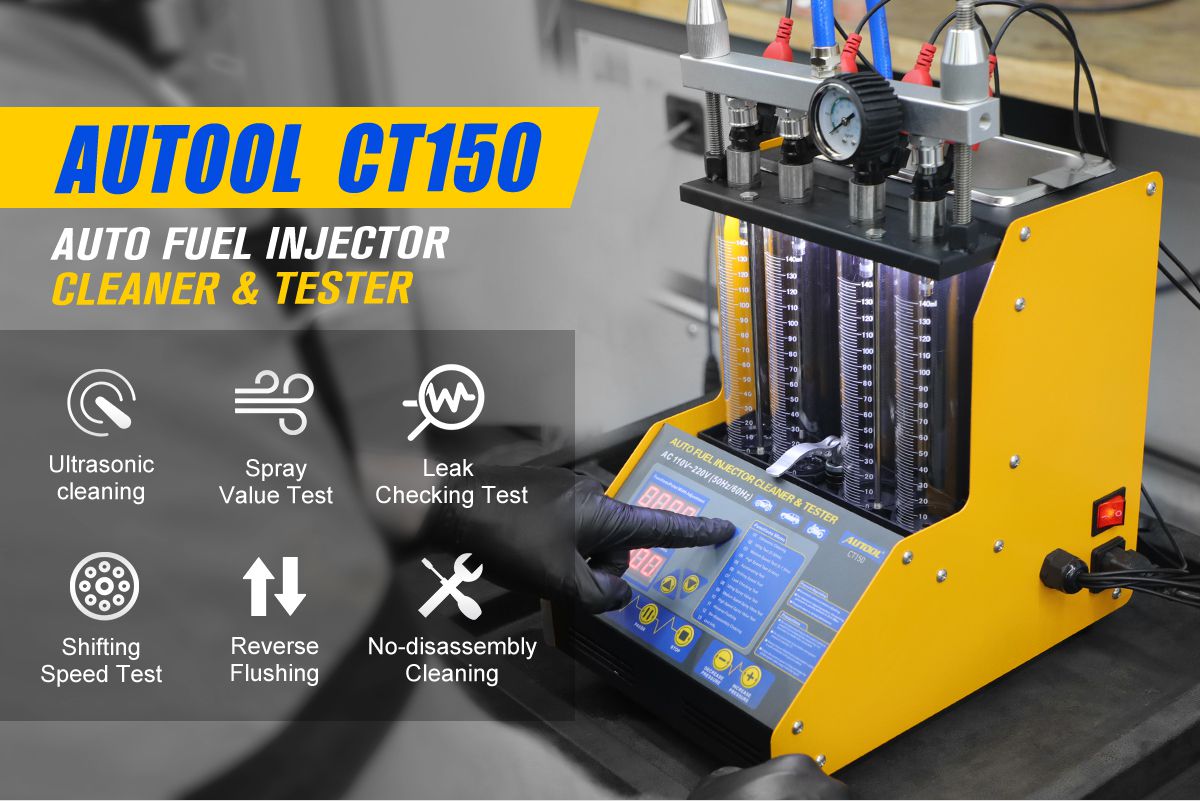 About Machine Details:
Type 1: English manual & English control panel Type 2: Russia manual & Russia control panel Power cord:EU Plug and US Plug 3 Years Warranty. Note: 1. This is a four-cylinder car (after blocking two test tubes it will fit two cylinders. 2. The machine works with gasoline injectors, not suitable for diesel injectors. 3. Only applicable to the Honda motorcycle fuel injector test of Honda YAMAHA's Suzuki Honda Sanyang (the adapter needs to pay extra cost), please customize the special adapter for your Motorcycle, please contact us. 4. The machine comes with a conversion cable. If the pulse cable does not match your fuel injector, try using the conversion cable.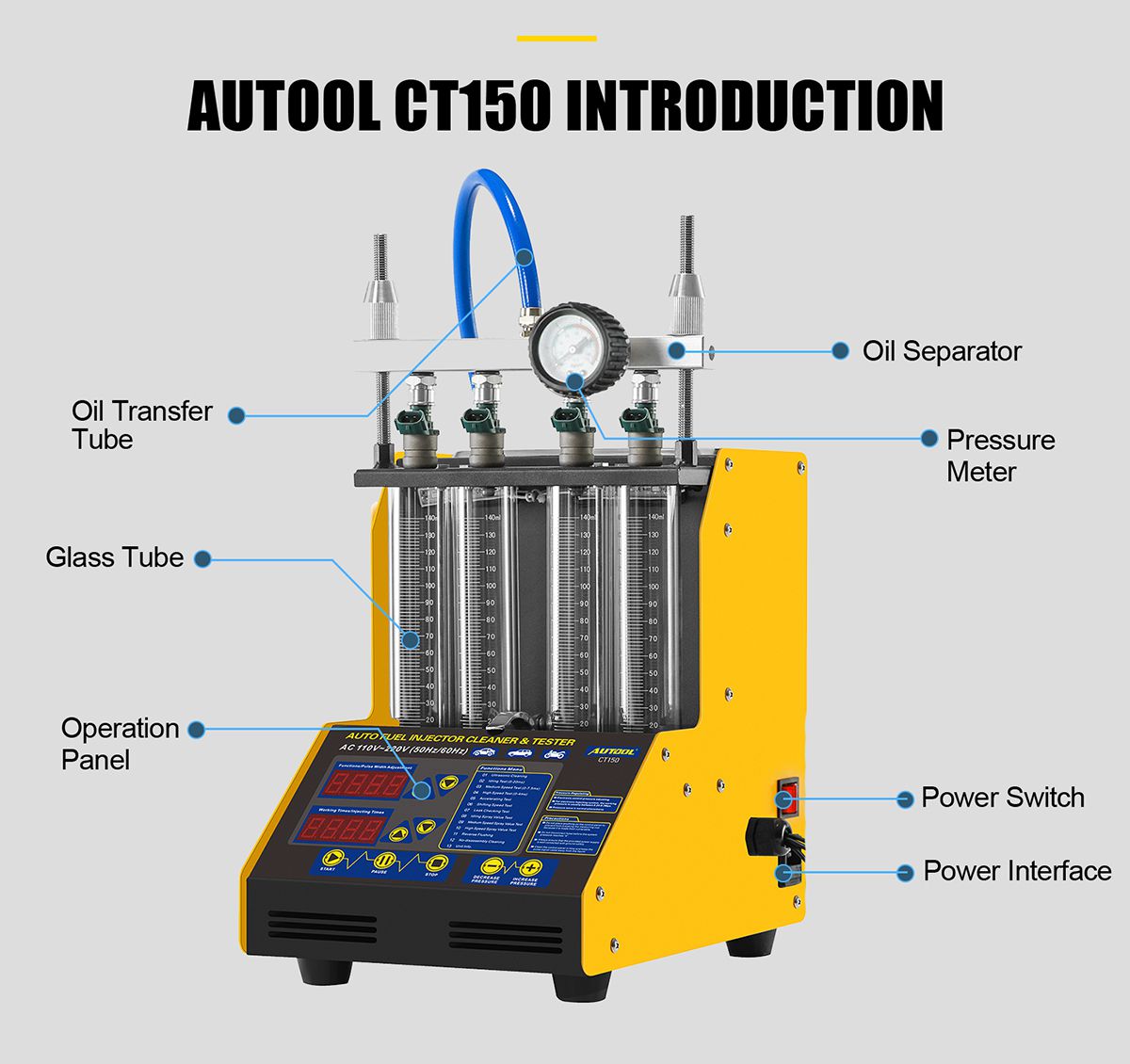 What is a cleaning and testing solution?
The cleaning liquid is 3M Injector cleaning fluid,used to clean the attachments (carbon deposits) on the fuel injection nozzle. It is generally highly corrosive and flammable. It should be kept away from the fire source and avoid contact with the skin when used. Use it in the ultrasonic cleaning tank of the injector cleaner; The testing liquid is industrial alcohol,used to test and judge the quality of the fuel injection nozzle. It is a colorless and transparent liquid with no irritating odor, non-corrosiveness, and not easy to emit, but used in the measuring cylinder of the fuel nozzle cleaning machine.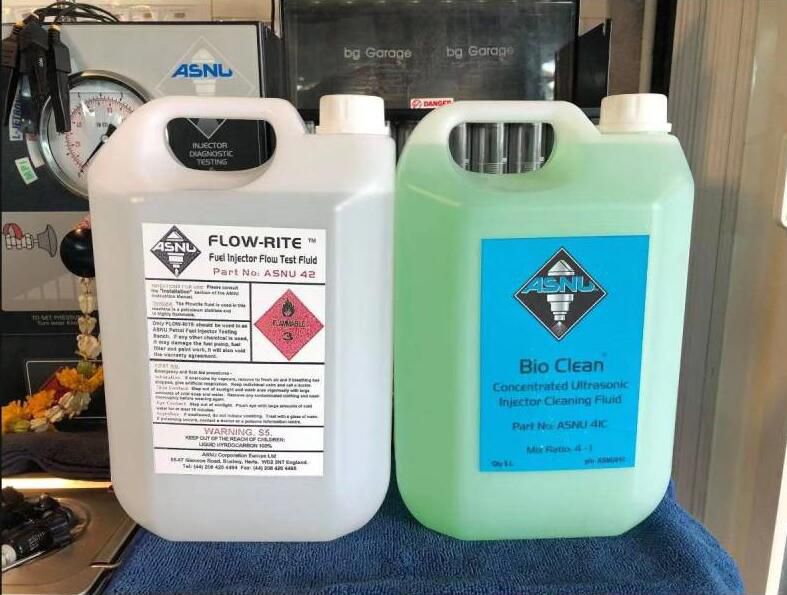 Main Function:
A Cleanning petrol injector with ultrasonic B Cleanning spark plugPut spark plug into cleaning tank ,input clean fluid and begin clean C Testing injector injection in different situation, check leaking and blocking D Cleanning injector without disassembly (need extra accessory and extra fee,choose by yourself) E Cleanning throttle valve without disassembly. (need extra accessory and extra fee,choose by yourself) F Cleanning and test Motorcycle injector,testing function for HONDA YAMAHA SUZUKI SANYANG injectors only, (need extra accessory and extra fee,choose by yourself)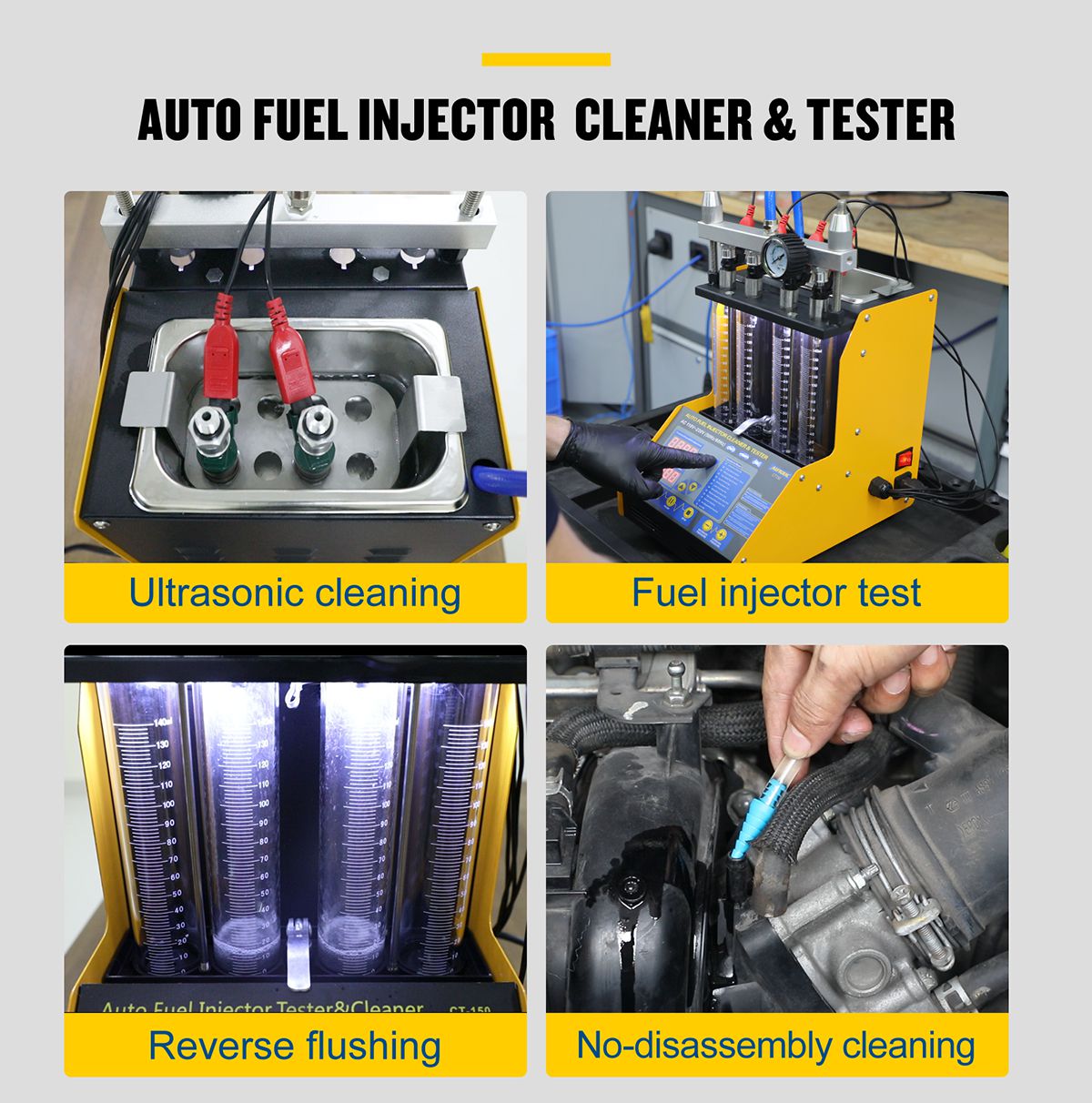 The CT150 cleaning machine how to work:
1. Clean injector's outside with gasoline or cleaning liquid before open machine 2. Putting injectors in ultrasonic bathtub after the outside of injector are free of dirt. 3. Turn on ultrasonic systempulsed allowing the ultrasonic energy to dislodge any particles even build-up inside the injectors. 4. Fixed injectors on main machine 5. Testing injectors for resistance, shorts, and current draw 6. Performing leak test, spray pattern, and flow rate testing on flow bench. 7. The injectors are now returned to the flow bench for retesting of all functions.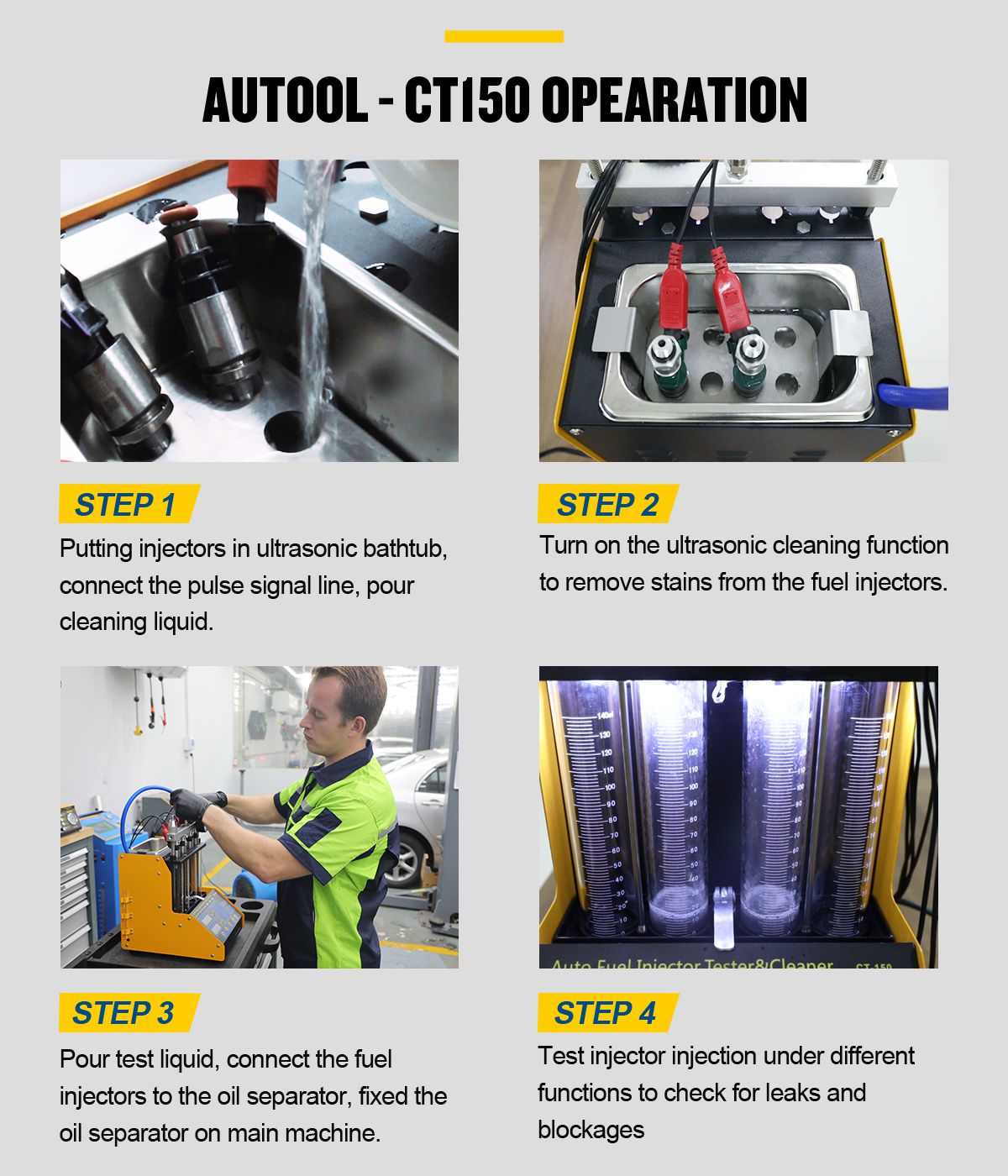 Feature:
1. LED display; 2. Ultrasonic cleaning trough built-in; 3. Tool trolley make it more conveniently to operate; 4. Equip with high quality SIEMENS pump, make it endurable; 5. Discharging fluid more quickly, add 2 value in front of machine.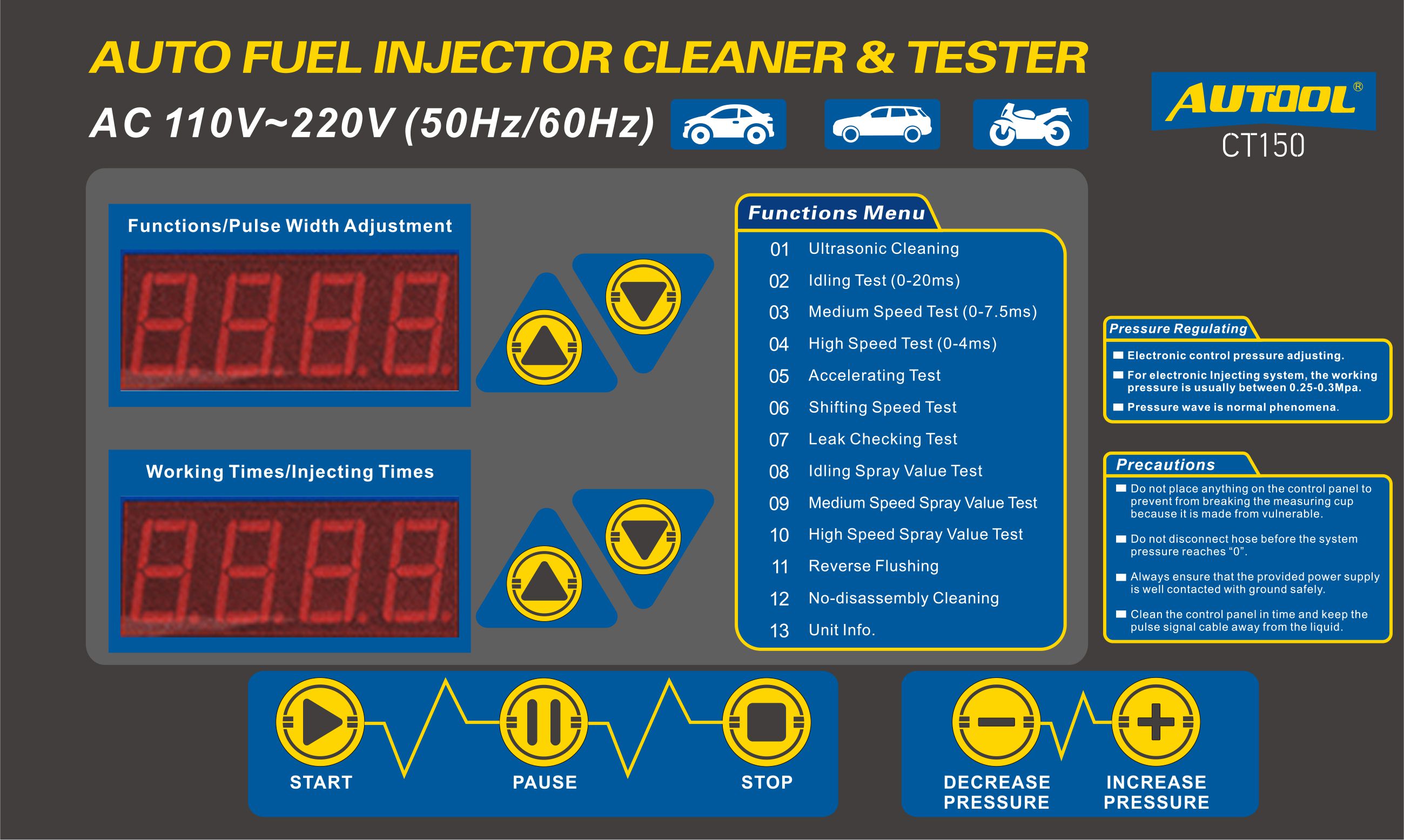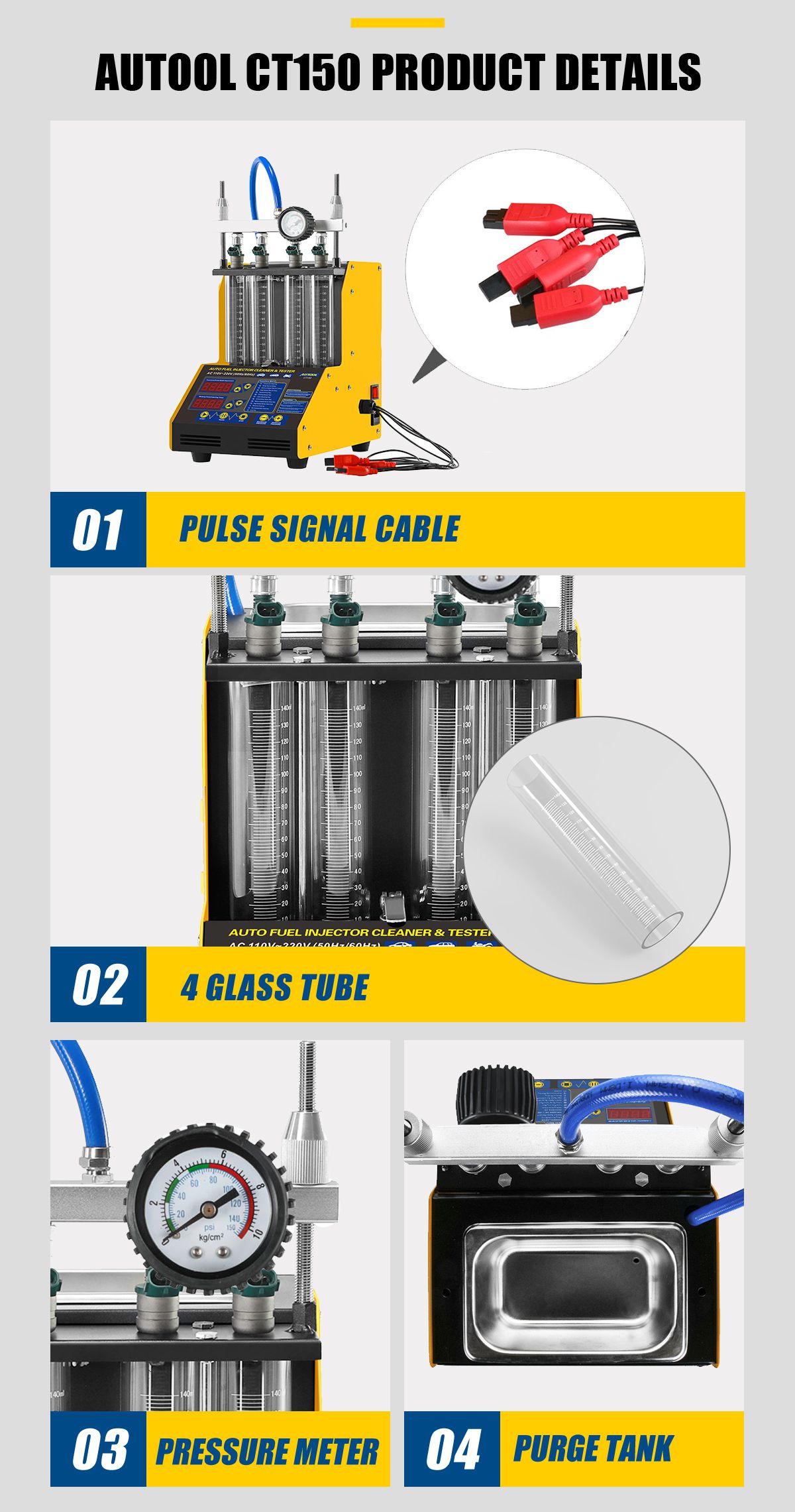 Note:
Injector cleaning agent test liquid and cleaning agent precautions 1. It is forbidden to use corrosive liquids as fuel injection nozzle detection liquid to detect fuel injection nozzles. Corrosive liquids will damage machine seals and fuel injectors; 2. It is forbidden to use a cleaning agent instead of the detection liquid, because the cleaning agent is generally corrosive and will cause damage to equipment and injector seals; 3. It is forbidden to use gasoline instead of cleaning agent or test liquid, which is dangerous and easy to cause safety hazards; 4. Please use absolute ethanol (industrial alcohol) or other non-corrosive liquids as the detection liquid (generally the detection liquids are colorless and transparent, no irritating odor liquid);
Package include:
1 set x CT150 unit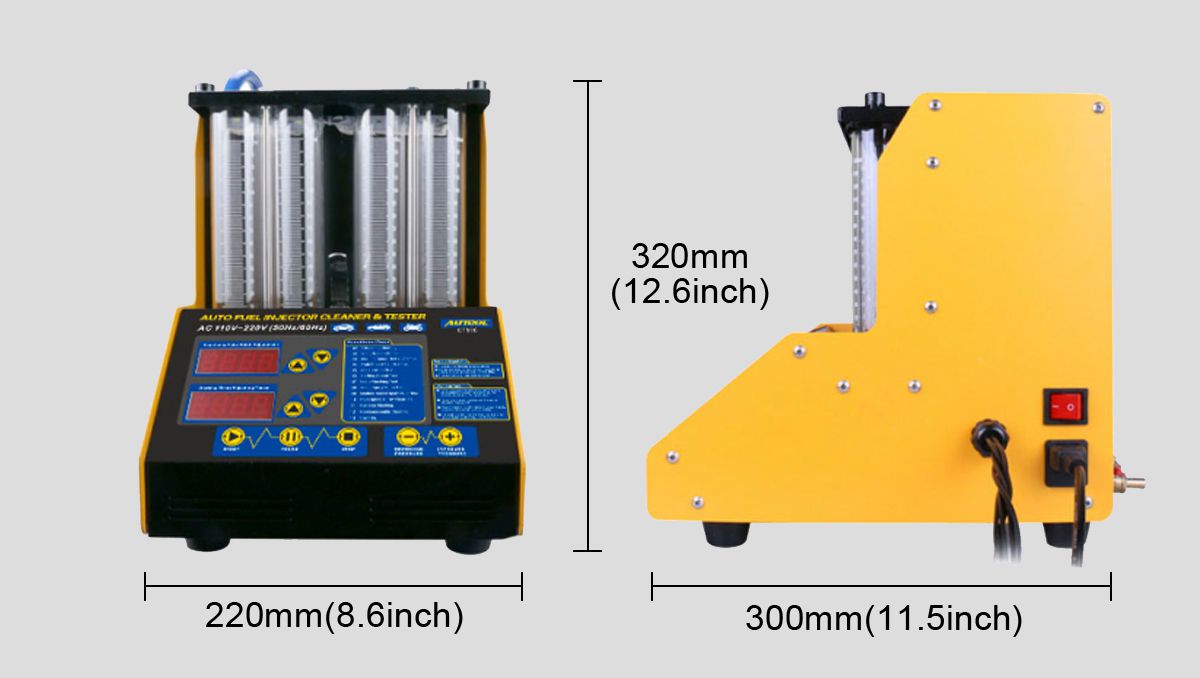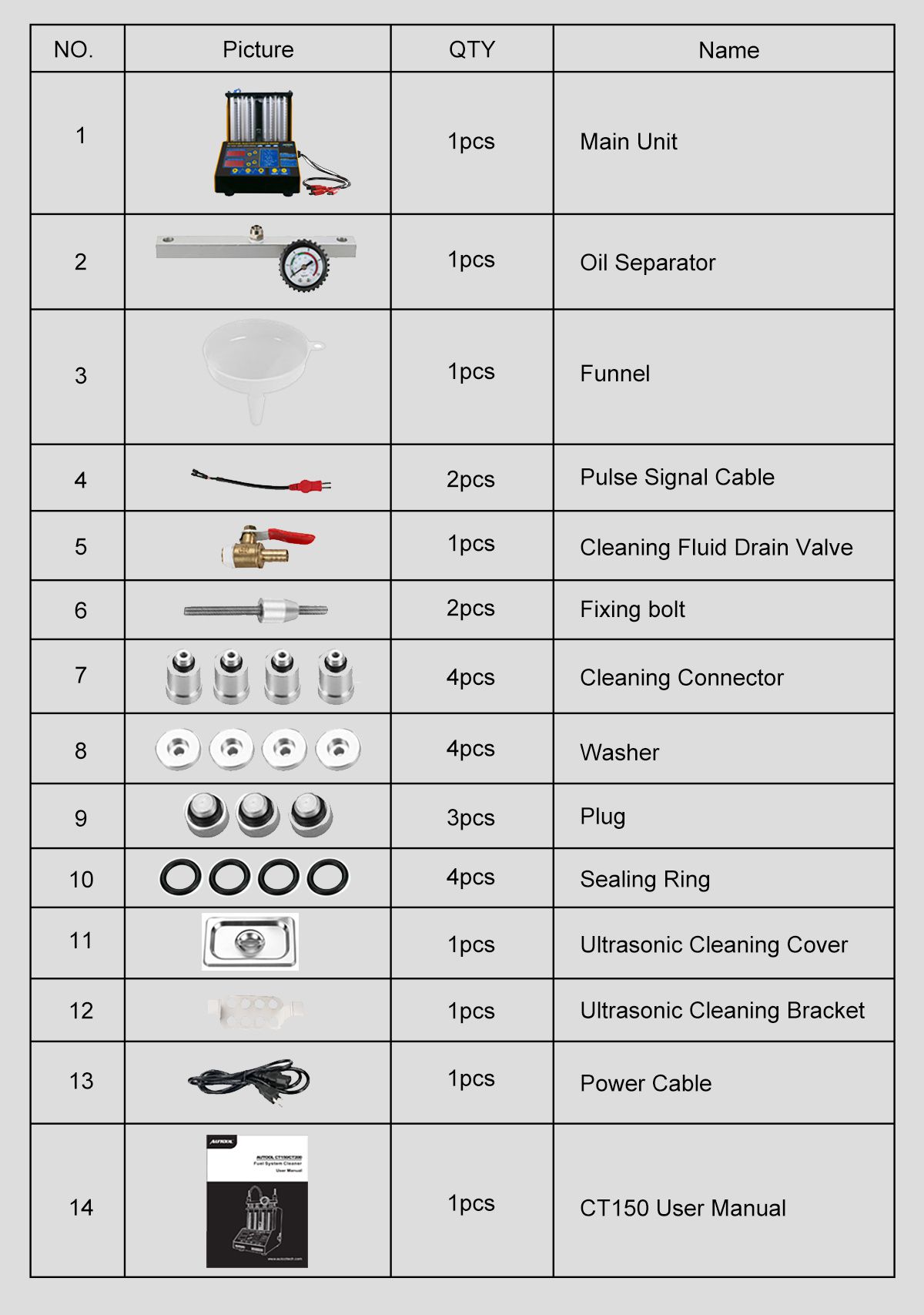 Reviews

12
#1 Angela huang
Mar 9, 2019

Super fast delivery to rostov in 6 days. Checked everything works. I recommend.
#1 Luz Villegas
Mar 9, 2019

Quality is good. I will test function later.
#1 ClearCom Technologies
Jun 9, 2018

Best saler, very helpful
#1 steven liles
Jun 9, 2018

Everything is fine
#1 Jozef Lackovic
Dec 9, 2018

Recommended store, high quality item, best price!
#1 olayinka olajide
Feb 9, 2019

Everything ok
#1 bryan hartnell
Dec 9, 2018

The product is excellent all works this AUTOOL CT150 Car Fuel Injector Tester Cleaner Ultrasonic Fuel Nozzle Gasoline Tester Cleaning Detector 4 Cylinders 110V 220V is good quality, working very well
#1 Rogério Neves
Jan 9, 2019

Will be than to check, i will add. So everything is wonderful.
#1 Osipoff Ivan
Feb 9, 2019

Ok , happy
#1 Chirion Catalin Stefan
Mar 9, 2019

Works, everything is fine!
Previous: ANCEL BST100 Car Battery Charger Tester Analyzer 12V 2000CCA Voltage Battery Test Car Charging Circut load Tester Tools PK KW600