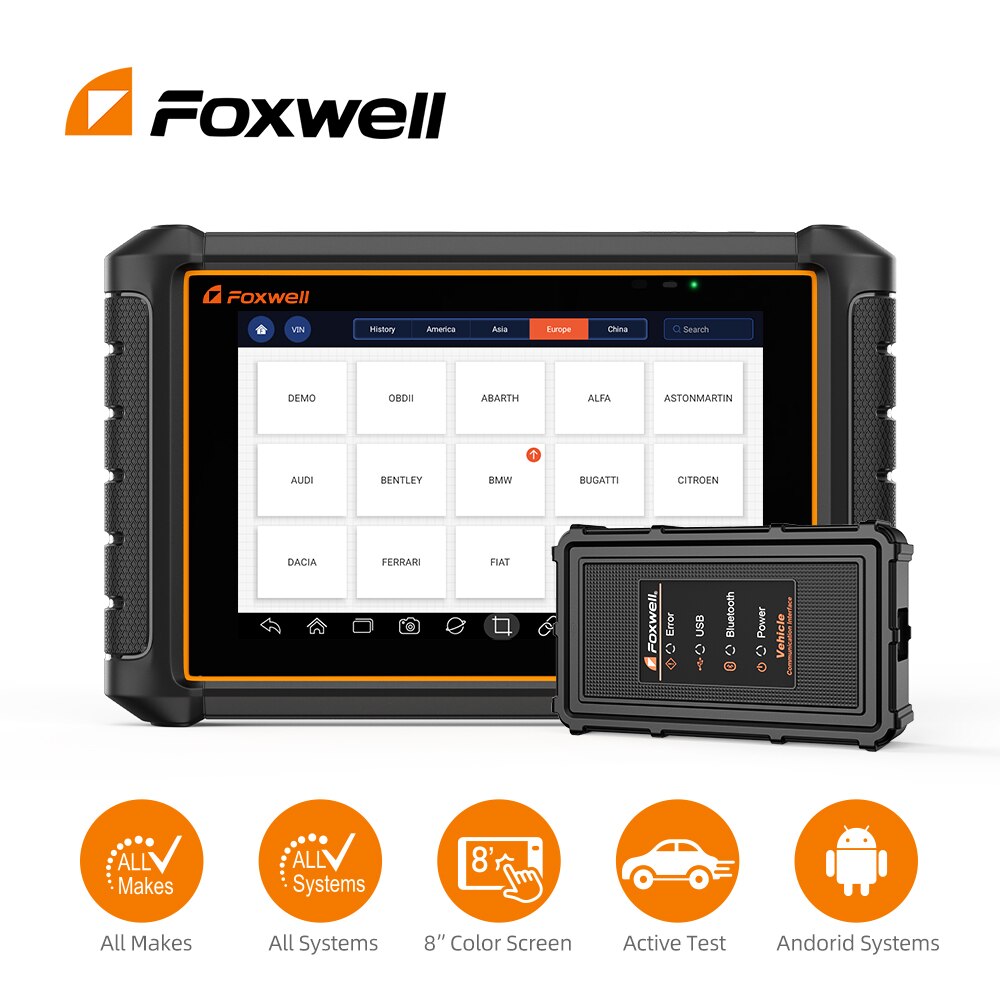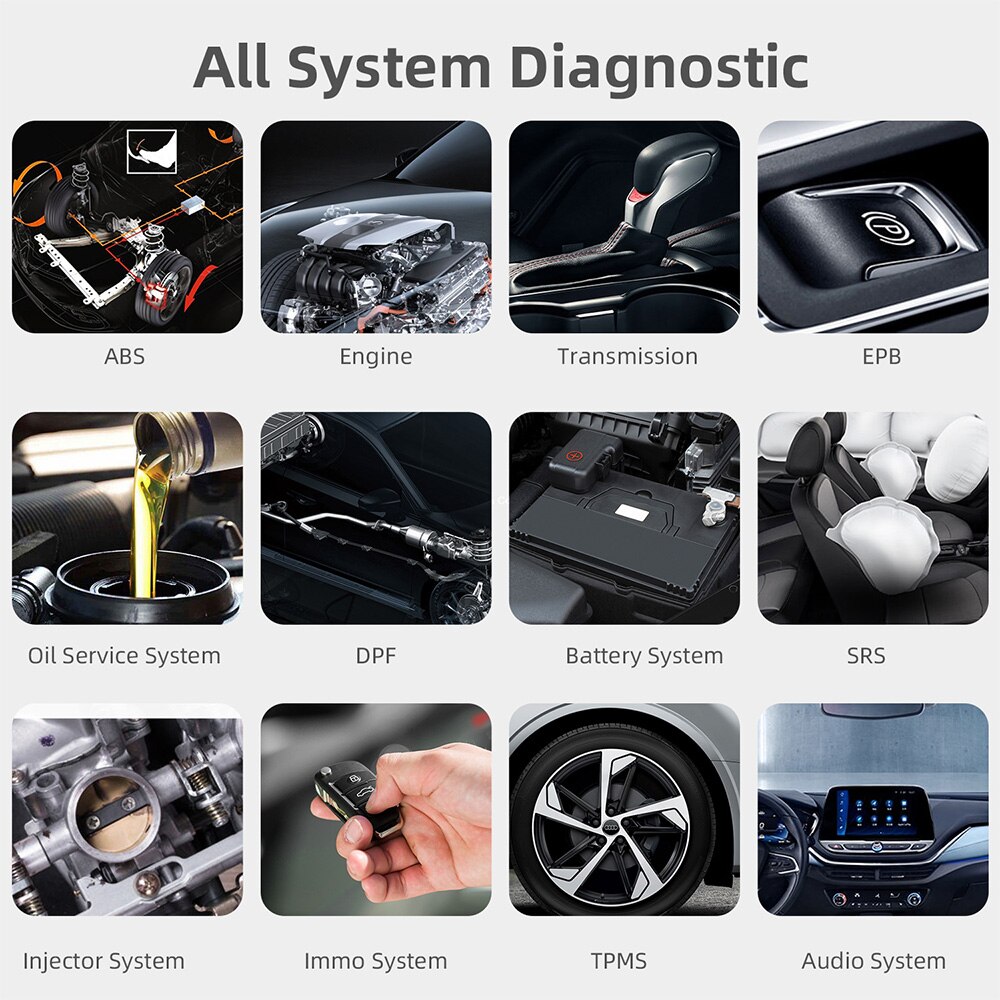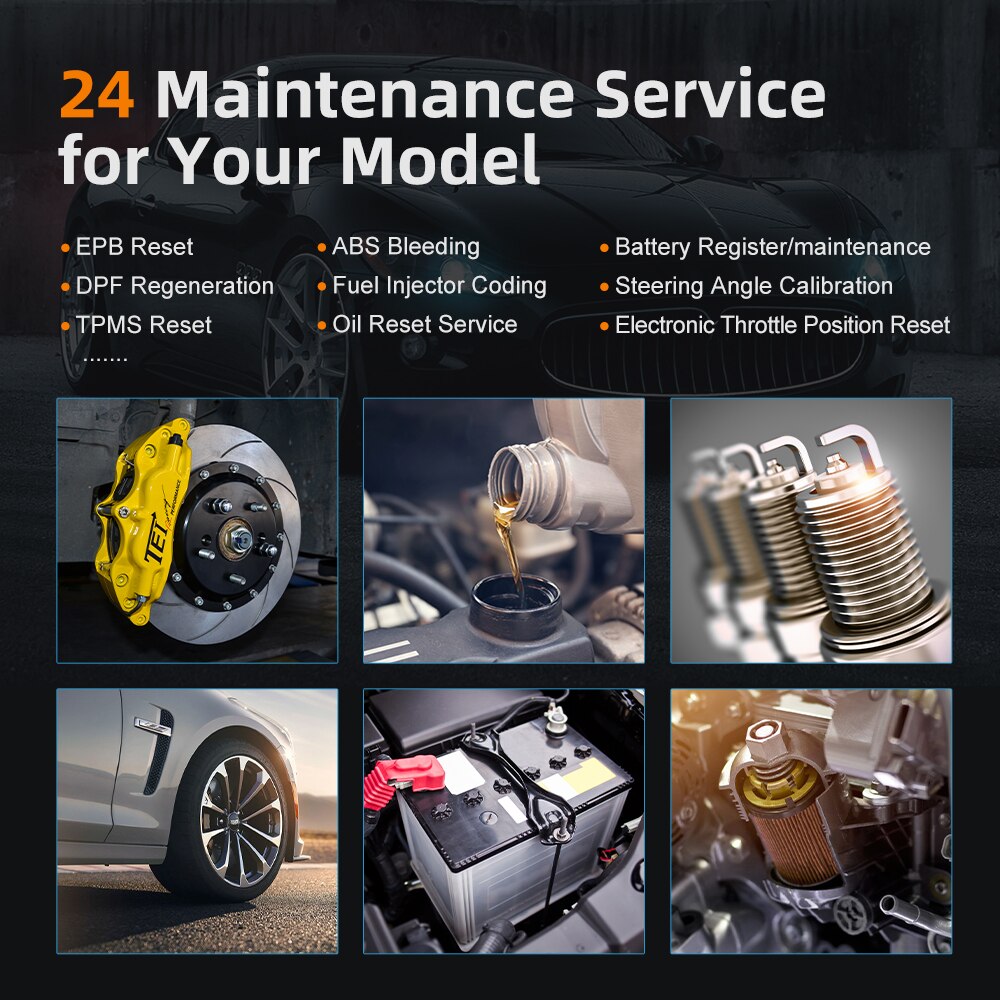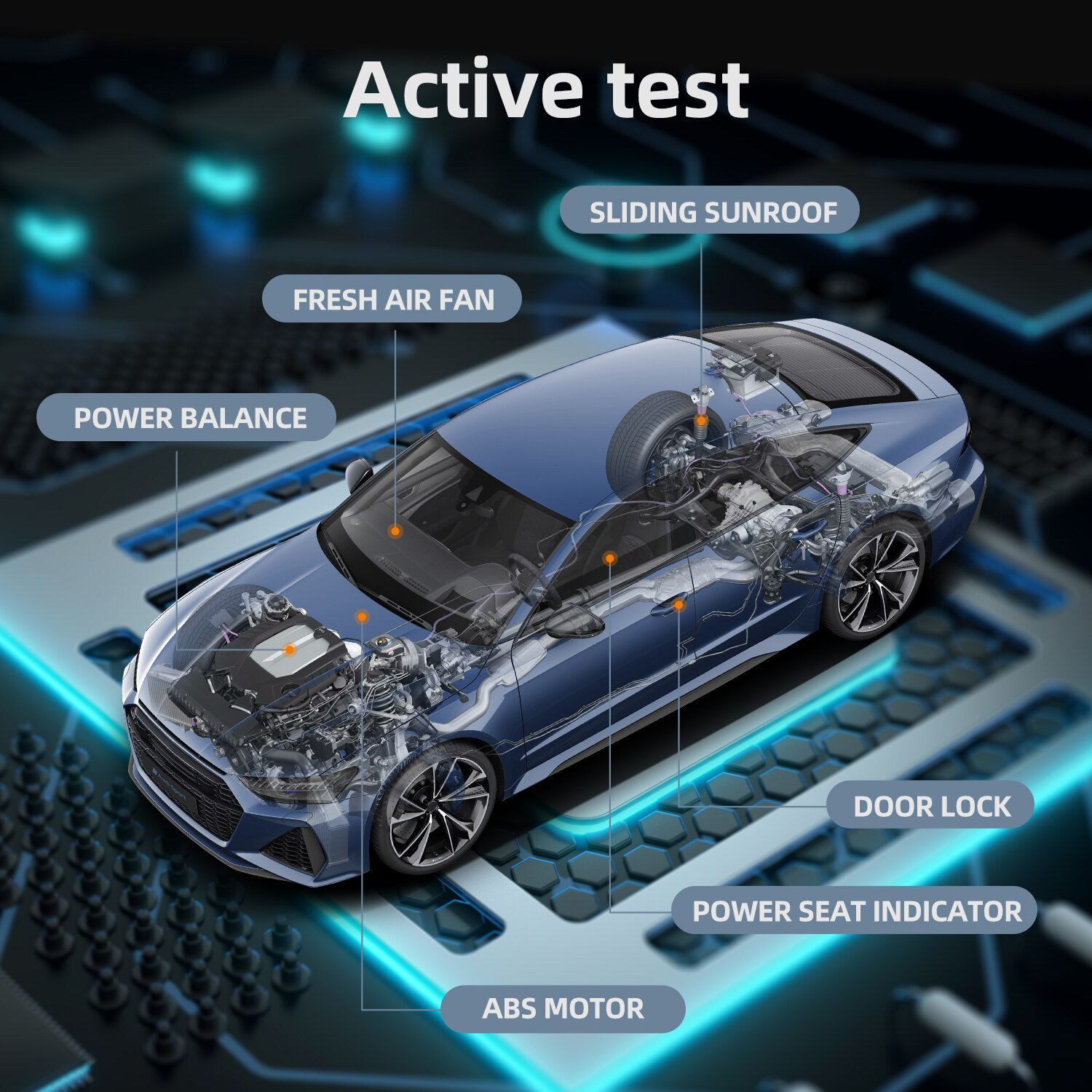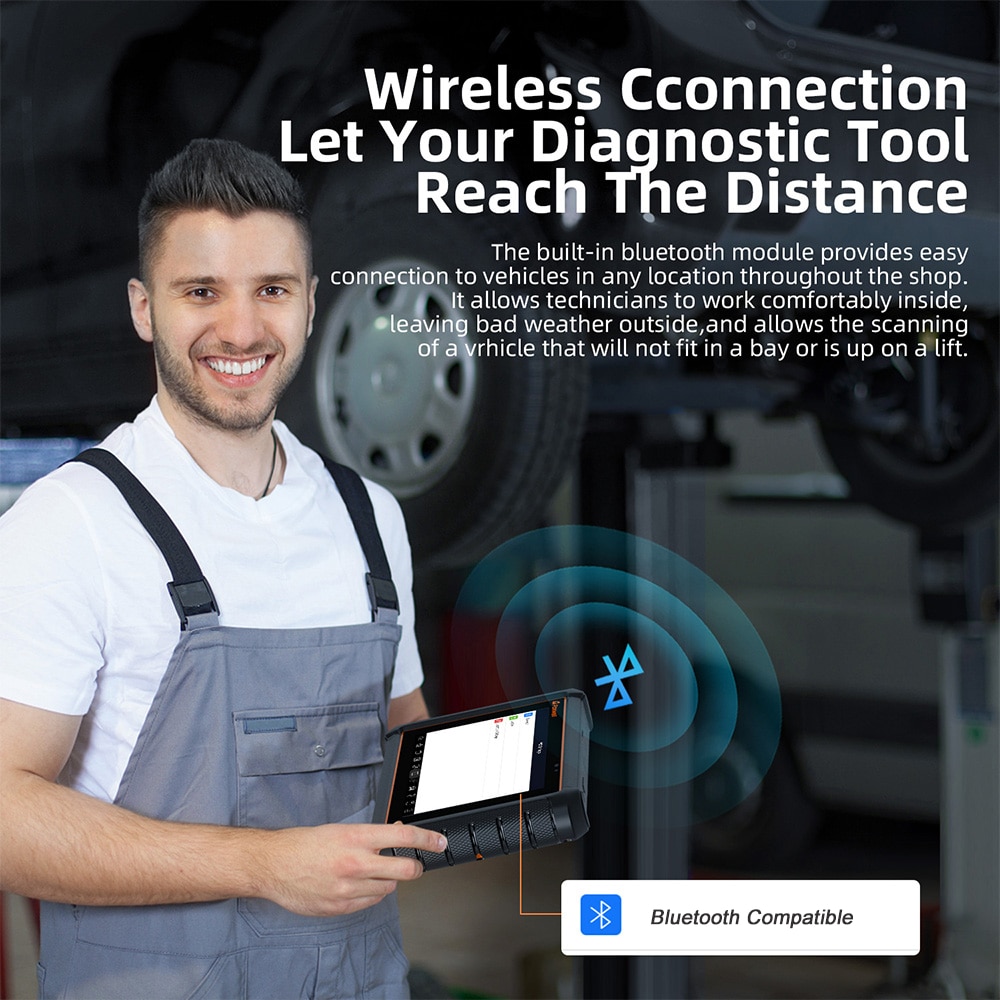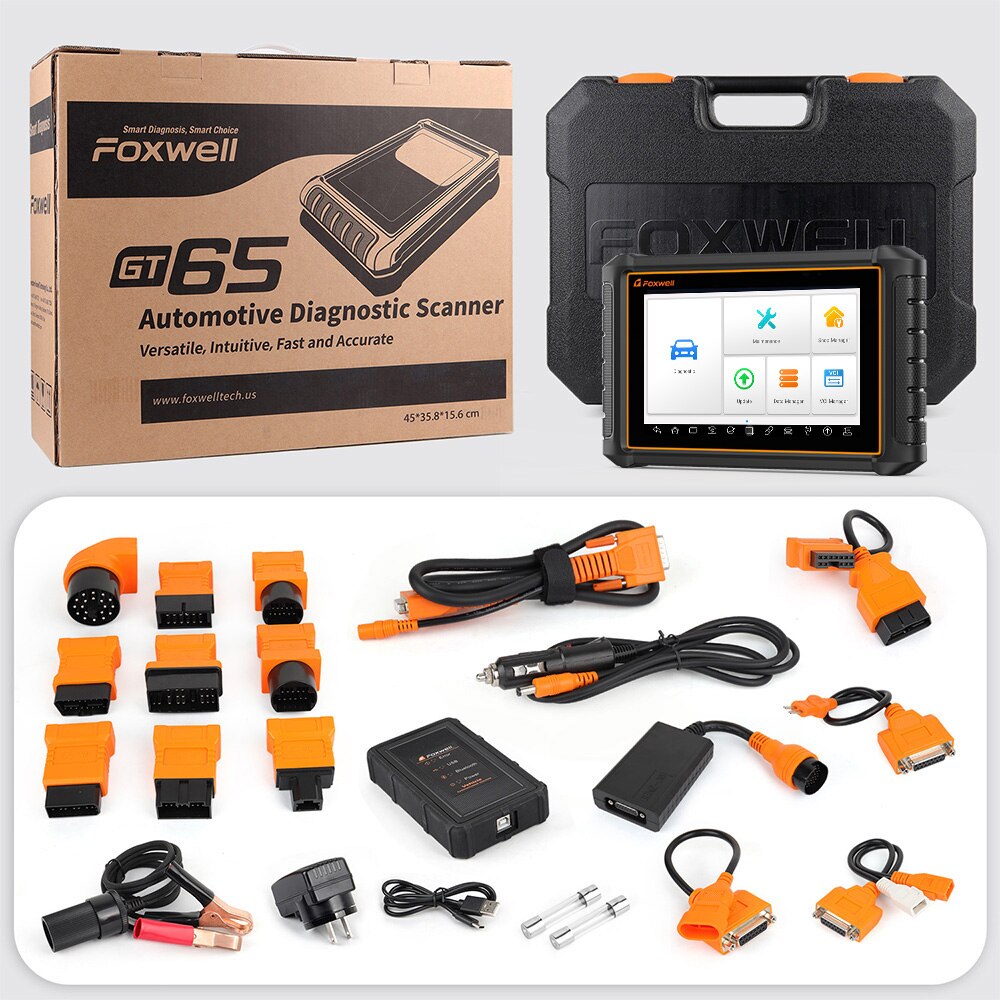 Related Accessories/Similar Items
Description
Foxwell GT65 OBD Bluetooth Automotive Diagnostic Scanner
The latest tablet scanner GT65 delivers faster and smarter diagnosis for workshops and technicians. Through hardware and software upgrades, technical staff can now approach problems with greater speed and accuracy, and produce comprehensive, professional reports.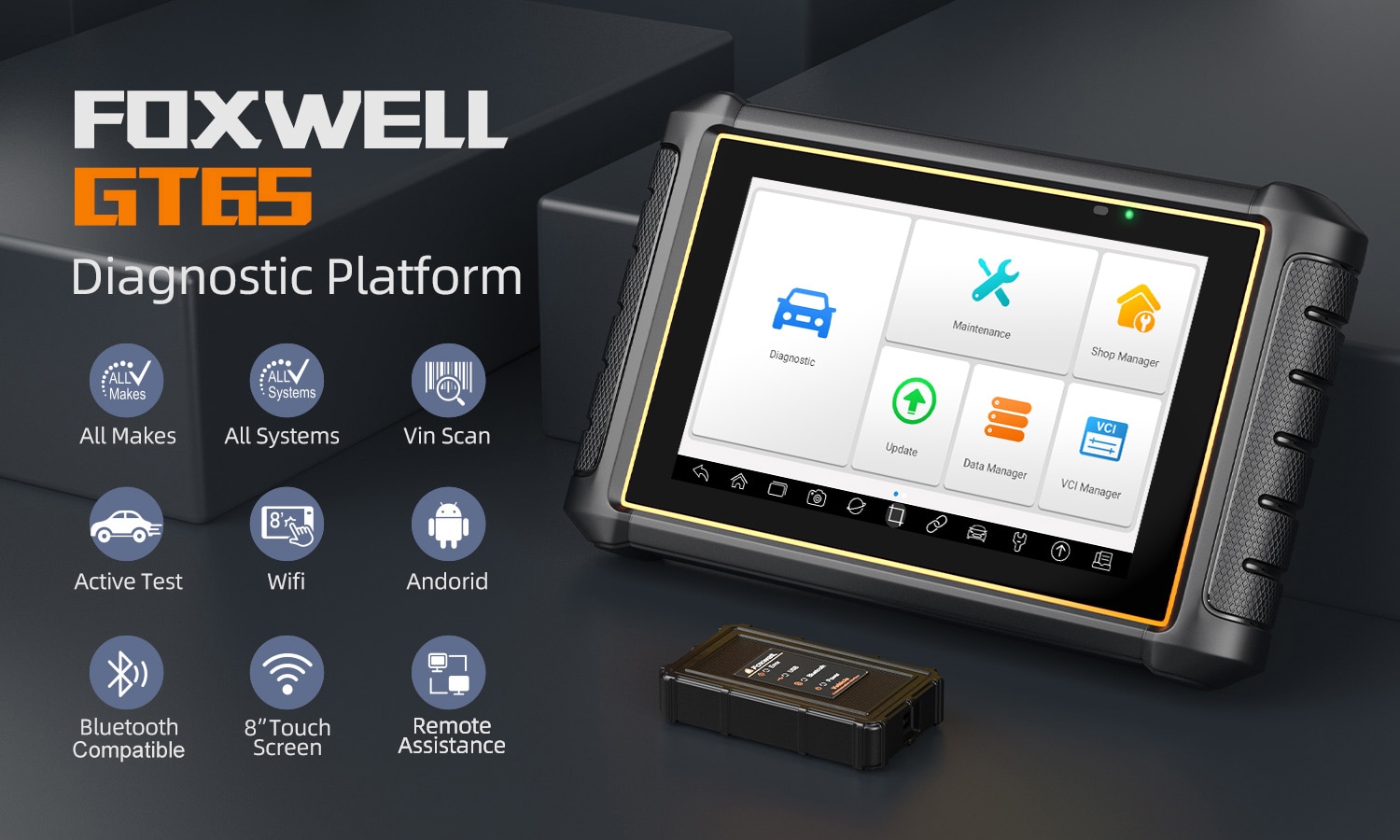 All System Diagnostic--Find Problem More Accurately
reading and clearing trouble codes of all major systems, including engine, airbag, transmission, ABS, SAS, EPB, DISA, DSC, SZL, TPMS, DPF Regens, and supports body, chassis, powertrain and all control modules check.

You will know what went wrong with the car, which sensors need to be replaced and which do not, which part need to be repair and which do not. Whether you know how to repair or not, you can learn more about your car through this diagnostic device, thus saving unnecessary maintenance costs.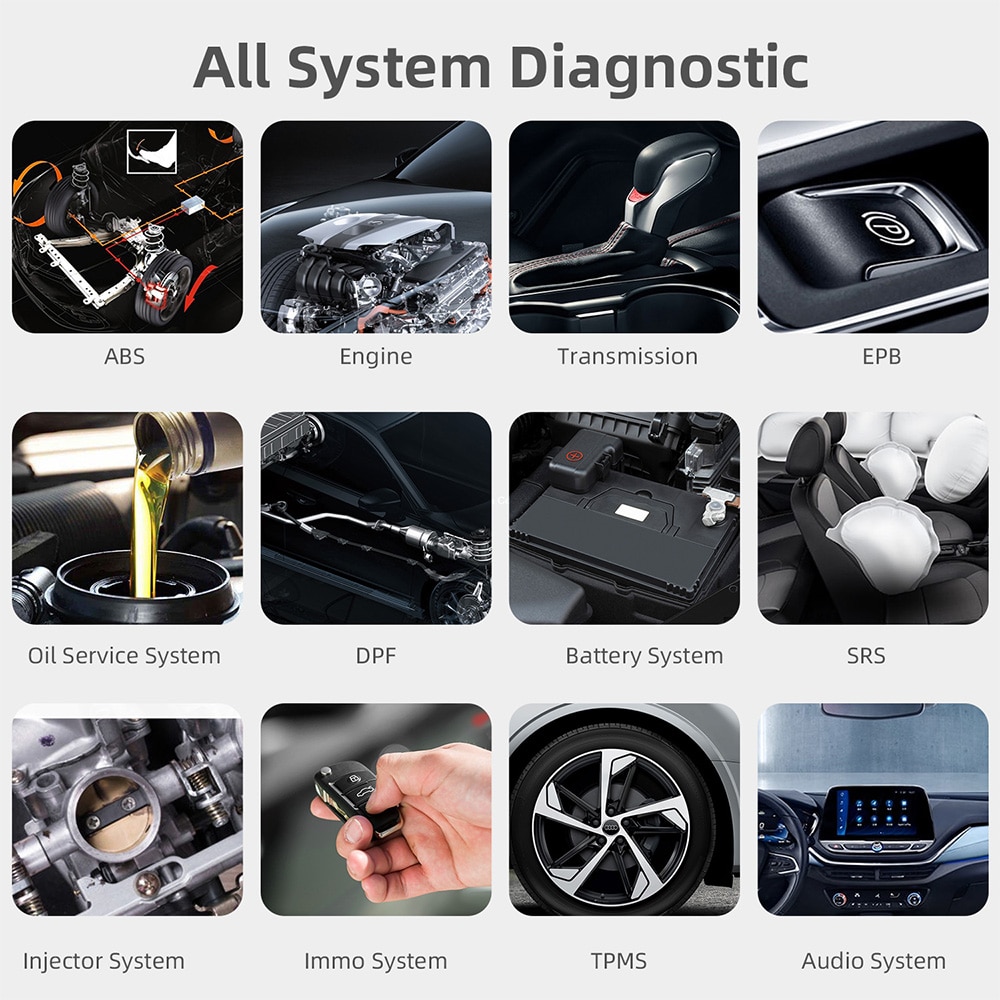 GT65 shows live vehicle sensors date in text, graph and gauge formats and allows you to focus on any suspicious or symptom-specific date paremeters.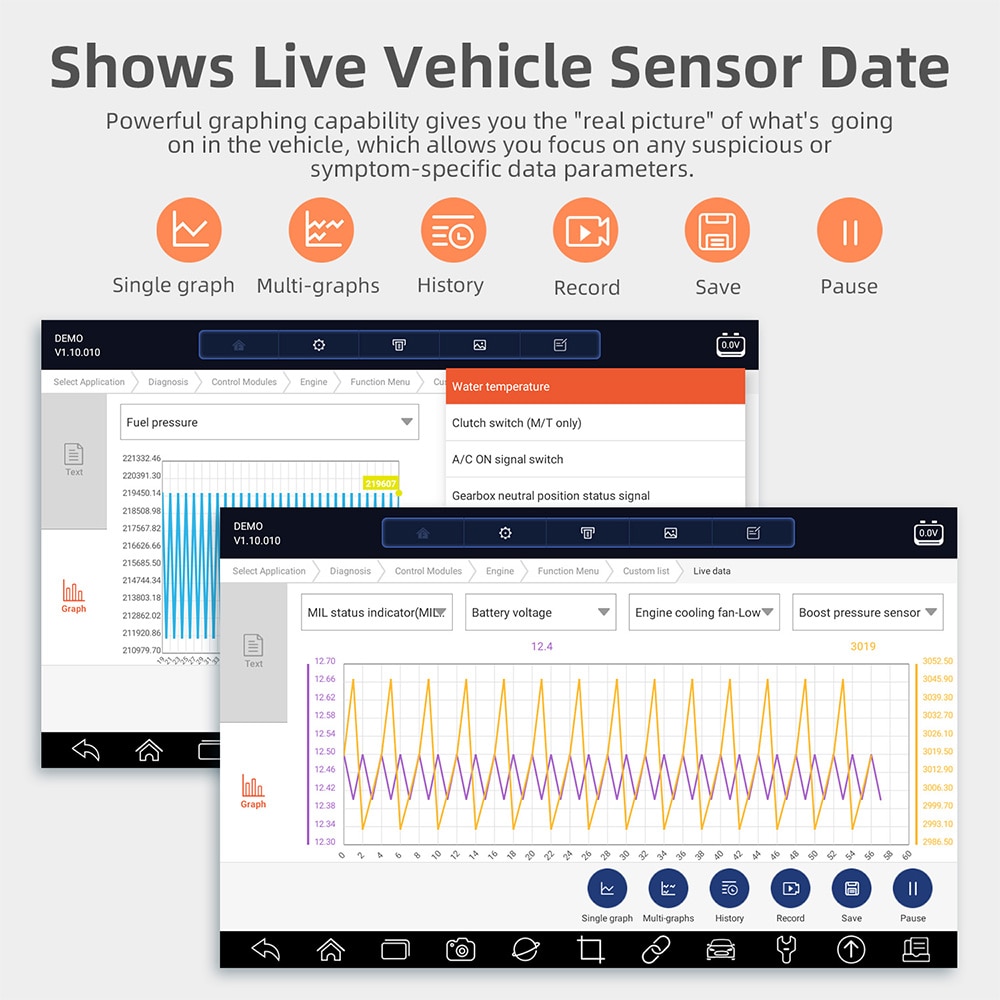 GT65 allows for the coding and programming of a replacement control module or changing previously stored incorrect coding as expensive factory tools do.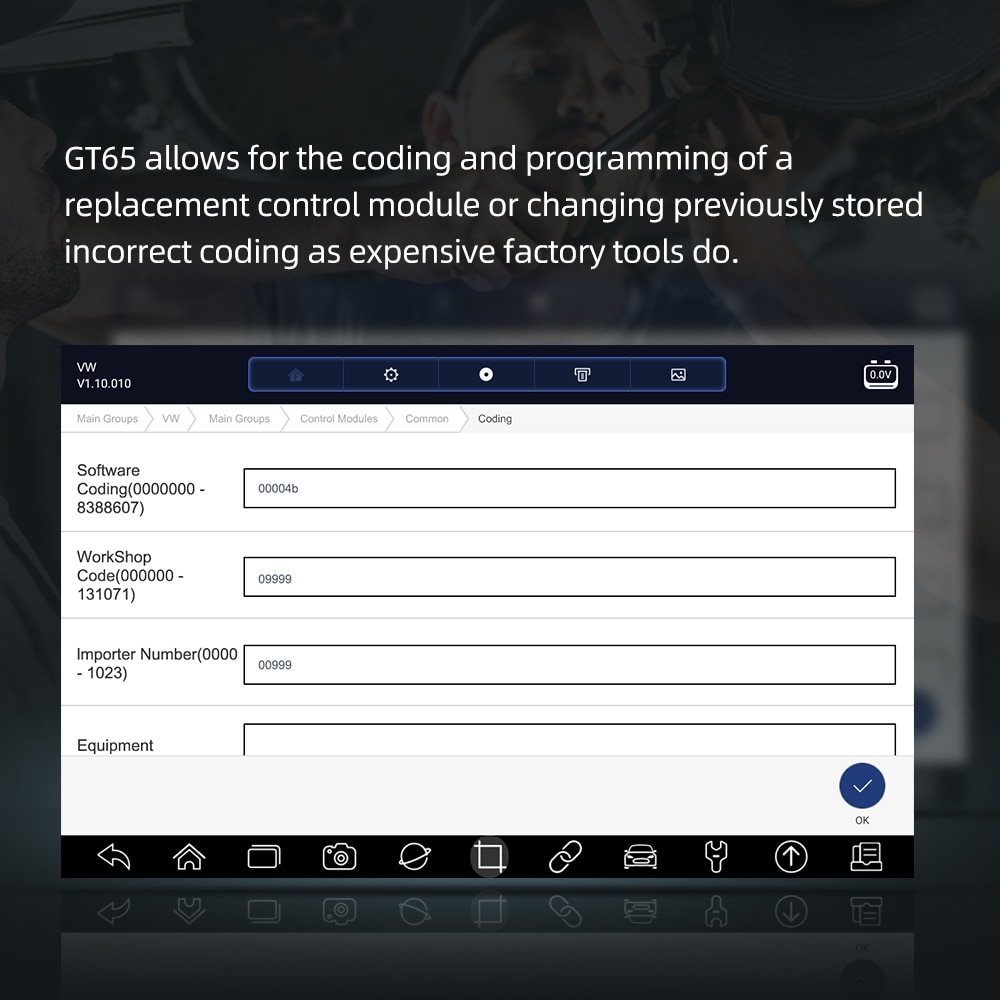 GT65 Advanced Features---Bi-directional/ Active Test Operation
Active Test
allows you to temporarily activate or control a vehicle system or component for active test, provides accurate data results about troubleshoot and diagnostic problems. With this code reader, electronic components check, such as switches, sensors, relays, actuators are made a simple task. It also allows you to recalibrate, adapt or configure certain components after making repairs or replacements.

Bidirectional Control
With this automotive diagnostic tool, you can perform actuator tests (testing the output elements). This feature lets you know if a specific system, component or a subsystem is functioning properly or not.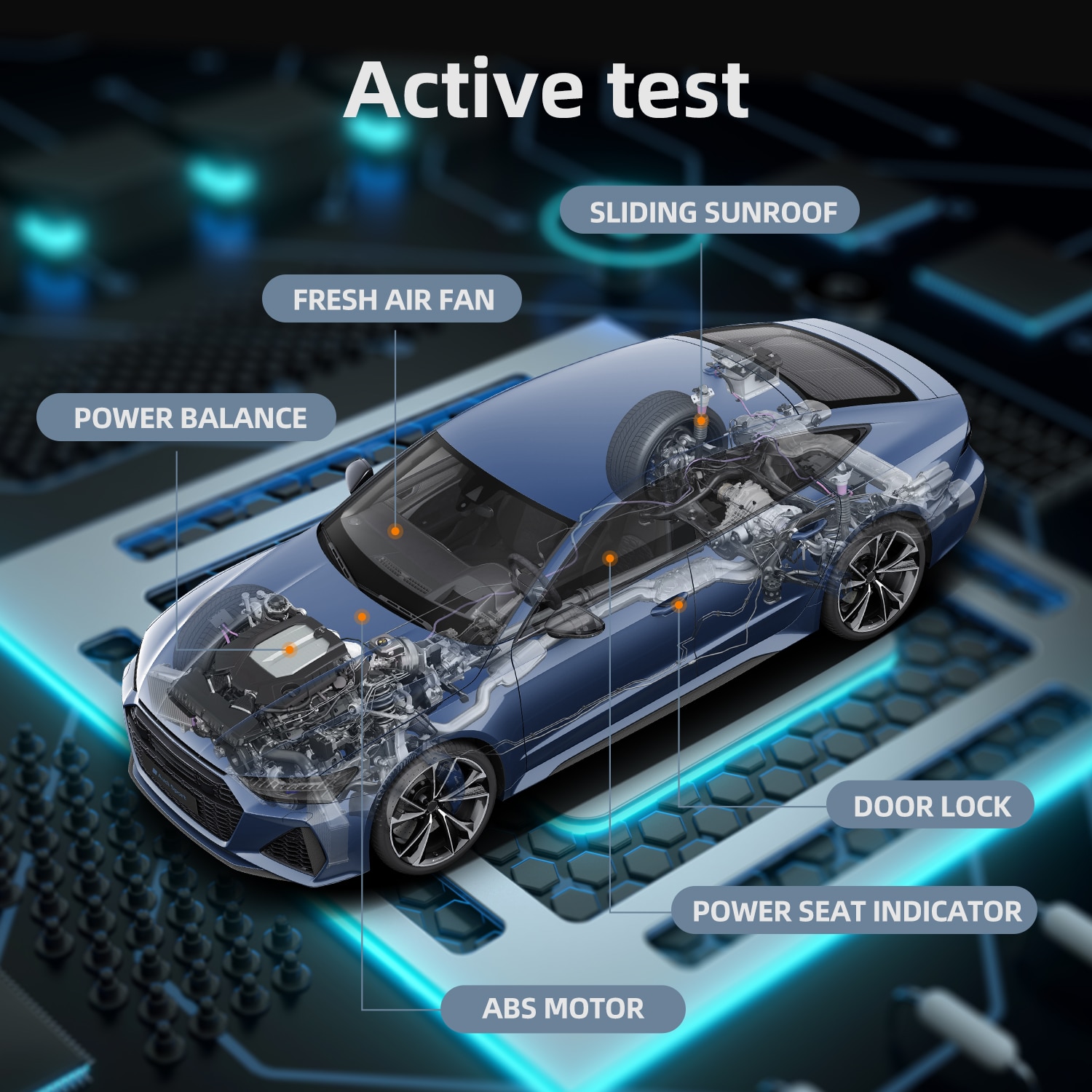 Powerful Functions---24 Kinds of Maintenance Service for your model
1.ABS Bleeding
ABS brake bleeding to get a firm brake pad after air exhaustion.

2.BRT
This allow for a replacement battery to be coded to the batteyr management system

3.A/F Adjust
This utility allows for the learnt Air Fuel Ratio to be re-initialized

4.Cluth Adaption
This function is to relearn the cutch engagement point in a (DTC) Dual Cluth Transmission.

5.CVT
This function is reset the adaptive shift

6.DPF Regeneration
This function is used to regularly clear Particulate Matter from the trap in combustion oxidation mode to stabilize trap performance.

7.EPB
allows you to perform the service and maintenance of brake systems

8.EVAP Test/Smog Test
The EVAP system monitor checks for fuel vapor leaks by performing either a pressure or vacuum test on the fuel system.

9.Gear learning
Crankshaft position sensor adaptive learning.

10.Headlamp
Allowing for adaptive headlights to be relearnt.

11.Injector
Allows an injector trim code to be read and coded to the ECM.

12.Language Change
This routine is to change langauge displayed in the instrucment display.

13.Oil Reset
Oil Light reset/oil waer index reset command, this function varies greatly between OEM and models.

14.Prime Fuel Pump
This command allows a pump to be run to bleed or prime a system during service or repair.

15.Replace Airbag Ecu Module

16.SAS
This function allows a steering angle reset to be performed.

17.Seat Match
This utility performs the re-initilization of the power seat adaptive memory

18.Tcmoil
This routine is used to clear the oil degradation and downgrade counter.

19.TPMS
This utility performs tyre pressure Management system service to be performed.

20.TPS
This fuction allow for an idle relearn to be performed.

21.Transmission Adaption
This command allows the adaptive shift points to be relearnt.

22.Turbo
The routine is required if the secondary turbo charger is repleased. This will learn the pffset values for the turbine shut-off value.

23.Windowsdoor
When replacing door glass and after battery replacement on certain year, make, model vehicles special steps need to be take in order to properly replace and reprogram the vehicle so the electric windows work properly , the door window glass position can be learned by executing this routine, which enables pinch protection and one touch up function.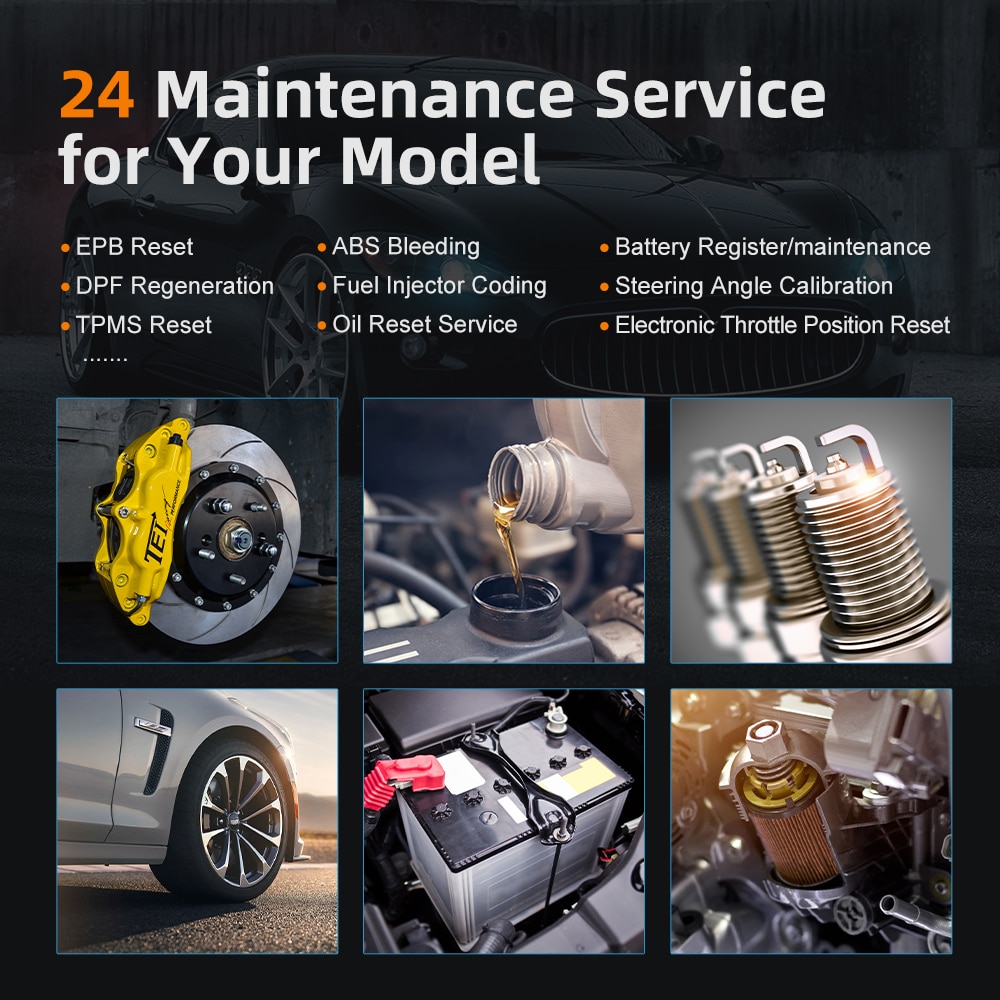 GT60 Easy to Use, Find Problem More Accurately!
Automatic VIN Reading
GT65 Offers a variety of VIN recognition methods, eliminating the need for navigating through complicated car identification process, it saves your tim and increase your productivity.

Auto Scan Of Vehicle Systems
auto scan finds the electronic systems installed in your car automatically and provides you with an overall look at your vehicles status including trouble codes just in seconds.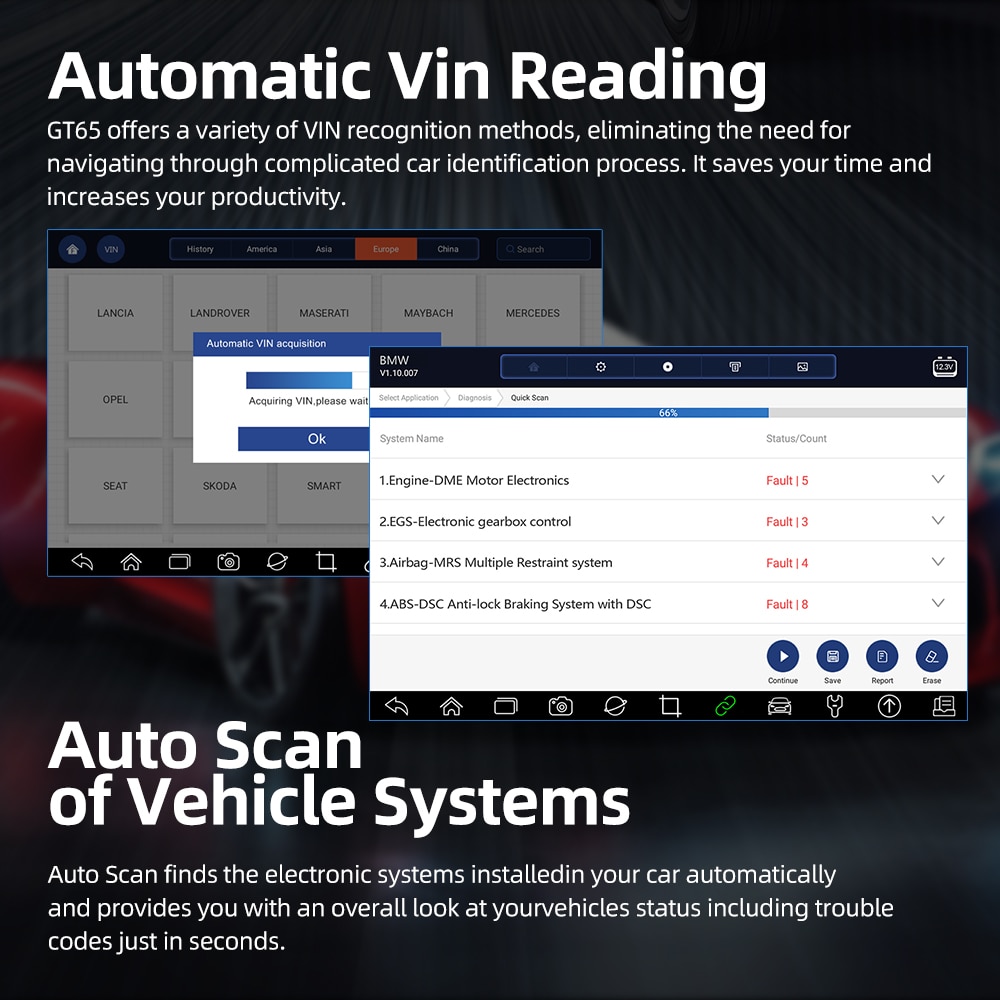 Foxwell GT65 Support Languages:
The device only can install 2 languages , one is English , the other one you can choose from the following :

Korea, Spanish, Portuguese, French,Swedish, English, Dutch, Japanese, Italian, German,Russian,Hungarian, Slovak, Greek, Chinese, Traditional Chinese

English is Default Language, if you need other language, please send me the SN Number when you receive it (please register account and activation the sn number first), I will help you change it.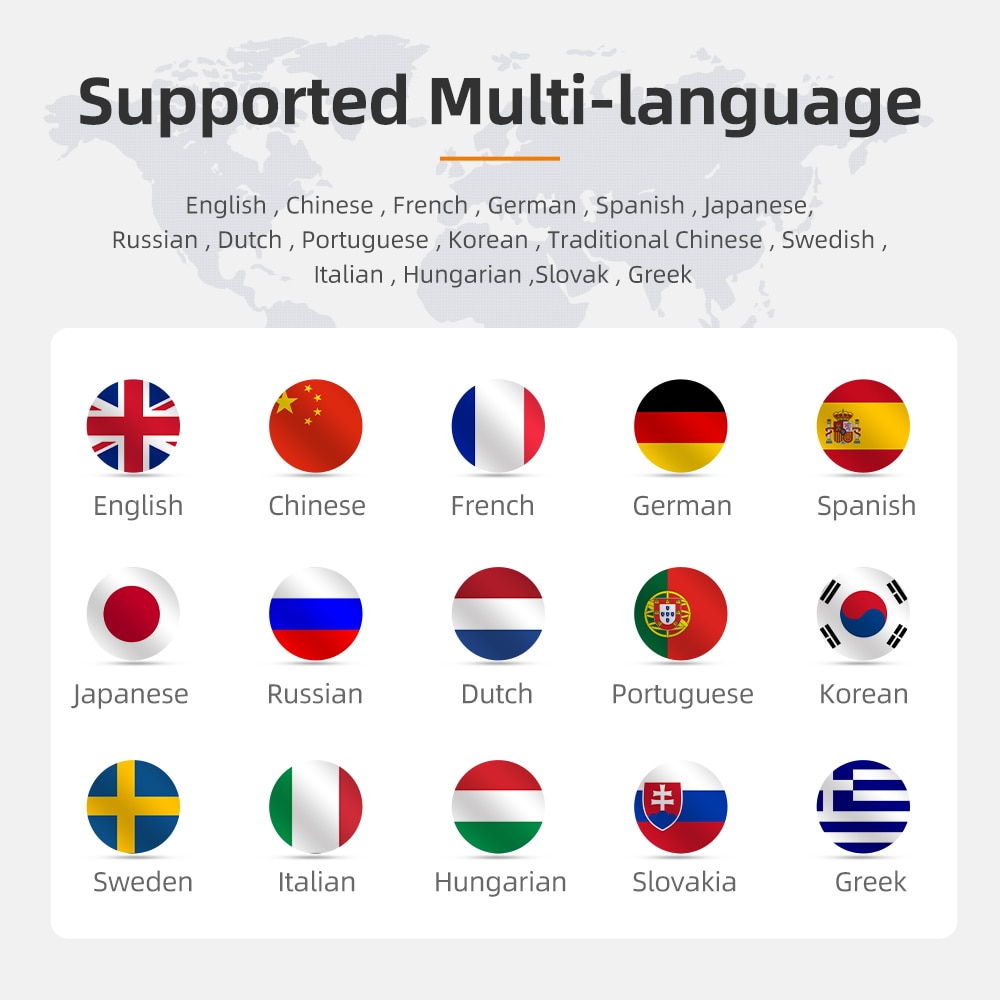 GT65 Wide Vehicle Coverage
compatible with the latest 2019/2020 models,including SUV,minivans,light-duty trucks sold worldwide.

American Coverage
For Chrysler, For FORD, For GM, For GMBRAZIL (For Brazilian Market Only)

Asian Coverage
For Acura, For Daewoo, For Daihatsu, For Honda, For Hyundai, For Hyundai CV, For Infiniti, For Isuzu, For Kia, For Lexus, For Mazda, For Mitsubishi, For Nissan, For Scion, For Ssang Yong, For Subaru, For Suzuki, For TOYOTA, For Mahindra, For Tata (For India market only)
European Coverage
For Abarth, For Alfa-Romeo, For Audi, For Aston Martin, For Bentley, For BMW, For Bugatti, For Citroen, For Dacia, For EU FORD, For Fiat, For Ferrari, For Jaguar, For Lancia, For Land Rover, For Lamborghini, For Maserati, For Maybach, For Mercedes Benz, For Mini, For Opel, For Peugeot, For Renault, For Rolls-royce, For Porsche, For Saab, For Seat, For Skoda, For Smart, For Sprinter, For Vauxhall, For Volvo, For VW, For VW_CV.

Chinese Coverage
For BJ HYUNDAI, For BRILBMW, For DF HONDA, For DYK, For FORD CHINA, For GQ FIAT, For GZ HONDA, For MAZDA CHINA, For SAIC Skoda, For SACI VW, For TOYOTA CHINA, For FAW Audi, For FAW VW,For DFXK/DFFG,For FOTON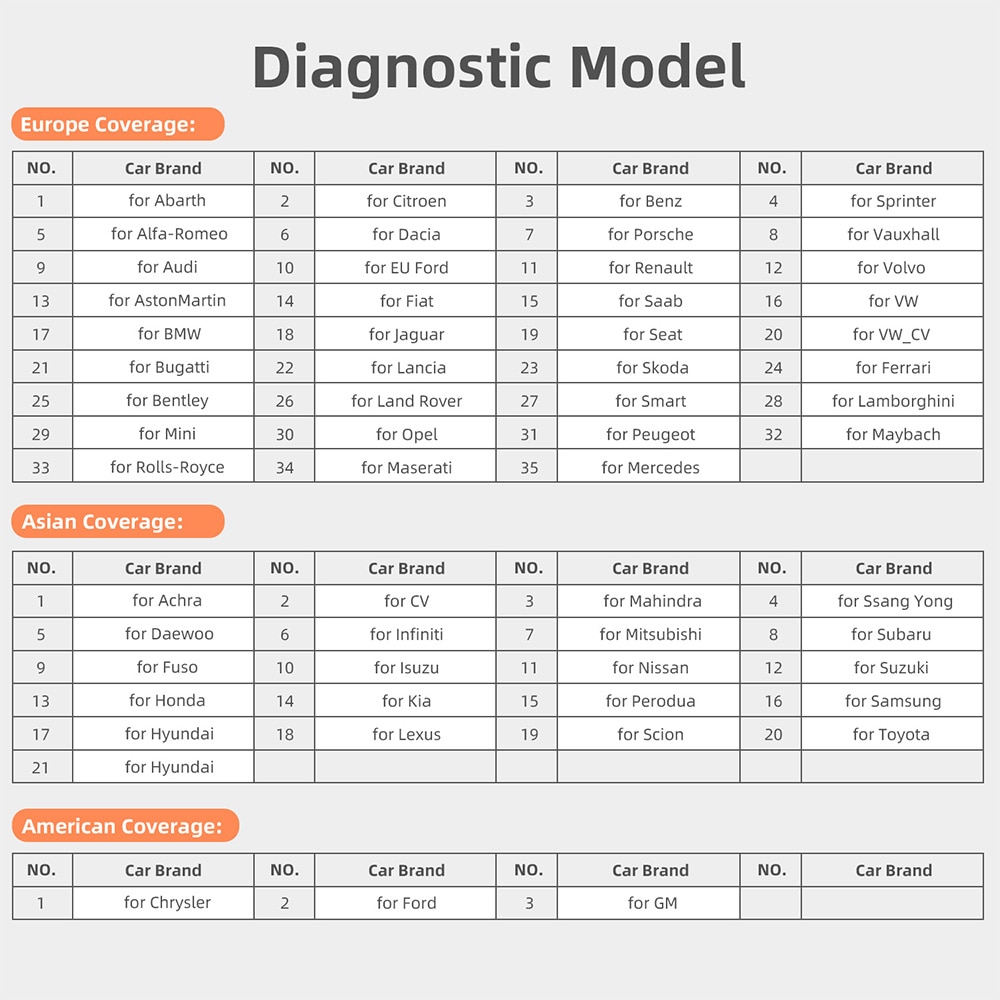 One Touch Update via WiFi
with WiFi access, you will always have the latest bug fixes, newly added parameters and functionality at your fingertips, it makes the scanner keep the latest system at all times.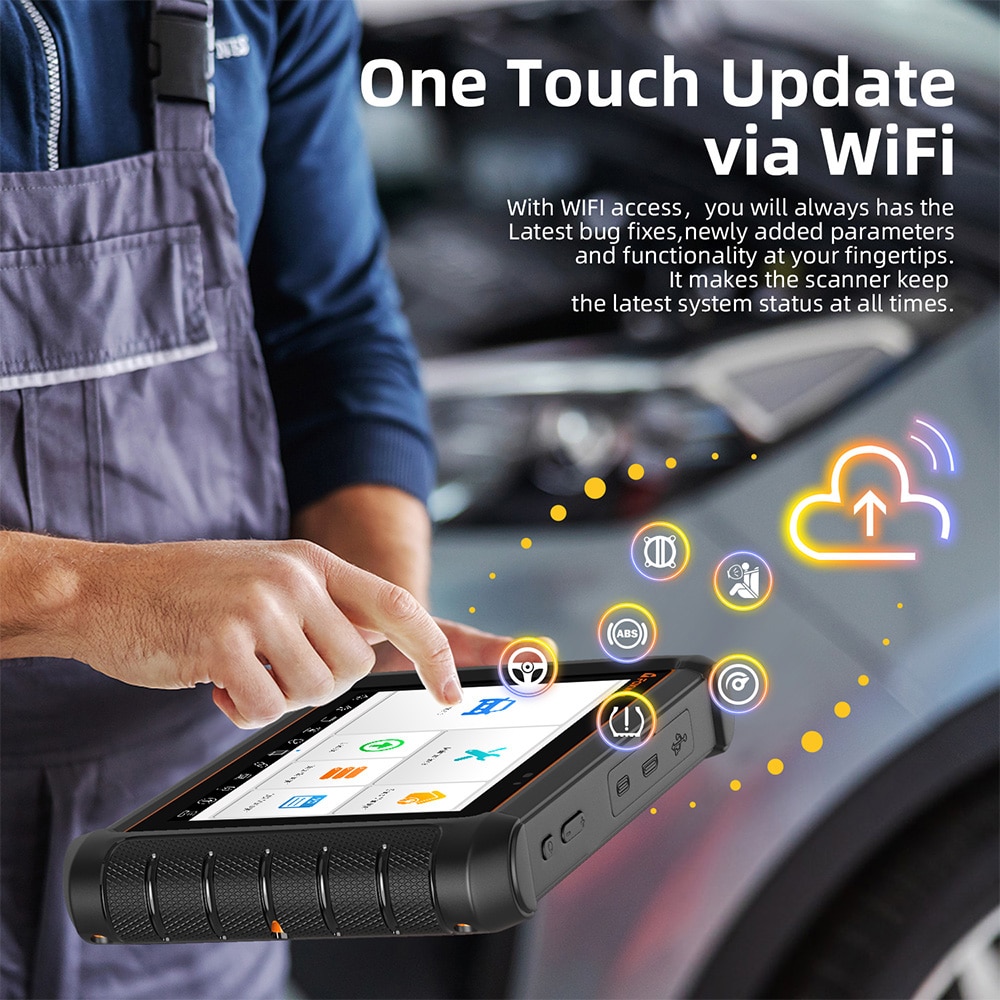 Excellent Shop Management Capability
The history diagnosis saves you time an dincreases your productivity. GT65 stores records of tested vehicles including vehicle information and DTCs from previdous tests. it also provides direct access to previously tested vehicles and alloes you to restart a diagnostic session without the need to do vehicle identitication again.
GT65 lets you create, edit and save customer information . it helps you organize all customer information that is associated with vehicle test records, which is a great support for the management of daily workshop business.
Wireless connection, let you diagnostic toll reach the distance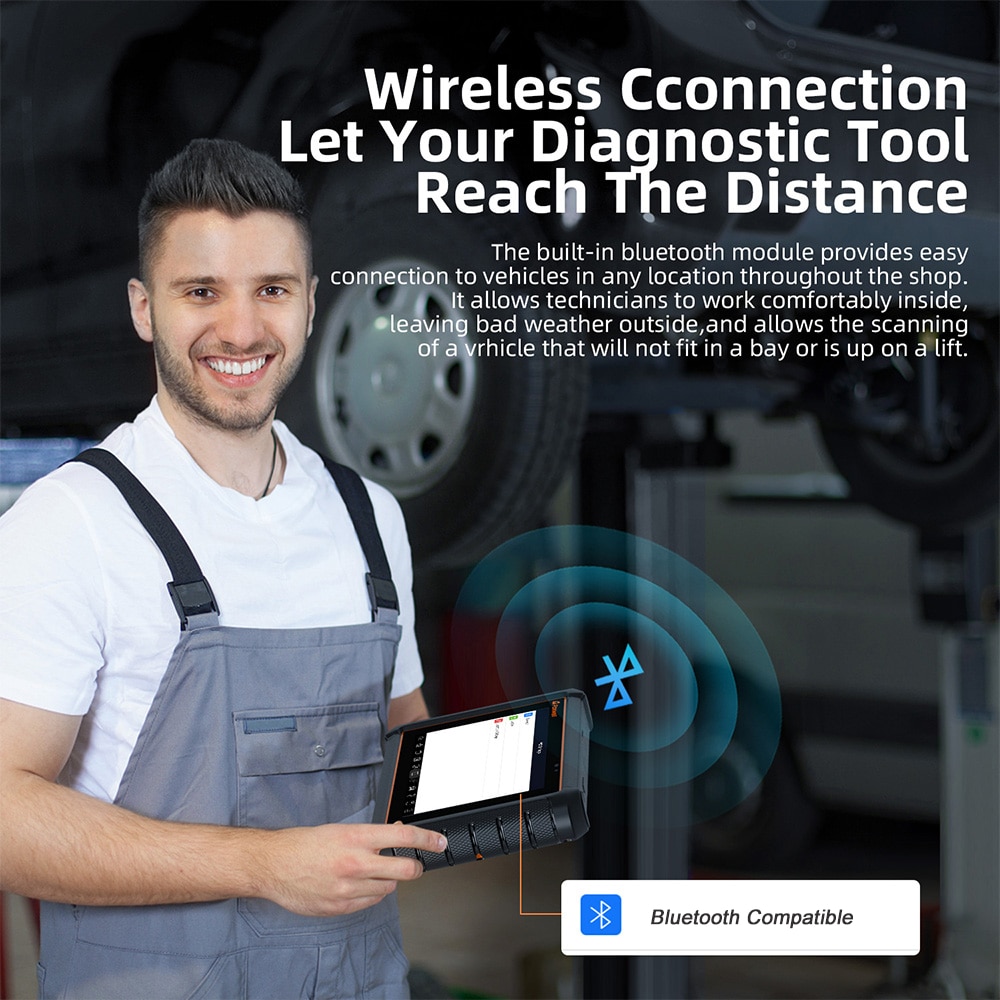 Specifications
Screen: 8"diagonal, daylight readable color LCD screen
Touch with Gloves: supported
Operating System: Android system
Processor: MT8168 (12nm ARM COTES * 4 64bit, 2.0GHz)
Memory: 2GB DDR3L
Hard drive: 32GB
Battery: 8000mAh lithium-polymer battery
Dimensions:10.71" * 6.42" * 1.54 " (L*W*H)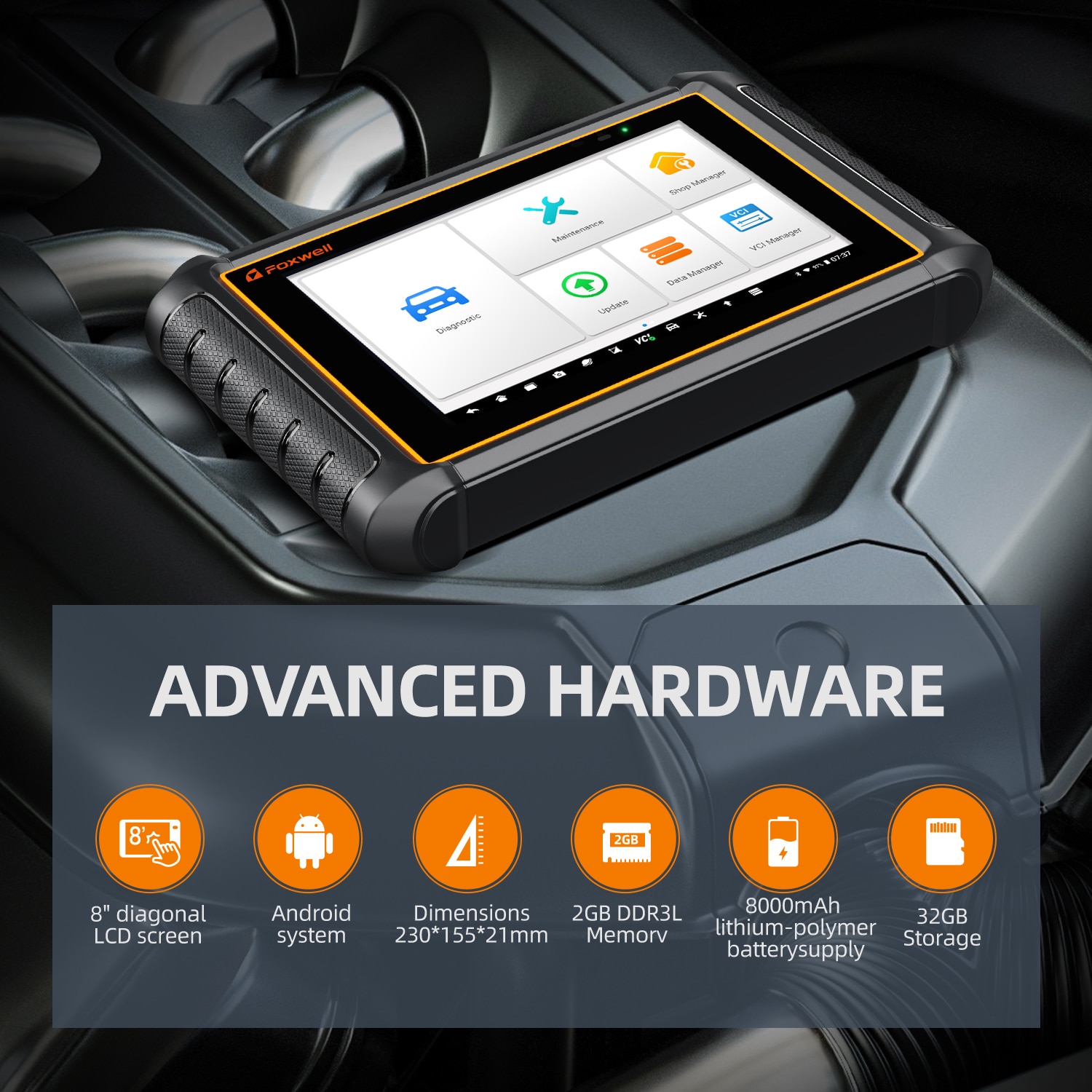 Pack List:
1*GT65 main unit
1*VCI dongle
1*USB cable for VCI
1*USB type C cable
1*USB charging adpater
1*OBD Adapter set
1*User maunal
1*Clipper Cable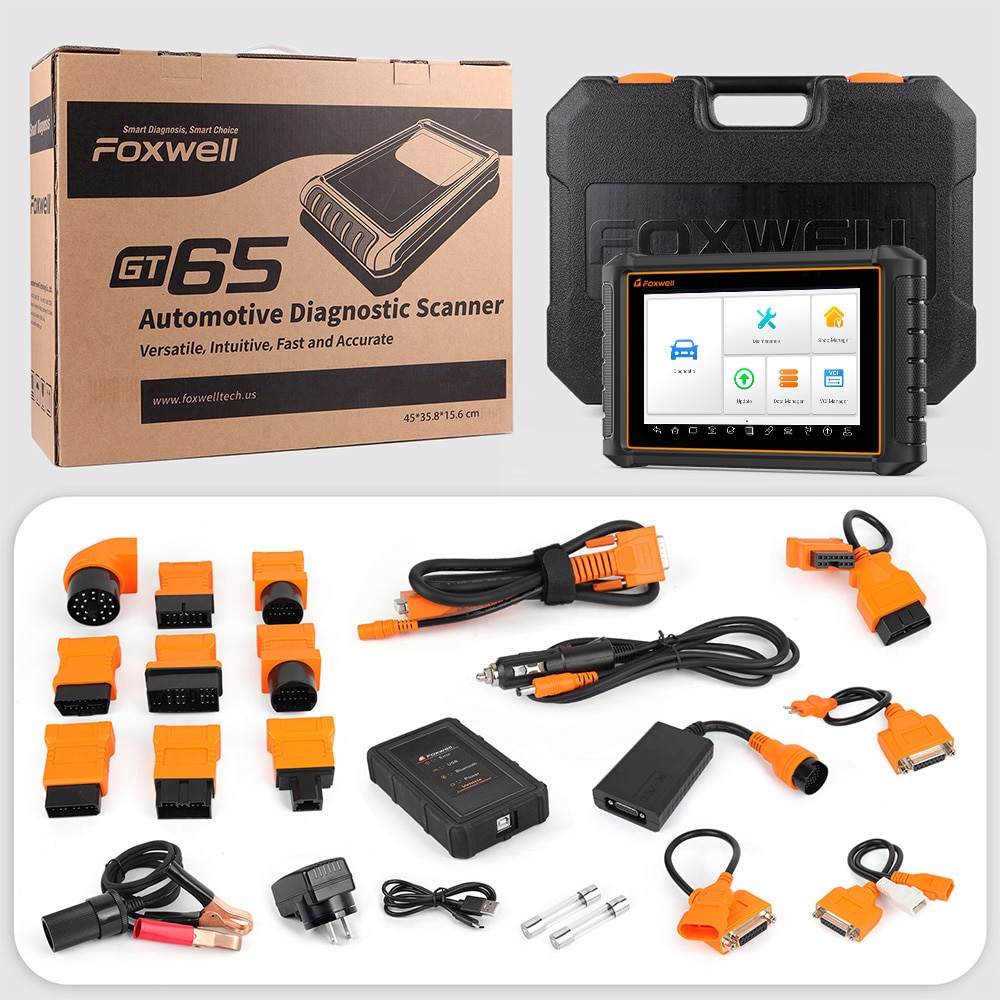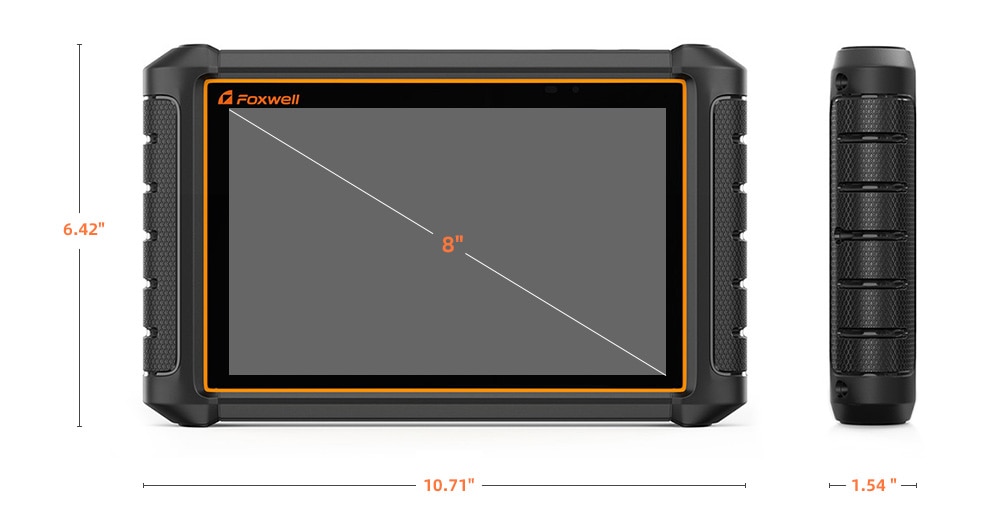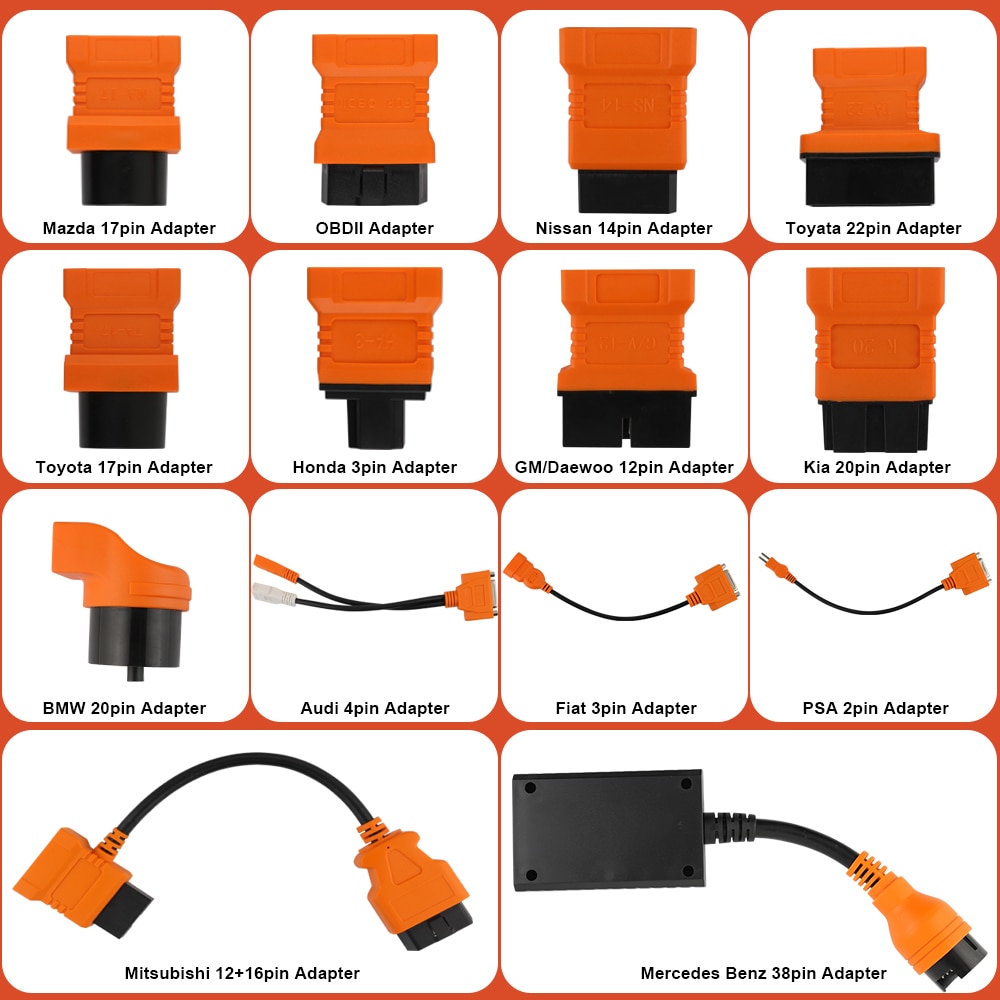 Reviews

15
#1 Bradley Norden
Jan 9, 2022

perfect
#1 Gazi Kitir
Dec 9, 2021

Super nice
#1 Tuomas Heinonen
May 9, 2022

Product as described request. Very fast. Recommend all p.
#1 laura bradbury
Jan 9, 2022

Soldering quality is good. Refinement does not require.
#1 daniel feart larriut
Apr 9, 2022

the best!!!!!!!!!!
#1 Oleg Osipov
Jun 9, 2022

The product is excellent all works
#1 oleg popa
Dec 9, 2021

very good are satisfied with fast shipping this Foxwell GT65 All Systems OBD2 Diagnostic Scanner Full System EPB DPF TPS 24 Reset Active Test OBD2 Scanner Car Diagnostics is good quality, working very well
#1 Gerd Lemmermann
Mar 9, 2022

Delivery fast everything works!!!
#1 DARYLL HAY
Aug 9, 2021

OK, TOP seller, good supporrt...
#1 Evgeny Pashkov
Nov 9, 2021

Super nice
Previous: XHORSE VVDI2 Volkswagen DS Type Universal Remote Key 3 Buttons (Individually Packaged) 5pcs/lot
Next: Creator C110 V6.0 BMW Code Reader Plus BMW B800 Airbag Scan/Reset Tool