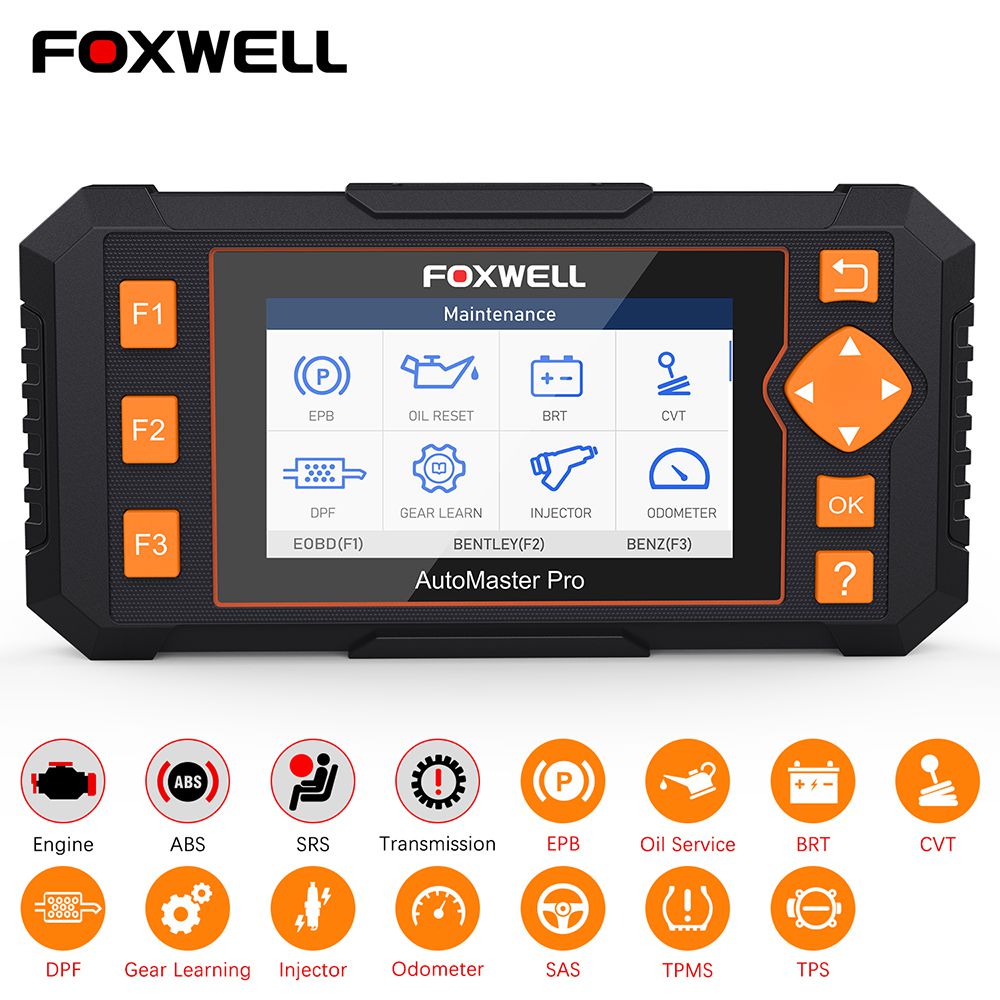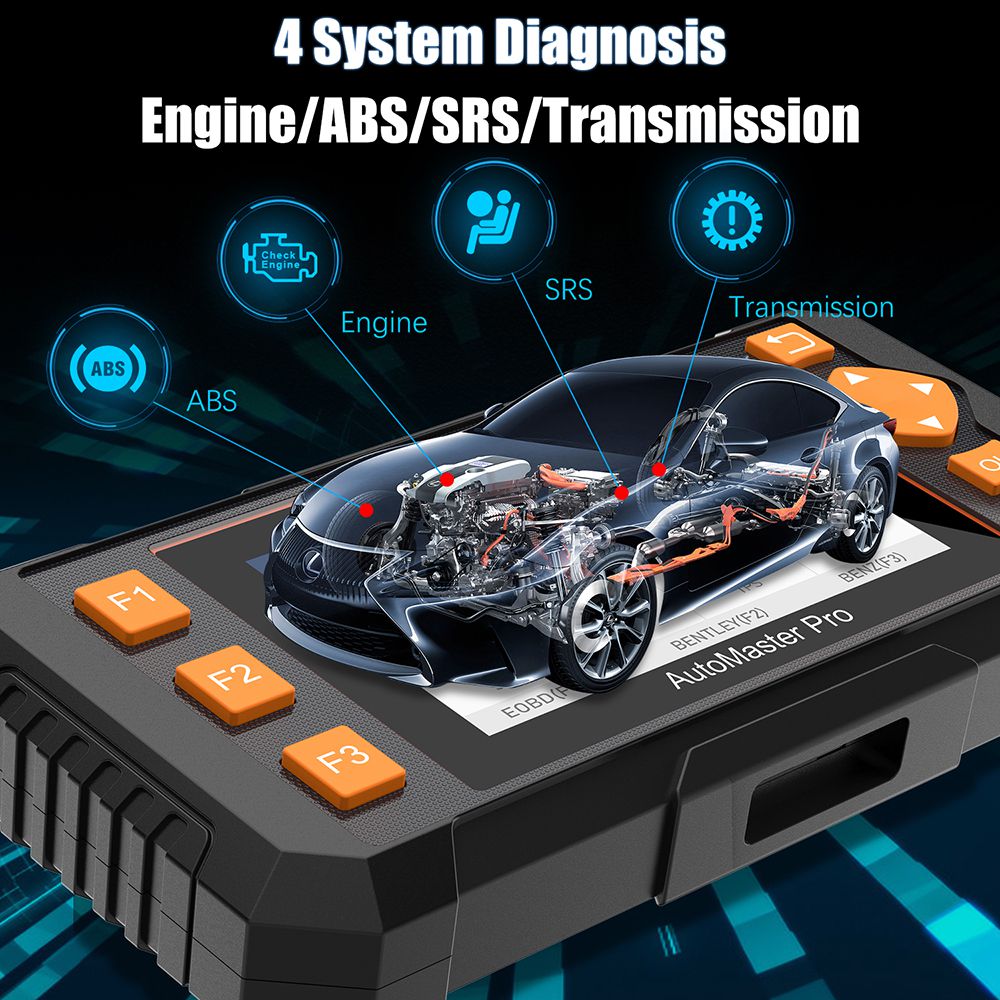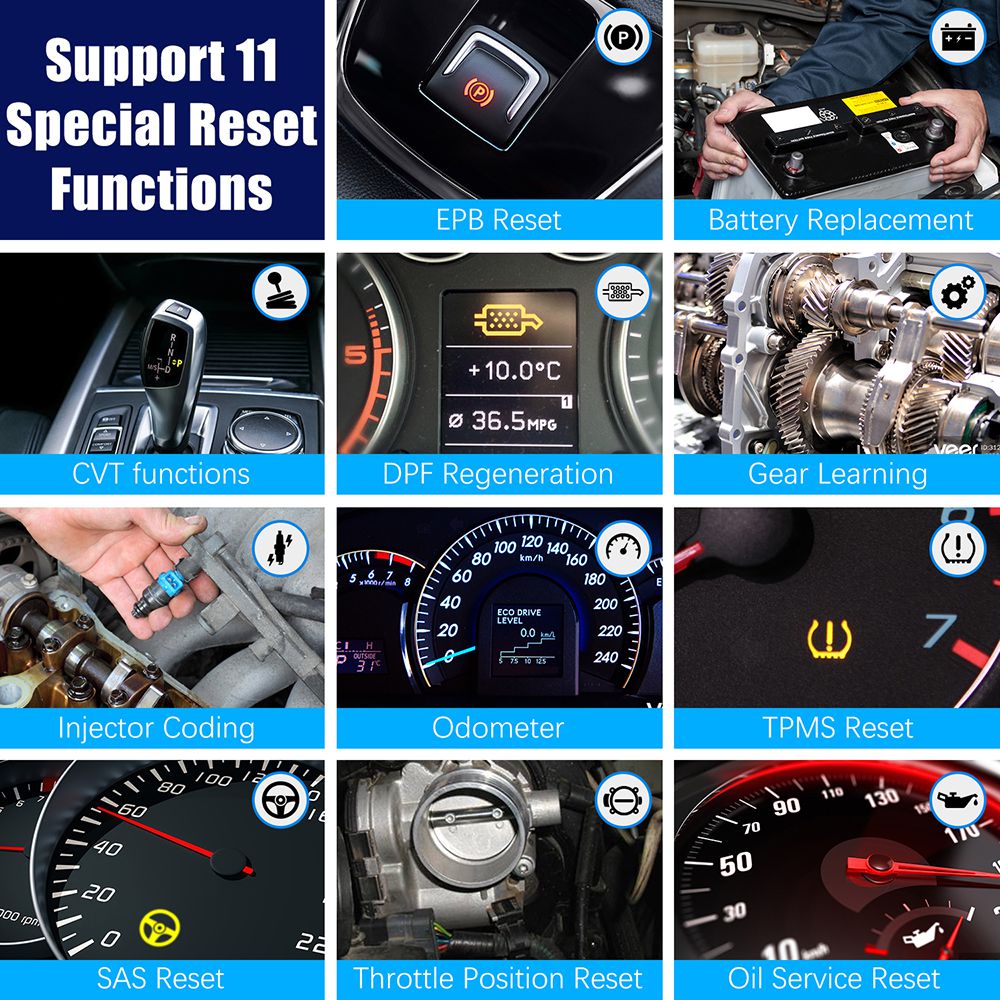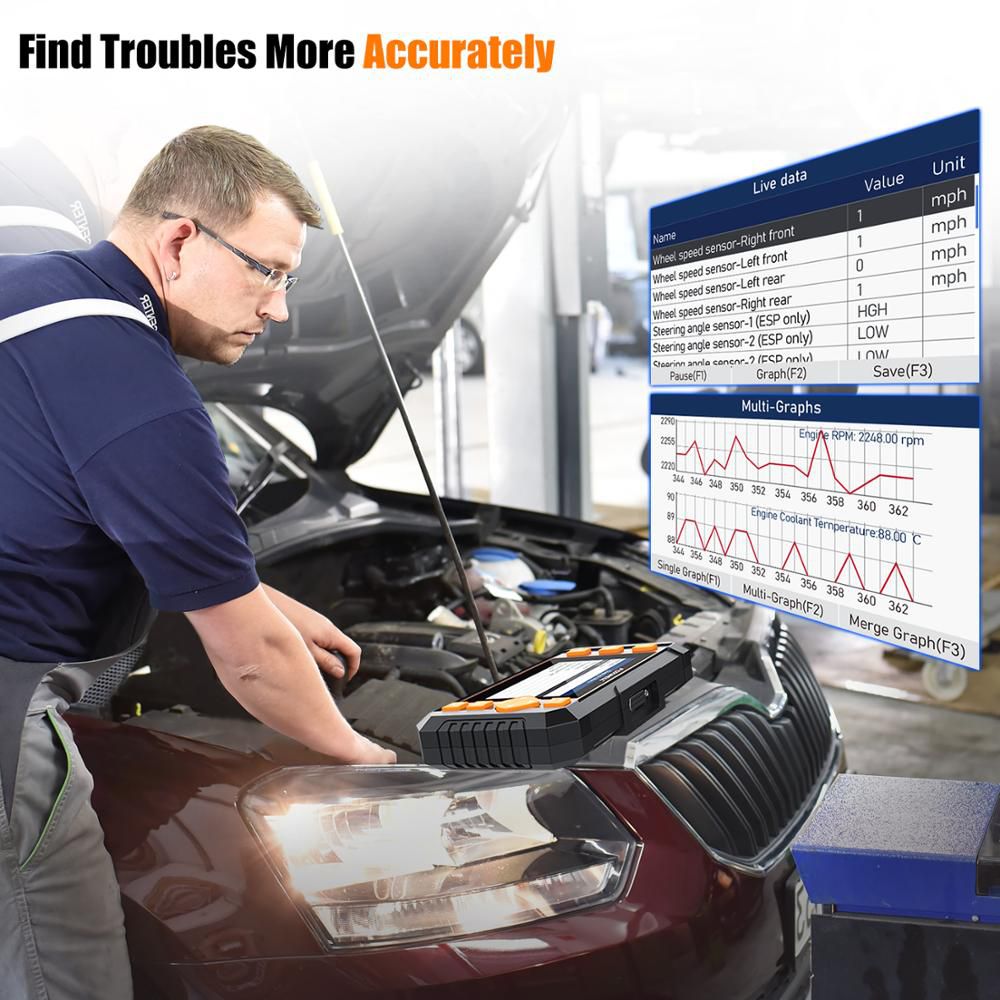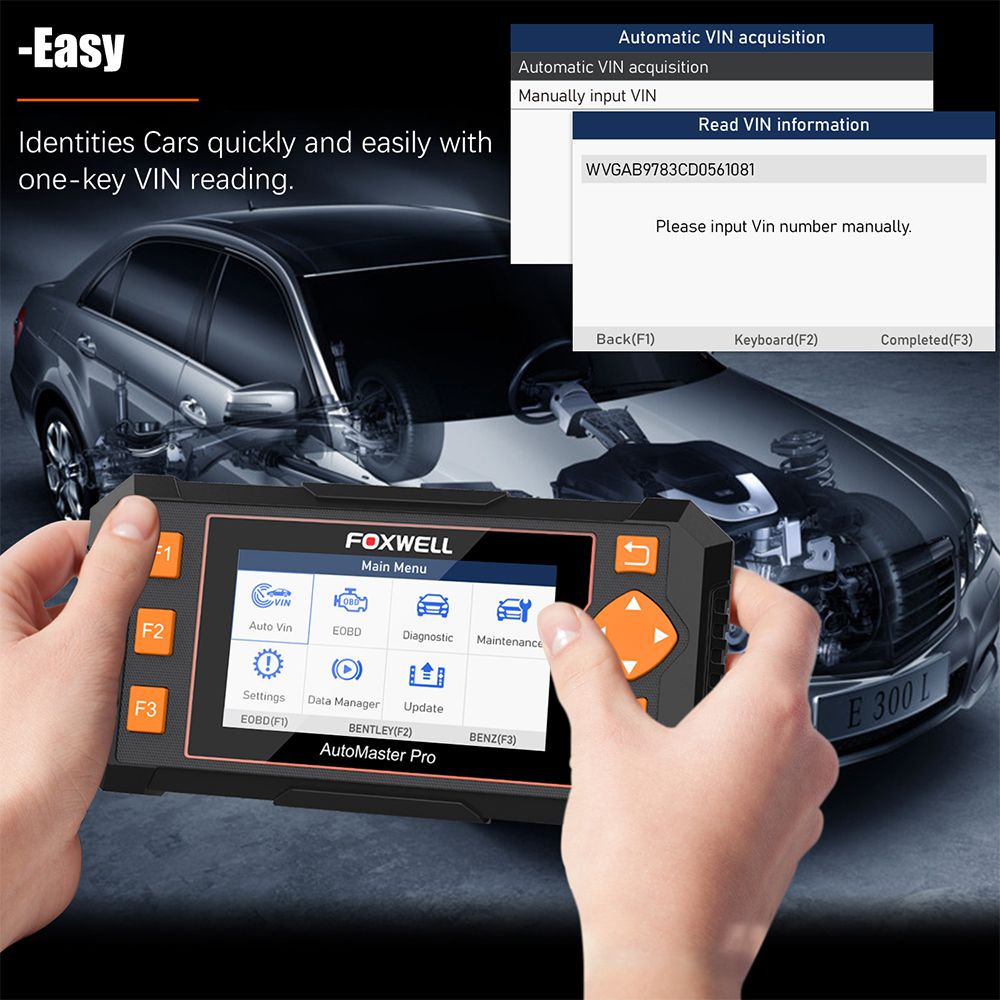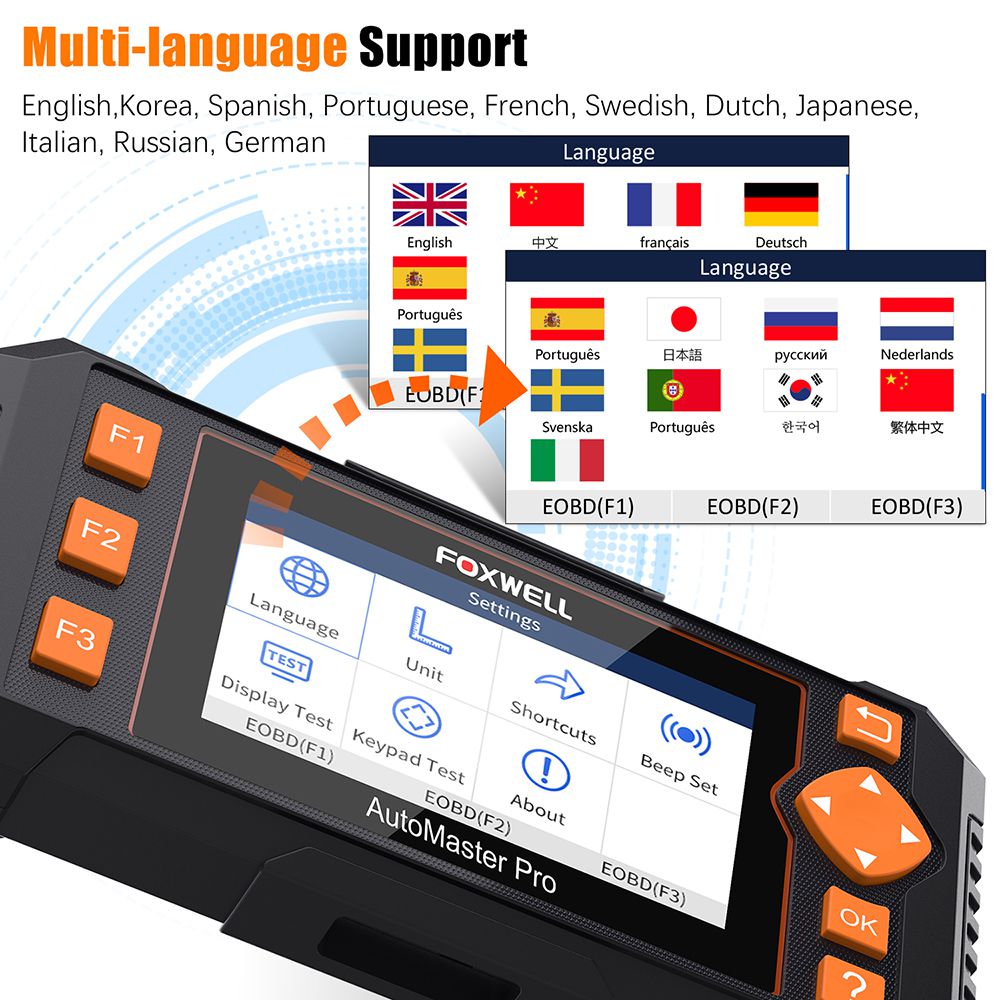 Description
Foxwell NT634 OBD OBD2 Automotive Scanner engine ABS SRS Transmission Scan Tool 11 Reset Functions OBD 2 Code Reader Car Diagnostic Tool
NT634 is delicately designed for pros and enthusiasts to pinpoint engine, transmission, ABS and airbag faults on major American, Asian and European makes. It offers technicians accurate,stable and easy diagnosis and more special functions. It solves 95% of the services you tackle with everyday. it's a super cost-effective product. DON'T MISS OUT!!!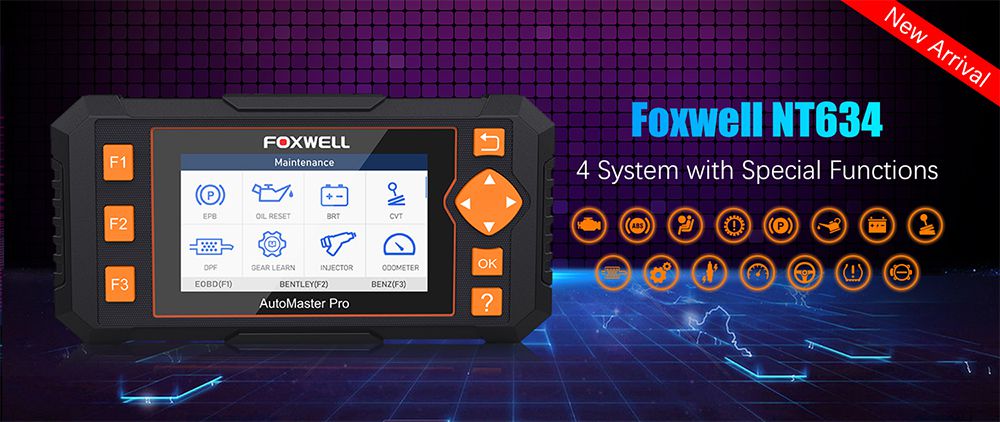 What Can Foxwell NT634 Do for Your Car?
Four Main System Diagnstic: Help User Read clear code and live date in
engine
, Transmission
ABS
SRS
System.
Diagnostic Engine System: The diagnostic tool can help detect the engine ignition, fuel injection, air and fuel ratio, and exhaust emission conditions in Engine system to enhance vehicle performance, save energy and reduce exhaust emission.
Diagnostic Transmission: It makes great sense in the safe driving when your car is slipping or difficult to shift. This diagnostic scanner can figure the problems out via reading codes in the Transmission system, or check the health status via live data viewing.
Diagnostic ABS System: Diagnosing an ABS problem should always start with a visual inspection of all brake components, next you will need to retrieve ABS codes to tell you where the problem is, and this is what this scanner does for you.
Diagnostic SRS Airbag System: SRS, safety restraint system, is made up of impact sensors, a control module, and the airbags themselves, and this diagnostic device can detect every electronic parameter to check its health status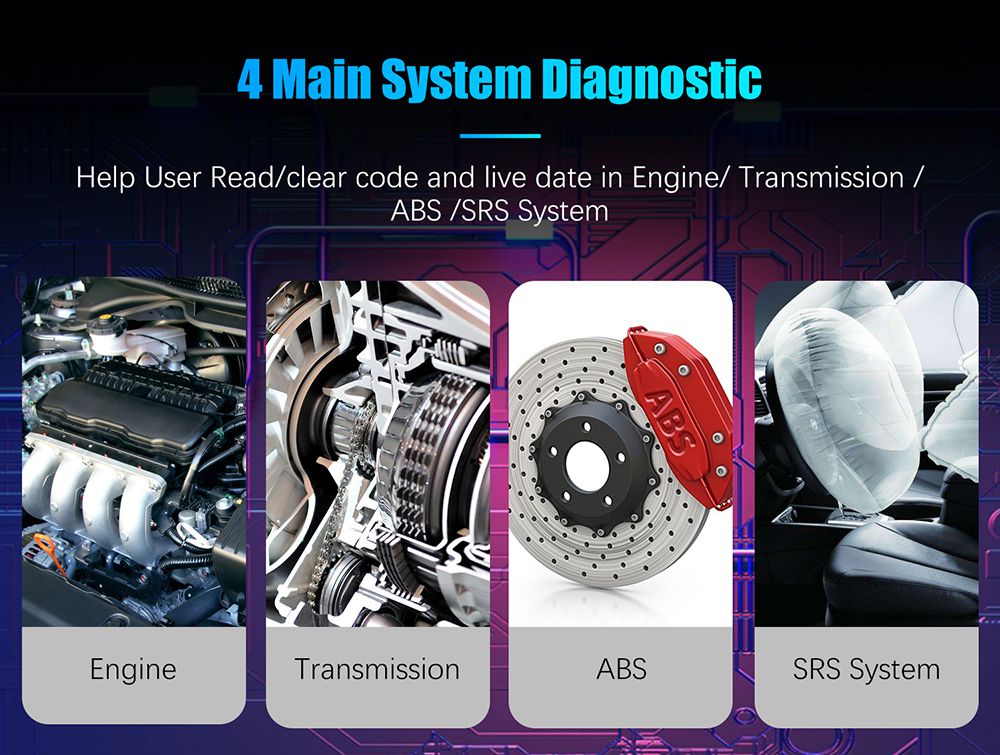 Support 11 Kinds Popular Reset Service
Oil Light Reset: allows you to reset the service lamps on the instrument cluster.
EPB Service: allows you to perform the service and maintenance of brake systems, including deactivation and activation of the brake control system, bleeding brake fluid, opening and closing brake pads, and setting brakes after disc or pad replacement, on multiple brands of vehicles where electronic brake systems are fitted
Battery Configuration: lets you to have new battery validated, clear faults from the dashboard and display current battery details of the vehicle
DPF Regeneration: lets you perform the DPF cleaning to clear the blockage through continuous burning of the particulates captured in the DPF filter.
TPS/TBA: Using the throttle position sensors in the throttle body, the ECU learns the full open and full closed positions through various states (idle, part throttle, WOT) known as a Throttle Body Alignment (TBA)
SAS Calibration: lets you perform calibration of the Steering Angle Sensor, On successful calibration of the sensor, its fault memory is automatically cleared.
CVT(Continuous Variable Transmission): used to reset the compensation code and initialize the ECT after a solenoid valve or valve body assembly has been replaced.
Gear Learn: Crankshaft position sensor adaptive learning.
TPMS Programming Service: allows you to check the tire sensor IDs from the vehicle ECU and to perform TPMS programming and reset after tires and/or TPM sensors are replaced and/or tires are rotated.
Odometer: allows you to revise the date of odometer and write the original date into new odometer. (NOTE: it is exchange odometer, not adjust the mileage)
Injector Coding: Write injector actual code or rewrite code in the ECU to the injector code of the corresponding cylinder so as to more accurately control or correct cylinder injection quantity.
will add more……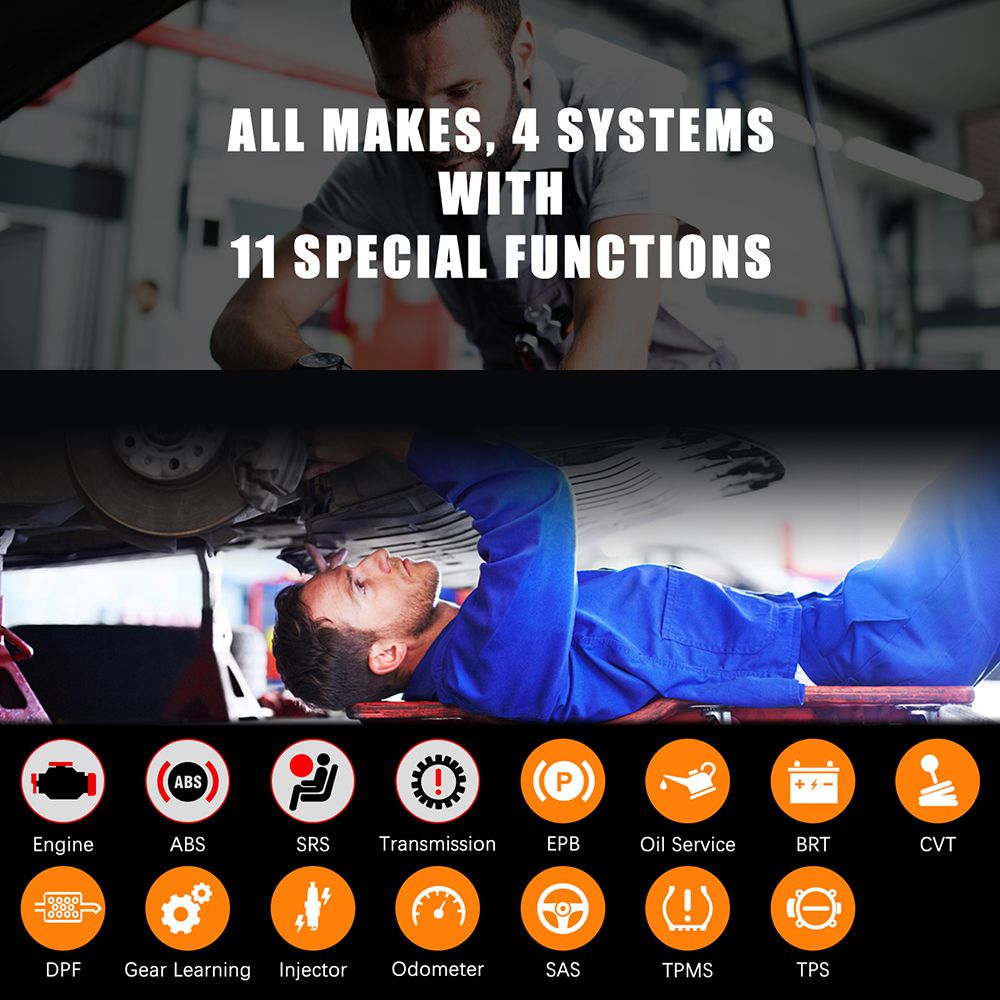 Find Troubles More Accurately
NT634 shows live vehicle sensor date in text and graph format and allows you to focus on any suspicious and symptom-specific date parameters. it record live sensor date and playbacks records to capture intermittent fault whenever they happen.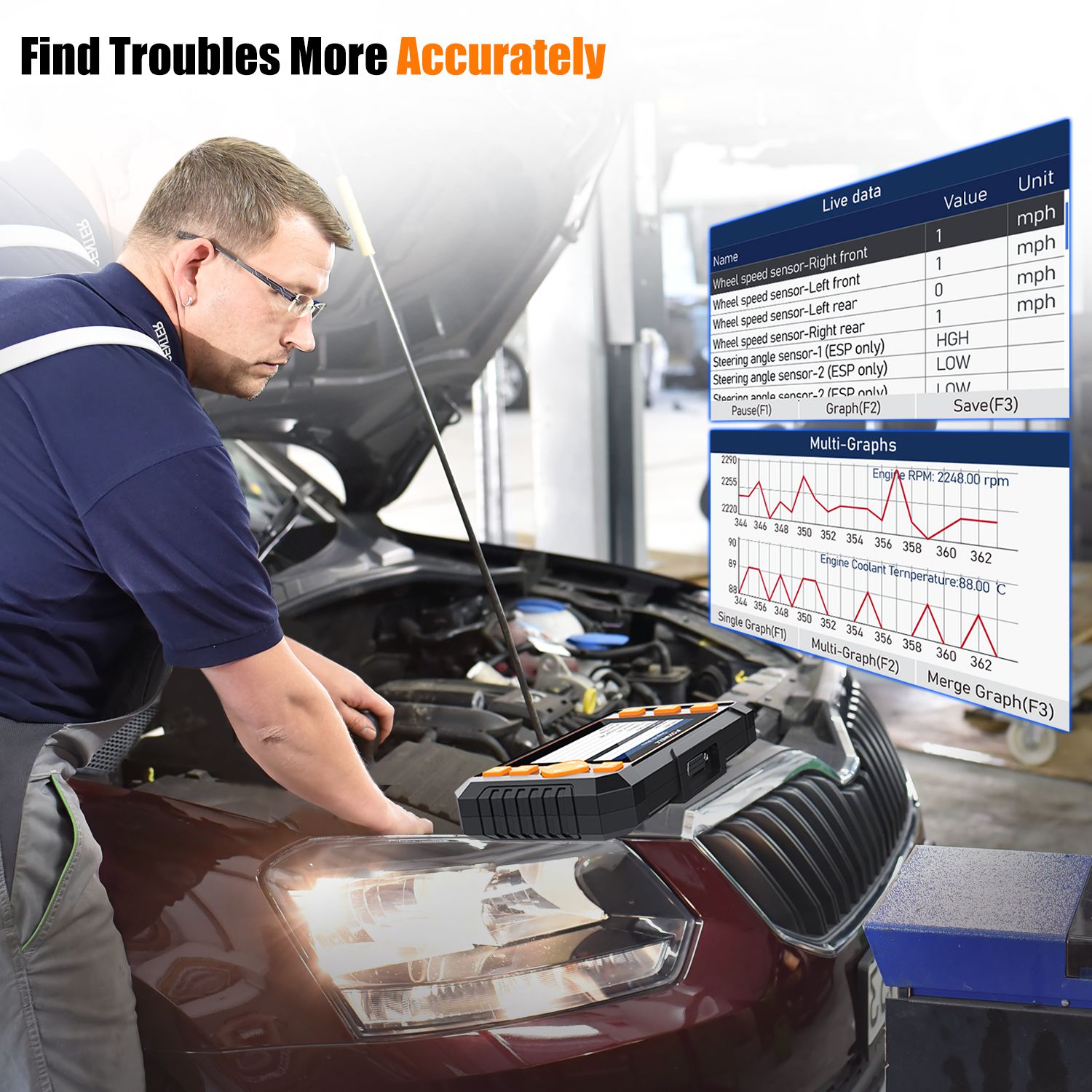 Support Full OBD2 functions:
Universal OBDII/EOBD Engine Scan: obd2 diagnostic Code Reader provides comprehensive OBDII diagnostics for global OBDII/EOBD vehicles, reads and clear codes, turns off MILs, requests and records live sensor data, ect. except live data reading. In addition, it supports all 10 OBDII test modes, includs the mode 6 test. Powerful graphing capability gives you the "real picture" of what's going on in the vehicle, which allows you focus on any suspicious or symptom-specific data parameters.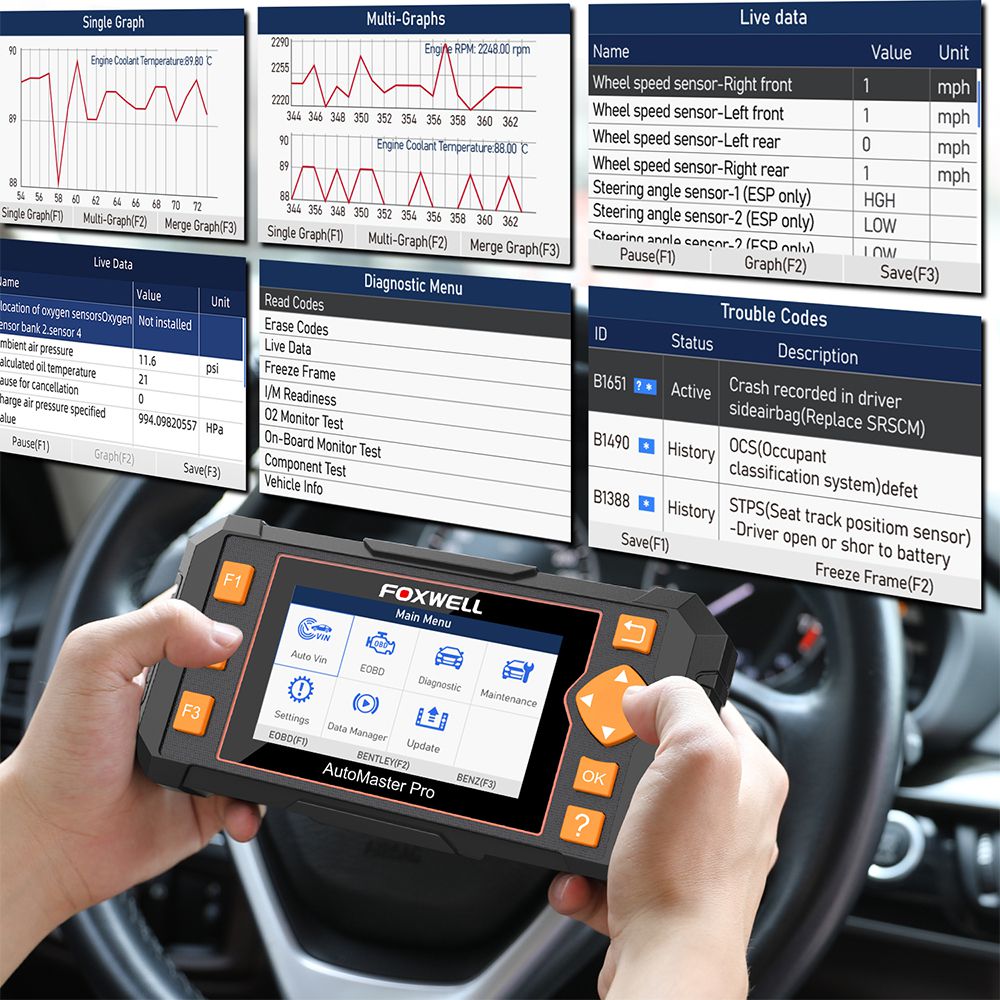 Fast VIN AutoDetect: Press "AutoVin" to quickly
detect VIN module. it shows VIN, vehicle type, release year and engine type.
Automatic VIN reading
Manual VIN entry
Manual vehicle selection
NOTE: NOT FOR ALL MODELS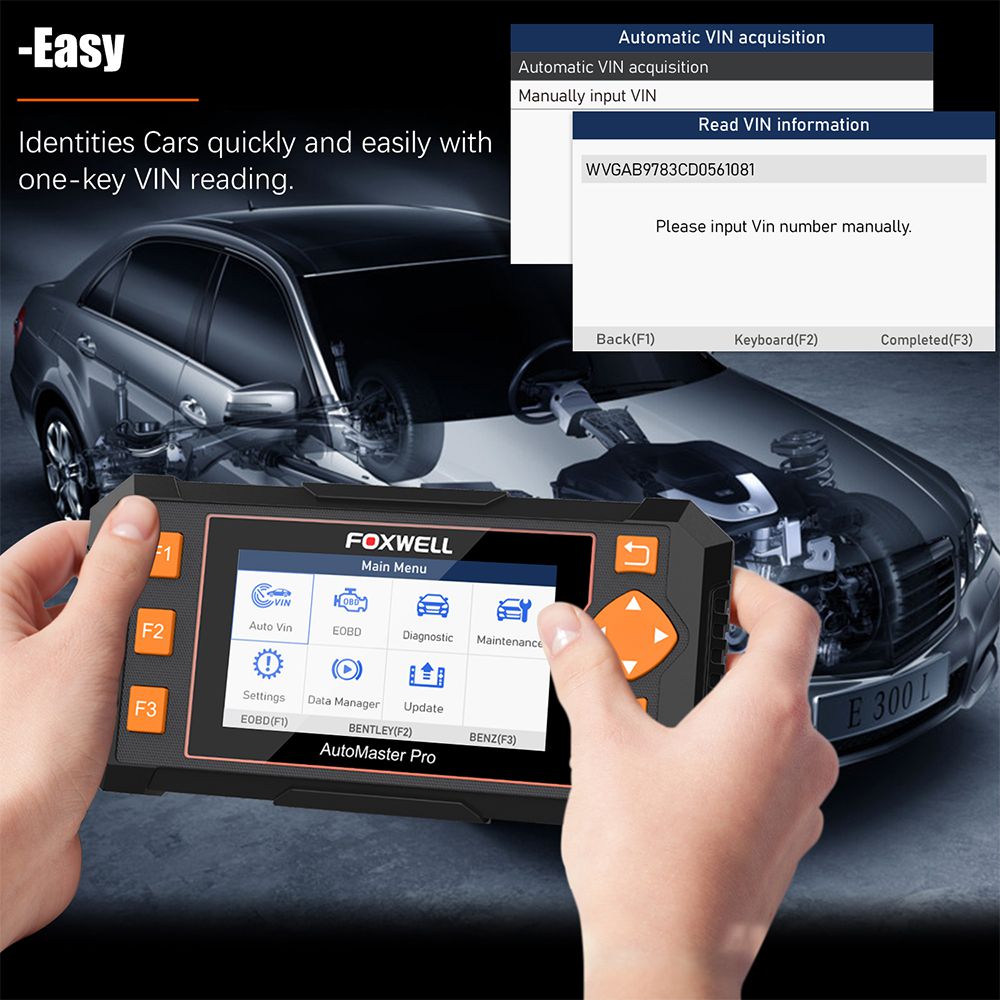 Foxwell NT634 OBD2 Scanner Support Languages:
The device only can install 2 languages , one is English , the other one you can choose from the following :
Korea, Spanish, Portuguese, French, Swedish, English, Dutch, Japanese, Italian, German,Russian
if you want to change language, just need send me the S/N number.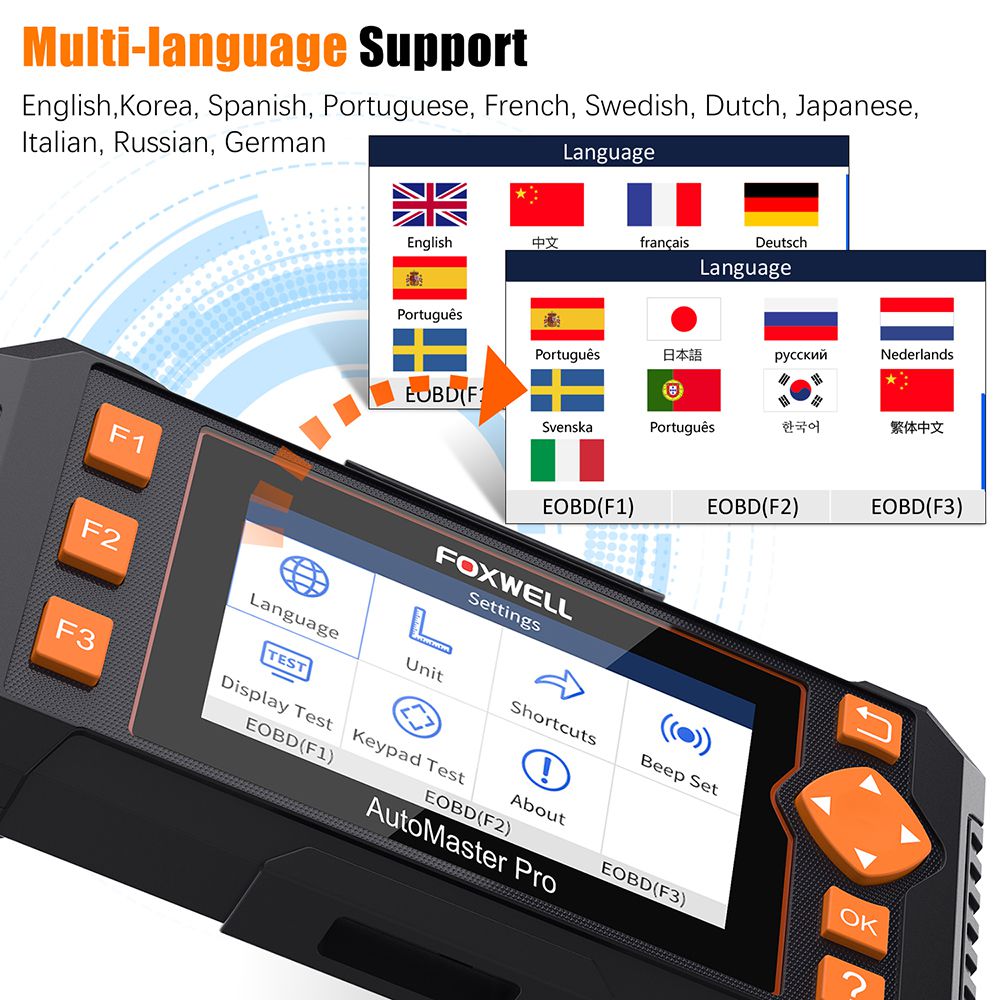 Foxwell NT634 System Diagnostic Support Vehicle Coverage
Asia(2003 to now ):
for
Acura
, for Daewoo, for
Honda
, for Hyundai, for
Hyundai
CV ,for Infiniti, for Isuzu, for
Kia
, for Lexus, for Mahindra, for
Mazda
, for
Mitsubishi
, for
Nissan
, for Perodua(For Malaysian Market Only), for Proton(For Malaysian Market Only), for Scion, for Subaru, for Suzuki, for Toyota, for Daihatsu,
European (2001-now ):
for Abarth, for Alfa-Romeo, for
Audi
, for AstonMartin, for
BMW
, for Bugatti, for Bentley, for
Citroen
, for Dacia, for EU Ford, for Fiat, for
Jaguar
, for Lancia, for
Land Rover
,for Maserati, for Maybach, for
Mercedes Benz
,for Mini, for Opel, for
Peugeot
, for Porsche, for Renault, for Saab, for
Seat
, for
Skoda
, for Smart, for Sprinter, for Vauxhall, for Volvo, for
VW
, fot Lamborghini
America (1996-now ) :
For
Chrysler
, for Jeep, for Dodge, for Ram, for Ford, for Lincoln, for Mercury, for
GM
( including Brazilian car maker ), for Chevrolet, for Cadillac, for
Buick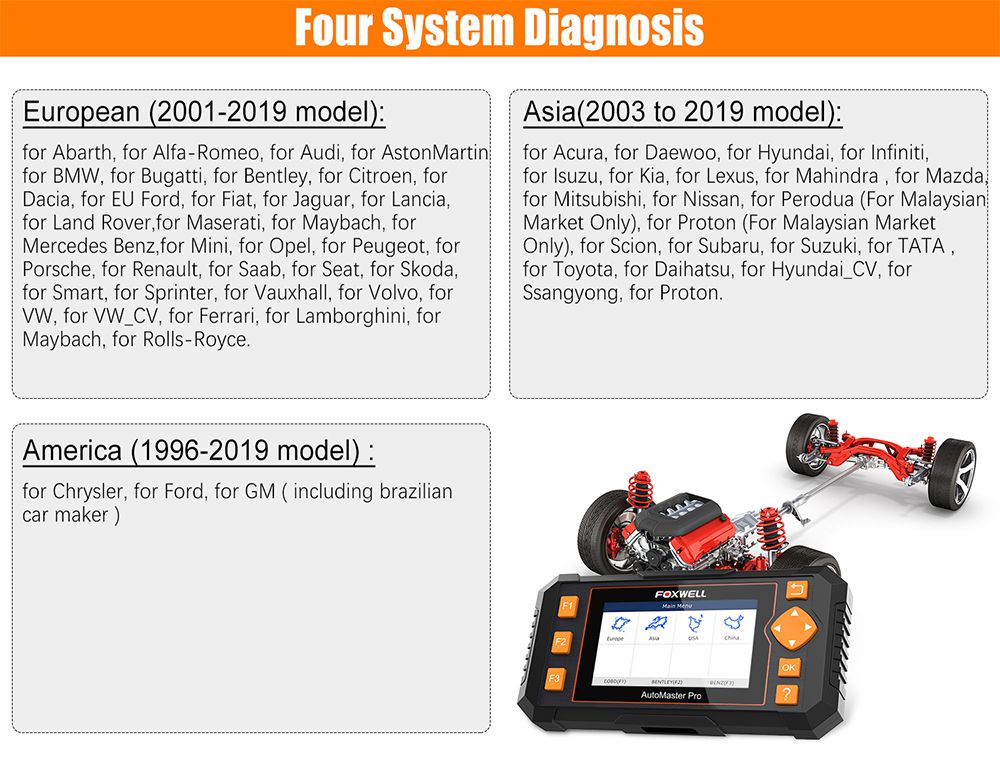 NT634 Special Function Support List
NOTE: These special function NOT for all car models, if you are confused, you can send your car brand, model and release year to me, I will check for you.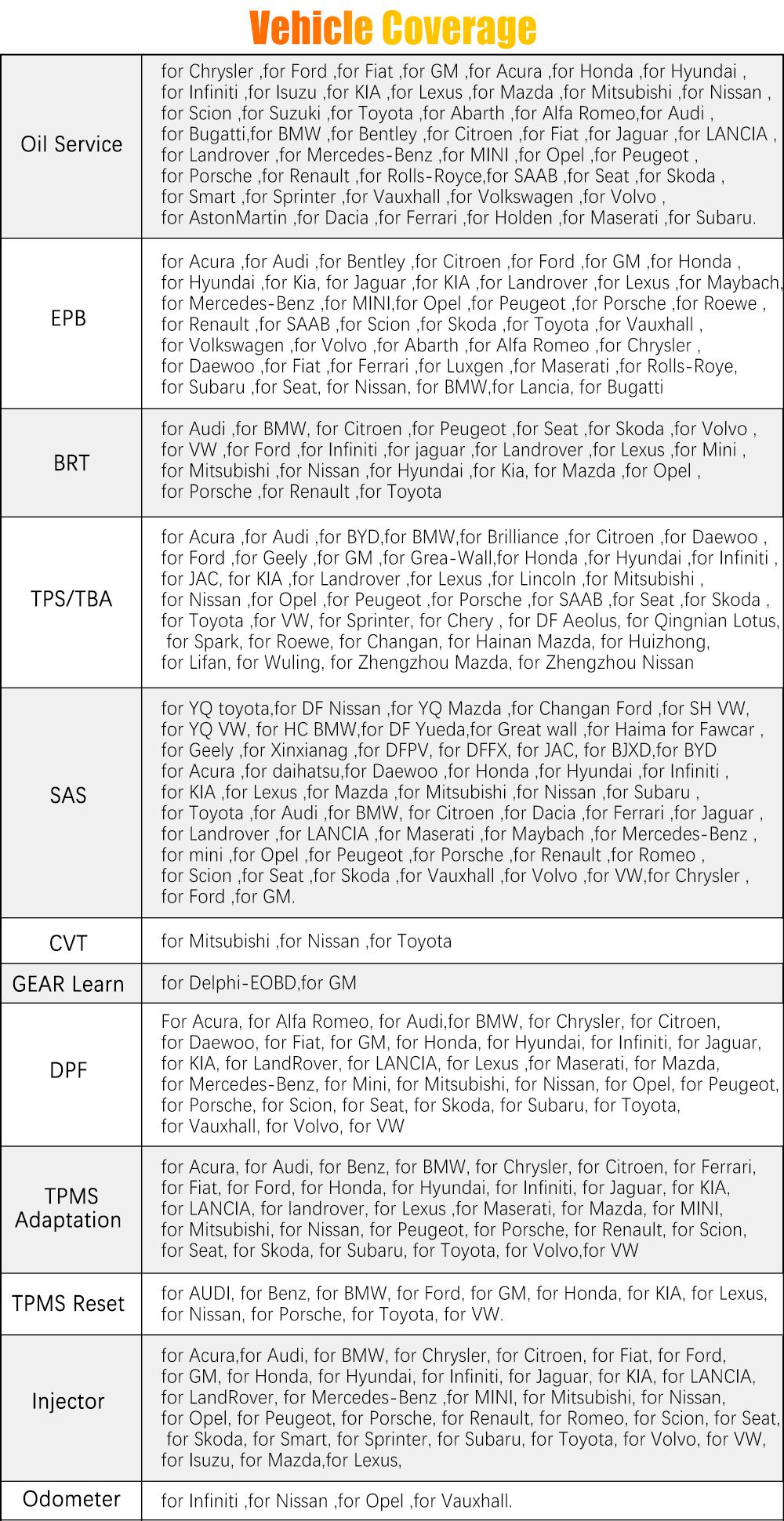 Lifetime Free Update online
with internet access, you will always have the latest bug fixes, new vehicles, newly added parameters and functionality at your fingertips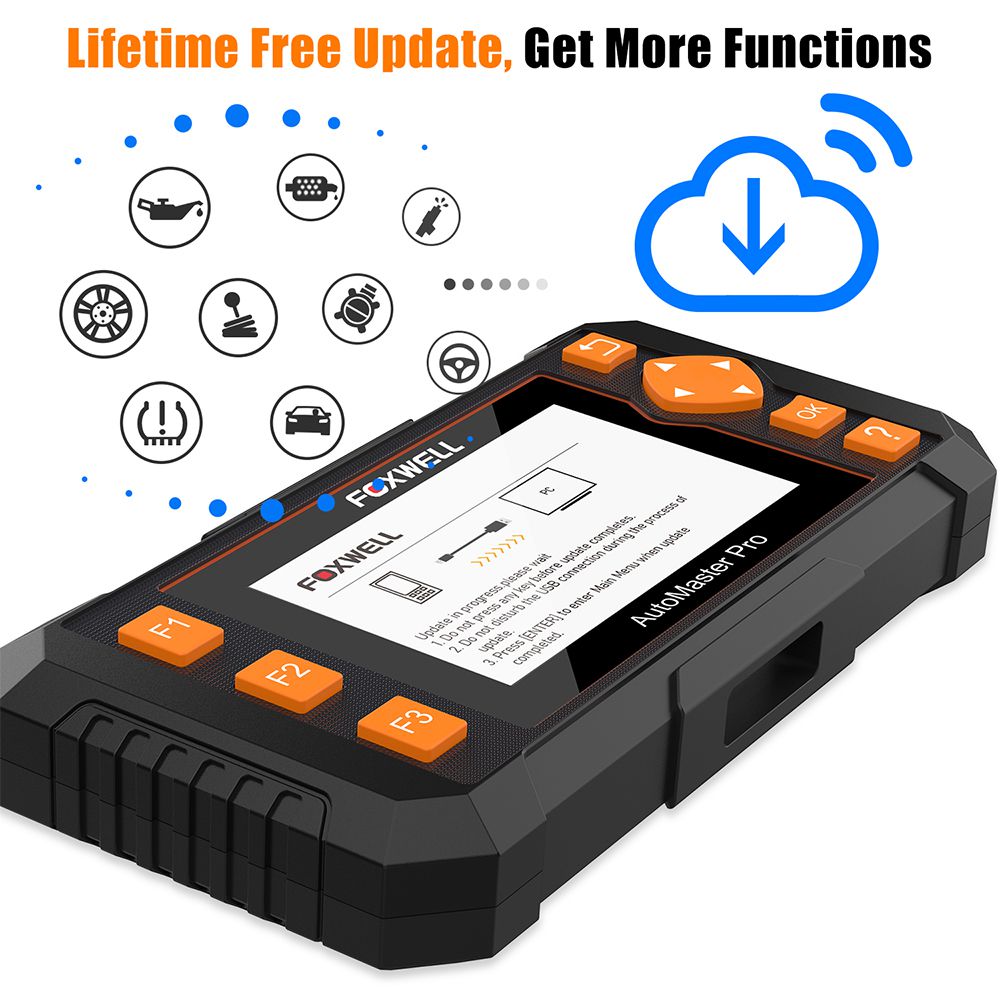 How to update online?
NOTE: NT634 use new program to update. not foxscanner, please go to new website (check back of scanner) download FoxAssist. or you can contact me directly.
1. Go to the Foxwell official website :Choose your product ,Under the page,click the Download,then download FoxAssist Installer.zip update clients software.
2. Register foxwell account and complete the related information at FoxAssist client software .
3. Connect NT634 with computer by USB, click "Activation" menu.
5. It can indentifies your sn number automatic, choose your sn number and click Activation
6. Go to "Download" page, choose all software, and then click "upgrade"
6. Wait several minutes, update will be done, enjoy new software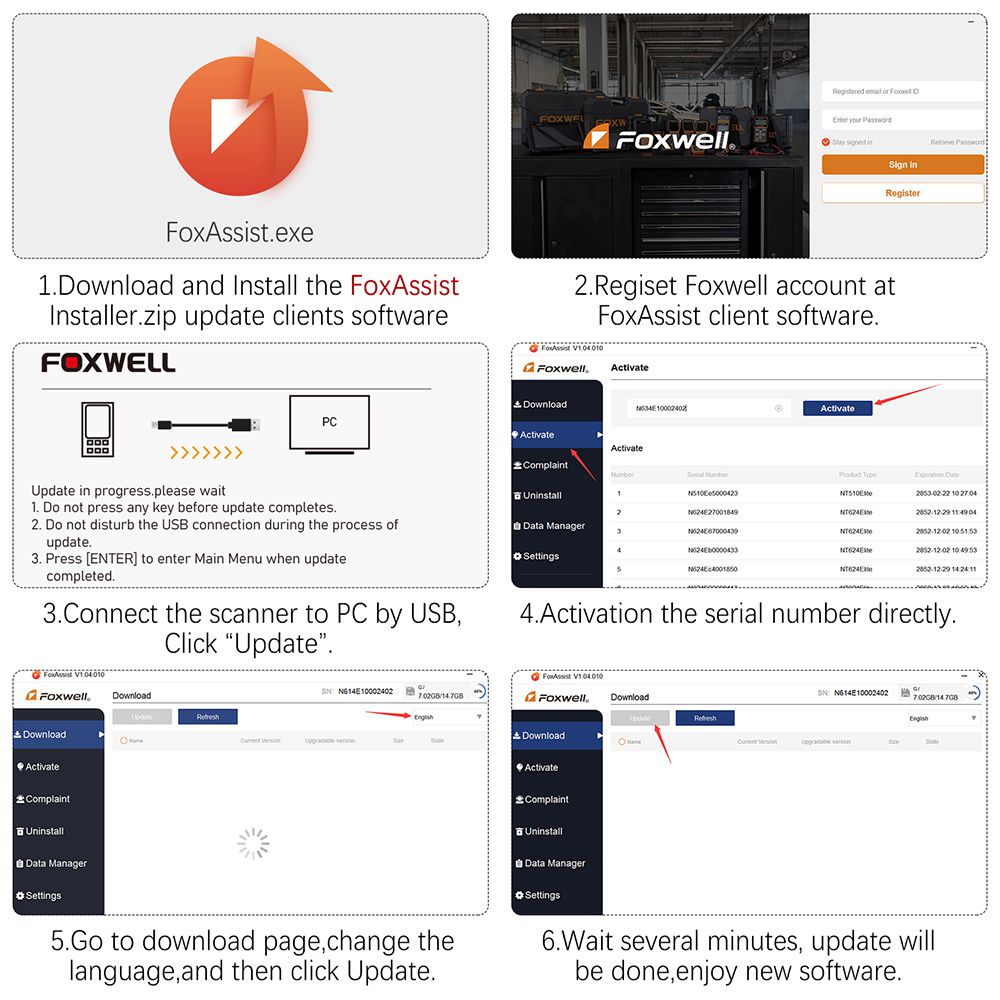 Foxwell NT634 Package List:
1 pc x Foxwell NT634 OBD2 Diagnostic-Tool
1 pc x User Manual
1 pc x Memory Card
1 pc x USB Cable
1 pc x Diagnostic Cable
1 pc x Blow Molding Case
NOTE: NO Built-in lithium battery, NO Charger (needn't charge)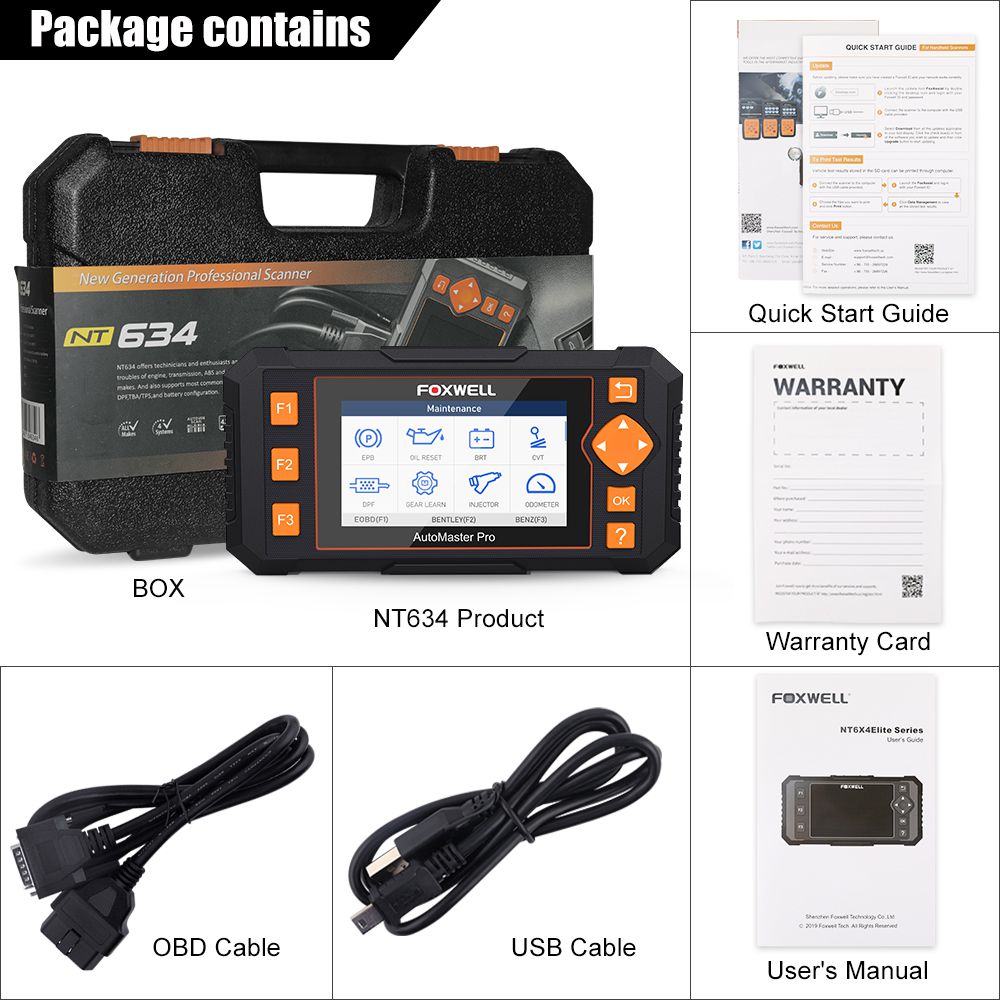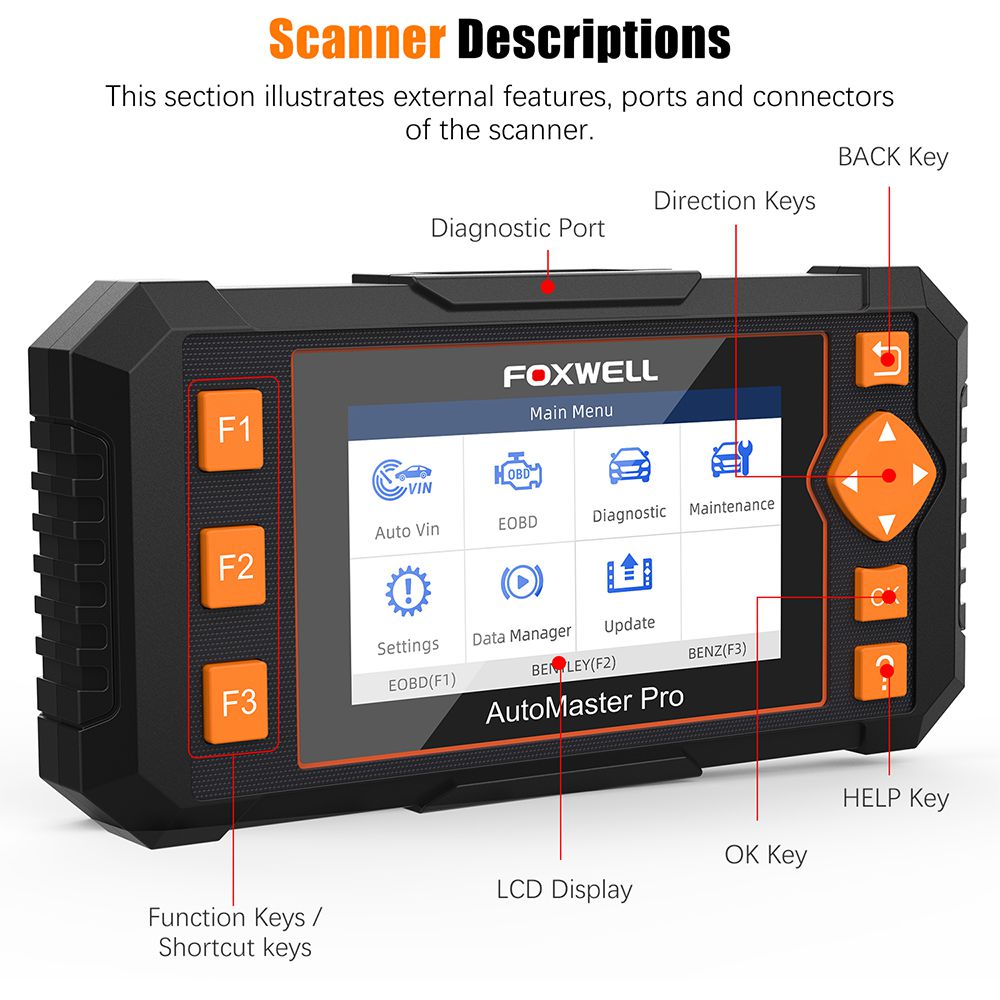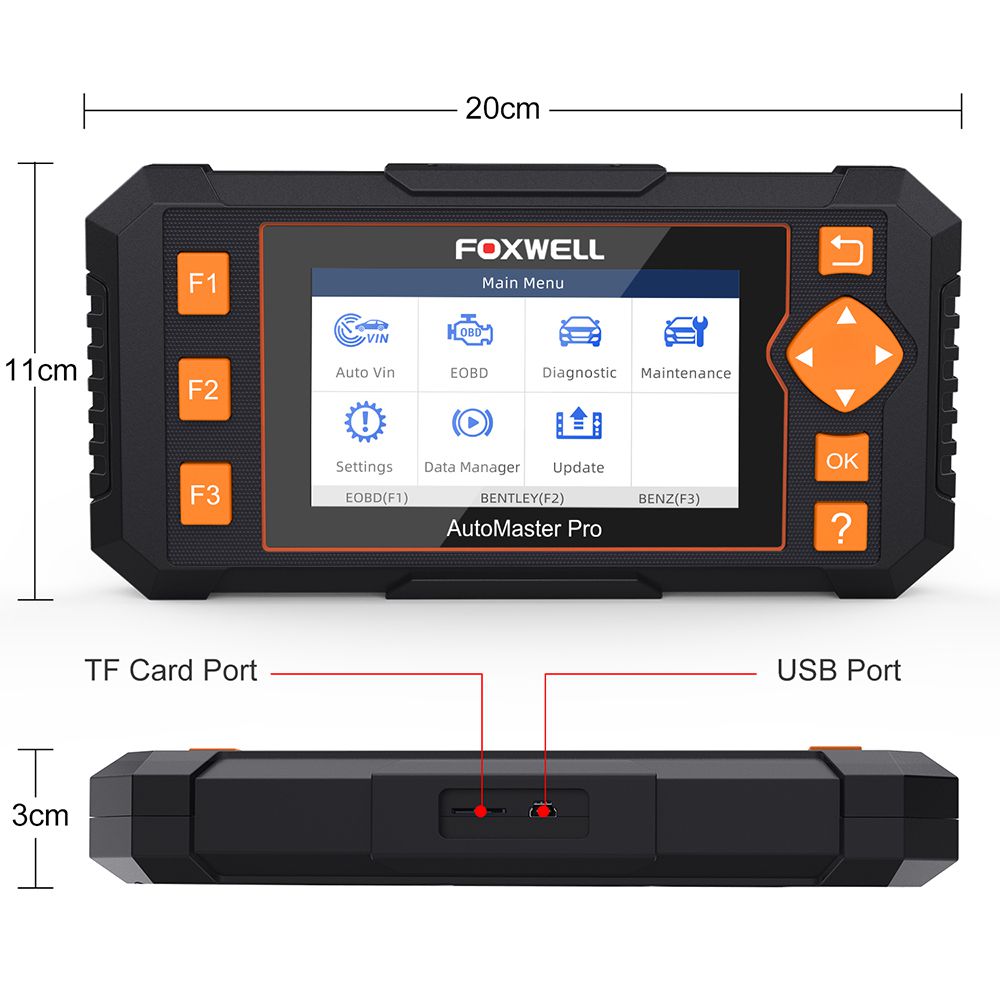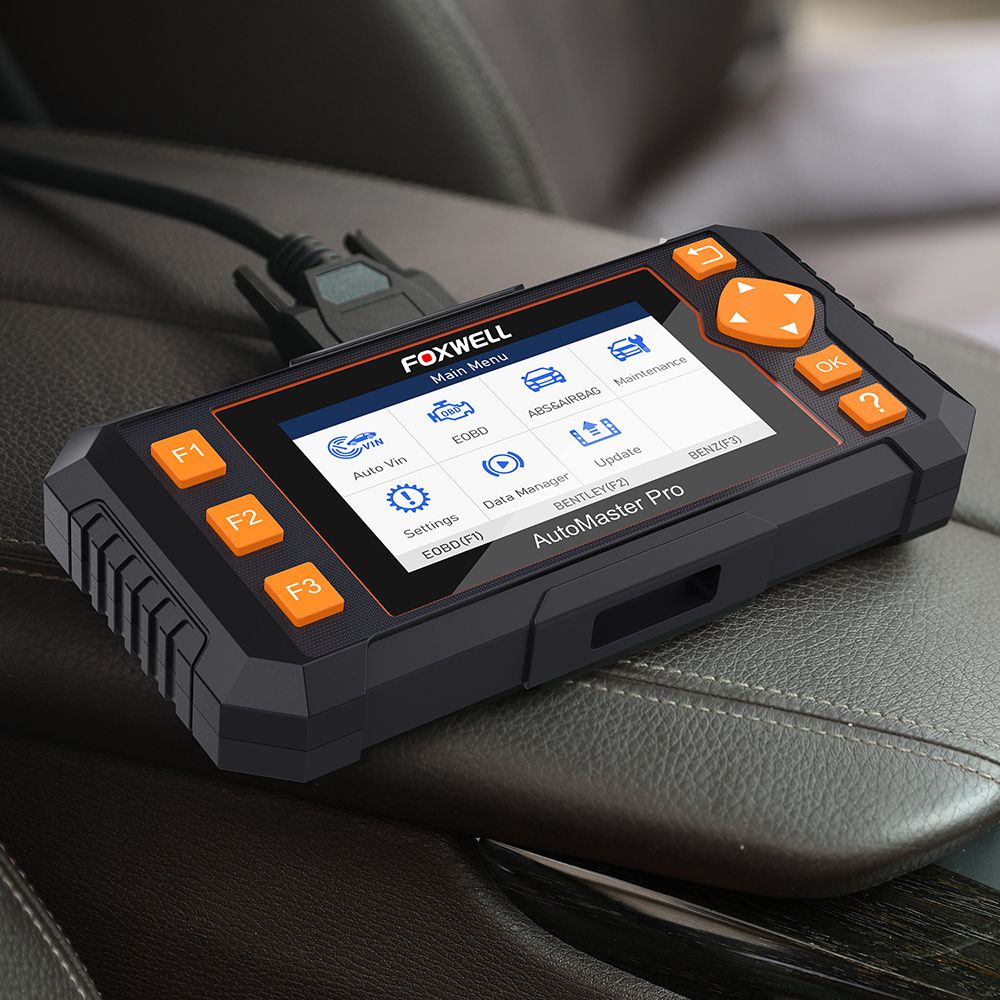 What is the diffrence between NT614 ELITE, NT624 ELITE and NT634?
If you need know more, you can contact me.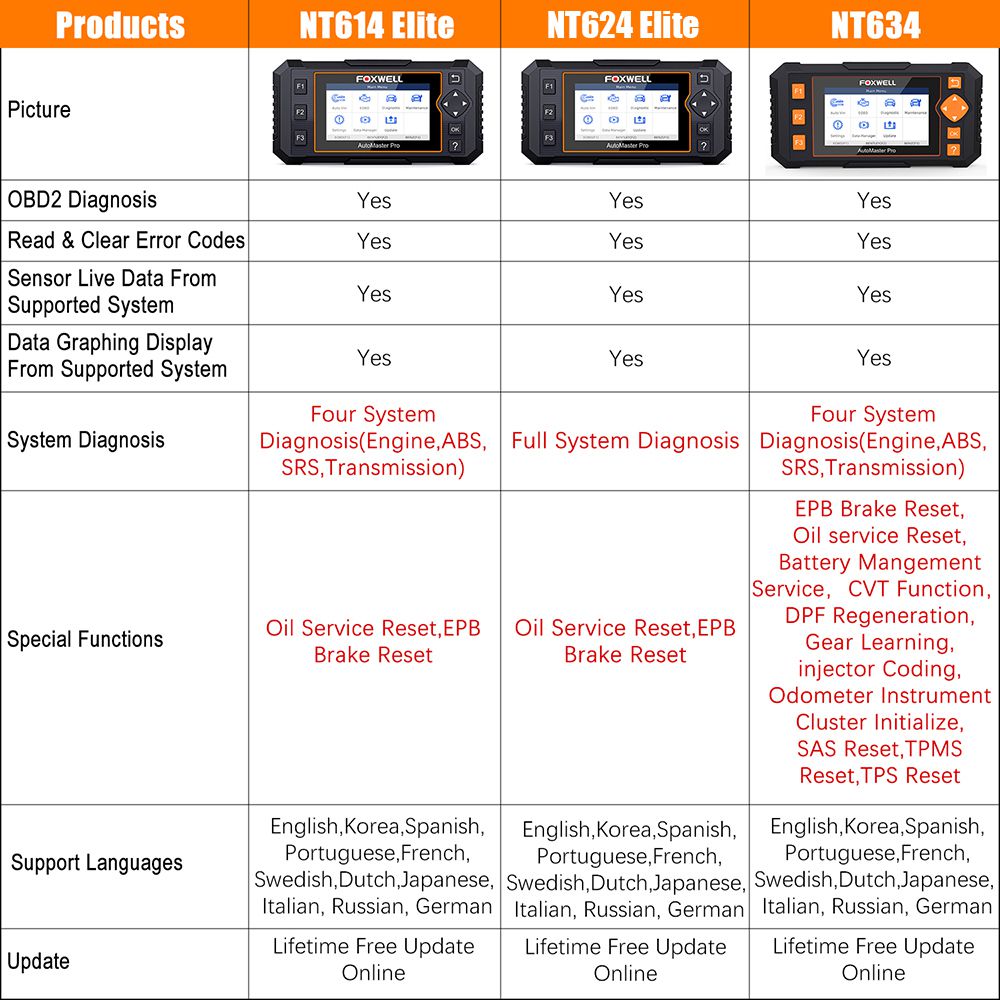 Previous: Impact 2018.11 Version for Volvo EPC Catalogue Information on Repair, Spare Parts, Diagnostics, Service Bulletins
Next: Foxwell NT644 Elite Full System OBD OBD2 Scanner Code Reader DPF SAS Oil EPB BRT 19 Reset Service OBD 2 Car Diagnostic Tool