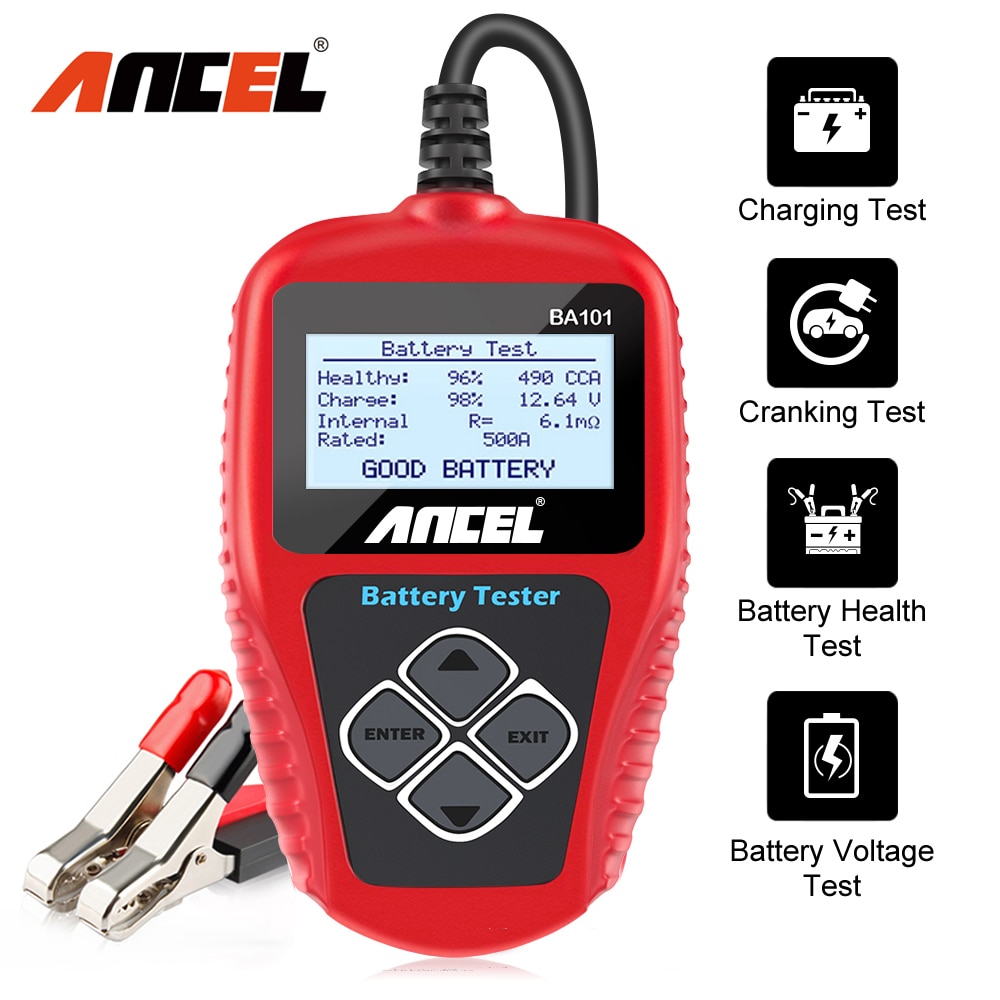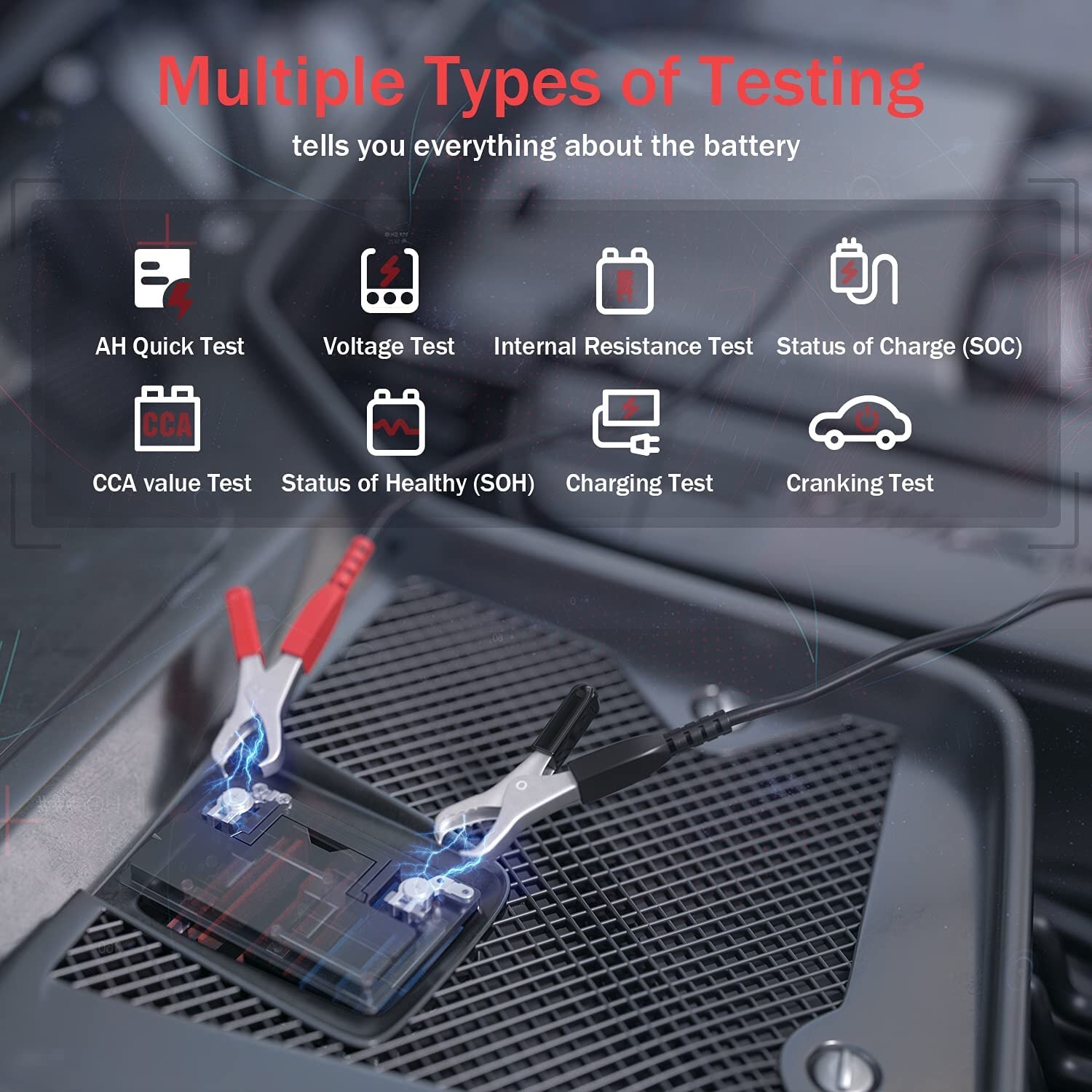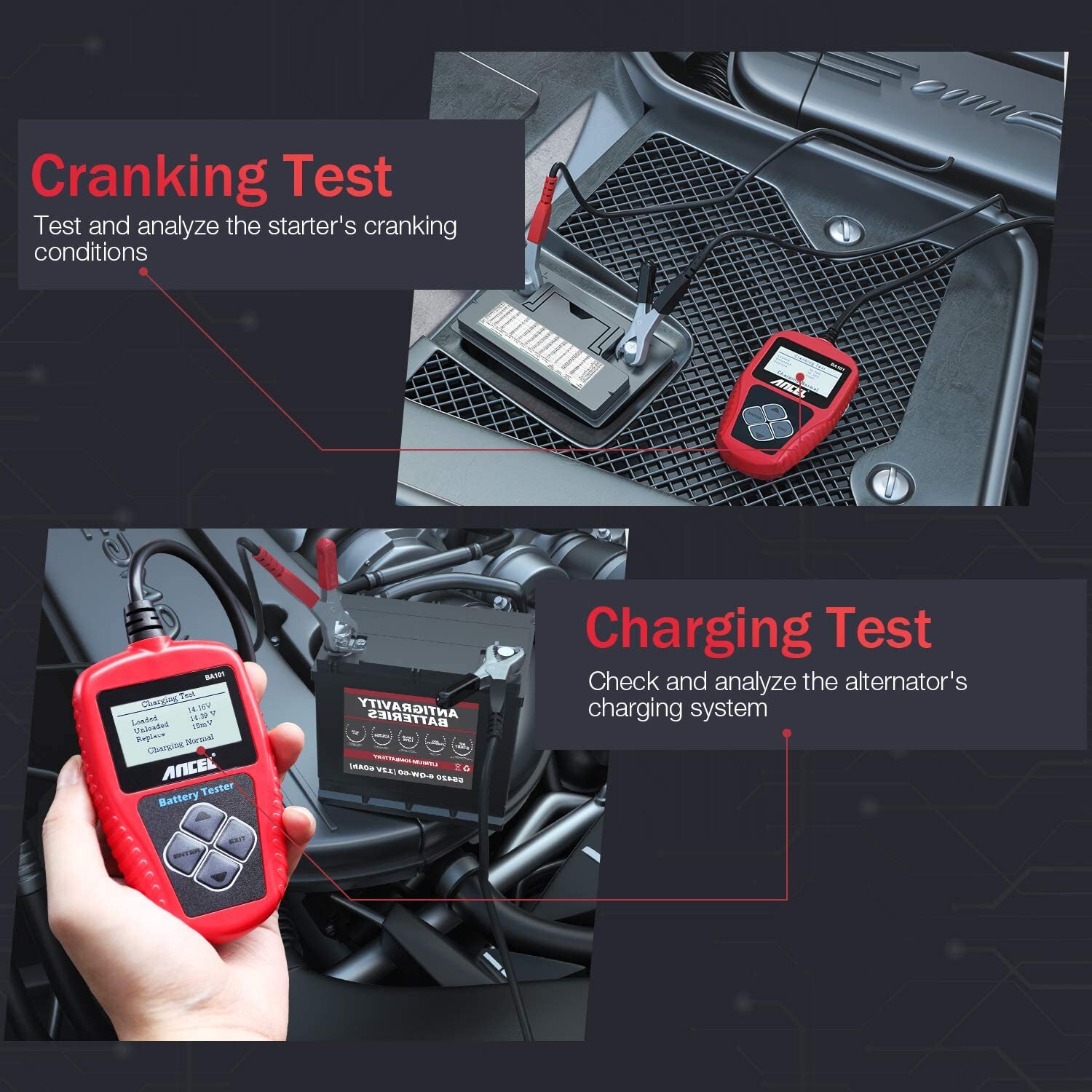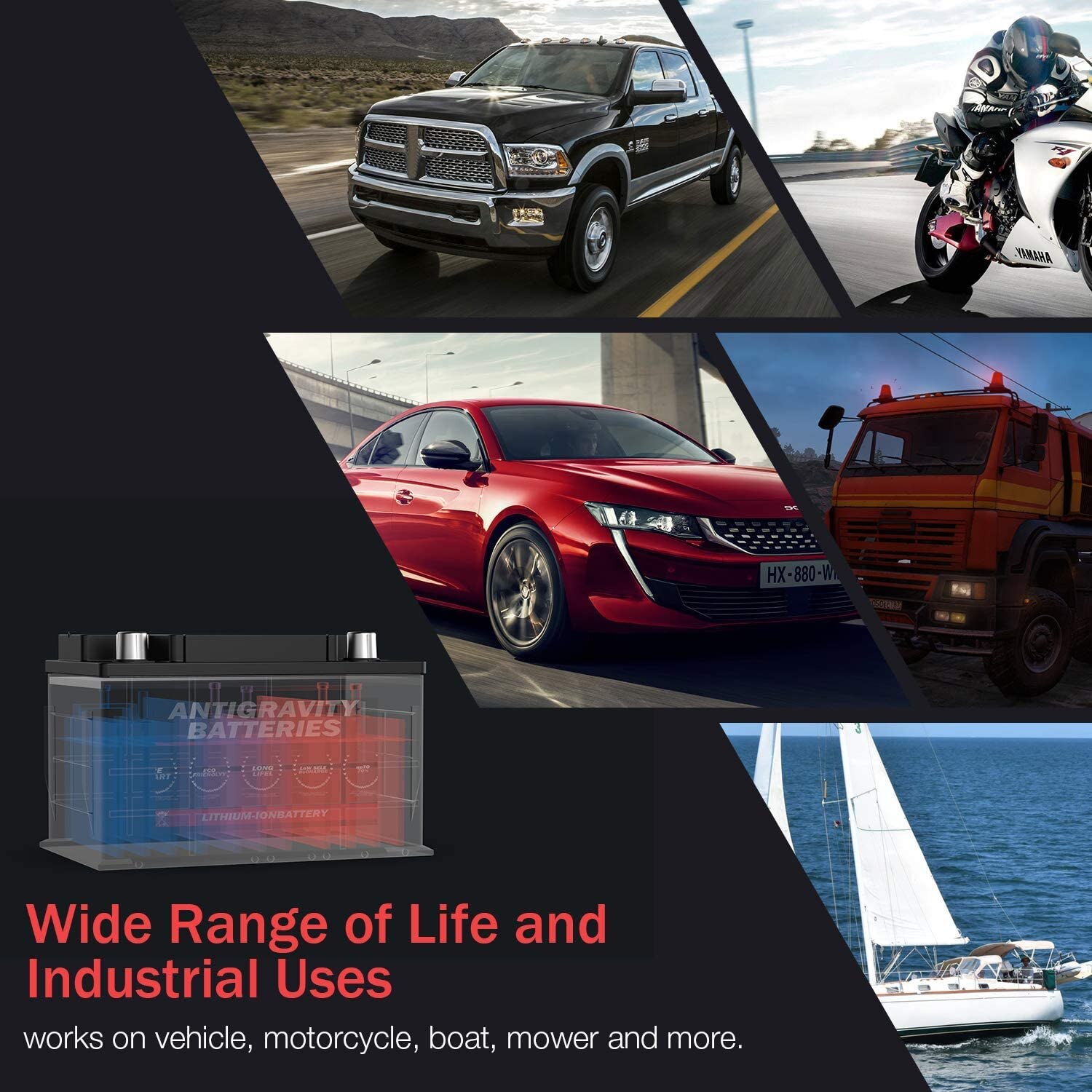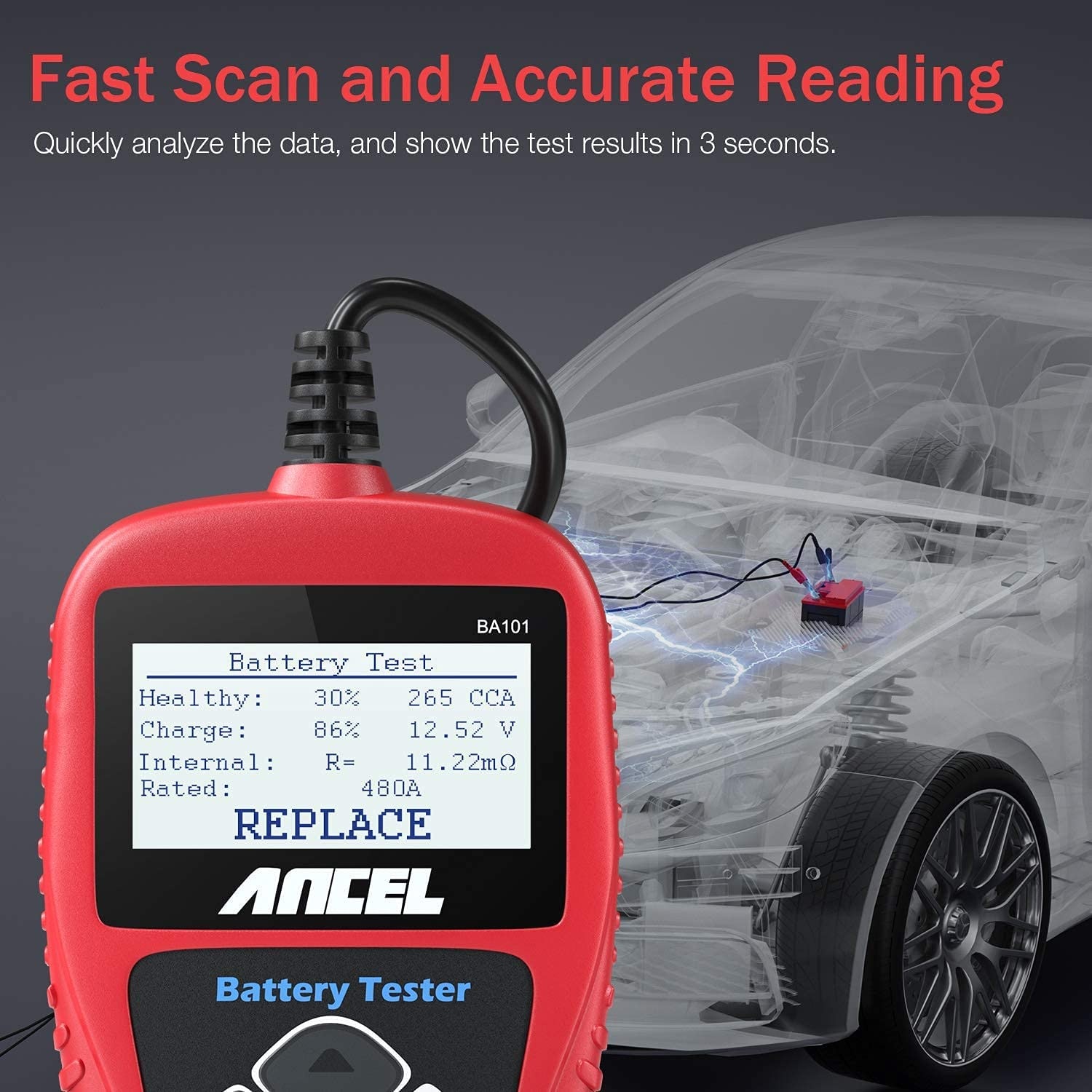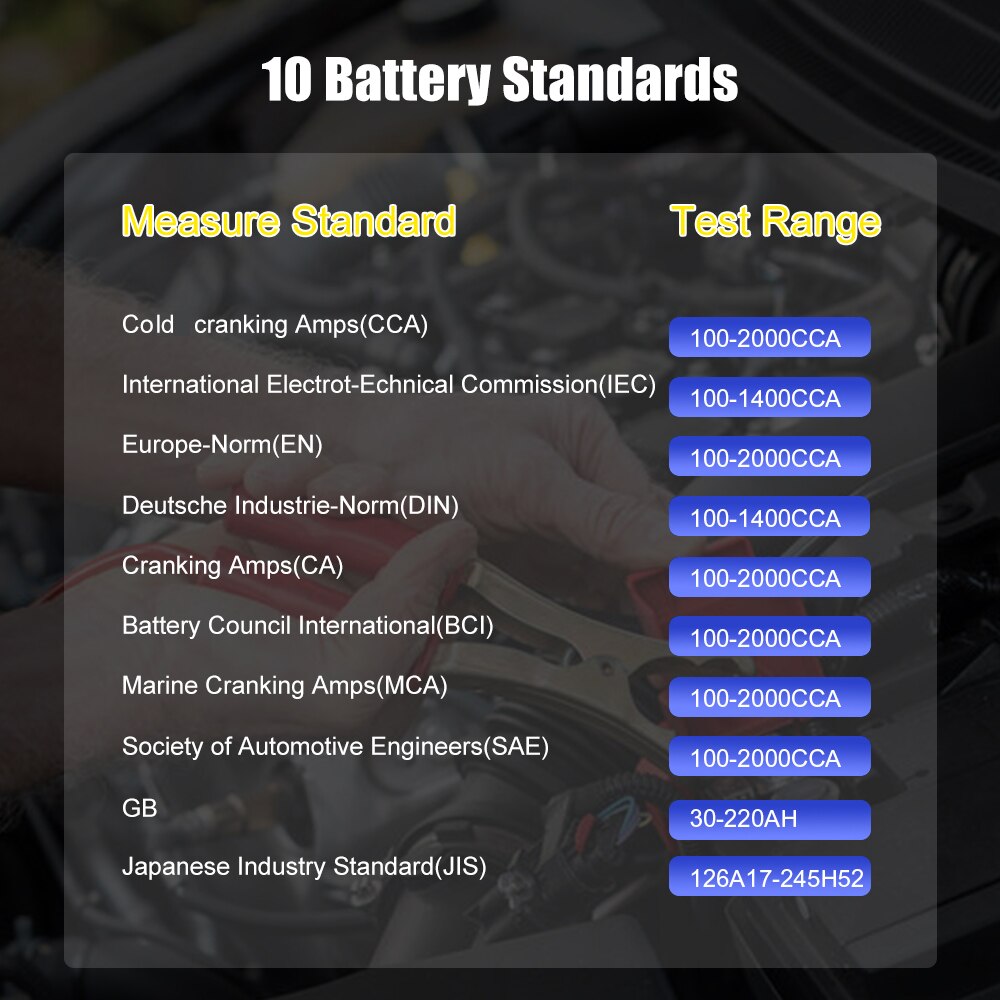 Related Accessories/Similar Items
Description
Why Choose Us ?
1. 100% Original ANCEL Device:
We are Authorized Distributor of ANCEL Brand, 100% Brand New ANCEL Original Genuine with software update and warranty
2. All products have been passed strict quality test before shipment, make sure high quality. Lifetime Tech Support from ANCEL
The BA101 Advantages:
1. Simple and easy to use
2. Tests batteries on and off the vehicle
3. Accurate results in milliseconds
4. Battery life analysis
5. Analysis results: Good or Replace
6. Large easy to read LCD screen
7. Test results based on JIS, EN, DIN, SAE and IEC Standards
8. Quick test - inputs battery volume (AH), then shows battery status
9. Vehicle cranking system test - cranking time, voltage and status
10. Store the testing result and the print function
11. Vehicle charging system test—load voltage, unloaded voltage, ripple status, and charging system status
BA101 Functions:
1. Test Results: Good or Replace
2. Internal resistance value (m)
3. Life in percentage (%)
4. Cranking system
5. Charging system
6. Operating Parameters:
7. System voltage: 12 Volts
8. Input voltage range: 9V~15V
9. Power requirements: No internal batteries required
10.Capacity: Cold Cranking Amps (CCA), DIN, EN and IEC information relative to battery rating
ONE-CLICK QUICK TEST :
it can make sure the battery status, including voltage, CCA, electronic resistance, rated CCA, charging value, healthy value and testing result in one second. Once input the AH value—battery rated capacity, which is marked in the label of the battery.

1). Press UP/DOWN key to select the Quick test, then press ENTER key to confirm.
2). Input the rated battery capacity—xx AH, in general, the battery capacity for 12V vehicle is above 30AH.
3). Then press enter key, the testing result will show one of these, as below Battery test result includes 5 types as following:
Ancel BA101 Car Battery Tester Application :
Use to test a wide range of 12V batteries (Starting [SLI], Deep Cycled and Marine) of Wet (Flooded), VRLA or Maintenance Free (MF), Sealed Maintenance Free (SMF), Absorption Glass Mat (AGM) and GEL cell. The major battery standards JIS, SAE, EN, DIN and IEC are supported.
Ancel BA101 Two Built-in Multi-Language Version
1.European Version: English, Spanish, French, German, Italian, Polish
2.Asian Version: English,Japanese, Korean, Chinese
Is the battery good or does it need to be replaced?
Is the battery good or does it need to be replaced?
It tests the battery's CCA (or AH) value, charge (%), voltage (v), internal resistance (Ω), rated, and battery health (%), etc. After a comprehensive analysis of the data, it provides an accurate assessment of whether a battery is good or needs to be replaced. The test result is shown directly by text prompt, giving an accurate display of the battery with percentage and numerical values.
1. Designed with reverse polarity protection, may not damage the tester or affect the vehicle and battery.
2. No internal battery required and gets power directly from the detected battery.
3. The testing based on battery location "in-vehicle" or "out-of-vehicle" makes the test result is more accurate.
4. Connect the red clamp to the positive(+) terminal and the black clamp to the negative(-) terminal.
Ancel BA101 Test Data Print Out for WIN7 :
1.Please leave us email address to get the print out drive and software for laptop or download in Our Ancel official net : https://www.anceltech.com/
Package list
1* Ancel BA101
1* User Manual
1* USB Cable
Previous: ANCEL BM500 OBD2 Scanner All System Car Diagnostic Tool Engine ABS SRS SAS EPB ETC BMS PCM Oil Reset Automotive Scanner for BMW
Next: ANCEL S3000 Upgraded Car Smoke Leak Detector Exhaust Smoke Meter Machines Leak Locator Automotive Diagnostic Of Pipe Systems