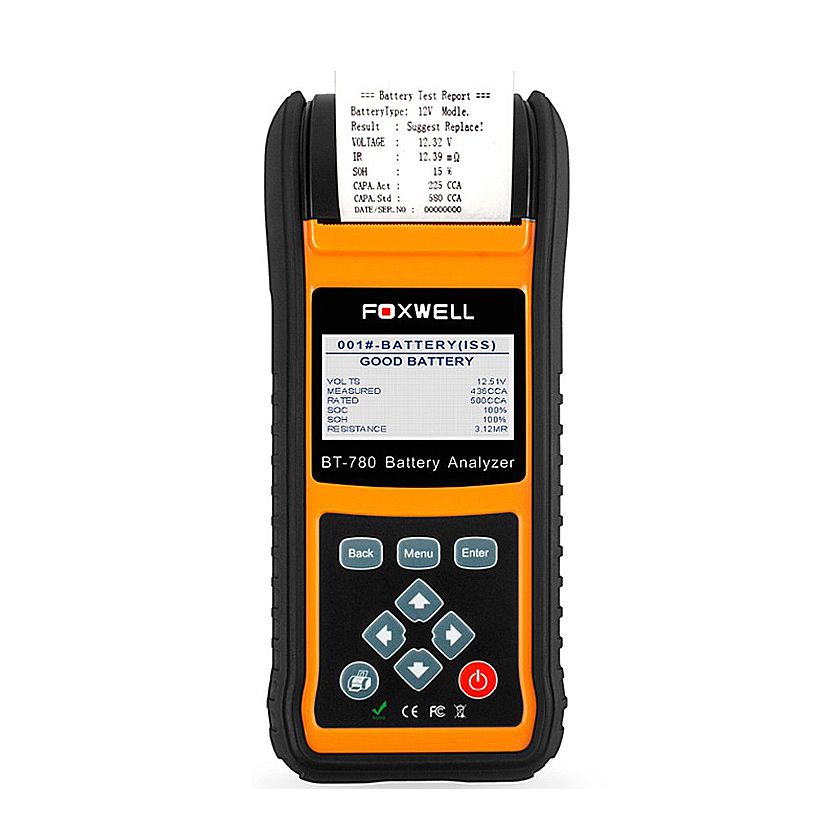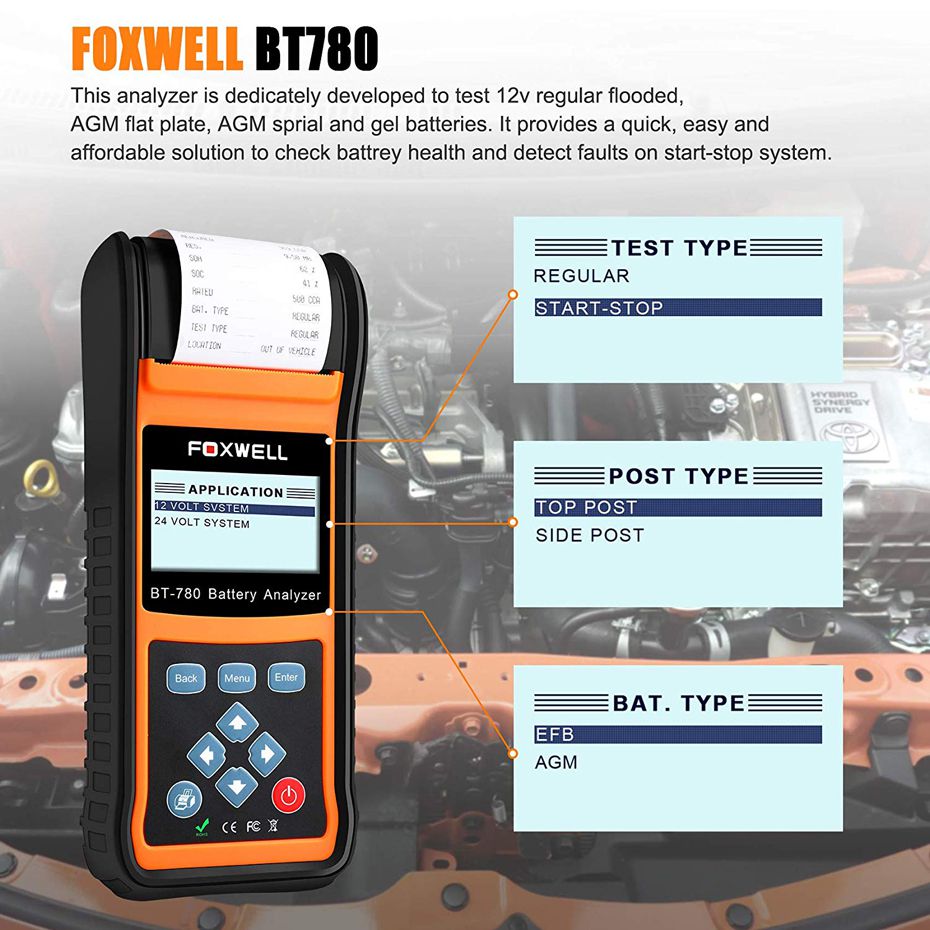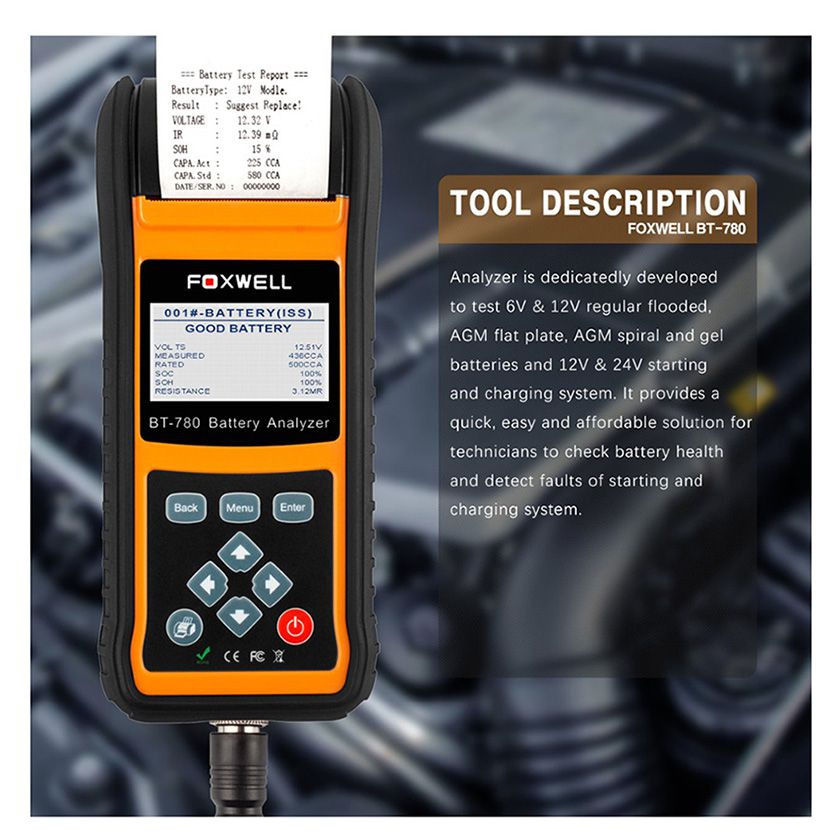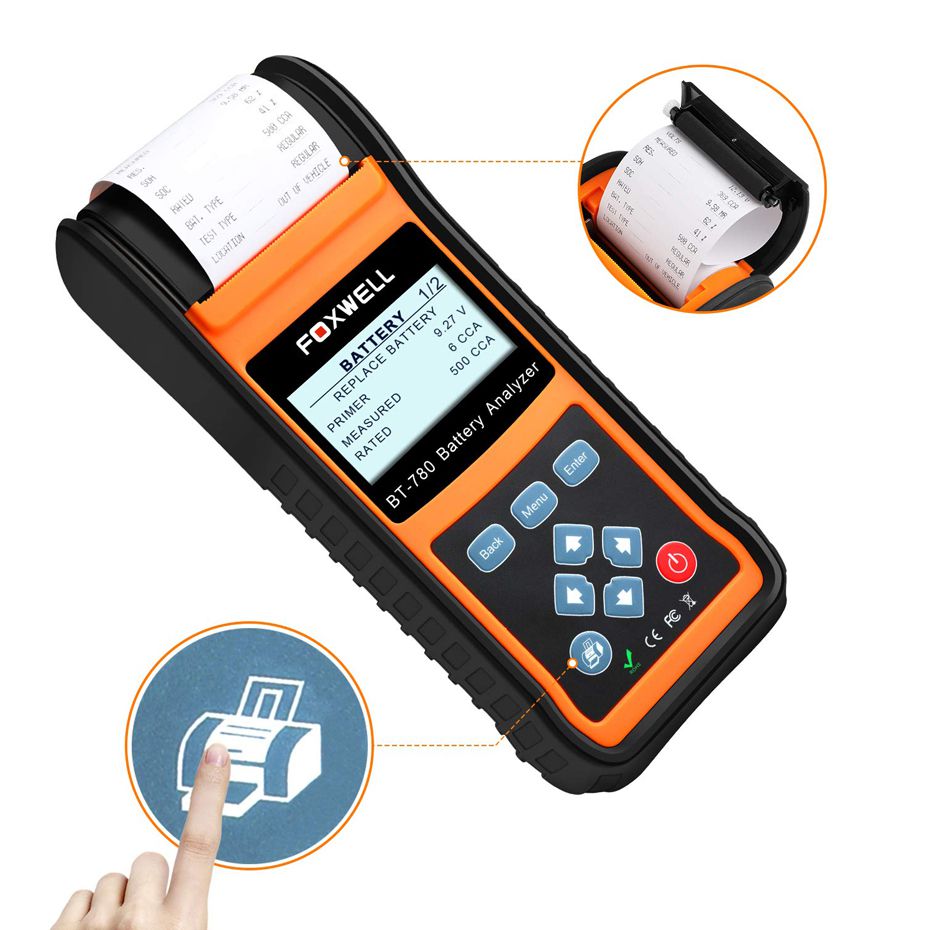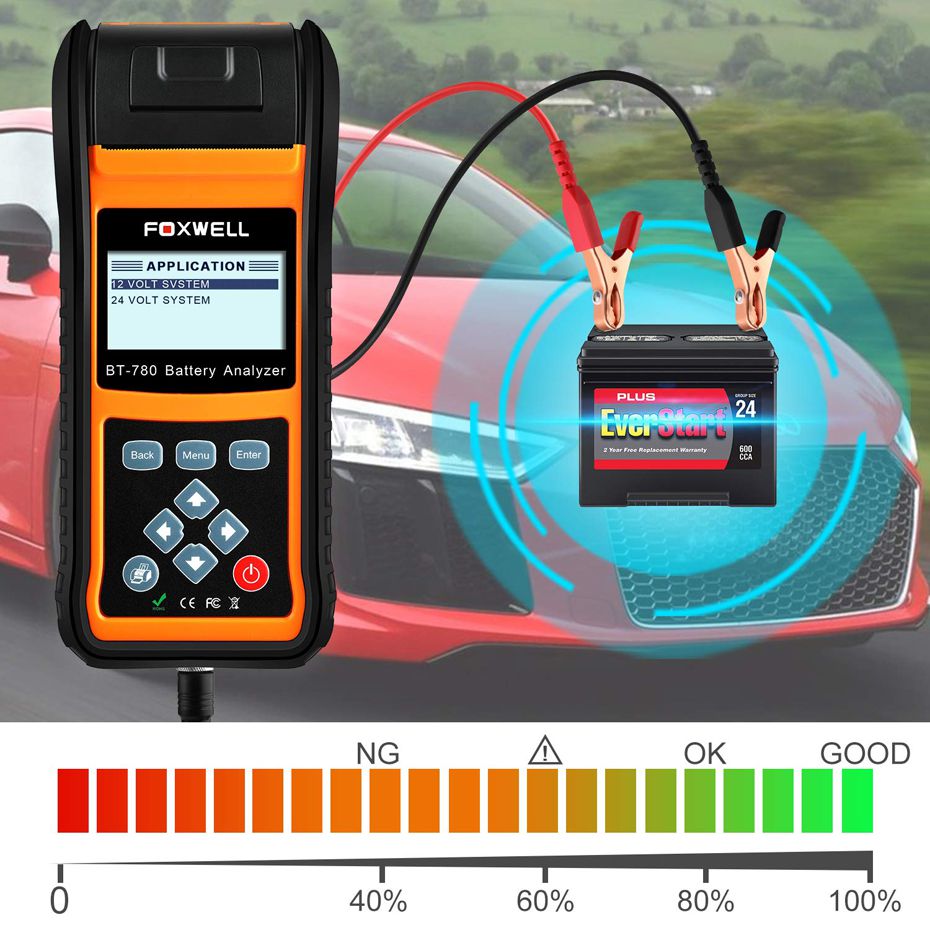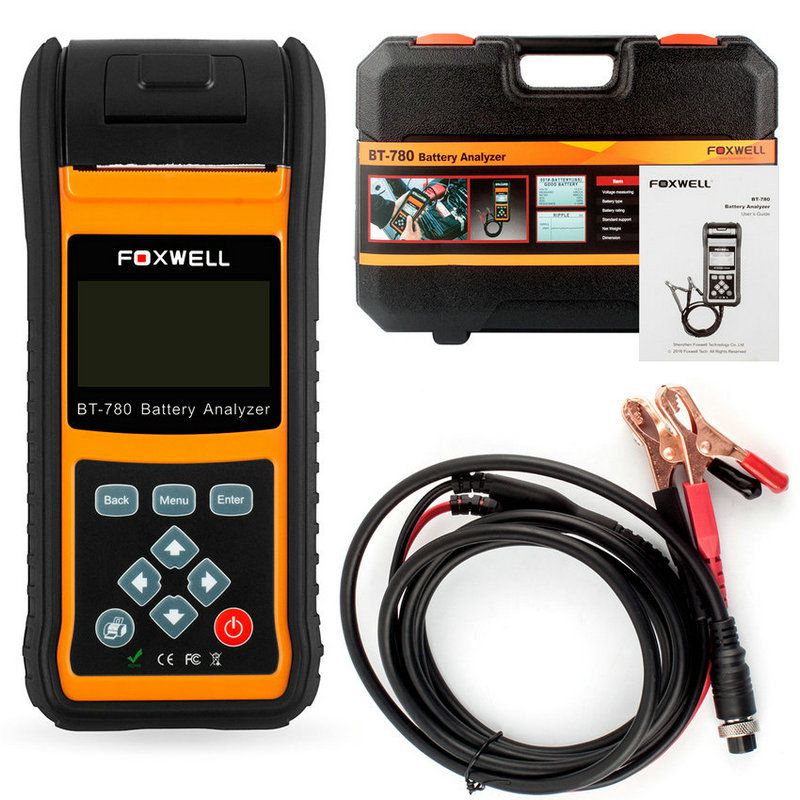 Description
FOXWELL BT780 12V Battery Tester 0-1000A Car AGM GEL EBP Batteries Analyzer Built-in Printer 12V-24V Starting and Charging System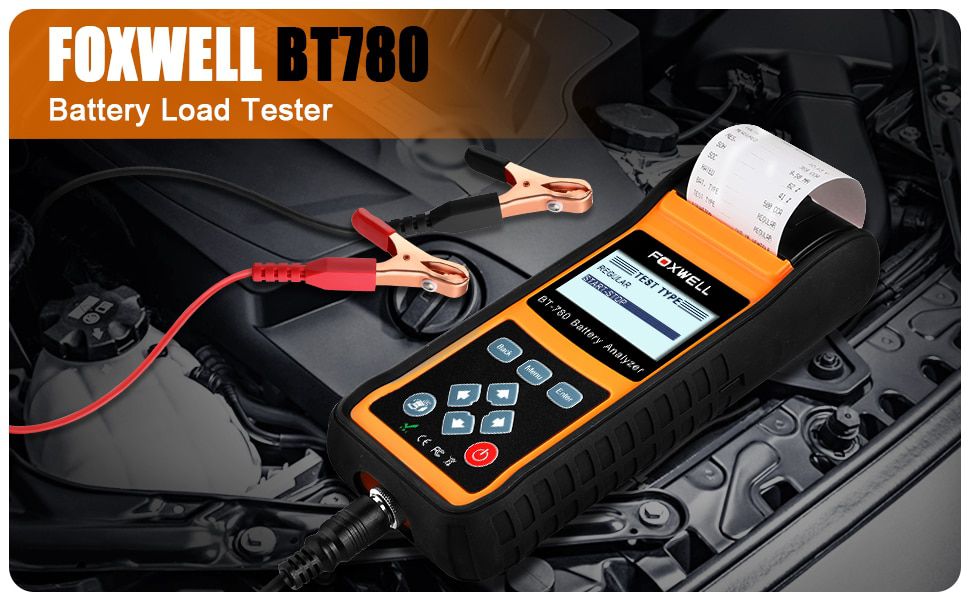 Foxwell BT780 12V & 24V Car Battery Tester Features and Benefits:
* Multiple vehicle applications –passenger cars and duty trucks
* Tests batteries from rated from 100 to 2000CCA
* Tests multiple battery types- regular flooded,AGM flat plate ,A
GM
spiral and gel
* Tests multiple rating systems-CCA,BCI,CA,MCA,JIS,DIN,IEC,EN,SAE,GB
* Tests the batteries on the car directly- no need to remove the battery
* Detects bad cells
* Quick and accurate test result display in just 3 seconds
* Tests 12&24 volt charging system
* Advanced starter /alternator test
* Quick starter analysis without disabling the ignition
* Does not emit light,heat or spark ,or discharge battery-keeps operation safe for all levels of users
* Automatic temperature compensation
* Ripple voltage test for easy and intuitive check of faults
* Extremely easy to use with large backlight LCD display and menu-driven operation
​* Built in thermal printer make it possible for the techinicains to print test result as anytim and anywhere
English, Dutch, French,German, Hungarian, Japanese, Korean, Portuguese, Russian and Spanish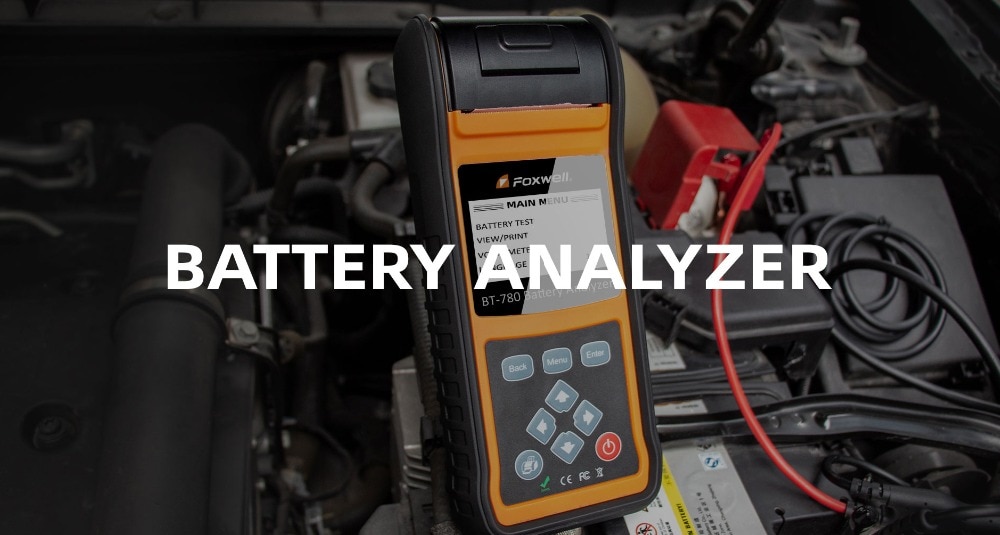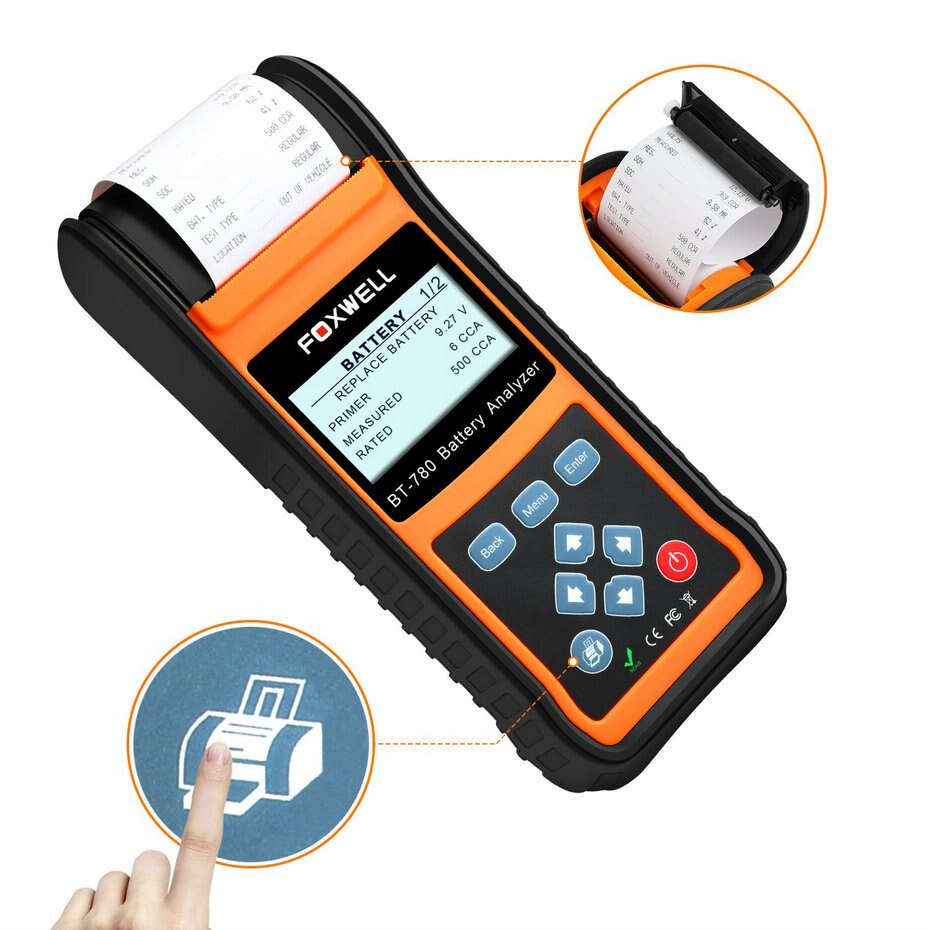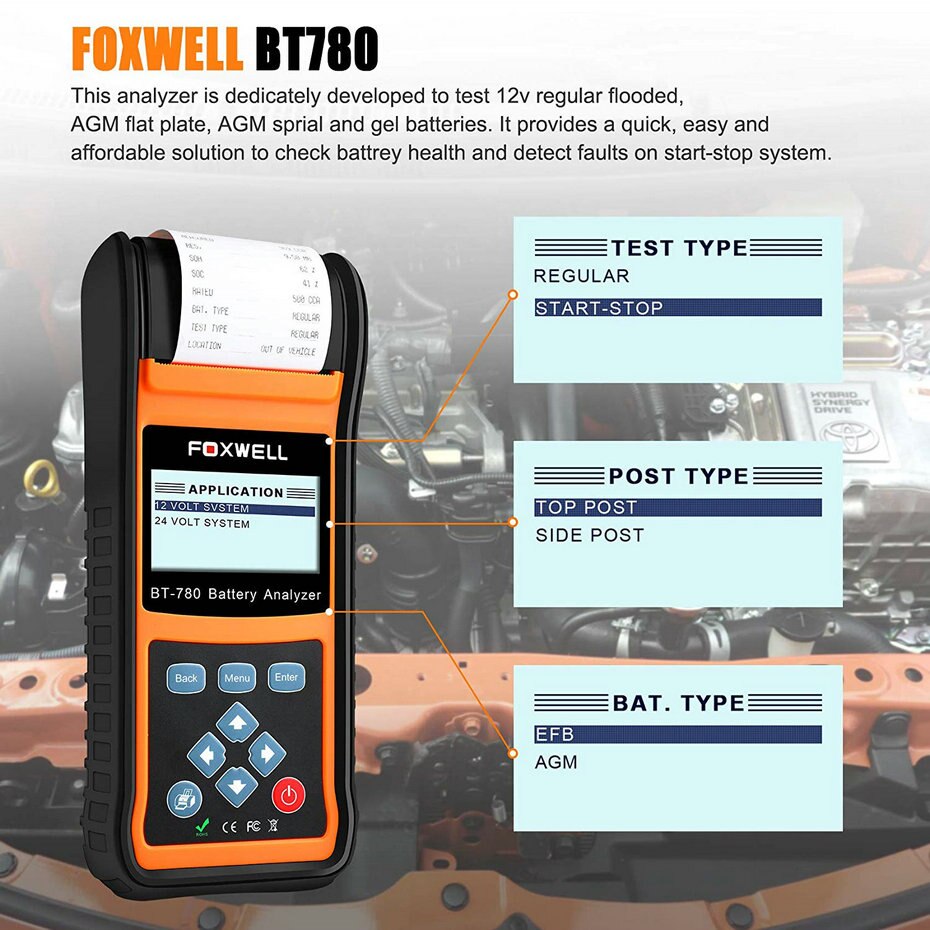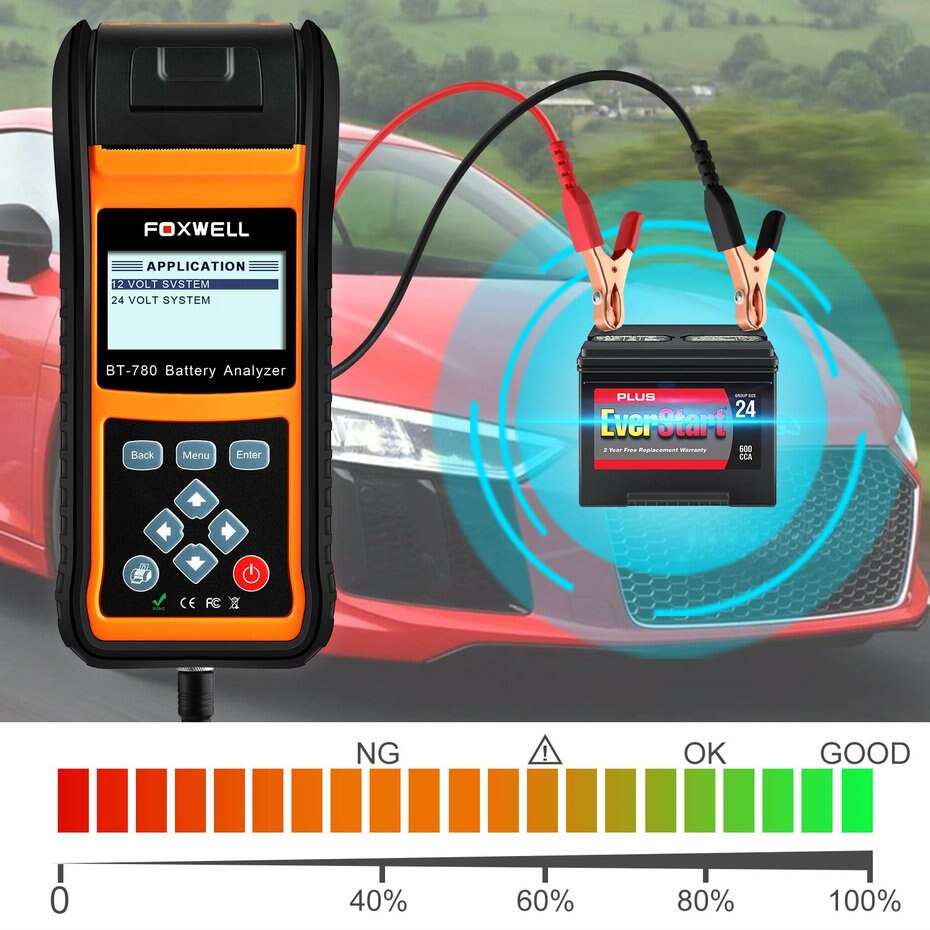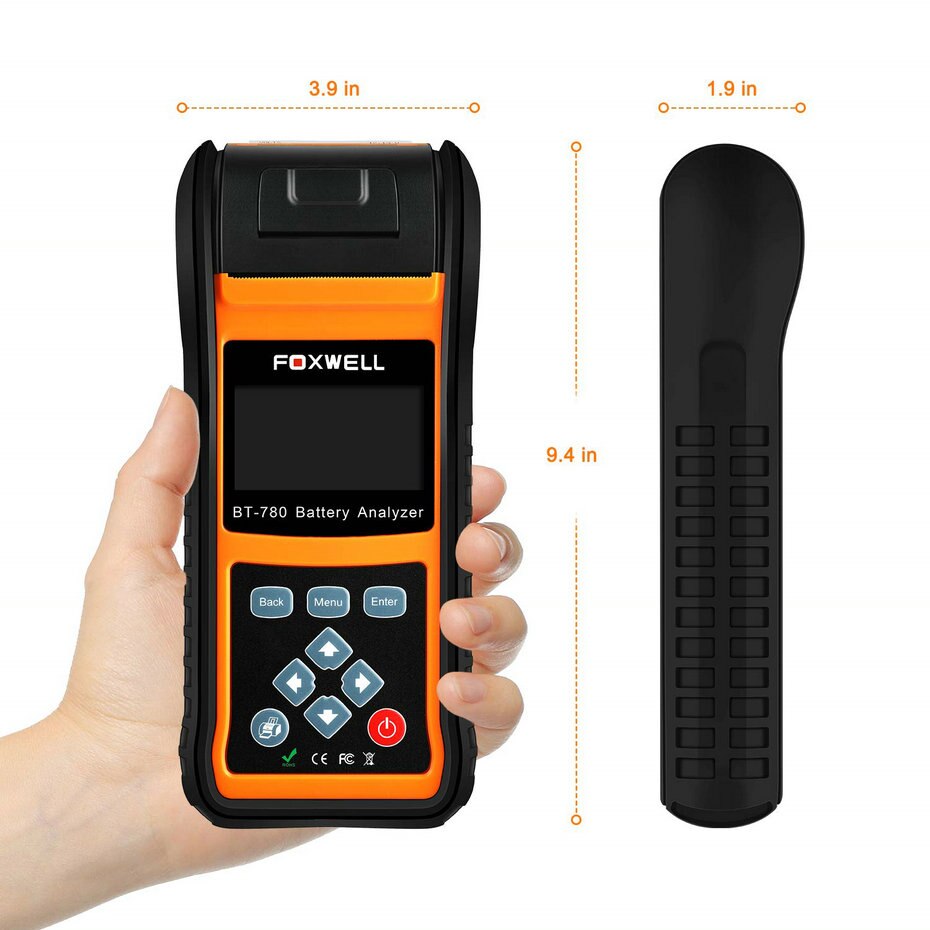 Foxwell BT780 Package list:
1 x Car Battery Tester BT780 Main Unit
1 x User's Guide
1 x Blow molding case
1 x USB Card Reader
​1 x Battery Clip
Note: 0-1000A Current Clamp is optional part, not include in the package.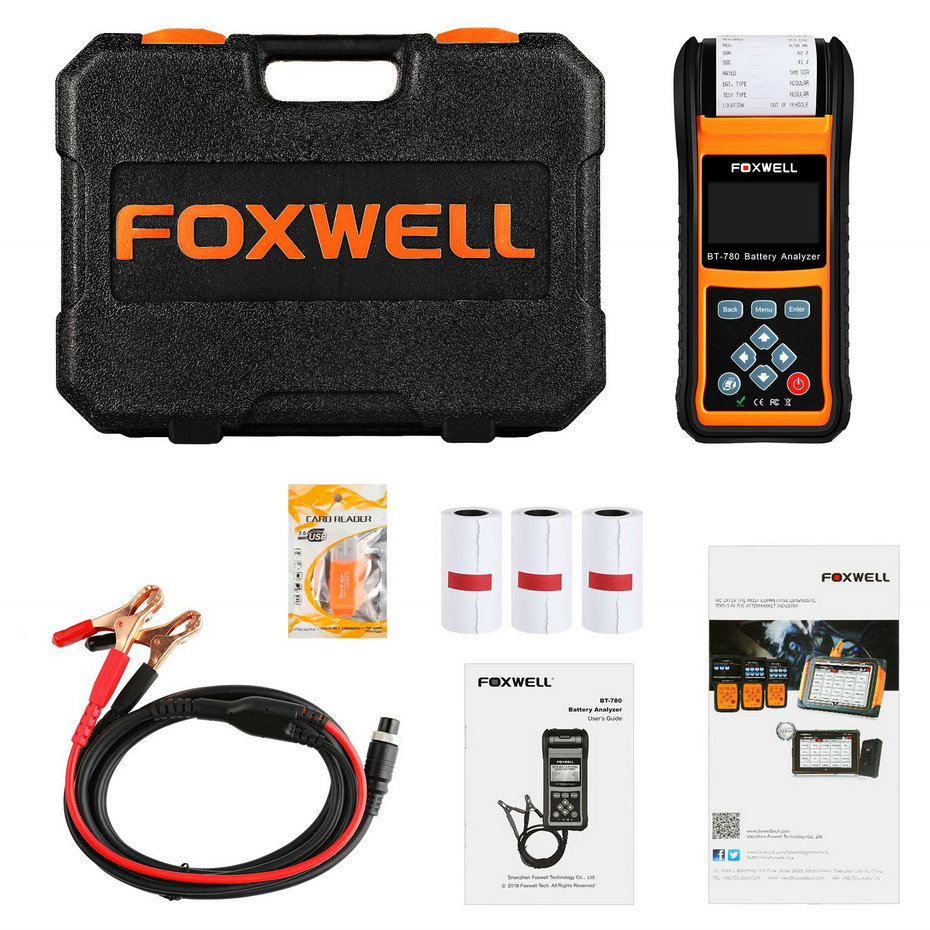 ​FAQ before order:
Q1. This battery tester support what language?
A1: BT780 support : English, French, German, Hungarian, Ducth, Janpanese, Korean, Portuaguese, Russian, Spanish and Chinese.
Q2. BT780 can support my truck 24V battery and how can i record battery test result?
A2: Yes, It can support 12V Car and 12V Duty Truck regular flooded, AGM flat plate, A
GM
spiral and GEL batteries fast test, you can print test result at anytime, it is easy check it after work.
Q3. This tester can test vehicle charging system health?
A3: Yes, It provides a quick, easy and affordable solution for technicians to check battery health and detect faults of starting and charging system.
Q4: My RS350 use start-stop battery, normal battery tester can not work it, your BT780 can work with my battery?
A4: Yes, It can test Start-Stop AGM and EFB Batteries, please don't worry.
Q5: Does this machine have another special function?
A5: it also support battery resistance and AC current ripple test etc, you can print test result at anytime, it is easy check it after work.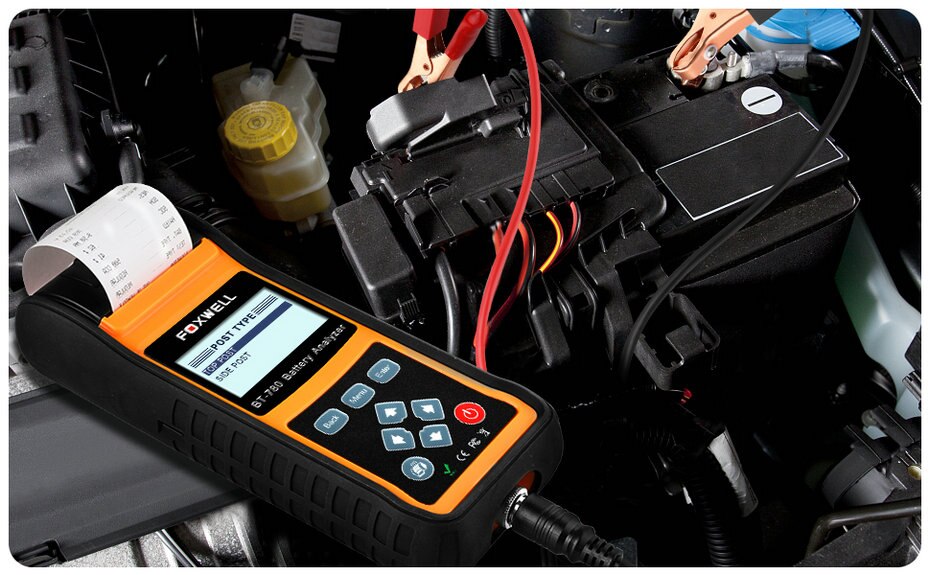 Reviews

15
#1 GJ Gabrielski
Nov 9, 2018

Delivery fast everything works!!!
#1 Seaborn harden
Oct 9, 2018

It came quickly. Everything works.Thank you to the seller. I will buy more here!
#1 dapota
Jan 9, 2019

Everything is just perfect! This store and seller are perfect! Strongly recommended!
#1 Jeffrey Cross
Oct 9, 2018

Good product ...... works perfectly… no problem Recommend the purchase. Arrived fast ahead of schedule. Not the two came together, arrived separate but both came in perfect condition.
#1 DIRK BOETTCHER
Jul 9, 2018

fast shipping ,awesome
#1 Dina al zayatna
Oct 9, 2018

Very good arrived early as agreed.
#1 Hiroyuki Kotaki
May 9, 2018

fits my machine perfectly this FOXWELL BT780 12V Battery Tester 0-1000A Car AGM GEL EBP Batteries Analyzer Built-in Printer 12V-24V Starting Charging System is good quality, working very well
#1 Kyung Chan Son
Apr 9, 2019

Super fast! Works
#1 John O'Sullivan
Oct 9, 2018

Good product I recommended.
#1 JEAN ROSIO
Jan 9, 2019

Very fast shipping. Six days I received. Good product. Thank you seller.
Previous: V2019.7 BMW ICOM ISTA/D 4.17 ISTA/P 3.66 500G DELL Format HDD
Next: New WIFI VAS6154 V7.11 VAG Diagnostic Tool for VW Audi Skoda