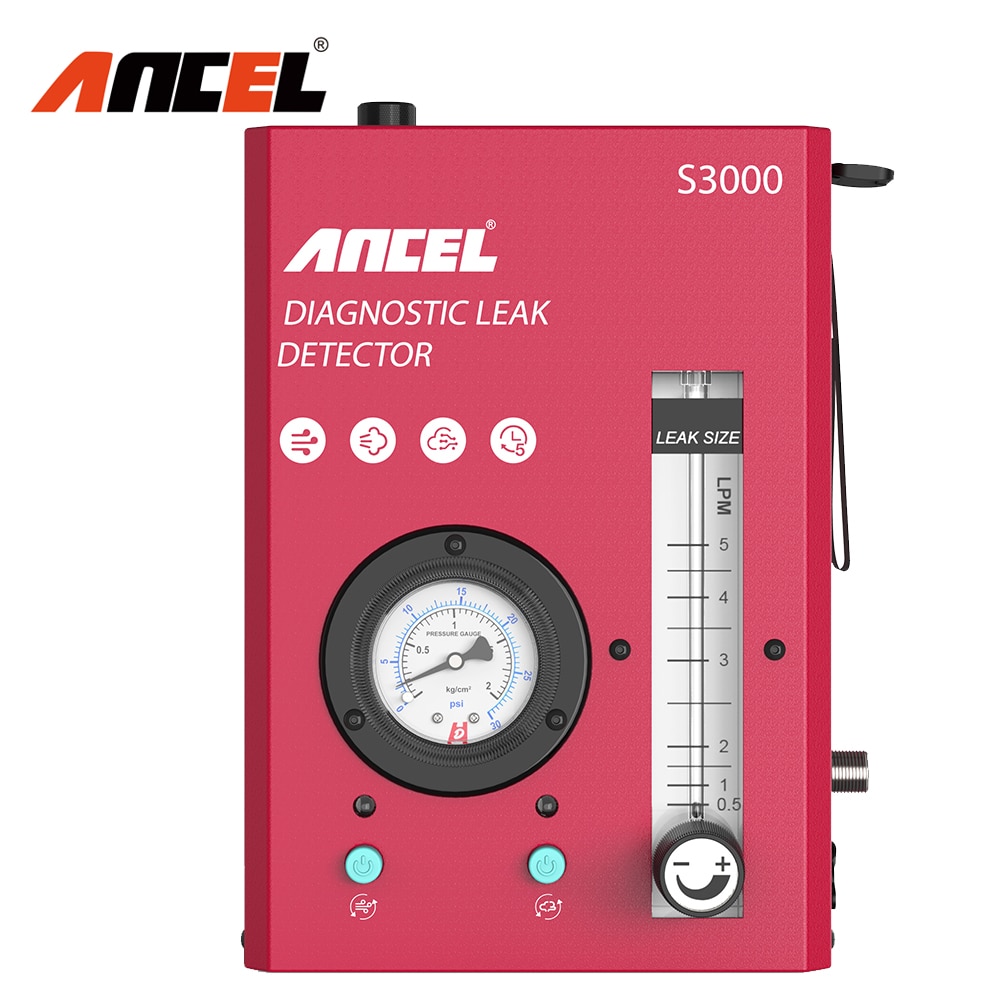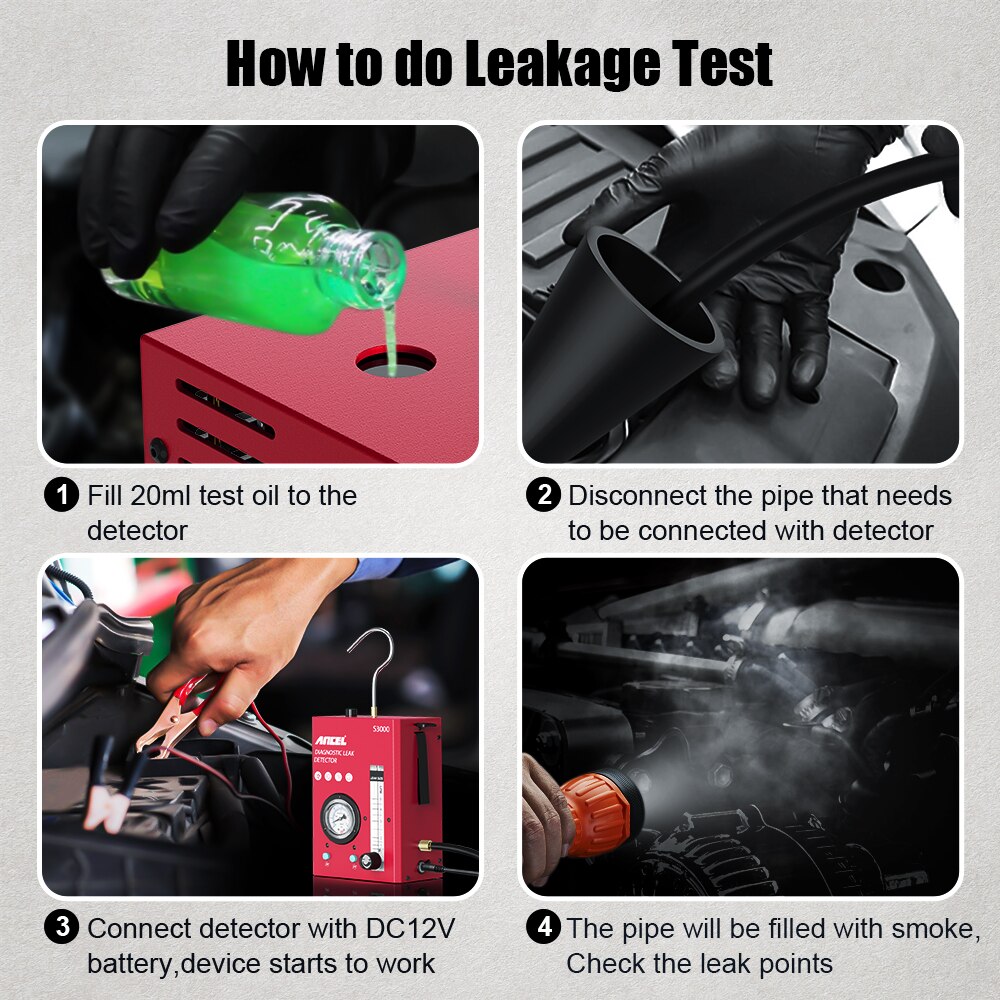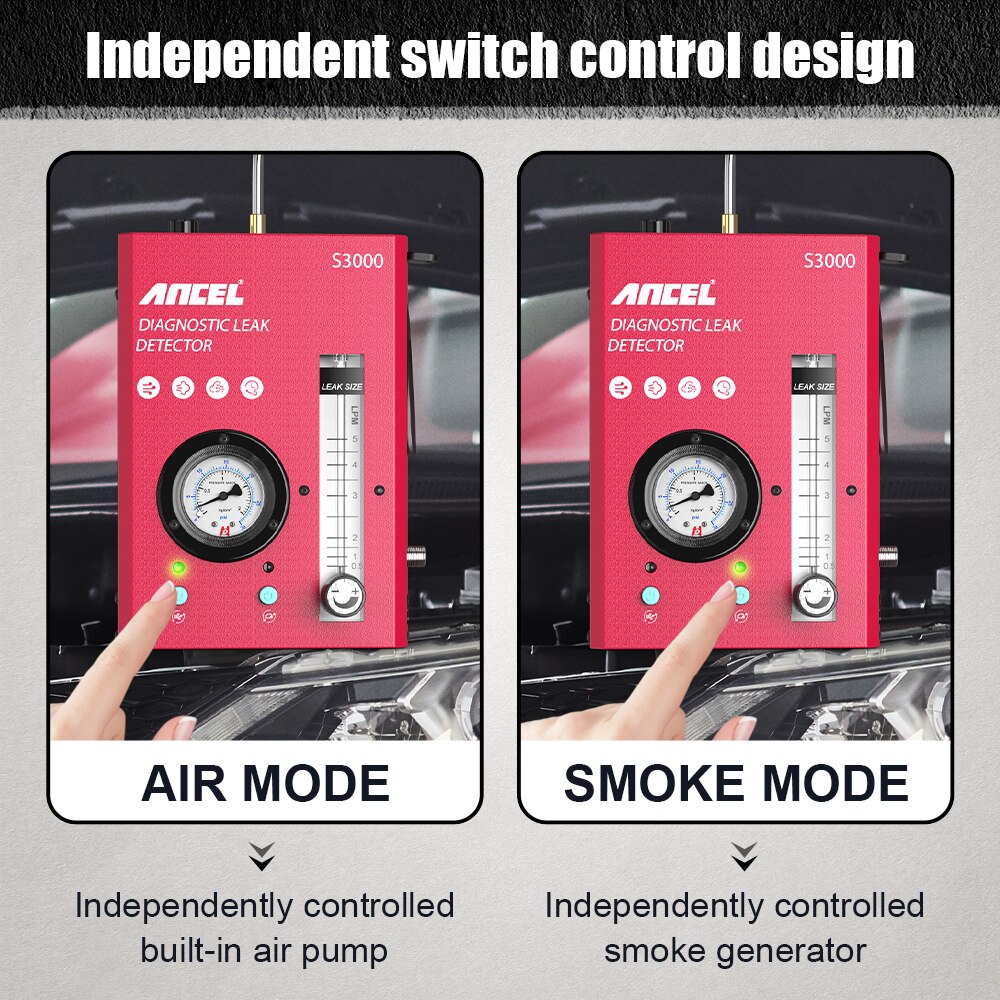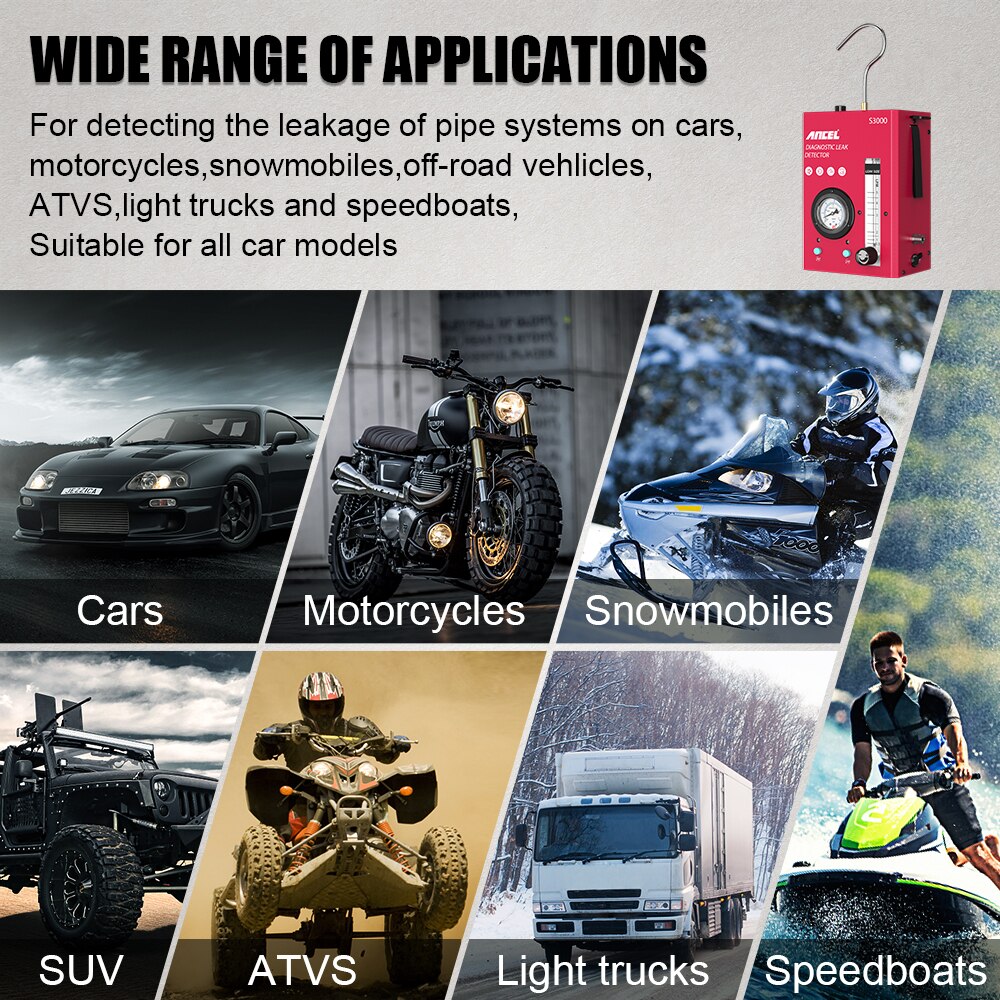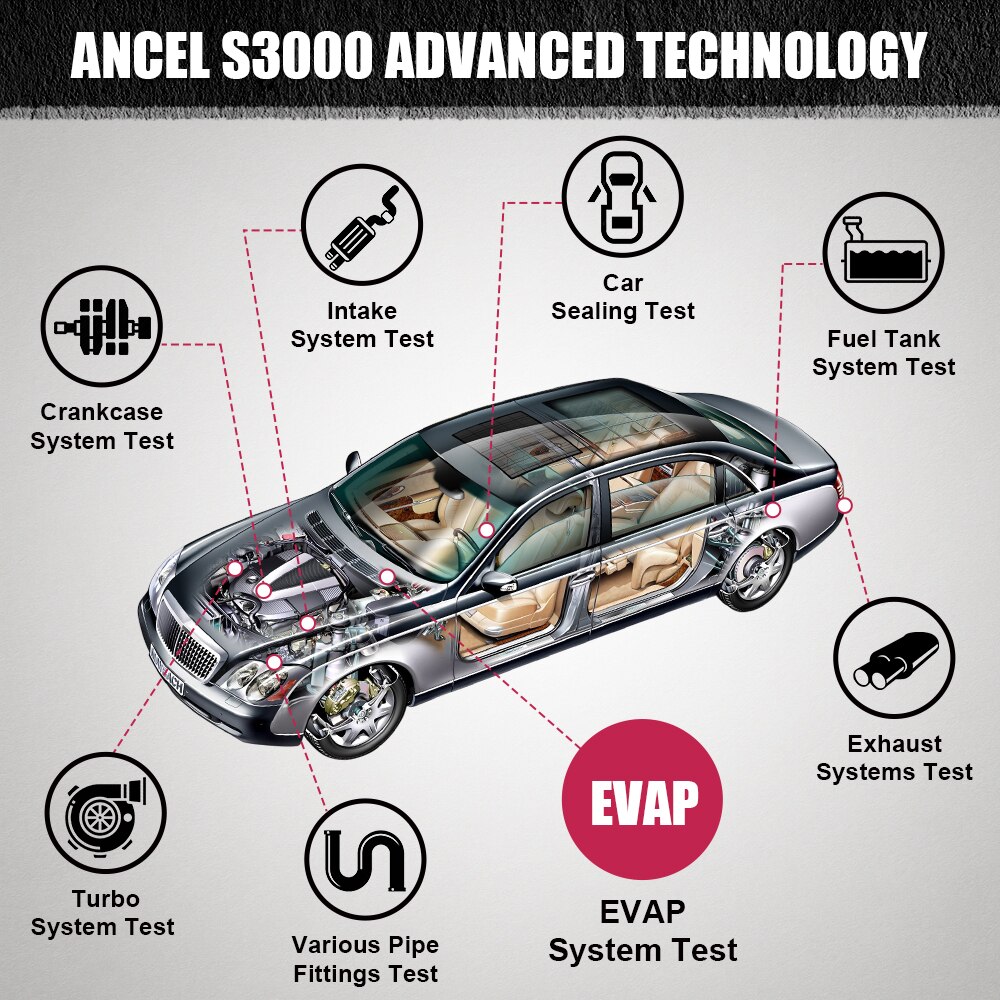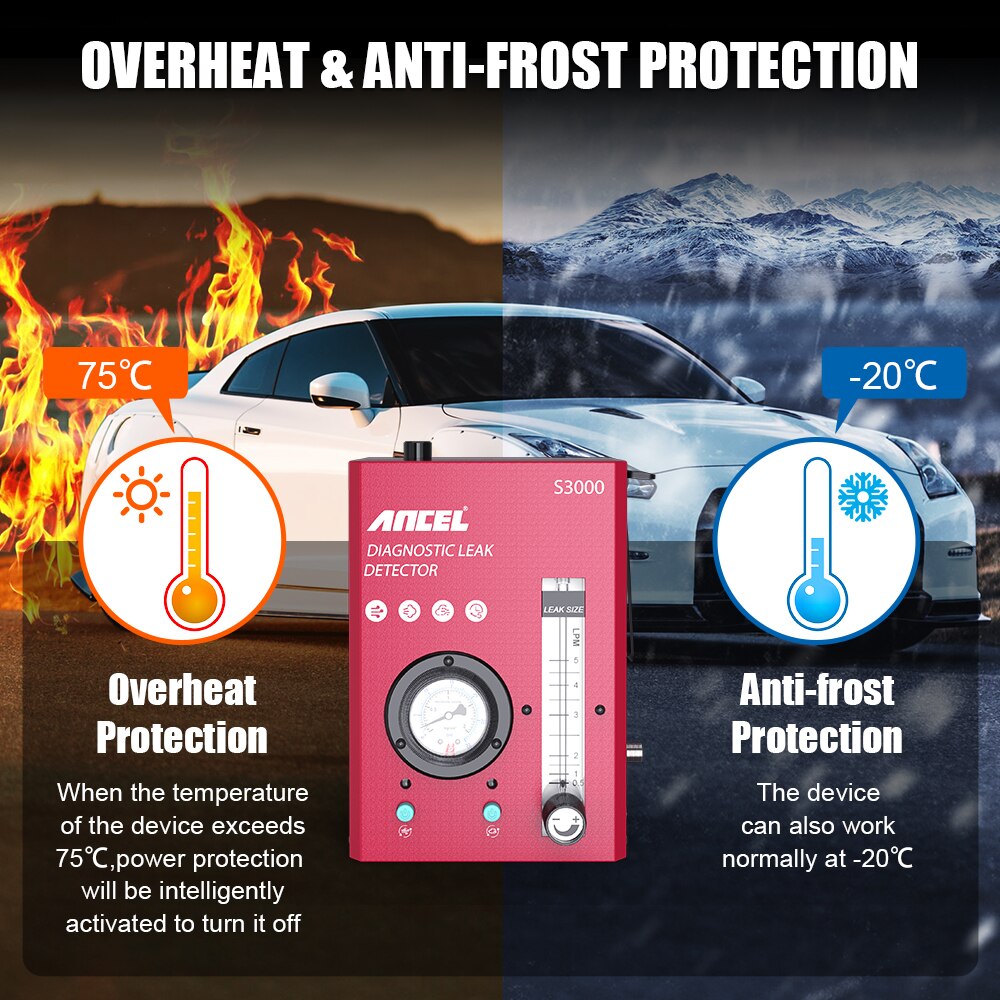 Description
ANCEL S3000 Upgraded Car Smoke Leak Detector Exhaust Smoke Meter Machines Leak Locator Automotive Diagnostic Of Pipe Systems
What ANCEL S3000 Can Do For You ?
1. Support Various System Test:

Crankcase System Test; Intake System Test; Car Sealing Test; Fuel Tank System Test; Turbo System Test; EVAP System Test; Exhaust System Test; Various Pipe Fittings Test. (Note: Not applicable to air conditioning system piping) It can quick to find evap leaks

2. Wide Compatibility:

Used to detect leakage of pipe systems on automobiles, motorcycles, snowmobiles, ATVs, ATVs, light trucks, and speedboats. The fuel line leak diagnosis machine is suitable for all makes and models of cars.

3. Powerful Function:

Air-tightness Check, Evaporating Fuel Leakage Check, and Over-heat & Anti-frost protection. If it exceeds the working limit (Over 167°F) it will power off automatically. The evap smoke machine has its own air pump. It does not rely on other air machine and connect the detector with DC12V battery.

4. Easy To Use:

The Smoke Machine Automotive with easy-use function and portable design, can help mechanic produce lots of smoke within 30s to detect the leaks in pipe system (by heating up baby oil). Dramatically reducing diagnostic time. The product ingredient is mineral oil can be used

5. Dual-mode control, you can switch between air mode and smoke mode for leak detection. You can clearly determine whether your pipeline or the item you are testing is leaking through the pressure gauge and flowmeter, and quickly find out the problem and repair it, saving time and money

6. Do you Worry about the smoke is not safe ?we promise 100% safe,please use The correct baby oil To tested ,The baby oil is sold in supermarkets and convenience stores, so don't worry

7. Three year years warranty, If there is no human damage, there will be no problems with the product within three years
ANCEL S3000 Advanced Technology
▶Crankcase System Test
▶Intake System Test
▶Car Sealing Test
▶Fuel Tank System Test
▶Turbo System Test
▶EVAP System Test
▶Exhaust System Test
▶Various Pipe Fittings Test.
Easy to use leakage test :
1. Fill 20ml baby oil to the detector for the first time. Open the engine cover, and hang the detector in the cover.

2. Disconnect the pipe that needs to be connected with detector.

3. Connect detector with DC12V battery, turn on the power switch, and the detector starts to work.

4. In about 30 seconds, the pipe will be filled with smoke. Check the leak points. Please use head lamp if necessary.
Please Note :
1.When you use this ANCEL S3000 Car Smoke Leak Detector for the first time, fill with 20ml oil . Please be careful NOT to beyond this range.

2.The testing liquid : baby oil

3.Fresh oil can be filled with only when the smoke gets thin, and it can't be filled over 20ml each time.

4.Before filling fresh oil, please pour out the left oil in the detector & replace the detector oil regularly.

5.During the process of leak detection, please keep away from smoke-sensitive parts.

6.Do NOT run the detector over 8 minutes continuously. It needs interval rest.

7.The detector has an intelligent protector, if it exceeds the working limit, such as over 75 ℃, it will automatically turn off the power. In this case, please operate it later.

8.The round part of this detector has temperature, please be careful to avoid burns.

9.If the test pipe needs to be disconnected in the middle, please secure the other side with a rubber stopple.
Two Model Control :
AIR MODE:Independently controlled built-in air pomp,Generate air and provide pressure. The leakage can be judged by the flow meter and pressure rod

SMOKE MODE:Independently controlled smoke generator,Smoke is produced and tested. If the detected product leaks, there will be smoke at the corresponding leaked location. If the leaked location is not observable by the naked eye, you can judge whether the leak needs precise maintenance by observing the pressure gauge and flow rod.
Support more car model :
It is not only used in automobile pipelines, but anything that needs to be detected for leaks can be used, and it has a wide range of applications.
Overheat Protection
When the temperature of the device exceeds 75℃, power protection will be intelligently activated to turn it off.
Anti-frost Protection
The device can also work normally at -20℃.
Package Include :
1*Car Smoke Leak Detector
1*Carton
1*Intake Bladder
1*Smoke Delivery Hose
1*Adapter Cone
1*Intake Bladder Replacement Rubber
1*Power Cord
1*Funnel
1*Hook up
1*Manual in English
Previous: ANCEL BA101 Car Battery Tester 12V 100 to 2000CCA 12 Volts Battery Tools Car Motorcycle Quick Cranking Charging System Test
Next: THINKCAR THINKDRIVER OBD2 Automotive Scanner Car Diagnostic Oil ABS EPB Reset Function EOBD OBD 2 Code Reader Scan Tools