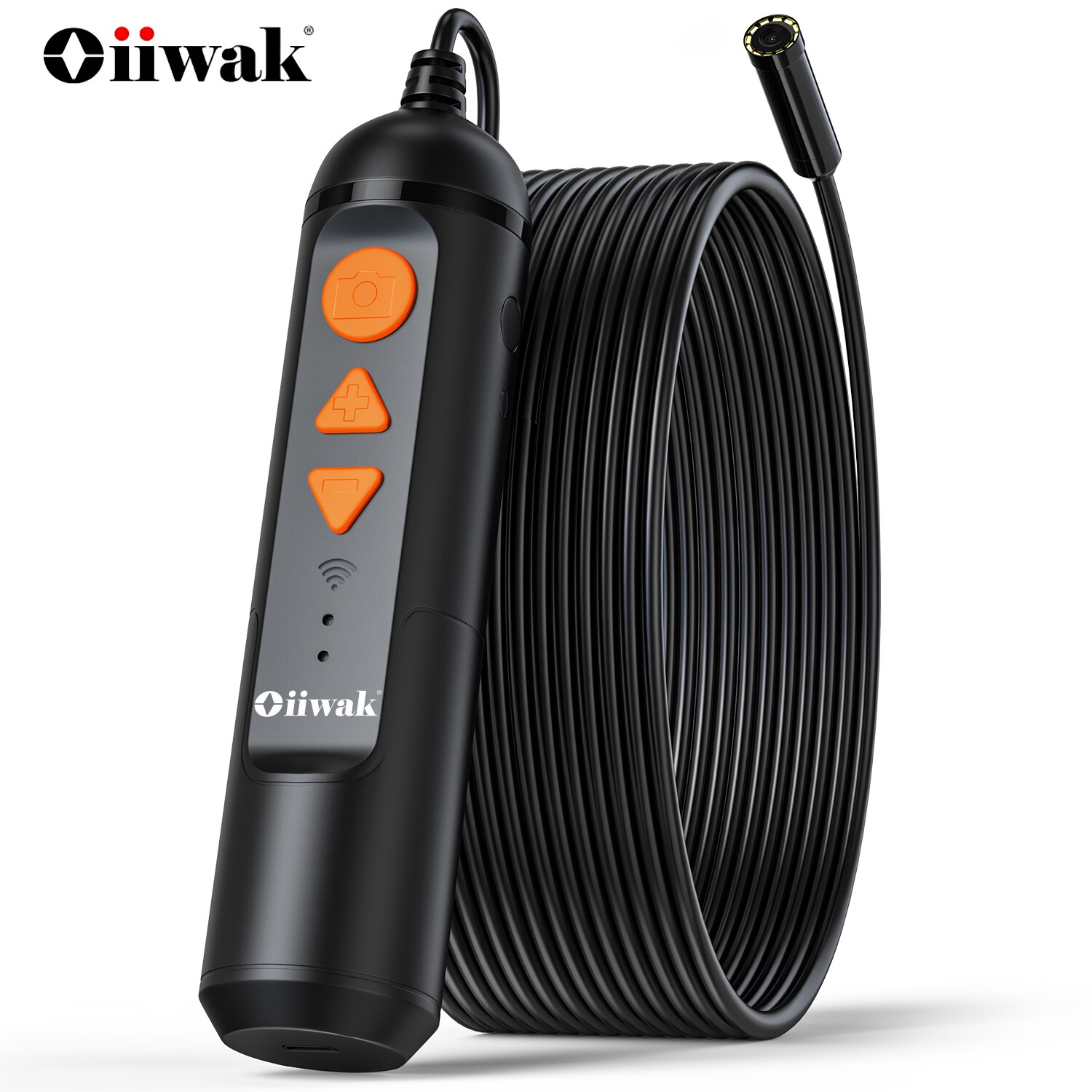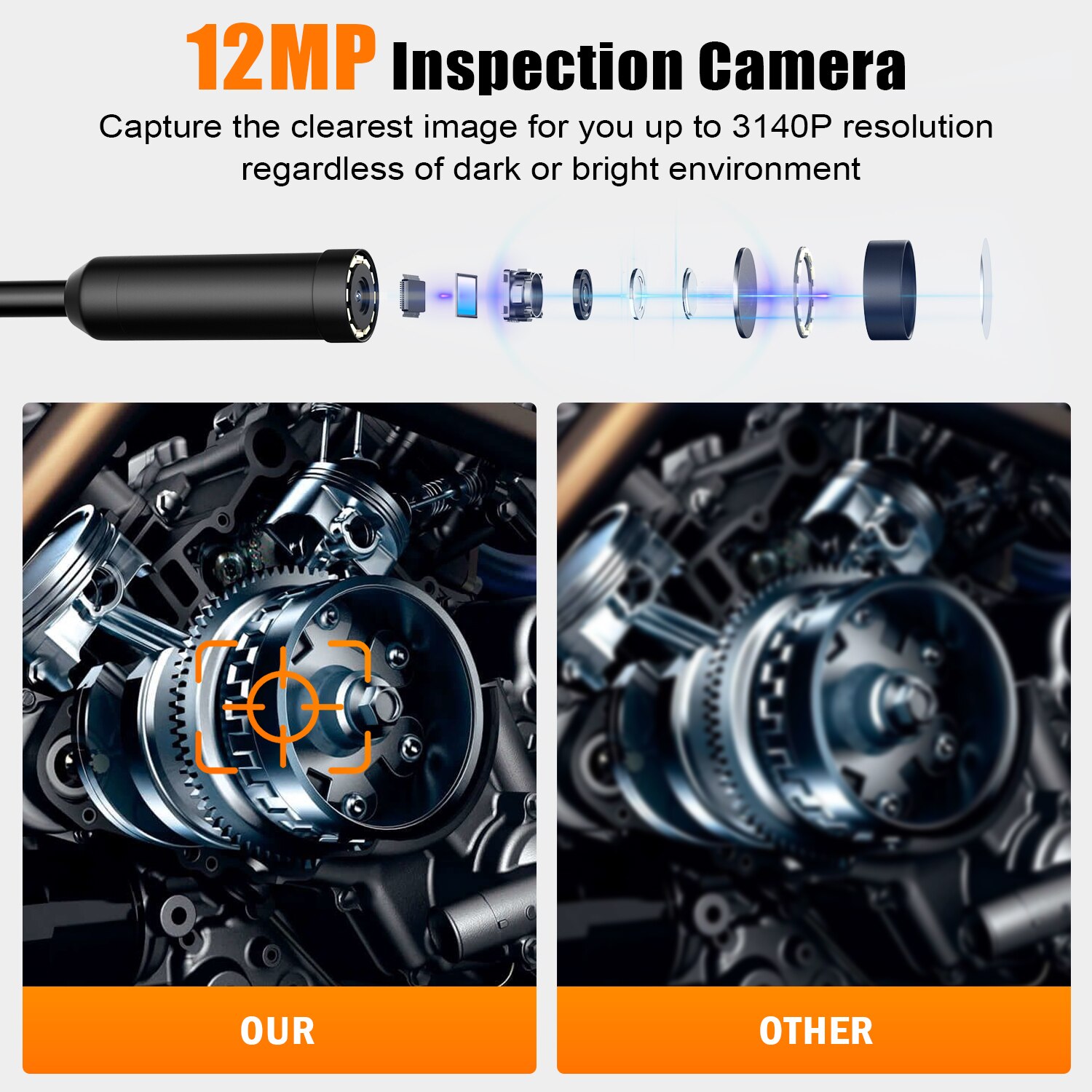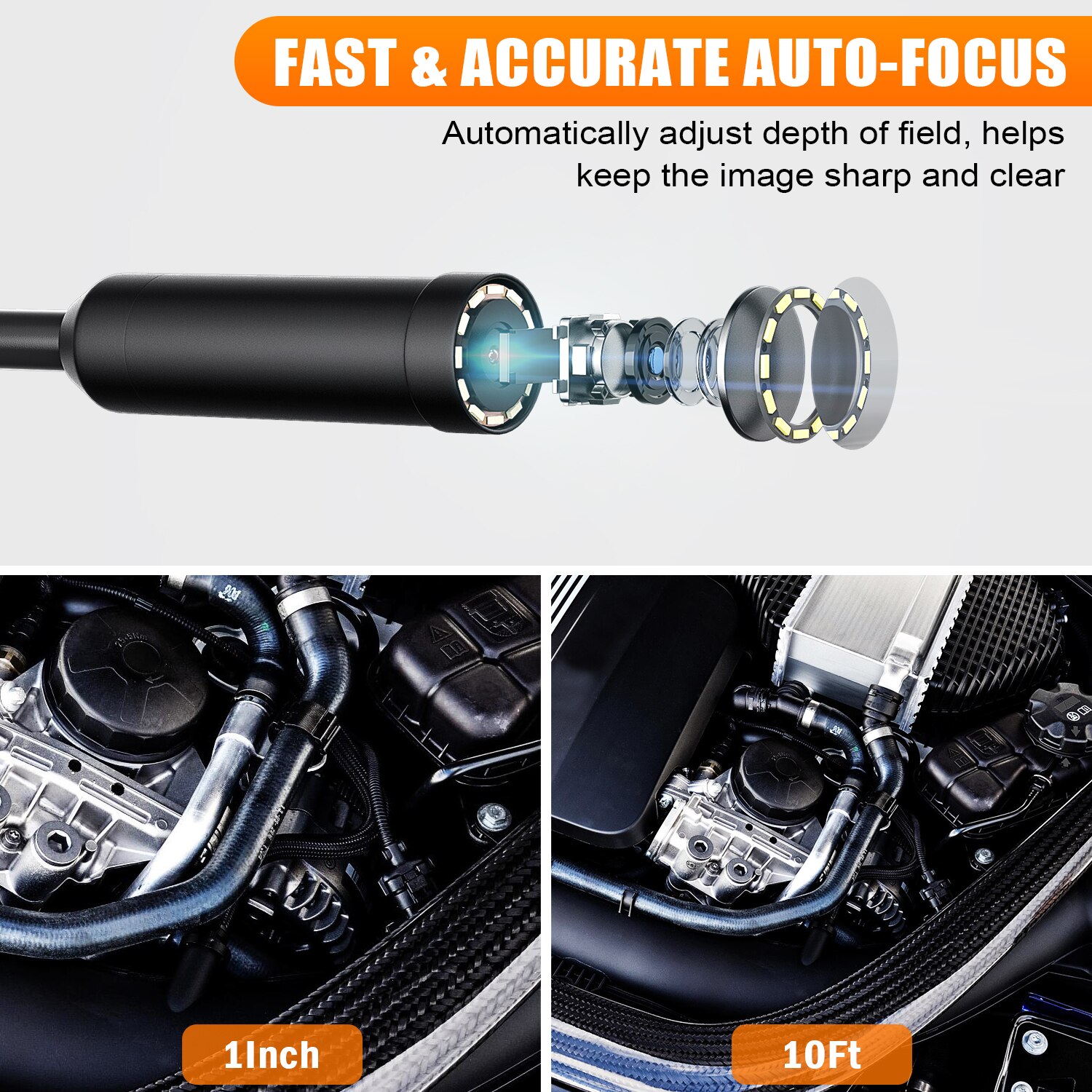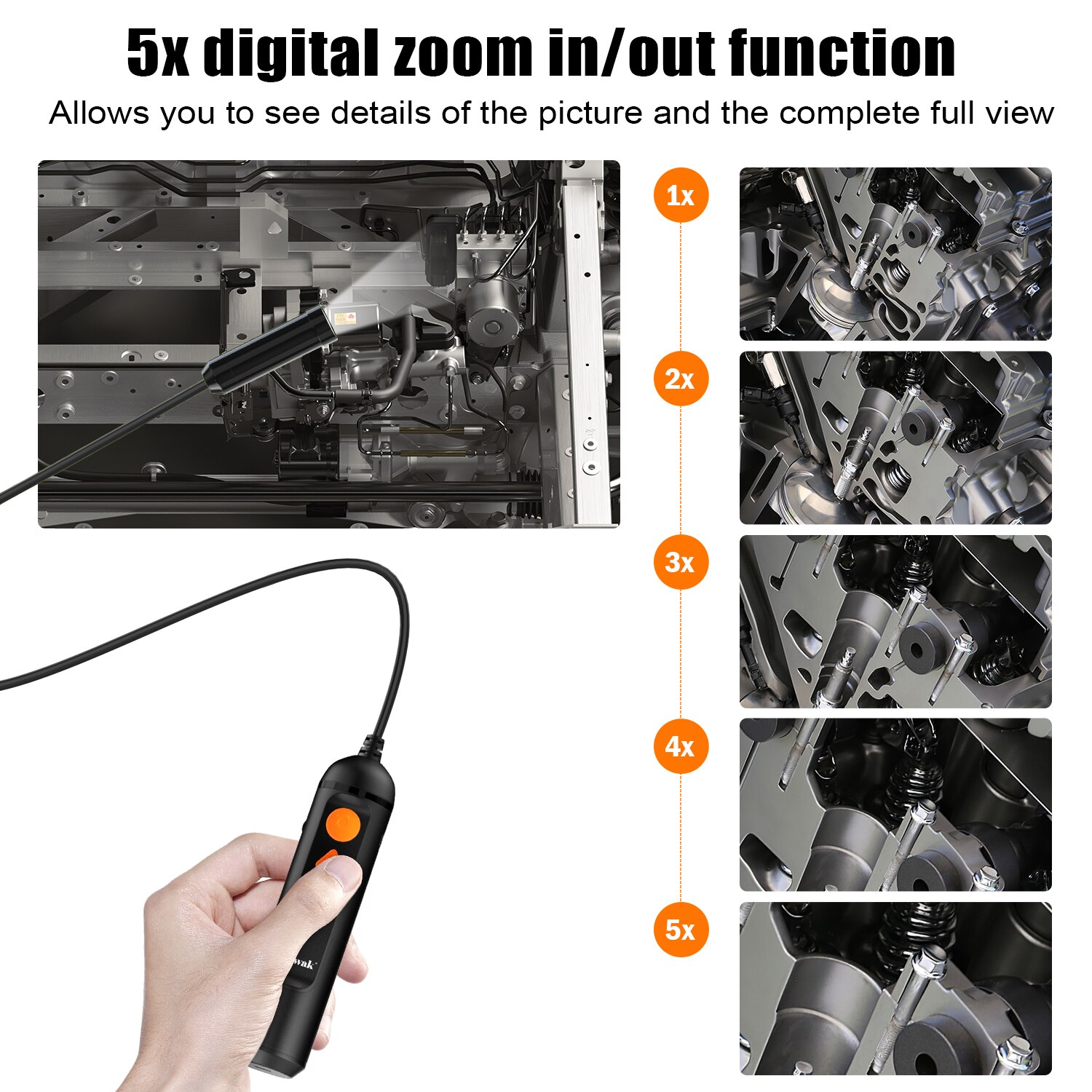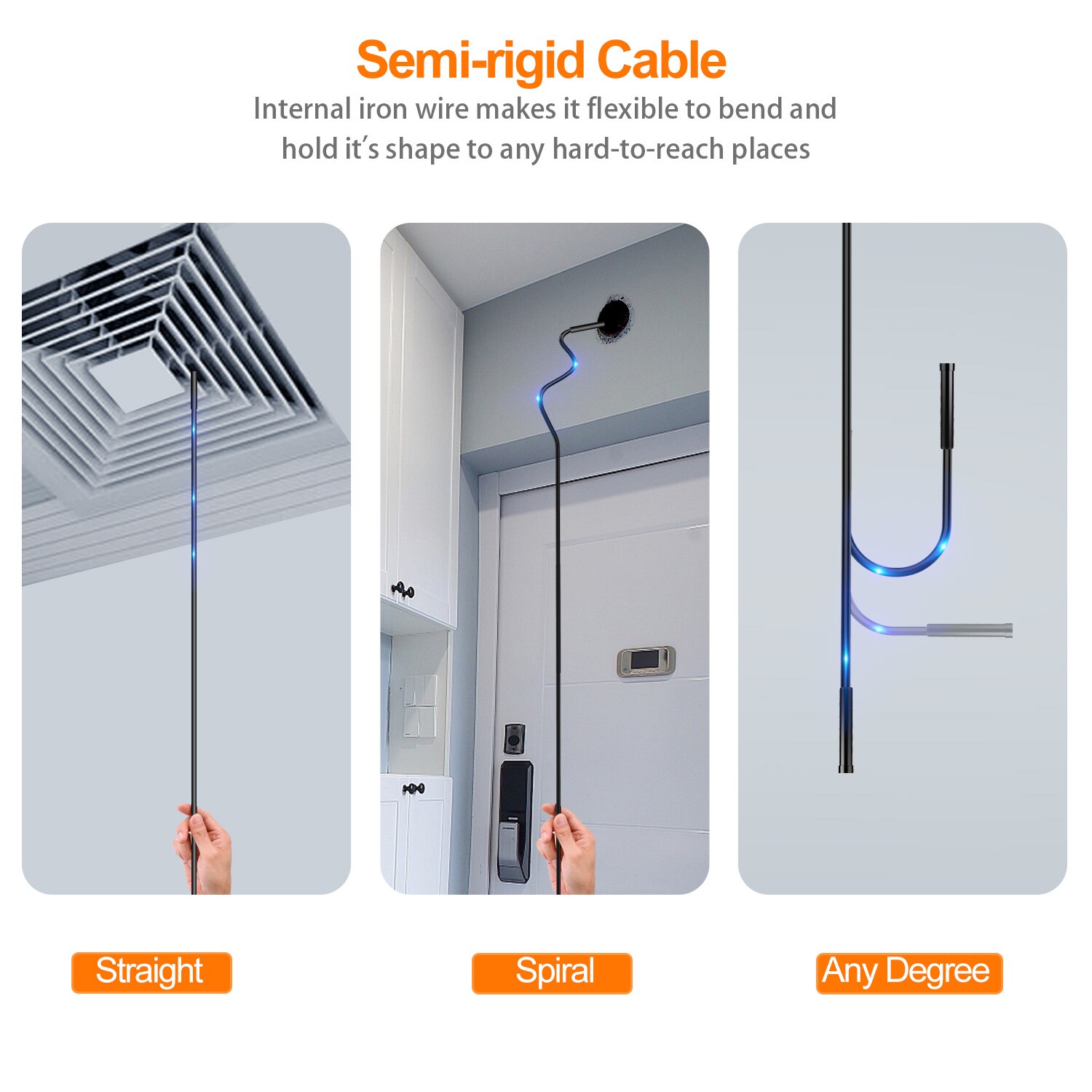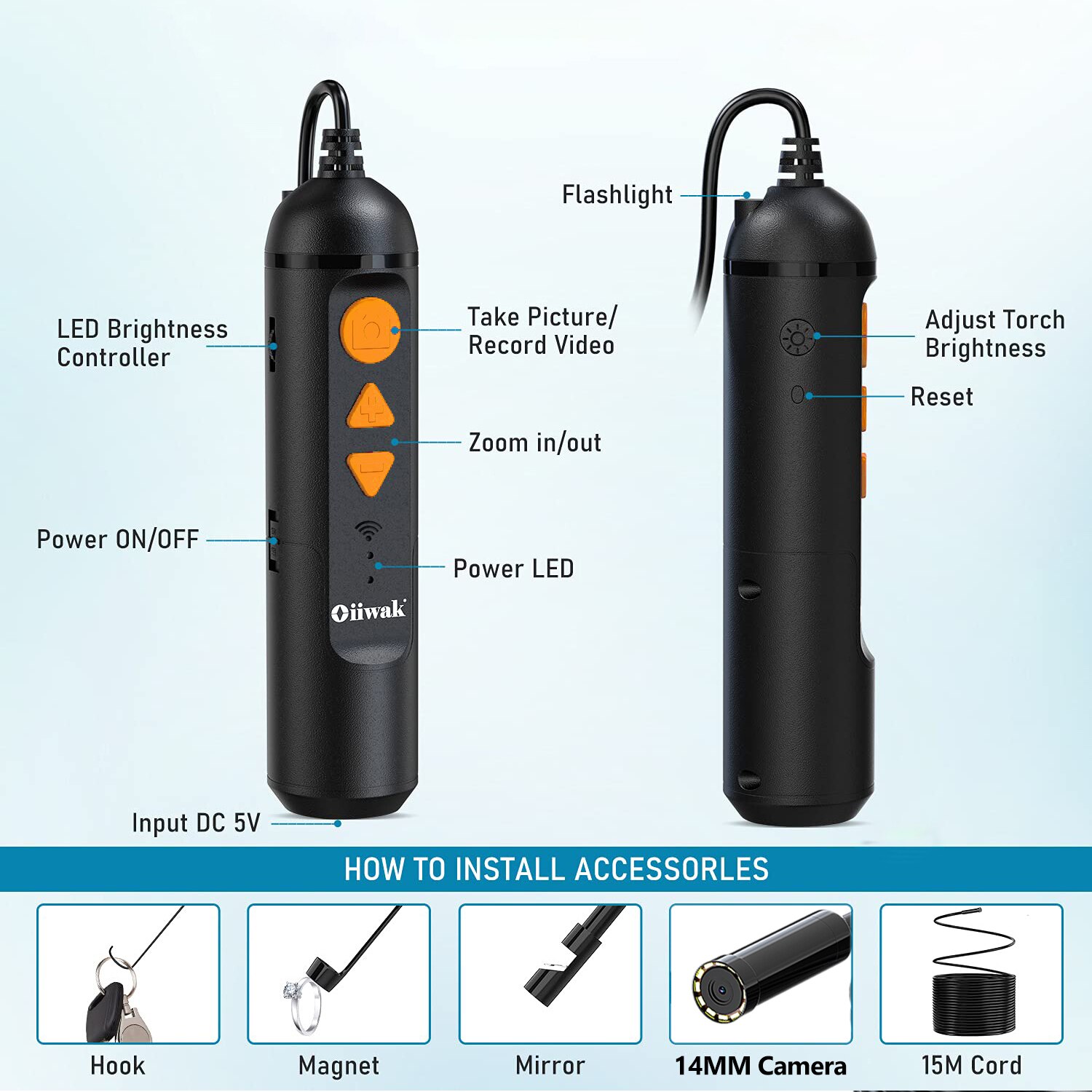 Related Accessories/Similar Items
Description
12MP Auto Focus WIFI Endoscope Wireless Endoscope Camera Plumbing Camera Snake with Light Inspection Camera Borescope IP67 Waterproof Sewer Snake Camera for Android iPhone
This WIFI endoscope equipped with 12MP camera and waterproof cord which make you have an unprecedented high-definition visual experience.

14mm WIFI Endoscope Features
【12MP Auto Focus Wifi Endoscope】
The clearest borescope camera on the market with the latest 12 megapixel HD borescope camera lens, allow you to capture image or record video at a close range of up to 4192 x 3104P resolution, CMOS HD camera, Oiiwak superb 14mm(0.55 inch) WiFi borescope envisions the hard-to-reach places exquisite clearly. Adjustable 12 LED lights, illuminate the darkness and reduce overexposure.
【Large Focal Range, Auto Focus】
Focal distance is 1.97inch to 500inch and even farther. The wireless endoscope camera can inspect objects at a longer distance than other pipe endoscopes on the market do, which is suitable for hard-to-reach places. Autofocus function doesn't require time and effort to set the appropriate focal length, therefore extremely practical.
【Compatible with Android and iOS Devices】
5G WiFi connection borescope supports most Android smartphones or tablets and IOS devices on the market. Easy to use without an extra adapter or cable, just download and install the compatible app on your device.
【Torch light Powerful Lights & Semi-rigid Cable & Waterproof Camera】
Add a torchlight on the WIFI box, greatly improve visibility in dark and low-light areas, The snake inspection camera combined with a 5m semi-rigid cable and IP67 waterproof camera is suitable for inspecting the automotive problem, finding lost or dropped items in pipes or areas that are not visible to the naked eye.
【Multi Applications & 100% Satisfaction Service】
Oiiwak endoscope is a excellent tool for inspection of places that are not viewable by naked eye. It is widely used in fields such as car maintaining, mechanical inspection, pipe repair, household appliance inspection, wall structure inspection, and sewer/ drain inspection, etc.
If you have any questions about our endoscopes or manuals, please feel free to contact us. We will reply to you within 24 hours and solve the problem for you.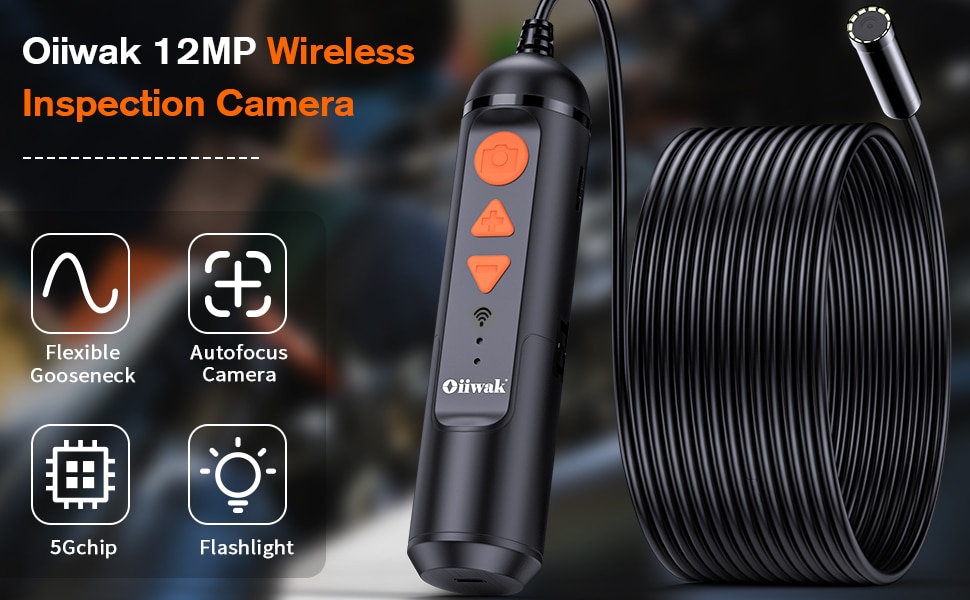 How to use?
Step 1.Download the "Scope View" APP from Apple Store or Google Play.

Step 2.Turn on the Wi-Fi Endoscope, then it will generate a Wi-Fi signal (Jetion_xxx) and you can find it in the wifi list,then enter password 12345678

Step 3. Set resolutions, 4192* 3104、3264*2488、2592*1944、1920*1080 optional.

Step 4.Open the "Scope View" and connect with your smartphone to begin the inspection.

Please Note:
1.The endoscope must use its self-activating WiFi signal, not require home WiFi,can be used outdoor.

2.Smart phone/tablet system should be Above Android 2.3 & iOS 6.0 version.

3.Please fully charge the endoscope before first time use, otherwise it may affect the WiFi connection.
12MP Inspection Camera, Large Focal Range.
Oiiwak endoscope inspection camera equipped with 12-megapixel camera lens with 3104P resolution (nearly 3 times clearer than 1080P), offering super clear and high-quality videos and pictures than others.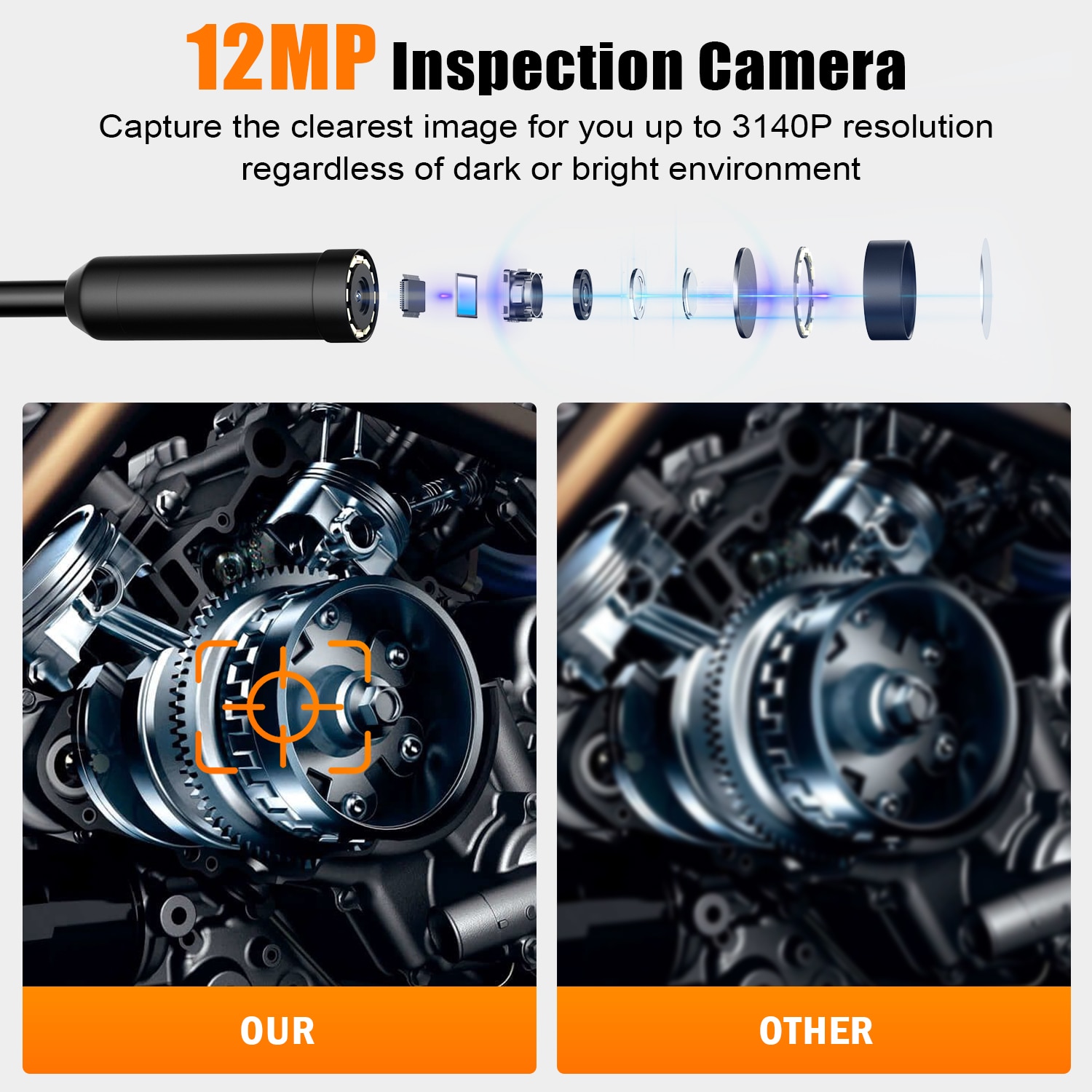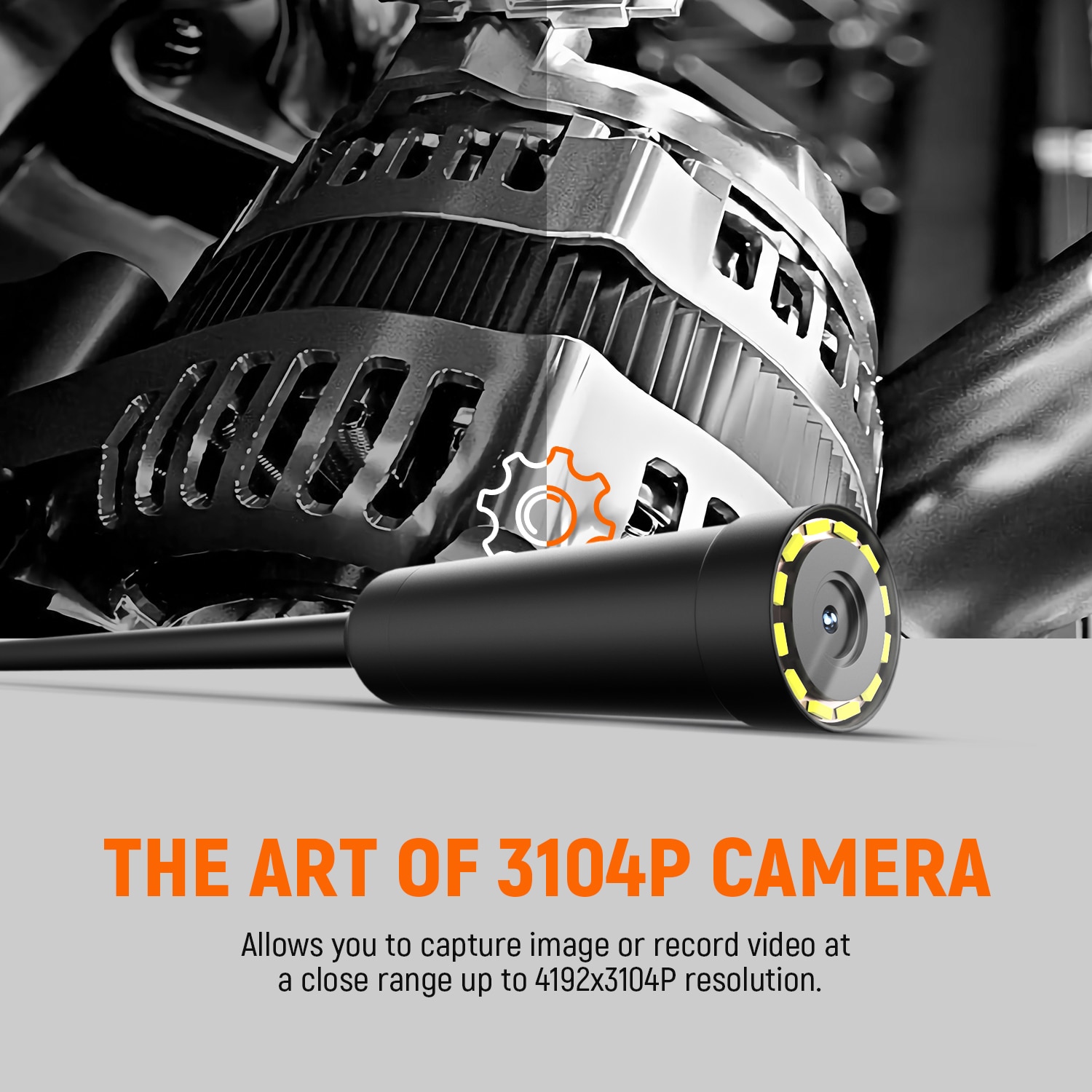 Fast Accurate Auto-Focus
The Oiiwak wireless borescope camera doesn't require time and effort to set the appropriate focal length, quickly focusing on your inspect object, therefore extremely practical.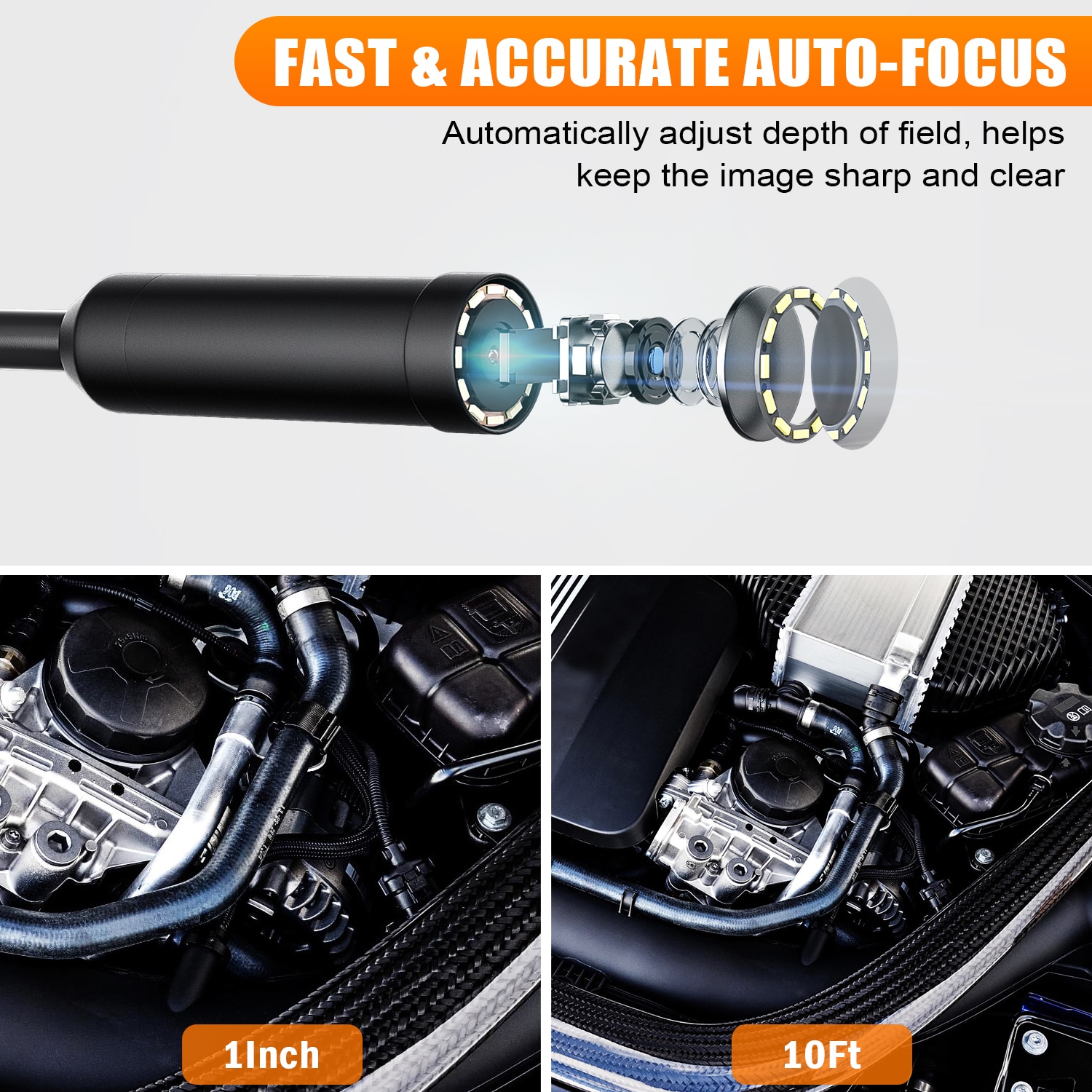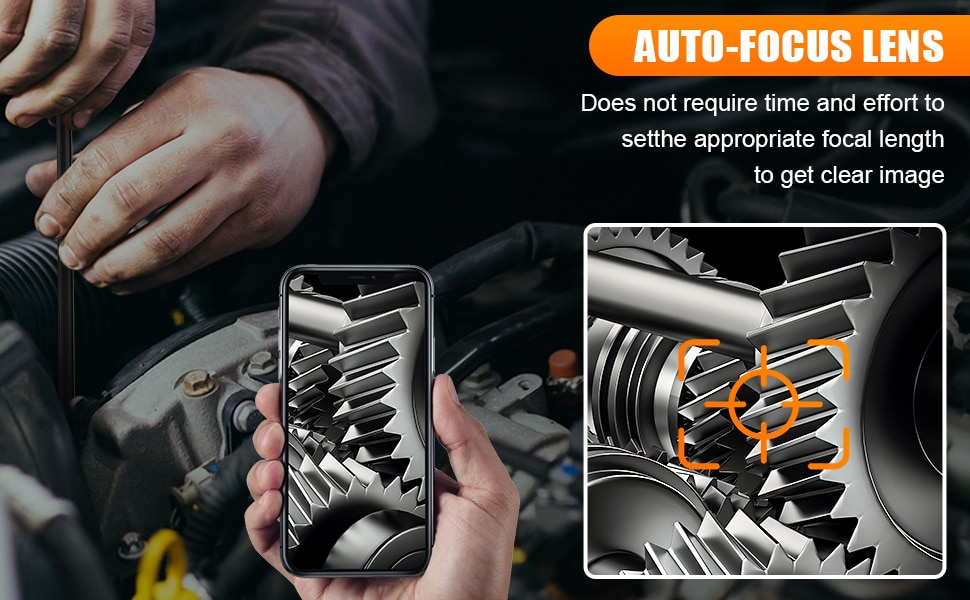 Latest tech 5X digital zoomable
5 x digital zoom in/out function allows you to see details of the picture and the complete full view.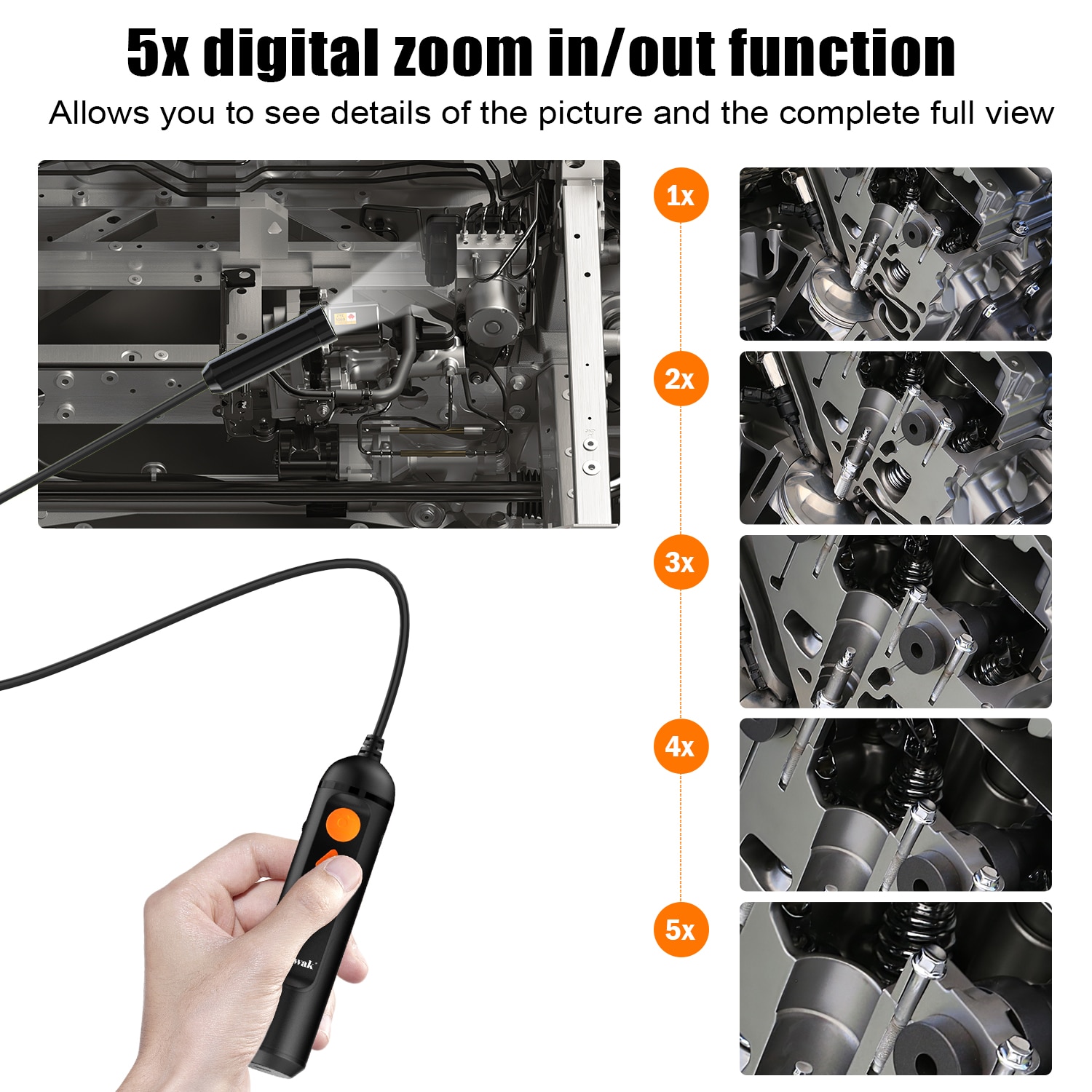 5m and 10m Semi-rigid Cable
Flexible yet rigid snake cable easily maneuver into narrow space to check, thus solve problems practically.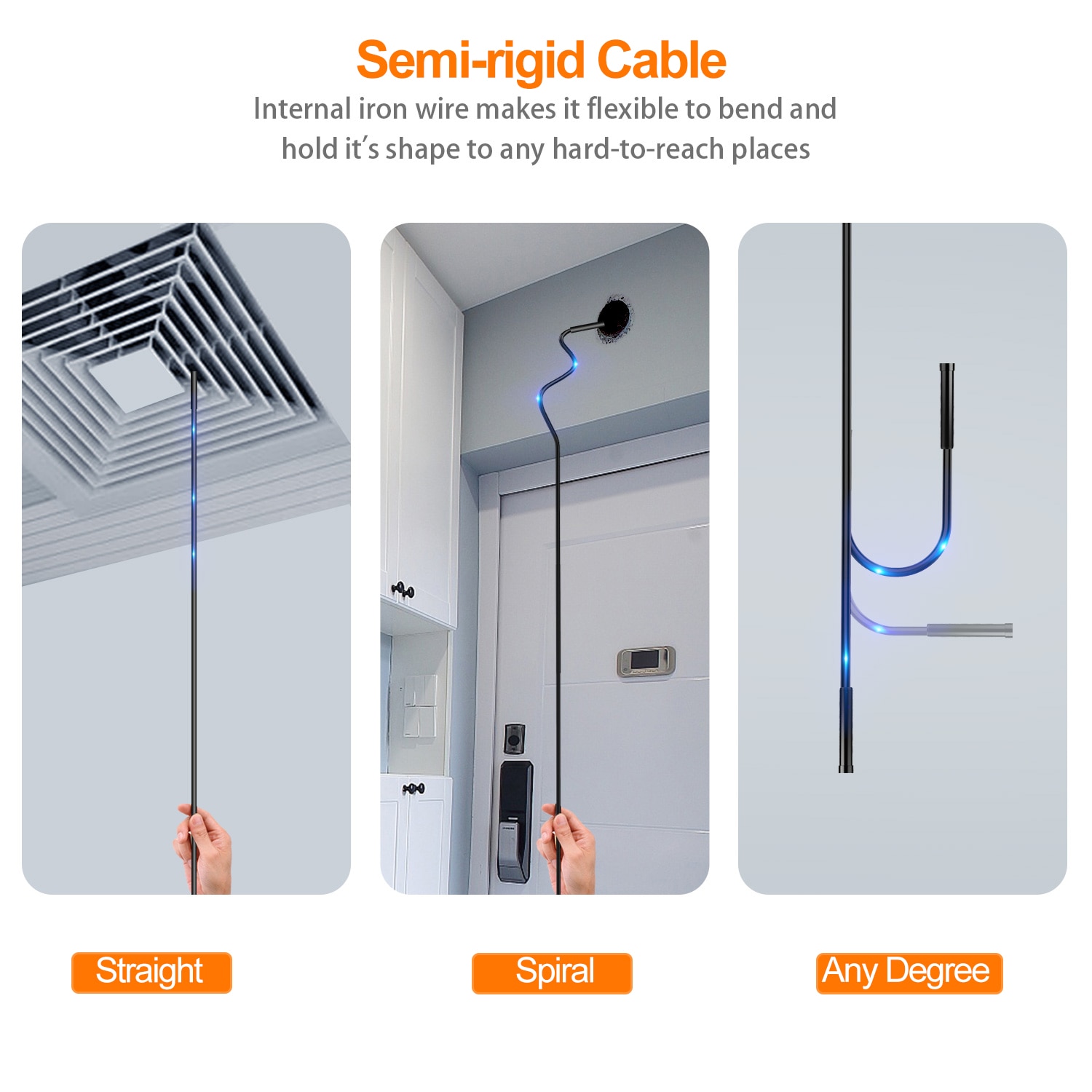 Wide Applications
Oiiwak endoscope allows for the nondestructive inspection of hard-to-reach places such as car repair, industrial mechanical inspection, pipe fix, inside walls, attics, gutters, sewer pipes, heating vents, air ducts, motors, gears, vent pipe, engines, sofa corners, bathtub pipes, toilets.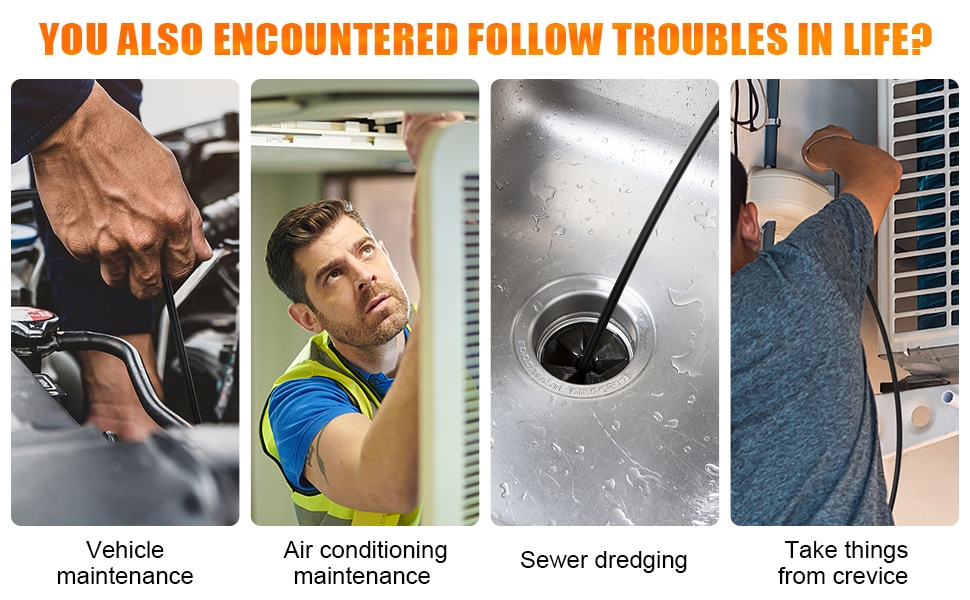 IP67 Waterproof Camera
Waterproof endoscope endoscope works well underwater(within 1 meter) up to 30~60 mins.
Meets inspection demands in boat,aviation aircraft,HVAC inspection,electrical,plumbing,car engine,building and construction,cable routing,refrigeration and wall inspection etc.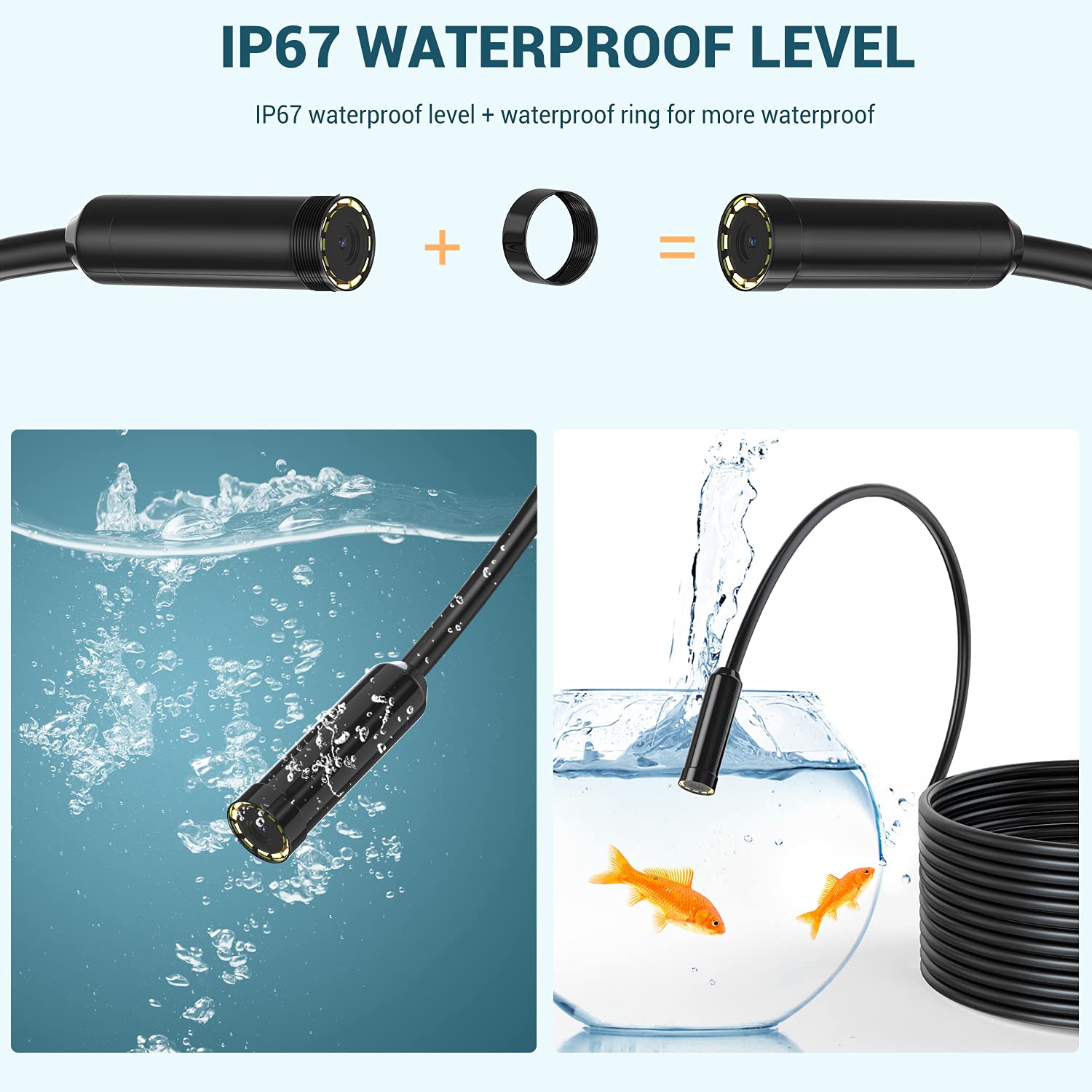 Torch light powerful lights
There is a LED torchlight on the handle, with which you can easily carry out inspections in any dark environment, which also helps in difficult environments.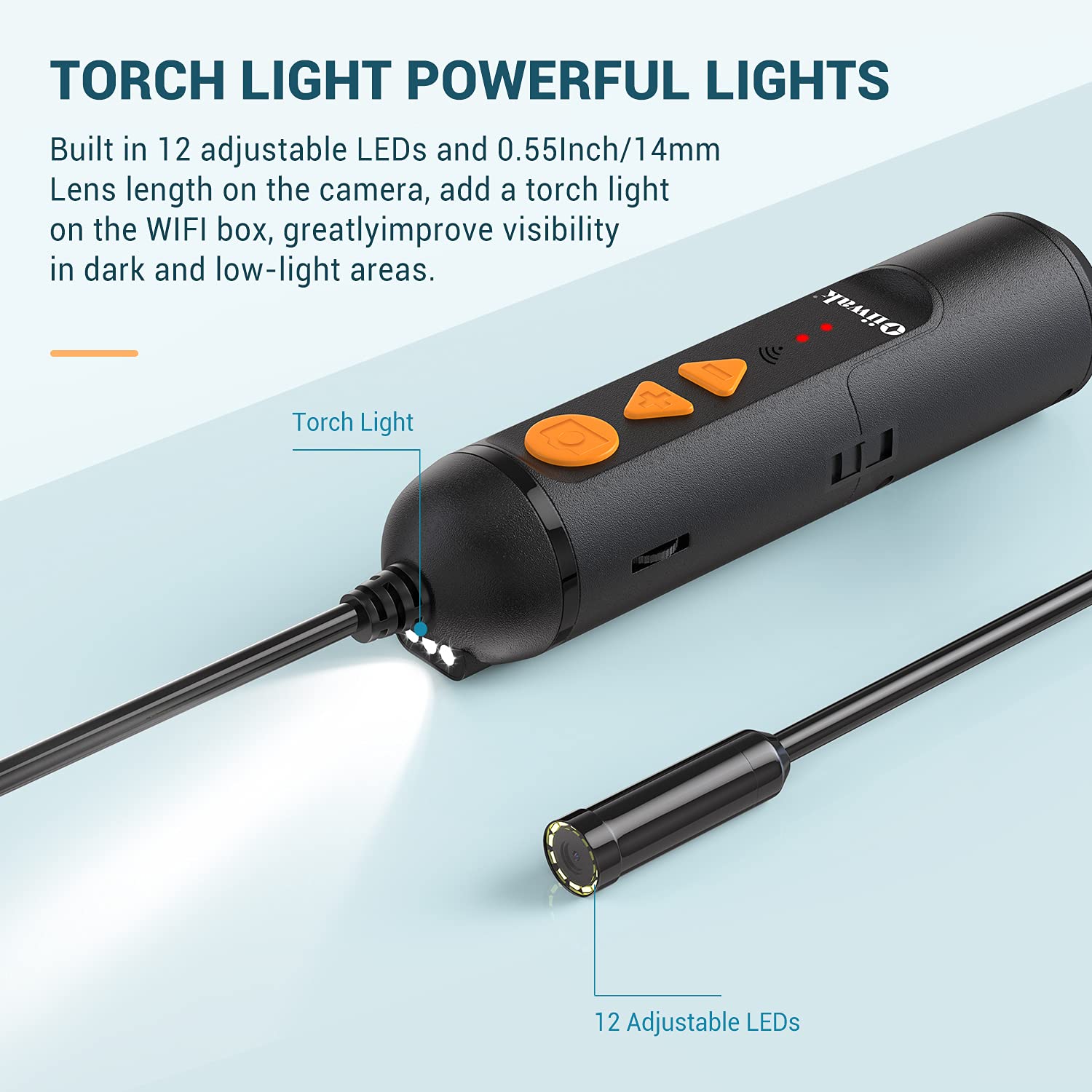 12 LCDs Light
With adjustable LED lights, the WiFi endoscope can be used in dark and narrow areas to ensure the clearness of the picture and video.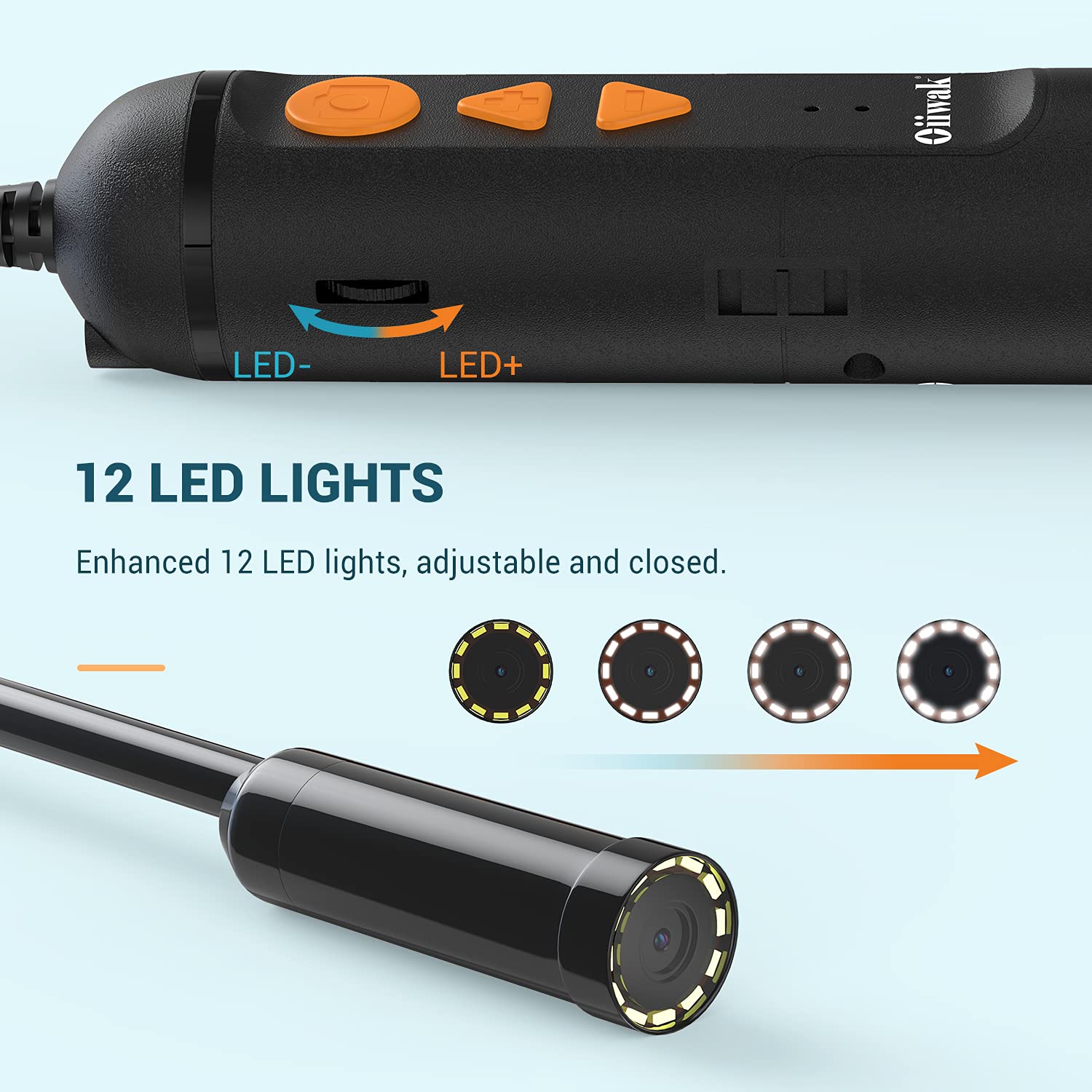 Rechargeable Battery
Adopted the capacity 2500mAh battery, working time up to 3-4 hours.

Note: When charging, the LED turns green, the green light is off after fully charged.
Specification
Camera Probe Diameter:14 mm/0.55 inch
Image Sensor: CMOS
Pixel: Auto Focus 12MP
Camera focal distance: 1.97inch-∞
Horizontal view angle: 80°
Camera Resolutions: 4192*3104, 3264*2488, 2592*1944, 1920*1080
Battery Capacity: 2500mAh
Waterproof grade: IP67
Cable Length: 5M/10M/15M
Support OS: ios&Android
WiFi transmission distance: 15 Meters
APP: Scope View
Product Introduction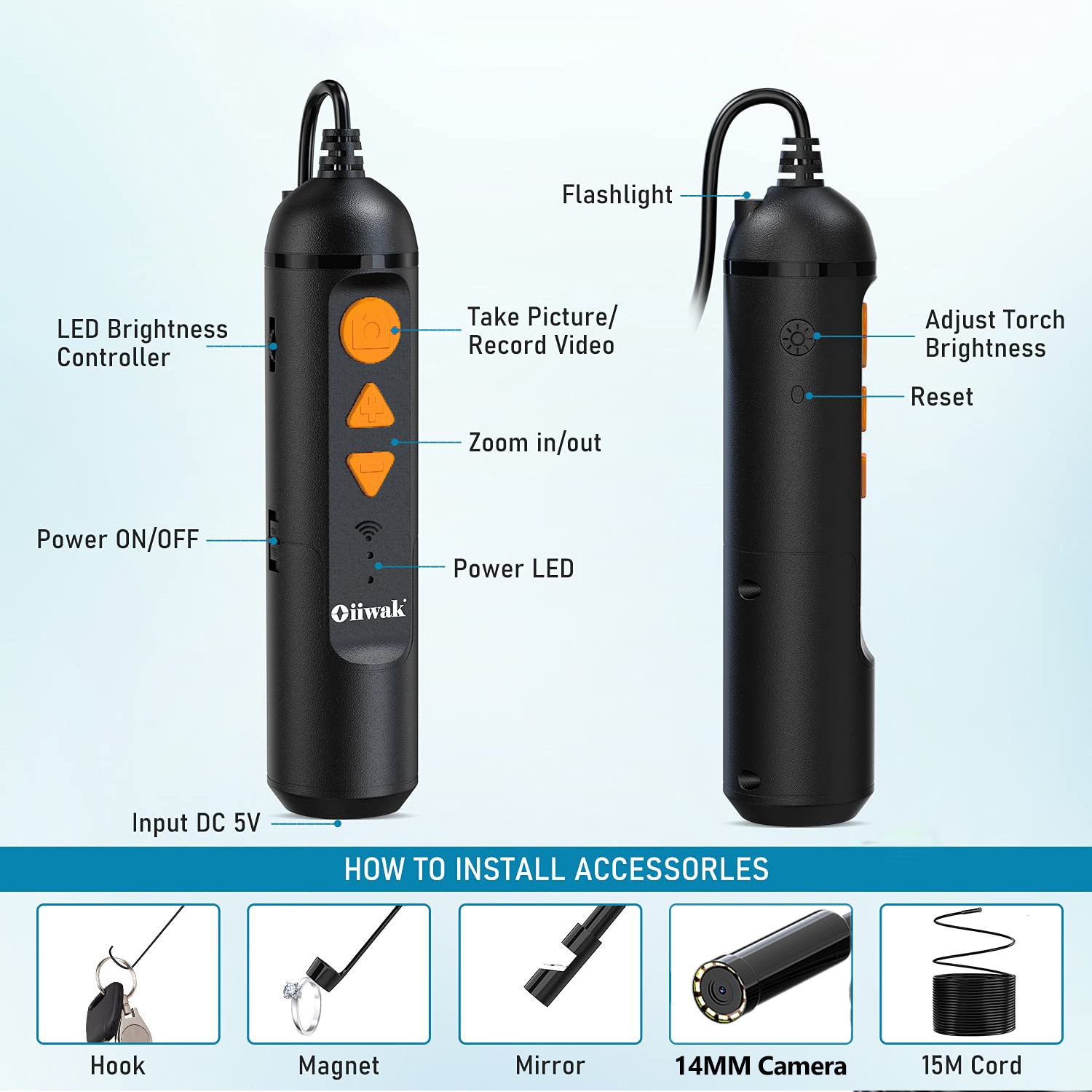 Endoscope Accessories Included
Comes with hook,magnet,side accessories.
Easy to take out small objects in narrow hard reach area.
Combined with the tighter spiral bayonet design and aluminum alloy material,it can endure any wet environment,easy to assemble.
Package Lists
1 x 12 MP HD Auto focus Endoscope
1 x Accessories Set ( Magnet, Hook, Side mirror)
1 x User Manual
1 x USB Cable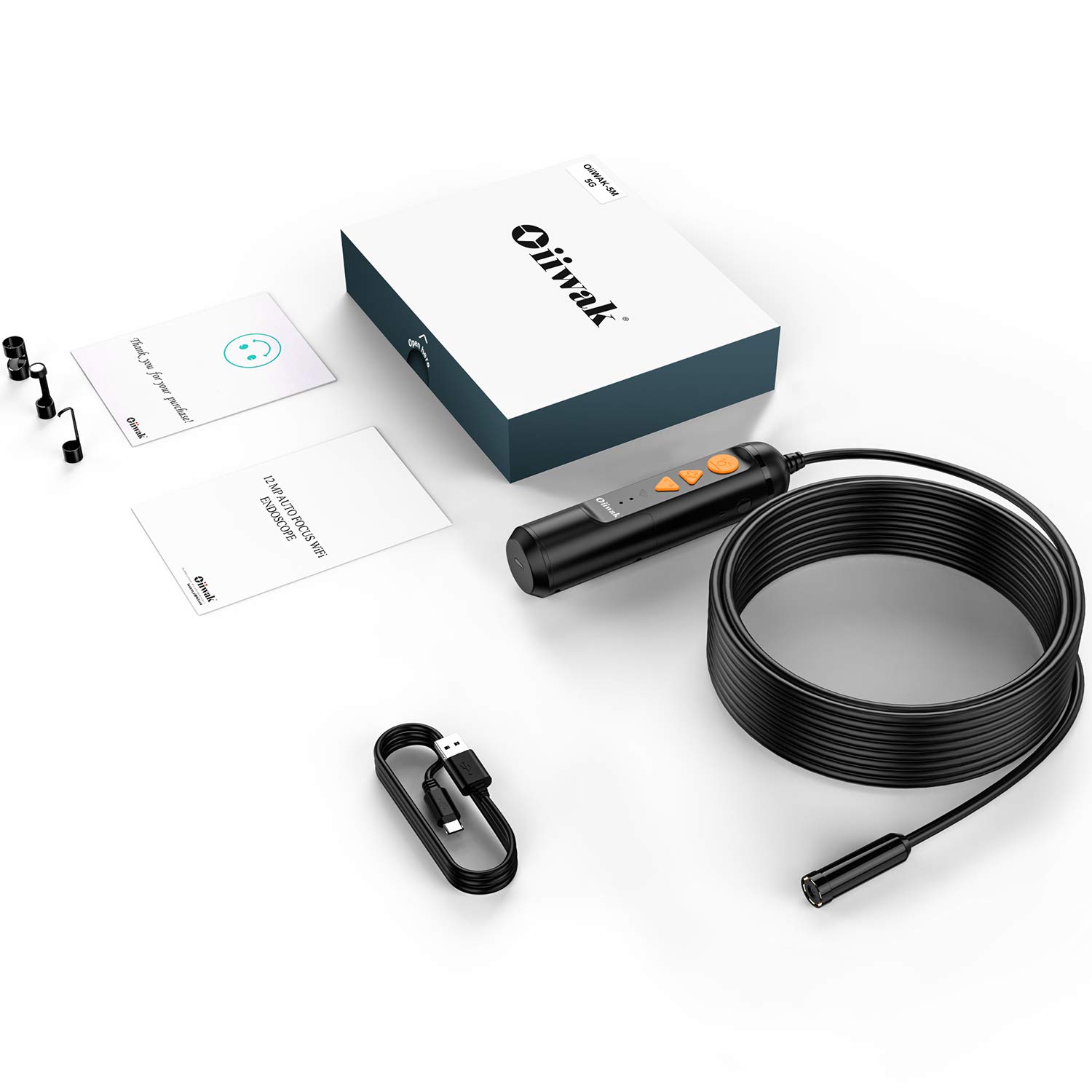 Reviews

13
#1 adam carter
Dec 9, 2021

Good quality, fast shipment.
#1 Óscar Anselmo
Nov 9, 2021

the best!!!!!!!!!!
#1 cheaprings aifseng
Jul 9, 2021

Absolute best seller on Aliexpress! Good communication, good service. I have done many orders here last few month. But this was awesome. Delivering 2 (two!) working days.
#1 salima benmessahel
Jan 9, 2022

A professional approach, I recommend the seller
#1 Ozgur ATA
Oct 9, 2021

Excellent product
#1 Matthias Tempel
Nov 9, 2021

Fast Delivery
#1 Wilson Gonchorowski
Nov 9, 2021

fast this 12MP Endoscope Camera Autofocus WiFi Endoscope Mini Camera 5X Zoom Fishing Camera Endoscope for Android With 10m Cable is good quality, working very well
#1 phillip anthony sargent
Feb 9, 2022

Thanks working perfect!!!!!
#1 mohamed fat7y
Aug 9, 2021

It came quickly. The device is kind of working.
#1 DMITRY VOSTRIKOV
Jul 9, 2021

In the work checked-ok
Previous: New Dual Lens Industrial Endoscope HD Camera 1080p Boroscope Pipe Inspection Camera with 4.3 inch Hard cable
Next: Endoscope Camera for Car 3 in I Mini Borescope Camera Waterproof 7mm Snake Inspection Camera for Android Type C PC