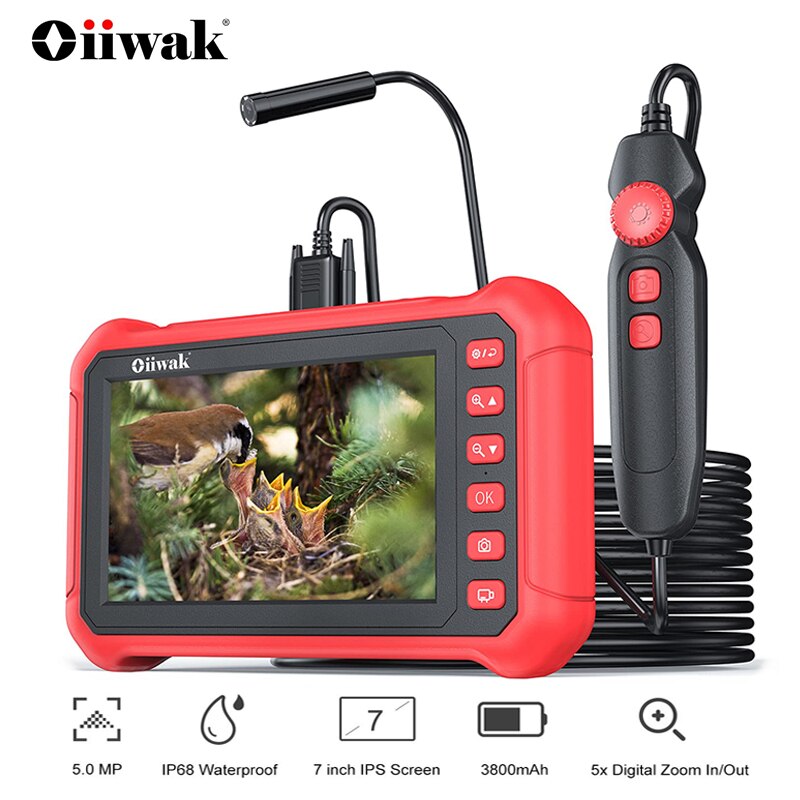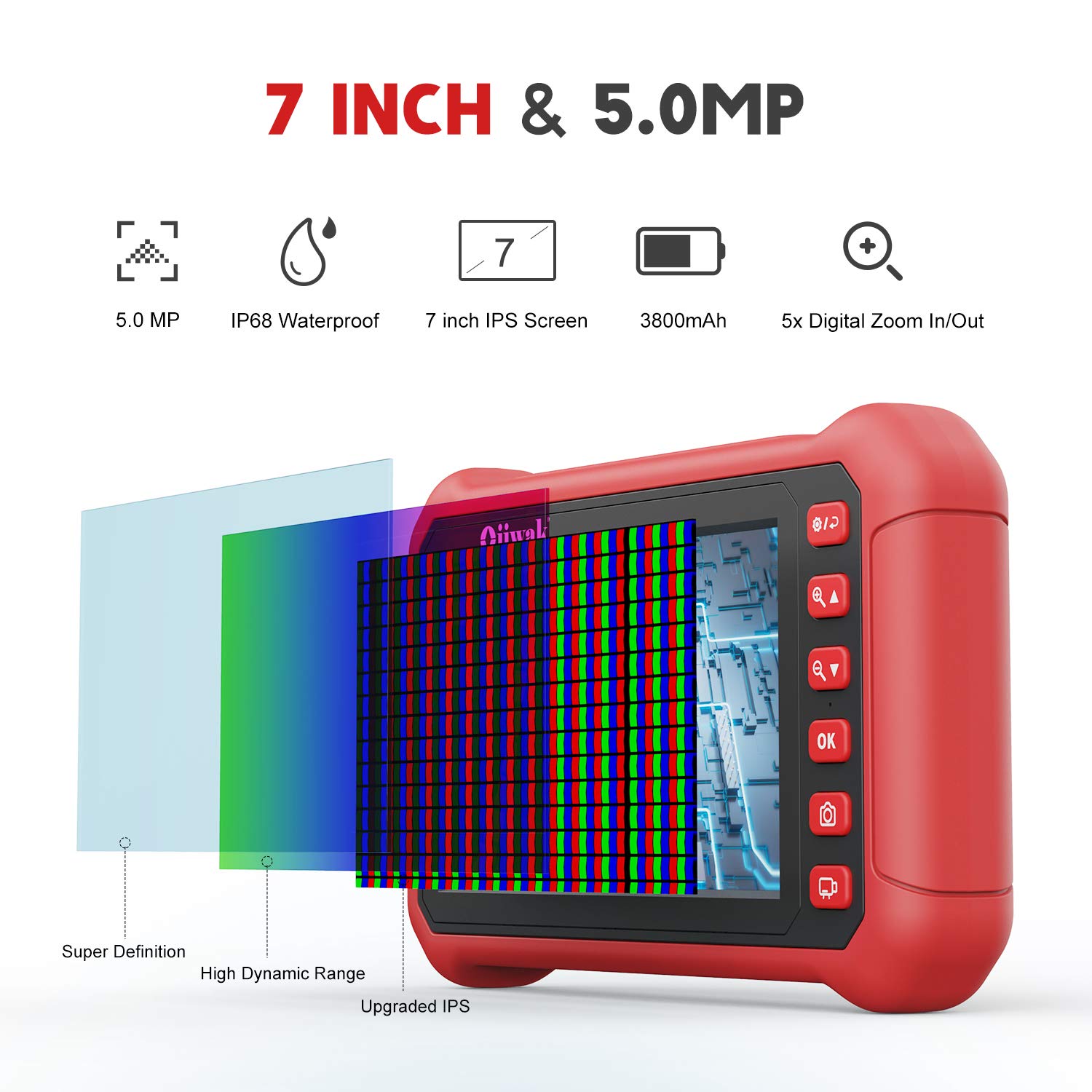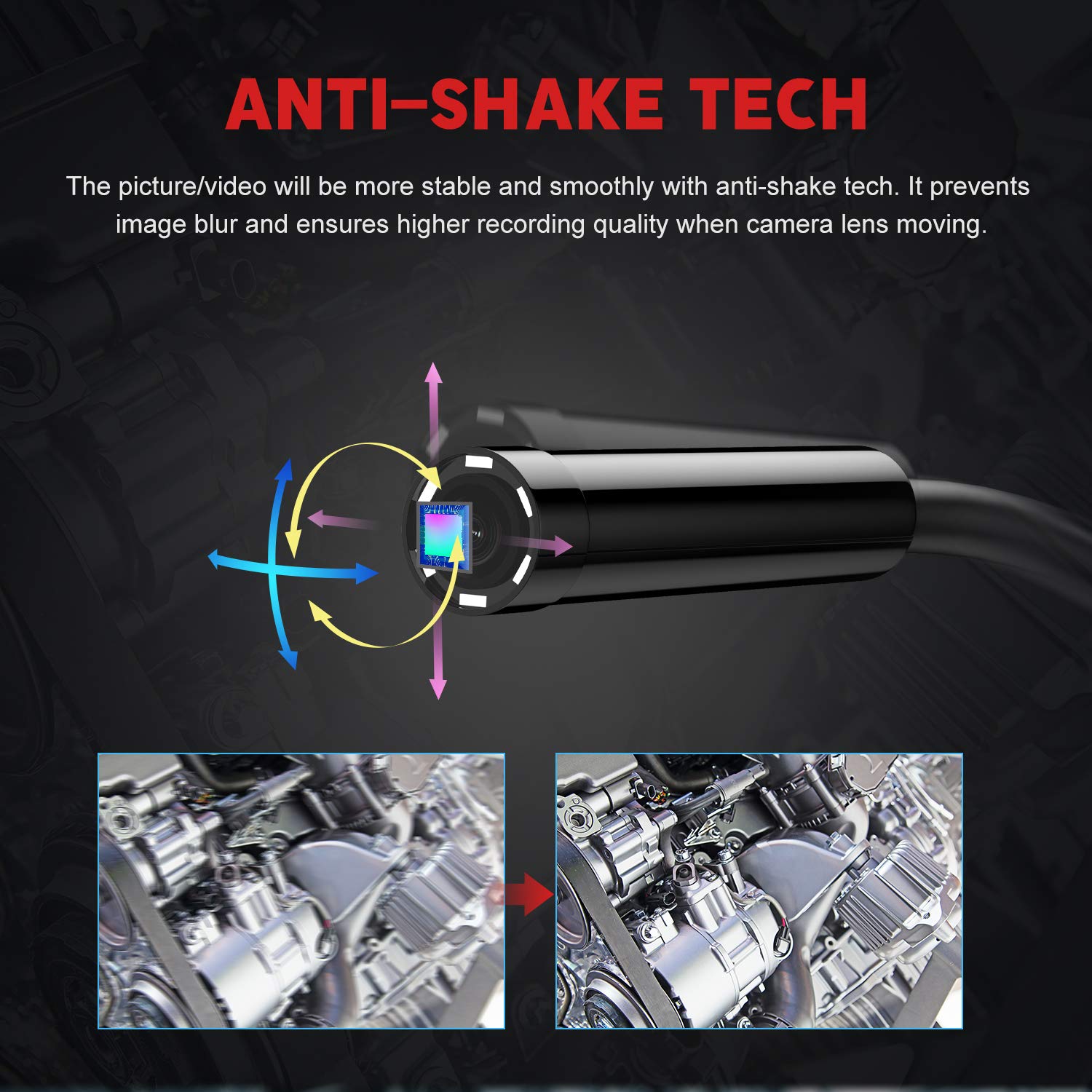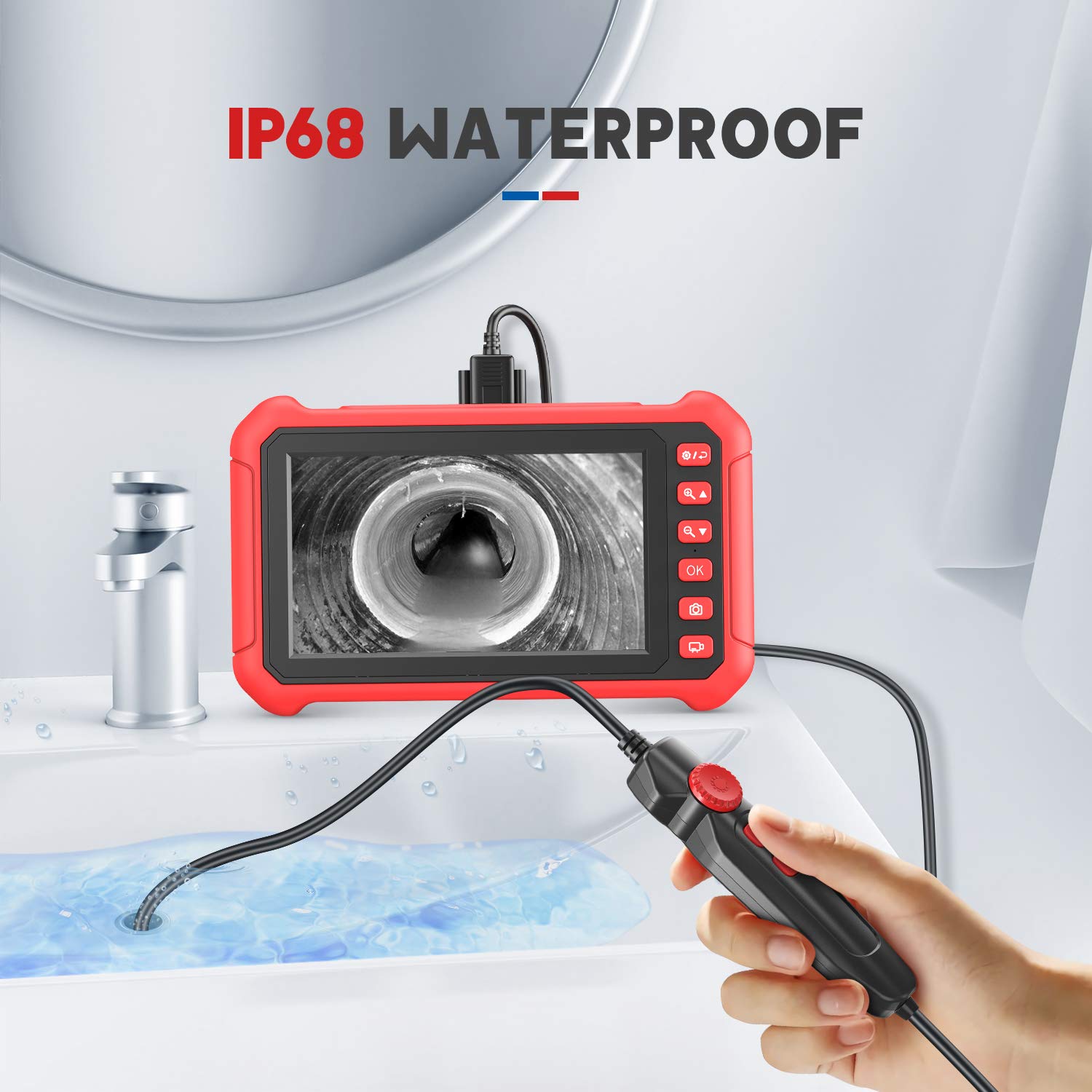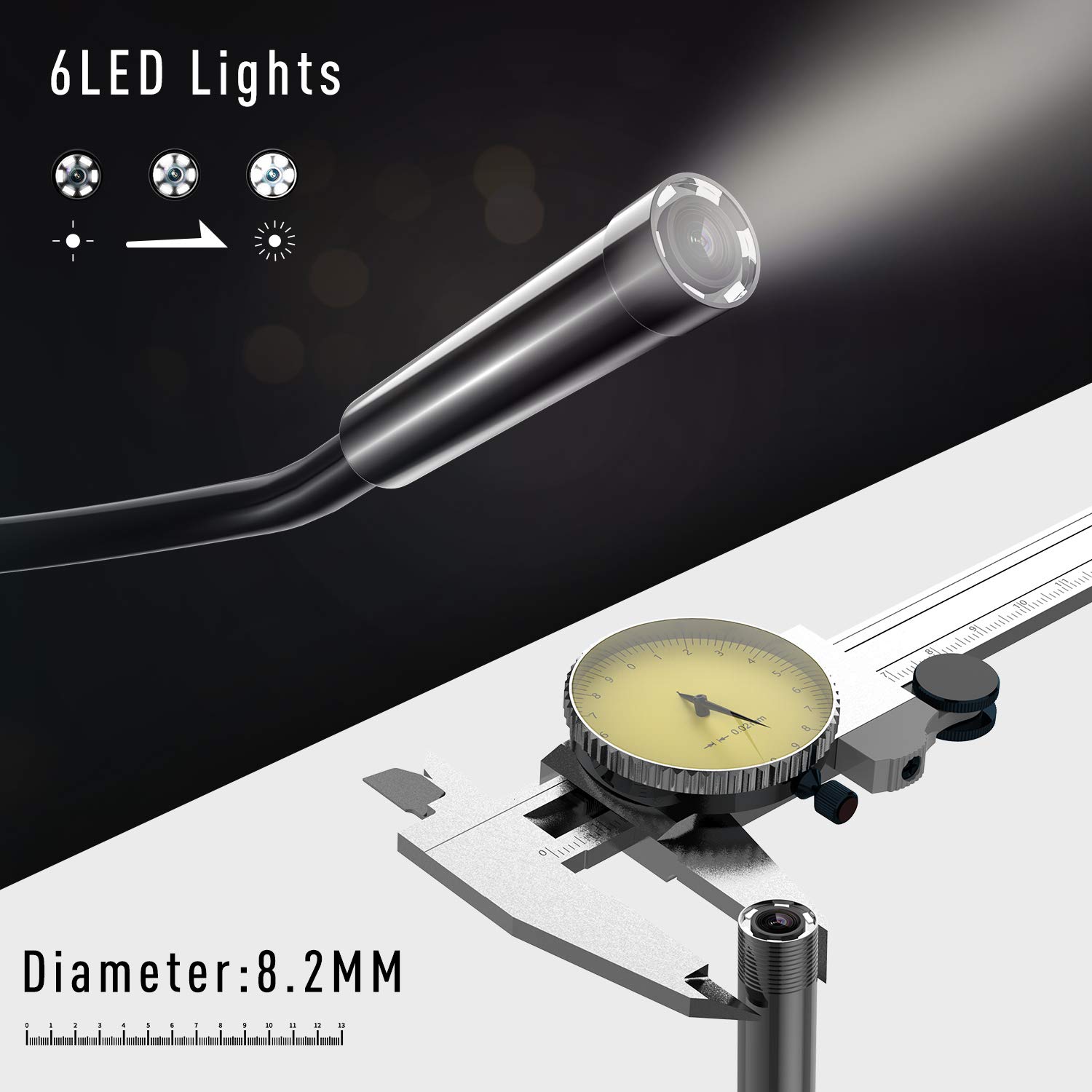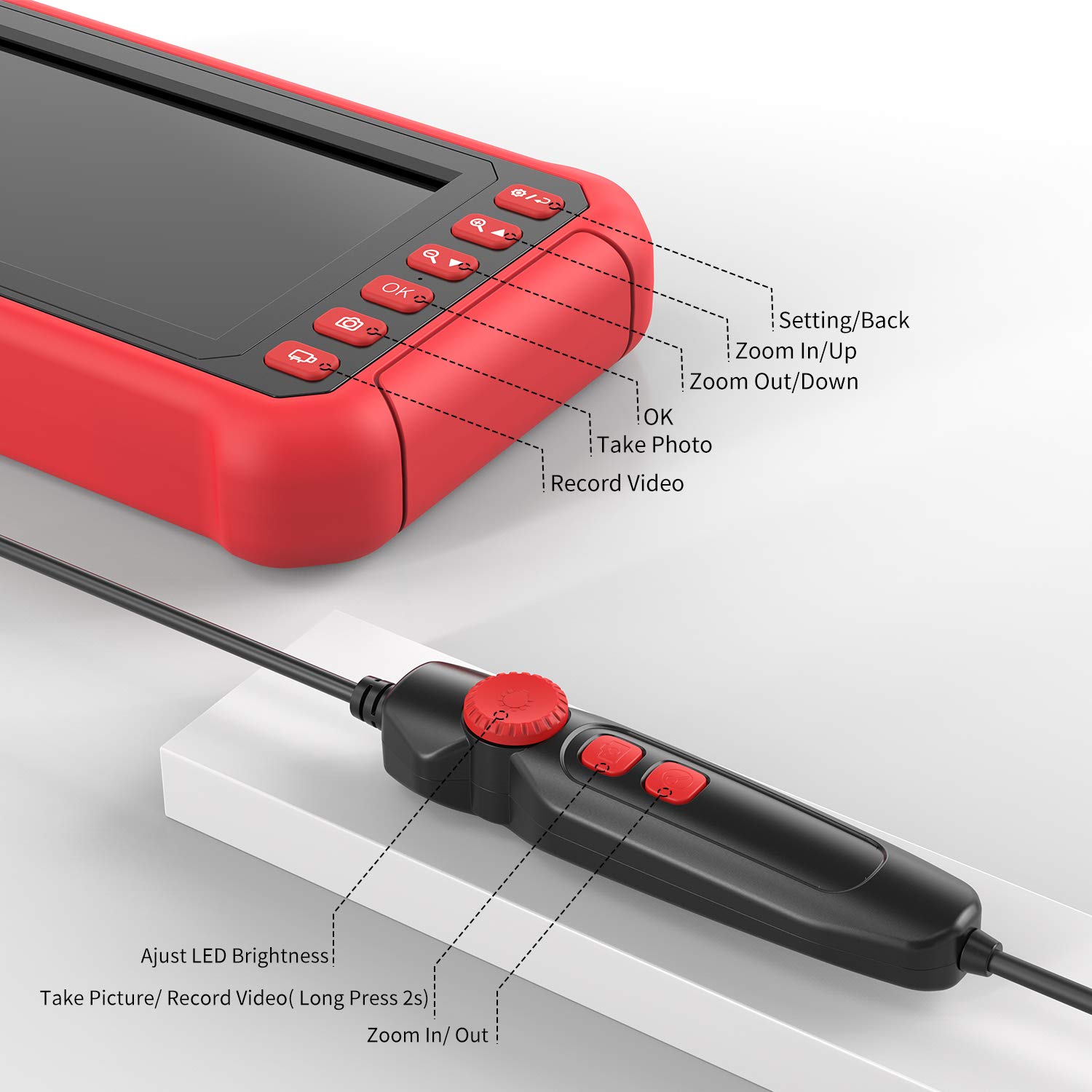 Related Accessories/Similar Items
Description
8.2mm Industrial Endoscope Camera 7" IPS 5MP Inspection Camera Waterproof Borescope Camera for Car Pipe Drain Scope
Are you still looking for a borescope with clearer picture quality?
【Advanced 7 Inch Big Display】- This endoscope incorporates the newest generation 7-inch IPS screen and 5.0MP HD camera lens, the biggest and clearest on the market, which offers improvements on image distortion and captures the more real and vivid image. The unique anti-glare technology enables the screen to keep the sharpness and fidelity of the image, always viewing a clear image from any angle.

【5.0 MP & 1-5x Zoom Endoscope Camera】- This inspection camera with 5.0 megapixel high-resolution can clearly capture 2.5x images than common 1080p, and super clear 1944p HD video. Every detail of the detection is clearly displayed in front of you. 1-5x zoom in /out function helps you observe the problem details intuitively and make a correct judgment.

【Adopted ANTI-SHAKE TECH】- The picture/video will be more stable and smooth with an anti-shake camera lens. It prevents image blur and ensures higher recording quality and always to get a clear and stable picture or smooth video when the camera lens moving.

【Waterproof Camera & 3800mAh Battery】- The borescope camera probe is IP68 waterproof grade with 6 adjustable LED lights which ensures the image clearness even underwater and in any dark environment. Equipped with a 3800 mAh large-capacity rechargeable battery, it can work up to 5-6 hours continuously with a fully charged, enough for daily inspection.

【Save Time & Money 】- Oiiwak borescope inspection camera is a great tool for mechanical inspection, car repair, pipe fix, plumbing snake, chimney, HVAC inspection maintenance, wall structure inspection, and sewer drain inspection, and household DIY. If you own this endoscope, you will save a lot of money than hiring a professional worker.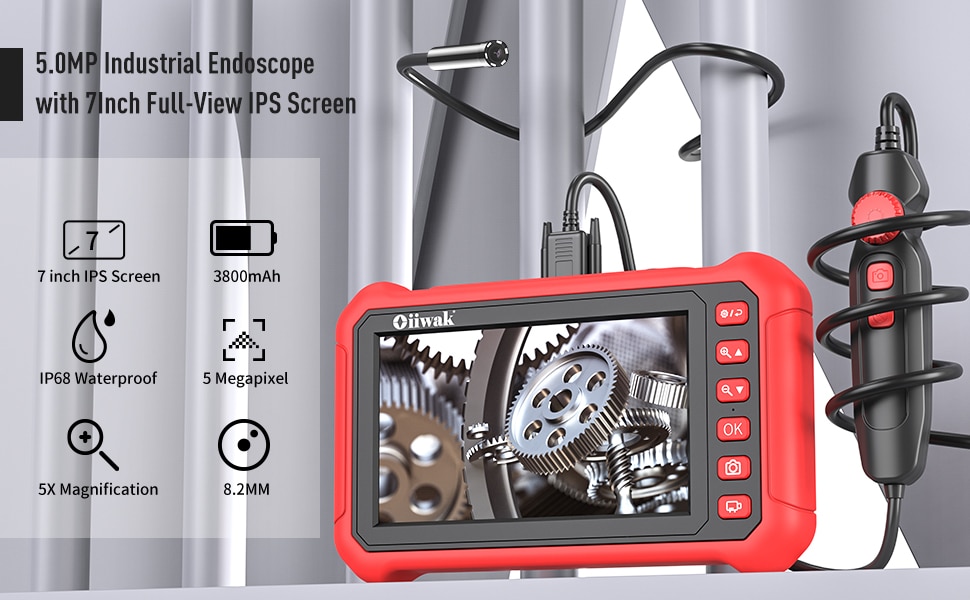 7 inch IPS Screen & 5.0MP
The upgrade 7 inch IPS monitor offers improvements on image distortion and helps to capture more real and vivid pictures from any angle. This 5.0 Megapixel Oiiwak borescope camera can satisfy all your requirements. And It has a 5X digital zoom in/out function.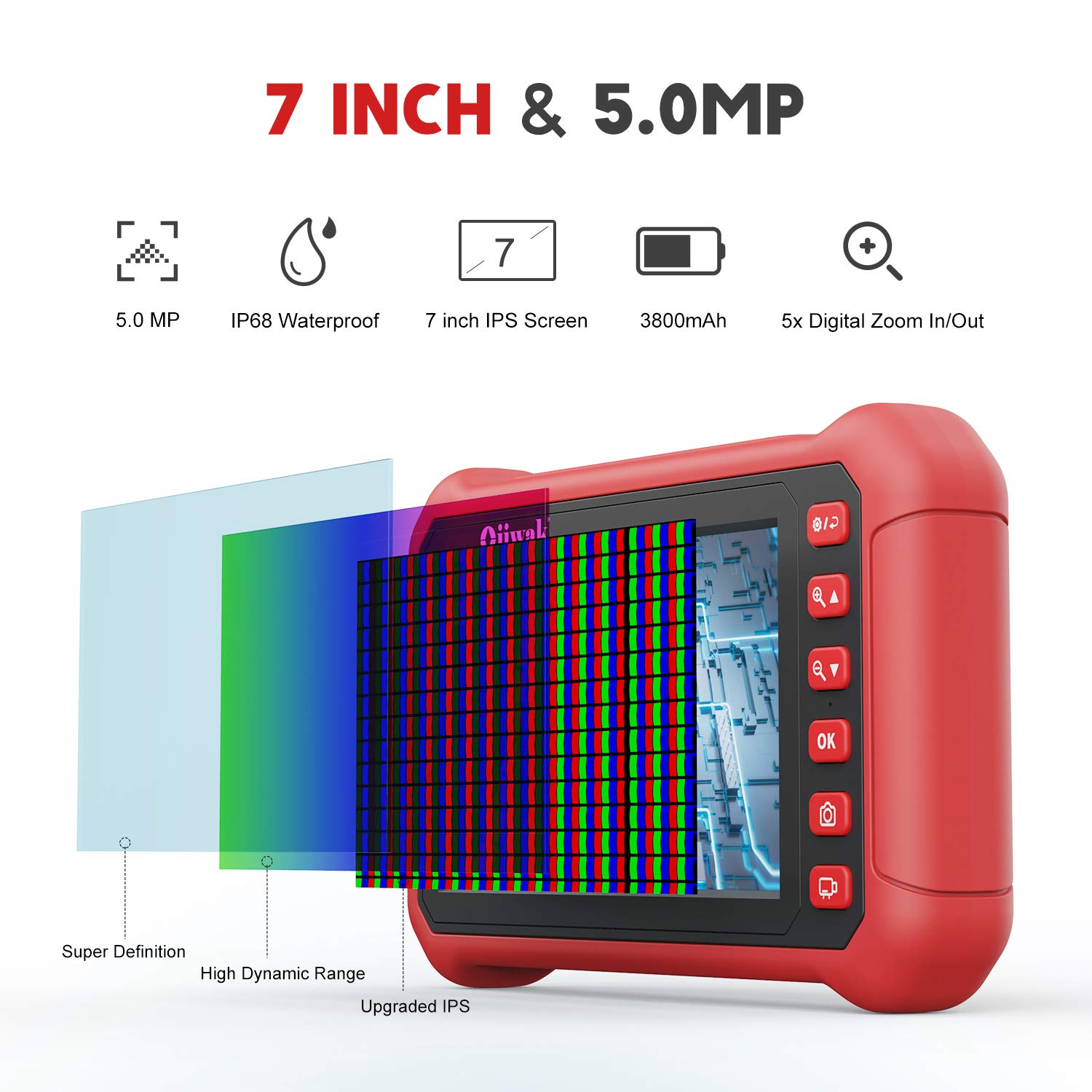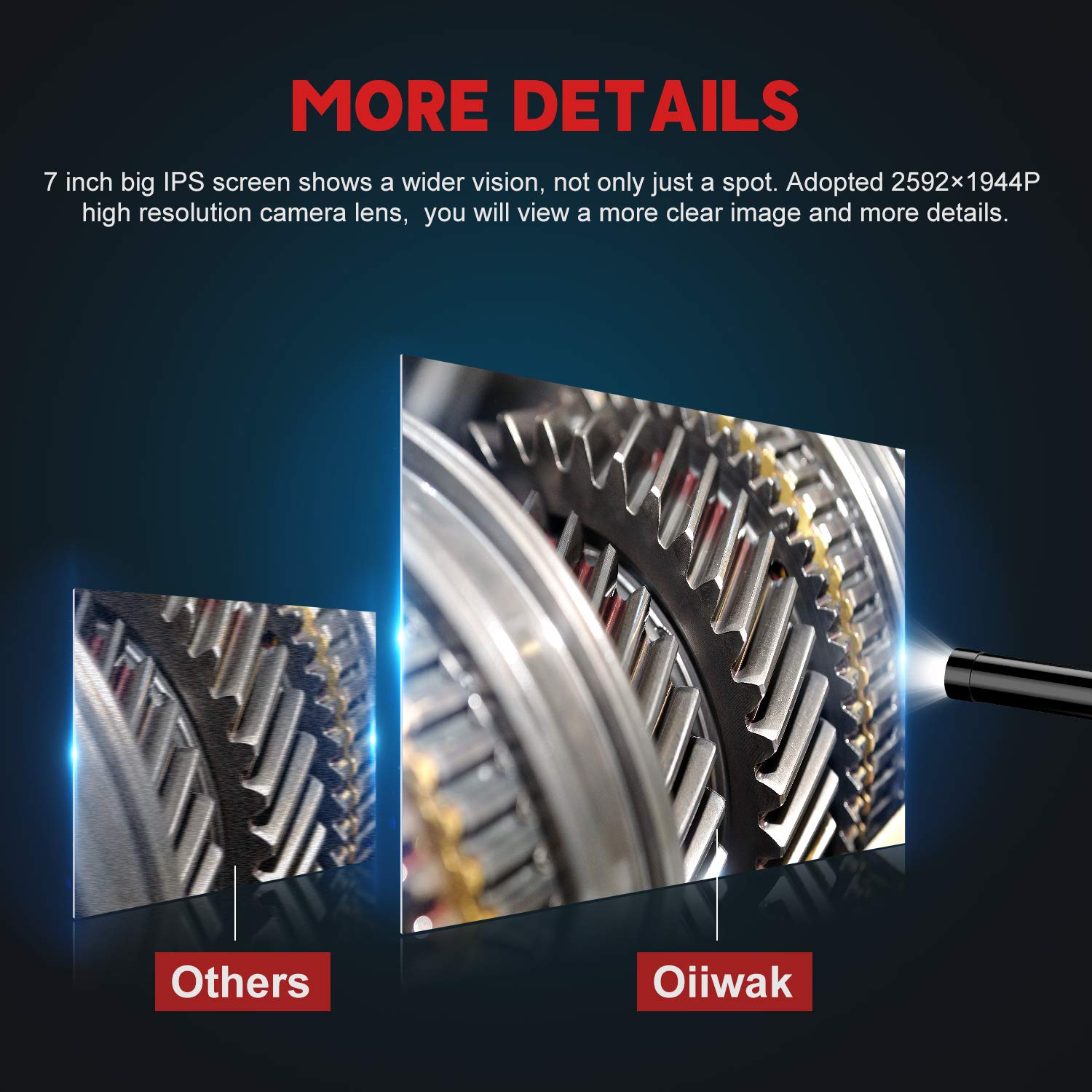 Anti-shake Tech
With advanced ANTI-SHAKE camera lens makes it always to get a clear and stable picture or smooth video when moving the camera lens.
It is the clearest industrial endoscope on the market, an ideal choice for improving convenience in your work, satisfying your extreme pursuit of high quality.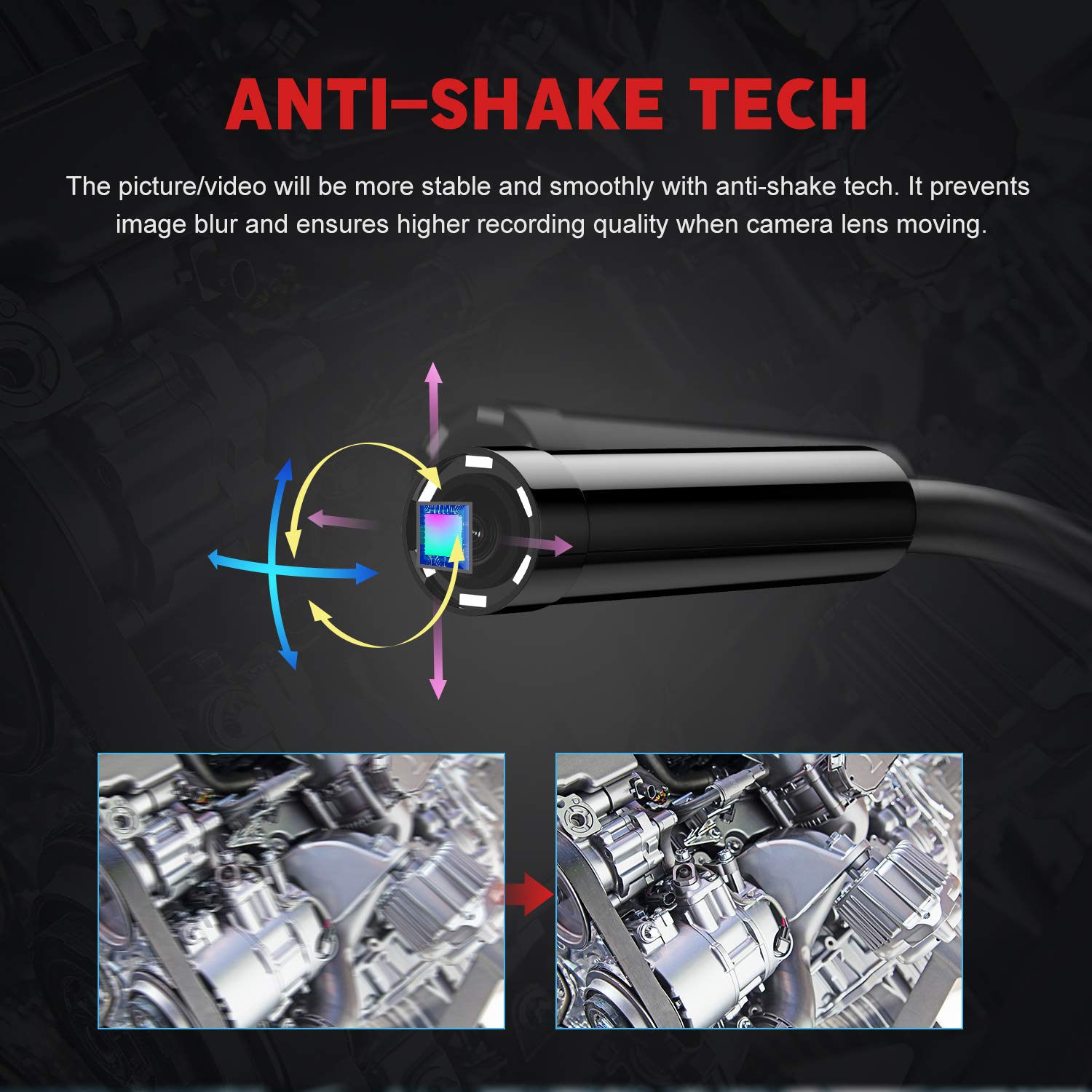 Holding Bracket 90° Rotation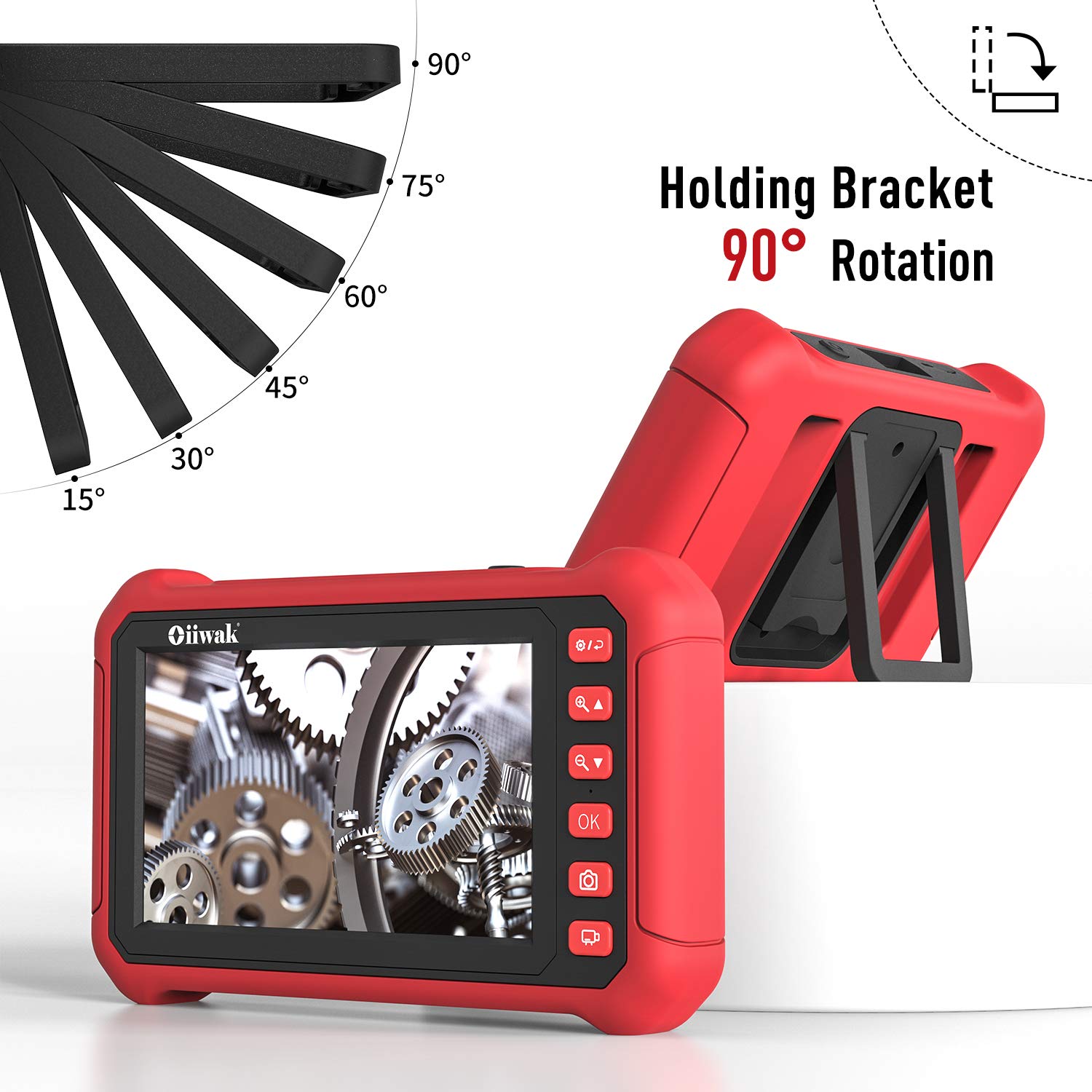 IP68 waterproof
Allow the endoscope probe for easy use in even dark and underwater places, quickly and effectively.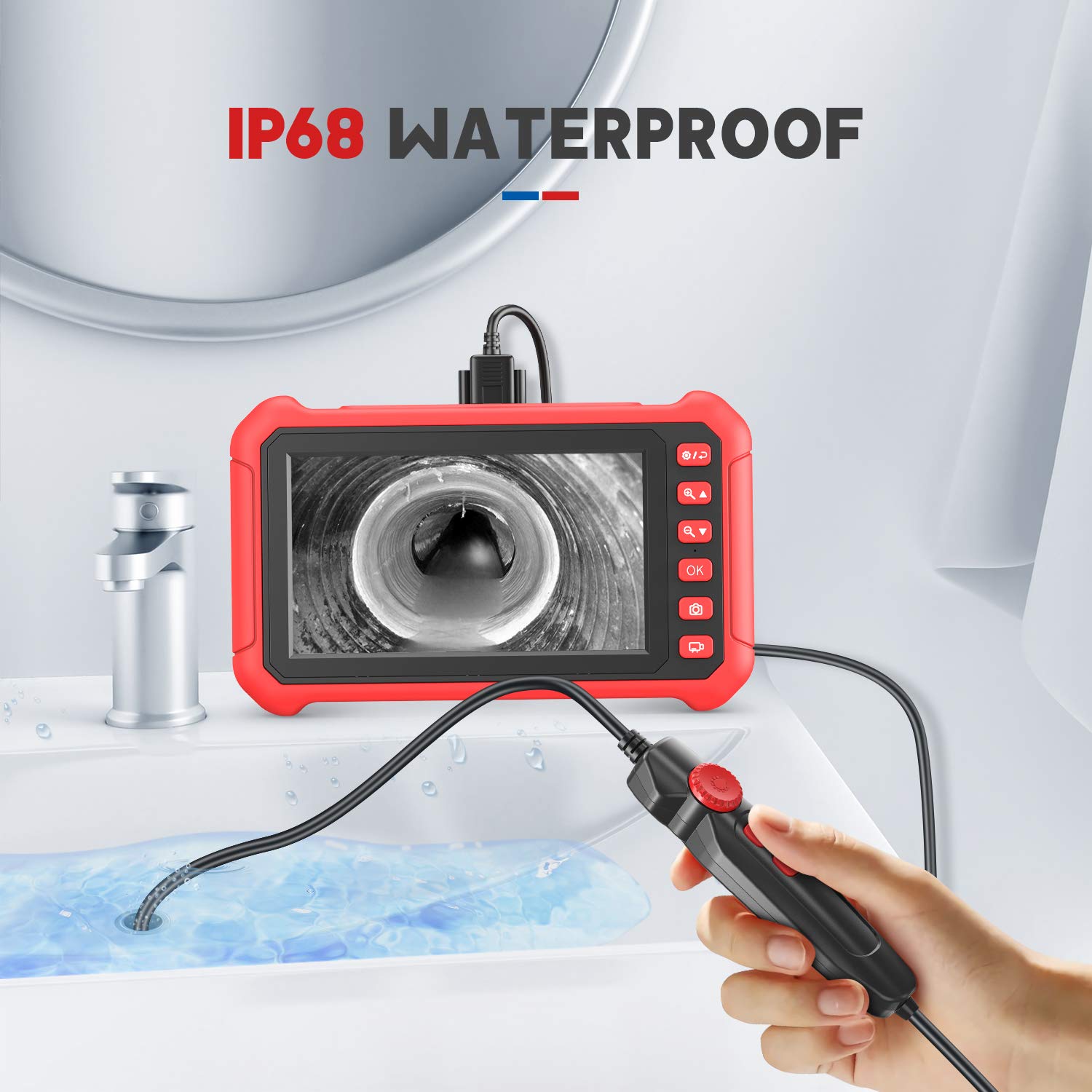 6 Adjustable led lights
6 Adjustable High-Intensity LED lights, ensure the inspection image/videos being clear even in the dark environment.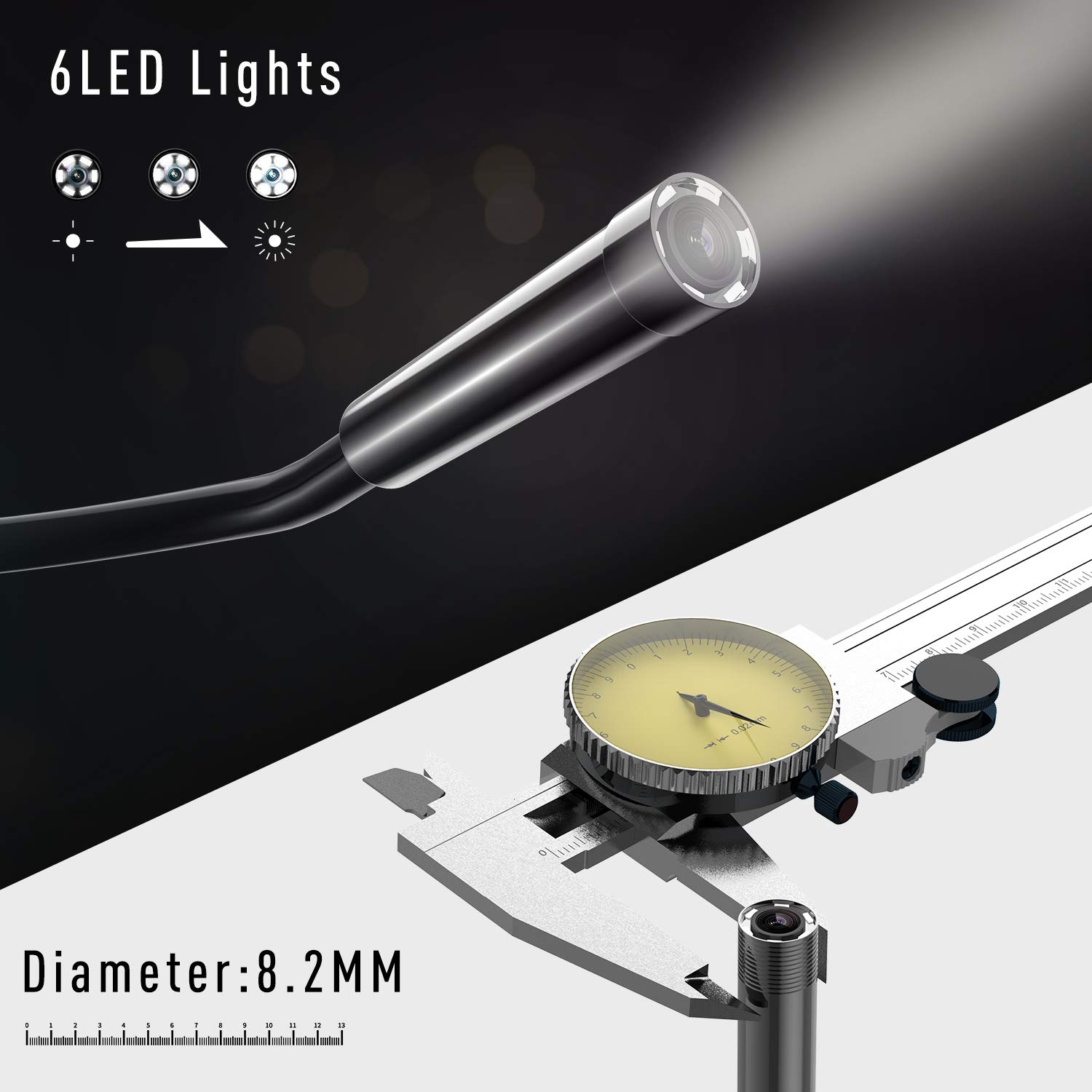 Wide Range Application: Designed for use in nondestructive inspection hard-to-reach places.
Vehicle: Car engine inspection.
engine
ers can use a borescope camera to inspect whether rust, carbon deposit, whether the parts are loose, etc.
House and garden: With an inspection camera, pipes, drains, electrical ducts, HVAC appliances, gaps behind walls, and ceilings are made more visible.
Outdoor Exploration: Children can use endoscope cameras for forays into nature to explore what is going on inside a mole or mouse burrow.
Note: When the endoscope is working, it's normal that the camera will turn hot, especially when the LED is on the brightest. It will not affect the usage or lifespan of the endoscope.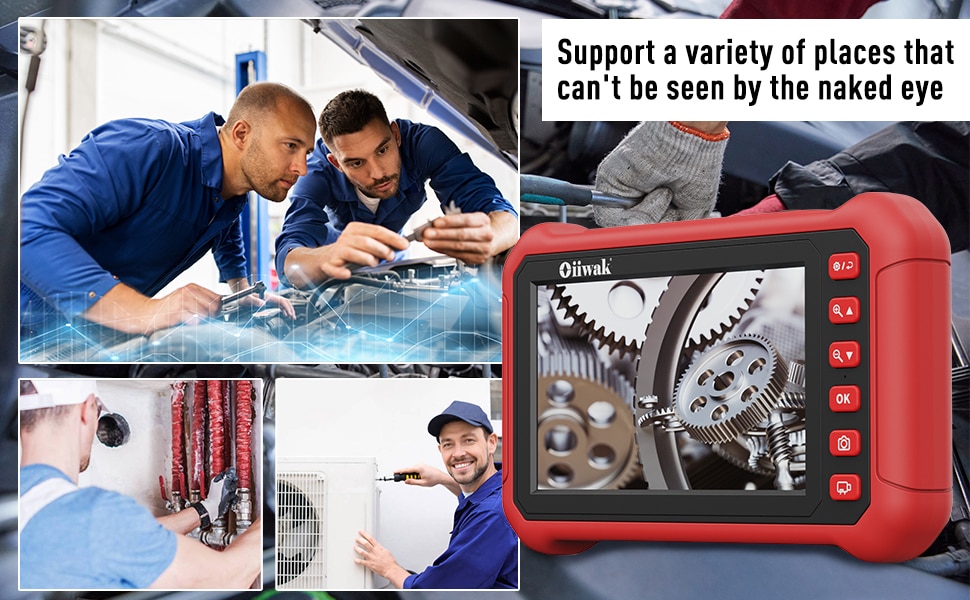 Button Function Introduction
Just press the camera button once to catch a photo, quickly to get your inspection area situation. Borescope delivers HD real-time images on the screen.