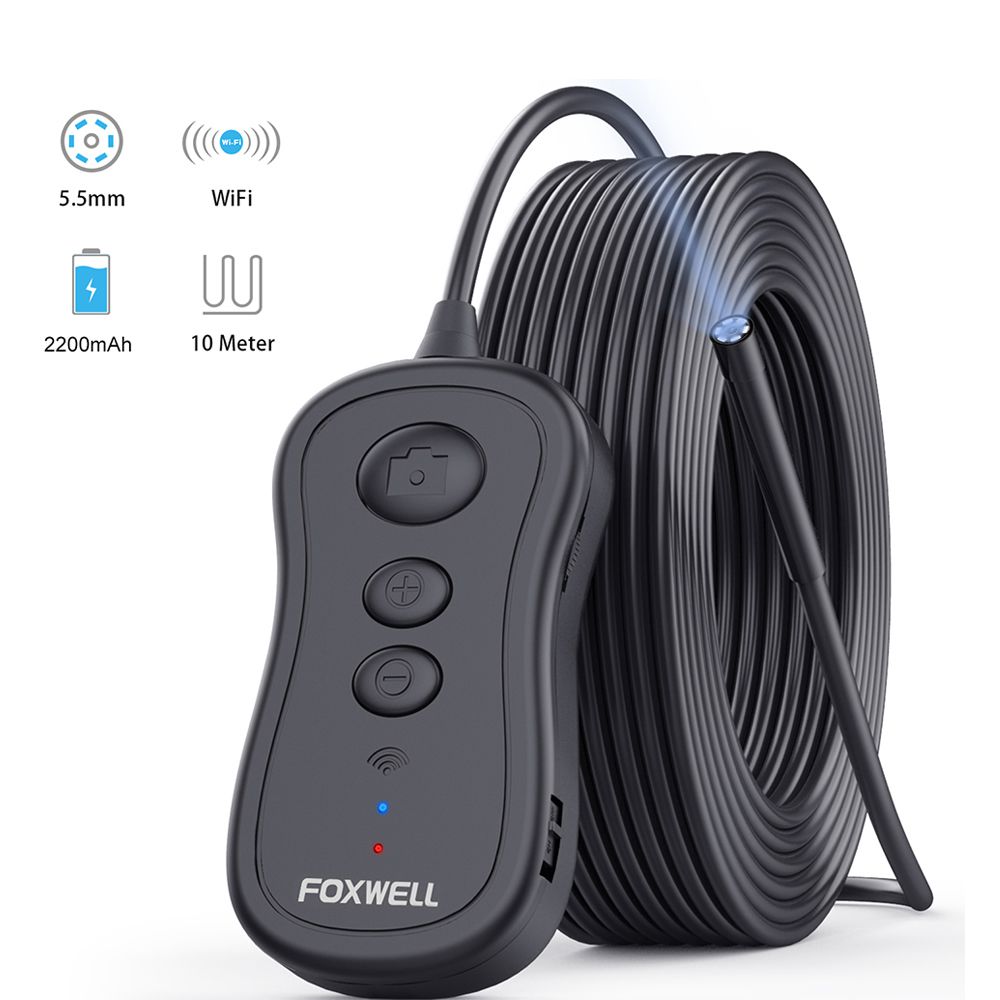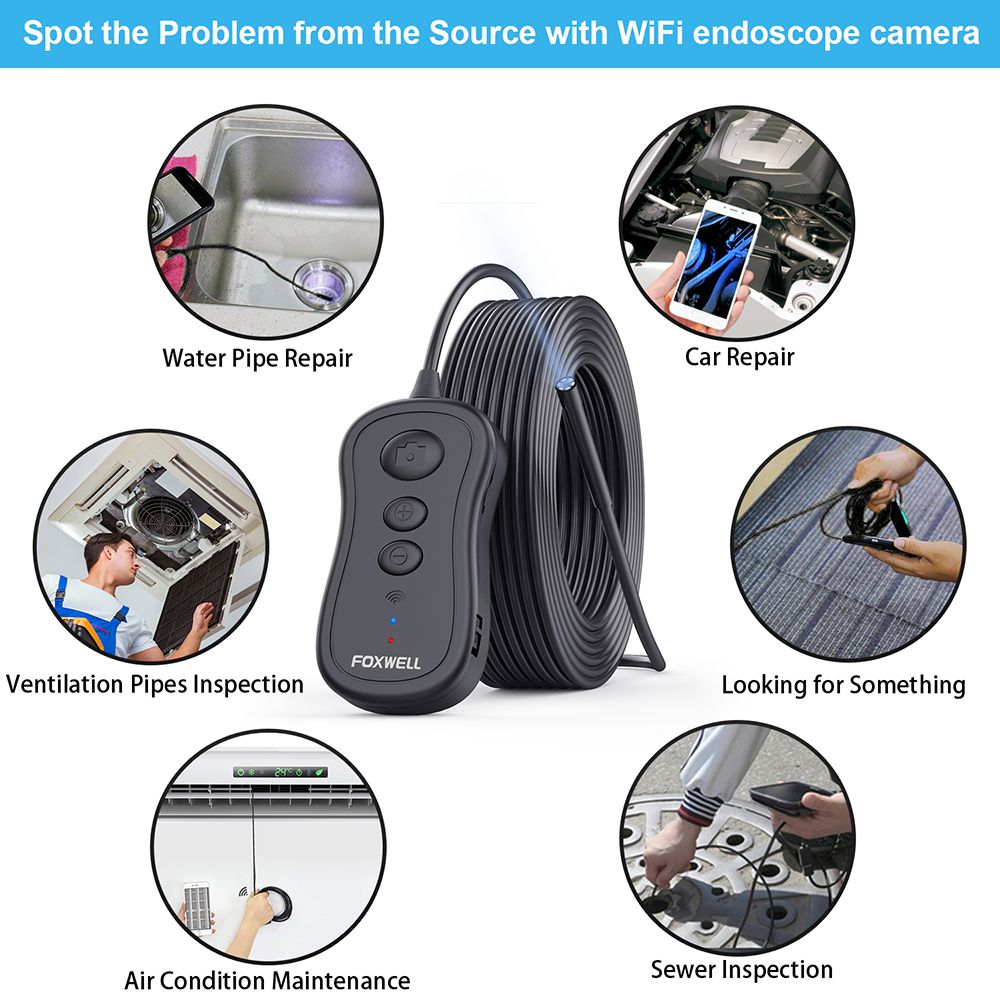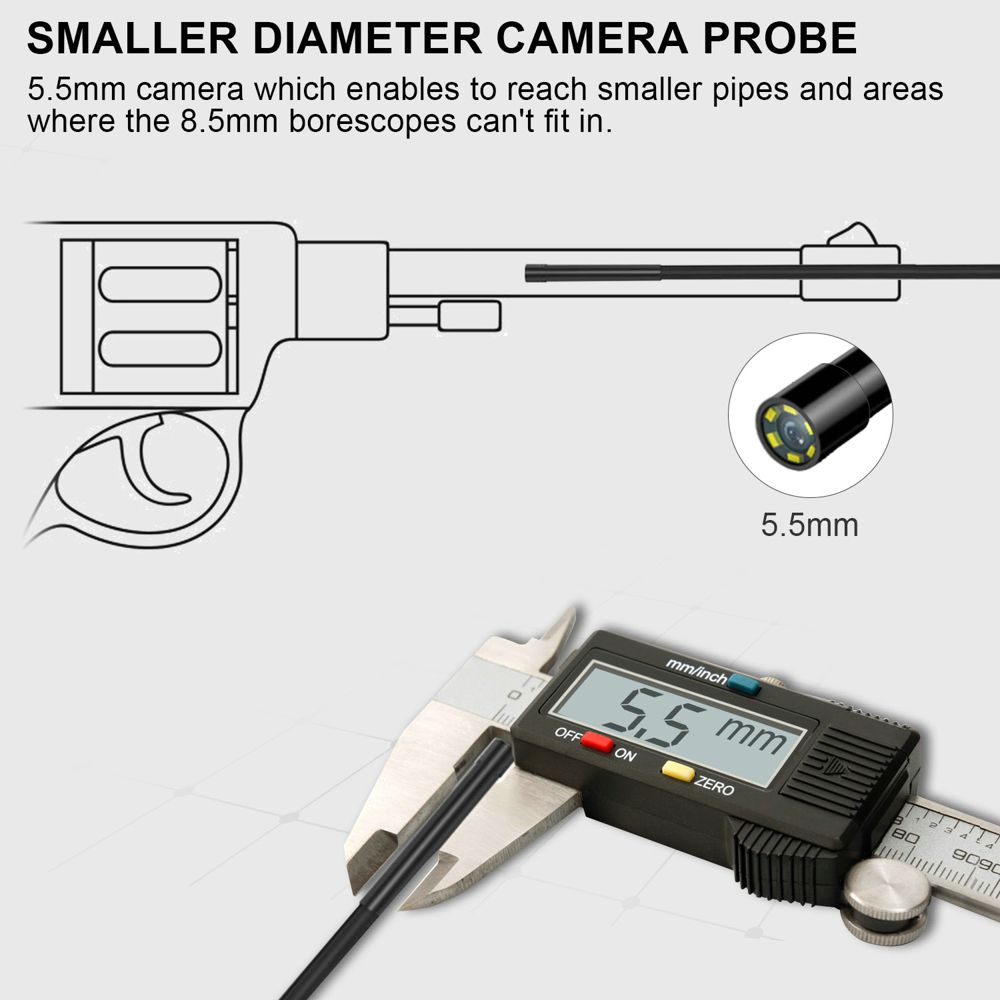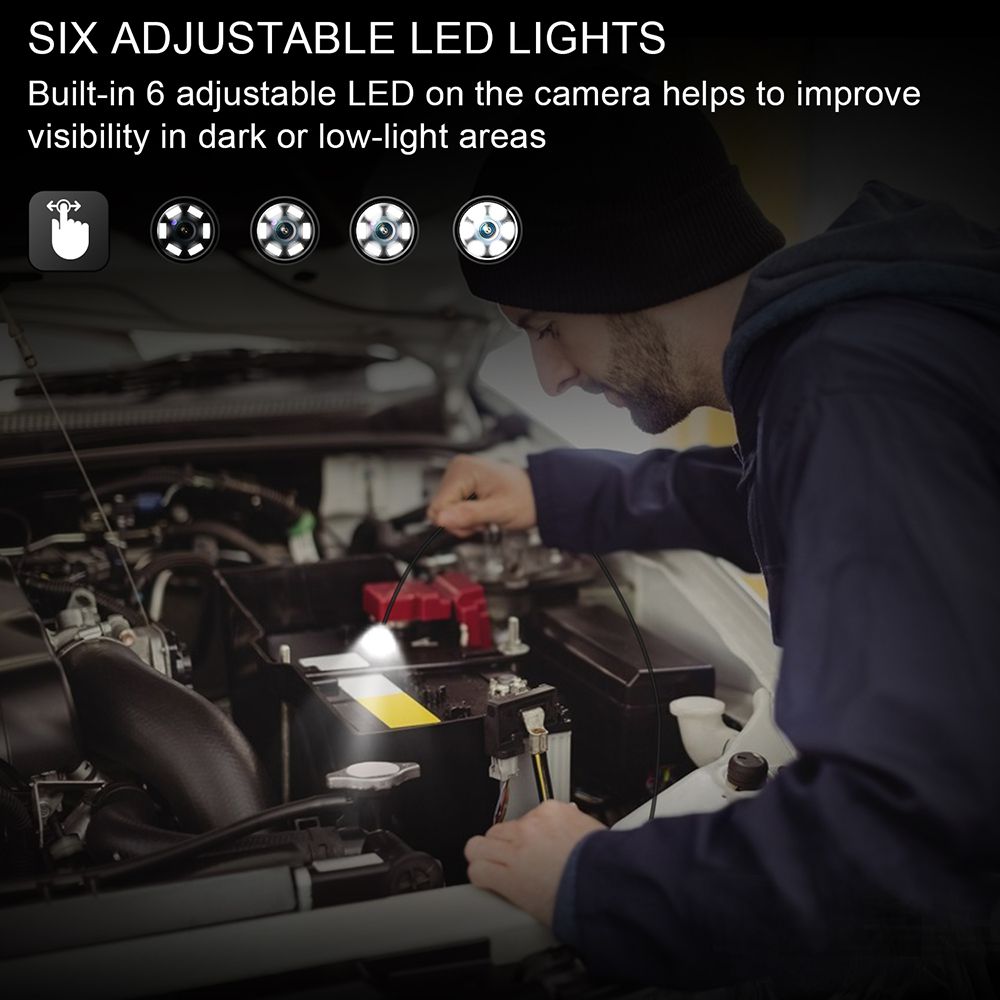 Description
Foxwell WIFI Endoscope Camera Waterproof Semi-rigid Cable Inspection Camera 5.5mm 5M 10M Endoscope Borescope For IOS Android PC ​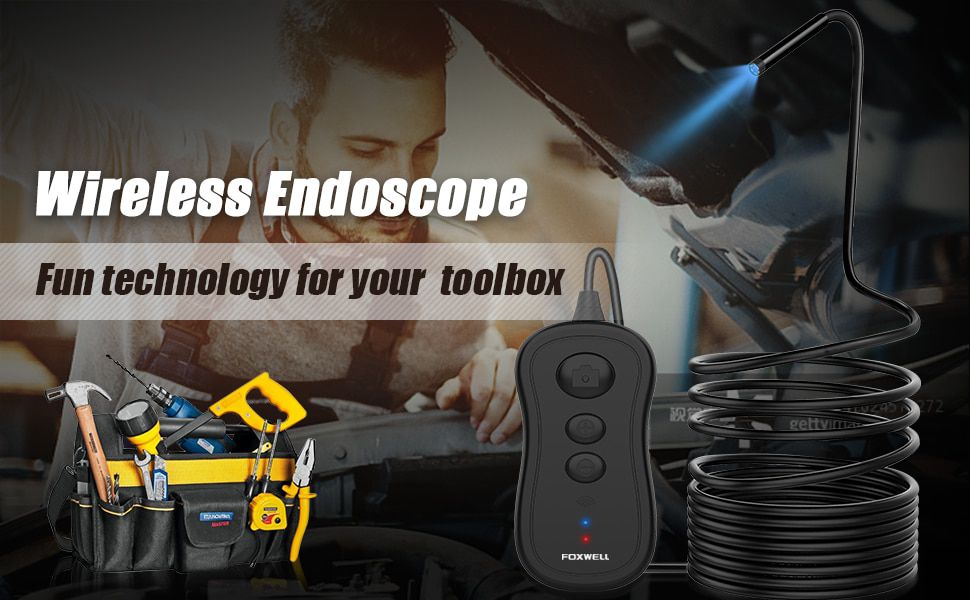 Foxwell Endoscope Features and Benifits:
1.The Newest Type Endoscope: this wireless
WIFI
endoscope camera compatible with Android smartphone(Above
Android
2.3) iPhone IOS system(Above IOS 6.0),Windows System. you need to do is to download and install the compatible APP "HD
WIFI
"on your device.
2.Unique Blue LED Technology: 6 adjustable Blue LED light on camera tip, it greatly helps to improve image brightness and clarity even in dark or low-light condition. Moreover, the art of 1080P camera offers you a wonderful experience of recording a clear close range HD video in AVI format and snapshot image in JPG format with three adjustable resolutions 640x480, 1280 x 720,1920 x 1080.
3.Waterproof Wireless and 5.5mm Diameter Camera: this endoscope can suitable for various types of environment, for example, low-light or dark area, damp or wet area etc. Furthermore, armed with semi-rigid cable which can bend and hold it's shape to access a wide variety of confined place.
4. Built In 2200mAh Rechargable Battery: adopts high capacity and high performance battery core to bring you a long lasting using time up to 4-5h in case of the LED turn off, you don't have to worry the battery will drain out when you're doing the most critical action, which A great improvement compare with other similar product.
5. ZOOM IN AND OUT:It's very convenient for you to zoom in or zoom out the picture or video on line to inspect some areas such as cable in pipes, machine parts, circuit board more clearly and accurately.
NOTE: if the picture is not clear, just need to press the "+" or "-" button to adjust the view .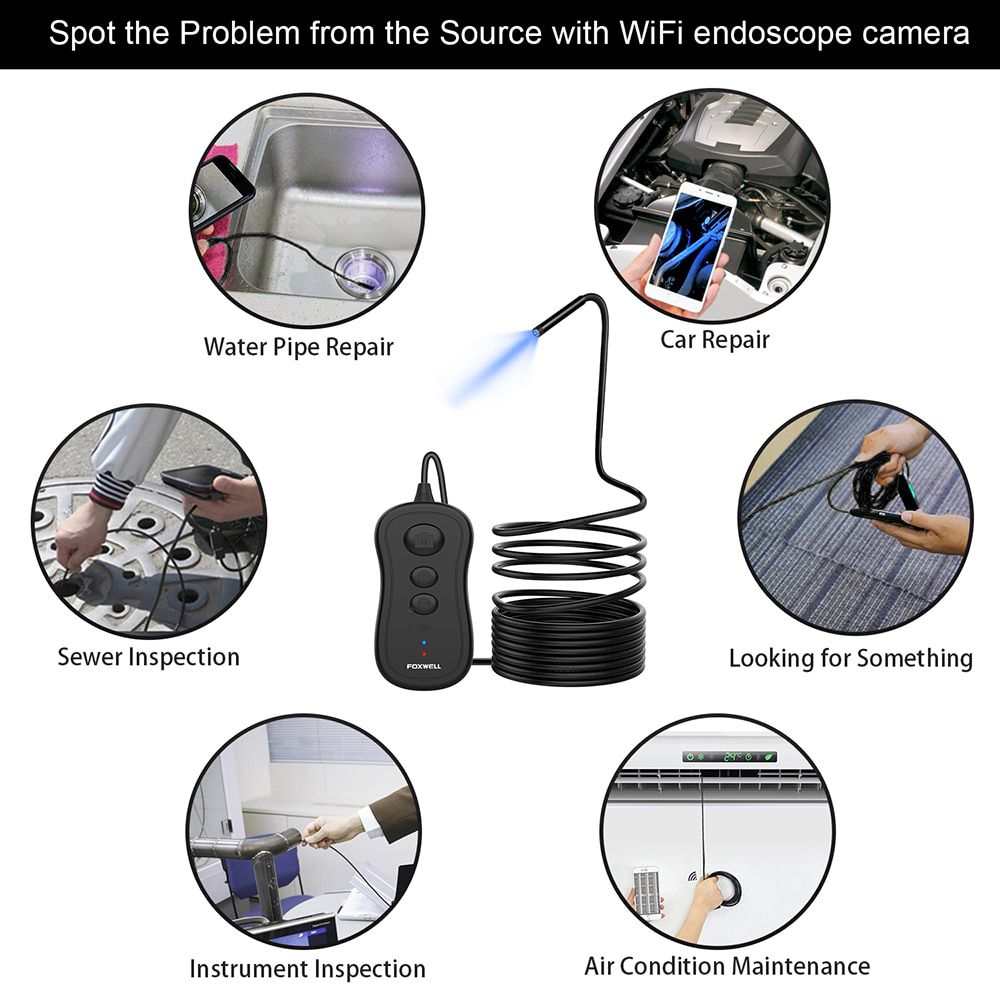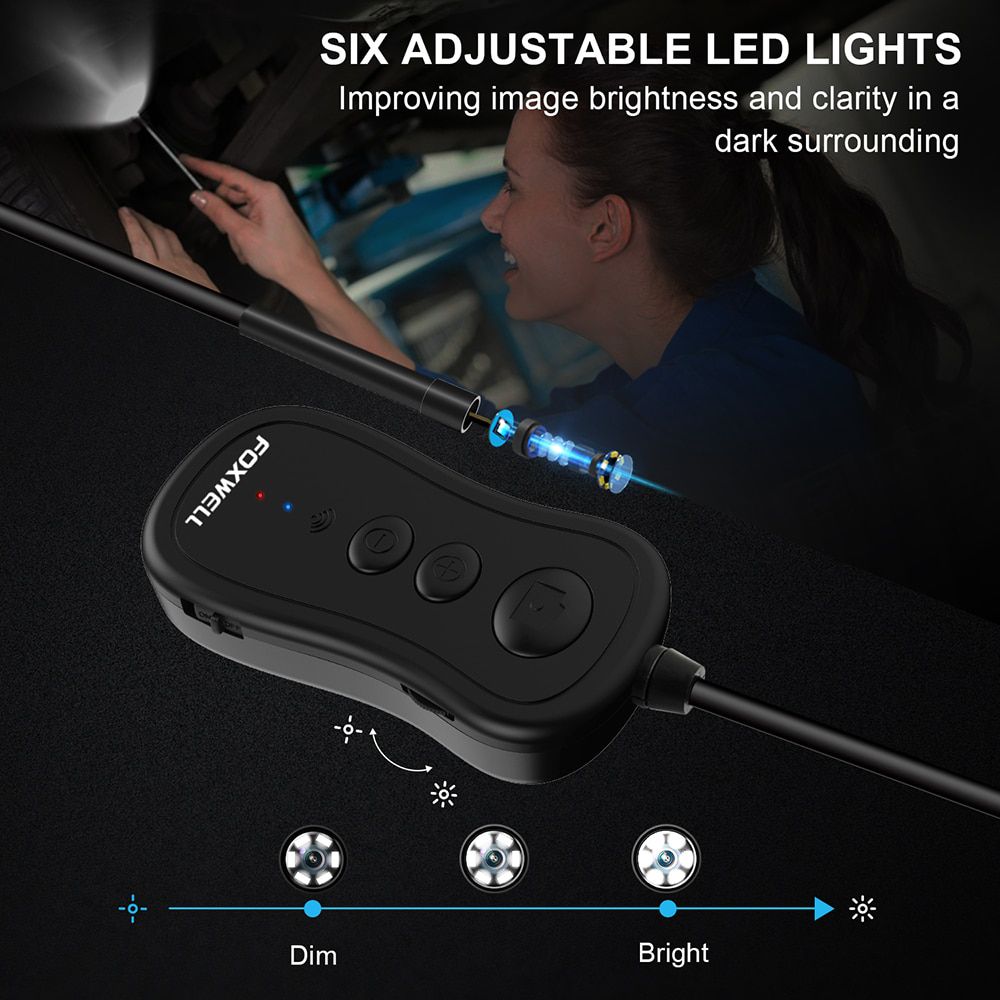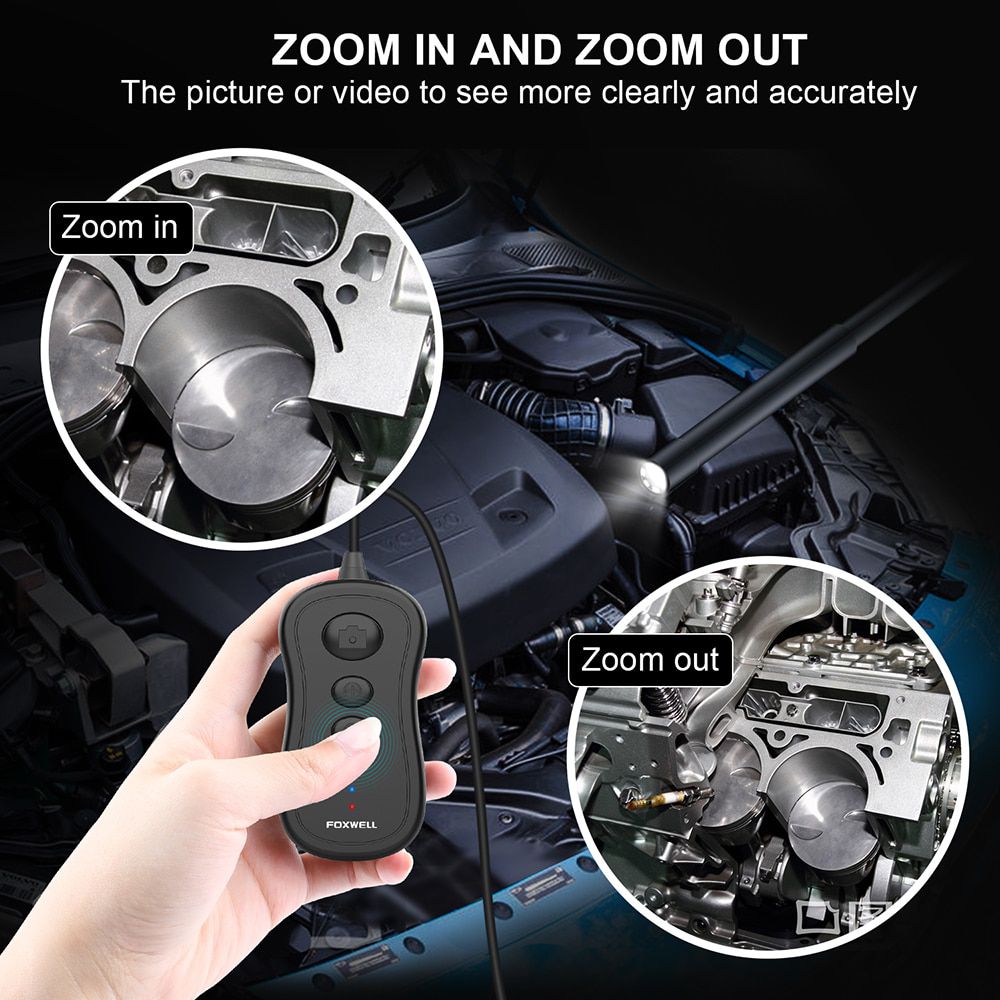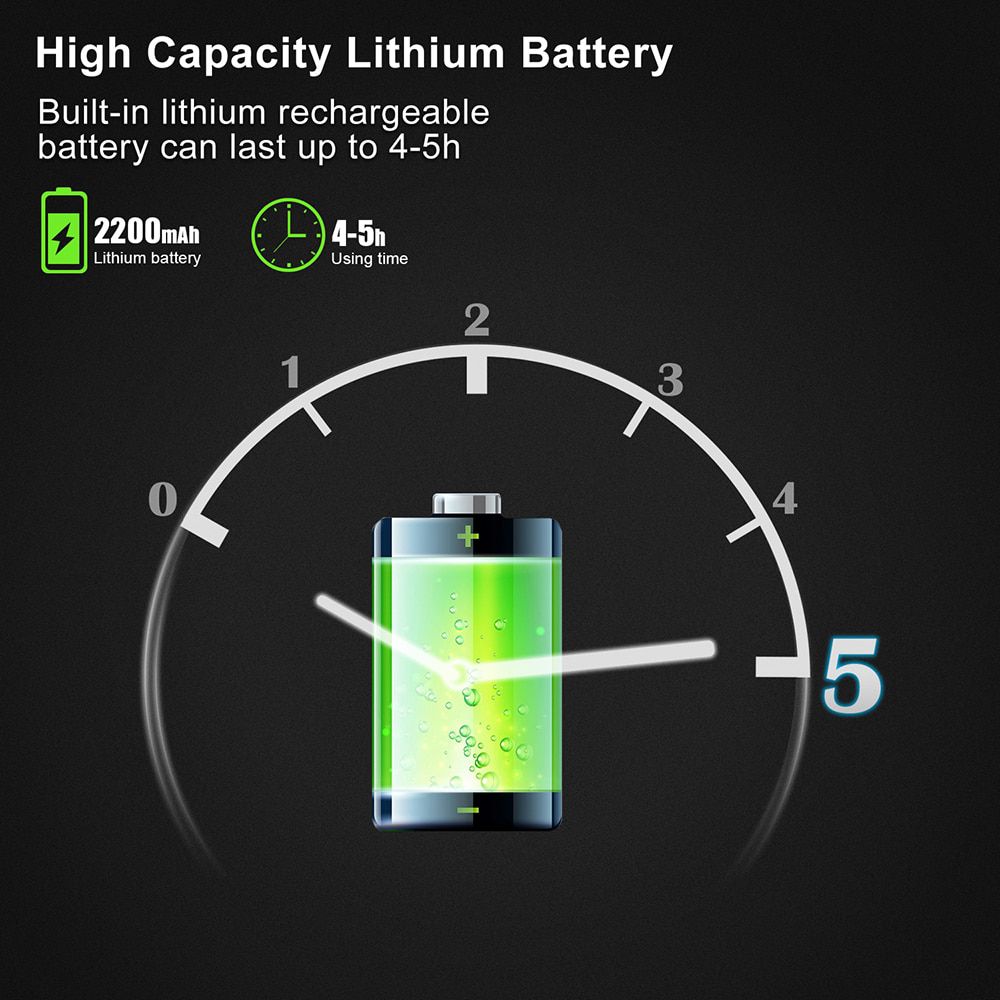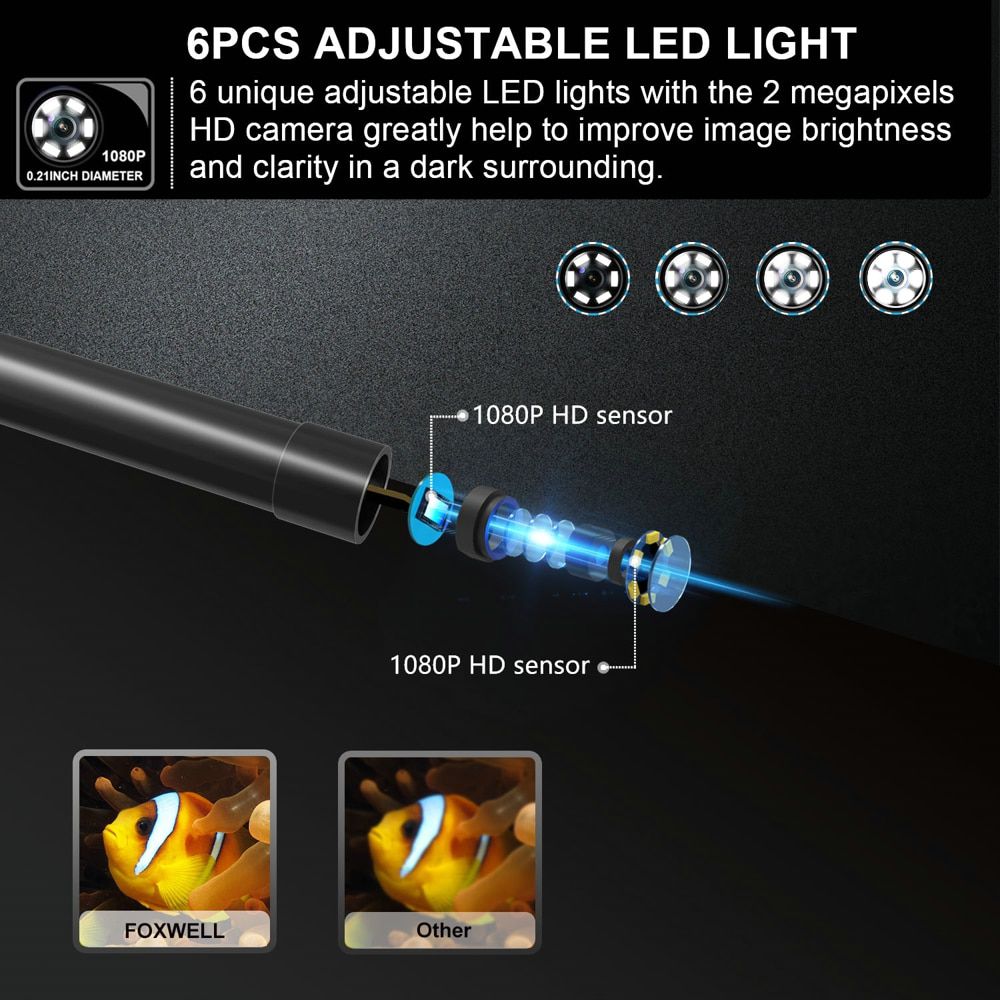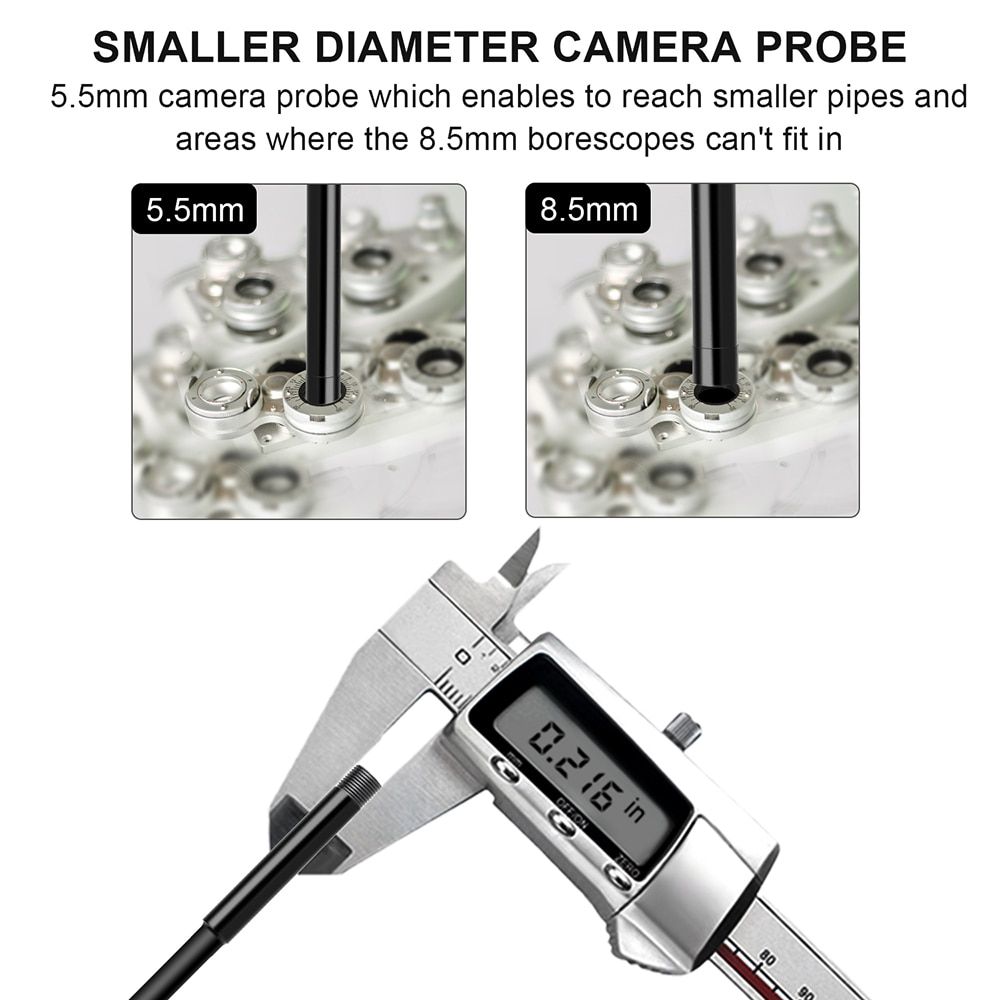 0.216 inch Diameter Camera Probe
Slim 0.216 inch/5.5mm diameter, smaller than a rifle bore, which enables it to reach smaller pipes and areas where old fashioned 8.5mm borescopes can't fit in. Such as sink pipes, vent pipes, toilet drain, car internal parts and so on.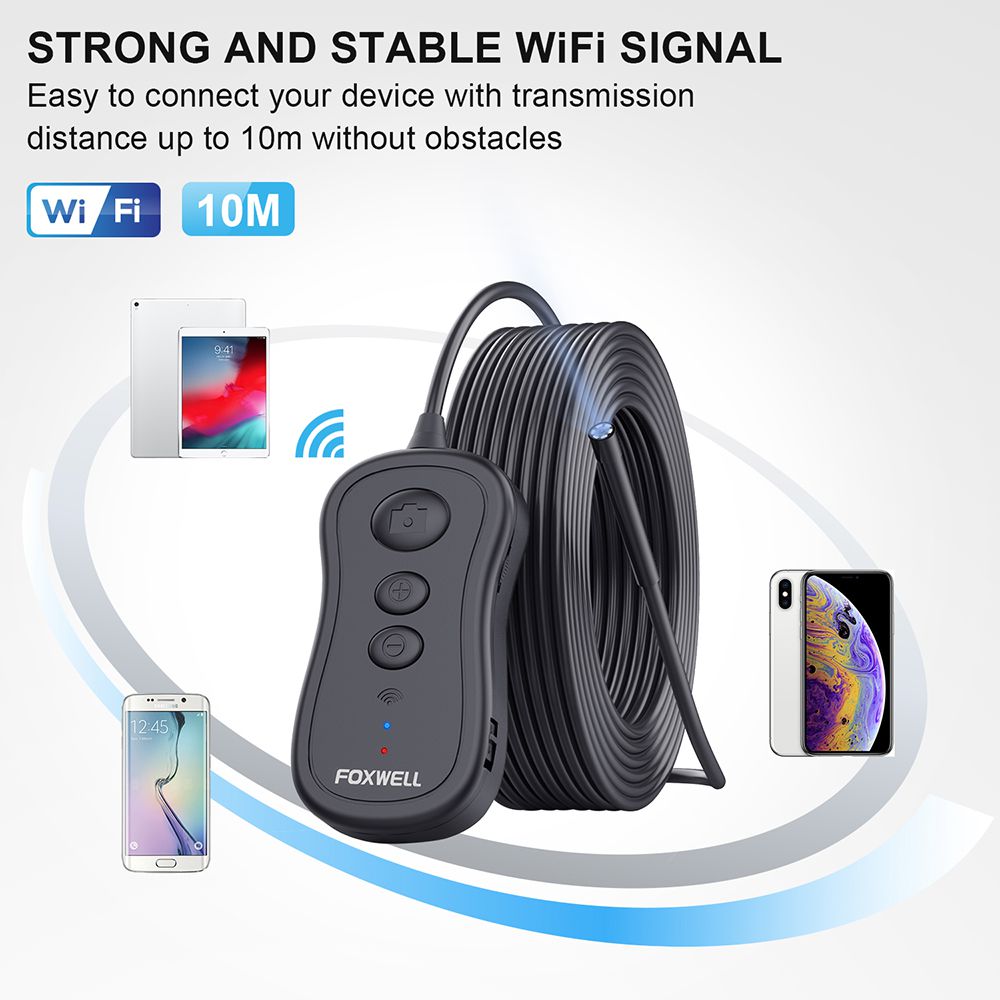 Multiple Compatibility
Built with WiFi transmission, FOXWELL wireless wifi endoscope camera supports hotspot connection, without using extra adapter or cable, it can be easily connected with your smartphone via WIFI. It can work perfectly for
Android
2.3+ and for IOS 6.0+ smartphone.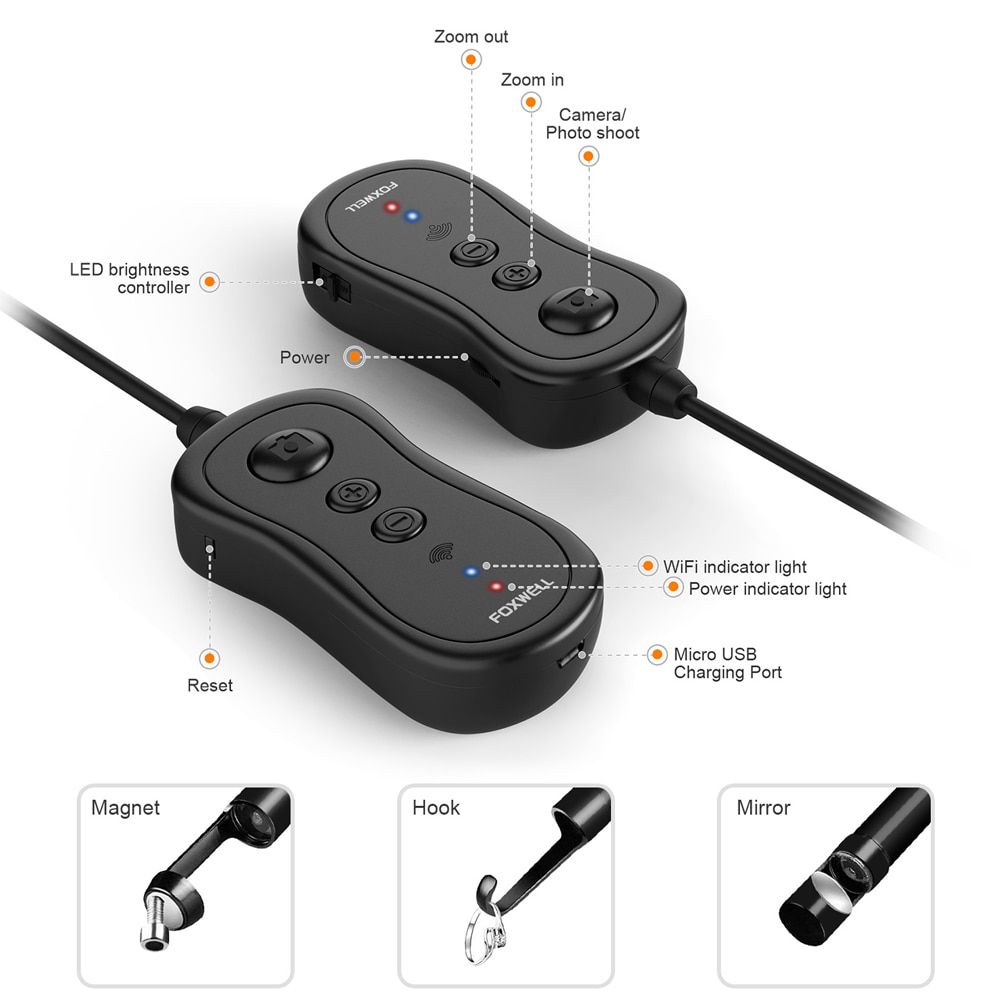 Practical & Powerful Attachments
Are you troubled by catching the little objects in hard-to-reach or hard-to-see place? All these 3 useful tools can be firmly screwed on the camera head to help you get back the dropped little things in the gloomy environment like coins, keys, and earrings.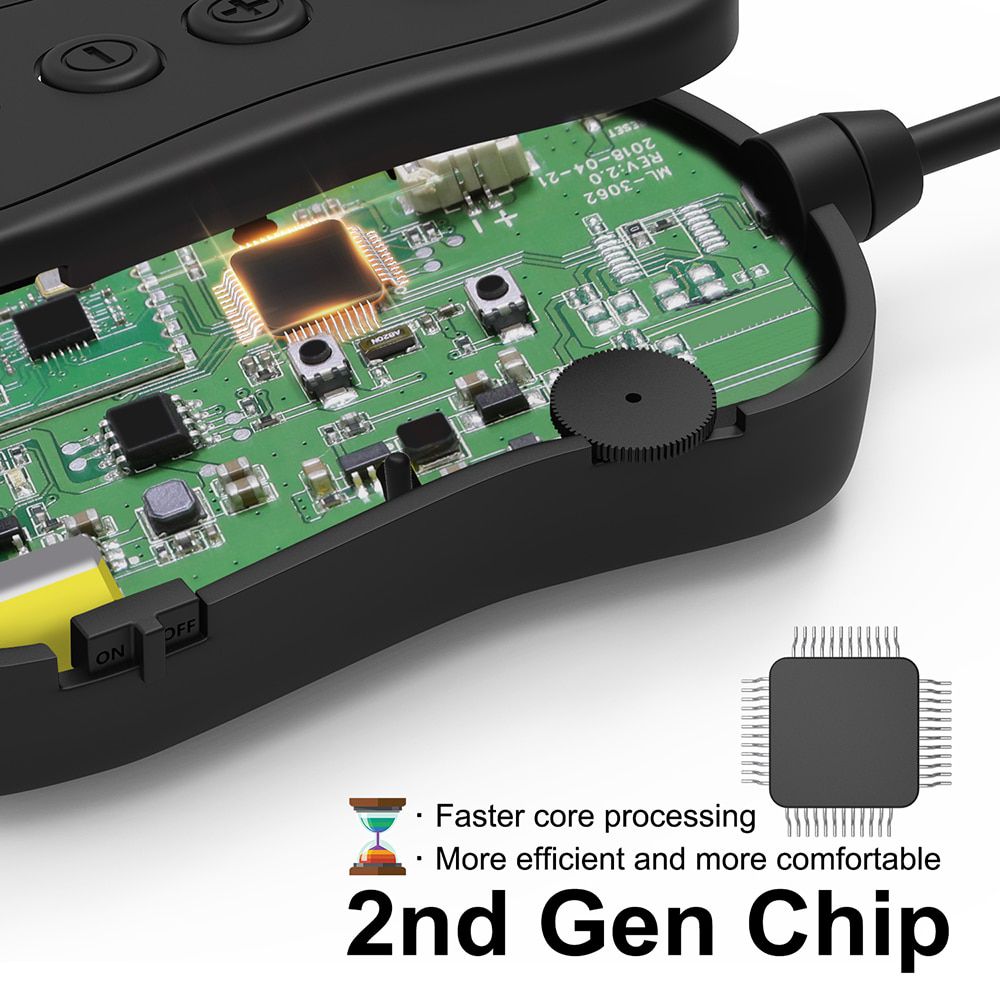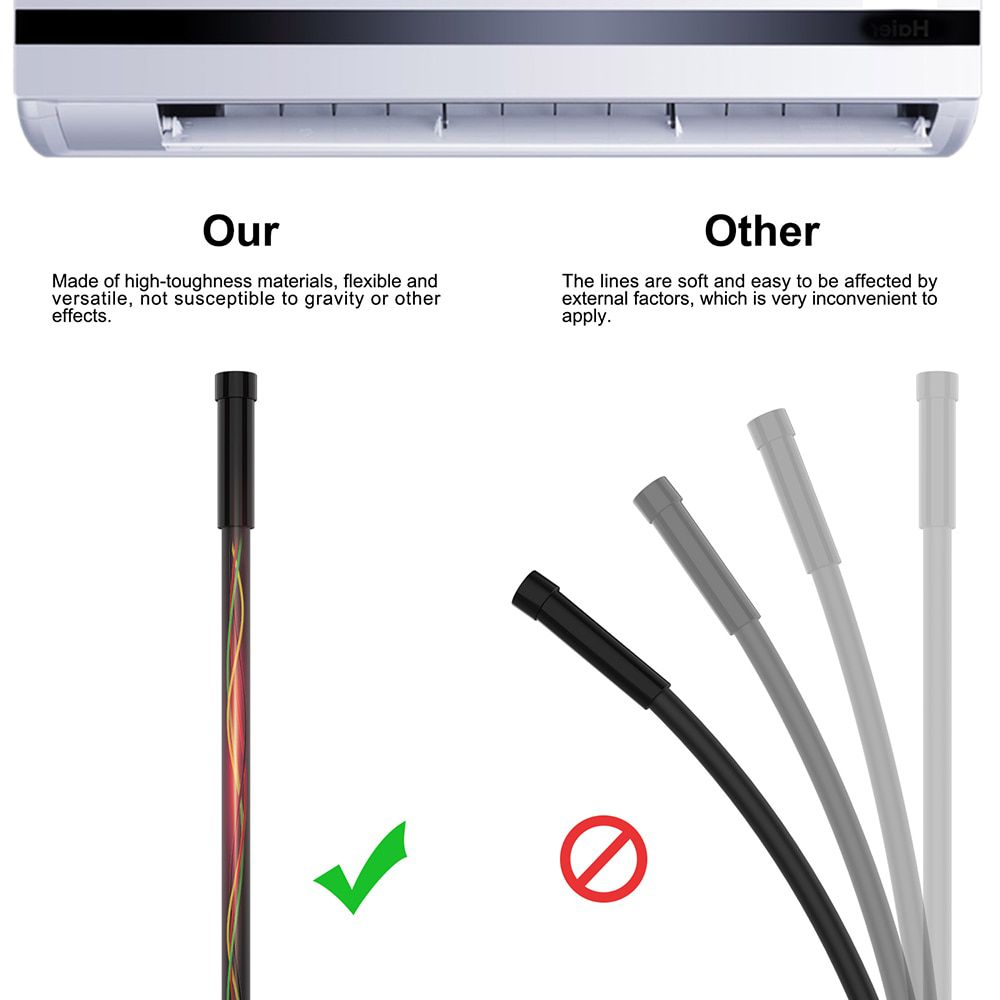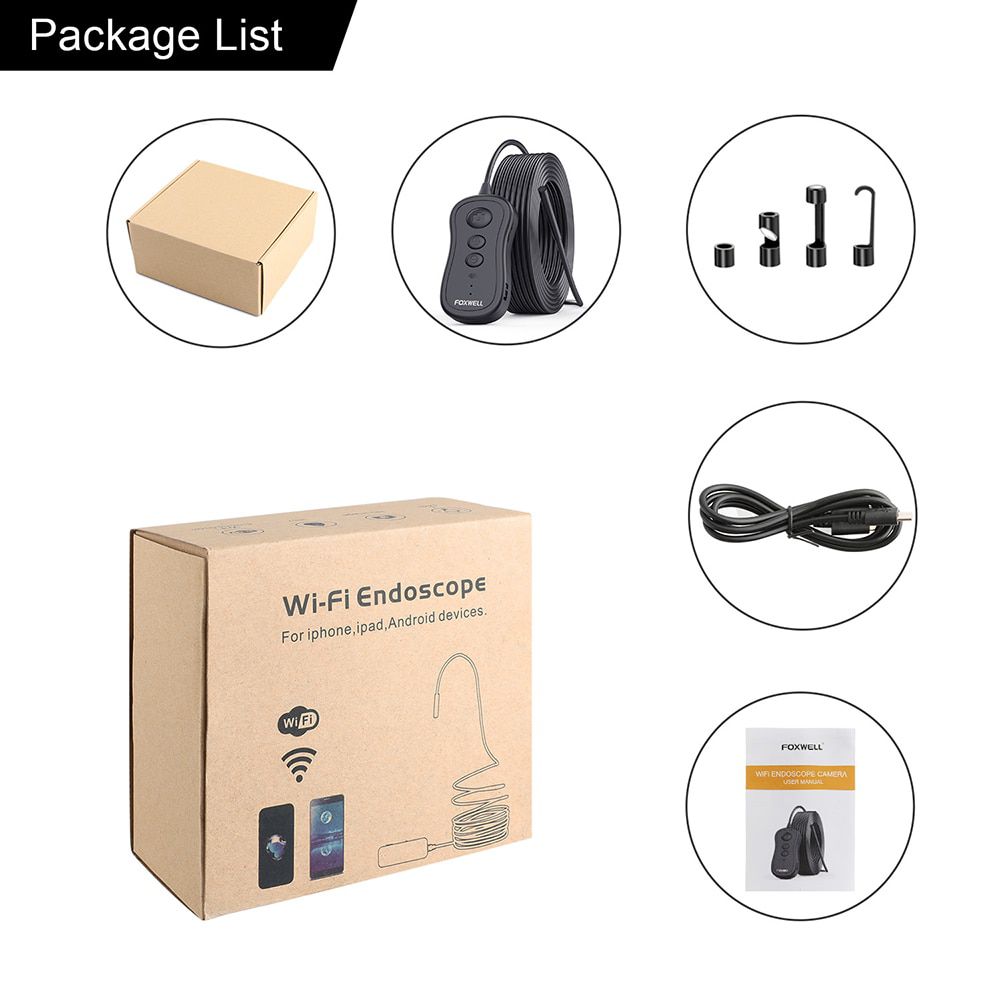 Reviews

13
#1 Rami Wassaf
Dec 9, 2018

Good afternoon my dear, Very fast shipping. All material arrived. Good communication. Recommended seller. I am happy because all works well. Thank You for all attention. Best Regards.
#1 Victor Igumnov
Nov 9, 2018

fits my machine perfectly
#1 Severin Friedl
Sep 9, 2018

The goods came quickly enough, packed perfectly, checked works!
#1 James Tirado
Dec 9, 2018

perfect
#1 Carl Luther
Sep 9, 2018

Excellent equals description
#1 JamesBZ JamesBZ
Jun 9, 2018

Very good product super fast
#1 Matthew Sailey
May 9, 2018

Delivered quickly to the threshold,Connected the first time. Counted recorded without problems. this FOXWELL WiFi Endoscope 5.5mm Wireless Borescope Inspection Camera 1080P HD Waterproof with Light for iPhone, Android and Tablet is good quality, working very well
#1 lherman parker
Sep 9, 2018

Goods very solid and consistent with the description
#1 Cezar Surdu
Aug 9, 2018

Product arrived before the date mentioned, are. Now only test
#1 ben chorev
Jul 9, 2018

Delivered quickly to the threshold,Connected the first time. Counted recorded without problems.
Previous: XTUNER T2 Diagnostic Tool for Heavy-duty Truck and Commercial Vehicles More Powerful than Xtuner T1
Next: Yanhua Mini ACDP Key Programming Master Basic Module with BMW CAS1 CAS2 CAS3 CAS3+ CAS4 CAS4+ IMMO Key Programming and Odometer Reset Adapter