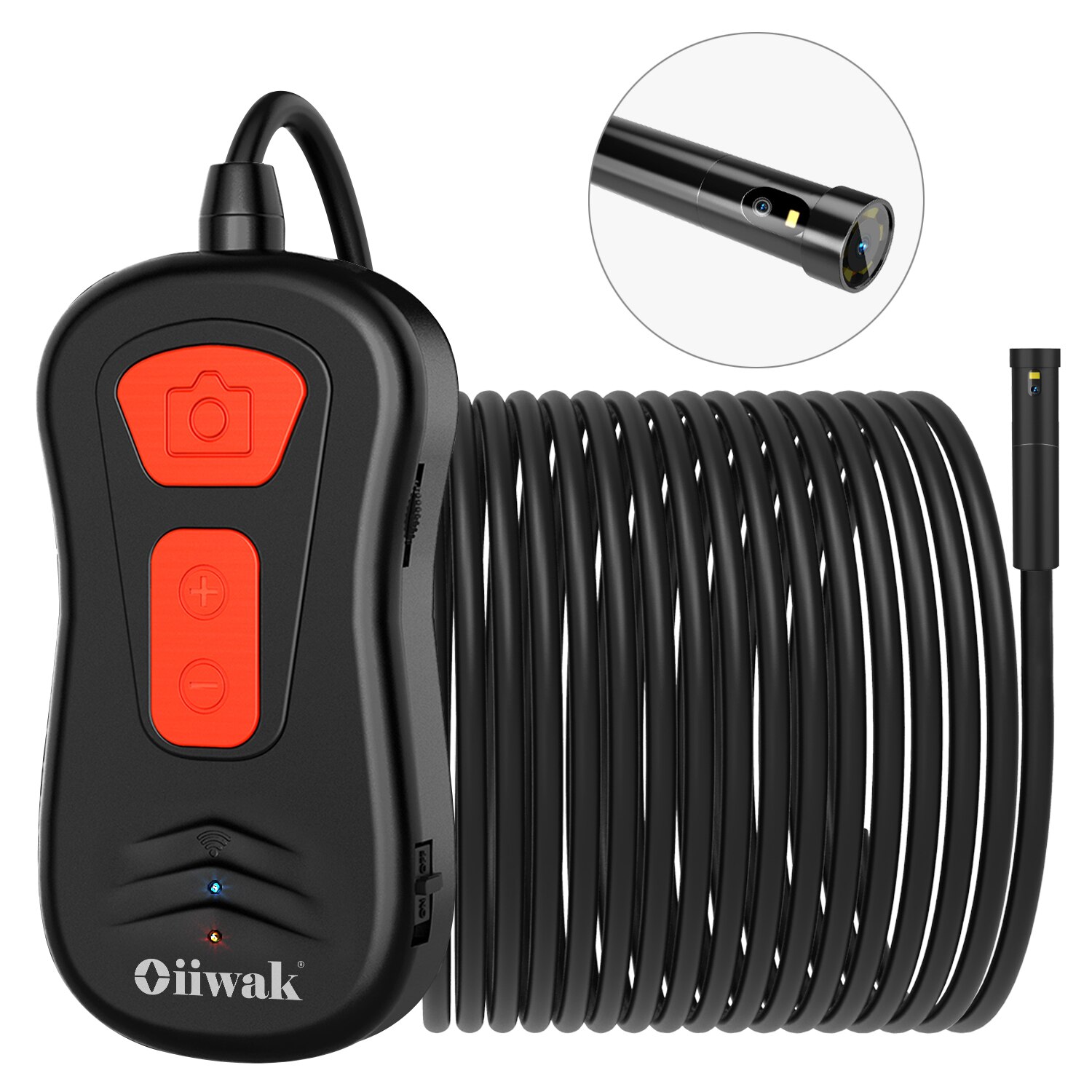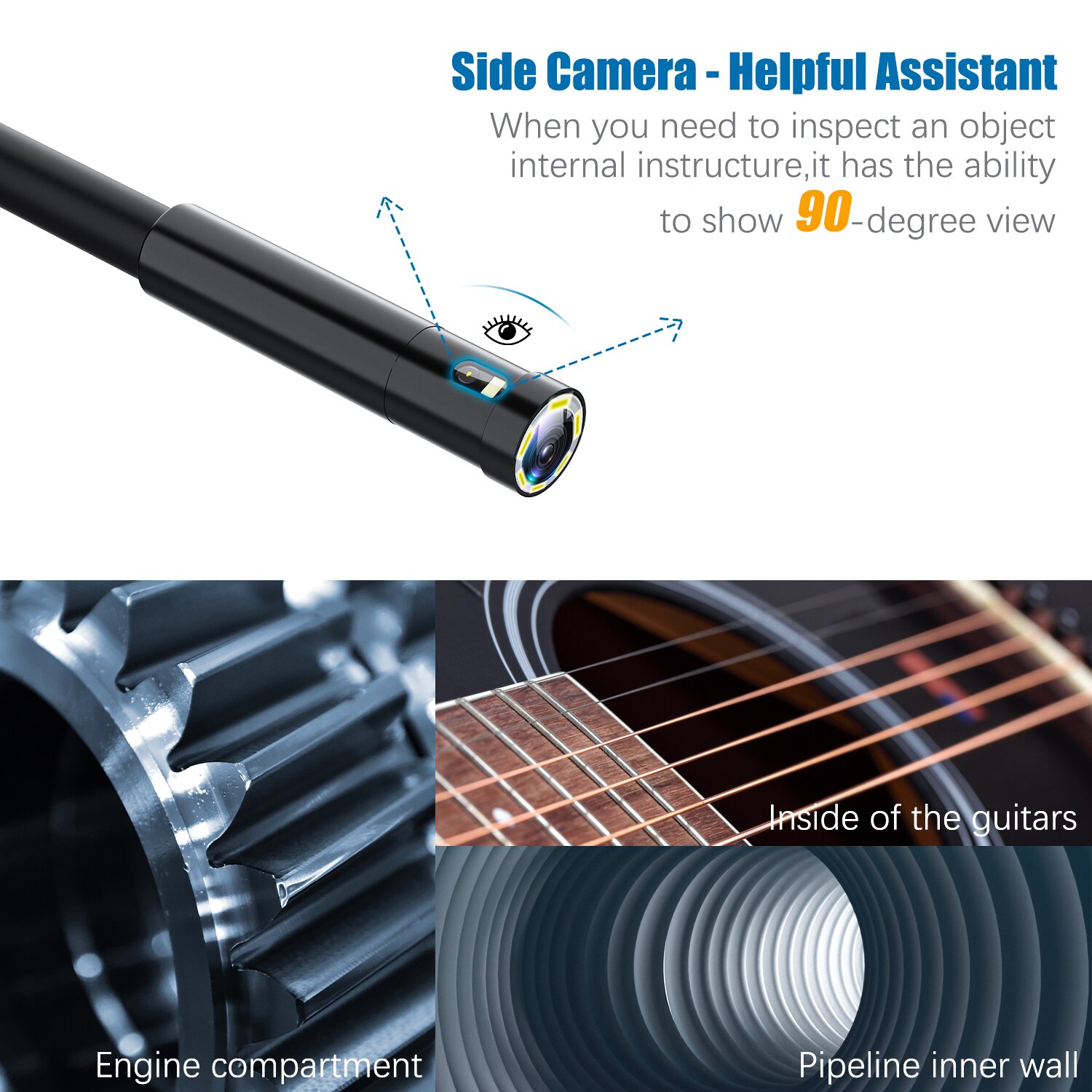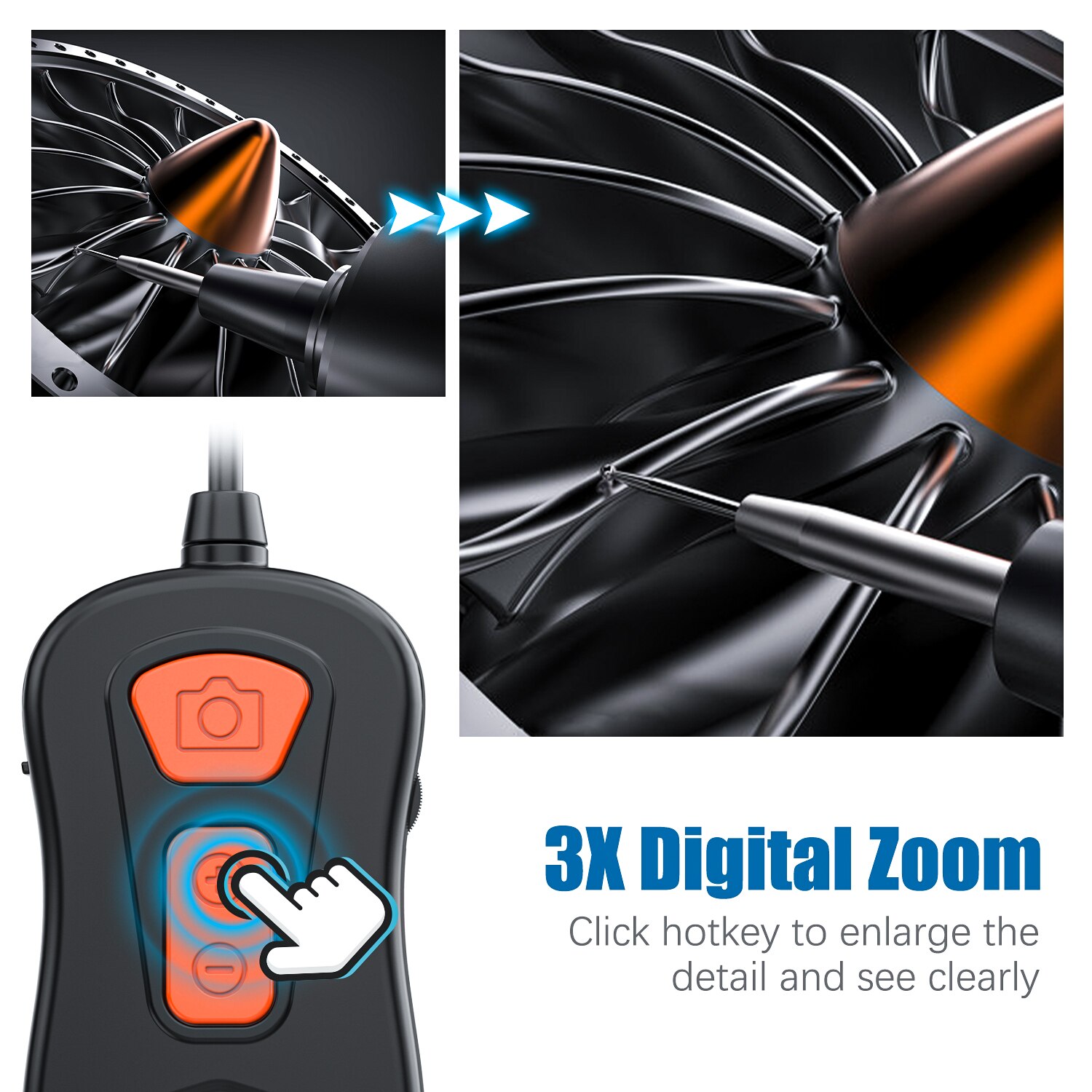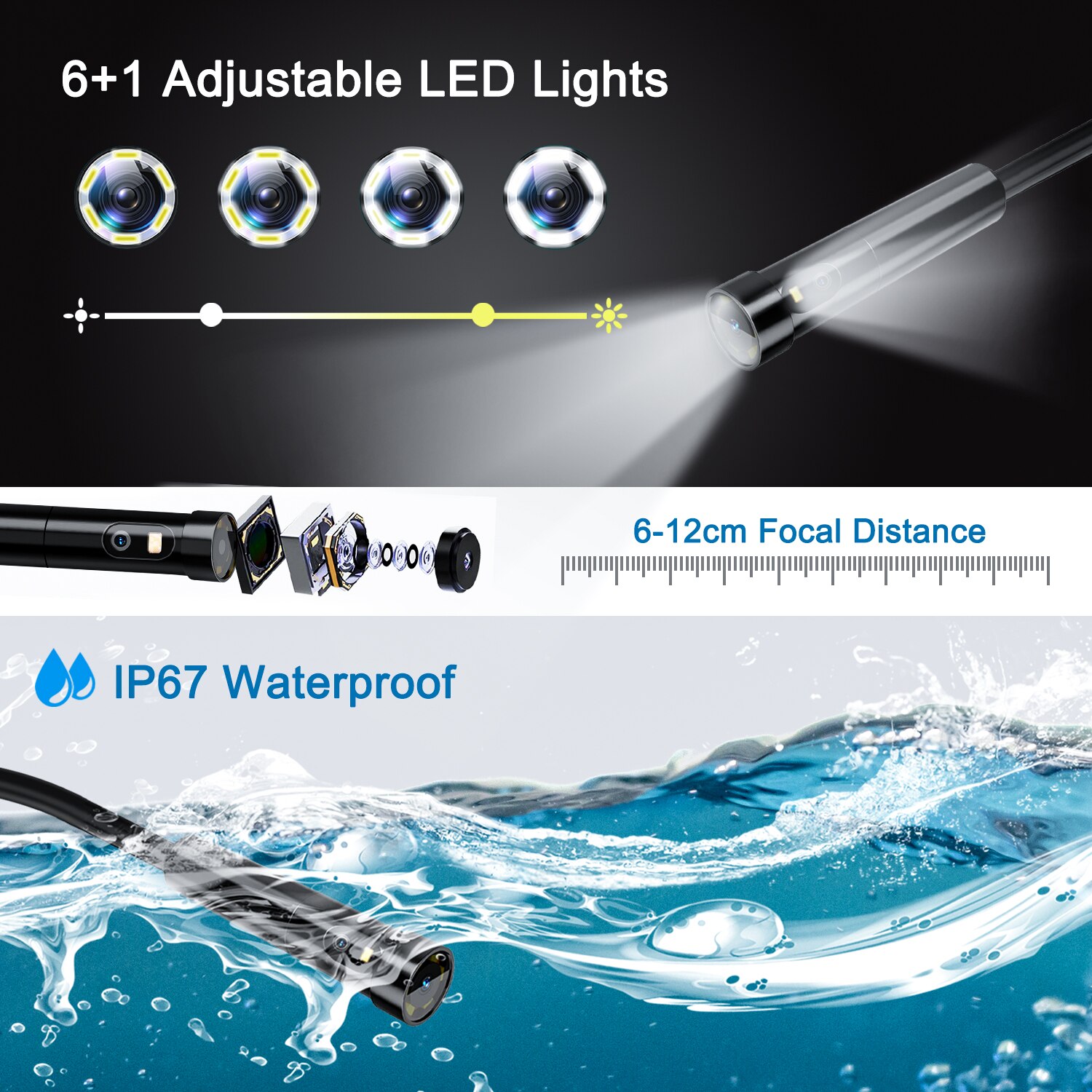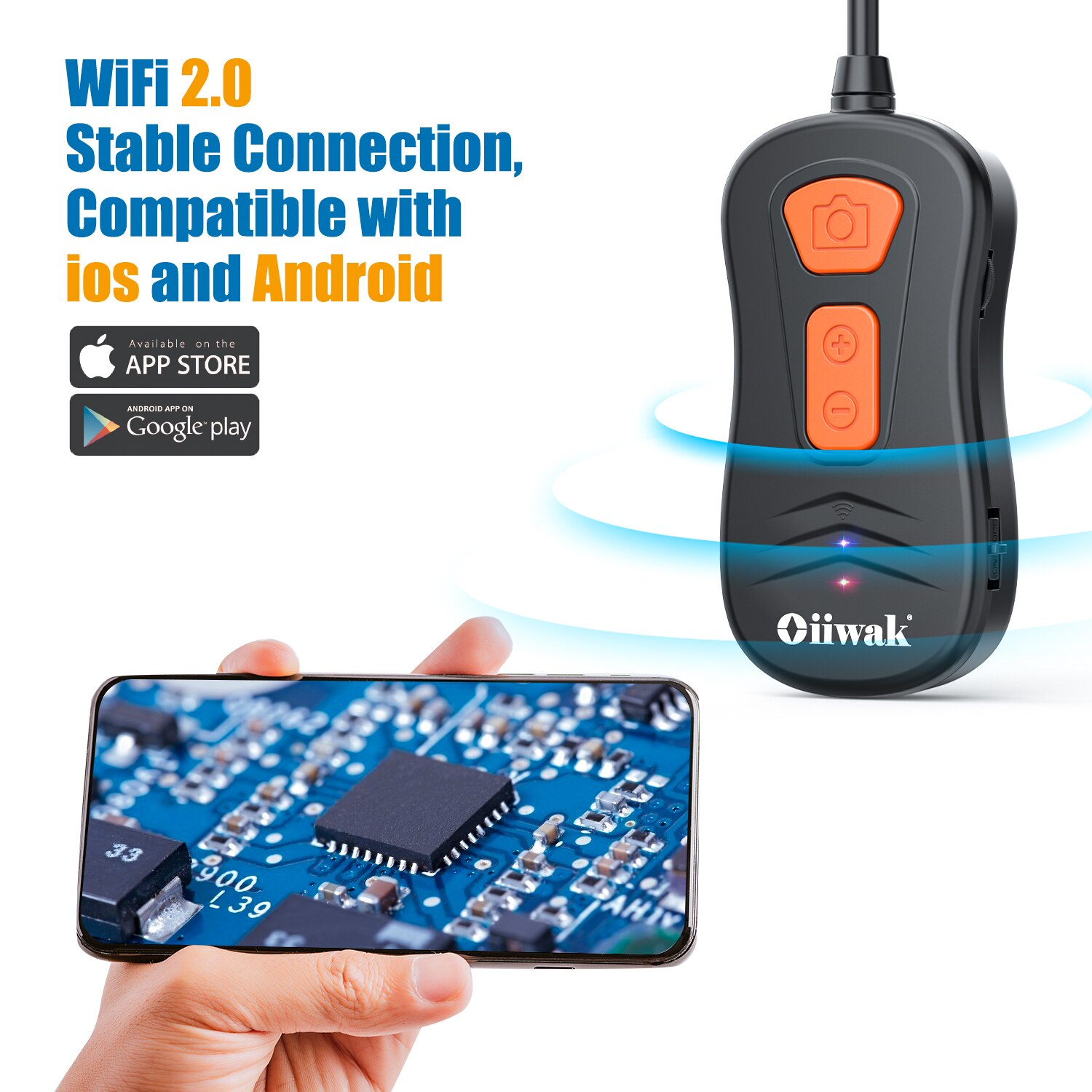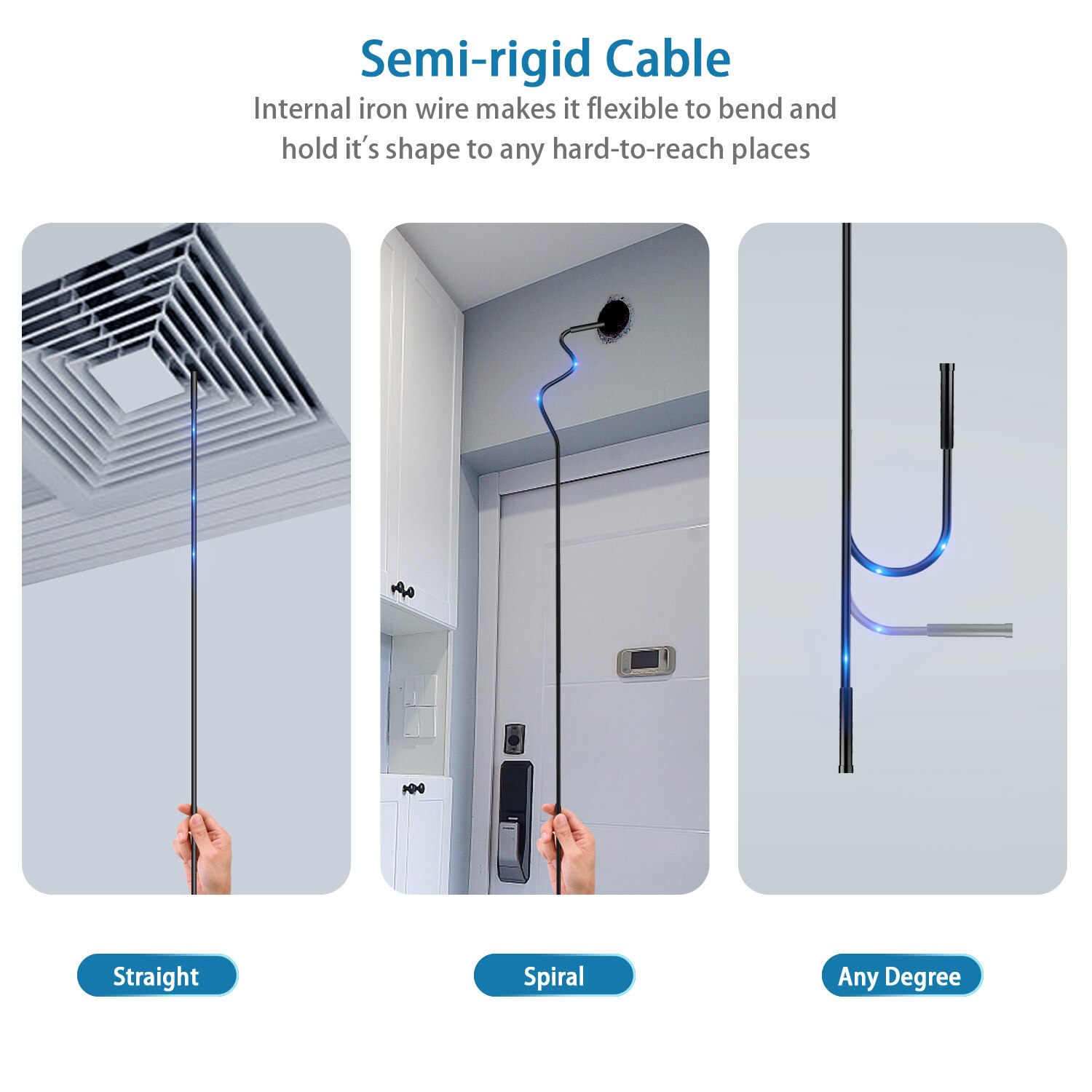 Related Accessories/Similar Items
Description
Dual-Screen Endoscope WiFi Wireless Borescope Inspection Snake Camera Waterproof 3X Zoom HD Snake Camera for iPhone Android Smartphone Tablet, for Automotive, engine Sewer Pipe Home Inspection 3.5m semi-rigid cable
Features:
【Dual Lens Snake Camera】The newest endoscope has two cameras: one on the front and one on the side for 270 degree view. which will be super helpful when you get into narrow spaces, having the ability to view surroundings without turning the camera.

【Both Screen Display】First one manufacturer break through to show both live video on the screen. You can split screen to view both and compare. You can also choose only one to show. Very easy to transfer between the two cameras on the app.

【iPhone & Android】This wireless endoscope works well with both iPhone & Android smartphones, tablets. Just download the app "Mo- View", and connect your phone to it's wifi " jetion***", both lenses will transmit HD live video to the app displayed on your phone instantly.

【Zoom & Take Photo/Video】One button to take picture, record video, 3X zoom in to view into details. 8mm tiny waterproof snake camera armed with 3.5m semi-rigid cable handles most applications, such as pipe clogs, wall inspection, vehicle and home appliance maintenance, engine checking, carbon deposition, cylinder checking etc.

【6+1 LED Lights】 There are 6-circled LED lights for the front camera and 1 LED for the side camera in dark condition, both can adjust the brightness.

How to use?
1.Download and install APP "Mo-View" to your phone from Apple Store or Google Play Store.
2.Turn on the endoscope, and it will self-activating WiFi signal named "Jetion***"
3.Connect your smart phone to its working wifi "Jetion***" with the default password "12345678"
4.Then, open the app to see what you want to view.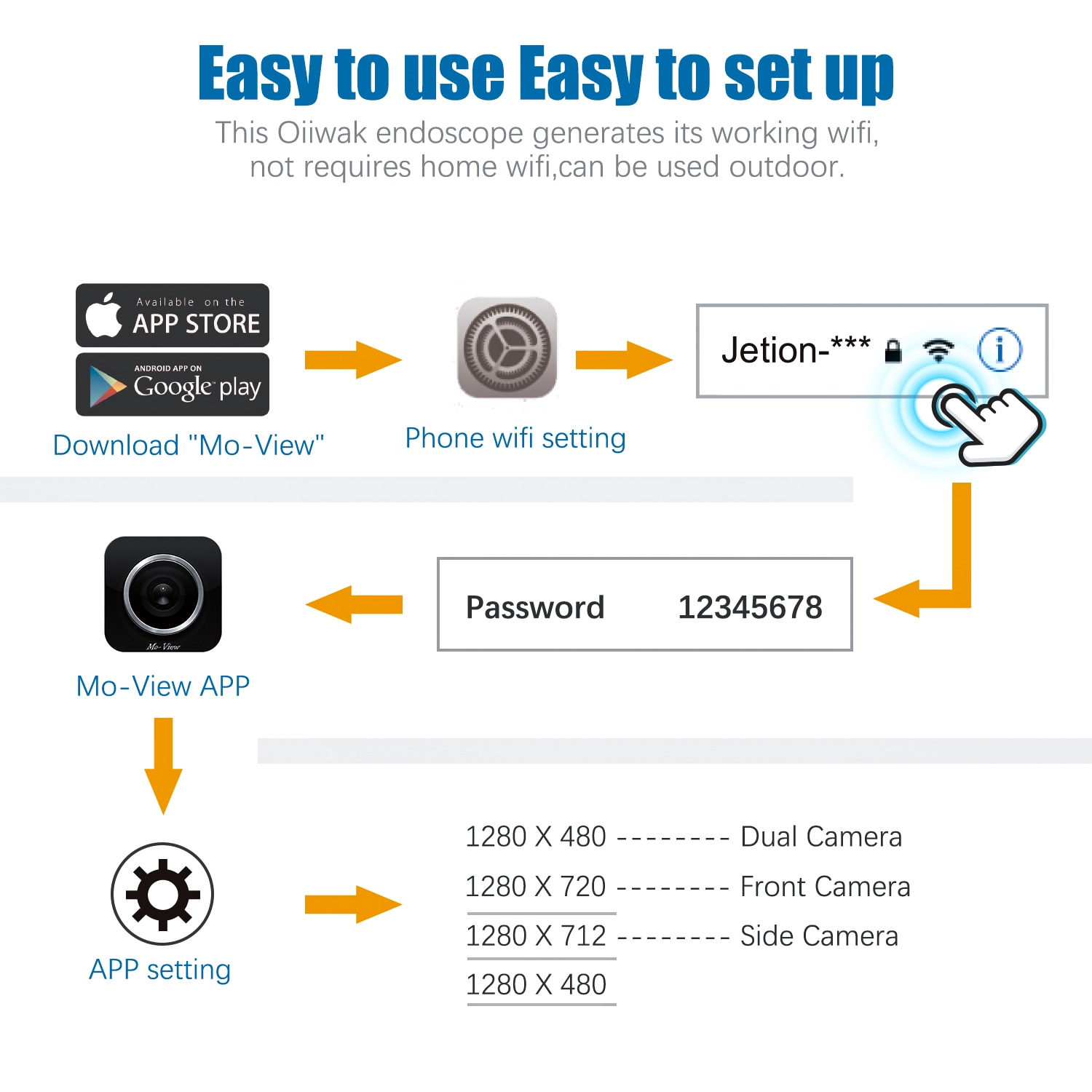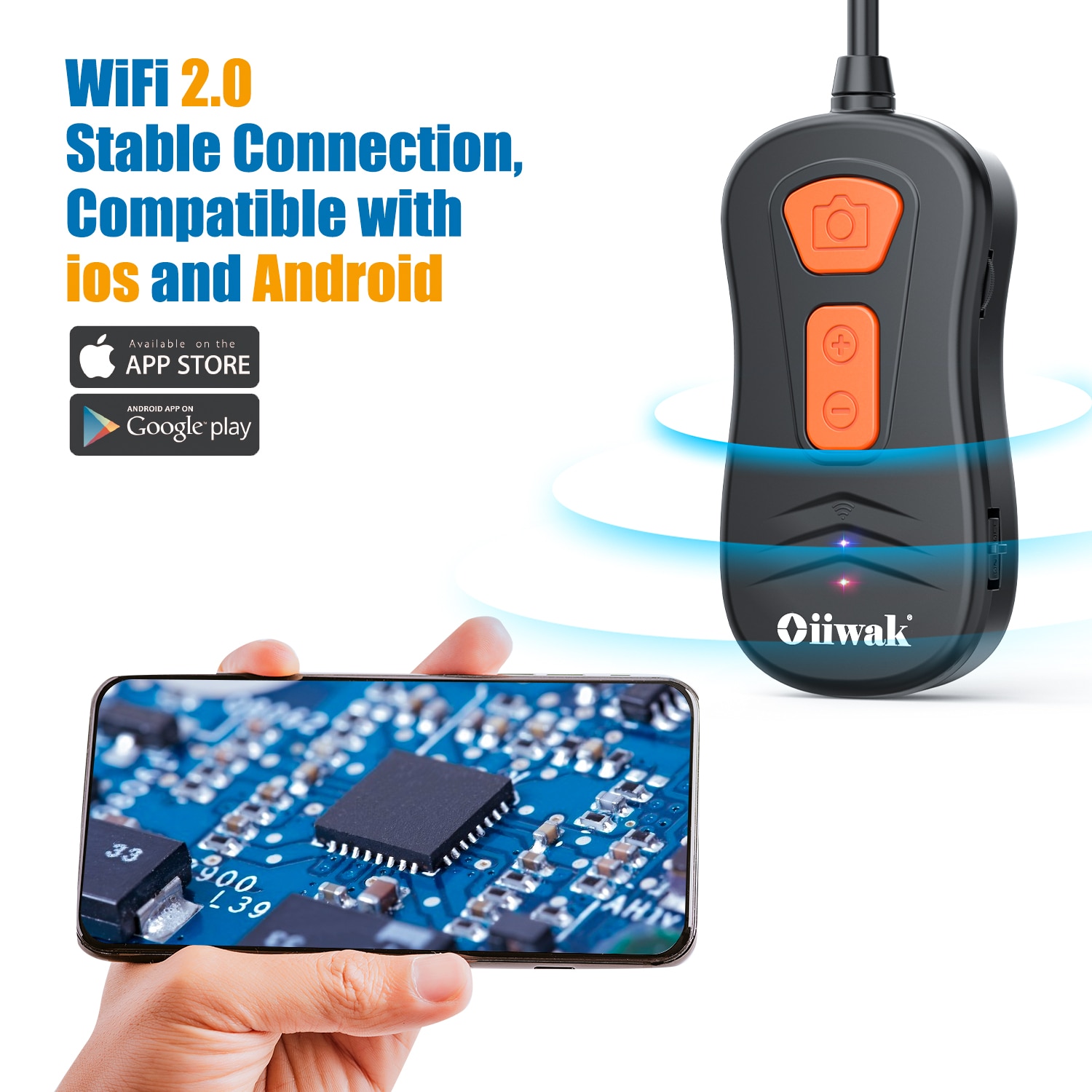 Please Note:
1.The endoscope must use its self-activating WiFi signal, not require home WiFi,can be used outdoor.
2.Smart phone/tablet system should be Above Android 2.3 & iOS 6.0 version.
3.Please fully charge the endoscope before first time use, otherwise it may affect the WiFi connection.
8mm Dual-Lens Endoscope
1. Many tasks need to inspect product internal structure in a tight space, but hard to turn the inspection camera, by turn on the side camera, you can easily have a 90-degree view. Less Labor and Less Time.
2. Can use the 2 cameras at the same time, and display the both view on the screen at the same time. This is the newest technology.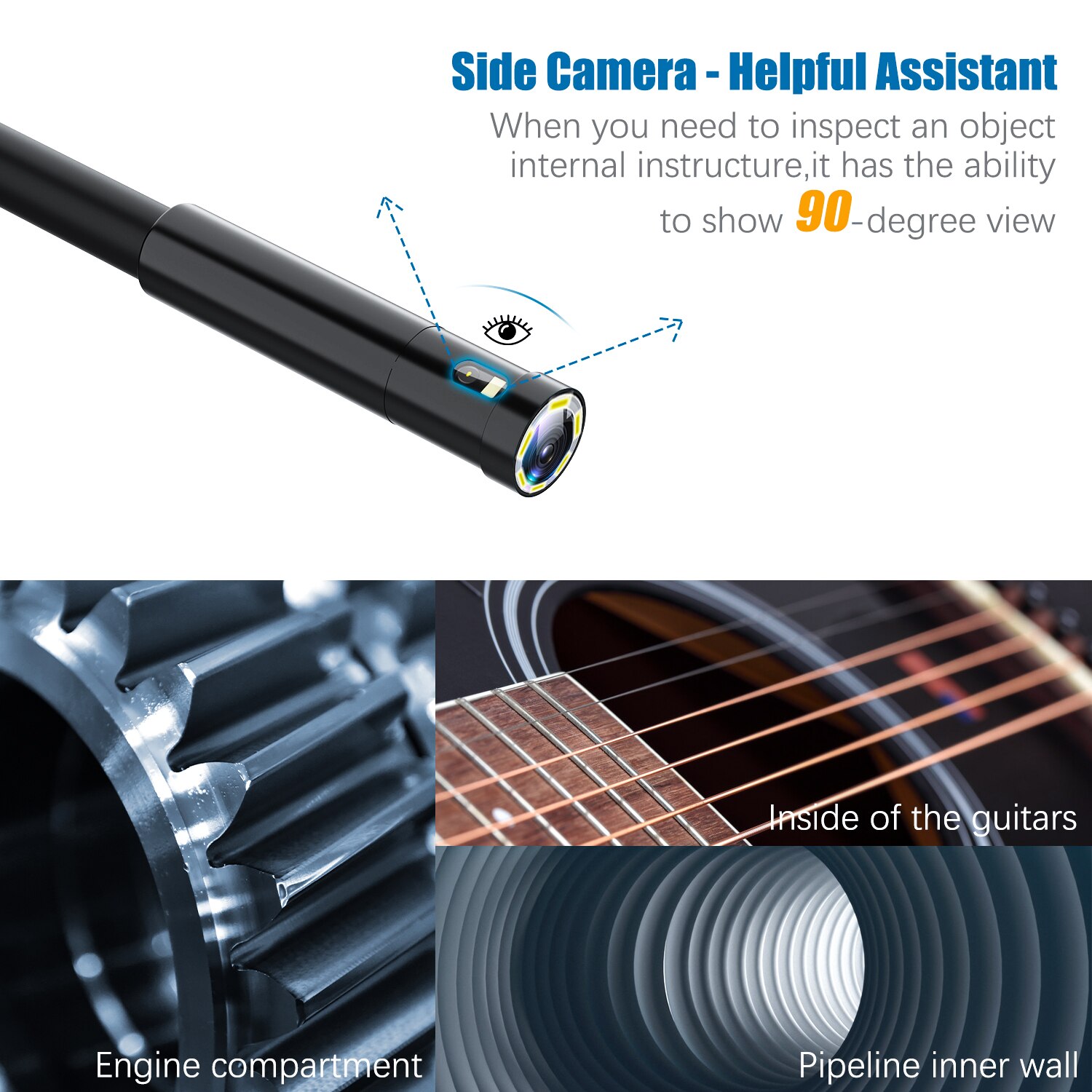 2 Camera Used at the Same Time
Showing the both directions view simulitancely,helps you inspect difference angles easily.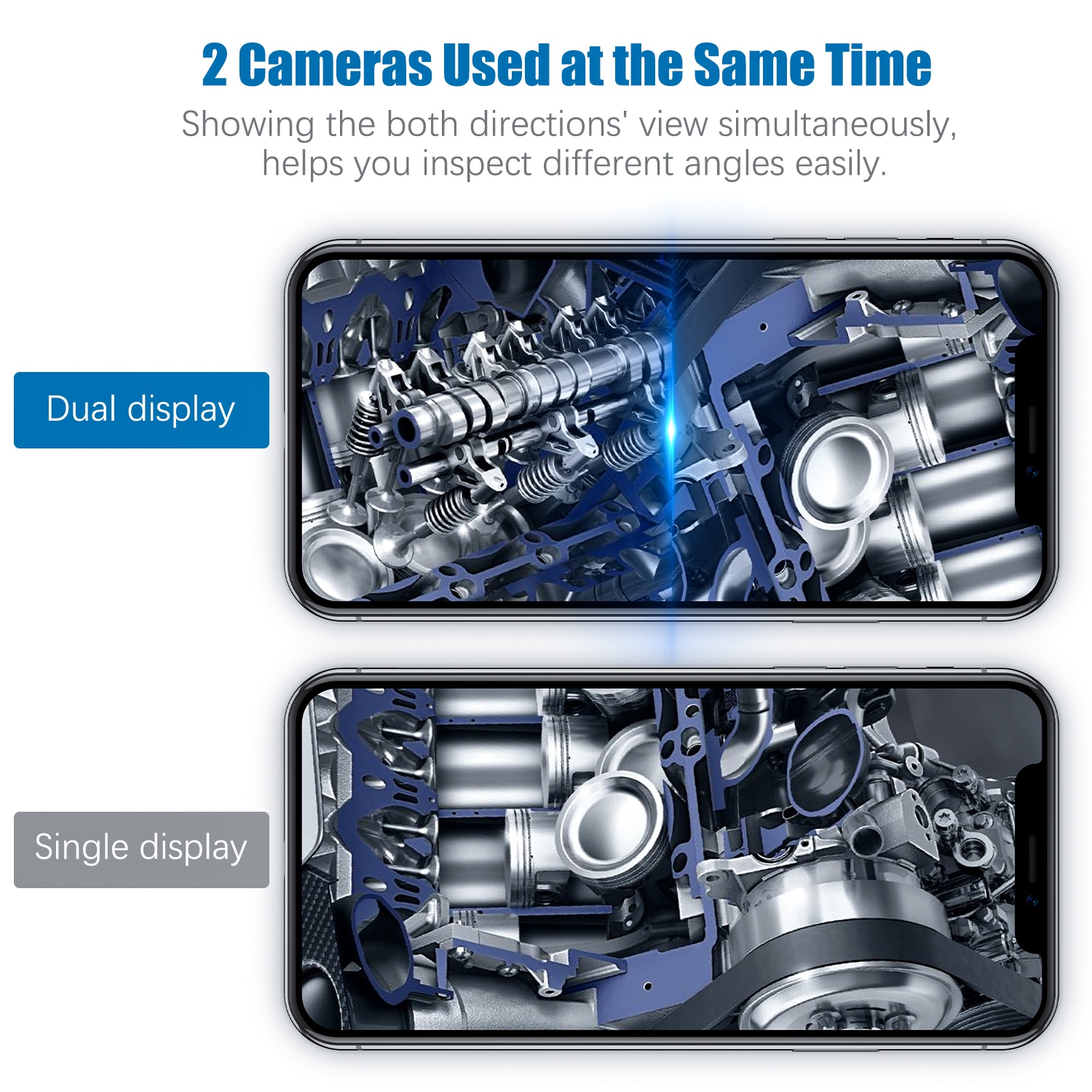 Latest tech 3X digital zoomable
3X zoomable tech pipe camera to enlarge small flaw makes automotive inspection maintenance quicker and more effective.
Focal distance : from 6cm to 12cm.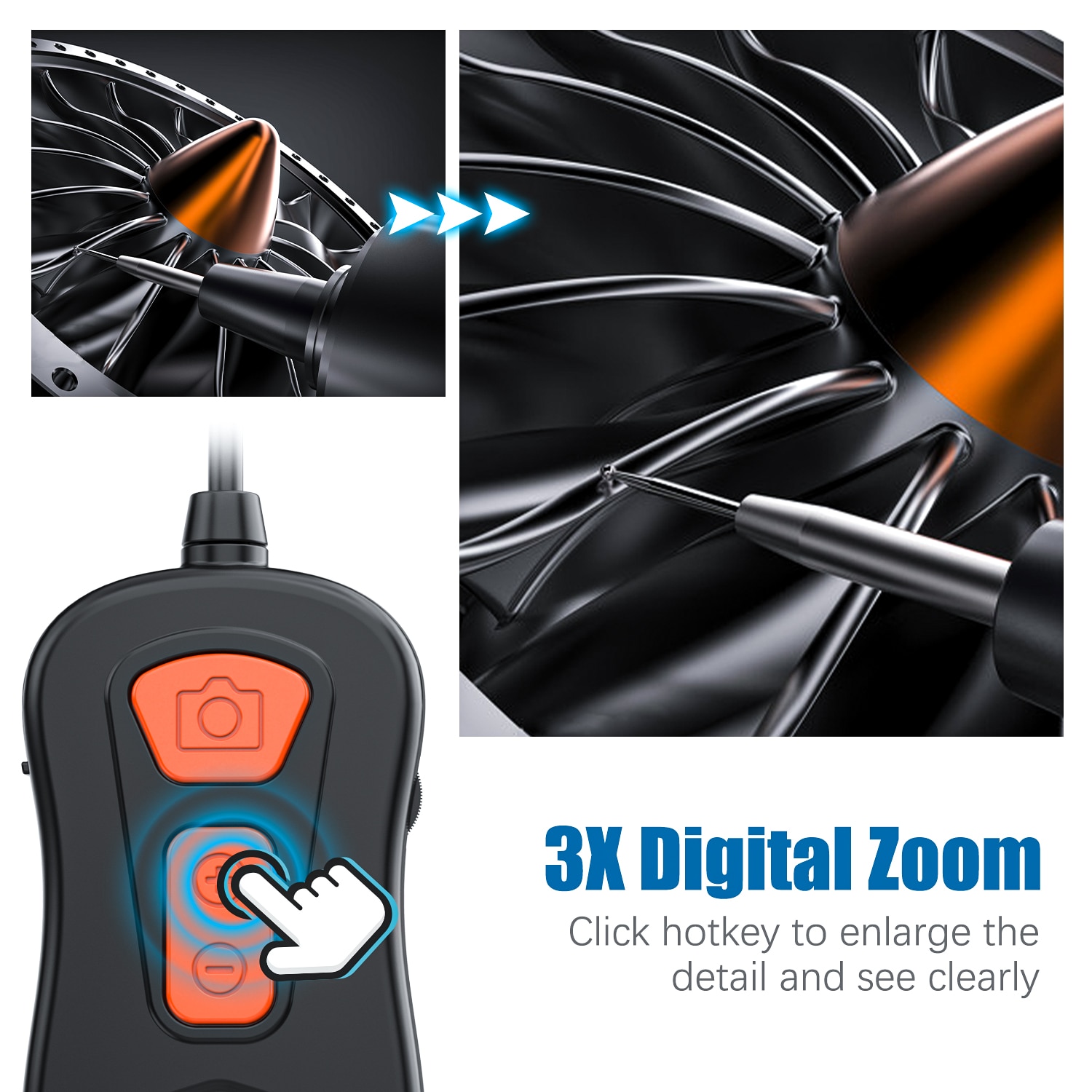 3.5m Semi-rigid Cable
Flexible yet rigid snake cable easily maneuver into narrow space to check, thus solve problems practically.
IP67 Waterproof Camera Tip
Waterproof endoscope endoscope works well underwater(within 1 meter) up to 30~60 mins.
Meets inspection demands in boat,aviation aircraft,HVAC inspection,electrical,plumbing,car engine,building and construction,cable routing,refrigeration and wall inspection etc.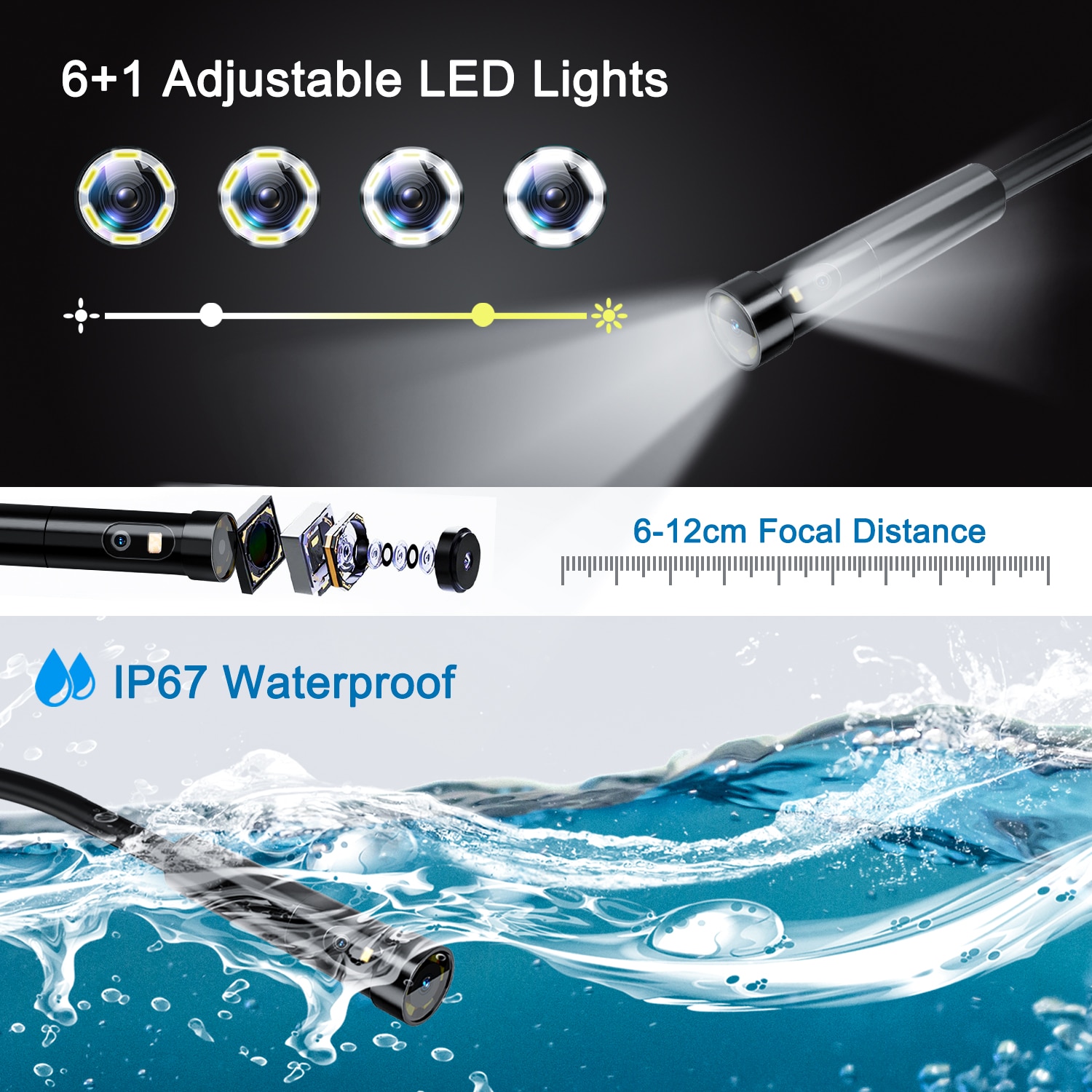 Rechargeable Battery
1800mAh built-in rechargeable lithium battery supports 3-4 hours working time.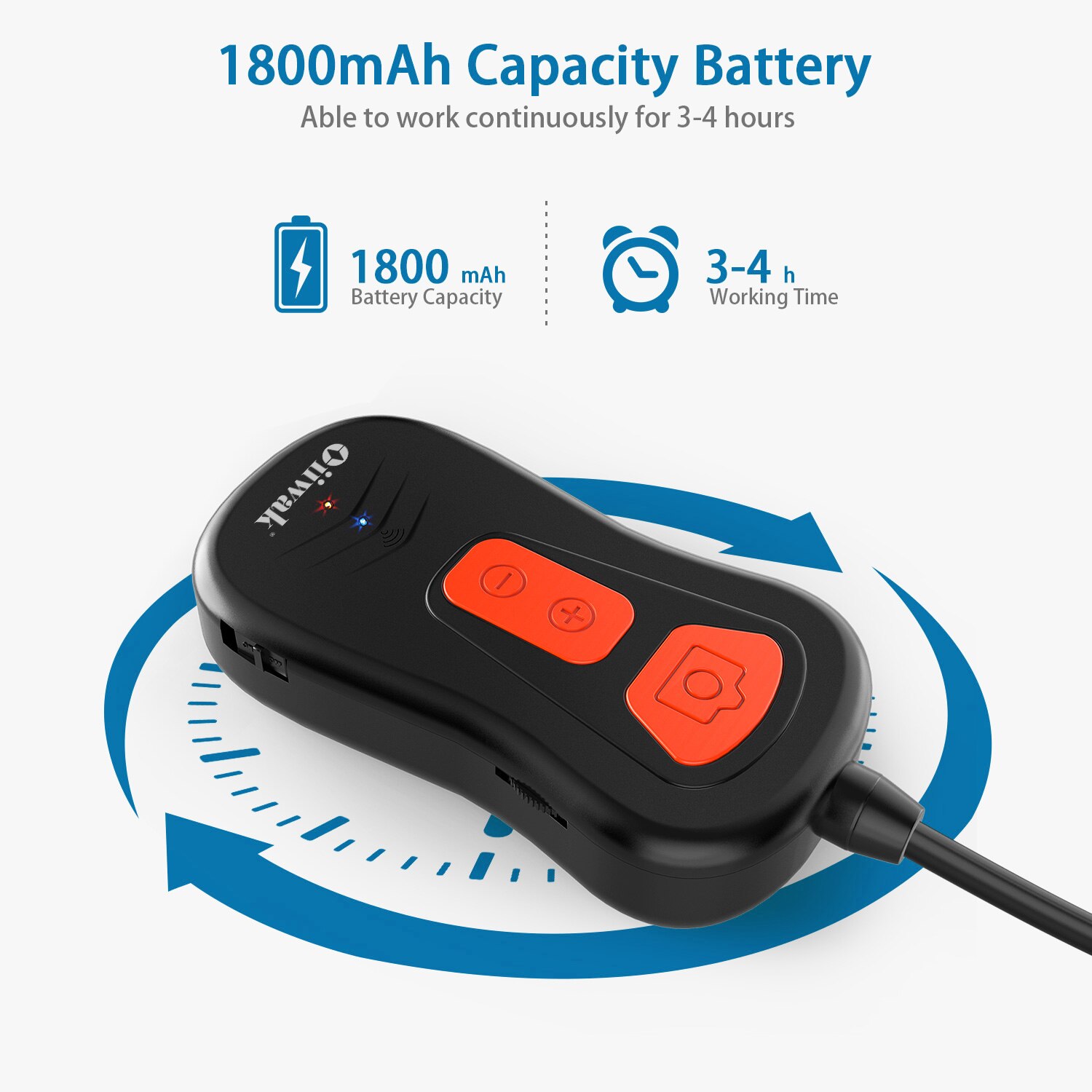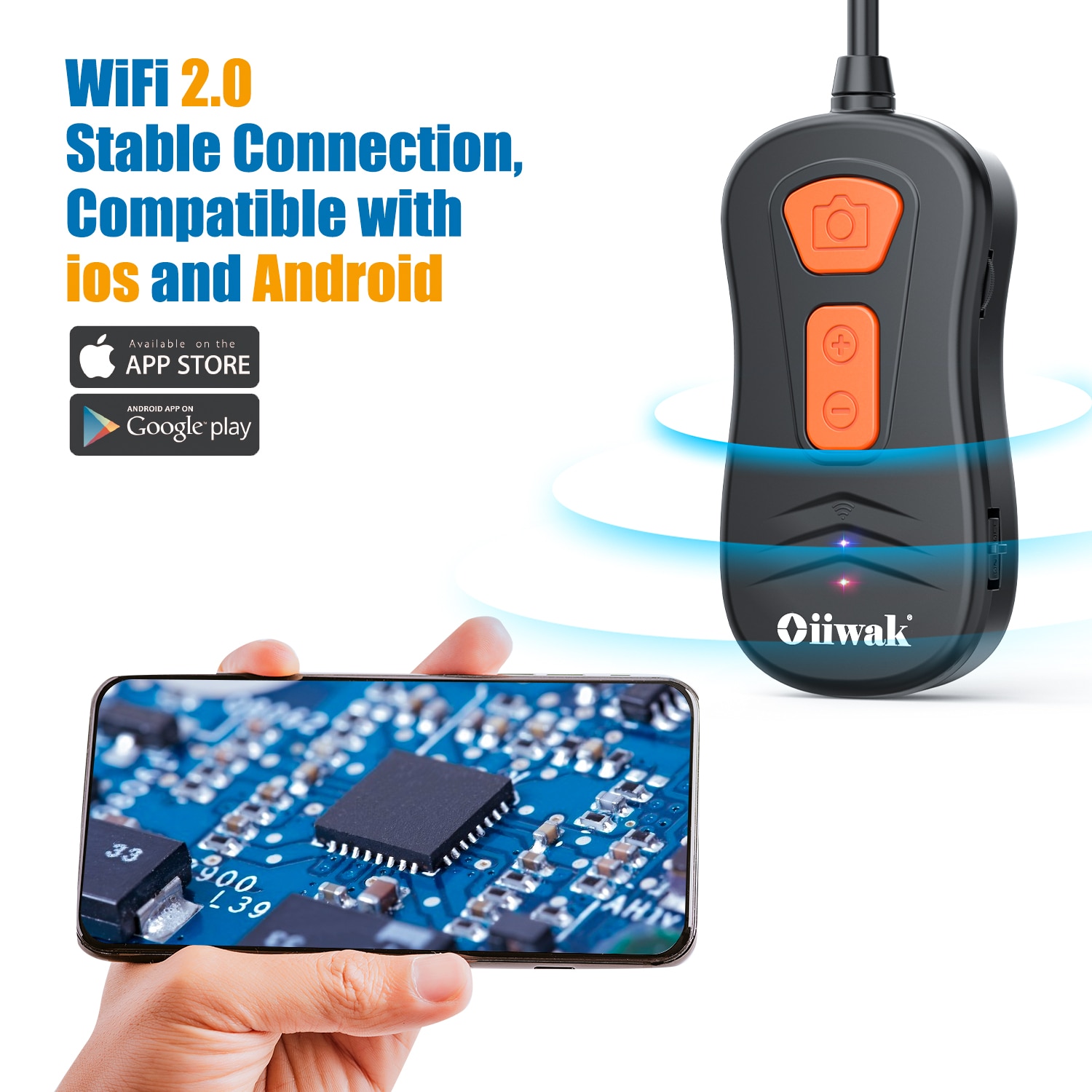 Wide Applications
Oiiwak dual lens endoscope is a excellent tool for inspection of places that are not viewable by naked eye. It is widely used in fields such as car maintaining, mechanical inspection, pipe repair, household appliance inspection, wall structure inspection, and sewer/ drain inspection, etc.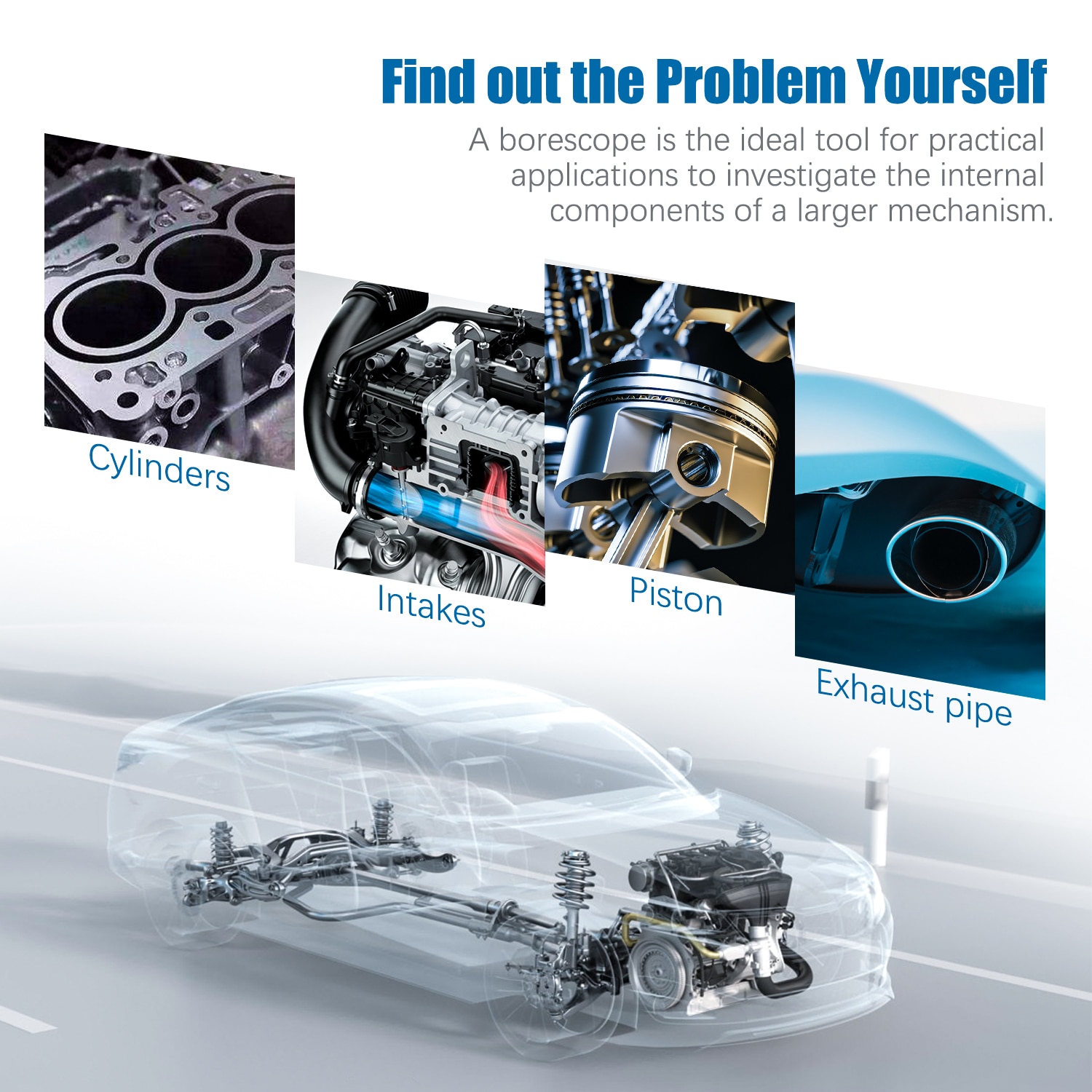 Endoscope Accessories Included
Comes with hook,magnet.
Easy to take out small objects in narrow hard reach area.
Combined with the tighter spiral bayonet design and aluminum alloy material,it can endure any wet environment,easy to assemble.
Product introduction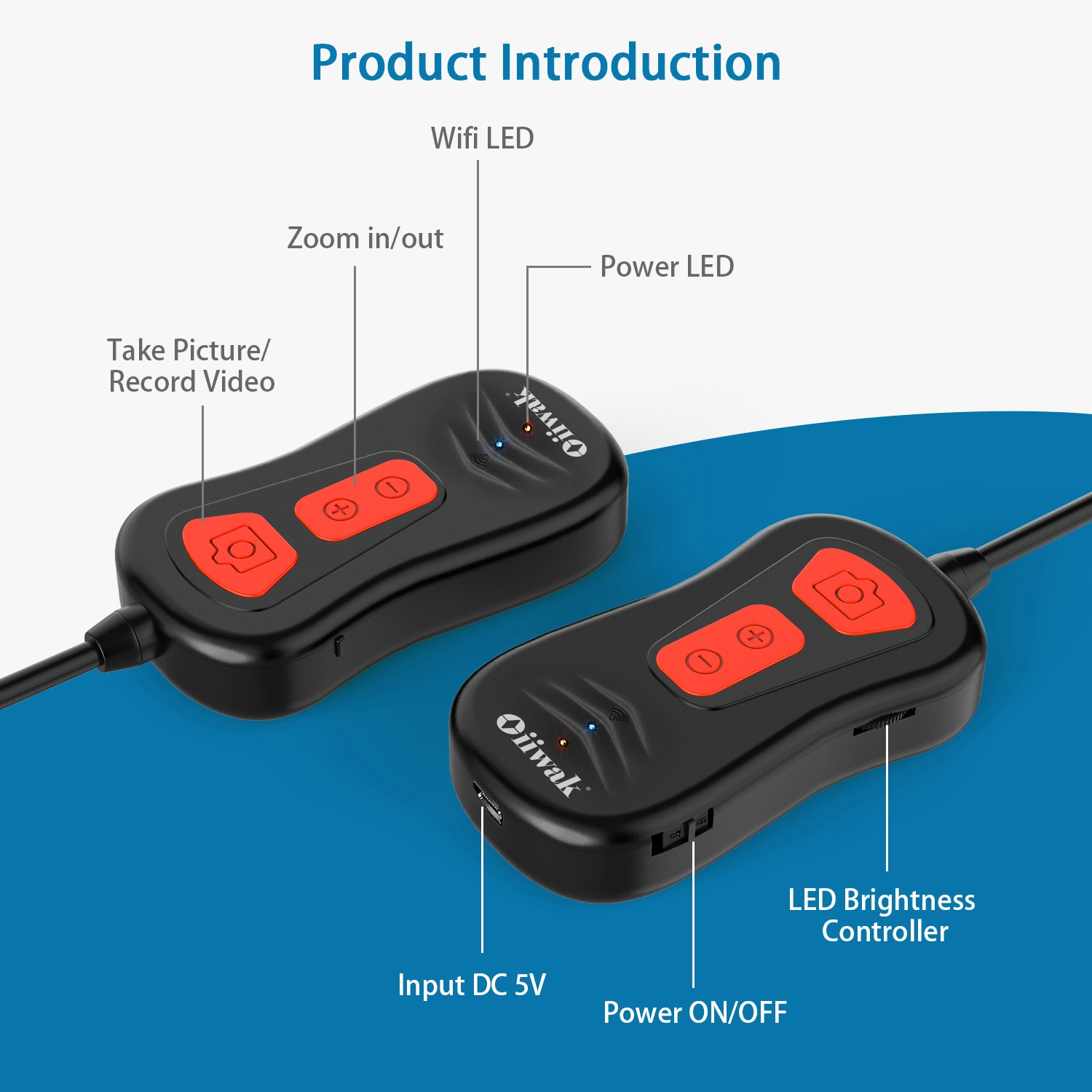 Specification
Probe: 8mm dual lens
Highest resolution:720P HD
Focus range:3-10cm(1.2-3.9inches)
Waterproof level :IP67
Light source:6+1 LEDs, can be dimmed
Cable length: 3.5m
Battery:1800mAh
Working Time:3-4 hours.
Package Lists
1. Wifi Endoscope
2. User Manual
3. Magnet
4. Hook
5. USB cable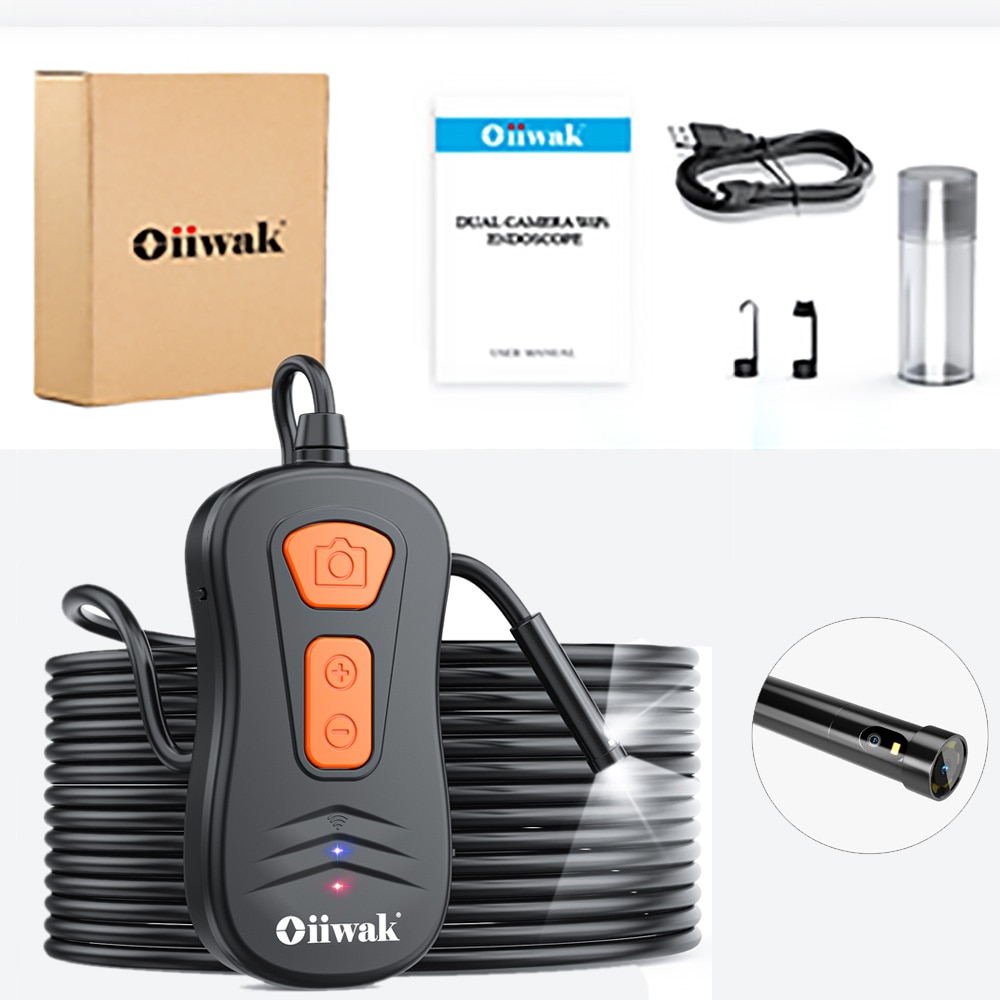 Reviews

17
#1 Reextriaste Reextriaste
Mar 9, 2022

Do not have time to test right now, looks great
#1 Dmitry Chebotarev
May 9, 2022

Super fast, tried on my car works perfect. Great seller.
#1 Paul Gordon
Jun 9, 2022

now I have the product, now i can learn to use it. NO QUESTIONS ON USE! Google is your friend, learn to search. Thank you & recomended seller
#1 tom meijers
Jan 9, 2022

Equipment as far as well. I did already two cars. I am happy
#1 CARLOS EXPOSITO LOPEZ
Sep 9, 2021

Item arrived quickly and guality was good.
#1 Kim Freding
Aug 9, 2021

The seller sent promptly. I chose according to reviews. How to check add feedback
#1 Todd Von Kutzleben
Dec 9, 2021

All is ok, very fast shipping and good quality. this WiFi Endoscope 8mm Dual Lens HD Wireless Borescope Mini Camera IP67 3X Zoom Snake Inspection Camera For iPhone Android is good quality, working very well
#1 Martin Dilanyan
Feb 9, 2022

Thank You for your great communication - i will recommend your store to friends.
#1 Mazas Carlos
Apr 9, 2022

Everything perfect
#1 DIMITRIOS KOSTAKIS
Jun 9, 2022

Fast delivery, everything works
Previous: AUTEL MaxiSys MS905/MS908/908P Chrysler-16 16PIN Connector
Next: OBDSTAR ODO Master Standard Version for Odometer Adjustment/OBDII and Oil Service Reset Get Free OBDSTAR BMT-08 Battery Test