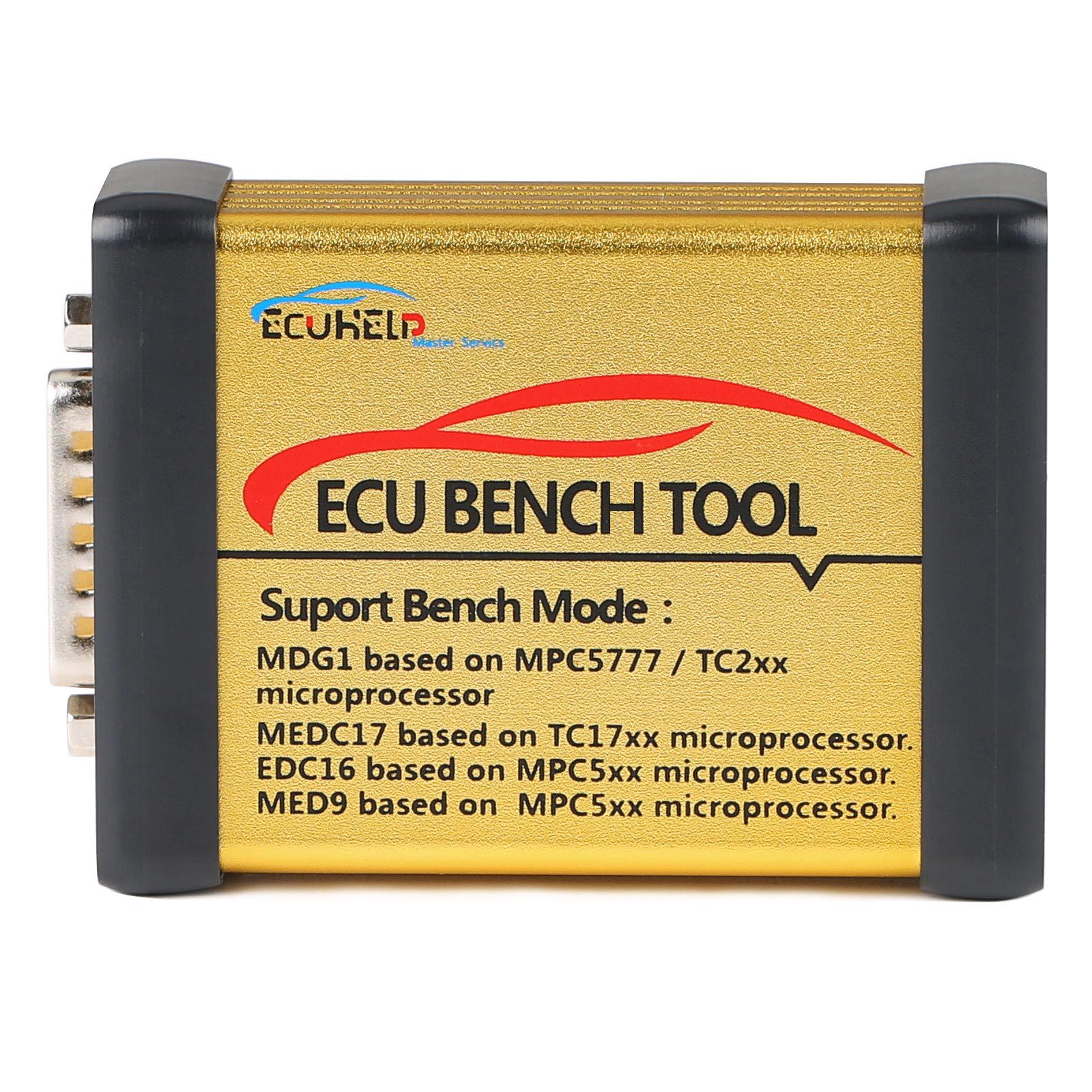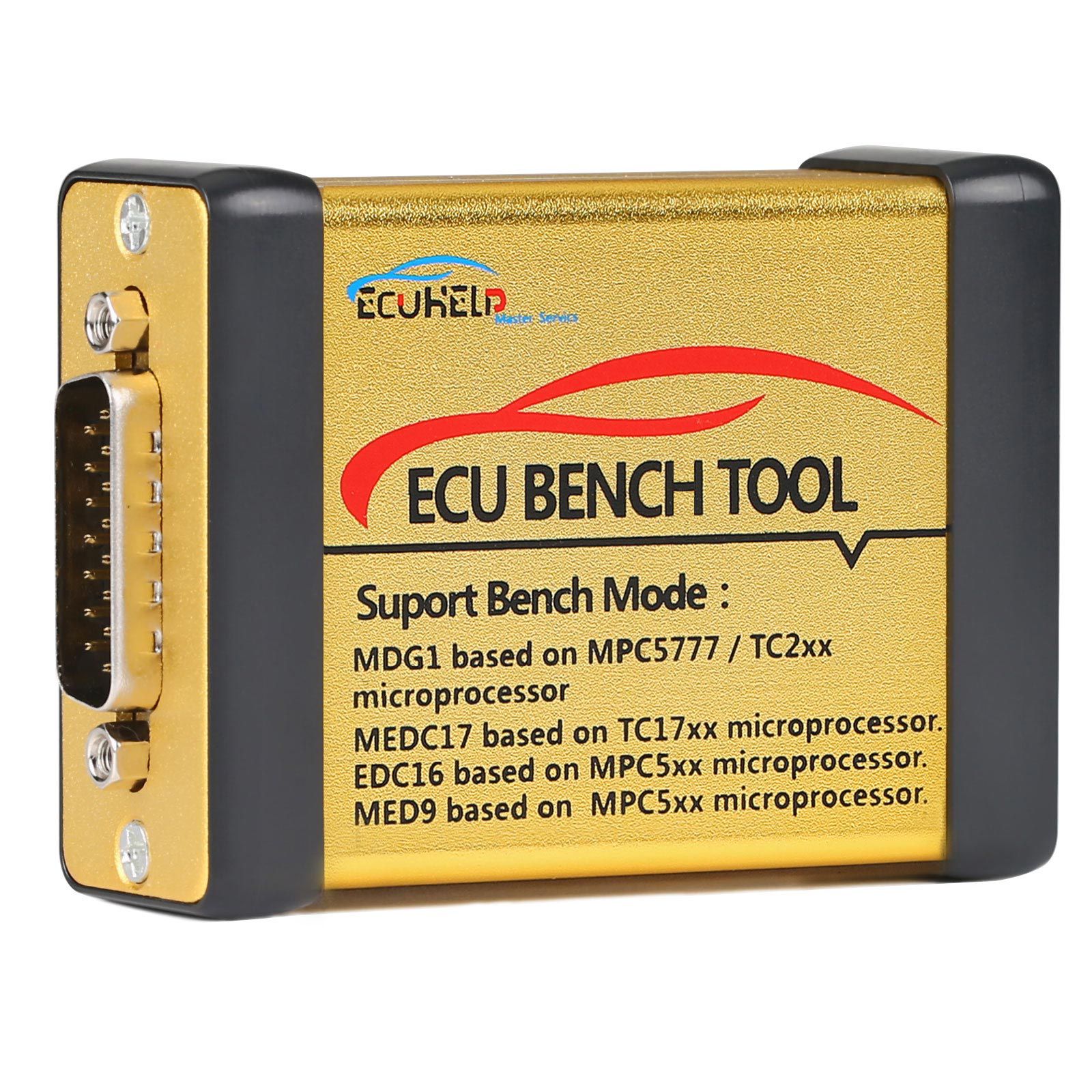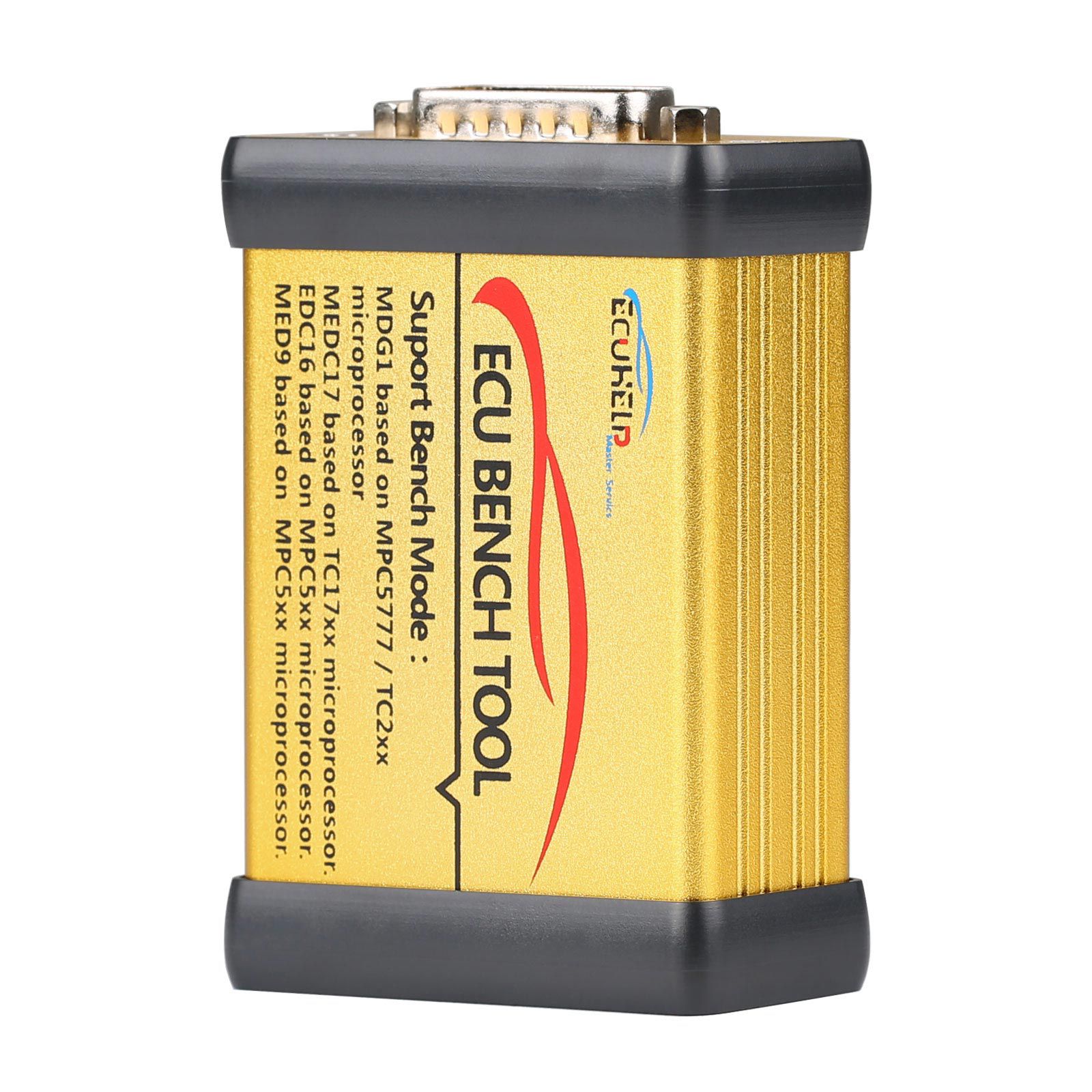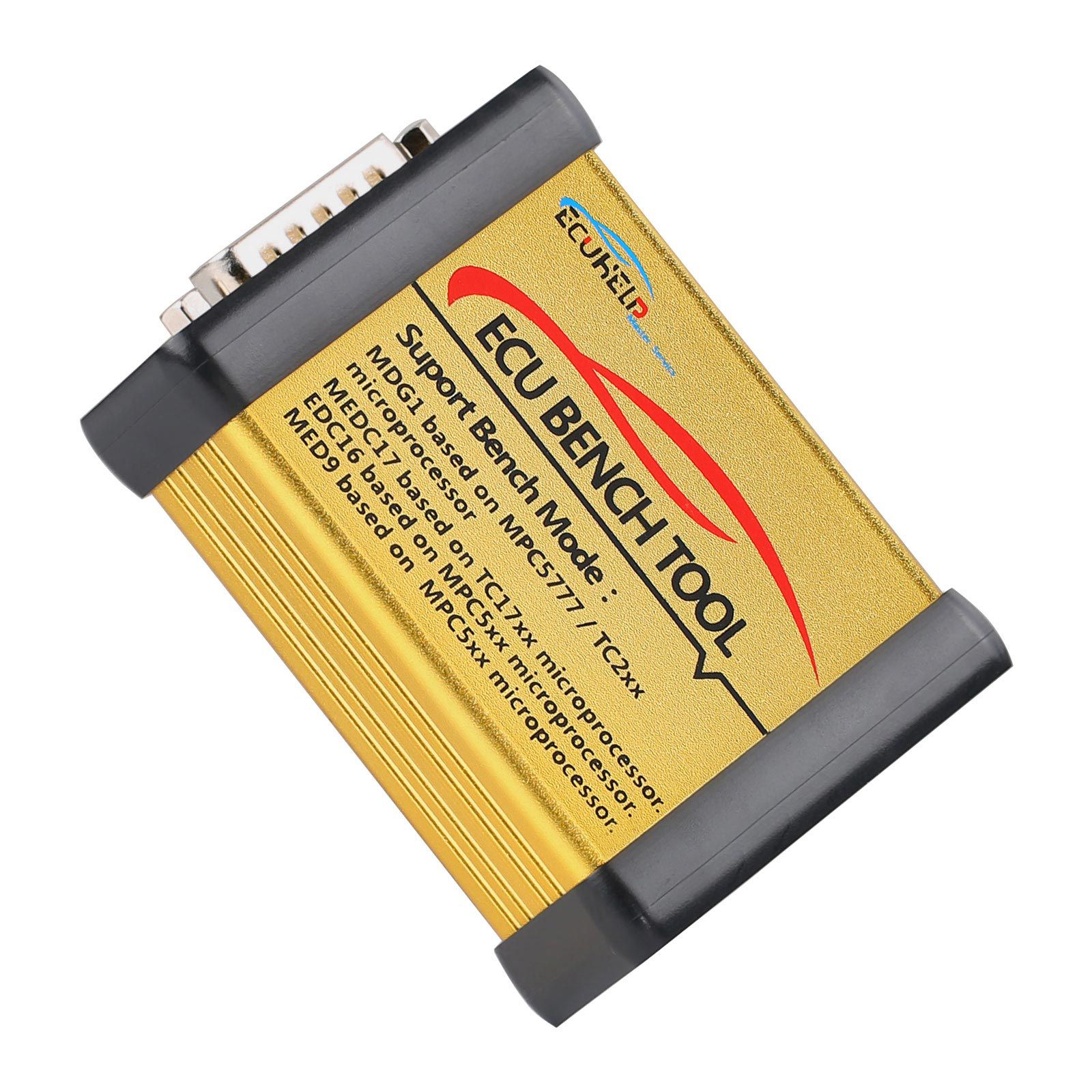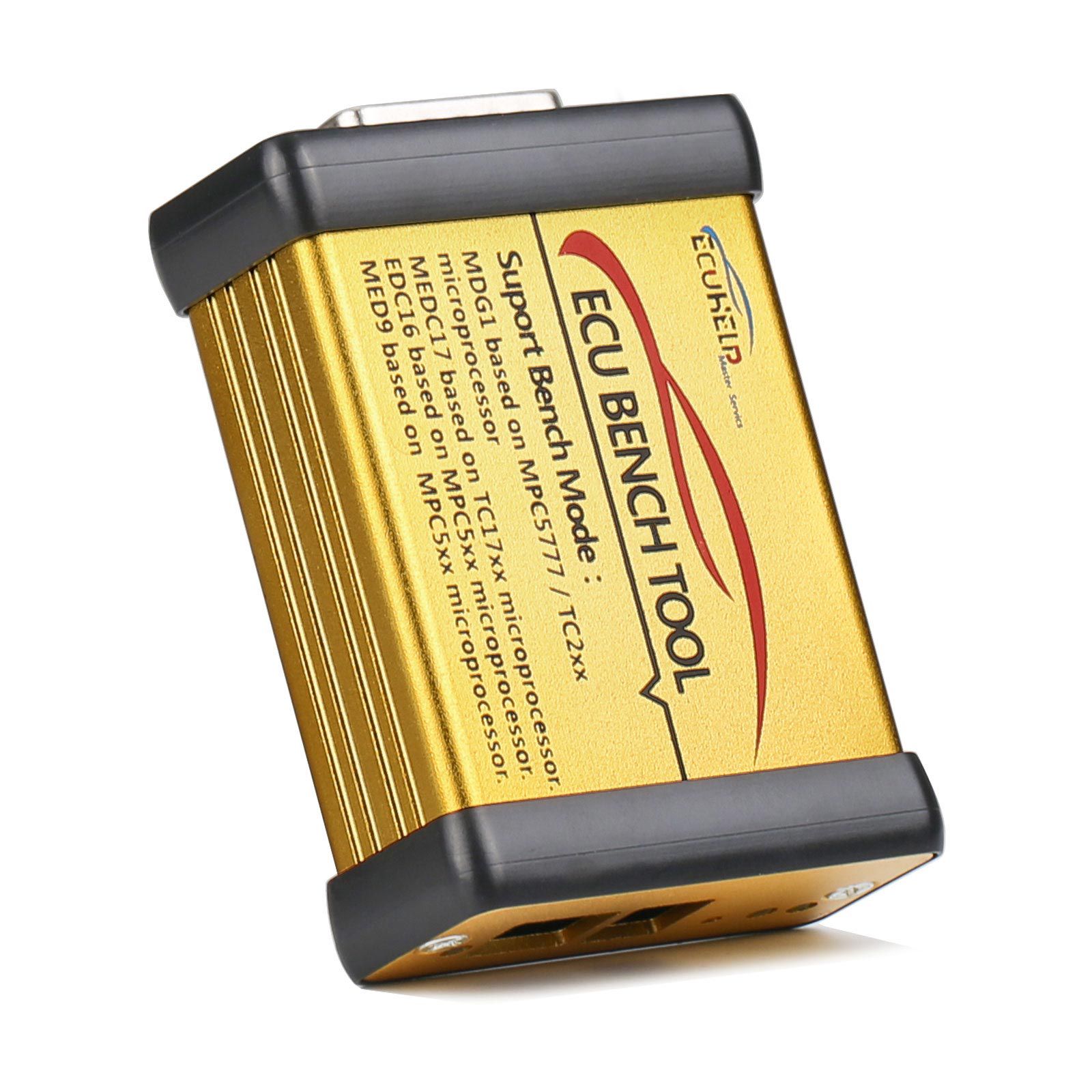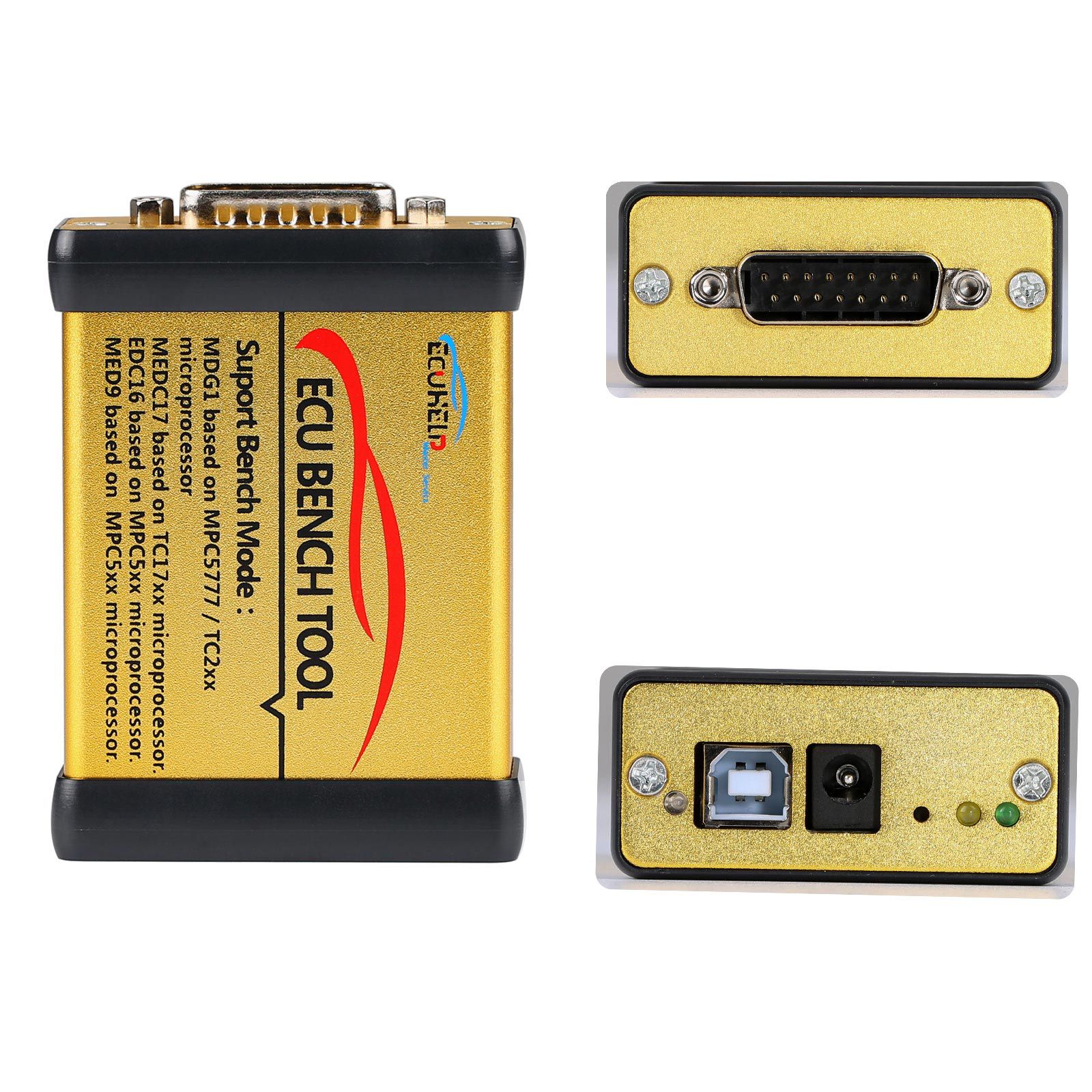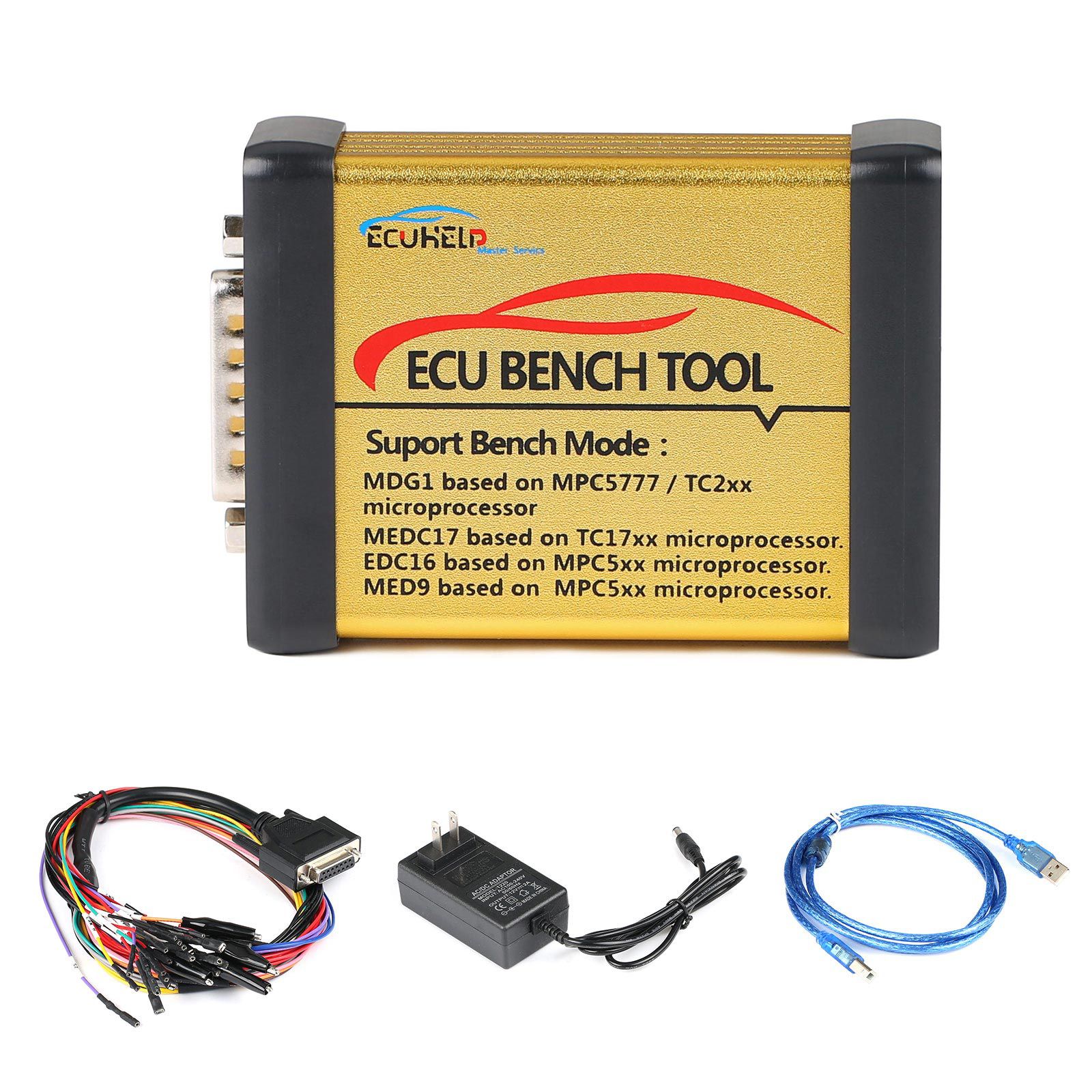 Description
ECUHelp ECU Bench Tool Full Version with License Supports MD1 MG1 EDC16 MED9 No Need Open to Open ECU Free Update Online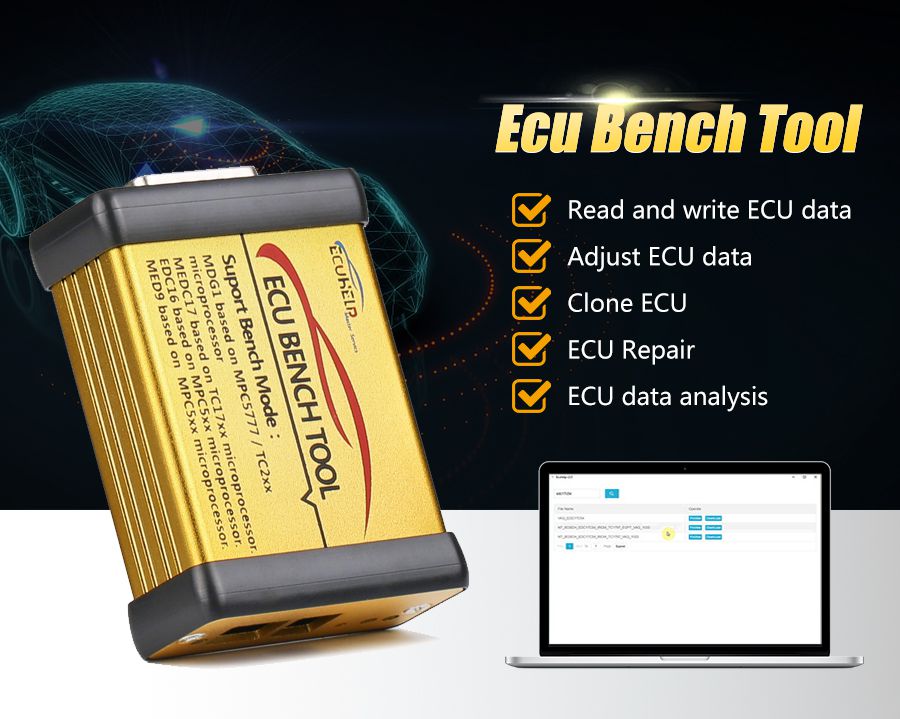 ECUHelp ECU Bench Tool Highlights:1. Master Version. Flash checksums are included!
2. Support Bench Operation
3. AMT Bench Service Tool V1.0.7.9 and ECUHelp 2.0 software included
4. Free Update Online
5. It is the first tool which support Bosch MD1 MG1 (other tools do not support this function now)
6. Support old EDC16, MED9 no need open ECU, no risk (other tool need open ECU, there is risk)
7. AMT Offline Software Free Download

Notice:
please use the offline software, do not connect network to update it, otherwise the device will be locked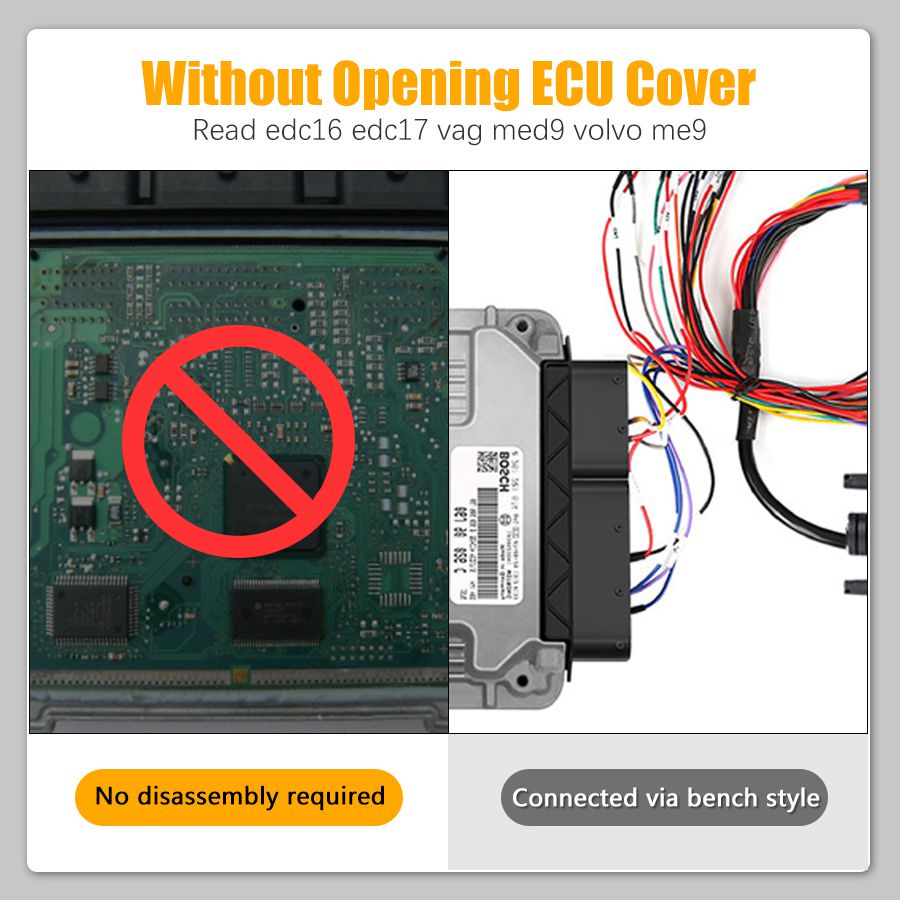 Description:
ECU Bench Tool is a universal bench service tool. Its software automatically can detect the ecu and memory types, which helps users to simplify the ECU writing and reading process. Since it gives the users an access to the available memories, you can individually read / write the desired data via the software.
ECU Bench Tool allows us to read/write Bosch EDC ECU's using the TriCore processor on bench without actually opening the lid - which also includes access to the full flash areas (IROM/XROM and EEPROM). This will make life a lot easier for
engine
controllers for which OBD programming protocols are not yet available, it will speed up the task of working with such vehicles no end.
ECU Bench Tool Currently Supports (PCM Flash does not support these):
Bench mode: Bosch MEDC17 based on TriCore microprocessor.
Bench mode: Bosch MD1 MG1 based on Motorola MPC5777 / Aurix TC2xx microprocessor
Bench mode: Bosch EDC16& based on Motorola MPC5xx microprocessor.
Bench mode: VAG/VOLVO MED9 based on Motorola MPC5xx microprocessor (Other brands using ME(D)9 are currently not supported, will be added in a future releases)
This tool is available as a
Master
only. Flash checksums are included!
Allows network connection. Update online.
Bench mode mode operation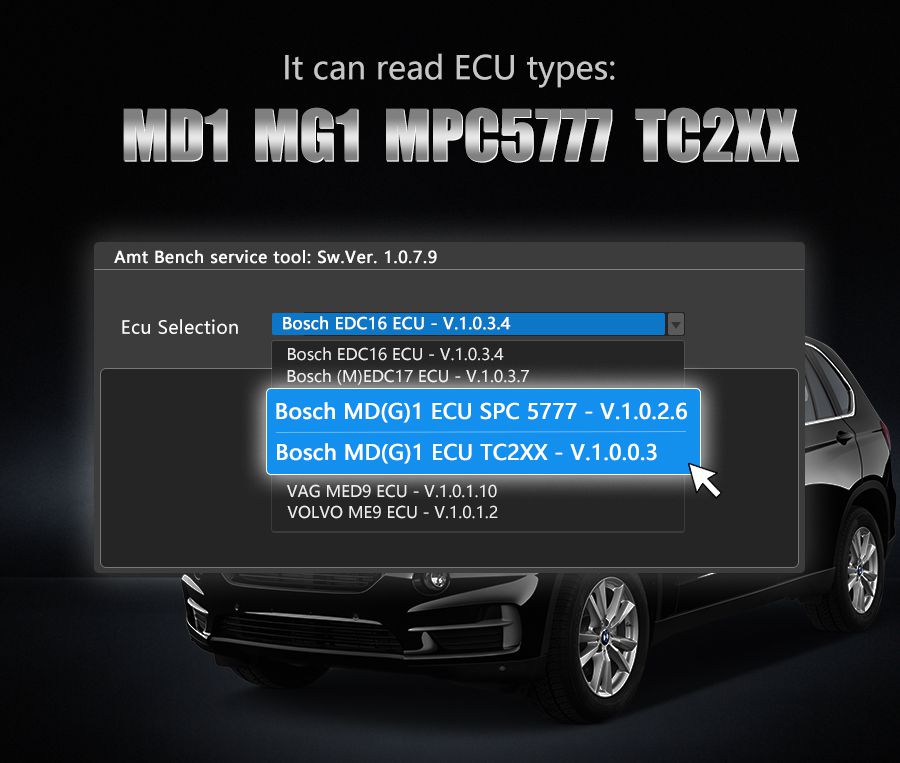 ECU Bench Tool Software:
AMT Bench Service Tool V1.01.05- Read and Write ECU bench or boot mode
ECUHelp 2.0- check wiring diagram, download VR file and tuning file
Bench ECU Tool Software Download
: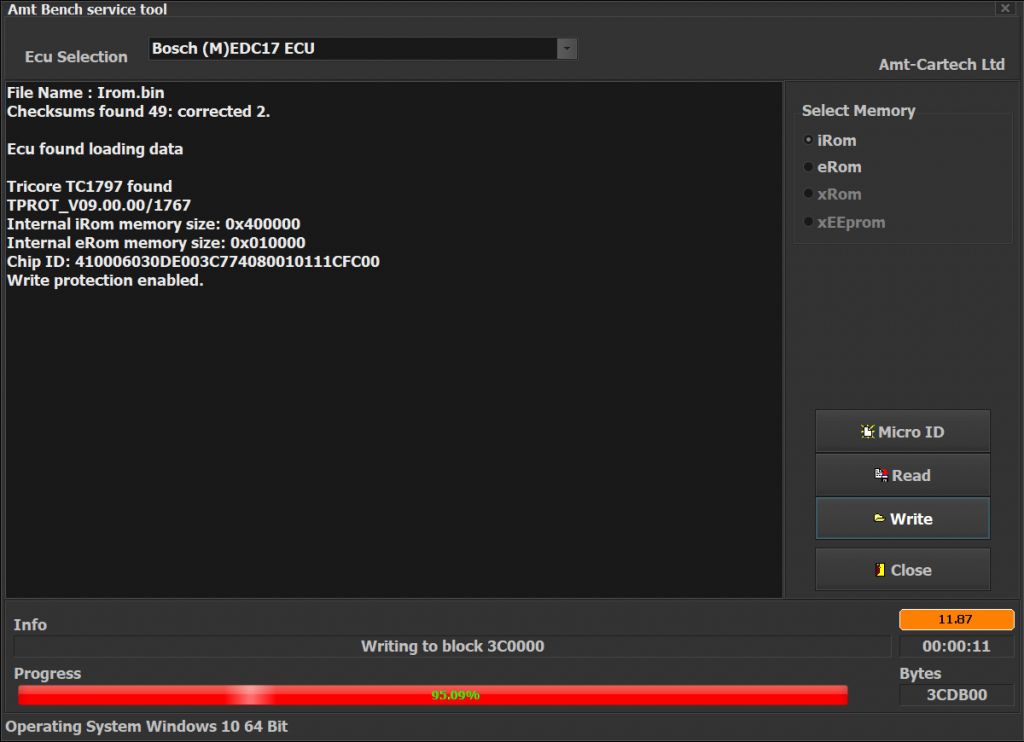 ECUHelp 2.0 Function:
Wiring picture: to search and download wiring diagram
Virtual file: download virtual files (Not Free)
Tuning file: download ecu tuning file (Not Free)
ECU Service: DPF EGR REMOVE, DTC OFF (Not Free)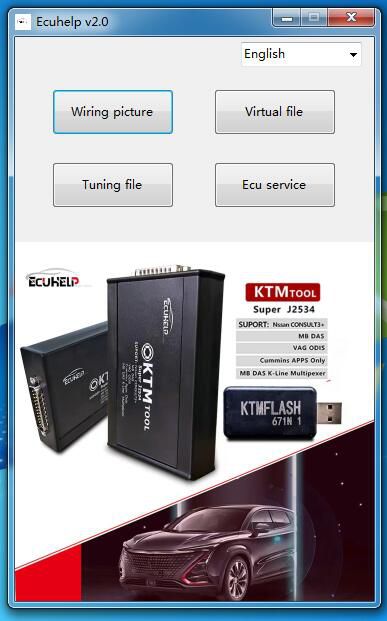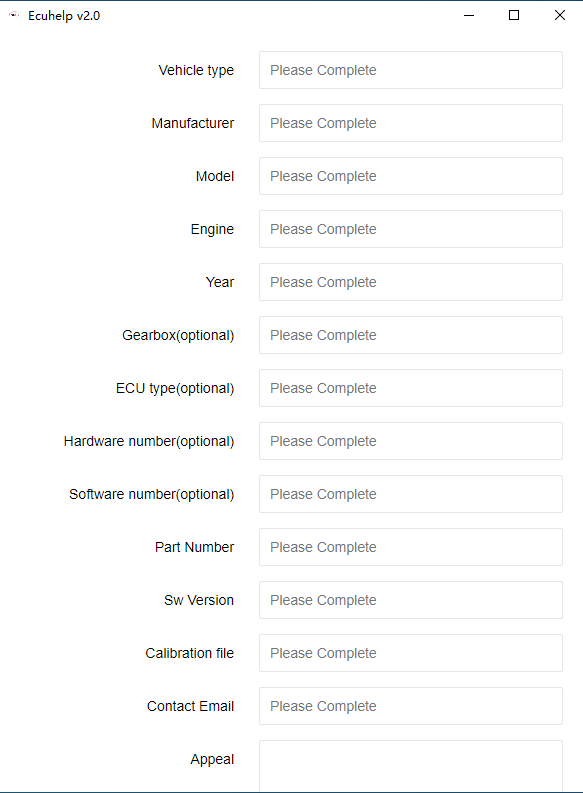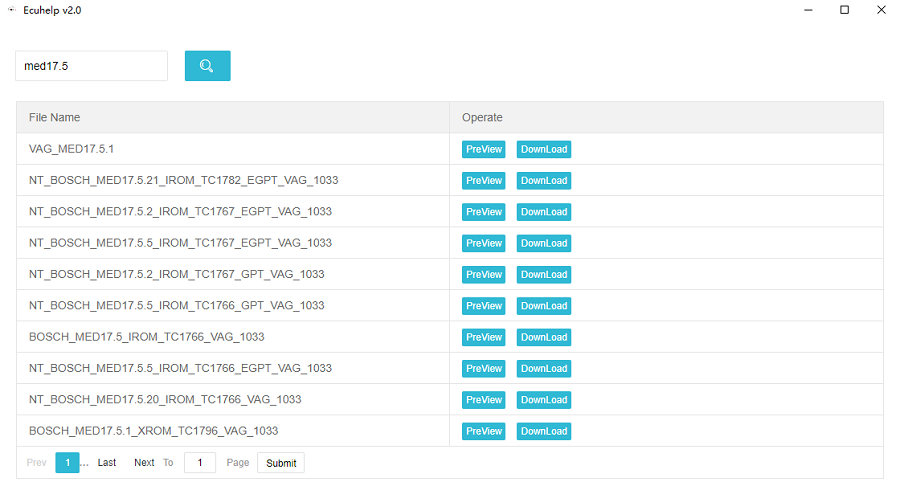 ECU Bench Tool Bench Connection: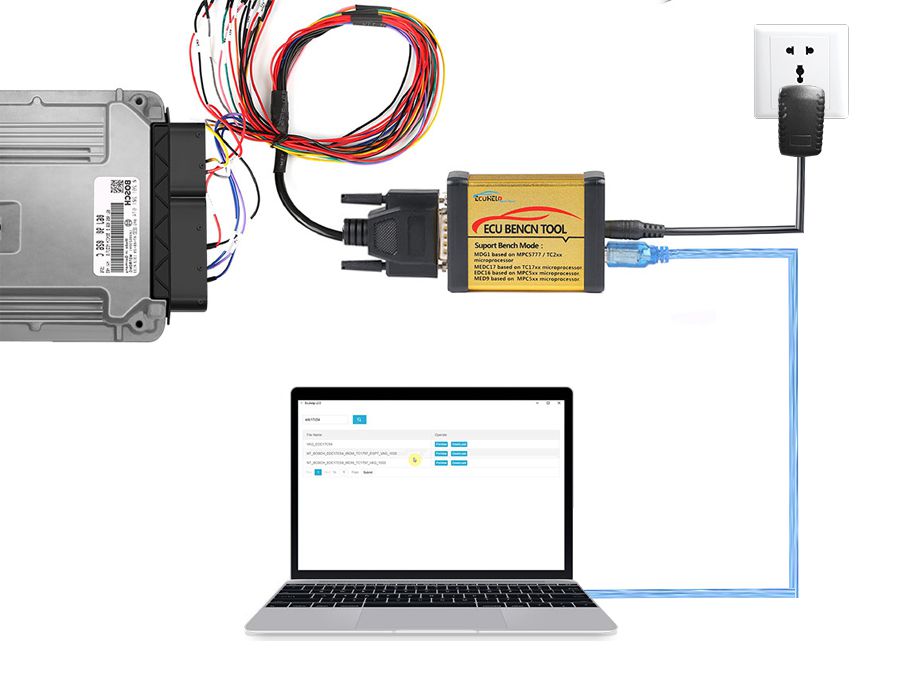 ECU Bench Tools vs PCMtuner:
Item
PCMtuner
ECU Bench Tool
Image
Price
$449
$329
Dongle
with Smart Dongle
without Dongle
Software
1. PCMtuner
2. PCMflash
1. AMT Bench Service Tool(AMT BST)
2. ECUHelp
Version
Master
Master
Datacenter
VZ Performace

ECUHelp 2.0
Network Connection
Yes
Yes
Update & Subscription
1. PCMtuner update online, no subscription, no annual fee
2. PCMflash update by dongle
Both ATM BST and ECUHelp Update Online
Checksum
Yes
Yes
VR read & Write
Yes, Online
Yes, Online
EDC16
Not Support Yet
Support, no need open ECU
EDC17 MEDC17
Yes, good for this
Yes, only a few models
MG1 MD1
Coming soon, need buy new adapter
yes, the license freely activated already
VAG Volvo ME9
No
yes, no need open ECU
Operation Mode
OBD, Bench, Boot
Bench
Offline/Online
Work offline, VR need online
Work offline, VR need online
Activation
Yes, provide SN and register email to activate
Yes, provide SN to activate
ECU List
PCMtuner ECU List
ECU Bench Tool ECU List
ECU Tuning Service
Download VR files for free
Pay for tuning file
Pay for VR files
Pay for tuning file
Q: How to Confirm Whether the ECU Bench Tool Support Your Car?
A: 1. If you have Bosch number only, but do not know the specific ECU model of your car, you can input the Bosch number here to confirm the ECU model
After you confirmed the ECU model, you can check the ECU Bench Tool support list, if the ECU model is in the support list, that means it support your car
2. You have both ECU model and Bosch number, while our support list only list ECU model, do not mark hardware bosch number, you want to confirm doubly, if you can find out the Bosch No. on this link. and ECU model in ECU Bench tool support list, that means it surely support this car
ECU Bench Tool Support List:
ASTONMARTIN_ME17.8.31
ASTONMARTIN_MED17.8.3
BMW
_EDC16C1
BMW
_EDC16C31
BMW
_EDC16C35
BMW_EDC17C06
BMW_EDC17C41
BMW_EDC17C50
BMW_EDCc17C56
BMW_EDC17C76
BMW_EDC17CP02
BMW_EDC17CP09
BMW_EDC17CP45
BMW_EDC17CP49
BMW_ME17.2.4
BMW_ME17.2
BMW_MEVD17.2.3
BMW_MEVD17.2.4
BMW_MEVD17.2.5
BMW_MEVD17.2.6
BMW_MEVD17.2.8
BMW_MEVD17.2.9
BMW_EVD17.2.G
BMW_EVD17.2.H
BMW_EVD17.2.P
BMW_SPC5777_MD1CP002
BMW_SPC5777_MD1CP032
BMW_SPC5777_MD1CS001
BMW_SPC5777_MG1CS003
BMW_SPC5777_MG1CS024
BMW_SPC5777_MG1CS201
BMW_TC298_MD1CS001
BMW_TC298_MD1CS024
BMW_TC298_MD1CS201
DUCATI_ME17.9.21
EDC17CV54
FAL_EDC16C8
FAL_EDC16C39
FAL_EDC17C49
FAL_EDC17C69
FAL_EDC17C79
FAL_EDC17CP27
FAL_EDC17CP52
FAL_ME17.3
FAL_MED17.3.1
FAL_MED17.3.3
FAL_MED17.3
FERRARI_MED17.3.5
FORD
_EDC17C10
FORD
_EDC17C70
FODE_EDC17CP05
FORD
_EDC17CP42
FORD
_EDC17CP65
FORD
_MED17.0.1
FORD_MED17.0.7
FORD_MED17.0
FORD_MED17.2
FORD_TC298_MD1CS005
GM
C_EDC17CP18
HONDA_EDC17C58
HONDA_EDC17CP16 HONDA_EDC17CP50
HONDA_MD17.9.3
HYUNDAI_EDC17C53
HYUNDAI_ME17.9.11
HYUNDAI_ME17.9.21
HYUNDAI_MED17.9.30
HYUNDAI_MEDG17.9.8
HYUNDAI_MEG17.9.21
HYUNDAI_TC298_MD1C012 HYUNDI_EDC17C08
ISUZU_EDC17C83
JAGUAR_MED17.8.31
JAGUAR_MED17.9.7
JAGUAR_MEDC17.9
JMC_EDC17C55
KIA_EDC17CP62
KIA_MEG17.9.8
KIA_MEG17.9.12
KlA_TC298_MD1CS012
LANDROVER_EDC17C11
LANDROVER_EDC17CP55
MASERATI_MED17.3.4
MCLAREN_ME17.8.3
MCLAREN_ME17.8.32
MERCEDES_EDC16C2
MERCEDES_EDC16C32
MERCEDES_EDC16CP31
MERCEDES_EDC17C43
MERCEDES_EDC17C57
MERCEDES_EDC17C66
MERCEDES_EDC17CP01
MERCEDES_EDC17CP10
MERCEDES_EDC17CP46
MERCEDES_EDC17CP57
MERCEDES_EDC17CP60
MERCEDES_ME17.7
MERCEDES_MD17.7.1
MERCEDES_MED17.7.2
MERCEDES_MED17.7.3
MERCEDES_MED17.7.5
MERCEDES_MED17.7.7
MERCEDES_MED17.7.8
MERCEDES_SPC5777_MD1CP001
MERCEDES_SPC5777_MG1CP001
MERCEDES_SPC5777_MG1CP002
MINI_MED17.2
MINI_MEV17.2.2
OPEL_EDC16C9
OPEL_EDC16C39
OPEL_EDC17C18
OPEL_EDC17C19
OPEL_EDC17C59
OPEL_EDC17CP47
OPEL_ME17.9.5
OPEL_TC298_MD1CS003
OPEL-TC298_MG1CS042
POELARlS_M17.9.74
PORSCHE
NMED17.1.11
PORSCHE_SPC5777_MG1CP007
PORSCHE
_TC298_MG1C007
PORSCHE
_TC298_MG1CS047 PSA_EDC16C34
PSA_EDC17C10
PSA_EDC17C60
PSA_EDC17CP52
PSA_ME17.9.7
PSA_ME17.9.52
PSA_ME17.9.71
PSA_MED17.4.4
PSA_MED17.4
PSA_MEDV17.44
PSA_MEV17.4
PSA_TC298_MD1CS003
PSA_TC298_MG1CS042
RENAULT_EDC16C36
RENAULT_EDC16C41
RENAULT_EDC16CP33
RENAULT_EDC17C11
RENAULT_EDC17C42
RENAULT_EDC17C45
RENAULT_EDC17C84
RENAULT_EDC17CP11
RENAULT_EDC17CP19
RENAULT_EDC17CP42
RENAULT_EDC17CP58
RENAULT_ME17.9.20
RENAULT_ME17.9.23
SKODA_ME17.5.26
SUZUKI_ME17.9.5
SUZUKI_ME17.9.6
SUZUKI_ME17.9.61
SUZUKI_ME17.9.64
SUZUKI_MED17.9.63
TOYOTA
_EDC17C47
TOYOTA
_EDC17C73
TOYOTA
_EDC17CP07
TOYOTA_EDC17CP37
VAG_EDC16CP34
VAG_EDC16U1
VAG_EDC16U31
VAG_EDC16U34
VAG_EDC17C46
VAG_EDC17C54
VAG_EDC17C64
VAG_EDC17C74
VAG_EDC17CP04
VAG_EDC17CP14
VAG_EDC17CP20
VAG_EDC17CP24
VAG_EDC17CP44
VAG_EDC17PC54
VAG_EDC17CP74
VAG_EDC17U01
VAG_EDC17U05
VAG_ME17.1.1
VAG_ME17.5.6
VAG_ME17.5.20
VAG_ME17.5.22
VAG_ME17.5.24
VAG_M17.5
VAG_MED9.1.2
VAG_MED9.1
VAG_MED9.5.10
VAG_MED17.1.1
VAG_MED17.1.6
VAG_MED17.1.10
VAG_MED17.1.21
VAG_MED17.1.27
VAG_MED17.1.61
VAG_MED17.1.62
VAG_MED17.1
VAG_MED17.5.1
VAG_MED17.5.2
VAG_MED17.5.5
VAG_MED17.5.20
VAG_MED17.5.21
VAG_MED17.5.25
VAG_MED17.5
VAG_SPC5777_MD1CP004
VAG_SPC5777_MD1CP014
VAG_SPC5777_MG1CS001
VAG_SPC5777_MG1CS002
VAG_SPC5777_MG1CS008
VAG_SPC5777_MG1CS011
VAG_SPC5777_MG1CS111
VAG_SPC5777_TC298_MD1CP004
VAG_SPC5777_TC298_MD1CP014
VAG_TC298_MD1CS004
VAG_TC298_SPC5777_MG1CS008
VOLVO_EDC16C31
VOLVO_EDC17CP22
VOLVO_EDC17CP48
VOLVO_EDC17CP68
VOLVO_ME9.0
VOLVO_MED17.2
RENAULT_NISSAN_TC298_MD1CS006
Package List:
1pc x BENCH Cable
1pc x Power Adapter
1pc x Master Interface
1pc x USB Cable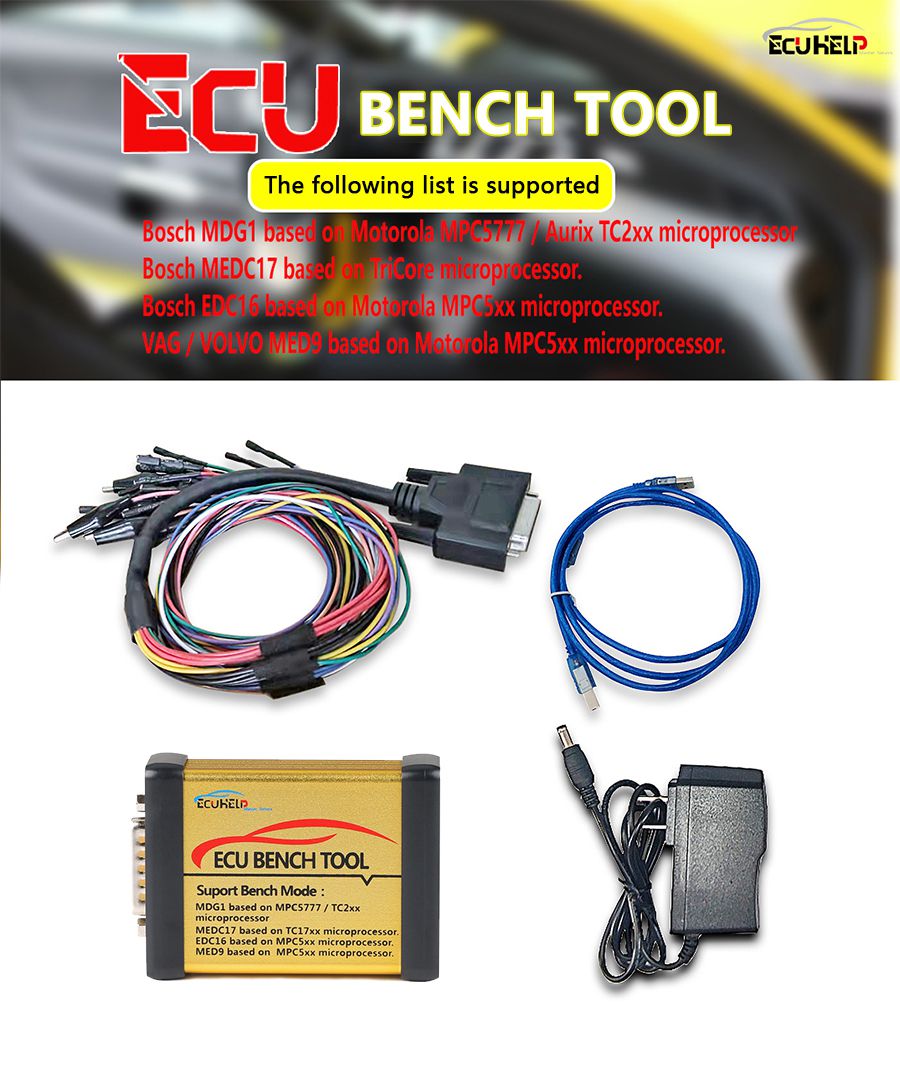 Previous: V2022.12 Wifi MB SD Connect Compact 4 Star Diagnosis Support Doip with Software HDD
Next: YIHUA 8786D 110V 220V Hot Air Soldering Station Soldering Iron Station Double Panel Circuit LED Rework Station