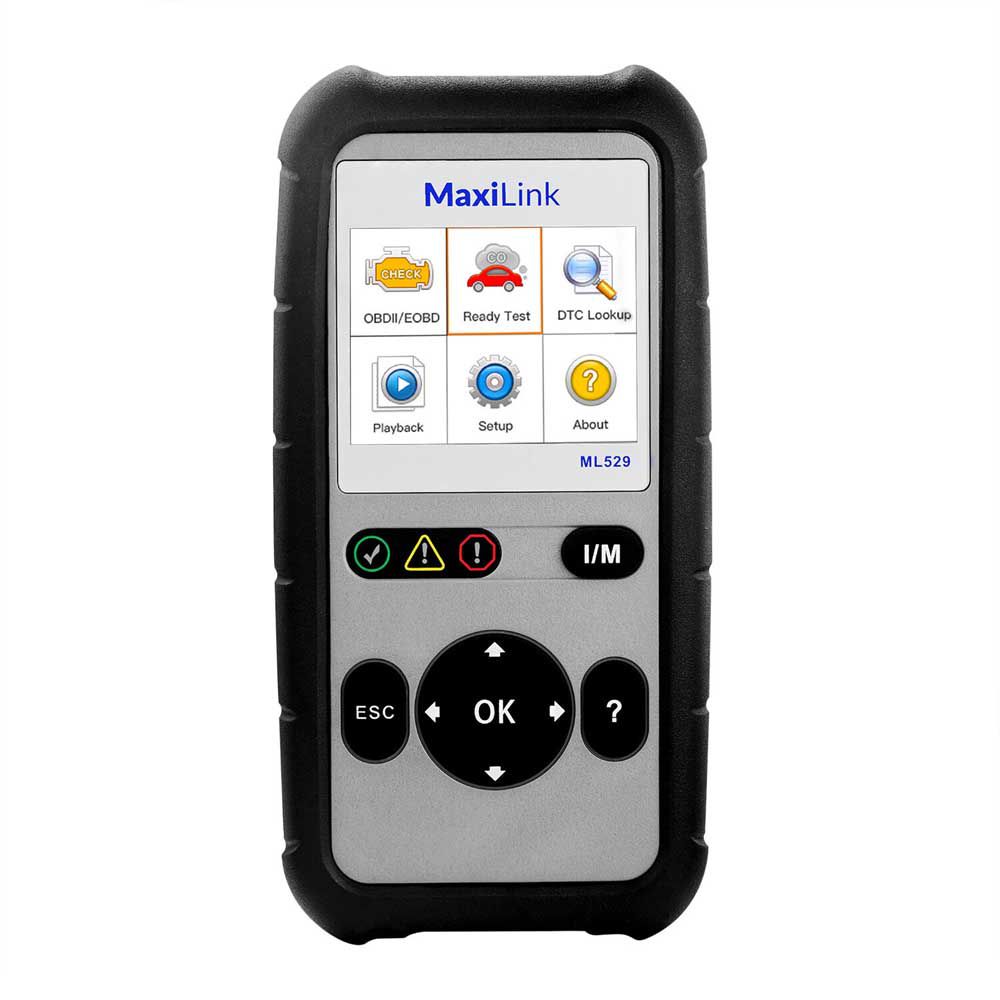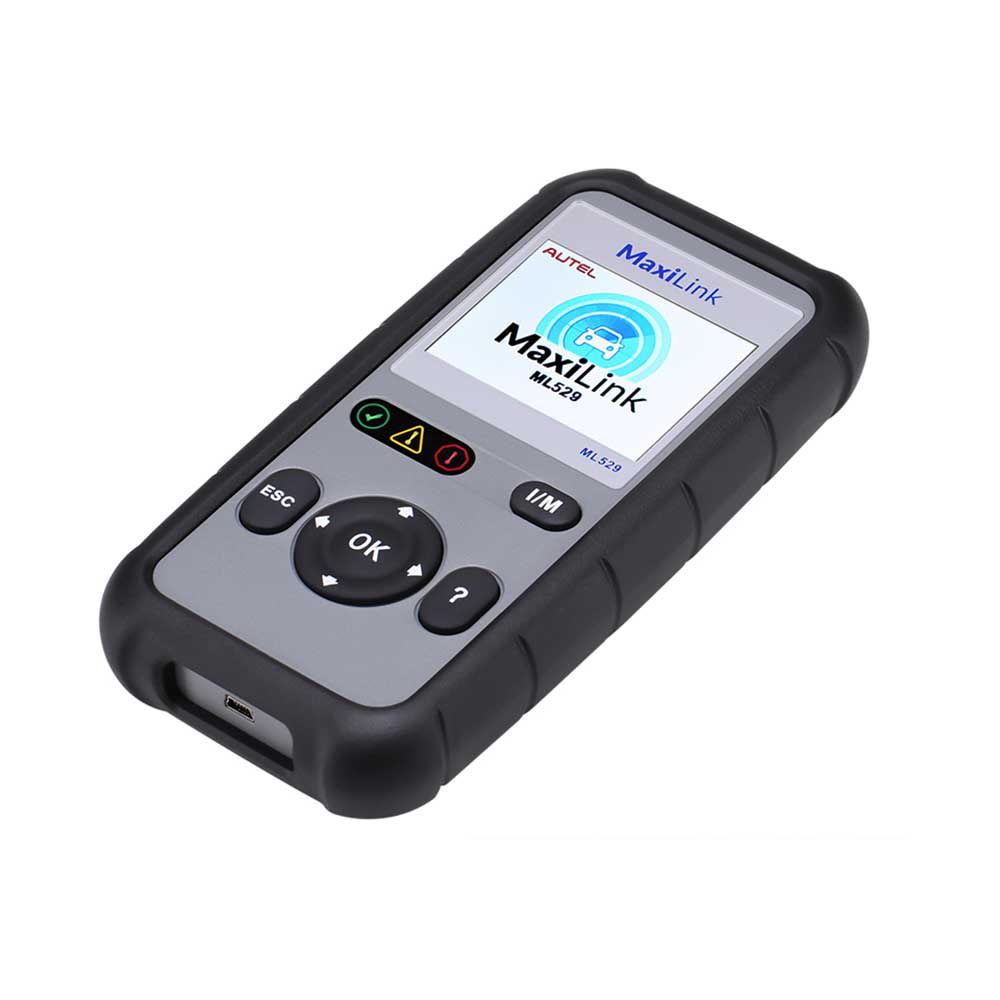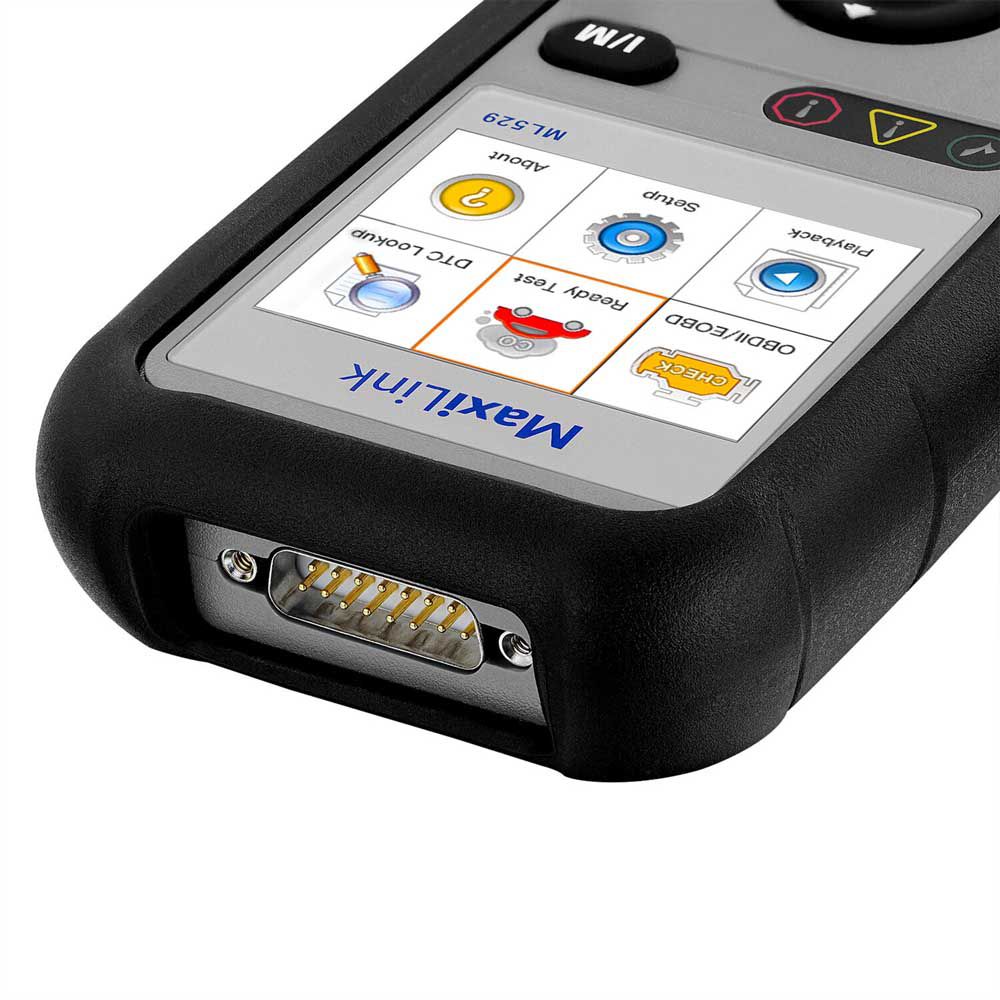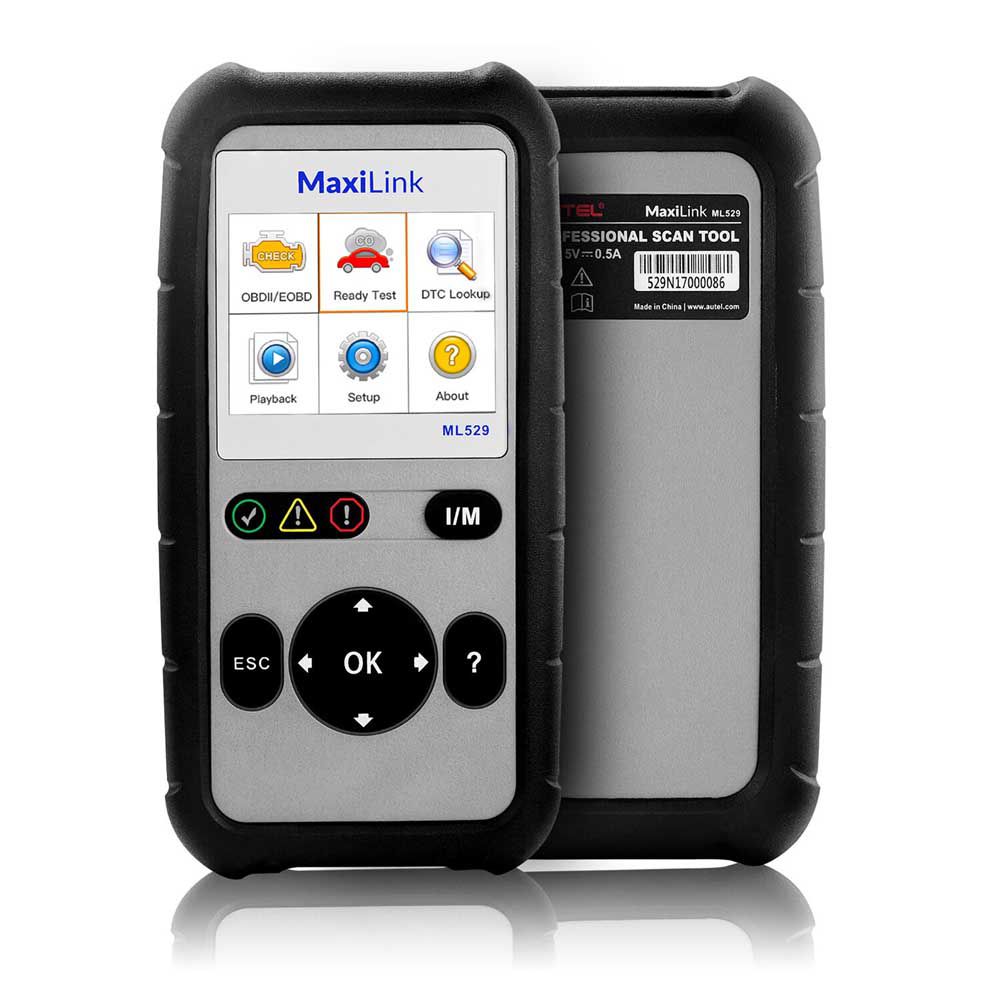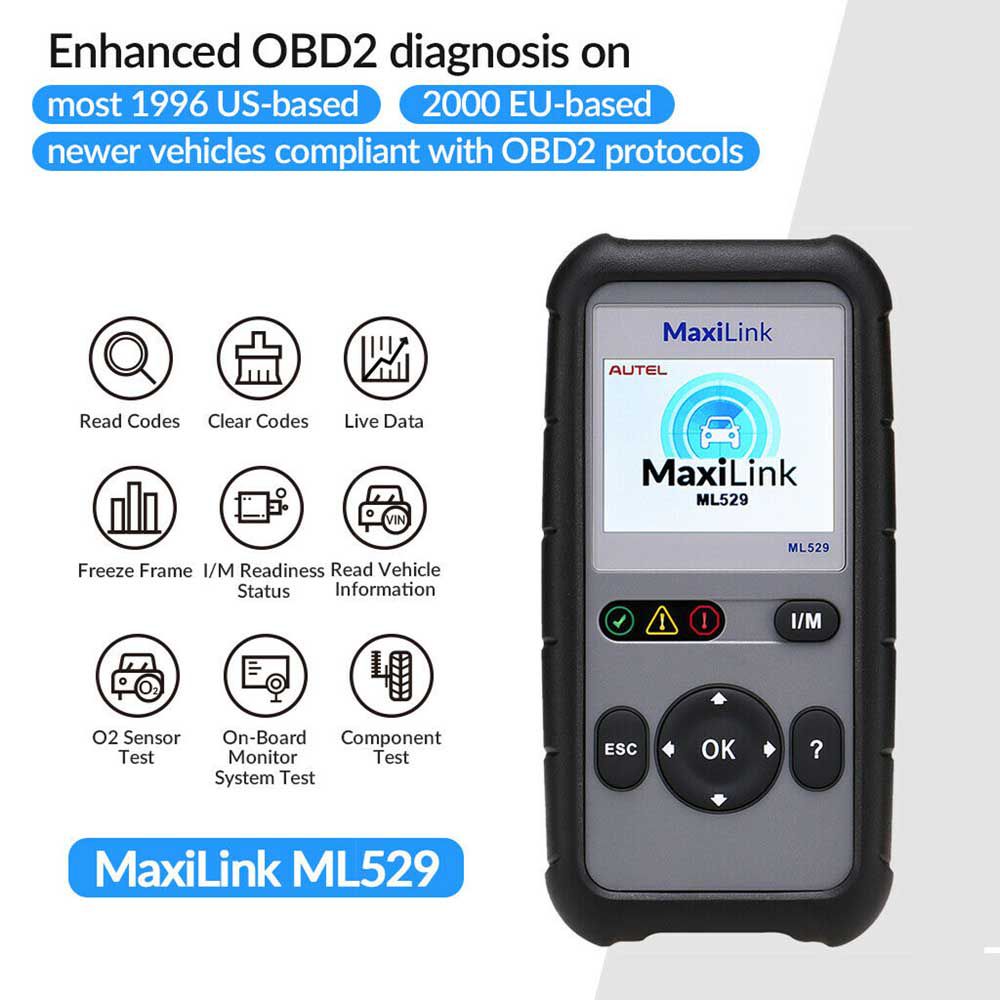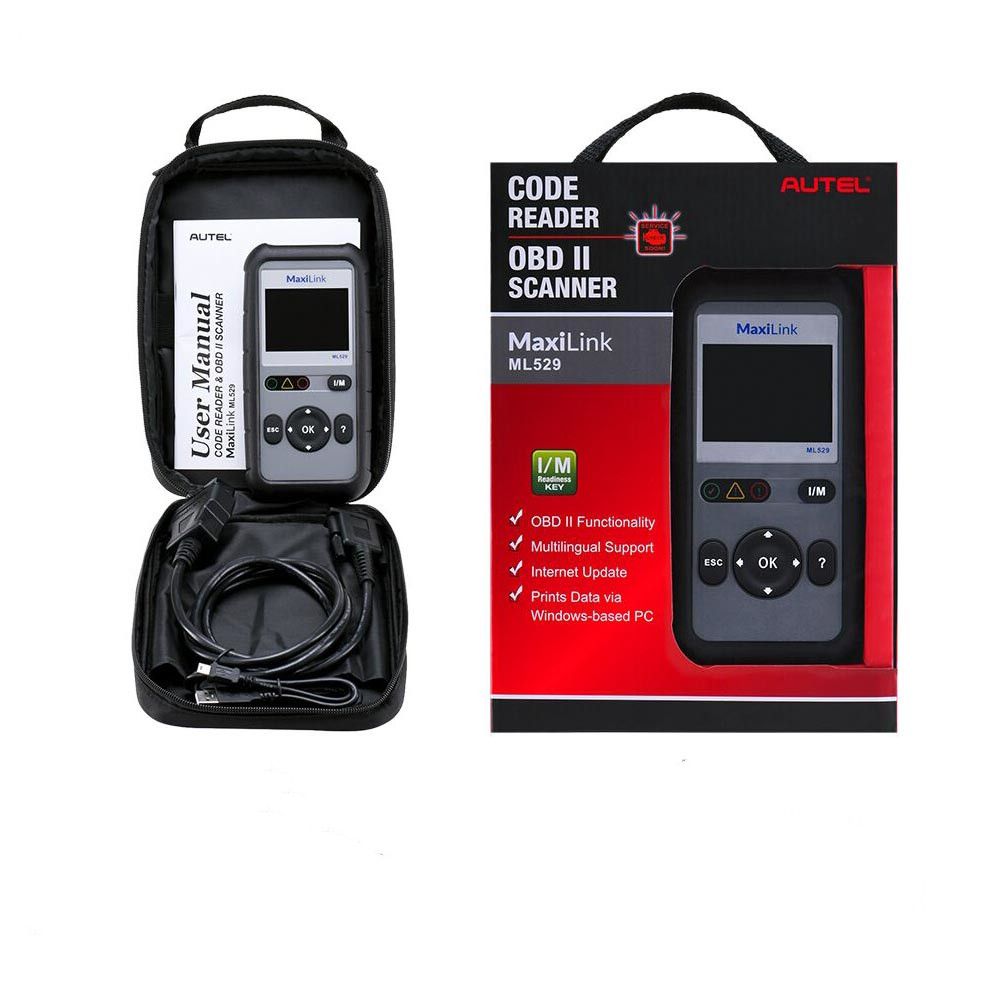 Description
Original Autel Maxilink ML529 OBD2 Scanner with Full OBD2 Functions Upgraded Version of AL519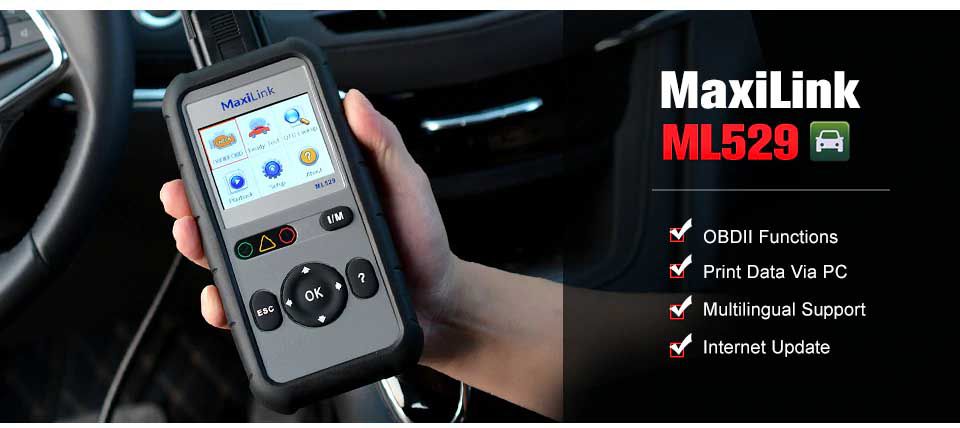 Highlights of Autel Maxilink ML529:1. Supported Language:
English, Spanish and French
2. Lifetime Free Update Online on Autel Official Website
3. Updated Version Of Code Reader AL519
, Read
OBD2
Codes & Enhanced Codes Via Autovin Function
4. Enhanced Mode6:
Accessing the Results of On-Board Diagnostic Monitoring Tests for Specific Components/Systems
5. Emission Checking:
One-Click I/M Readiness Status Checking Button to Check the Vehicle is Ready for the Emission Test
6. Accurately Read/Erase engine Error Codes and View Live Data and Display the Monitored Data Like I/M Readiness, O2 Sensor Test & Freeze Frame Data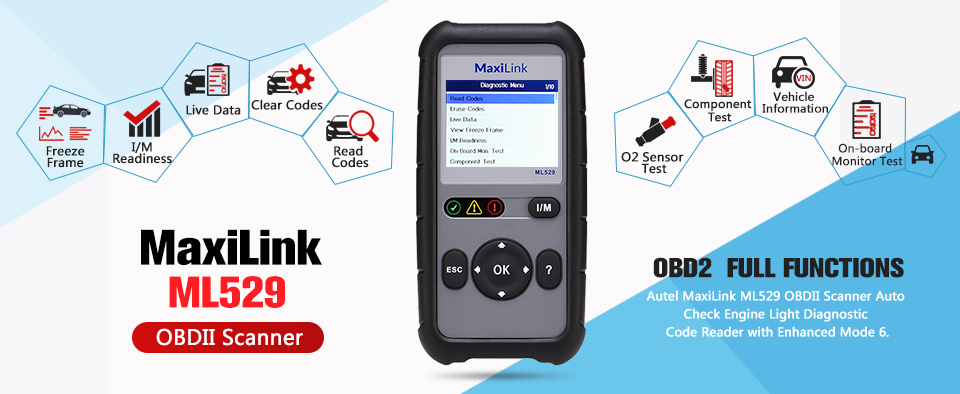 Bullet Points1. ENHANCED MODE 6:
Accessing the results of on-board diagnostic monitoring tests for specific components/systems, and you can easily determine if the components or the monitors are fine by comparing the monitors' current value, minimum and maximum values.
2. ACCURATE TESTING:
Code Reader
ML529 can accurately read and erase
engine
error codes and view live data on most 1996 and newer
OBDII
protocols vehicles and efficiently display the monitored data like I/M Readiness, O2 Sensor Test, and Freeze Frame Data.
3. USEFUL DATA PLAYBACK:
The Data Playback allows viewing and printing data from last recorded test, and you can connect the tool to a Windows-based PC with supplied USB Cable to print the recorded DTC data when data-sharing is needed.
4. BUILT-IN DTC LOOKUP:
To shorten your diagnostic time and bring you great user experience, this
Code Reader
is equipped with a built-in DTC library that guides you directly to the faulty components via showing the definitions of the codes on the 2.8-in LCD screen.

5. Upgraded Version of AL519:
Highly recommended by Auteltech Mechanic!Reads enhanced
PCM
codes in Powertrain System from original manufactuer of Ford/
GM
/
Chrysler
with more accuracy. One touch of AutoVIN to obtain Vehicle Identification Number automatically, so you could start to diagnostic your Vehicle/ LightTruck in a high-efficient way to pass smog test.One Click I/M Readiness Hotkey on Emission status
Description:
Autel MaxiLink ML529, an extremely useful tool from Autel, is what you'll need to check engine faults on most 1996 and newer OBDII compliant vehicles. The code reader will help to easily determine the DTCs for the Check Engine Light, turn Check
engine
Light off, clear codes and reset monitors, and easily retrieve vehicle information and display monitor and IM readiness status.
Autel MaxiLink ML529 OBD II Code Reader supports all 10 modes of OBD II test for complete vehicle diagnostics. The easy-to-use tool features a TFT color display and built-in speaker for visual and audible message cues and the patented One-Click I/M Readiness Key for quick State Emissions.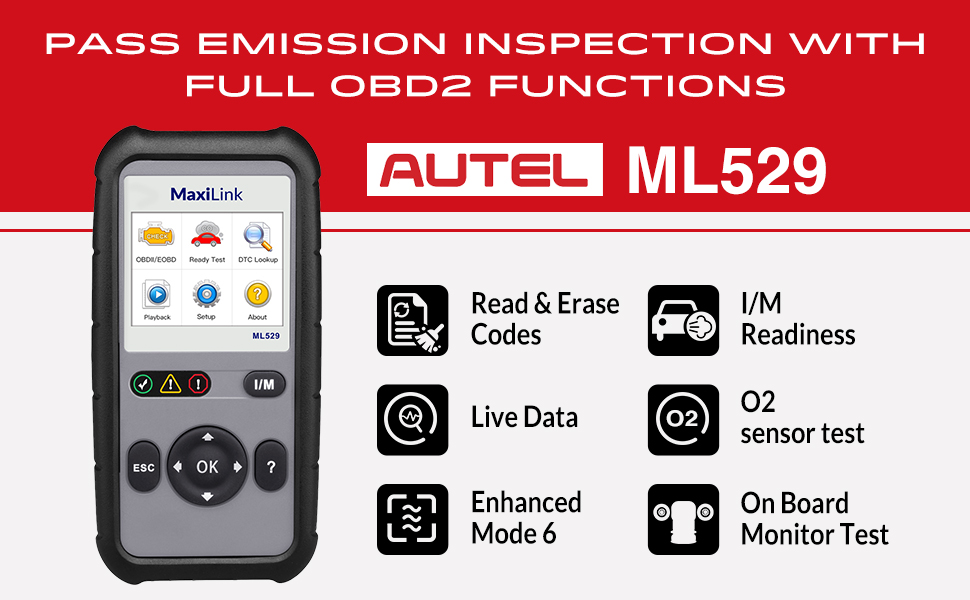 Features:
1. AutoVIN function for quickly identifying manufacturer-specific codes
2. Reads enhanced codes in Powertrain system for Ford,
GM
and
Chrysler
3. Compatible with domestic, Asian and European vehicles, 1996 and newer.
4. Retrieves generic (P0, P2, P3 and U0), manufacturer-specific (P1, P3 and U1) and pending codes
5. Enhanced OBD II Mode 6
6. Retrieves vehicle identification information (VIN, CALID and CVN)
7. Turns off Check Engine Light, clears codes and resets monitors
8. Views freeze frame data
9. Displays monitor and I/M readiness (emissions) status
10. Reads live PCM data stream
11. Displays live O2 sensor test data
12. Graphs data
13. Reads, stores and plays back live sensor data
14. Troubleshooter code tips aid technician in efficient vehicle diagnostics and vehicle repair
15. Patented One-Click Readiness Key for quick State Emissions readiness check and drive cycle verification
16. Bright color-coded LEDs and built-in speaker provide both visual and audible tone for readiness verification
17. Multilingual (including English, Spanish and French) menu and DTC definitions
19. Prints data via Windows-based PC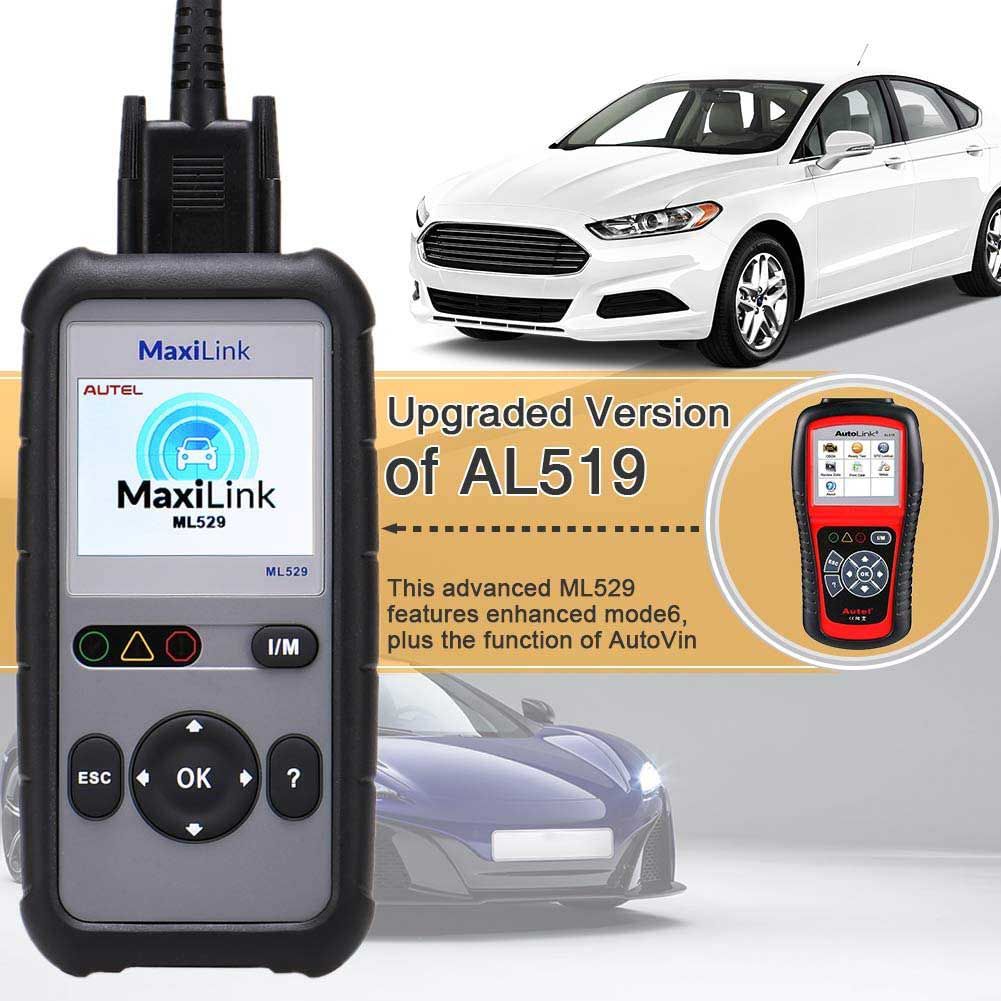 Extensive Range of Car & OBD2 Protocols Coverage
The MaxiLink ML529 OBDII/EOBD Scanner is specially designed to work with all OBDII compliant vehicles, including those equipped with Control Area Network (CAN) protocols.The EPA requires all domestic, Asian and European vehicles, 1996 and newer vehicles(including light trucks), sold in the United States must be OBDII compliant.Included but not limited J1859-41.6/ J1850-10.4/ ISO9141/ KWP2000(ISO 14230)/ CAN(Control Area Network ISO 11898).
Functions:1. Full OBDII Functions
The code reader Autel ML529 is a useful tool for enhanced OBDII diagnosis on most 1996 and newer vehicles that are compatible with OBDII protocols. The code reader support full 10 test modes of OBDII diagnosis and you can use it to:
1. Read and erase engine error codes that stored in ECUs and turn off the check engine light after servicing and repairing; the codes include generic (P0, P2, P3 and U0), manufacturer-specific (P1, P3 and U1) and pending codes;
2. View live data to analyze the components running status and retrieve freeze frame data that records the engine components' running status when a fault code detected;
3. Check I/M readiness to identify if the vehicle perfectly finishes the self-test and will pass the State Emission Test;
4. Check On-board Monitor Test that accesses the results of on-board diagnostic monitoring tests for specific components/systems to determine if the components or the monitors are fine;
5. Analyze O2 Sensor Test result to know the Oxygen content in the exhaust and make adjustment for the best air-fuel ratio;
6. Retrieve vehicle information (VIN, CID and CVN) for accurate diagnosis.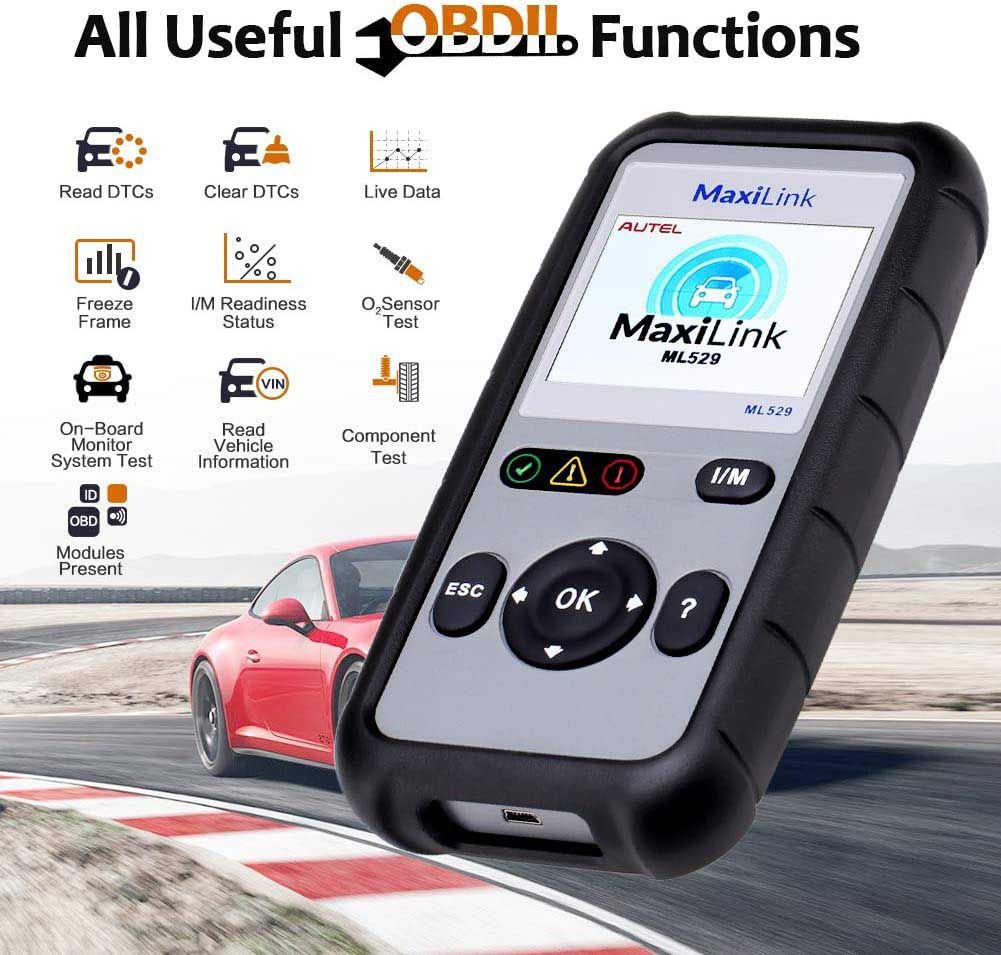 Other Features
1. Built-in DTC Lookup: The code reader ML529 is designed with built-in DTC library that allows you to check the definitions of engine error codes and determine the source of the problem.
2. Data Printing: The code reader has the function of Data Playback that allows viewing and printing of data from last recorded test. Download and install the Maxi PC Suite on your Window-based PC, and you can print the stored data via Autel Printer software that is concluded in Maxi PC Suite.
3. Internet Update: Simply connect the tool to your PC via supplied USB cable, and you are able to update the tool to get a wider vehicle or component coverage and the latest bug fixes.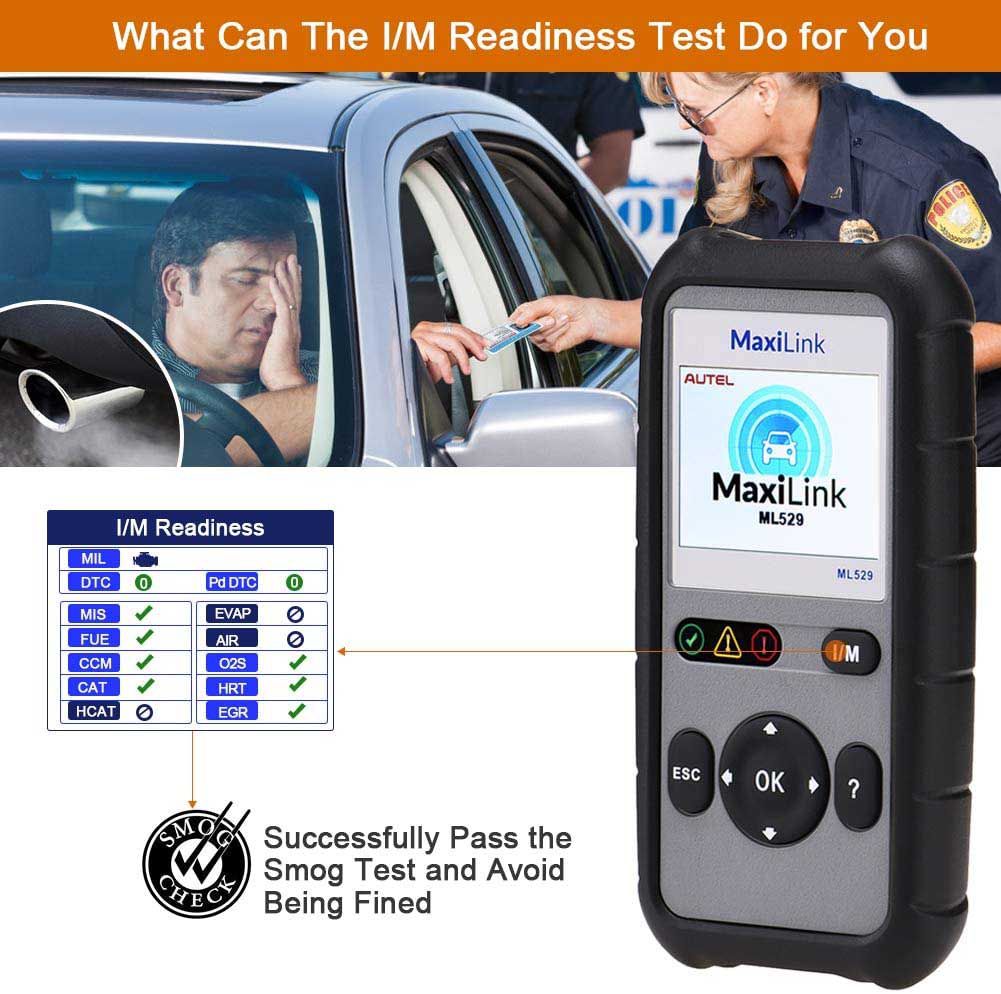 Update Procedure
(Genereally, there are 2 ways to update programs including [Batch Update]/[Single Update]
Connect the tool to a Mac-based or Windows-based computer using the included USB cable. Follow the update procedure to finish updating.
1. Download "the Maxi PC Suit" from www.autel.com > Support & Updates > Firmware & Downloads > Update Client, and install to your Windows-based computer.
2. Run the Maxi PC Suite. Wait for the Log In window to display.
3. Connect the scan tool to your computer with the provided USB cable.
4. From System Setup screen in the tool, select Update Mode, and press OK.
5. Enter your Autel ID and password and wait for the Update window to display. Or click Sign Up to create an Autel ID to continue.
6. Select tool and serial number, click OK to continue.
7. In the Update window, select the appropriate files to install.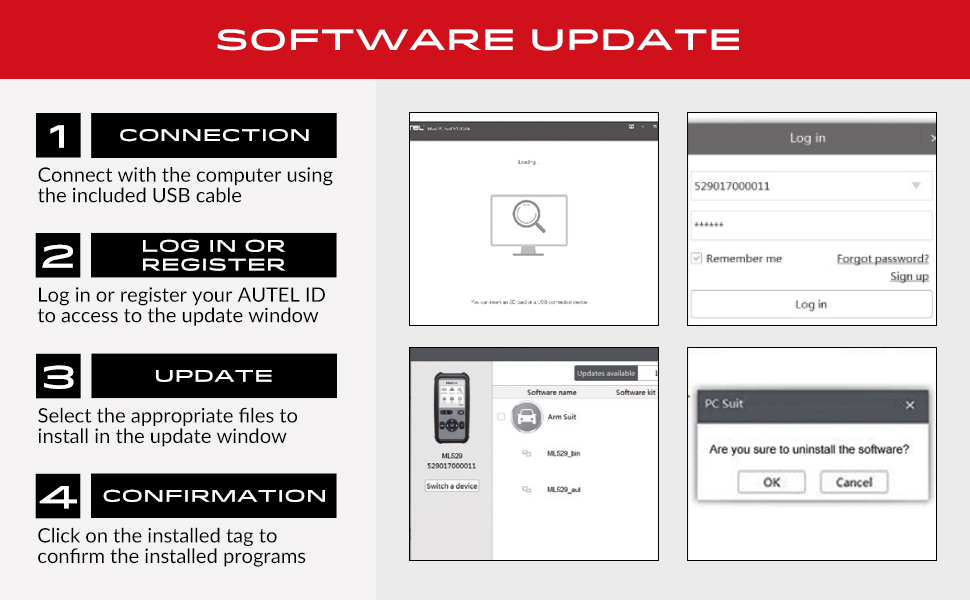 Specifications:
Display : 2.8-inch LCD (320x240 dpi)
Connectivity : USB mini 2.0
OBD II DB15
Operating Temp : 0℃ to 60 ℃ (32℉ to 140℉)
Storage Temp : -20℃ to 70 ℃ (-1℉ to 158℉)
External Power : 8.0 to 18.0V power provided via vehicle battery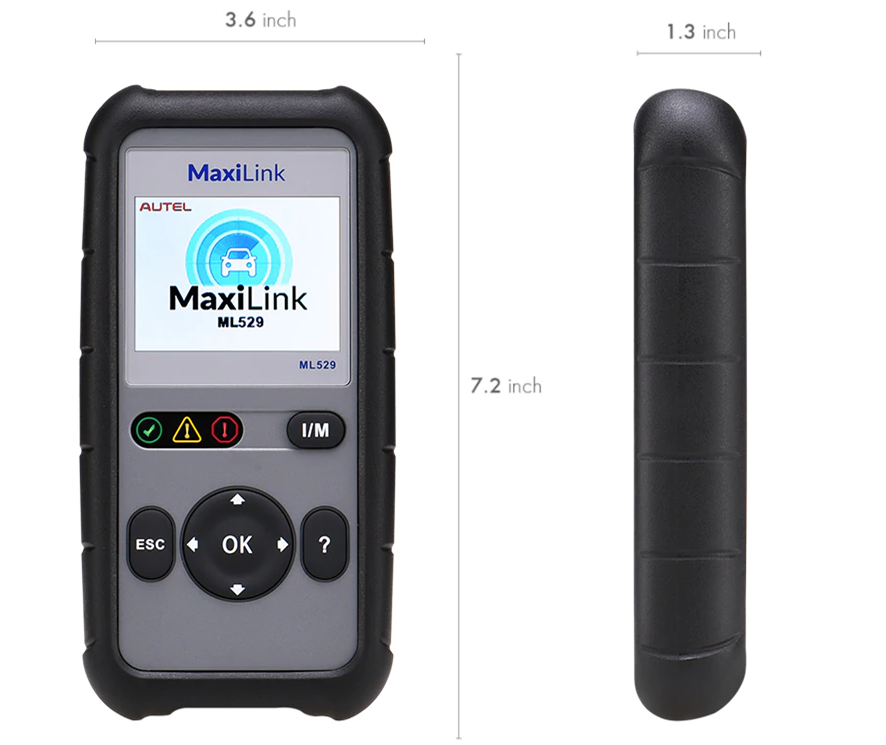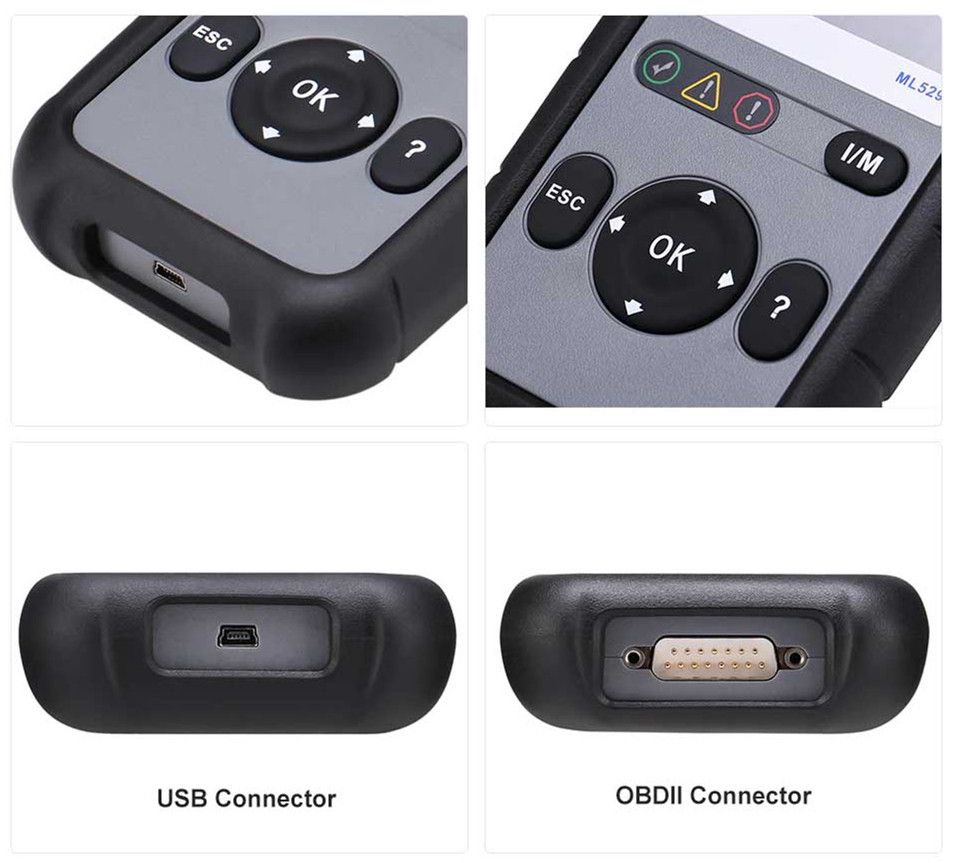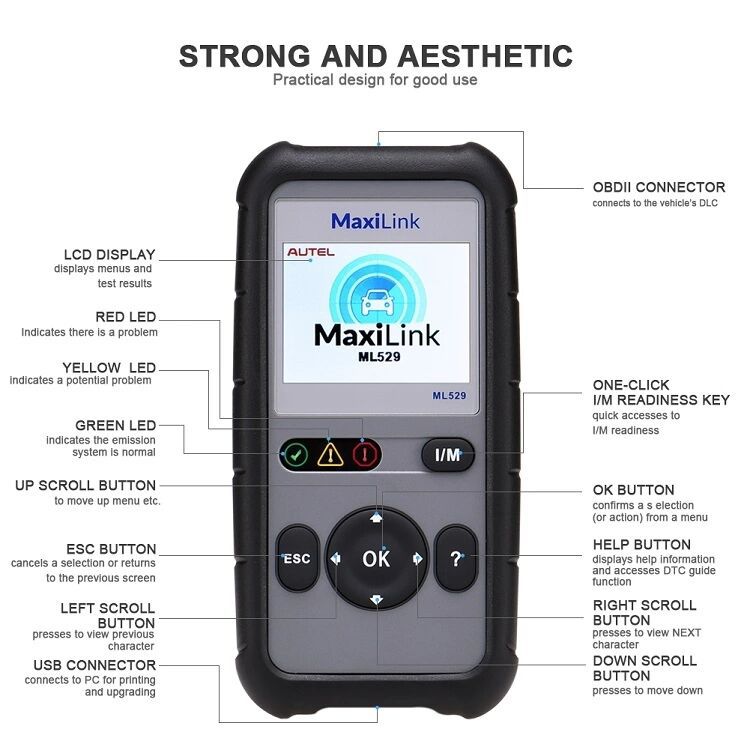 Package List:
1pc x Main Unit
1pc x OBDII Cable
1pc x USB Cable
1pc x User Manual
1pc x Quick Guide
Previous: Autel MaxiLink ML329 Code Reader (Advanced Version of Autel AL319)
Next: VIDENT iBT200 9V-36V Battery Tester for 12V Passenger Cars and 24V Heavy Duty Trucks 100 to 2000CCA Car Battery Analyzer