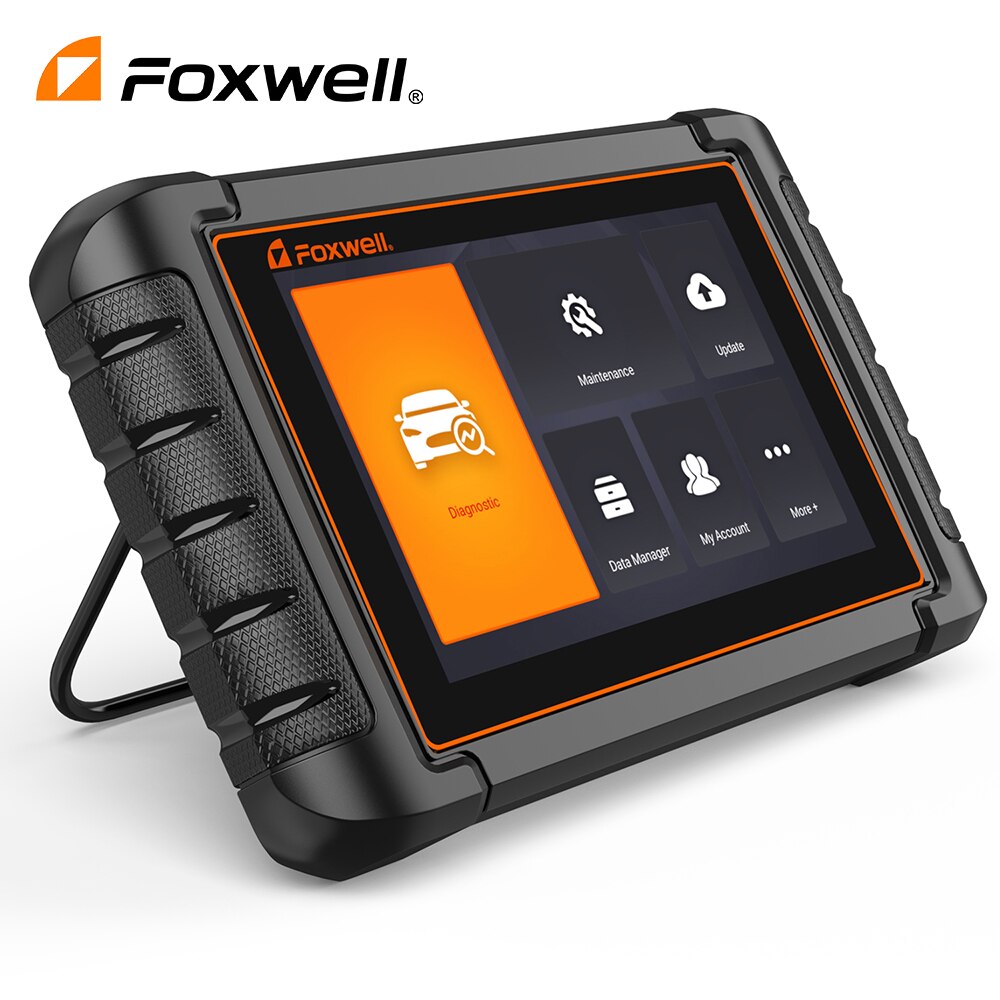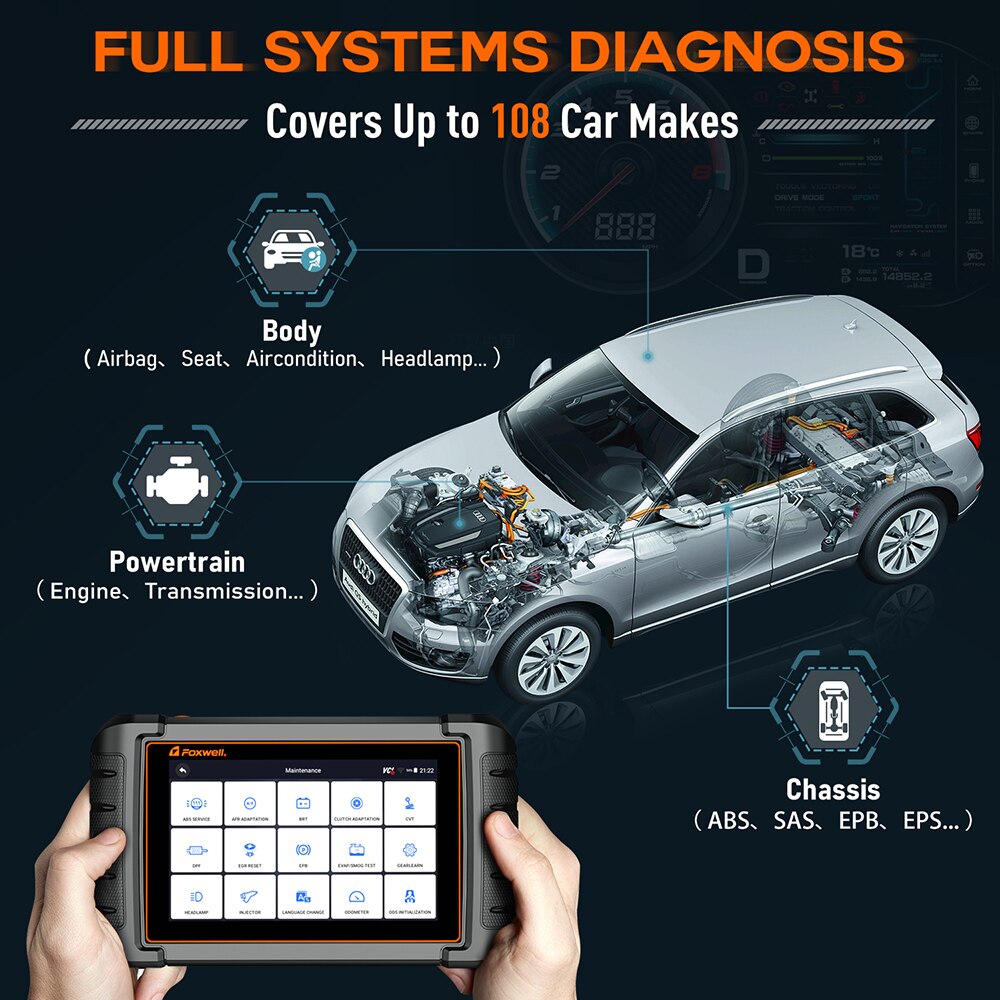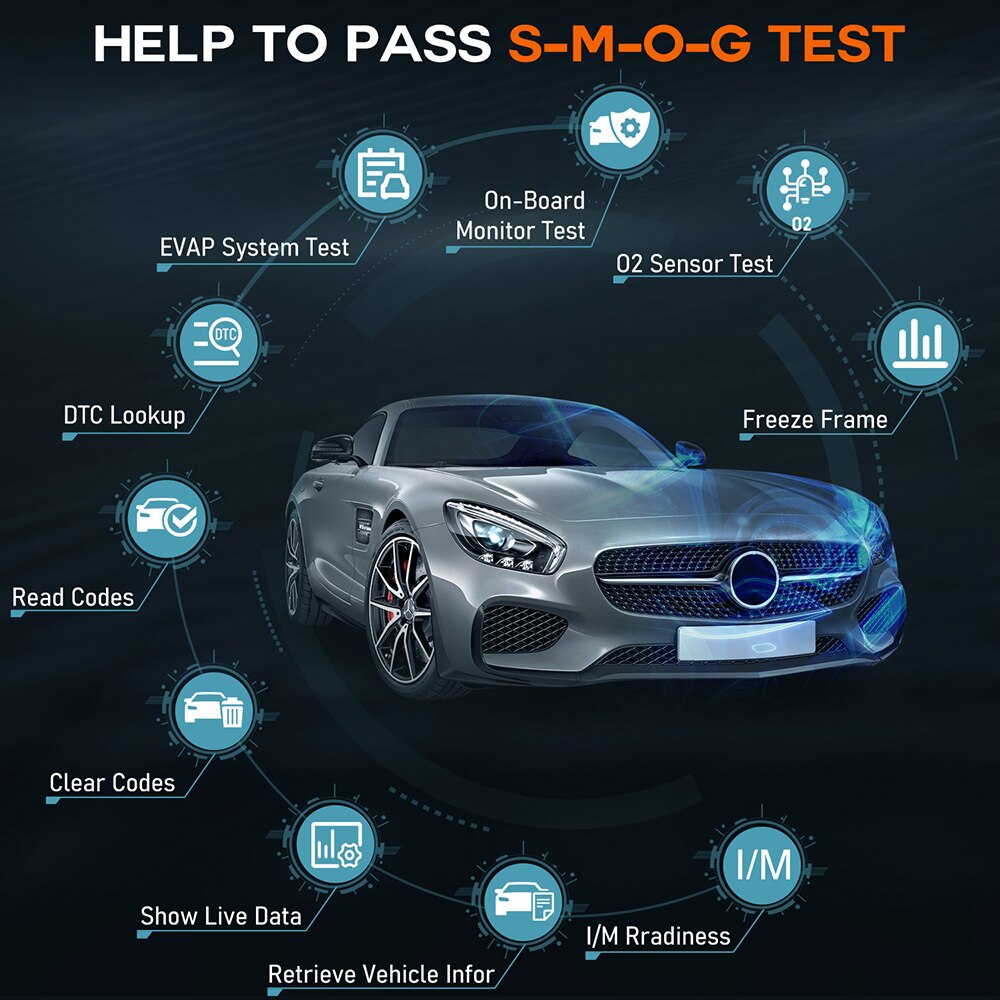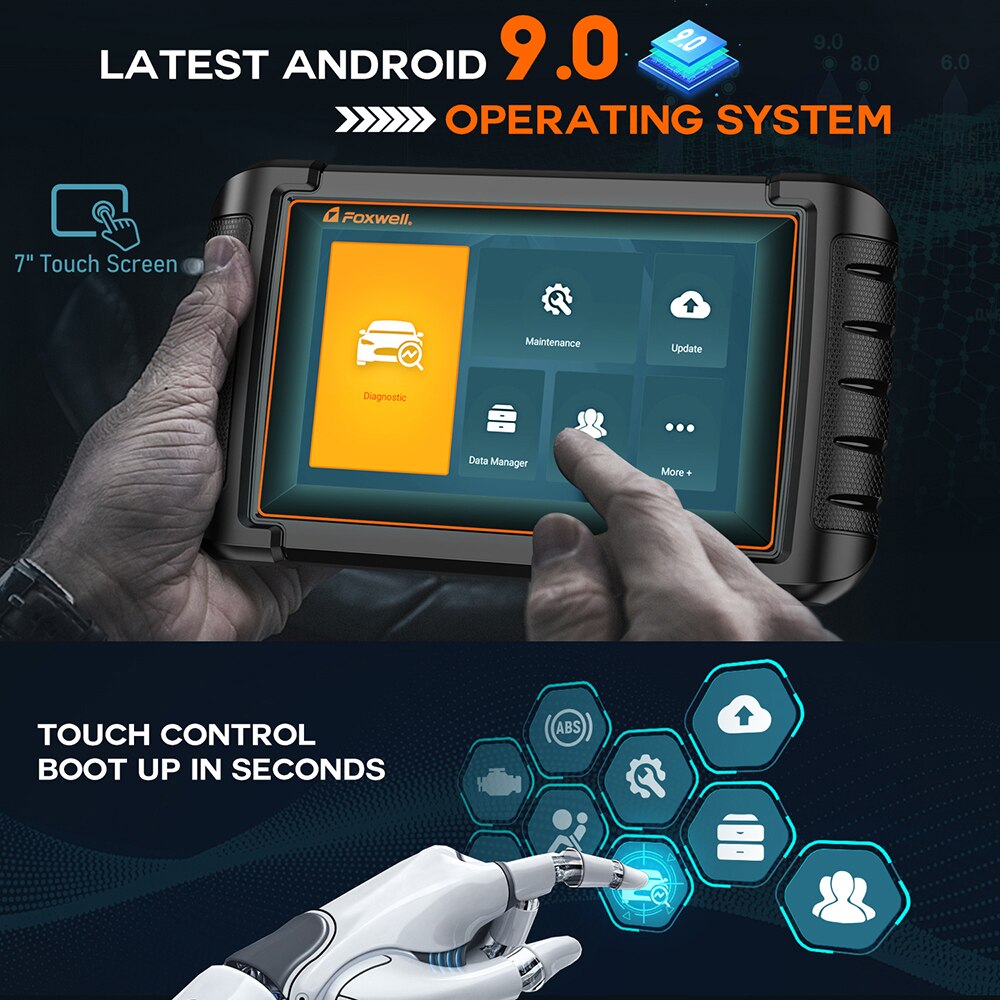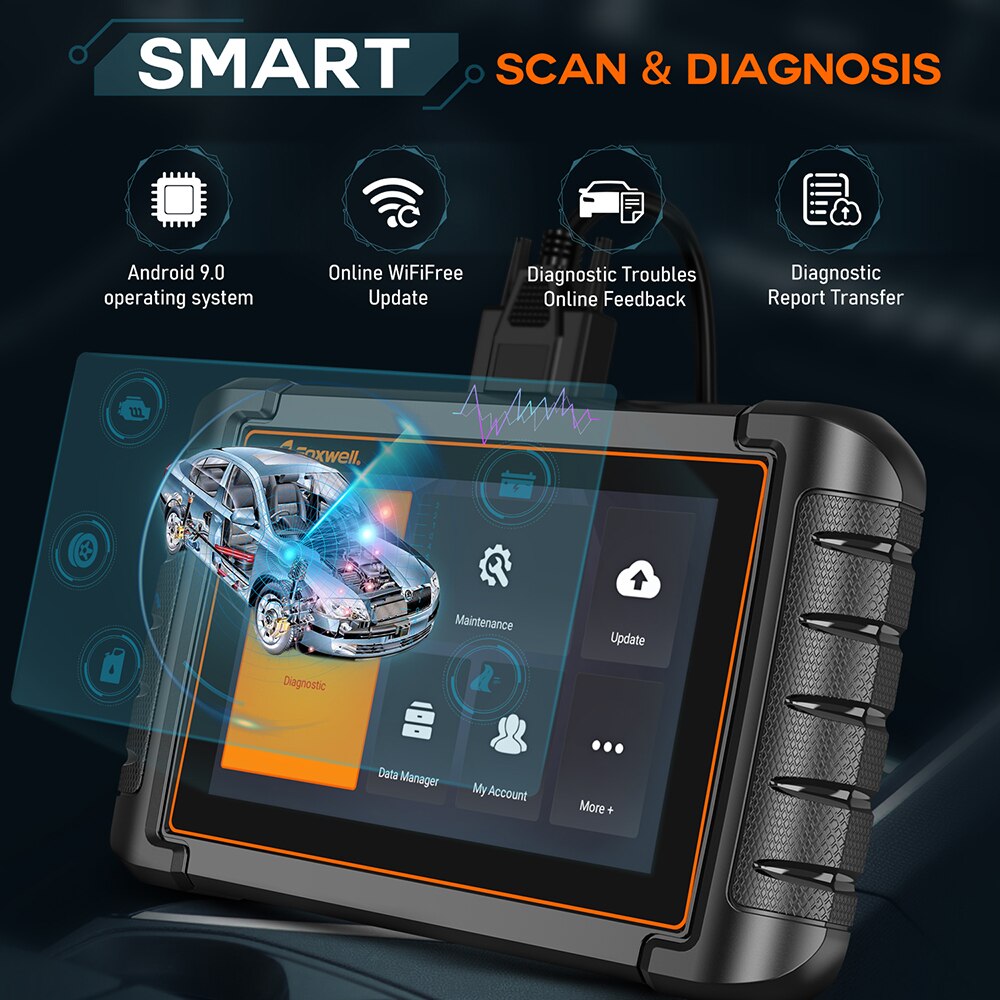 Related Accessories/Similar Items
Description
2021 New Arrival- Foxwell NT809 All System + 28 Reset Service + 2 Years Warranty
All in One Scanner, Your Necessities!
Whether you are an professional mechanic or not, it helps you to know what went wrong with the car, which part need to be repair and which do not. You will know you can learn more about your car through this code readers & scan tools, then saving unnecessary maintenance costs.

️All System Diagnose
️28 Hot Used Reset Function
️2021 Advance Hardware - Runs Fast
️One Click Free Update
️No Extra Software Fee
️Support 2021 newest Car Models
️Valuable Additional Functions: One-click screenshot, record video, one-click update, remote diagnostic, quick support, testing report, data stream record & playback & print, diagnostic feedback, etc.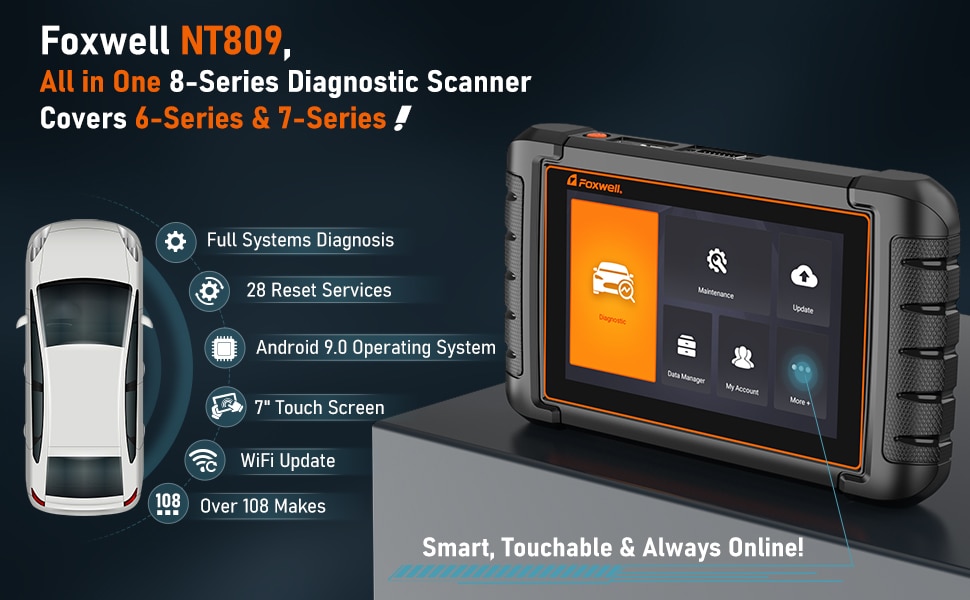 Multi-Lingual Menu
NO IP Restrictions! And it comes with English(default), Korea, Spanish, Portuguese, French,Swedish, Dutch, Japanese, Italian, German,Russian, Hungarian, Slovak, Greek, Chinese, Traditional Chinese menu available.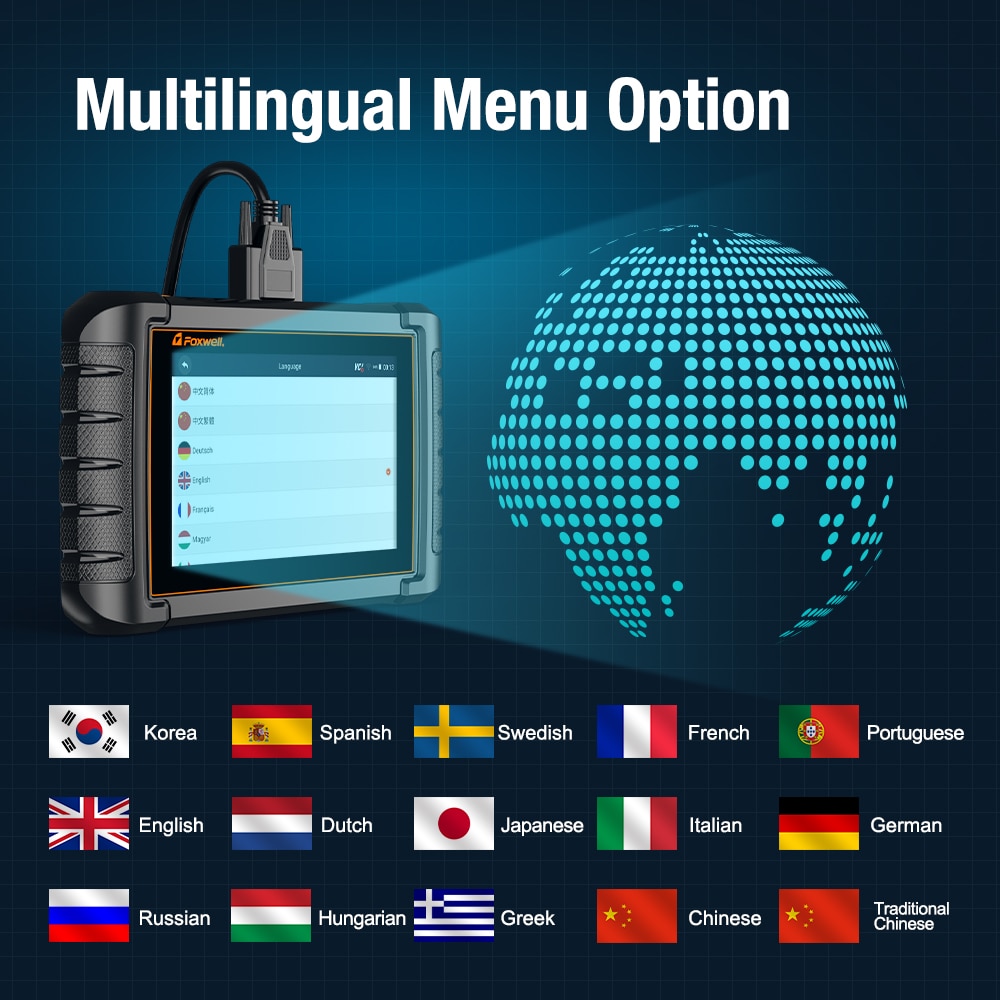 Wide Vehicle Coverage
Foxwell NT809 can work on 108+ American, European and Asian vehicles makes and models. Vehicle coverage up to 2021 models.

American Coverage:
For Chrysler,For Dodge,For Jeep,For Ford,For GM,For GMbrazil(For Brazilian Market Only)

Asian Coverage:
For Acura,For Daewoo,For Daihatsu,For Fordau,For Fuso,For Hino,For Honda,For Hyundai,For Hyundaicv,For Infiniti,For Isuzu,For Isuzu Truck,For Kia,For Lexus,For Maruti,For Mazda,For Mitsubishi,For Nissan,For Perodua,For Proton,For Scion,For Ssangyong,For Subaru,For Suzuki,For Toyota,For GTR,For Mahindra, For Tata(For India Market Only)

European Coverage:
For Abarth,For Alfa,For Astonmartin,For Audi,For Bentley,For Benz,For Bmw,For Bugatti,For Citroen,For Dacia,For Ferrari,For Fiat,For Fordeu,For Jaguar,For Lamborghini,For Lancia,For Landrover,For Maserati,For Maybach,For Mini,For Opel,For Peugeot,For Porsche,For Renault,For Rolls-Royce,For Saab,For Samsung,For Seat,For Skoda,For Smart,For Sprinter,For Vauxhall,For Volvo,For Vw,For Vw_Cv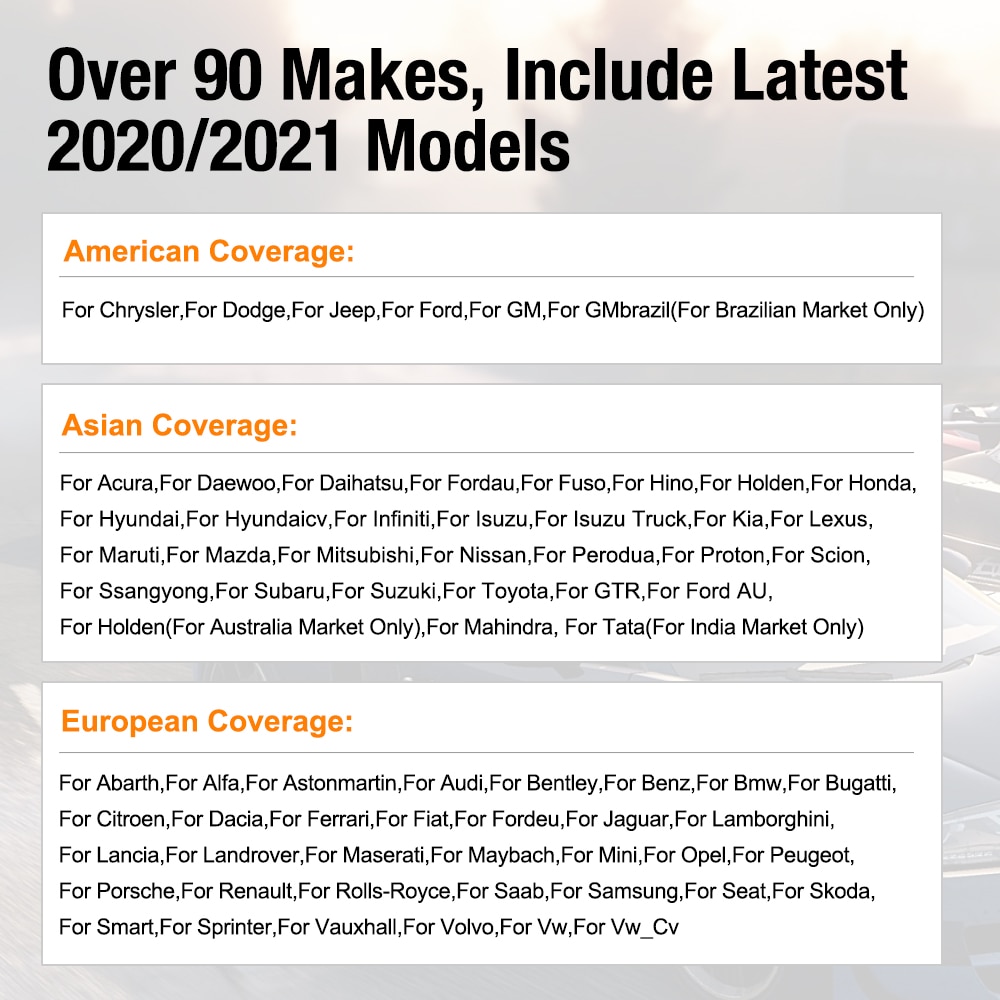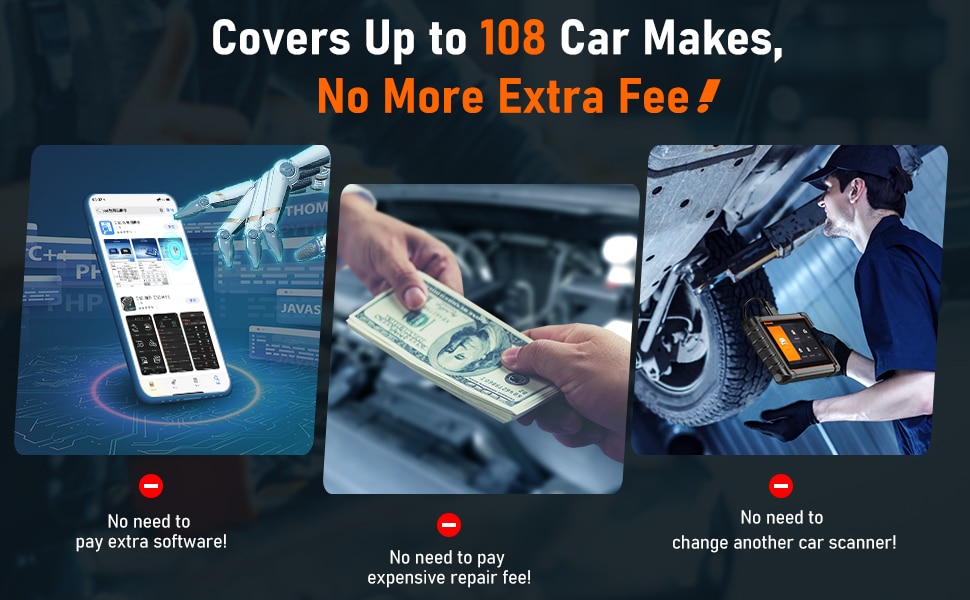 Access to All Modules for Complete Diagnostics
Unlike other OBD2 scanners on the market which can't catch all engine problems, this pro-level diagnostic tablet NT809 can read trouble codes from all electronic modules, and give you a complete picture of the vehicle's health, which is ideal for advanced DIYers, and necessary for professionals:

1. Access the tested ECU information such as unit type, version numbers, and other specifications.
2. Read & clear Diagnostic Trouble Codes in related systems, and pinpoint the trouble area.
3. View the Live Data status for real-time monitoring.

>> engines | Auto Transmission | Airbags | Immobilizer | Key Coding | ABS | Cruise Control | Instruments | Self Leveling Suspension systems | Seats | Doors | Gateway | Steering Angle | Air Suspension | Body Systems | Electronic Power Steering & Motor Assisted | Power Steering | Tyre Pressure | Rain Sensors | 4WD System ... <<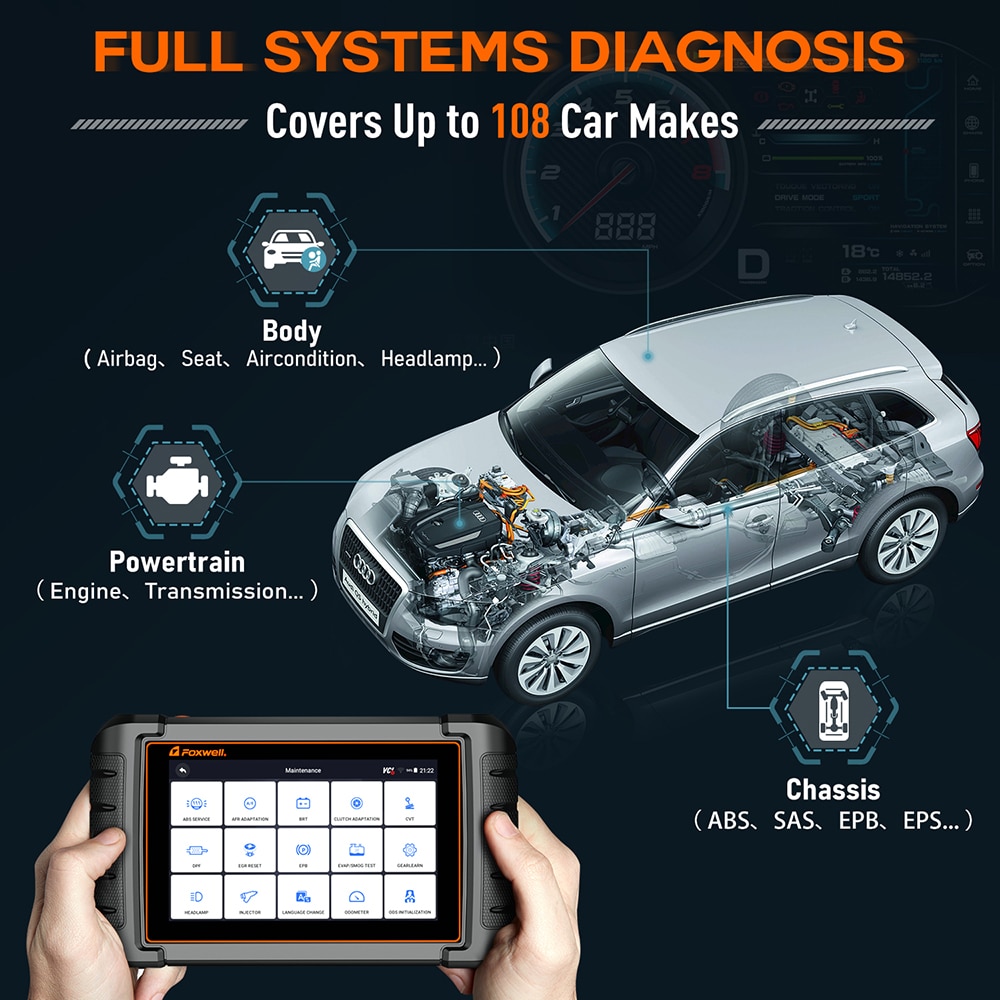 28 Service Functions for Effective Maintenance
The Foxwell scanner NT809 brings 28 service functions for various scheduled maintenance services, which is well beyond an average vehicle diagnostic code reader:

1. Oil Reset, to reset the oil service lamp for the engine oil life system.
2. EPB Reset, to reset the brake pad after replacing the brake pad.
3. Injector Coding, to write the new code to the ECU after replacement of injector.
4. ABS Bleeding, to perform various bi-directional tests of Anti-lock Braking System.
5. DPF Reset, to retrieve/erase DPF-related codes, and reset the DPF light.
6.Gear Learning: The crankshaft position sensor learns crankshaft tooth machining tolerance and save to the computer to more accurately diagnose engine misfires.
7.Injector Coding:Write injector actual code or rewrite code in the ECU to the injector code of the corresponding cylinder so as to more accurately control or correct cylinder injection quantity.
8. BMS Reset, Throttle Matching, TPMS Reset, SAS Calibration, Trans Adaption, Replace Airbag , WIN DR Roof, Seats, Language Change, Headlamp, CHG Tire Size, TEC Learn, Clutch, A/F Adjust, etc.
AutoVin & AutoScan
The diagnostic tool features One Touch AutoVIN vehicle identification and AutoScan to quickly detect faults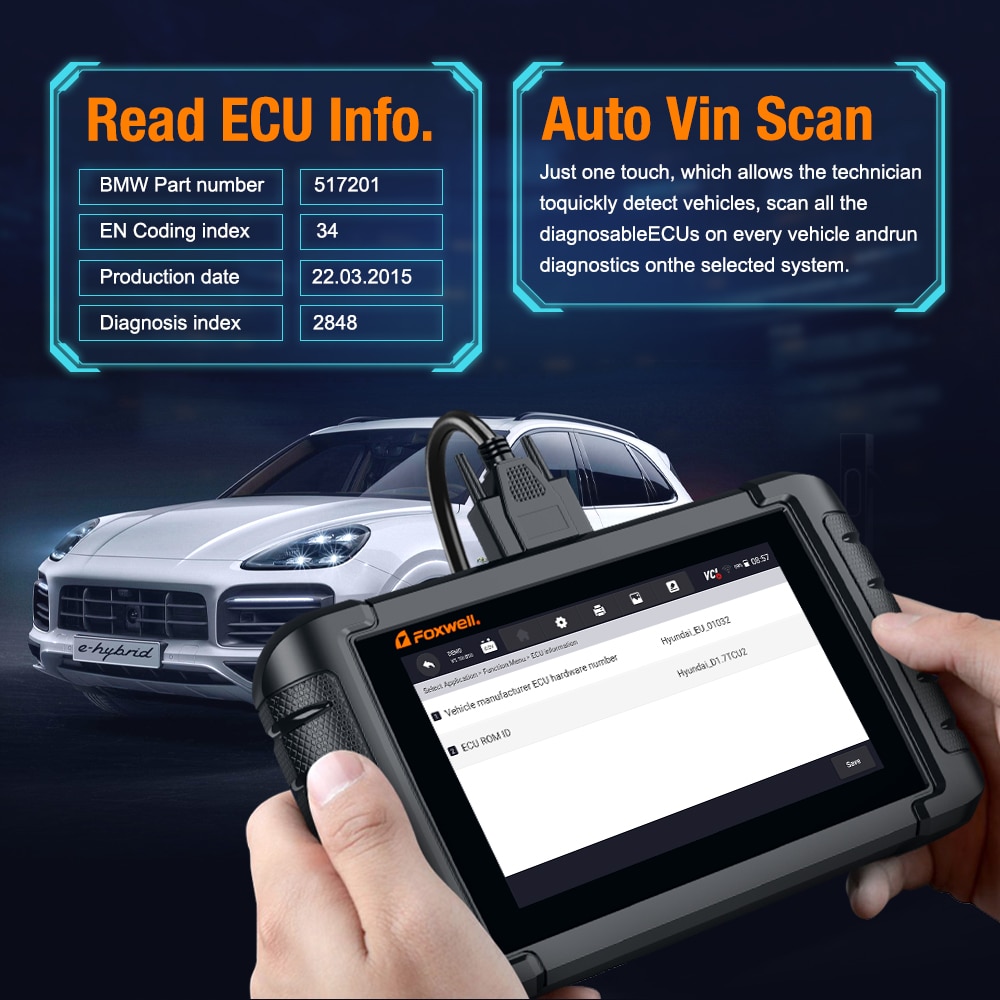 Complete OBD2 functions
Reading Codes:Show the detailed description of the Diagnostic Trouble Code (DTCs)

Erasing Codes & Reset:Turns off Check Engine Light (MIL), clears codes and resets monitors.

Data Stream:Reads and displays live ECU/PCM data stream, plotting functions graphically and stores freeze frame data.

I/M Readiness Status:Shows whether the various emissions-related systems on the vehicle are operating properly and are ready for inspection and maintenance testing.

Read Live Data Stream:Show the information of continuous data stream from a vehicle in live graphic (waveform) display.

View Freeze Frame Data:Check the certain vehicle conditions which are recorded by the on-board computer at the time the emission-related fault occurs.

O2 Sensor Test:Allows retrieval and viewing of O2 sensor monitor test results for the most recently performed tests from the vehicle's on-board computer.

On-Board Monitor Test:Retrieves and displays test results for emission-related powertrain components and systems.

Read Vehicle Information:Display the information such as VIN (Vehicle Identification Number), CID (Calibration ID) and CVN (Calibration verification number), etc.

Component Test:Certain vehicle components can be actuated by commands sent from the scanner to test their operability.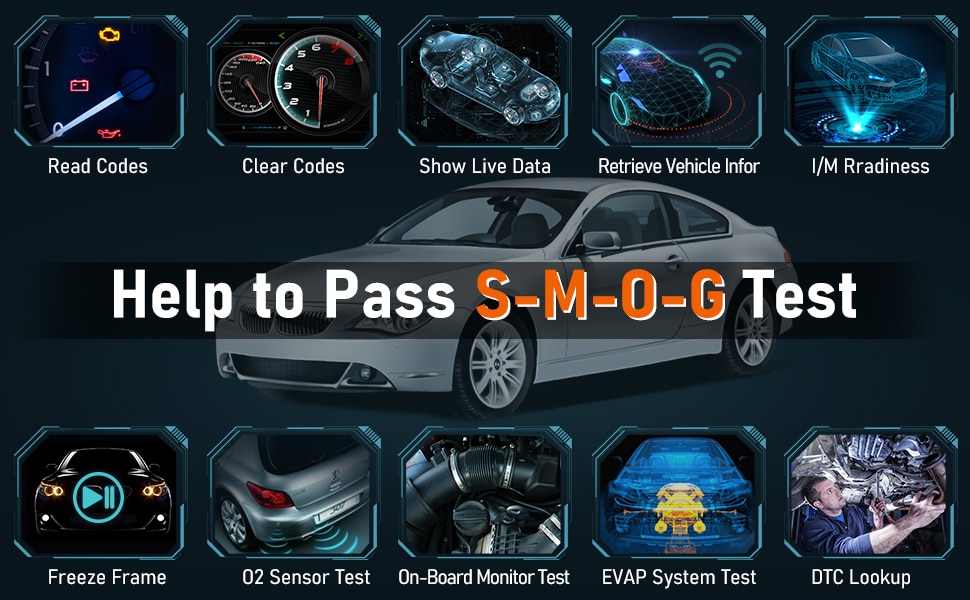 What else you can get?
●Online Feedback & Suggestion
●Diagnostic Report & Print
●4 in 1 Live Data
●Data Record & Playback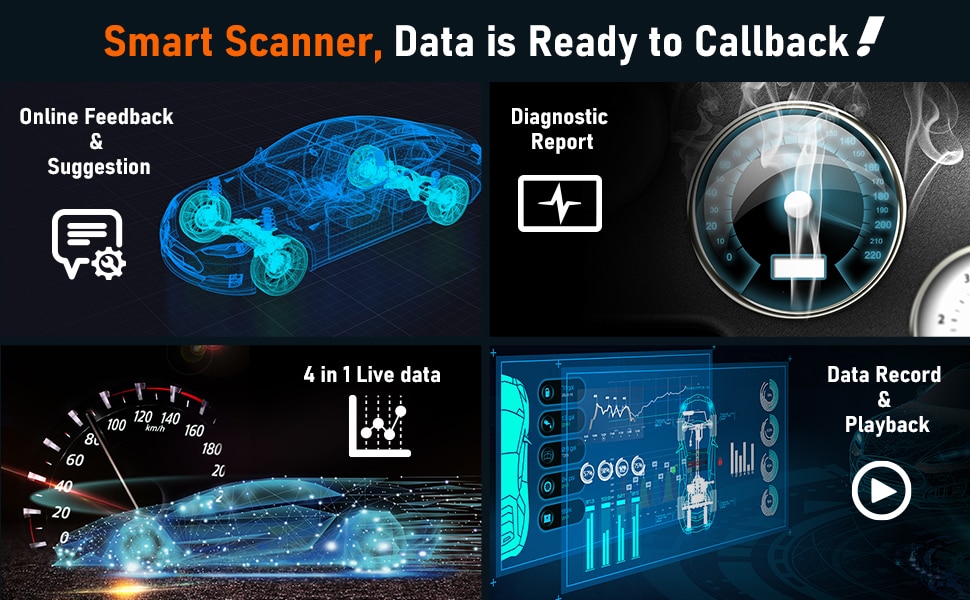 Outstanding design and configuration!
1. Screen : 7"diagonal, daylight readable color LCD Screen; 1024*600pixel
2. Operating system: Android 9.0
3. Communication interface: WiFi
4. Connection: Bluetooth-Compatible
5. Built-in battery: 4000mAh
6. Memory+SSD Hard Drive: 1G+32G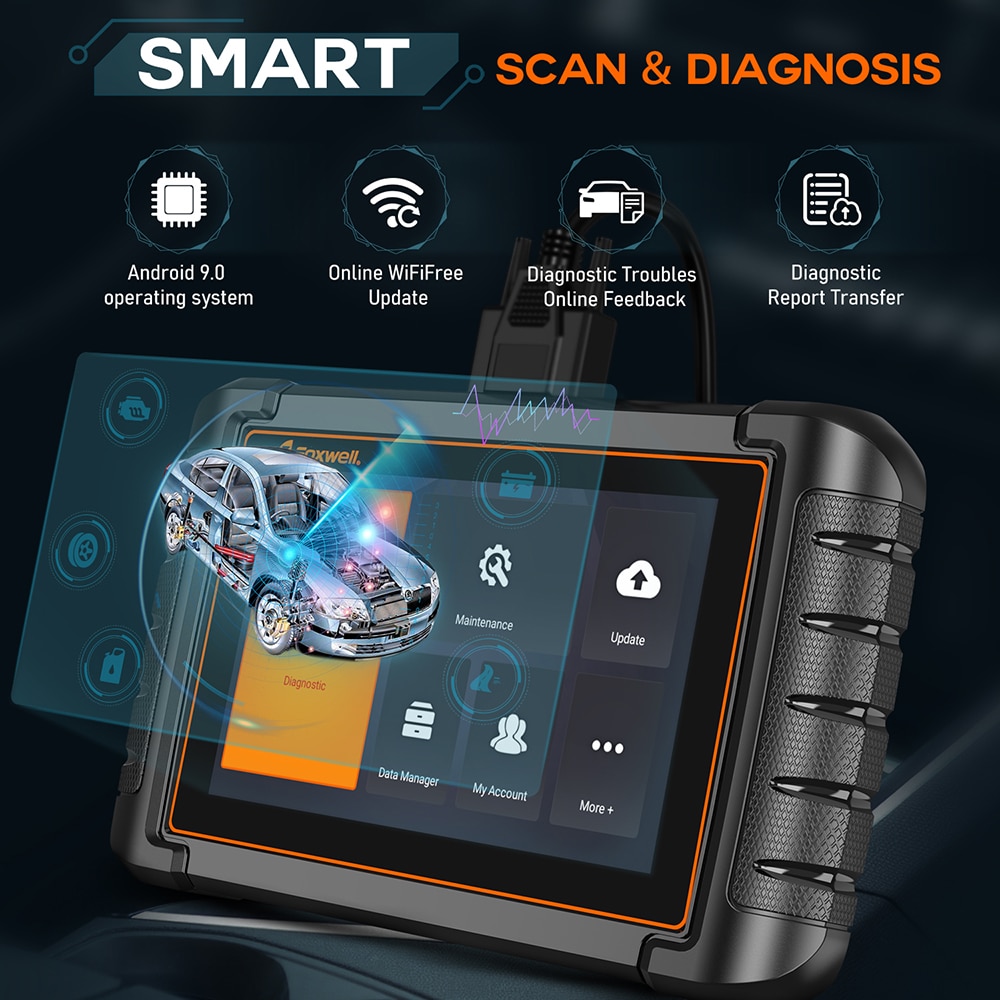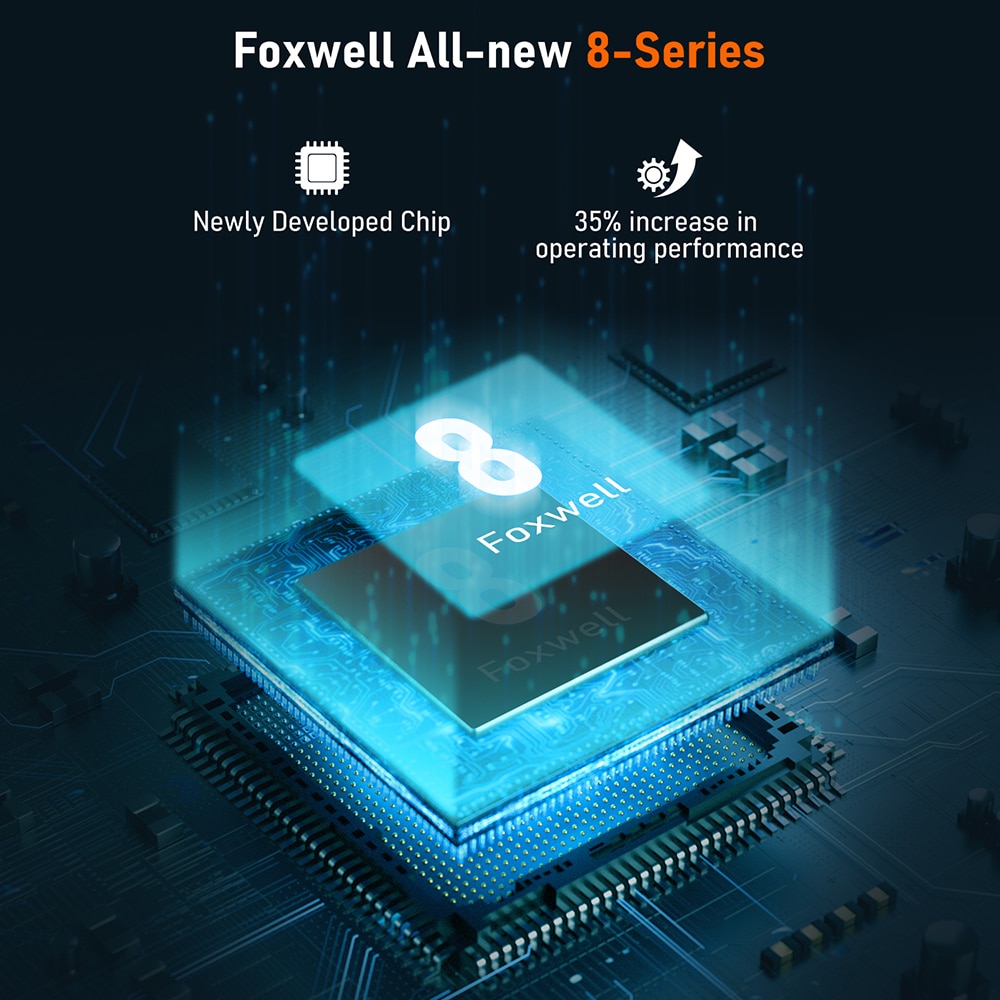 Pack List:
1 X NT809 Main Unit
1 X Diagnostic Cable
1 X OBDII Adapter
1 X USB TYPE C Cable
1 X USB Charging Adapter
1 X Quick Start Guide
1 X User's Guide
1 X Warranty Card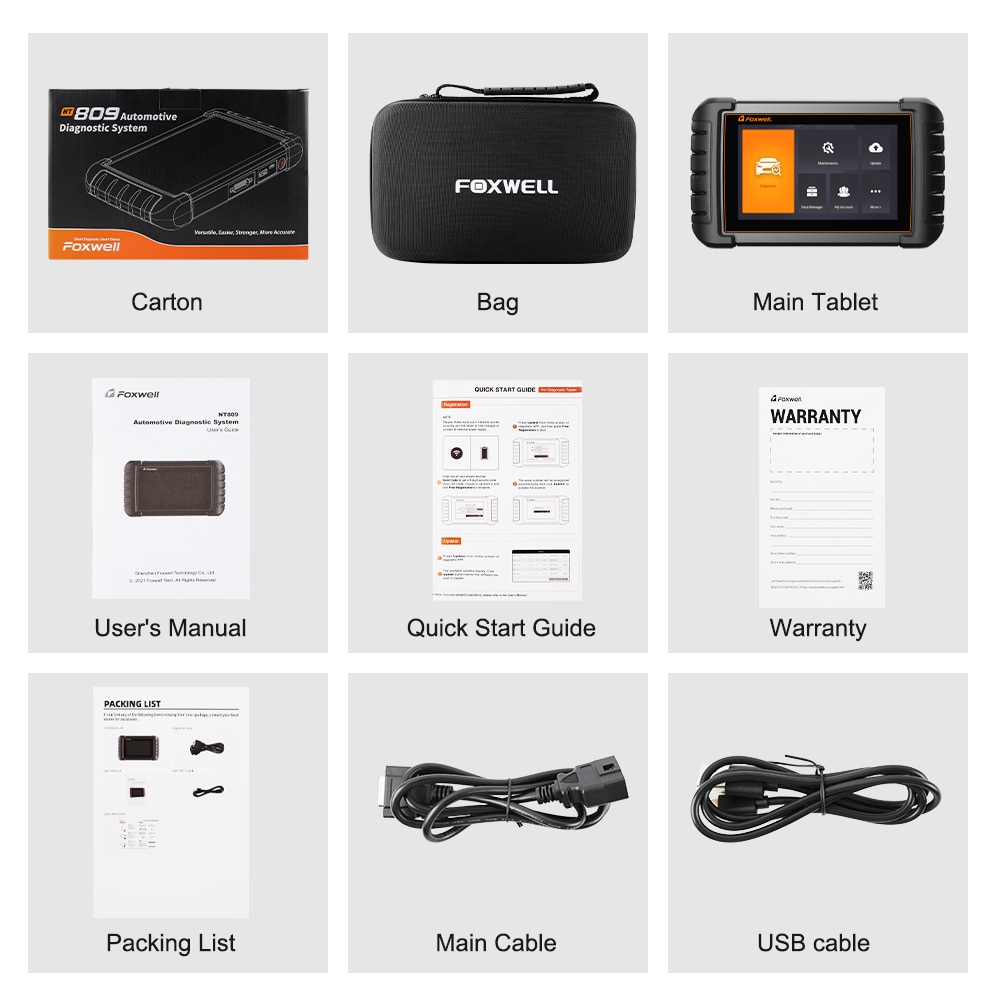 Reviews

14
#1 Traci Roberts
Mar 9, 2022

Fast delivery, everything works
#1 sandra rivera
Apr 9, 2022

works Perfect Thank You
#1 Javier Parra Jimenez
Dec 9, 2021

It works perfectly! Very good product, i recommend shop and seller.
#1 DAVE COOK
Jul 9, 2021

Best saler, very helpful
#1 Michael Eickemeier
Oct 9, 2021

All is ok, very fast shipping and good quality.
#1 Ruslan Fattyahov
Jun 9, 2022

Good product ...... works perfectly… no problem Recommend the purchase. Arrived fast ahead of schedule. Not the two came together, arrived separate but both came in perfect condition.
#1 Enveceive Enveceive
Jul 9, 2021

all perfect ! Items came to me 3days! I would buy it again, from this seller this FOXWELL NT809 OBD2 Scanner Automotivo Car Diagnostic Tool All System Code Reader SAS DPF BRT Multi Reset Professional OBD2 Tools is good quality, working very well
#1 Mario Rodriguez
Jun 9, 2022

Everything ok
#1 Enor CAROUPIN
Jul 9, 2021

Perfect! Thank you. Not yet tested but happy
#1 Hachuy Diego
Jan 9, 2022

All the best, very fast! Thank you!
Previous: Xhorse All Key Lost Cable For Ford Work with Key Tool Plus Pad
Next: Foxwell i75TS Premier Online Programming Diagnostic Tool with 35 Service Reset Functions Support TPMS Programming