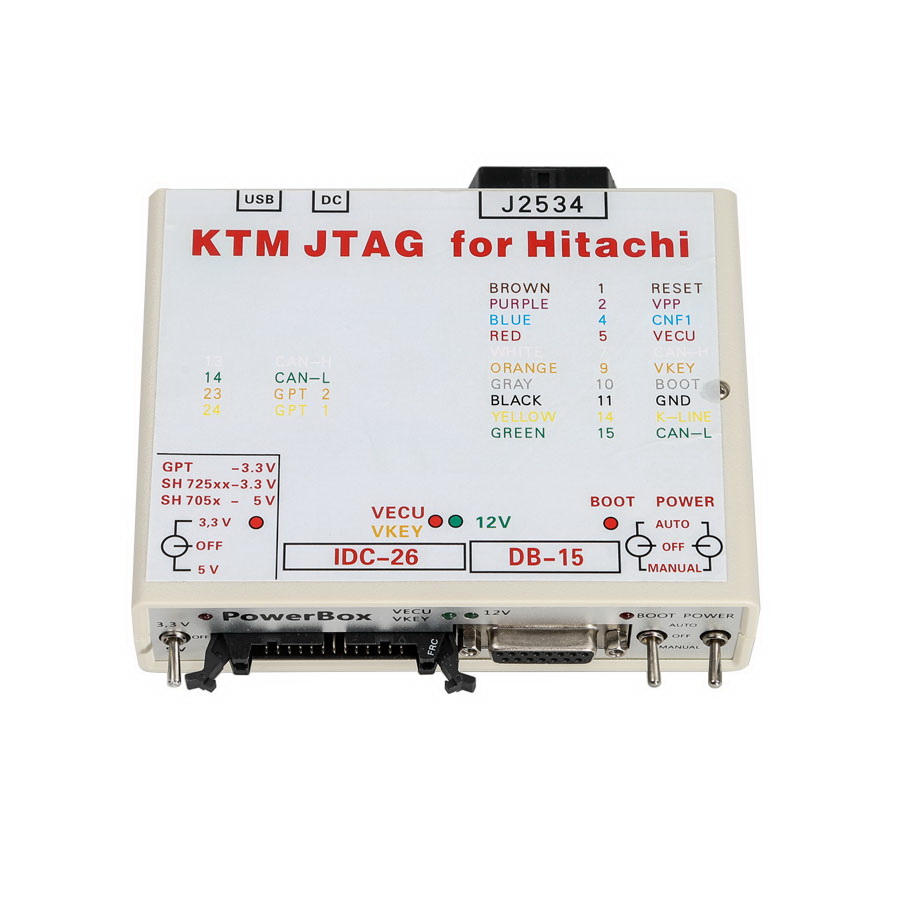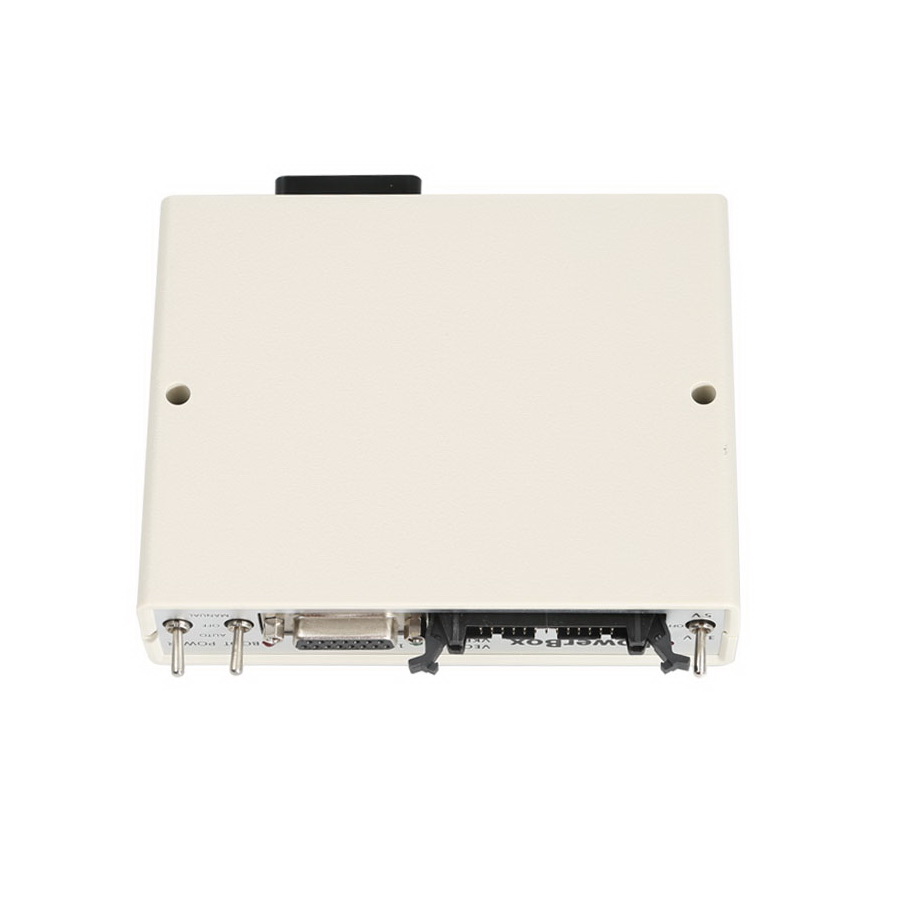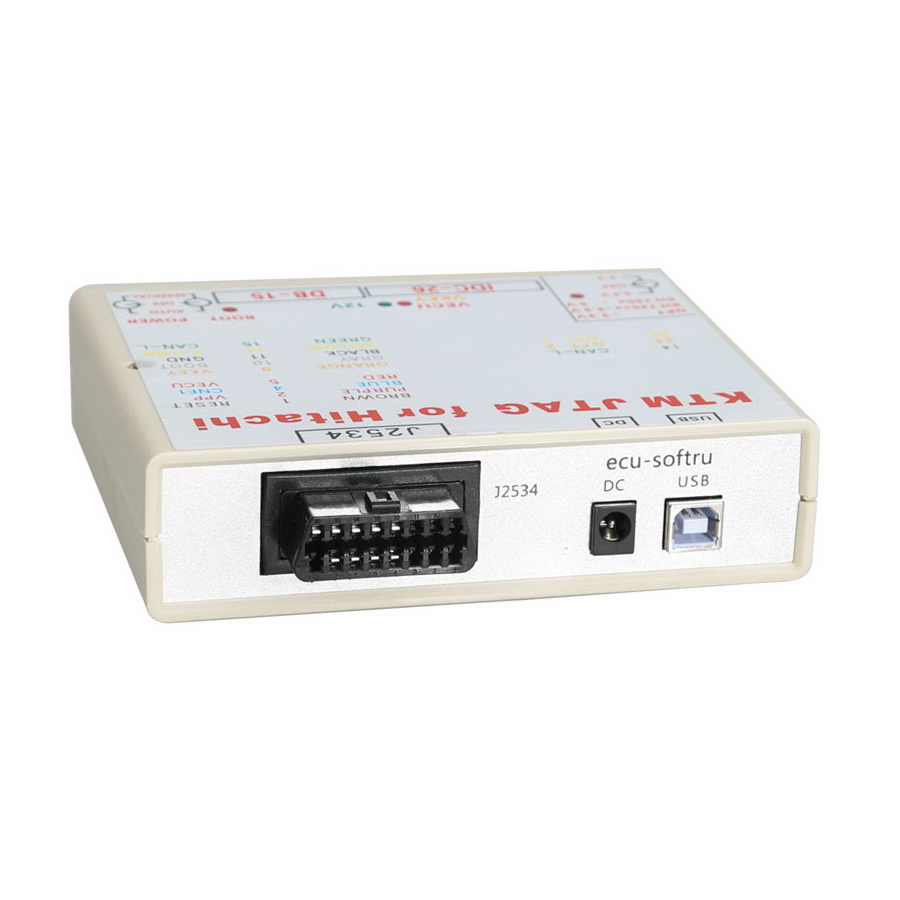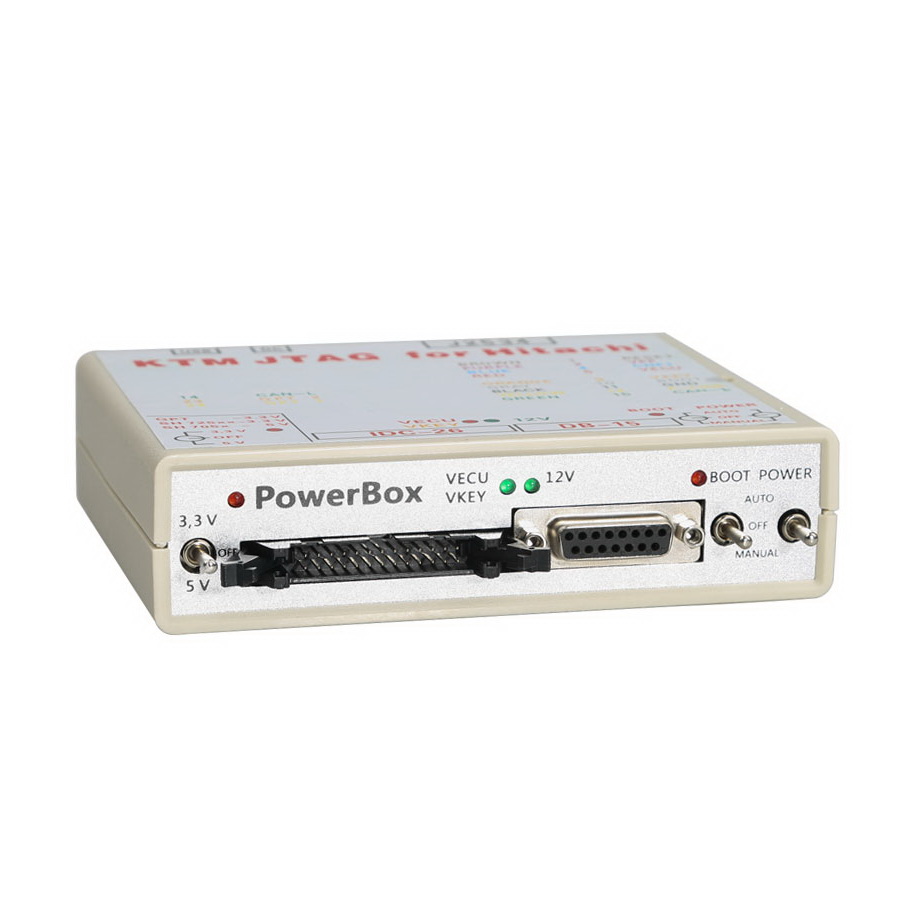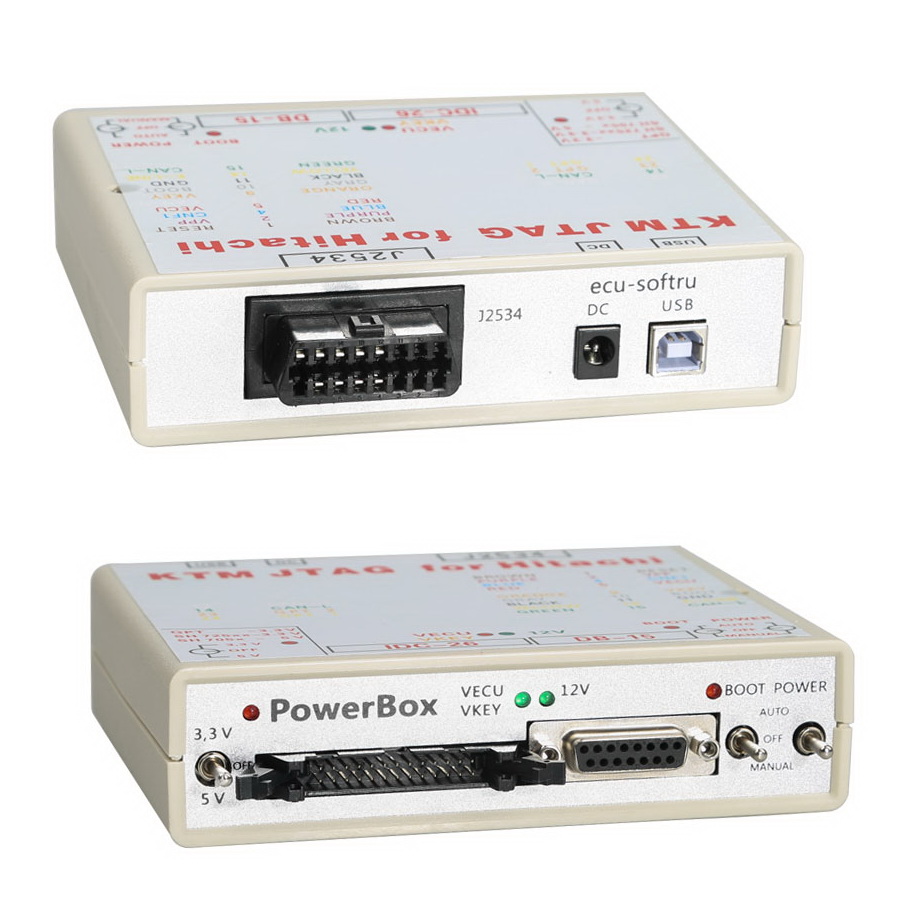 Description
KTM JTAG for Hitachi PowerBox for PCMFlash
It is compatible in the automatic mode with the loading programs which use:
BOOT-OEM12, 12 pin OBD-II;
L-LINE, 15 pin OBD-II.
The Tool has built-in current limiting resistors on the following signal lines:
RESET — 510 Ω;
BOOT — 510 Ω;
CNF1 — 220 Ω.
The tool is fitted with multipurpose connectors which allow to establish the connections flexibly:
USB, designed for connecting to the computer. It is to be connected when the built-in USB — UART converter is enabled; for PowerBox software update; while reprogramming Renesas CPUs;
DC, designed for powering the built-in circuit as well as the connected ECU. It is recommended to use only quality units with 12V output voltage. While reading the password, when it is impossible in the vehicle, one must note that high-voltage converters in ECUs consume rather high current at the start which can trigger protection mechanism or even result in the power unit damage;
J2534
(OBD-II-F), designed for connecting the same name interface to OBD-II;
DB-15, designed for connecting to the main ECU connector. It is recommended to use 14P600KT02, 14P600KT03 cables or analogous ones;
IDC-26, designed for connecting directly to the ECU board or via the adapter to the special head. It is recommended to use 14P600KT06 cable or an analogous one for Tricore GPT.
It is recommended to use Flash Development Toolkit software for flashing Renesas CPUs.
Controls:
The tool has 3 switches for operating in different modes.
POWER, power control. The tool has three modes of power supply to the ECU: OFF allows to remove all power and control signals from IDC-26 and DB-15 connectors; MANUAL supplies power to VECU and VKEY terminals and to the control outputs depending on the chosen tactics; AUTO, automatic control, in this mode power is controlled by the loading program with L-Line signal (15 pin OBD-II).
BOOT, simultaneous control of BOOT, RESET and CNF1 signals (3.3V): OFF, allows to remove all control signals from DB-15 connector; MANUAL pulls RESET and BOOT to the signal minus, and CNF1 to +3.3V; AUTO, automatic control, in this mode BOOT, RESET and CNF1 signals are simultaneously controlled by the loading program (12 pin OBD-II, OEM12).
GPT, for Renesas and Tricore with GPT CPUs. It is necessary to use 5V while working with SH705x CPUs, in other cases 3.3V is to be used.

Lights:
LED near the 5V/3.3V switch indicates 5V or 3.3V voltage supply.
VECU, VKEY LED indicates VECU and VKEY voltage supply.
12V LED indicates power voltage.
BOOT LED indicates voltage on CNF1 output (the LED works both for input and output).

Package includes:
1pc x PowerBox for PCMFlash
Product Picture: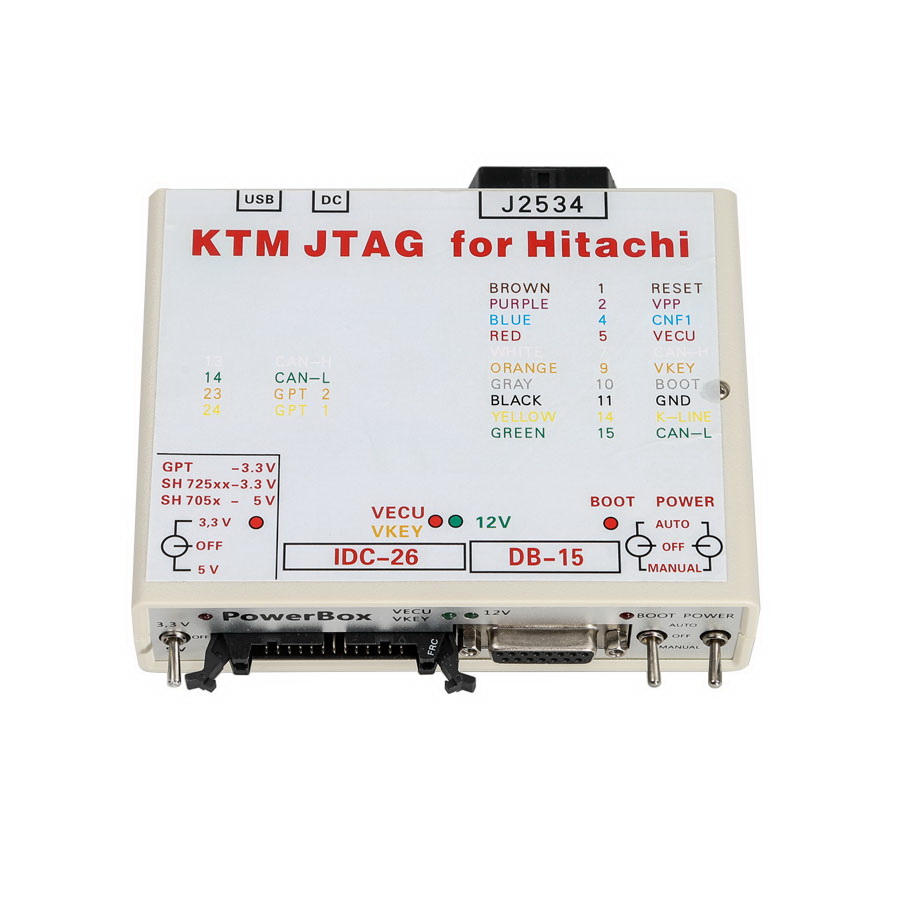 Reviews

12
#1 Hector Ledesma
Mar 9, 2019

Recommended store, high quality item, best price!
#1 Asad Khan
Apr 9, 2019

Super recommended arrived just as it is posted very fast shipping
#1 JAIME FLORES
Nov 9, 2018

Delivered quickly, the seller is very Quickly answers all questions and tries to help if there is a problem
#1 cristofer hernandez cabrera
Nov 9, 2018

It came quickly. Everything works.Thank you to the seller. I will buy more here!
#1 Borhan Khatib
Dec 9, 2018

Thanks to the producer everything came on time all the whole works quality assembly meets the requirements of the description
#1 enes sefic
Jan 9, 2019

has not been tested yet but everything looks perfect
#1 winston ajala de souza
Oct 9, 2018

Wrote to the seller, you can send today. The seller confirmed that there is in stock, will be able to send. The parcel was sent on the same day, thank you very much, fast delivery, the goods will match the description. Ordered from russia. this KTM JTAG for Hitachi PowerBox for PCMFlash is good quality, working very well
#1 william ludwig
Apr 9, 2019

Perfect. Communication at all times. Very fast sent
#1 ZHENGHE SHENG
Nov 9, 2018

Delivery is very fast, the device is intact and do not harm. To the car has not yet connected, as i will try then i will add a tip, and so everything is fine.
#1 John Delapa
Feb 9, 2019

OK, TOP seller, good supporrt...
Previous: V2021.9 Best Quality WIFI BMW ICOM NEXT A + B + C NEW GENERATION Of ICOM A2 Installed on Lenovo T410 4GB Memory Ready to Use
Next: Mercedes ME9.7 ECU ECM Engine Computer Compatible with All Series of 272/273 Engine 4.6L 4633CC V8/5.5L5641CC V8