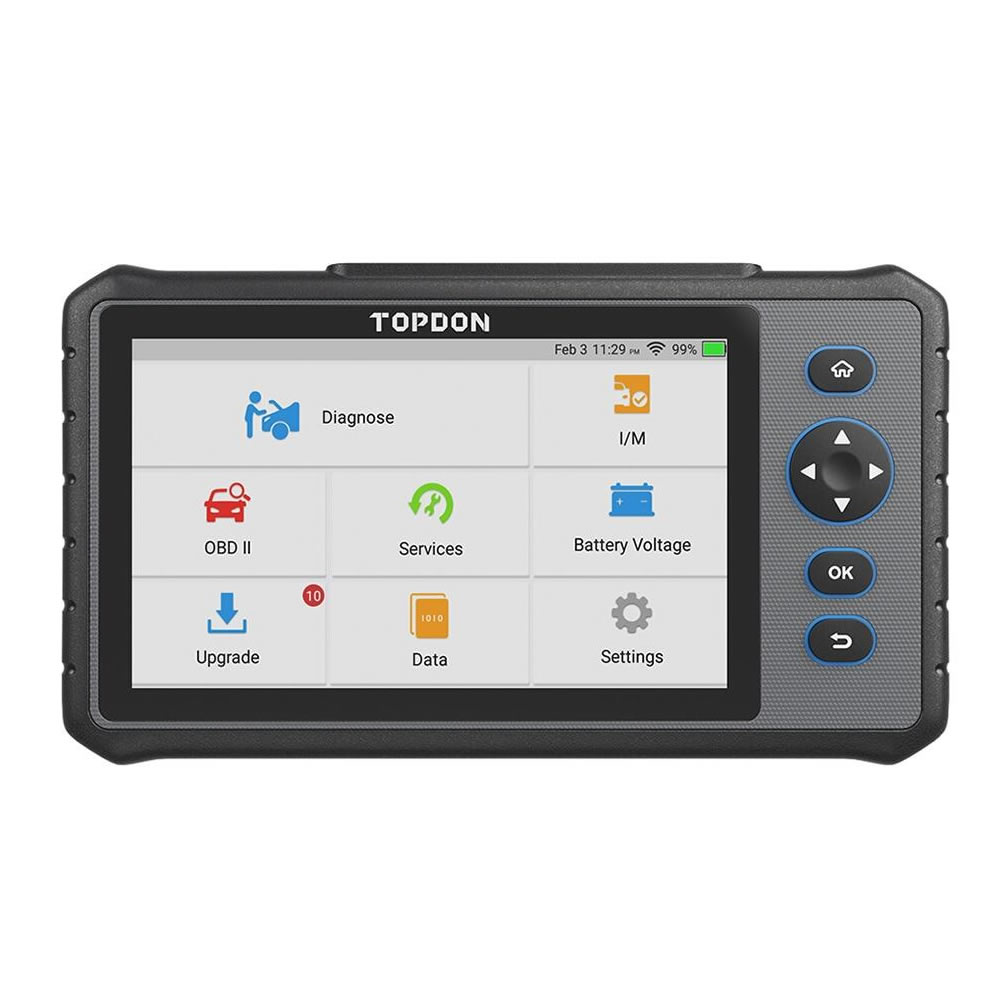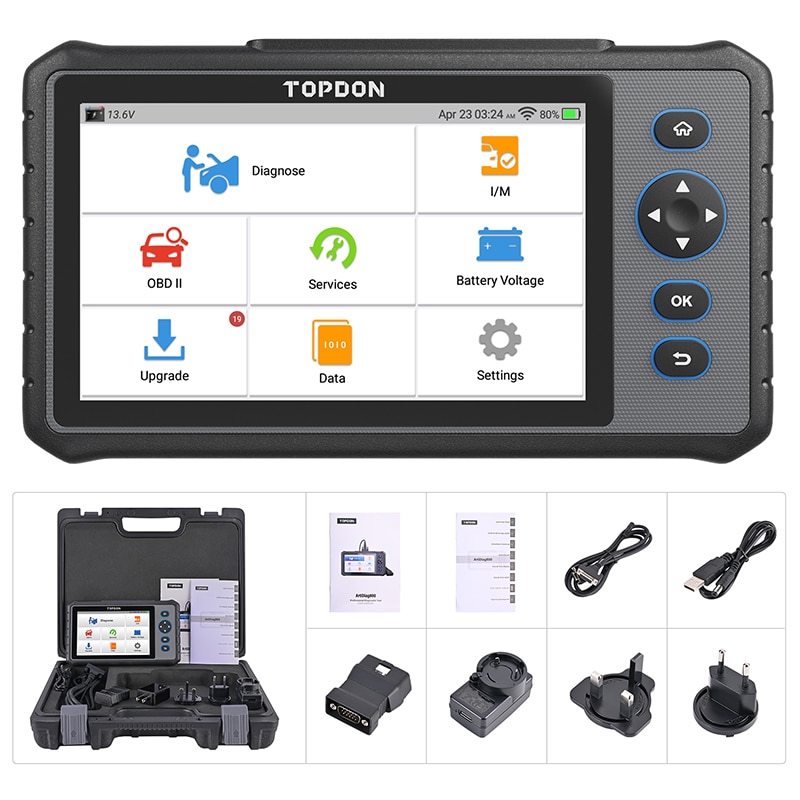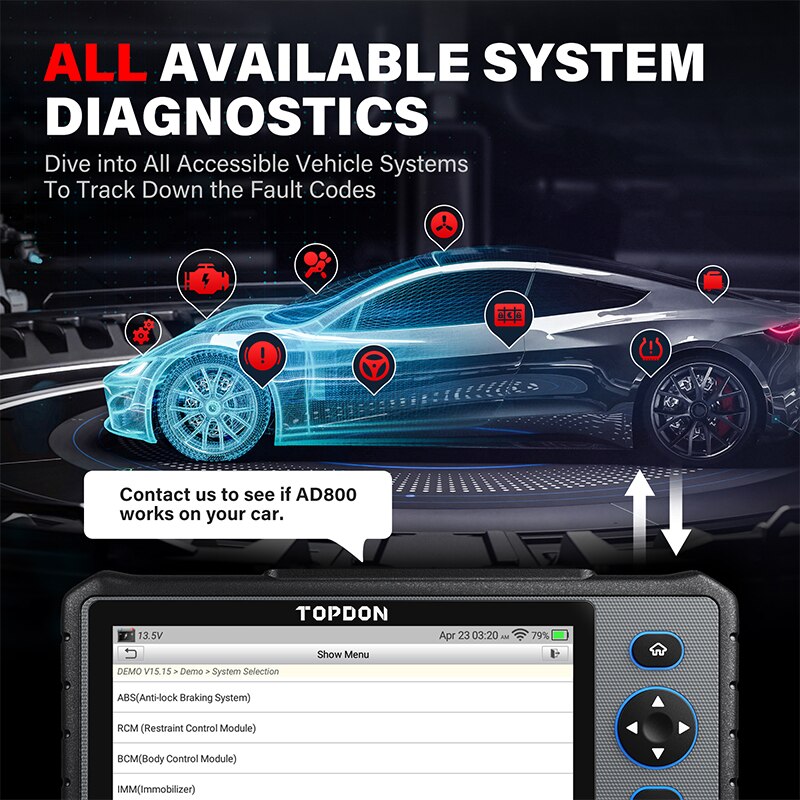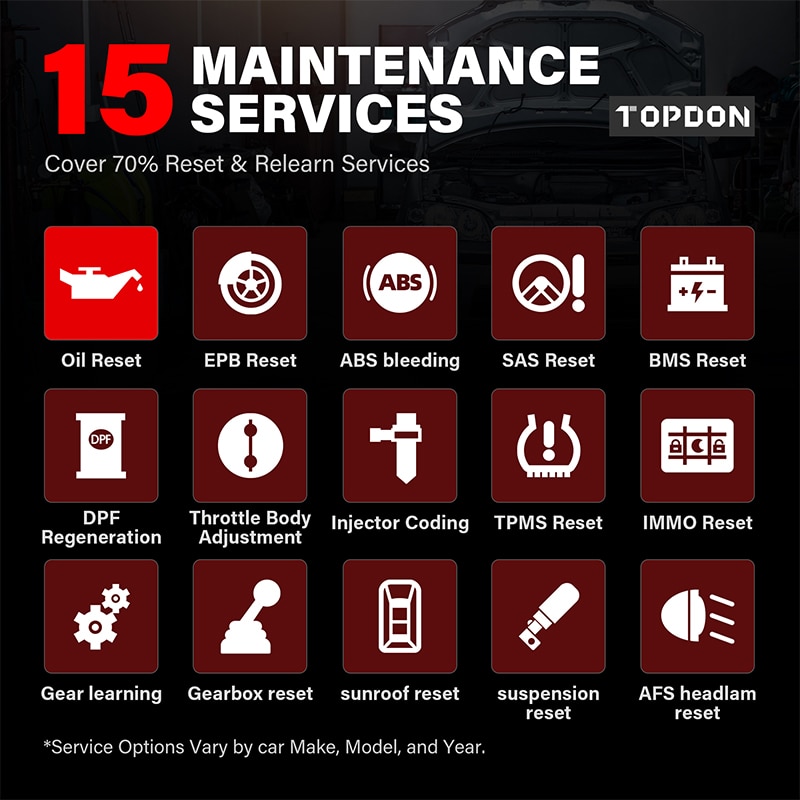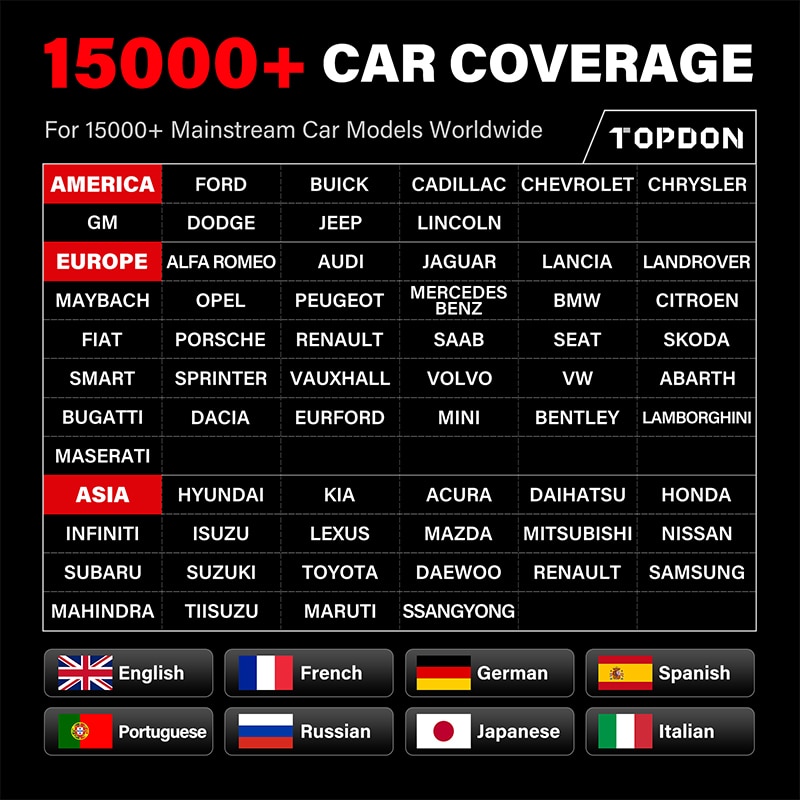 Description
TOPDON Car Diagnostic Tool ArtiDiag800 BT OBD2 Code Reader Scanner with Full Systems Diagnoses, 15 Reset Functions, AutoVIN, History Records, Repair Information
Speciafatcion:
Display: LCD 7-Inch ,1024 * 600
RAM: 2G, ROM 16G
Battery:6100 mAh
Operating voltage: 9~18V
Storage Temperature:-20℃~70℃(-4℉~158℉)
Working Temperature:0℃~50℃(32℉~122℉)
Dimension: 246*139.5*34 mm(9.64*4.86*1.45 inch)
Package size: 296*230*76 mm(11.65*9.05*2.99 inch)
Length: 1200mm( 47.24 inch)
Net Weight: 805 g( 28.39 oz)
Package Lists: 1* ArtiDiag800 Handset,
1*
OBDII
Diagnostic cable,
1*5V DC Charging cable1,
1*Power adaptor,
1*Quick start Guide,
1* User's Manual
Multilingual Support: English, French , German, Spanish,
Portuguese, Russian, Japanese, Italian
2021 Global Version, No IP limited.
It is global version, no IP limited. You can use it everywhere in the world.
1 Year Free Update & 2 Years warranty
It is easy to do update by One-Click on the tablet via wifi connection.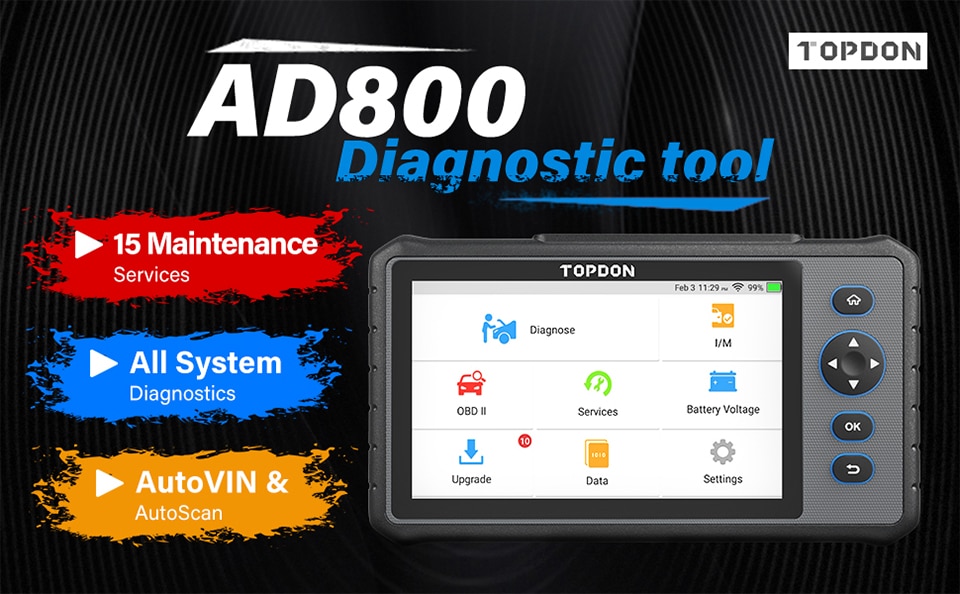 15 Special Reset Functions
5 Commonly-Used Reset Functions save time and money for DIY users:
1.Maintenance Light Reset
This function enables you to reset the oil service lamp for the
engine
oil life
system, which calculates an optimal oil life change interval depending on the
vehicle driving conditions and weather events.
2.Steering Angle Reset
This function can reset the steering angle to zero to keep the car running
straight
3.Injector Coding
This function can write injector actual code or rewrite code in the ECU to the
injector code of the corresponding cylinder, so as to have more accurately
control or correct cylinder injection quantity.
4.Battery Matching
This function can reset the monitoring unit of the car battery, by clearing the
original breakdown information about the lack of battery power to rematch
the battery.
-Get a firm brake pad after air exhaustion.
6.Throttle Matching
This function can utilize the car
decoder
to initialize the throttle actuator so
that the learning value of the ECU returns to the initial state. By doing so, the
movement of the throttle (or idle motor) can be more accurately controlled,
thus adjusting the intake volume.
7.Electronic Parking Brake Reset
This function helps you to replace and reset the brake pad.
8.DPF Regeneration
This function can help remove particulate matter from the trap by using
combustion oxidation methods to keep the performance of the trap stable.
9.Anti-theft Matching
This function can match the anti-theft key after replacing the ignition key,
ignition switch, instrument cluster,
engine
control unit (ECU), body control
module (BCM), and remote control battery
10.Tire Pressure Reset
This function can reset the tire pressure and turn off the tire pressure fault
indicator when the car tire pressure fault indicator light is on.
11.Suspension Level Calibration
This function can adjust the vehicle body height sensor for level calibration
after replacing the vehicle height sensor or control module in the air
suspension system, or when the vehicle level is not correct.
12.Headlight Matching
This function can initialize the adaptive headlight system. The headlight
system can decide when to turn on the headlights based on the ambient light
intensity. It can also monitor the vehicle's driving speed, body posture, etc., and
adjust the headlight lighting angle timely.
13.Gearbox Matching
This function can complete the self-learning of the gearbox and improve the
shift quality when the gearbox is disassembled or repaired which may cause
shifting delay or car impact.
14.Sunroof Initialization
This function can set the sunroof lock off, close in rain, memory function of
sliding/tilting sunroof, outside temperature threshold, etc.
15.EGR Adaption
This function can learn the EGR (Exhaust Gas Recirculation) valve after it is
cleaned or replaced.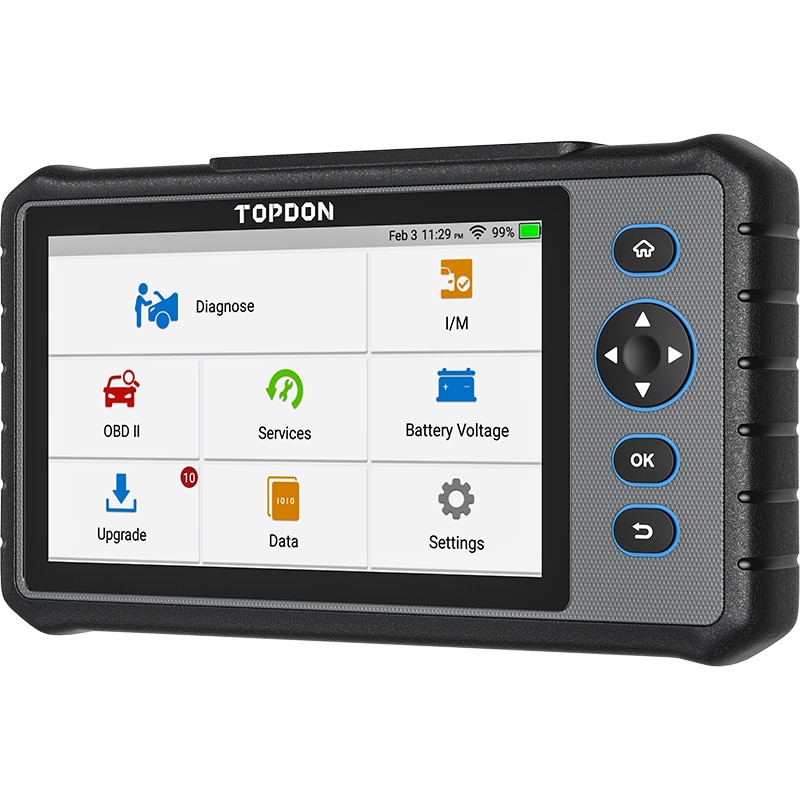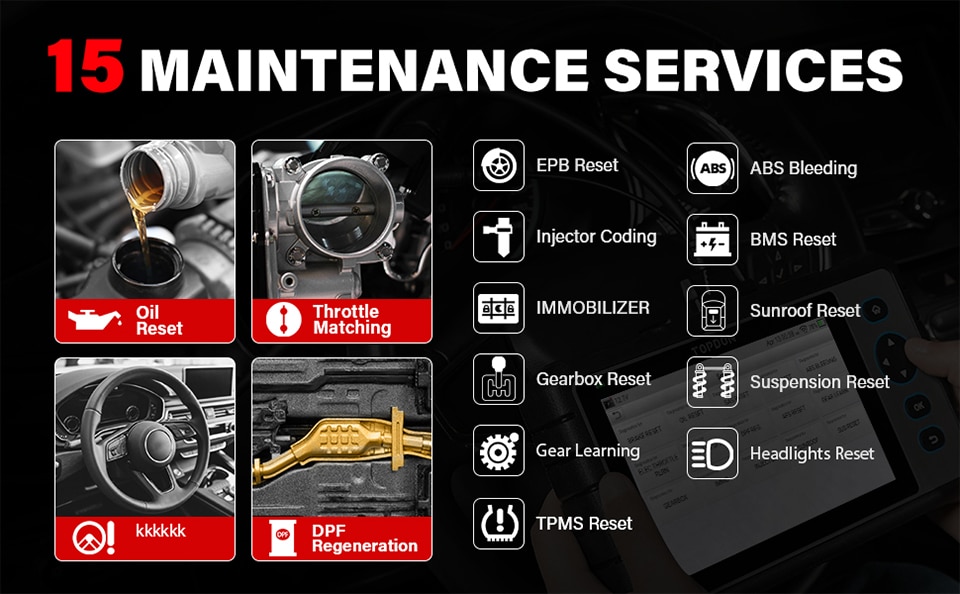 All-System Diagnoses for a ComprehensiveInspection
TOPDON ArtiDiag800a system diagnostic tool,can get quick access to all availableelectronicsystems, such as
engine
, Transmission,Airbag,
ABS
,
SRS
, EPB, Immobilizer, Doors, Air Conditioning, Gateway, etc.andperform a comprehensive scanning onevery moduletofind out anysystemfaultsand retrieve DTCs related.
VersionInformation:read the current version information of ECU;
ReadFaults Code:read DTCsin the ECUmemoryandquickly identify the cause of the vehicleissues;
Clear Fault Code:clear DTCsof the ECUmemory of the tested system;
ReadDataStream:read and display the real-time data of ECU in various modes (text, waveform, etc.).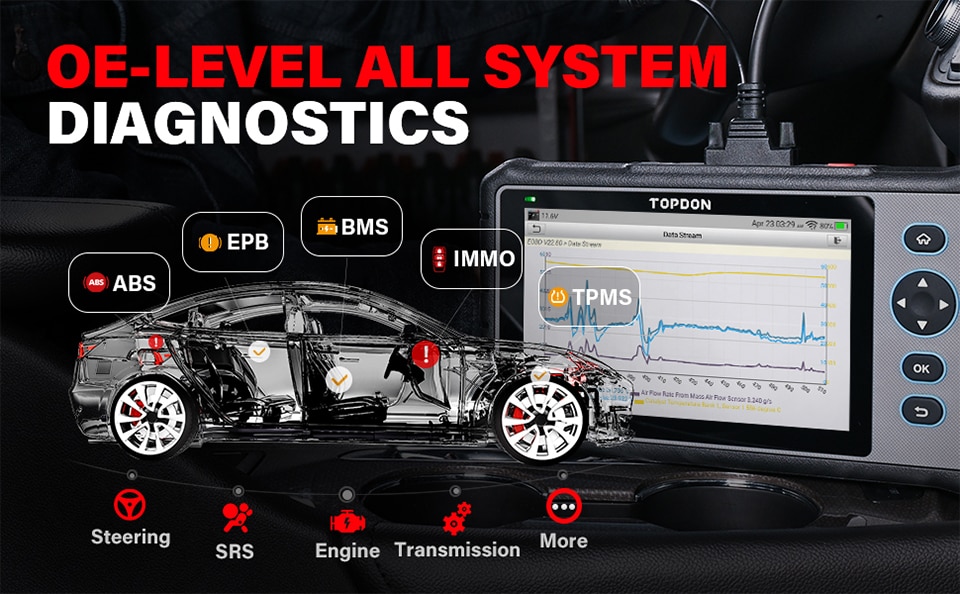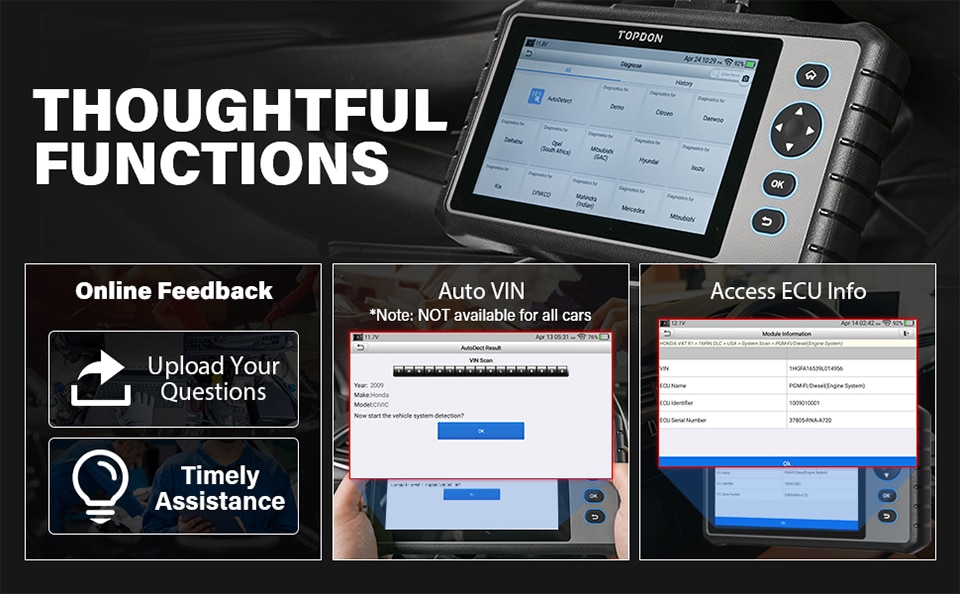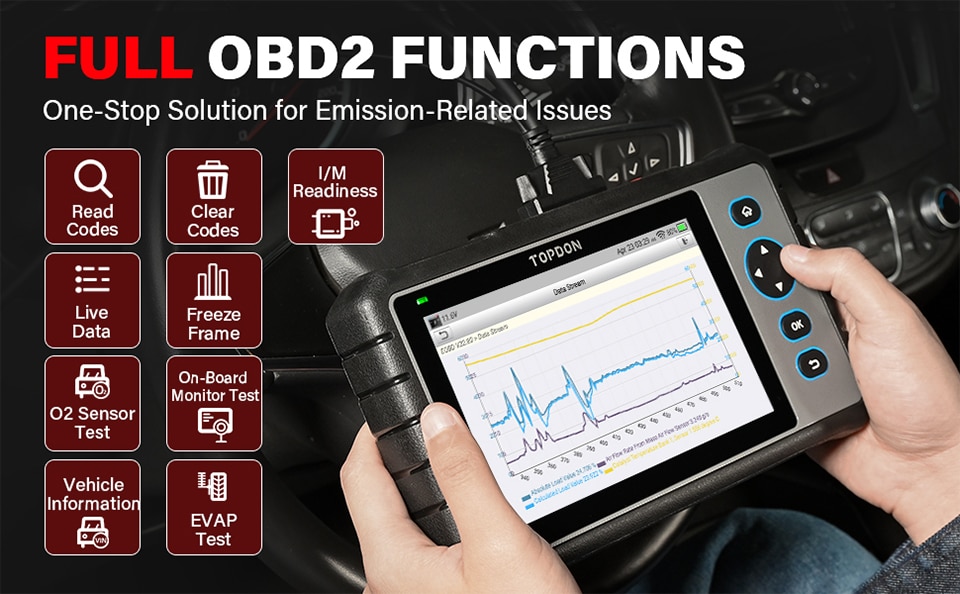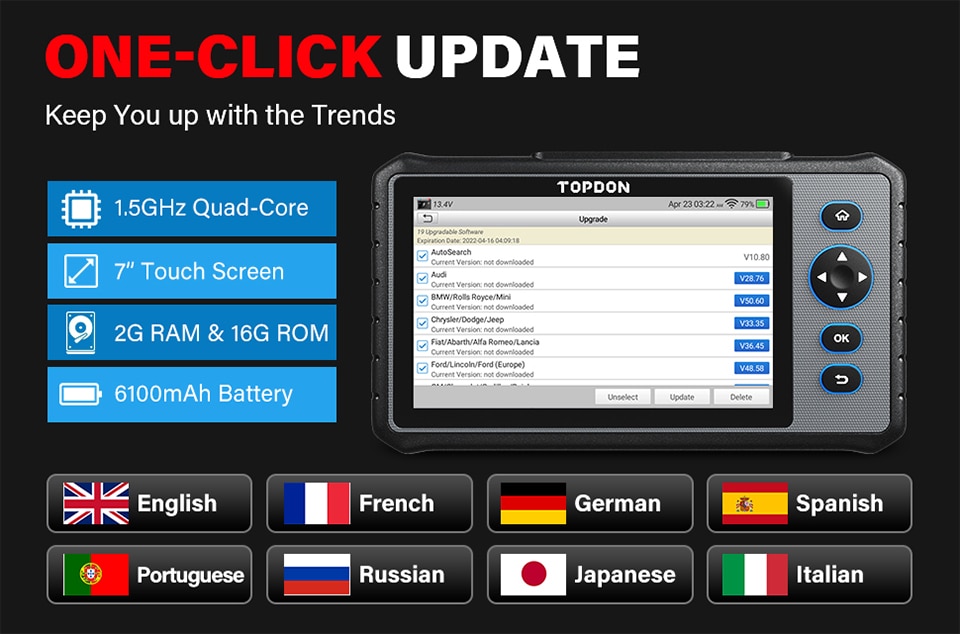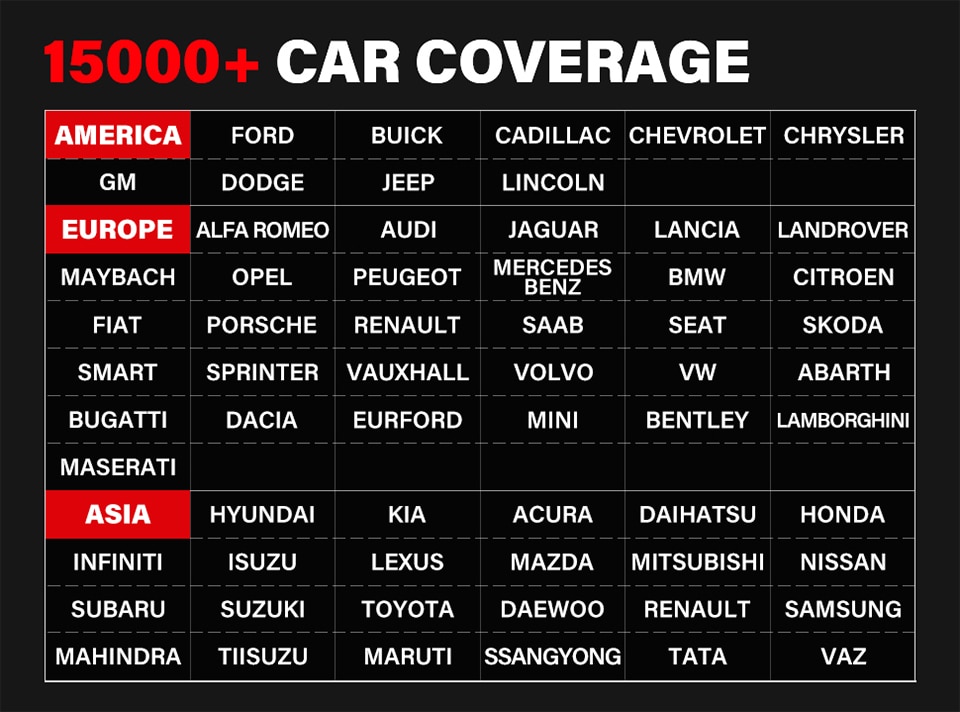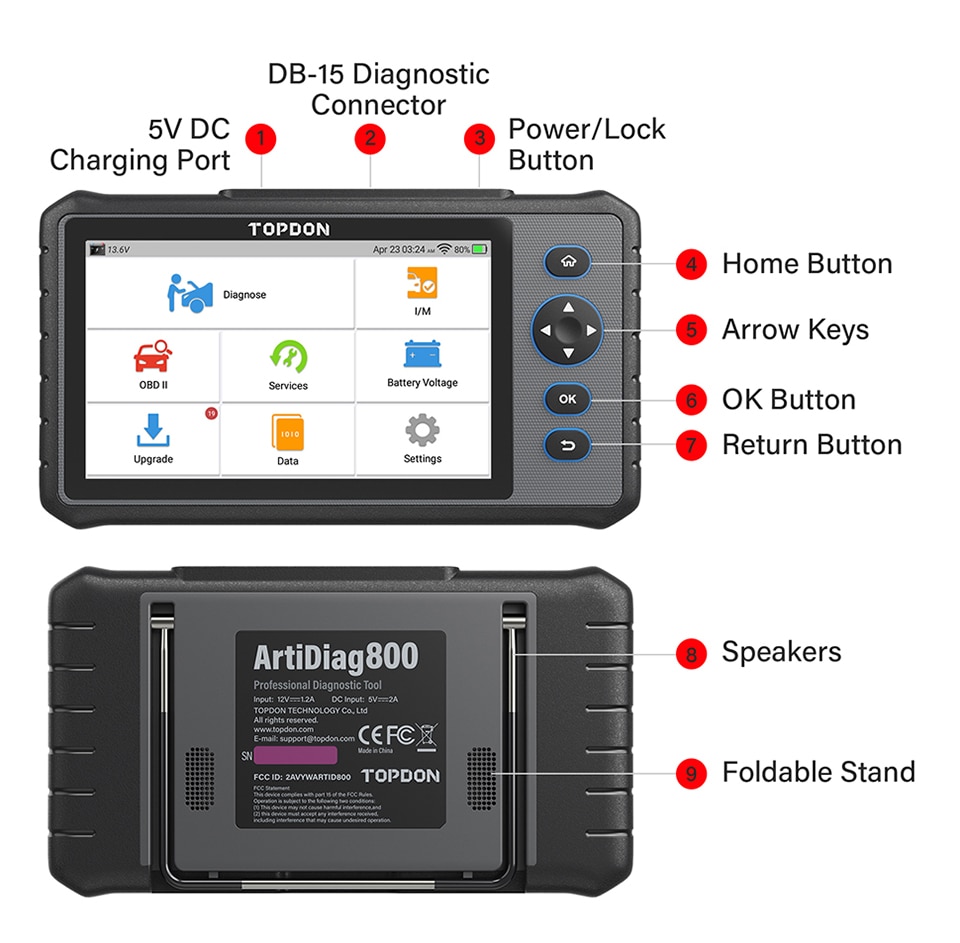 Diagnostic History
√ This History function will record every detail in diagnostic session, making it convenient for users to view all diagnostic records anytime.

√ Meantime,it provides direct access to the previously tested vehicles. You can quickly continue with the last diagnosis, without the necessity of starting from scratch.
Smart AutoVIN (AUTOSEARCH)
Based on the smart AutoVIN technology, this TOPDON ArtiDiag800 BT will automatically identify your car and scan the vehicle's VIN after tapping the AUTOSEARCH and establishing stable communication.
One-Click Online Update
This smart diagnostic tool allows you to update the diagnostic software/APP to the latest version via one click. In this way, you can fix diagnostic bugs and errors in time to improve the scanner performance and enlarge its vehicle coverage.
Online Feedback
When you encounter communication errors or diagnostic software/APP bugs, you can send your vehicle's year, make, model, and VIN to us via Online Feedback feature for timely technical assistance and improvements.
ArtiFolder for All Diagnostic-Related Data
This ArtiFolder module can record and establish the file of the diagnosed vehicles, including all diagnostic-related data such as diagnostic reports, data stream records, and screenshots.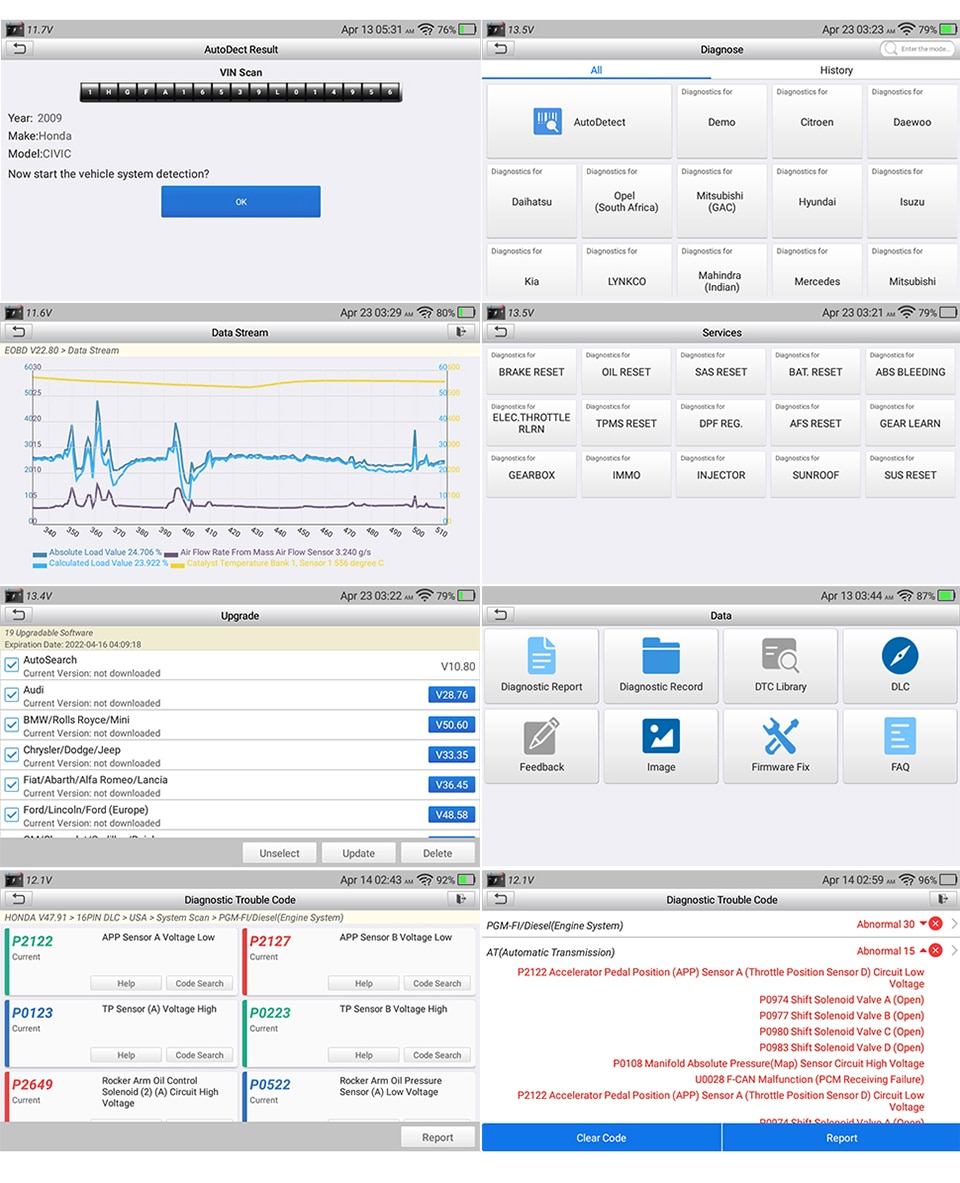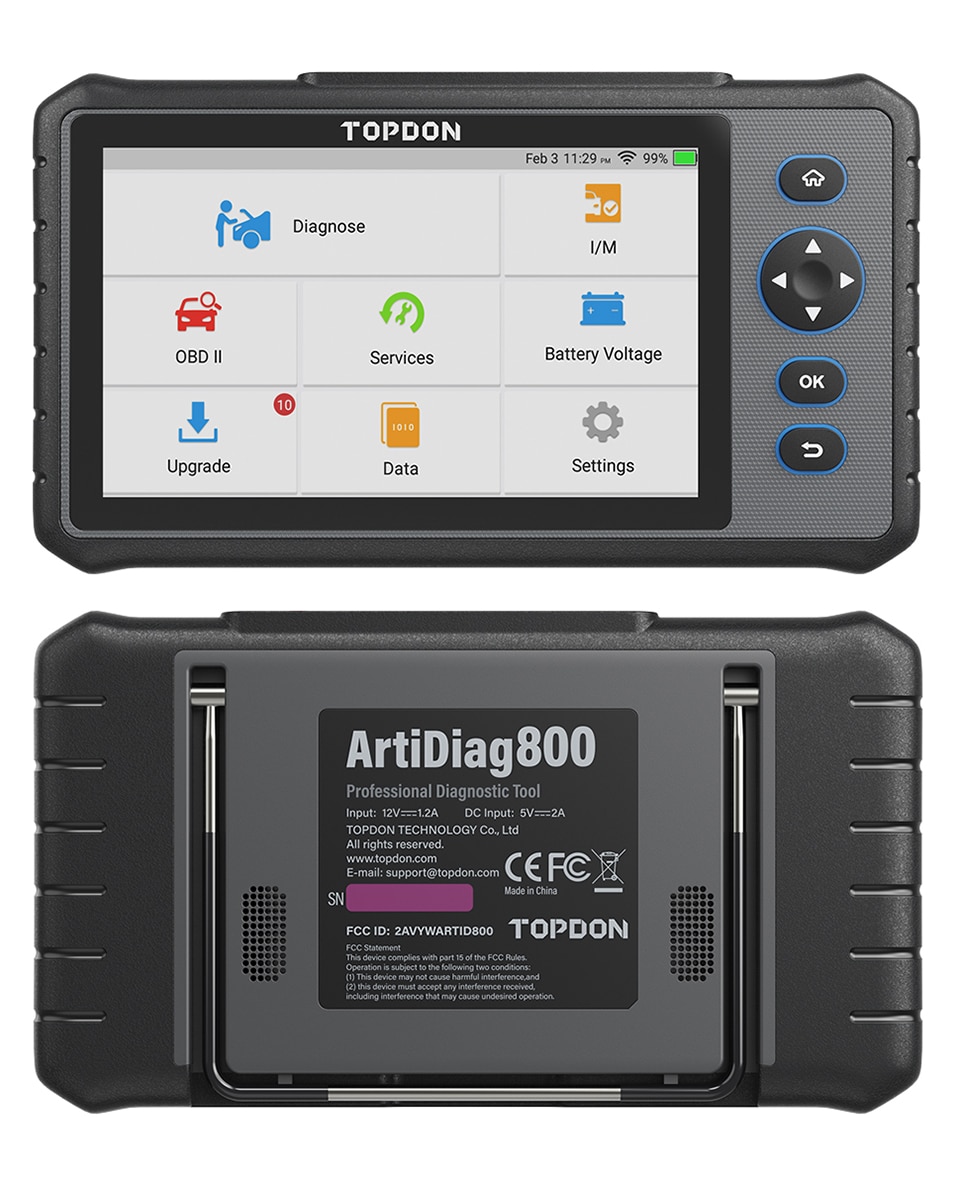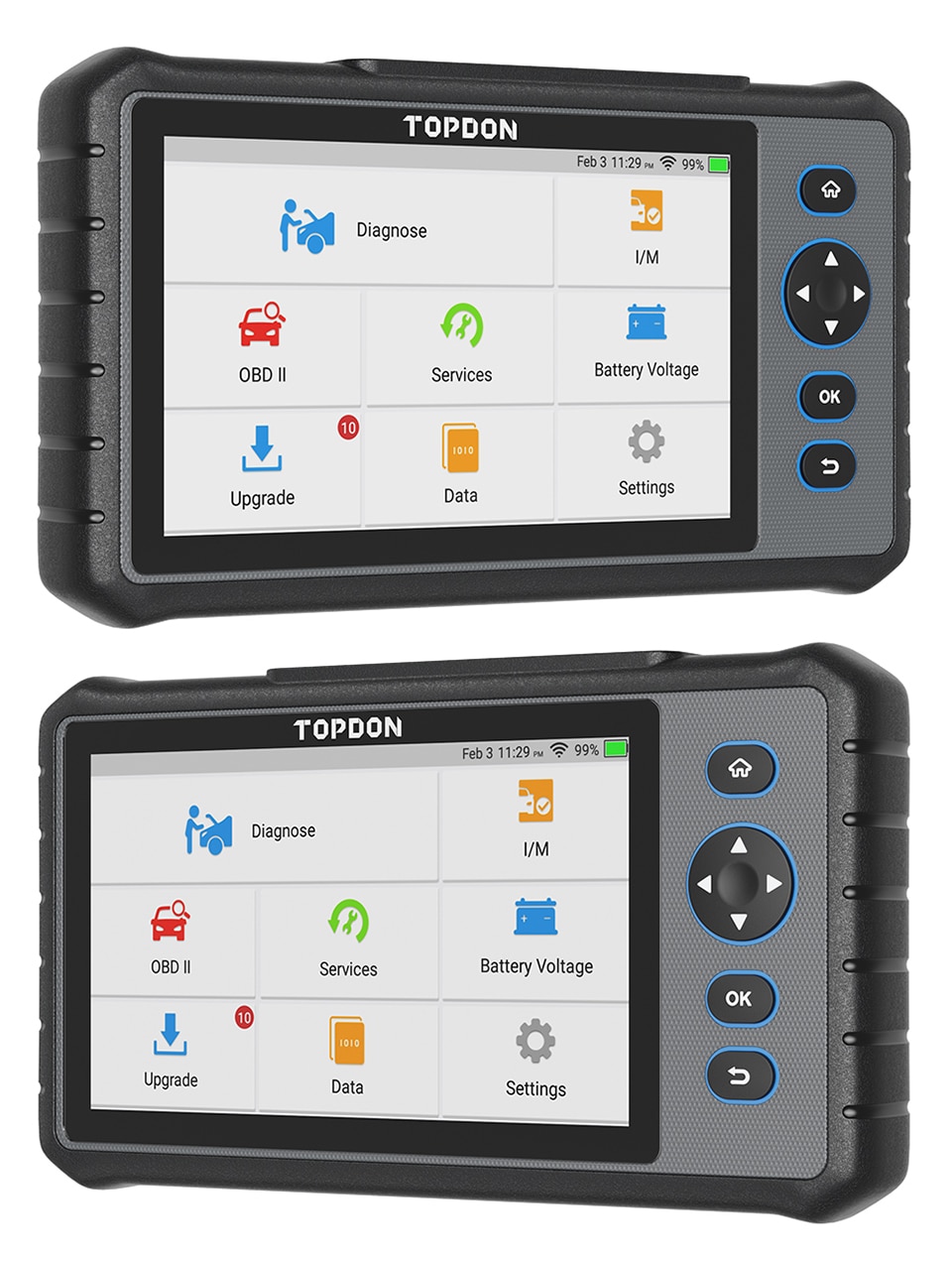 Reviews

14
#1 Adam Grodkowski
May 9, 2021

Everything seems ok, but not yet tried
#1 MARIUS PALIAUKA
Feb 9, 2021

Fast Delivery
#1 Kai Frederik Mortensen
May 9, 2021

Fast delivery, good quality.
#1 robert ambroise
Jun 9, 2021

Quality is good. I will test function later. this TOPDON ArtiDiag800 All System Car Diagnostic Tool Automotive Scanner Auto Scan Tools Diagnost Tools is good quality, working very well
#1 alaa barakat
Apr 9, 2021

OK. Now received the email files right
#1 genadi milshtein
Jul 9, 2021

Delivery fast everything works!!!
#1 omar villa
Mar 9, 2021

Super nice
#1 peatwoonaro peatwoonaro
Jun 9, 2021

Soldering quality is good. Refinement does not require. the package of TOPDON ArtiDiag800 All System Car Diagnostic Tool Automotive Scanner Auto Scan Tools Diagnost Tools is on good condition, very well
#1 Oleksandr Siryk
Mar 9, 2021

Very fast and high quality
#1 Blanca Segovia
Mar 9, 2021

working good
Previous: Lonsdor Smart Key PCB for 2018-2021 Land Rover Jaguar 315MHz/433MHz
Next: Topdon ArtiDiag500S OBD2 Diagnostic Scanner All Systems ABS Airbag DPF Oil Reset Automotive Diagnoses Tool