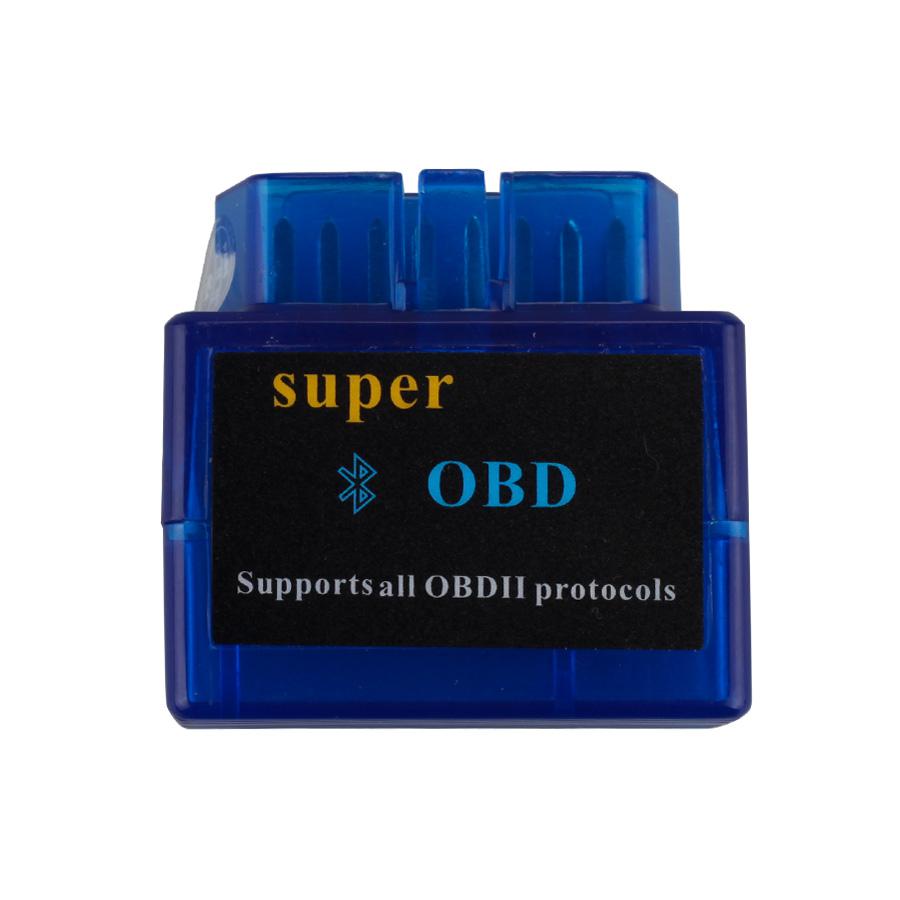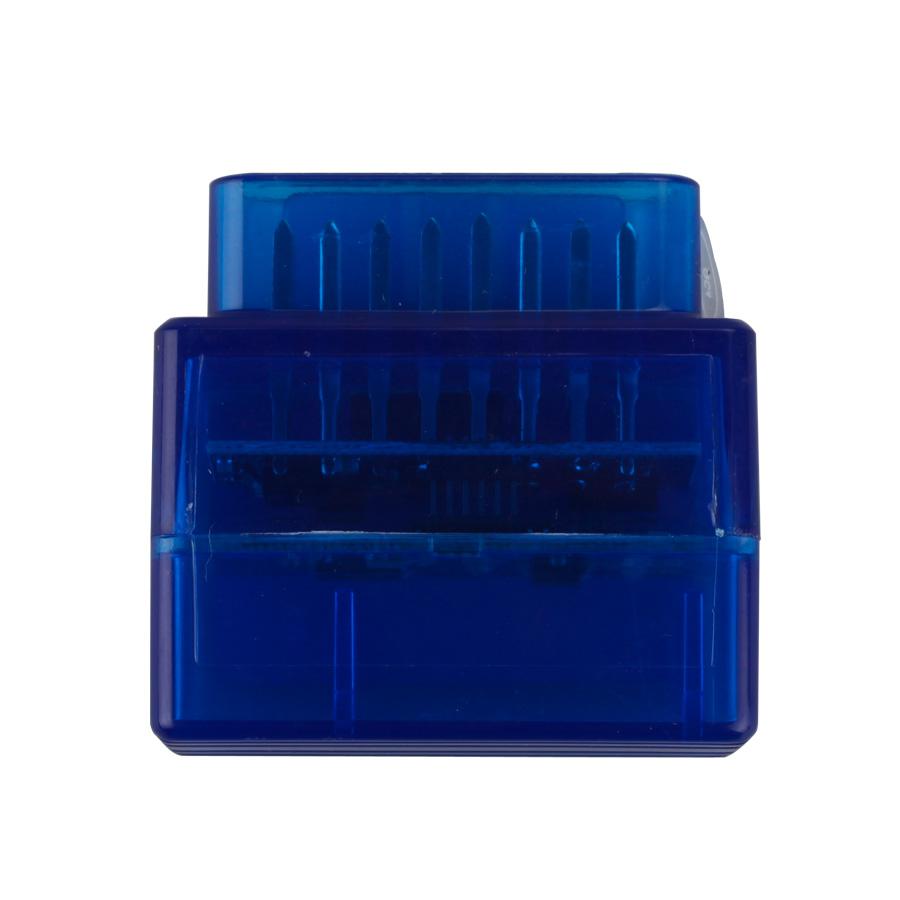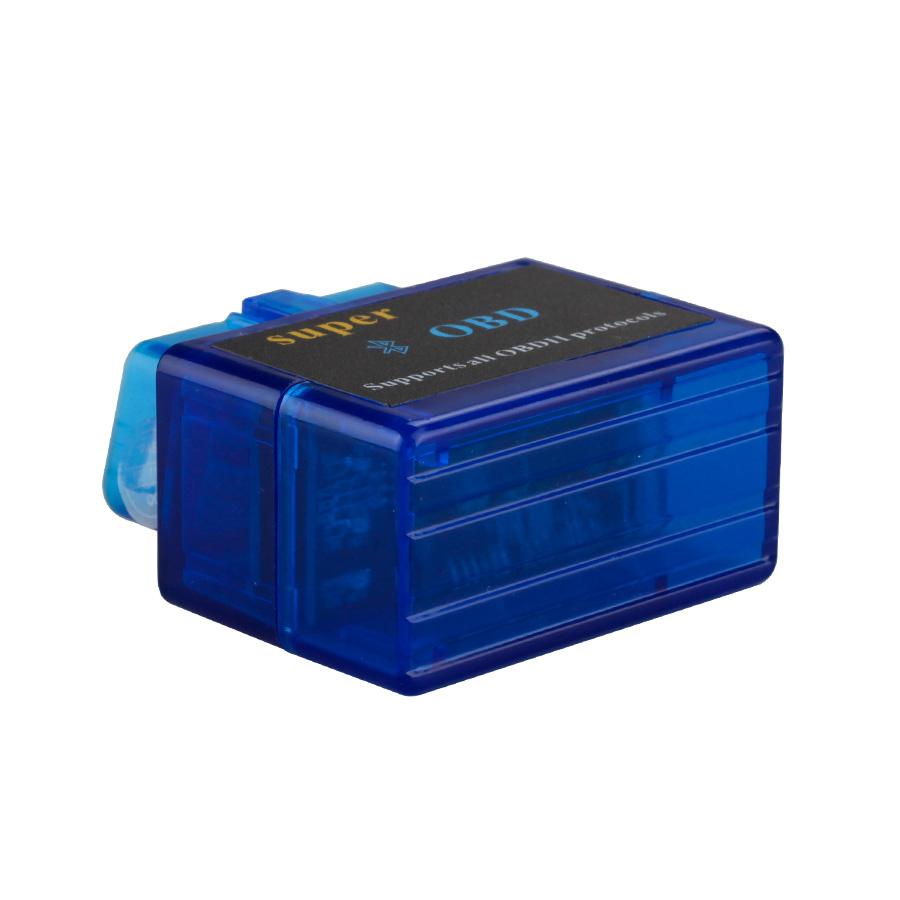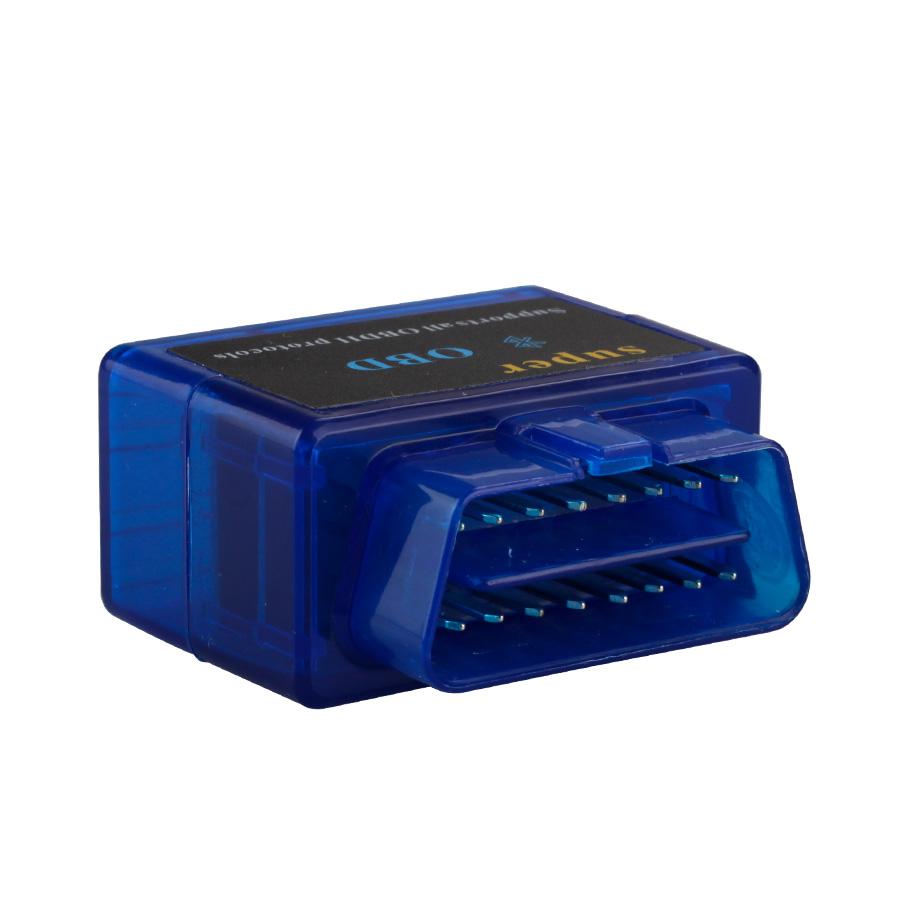 Description
V1.5 Mini ELM327 OBD2 Bluetooth Interface Auto OBDII Diagnostic Scanner works on Android Windows Symbian
MINI ELM327 Bluetooth Functions:

Read diagnostic trouble codes, both generic and manufacturer-specific, and display their meaning (over 3000 generic code definitions in the database).
Clear trouble codes and turn off the MIL ("Check Engine" light)
Display current sensor data, including:
Engine RPM
Calculated Load Value
Coolant Temperature
Fuel System Status
Vehicle Speed
Short Term Fuel Trim
Long Term Fuel Trim
Intake Manifold Pressure
Timing Advance
Intake Air Temperature
Air Flow Rate
Absolute Throttle Position
Oxygen sensor voltages/associated short term fuel trims
Fuel System status
Fuel Pressure
Many others...

SUPER MINI ELM327 Bluetooth Features:
Works with all OBD-II compliant vehicles
Wireless (Bluetooth)
Software included for Palm, PDA
Software included for Windows PC
Software included for Windows Smartphone
Supports ISO 9141, KWP2000
Supports CAN bus
SUPER MINI ELM327 Specifications:

Output protocol: bluetooth
Color: blue
Material : plastic
Voltage: 12V
Current: 45mA
Wave frequency: 38400Hz
Applicable scope: 5-10m/ 16.4-32.8ft
Item size: 4.7 * 2.3 * 3.1cm/ 1.8 * 0.9 * 1.2in
Item weight: 21g/ 0.7oz
Total weight: 34g/ 1.2oz
Package list:

1pc x SUPER OBD ELM327 Bluetooth
1pc x CD drive
---
Reviews

10
#1 Olga Smolyakova
Sep 9, 2018

I have received the parcel very fast. Seller is very friendly. I will make new orders again. Every time the seller answered for my question. I recommended this shop for all.
#1 Vladislav Abramov
Jul 9, 2018

Arrived super fast delivery. The best they have representative here in Brazil P make delivery. Good seller. Recommend.
#1 joseph guiamano
Apr 9, 2019

Excellent seller já me turning client
#1 axoffinsila axoffinsila
Mar 9, 2019

Delivered quickly, the seller is very Quickly answers all questions and tries to help if there is a problem
#1 Daniel Guerrero
Jun 9, 2018

Everything is ok. Thank you to the seller.
#1 etharnishrosco billaa
Jun 9, 2018

Super nice
#1 Terence Wilding
Feb 9, 2019

Product as advertised. Delivery superápida. Recommend to everyone. this V1.5 Mini ELM327 ELM 327 OBD2 Bluetooth Interface Auto OBDII Diagnostic Scanner (Blue) is good quality, working very well
#1 scott aaglan
Mar 9, 2019

Works just great, I am totally inpressed! very good!
#1 Daniel Cloutier
May 9, 2018

Super fast, tried on my car works perfect. Great seller.
#1 Igor Prvulovic
Nov 9, 2018

Wrote to the seller, you can send today. The seller confirmed that there is in stock, will be able to send. The parcel was sent on the same day, thank you very much, fast delivery, the goods will match the description. Ordered from russia.
Previous: Vgate iCar 2 Bluetooth Version ELM327 OBD2 Code Reader iCar2 for Android/ PC
Next: Latest V2.1 Super Mini ELM327 Bluetooth OBD2 Scanner For Multi-brands CAN-BUS Supports All OBD2 Protocol