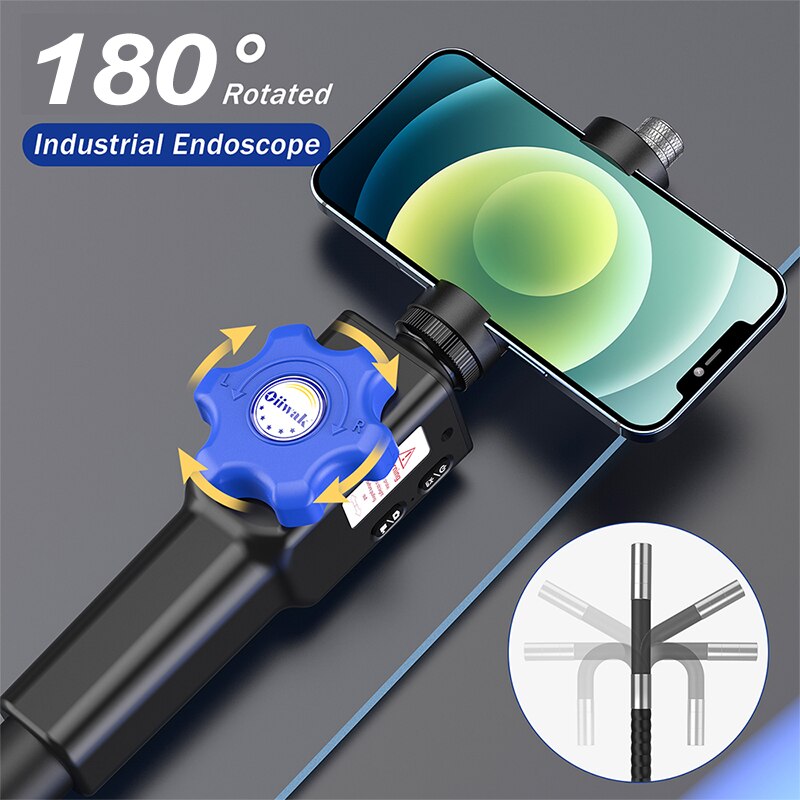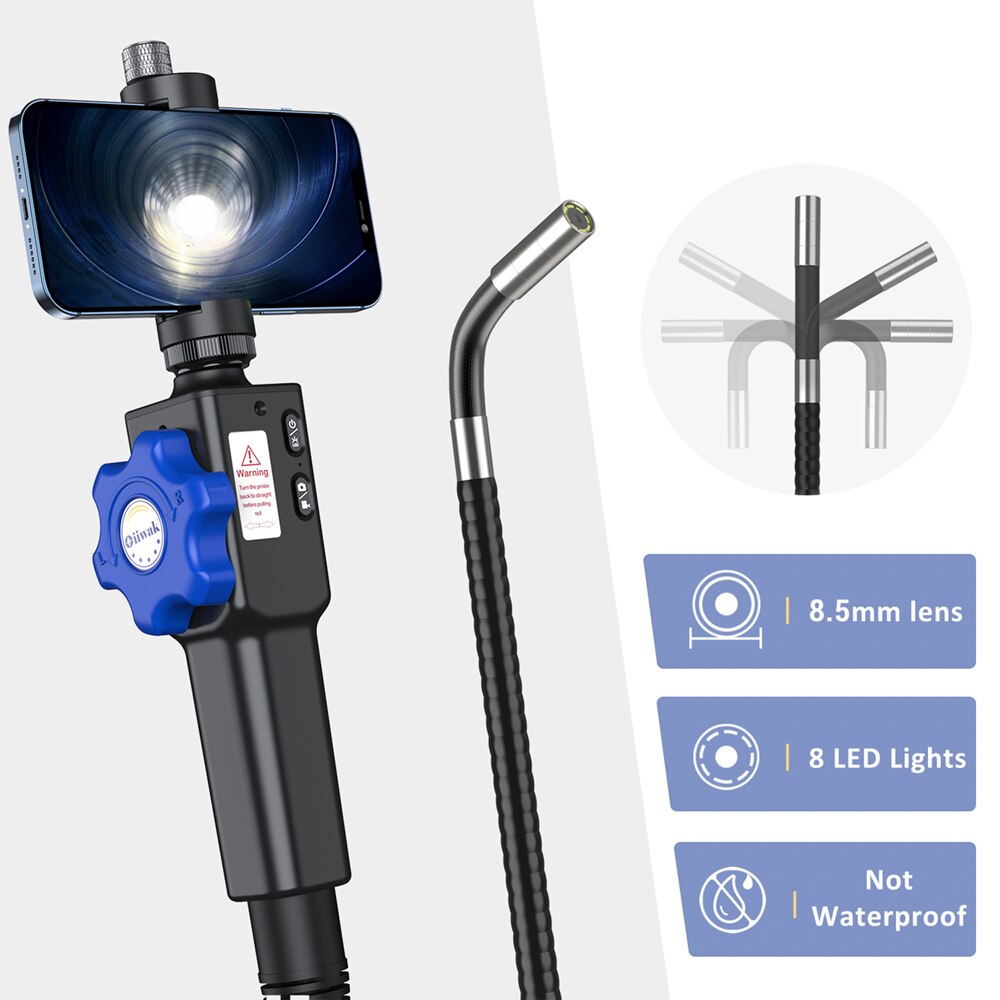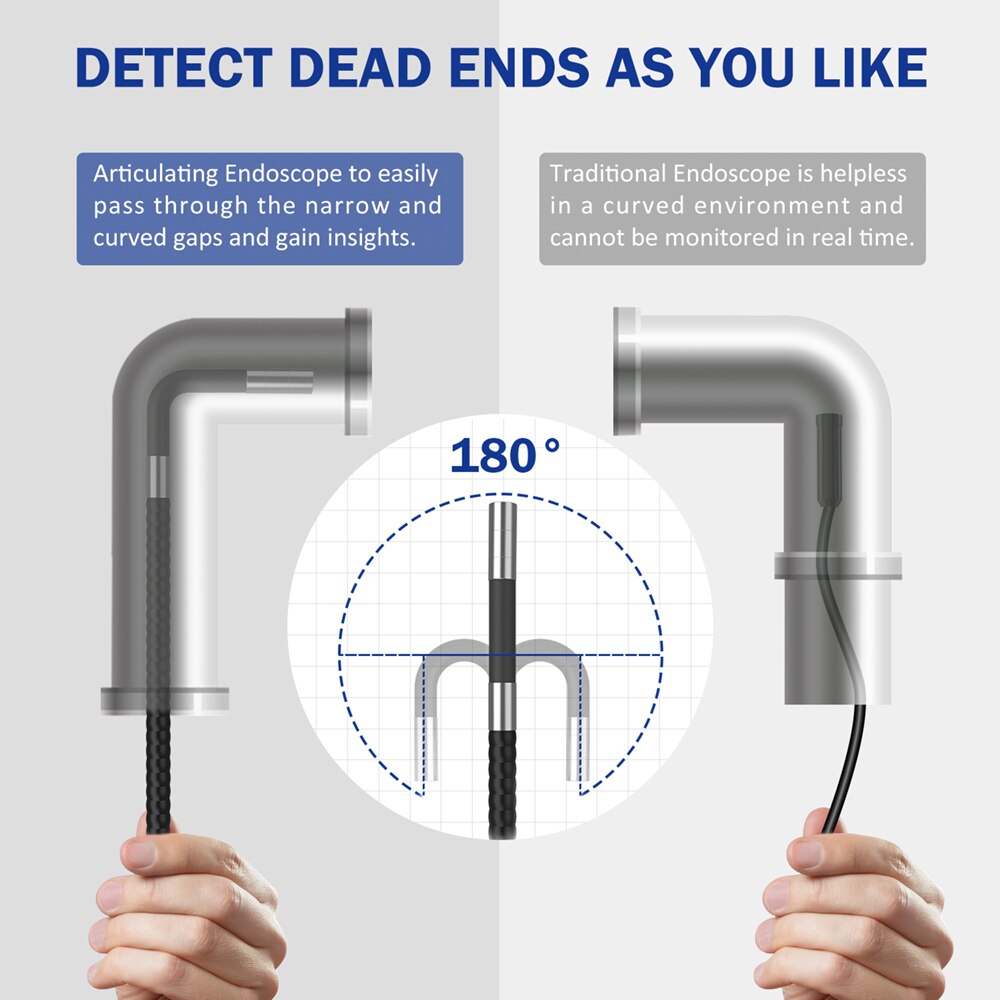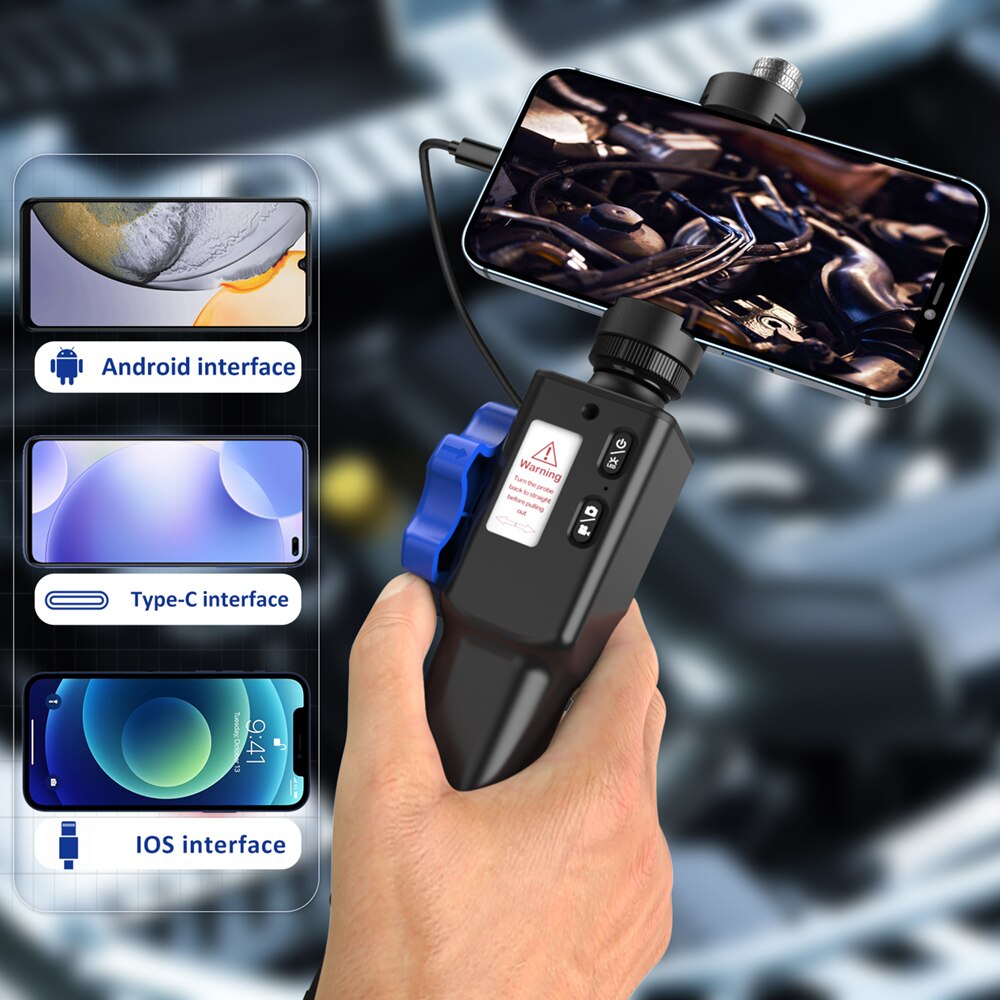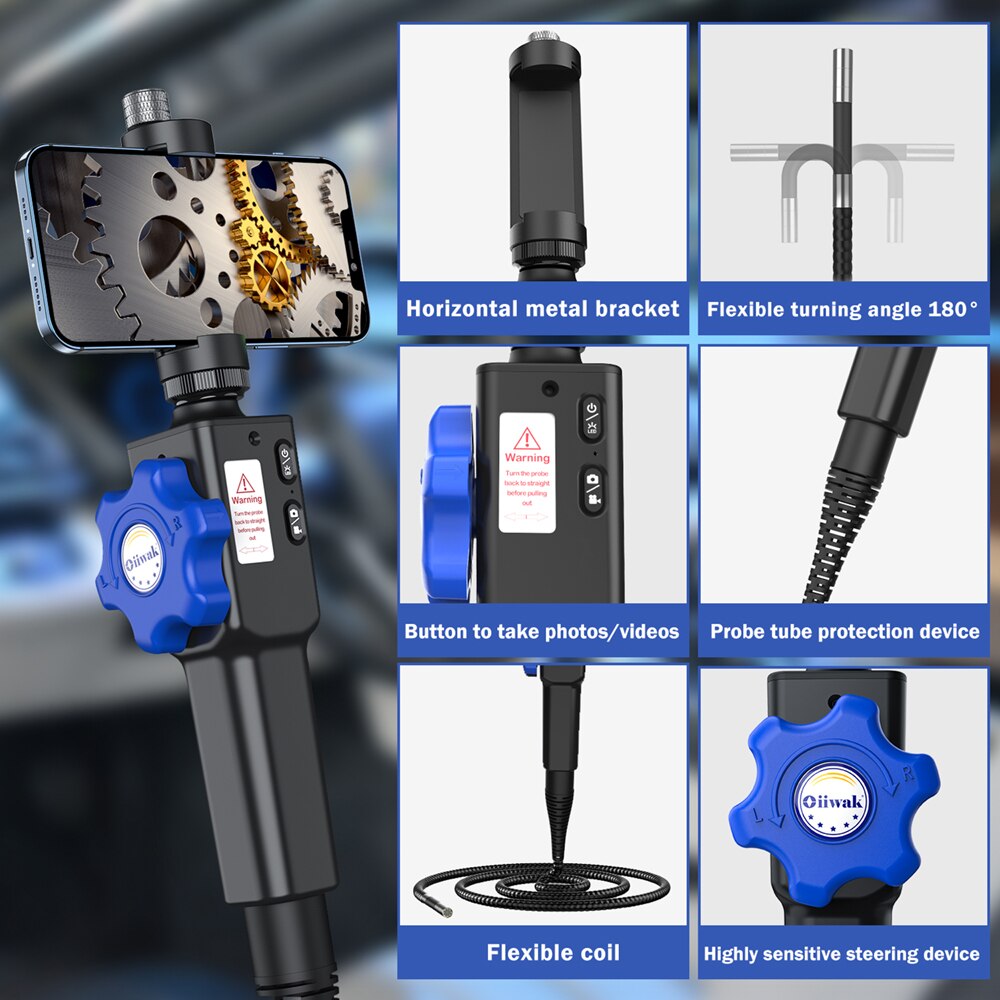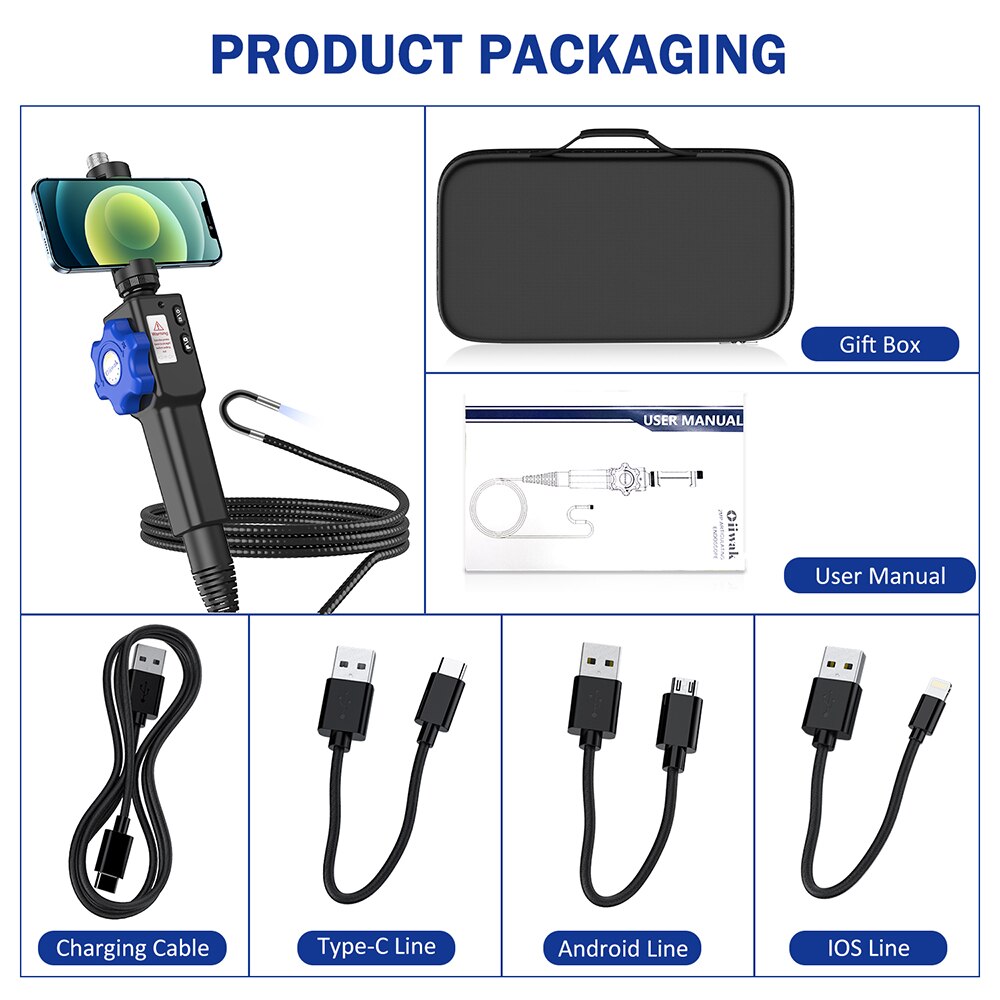 Related Accessories/Similar Items
Description
8.5MM Industrial Endoscope 180 Degree Steering Inspection Camera With 8 LED for iPhone Android PC
This Car Endoscopes has a unique temperature protection function and is equipped with a two-way 180° steering detection function,which allows users to take small probes into a small space,and transmit vivid,clear and all-round video and pictures to the mobile phone through the cable and shown on the screen.

Meet your diverse inspection needs with advanced extended accessories and real-time temperature display.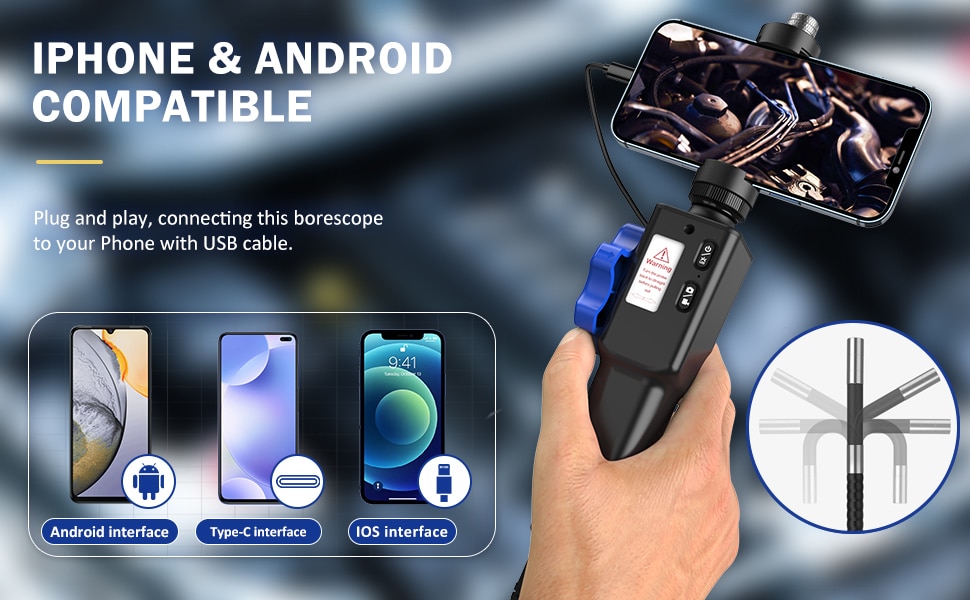 Industrial Video Inspection Camera Feature
1. [ Steerable Probe]
Articulation bendable angle: 0° to 180° continuously adjustable and can be locked at any angle. Very easy operation: just push down the release button with the thumb to adjust the Rotate Wheel .
2.0 MP HD Camera Lens
1920 * 1080 High Resolution, High-definition & high contrast, restore the real scene.
3. [Easy-to-use Handle]
It can take pictures and record videos with one key, easy to operate.
4. [Lens Function]
Support photographing and video recording function.Takes still photos and record videos in real time, to save pictures and videos and output later.
5. [Intelligent High-temperature Protection]
±1℃ temperature sensing accuracy, fast response to the surrounding temperature. It will stop working automatically when the temperature exceeds 70℃, playing an important role in protecting lens.
6. [Automatic Generation of Detection Report]
Refer to the User' s Manual, download the APP and click "File Selection" to insert a picture with "750 * 87" pixels for the generation of detection report.
7. [Power Saving]
Low power consumption, and with built-in rechargeable 2200mAh lithium battery, the service life of it is up to 120 minutes after charging for 1 hour.
8. [1m Snakelike Tube]
Proper length & soft wire, flexible to inspect.
9. [Equipped with 4 USB Cables]
Equipped with 4 USB cables with different interfaces, you can choose the one you need at will to connect.
10. [Wide Application]
Suitable for 3.5-inch to 6.3-inch screen mobile phones to use together in various fields such as industry, automobile repair, pipeline inspection, air conditioning inspection, etc.
Kindly Noted :
1. Please read the Users Manual before use.

2. This product is NOT waterproof. Please avoid using in humid environment or immersed in water.

3. This kind of endoscope is specially used to detect automobile engine. It is not recommended to use it in water or oil, so as not to affect the effect and cause damages to the product.
Specifications
Probe Diameter: 8.5mm
Probe Sensor: 1/5" CMOS
Probe Field of View Angle (FOV): 60°
Depth of Field (DOF): 45-70mm
Probe Rotating Angle: 180°
Video Resolution: MP4(1920*1080)
Image Resolution: JPG(1920*1080)
Probe Illumination Mode: 8 bright LED lights
Manual Dimming: √
Power Supply: Rechargeable lithium battery 2200mAh
Working Time: About 120 minutes
Working Temperature: -10~70℃
Length of Snake Tube: 1m
Snake Tube Material: Flexible Mental
Applicable Mobile Phone Size: 3.5-inch ~ 6.3-inch screen
Item Size: Approx. 5.5*4.5*120cm / 2.17*1.77*47.24in
Item Weight: Approx. 332g / 11.71oz
Package Size: Approx. 43*22*9cm / 16.93*8.66*3.54in
Package Weight: Approx. 1180g / 41.62oz
How to use?
1.Connect phone

2.Download "Finder Borescope"APP

3.Open App shows picture

4.Rotation angle can turn lens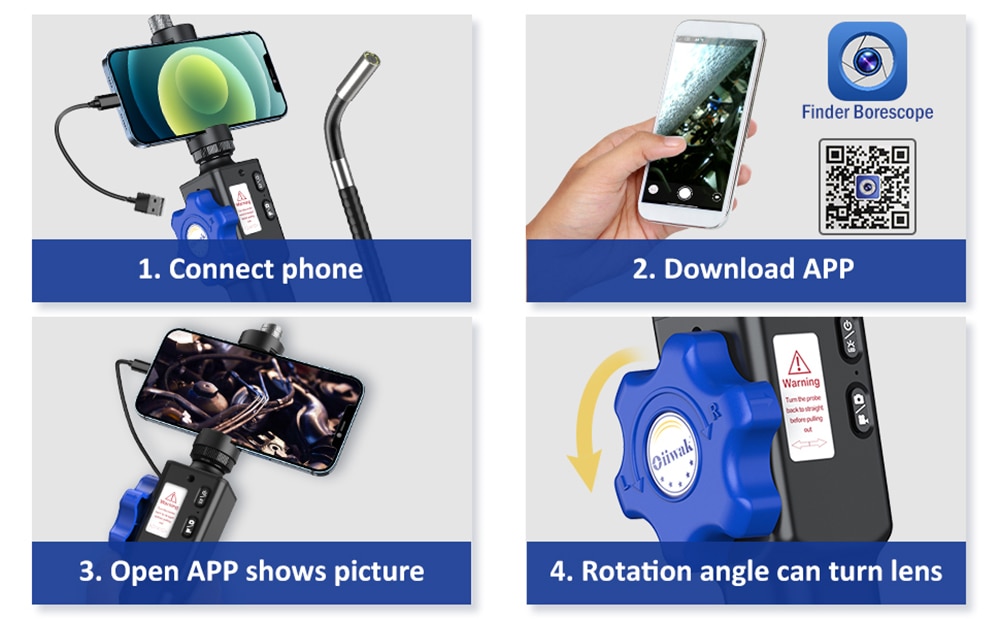 180 ° Rotate Industrial Endoscope
Capable of being adjusted manually by 180° in both directions with the turntable.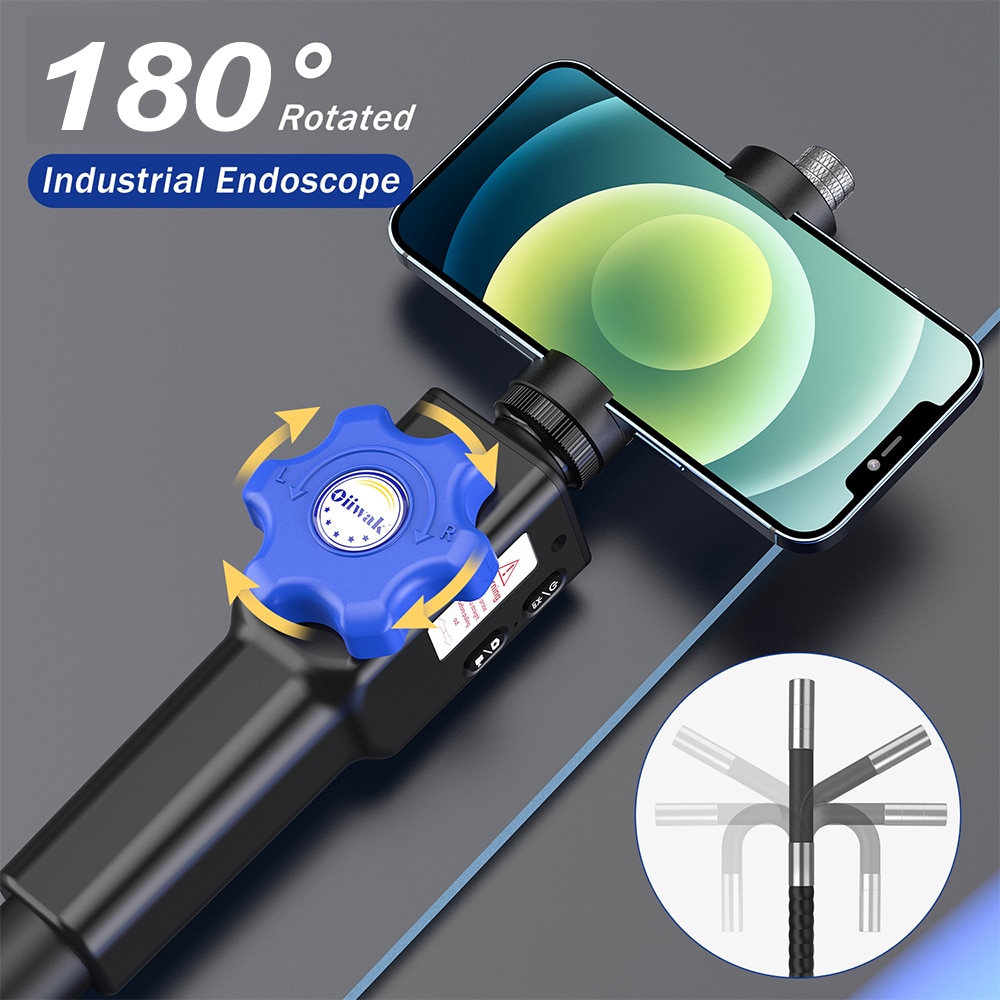 Detect Dead Ends As You Like
Articulating Endoscope to easily pass through the narrow and curved gaps and gain insights.

traditional Endoscope is helpless in a curved environment and cannot be monitored in real time.
1080P HD Endoscope with 8.5mm lens
Oiiwak endoscope inspection camera equipped with 2 million pixel camera lens with 1080P resolution, offering super clear and high-quality videos and pictures than others.
8 LED Lights
With adjustable LED lights, the endoscope can be used in dark and narrow areas to ensure the clearness of the picture and video.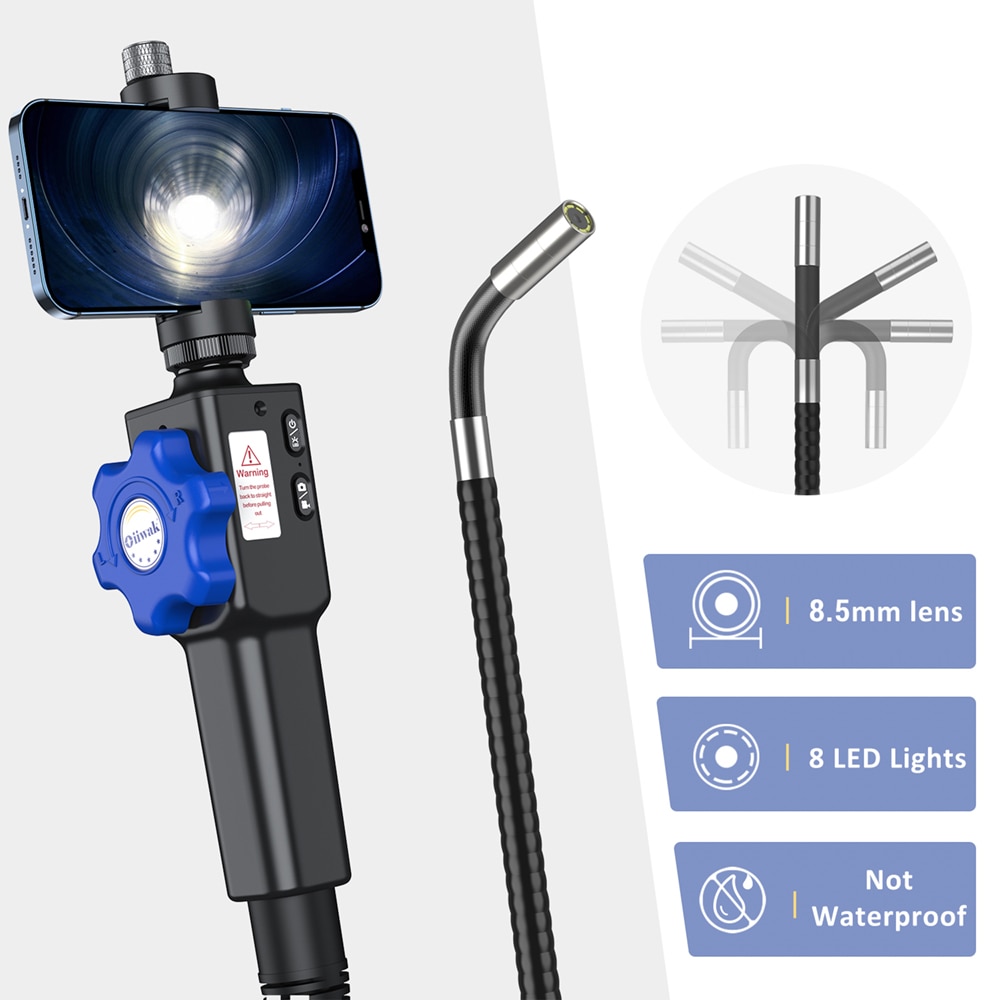 Not Waterproof
The tip of the probe is not waterproof, please do not soak the probe in water.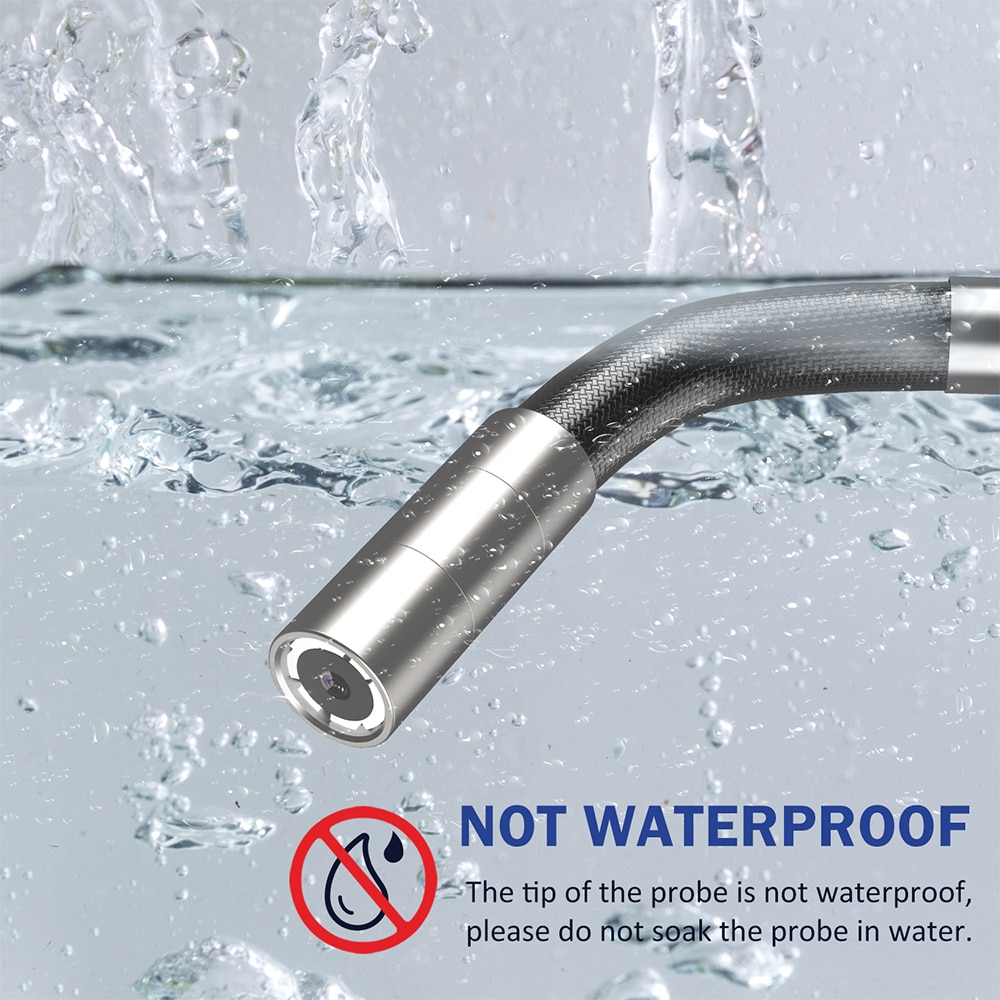 Rechargeable Battery
Adopted the capacity 2200mAh battery, working time up to 3-4 hours.
More Details
1, Horizontal metal bracket
2, Flexible turning angle 180°
3, Button to take photos/videos
4, Probe tube protection device
5, Flexible coil
6, Highly sensitive steering device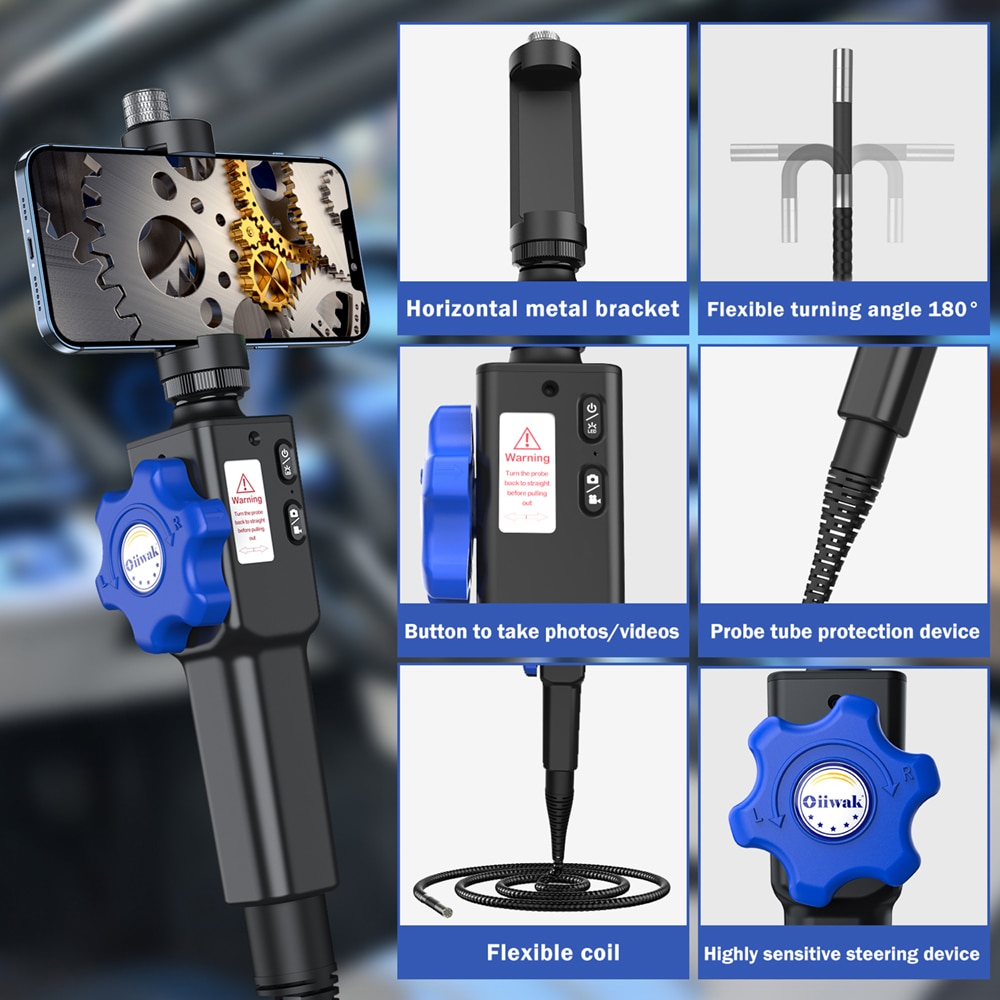 Articulating Endoscope
Oiiwak endoscope is a excellent tool for inspection of places that are not viewable by naked eye. It is widely used in fields such as car maintaining, mechanical inspection, pipe repair, household appliance inspection, wall structure inspection, etc.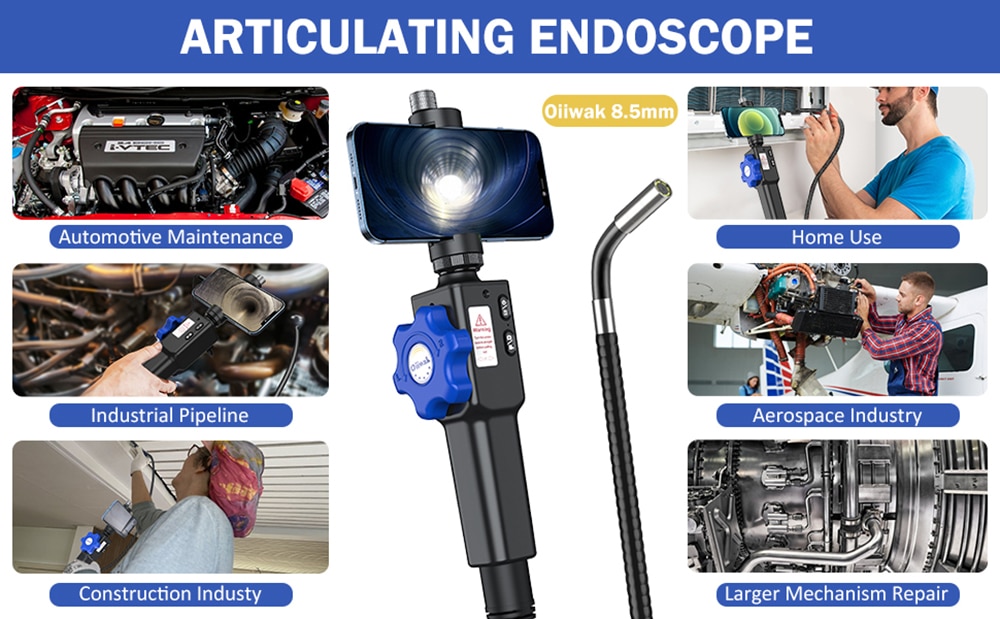 Product Packaging
1 x 8.5mm Endoscope
1 x Gift Box
1 x User Manual
1 x Charging Cable
1x Type-C Line
1 x Android Line
1x IOS Line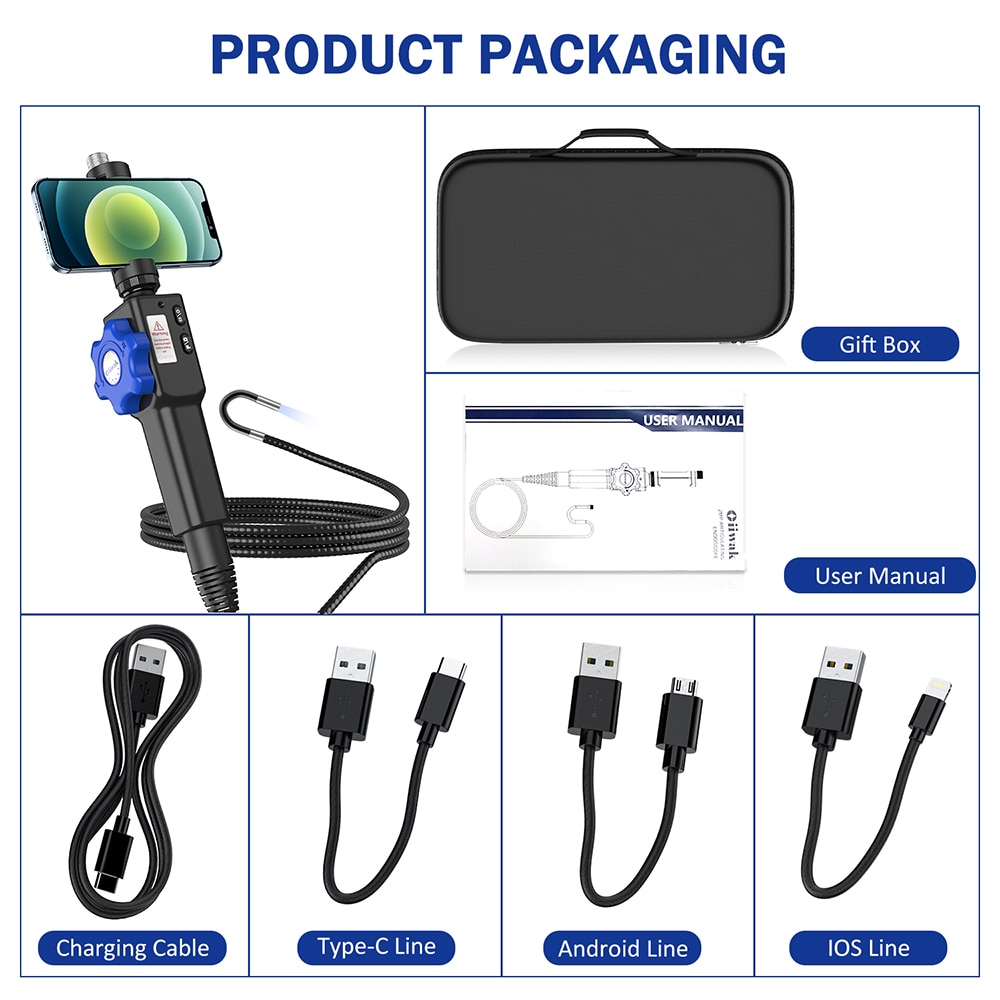 Reviews

13
#1 sandro guedes
Aug 9, 2021

It works perfectly! Very good product, i recommend shop and seller.
#1 adam kedem
Apr 9, 2022

Thank you very much just as I want
#1 Miky Sais
Apr 9, 2022

Equipment as far as well. I did already two cars. I am happy
#1 Kenneth Jackson
Jul 9, 2021

Thank you very much just as I want
#1 Heinisch Manfred
May 9, 2022

Ok. Thank you very much.
#1 Maria G Ontiveros
Aug 9, 2021

All OK very fast delivery…
#1 Adrian-T. Sofonea
Jan 9, 2022

Product as described request. Very fast. Recommend all p. this 8.5MM Car Endoscope Camera 180 Degree Steering Industrial Endoscope Inspection Camera for Car 8 LED for iPhone Android PC is good quality, working very well
#1 Mark Shoemaker
Sep 9, 2021

Will be than to check, i will add. So everything is wonderful.
#1 ffgrdhrfsfg ffgrdhrfsfg
Jun 9, 2022

now I have the product, now i can learn to use it. NO QUESTIONS ON USE! Google is your friend, learn to search. Thank you & recomended seller
#1 teharttroyr vigorda
Nov 9, 2021

Prishol very quickly everything works counts until he poured everything ok. Recommend seller
Previous: 5mm Dual Lens Endoscope Mini Camera 5.18" IPS 1080P IP67 Waterproof Snake Inspection Endoscope Camera 32GB Sewer Plumbing
Next: F130 WIFI Endoscope Camera 8mm Lens 8 LEDs HD1200P IP67 Waterproof Wireless Industrial Inspection Borescope for PC Android IOS