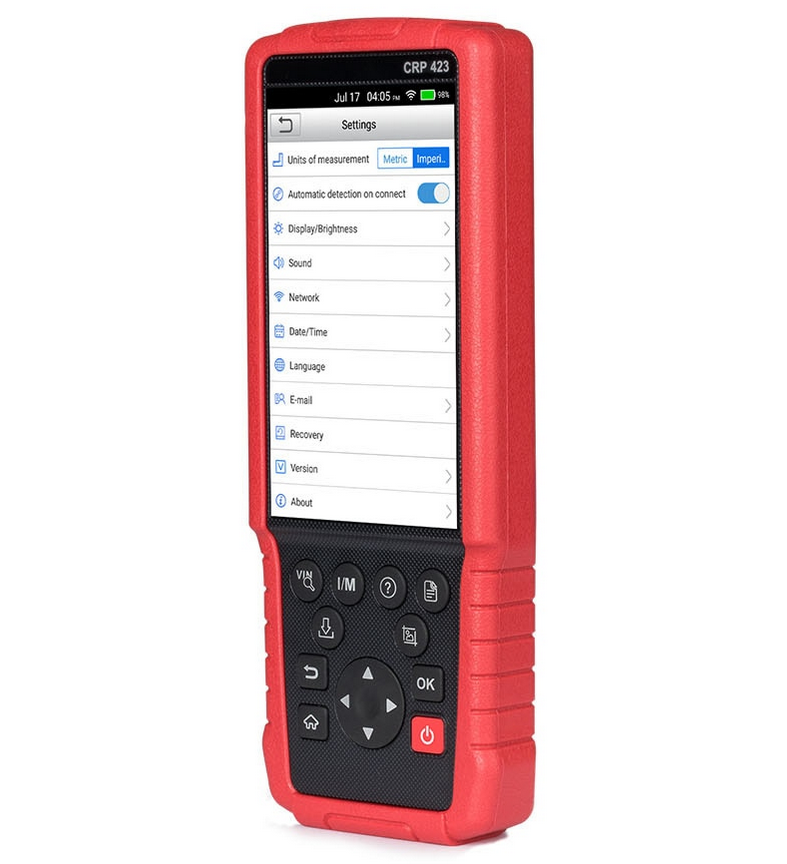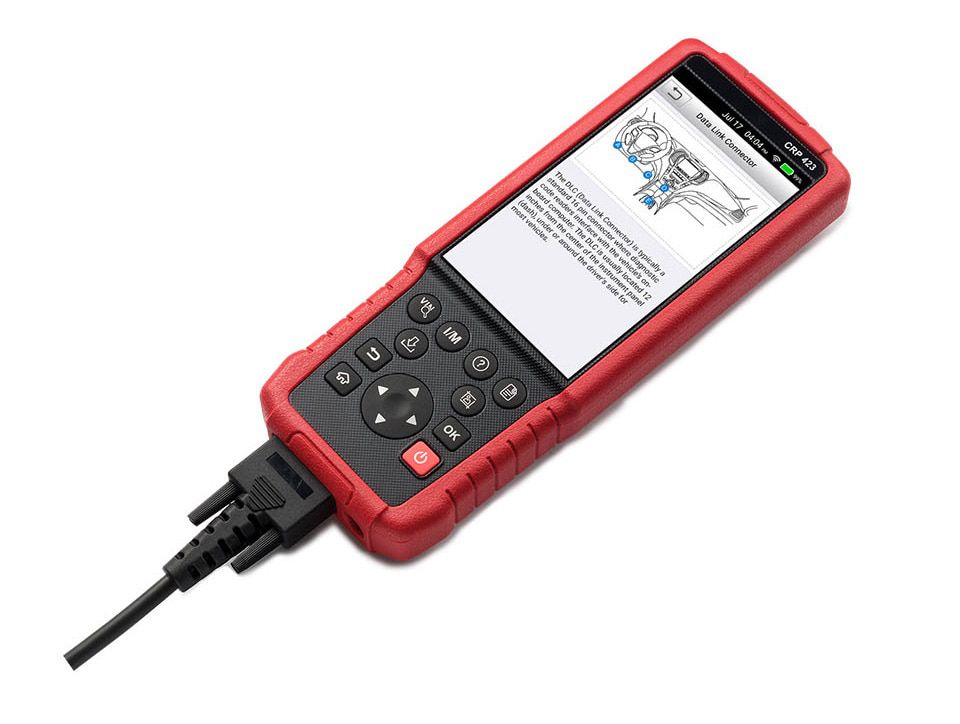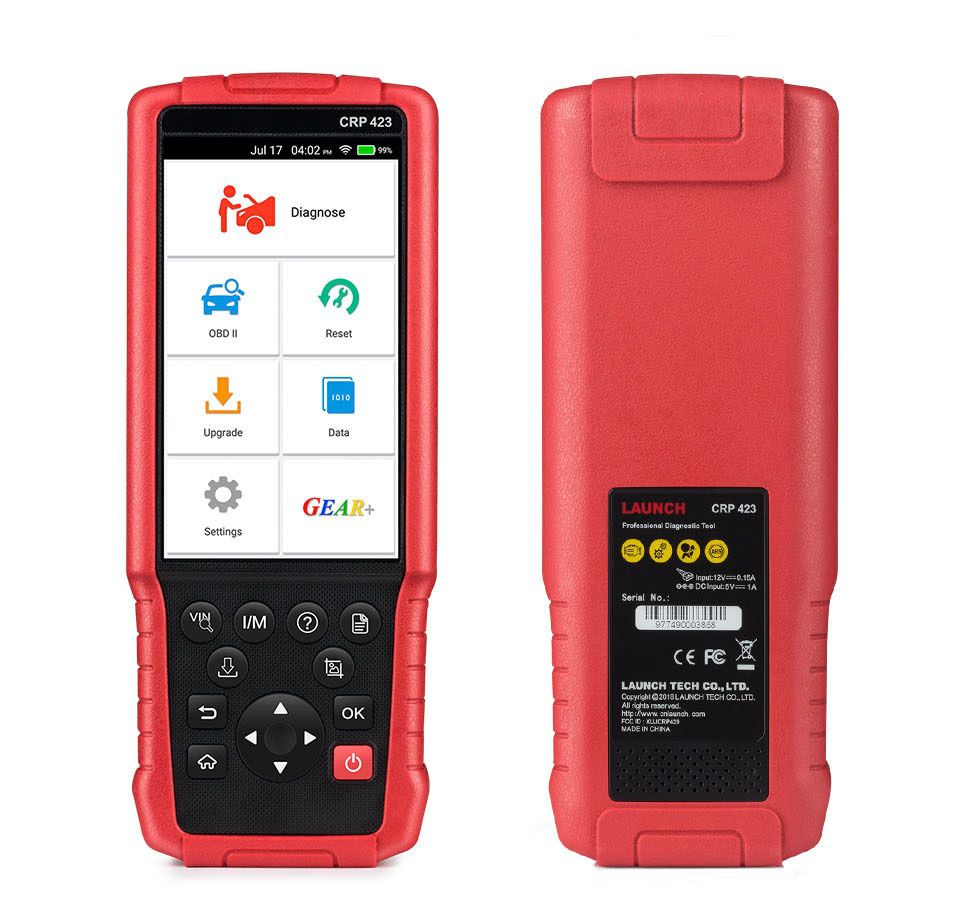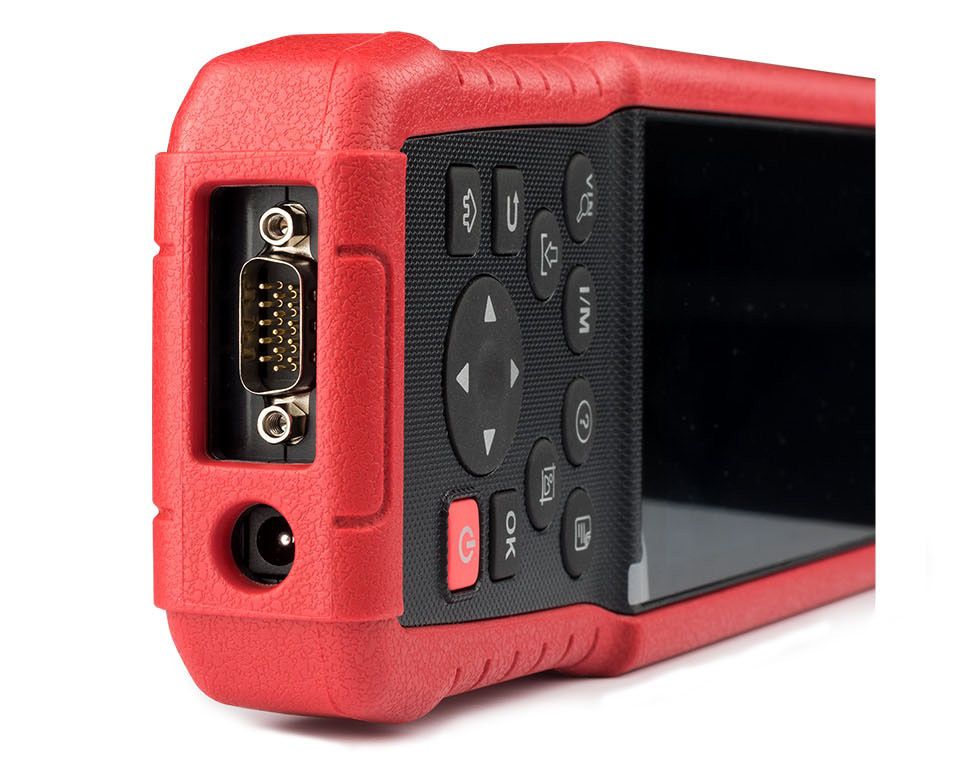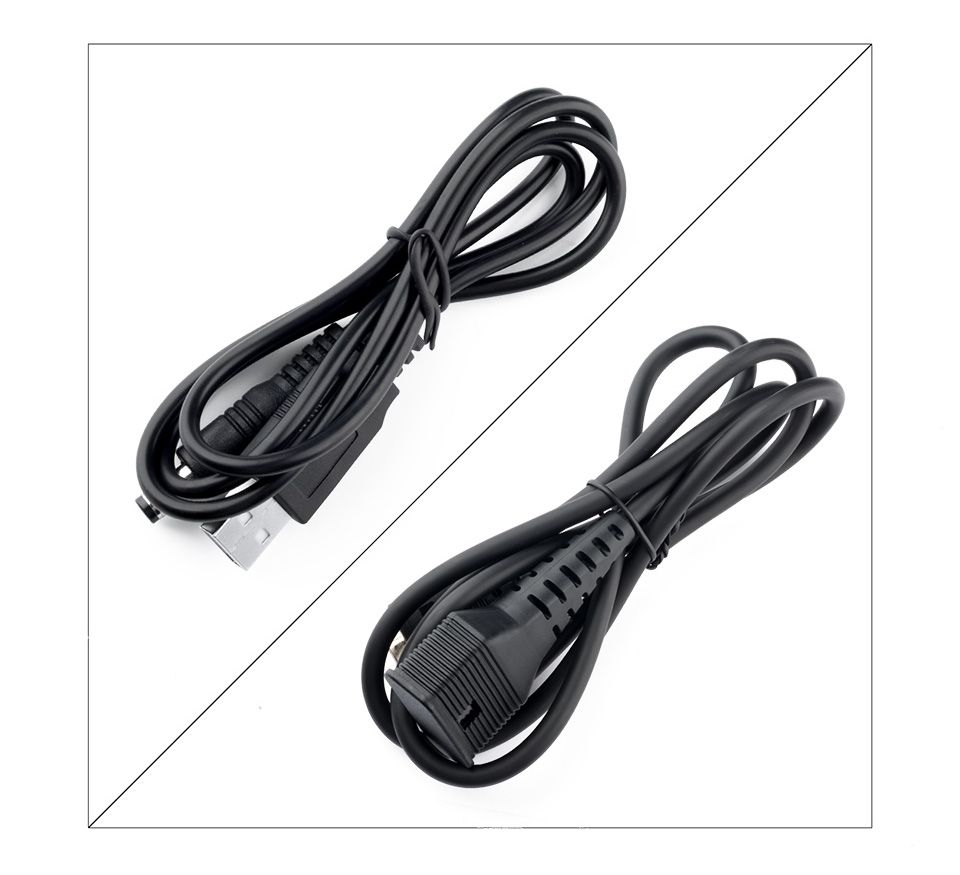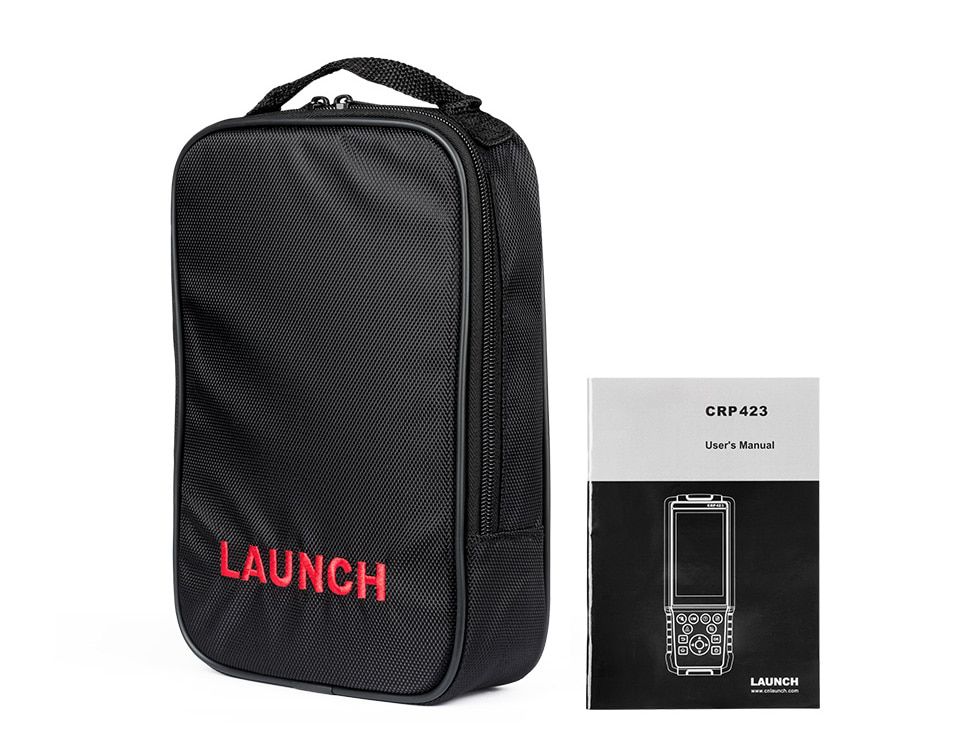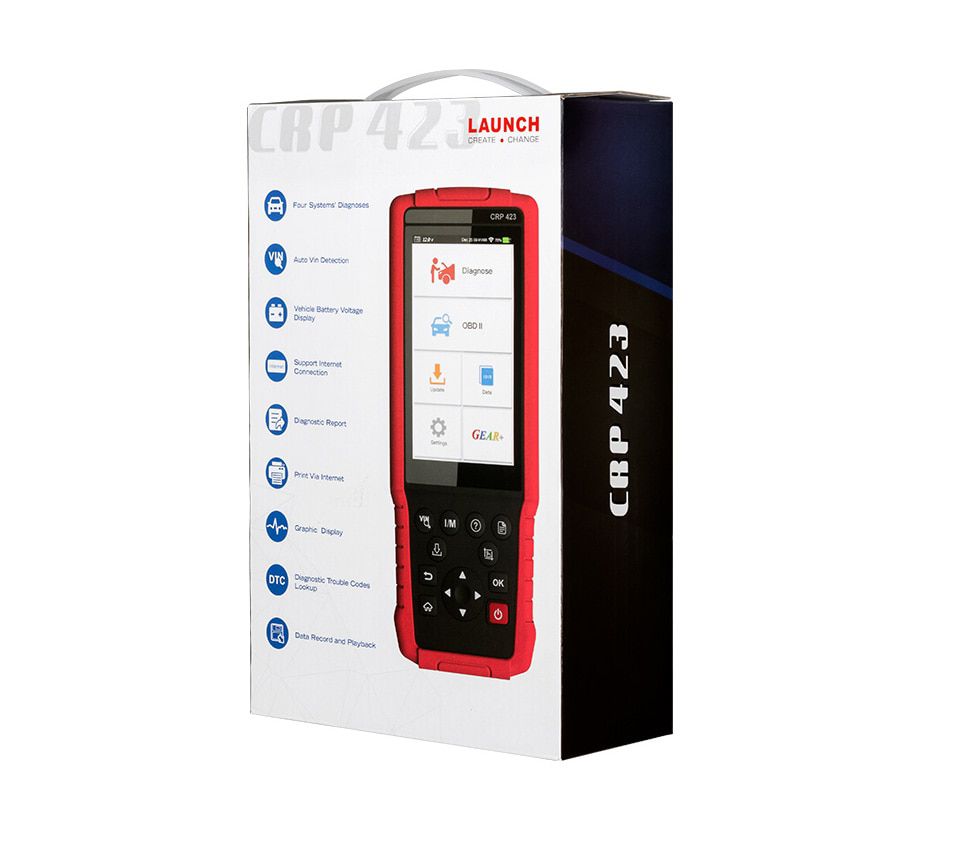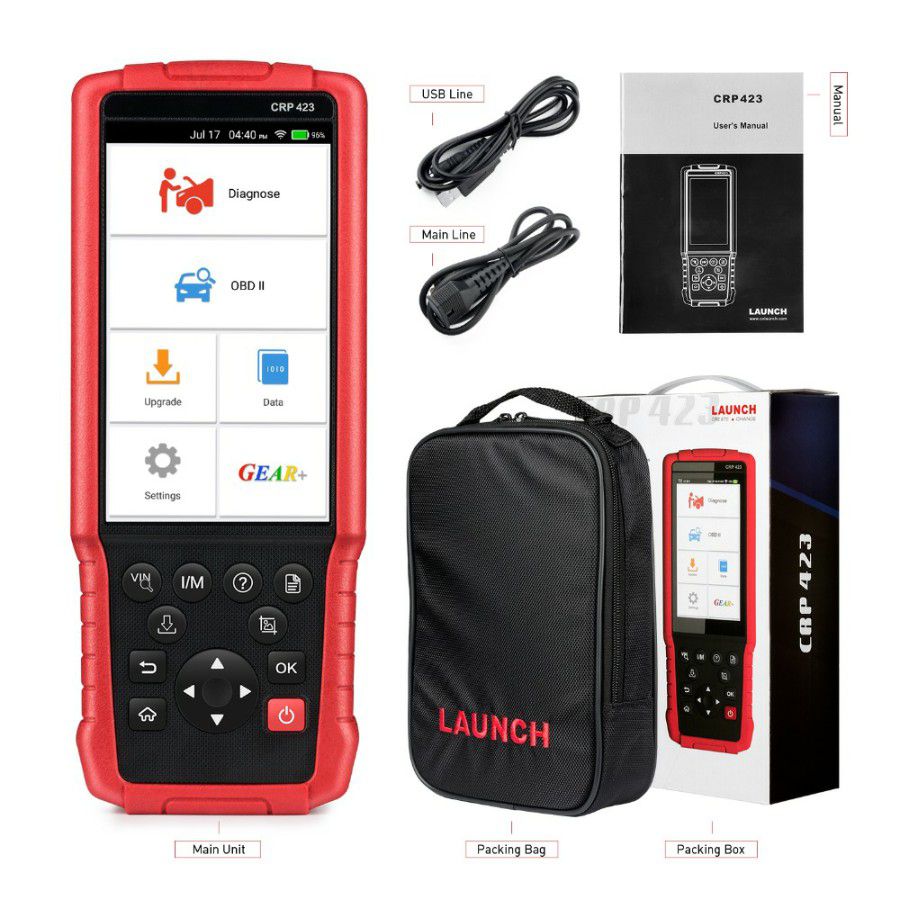 Description
launch X431 CRP423 OBD2 Code Reader Scanner support Engine/ABS/Airbag/AT Auto diagnostic tool Update Version of CRP123

launch CRP423 Introduction:
CRP423 is in evolutionary smart solution for passenger car diagnosis. it inherits from
launch
's advanced diagnosing technology and is characterized by covering a wide
range of vehicles. featuring powerful functions. and providing precise test result CRP 423 supports all 10 models of OBDlI test for a complete diagnosis. CRP 423 also supports the system diagnosis of
ABS
, Airbag , Engine and Transmission system.
LAUNCH CRP423 Multi-Language:
English/ French/ Spanish/ German/ Russian/ Japanese/ Portuguese/
LAUNCH CRP423 Functions and Features: 1. Smart(Auto Detect Diagnosis):
Once CRP 423 and the vehicle are properly connected, the system starts auto-detect process. Once the whole process is successfully finished, a diagnostic report will be automatically generated and sent to your email box (if bound).
2. Manual Diagnosis:
If Auto-Detect failure occurs, manual diagnosis is also available. Diagnosis functions include: Version Information, Read DTCs.Clear DTCs and Read Data Stream (supports 3 display modes: Value, Graph and Merged)
3. OBDII/EOBD Diagnosis:
10 modes of OBD II test are supported, including EVAP. O2 Sensor, lM Readiness. MIL Status, VIN Info, and On-board monitors testing etc.
4. Remote Diagnosis
(optional: This option aims to help repair shops or technicians launch instant messaging and remote diagnosis, making there pair job getting fixed faster.
5. One-click Update:
Let you update your diagnostic software and APK online.Diagnostic History This function provides a quick access to the tested vehicles and users can choose to view the test report or resume from the last operation, without the necessity of starting from scratch.
6. Diagnostic Feedback:
Use this option to submit the vehicle issue to us for analysis and trouble shooting.
7. DTC Library:
Allows you to retrieve the definition of the diagnostic trouble code from the abundant DTC database. Displays battery real-time voltage once property connected to the vehicle Features screenshot capture. Screen shots and reports sharing are supported Touch & Keypad input are supported. Quick Dial buttons enables your to easily access the corresponding functions.
LAUNCH CRP423 Support Car Brand
Demo, Alfa Romeo,
Audi
, BUGATTI,
Chrysler
,
Citroen
, DACIA, Daewoo, Euroford, Fiat, Ford, GM,
GM
sa, Infiniti, lsuzu, for
Jaguar
, for
Kia
,for Lancia, for Landrover,for Lexus,for Lincoln, for
Mazda
, Mercedes,
Mitsubishi
,
Nissan
, Opel,
Peugeot
, Porsche, Renault, SAAB, SAMSUNG,
Seat
,
Skoda
, Smart, Sprinter, Subaru, Suzuki, Tlisuzu, Toyota, Vauxhall, Volvo,
VW
LAUNCH CRP423 Technical Parameters:
Screen : 5-inch 720P IPS Touch Screen
RMA:1GB
ROM:8GB
Battery: 4000mAh rechargeable Li-battery
OBDII input voltage range: 9~18V
Workingtemperature:-10℃to 50℃(14 to 122 F)
Storagel temperature:-20 ℃to 70℃(-4 to 158 F)
Product Size: 248.7x93.5x36(mm)
Packing list:
1. CRP 423 handset
2. OBD II diagnostic cable
3. DC 5V charging cable
4. User manual
5. Padded carrying case
Reviews

14
#1 arquimedes pedro arabe junior
Mar 9, 2019

Product arrived before the date mentioned, are. Now only test
#1 DweneMutnes DweneMutnes
Sep 9, 2018

Very good… Super fast
#1 Amantai Ikhsanov
Nov 9, 2018

The goods were delivered quickly.
#1 Victoria Carter
Nov 9, 2018

Everything ok
#1 duendCign duendCign
Dec 9, 2018

Good afternoon my dear, Very fast shipping. All material arrived. Good communication. Recommended seller. I am happy because all works well. Thank You for all attention. Best Regards.
#1 aram paskevichyan
Apr 9, 2019

Very good fast delivery
#1 RONALDO LEVI BACHER
Oct 9, 2018

Good seller! Super fast shiping! this LAUNCH CRP423 Auto Diagnostic Tool OBD2 Code Reader Scanner Support ENG ABS SRS AT Test Update Version of CRP123 is good quality, working very well
#1 PugBeisee PugBeisee
Apr 9, 2019

OK, TOP seller, good supporrt...
#1 AHMAD ALHARBI
May 9, 2018

Very good arrived early as agreed.
#1 Wilfred Butler
Jan 9, 2019

Product as described request. Very fast. Recommend all p.
Previous: High Quality Porsche Piwis III with V38.90 Piwis Software and Original Driver 128G SSD on Panasonic CF-MX3 4GB Laptop Touch Screen Ready to Use
Next: 2019 Latest Version SBB Key Programmer SBB3 PRO3 Key Programmer Key Master with Immobiliser + Odometer Adjustment Functions