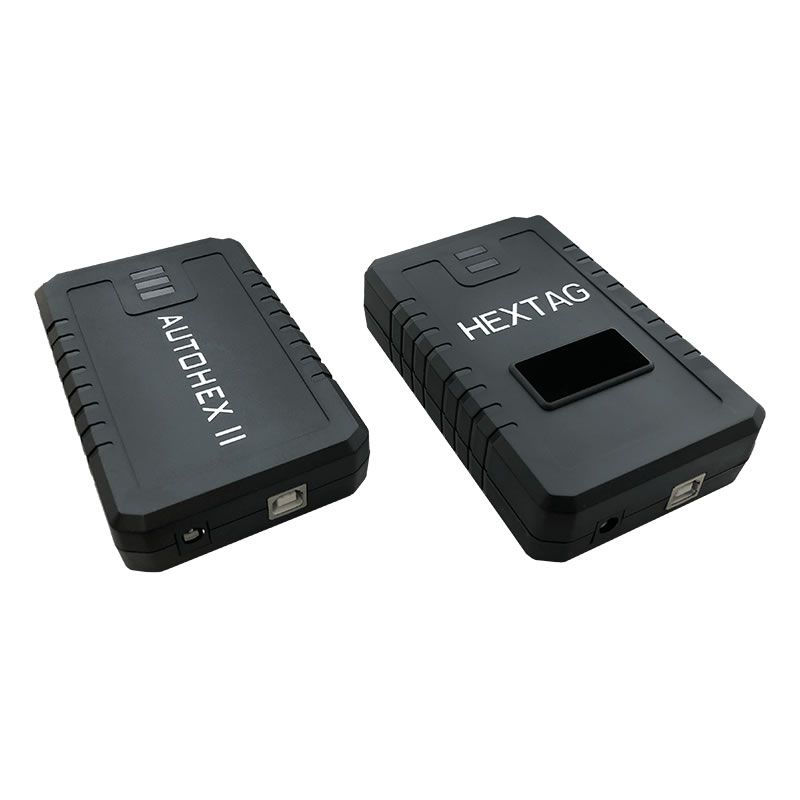 Description
Original Autohex II BMW Lite Locksmith with HW4

Note: this tool do not accept return for refund, just accept one year warrantry for repair, please know this.

Top 13 Reasons to Get Autohex II BMW Lite Locksmith with HW4:

1. Read old ISN in BMW E series for following Ecus: D62M57A0, D62M57B0, D60PSA0, D50M57A0, D50M57E1, D60M47A0, D60M57A0, MEV9N46L, ME9N45, ME9N62, ME9E65_6, N73_L0, N73_R0, ME9N62_2, MSV70, MS450DS0, N62_TUE, N62_TUE2.

2. Read Long ISN (SK) in BMW E series from following Ecus: MSV80, MSD80, MSD81, MSD85, MSD85Y, MSS60, MEVD176K, ME17N45, MED17_2, MED17_2N, MEV17_2, MEV17N46, MEVD174K, MEVD174KW, MV1722, MVD1722, MEVD172, MEVD1724, MEVD1725, MEVD172Y, MEVD17KW, D70N47A0, D70N47B0, D71N47A0, D71N47B0, D71N47C0, D71N47D0, D72N47A0, D72N47B0, D73N47A0, D73N57A0, D73N57B0, D73N57C0, D73N57D0
3. Read Long ISN (SK) in BMW F series from following Ecus: MEVD172Y, MEVD172, MEVD1724, MEVD1725, N63TU_L0, N63TU_R0, S63TU_L0, S63TU_R0
4. CAS1, CAS2, CAS3 and CAS3+ read only ISN and SK
5. Key Programming For E and F series (CAS1, CAS2, CAS3, CAS3+, CAS4 ,CAS4+, FEM, BDC)
6. Do diagnose and service functions from Autohex II (Read and erase fault codes, data stream values, activations, reset adaptation,...)
7. Use BMW ISTA-D on Autohex II WVCI (BMW ISTA-D Driver)
8. Unlock secrity of BDC and FEM to able to: Change BDC and FEM VIN, Change BDC and FEM ISN, Mileage Reset for BDC and FEM, and making a key for BDC and FEM.
9. Read ISN of MSD85, MSD87, MSV90 in F series.
10. Read and write CAS 1,2,3,4 EEPROM and FLASH 100% safely using HexTag tool.
11. Read and write other modules from BMW,Mercedes, Audi, and others BDM protocol by HexTag tool.
12. Modify KOMBI Mileage by HexTag tool.
13. Renew all BMW keys, and many other brands by HexTag tool.

What you miss in this Kit:
BMW E Series, F Series and G Series online Ecu Programming and Manual coding (can be ordered later)
Modify ISN/SK in DME, DDE and CAS by OBD (can be ordered later)
Reset EGS 6HP/8HP EWS (can be ordered later)
Ecu Coding, and Vehicle Order managing (can be ordered later)
ISN Reading from Tricore Ecus by boot mode. (can be ordered later)

Package List:

Autohex II Hardware WVCI HW4
The powerful HexTag BDM and Key programmer.
BMW Software Lite Locksmith License
Key Programming License
BMW ISTA/D driver to run dealer software
1 Year Technical Support
1 Year Hardware Warranty
Reviews

13
#1 thien tran
Sep 9, 2018

Very fast shipping. Six days I received. Good product. Thank you seller.
#1 Nils Schwitalla
Jan 9, 2019

The product is excellent all works
#1 Mike Bolick
Jul 9, 2018

Delivery is very fast, the device is intact and do not harm. To the car has not yet connected, as i will try then i will add a tip, and so everything is fine.
#1 felipe moral lucas
Dec 9, 2018

Everything's okay.
#1 selvanathan cyril.packaree
Jul 9, 2018

Product as advertised. Delivery superápida. Recommend to everyone.
#1 Amer Memisevic
May 9, 2018

all perfect ! Items came to me 3days! I would buy it again, from this seller
#1 Jessica Lopez
Jun 9, 2018

very good are satisfied with fast shipping this Original Autohex II BMW Lite Locksmith with HW4 is good quality, working very well
#1 antonio fernandez
Jul 9, 2018

super voundre
#1 Erich Haidvogel
May 9, 2018

very good are satisfied with fast shipping
#1 MarkusHoltmans MarkusHoltmans
May 9, 2018

Everything perfect
Previous: ATEQ VT55 OBDII TPMS Diagnostic and Programming Tool Support All Vehicles
Next: Xhorse VVDI Super Chip XT27A01 XT27A66 Transponder for VVDI2 VVDI Mini Key Tool 10pcs/lot