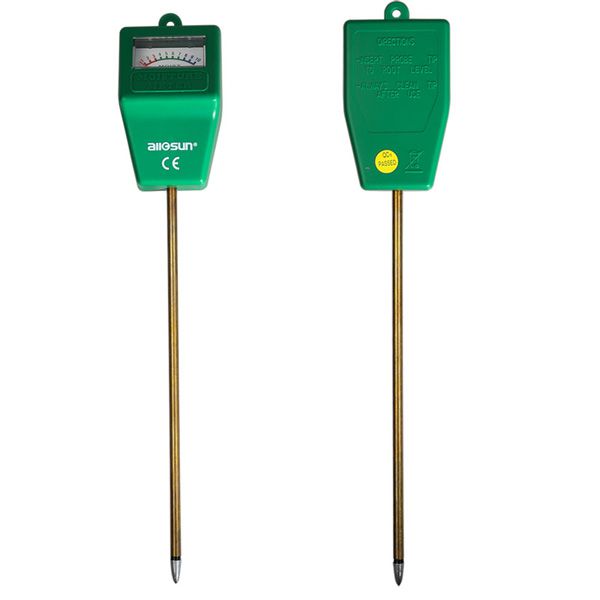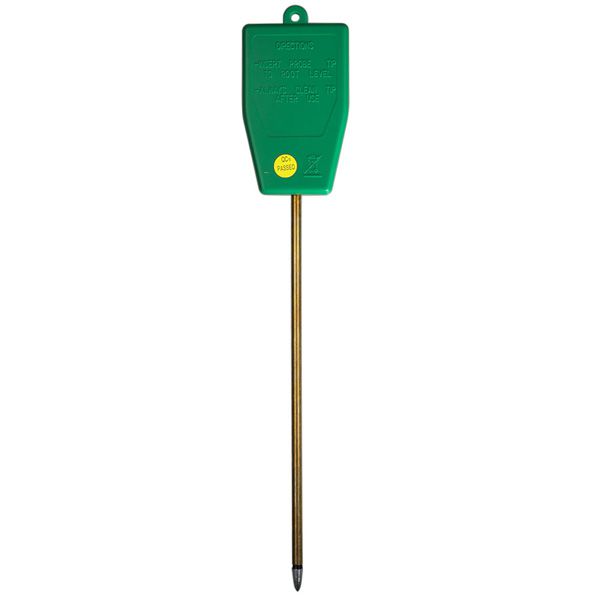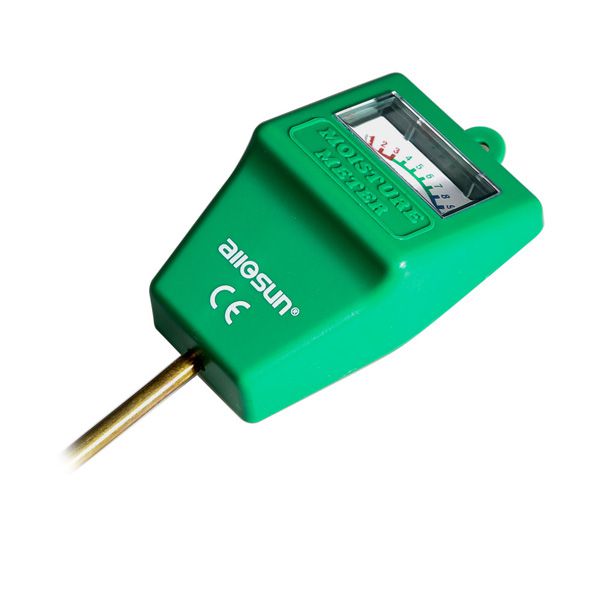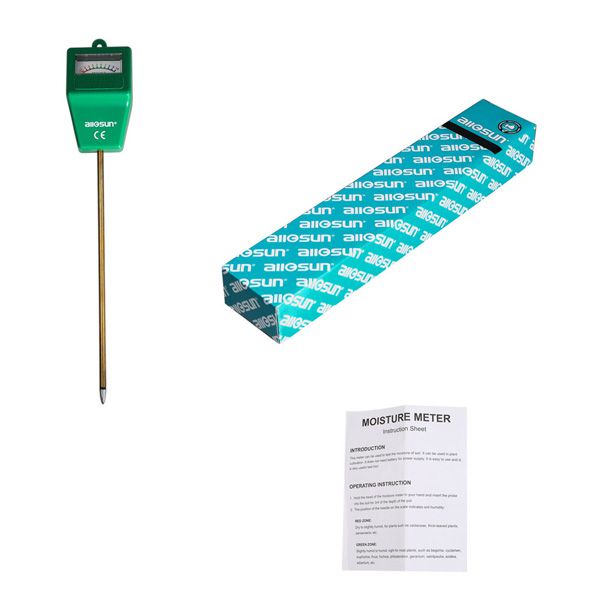 Description
ALL-SUN ETP300B Soil Moisture Meter

Instruction

1 .Hold the head of the MOISTURE METER in your hand and insert the probe into the soil (3/4 of the depth of the pot).
2.The needle position will indicate soil humidity:
RED ZONE: Dry or slightly humid, for plants such as Cactaceae, thick-leaved plants, Sansevieria, etc.
GREEN ZONE: Slight humid or humid, right for most plants, such as Begonia,Cyclamen, Euphorbia, Ficus, Fuchsia,
Philodendron, Geranium, Saintpaulia, Azalea, Adiantum, etc.
BLUE ZONE: Very humid, do not water, don't drown your plants.

Recommendation

1. Don't leave the MOISTURE METER in the soil for a long time
2. Make sure of the degree of soil humidity for your plants; better ask a specialist for if you don't know

NOTE:
The package content is not included a battery.

The length of inserting the probe into the soil should be 3/4 from the pot to the plant. To pick up the zone of color on the dial.

Red 1/3
Never add any water until the pointer is found in the frist half of the zone (for the plants which should not be too short of water.)
Green 3/8
Add water once the pionter achieves at the second half of the zone (only for plants regularily requiring water.)
Blue 8/10
Don't add any water and don't water your plant.

Package includes:

1pc x ALL-SUN ETP300B Powerful Portable Moisture Meter Available Soils Plants Tester
Reviews

18
#1 isaac sieuprasad
May 9, 2018

Absolute best seller on Aliexpress! Good communication, good service. I have done many orders here last few month. But this was awesome. Delivering 2 (two!) working days.
#1 Sergey Poloskov
Mar 9, 2019

Quality is good. I will test function later.
#1 oscar pinto
May 9, 2018

All is ok, very fast shipping and good quality.
#1 Andis Gailis
Jun 9, 2018

great, great, great, fast shipping, everything is there and work. thank you
#1 Tom Youngdahl
Mar 9, 2019

Delivery fast everything works!!!
#1 LIANG-JEN CHANG
Sep 9, 2018

very good are satisfied with fast shipping
#1 Adewale Owomoyela
Sep 9, 2018

fast this ALL-SUN ETP300B Soil Moisture Tester Soil Moisture Sensor Meter for Garden, Farm, Lawn Plants Indoor & Outdoor is good quality, working very well
#1 wheeelsmenhx wheeelsmenhx
May 9, 2018

Very fast shipping. Thank you seller.
#1 Fatih Konak
May 9, 2018

Everything ok
#1 Alex Zapata
Jan 9, 2019

Works, everything is fine!
Previous: Lonsdor K518ISE Key Programmer Plus SKE-IT Smart Key Emulator 5 in 1 Set Full Package