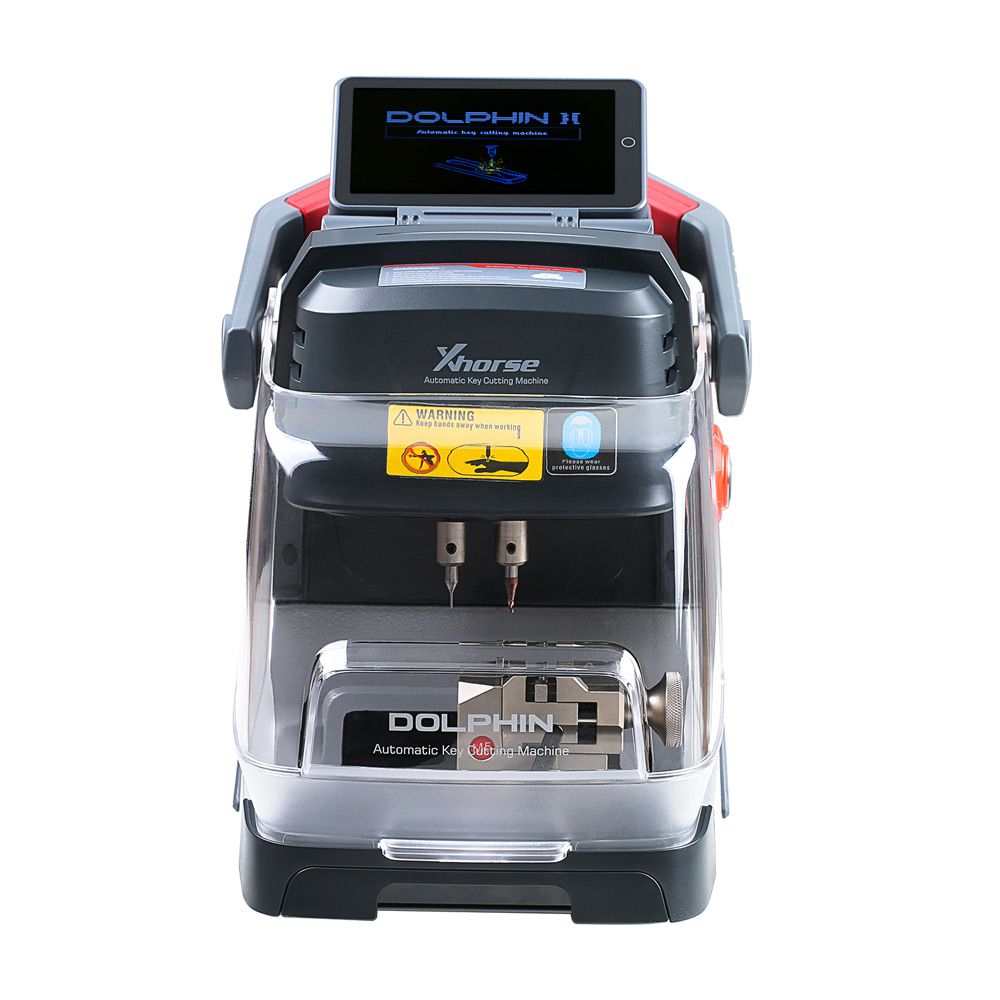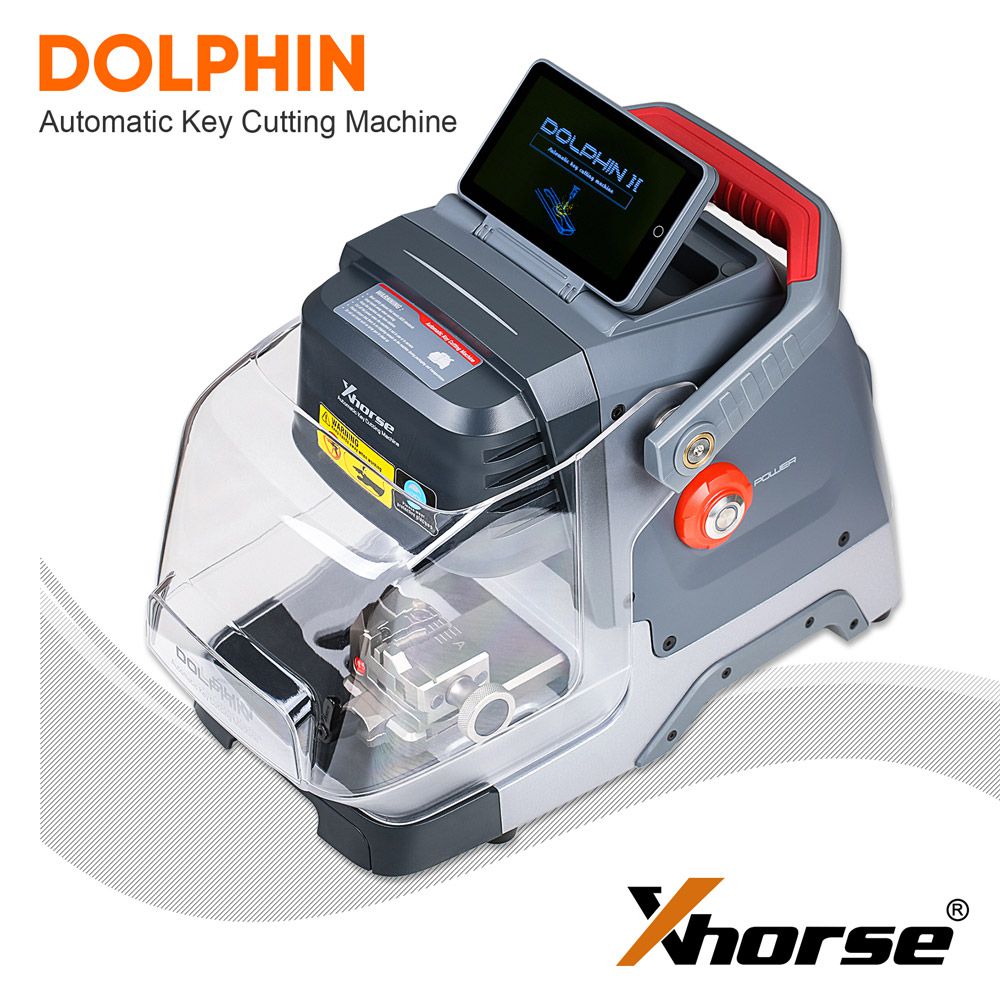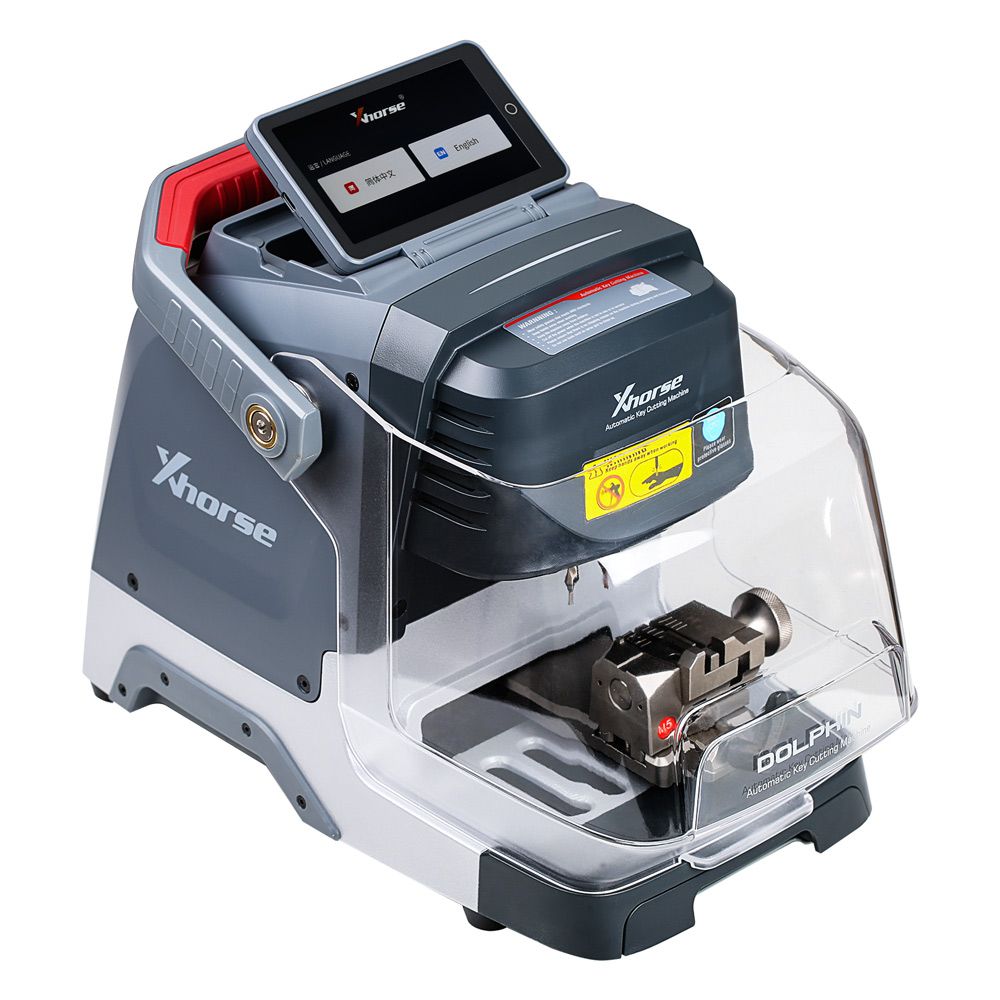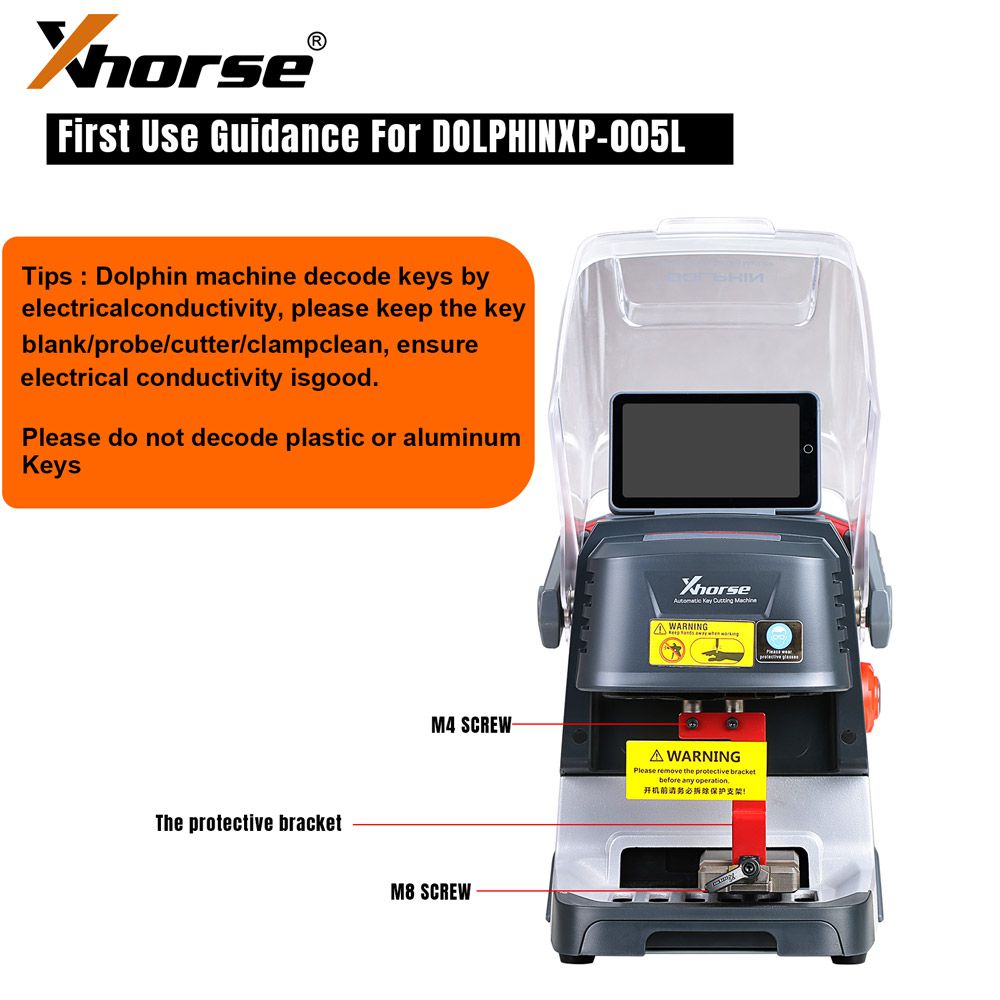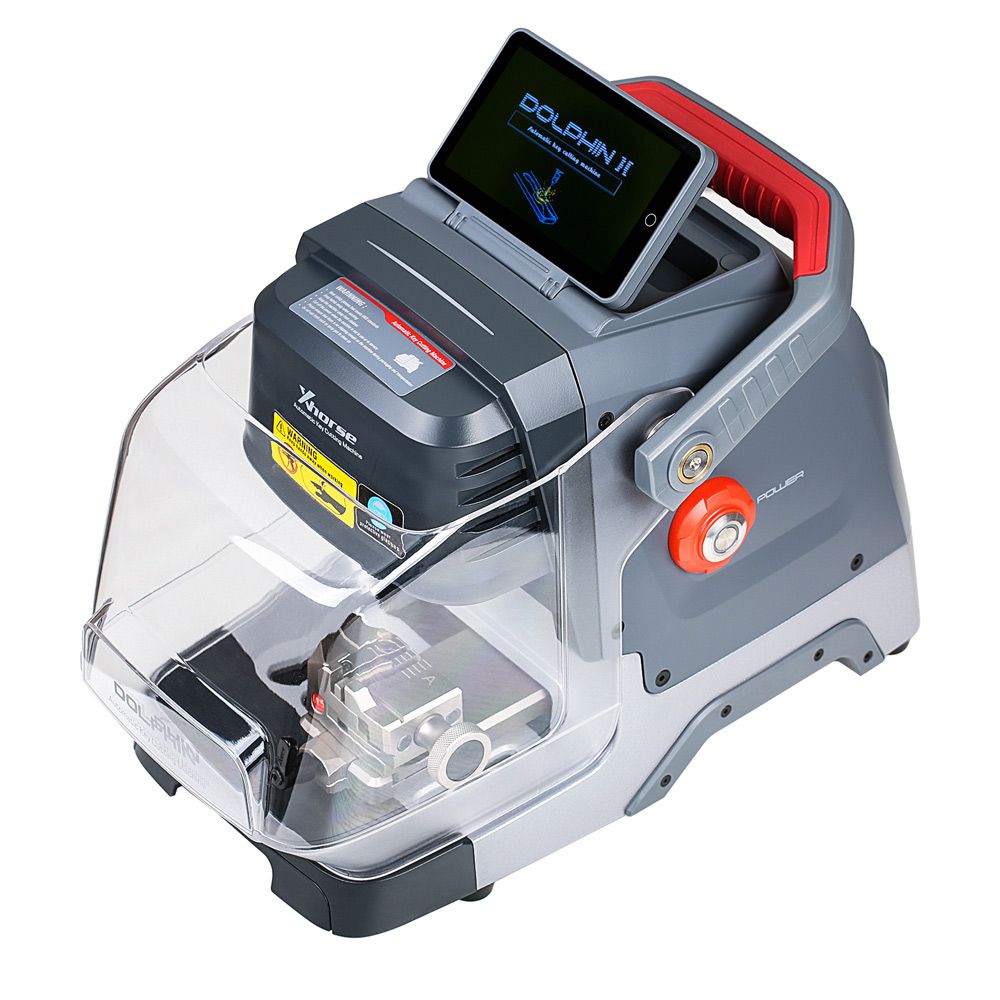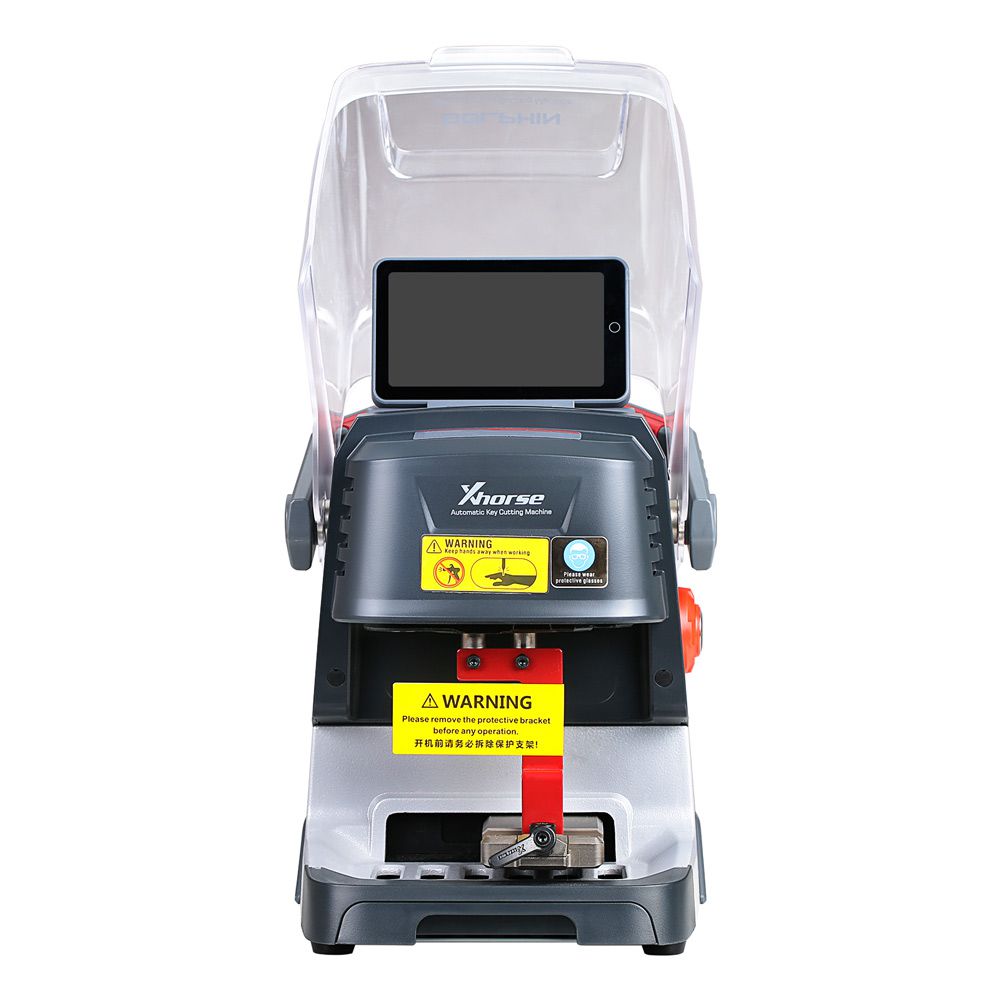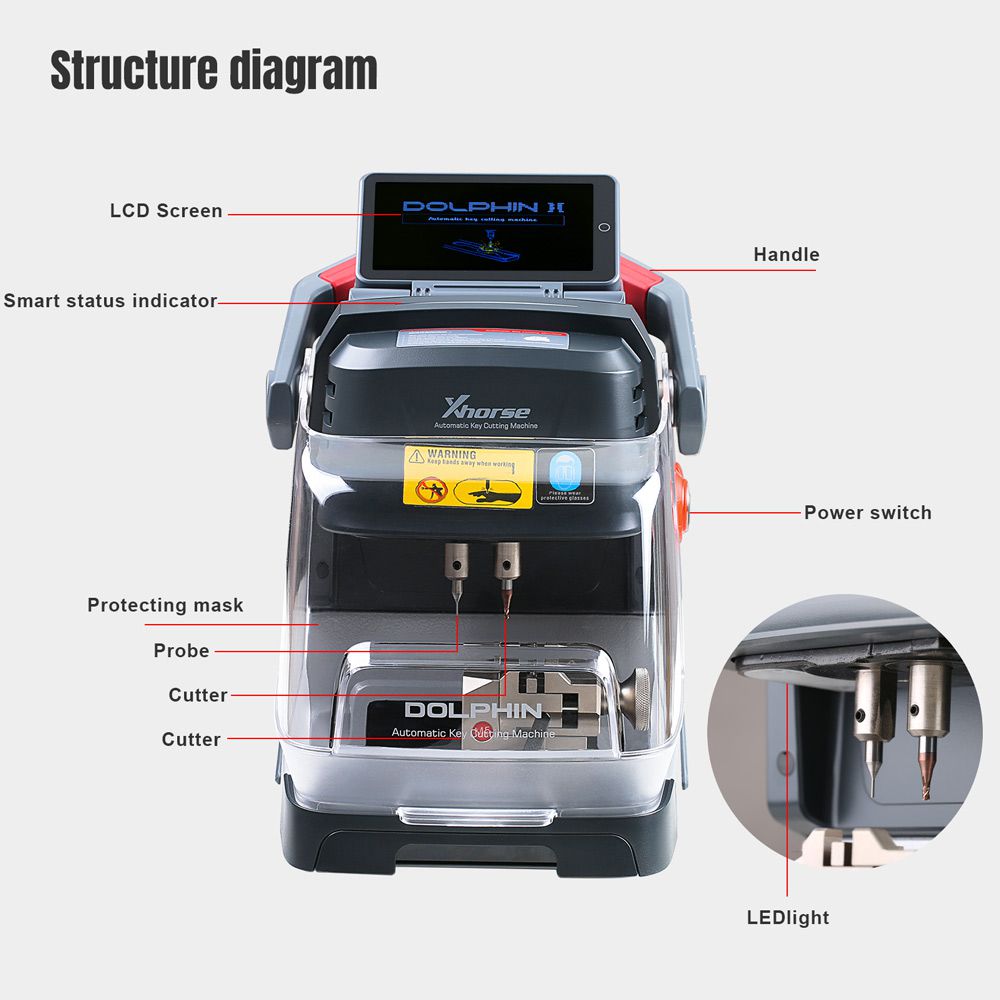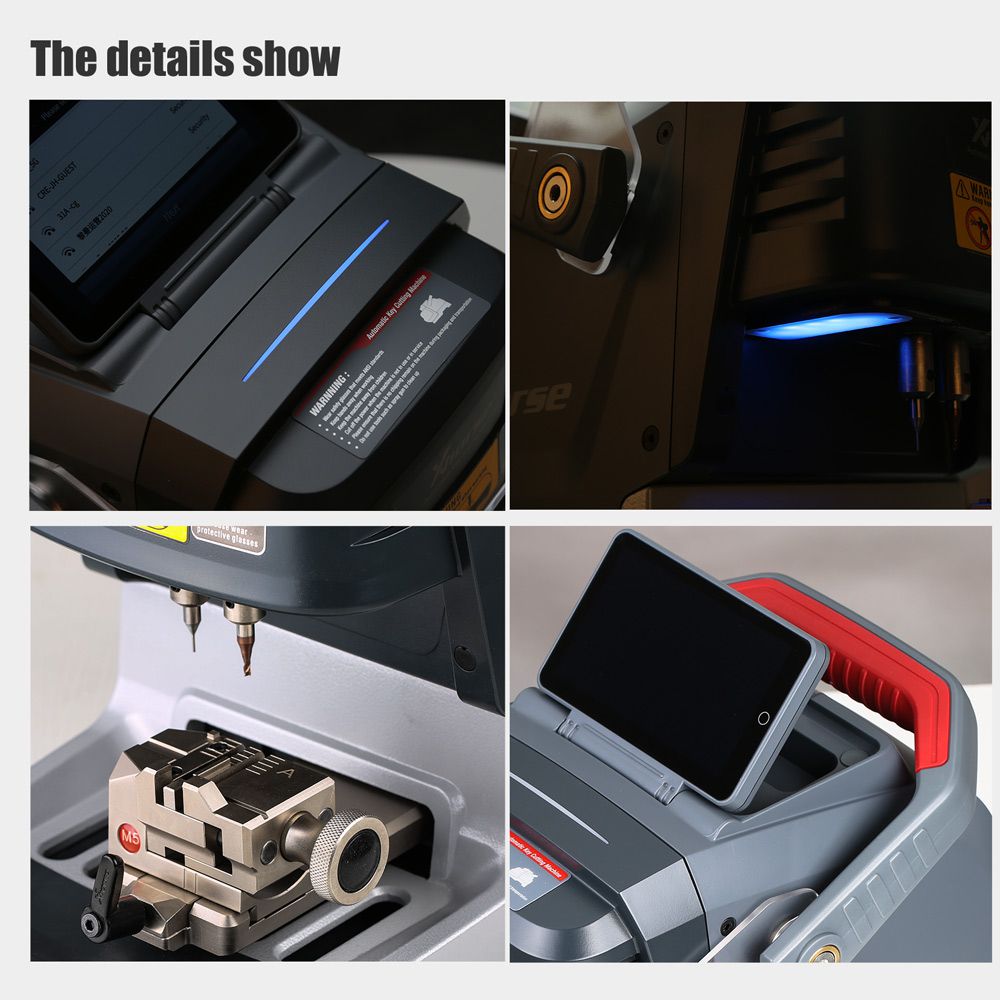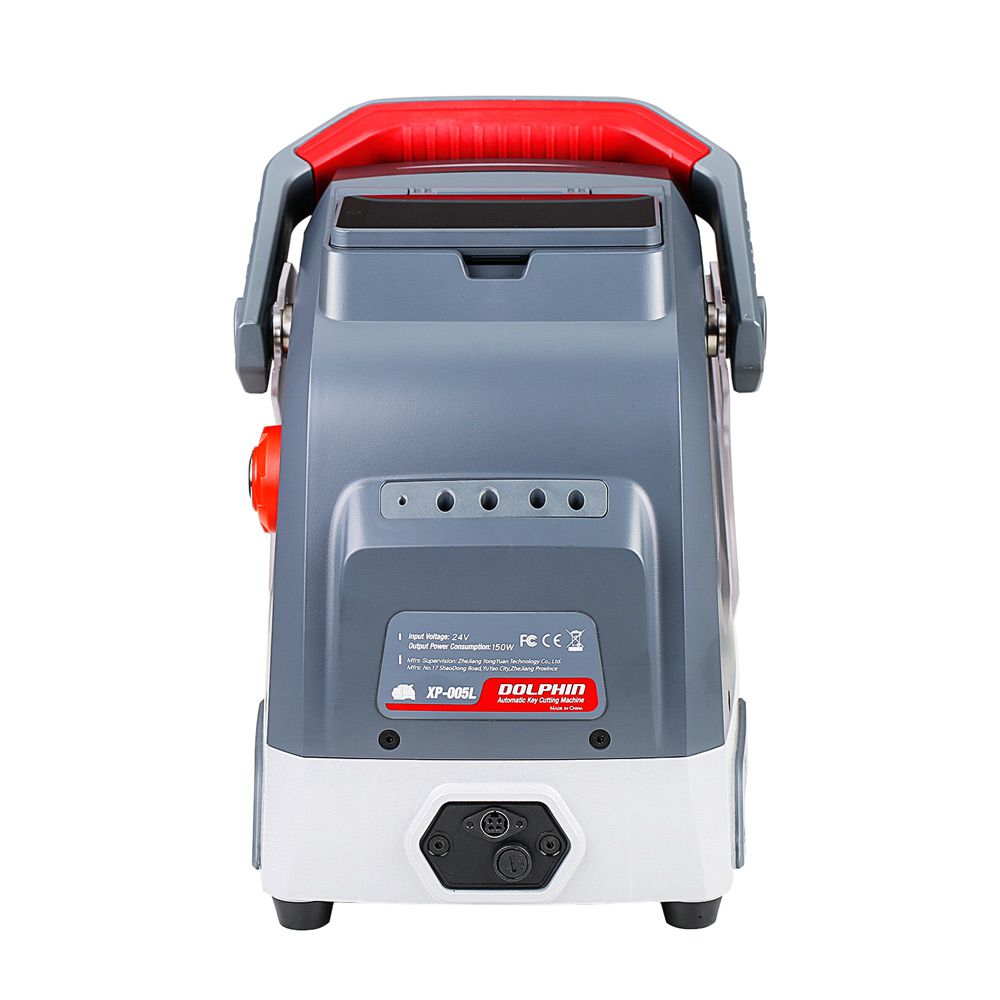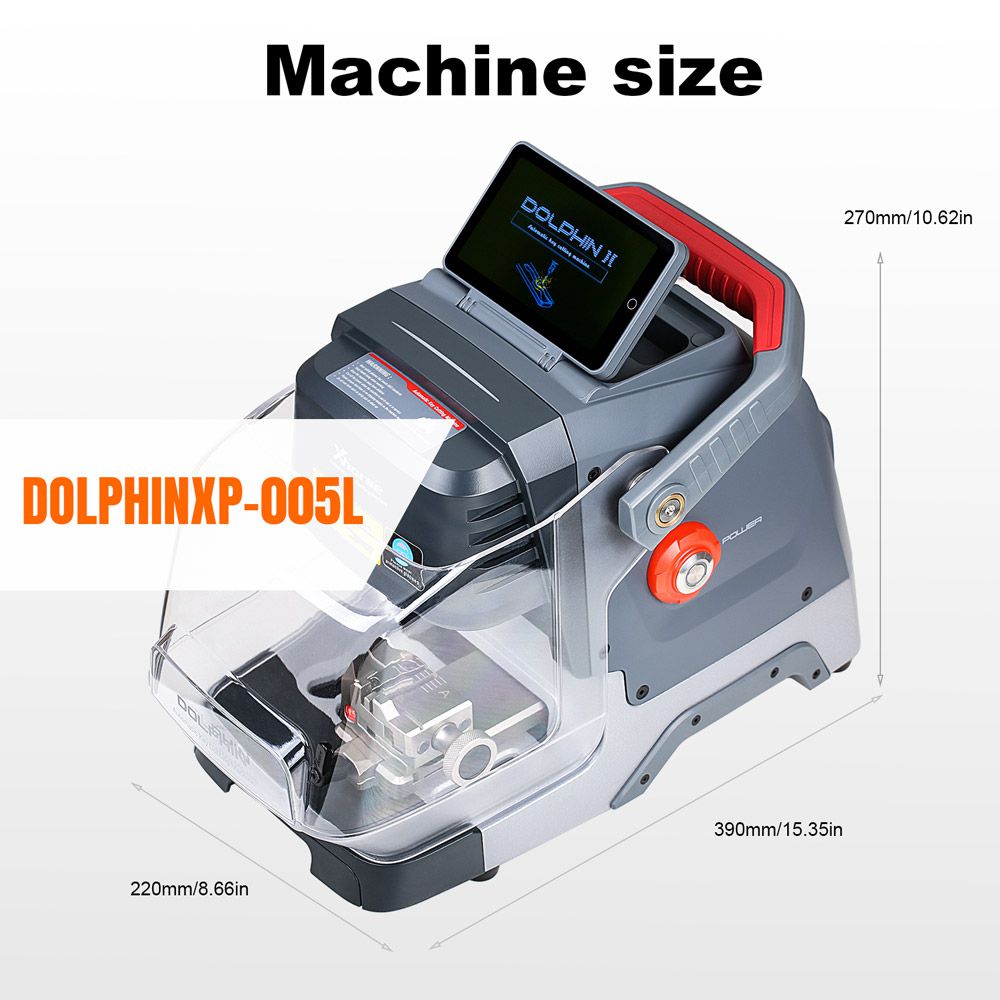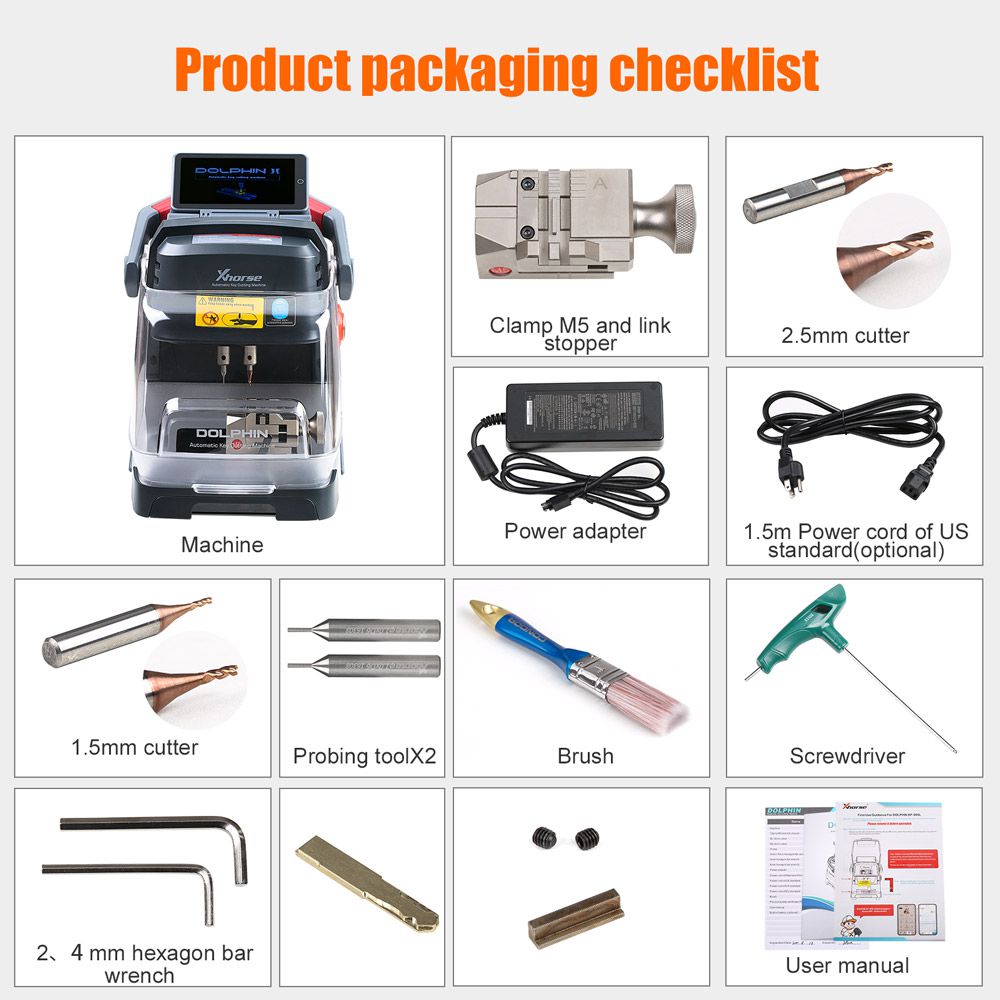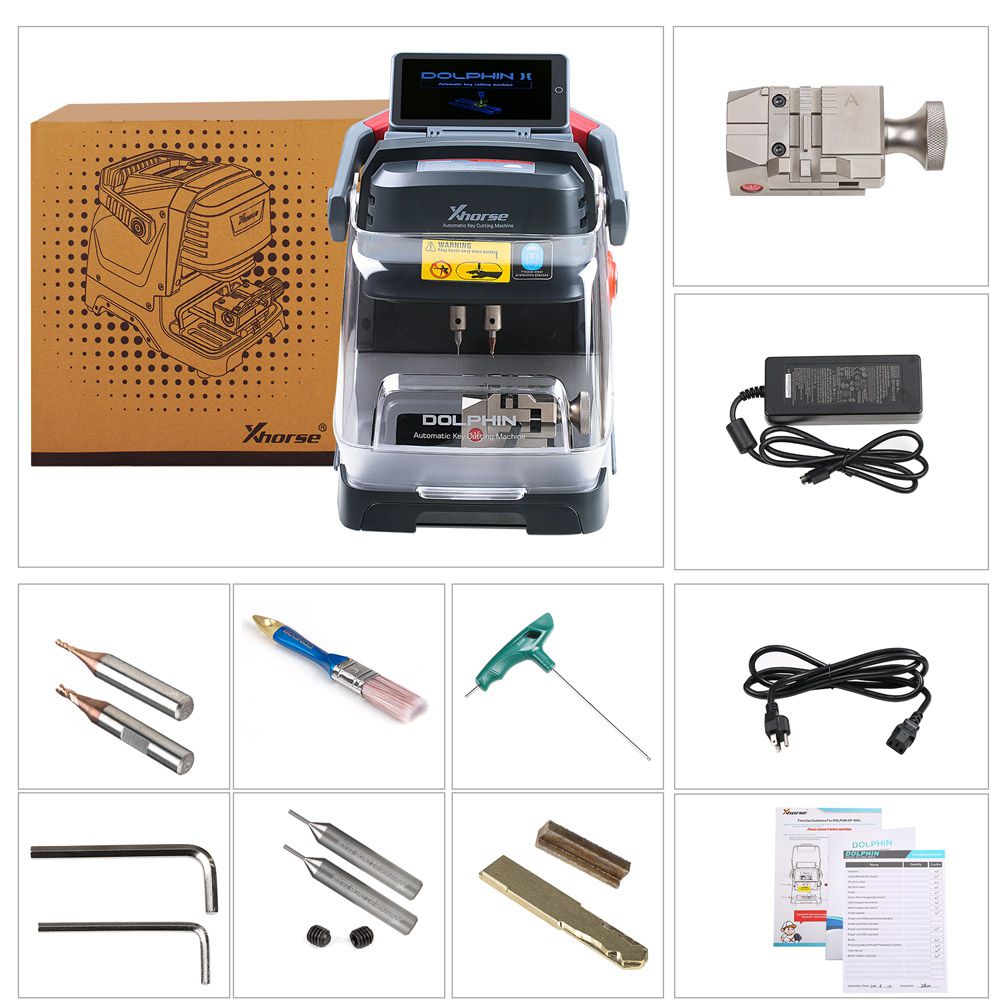 Description
New Xhorse Dolphin XP005L (Dolphin II) Key Cutting Machine with Adjustable ScreenPre-order. 6 stocks left. Fisrt come first serverd.
Dolphin II Highlights:
All Key Lost/Key Duplication

Built-in Lithium Battery Easy to Carry

Customize Key Data

Optical Key Bitting

Multi-purpose M5 Clamp (No need to frequently replace M1 and M2 clamps)

Cut by Bitting

Find Bitting

Take Photos to Recognize Bitting

Optional key bitting recognition (works with key reader)

Massive Vehicle Key Database

Protection Shield

Smart APP Control HD Touch Screen

The indicator light changes colors with the change of real-time working status.

Free Upgrade Service. Directly upgrade online via WiFi connection.

Has all the capabilities of the

Xhorse

Dolphin XP-005 but with improved safety and smart capabilities.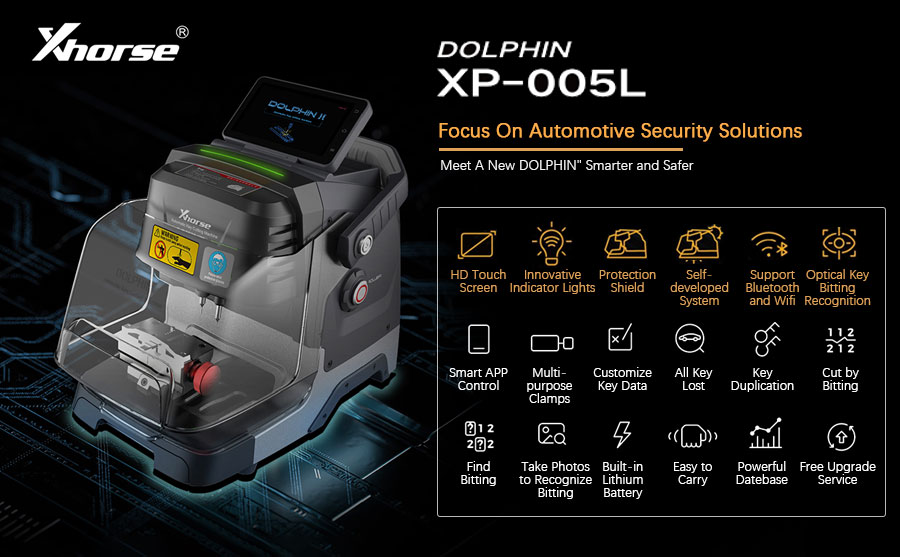 Dolphin XP-005L Features:
HD Touch Screen
Users can directly complete operation on the screen. High definition screen minimizes eye fatigue.
The machine adopts an angle-adjustable 5-inch capacitive touch screen. You can set the angle of the screen based on actual needs.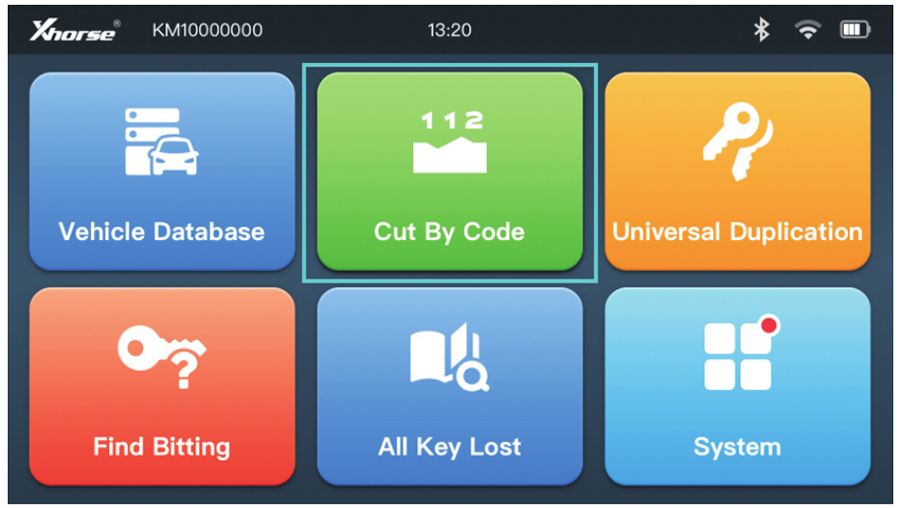 Transparent Protective Shield
The transparent shield enables users to check the real-time status while preventing metal debris from spattering.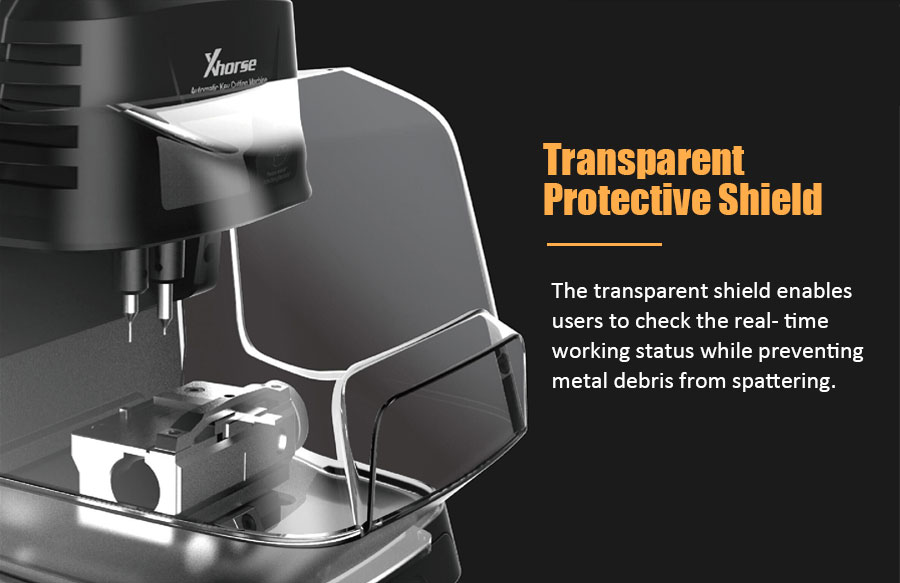 Innovative Colorful Indicator Lights
The indicator light changes color with the change of real-time working status.
Red indicator – false alarm/error warning
Blue indicator – normal operation
Yellow indicator – information notification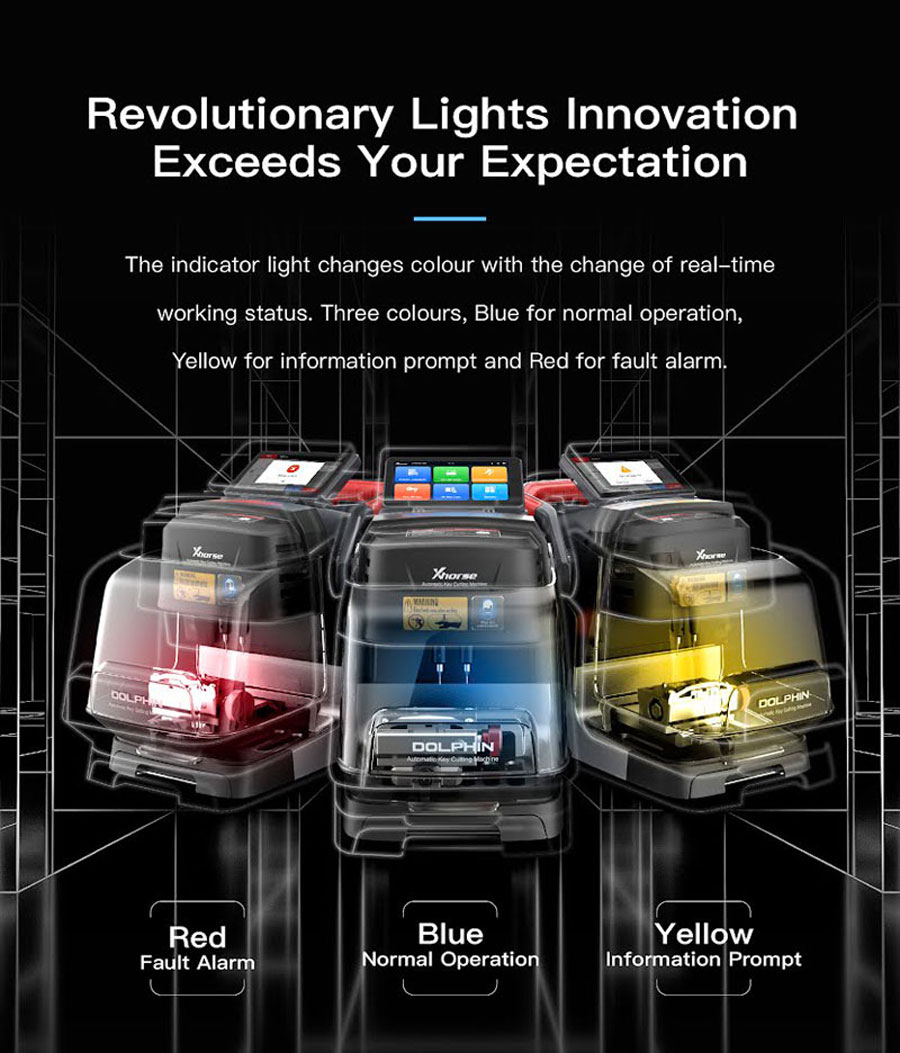 Massive Vehicle Database
Built-in powerful database covers over 100 car brands, 2,000 car models and 20,000 key data. Accurate key data, detailed parameters, and clear key graphics. We provide a lifelong database upgrade service for free.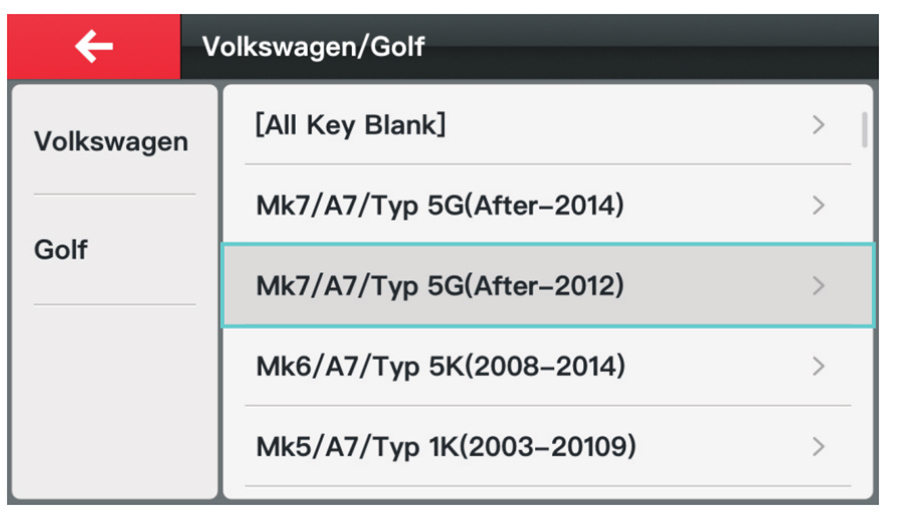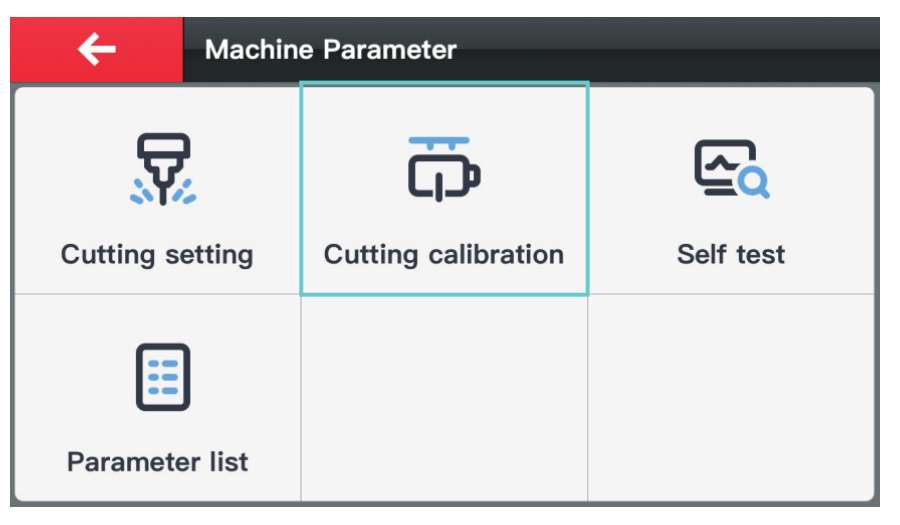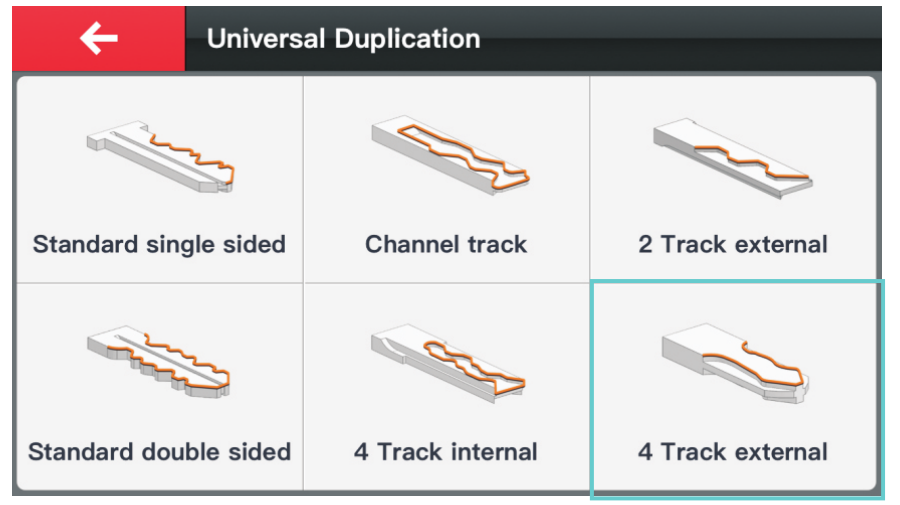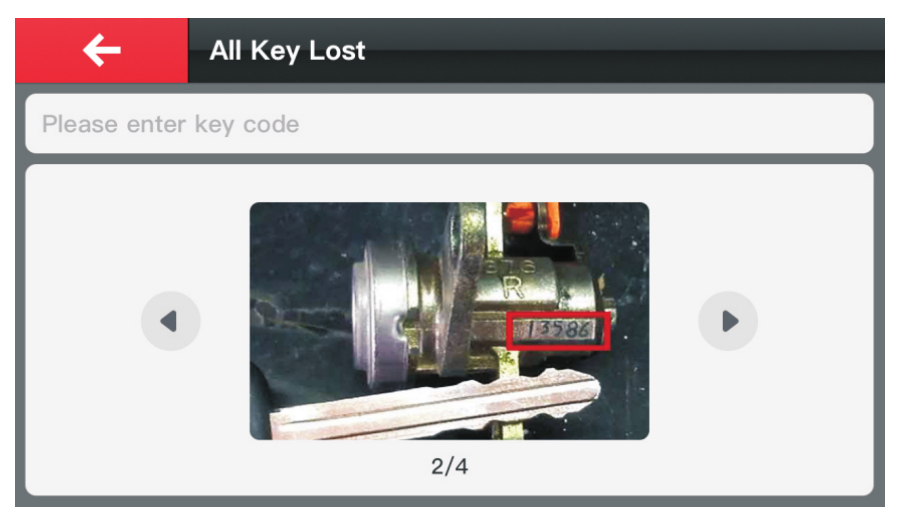 Portable Solutions
Thanks to its compact design, lightweight, much easier to take it outside and provide users outdoor and roadside services.
Manufacture Craftsmanship
All-aluminum body structure, manufactured by German-made DMG CNC machine to guarantee high precision cutting results. The finished keys passes the rigorous testing of the optical instrument.
A wider workbench, strong and steady, make your works more productive. Maintain excellent performance even under extreme weather.
Multi-purpose Clamps
Standard equipped M5 clamp (M1 and M2 2 in 1), optional M1/M2 Clamp, M3 Clamp, M4 Clamp.
A wide duplication avaliabiltiy guaranteed by a variety of functional clamps, support multiple key types, standard single side, standard double sided, 2 track external, 4 track external, dimple, channel track, 4 track internal, FO21 and
Citroen
SX9 keys, residential keys etc.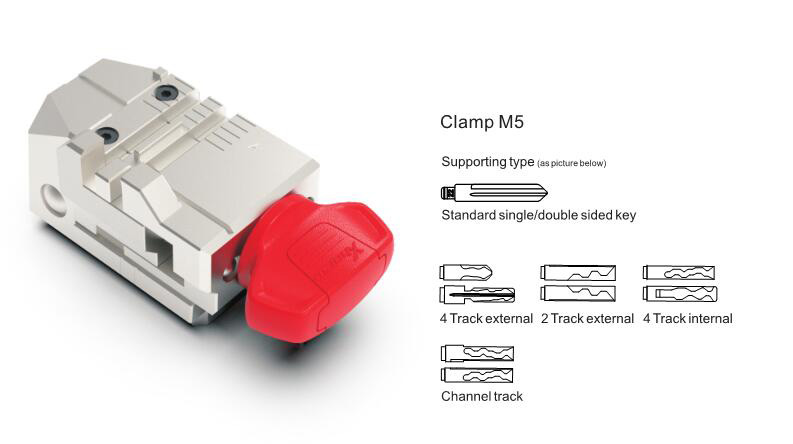 M5 Clamp Instructions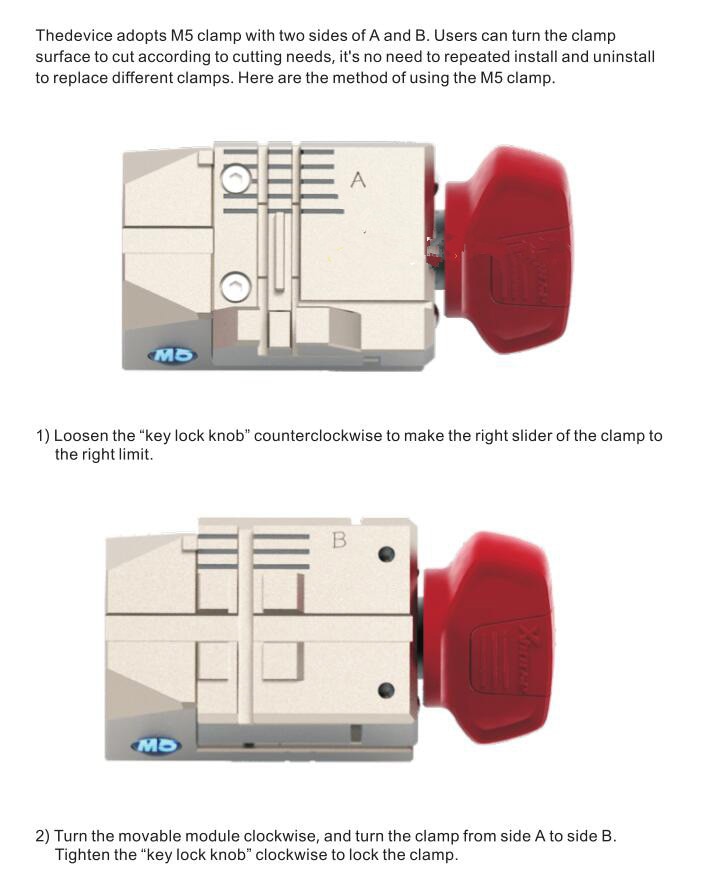 Optional M3 Clamp and M4 Clamp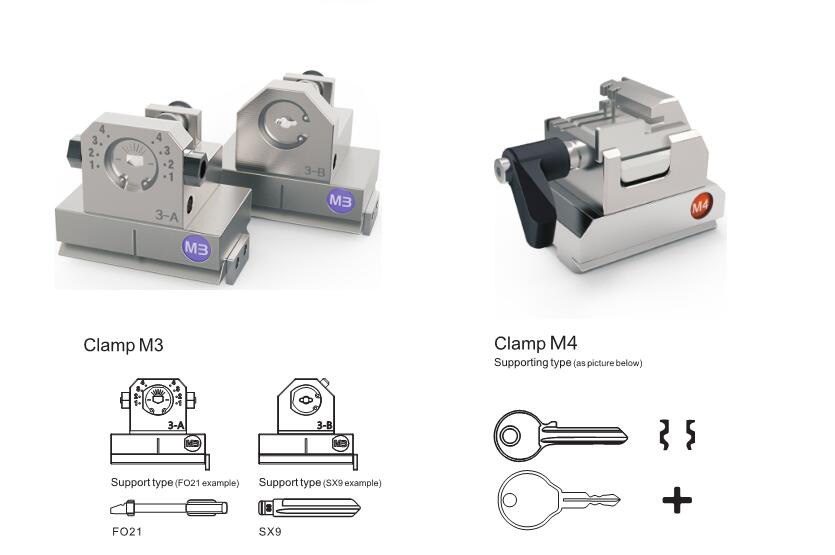 Support directly upgrade online via wifi connection
Control the machine by the
Xhorse
app on your smart phone or other intelligent terminals via
Bluetooth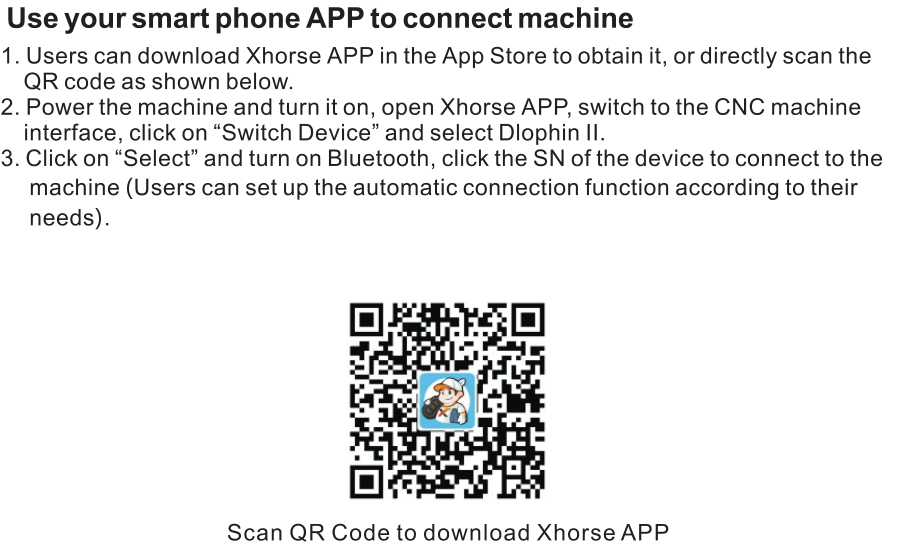 Accurate key data, detailed parameters,and clear key graphics.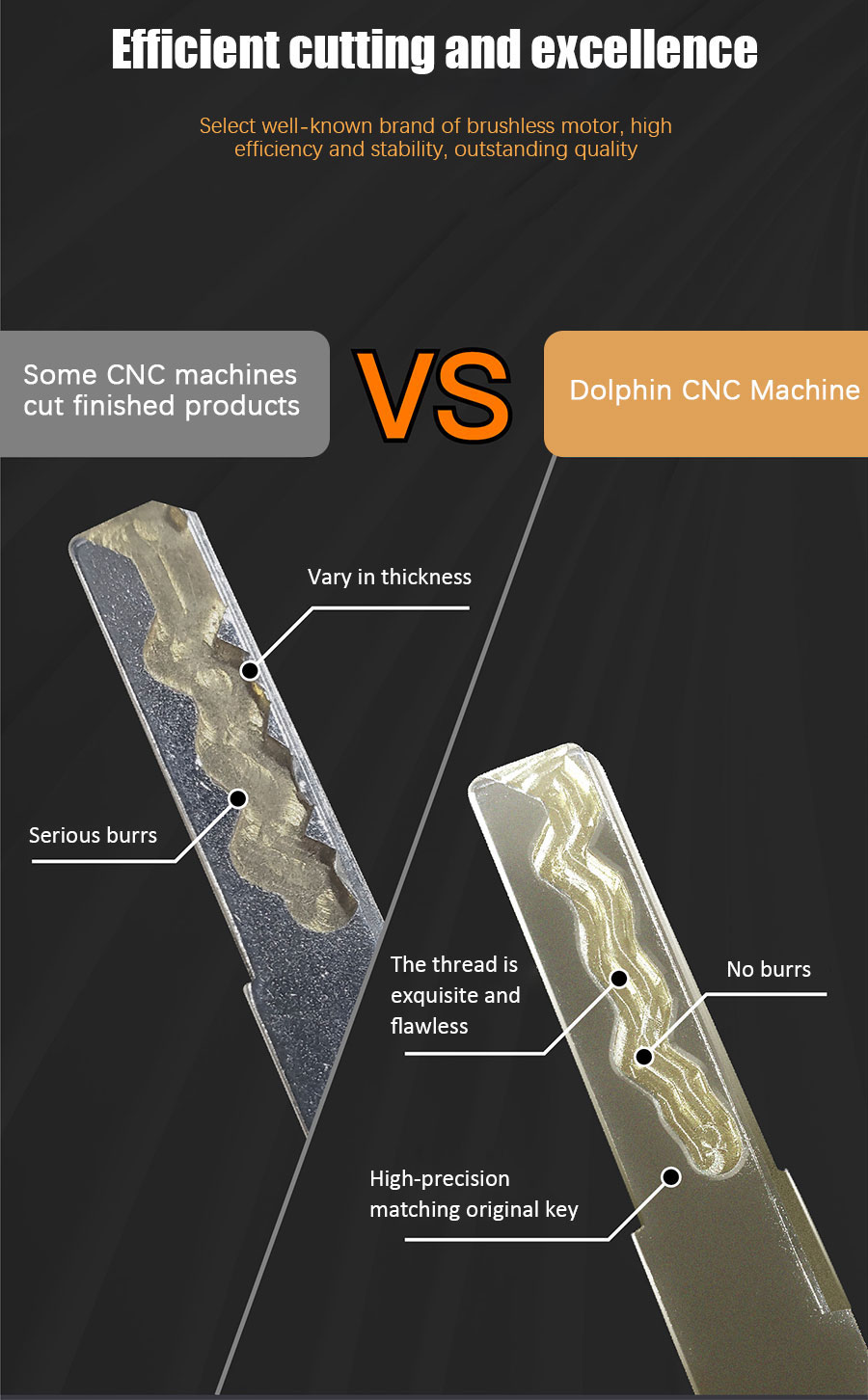 XP005L Dolphin Body Structure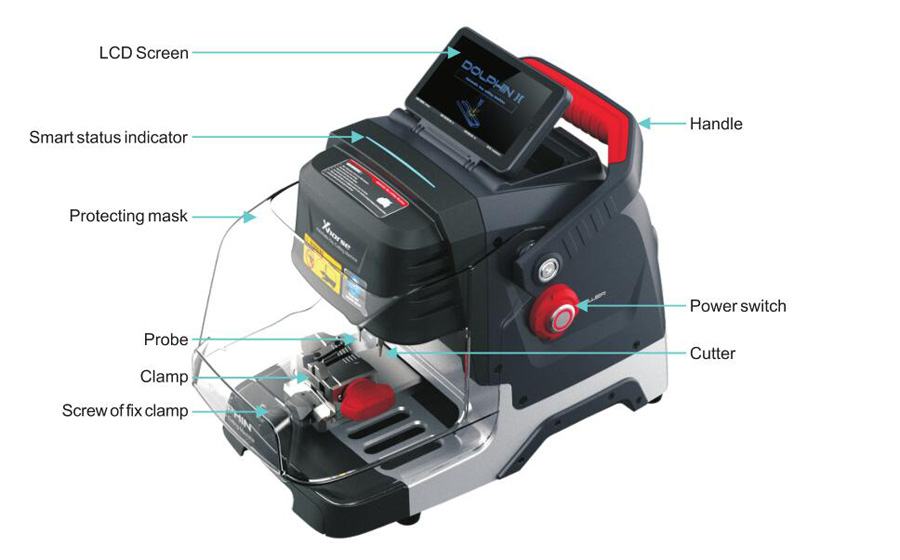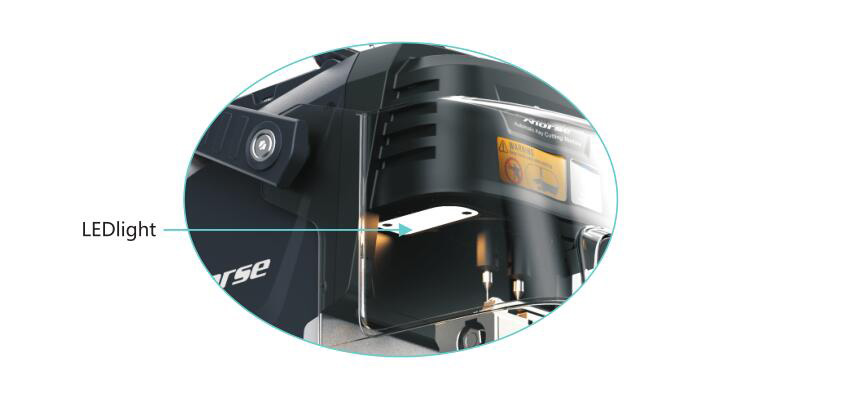 Sepcification:
| | |
| --- | --- |
| Input voltage | 24V DC |
| Power | 160W |
| Principal axis rotation speed | 12500rpm |
| Motor Torque | 0.15N.m |
| LCD resolution | 1280*720 |
| Working temperature | -10-50℃ |
| Humidity | 10-90% |
| Machine size | 390mm*220mm*270mm |
| Package size | 495mm*400mm*360mm |
| Net weight | 13kg |
| Gross weight | 18.5kg |
Package includes:
1pc x Machine
1pc x Clamp M5 and link stopper
1pc x Clamp M3 ( optional )
1pc x Clamp M4 ( optional )
1pc x 1.5mm
cutter
1pc x 2.5mm
cutter
1pc x Probe
1pc x 2mm+4mm 3mm hexagon bar wrench
1pc x 3mm hexagon bar wrench
1pc x 6mm hexagon bar wrench
1pc x Protective bracket
1pc x Power adapter
1pc x 1.5m Power cord of Mainland China standard
1pc x 1.5 Power cord of UK standard (optional)
1pc x 1.5 Power cord of US standard (optional)
1pc x 1.5 Power cord of EU standard (optional)
1pc x Built-in battery (optional)
1pc x Brush
1pc x Product qualitty certificate
1pc x User manual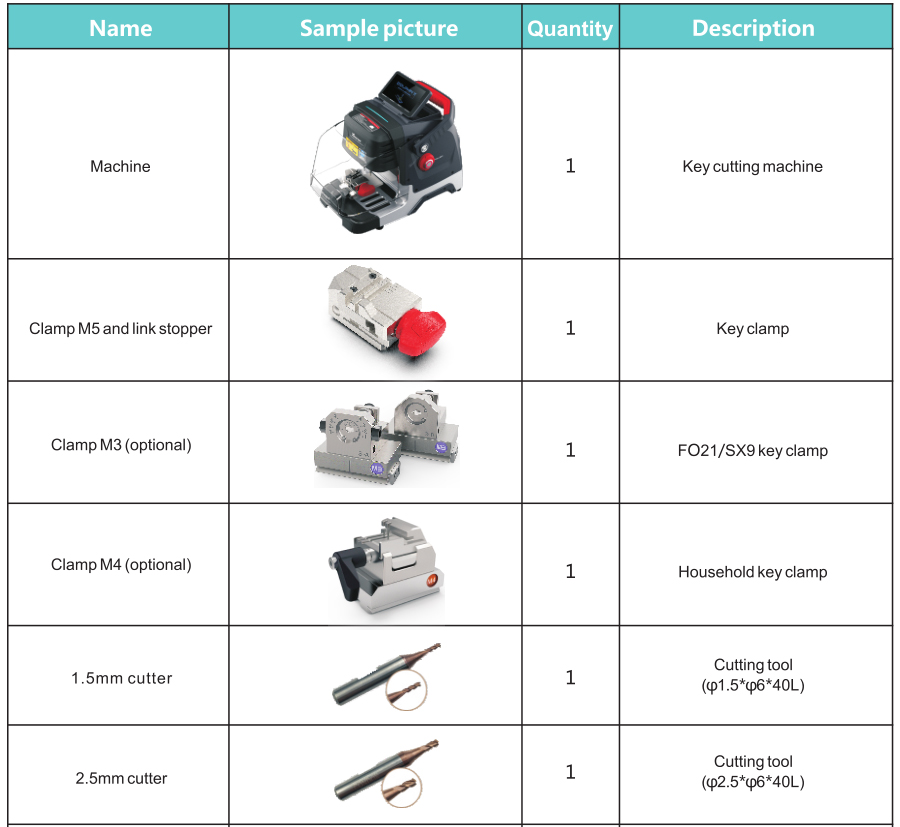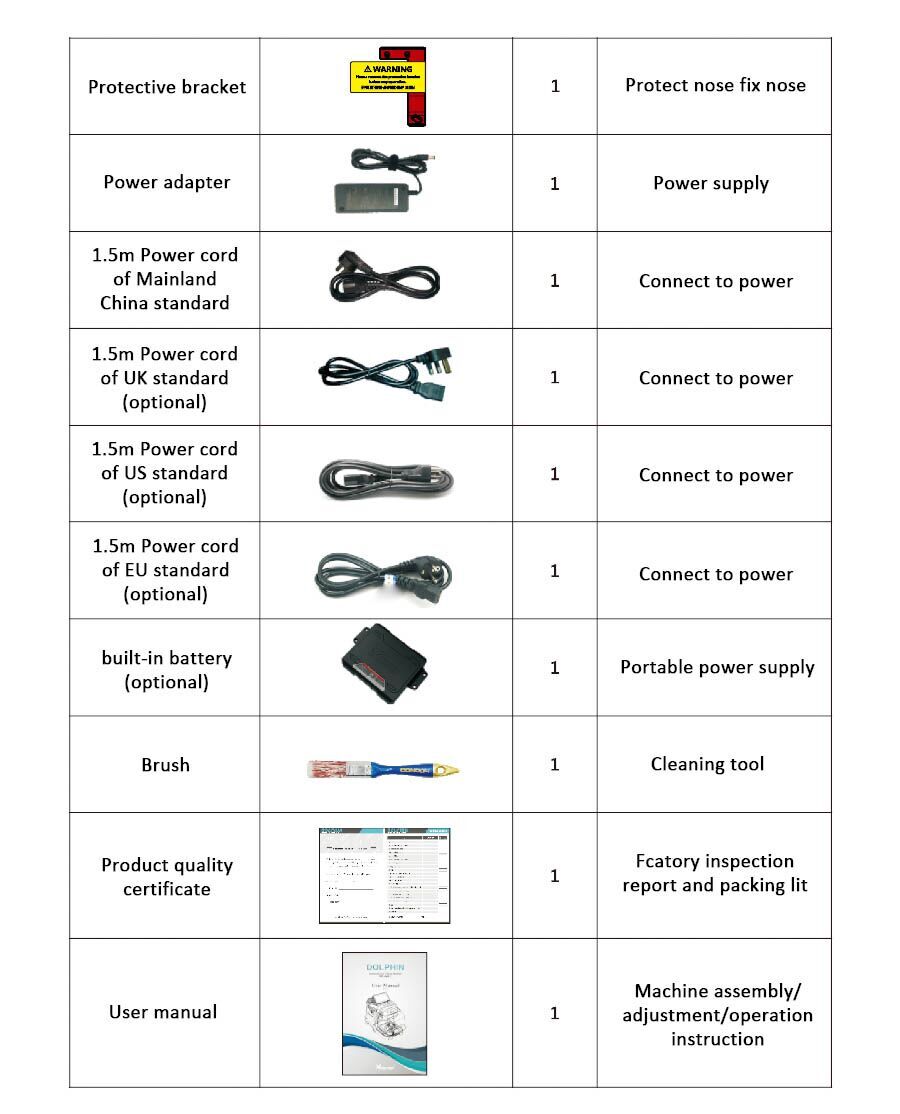 Reviews

17
#1 Barcus Barcus
May 9, 2021

Excellent seller já me turning client
#1 CARLOS VERDEJO GOMEZ
Apr 9, 2021

Ok , happy
#1 Bertan Güner
May 9, 2021

Very fast delivery less than a week packing super satisfied order not the first time all advise seller
#1 Armindo C.F.Silva
Jul 9, 2021

I received the Item within 5 days. So the shipping was much faster than expected. Quality is very good and it works just fine. On the CD is a little gift of usable Software. Would buy here again.
#1 DMITRY KROVOPUSKOV
Jul 9, 2021

Great quality product delivered very fast
#1 sheryl perrin
Jul 9, 2021

Received it via DHL,all good.thank you.
#1 michael stanley
Jun 9, 2021

now I have the product, now i can learn to use it. NO QUESTIONS ON USE! Google is your friend, learn to search. Thank you & recomended seller this Xhorse Dolphin II XP-005L Automatic Portable Key Cutting Machine with Adjustable Screen and Built-in Battery is good quality, working very well
#1 shai snir
Feb 9, 2021

Item arrived quickly and guality was good.
#1 edward Riley
Mar 9, 2021

Very fast shipping. Six days I received. Good product. Thank you seller.
#1 André Gomes
Jun 9, 2021

The goods came quickly enough, packed perfectly, checked works!
Previous: R&D GM998 car paint coating thickness gauge car paint electroplate metal coating thickness tester meter 0-1500um Fe & NFe probe
Next: Humzor NS566S Full System Diagnostic Tool for Heavy Duty Truck Diesel OBD2 Professional Scanner 9 Reset ABS/DPF/Mileage Adjustment