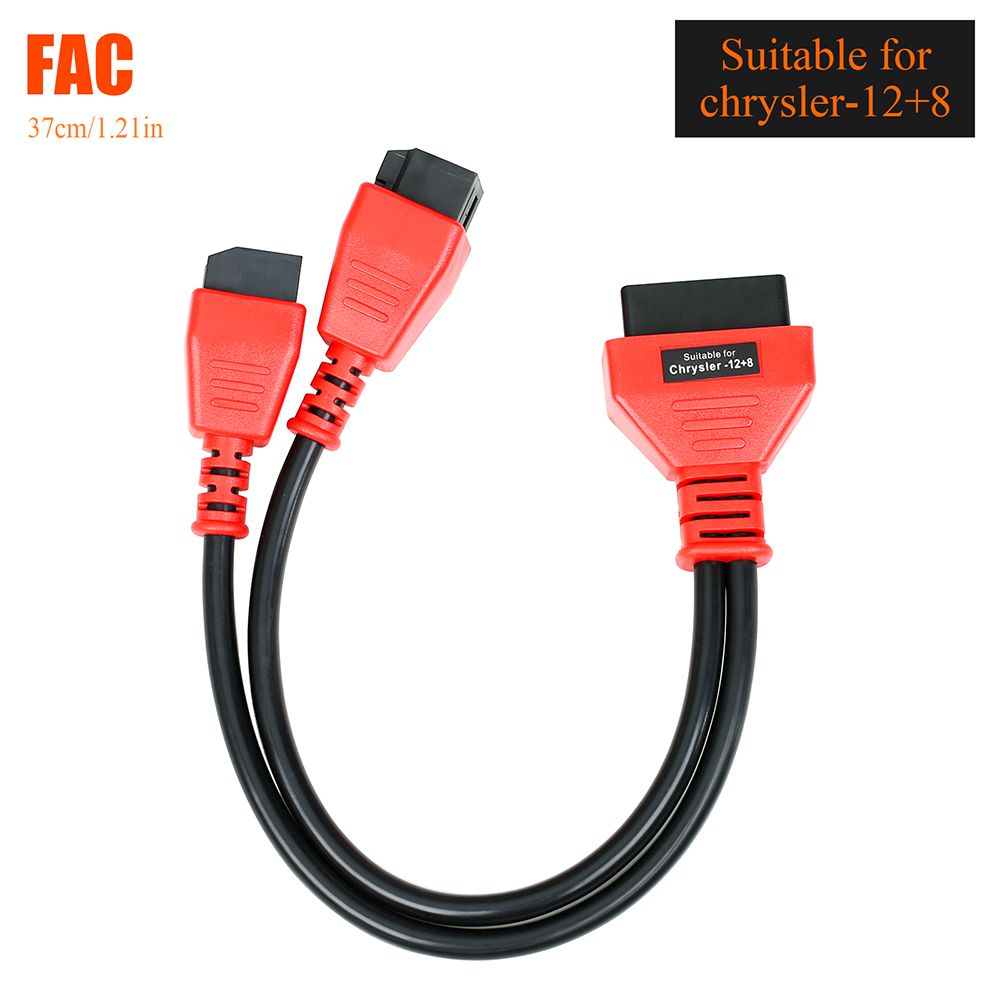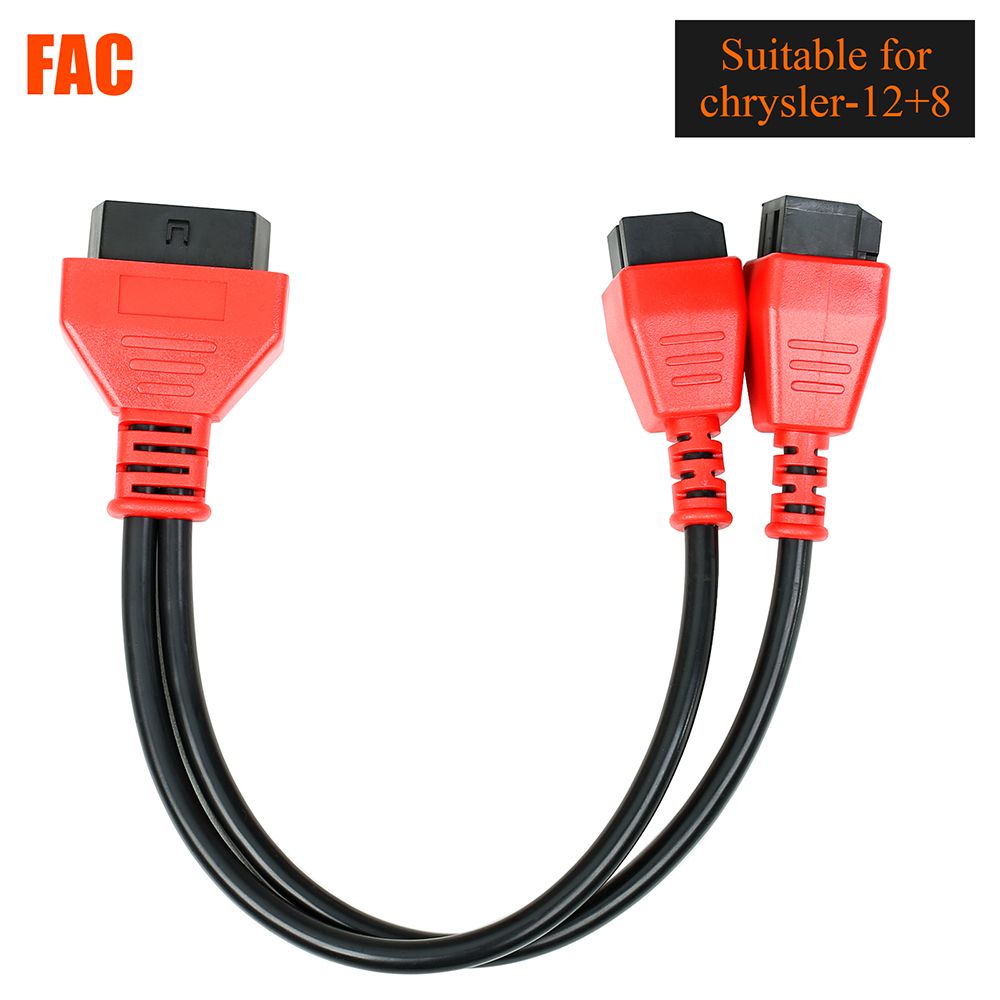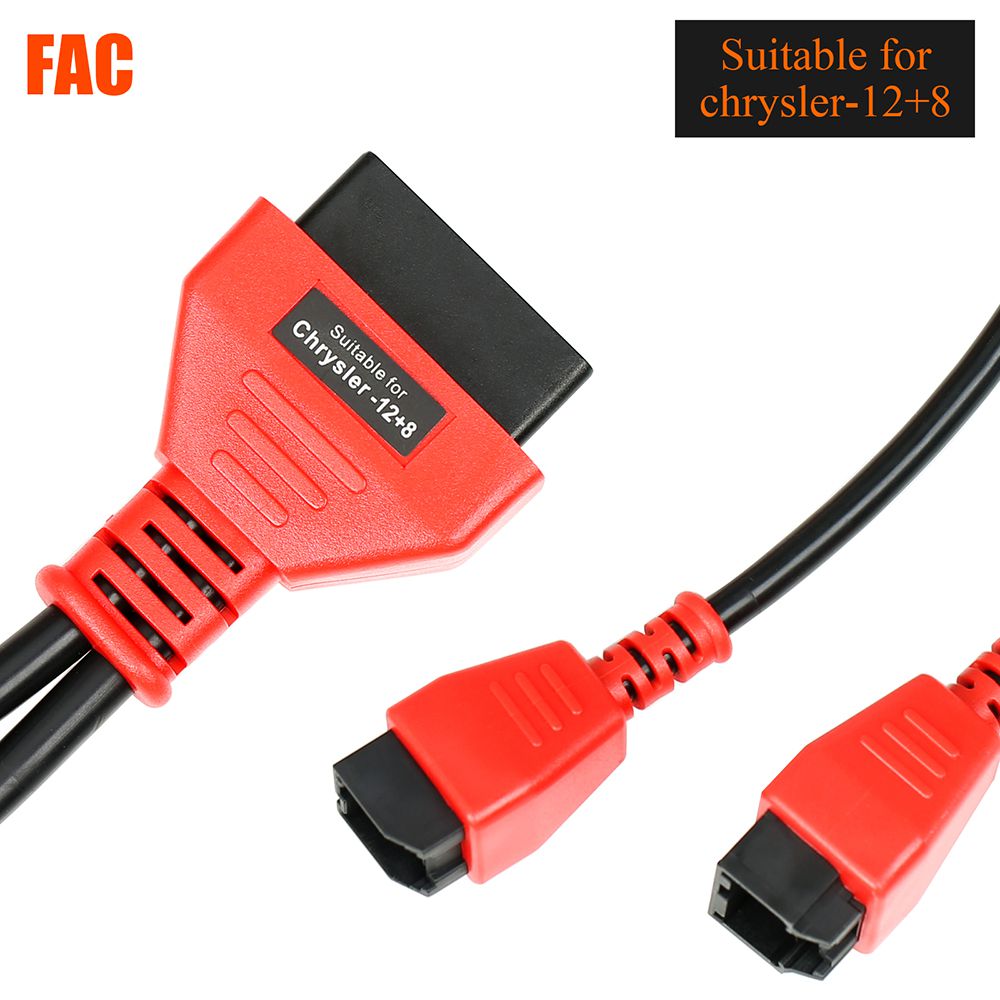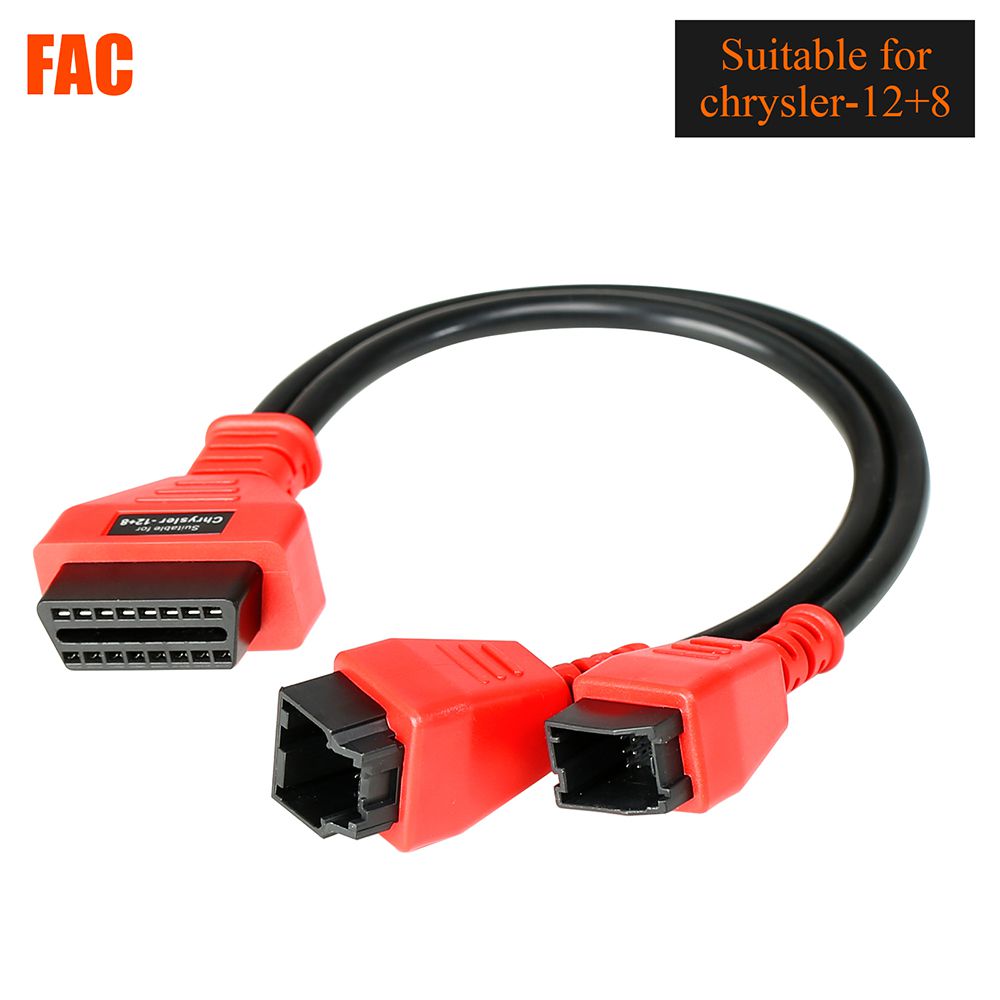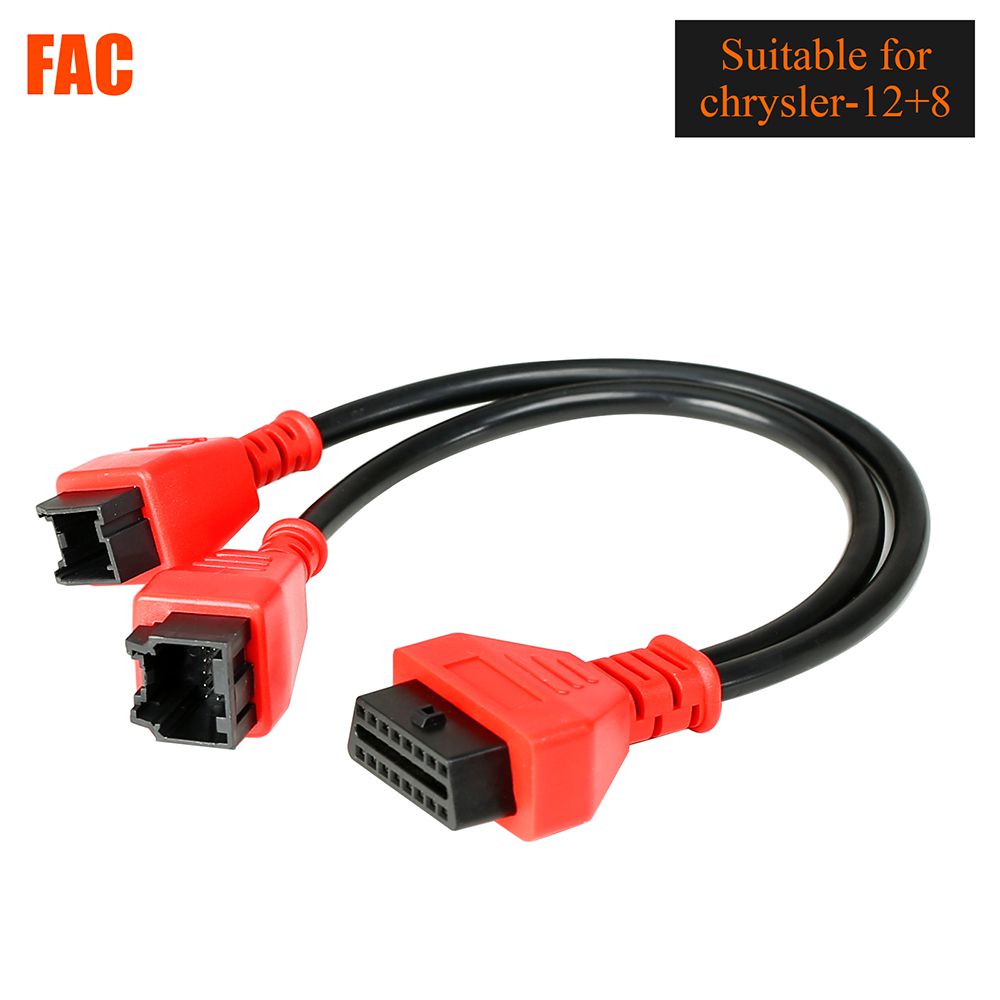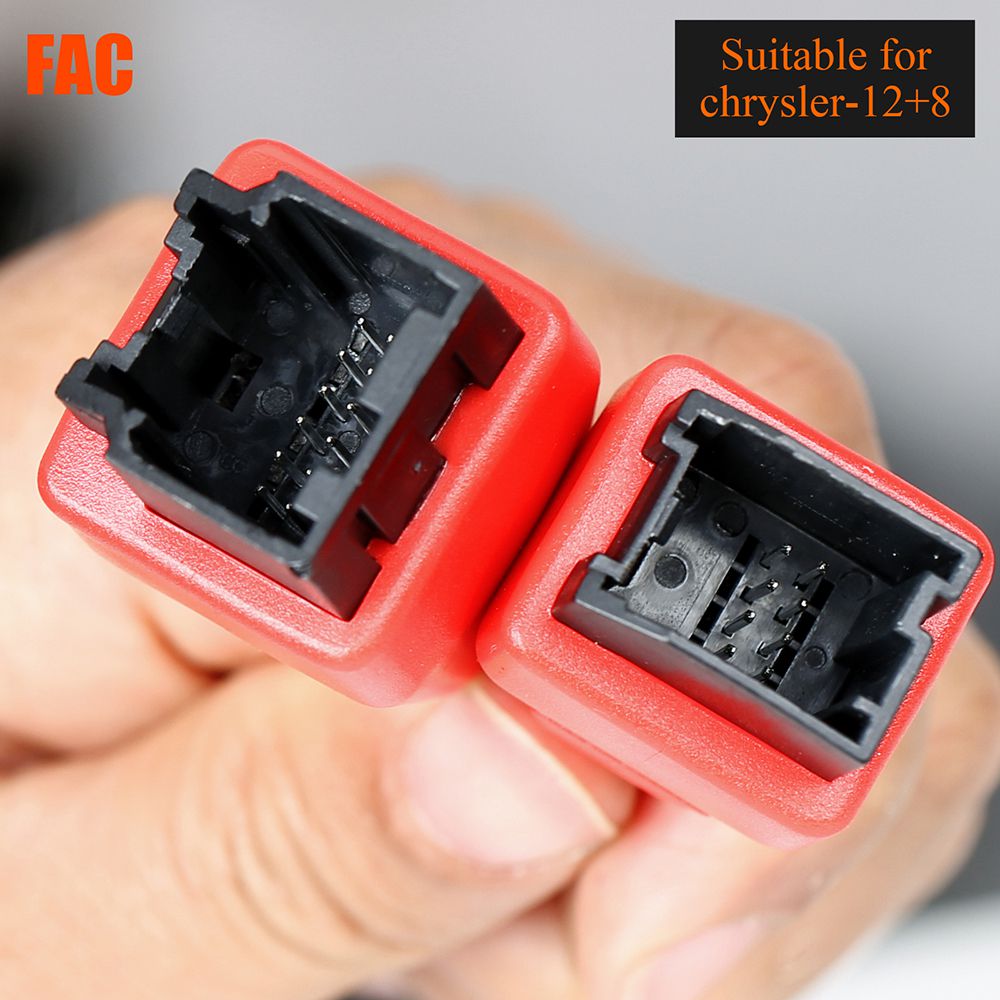 Description
Original Autel Chrysler 12+8 Cable Adaptor
The Chrysler 12+8 Adapter is
Autel
's bypass for
Chrysler
's Security Gateway Module (S
GM
) which limits an aftermarket scan tool to only reading DTCs and viewing data.
2018 and newer Chrysler, Dodge, Ram, Jeep, and Fiat now have a secure gateway module or SGM. This SGM will not allow your scan tool to do bidirectional controls on the vehicle.
Autel
has provided a cable to bypass the S
GM
. The new Chrysler 12+8 Diagnostic Cable allows communication with latest model
Chrysler
, Dodge, Jeep, Fiat & Alfa vehicles.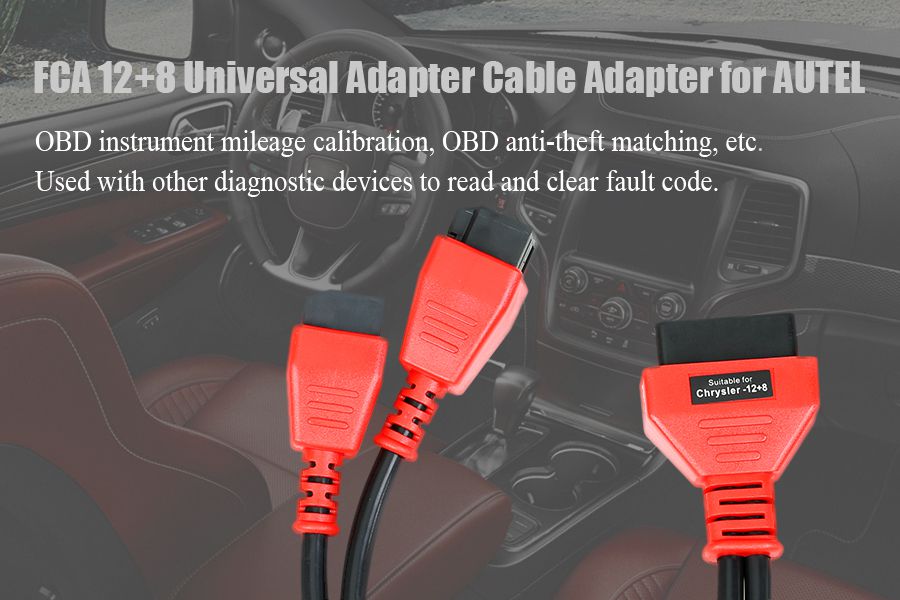 Suitable for:
The 12+8 Adapter can be used with Autel Maxisys Series Scanners MS906BT+ like MS906BT, MS906S, MS908, MS908S, MS908S PRO, Maxisys Elite and IM608.
OBDSTAR devices like
OBDSTAR
X300 DP Plus
Launch devices like Launch X431 V, Launch X431 V+ etc.
What is it used for?
1. It's used to diagnose on Chrysler Jeep Renegade Wrangler 300C after 2018 year
2. Most 2018 and newer FCA vehicles include a Security Gateway Module.
Expect to see this message when scanning a Chrysler with the Security Gateway Module:DEVICE UNABLE TO COMMUNICATE WITH THE CONTROL UNITPlacement of the SGM varies, but it is often located in the side kick panel, passenger side near the glove box, or behind the radio.Please Note:YOU MUST USE THE APPROPRIATE CONVERTER. NO RETURNS WILL BE ACCEPTED FOR DAMAGE CAUSED BY USING THE WRONG POWER TYPE.

Features and Functions:
1. Read/ Clear Codes
2. Perform Active Tests
3. View Generic & Manufacturer Live Data
4. Perform
TPMS
OBDII
Relearn
5. Coding and Adaptation with Maxisys Tablet Tools MS906BT+
6. ADAS calibrations (Requires Maxisys ADAS Software)
Chrysler 12+8 Adapter needed on Vehicles with Secure Gateway Module:
2013+ RAM Promaster
2015+ Fiat 500x
2015+ RAM Promaster City
2016+ Jeep Renegade
2017+ Alfa Romeo Giulia
2017+ Jeep Compass
2017+ Jeep Cherokee
2018+ Jeep Wrangler
2018+ Ram Trucks
2018+ Dodge Durango
2018+ Jeep Wrangler (JL Body only, not JK)
2018+ Dodge Journey
2018+ Jeep Grand Cherokee
2018+ Chrysler Pacifica
2018+ Chrysler 300
2018+ Dodge Charger
2018+ Dodge Challenger
2019+ Most Fiat/ Chrysler/ Jeep/ Ram vehicles
2020+ ALL FCA vehicles
Package List:
1pc x Chrysler 12+8 Cable Adaptor
Reviews

10
#1 Miguel Rivas
Aug 9, 2018

Very fast shipping. Six days I received. Good product. Thank you seller.
#1 Nikolay Kalachik
May 9, 2018

Very fast shipping. Thank you seller.
#1 juvenildo araujo de almeida
Apr 9, 2019

Super fast, tried on my car works perfect. Great seller.
#1 FriendBrooklyn FriendBrooklyn
Apr 9, 2019

works Perfect Thank You
#1 BALINT MATYAS
Jul 9, 2018

The best seller here on the site there are unrivaled fast and reliable
#1 oscar posada
Oct 9, 2018

Delivered quickly, the seller is very Quickly answers all questions and tries to help if there is a problem
#1 bob1964 bob1964
Mar 9, 2019

Thanks working perfect!!!!! this Original Chrysler 12+8 Adaptor for Autel MaxiSys Elite/ MS908/ MS908P/ MS908S Pro is good quality, working very well
#1 Andre Lalla
Jan 9, 2019

Good product ...... works perfectly… no problem Recommend the purchase. Arrived fast ahead of schedule. Not the two came together, arrived separate but both came in perfect condition.
#1 enhammonfuh enhammonfuh
Oct 9, 2018

the best!!!!!!!!!!
#1 Sergey Elkin
Feb 9, 2019

Fast delivery, the machine was stitched without problems, everything is ok, you can take!!!
Previous: V2022.9 MB SD C4 Plus Star Diagnosis Support Doip for Cars and Trucks with All Softwares Free Shipping by DHL