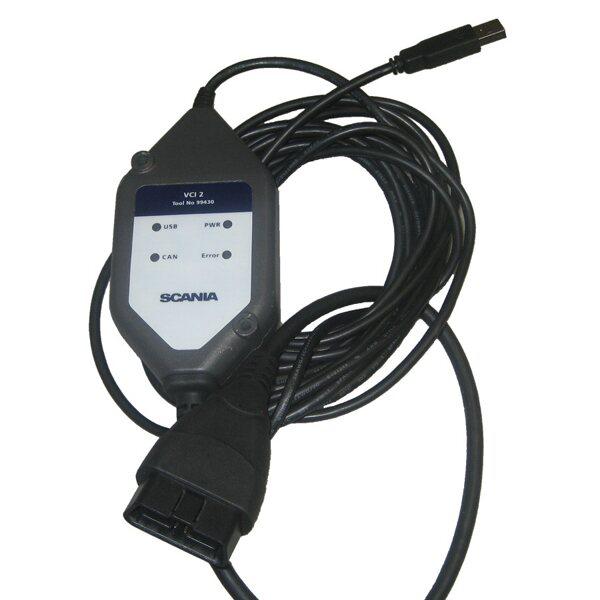 Description
VCI2 Multi-languages Truck Diagnostic Tool For Scania
Supported Languages:
English, German, Spanish, French, Japanese, Dutch, Polish, Portuguese, Swedish, Norwegian, Suomi, Turkish, Italian, Czech, Russian, Chinese.
Scania VCI2 Features:
1.Name and version of the vehicle system.
2.Stored fault codes, proposals for remedial action and delete option.
3.Control unit configuration and settings.
4.Information about electrical components and their location.
5.Input and output signals.
6.Activation of components.
7.Spare part programming.
8.Circuit diagrams. For each circuit there is a diagram which clearly shows how the particular circuit is implemented in the respective vehicle.
9.Chassis data. The vehicle gives the program a description of itself and how it is configured.
10.User functions. In order to meet service market requirements to work more effectively, there is an option to troubleshoot via user functions, e.g. cruise control.
VCI2 supports the earlier systems in P, R, T series and K, N series vehicles and industrial and marine
engine
s.System in the vehicle supported by SDP3.Use of the program requires a PC, a USB key and a VCI2. These components must comply with the applicable system requirements, so that the program will operate correctly.After connecting VCI2 to the PC and starting SDP3, you can access information about VCI2 by opening the menu under View. This works regardless of whether VCI2 is connected to the vehicle or not.
Scania VCI2 Set includes:
1.Vehicle Communication Interface
2.Carrying Case
Reviews

39
#1 MOEZ GARBI
Dec 9, 2018

Okay okay thanks
#1 Grzegorz Augustyn
May 9, 2018

Great company!!!!
#1 Vincent Thompson
Sep 9, 2018

fast
#1 mohammed alomrine
Dec 9, 2018

Got, installed, proga found it, from the internet is untied, tomorrow i will check again, while i like everything
#1 dale stephen
Apr 9, 2019

It works perfectly as you can see.
#1 Oleg Yuryev
Dec 9, 2018

Super recommended arrived just as it is posted very fast shipping
#1 Alexandre TOLLITTE
May 9, 2018

Soldering quality is good. Refinement does not require.
#1 Andy Lee Hostetler
Aug 9, 2018

Good stuff. All as in the description
#1 valdas gedvilas
Nov 9, 2018

As the product description, only think the seller could give a support
#1 Fred Boone
Aug 9, 2018

Excellent seller já me turning client
Previous: PS150 Oil Reset Tool Free Shipping