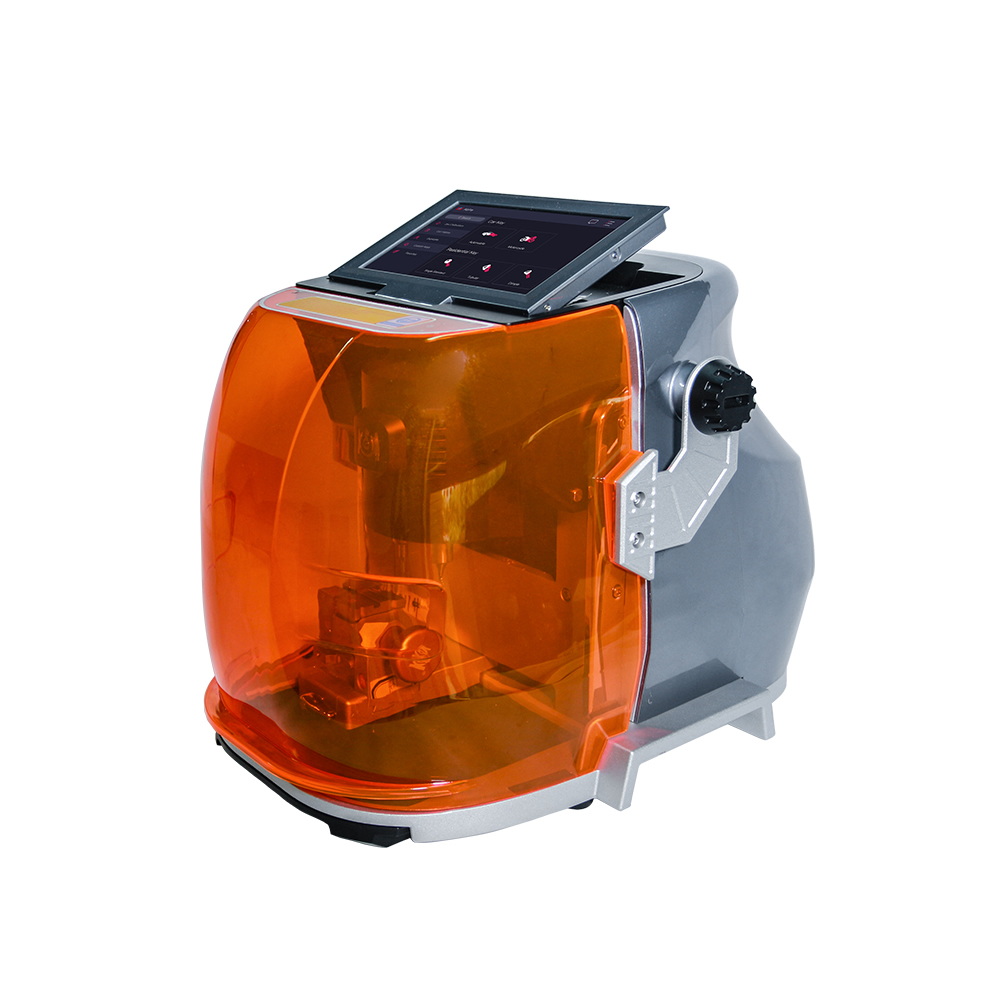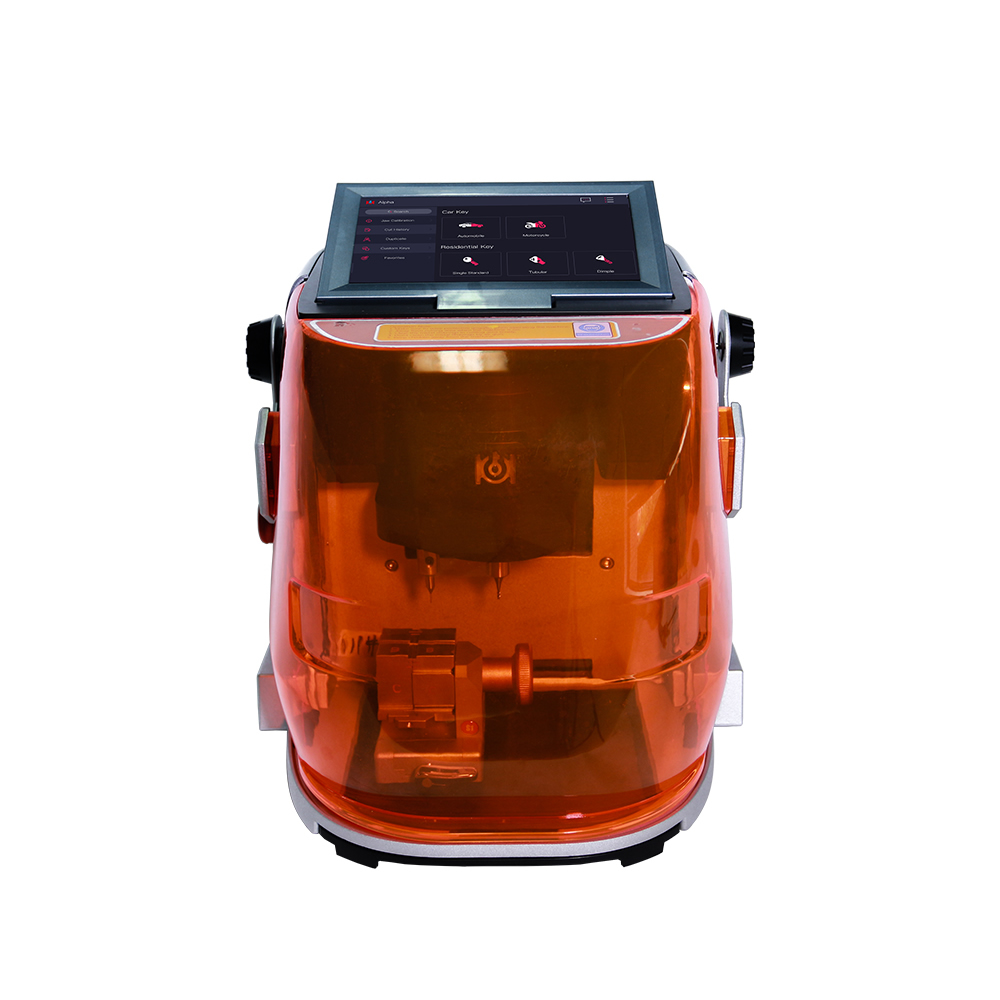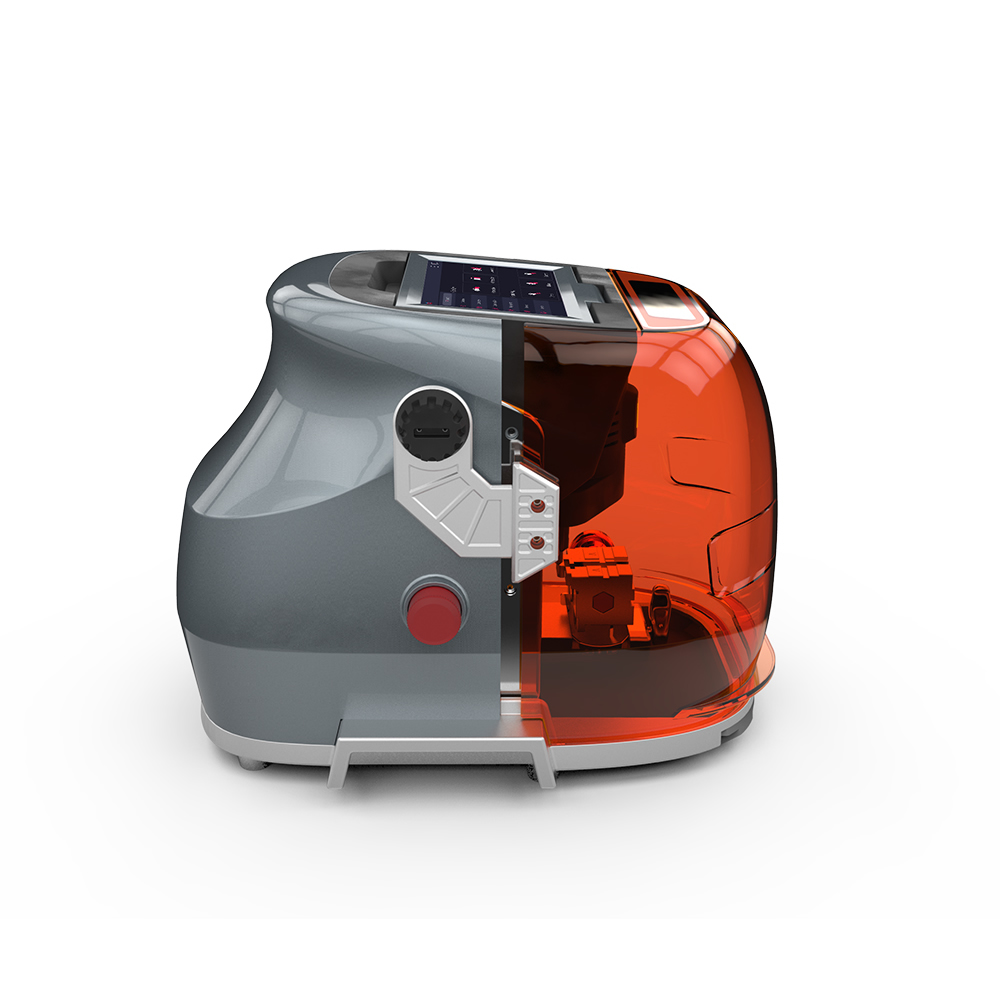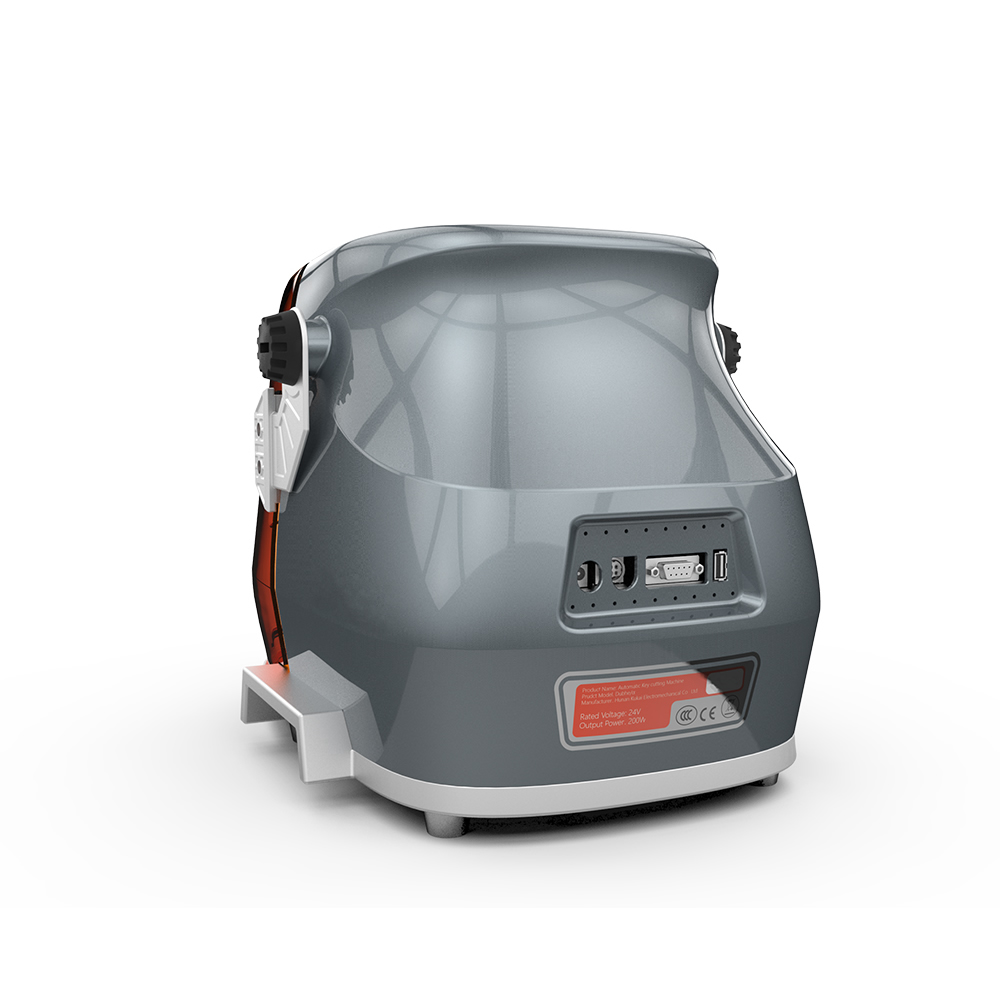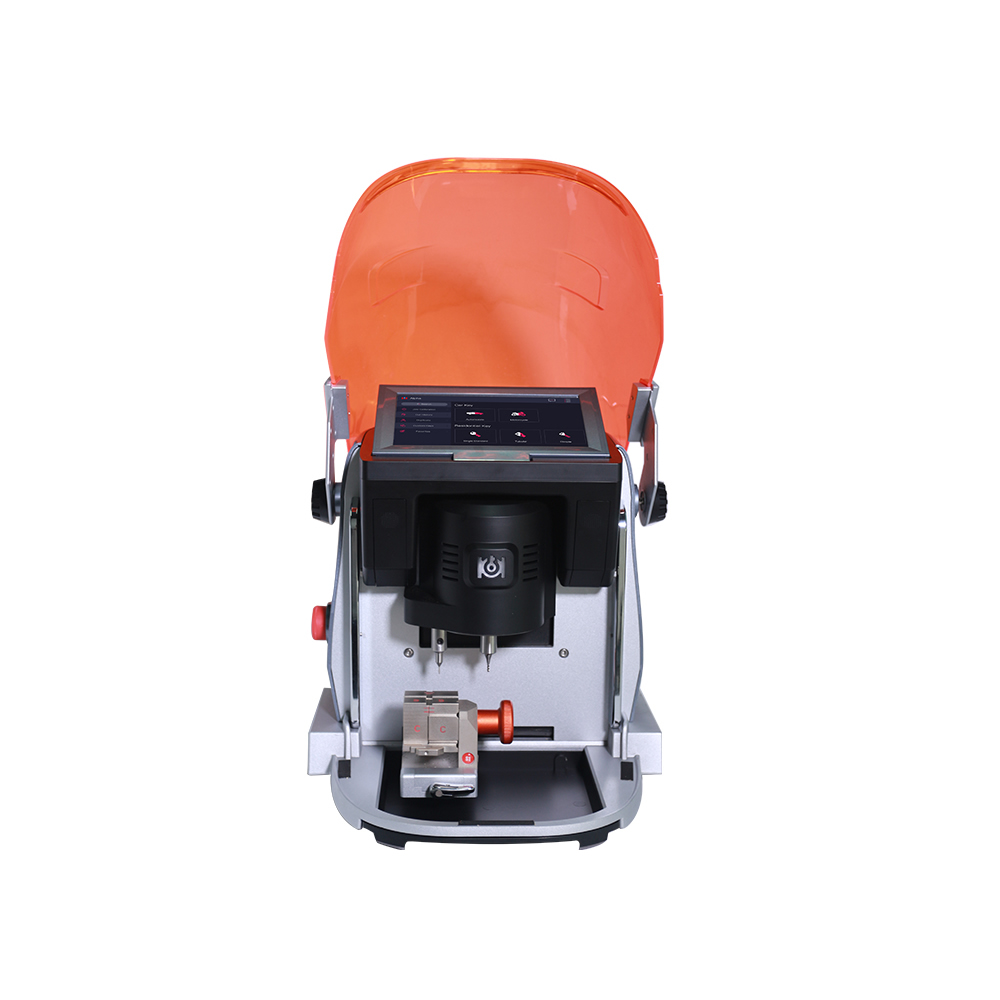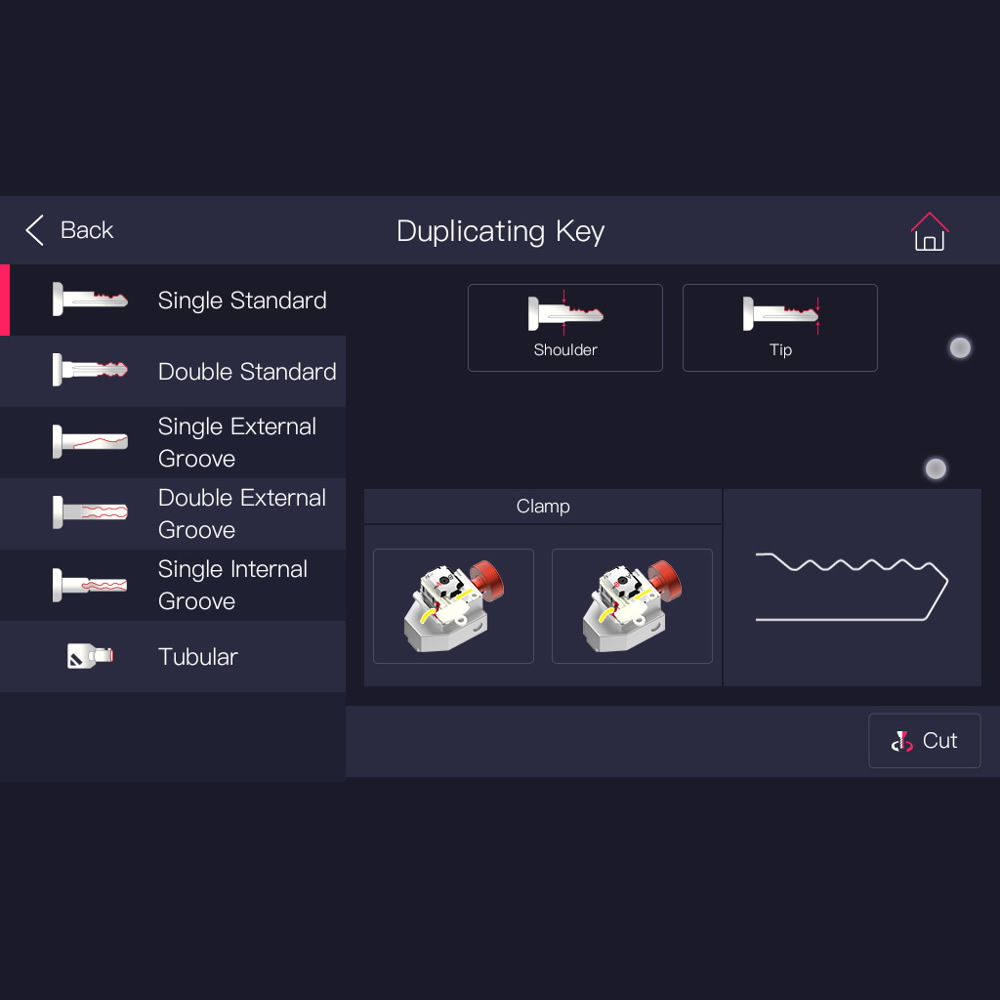 Description
Alpha Automatic Key Cutting Machine All In One

First 4-way jaw for standard keys, laser keys & dimple keys in international market.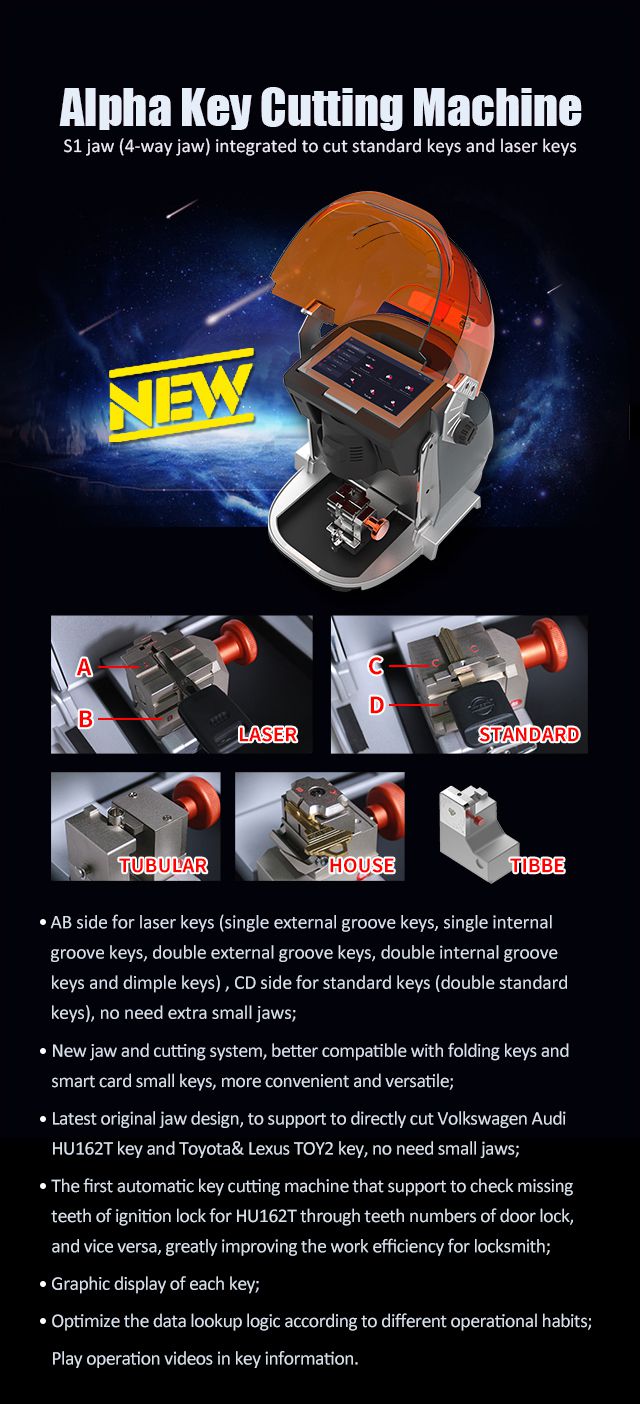 Alpha Key Cutting Machine Advantage:
1. New jaw and cutting system, better compatible with folding keys and smart card small keys, more convenient and versatile;
2. Latest original jaw design, to support to directly cut Volkswagen
Audi
HU162T key and Toyota& Lexus TOY2 key, no need small jaws;
3. The first automatic
Key Cutting Machine
that support to check missing teeth of ignition lock for HU162T through teeth numbers of door lock, and vice versa, greatly improving the work efficiency for locksmith;
4. Some optional jaws for your choice, including house key jaw, FO21 key jaw, tubular key jaw and engraving jaw;
5. Graphic display of each key.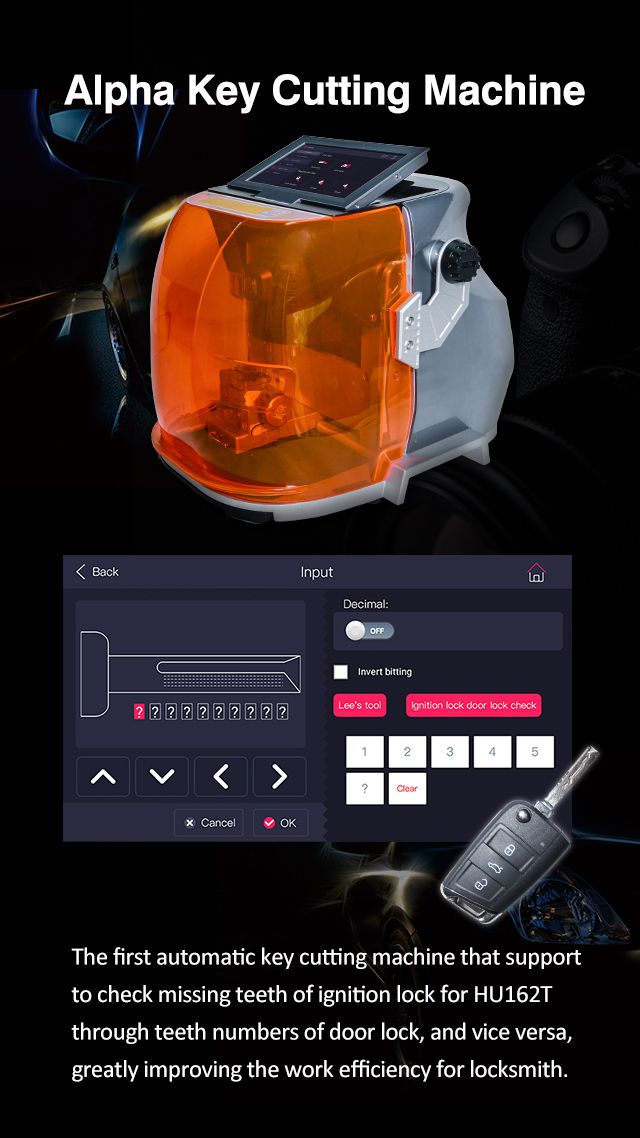 Alpha Key Cutting Machine Feature:
Support to cut automobile,Chinese car,residential,dimple & tubular keys etc.
Adopted high-precision ballscrew for X, Y & Z axis,bringing higher repetitive positioning accuracy.
Adopted DC brushless motor for Z axis to control
cutter
directly,bring higher cutting precision and lower noise.
Portable for mobile, easy to work outside
Equipped with tool box to place
decoder
,
cutter
, calibration block etc.
Alpha Key Cutting Machine Special Features:
Support to duplicate keys without key data in database
Including single standard keys, double standard keys, single external groove keys,double external groove keys,internal groove keys & tubular keys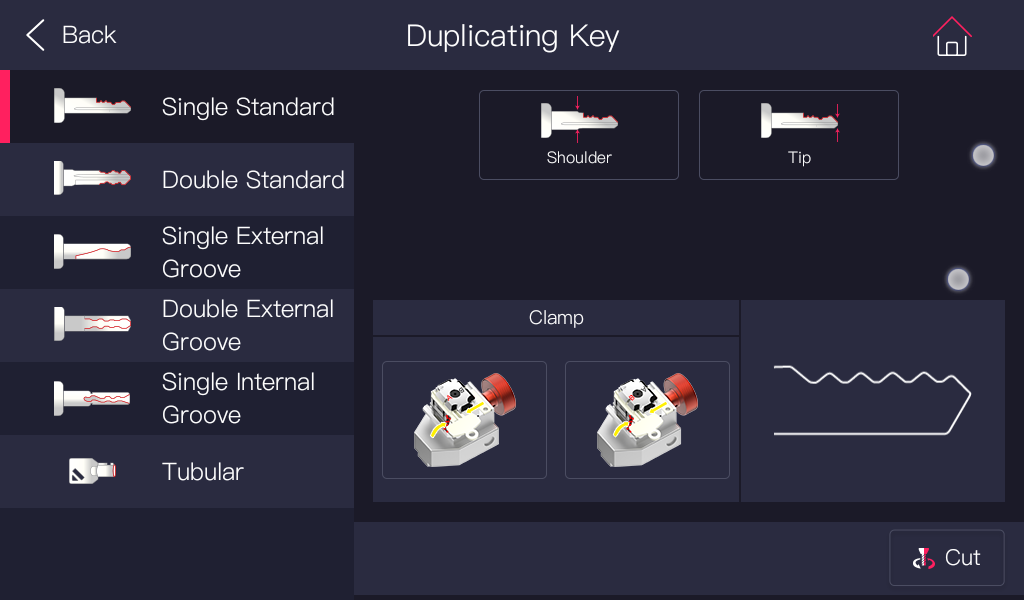 Alpha Key Cutting Machine Technical Parameter:
Voltage: 24V 5A
Power: 120W
Dimension: 305(W)x300(H)mmx400(D)mm
Weight: 16KG
Accuracy: XY Axis 0.0025mm Z Axis 0.0025mm
Spindle Speed: 12000+ rpm
Working Temperature Range: 0-10℃
Working Humidity Range: 10-90℃
Usage: Automobile Keys,residential key,motorcycle keys,dimple keys,tubular keys,FO21 tible keys.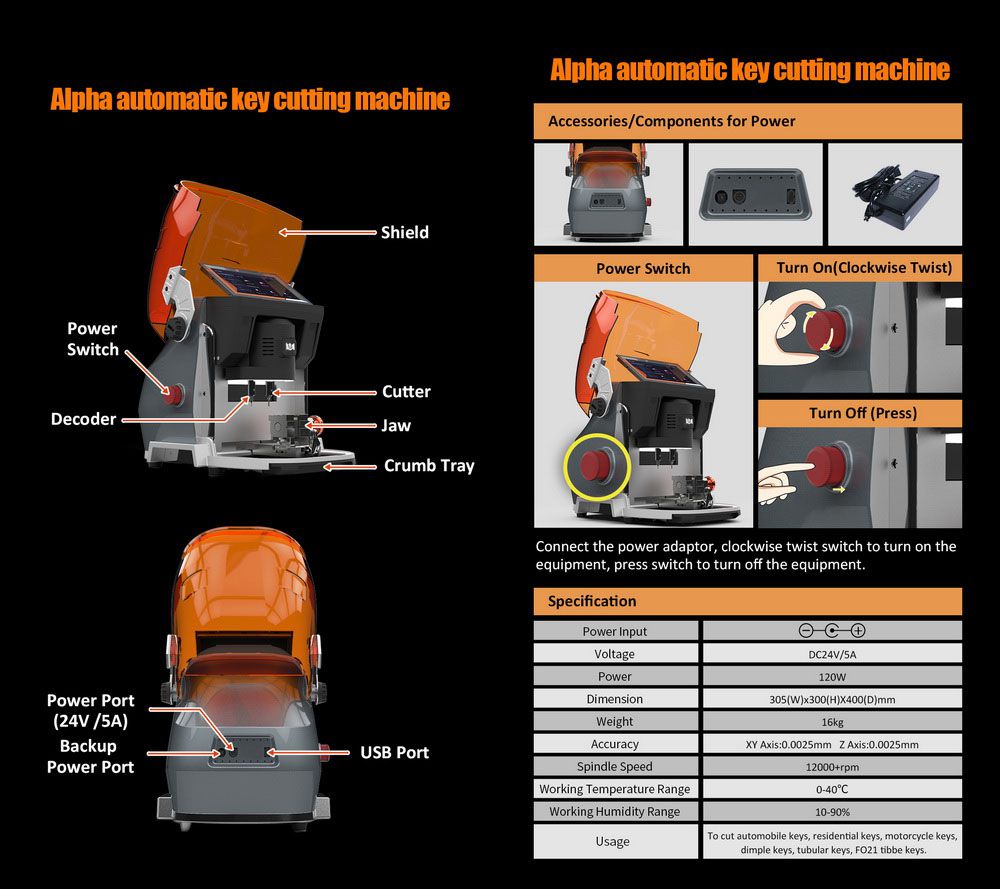 Alpha Key Cutting Machine Software Display: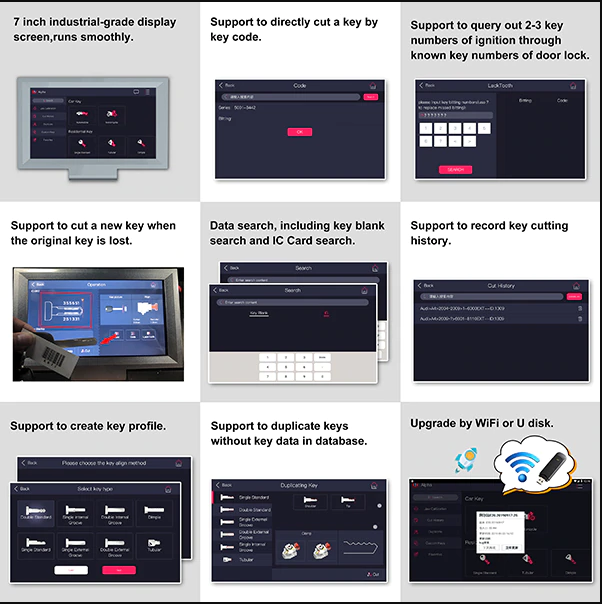 Alpha Key Cutting Machine Package List:
1 pc x S1 Jaw
2 pc x
cutter
2 pc x
decoder
1 pc x Calibration Block
1 pc x Stoper
2 pc x M3 Bolt
2 pc x M5 Bolt
1 pc x 1.5mm L-wrench
1 pc x 2.5mm T-wrench
1 pc x 24V Adapter with Power Cord
1 pc x Brush
1 pc x User Manual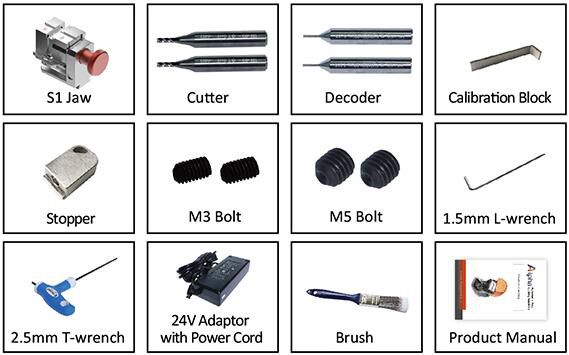 Reviews

21
#1 ConReendVex ConReendVex
May 9, 2018

Is ok!
#1 Henrik Vestergaard
Jan 9, 2019

Product arrived before the date mentioned, are. Now only test
#1 Joseph Munaco
May 9, 2018

Everything is super, very fast. from moscow to peter 2 days. p The parent put a tester for the brake as a gift. Many thanks to the seller, that's what quality and speed means.
#1 Dmitriy Strelkov
Feb 9, 2019

Good quality, fast shipment.
#1 Ryan Smith
Jan 9, 2019

The order came for 3 days, everything would be so!!!! I'll check, i'll add a review.
#1 Cory Tedesco
Apr 9, 2019

Recommended store, high quality item, best price!
#1 David Valencia
Dec 9, 2018

all perfect ! Items came to me 3days! I would buy it again, from this seller this Alpha Automatic Key Cutting Machine Support VW Audi HU162T Key and Toyota & Lexus TOY2 Key 2 Years Warranty is good quality, working very well
#1 okubotin kia
Jan 9, 2019

fast
#1 sajim hamza
May 9, 2018

Ok , happy
#1 Scott Lloyd
Dec 9, 2018

All on time .. I recommend the seller 5 of 5
Previous: Scania SDP3 V2.47.1 Scania VCI-3 VCI3 Scanner Wifi Diagnostic Tool for Scania
Next: XTOOL SD100 Volle OBD2 DIY OBD2 Code Reader Diagnostic Tool