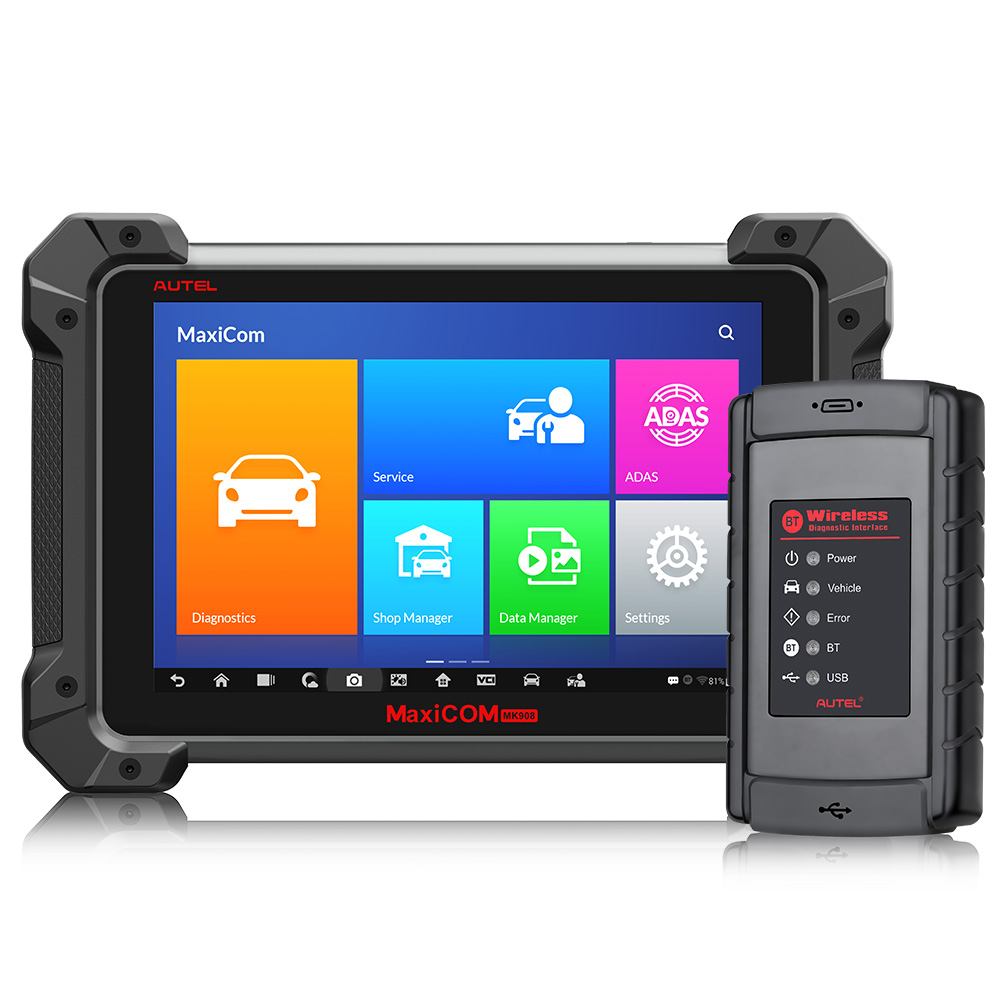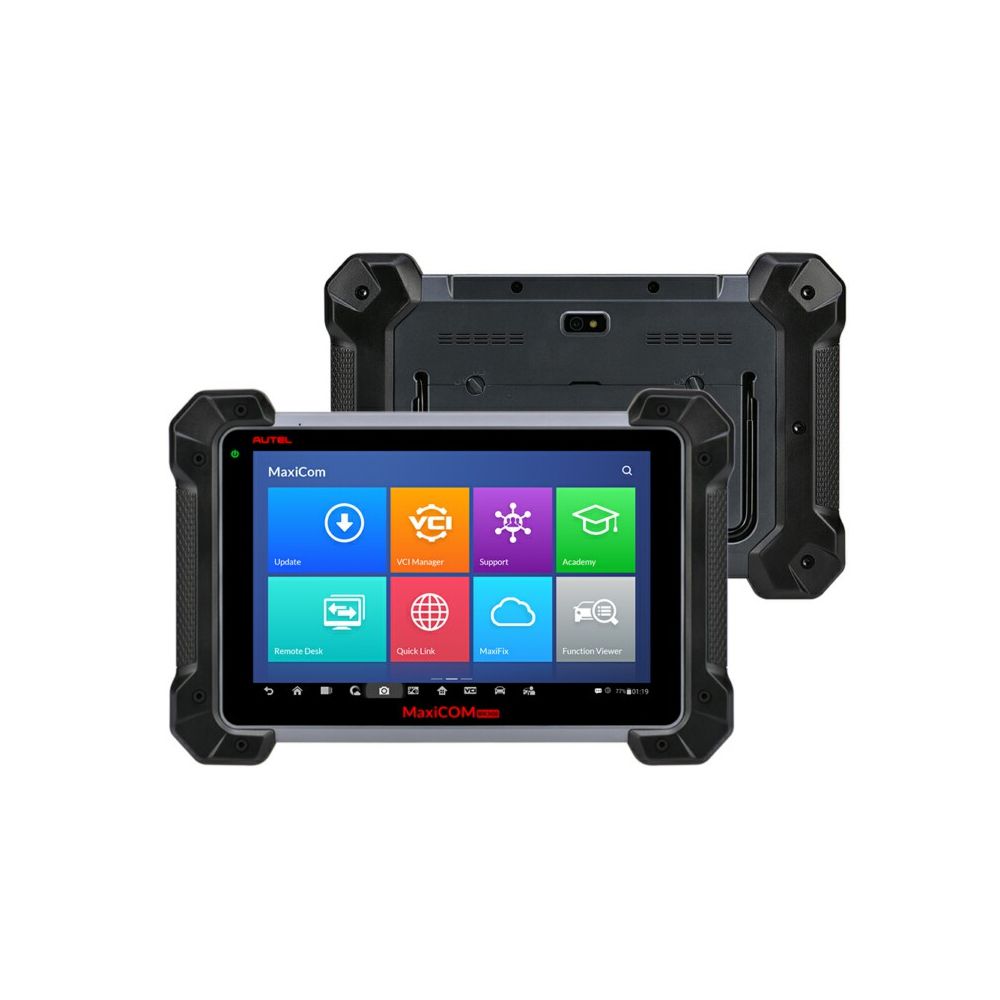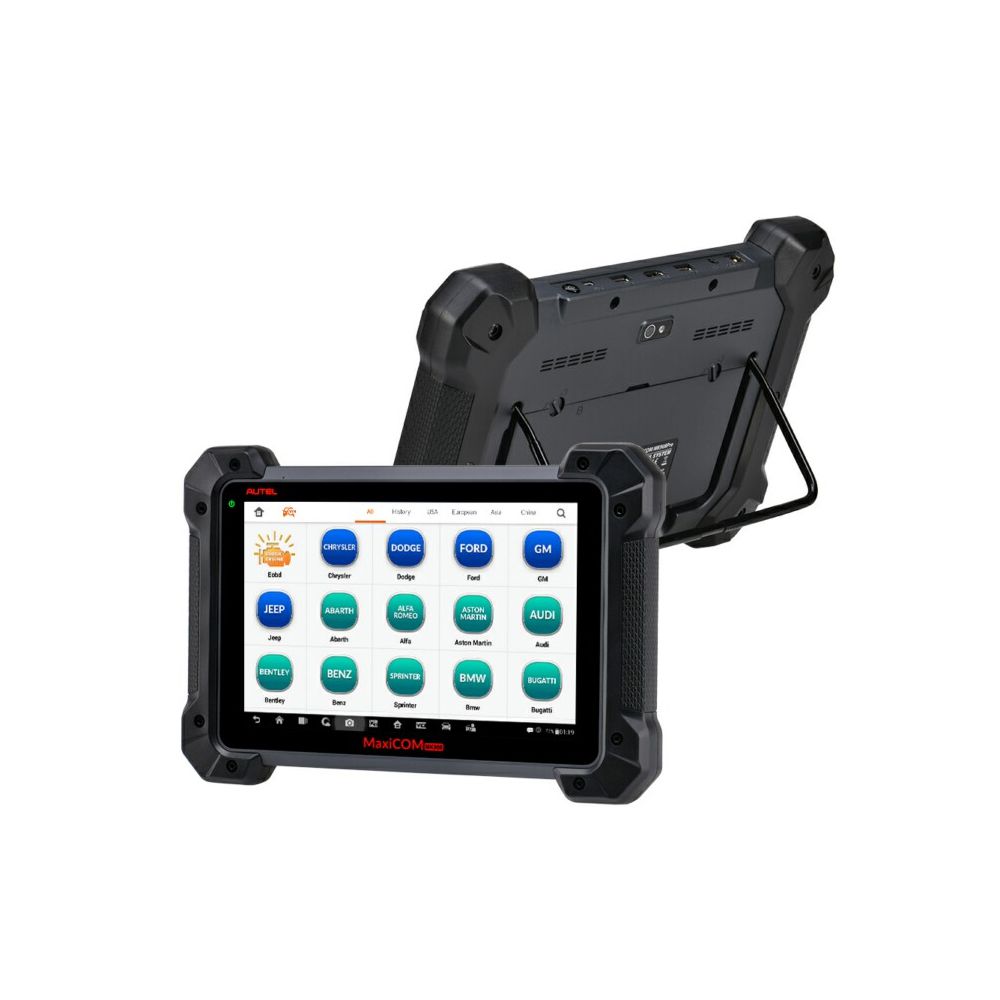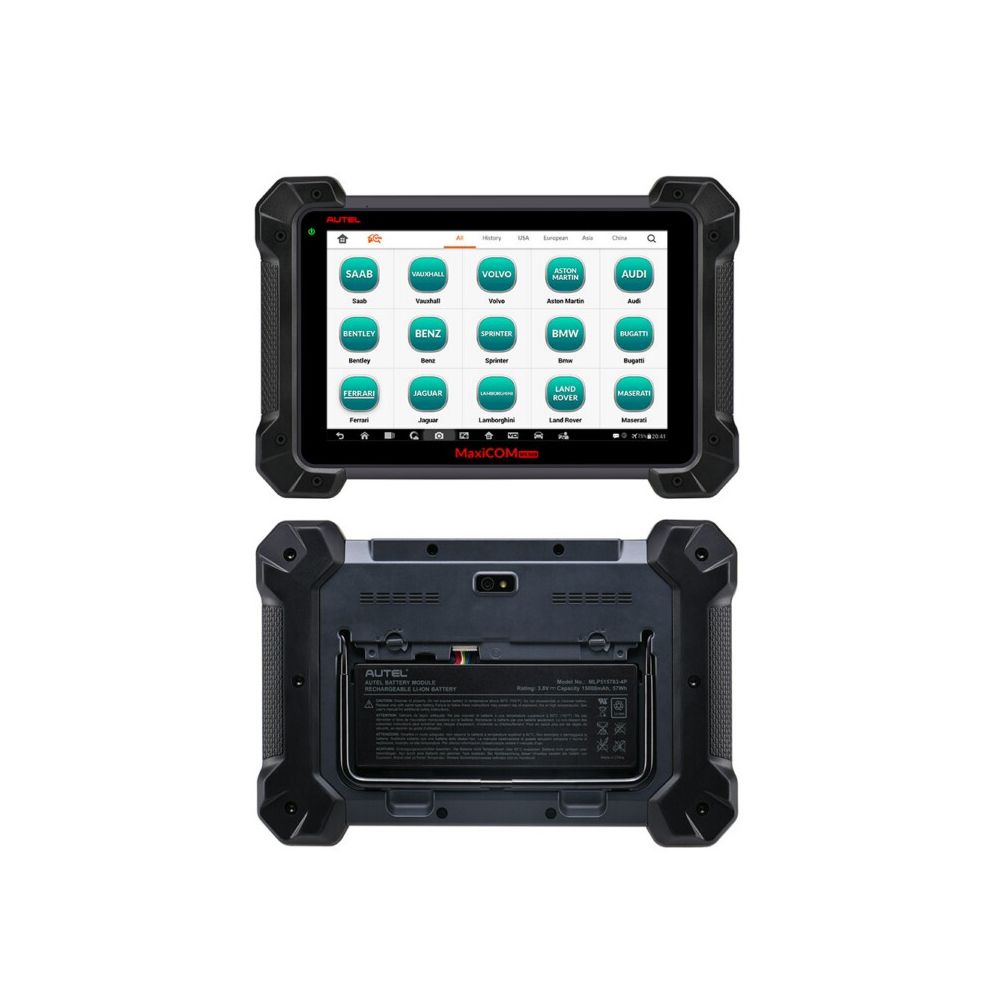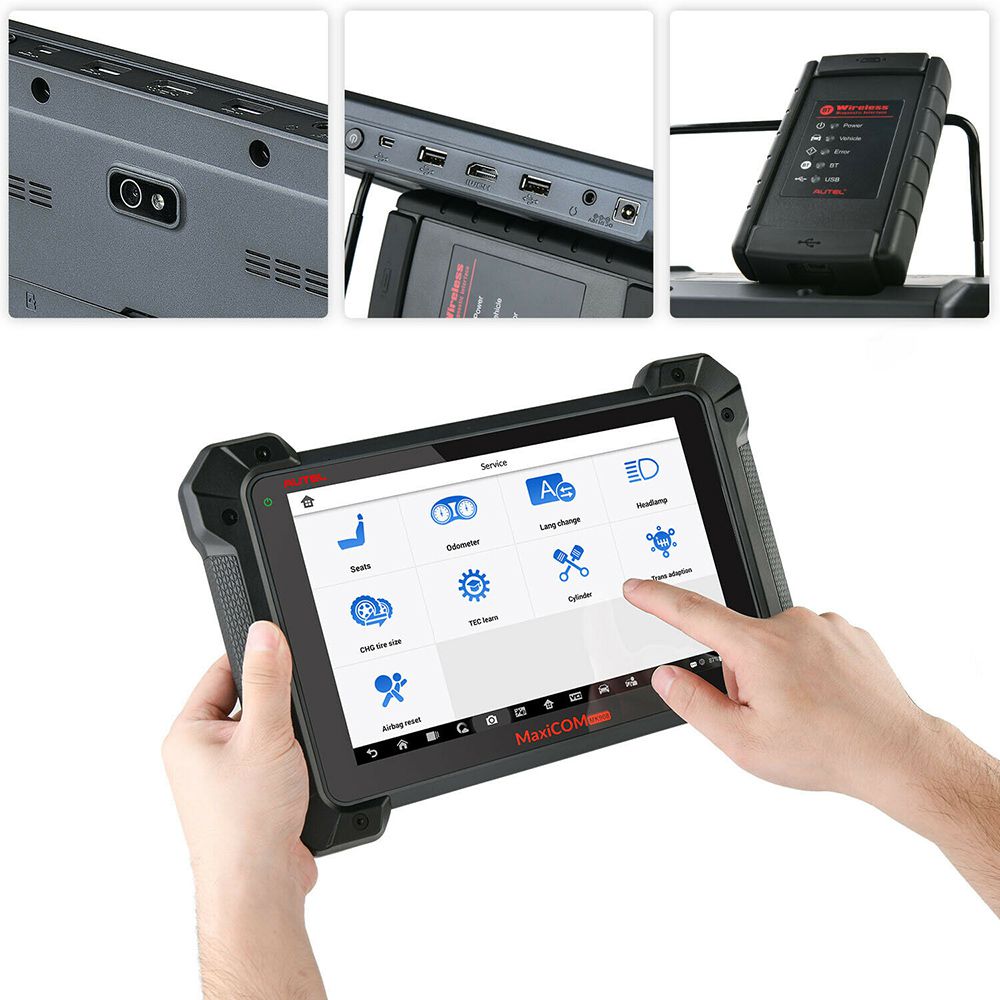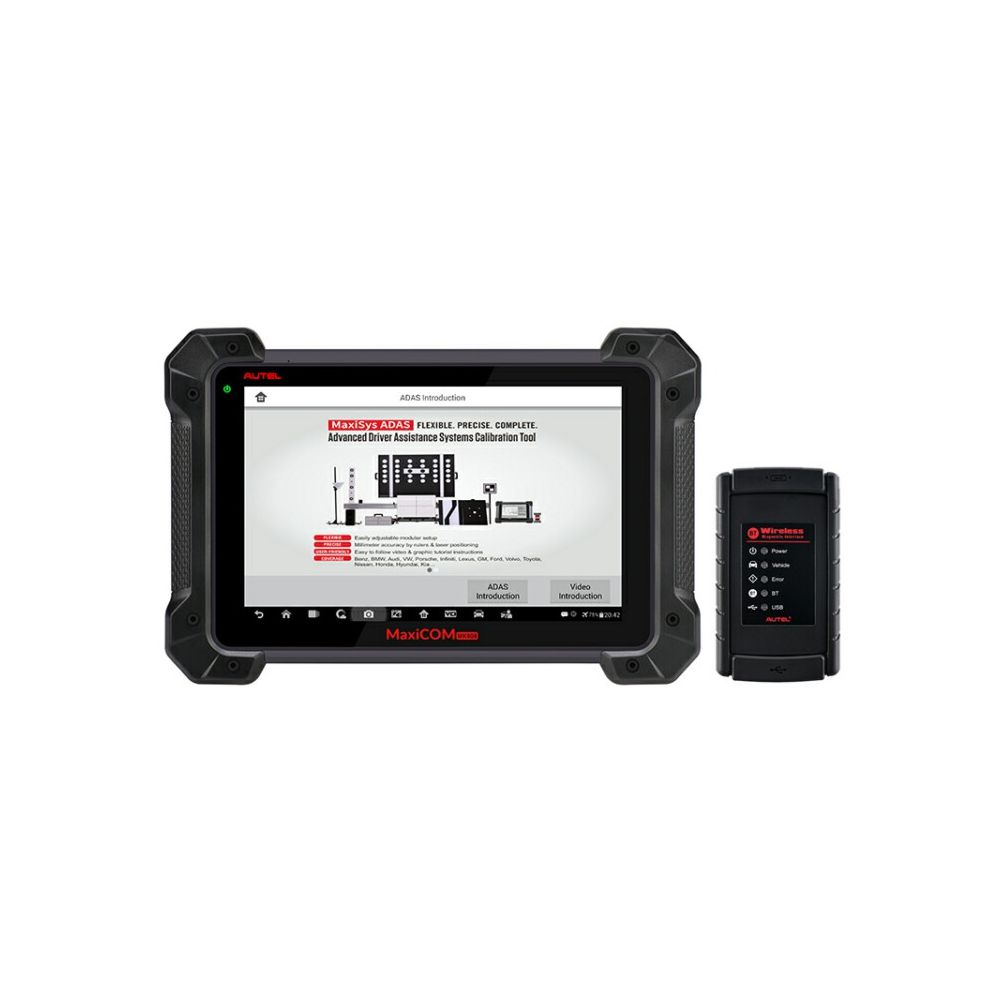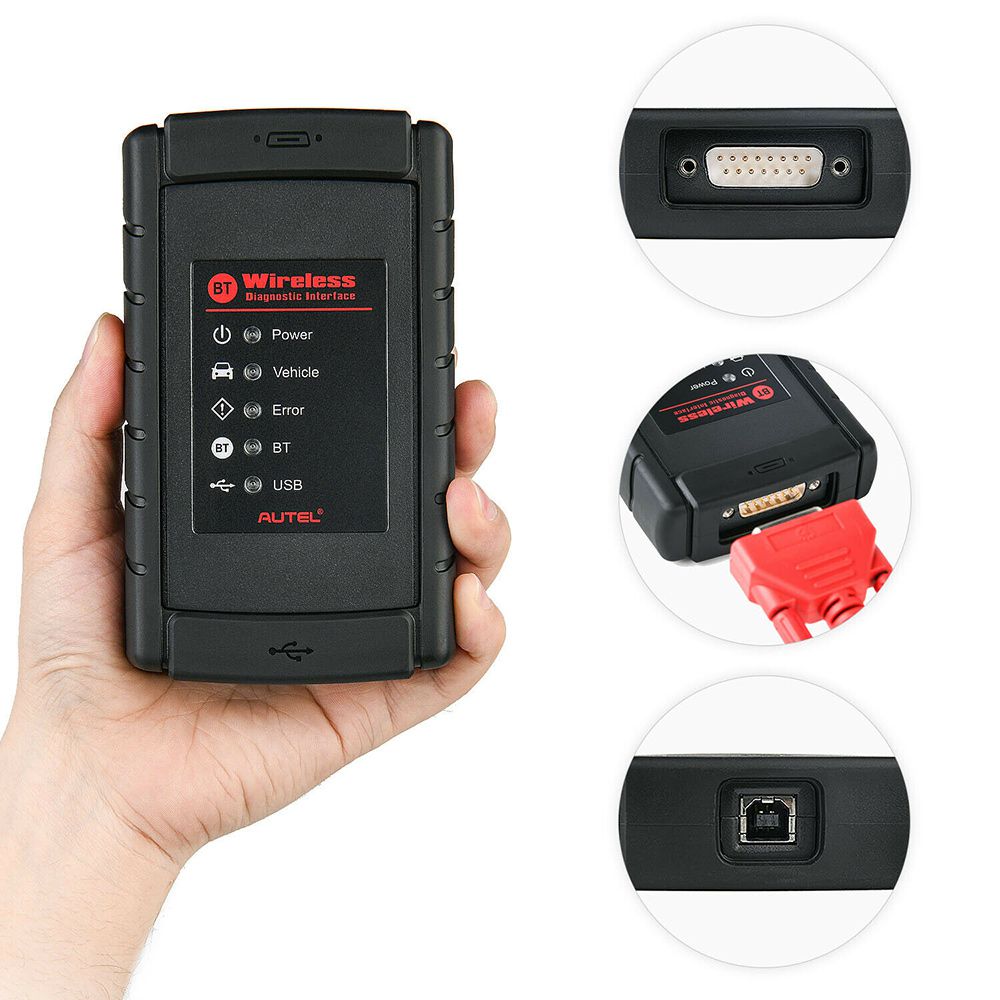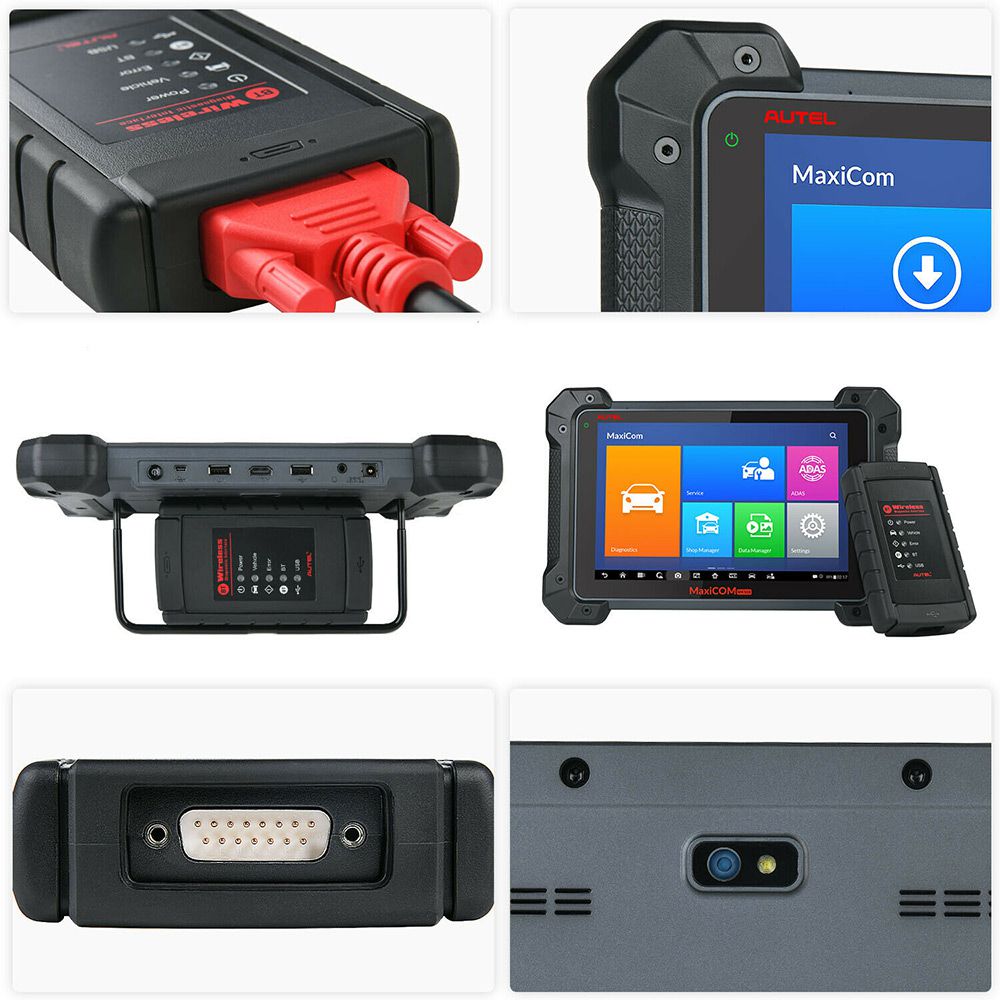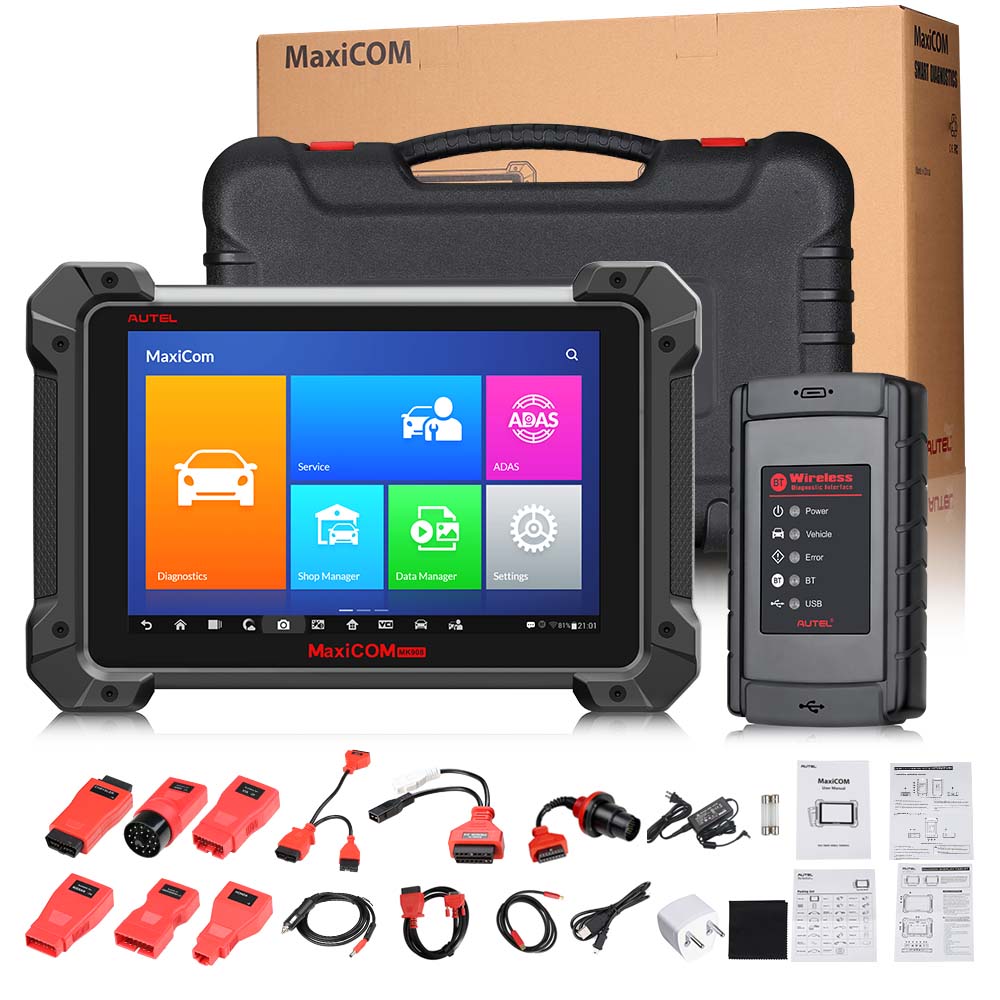 Description
Autel MaxiCOM MK908 Scanner Diagnostic Tool Automotive Code Reader

Highlights of Autel MaxiCOM MK908:

1. Upgraded Version of MS908 MaxiSys
2. Support All-Around Diagnoses and ECU Programming
3. Ultimate Configurations for Super-Level Diagnosis
4. Multiple Language Supported:
English, Spanish, French, German, polish,Italian, Japanese, Korean, Dutch, Portuguese, Turkish, Swedish, Thai, Arabic, Russian, Chinese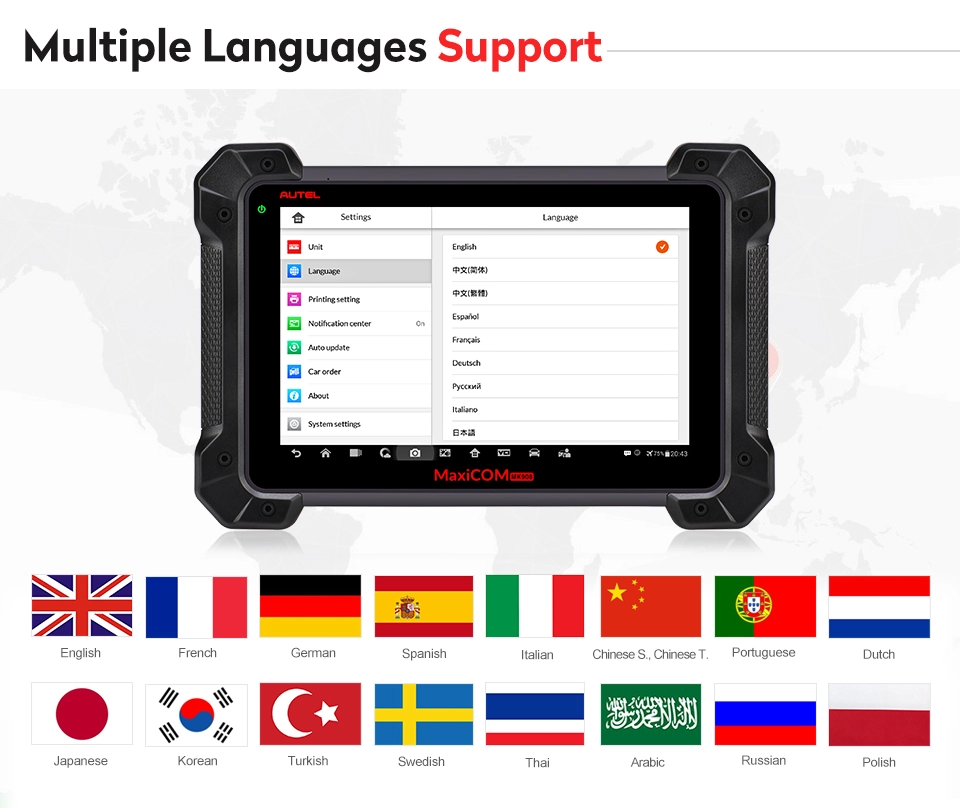 Description:
Autel
MaxiCOM MK908 Diagnostic Platform is an evolutionary smart solution for specialized automotive diagnosis. Utilizing the powerful A7 quad-core 1.30GHz processor, and a 10.1-inch capacitive touch screen, combined with the best possible coverage of OE-level diagnostics, and based on the revolutionary multitask- capable
Android
Operating system, the MaxiCOM organizes information with test instrumentation to help you diagnose symptoms, codes, and customer complaints easily, quickly and efficiently.
Features:1. Generic OBD II operationsfor retrieving OBD2 vehicle diagnosticinformation;
1) Read Codes – displays detailed information of DTC records retrieved from the vehicle controlmodule.
2) Erase Codes – erases DTC records and other data from the
ECM
.
3)
Live Data – retrieves and displays live data and parameters from the vehicle's ECU.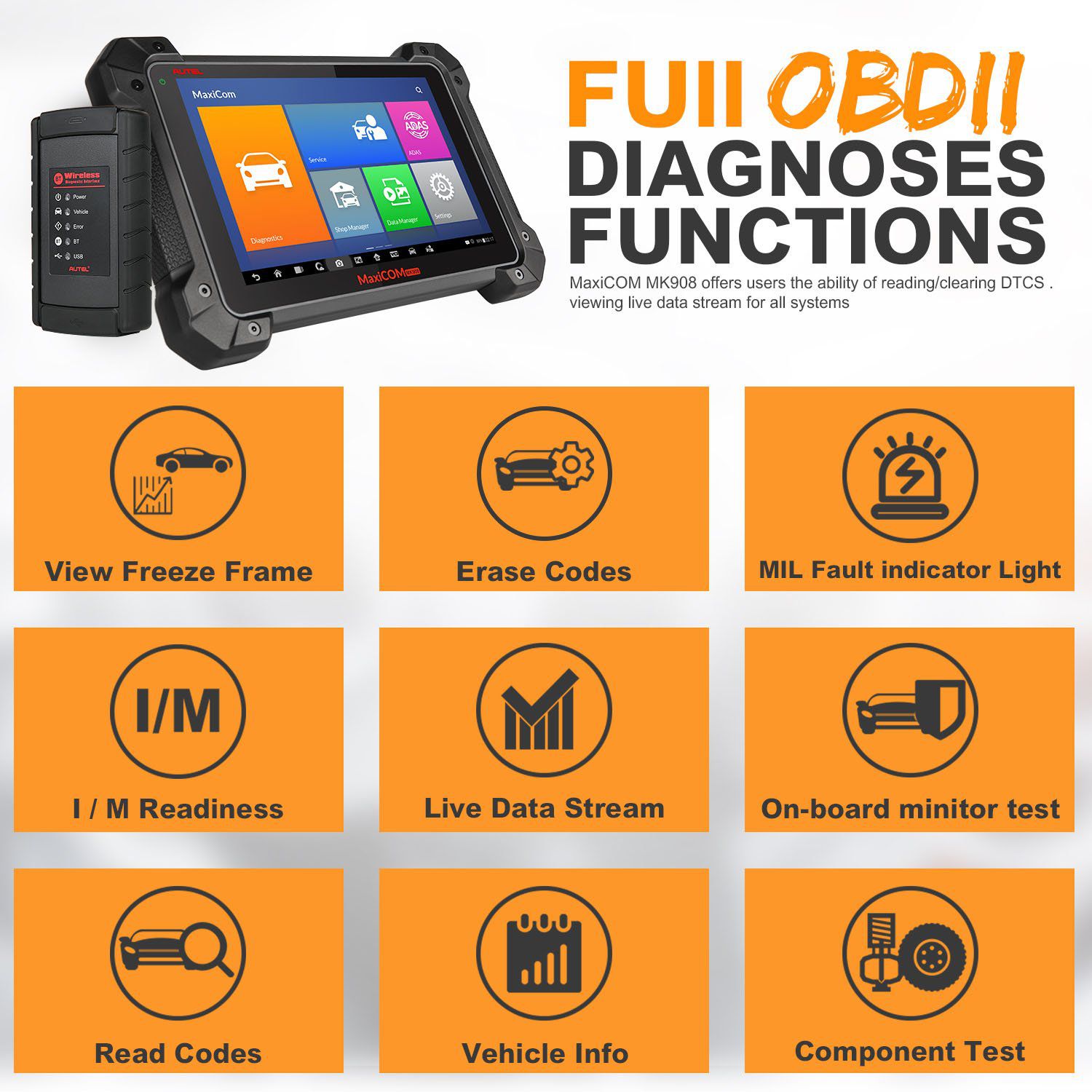 2. Special functions for various scheduled service and maintenance performances;
Oil Reset
: Remindsyou to change the oil when required.
EPB: Reads,clears and offers electronic park braking on flat roads.
BMS: Shows allthe information related to the battery management system.
ABS
: Reads andclears anti-lock braking system problems.
DPF: Showserrors in the DPF system (removes soot from exhaust system).
TPMS
: Monitorsair pressure in the tires.
IMMO
: Used forenhancing car security by serving as a code that starts the
engine
.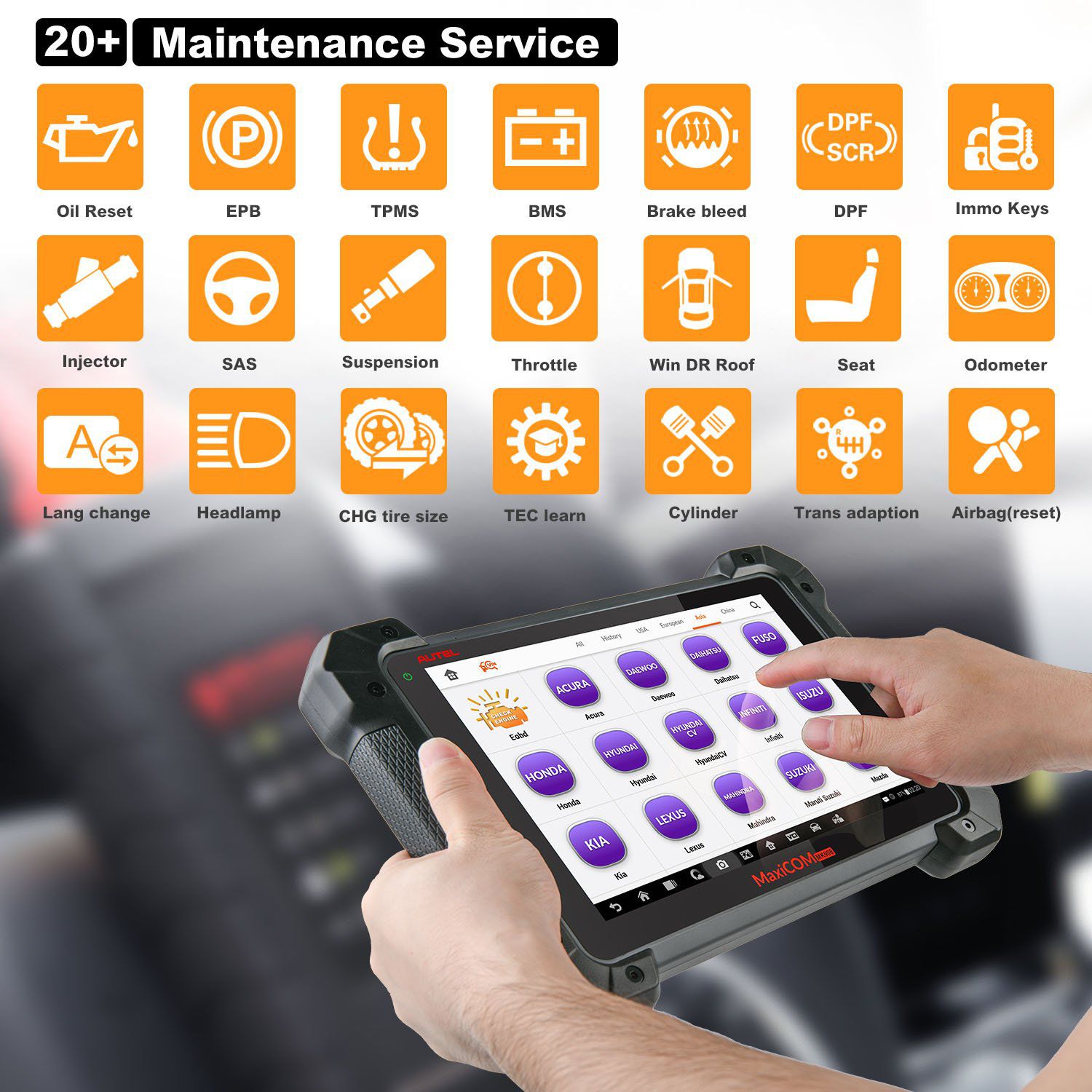 3. Active test for figuringout whether a specific subsystem or component in vehicles goes well.
Unlike conventional scanners, MK908 users can get access to the vehicle-specificsubsystem and component parts, and output commands to the related ECU, thusdriving the actuators to perform a specific function for determiningthe integrity of the systemor parts by reading the
engine
ECU data, or bymonitoring the operation of the actuators, such as switching a solenoid, relay,or switch, between two operating states.
4. Ultimate Configurationsfor Super-Level Diagnosis1) Super CPU & RAM:
This
Android
OS-based, tablet-style scanner sports an extremely powerful Hexa-Core 1.3GHz + 1.7GHz processor, and makes use of the internal 64GB solid-state drive, along with 2GB of RAM, for super speedy and smooth performance. However MS908, by contrast, only gets 1.4GHz Quad-Core Processor and 32GB SSD
drive.
2) More Intuitive Display:
Unlike MS908 supports 9.7" 1024*768 display, the image clarity image is more admirable in MK908. It is equipped with a 10.1", 1920*1200 resolution and back-lit LED multi-touch capacitive display for better user experience. Moreover, there's a built-in 8MP camera with a flashlight and autofocus. Compared with 5MP camera equipped in MS908, you will take more detailed snapshots for deeper analysis. Also, saving that and all the diagnostic data/files are quite easy thanks to 64GB on board memory space (only 32GB in MS908) at your disposal.
3) Ergonomic Design:
The product has been designed to be carried single handy yet it doesn't mean it will fit in pocket. In particulars on the outside you will see it adopts the real rubber protection design on the both sides to be more ergonomic, and to resist damage of daily heavy use for maximum longevity
4) Useful Multitasking:
The diagnostic scanner incorporates high-quality diagnostic protocols with multitasking capable software, so it shouldn't come as a surprise that this scan tool not only has amazing speeds, but also gets the ability to multitask, to help you to keep an eye on impacts on other parts, while fixing a particular part of the
engine
.
5. Autel MK908 ECU Programming & Coding:
The diagnostic tool can replace the existing software/firmware in the ECU, program new ECUs and fix software-controlled driving performance and emission issues. Since the introduction of OBD II and leading up to modern Hybrids and EVs, computers and software in cars have been expanding at an exponential rate. In-car software is becoming one of the leading needs for service, and updating software may be the only way to fix some of these issues:
-Drivability
-Fuel Efficiency
-Power Loss
-Fault Codes
-Durability of Mechanical Parts
The Programming and Coding function is used to re-flash the vehicle control modules, it allows you to update the computer software on the vehicle to the latest version, as well as to reprogram adaptive data for certain components after making repairs or replacements.
Notice:
The programming function can only be applied through connection with the
J2534
programming device (Autel MaxiFlash Elite), which serves as a Pass-Thru interface to establish communication with and transfer data to the vehicle's ECU.
What's the difference between Coding and Reprogramming
A. Coding – also known as Teach-in Program,Component Adaptation or something similar, is used to reprogram adaptive data for vehicle control modules after repairs or replacements of vehicle parts.
B. Reprogramming Operations – downloads new version of software subscription from the on-line server database through internet access (this procedure is done automatically when the MaxiSys display tablet is connected to the internet, so there is no need to check for software subscriptions yourself), and reprograms the newest software version to the vehicle's ECU
6. Advanced Driver Assistance Systems (ADAS)
ADAS is an array of vehicle systems that aid the driver either through passive alerts or by active control of the vehicle to drive safer and with greater awareness and precision. Cameras, sensors, ultrasound, radar and LIDAR are some of the systems used to capture the driving environment data, including travelling or static vehicles position, pedestrian location, road sign, driving lane and intersection detection, road (curves) and driving conditions (poor visibility or evening driving), use that information to instruct the vehicle to take its predetermined action. Cameras, sensors and sensing systems are typically location in front and rear bumpers,windshield, front grill and side and rear view mirrors.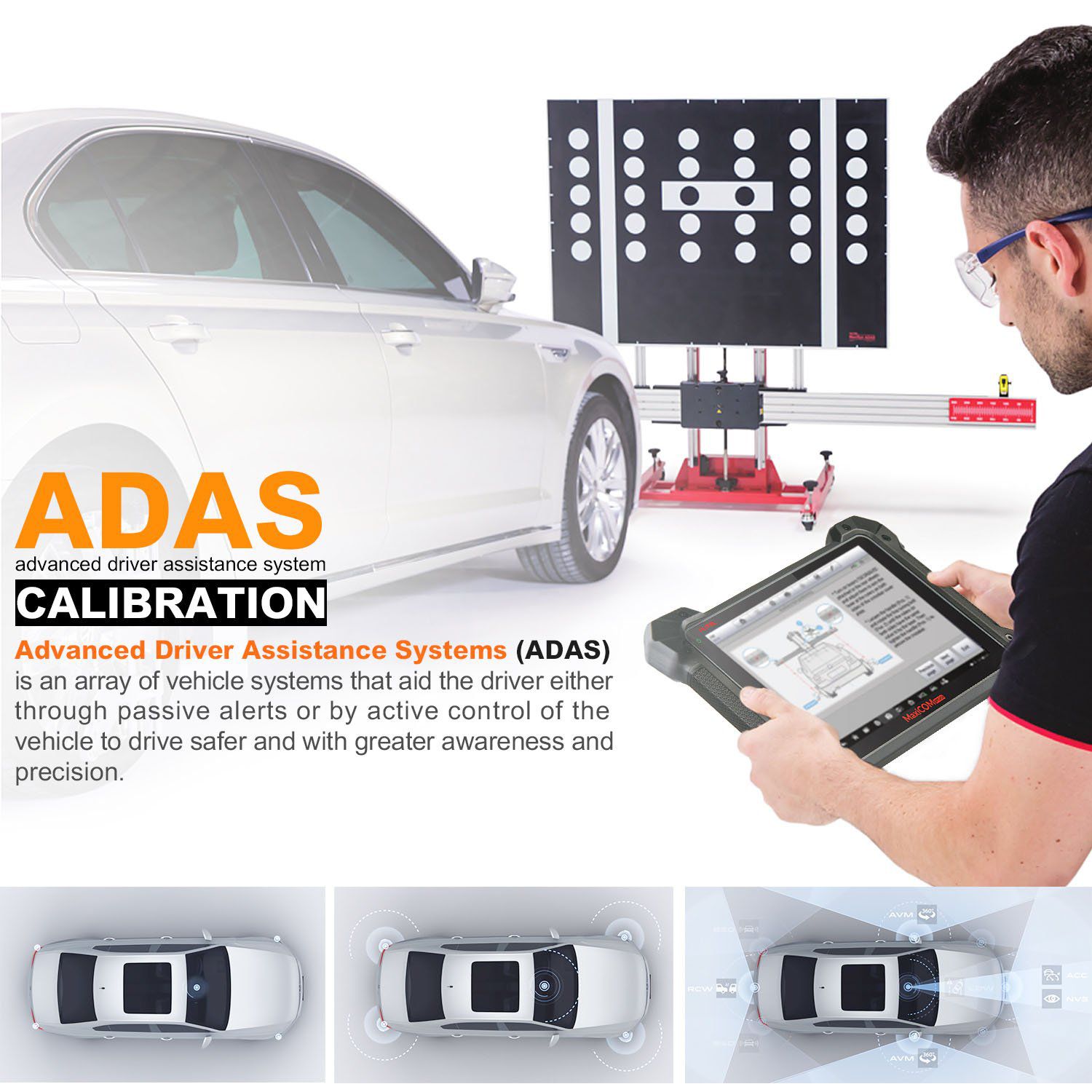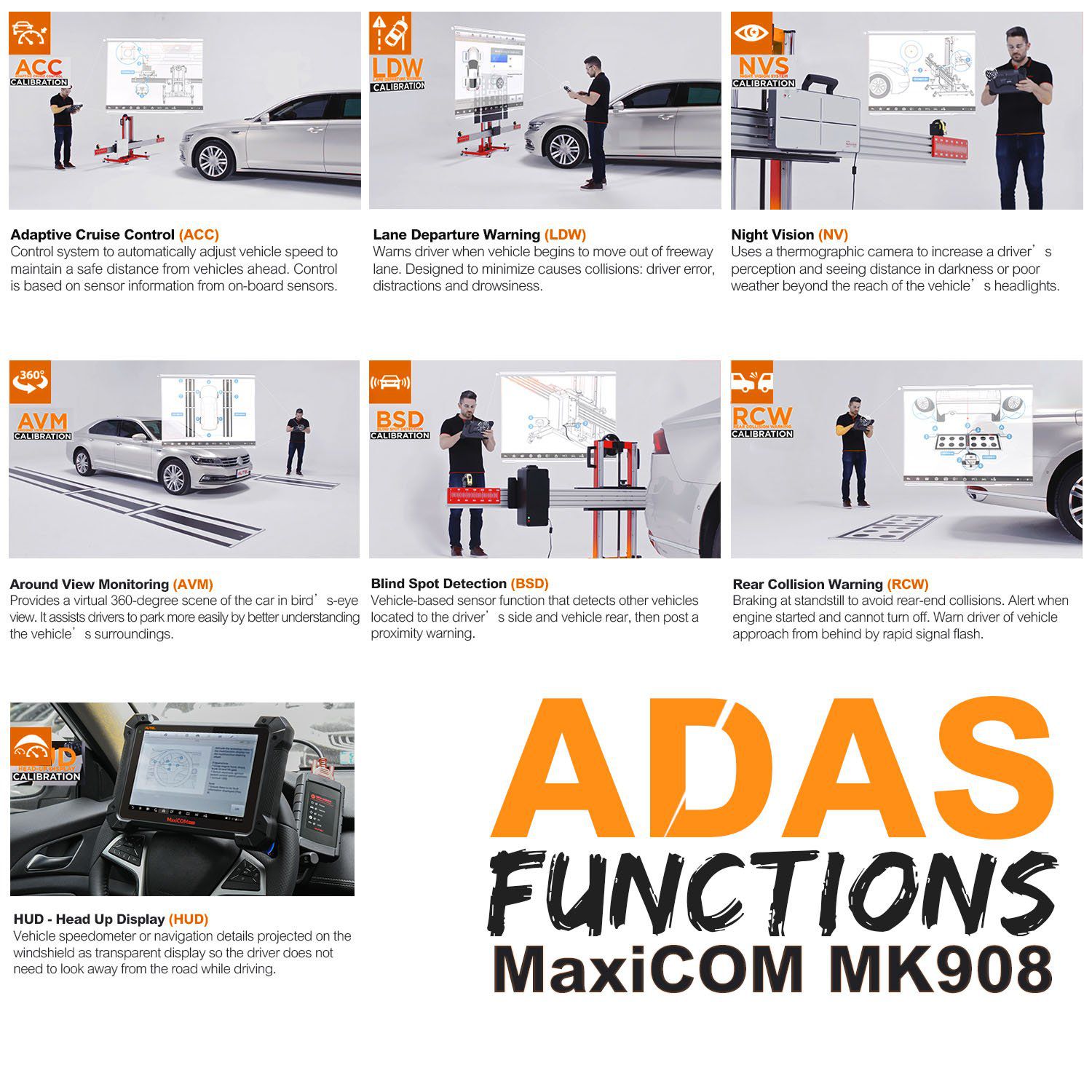 7. Abundant User-Friendly Add-On Features
Extendable Feature: It can expand the diagnostic capabilities by working with Autel MP408, MV108 to go deeper into the unseen details for locating the fault easily and accurately, or by working with Maxitpms TS501 for diagnosing comprehensive
TPMS
problems.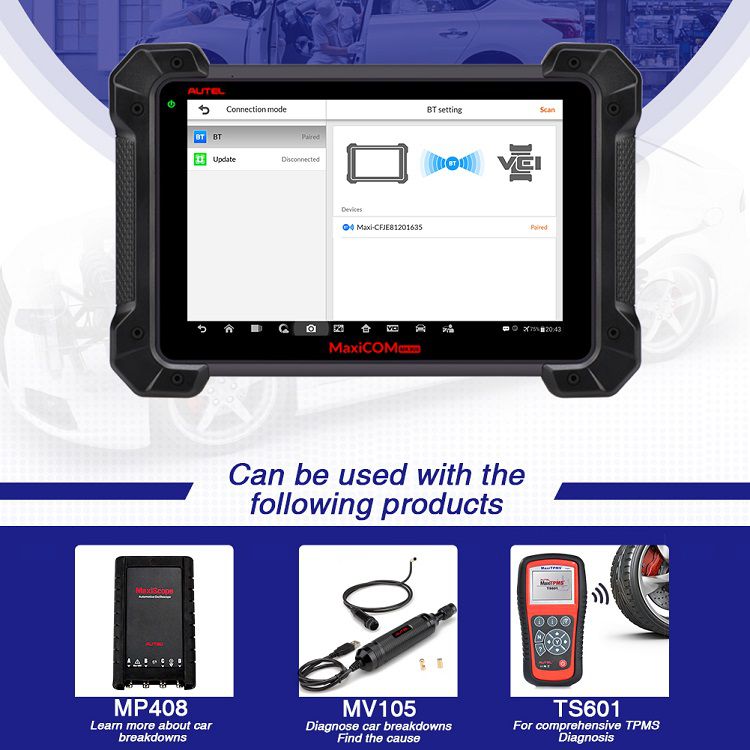 8. AutoVin Technology:
The device equips with the latest AutoVIN technology with advanced Auto-Scan functions to identify CAN- Enabled vehicles, in one touch. It displays the data in the form of text, graph, analog and digital gauge for efficient analysis.
9. Fast Data Transfer (VCI):
The package comes with both dual band 802.11n Wi-Fi technology and long range Blue-tooth connectivity that provides its users with an ultra-fast Vehicle Communication Interface. You don't have to wait. Just plug it into the
OBD-II
dashboard and it will diagnose within seconds.
MaxiFix:
The MaxiFix application
launch
es the on-line troubleshooter database, which not only provides you virtually all common diagnostic trouble code (DTC) database for most vehicles, but also serves as a forum allowing you to network with other MaxiCOM users, and gives you access to a vast database of repair and diagnostic tips along with proven filed fixes.
10 Data Manager:
The Data Manager application is used to store, print, and review the saved files for future reviews.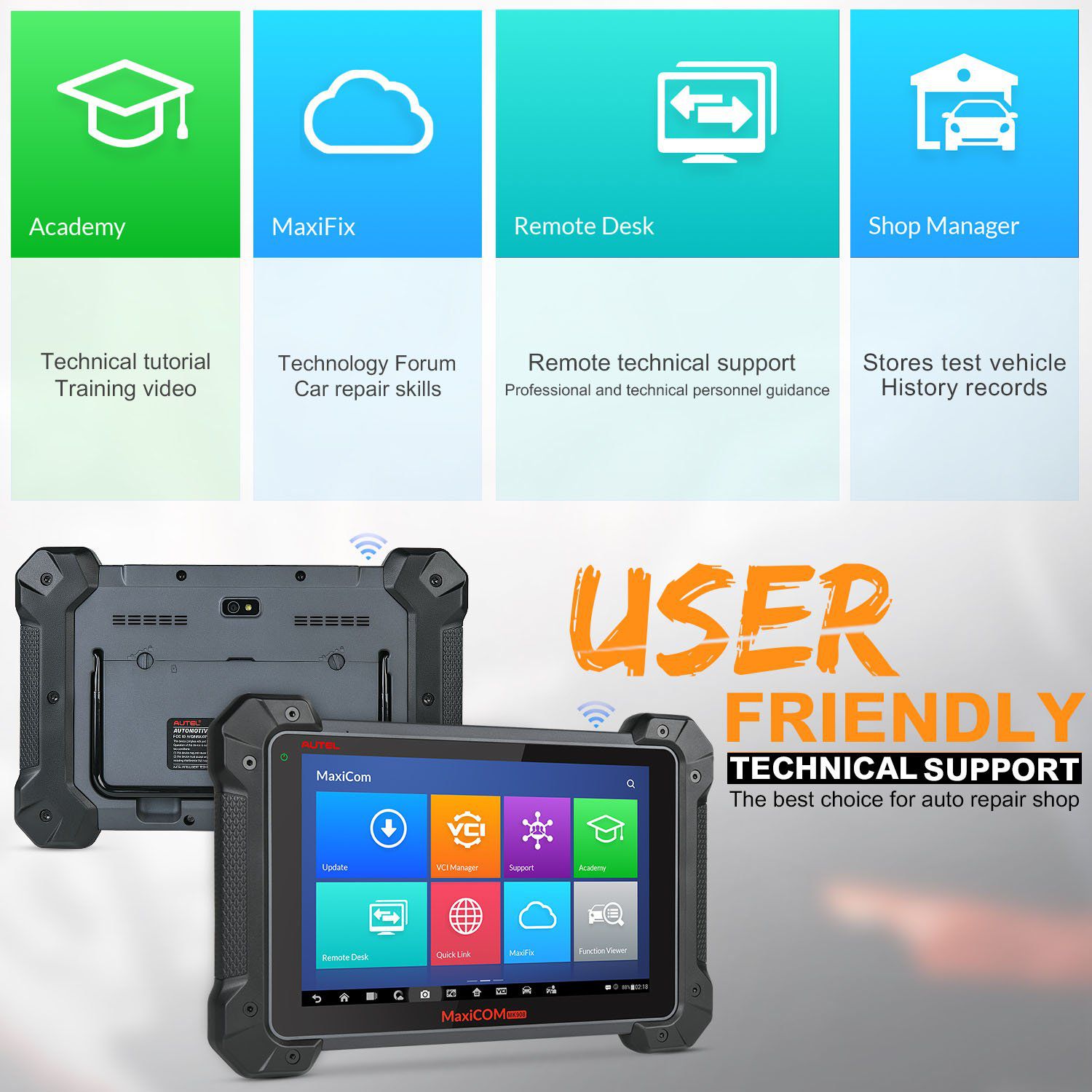 Wide Compatibility and Vehicle Coverage
Chrysler
,Dodge, Ford,
GM
, Jeep, Abarth, Alfa,
Citroen
, Fiat, Lancia, Opel,
Peugeot
,Porsche, Renault, Saab, Vauxhall, Volvo, Aston Martin,
Audi
, Bentley,
Benz
,Sprinter,
BMW
, Bugatti, Ferrari,
Jaguar
, Lamborghini, LandRover, Maserati,Maybach, Mini,Rolls-Royce,
Seat
,
Skoda
, Smart, VW,
VW
CV, Dacia, Ford EU, LT3,
Acura
, Daewoo, Daihatsu,
Honda
, Hyundai,
Hyundai
CV, Infiniti,
Kia
, Lexus,Maruti Suzuki,
Mazda
,
Mitsubishi
, Nissan,
Nissan
GTR, Samsung, Scion, SsangYong, Subaru, Suzuki, Toyota,Isuzu, Mahindra, Perodua, Proton, TATA, HINO,UD,Fuso.
Supported Protocols:
ISO 9142-2, ISO 14230-2, ISO 15765-4, K/L-Line, Flashing Code, SAE-J1850 VPW, SAE-J1850 PWM, CAN ISO 11898, High-speed, Middle speed, Low speed and Singlewide CAN,
GM
UART, UART Echo Byte Protocol, Honda Diag-H Protocol, TP 2.0, TP 1.6, SAE J1939, SAE J1708, Fault-Tolerant CAN
Specification:
Operating System:
Android
TM 4.4.2, KitKat
Processor: Samsung Exynos hexa-core Processor
(1.3GHz Quad-core ARM Cortex-A7 + 1.7GHz Dual-core ARM Cortex-A15)
Memory: 2GB RAM & 64GB On-board Memory
Display: 10.1-inch LED screen with 1920x1200 resolutions
Connectivity: Wi-Fi (802.11 a/b/g/n/ac); USB: 2.0; BT v.2.1 + EDR; SD Card (Support up to 32GB);
Camera (rear): 8.0 Megapixel, AF with Flashlight
Sensors: Gravity Accelerometer, Ambient Light Sensor (ALS)
Input Voltage: 12 V (9-24 V)
Power Consumption: 6.5 W
Operating Temp.: 0 to 50°C (32 to 122°F)
Storage Temp.: -20 to 60°C (-4 to 140°F)
Housing: Strong plastic housing with protective rubber boot
Package List:
1pc x MaxiCOM MK908 Unit
1pc x
Bluetooth
Diagnostic Interface
1pc x AC/DC Adapter (12V)
1pc x Adapter for Benz-14 (Europe Only)
1pc x Adapter for
Chrysler
-16 (America Only)
1pc x User Manual
1pc x Carrying Case
1pc x Quick Reference Guide
1pc x Lighter Fuse
1pc x Main cable
1pc x Adapter for
GM
/Daewoo-12
1pc x Adapter for
Audi
-2+2
1pc x Adapter for
BMW
-20
1pc x Adapter for Benz-38
1pc x Adapter for Kia-20
1pc x Adapter for
Mitsubishi
/Hyundai-12+16
1pc x Adapter for
Nissan
-14
1pc x Adapter for Honda-3
1pc x USB Cable
1pc x Cigarette Lighter
1pc x Soft Cloth
1pc x Packing List
1pc x Mini USB Cable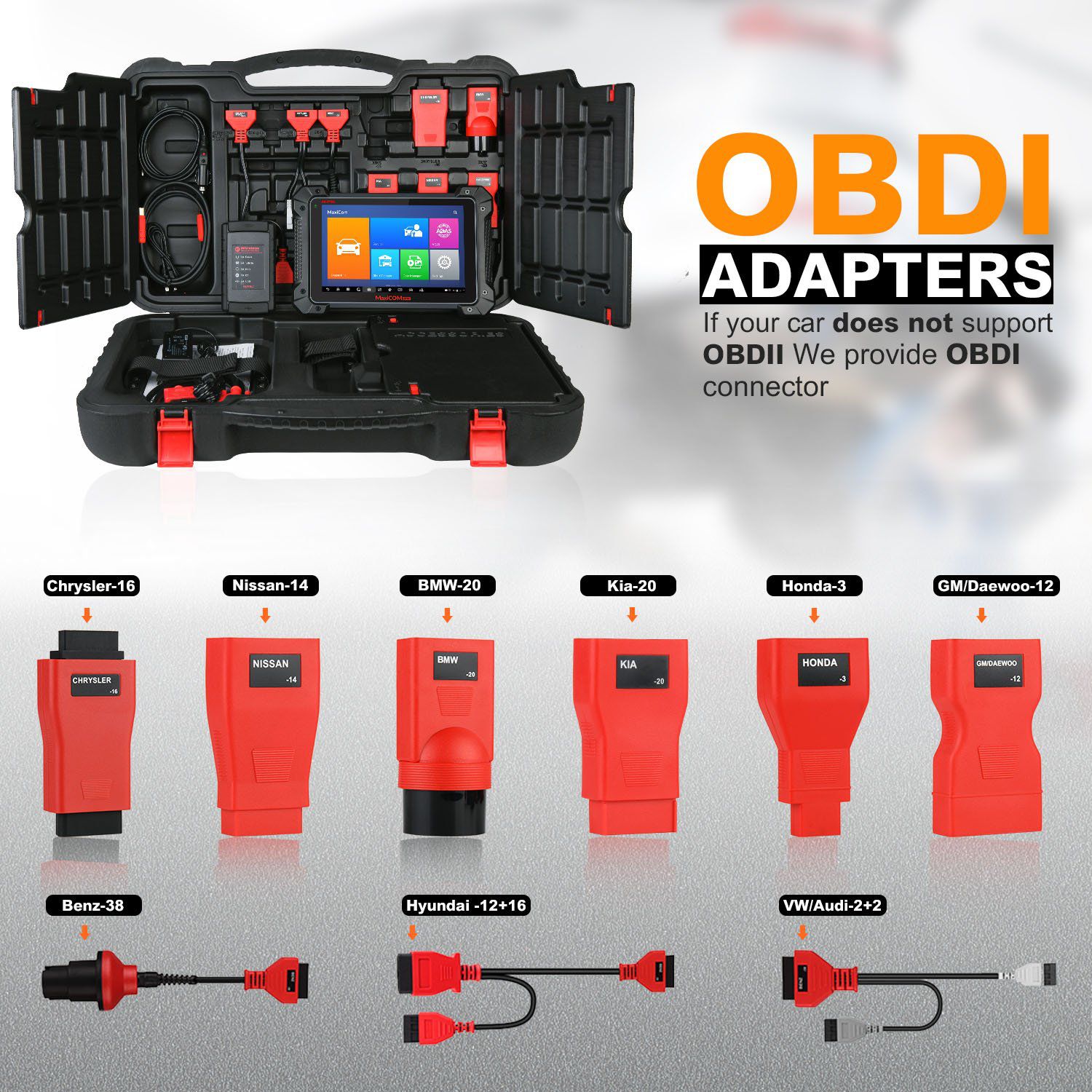 Reviews

17
#1 Holger Gitzing
Apr 9, 2021

Everything ok again
#1 jean claude kamgang
Mar 9, 2021

Very fast to len. area in six days. The drive with the progs is whole, everything is installed and connected. I haven't checked the car yet.
#1 MRS D M CUNNINGHAM
Jun 9, 2021

The goods received. visually everything is fine. the disc under the string with a gift software. while the impression from the seller is only positive.
#1 jose manuel garcia lazaro
Feb 9, 2021

Excellent product
#1 Adriany Kacimelry lopes
Mar 9, 2021

Good quality, fast shipment.
#1 omar henriquez ortega
Jun 9, 2021

Fast delivery, everything works
#1 Eva Dwayi
Jul 9, 2021

Very good. Arrived before the deadline. this 100% Original Autel MaxiCOM MK908 All System Diagnostic Tool Support ECU/Key Coding Updated Version of Maxisys MS908 is good quality, working very well
#1 Dimitar Zhelev
Apr 9, 2021

Everything perfect
#1 Stephen Bavington
Mar 9, 2021

Everything is fine, it came quickly
#1 danny wang
Jul 9, 2021

It works perfectly! Very good product, i recommend shop and seller.
Previous: Original CGDI MB Be Key V1.3 Support All Mercedes Till FBS3 315MHZ/433MHZ Get 1 Free Token for CGDI MB
Next: Xhorse VVDI BMW Diagnostic Coding and Programming Tool