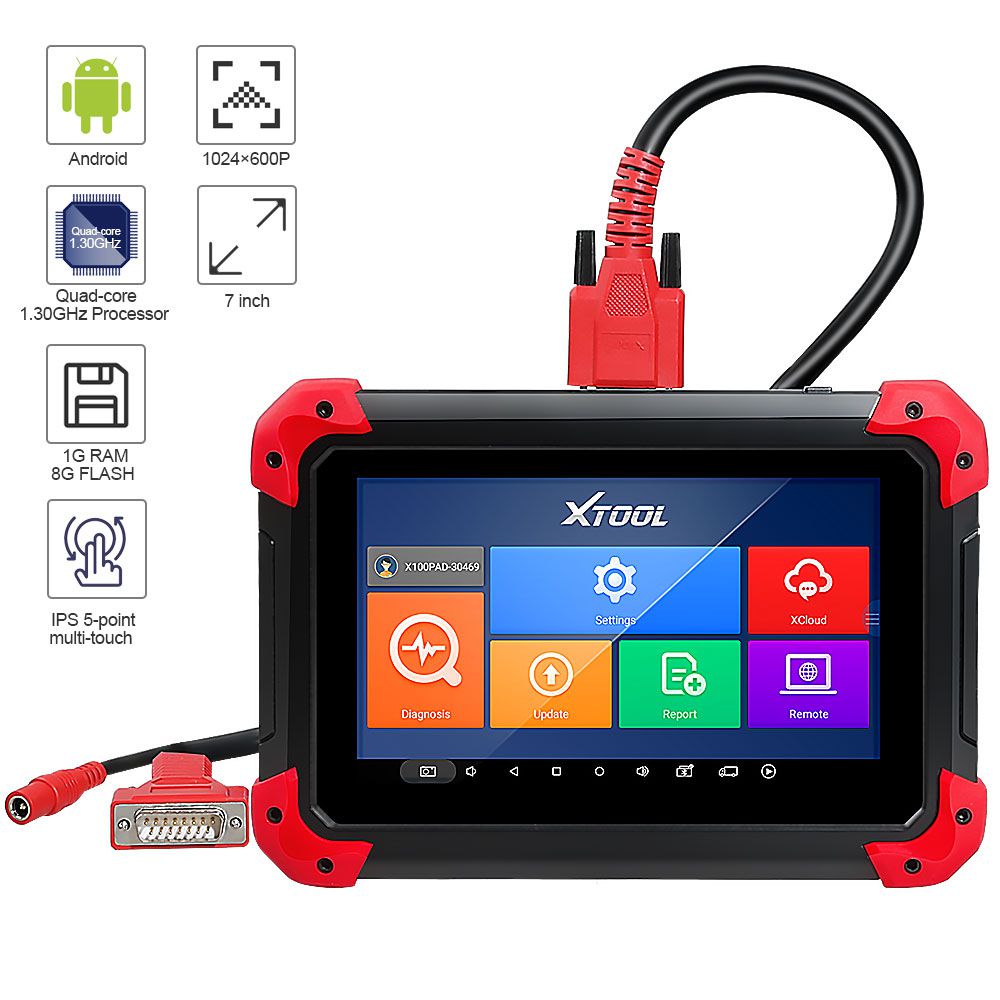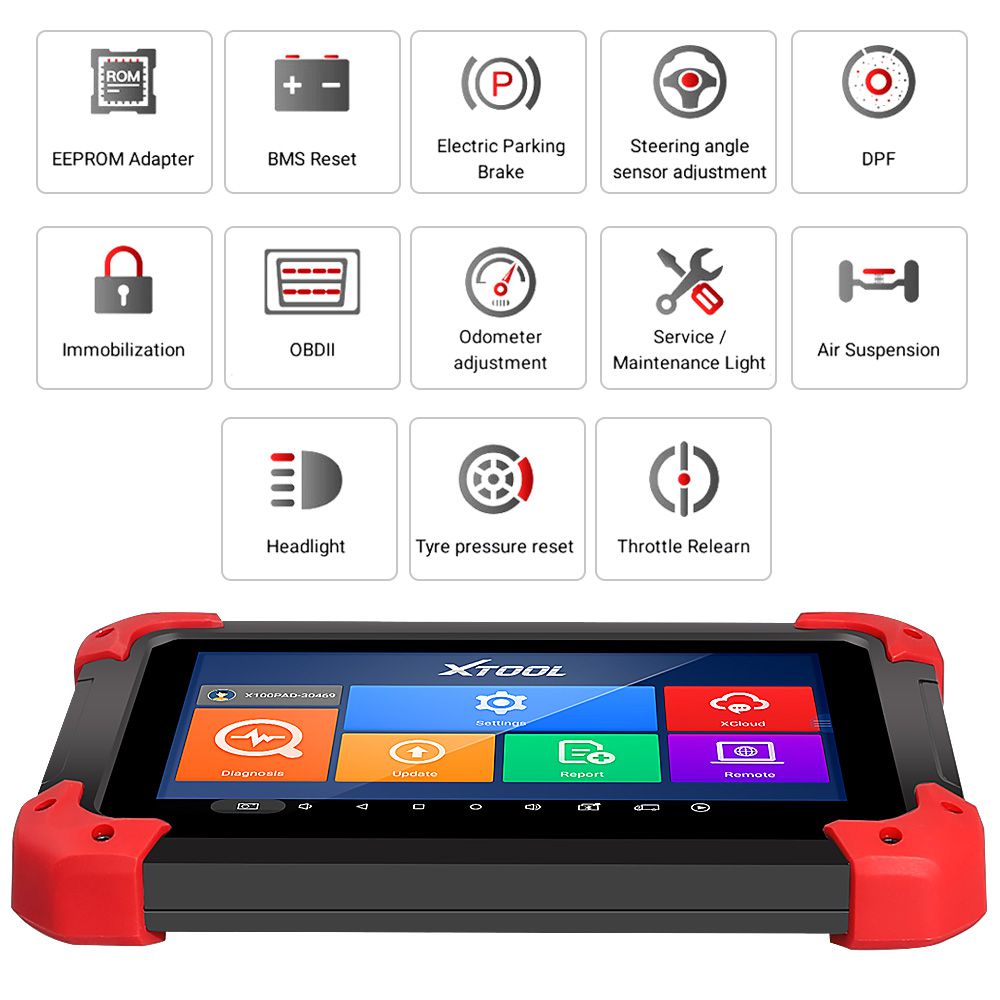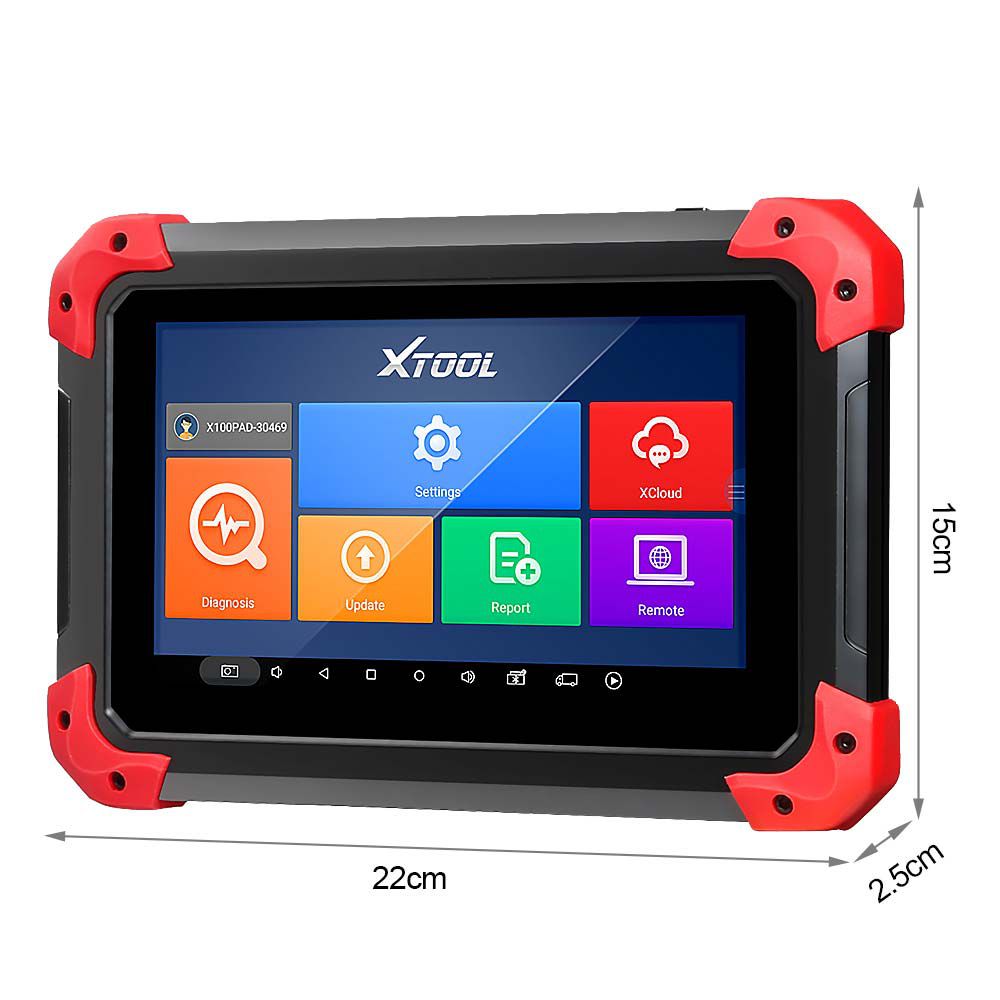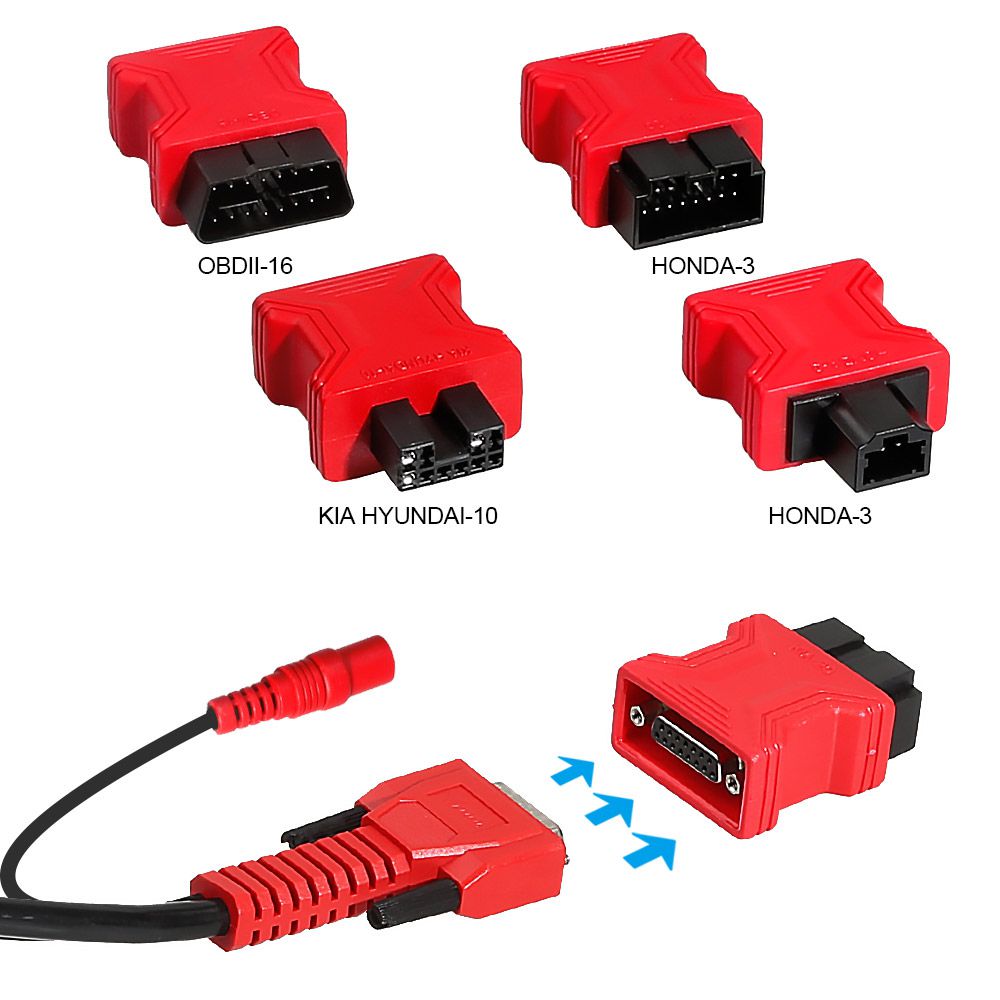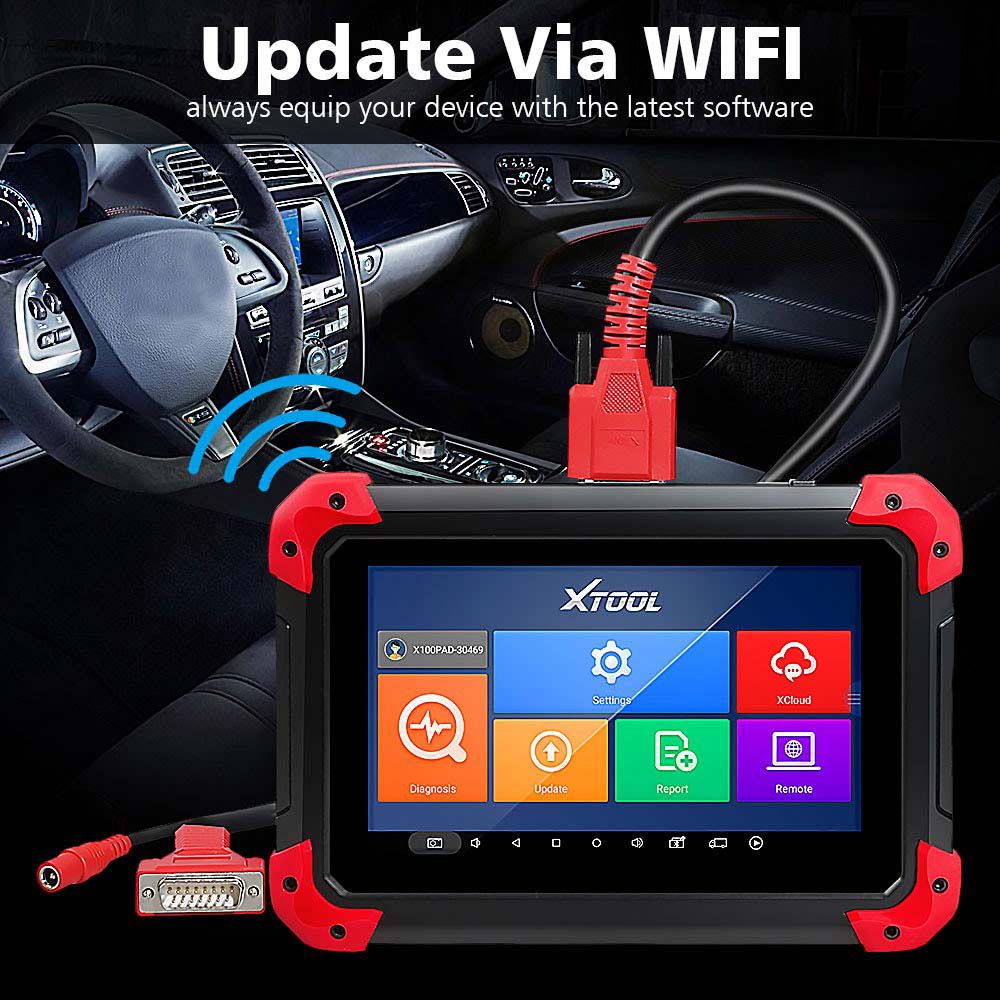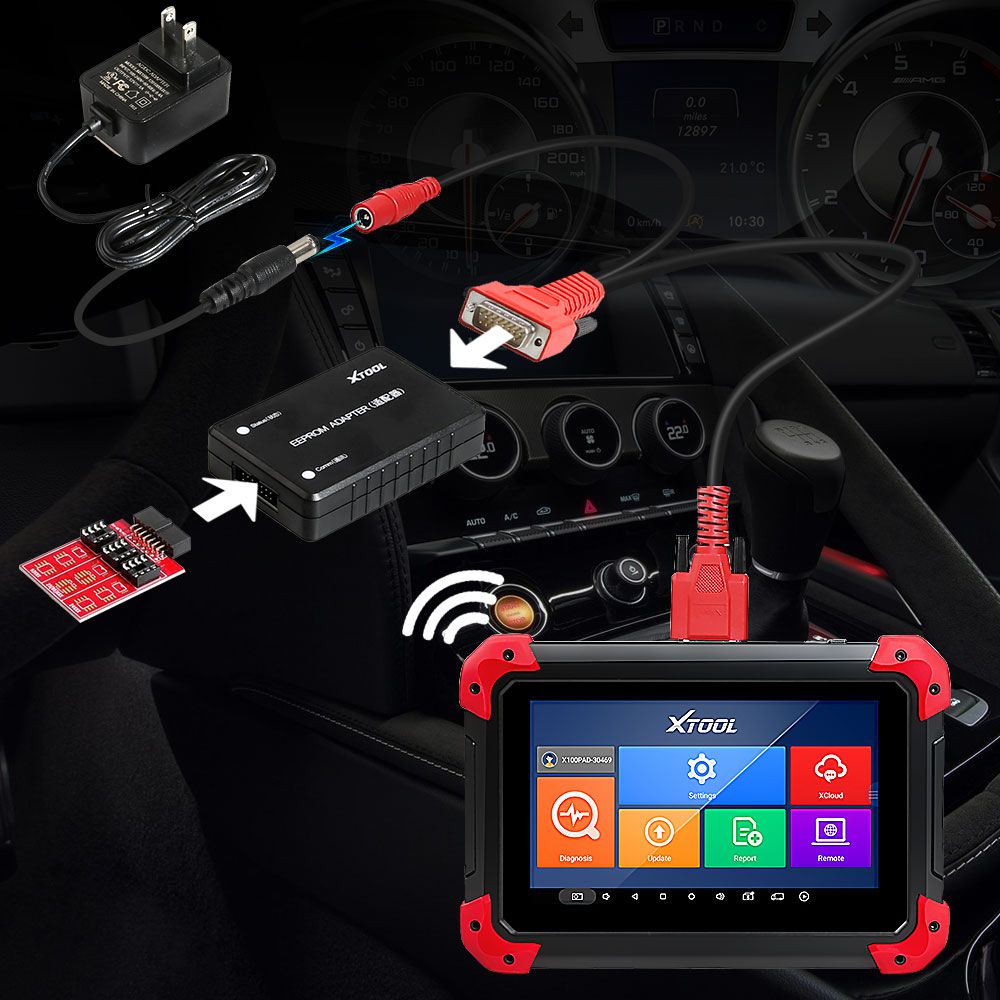 Description
Newest OBD2 XTOOL X100 PAD Auto Car Key Programmer With Oil Rest Tool And Odometer Adjustment

Notice:
1. Language: English, Spanish, French, German, Norwegian, Russian, Persian, Arabic, Polish, Hindi and Portuguese2. Dealer Code: XT02403. Free Update Online for Two Years

XTOOL X100 PAD Functions:
Key programming
Tire Pressure Warning Light Reset (Manual Operation)
Timing belt light reset (Manual Operation)
EPB Electrical Parking Brake Adaptation
TPS Throttle Body Adaptation
Steering Angle Calibration
Battery Reset
Hexadcimaleditor(Win Hex)
Support the latest vehicles with CAN BUS and UDS protocol
Update Via
WIFI
(always equip your device with the latest software)
More…
XTOOL X100 PAD Key Programming Features:
1.New keysprogramming
3.Hexadcimal editor(Win Hex)
4.Reads keys from immobilizer's memory
5.New immobilizerprogramming
6.Vehicle Identification Number programming
7.Reset
ECM
& reset immobilizer
8.New remote controller programming
9.With full and strong database for the most important vehicle makes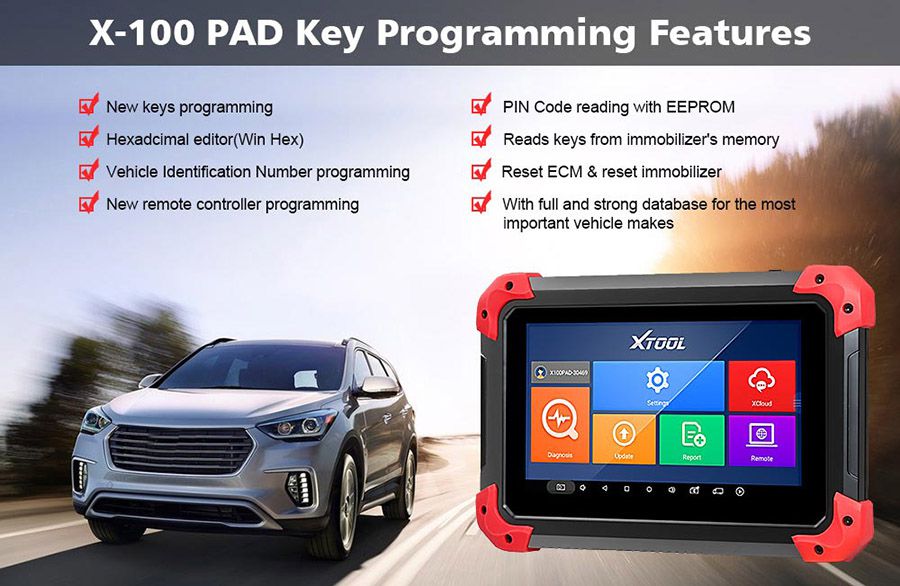 Support
engine
oil, spark plugs, front brake pads, back brake pads, air conditioner, brake liquid, coolant liquid,
vehicle checking , etc. resetting for bmw.
and the supported bmw models are F01/F02/F03/F04/F07/F10/F11/F12/F13/F18/F20/F30, etc.
Support Mercedes
Benz
new C class, E class models and for
Mercedes Benz
VITO/VIANO/SPINTER.
Support the lifespan percentage resetting of
engine
oil for B uick, C adillac etc.
Support P orsche cayenne, panamera till 2012
Support maintenance light reset for volvo, l and rover.
VW
/for
Audi
/SEAT/
Skoda
, B UICK, C ADILLAC, C HEVROLET,
Chrysler
, F ORD,
Mazda
, NISSAN, SUZUKI,
Kia
,
Hyundai
,
Jaguar
, L AND ROVER, P ORSCHE and more…
XTOOL X100 PAD EPB electrical parking brake adaptation
Tire pressure warning light reset (manual operation)
for mercedes-benz, for g m, vw, for bmw, toyota and more…
Timing belt light reset (manual operation)
Exhaust gas treatment (DPF) features
XTOOL X100 PAD EEPROM adapter features:
2. ECU Initializing
3. Chip Programming
XTOOL X100 PAD Vehicle Coverage:
Asia:
Toyota, Lexus, for
Honda
, A cura, Mazda, for N issan, Infiniti,
Mitsubishi
, Subaru, Suzuki, Kia, Hyundai, Daewoo, SSANGYONG, Proton, etc
Europe:
for Audi, VW, Skoda, Seat, for P orsche, Opel,
Citroen
,
Peugeot
,
Jaguar
, for L and Rover, Lincoln, Renault, etc
America:
for G M, C adillac, B uick,
Chrysler
, F ord etc
China: Great Wall, Chery, Brilliance-auto, Geely, LIFAN, HAFEI, CHANGAN, LANDWIND, BYD, BYD , JAC, etc.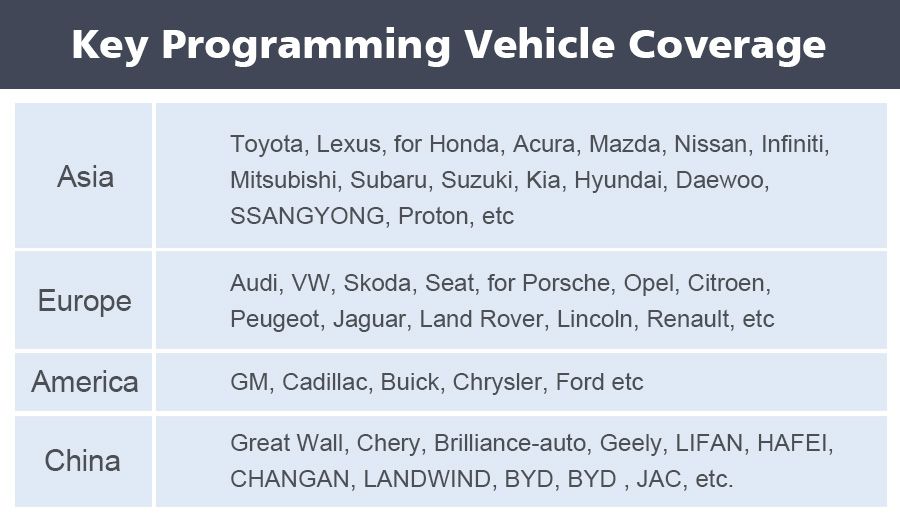 XTOOL X100 PAD Oil Service Light Reset Vehicle Coverage:
America: B uick, C adillac, C hevrolet,
Chrysler
, C hevrolet/ G MC, F ord/Mercury/Lincoln, Oldsmobile, P ontiac, Saturn, for G M, J eep and more…
European: VW, for Audi, P orsche, for B MW, for Mercedes-Benz, Volvo, L and Rover,
Peugeot
,
Citroen
, SAAB, Seat, Skoda and more…
Asia:Toyota/Lexus, N issan/Infiniti, for Honda, A cura, Isuzu, Chery, F ord Transit, Roewe, MG and more…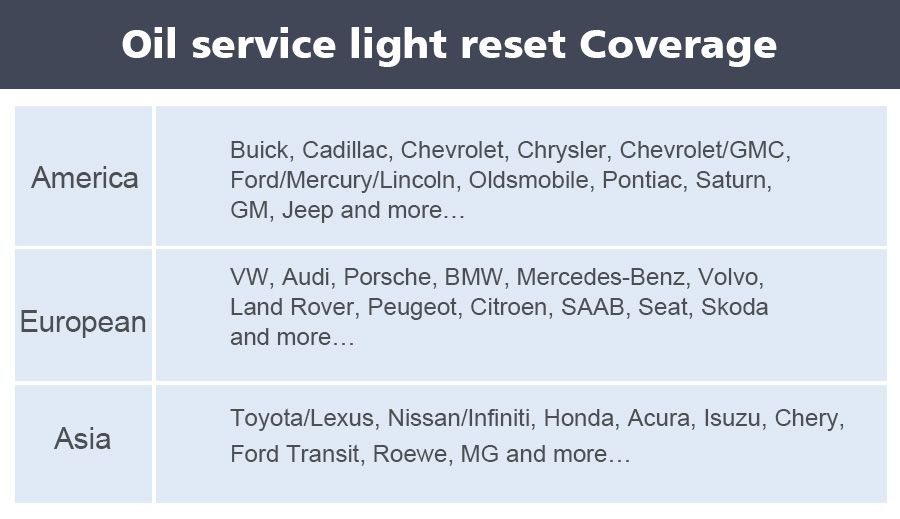 Package includes:
1pc x X-100 Tablet
1pc x OBDII 16Pin Adapter
1pc x Honda-3
1pc x Kia-20
1pc x Kia/Hyundai-10
1pc x Power Adapter
1pc x EEPROM Adapter
1pc x EEPROM IC Board
1pc x EEPROM Package Box
1pc x Test Main Cable
1pc x Mirco USB Cable
1pc x User's Manual
Reviews

11
#1 Nigel Sylvester
Dec 9, 2018

The product is excellent all works
#1 Andreas Westman
Sep 9, 2018

Super fast, tried on my car works perfect. Great seller.
#1 BIAGIO ESPOSITO
Dec 9, 2018

great, great, great, fast shipping, everything is there and work. thank you
#1 yahaya idris
May 9, 2018

Good seller! Super fast shiping!
#1 vicente arevalo
Oct 9, 2018

Got pretty fast. Home delivery.
#1 Georg28
Jan 9, 2019

Good seller! Super fast shiping!
#1 jose madrigal
Jul 9, 2018

Okay okay thanks this Newest XTOOL X100 PAD Key Programmer With Oil Rest Tool Odometer Adjustment and More Special Functions is good quality, working very well
#1 Helmut Böcklinger
Oct 9, 2018

Fast delivery, good quality.
#1 Brian Sullivan
Oct 9, 2018

Very fast to len. area in six days. The drive with the progs is whole, everything is installed and connected. I haven't checked the car yet.
#1 zhu xia
Feb 9, 2019

Everything works. Delivery is super fast. Disk c to read. Seller recommend!
Previous: LAUNCH CRP123X OBD2 Code Reader for Engine Transmission ABS SRS Diagnostics with AutoVIN Service Lifetime Free Update Online
Next: GM MDI GDS2 GM MDI GDS Tech 2 Win Software Sata HDD for Vauxhall Opel/Buick and Chevrolet V8.3.103.39