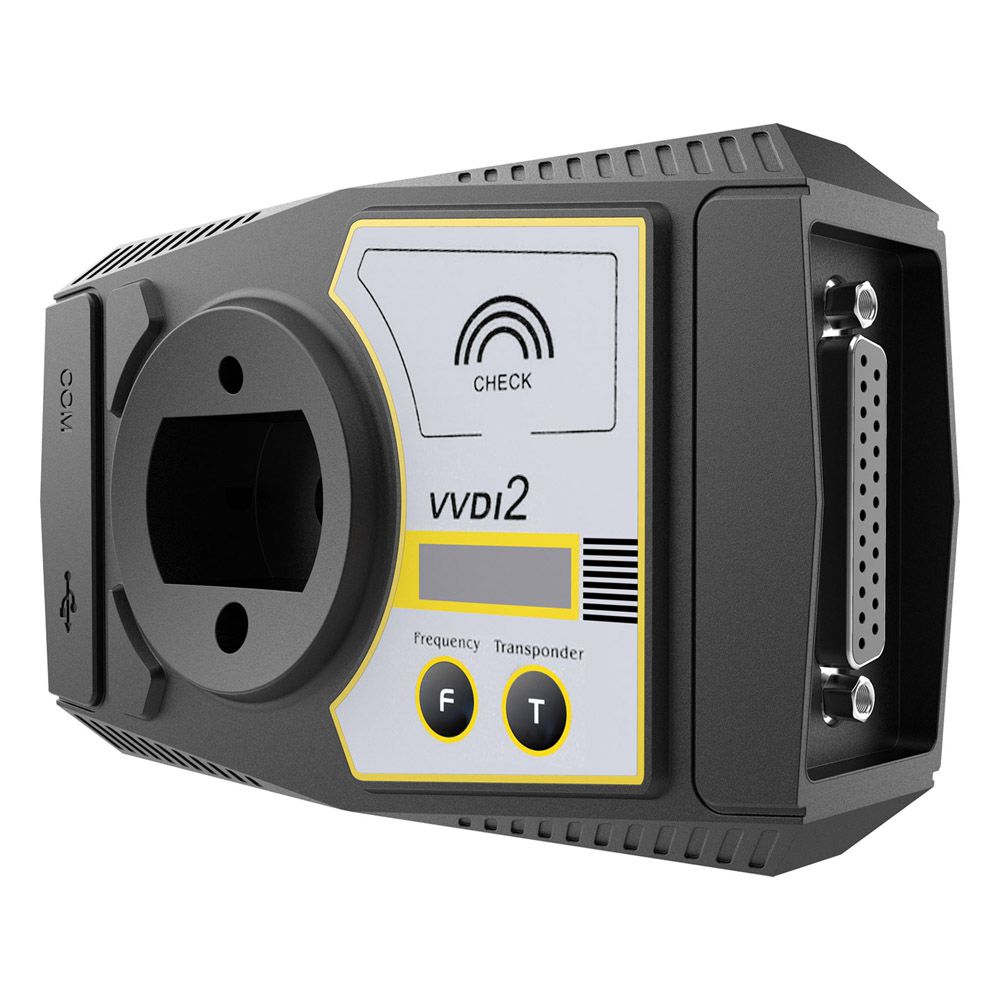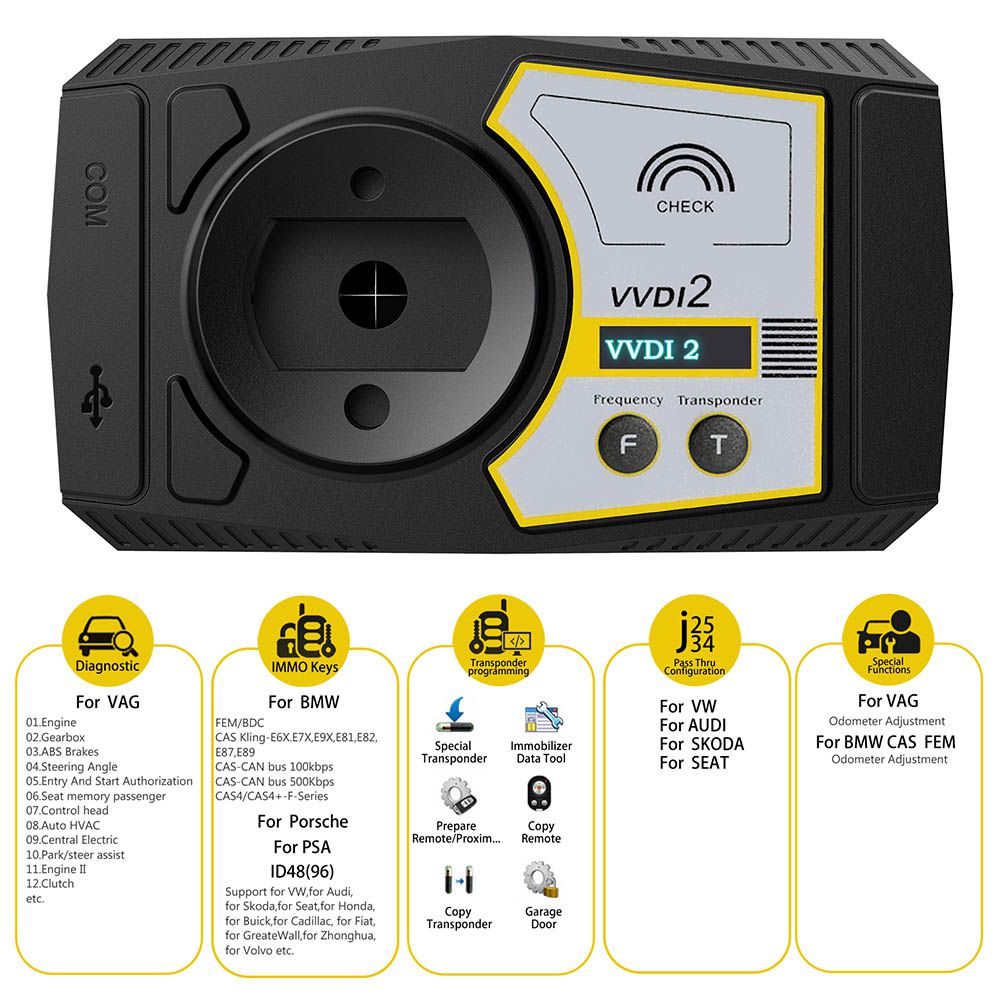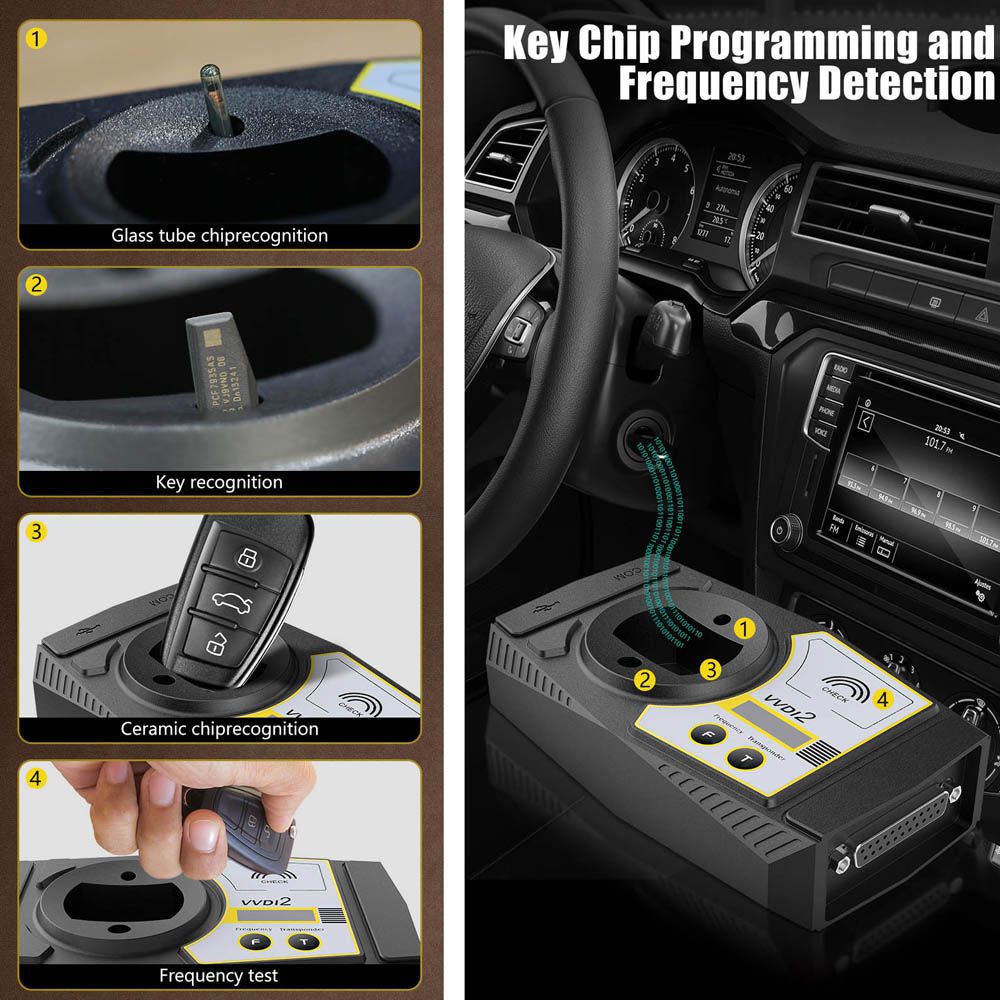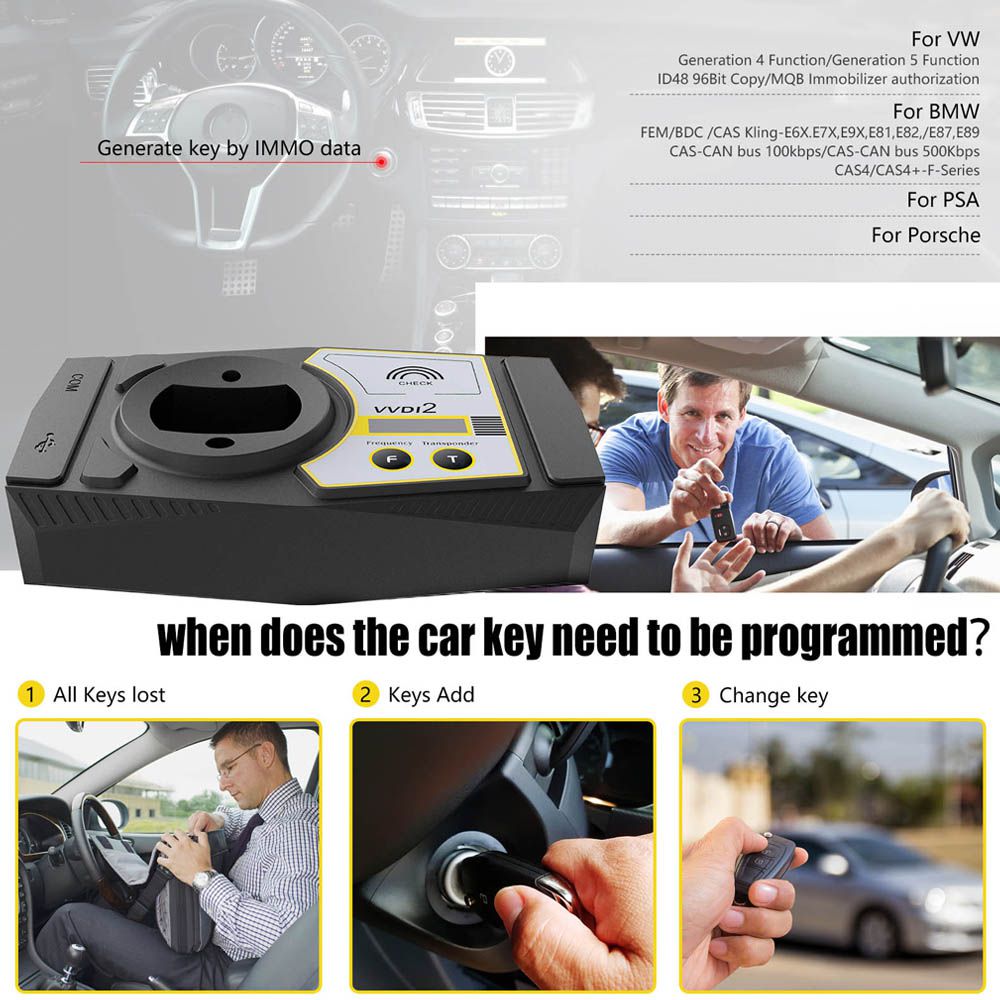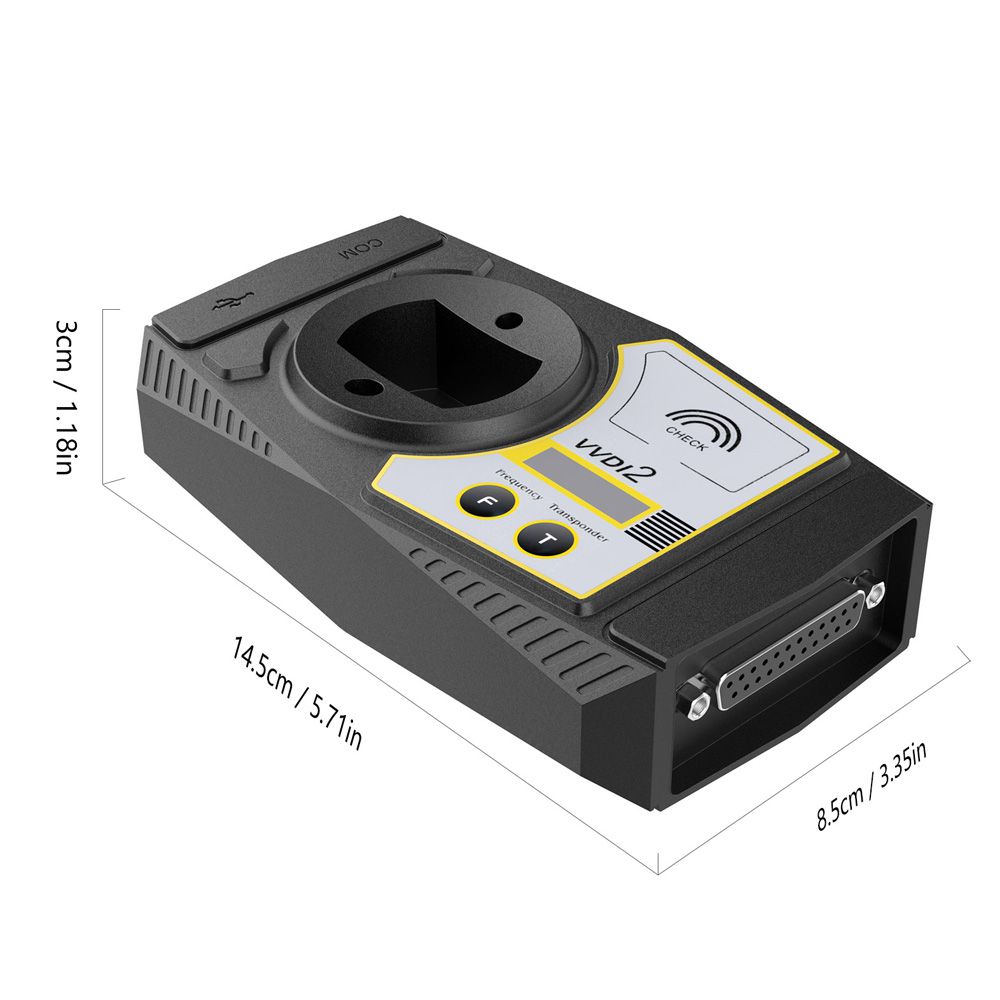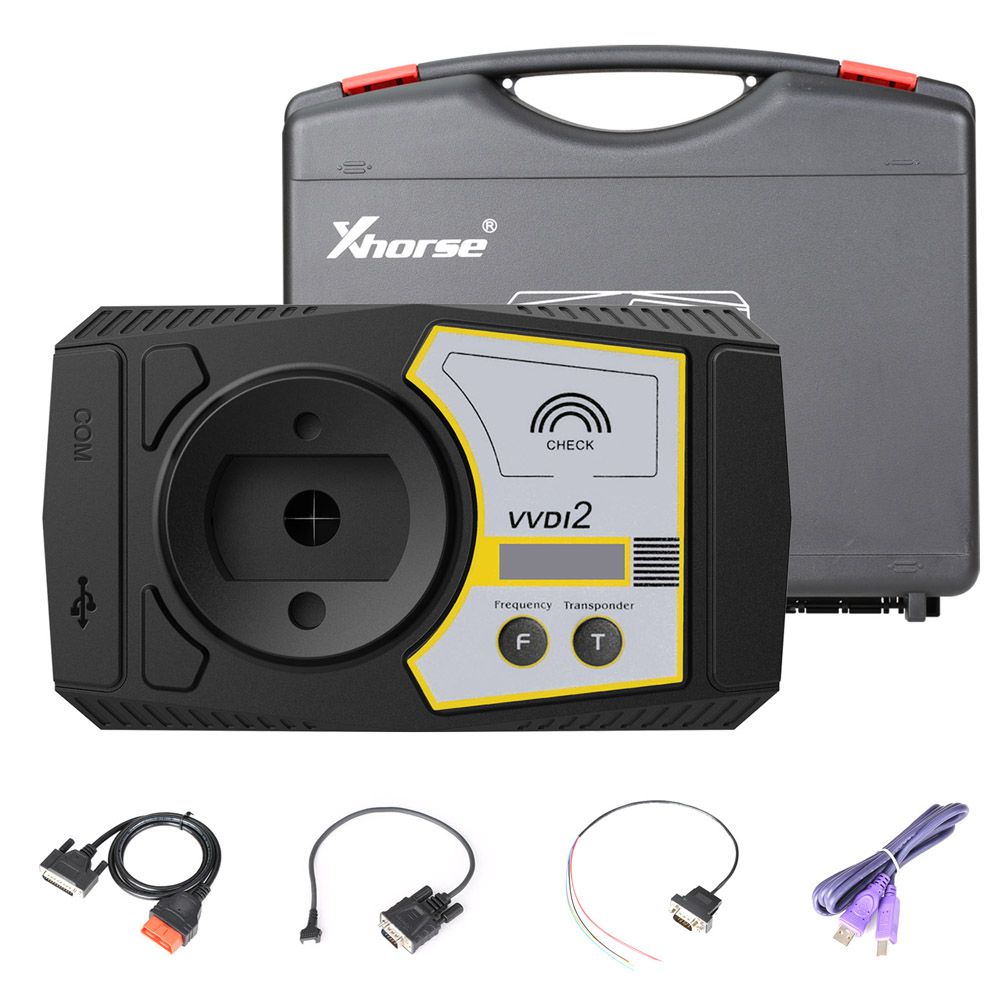 Description
Xhorse VVDI2 Full Kit with OBD48 + 96bit 48-Clone + MQB + BMW FEM/BDC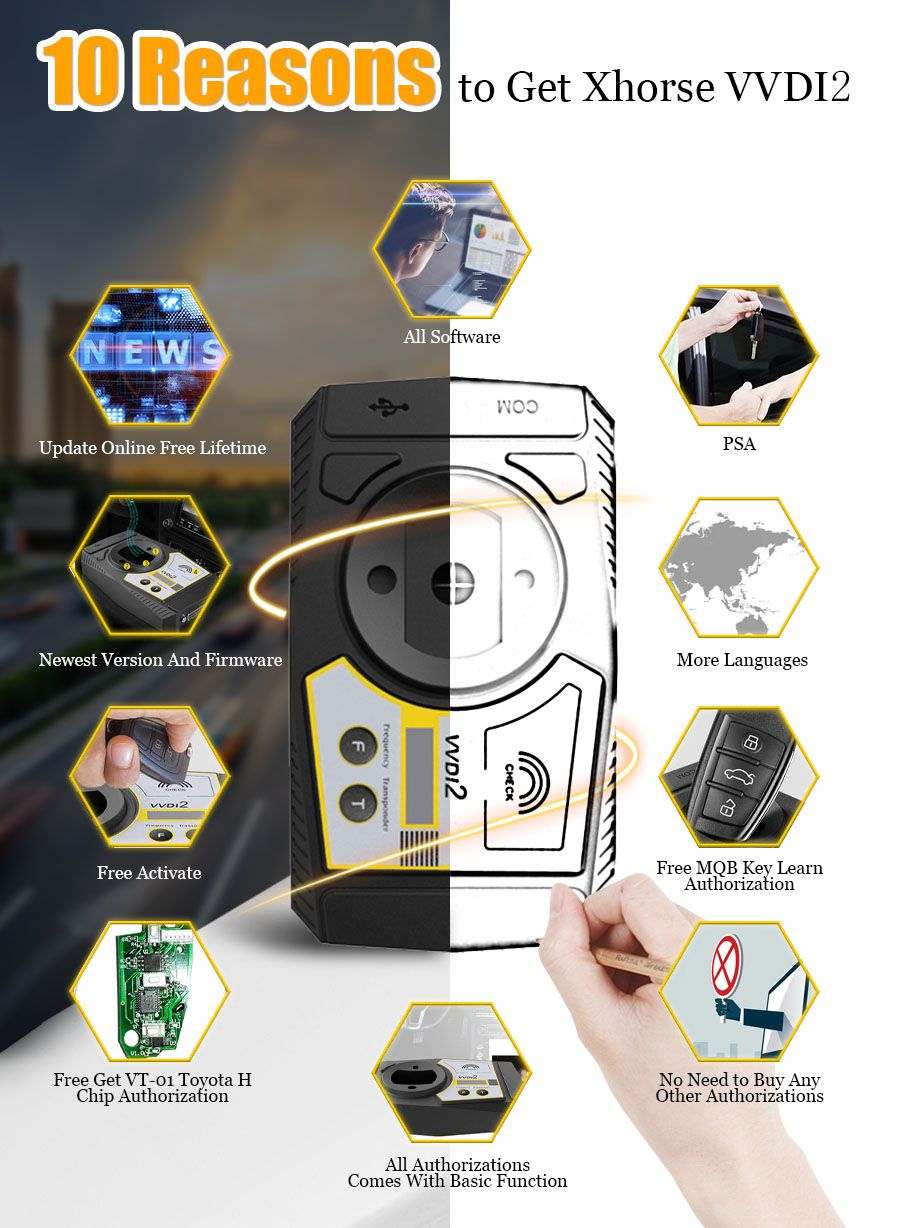 You will get VVDI2 Full Version including following authorizations.
1) VV-01 VAG 4th
IMMO
bilizer
2) VV-02 VAG 5th
IMMO
bilizer
3) VV-03 VAG Copy 48 transponder by
OBDII
4) VV-04 ID48 96Bit Copy
5) VV-05 VAG MQB
IMMO
bilizer
6) VB-01
BMW
OBD
7) VB-02
BMW
CAS4
8) VB-03 FEM/BDC Function
9) VP-01 Porsche immo data tool
10) VPSA-01 PSA
11) VK-01 Transponder Programmer
12) VJ-01 Passthru
J2534
13) Toyota H Chip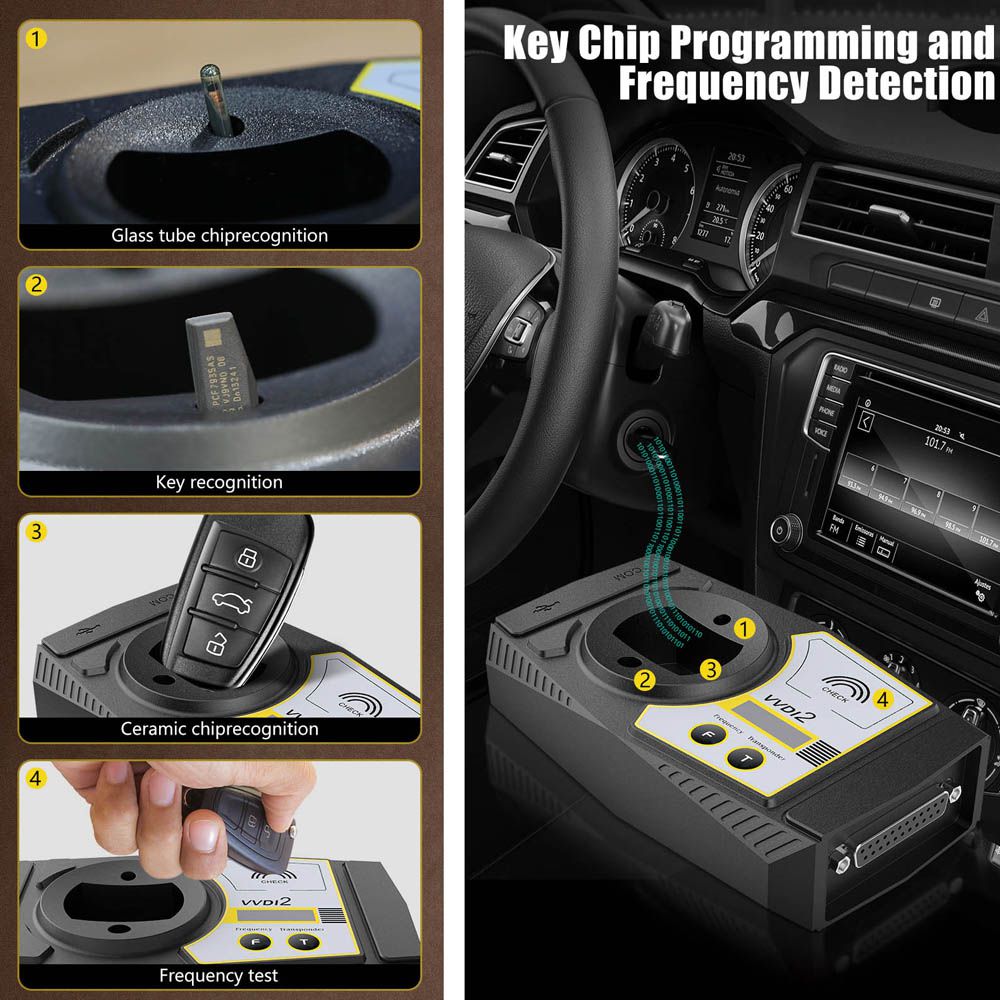 Notice:1.Pls directly give us serial number, we will active the followings free:
OBD read MED17/EDC17 PIN / CS / MAC, calculate OBD data online, calculate EEPROM / FLASH for PIN/MAC/CS.
2. It connects to the server and synchronizes once every 31 days.
This process is done automatically by itself for 1 day, internet connection is required for this process.
3.Toyota H Chip authorization, please get by yourself:
Select in
Xhorse
update kit software bind, log in Customer Self Service, point shop to click Activate H.
4. VVDI2 Language:
VVDI2 for BMW Language: English, Italian, Spanish, Polish, German, Hungarian, Chinese
VVDI2 for VAG Language: English, Polish, Spanish, Chinese
VVDI2 for Porsche Language: English, Polish, Spanish, Chinese
VVDI2 for PSA Language: English, Polish, Spanish, Chinese
VVDI2 for Transponder Programmer Language: English, Polish, Spanish, Chinese
Xhorse VVDI2 Full Version Special Functions:Volkswagen Software:
Support Volkswagen,
Audi
,
Skoda
,
Seat
, Porsche, Bentley ect.
Main Function:Diagnose,4th immo,5th immo system
Learn key
remote adaptation
change KM
Program Engine control unit(Passat ICC By OBD)
Unlock Immo1/Immo2 firmware protection
Support data manipulation tools
K-line instrument /immo box
adapt unit module component protection, dump tool and so on
Porsche Software:
Support file make key and key learn by OBD2
EEPROM support:1L15Y,2M25J,5M48H,1N35H

Transponder Programmer Introduction:
Remote transponder programmer, hundred kinds of special transponders, thousand kinds of vehicles supported immo data tool,
prepare remote, copy remote, copy transponder(11,12,13,40,44,Hitags(46),48),other key tool(find 7th CS from working key) etc

BMW Software:
Unit coding
OBD key learn(CAS1/CAS2/CAS3/CAS3+)
File Make Key(CAS1/CAS2/CAS3/CAS3+/CAS4/CAS4+)
mileage correction,
read & write EWS/CAS EEPROM
synchronize DME-CAS, synchronize CAS-ELV
unlock key
CAS repaired etc
Fix CAS4 EEPROM key programmer
Generate specialized chips
Immobilizer data processing tool
Other key tools
Generate remote control

Others:
Peugeot/Citroen/DS get password, key learn
test remote frequency
Support PASSTHRU J2534,can be used by third party software ODIS ect.With built-in switch matrix, it supports third-party diagnostic software including:
ODIS, Toyota TIS techstream etc.
To perform VVDI2 diagnostic function, third-party diagnostic software should be compatible with J2534 function.

How to activate Toyota H Chip Function in VVDI2 Full?

1) Connect VVDI2 to PC via USB cable

2) Open Upgrate kit, select VVDI2


and go to System Point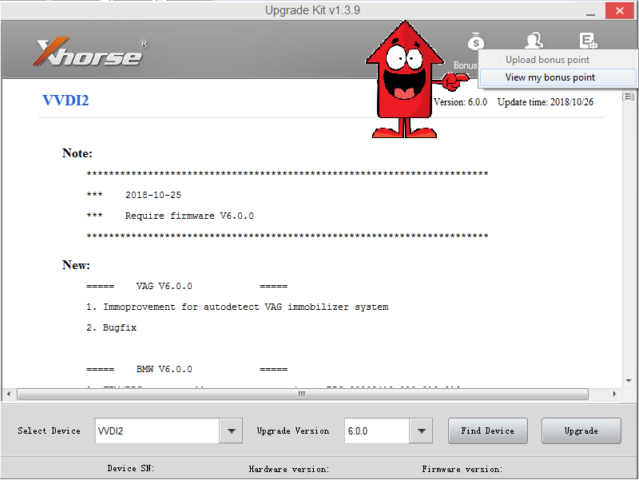 3) Click View My bonus Points





4)Type Login and password for your account on Customer Self Service website

5) Select Activate H




Xhorse VVDI2 Latest Update Information:

V7.1.1 VVDI2 Software Free Download

V7.0.9 VVDI2 Update 2021-09-13
Require firmware V7.0.9
1. Support 2013-2019 A4L/A5/Q5 add key and all key lost; Support 2013-2019 A6L/A7/A8 get BCM2 immodata while all key lost(Menu->Key learn->Fifth immobilizer system-Locked BCM2 version)
a. Becuase different vehicle have different end time, we only support IMMO5 cars with BCM2
b. Require VVDI-PROG and VVDI BCM2 adapter help
c. Must follow VVDI2 instructions to do this job
d. 2013-2019 A6L/A7/A8 add key can get BCM2 immodata directly via OBDII
e. 2013-2019 A6L/A7/A8 require synchronize data, synchronize data can get from 3rd service provider
f. After get BCM2 immodata, goto Fifth immobilizer system to learn key
3. Bugfix

BMW V7.0.9
1. Update BMW usermanual to V2.0 version
2. Bugfix

Transponder Programmer V7.0.9
1. Immobilizer data tool: Asia->China immobox->UAES
2. Immobilizer data tool: Asia->China immobox->FAW Group->Junpai D60
3. Bugfix

VVDI2 Update V7.0.1 2021-05-31
Require firmware V7.0.0
1. Improvement for 5ND920873B (H510655, H520657): Support OBD backup eeprom, read immo data, key learn, change KM etc.
2. Bugfix

Transponder Programmer V7.0.1
1. Immobilizer data tool: USA->Ford->C-Max->2003 9S12 bugfix
2. Bugfix

VVDI2 Latest Software Version V6.8.2 Update 2021-01-05
Require firmware V6.8.1
===== VAG V6.8.2 =====
1. Improvement for MQB/5C key learning
2. Improvement for autodetect VAG immobilizer system
3. Bugfix

===== BMW V6.8.2 =====
1. Bugfix

===== Porsche V6.8.2 =====
1. Bugfix

===== PSA V6.8.2 =====
1. Bugfix

===== Transponder Programmer V6.8.2 =====
1. Support make remote for XM proximite remote
2. Bugfix

===== Copy 48 (96 bits) V6.8.2 =====
1. Bugfix

===== J2534 V6.8.2 =====
1. Bugfix

===== Online Upate Tool V6.8.2 =====
1. Bugfix

===== Quick Start V6.8.2 =====
1. Bugfix

VVDI2 key programmer Parameter:
| | |
| --- | --- |
| Working teamperature | -20~70℃ |
| Store teamperature | -40~80℃ |
| Item dimension | 146*85*33mm |
| Package dimension | 355*283*87mm |
| Net weight | 0.23KG |
| Gross weight | 1.5KG |
| Power | 1W |
| USB Interface | USB 2.0 |
VVDI2 Package List:
1pc x VVDI 2 Main Interface
1pc x 5th BDM Programmer
1pc x
OBD2
Cable
1pc x Remote Programmer
1pc x USB Cable
Reviews

23
#1 Hermes Cisneros
Oct 9, 2018

fits my machine perfectly
#1 adams doudou
Mar 9, 2019

Excellent prduto. Arrived before the Expected. very good.
#1 Jacques Futch
Feb 9, 2019

works like charm
#1 LUDWIG MAZMANIAN
Jul 9, 2018

Received it via DHL,all good.thank you.
#1 Josef Schwaiger
Sep 9, 2018

The goods came quickly enough, packed perfectly, checked works!
#1 acanfora giancarlo
Feb 9, 2019

Perfect! Thank you. Not yet tested but happy
#1 MOURAD BRAHIMI
May 9, 2018

Very good… Super fast this VVDI2 Key Programmer Full Kit with OBD48 + 96bit 48-Clone + MQB + BMW FEM/BDC is good quality, working very well
#1 Wilhelmus van Weert
Jan 9, 2019

very good are satisfied with fast shipping
#1 helio de a cruz
Mar 9, 2019

Works just great, I am totally inpressed! very good!
#1 maniakosxavirabi maniakosxavirabi
Feb 9, 2019

the best!!!!!!!!!!
Previous: Launch X431 Golo3 GOLO 3 Android OBD2 Full System Diagnostic Tool with Bluetooth and OBD extension Cable
Next: Volkswagen 35xx Test Platform VW ECU Adapting Key Making