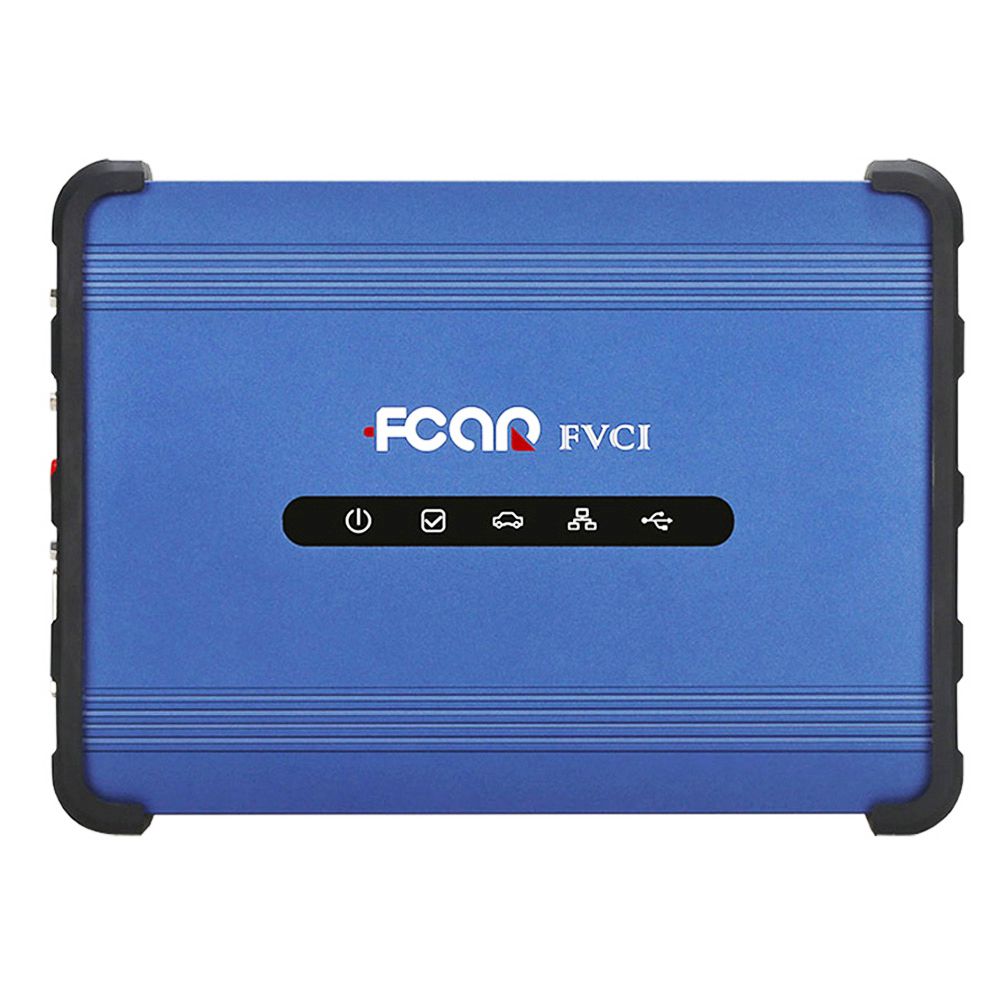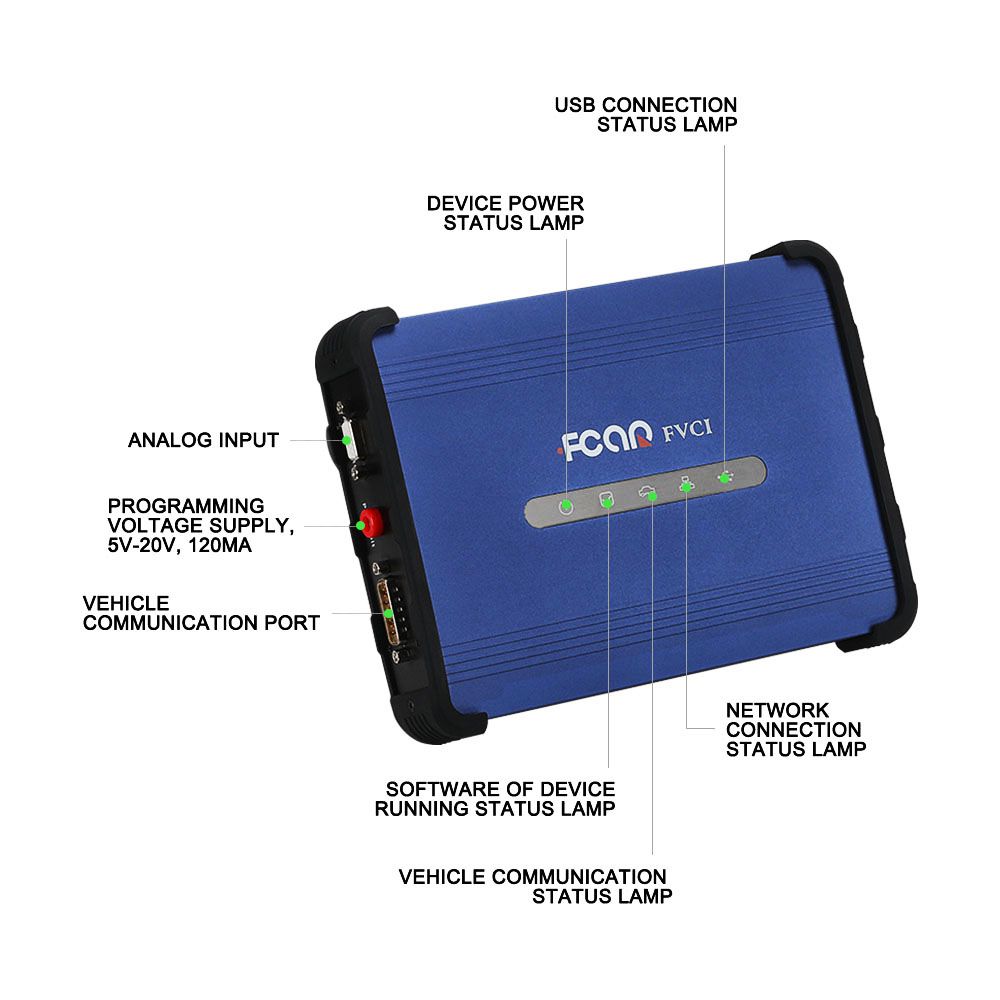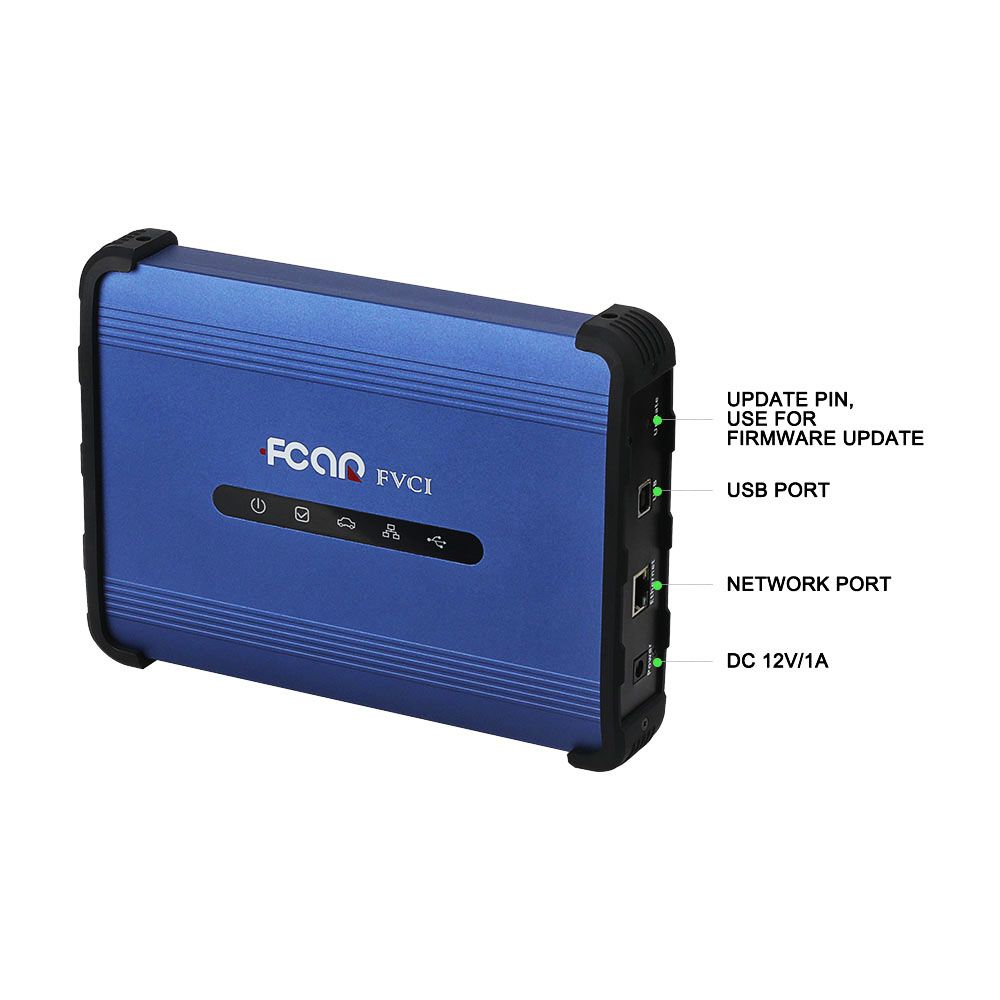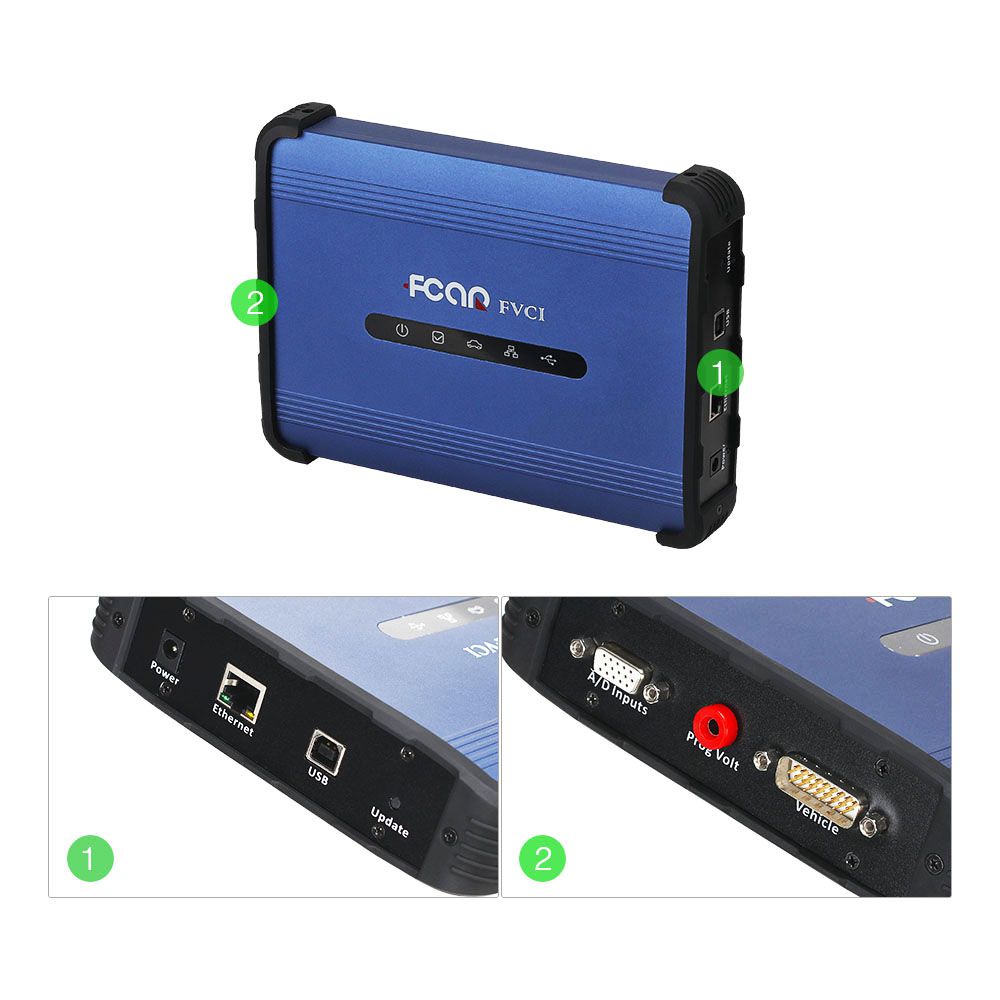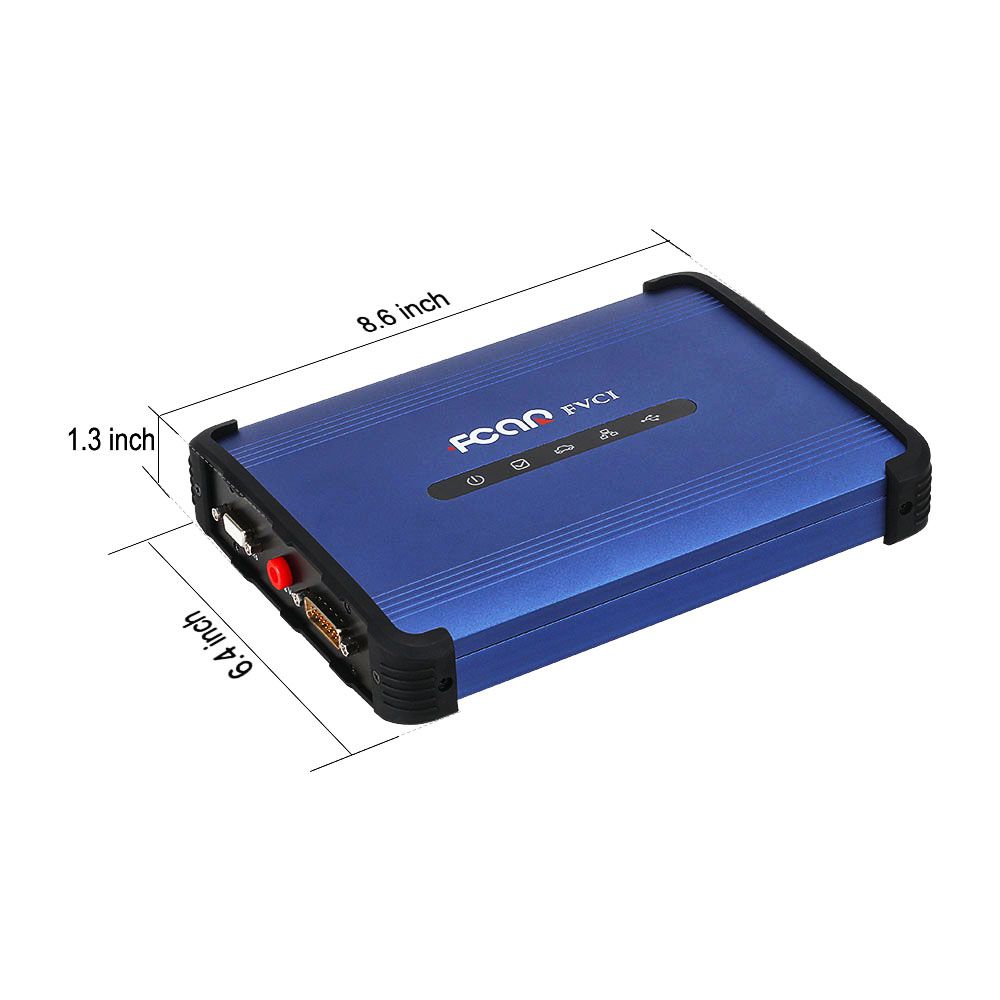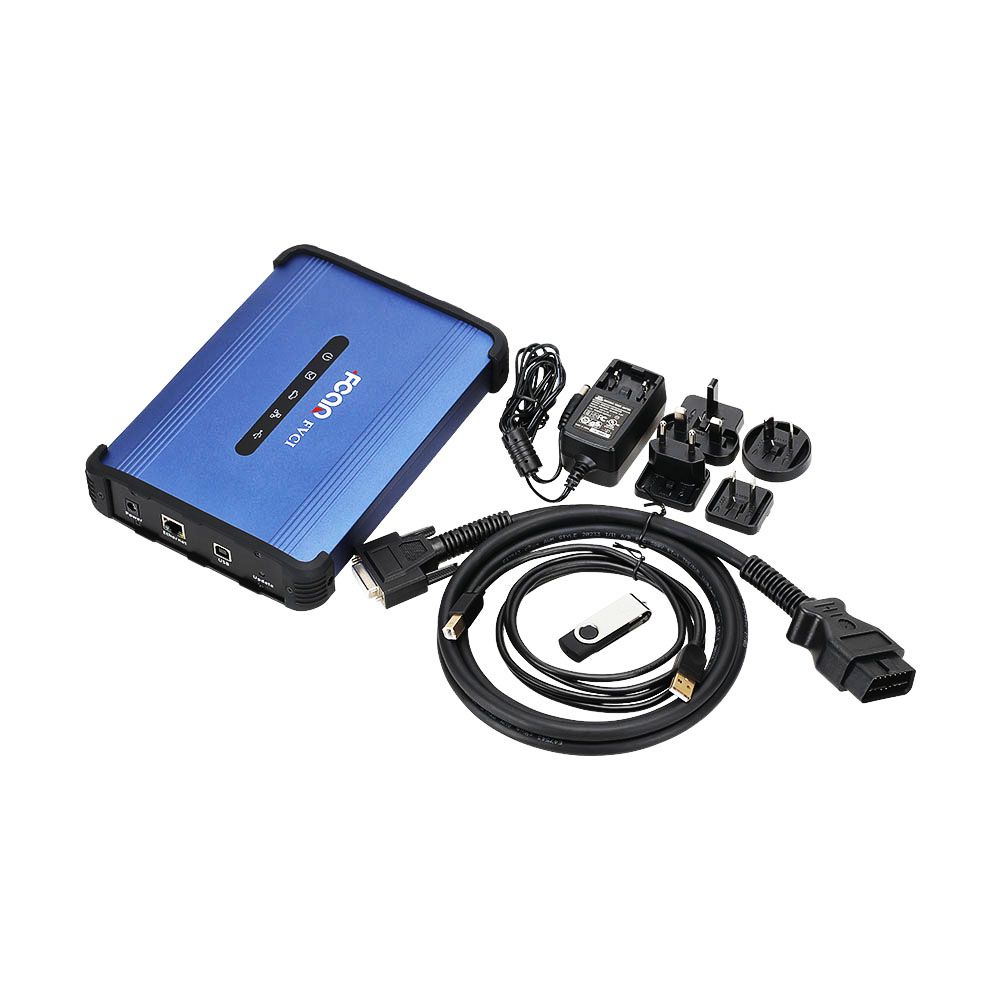 Related Accessories/Similar Items
Description
FCAR FVCI PassThru J2534 Reflash/Diagnostics VCI
FVCI is a PASS-THRU device of FCAR. VCI use 3 ARM microcontrollers design, this will make the processing capacity of FVCI stronger and support OEM software better. It supports J2534 protocol, and it will support other protocol for free later. In addition, the hardware of FVCI supports multiply communication manner of DOIP protocol, and it can setup Ethernet(tx_+, tx_-, rx_+, rx_-) and active line to any pin number of OBD2 except for ground pins and power pin.
FVCI J2534 Diagnostic and Programming
Product Feature:
Three ARM microcontrollers.
Three individual physical communication channels for protocols(CAN, single wire CAN, KWP, PWM, VPW, SCI and so on).
Ethernet converts to OBD2 for DOIP protocol, the pins(tx_+, tx_-, rx_+, rx_-, active line) can set any pin number of
OBD2
except for ground pins and power pin.
Program voltage output between 5v and 20v.
One Ethernet port.
One analog input port.
Fcar FVCI Passthru Specification:
| | |
| --- | --- |
| Hardware function | |
| J2534 | ISO15765 |
| | ISO14230 |
| | ISO9141 |
| | ISO14230 |
| | J1850 |
| | SCI |
| | Single wire CAN |
| DOIP | Ethernet port convert to OBD2 |
| | Local area network of FVCI convert to OBD2 |
| Program voltage port | 5v-20v |
| Ethernet port | 1. Ethernet port to ODB2 interface for DOIP |
| | 2. Ethernet port to local area network of FVCI |
| Analog input | 15 pins analog input |
| Vehicle port | 26 pins port communicate to vehicle |
| Update pin | Use for update firmware of FVCI |
| DC | 12v power supply |
FVCI J2534 Support Function:
Diagnose Function:
TOYOTA
Techstream
Honda
HDS
Volkswagen ODIS
VOVOL VIDA
GM
GDS
BMW
ISTA
JARGUR LANDROVER
JLR
SDD
Reprogramming:
Acura
, Honda
Audi
BMW
Chrysler
, Dodge, Jeep, Eagle, Plymouth
Ford, Lincoln, Mercury
GM
Hyundai
Infiniti
Isuzu
Jaguar
Kia
Land Rover
Lexus
Mazda
Mercedes-
Benz
Mini
Mitsubishi
Nissan
Porsche
Subaru
Suzuki
TOYOTA
, Scion
Volkswagen
Volvo
FVCI Device Interface:Right panel

1) DC 12V/1A
2) Network port
3) USB port
4) Update pin, use for firmware update
Left panel



5) Analog input
6) Programming voltage supply, 5V-20V, 120ma
7) Vehicle communication port
Lamp panel



8) Device power status lamp
9) Software of device running status lamp
10) Vehicle communication status lamp
11) Network connection status lamp
12) USB connection status lamp
How to Update Fcar FVCI J2534 Passthru Software & Firmware?Official website:
www.fcar.com
1. Click "FVCI" icon on the desktop. Note: The computer must be connected to internet.

2. Click "Read Version" can read FVCI software and hardware version.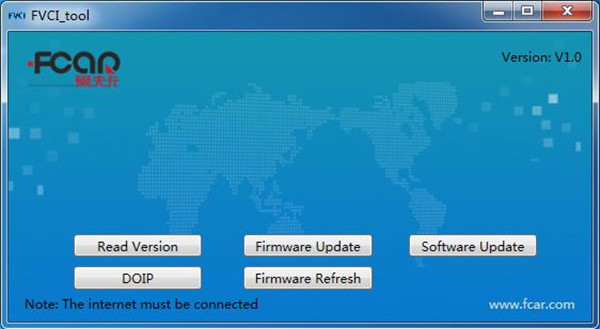 3. Click "Firmware Update" can update the hardware.
4. Click "Software Update" can update the software.
5. Click"DOIP", then click "Enter DOIP mode", the FVCI will enter the situation of Ethernet convert to OBD2 of DOIP.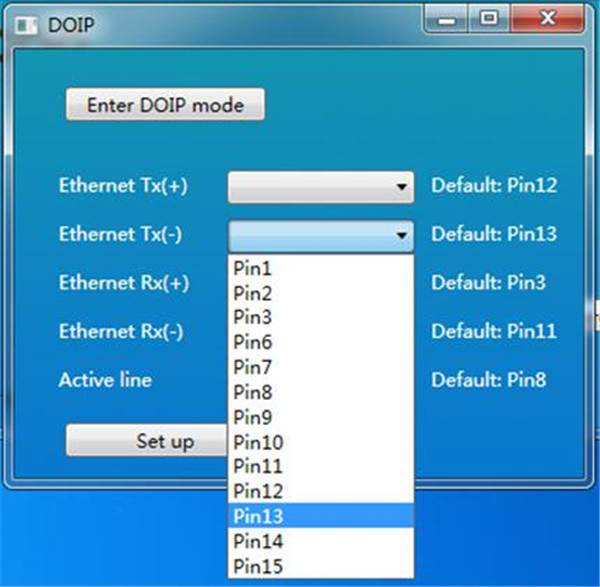 6. Click "Firmware Refresh" when you operate"firmware update" error.
Update Tips:
1) Please enable internet connection before upgrade
2) The firmware version and software version must be the newest version meanwhile. Otherwise the device will appear some error.

3) If you use "Firmware update" failed, you can use "Firmware refresh".
Reviews

18
#1 linus mwitwa
Nov 9, 2018

Good product I recommended.
#1 Kenneth Roy
Sep 9, 2018

I'm very happy just arrived with a little delay, but all good... Thank you
#1 ronald olynick
Apr 9, 2019

Super nice
#1 carlos chavez
Jul 9, 2018

Is ok!
#1 Cecil Miller
Jun 9, 2018

All on time .. I recommend the seller 5 of 5
#1 Walter Kiama
May 9, 2018

fast shipping ,awesome
#1 SANDI MAJERIC
Apr 9, 2019

The product is excellent all works this Original Fcar FVCI Passthru J2534 VCI Diagnosis, Reflash And Programming Tool Works Same As Autel MaxiSys Pro MS908P is good quality, working very well
#1 Delorme Luc
Nov 9, 2018

Delivered quickly, the seller is very Quickly answers all questions and tries to help if there is a problem
#1 Maarten Leerkes
Dec 9, 2018

Everything is just perfect! This store and seller are perfect! Strongly recommended!
#1 Yannick Stienne
Jan 9, 2019

The goods were delivered quickly.
Previous: Original MasterKeyIII MK3 Master Key III Transponder Key Programming Tool With Full Remote Key Unlocking Renew Software Activation