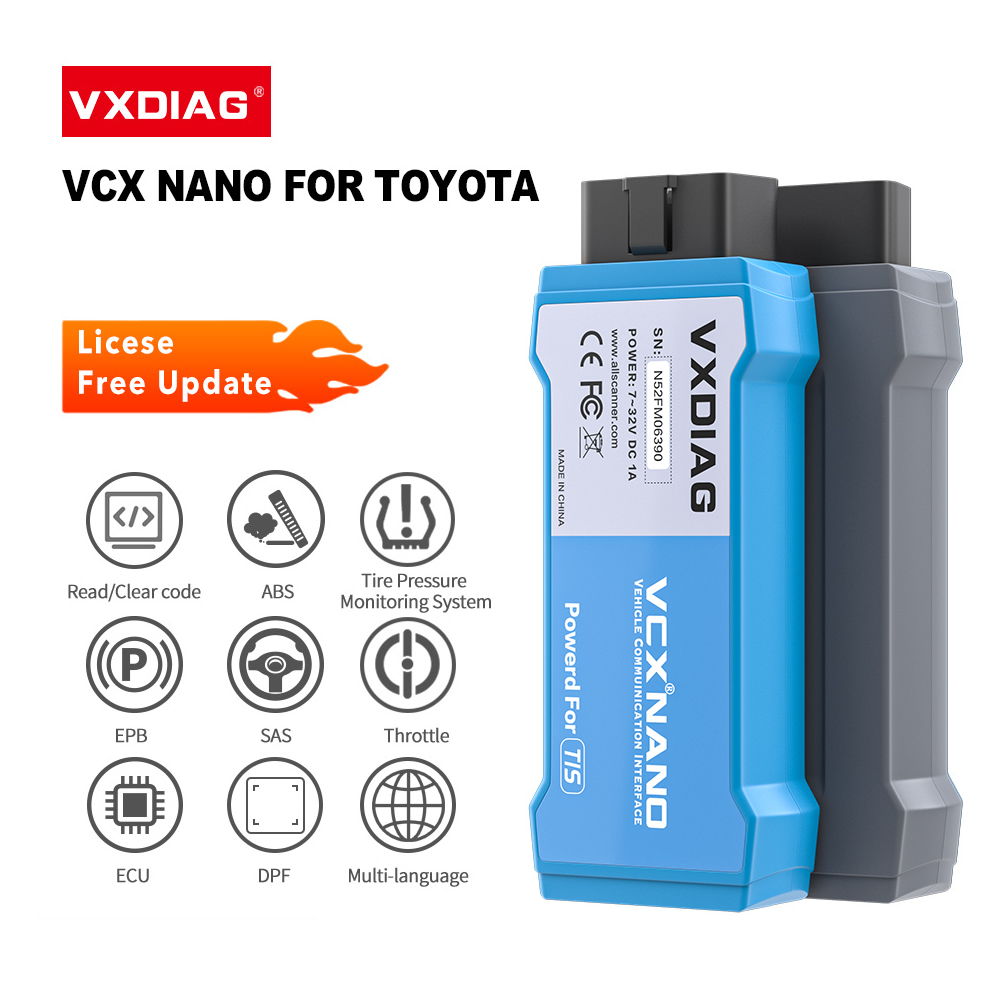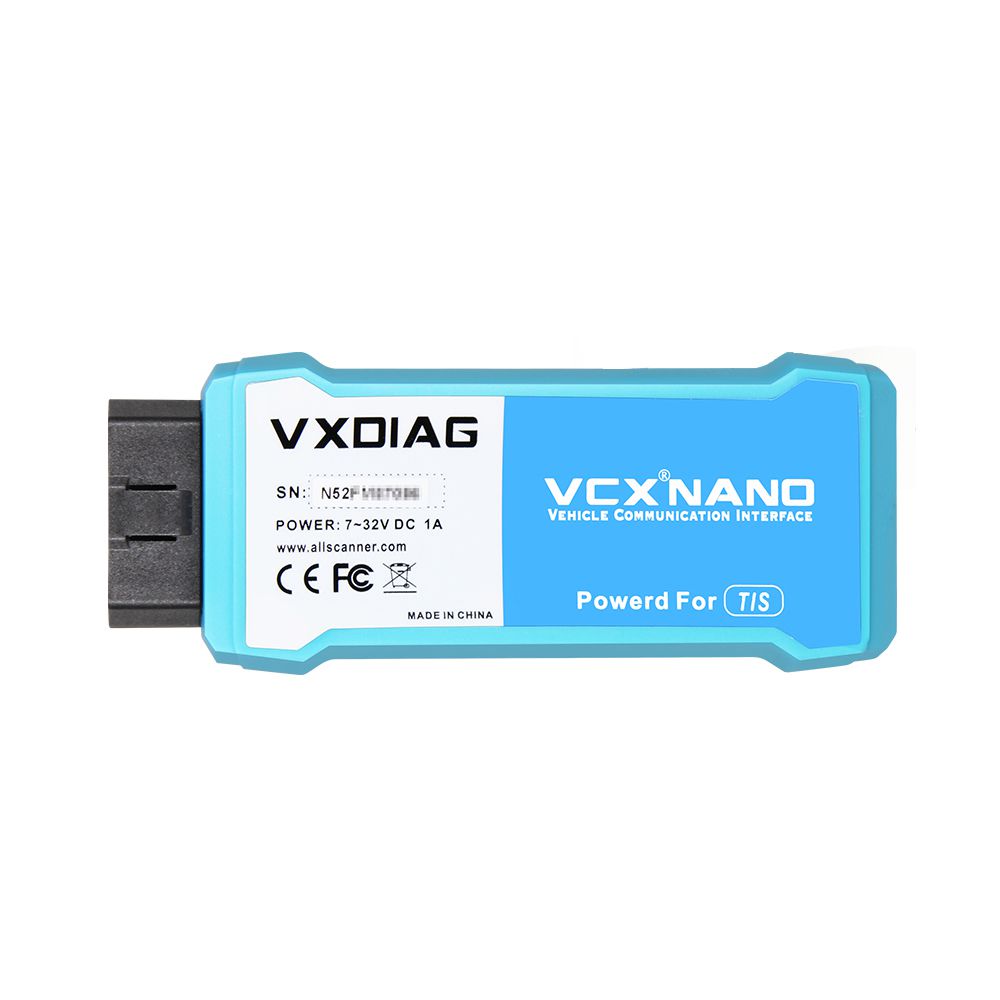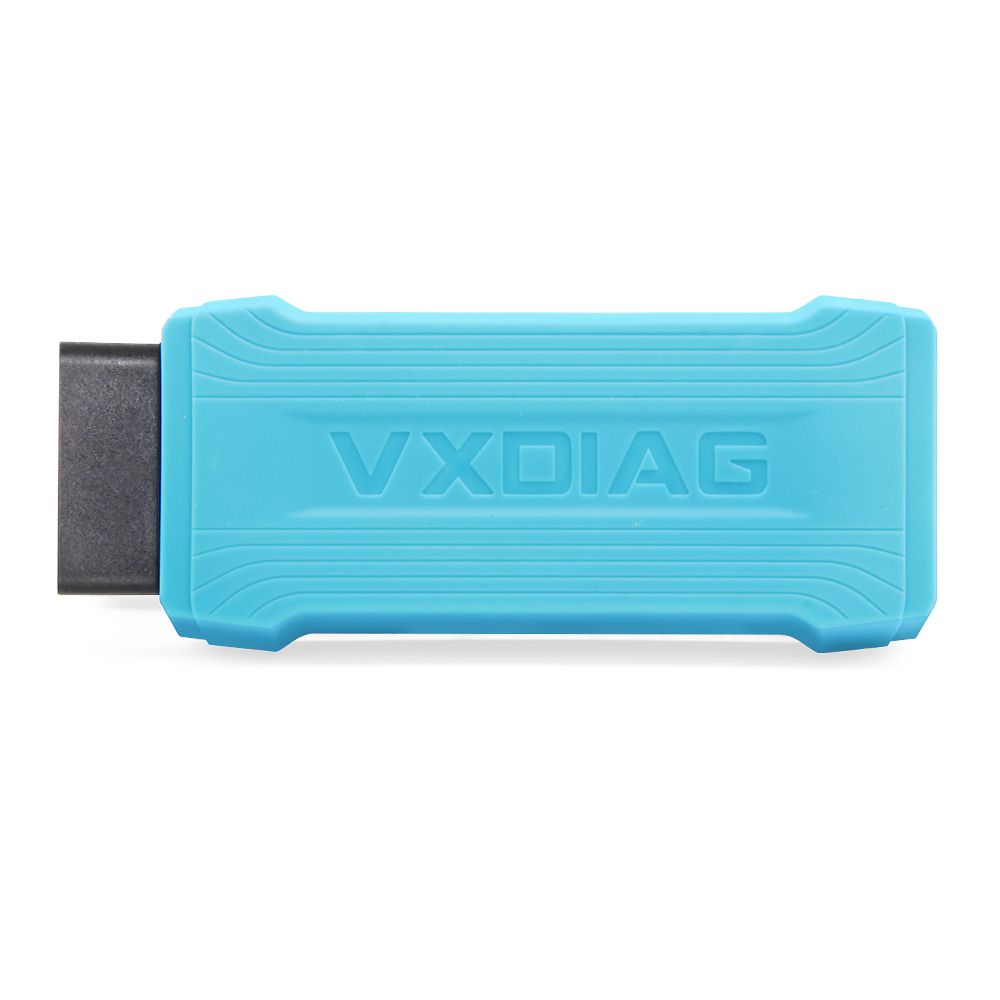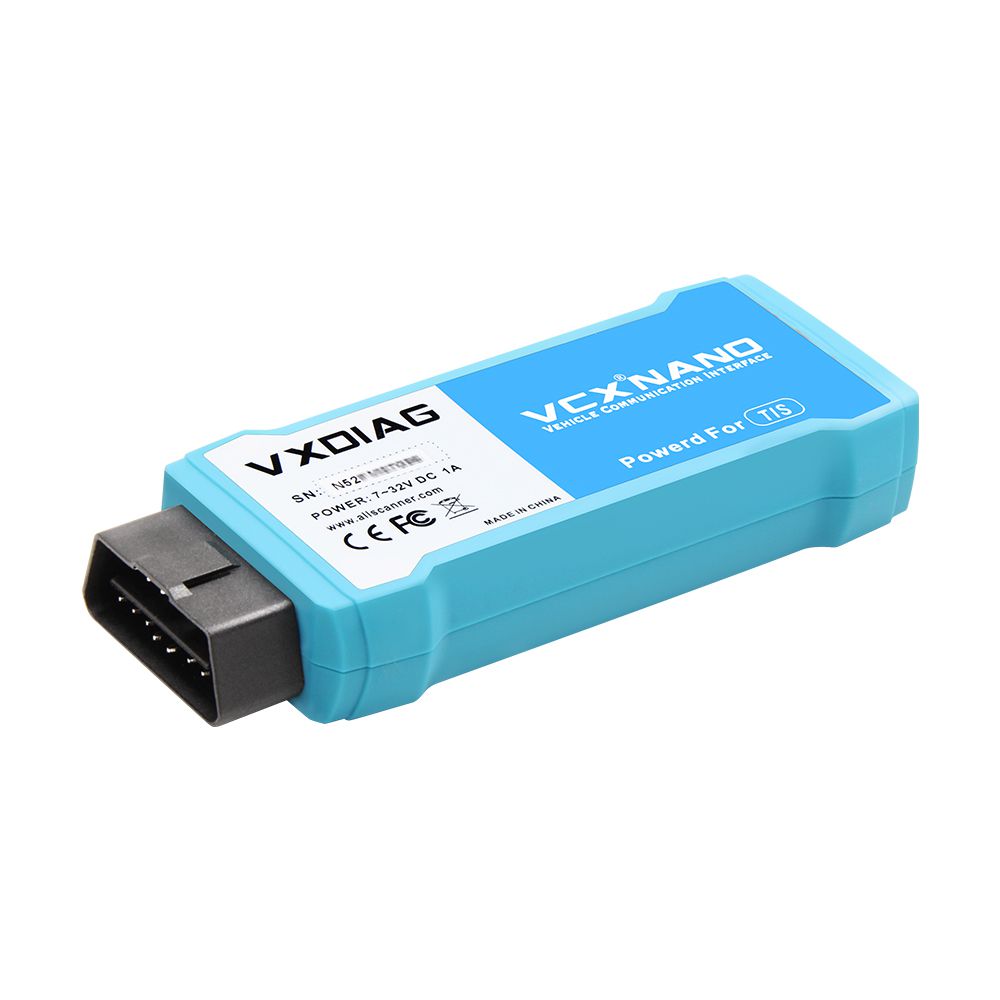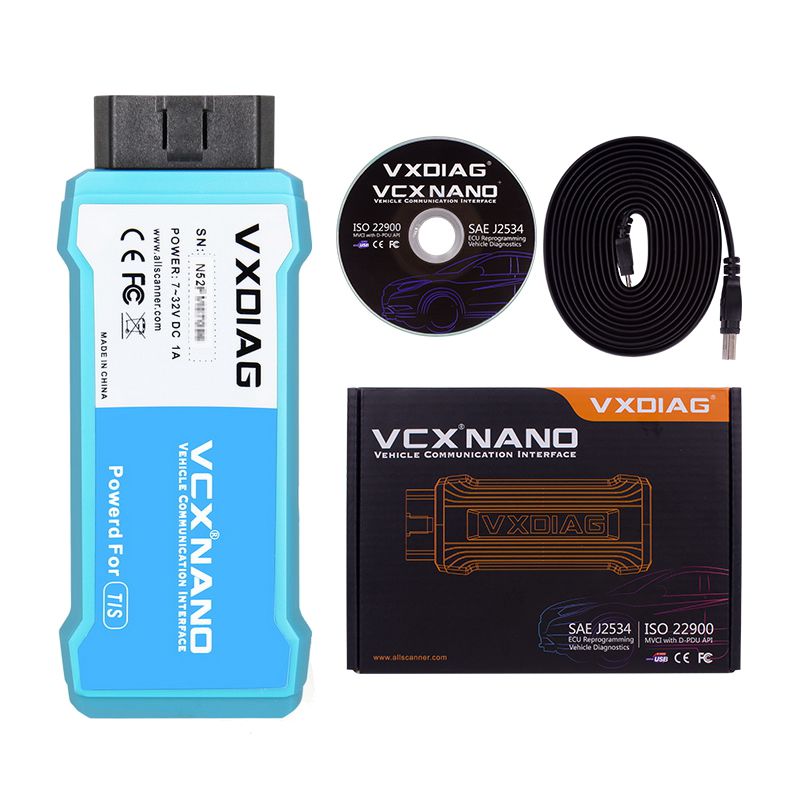 Related Accessories/Similar Items
Description
VXDIAG VCX NANO For TOYOTA For Lexus Automotive Car OBD2 Diagnostic Tool Active Test J2534 ECU Coding Programming Free Update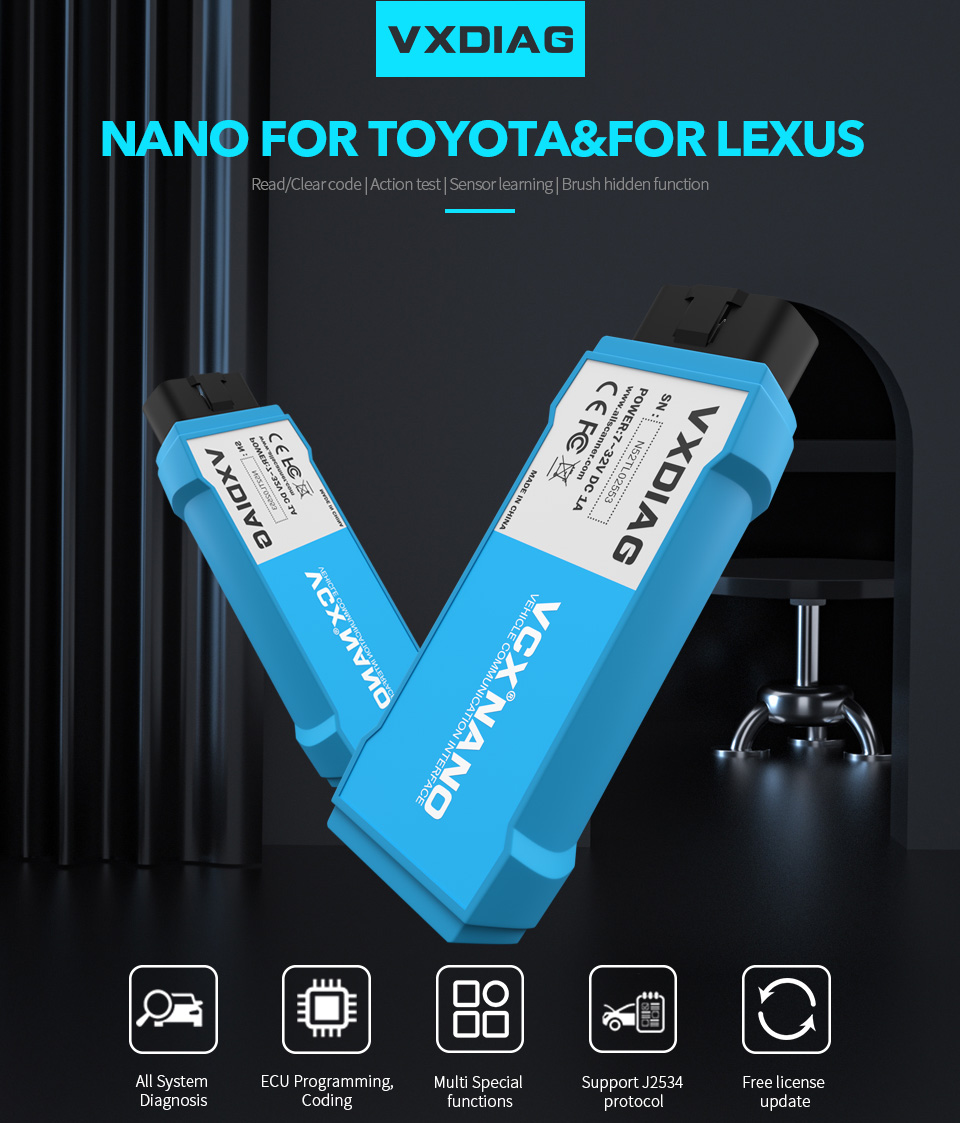 the Top 10 Reason to Choose VCX NANO Device for
TOYOTA
for Lexus:
1.Support Year 2005-2021 for Toyota and for Lexus (12V), Coverage All Regions.
2.Support
ECU Programming
& Coding(Do not offer online account).
3.Full System Diagnostic tool.
4.Support Multi Special Functions (Airbag Reset, EPB/SAS/BMS/
TPMS
/DPF and etc.)
5.Support Active Test, Auto Read VIN, Read & Clear Diagnostic Trouble Code, like the original device.
6.Support to Unlock Hidden Function, Read Live Data Stream, Read Freeze Frame, Update Module System .
7.It is a Lifetime License, Free to Update License.
8.Support
J2534
Protocol.
9.Support Remote Diagnostic Function.
10.Support USB and
WIFI
Connection.
11.Do Good Diagnostic with Original Software for TIS.
Notice:We are not support to provide the original software, please buy it in the legal channels.If you have any question, please feel free to contact us,Thank you.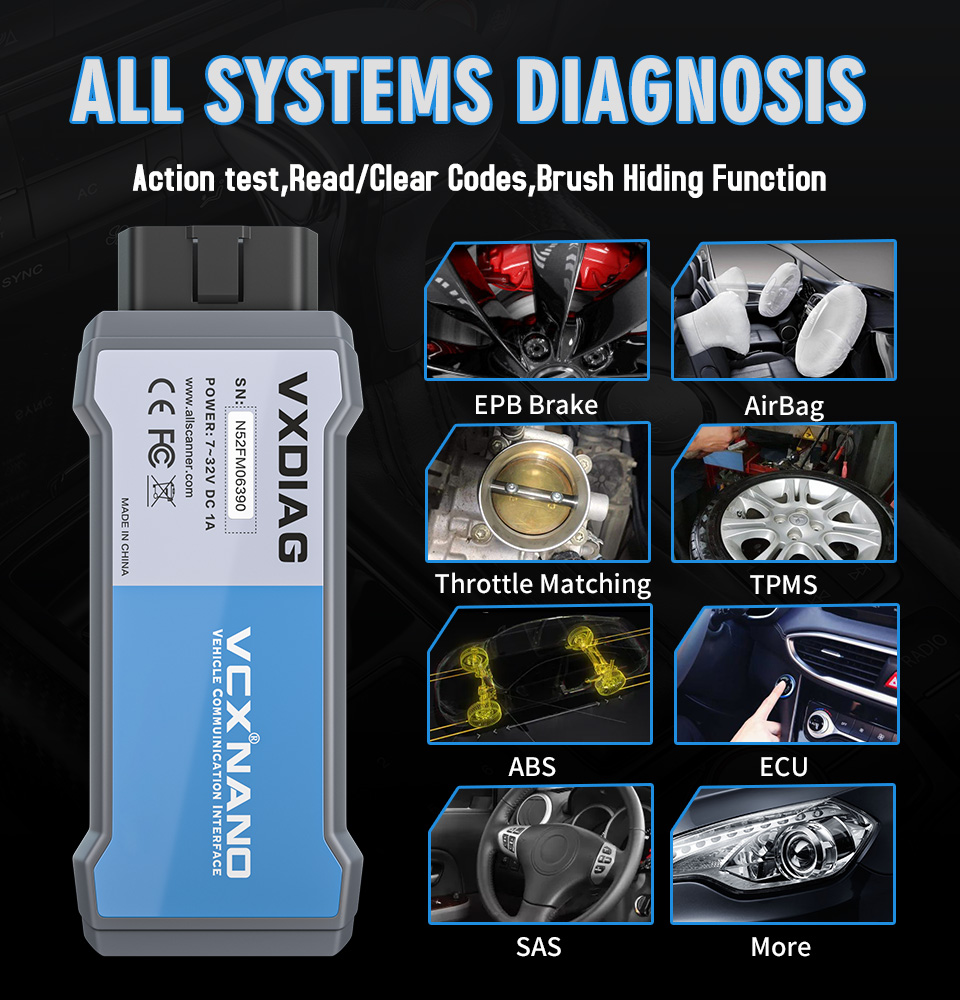 All System Diagnostic
As an automotive diagnostic tool, VCX Nano for Toyota can access most car ECUs to read, clear codes, retrieve live data, freeze frame, ECU information and perform active tests, matching, adaptation, turn off warning lights, reset monitors. Full range car models and full car system diagnose make it a professional automotive diagnostic tool.
Include :
ABS
System,
engine
System, SAS System ,
TPMS
System ,
IMMO
System , Battery System ,Oil Service System ,
SRS
System ,DPF System ,Air Conditioning System,Transmission System, etc...
*EPB (Electrical Park Brake system):
Help to maintain the electronic braking system safely and effectively, deactivating and activating the brake control system, assist with brake fluid control, opening and closing brake pads and setting brakes after disc or pad replacement, etc.
*SAS(Steering Angle Sensor) :
Support to perform calibration for the Steering Angle Sensor which permanently stores the current steering wheel position as the straight-ahead position in the steering angle sensor EEPROM.
*
TPMS
(
Tire Pressure Monitor
ing System):
Suppot to quickly look up the tire sensor IDs from the vehicle's ECU, as well as to perform TPMS programming and reset procedures after tire sensors are replaced.
*
ABS
(Antilock Brake System)
Perform various bi-directional tests to check the operating conditions of both the Anti-lock Braking System and the Supplemental Restraint System.
*ECU(Electronic Control Unit)
Reading the retrieved ECU information in detail.
*DPF Regeneration(Diesel Particulate Filter) :
Support to carry out numerous functions to the Diesel Particulate Filter system.
*BMS (Battery Maintenance System:
Re-match the control module and motoring sensor for battery detecting more accurately,clear original low battery information and prevent the related control module from detecting false information.
And Many More system…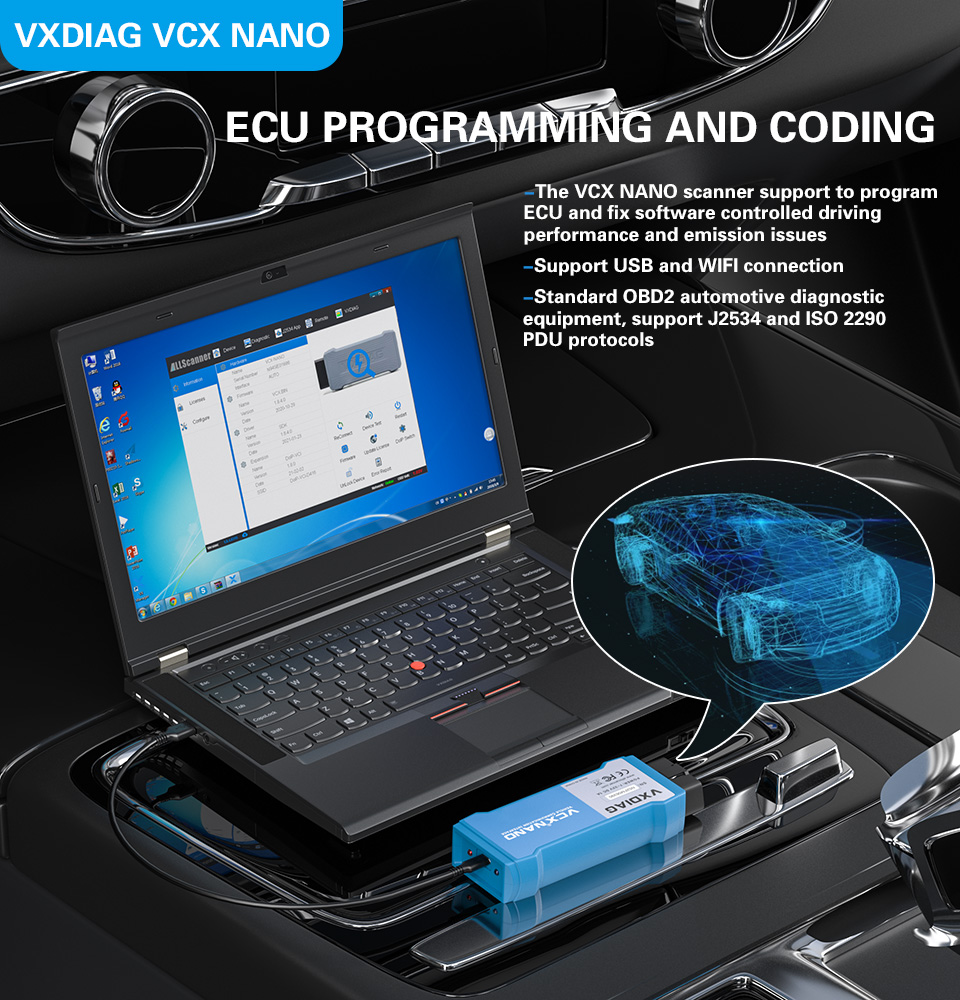 VCX Nano automotive diagnostic tool has the capability for Toyota/ for Lexus models to program new ECUs or reflash old modules like
ECM
,
PCM
, BCM and etc after replacement to solve issues like drivability, power loss, fuel efficiency and fault codes.
Advanced ECU Coding
VCX Nano can perform Online Coding to flash the hidden features, Personalized Settings, or disable the annoying functions, such as turn off the back up beep, turn the seat belt buzzer off. And reprogram the adaptive data for certain components after repairs or replacements. After a component is replaced, to alter the configuration so that the new actuators can be recognized by related vehicle systems.

Note:we are not support to offer the online account.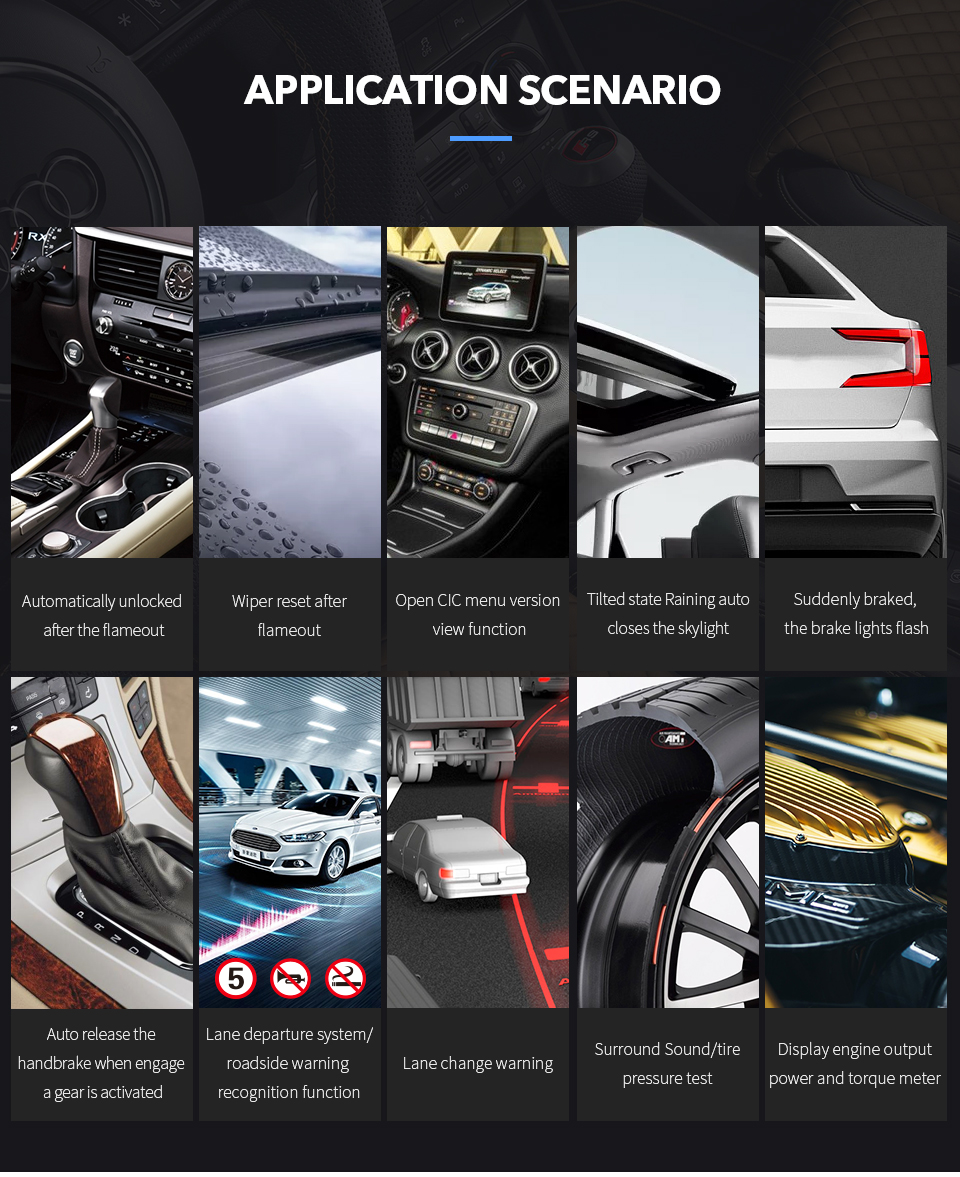 VCX NANO Support Various Special Functions
For various scheduled service and maintenance include Maintenance Light Reset, throttle learning, steering angle learning, brake pad reset, tire pressure reset,
ABS
exhaust,battery matching,gear information learning,injector coding, DPF regeneration,headlight matching, gearbox learning, suspension matching ,Sunroof initialization, A/F adjustment, electronic pump start, release transportation mode, tire modification, door and window calibration, urea reset, NOx reset,start-stop setting, language setting, seat calibration, shielding failure, etc.
*Oil Lamp,
Oil Reset
This function allows you to perform reset for the
engine
oil life system, which calculates an optimal oil life change interval depending on the vehicle driving conditions and climate.
*Electronic Parking Brake Reset
It is important in the maintenance of electronic braking system's safety and efficiency.
*Steering Angle Calibration
Helping clear the fault steering angle sensor memories and plays an important role in the steering angle sensor calibration.
*ABS Bleeding
This function allows you to perform various bi-directional tests to check the operating conditions of Anti-lock Braking System (ABS).
*
Tire Pressure Monitor
System Reset
This function allows you to quickly look up the tire sensor IDs from the vehicle's ECU, as well as to perform TPMS replacement and sensor test.
*Gear Learning
The scan tool monitors certain camshaft position sensors signals to determine if all conditions are met to continue with the procedure for
engine
running.
*Injector Coding
Leaking injectors and some dead injectors can be missed even when an injector is disabled. Other problems with the ignition system and mechanical components also may not show an rpm loss when aninjector is turned off
*Battery Maintenance System Reset
allows the scan tool to evaluate the battery charge state, monitor the close-circuit current, register the battery replacement, and activate the rest state of the vehicle.
*Diesel Particulate Filter (DPF) Regeneration
specially works for Diesel Particulate Filter system with DPF regeneration, DPF component replacement teach-in and DPF teach-in after replacing the engine control unit.
*Electronic Throttle Position Reset
This function enables you to make initial settings to throttle actuators and returns the "learned" values stored on ECU to the default state. Doing so can accurately control the actions of regulating throttle (or idle engine) to adjust the amount of air intake.
*Gearbox Matching
1. This function can complete the gearbox self-learning to improve gear shifting quality.
2. When the gearbox is disassembled or repaired (after some of the car battery is powered off), it will lead to shift delay or impact problem. In this case, this function needs to be done so that the gearbox can automatically compensate according to the driving conditions so as to achieve more comfortable and better shift quality.
*AFS (Adaptive Front-lighting System) Reset
This feature is used to initialize the adaptive headlamp system. According to the ambient light intensity, the adaptive headlamp system may decide whether to automatically turn on the headlamps, and timely adjust the headlamp lighting
angle while monitoring the vehicle speed and body posture.
*Sunroof Initialization
This function can set the sunroof lock off, closed when it rains, sliding / tilting sunroof memory function, temperature threshold outside the car etc.
*Suspension Calibration
1. This function can adjust the height of the body.
2. When replacing the body height sensor in the air suspension system, or control module or when the vehicle level is incorrect, you need to perform this function to adjust the body height sensor for level calibration.
And many more function..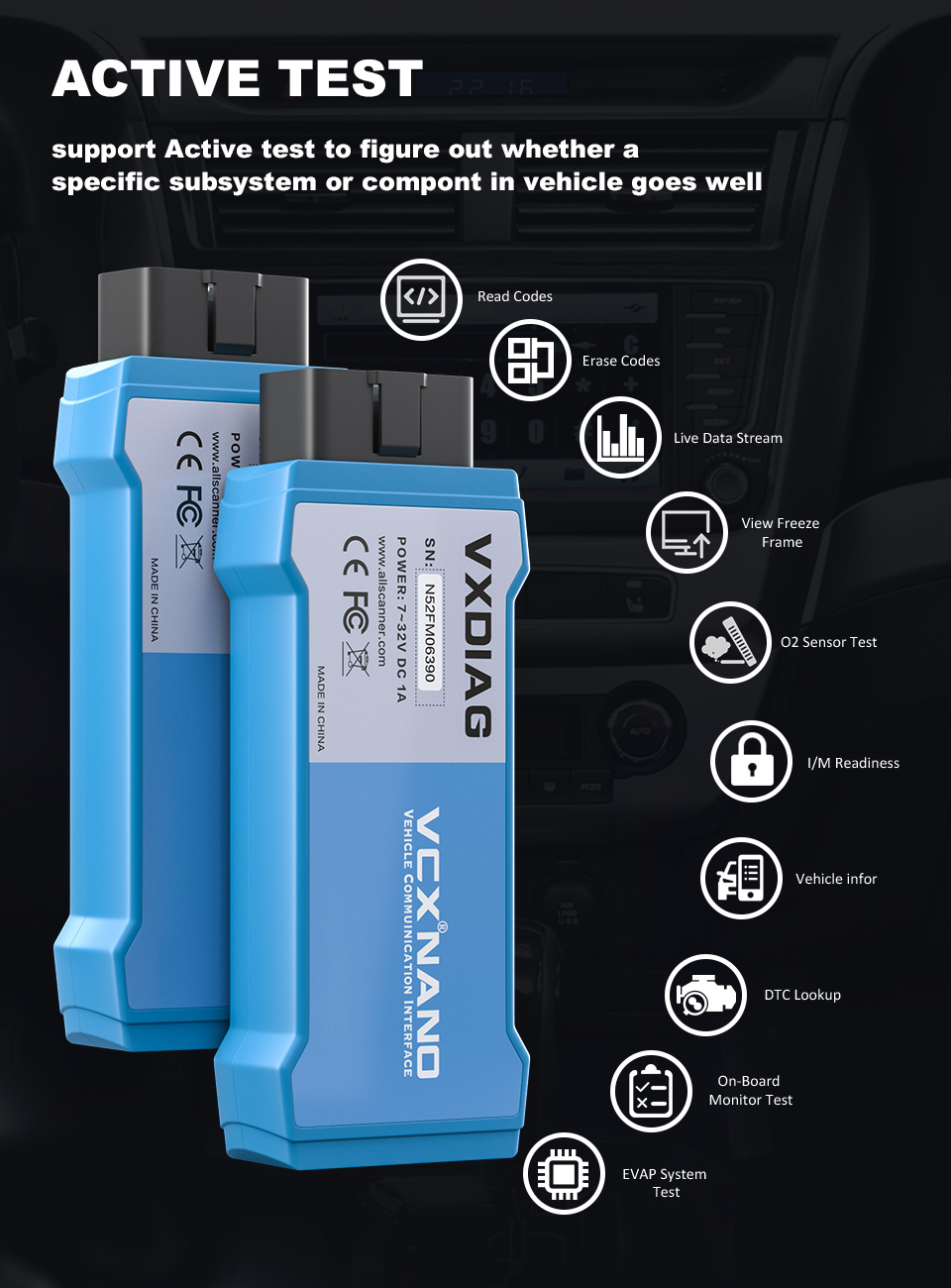 *Action Test function:
The process of sending and retrieving information from a vehicle control module with a device is known as Actuation test or bi-directional control. The main aim of the actuation test function is to request the control module to perform a specific function including system tests, actuator tests, functional tests, inspection tests, reprogramming or reinitialization, thus saving diagnostic time.

Eg: You connect a fuel pressure gauge, cycled the key and cranked the engine but you couldn't figure out anything regarding the fuel pressure. With the actuation test function of this diagnostic tool, you can send a fuel pump command on instruction and see the proper fuel pressure, figuring out if there is a problem with the fuel pump circuit or pump.
*AUTO Read VIN
Quickly to read vehicle vin and run diagnostic on the selected system that allows technicians or repairmen to easily identify vehicle information,

such as manufacturer model,year and place of manufacture, etc.
*VCX NANO Full OBD2 Function
1.Reading Codes:Show the detailed description of the Diagnostic Trouble Code (DTCs).

2.Erasing Codes & Reset:Turns off Check Engine Light (MIL), clears codes and resets monitors.

Data Stream: Reads and displays live ECU/PCM data stream, plotting functions graphically and stores freeze frame data.

3.I/M Readiness Status:Shows whether the various emissions-related systems on the vehicle are operating properly and are ready for inspection and maintenance testing.

4.Read Live Data Stream:Show the information of continuous data stream from a vehicle in live graphic (waveform) display.

5.View Freeze Frame Data:Check the certain vehicle conditions which are recorded by the on-board computer at the time the emission-related fault occurs.

6.O2 Sensor Test:Allows retrieval and viewing of O2 sensor monitor test results for the most recently performed tests from the vehicle's on-board computer.

7.On-Board Monitor Test:Retrieves and displays test results for emission-related powertrain components and systems.

8.Read Vehicle Information:Display the information such as VIN (Vehicle Identification Number), CID (Calibration ID) and CVN (Calibration verification number), etc.

9.Component Test: Certain vehicle components can be actuated by commands sent from the scanner to test their operability.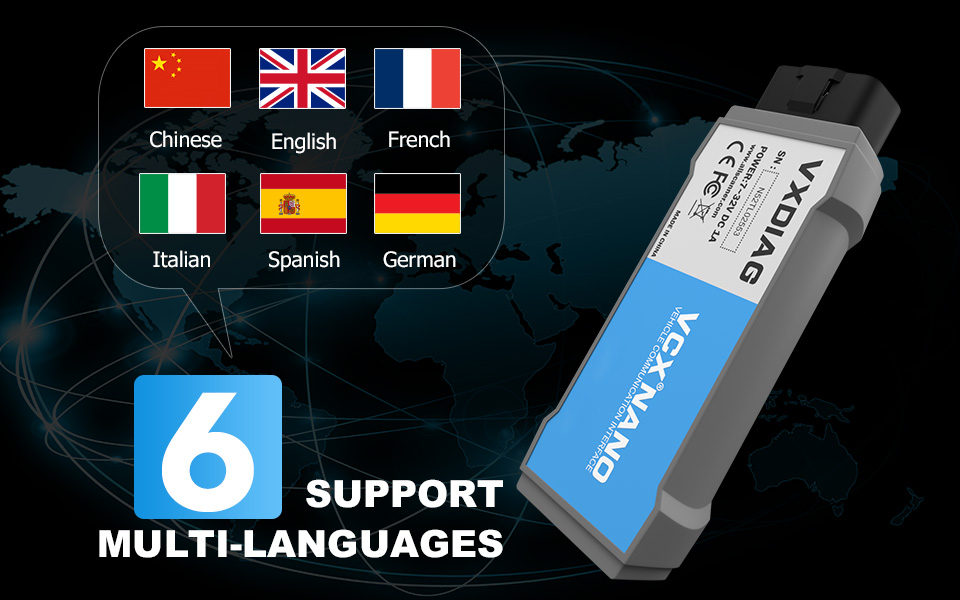 Supprot Multi-Language
the VCX Nano can support many kinds of language: Chinese, English, French, Italian, Spanish, German.(there is no language barrier)
-Reflash the Hidden Function:
Following functions can be activated based on the existing configuration model:
*use the button in the cab to close the trunk (electric tailgate),to terminate the reverse operation at any time (available in cars with the electric tailgate)
*activate the
Bluetooth
phone function,to automatically play the music inside the phone every time you start the car.(Available in models with a USB port in the armrest box or gear)
*support audio and video playback via USB cable as well as via iPod.
*connect to the phone through the Wi-Fi (mobile phones are required to install software)
*open the voice recognition function (currently only available in English digital telephone dialing)
*operate the navigation menu when driving, watch DVD (Even the original car is available with CD, you can also watch DVD)
*Active internet applications (available in post 2012.09 models with professional navigation)
*immediately fold the rearview mirror with the remote control (for the original car, owners need to press the lock key for 1.5 seconds)
*effectively prevent rearend collision because brake lights flash quickly when braking severely (for 3 Series 5 Series, testing)
*automatically released the handbrake (parking button) when the vehicle is started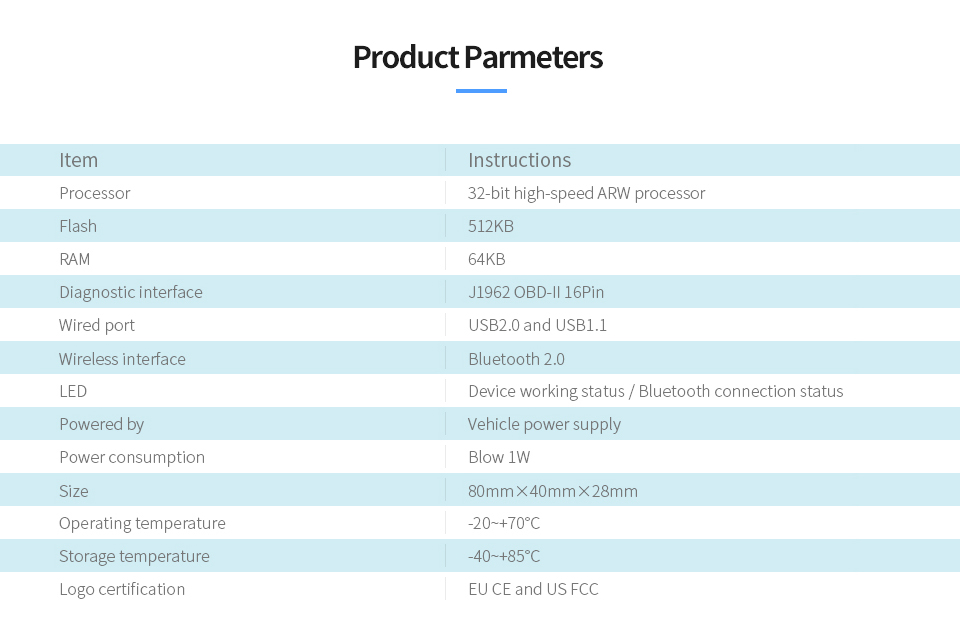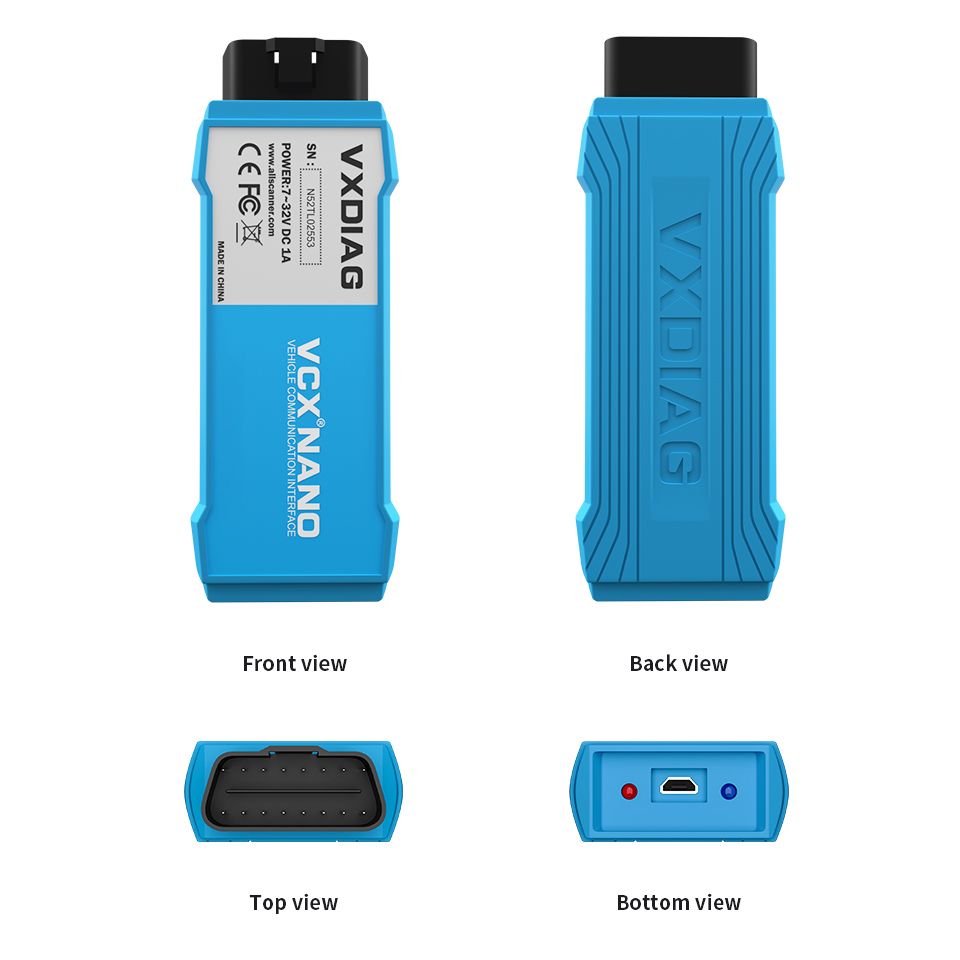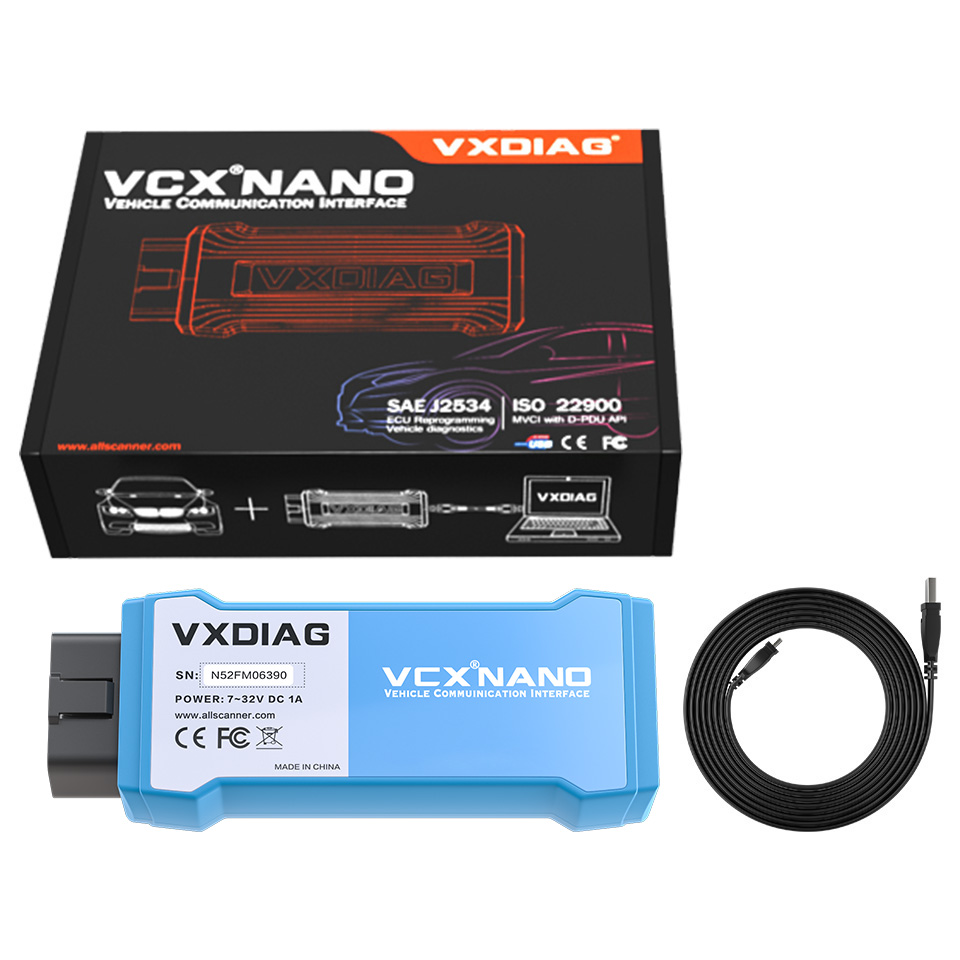 FAQ
Q:Can this be compatible with TOYOTA 22PIN cable?
A:Sorry,it can not.
Package List
1pc x VCX Diagnostic Kits
1pc x USB Communication Cable
1pc x VCX Driver
Previous: VXDIAG VCX NANO for Land Rover and Jaguar Software V160 WIFI Version