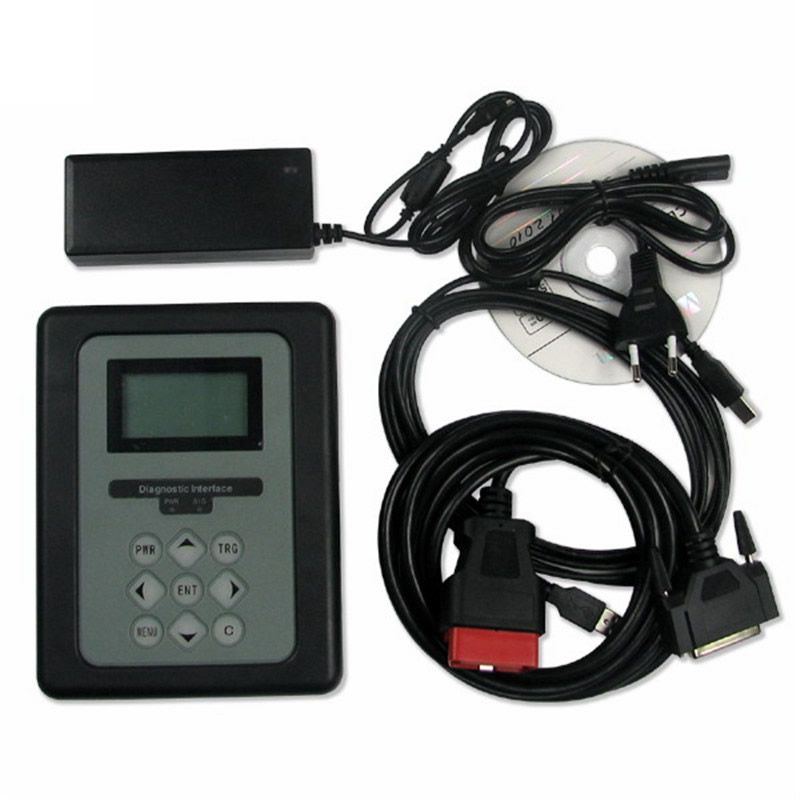 Description
Original Subaru SSMIII Diesel Scanner
Support Languages
: English, French, German, Spanish and Japanese.
Supported Cars
: Subaru.
Minimum Computer Operating Requirements:
Operating System: Microsoft Windows 2000/XP
CPU: Intel Pentium M processor; 900 MHz equivalent or higher recommended
RAM: 256 MB recommended
Available Hard Drive Capacity: 20 GB recommended
Drive: CD-ROM drive
Communications Port: USB port (USB 1.1 or higher)
Description:
Application software running on a PC provides an interactive user interface for very simple operation. High-speed communication with the
engine
control system and transmission control system help to make checking of various phenomena faster than ever before.
The SSMΙΙΙ is a fault diagnosis device that provides a standard means of automotive fault diagnosis. It communicates with the various system control modules equipped in a vehicle to monitor control module input/output data, and to allow checking and deletion of diagnostic codes generated by the controlmodule. It also provides means to reset control module learning values and other control parameters, and to force operation of
engine
control system actuators.
Features:
All System Diagnosis. Selecting this item displays on a single screen the fault detect status of all control system control modules for which SSMΙΙΙ diagnosis is supported, and memorized diagnostic codes.
Each System Check. Selecting this item makes it possible to select a particular system from among the control systems forwhich SSMΙΙΙ diagnosis is supported, and perform fault diagnosis. This item can be used to view input/output data of the system control modules that perform fault diagnosis, memorized diagnostic codes, and other data on the PC display.
This menu item is also used after repair work is complete to delete diagnostic codes, to configure control module settings, etc.
Saved Data Display. This item can be used to save various data sampled during fault diagnosis operations, and to load data for viewing after work is complete. Immobilizer. This item performs immobilizer registration.
Reprogram. This item performs reprogramming of the control module.
Read CF application measurement data. This item performs reading stand alone measurementdata saved in a CF card to hard disk of your PC.
Convert/Save measurement data on driving recorder. Loads data sampled on the driving recorder to the PC from the CF card, and converts and saves that data.
Oscilloscope. After attaching the optional pulse/analog cartridge to SDI, connect the pulse/analog box to the SDI and using pulse/analog probe to perform analog sampling.
Set Includes
:
SDI Box
CF Card
USB cable
Diagnostic cable
A/C Adapter
Carrying Case
Download SSMIII User Guide
Jumper harness needed for the car reprogramming
Reviews

46
#1 oscar posada
Jul 9, 2018

All perfect, as always. Free. blisteringly fast
#1 John Hughes
Oct 9, 2018

Very good. Arrived before the deadline.
#1 MIKE DILLON
May 9, 2018

Absolute best seller on Aliexpress! Good communication, good service. I have done many orders here last few month. But this was awesome. Delivering 2 (two!) working days.
#1 PATRICK EKANEM
Jun 9, 2018

fits my machine perfectly
#1 Dario Rodriguez
Dec 9, 2018

All as in the description.
#1 Alexander Shchemelyov
Jul 9, 2018

Very good arrived early as agreed.
#1 Nerijus Songaila
Oct 9, 2018

Fast delivery, good quality.
#1 miguel angel cejas
Jan 9, 2019

Everything is super, very fast. from moscow to peter 2 days. p The parent put a tester for the brake as a gift. Many thanks to the seller, that's what quality and speed means.
#1 Gregory D Cross
Jun 9, 2018

The seller sent promptly. I chose according to reviews. How to check add feedback
#1 jeremy schlesinger
Jan 9, 2019

Excellent equals description
Previous: yale lock foil pick tool