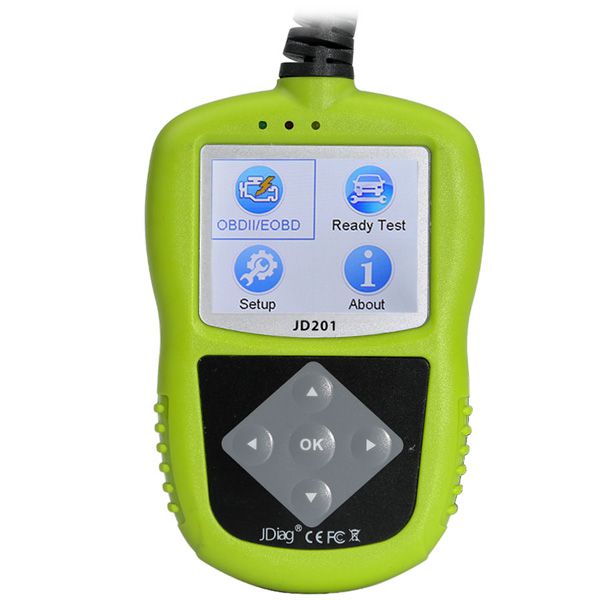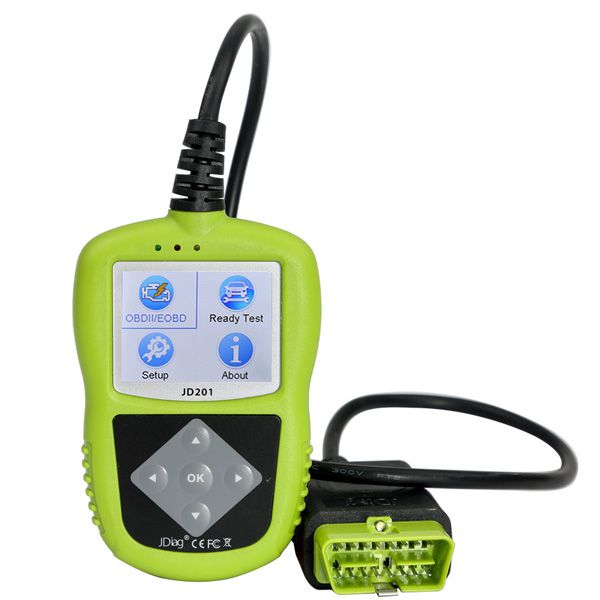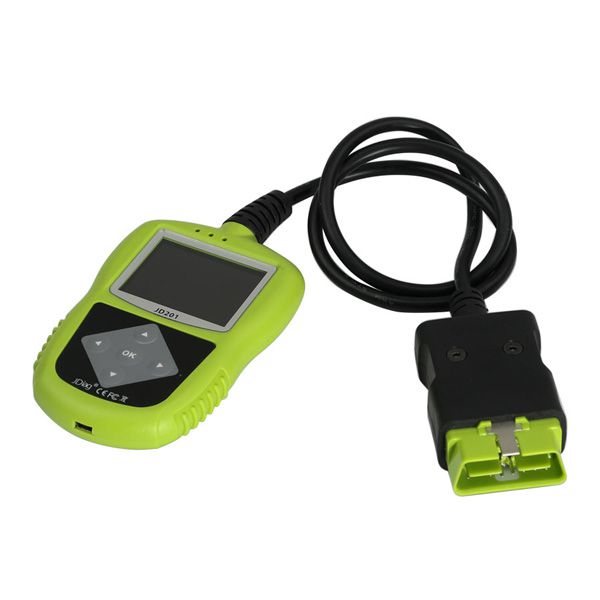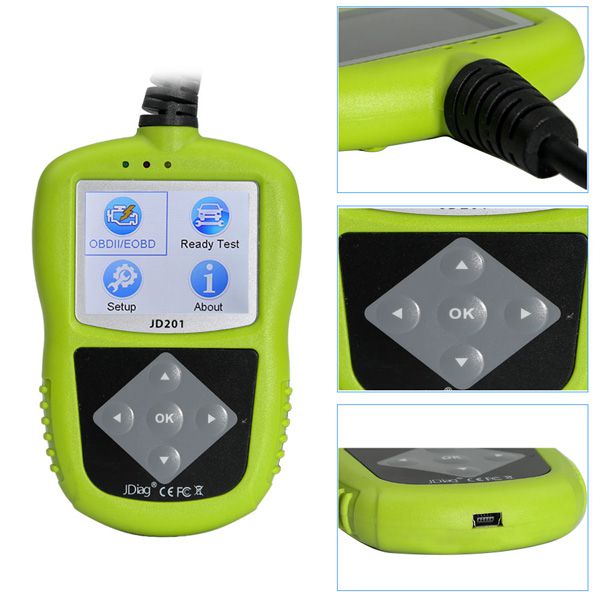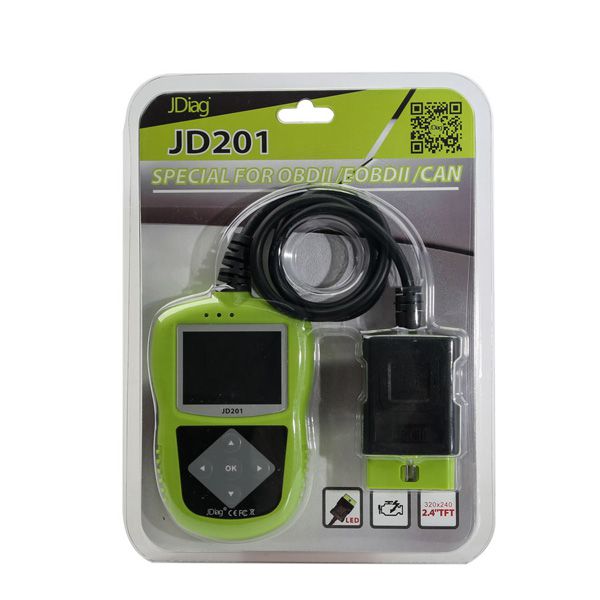 Description
JDiag JD201 Code Reader With Color Screen for OBDII/EOBD/CAN

JDiag JD201 Features:
Works on most 1996 and newer vehicles (OBD II & CAN)-domestic and import.
Build-in One-Click I/M Readiness function for quick State Emissions readiness check and drive cycle verification.
Bright colorful LEDs and built-in speaker provide both visual and audible indication for readiness verification.
Multilingual menu and DTC definitions- English, Spanish, French, Russian, Germany, Italian, Japanese, Chinese, etc.
Extremely easy to use and highly reliable
Online firmware update by a USB cable
JDiag JD201 Functions:
Retrieve generic (P0, P2, P3, and U0), manufacturer specific (P1, P3, and U1) codes.
Read pending codes, stored codes and freeze codes.
Determine the cause of the Malfunction Indicator Light( MIL).
Turn off Malfunction Indicator Light (MIL), clear codes and reset monitors.
Display DTC definitions on the TFT colorful screen
View freeze frame data
Display monitor and I/M readiness status (emissions).
Read live data stream, PID more than 130 pcs.
Retrieve vehicle information(VIN, CIN and CVN).
LED Definition:
GREEN LED – Indicates that engine systems are running normally (The number of monitors on the vehicle which are active and performing their diagnostic testing is in the allowed limit, and no DTCs are present).
YELLOW LED – Indicates there is a possible problem. A "Pending" DTC is present and/or some of the vehicle's emission monitors have not run their diagnostic testing.
RED LED – Indicates there is a problem in one or more of the vehicle's systems. The red LED is also used to show that DTCs are present. DTCs are shown on the Scan tools display. In this case, the MIL lamp on the vehicle's instrument panel will light steady on.
LCD DISPLAY - Indicates test results.
Button & Connector Description:
UP BUTTON - Scrolls up through menu items
LEFT BUTTON - Scrolls left through menu items
RIGHT BUTTON - Scrolls right through menu items
DOWN BUTTON - Scrolls down through menu items
OBD II CONNECTOR – Connects the scan tool to the vehicle's Data Link Connector (DLC).
JDiag JD201 Specifications:
Display: 2.4'' TFT color display
Operating Temperature: 0 to 60°C (32 to 140 F°)
Storage Temperature: -20 to 70°C (-4 to 158 F°)
External Power: 8.0 to 18.0 V power provided via vehicle battery
Length\Width\Height: 117 mm (4.61") \72 mm (2.83")\18 mm (0.71")
Weight: 0.21 KG (0.46 LB)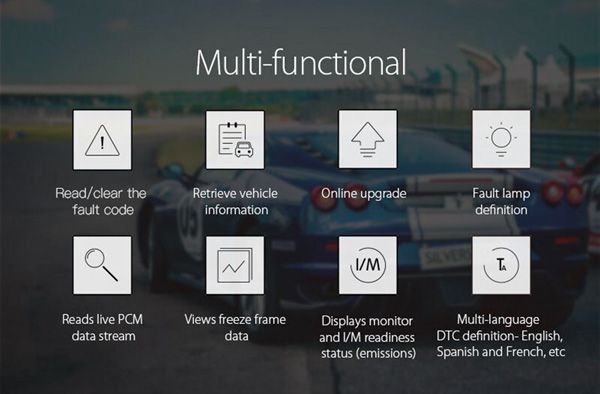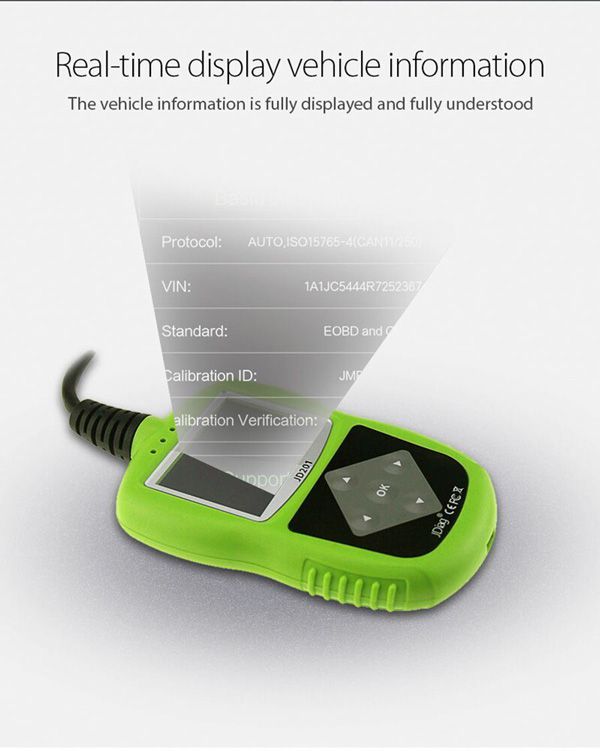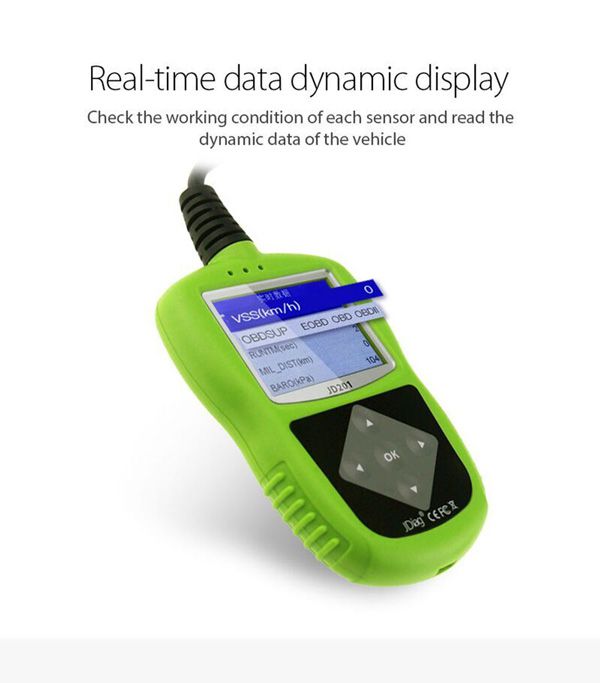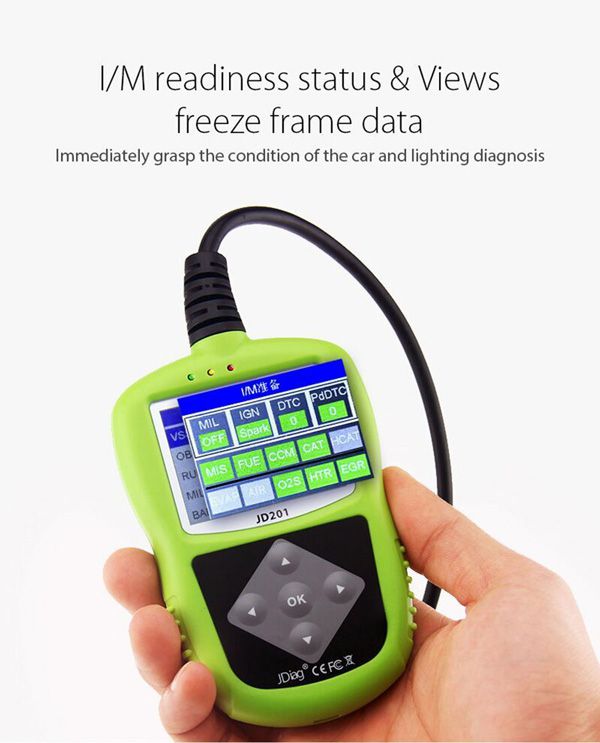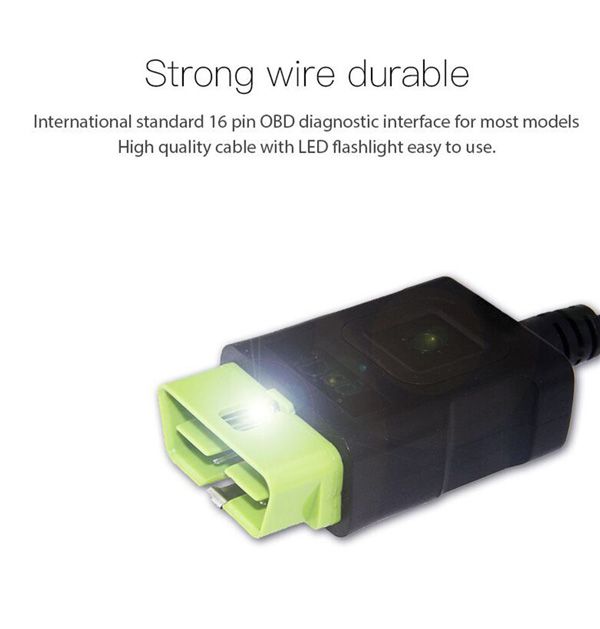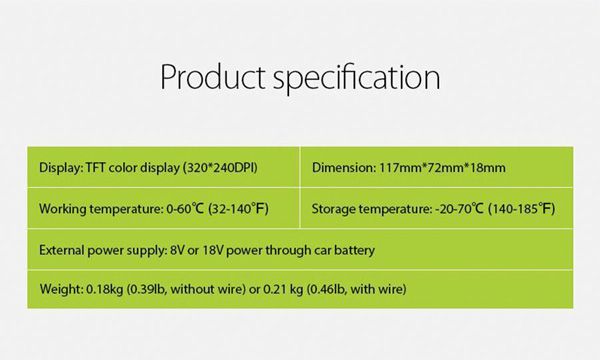 Package includes:
1pc x JD201 Interface with OBDII Cable
Reviews

12
#1 Filipe Nogueira
Apr 9, 2019

Do not have time to test right now, looks great
#1 serkan erkan
Jan 9, 2019

Very good product super fast
#1 Felipe Aguayo
Dec 9, 2018

Everything perfect
#1 charoula loungridou
May 9, 2018

Do not have time to test right now, looks great
#1 Leonardo Favarolo
Aug 9, 2018

Everything seems ok, but not yet tried
#1 Carmel Cachia
May 9, 2018

Everything ok again
#1 Darren Ta
May 9, 2018

Product arrived before the date mentioned, are. Now only test this JDiag JD201 Code Reader for OBDII/EOBD/CAN is good quality, working very well
#1 Yonatan Drori
Feb 9, 2019

Okay.
#1 David Fairbrother
May 9, 2018

Got, installed, proga found it, from the internet is untied, tomorrow i will check again, while i like everything
#1 Illurpaps Illurpaps
Aug 9, 2018

Very fast to len. area in six days. The drive with the progs is whole, everything is installed and connected. I haven't checked the car yet.
Previous: BMW F Series CAS4+/FEM Blade Key 315MHZ (Silver)
Next: KOLSOL TS61 Tire Pressure Monitoring System TPMS, Wireless Real-time Cigarette Lighter Plug TPMS and Temperature Gauge with 4 DIY External Sensor