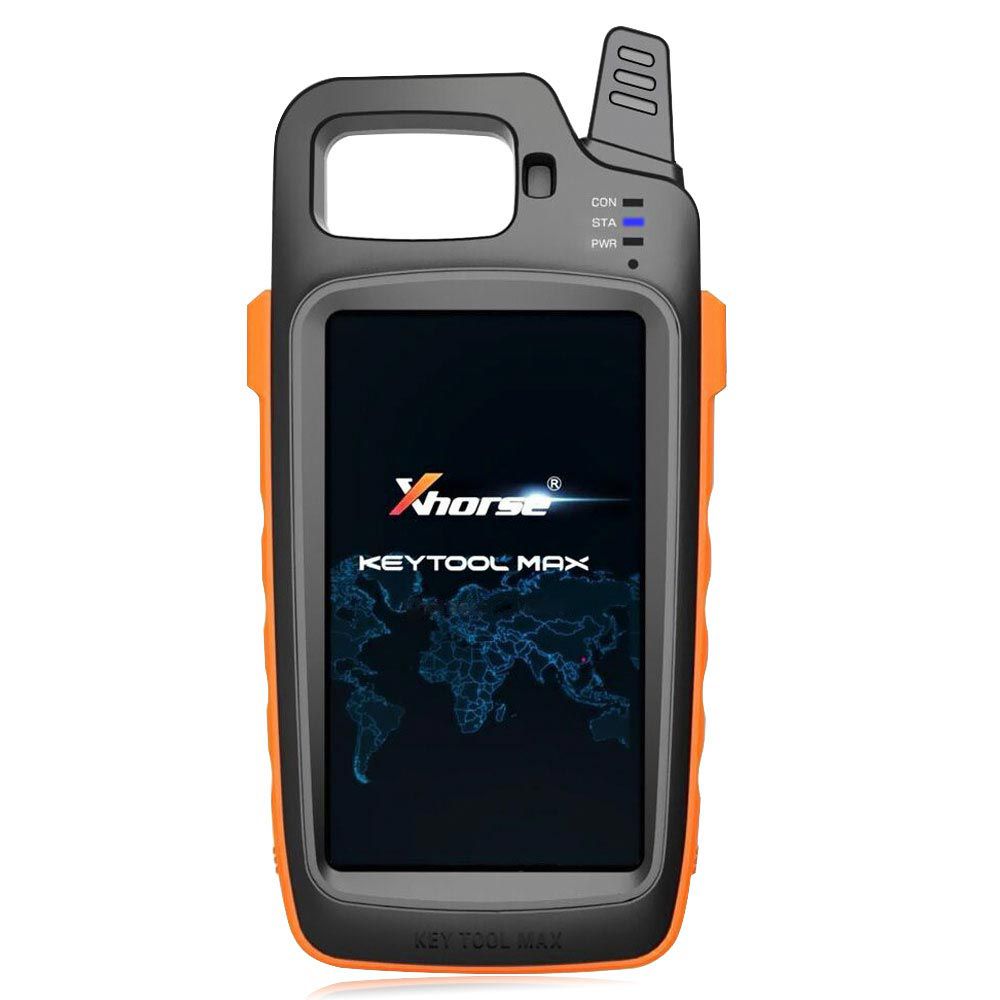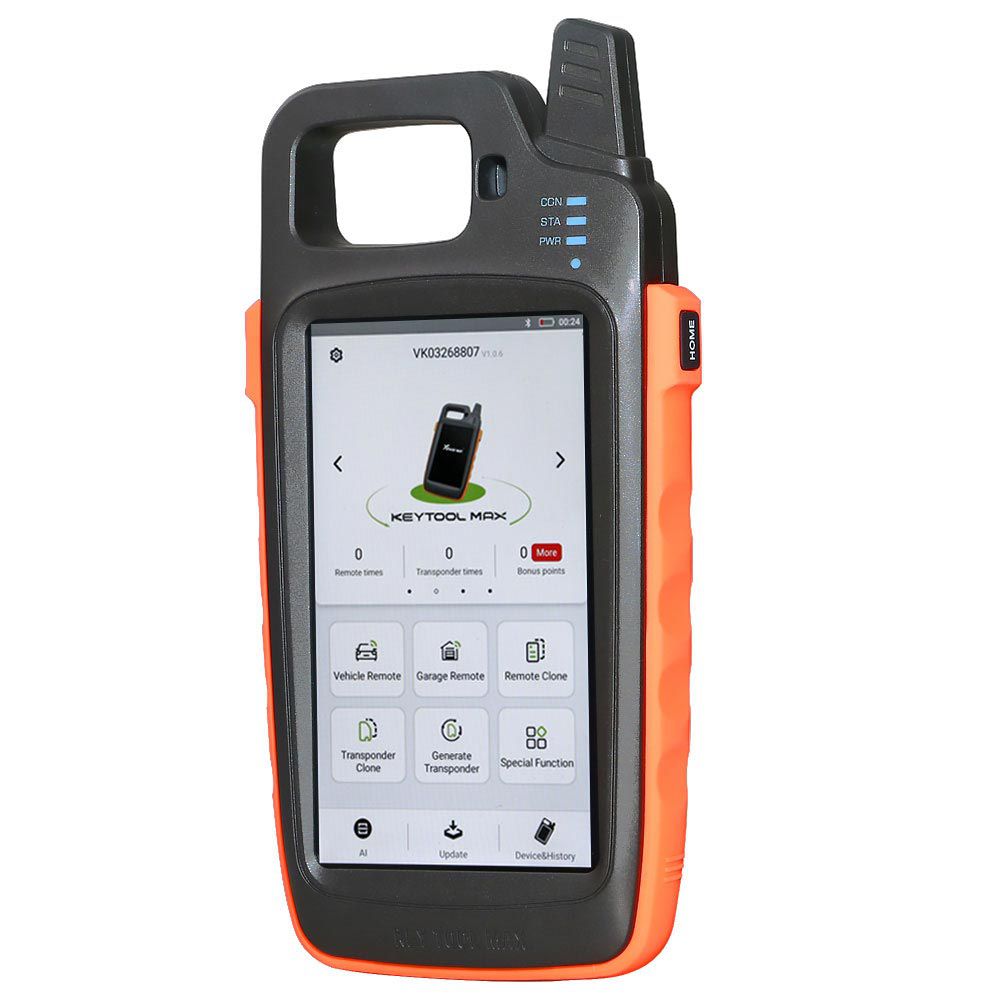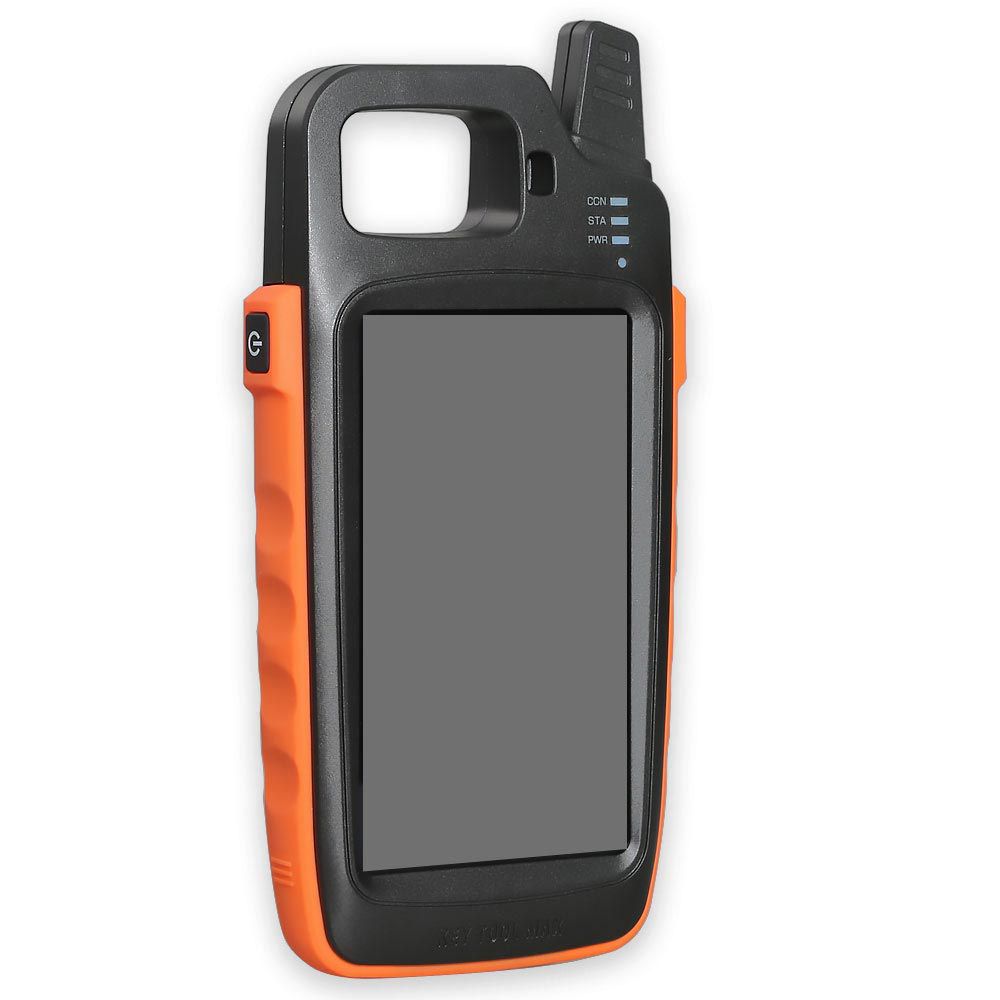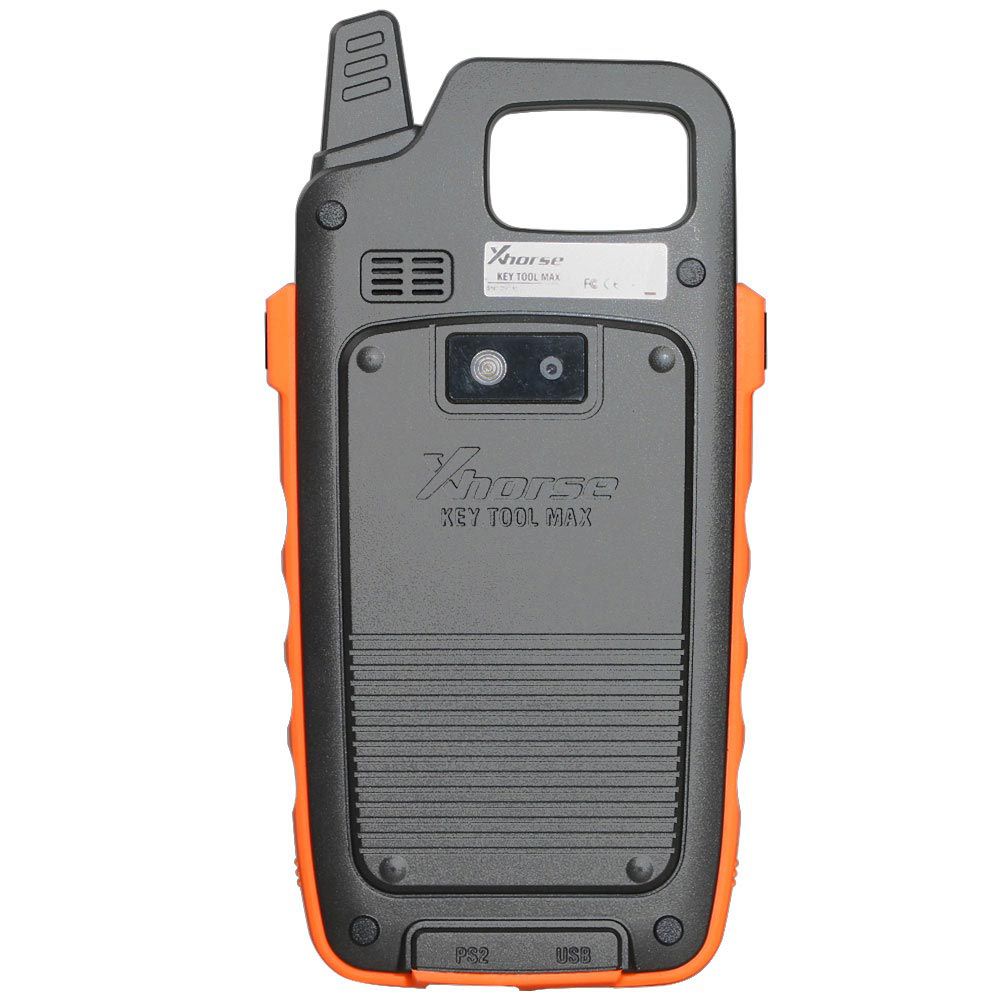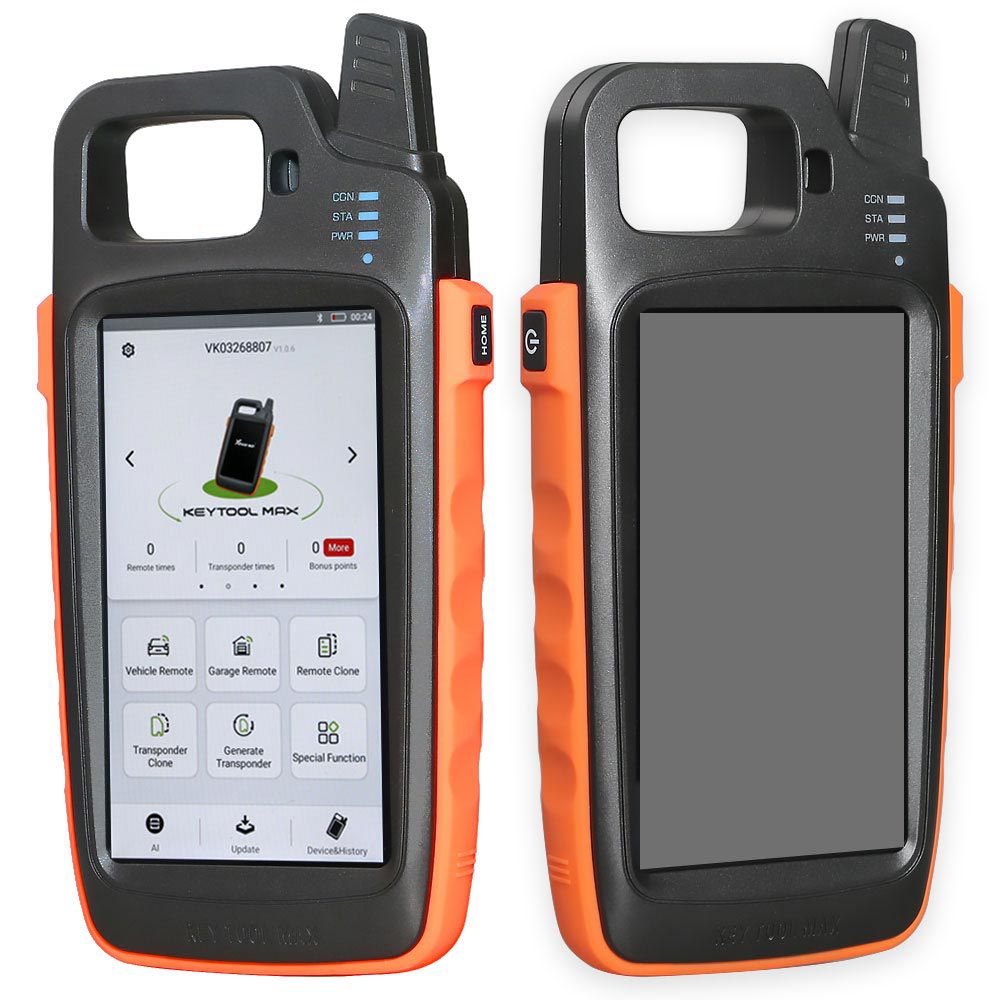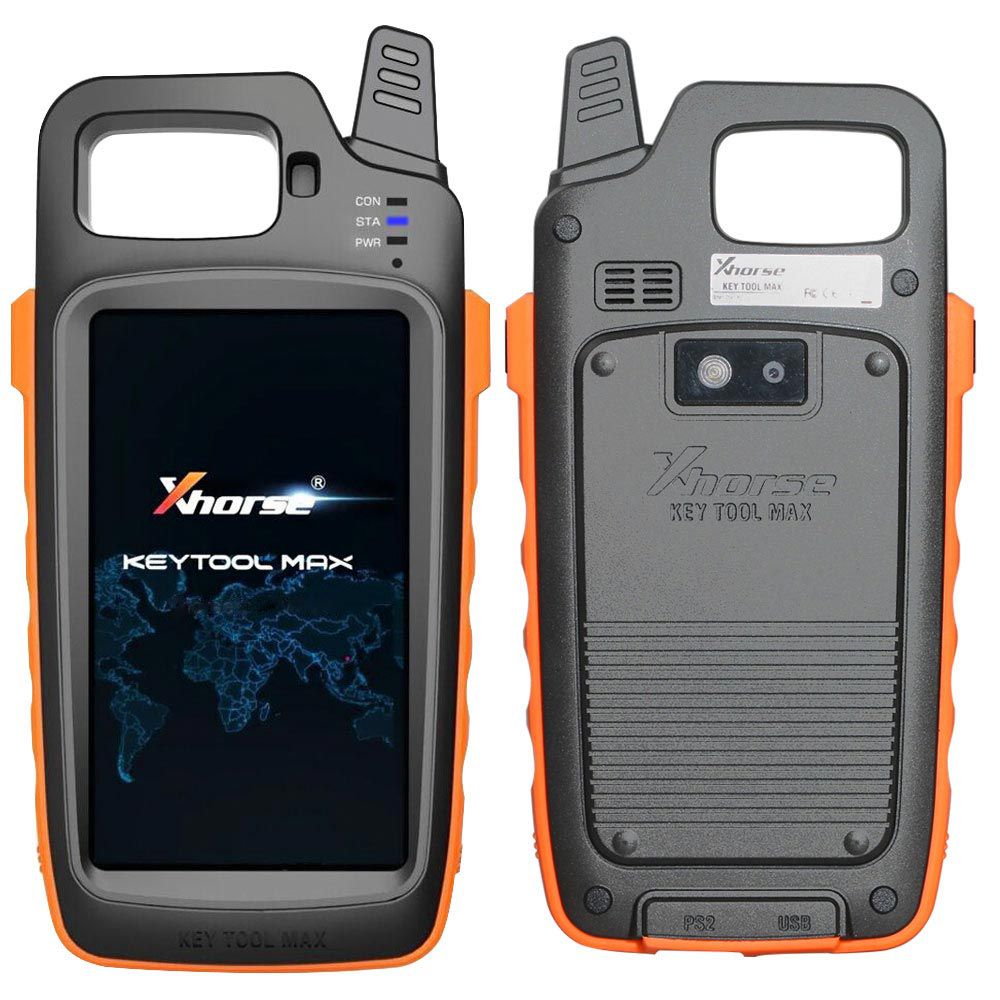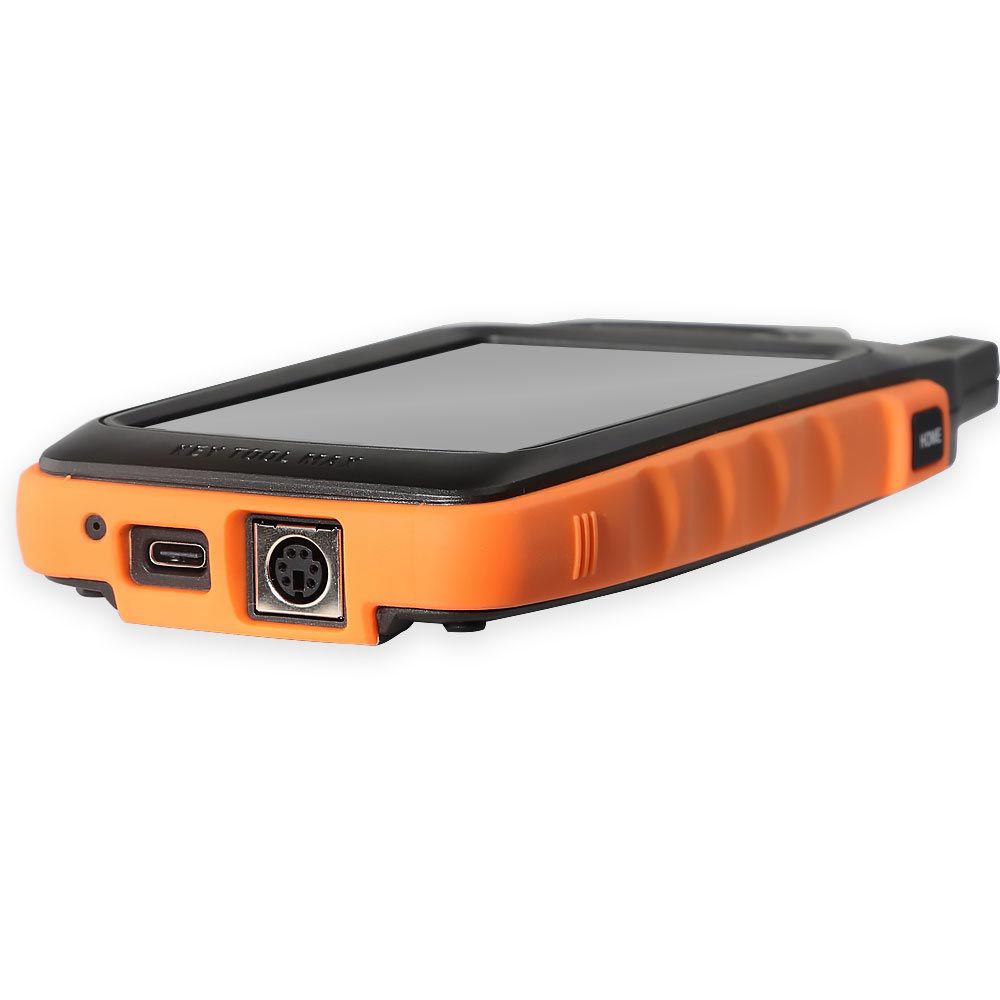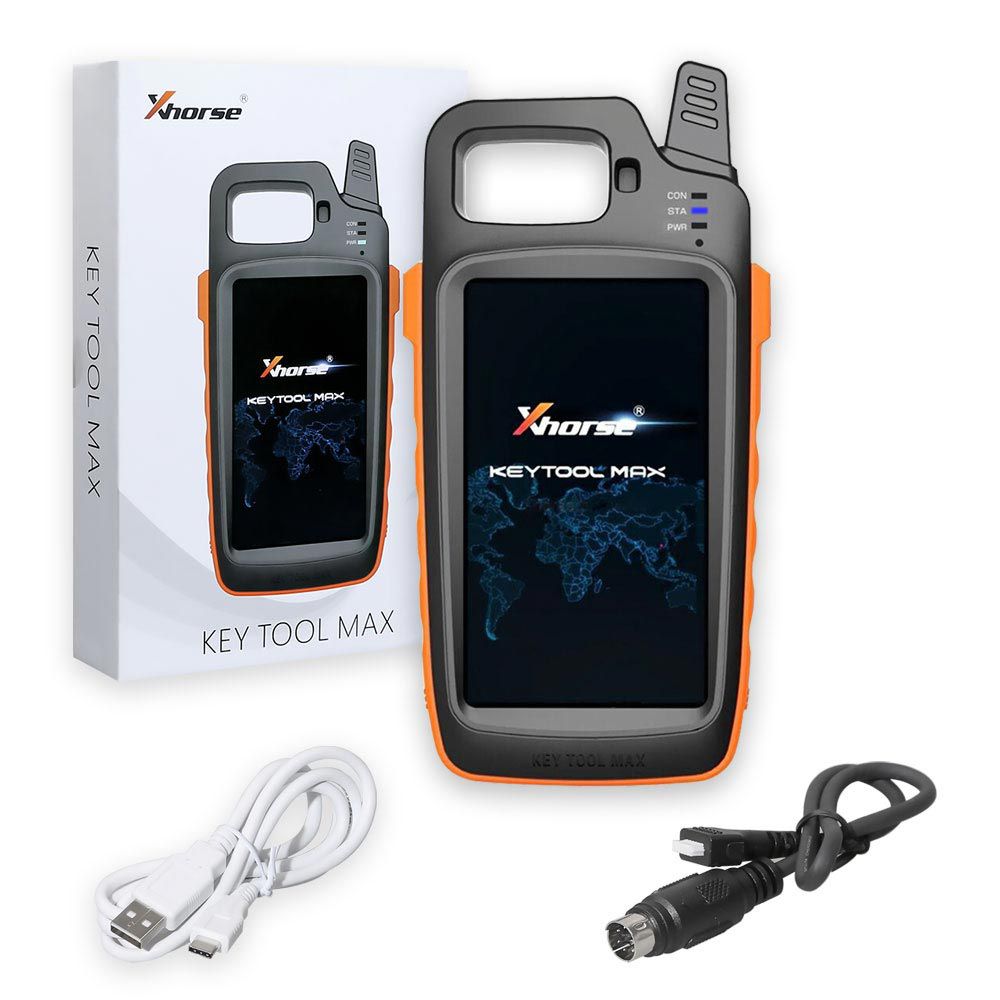 Description
Xhorse VVDI Key Tool Max Unit without VVDI MINI OBD ToolVVDI Key Tool Max Highliths:
1.Firmware version: V1.1.4
2.Added IC Copy function
3.Key Tool max can connect MINI OBD to work together.
4.Adopts HD LCD screen with clear interface, easy to use and flexibility.
5.VVDI Max no need connect computer to update firmware,connect with inernet,update in VVDI.
6.VVDI Key Tool Max Covers MINI Key Tool,key tool function. The remote/transponder function is the same as the previous MINI KEY TOOL, and the renew remote same like KeyTool.
7.Convenient for connecting
Xhorse
Key Cutting machine,MINI OBD TOOL and other products to do specific operations.
8.Get free ID48 96bit function. Please use VVDI Max tool to generate
Xhorse
new remote key 10pcs,after collect points,1 hour later,server will open ID48 96bit function free.
This product is VVDI MAX only, if you need VVDI Max+MINI OBD Tool bundle package,please check:
COBD26142
We offer xhorse remote keys for vvdi key tool max as well, if you need or interest, you can check VVDI Remote Keys
VVDI Key Tool Max Function:
Generate remote and smart key
Program and Immo transponder
Generate speical transponder
Renew remote
Recognize and copy access card
Generate and copy garage remote
Frequency detection and copy remote
Connect to Xhorse key cutting machine
Special function (VVDI Special TP, Unlock Toyota Smart Key, Special 4D to 4C, ID63 to ID83, VVDI smart key clone, VVDI remote repair calibration etc)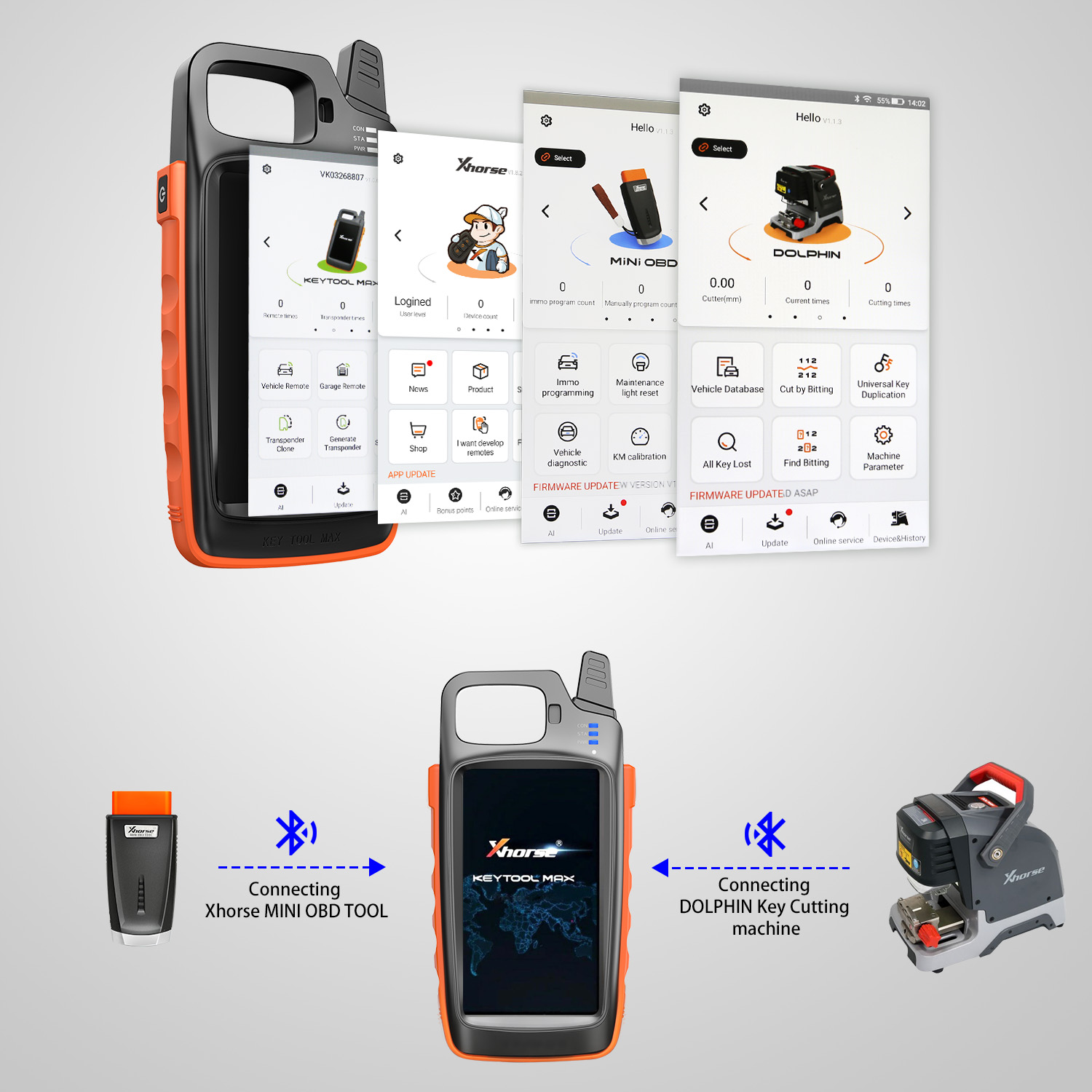 Features of VVDI Key Tool Max :

1: Support Generate transponder and remote.etc
2: Use KEY TOOL MAX to connect the dolphin to cut the key for the customer.
3: Enter the car directly using KEY TOOL MAX+MINI OBD for matching. The entire process can be seamlessly connected without switching devices.
4. KEY TOOL MAX +MINI OBD TOOL can not only match the chip remote control of imported domestic cars, smart card, but also Toyota H chip will be released first on KEY TOOL MAX.
Generate transponder,Transponder Clone, Generate Remote,Remote Clone, OBD matching transponder/remote/smart card.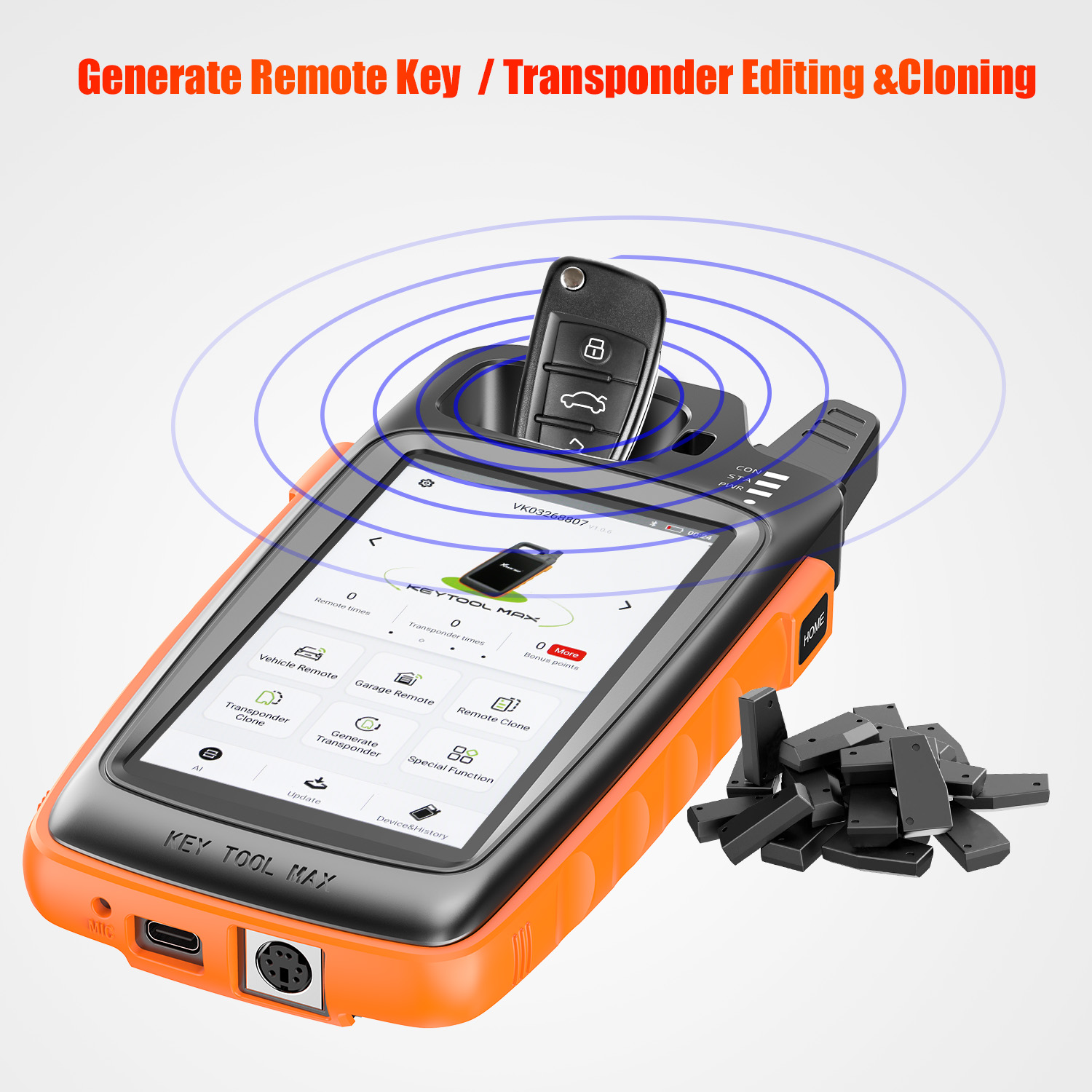 VVDI Max works with Condor dolphin xp005:

KEY TOOL MAX can be connected with Condor Dolphin XP-005 key machine via Bluetooth, to be used like operating screen of Dolphin XP-005.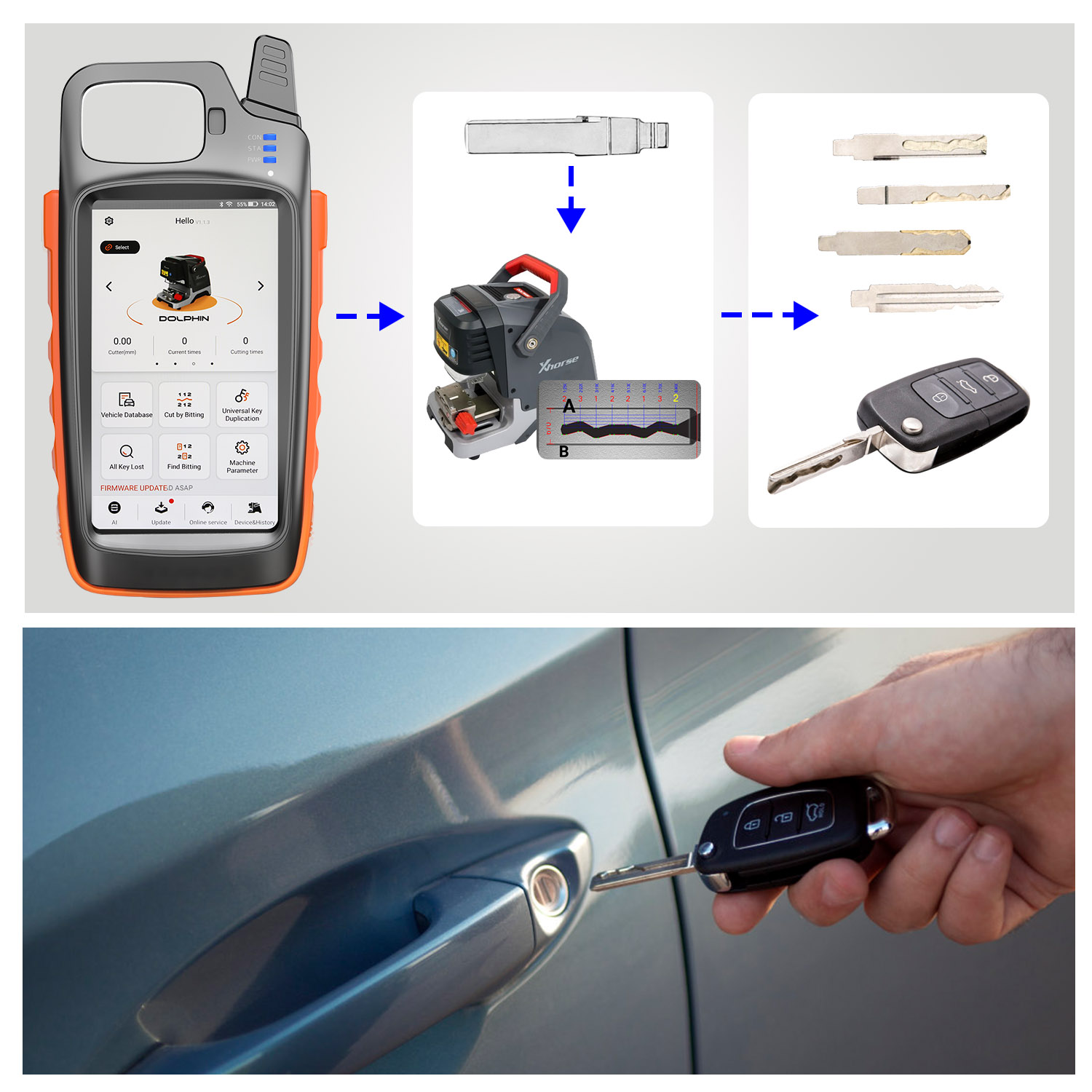 VVDI Max Renew Function:

VVDI Max default package not includes Renew Cable, please buy seperately. Both renew cable and renew adapter of key tool can work with VVDI MAX.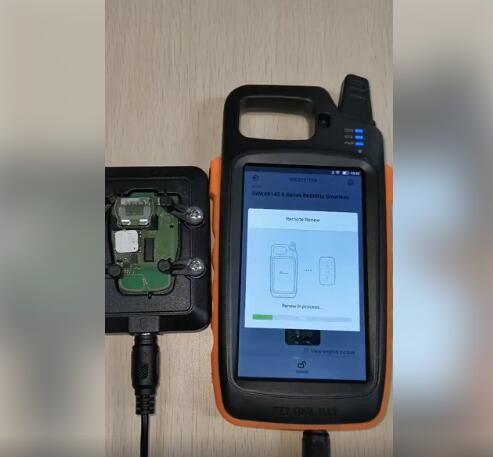 How to Use VVDI Key Tool Max?

Step 1: Read the vehicle data (VIN & immobilizer) via OBD utilizing the soon-to-be released Mini OBD Tool.
Step 2: View the remote and transponder chip information for the vehicle you're plugged into and instantly generate your chip and key.
Step 3: View the proper keyway for cutting on the Dolphin and cut your blade (once you've Lishi'd to determine your cuts).
Step 4: Take your completed key back to the vehicle for immobilizer programming

VVDI Key Tool Max Connect to MINI OBD TOOL

There are 3 ways for Key Tool Max connect to MINI OBD TOOL:
1--USBTYPE-C cable
2--WIFI
3--Bluetooth
1) Click on the [Select] on the HOME page,available device will be shown on the screen,choose device to connect according to Serial Number
2) Software will detect current device with software interface connection status,WLAN connection status and WIFI connection status.

VVDI Key tool Max Key Making Process: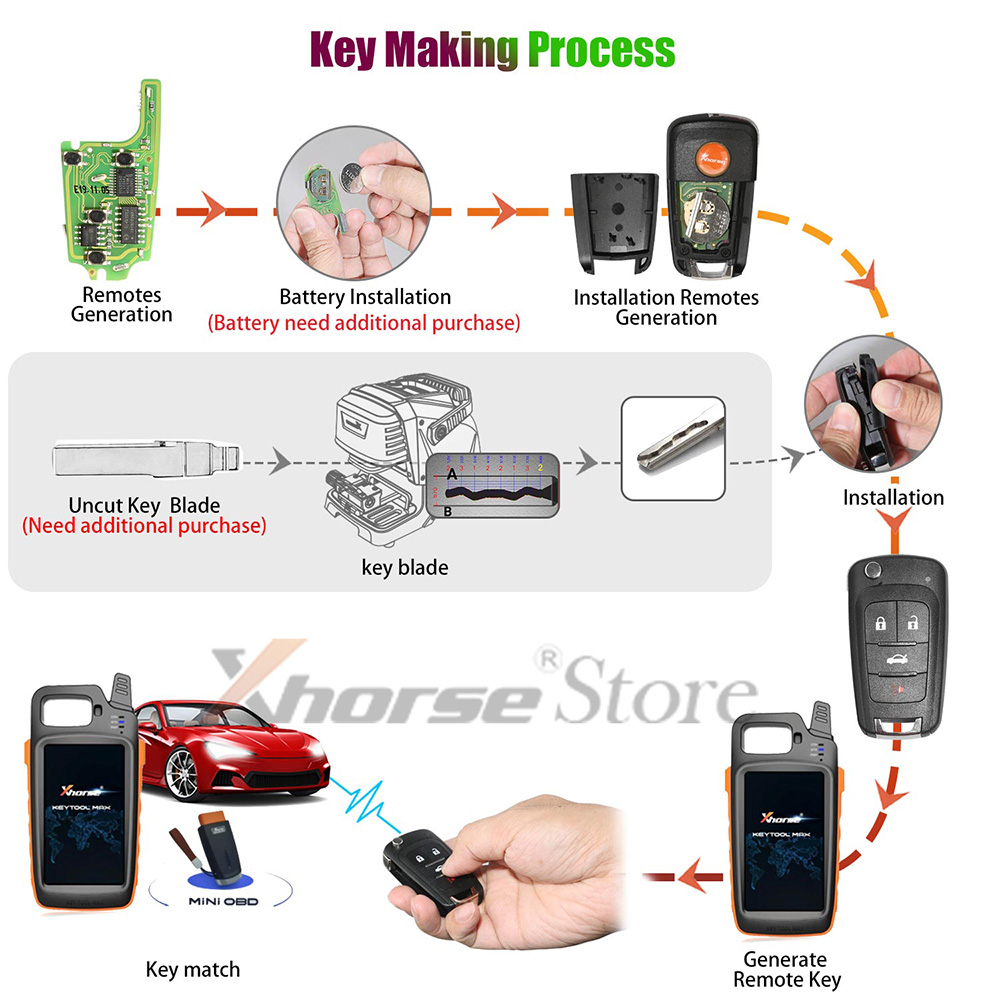 VVDI Key Max Parameter:

Battery Capacity: 3375mAh
Battery Life: >6 hours
Standby Time: >5 days
Recharging Current: 1500mAh
Brightness: >400nlts
Screen Resolution: 1280*720P
Camera Resolution: 800W

VVDI Key Tool Max Package List:

1x VVDI Key Tool Max tablet
1x USB-C cable
1x Remote generation cable
1x VVDI Key Tool Max User Manual
Previous: CGDI MB Benz EIS ELV Testing Platform Instrument Emulator
Next: Best Quality V163 JLR Mangoose SDD Pro Full Chip for Jaguar and Land Rover Support till 2017