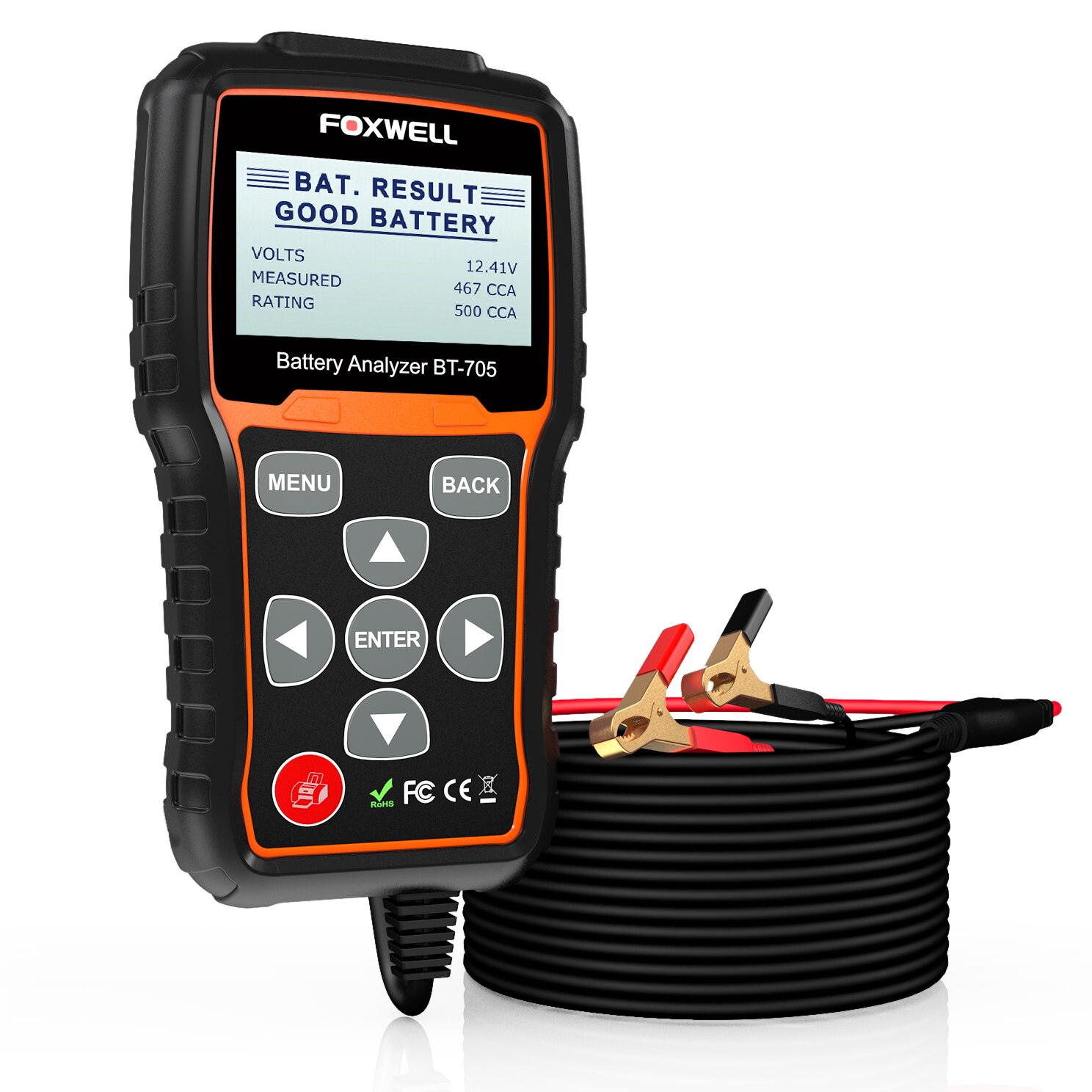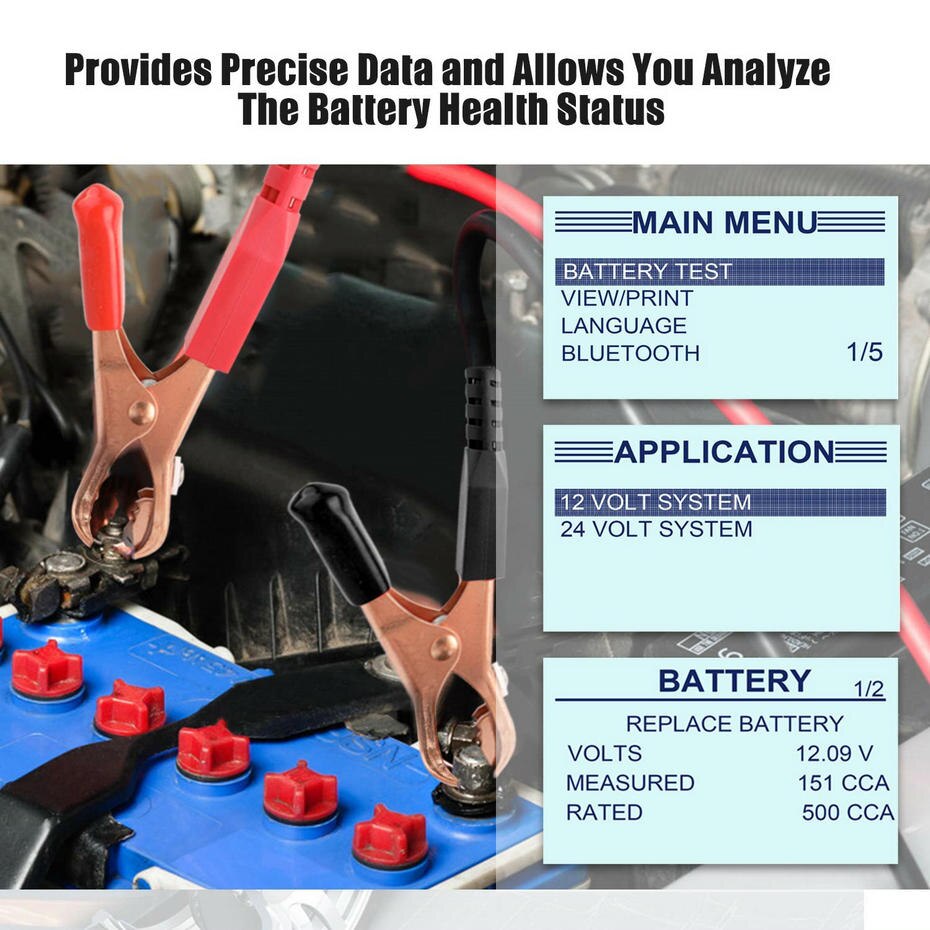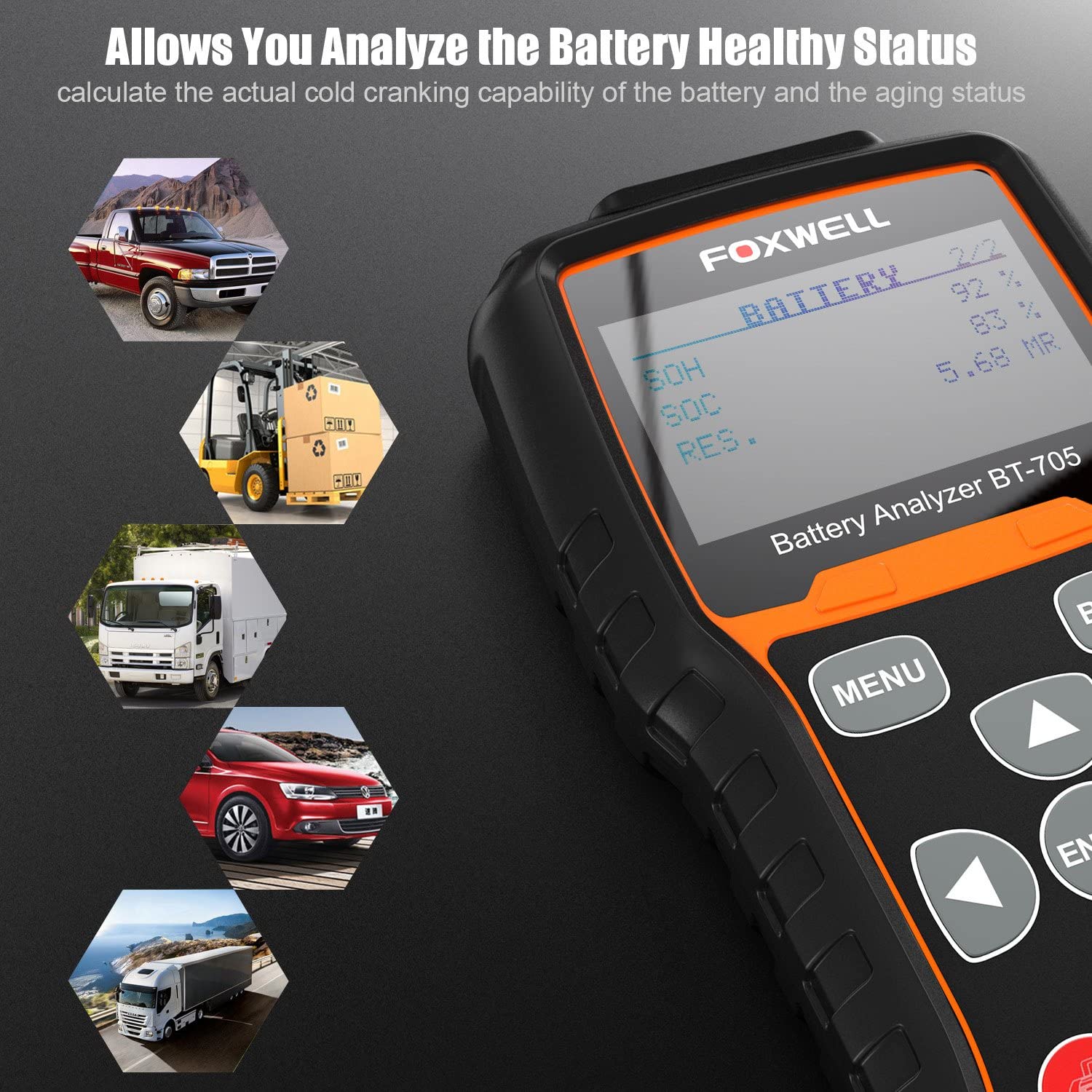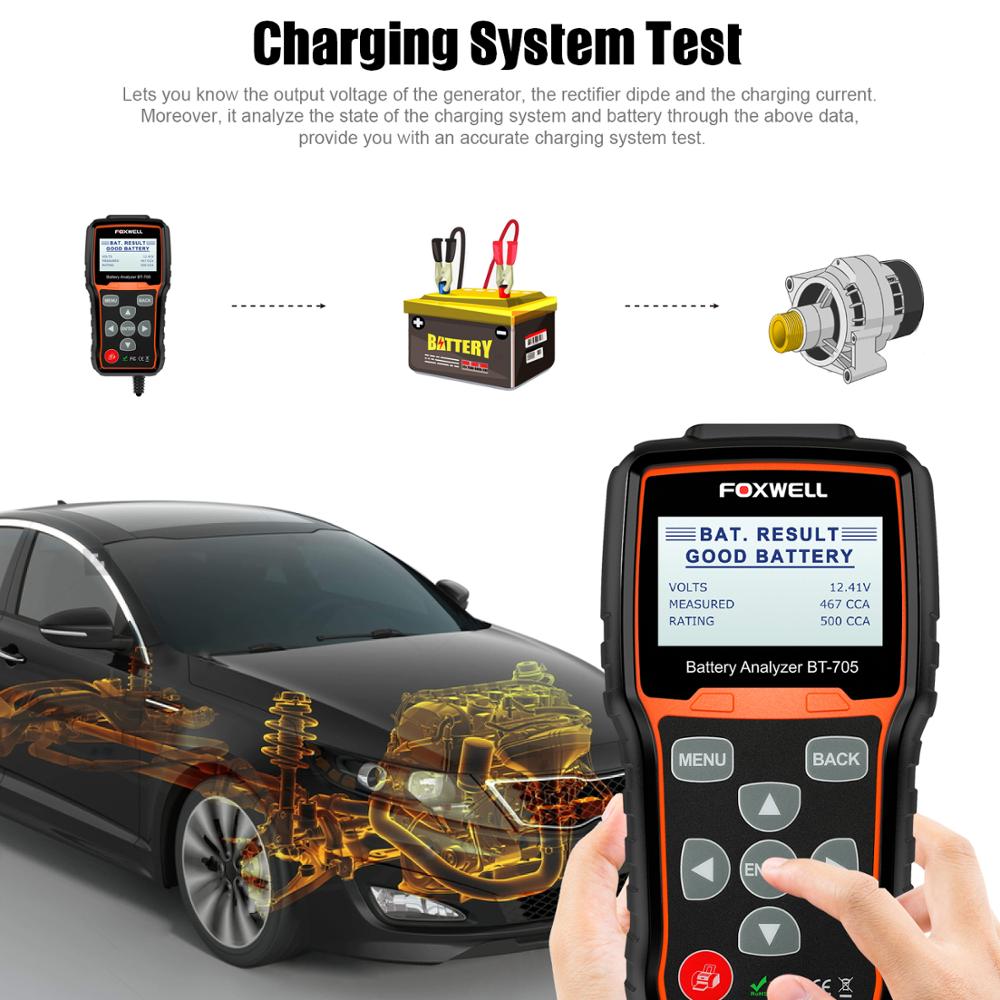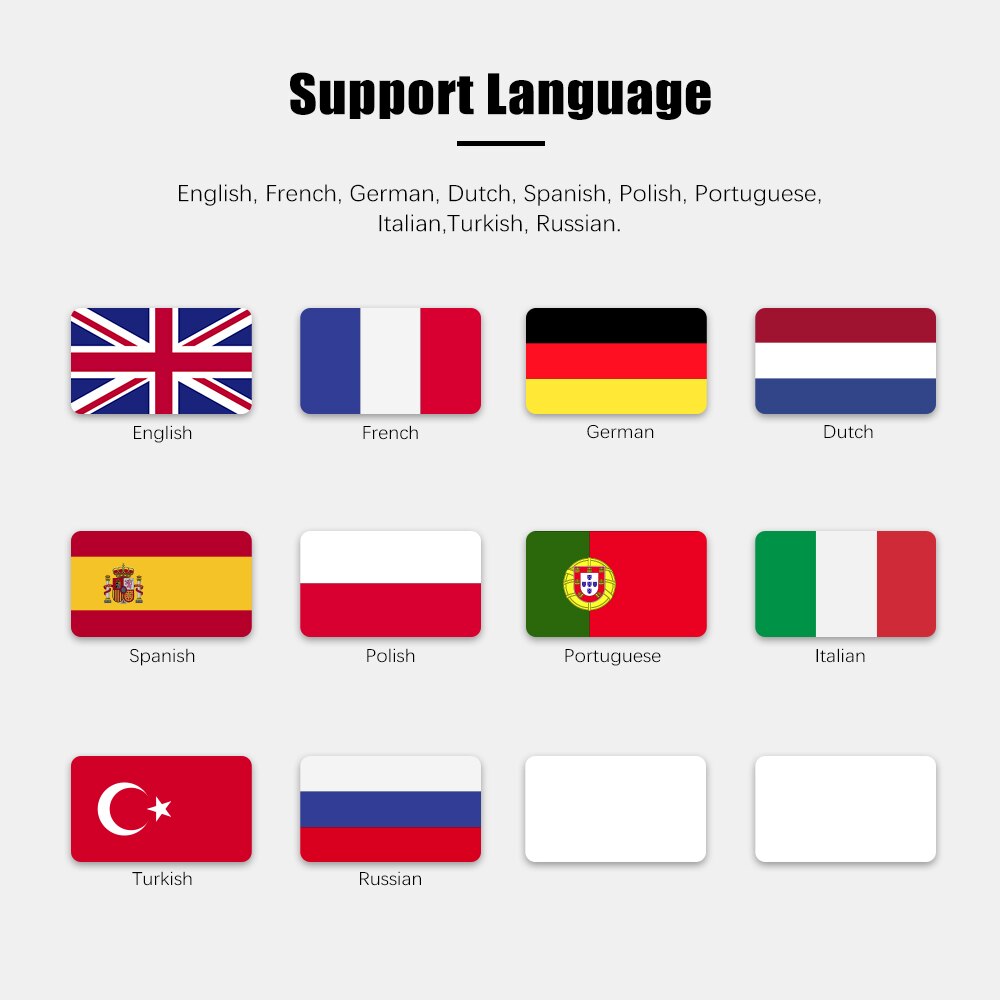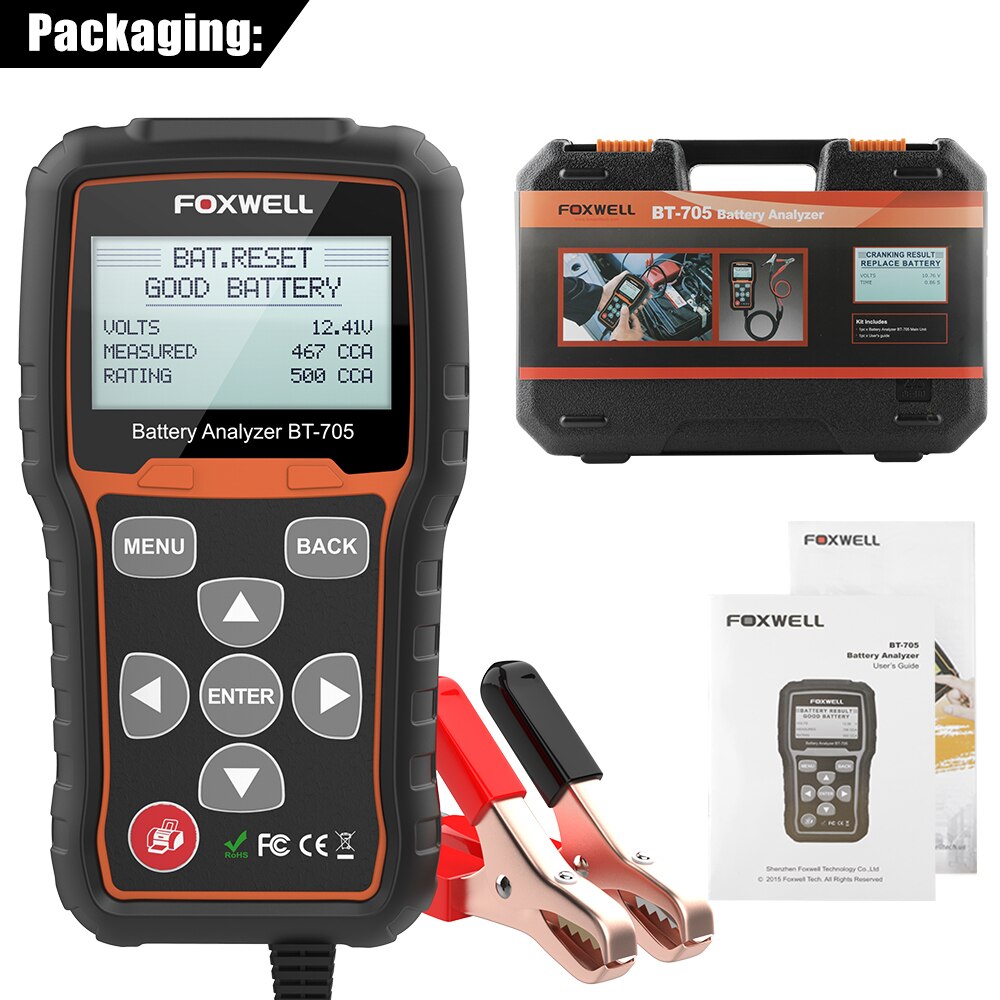 Description
FOXWELL BT705 Car Battery Tester 100-2000CCA 12V-24V Car Trucks Cranking Stop-Starting Charging System Test Battery Analyzer
The latest BT-705 (100-2000CCA)
Battery Analyzer
form Foxwell is dedicatedly developed to test 12V regular flooded, AGM flat plate,A
GM
spiral and gel batteries and 12V & 24V starting and charging system.It provides a quick,easy and affordable solution for technicians to check battery health and detect faults of starting and charging system.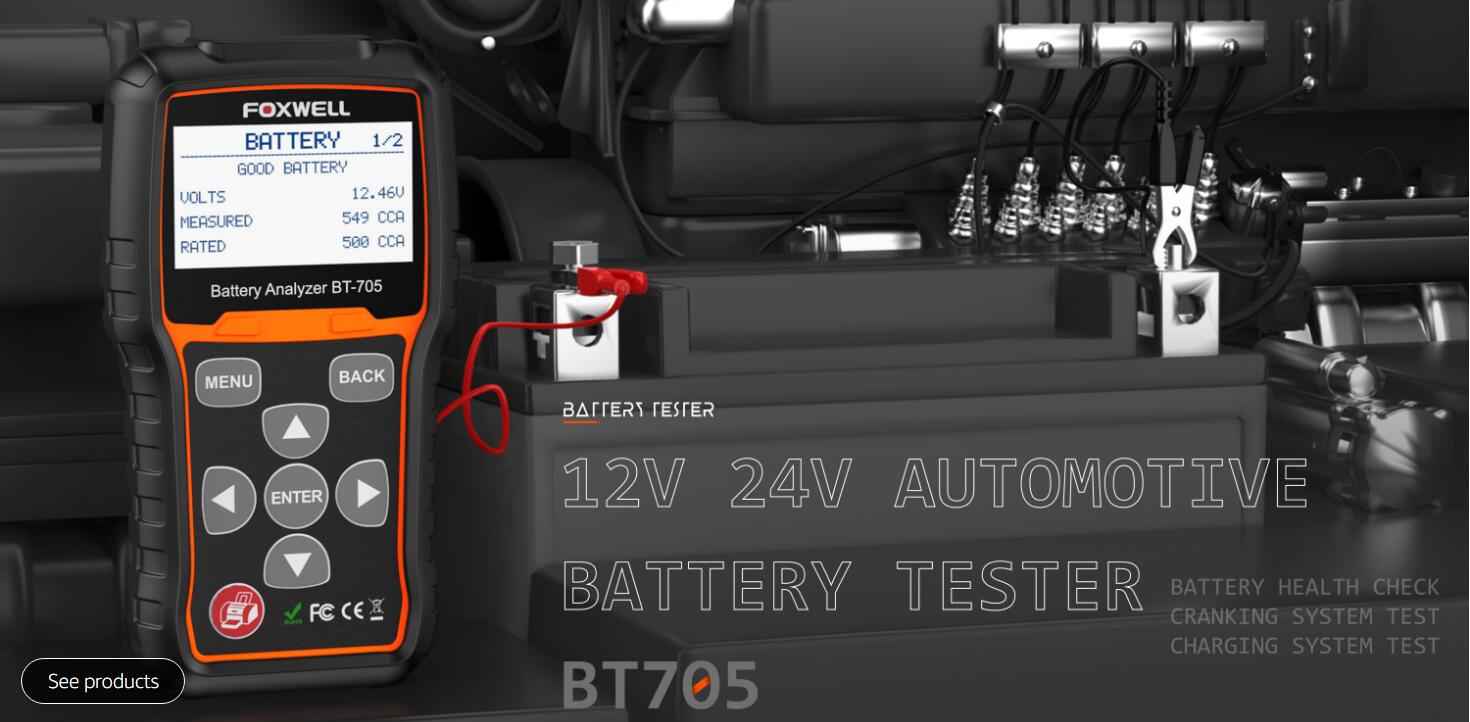 Suit for everyone, you won't miss
【
Battery Analyzer
】 BT705 automobile battery tester designed for 12 V or 24 V batteries with a capacity of 100 to 2000 CCA, such as regular flooded, AGM flat plate, A
GM
spiral, GEL and deep cycle batteries, 12V & 24V starting and charging system. The test results based on CCA, EN, CA, MCA, DIN, SAE, JIS and IEC Standards. 【CAR BATTERIES DOCTOR】 Adopt the advanced conductance testing technology, the premium quality copper clip and wire maintain a stable communication all throughout the testing process to provide you with reliable results! Accurately and quickly measure the actual cold cranking amps, capability of the vehicle starting battery and healthy state of the battery itself. 【CRANKING AND CHARGING SYSTEM TEST】 BT705 auto tester displays the decision on the starter system, cranking voltage, and cranking time in milliseconds. Also, the battery diagnostic tool can check 12V or 24V charging system to make sure the output voltage of the generator is in a regular condition, the rectifier diode works fine and the charging current is a normal status. 【WORTH TO OWN】 BT705 car battery analyzer can accurate reading of battery health status in just 2. 5 seconds in its large and easy to use backlit LCD display, help you diagnose and resolve car health problems timely without disconnecting the battery or using a separate battery. 【100% SATISFACTORY SERVICE】 Please make sure that both contacts of the positive and negative clips are in good contact to get accurate values. More detail, please refer to the "Installation Manual" on the Product Information''. The 7. 8ft cable allowed you to do the test from inside of the vehicle, whether you own your personal mechanic shop or private owner, you'll fall in love with this battery analyzer!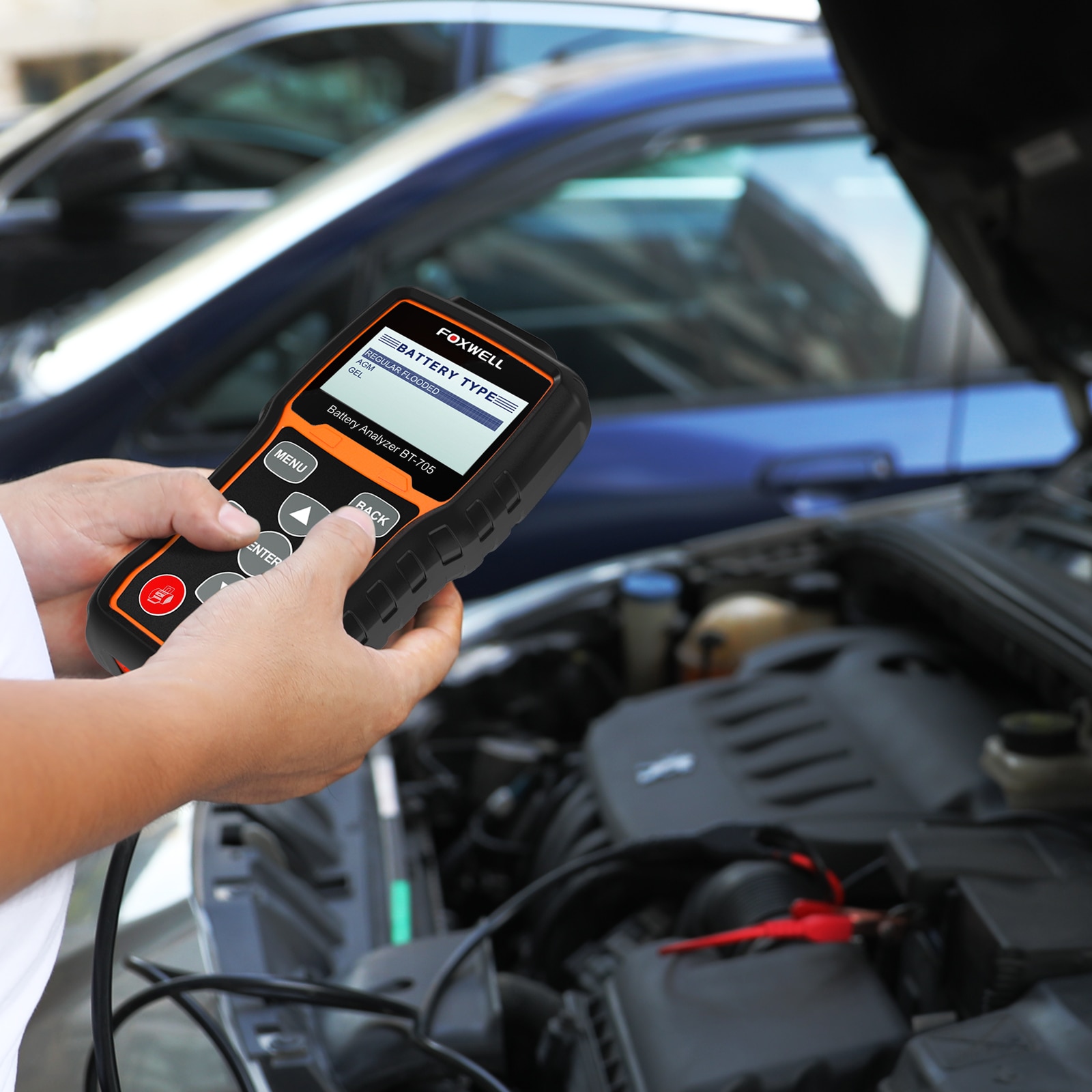 FOXWELL BT-705 12V Battery Load Tester
•Multiple vehicle applications ¨C passenger cars and heavy duty trucks. •Tests batteries from rated from 100 to 2000CCA. Cold Cranking Amps settings is in increments of 1 and you can line up with your battery ratings from 100 to 2000CCA. •Tests multiple battery types- regular flooded, AGM flat plate ,A
GM
spiral and gel. •Tests multiple rating systems-CCA,BCI,CA,MCA,JIS,DIN,IEC,EN,SAE,GB. •Tests the batteries on the car directly- no need to remove the battery. •Quick and accurate test result display in just 3 seconds, detects bad cells directly. •Tests 12&24 volt charging system. •Quick starter analysis without disabling the ignition. •Does not emit light, heat or spark ,or discharge battery-keeps operation safe for all levels of users. •Automatic temperature compensation. •Ripple voltage test for easy and intuitive check of faults. •Extremely easy to use with large backlight LCD display and menu-driven operation. •Rubberized sleeve protects, 7.8ft tester cable with metal alligator clips. Viewing/Printing Test Results, allow you view test results and print the data via optional
Bluetooth
printer. SOH: the health status of battery SOC: the state of charge RES: the internal resistance of the battery
Foxwell BT705 Support Functions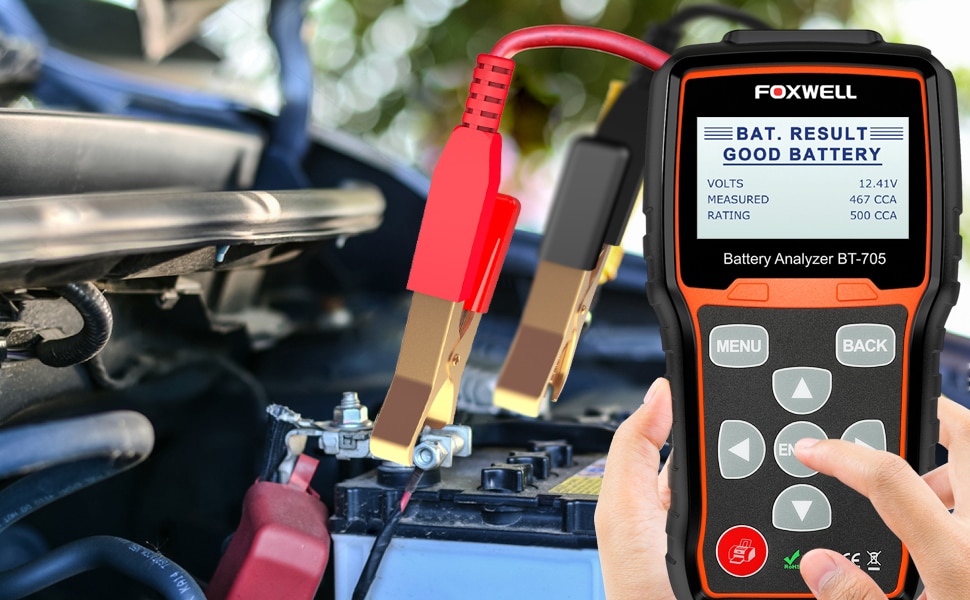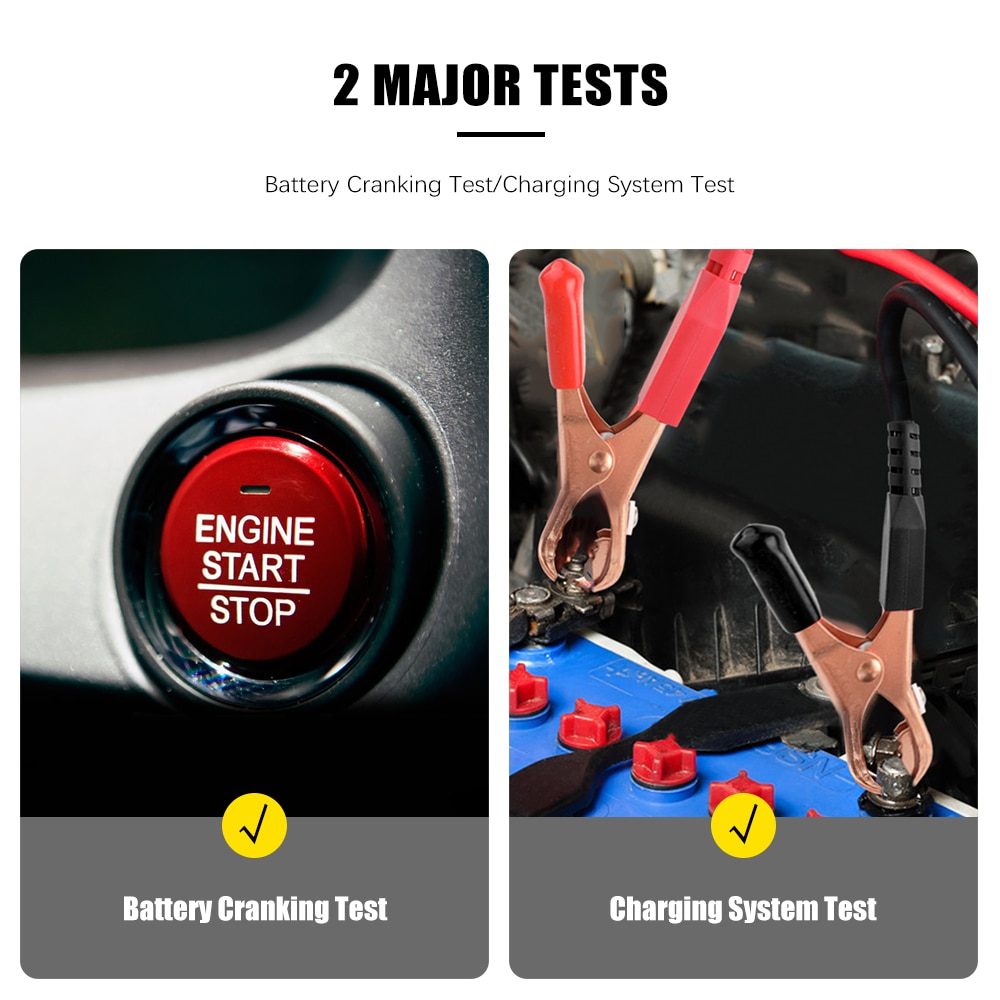 MULTIPLE BATTERY TYPES TEST
work for regular flooded, AGM flat plate, AGM spiral and gel
VEHICLE BATTERY ANALYSIS
•GOOD BATTERY:Battery is in good condition. •GOOD-RECHARGE:Battery is in good condition but low current. •CHARGE & RETEST:Fully charge the battery and retest. If you still get CHARGE & RETEST after fully charge the battery, replace it. •REPLACE BATTERY:The battery is almost dead or the connection between the battery and battery cable is poor. Replace the battery and retest; or disconnect the battery cables and retest the battery using the out-of-vehicle test. •BAD CELL-REPLACE:The battery may be damaged.
VEHICLE CRANKING ANALYSIS
•CRANKING NORMAL: The starter voltage is normal and the battery is fully charged. •LOW VOLTAGE: The starter voltage is low and the battery is fully charged. •CHARGE BATTERY: The starter voltage is low and the battery is discharged. Fully charge the battery and repeat the starter system test. •REPLACE BATTERY: Battery must be replaced before the starting system can be tested. •NO START: No vehicle start detected. •CRANKING SKIPPED: A start was not detected.
VEHICLE ALTERNATOR CHARGING SYSTEM ANALYSIS
•NO PROBLEMS: System is showing normal output from the alternator. •NO OUTPUT: No alternator output detected. Check connections to and from the alternator, especially the connection to the battery.L •OW OUTPUT: Alternator not providing sufficient to power the system's electrical loads and charge the battery. H •IGH OUTPUT: Alternator voltage output exceeds the normal limits.E •EXCESSIVE RIPPLE: Excessive AC ripple detected. One or more diodes in the alternator are not working or there is stator damage.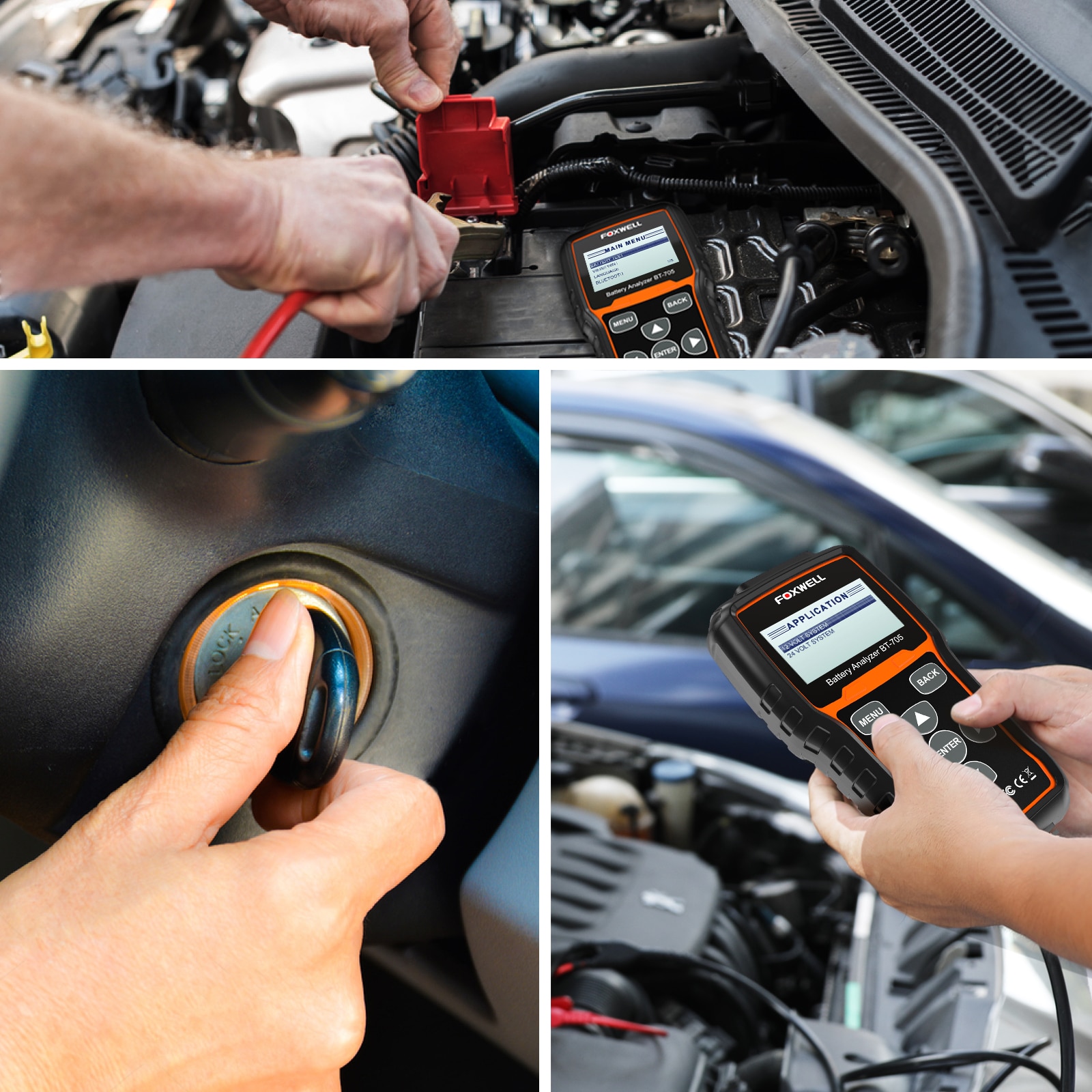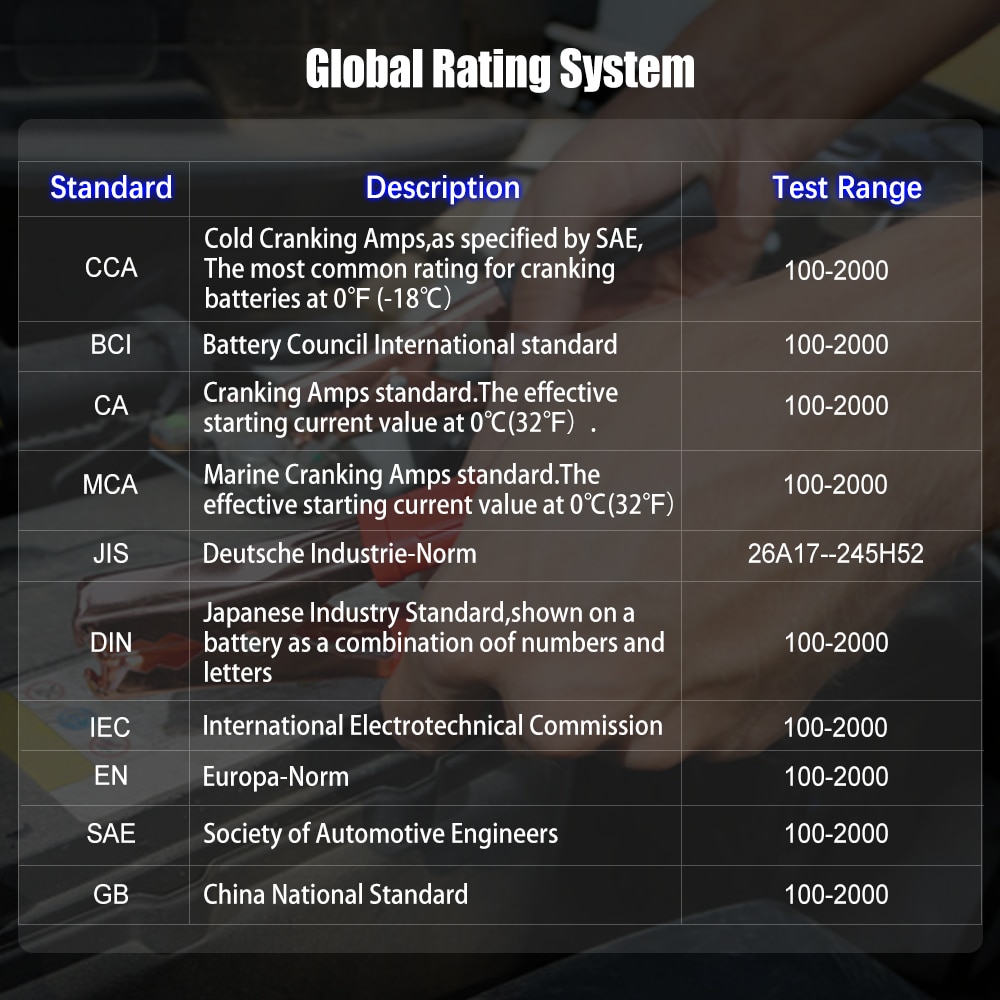 Foxwell BT705 Support Functions
English, French, German, Dutch, Spanish, Polish, Portuguese, Italian,Turkish, Russian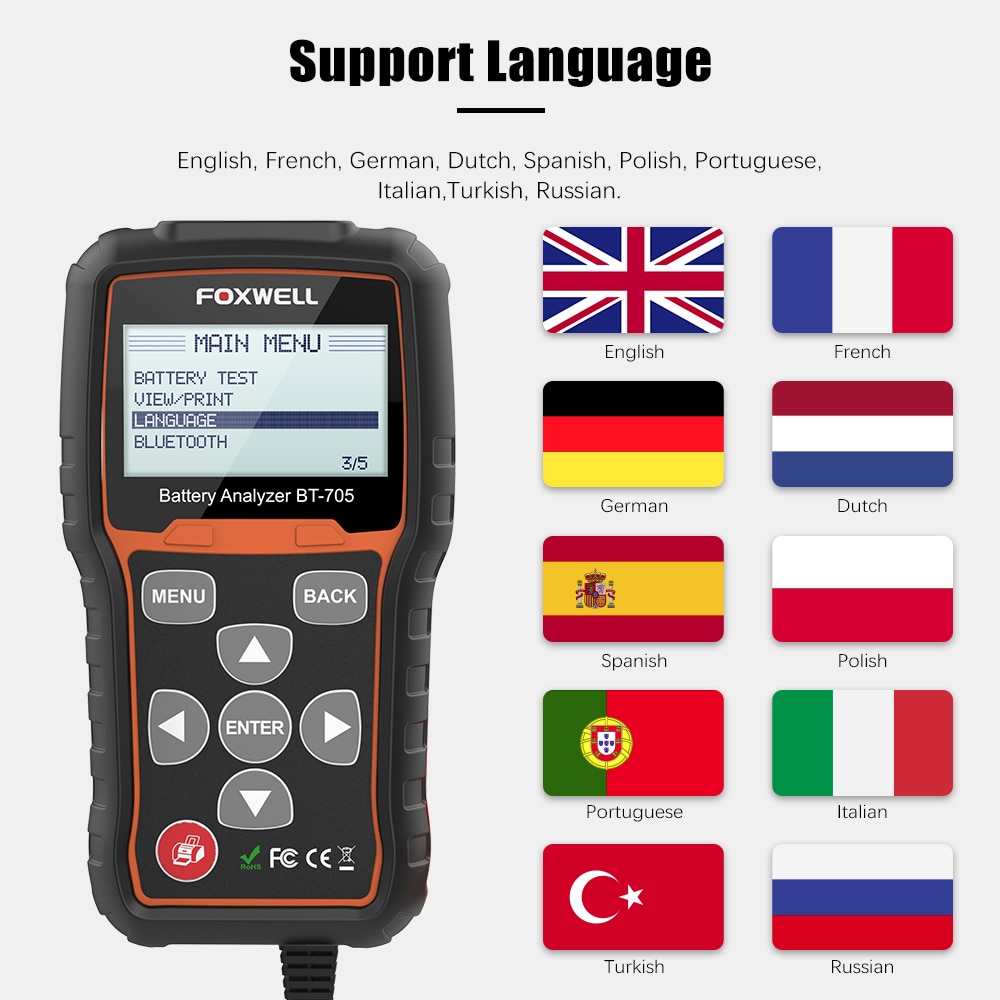 Package including: 1pc X Car Battery Analyzer Foxwell BT705 Main Unit 1pc X User's Guide 1pc X Carry Pouch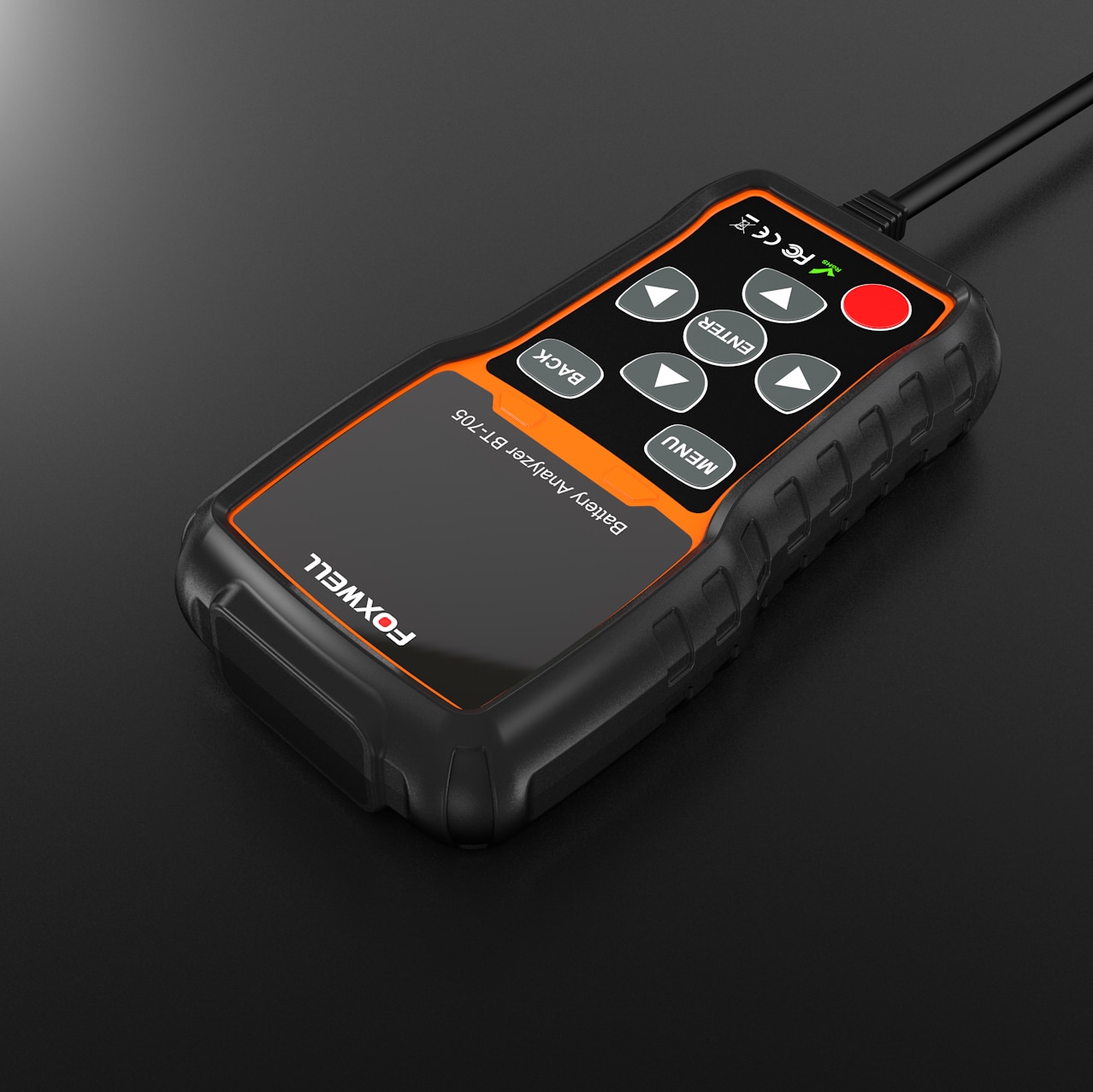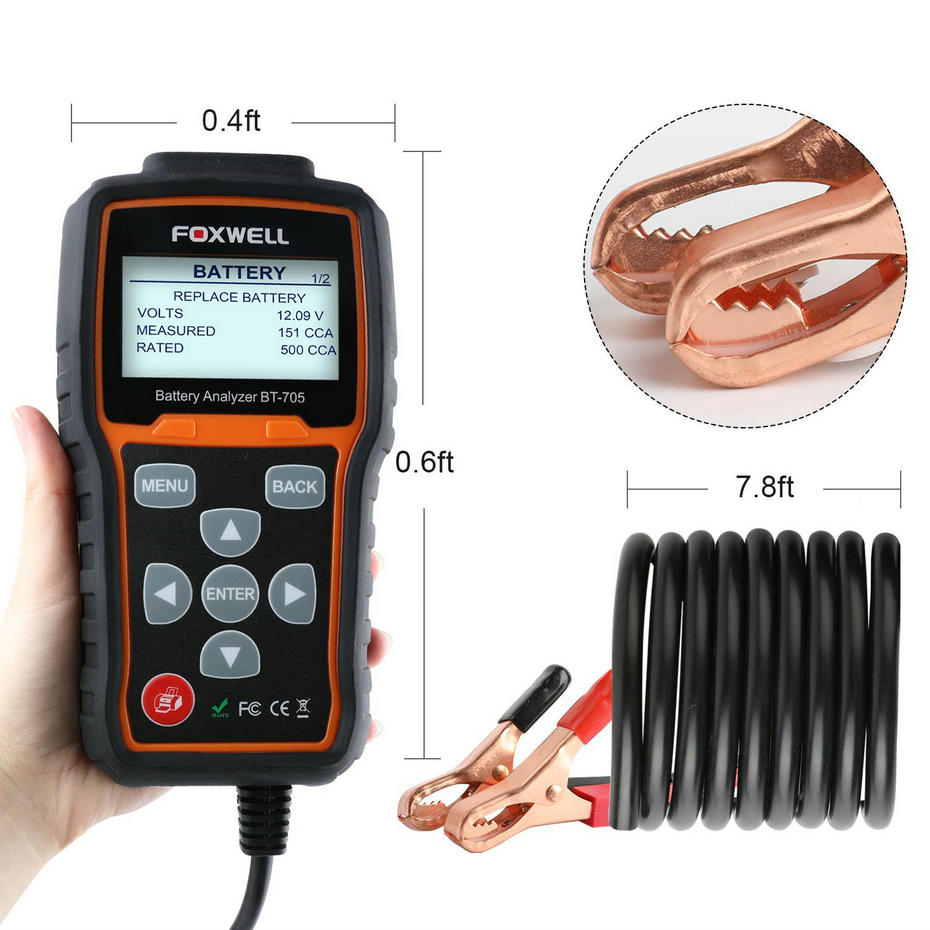 Previous: Foxwell NT726 OBD2 Scanner Car Code Reader All Makes All Systems 8 Reset Service WiFi Free Update OBD 2 Car Diagnostic Scanner
Next: UCANDAS VDM WIFI Full System OBD2 Scanner Scan ABS Airbag Oil EPB DPF Reset Code Reader Auto Car Diagnostic Tool