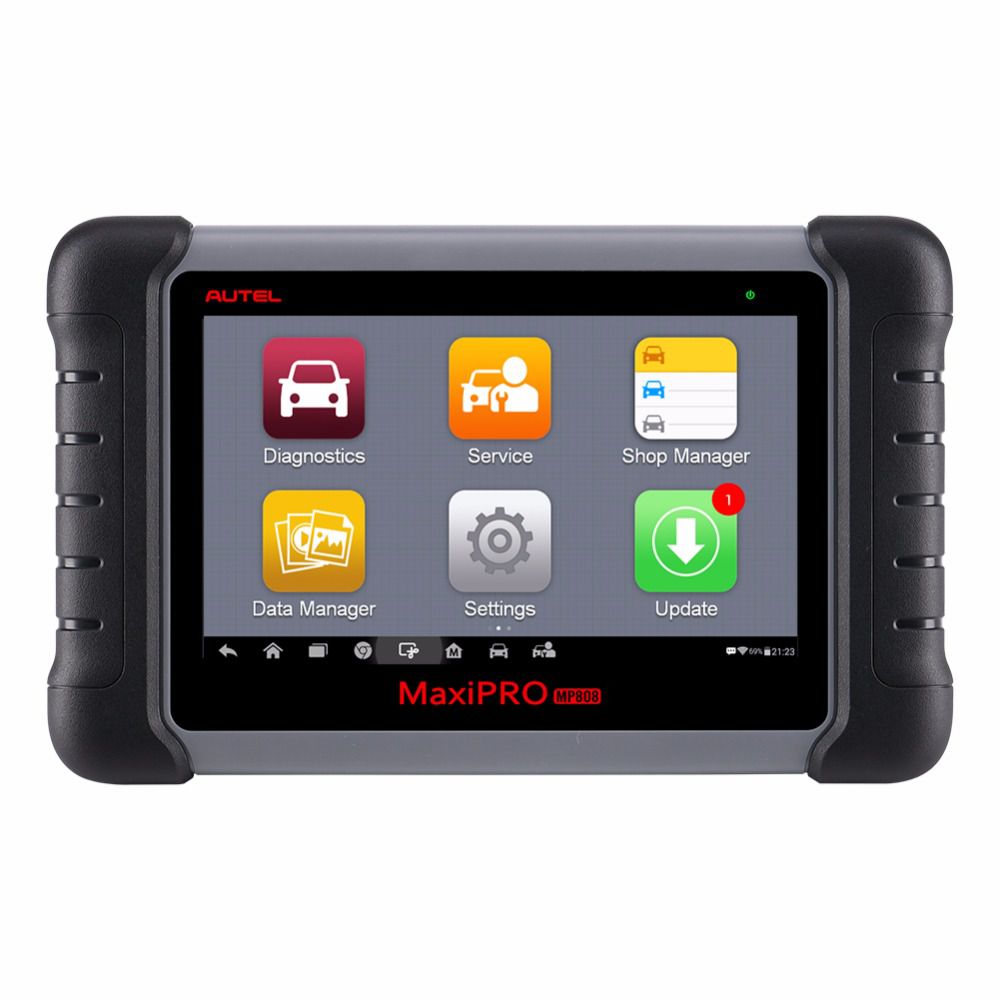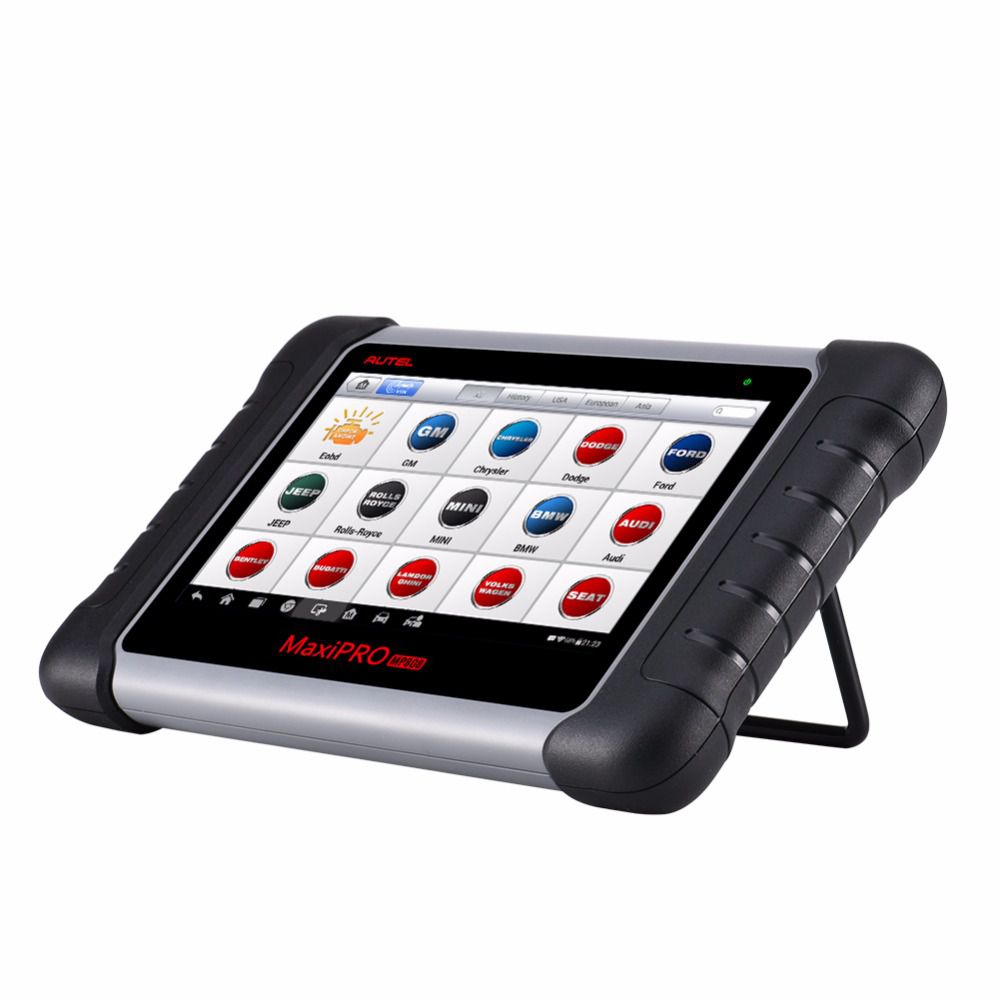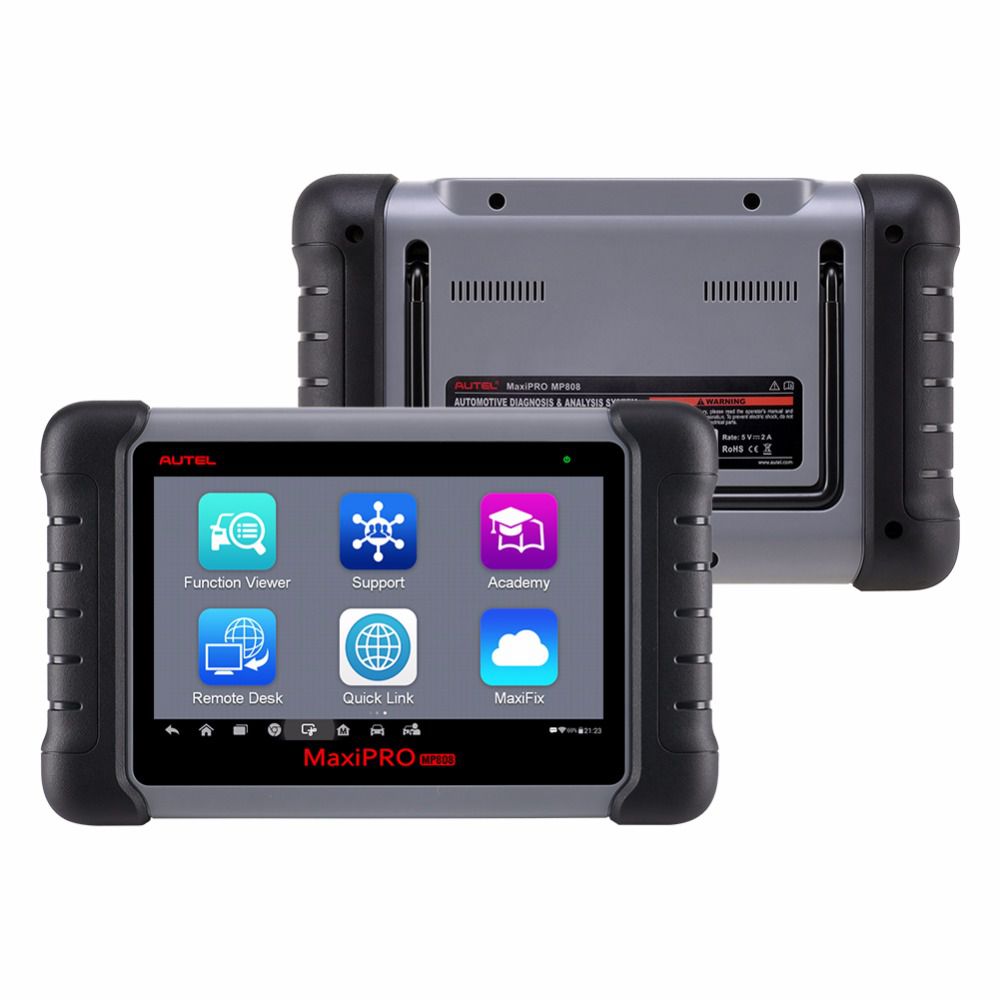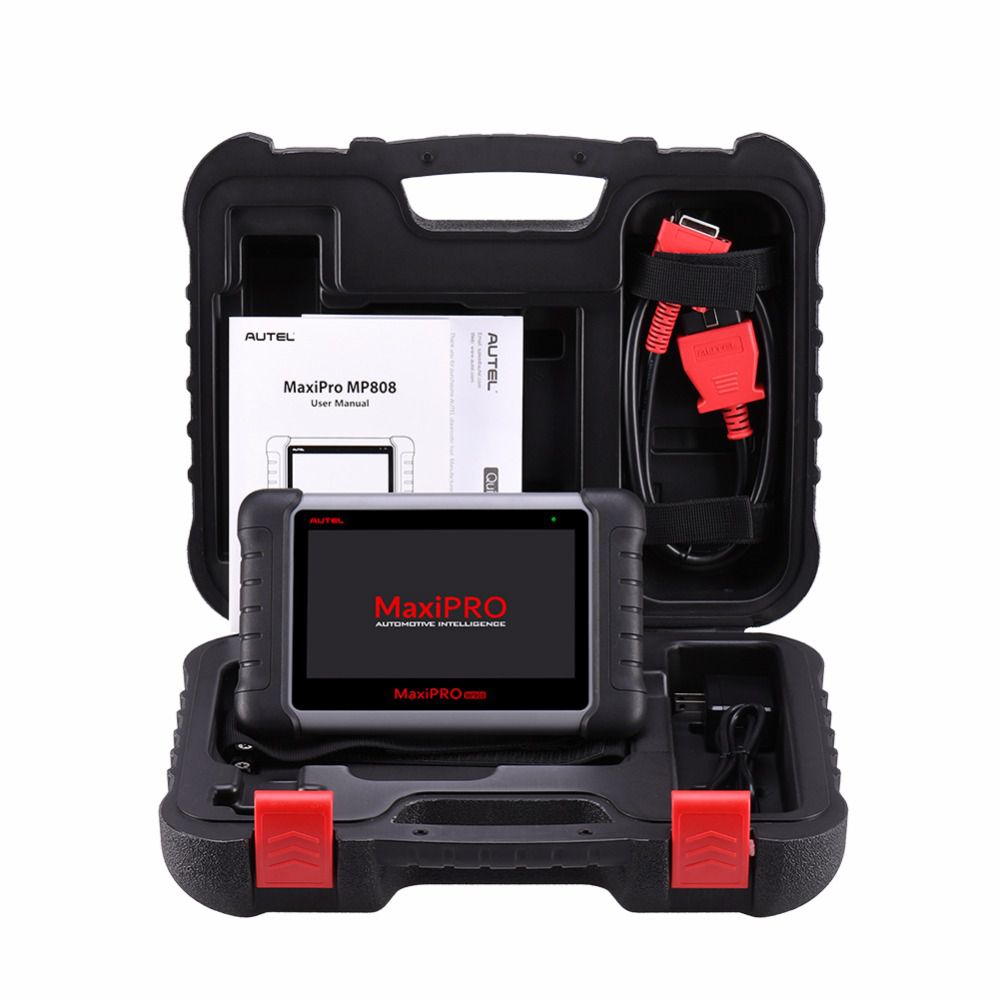 Description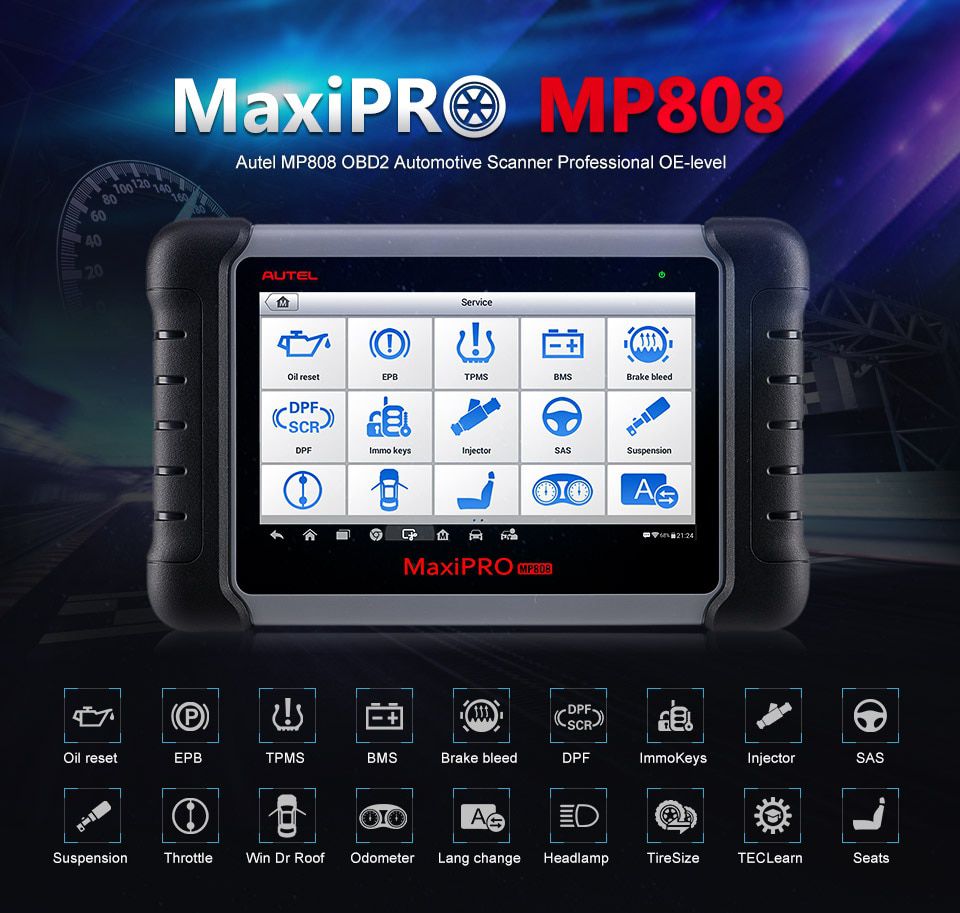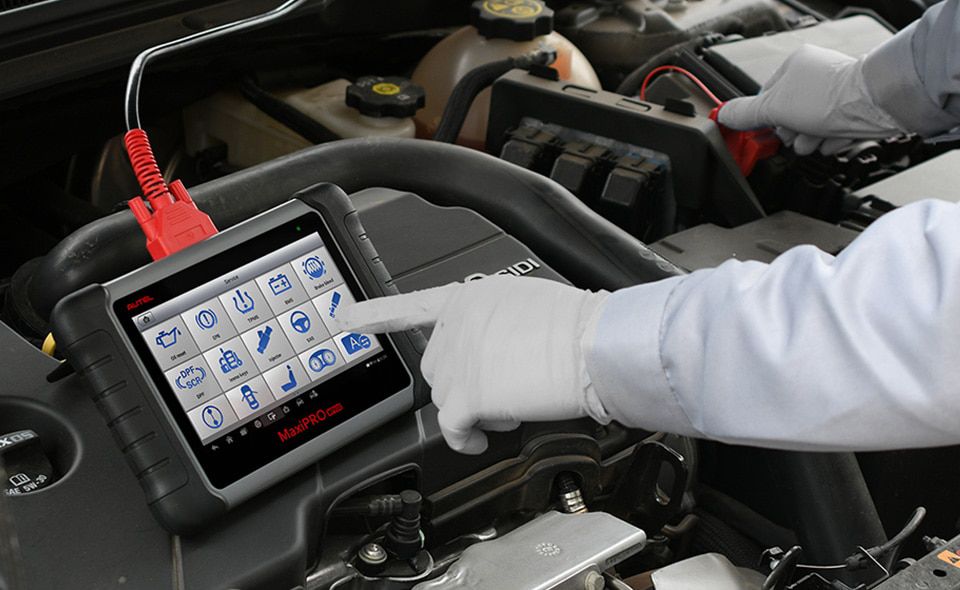 Autel MaxiPRO MP808 Diagnostic Tool Upgraded Version of DS808
Bi-Directional Control + Immobilizer Key Coding + All Electronic Systems +18 Special Functions + Active Test
Supported Languages: English, French, German, Spanish, Portuguese, Dutch, Polish, Swedish, Korean, Japanese, Russian, Italian.
( Please tell us about your S/N of machine to activate the language you need after you get it. Thanks~)

■ Introduction
Autel MAXIPRO MP808, with powerhouse speed and performance, offers riches of diagnostic features and functions, including OE-level diagnostics, bi-directional control, key coding, special services and more. Booting in seconds and sporting a big 7-inch display, this diagnostic tool provides you a quick way to get you right down to business.

■ Bullet Points
1. PROFESSIONAL DIAGNOSTICS - The MP808 is a cost-effective OE-level diagnostic tool that supports advanced bi-directional control, key coding and more, saving time troubleshooting and making work easier for professionals performing critical tasks.
2. GREAT USER EXPERIENCE - The diagnostic tool has smart and powerful Android OS and Cortex-A9 processor for great speed and fluidity in everything you do. Rooted in the ease of diagnostics, the scanner can provide you with incredible user experience.
3. PERFECT PROBLEM SOLVING -The scanner has the coverage for all the electronic systems on most commonly-used vehicles, providing you access to the systems for various scheduled service and maintenance, including oil reset, EPB/BMS service, etc.
4. ADDITIONAL FEATURES - As a tablet-based diagnostic tool, the MP808 has several features in addition to the diagnostics and service, including: MaxiFix, Shop Manager and more. The smart AutoVin function offers you a fast way to identify the vehicle.
5. A USER-FRIENDLY SCANNER - Whether you' re a professional mechanic or a DIY enthusiast, this diagnostic scanner may be a nice option for you as it has riches of professional diagnostic functions and has a reasonable price, and provides one-year free update.
​
■ Full Vehicle System Coverage
Autel MP808 can access to ALL vehicle systems and subsystems, such as Body, Chassis, Powertrain, Network and etc., to perform a comprehensive scanning on ECUs to locate fault systems and retrieve DTCs.
1. To diagnose Brake System if you feel the brake pedal is mushy and notice unusual odor or noise, etc. A properly operating brake system is critical to ensure safe vehicle control and operation;
2. To diagnose Emission System if the system is affected by vehicle age or poor quality fuel. A good emission system reduces harmful gases to a large degree and protects you from being fined;
3. To diagnose Fuel system if vehicle won't start or "Check engine" light is illuminated. Check car's fuel system regularly ensures the best performance of your car with the lowest emissions;
4. To diagnose Transmission if your car is slipping or difficult to shift. The system plays an important part in the overall performance of your car;
5. To diagnose Wiper System if you observe chattering or streaking wiper. If the car is not regularly checked, the accident might happen because you can't see clearly;
6. To diagnose Light System if you see rapid signal blinking or dimming lights.
And many more ...

■ 18 Special Functions
The Service section is specially designed to provide you with quick access to the vehicle systems for various scheduled service and maintenance performances:
1. Oil Service Reset – Performs reset for the engine Oil Life system, which calculates an optimal oil life change interval depending on the vehicle driving conditions and climate, and turns off the warning light;
2. TPMS Service – Quickly looks up the tire sensor IDs from the vehicle's ECU, as well as to perform TPMS programming and reset procedures after tire sensors are replaced;
3. EPB Service – Initializes the throttle actuators to the default state for regulating throttle (or idle engine) operations accurately;
4. ABS/SRS Services – Performs various bi-directional tests to check the operating conditions of both the Anti-lock Braking System and the Supplemental Restraint System;
5. SAS Service – Performs steering angle adjustment, clears steering sensor fault memory and turns off steering wheel warning light;
6. DPF Regeneration Service – Clears particulate matter from the DPF filter to stabilize the filter performance.
And many more…

■ Diagnoses of Complete systems
The MP808 performs complete capabilities for all systems, not only includes 4systems diagnoses but all the other systems including Body, Chassis, Powertrain, Communication and more. You can get all the functions to fix your repair work more quickly with MP808.
1. Read hard codes on various systems.
You are able to know the meaning of the trouble codes and figure out what's wrong with your systems.
Erase different DTCs easily after the problem has been carried out. Do remind that the check engine light will be turned off when you cleared the codes.
2. Retrieve live data to make sure all the systems run normally.
The parameter item can be displayed in different forms, such as text, waveform graph, digital and more.
3. Active test is to test output elements.
You can figure out whether a specific subsystem or component in your car functions well or not by using this tool to make the tester outputs function instead of checking in ignition status.

■ Different Choicce for Diagnoses
MP808 is suitable for most OBD2 vehicles and support many car brands like Ford, Honda, Chevrolet, Jeep, Toyota, Dodge, GM, Volkswagen, Audi, BMW, Benz, etc.
When it comes to the Non-OBD2 vehicles, you can connect the device with vehicles via adapters to complete car diagnoses, and the signal connected will be more stable. This diagnostic tool support different kinds of adapter connection.

■ Functions
Extensive vehicle coverage for more than 80 US, Asian and European vehicle makes
Exceptional OE-Level system coverage for all electronic systems
Complete capabilities for codes, live data, active test, ECU information, adaptation, matching, etc.
Smart AutoVIN technology for identifying vehicles easily
Automatic system and software updates with real-time push message notifications via Wi-Fi
Instant remote control tech support anytime, anywhere
Cloud-based MaxiFix online community provides a vast database of diagnostic and repair tips and proven filed fixes
Interactive Data Logging sessions enable direct contact with Autel Technical Support for first-hand troubleshooting of diagnostic bugs and errors
One-stop multitasking designed for ideal management of workshop operations to keep all data files, customer info, and vehicle records well organized
Convenient data management system for managing internal program applications and reviewing data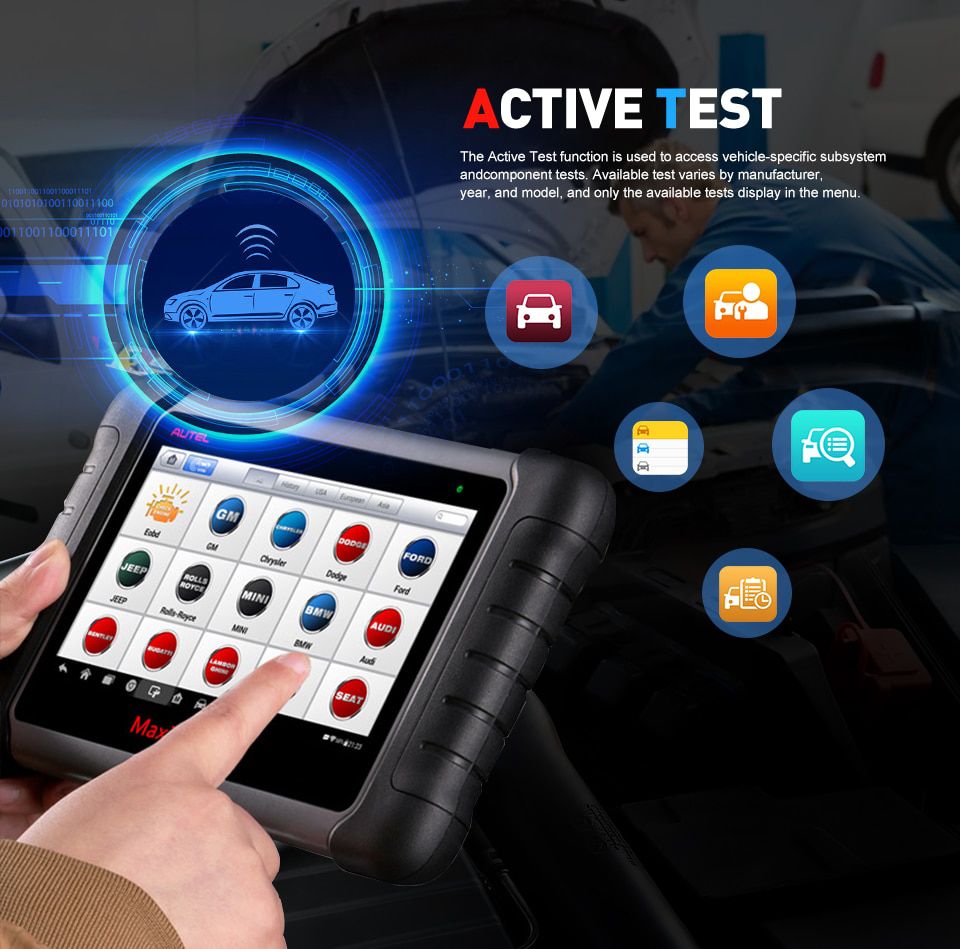 Advanced Hardware Configurations - MaxiPro MP808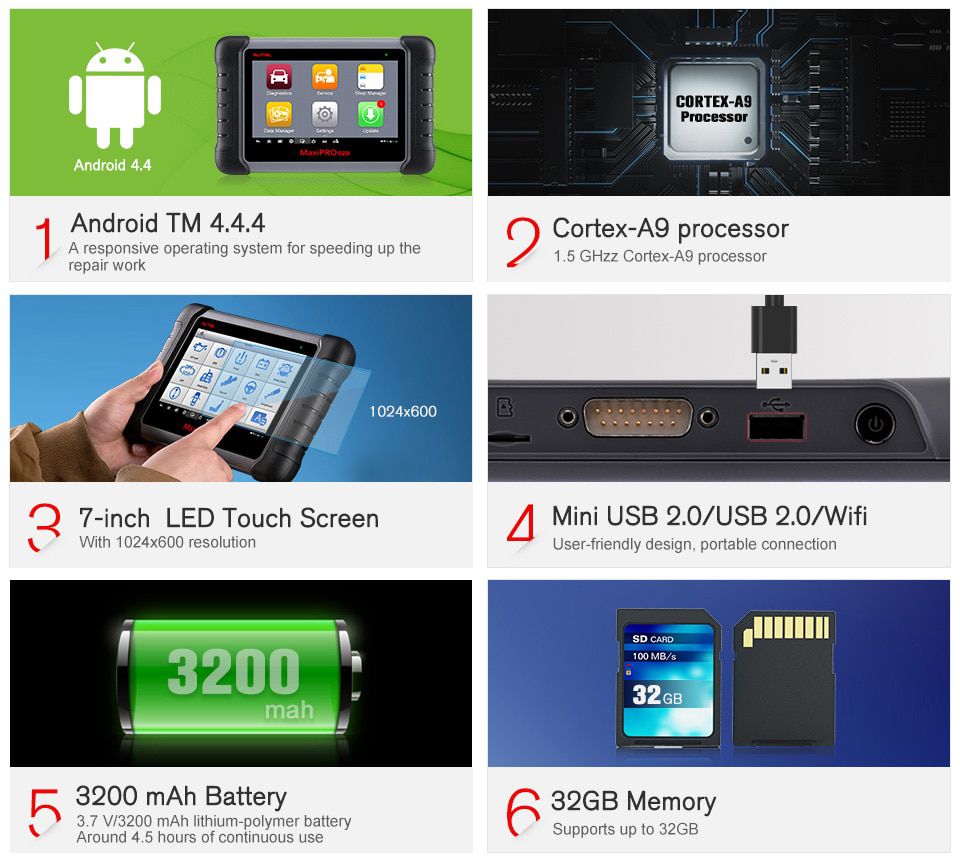 Remote Assistance/ MaxiFix/Data Manager/Quick Link
The Remote Desk application launches the TeamViewer Quick Support program, a simple, fast and secure remote control interface. Use this application to receive ad-hoc remote support from Autel's support technicians by allowing them to control your MaxiPRO tablet on their PC via the TeamViewer software. The MaxiFix application launches the on-line troubleshooter database, which not only provides you virtually all common diagnostic trouble code (DTC) database for most vehicles, but also serves as a forum allowing you to network with other MaxiCheck users, and gives you access to a vast database of repair and diagnostic tips along with proven filed fixes.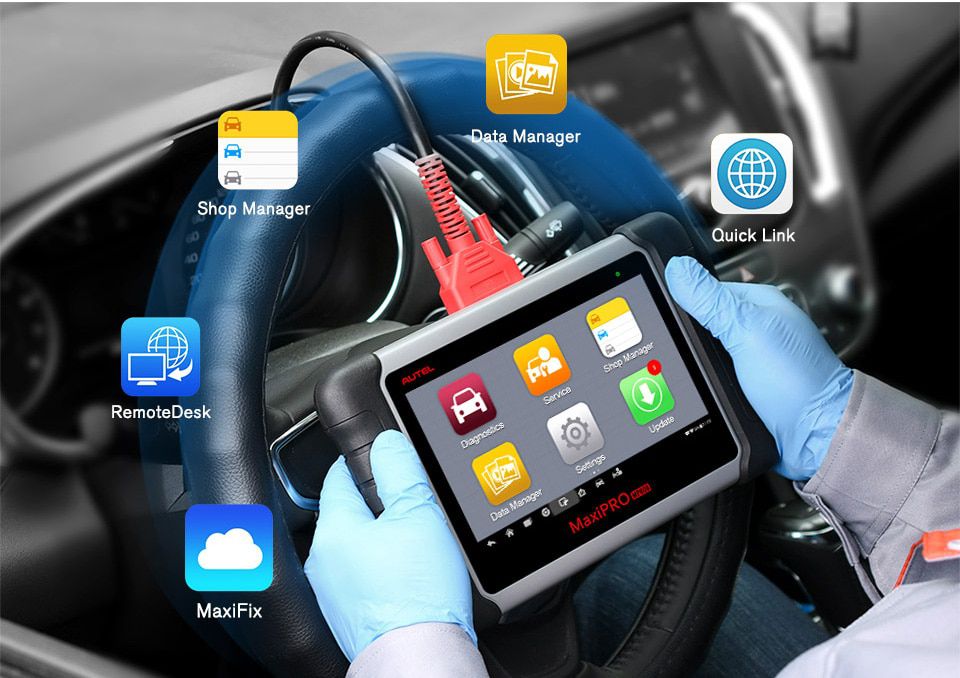 Plug - in and Display
Colorful Display with 7- inch LED Capacitive Touch Screen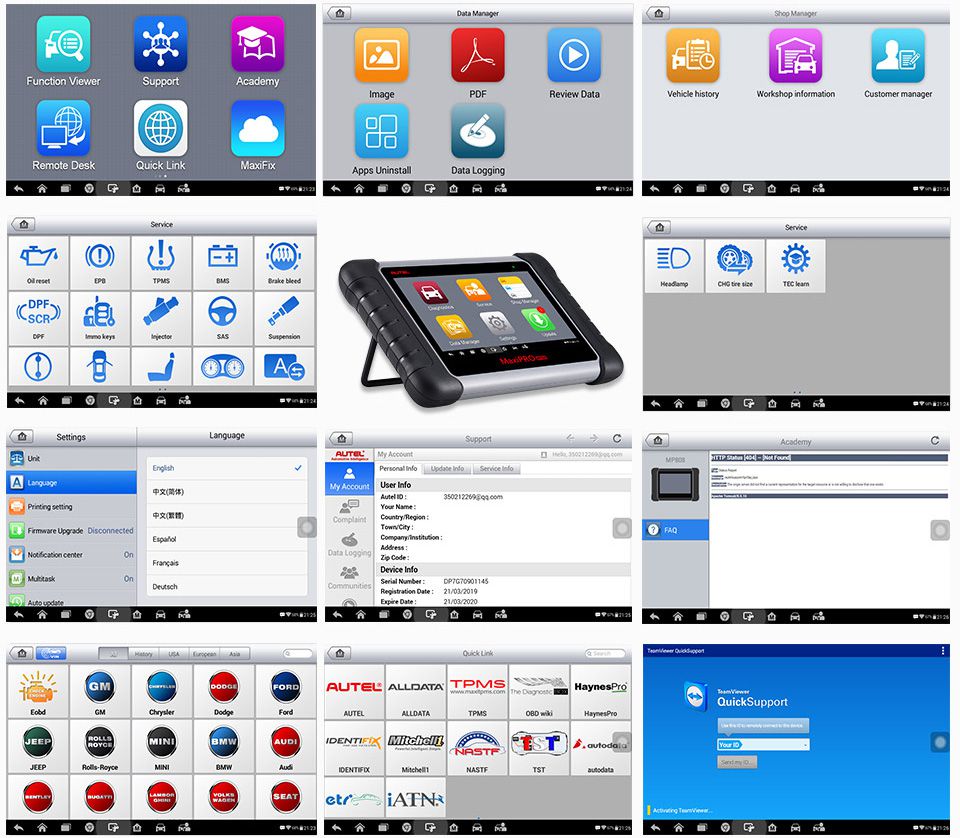 Extensive Vehicle Coverage
More than 80 Brands, USA/ Europe/ Asia vehicles.
AU Ford, Holden, Buick, Cadillac, Chevrolet, Chevrolet MPV, Chevrolet Truck, Chrysler, Ford, Geo, GM, Hummer, Hyundai, Kia, Pontiac, Satum, Scion, Workhorse, Acura, Daihatsu, Honda, Infiniti, Isuzu, Lexus, Mazda, Mitsubishi, Nissan, Subaru, Suzuki, Toyota, Daewoo, Abarth, Alfa Romeo, Audi, Bentley, Benz, BMW, Bugatti, Citroen, CnFiat, Fiat, Jaguar, Lancia, Lamborghini, Landrover, LT3, Maybach, Mini, Opel, Peugeot, Porsche, Renault, Rolls-Royce, SAAB, Seat, Skoda, Smart, Sprinter, Vauxhall, Volvo, VW...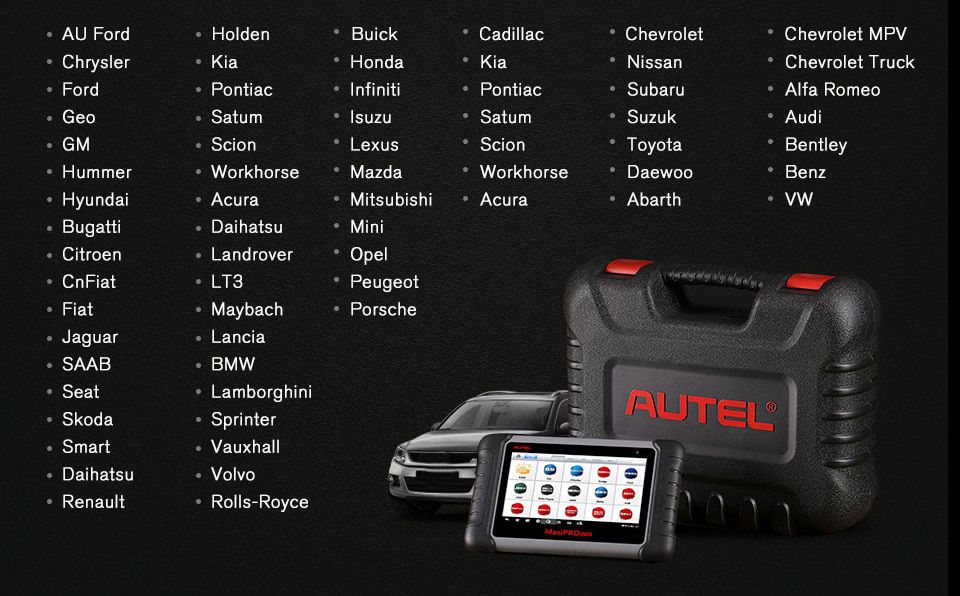 Supported Languages
English, French, German, Spanish, Portuguese, Dutch, Polish, Swedish, Korean, Japanese, Russian, Italian.
( Please tell us about your S/N of machine to activate the language you need after you get it. Thanks~)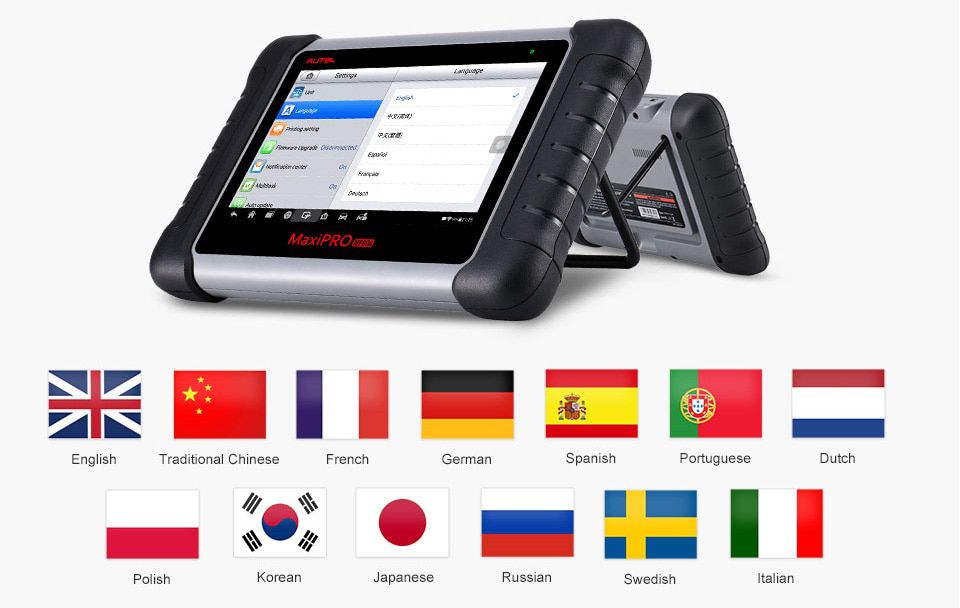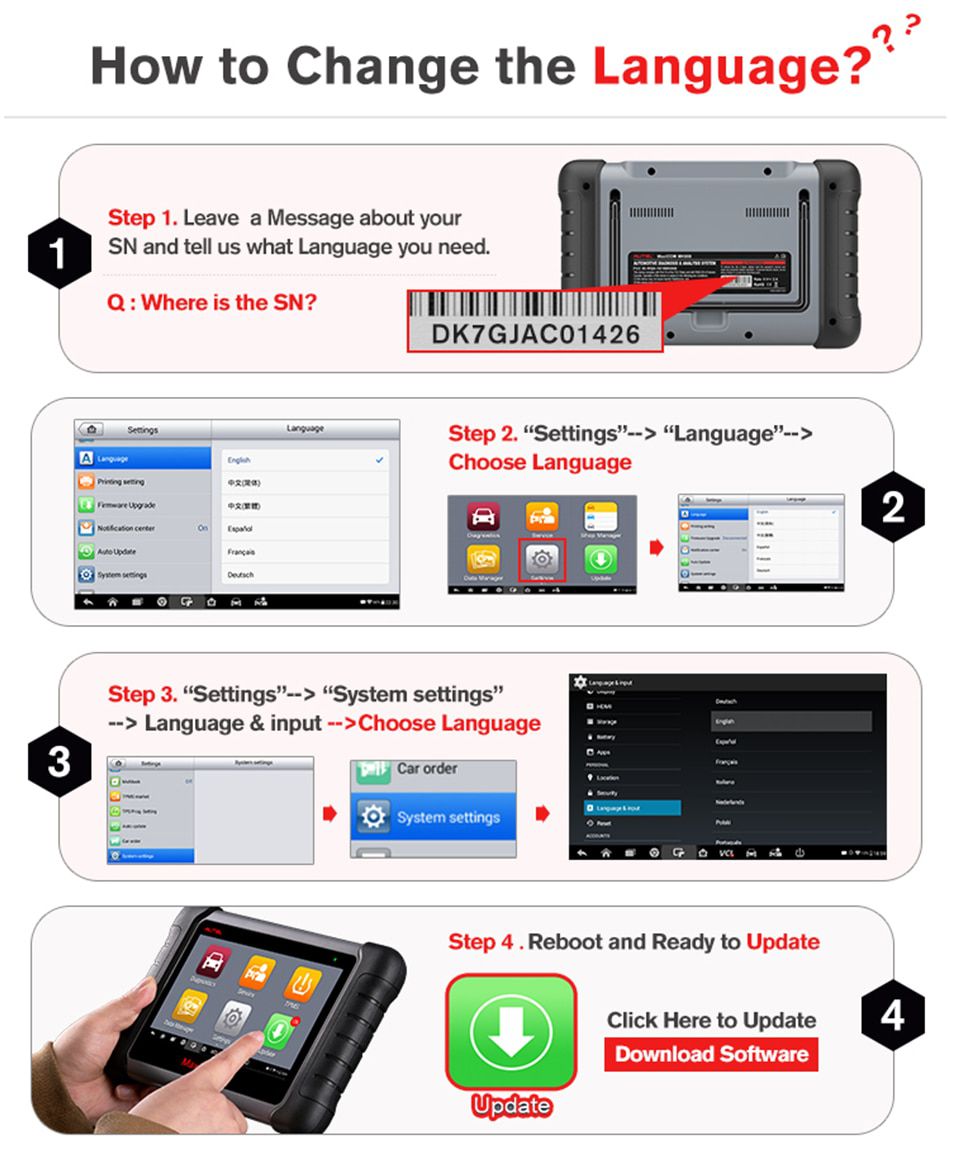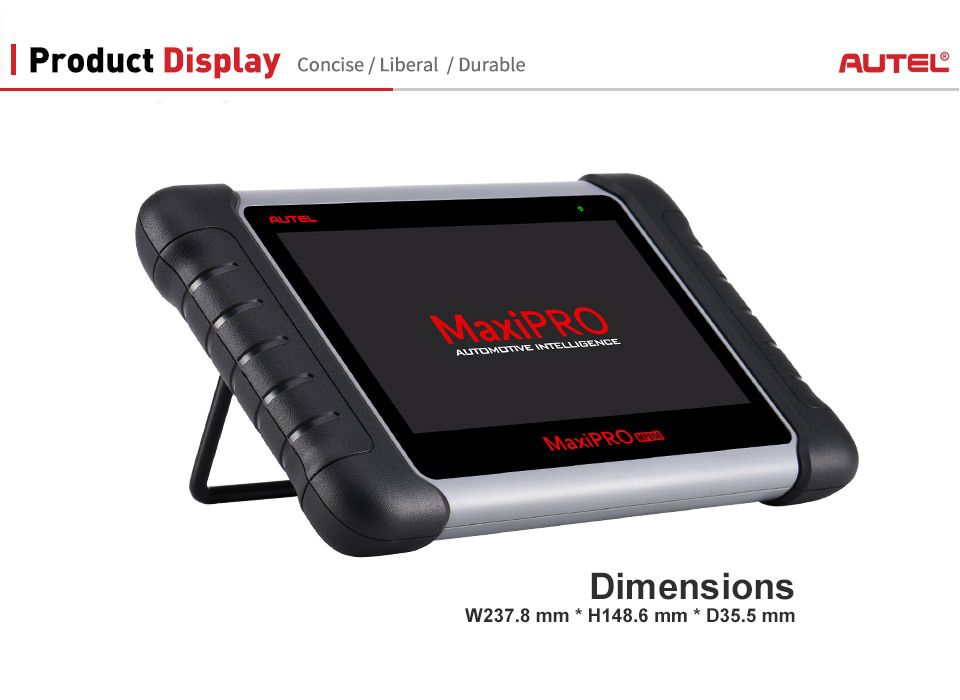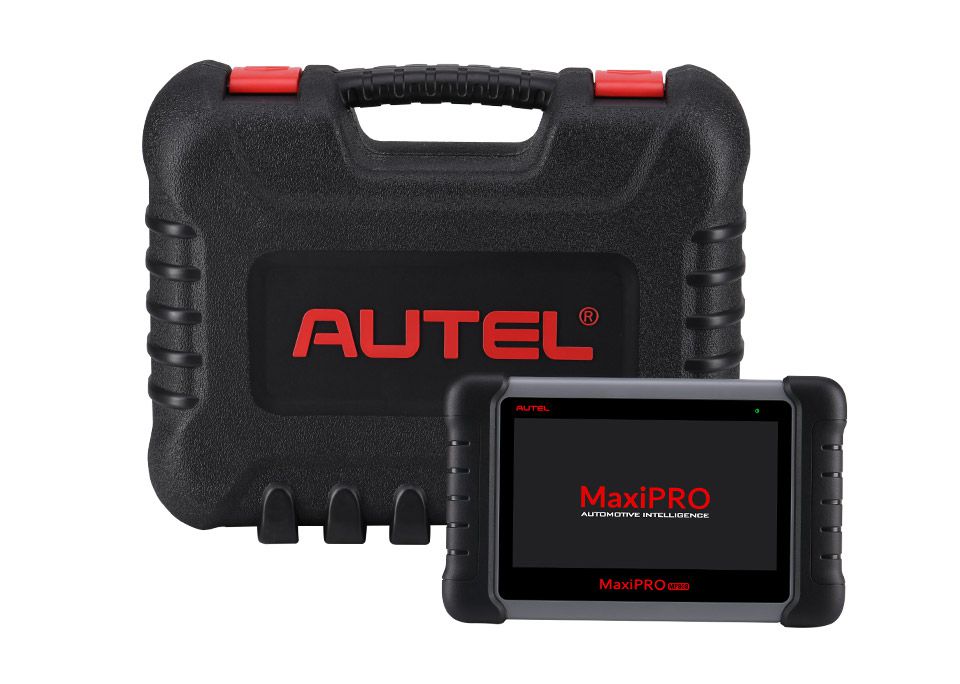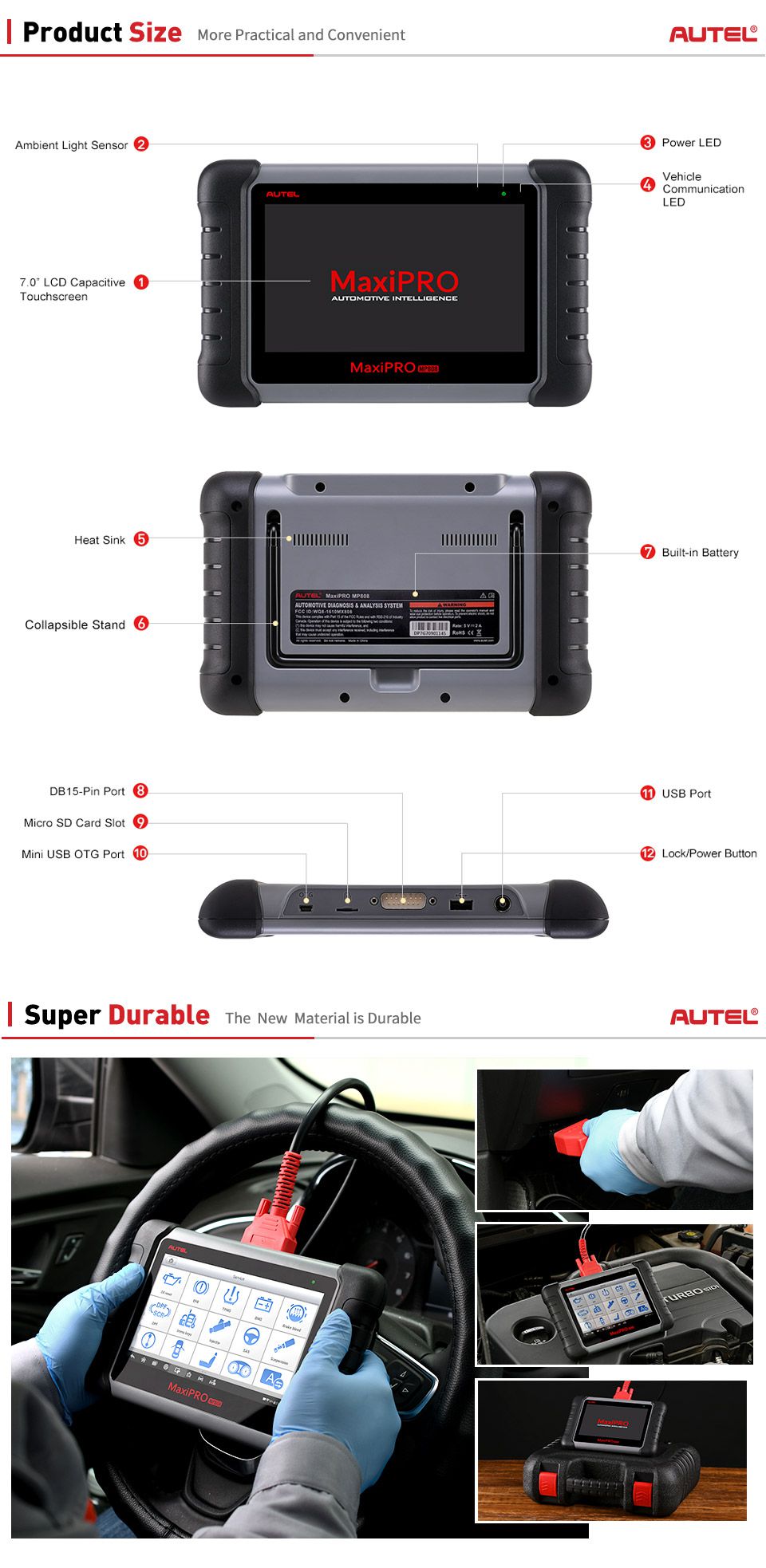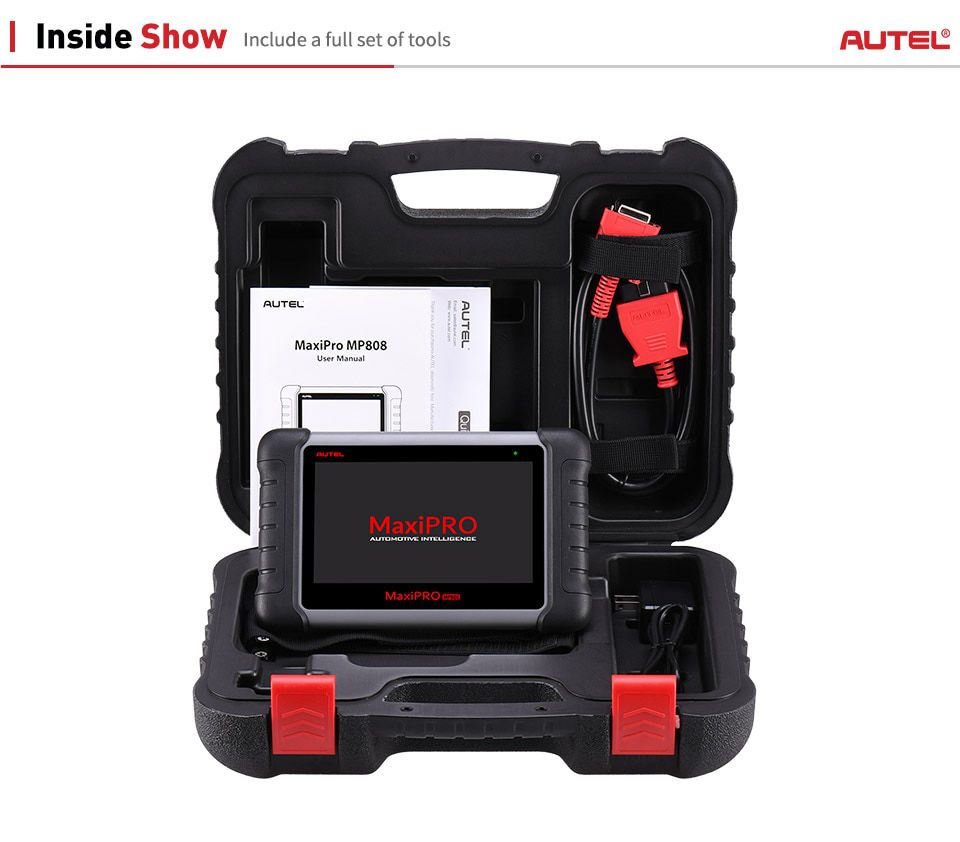 Warranty
12-month warranty for any possible quality problems

Autel MaxiPRO MP808 Specification: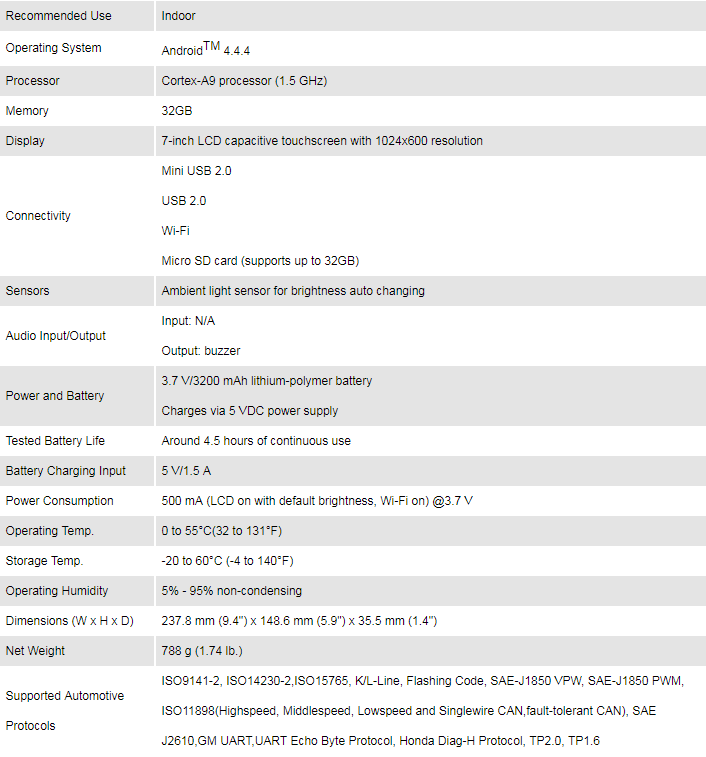 Package List:

1 x MaxiPro MP808
1 x Power Adapter
1 x Mini USB Cable
1 x Main Cable
1 x User Manual
1 x Quick Reference Guide
Reviews

17
#1 Ivan Kovalev
Jul 9, 2018

all perfect ! Items came to me 3days! I would buy it again, from this seller
#1 Nelson Ananias
Jan 9, 2019

As the product description, only think the seller could give a support
#1 samih seklawi
Jul 9, 2018

Fast delivery, good quality.
#1 Mark Braden
Jul 9, 2018

Very fast delivery. I will buy again from this store. Thank you!
#1 alexandro hernandrz
Jun 9, 2018

Equipment as far as well. I did already two cars. I am happy
#1 modesi modesi
Feb 9, 2019

Thanks to the producer everything came on time all the whole works quality assembly meets the requirements of the description
#1 Tanwer Tarawneh
Jan 9, 2019

Fast delivery, good quality. this Autel MaxiPRO MP808 Diagnostic Tool OBD2 Professional OE-level OBDII Diagnostics Tool Key Coding PK Autel DS808 DS708 MS906 Pro is good quality, working very well
#1 ilkensonmoses billaa
Apr 9, 2019

Excellent seller já me turning client
#1 Peter Longerich
Jun 9, 2018

Fast delivery, good package, good price. Hope everything works as it should.
#1 leon olesinski
Dec 9, 2018

Everything ok again
Previous: Original Volvo VOCOM II 88894000 with APCI PTT 2.8.150 Tech Tool Excavator Heavy Truck Diagnostic Scanner
Next: Newest OTC Plus 3 in 1 GTS TIS3 OTC Scanner for Toyota Nissan and Volvo with IT3 V14.00.018 Global Techstream