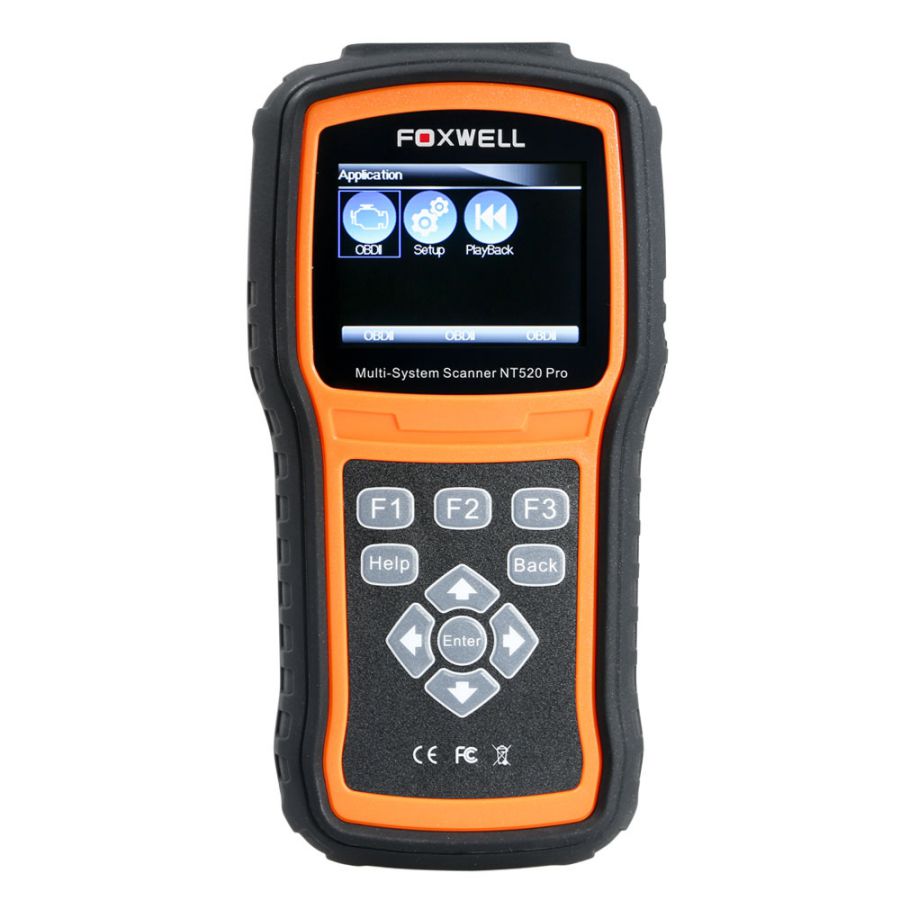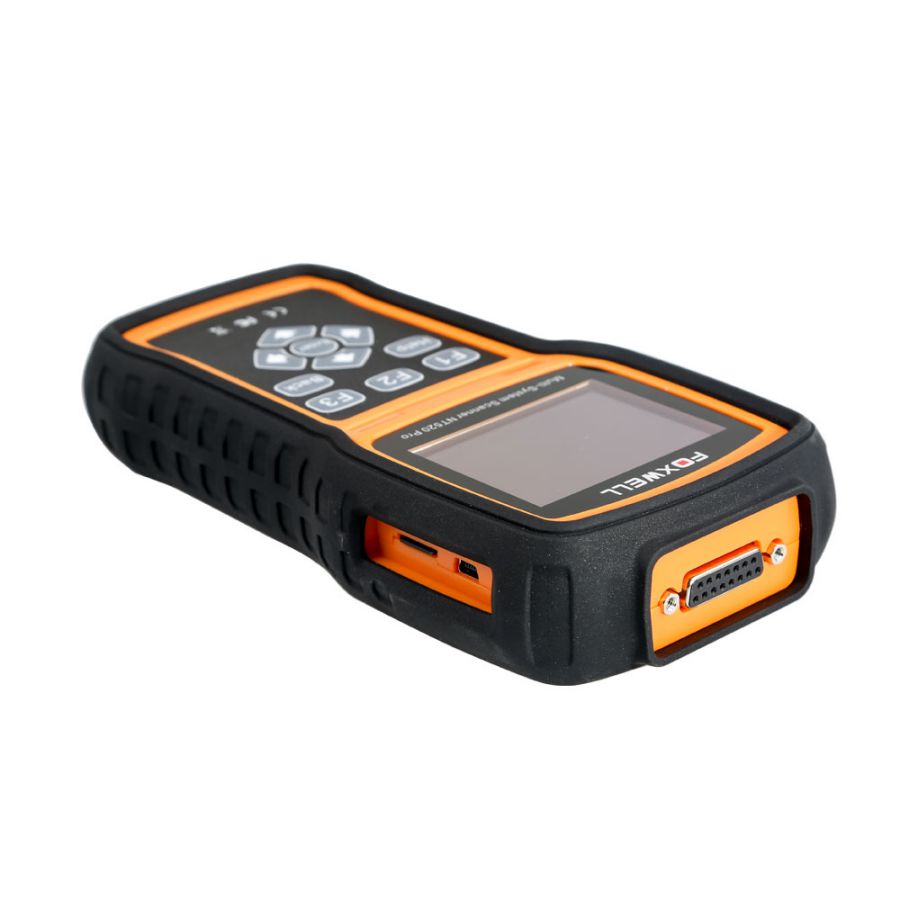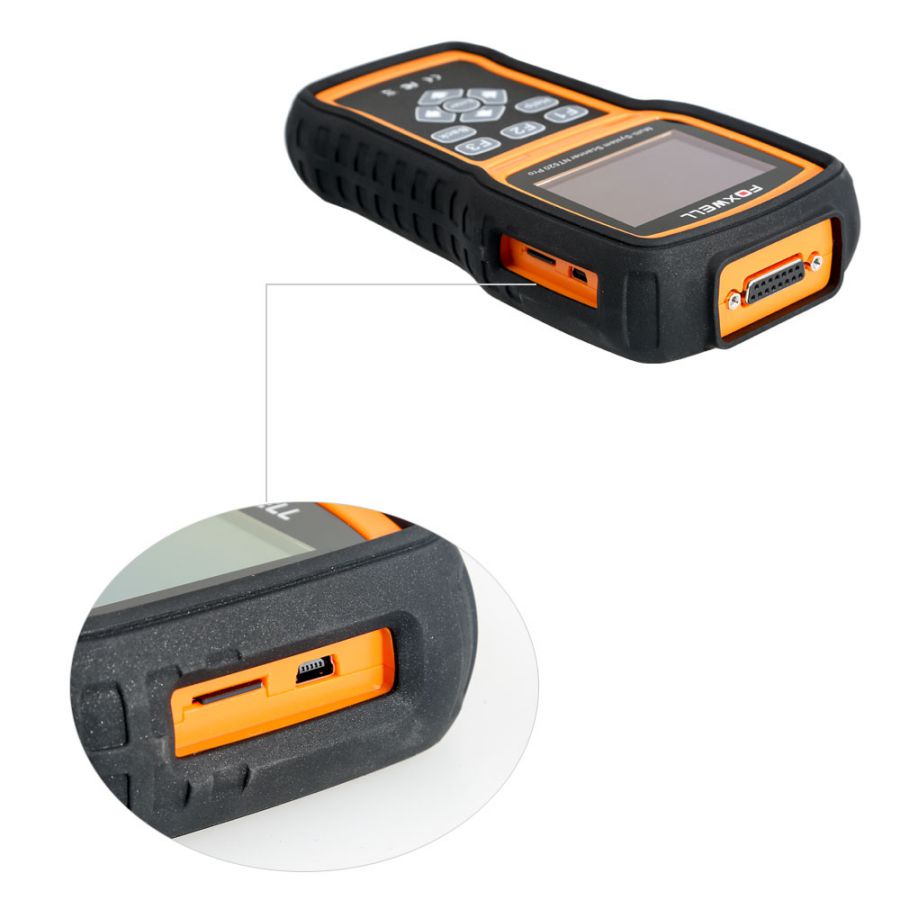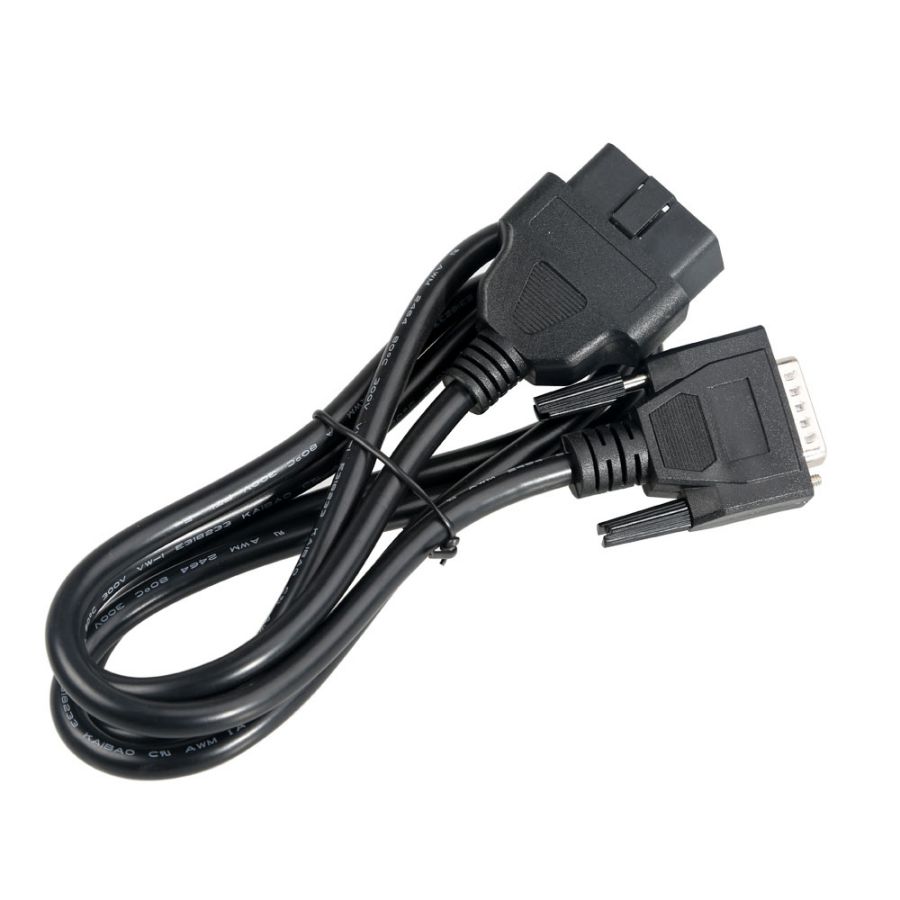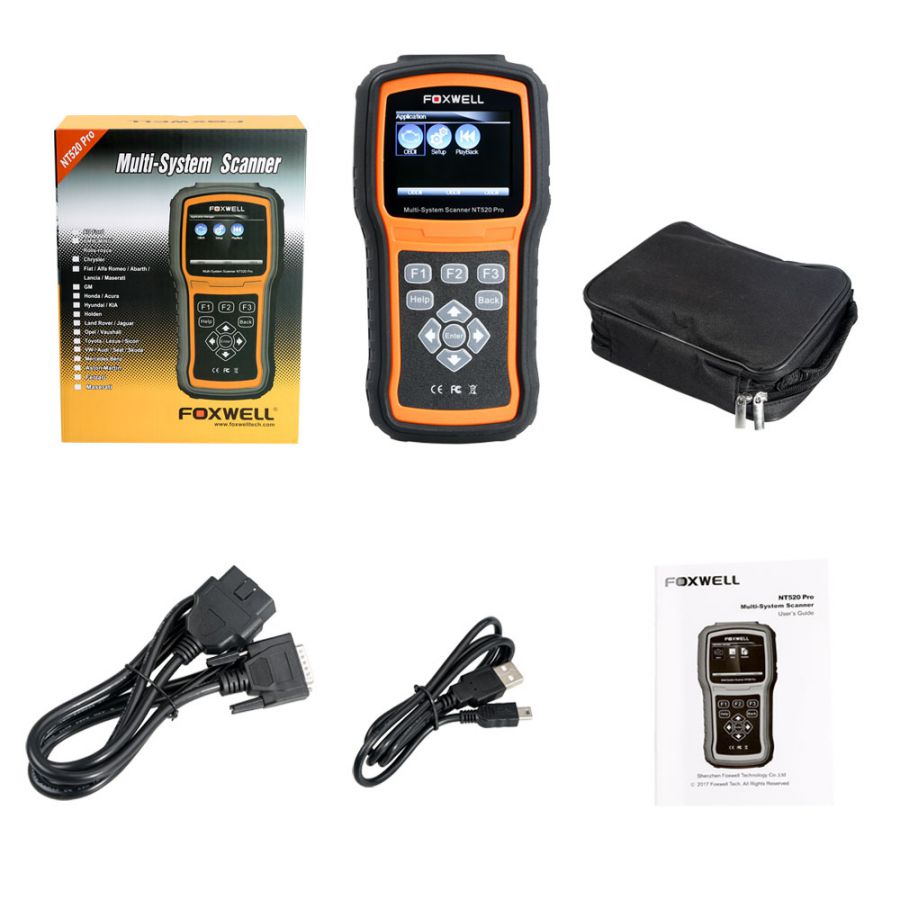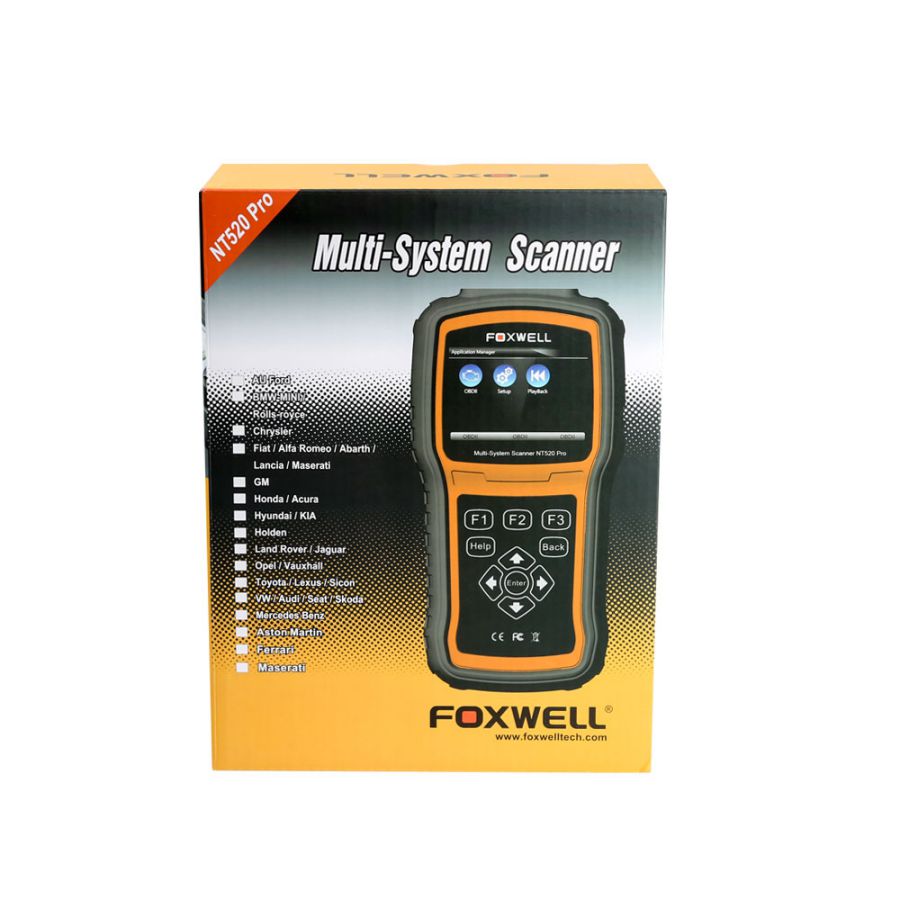 Description
Foxwell NT520 Pro Multi-Systems Scanner

Foxwell NT520 language:
English, Chinese (Simplified), Chinese (Traditional),English, French, Spanish, Dutch, German, Russian, Italian, Hungarian, Portuguese
Features and Benefits
Delicately developed by the most distinguished experts in this industry. Foxwell NT520 Pro is a low-cost handheld scan tool that delivers OE-level diagnosis on all the electronic systems for a single car manufacturer. It does not only include basic the functions such as read & erase code, live date, but also it's capable of advanced functions such as actuation,adaptation coding and programming- ideal for specialist, garages and car enthusiasts.
Available makes are:
Acura
Alfa Romeo, Abarth
Audi
Australian Ford,
BMW
,
Chrysler
. Fiat,
GM
Honda
,
Hyundai
,Holden,
Jaguar
, KIA Lancia, Lexus,
Land Rover
, Maserati, MINI. Toyota,Opel, Rolla-Royce, Scion,
Seat
,
Skoda
,Vauxhall,
VW
,
Mercedes Benz
,
Peugeot
and more. (Compare with NT510,
Mercedes Benz
is newly added)
The scanner is shipped with one free software and can cover up to five vehicle makes. More software can be added anytime at extra cost .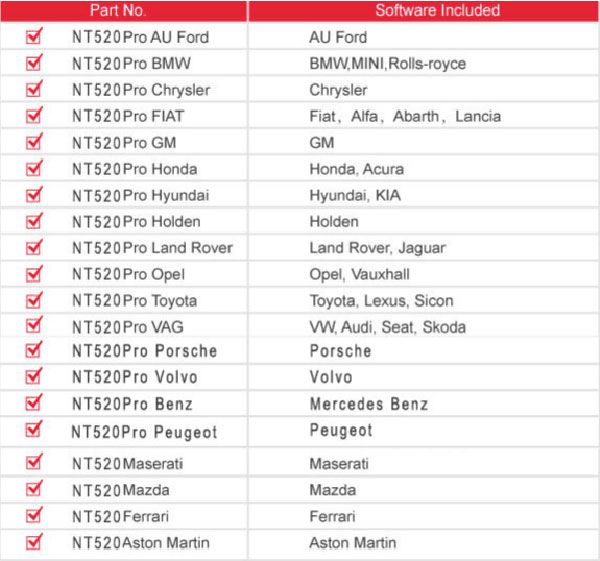 Foxwell NT520 Pro shows live vehicle sensors data in text and graph format and allows you to focus on any suspicious or symptom-specific data parameters it's powerful graphing capability gives you the real picture of what's going on in the vehicle. You can view 2 parameter graphs simultaneously and merge them into one coordinate, so you can easily see how they affect each other, providing you with the most comprehensive and functional look at live data possible.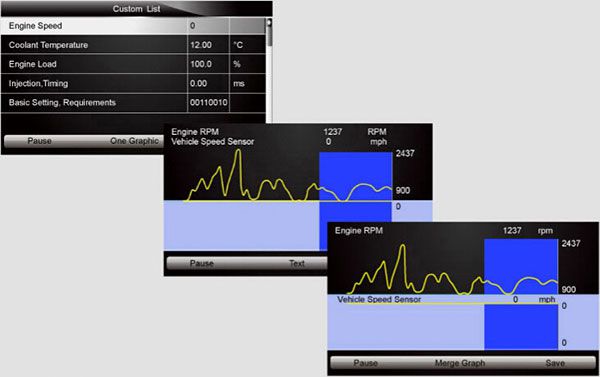 NT520 Pro cannot only read your codes, but it can also actuate components, run system tests, program control modules.Reading the trouble codes from your vehicle is easy, but without live data, bi-directional controls and other special functions, you may not have enough information to get the problem fixed right It allows you to use the scan tool temporarly activate or control a system or component With.
NT520 Pro, the check of electronic components such as switches, sensors, relays & actuators is made a simple task. saving your time and labor costs. It gives you the ability to flash a control unit with new program data. Provided that a module can be re-coded. NT520 Pro allows for the coding and programming of a replacement control module or changing previously stored incorrect coding as expensive factory tools do.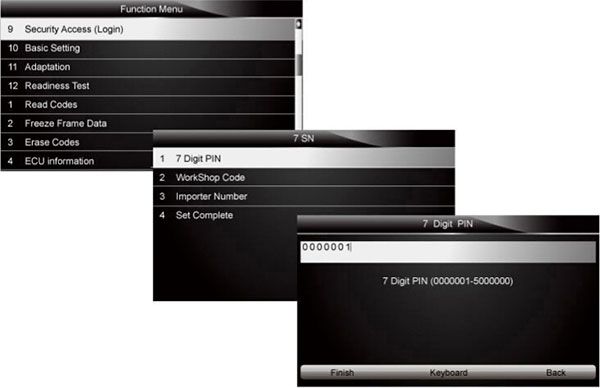 In additon it has access to the most commonly requirede service features like brake deactivation ,adaptation and service resets.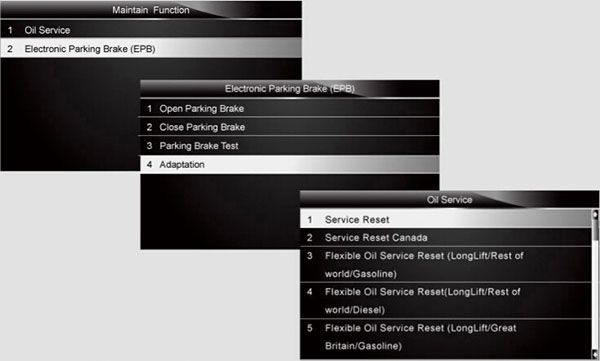 Foxwell NT520 Pro update online:
With Internet access, you will always have the latest bug fixes, new vehicles, newly added parameters and functionality at your fingertips. And they are free for life long time after your registration. Simply connect the scanner with your computer,log into the PC application and click update. The application does all the work, syncing the latest software to your tool.
Foxwell NT520 Pro design:
The easy yet elegant design of this scanner was developed by technicians for technicians. Clearly arranged keypad,menu-driven operation, shortcuts and impressive 2.8 color display together make the scanner extremely easy to use
Foxwell NT520 Pro good quality:
NT520 Pro is built to last. It is constructed to resist impact and damage in the tough workshop environment. A rubberized sleeve protects your investment. The secure fit. extra corner padding and screen protector ensure your scan tool will be around for a long time.
Foxwell NT520 Scanner Function List:
Engine Check
Oil Reset
EPB(electrical park brake)
Airbag
OBDII
Diagnosis
ABS
(anti lock brake system)
Automatic transmission
SAS(steering angle sensor system)
ASR
(acceleration slip regulation)
Read Codes
Freeze Frame Data
Erase Codes
ECU Information
Live Data
Custome List
Active Test
Advanced ID
Foxwell NT520 Vehicle Models List:

After buying the diagnostic scanner is registered online. One software brand is included in the purchase. You can choose between:
VW
/Seat/
Audi
/
Skoda
AU Ford
EU Ford
BMW
Austin Martin
Ferrari
Maserati
Chrysler
/Dodge/Jeep
Fiat
GM
Honda
Hyundai
Mazda
Holden
Land Rover
Opel
Toyota
Porsche
Volvo
Mercedes Benz
The diagnostic scanner can be extended with costs by another car.
Foxwell NT520 Update Guide:

The scanner can be updated to keep you stay current with the latest development of diagnosis. This section illustrates how to register and update your scanner.
To update your scanner, please follow the three steps as below:
Step1: Obtain an FOXWELL ID.
Step2: Register the product with the product serial number and product password.
Step3: Update the product by the update application FoxScanner.

To be able to use FoxScanner, PC or laptop must meet the following minimum requirements:
Operation System: Win98/NT, Win ME, Win2000, Win XP, VISTA and Windows 7.
CPU: Intel PⅢ or better
RAM: 64MB or better
Hard Disk Space: 30MB or better
Display: 800*600 pixel, 16 byte true color display or better
Internet Explorer 4.0 or newer

NOTE:Before registration and updating, please make sure your network works correctly.If you have already had a Foxwell ID, just click the Sign in link at the top right of the website to log in. Alternatively, Visit our site www.foxwelltech.com and go the Product page. Find your product model and click it to view the product profile. Select Download tab to download the PC application file. Please refer to 10.1.2 for details.

Foxwell NT520 Specifications:
Display: Backlit,2.8"TFT color screen
Operating Temperature: 0 to 60°C (32 to 140°F)
Storage Temperature: -20 to 70°C (-4 to 158°F)
External Power: 8 to 18 V provided via vehicle
Dimensions: 200*100*38MM(L*W*H)
Storage Temperature:-20 to 70°C (-4 to 158°F)
Dimensions : 145*94*32MM
Color Box: 220*85*165MM
Weight: 0.9KG
PCS/CTN: 30PCS
Weight/CTN: 27KGS
CTN MEAS: 456*442*515MM

Package includes:

1pc x NT520 Pro Multi-System Scan Tool
1pc x Main 16pin cable
1pc x User's Guide
1pc x Memory Card
1pc x USB Cable
1pc x Nylon Carry Pouch
Reviews

16
#1 Rosario Najarro Guerra
Jul 9, 2018

Everything is super, very fast. from moscow to peter 2 days. p The parent put a tester for the brake as a gift. Many thanks to the seller, that's what quality and speed means.
#1 ibrahim shabaan
Jun 9, 2018

very good are satisfied with fast shipping
#1 ho shin
Dec 9, 2018

Okay okay thanks
#1 FRANK LAVOREL
Feb 9, 2019

Item arrived quickly and guality was good.
#1 Alessandro Ferreira
Mar 9, 2019

Super recommended arrived just as it is posted very fast shipping
#1 Ioan Laurentiu
Feb 9, 2019

pretty good to use,thanks for your help!
#1 Jim Hearron
Jun 9, 2018

Perfect. Communication at all times. Very fast sent this Foxwell NT520 Pro Multi-System Scanner Add Mercedes Benz Firmware Update Version of NT510 Free Update Online is good quality, working very well
#1 Hristofor Ivanov
Mar 9, 2019

Very good ! I recommend !
#1 Randy Nichols
Dec 9, 2018

Delivered quickly to the threshold,Connected the first time. Counted recorded without problems.
#1 kristina Lukosiuniene
Jun 9, 2018

Fast delivery, everything works
Previous: New WIFI VAS6154 V7.11 VAG Diagnostic Tool for VW Audi Skoda
Next: Lexia-3 Lexia3 V48 for Citroen/Peugeot Diagnostic PP2000 V25 XS Evolution with Diagbox V7.8.3 with LED and Original Chip