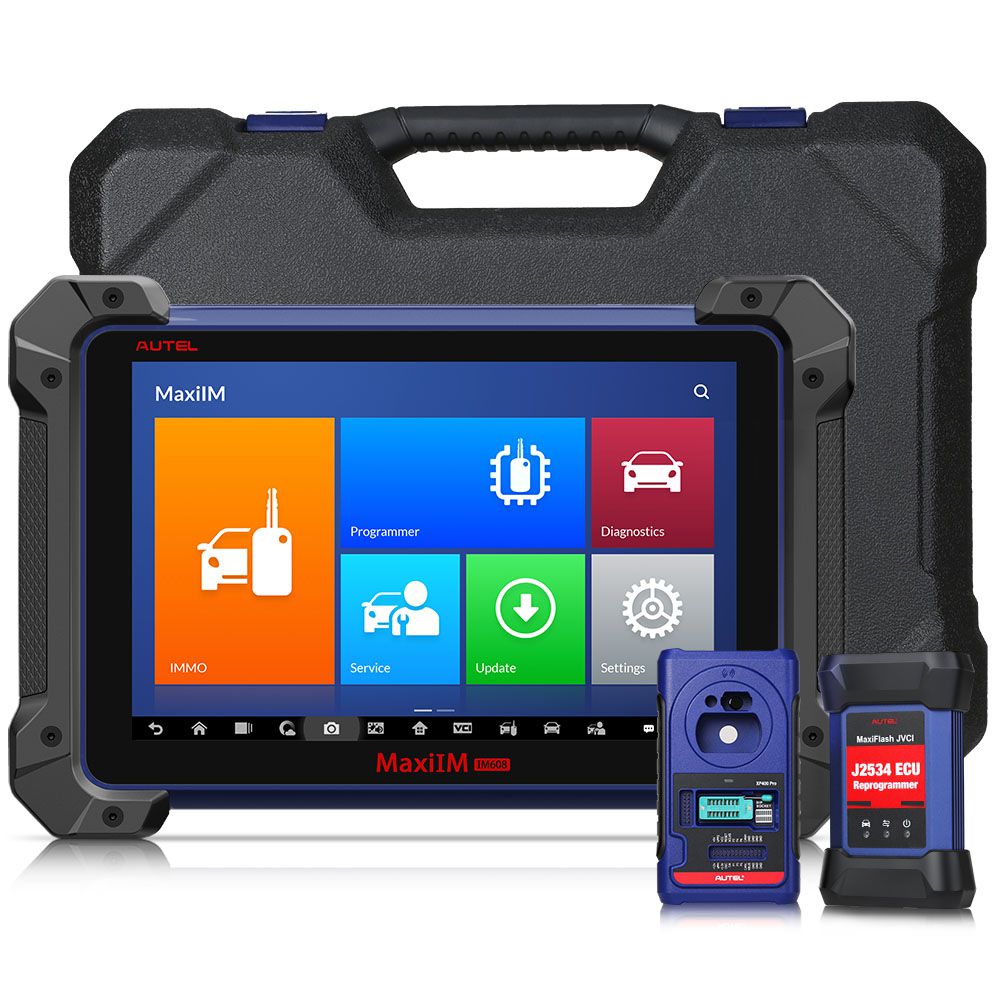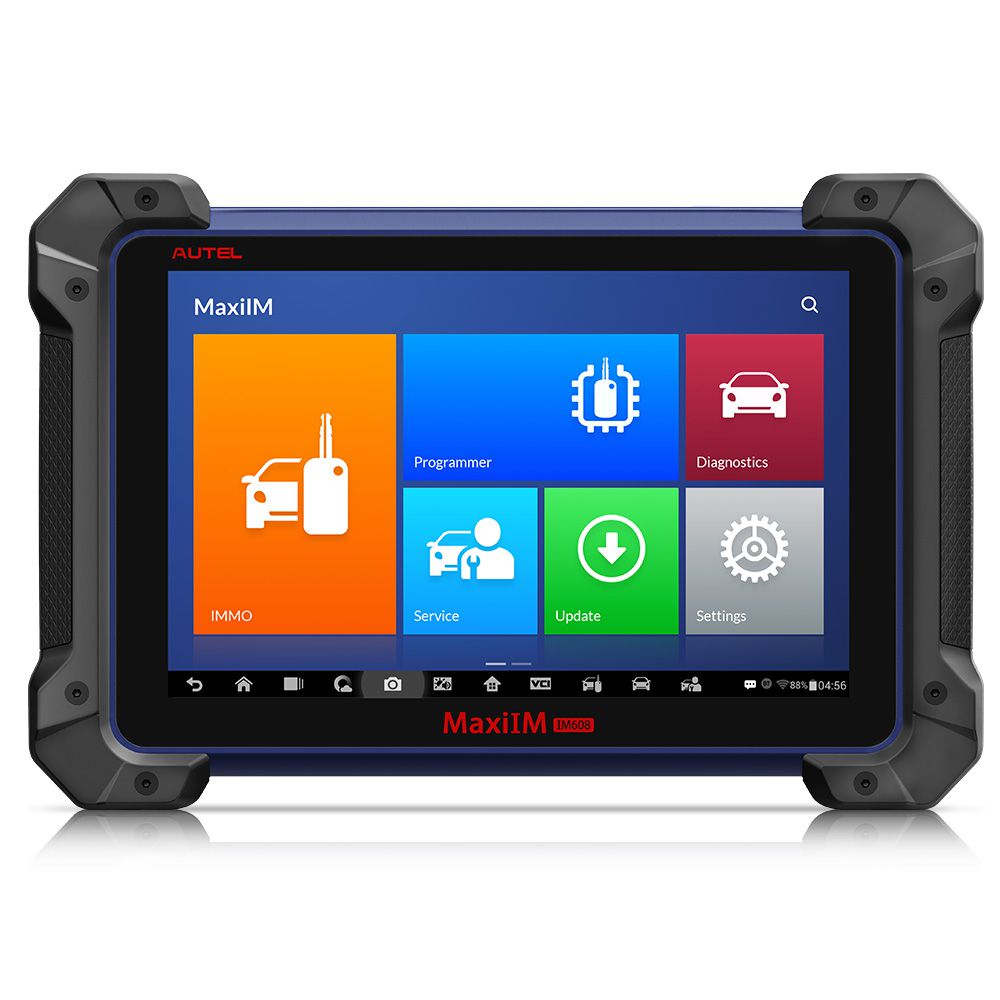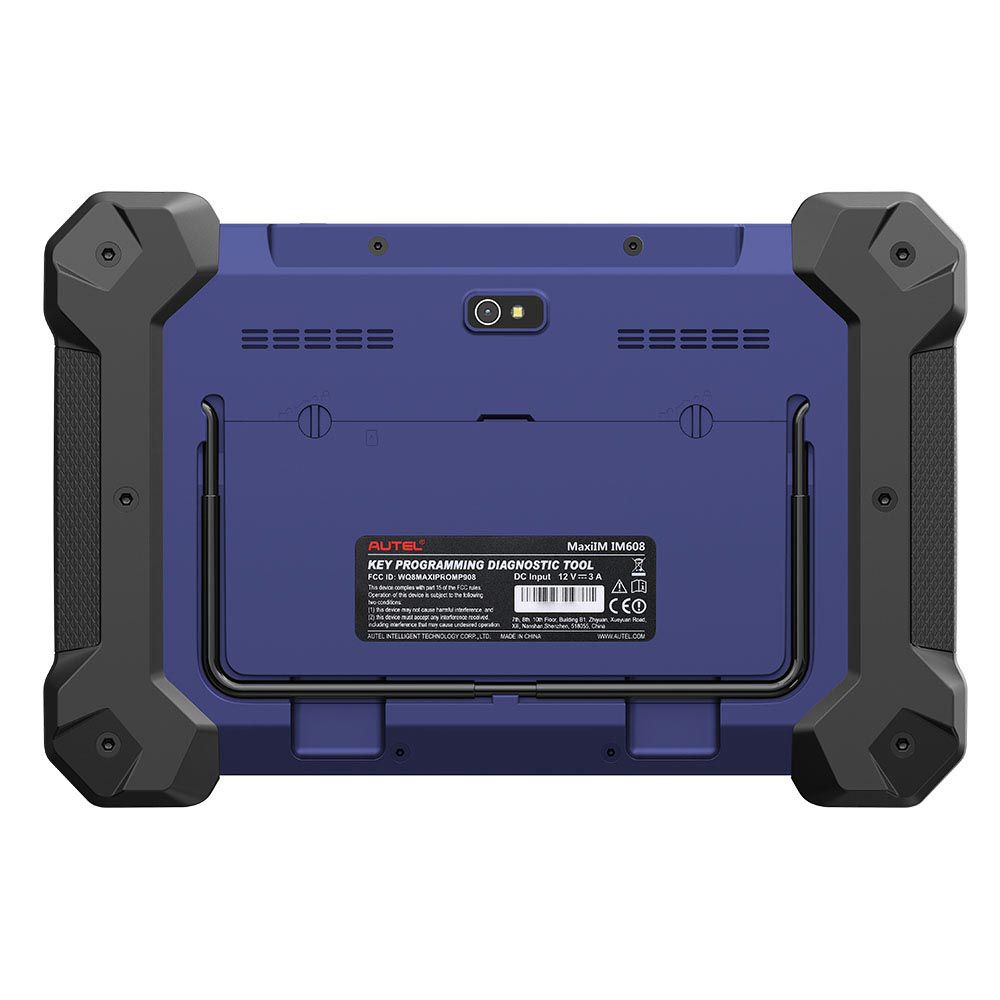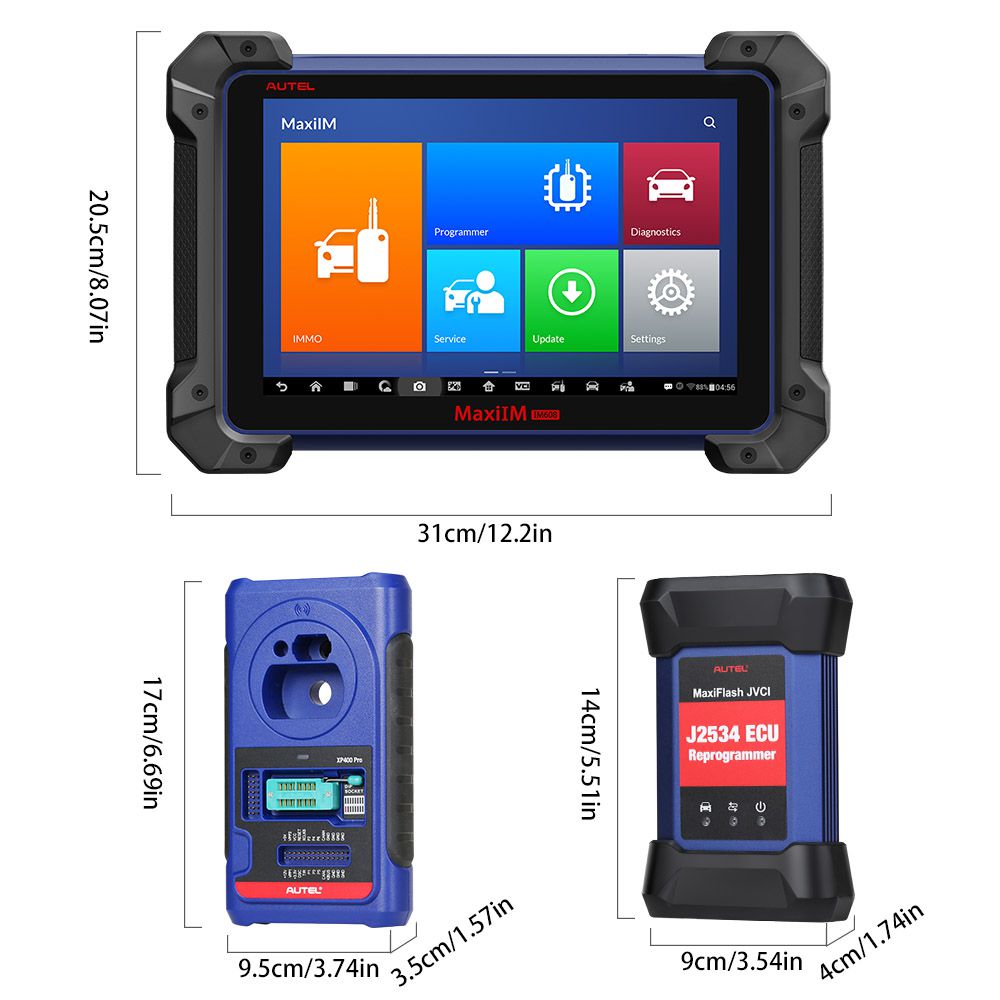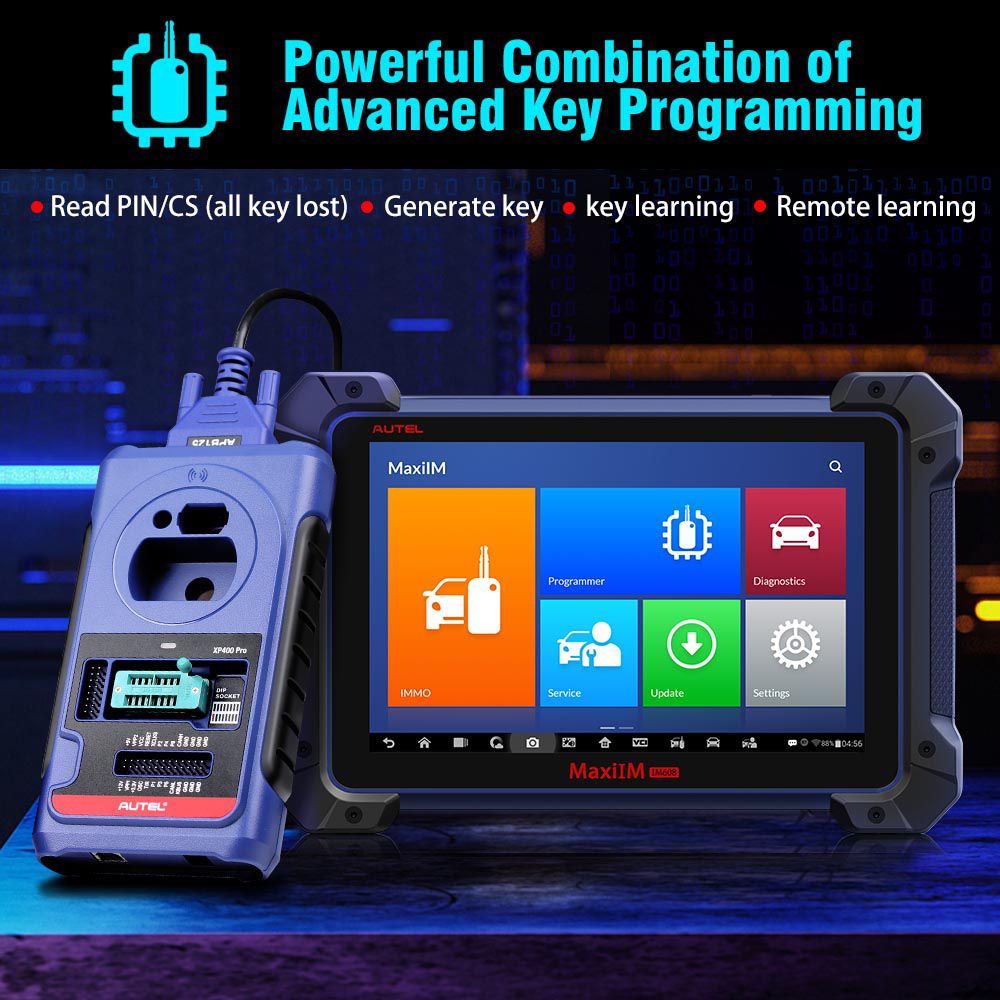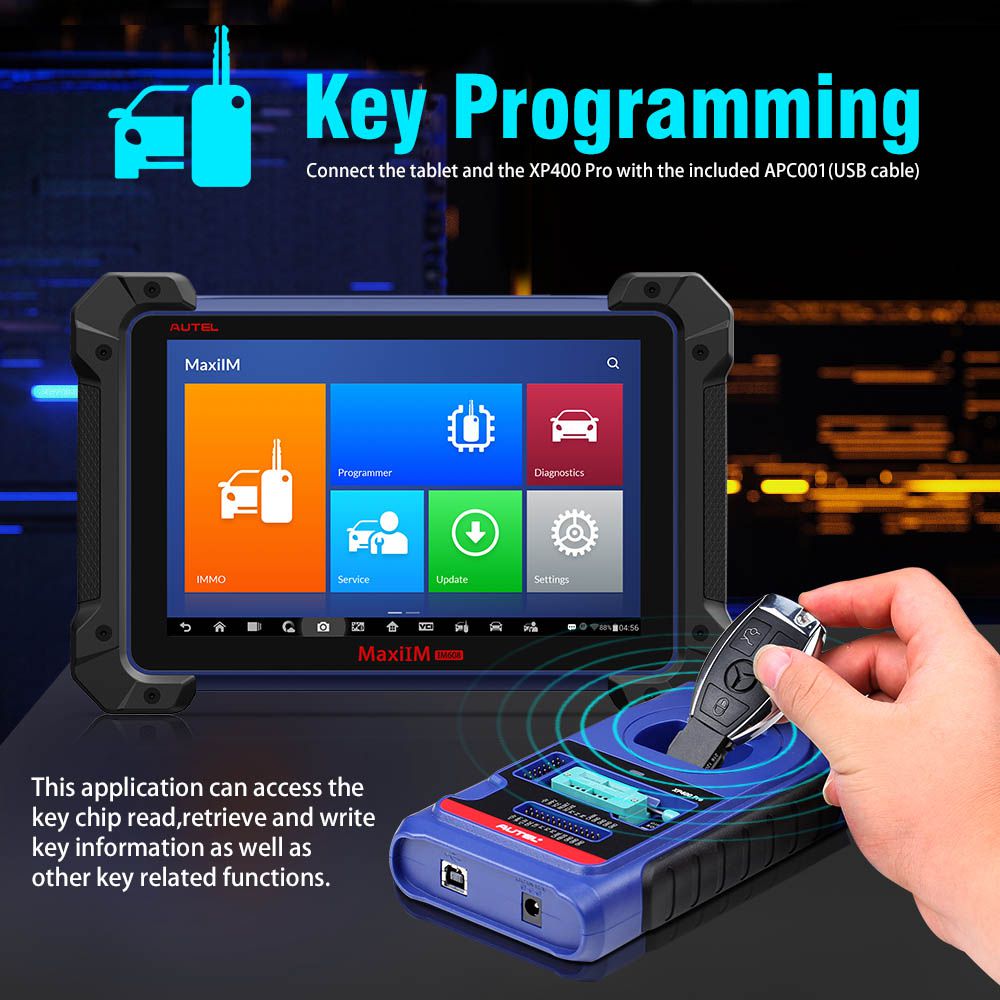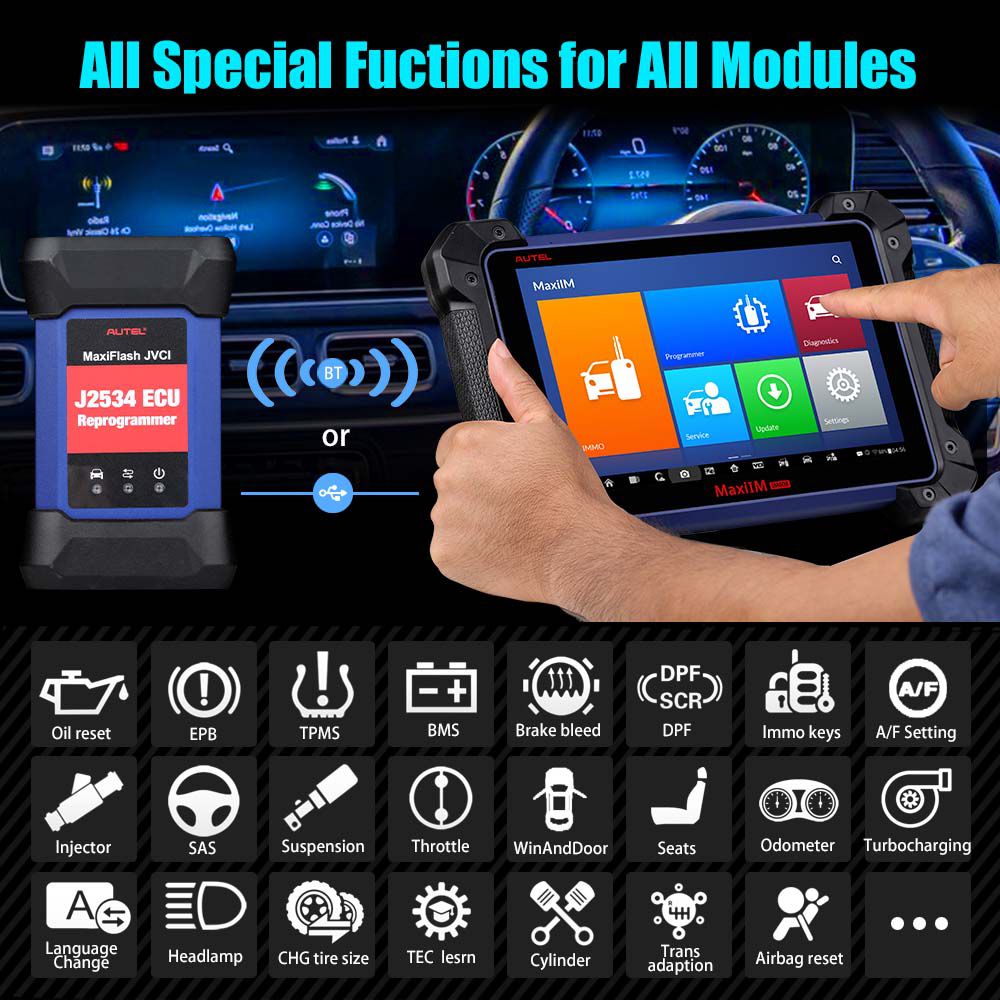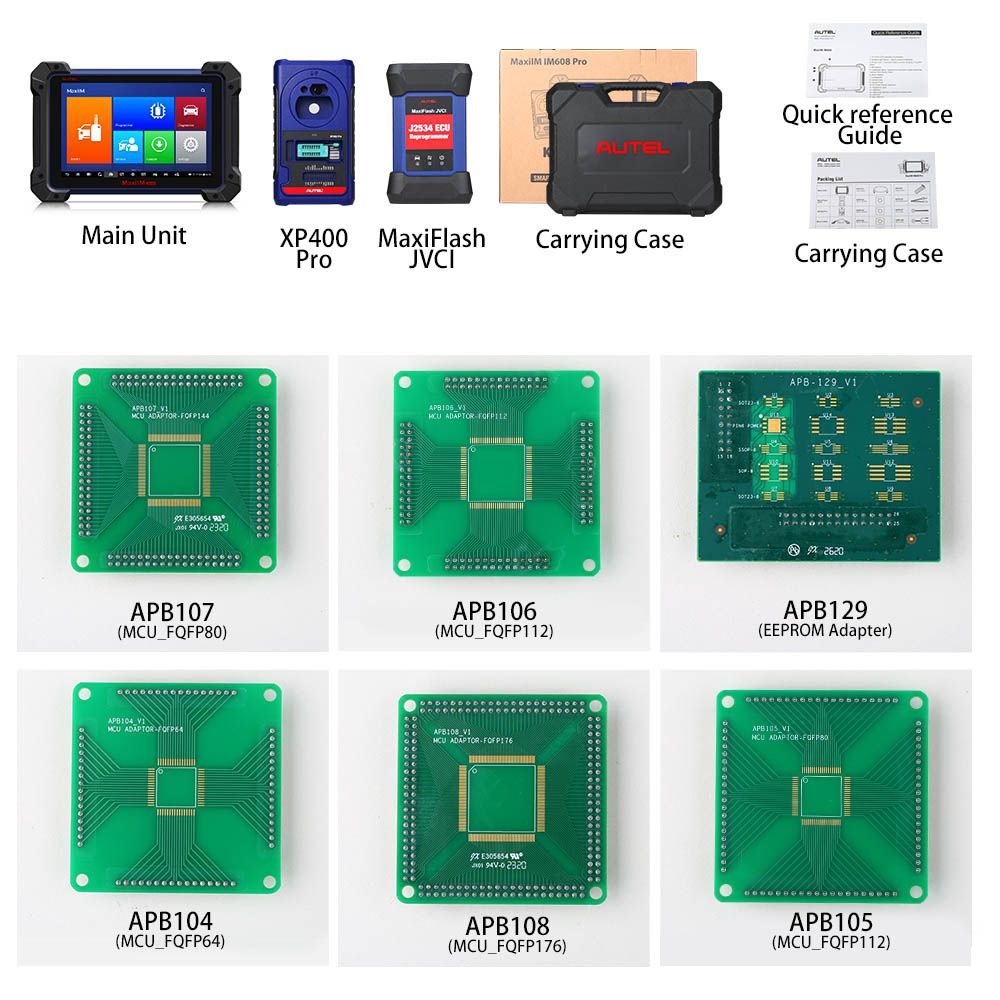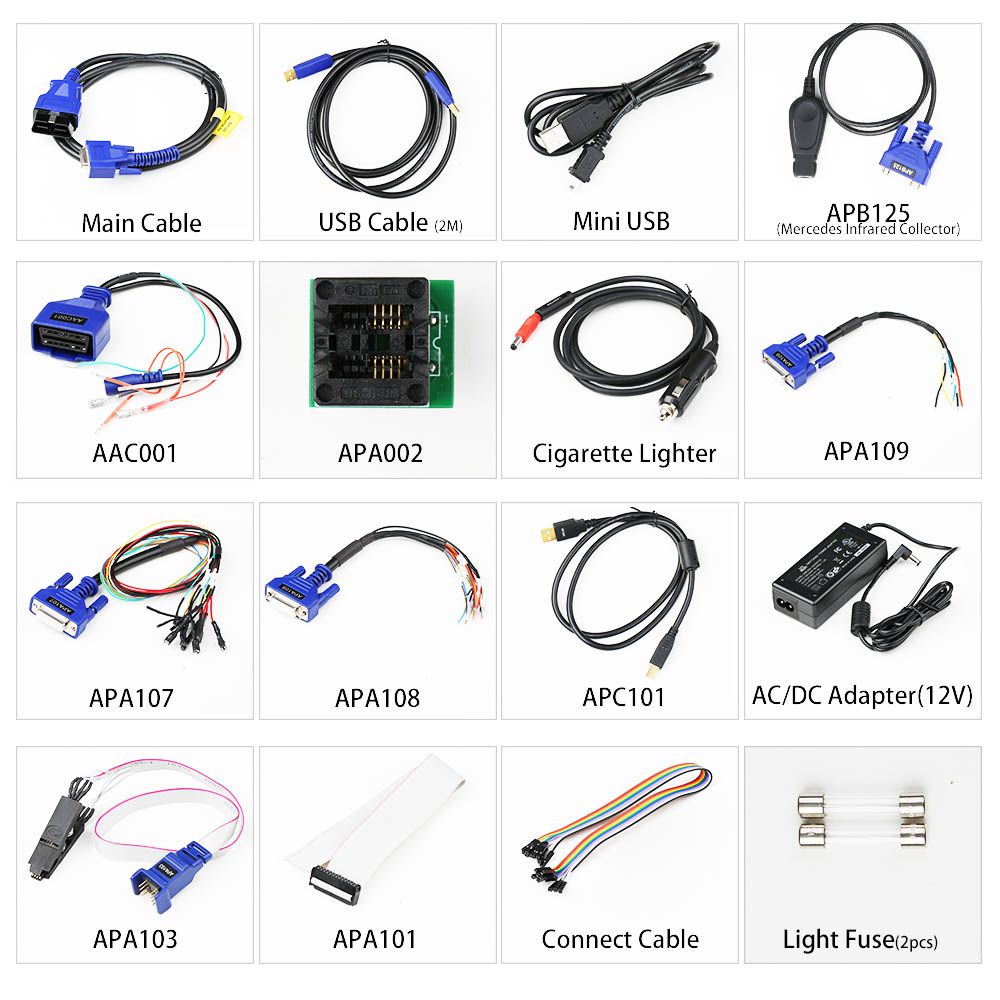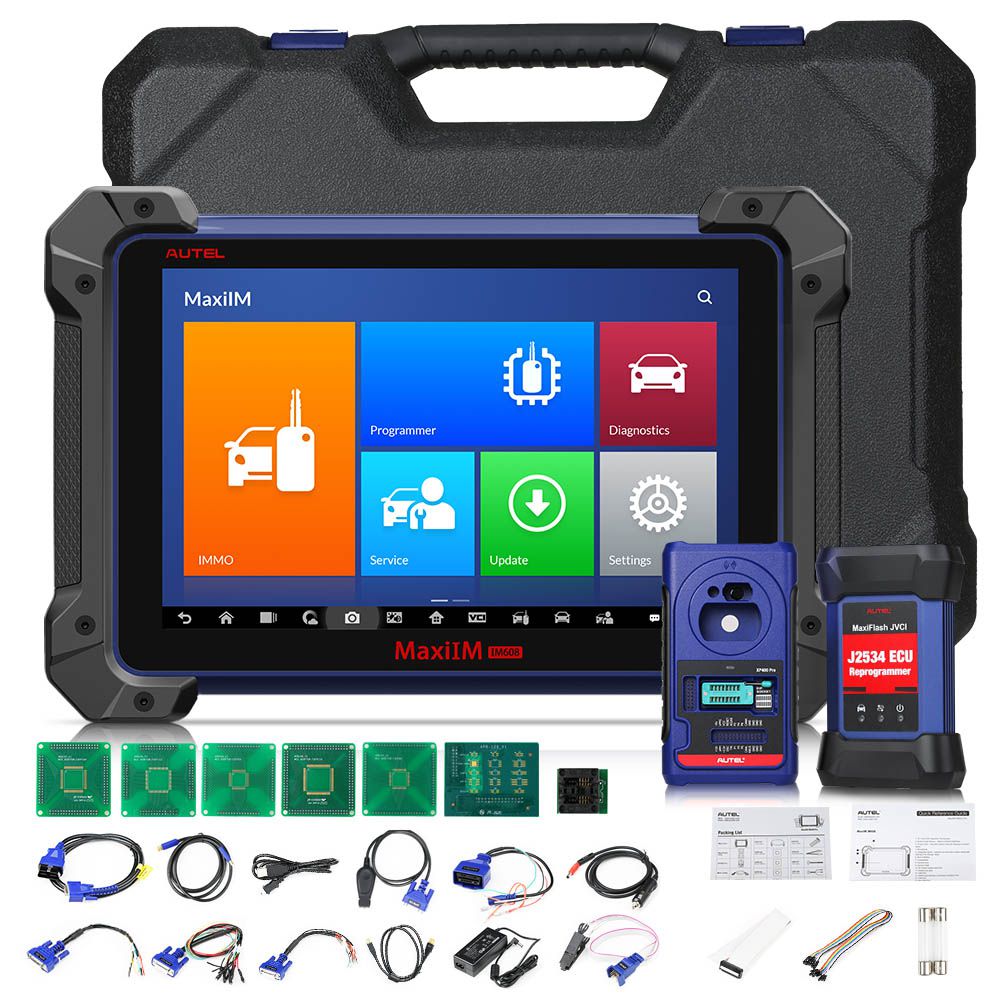 Description
Original Autel MaxiIM IM608 PRO Auto Key Programmer & Diagnostic Tool

Highlights:
1. Upgraded Version of
Autel
IM608
2. One Year Free Update Online on
Autel
Official Website
3. Comes with XP400 Pro which adds more functionality for
BMW
, Mercedes-
Benz
, as well as EEPROM reading
4. Could be used with IMKPA Accessories (Need to Buy Separately) Which adds
BMW
EWS3 key learning, Benz NEC key learning and Benz ESL_W209 read/write/erase
5. Existing Autel IM508/ IM608 Users Can Upgrade To IM608 Pro by Purchasing XP400 Pro
Description:
With the upgraded
Key Programmer
XP400 Pro, the MaxiIM IM608 Pro is the most advanced key programming tool that combines the powerful
IMMO
and programming functions with OE-level diagnostics and advanced service functions in one
Android
based 10.1-inch touchscreen tablet.
Autel MaxiIM IM608 Pro features an automated and guided Smart Mode to help technicians perform key learning effortlessly, and an Expert Mode to provide experienced technicians with quick access to desired functions. It supports all the functions of the previous MaxiIM IM608 with more powerful and stable performance of key functions, including read/write keys, read/write chips, and read/write Mercedes infrared key.
IM608PRO Key Programming Bundle is a comprehensive
IMMO
bilizer and Key Programming bundle composed of its Maxi IM608 10.1-inch
Android
touchscreen tablet, the XP400PRO key and chip programmer, the wireless JVCI
J2534
pass thru programming device and the Key Programming Adapter Kit (IMKPA).
Autel IM608Pro enables key learning directly through the OBD II port for 85% of vehicles in North America. The IM608 tablet can read the
IMMO
bilizer pins and passwords directly from the vehicle and stores this information to use later when learning the newly programmed keys to vehicle. The IM608 tablet provides all the diagnostics capabilities of Autel's MaxiSYS MS908S including all system AutoSCAN, active tests, special functions, coding, initialization and memory relearns.
The Programming Adapter Kit, compatible with the XP400Pro Key and Chip Programmer, includes 12 adapters for the XP400Pro that enables Read/ Write/ Erase for Mercedes Benz ESL_W209/W906 Data,
Mercedes Benz
NEC Key Learning, BMW EWS3 Key Learning and Volkswagen/
Audi
/
BMW
/ Benz Key Unlock.
In Comparison with Its Predecessor IM608, The New IM608 Pro Feature The Following New Additions:
1. BMW EWS3 key learning (with APB114 adapter)
2. Mercedes-Benz W209 EIZ read/write/erase (with APB118 adapter)
3. OEM Mercedes-Benz NEC key learning (with APB115 adapter)
Read/Write Data
EEPROM - added 60 chip types, now supports 445 types (with APB119, 121, 122, 123 and 126 adapters);
MCU - added 32 chip types, now supports 2067 types (with APB120, 127 and 128 adapters);
Odometer – will add 162 chip types, will be able to support 171 types in July;
Engine ECU – added 1 chip type, now supports 41 chip types;
Immobilizer ECU – added 3 chip types, now supports 181 chip types.
Key unlock – supports 11 key types (with APB113 adapters).
In a glance, the MaxiIM IM608 Pro supports all the functions of the previous MaxiIM IM608 with a more powerful and stable performance of key functions, including read/write keys, read/write chips, and read/write Mercedes infrared key with a more stable EEPROM platform.
Functions Supported:1. IMMO Functions
Auto Detect Make/Model/Year/System
Read PIN (All Key Lost)
Key Learning
IMMO ECU Reset/Adaption
IMMO ECU Refresh/Coding
Remote Learning
Audi
Q5/A4/A5 2015-2017 Key Learning
VW
MQB Key Learning
BMW FEM/BDC Key Learning and Adaption
BMW CAS4 Key Learning and Adaption
Mercedes Key Learning
2015-2018
Land Rover
&
Jaguar
write key via dump
Volvo Smart Key Learning/knob-style smart key
Advanced Programming Functions
EEPROM Read/Write
MCU Read/Write
Key Programming
Mercedes Key Read/Write
Remote Frequency Detect
OE-Level Diagnostics
2. All system diagnostics and Advanced Service Functions (Work with the MaxiFlash JVCI (J2534 ECU Reprogrammer)
Oil Service Reset
Parking Brake Pad Relearn After Replacement
Steering Angle Sensor Relearn
Battery Registration and Reset
Diesel Particulate Filter Regeneration
Tire Pressure Monitor
ing System
Active Test
ECU Coding
VW
/
Audi
Component Protection
Complete Service Functions
XP400Pro adds support for following chips:
EEPROM-->>AMD-->>AM29FXXX series chip
EEPROM-->> FUJITSU-->> MB29FXXX series chip
EEPROM-->> ST-->> M29FXXX series chip
Engine control module-->> ST-->> M29FXXX series chip
IMMO-->> BENZ-->> ESL_W209_W906 (Motorola) read/write/erase function
IMMO-->> BMW-->>EWS3 module read/write function
REMOTE_RENEW(renew key)-->> NEC-->> V51 and V5 chip read/write/erase
XP400 Pro adds support for following adaptor board:
APB113 PCF79XXadaptor board
APB114 EWS3 adaptor board
APB115 NEC Adapter board
APB118 NEC ELV adaptor board
APB119 TB28FXXXadaptor board
APB120 TMS370adaptor board
APB121 AM29FXXX Adapter board
APB122 AM29FXXX adaptor board1
APB123 AM29FXXX adaptor board2
APB126 M35080/D80 adaptor board
APB127 MC68HC0(7)05BXX adaptor board
APB128 MC68HC05X32 adaptor board
What's the Difference Between IM608 and IM608 Pro?

The only difference between IM608 and IM608 Pro is the programmer that comes with the tablet.
The tablets themselves IM608 and IM608Pro have no difference in terms of hardware and software. All keep the same.
As for the difference of XP400 and XP400Pro, the main difference is the hardware upgrade. XP400PRO is more powerful.
But the good thing is you can buy XP400Pro and optional adaptors together with any Autel key programming tool like IM508 and IM608 to have the same features with IM608Pro&XP400Pro and optional adaptors.
XP400Pro programmer upgrade and improvement compare to XP400:
1. Fixed the problem of connecting the XP400 to the vehicle ODB connector causing the burnout of the device.
2. Fixed the stability problem of using APB102 IR key to read/write.
3. Upgrade the hardware of programmer, Chip read/write function is more stable and support more EEPROM chips.
4. Fixed the problem of EERPOM adaptor APB101 can't read/write EEPROM chip and rename it as APA129.
5. Rename accessories APA104、APA105、APA106 as APA107、APA108、APA109.
6. APA108 and APA109 cable length is shorter than before, reducing the signal interference.
7. XP400 Pro add support for following chips:
(1) EEPROM-->>AMD-->>AM29FXXX series chip;
(2) EEPROM-->> FUJITSU-->> MB29FXXXseries chip;
(3) EEPROM-->> ST-->> M29FXXXseries chip;
(4) Engine control module-->> ST-->> M29FXXXseries chip;
(5) IMMO-->> BENZ-->> ESL_W209_W906(Motorola) read/write/erase function;
(6) IMMO-->> BMW-->>EWS3 module read/write function;
(7) REMOTE_RENEW(renew key)-->> NEC-->> V51 and V57 chip read/write/erase; (Support original dealer key learning with key dump mode.)
XP400 Pro adds support for following adaptor board:
(1) APB113 PCF79XXadaptor
(2) APB114 EWS3 adaptor
(3) APB115 NEC Adapter
(4) APB118 NEC ELV adaptor
(5) APB119 TB28FXXXadaptor
(6) APB120 TMS370adaptor
(7) APB121 AM29FXXX Adaptor
(8) APB122 AM29FXXX adaptor
(9) APB123 AM29FXXX adaptor
(10) APB126 M35080/D80 adaptor board
(11) APB127 MC68HC0(7)05BXX adaptor
(12) APB128 MC68HC05X32 adaptor
400pro supports 12 types of unlocking smart key:
BMW E Chasis remote control
OE 315 remote refresh
OE 868 remote refresh
Aftermarket remote control refresh
BMW F Chasis remote control
315 remote refresh
433 remote refresh
868 remote refresh
Audi--semi smart key
PCB2_8T0959754_433_REMOTE
PCB2_8T0959754D_868_REMOTE
Audi--smart key
PCB3_4H0959754DA_433_SMARTKEY
PCB3_4H0959754DB_315_SMARTKEY
PCB3_4H0959754DD_868_SMART
Package List:
1pc x MaxiIM IM608 Tablet
1pc x XP400 Pro
Key Programmer
1pc x MaxiFlash JVCI ECU Reprogrammer
1pc x Carry Case
1pc x Main Cable
1pc x USB Cable (2m)
1pc x Mini USB Cable
1pc x AC/DC Adapter (12V)
1pc x Light Fuse - 6*30mm (2pcs)
1pc x Cigarette Lighter
1pc x AAC001
1pc x APC101 (USB Cable)
1pc x APB129 (EEPROM Adapter)
1pc x APB125 (Mercedes Infrared Collector)
1pc x APB103 (MCU_PLCC52)
1pc x APB104 (MCU_FQFP64)
1pc x APB105 (MCU_FQFP80)
1pc x APB106 (MCU_FQFP112)
1pc x APB107 (MCU_FQFP144)
1pc x APB108 (MCU_FQFP176)
1pc x APB109
1pc x APB110 (MCU_FQFP176)
1pc x APB111 (MCU_FQFP176)
1pc x APA002 (EEPROM Socket)
1pc x APA101 (Signal Cable)
1pc x APA103 (EEPROM Clamp)
1pc x APA107 (ECU Clamp)
1pc x APA108 (MCU Clamp)
1pc x APA109 (MC9S12 Clamp)
1pc x Connect Cable
Previous: XTOOL A80 Pro H6 Pro Full System Diagnosis Tool with Key Programming/ECU Programming/Special Function Compatible with KC501/KS-1/KC100
Next: Xhorse XSKF20EN Smart Remote Key Knife Style 4 Buttons English Version 5pcs/lot