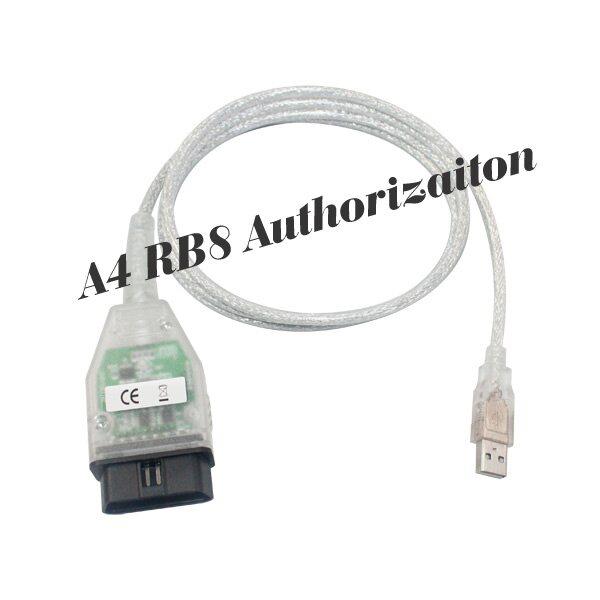 Description
A4 RB8 Authorization For Micronas CDC32XX Cable

What does this update module used for?
A4 RB8 update module can be used with Micronas CDC32XX Cable. By update with A4 RB8 Update Module, you can get authorization for Micronas CDC32XX Cable.
How to get this update?
After you place an order on our website and scuccessfuly checkout, please provide us your cable's serial number. We will open A4 RB8 authorization for your cable.
After open, you can test it on A4 RB8 dashboard. If you have any problems, you can contact us at any time, our
engine
er can online check for you.
Shipping online
---
Reviews

44
#1 saibu daniel
Nov 9, 2018

Will be than to check, i will add. So everything is wonderful. the package of A4 RB8 Authorization For Micronas OBD TOOL (CDC32XX) For Volkswagen Shipping Online is on good condition, very well
#1 Cristiano dias
Aug 9, 2018

Product as described request. Very fast. Recommend all p. the package of A4 RB8 Authorization For Micronas OBD TOOL (CDC32XX) For Volkswagen Shipping Online is on good condition, very well
#1 Arnold Grubbs
Aug 9, 2018

now I have the product, now i can learn to use it. NO QUESTIONS ON USE! Google is your friend, learn to search. Thank you & recomended seller the package of A4 RB8 Authorization For Micronas OBD TOOL (CDC32XX) For Volkswagen Shipping Online is on good condition, very well
#1 Robert Pallas
Dec 9, 2018

A professional approach, I recommend the seller the package of A4 RB8 Authorization For Micronas OBD TOOL (CDC32XX) For Volkswagen Shipping Online is on good condition, very well
#1 dan massaro
Jul 9, 2018

Ok , happy the package of A4 RB8 Authorization For Micronas OBD TOOL (CDC32XX) For Volkswagen Shipping Online is on good condition, very well
#1 VLADYMIR SIZYAKOV
Nov 9, 2018

Great product arrived super fast via office for Brasil recommend. the package of A4 RB8 Authorization For Micronas OBD TOOL (CDC32XX) For Volkswagen Shipping Online is on good condition, very well
#1 Carlos Arrom
Feb 9, 2019

working good the package of A4 RB8 Authorization For Micronas OBD TOOL (CDC32XX) For Volkswagen Shipping Online is on good condition, very well
#1 David DeBrabander
Feb 9, 2019

tools work perfect. the package of A4 RB8 Authorization For Micronas OBD TOOL (CDC32XX) For Volkswagen Shipping Online is on good condition, very well
#1 Antonio Buccolieri
Mar 9, 2019

All the best, very fast! Thank you! the package of A4 RB8 Authorization For Micronas OBD TOOL (CDC32XX) For Volkswagen Shipping Online is on good condition, very well
#1 KentKeginn KentKeginn
Dec 9, 2018

Quality is good. I will test function later. the package of A4 RB8 Authorization For Micronas OBD TOOL (CDC32XX) For Volkswagen Shipping Online is on good condition, very well
Previous: Multi-languages Smart Zed-Bull With Mini Type No Tokens Needed