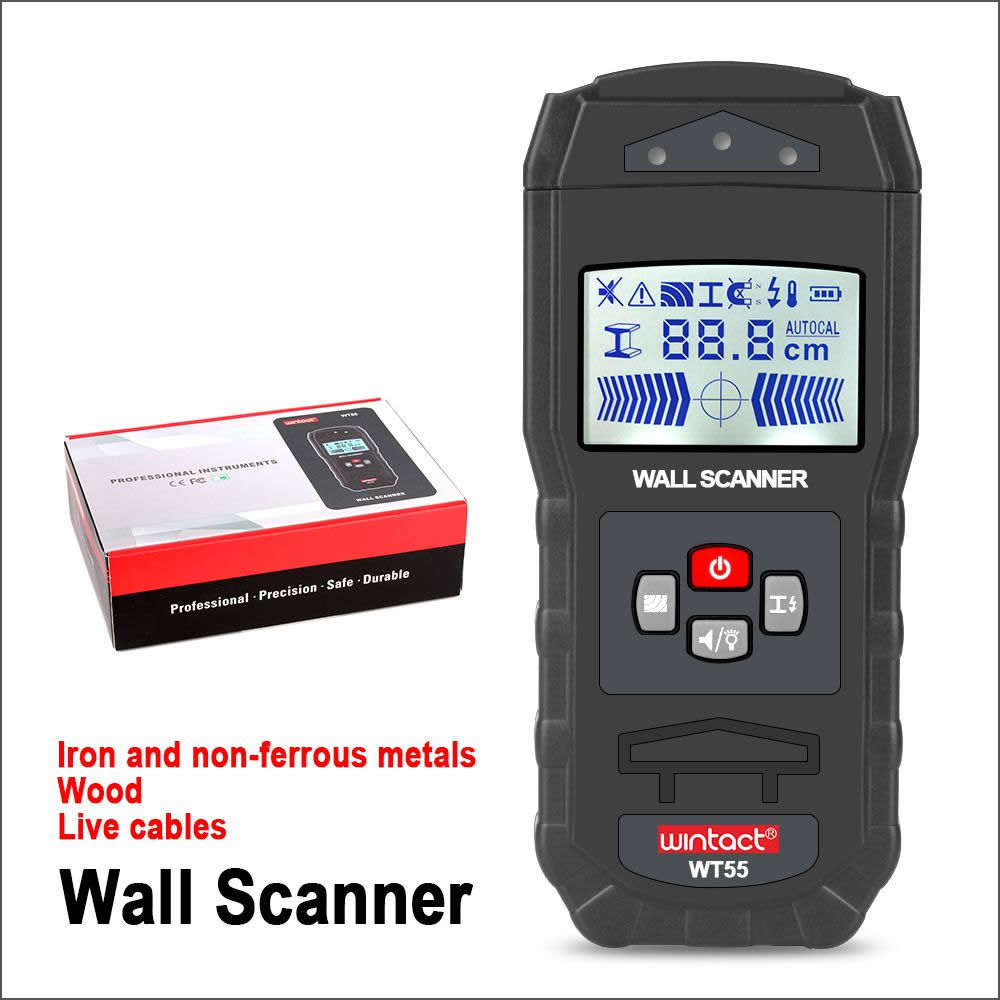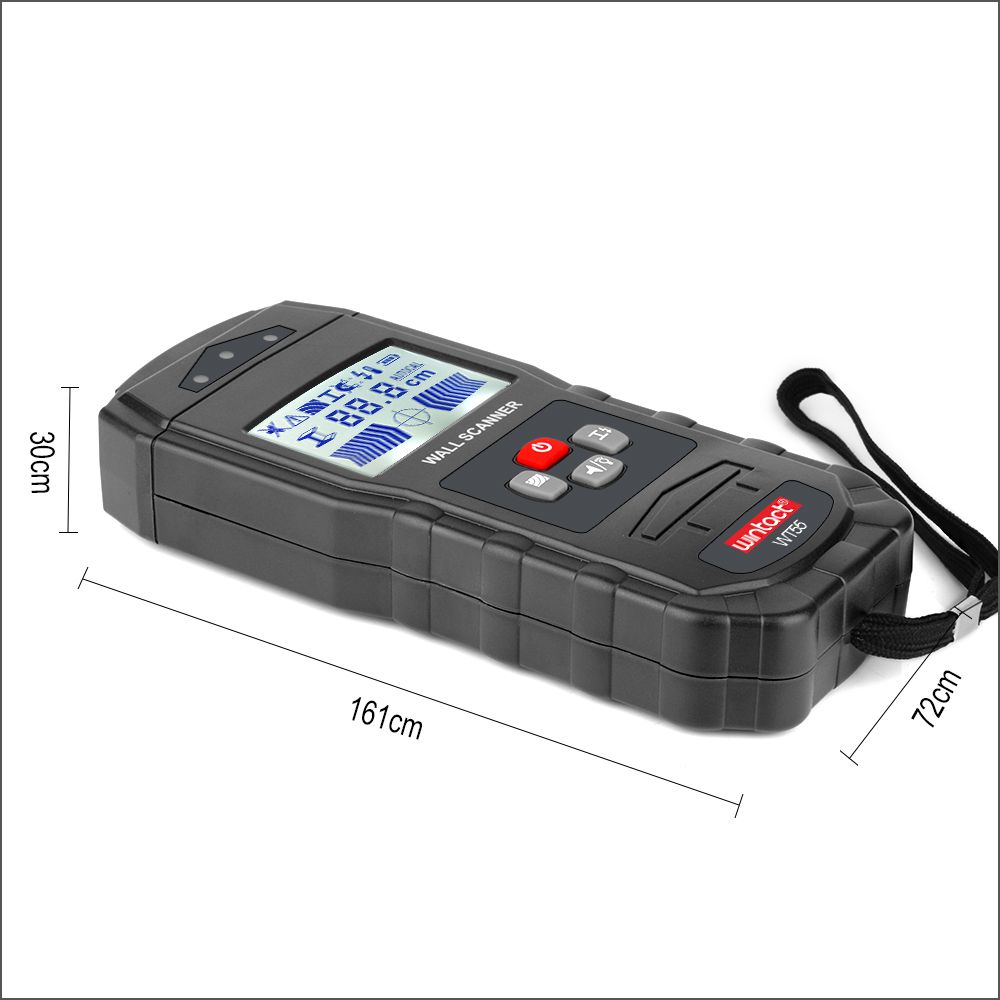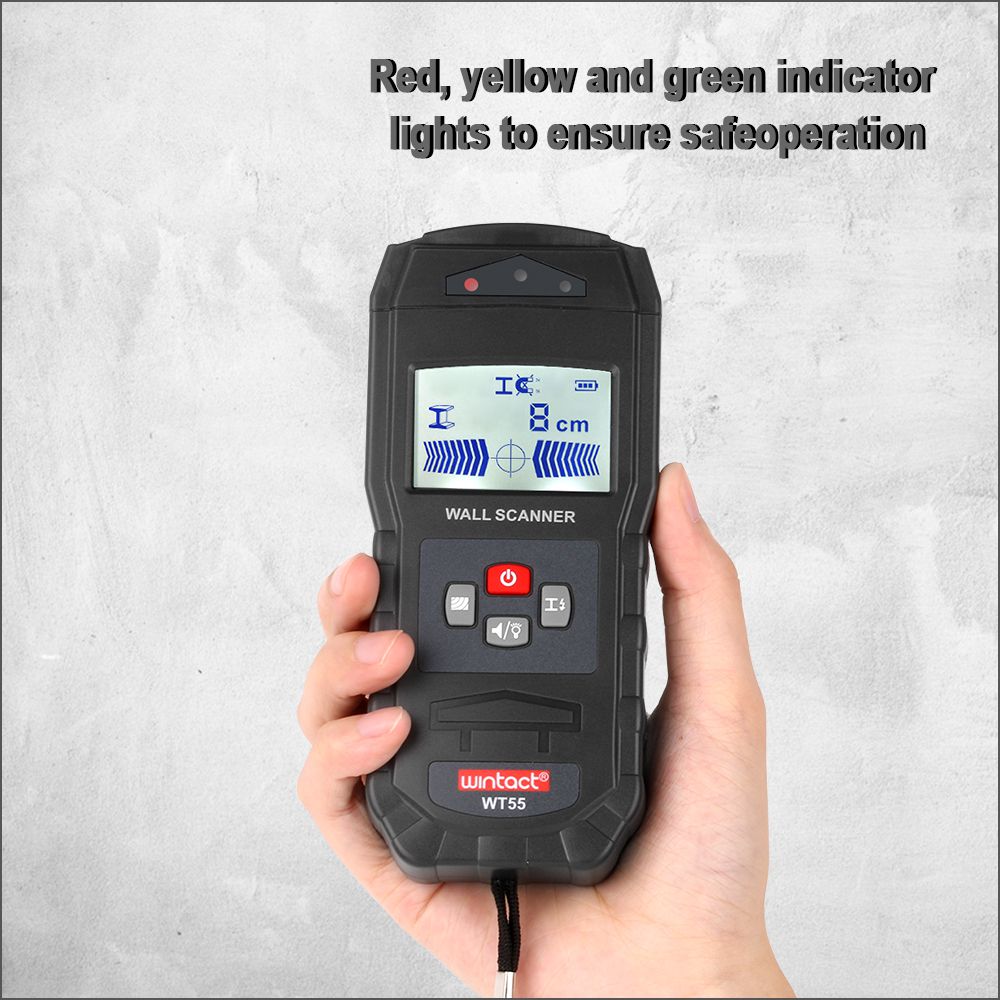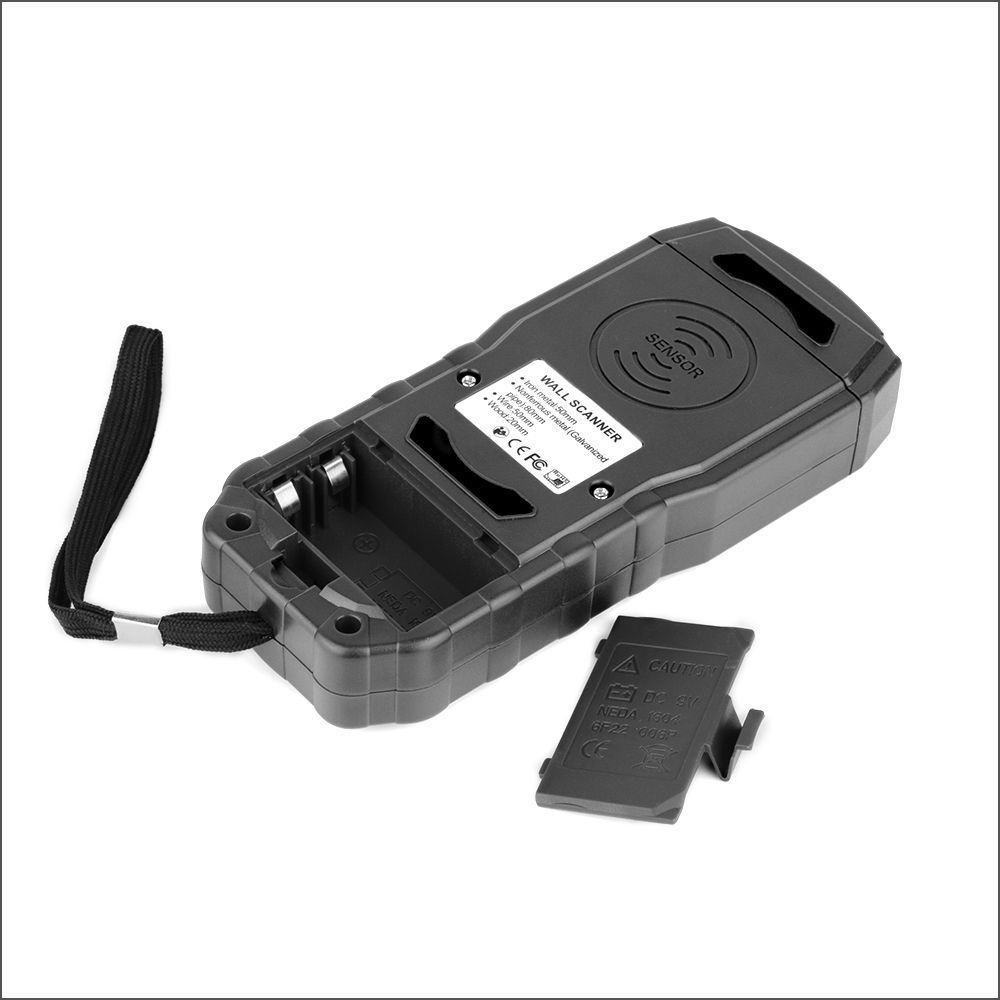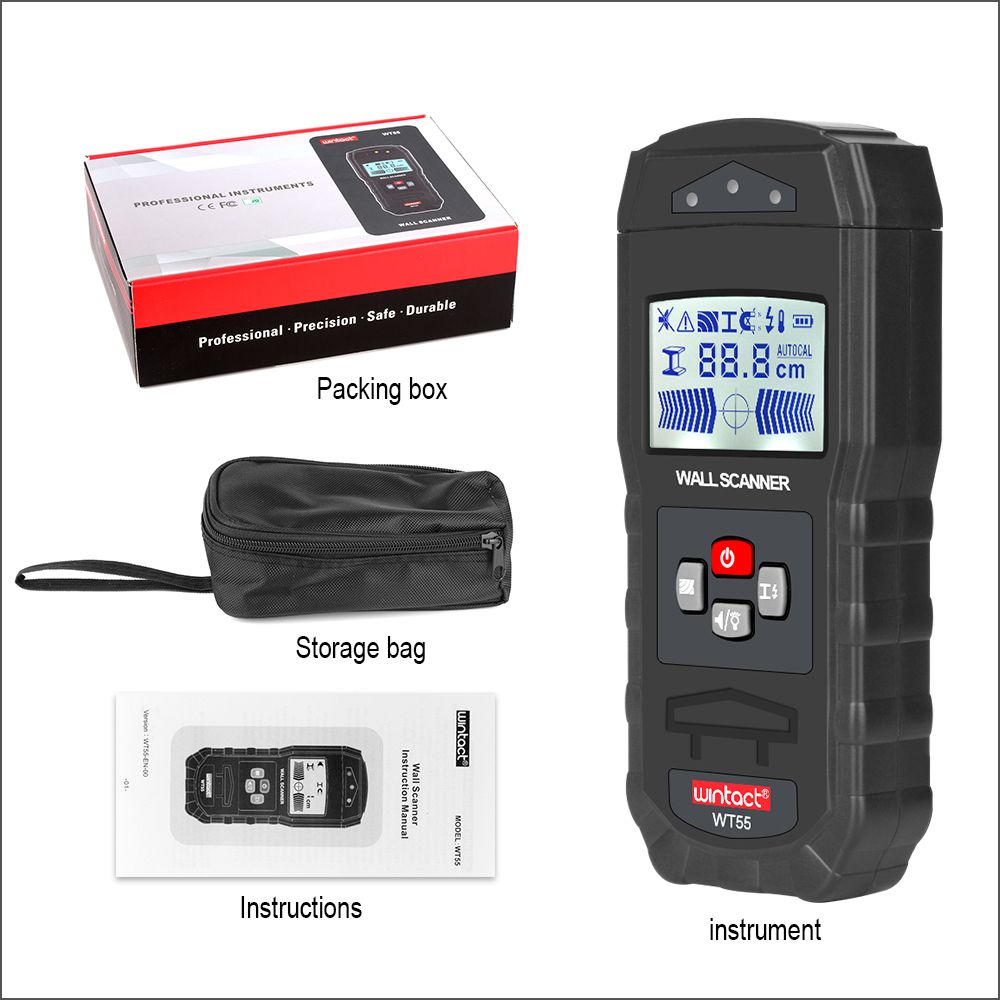 Description
WINTACT Digital Wall Scanner Handheld Professional Multifunction Wall Detector Iron Metal Wood Wire Galvanized Pipe Finder Scanner
The product is suitable for use in interior decoration structures. It can detect the position of metal, wood and live circuits in the wall. When metal, wood and live circuits are sensed, the instrument will display analog bars and audible prompts.
Feature
The tool is handheld wall scanner for quickly detection of magnetic metals in wall,rooftop and floor,such as reinforcing steels,iron pipes,and non magnetic metals such as aluminum pipes, copper,and nonmetal materials such beams,PVC water piper,as well as electrifided objects such as live wires.
This unit is a 3 in 1 metal/voltage/stud detector.it uses electionic signals to locate the exact position of studs,ceiling joist AC wires and metal through drywall,concrete and other common wall materials.
Once the edge of a stud has been detected, it emits audio and visual singnals (LCD Display) that allow you to easily pinpoint its center position.
This unit is an ideal tool for DIY fans, professional electrician and users in decoration field.
Application
iron metal,nonferrous metal (galvanized pipe)
wire ,clean wood detection
Package included
1x Wall Scanner (no including Battery)
1X User Manual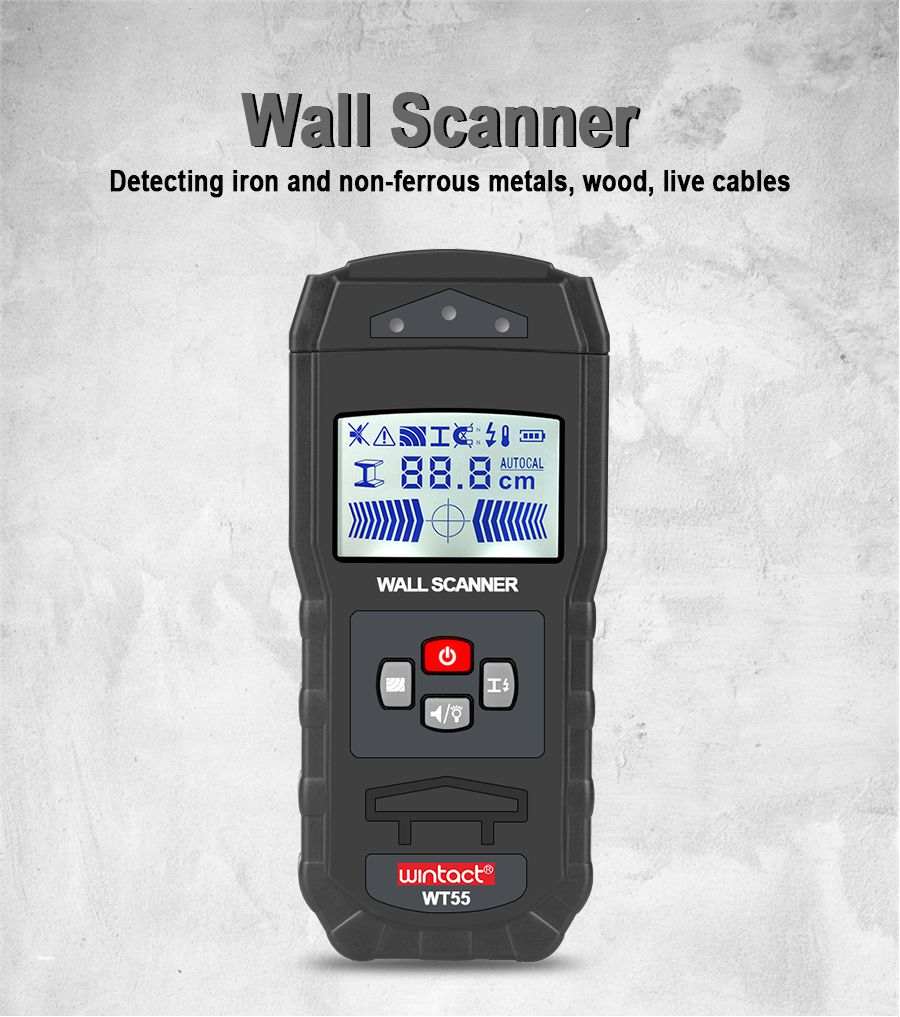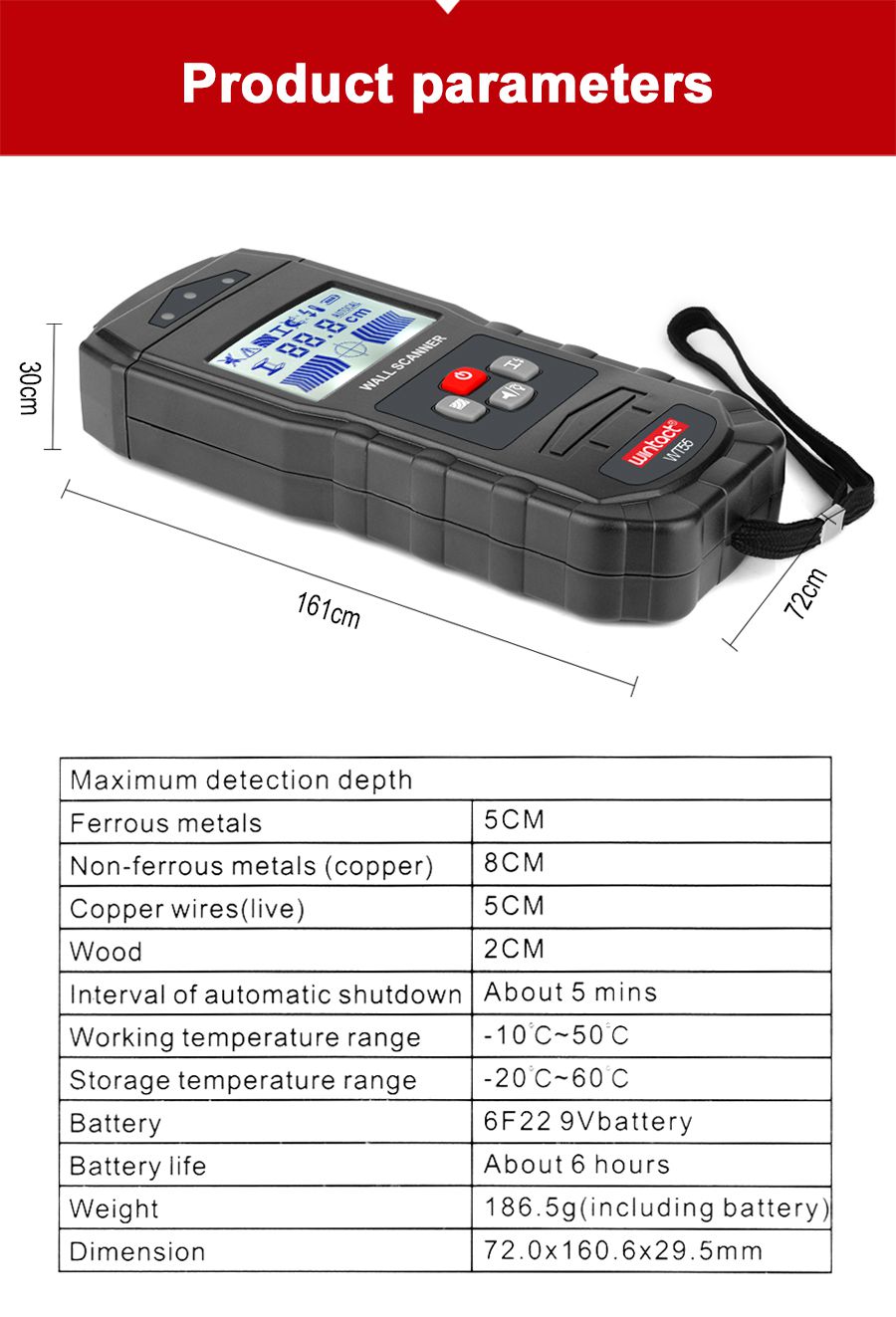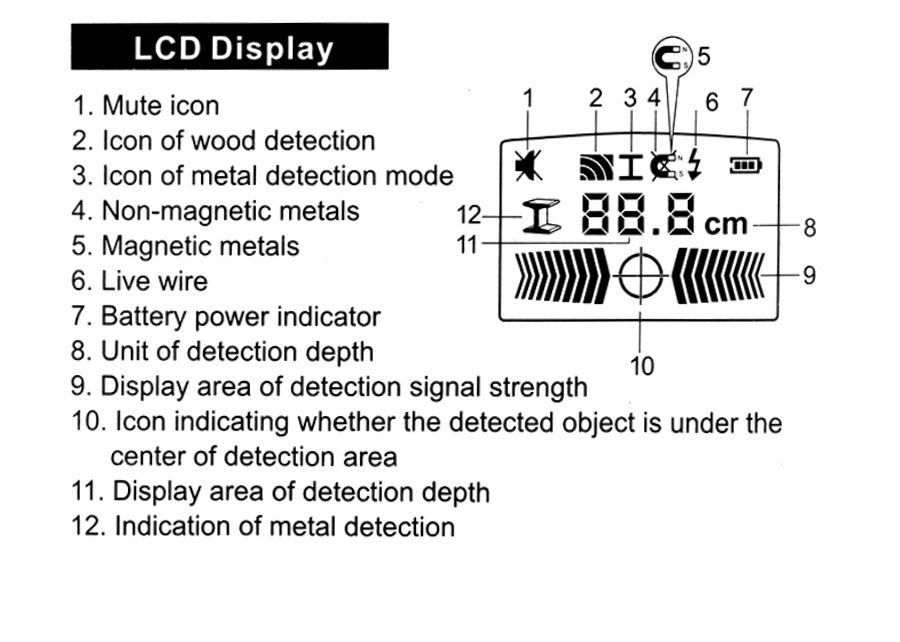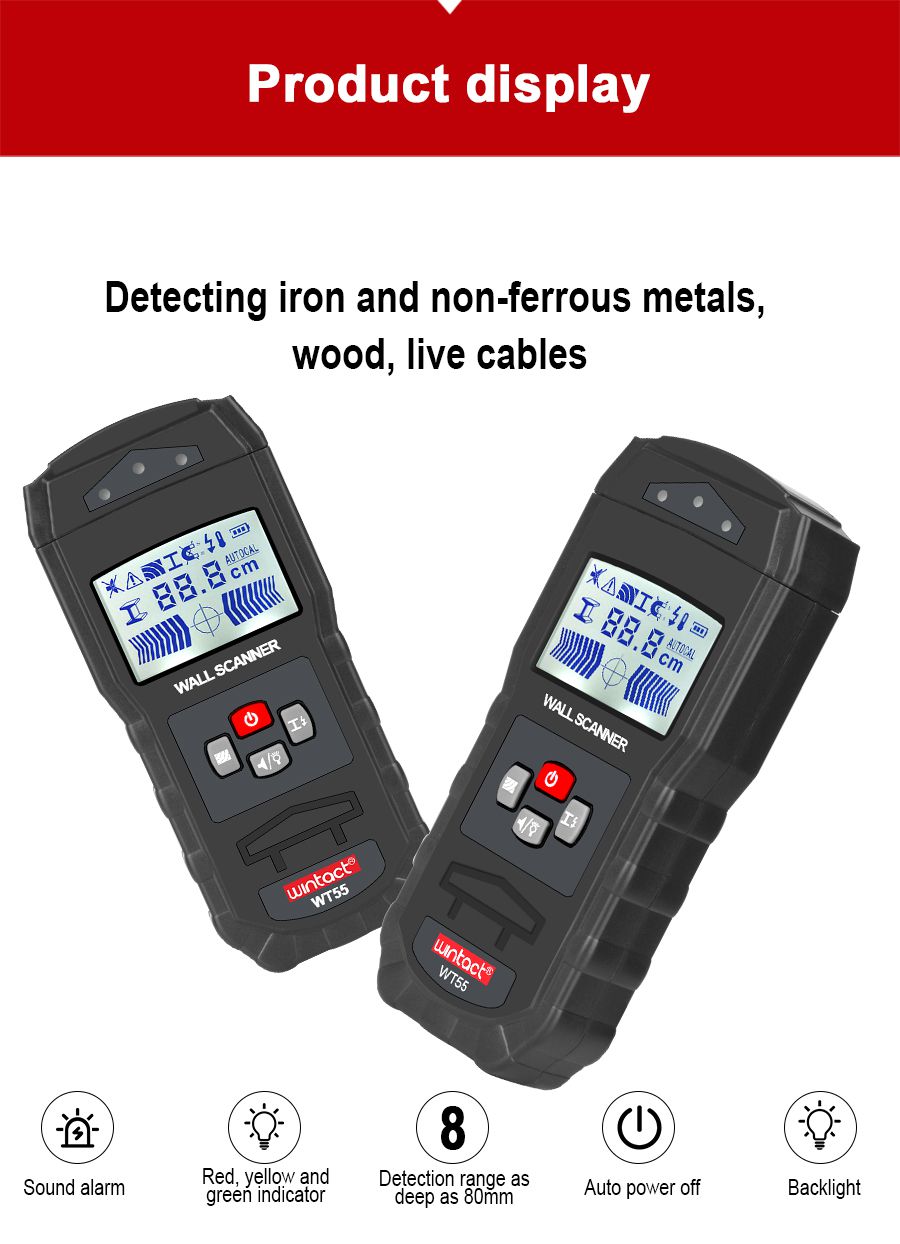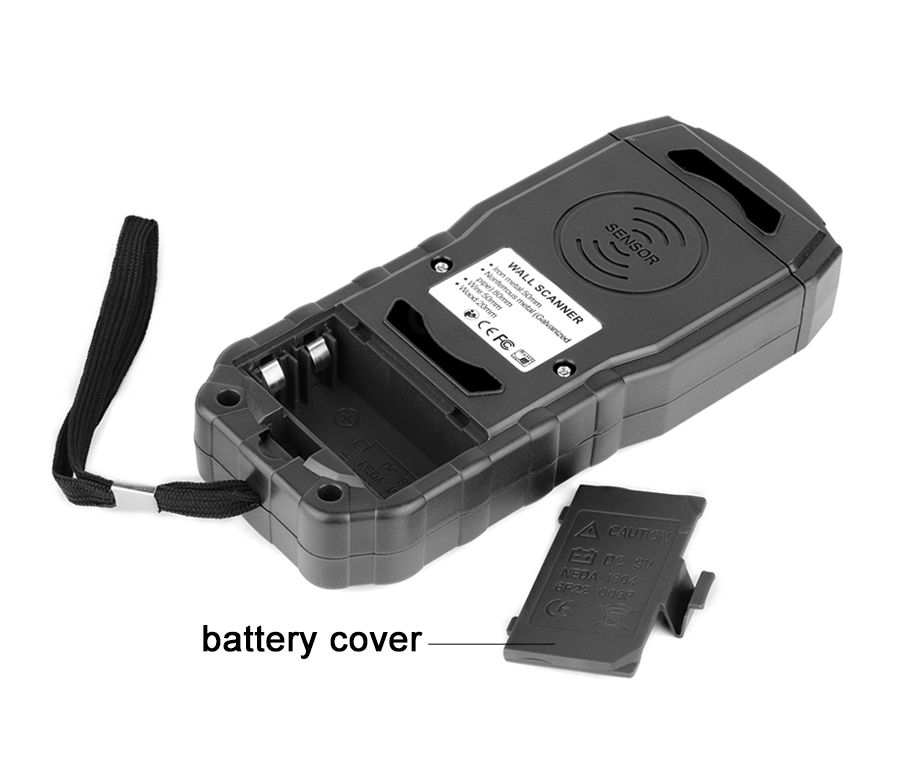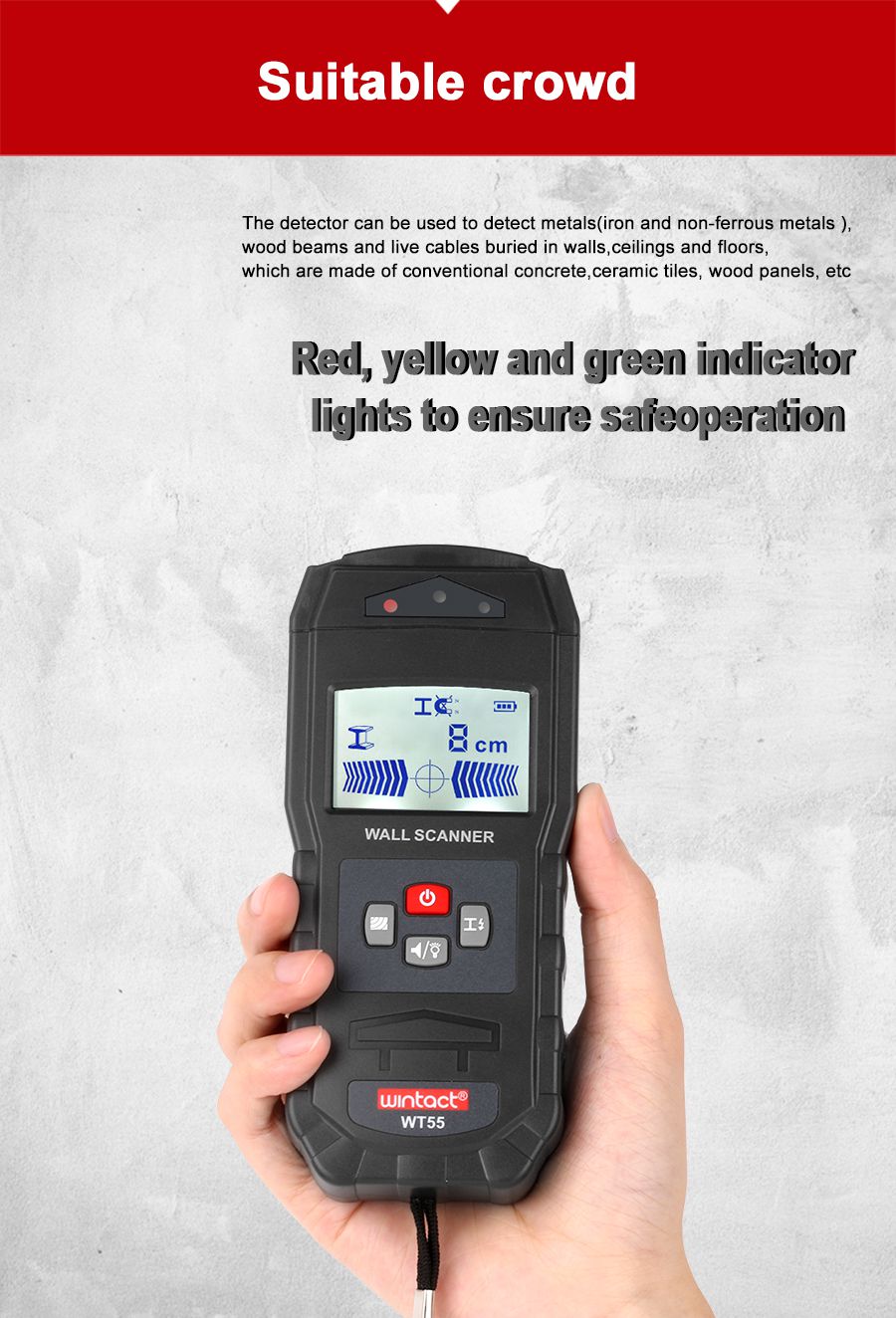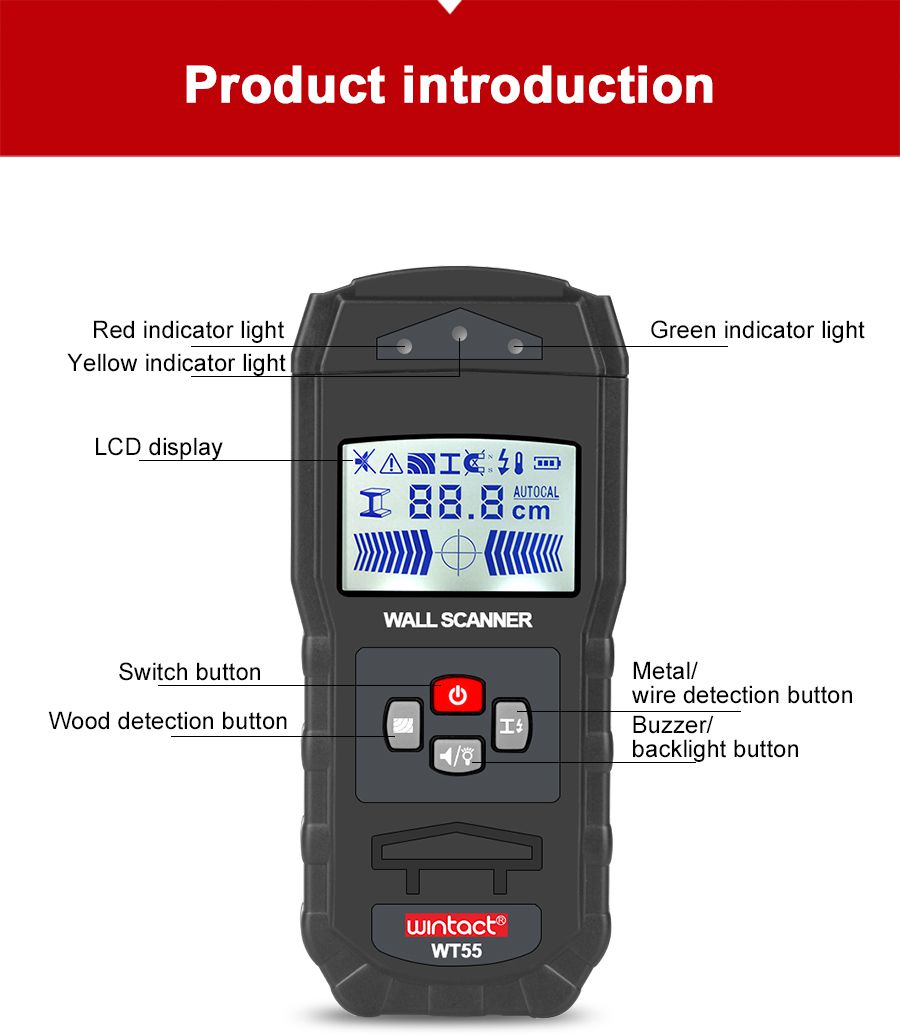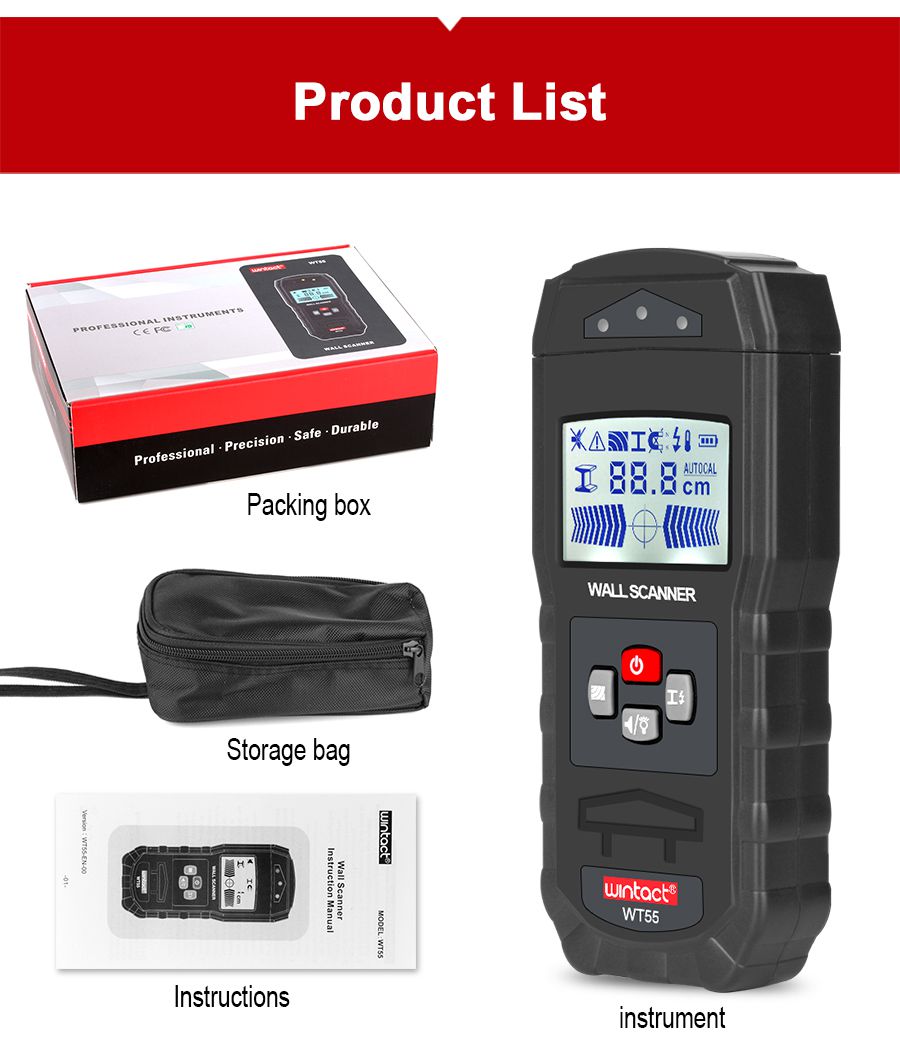 Reviews

18
#1 Tadas Ruseckas
Apr 9, 2019

All perfect, as always. Free. blisteringly fast
#1 Dave Perry
Dec 9, 2018

Very good… Super fast
#1 Antonio Martínez
Jul 9, 2018

product like a description the cd working correctly recomended seller thank you
#1 Randall Smirnoff
Apr 9, 2019

Very good fast delivery
#1 zihni gunay
Mar 9, 2019

Arrived super fast delivery. The best they have representative here in Brazil P make delivery. Good seller. Recommend.
#1 Sinisha Petrovski
Jan 9, 2019

Do not have time to test right now, looks great
#1 rodrigo batista
Apr 9, 2019

working good this WINTACT Digital Wall Scanner WT55 Handheld Professional Multifunction Wall Iron Metal Wood Wire Galvanized Pipe Finder Scanner is good quality, working very well
#1 Diego Jerez
Sep 9, 2018

Super recommended arrived just as it is posted very fast shipping
#1 Claudio Quintal
Jan 9, 2019

Everything works. Delivery is super fast. Disk c to read. Seller recommend!
#1 nick caspare
Sep 9, 2018

Very good. Arrived before the deadline.
Previous: Non-contact Voltage Detector indicator BSIDE AVD07 Smart Electric Pen Tester Live/Neutral wire distinction Continuity check NCV
Next: LOMVUM Metal Detector Backlit Black AC Wood Finder Cable Wires Depth Tracker Undeground Sturs Wall Scanner LCD HD Display Beep