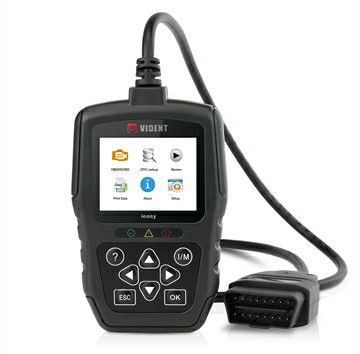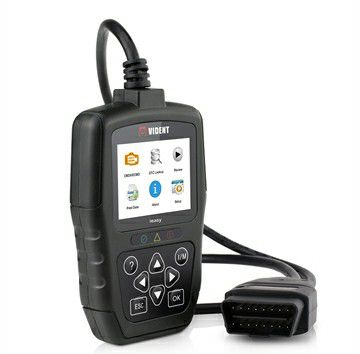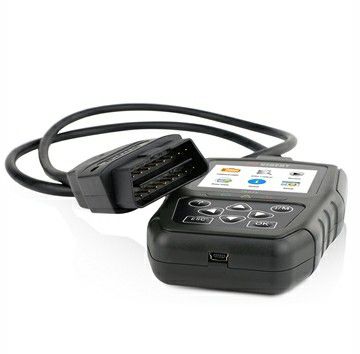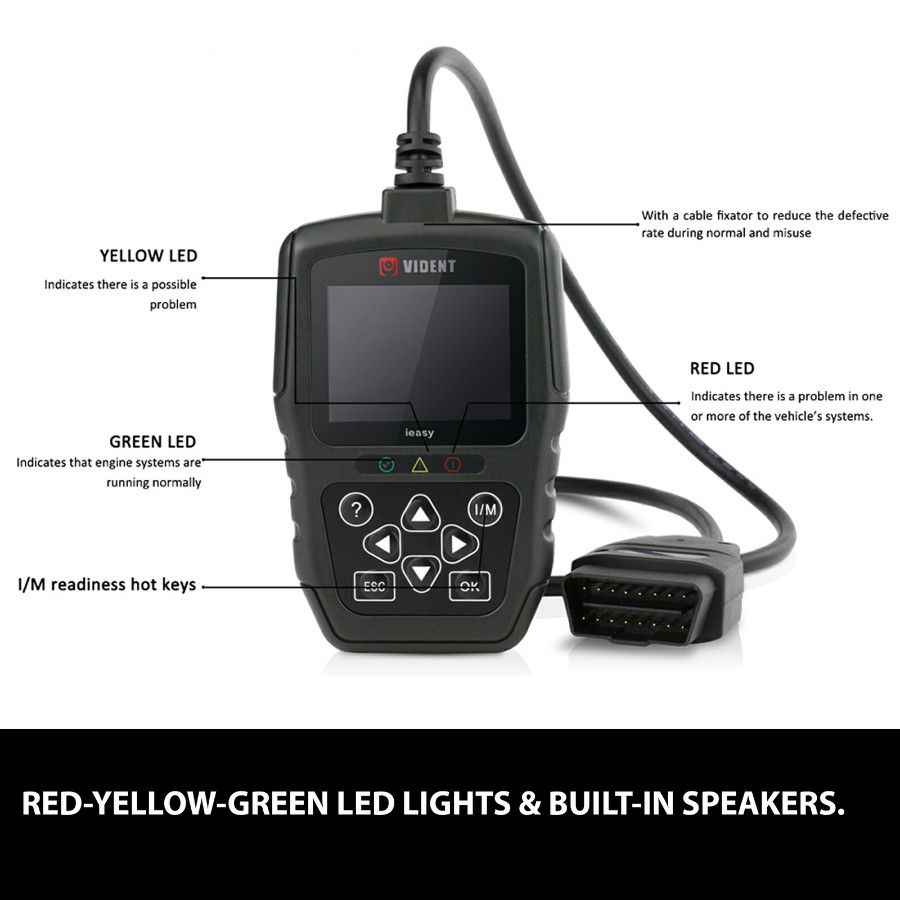 Description
Vident iEasy300 Pro OBDII/EOBD Code Reader

Vident iEasy300 Pro Description:
Vident iEasy300Pro CAN EOBD OBDII scanner is a professional
OBD2
engine
Code Reader
that helps you quickly and efficiently diagnose, read and clear
engine
trouble codes on almost all OBDII compatible cars. Featuring the ability to perform Mode6, Oxygen sensor tests, on-board test and component test. It also lets you view text and graph live data and perform I/M readiness quick health check. In addition, thousands of troubleshooter code tips help you save on diagnosis and repair time.
Vident iEasy300 Pro Features
Compatibility:
Works with most OBDII & CAN compliant cars, light-duty trucks, SUVs, minivans and hybrid sold wordwide
Diagnostics:
Support all the 10 OBDII test modes. Reads / clears stored & pending
engine
trouble codes and resets monitors. Views on-screen fault code definitions (Generic& manufacturer specific) - thousands of definitions stored within the tool.
Live Data:
Text and Graph live engine data. Reads, records, graphs & playback real-time live data streams from the engine sensors - ideal for monitoring intermittent faults
Other Tests:
View Oxygen Sensor Test, On-board Monitor Test and Component TestAdvanced Mode 6 Functions - Non-continuously Monitored Systems test results
Freeze-Frame:
Read freeze-frame data engine conditions such as fuel trim, engine coolant temp, etc., at the time of Malfunction Indicator Lamp (MIL) was set (a snapshot of sensor values when a DTC occurred)
I/M Readiness:
Quick display of status of all tests on a single screen. Red-Yellow-Green LED lights and build-in speakers indicate emissions monitor status. They can also help catch intermittent problems or confirm repairs during the drive cycle.
Retrieve Protocol:
VIN, Cal ID and CVN identifiers from ECU (dependent on vehicle support)
Hardware:
Exquisitely designed - Ergonomic grip handle, bulging membrane switch, and gliding metal pins. A simple click from the short-cut menu to enter update mode
Software Update:
Life-time FREE software
Vident iEasy300 Pro Specification
Display: 2.4" TFT color screen
Operating Temperature: 0 to 60°C (32 to 140°F)
Storage Temperature: -20 to 70°C (-4 to 158°F)
Power: 8 to 18 V provided via vehicle
Supported Protocols: J1859-41.6, J1850-10.4, ISO9141, KWP2000 (ISO 14230), and CAN (Control Area Network ISO 11898)
Unit Dimensions : 125mm(4.0")*80mm(2.96")*24mm(0.78")
Vident iEasy300 Pro Package includes:
iEasy 300Pro OBDII/EOBD
Code Reader
User's Guide
USB PC cable for updating software
Reviews

14
#1 matteo papi
Oct 9, 2018

The product is excellent all works
#1 Laura Hmelevska
Jun 9, 2018

Everything works as it should!
#1 CORWIN AUTOMOTIVE
Jun 9, 2018

Everything is fine
#1 ciptthyptopay ciptthyptopay
Jan 9, 2019

works like charm
#1 Esau Duran
May 9, 2018

Good product Good quality excellent
#1 Curtis Ford
Jul 9, 2018

Received it via DHL,all good.thank you.
#1 Stephen O'Donnell
Jan 9, 2019

Arrived super fast delivery. The best they have representative here in Brazil P make delivery. Good seller. Recommend. this Vident iEasy300PRO EOBD/OBDII Code Reader Mode6 - Engine Diagnostics is good quality, working very well
#1 gigi costea
Feb 9, 2019

All the best works great!
#1 Carl R Roberts
Jan 9, 2019

Everything is just perfect! This store and seller are perfect! Strongly recommended!
#1 Lukasz Ziomek
Aug 9, 2018

Super fast! Works
Previous: VIEDNT iLink410 ABS&SRS&SAS Reset Tool
Next: VIDENT iLink450 ABS &SRS reset /DPF/Battery Configuration Full Service Tool