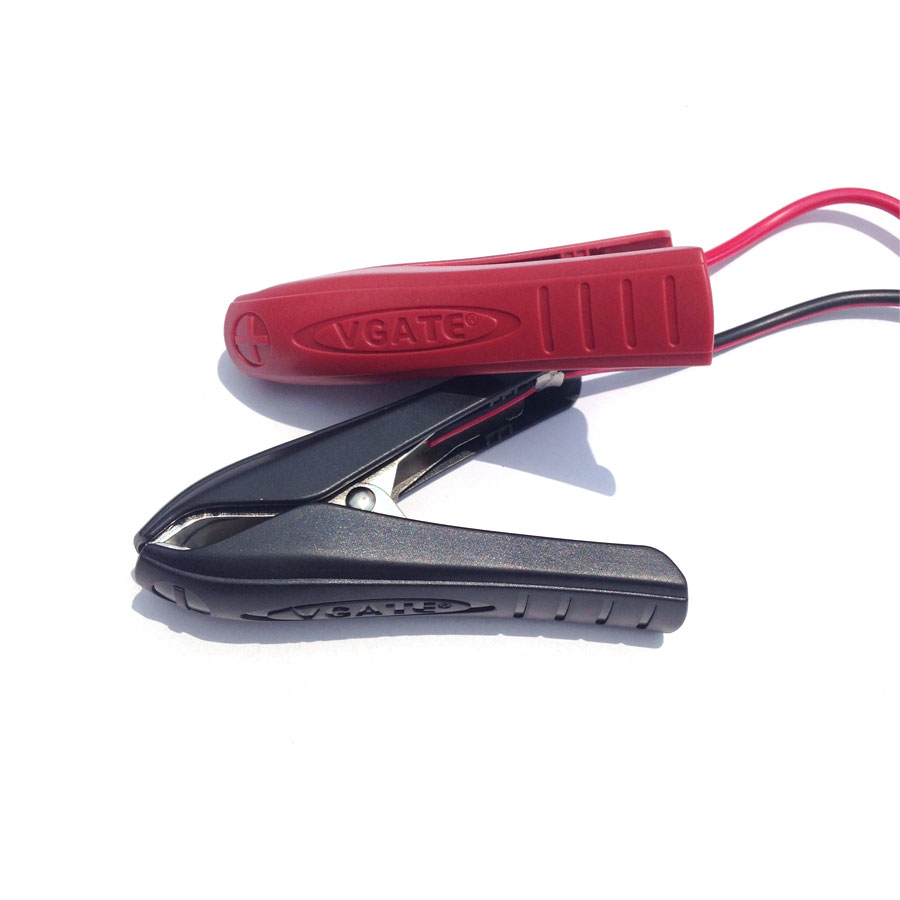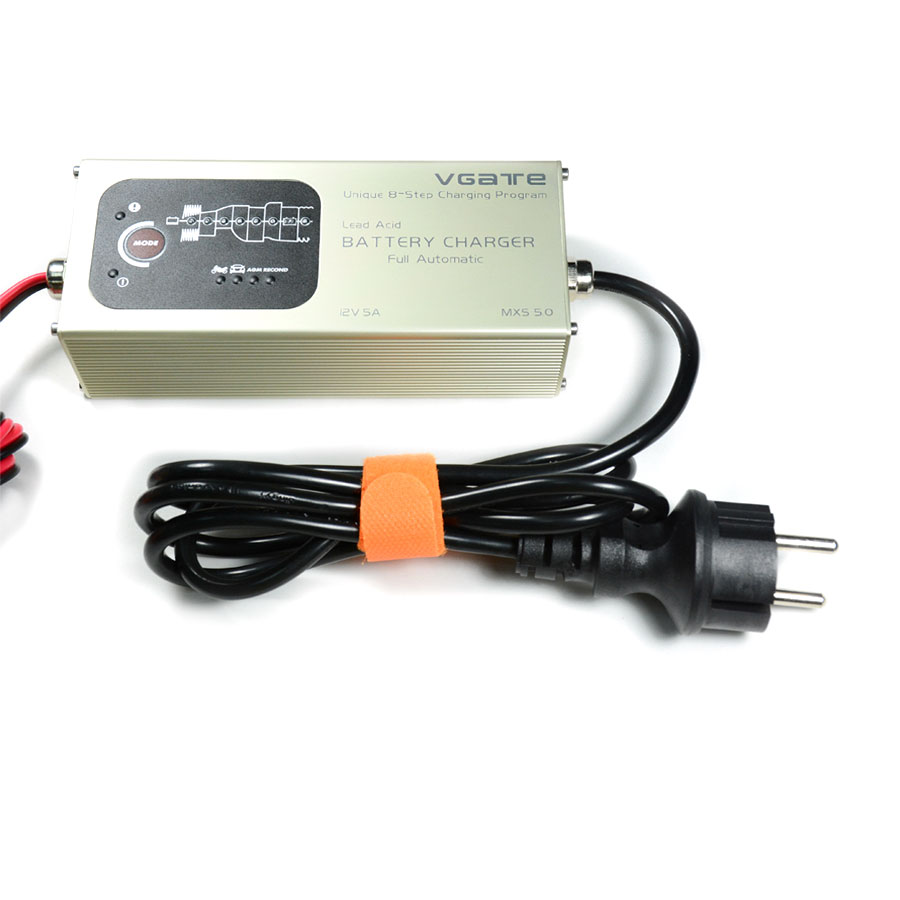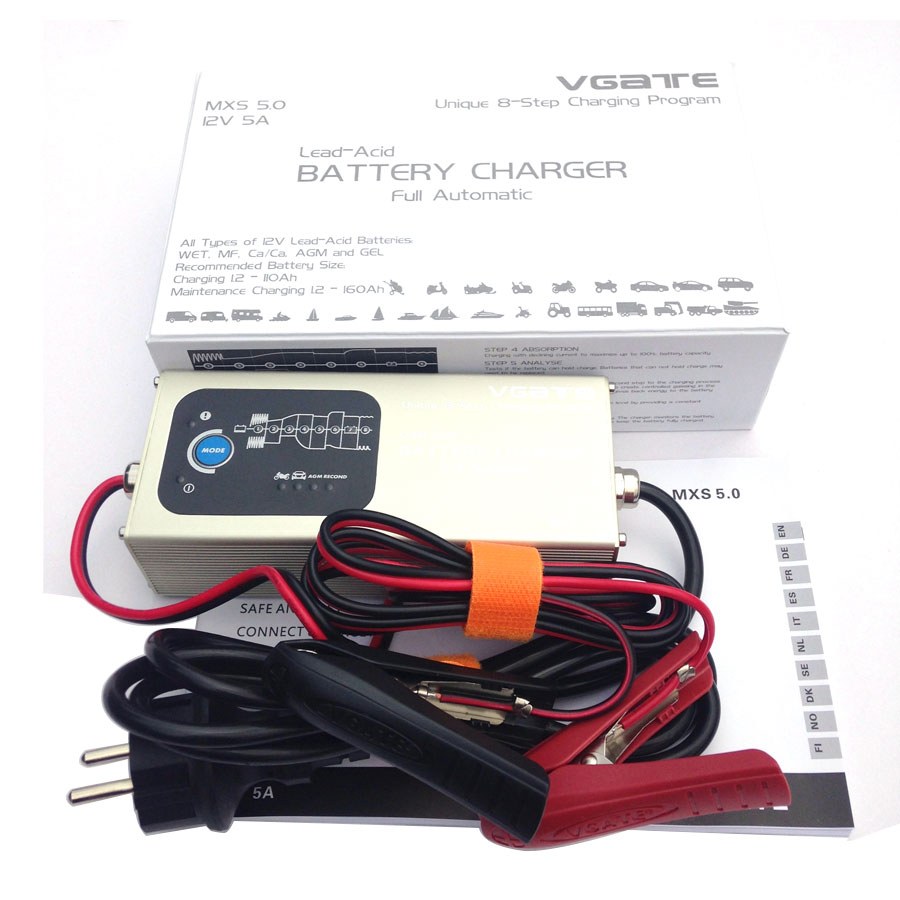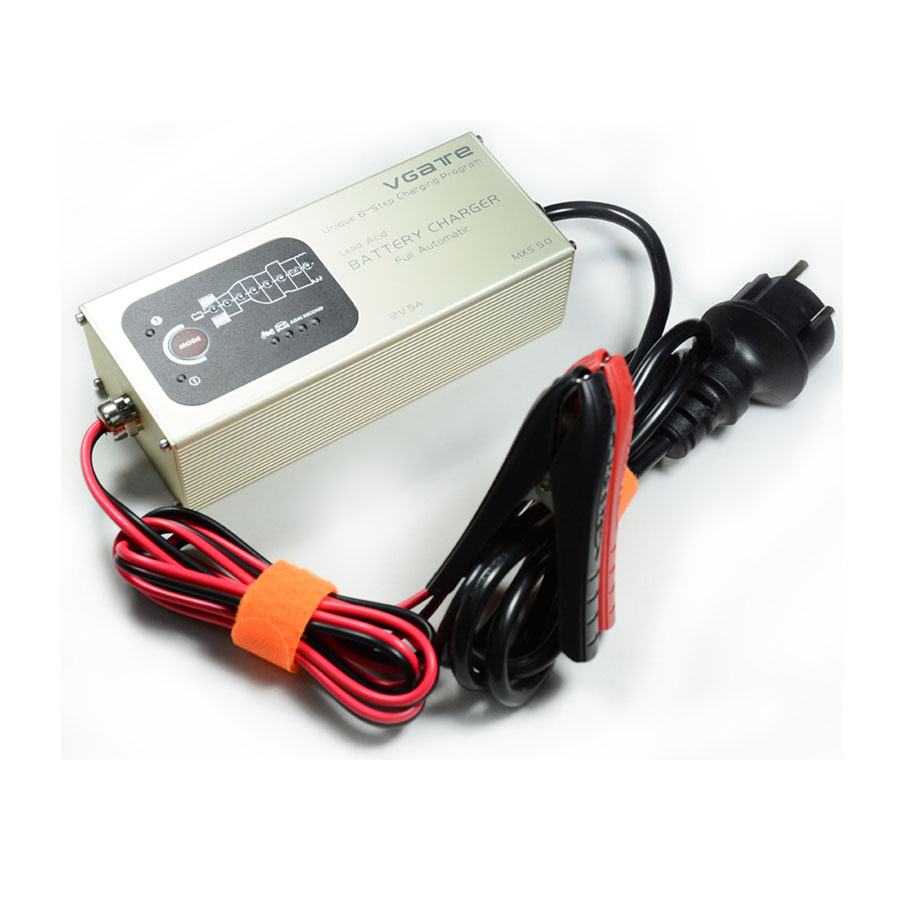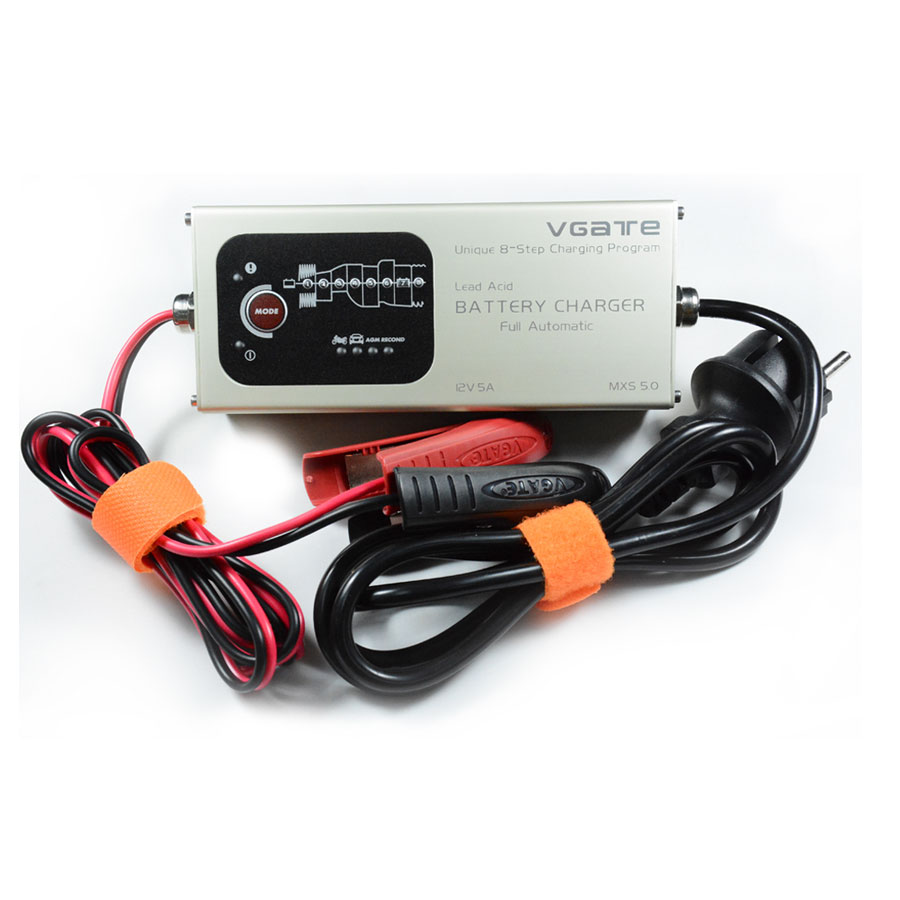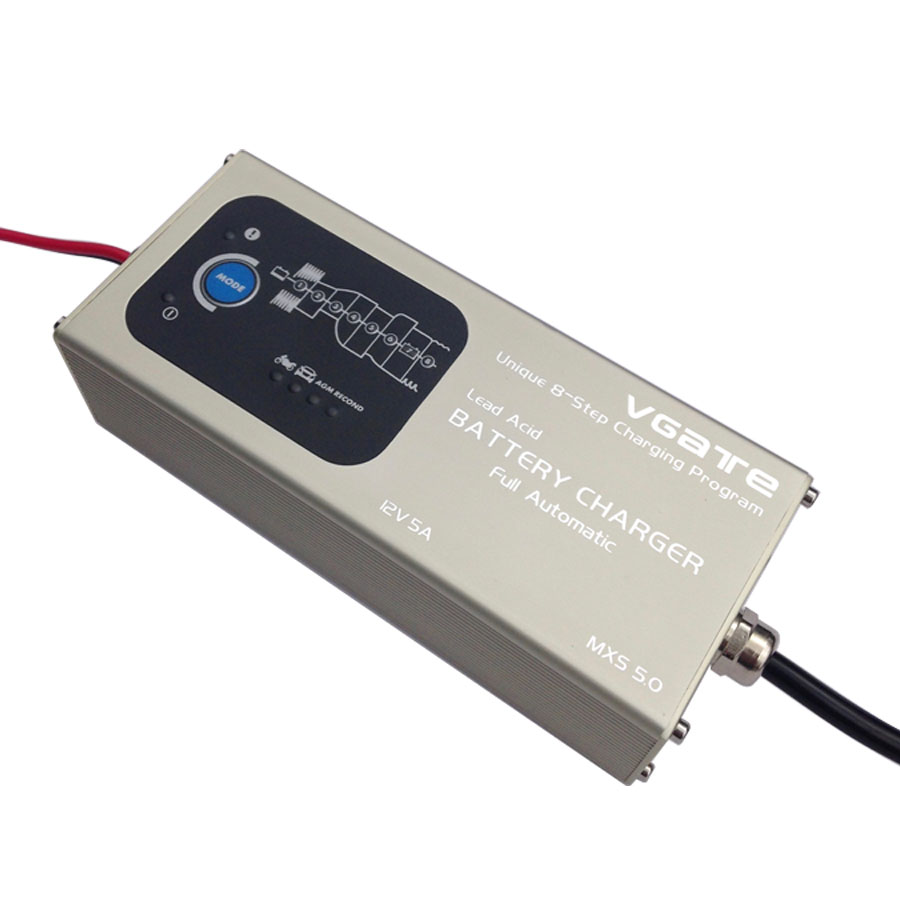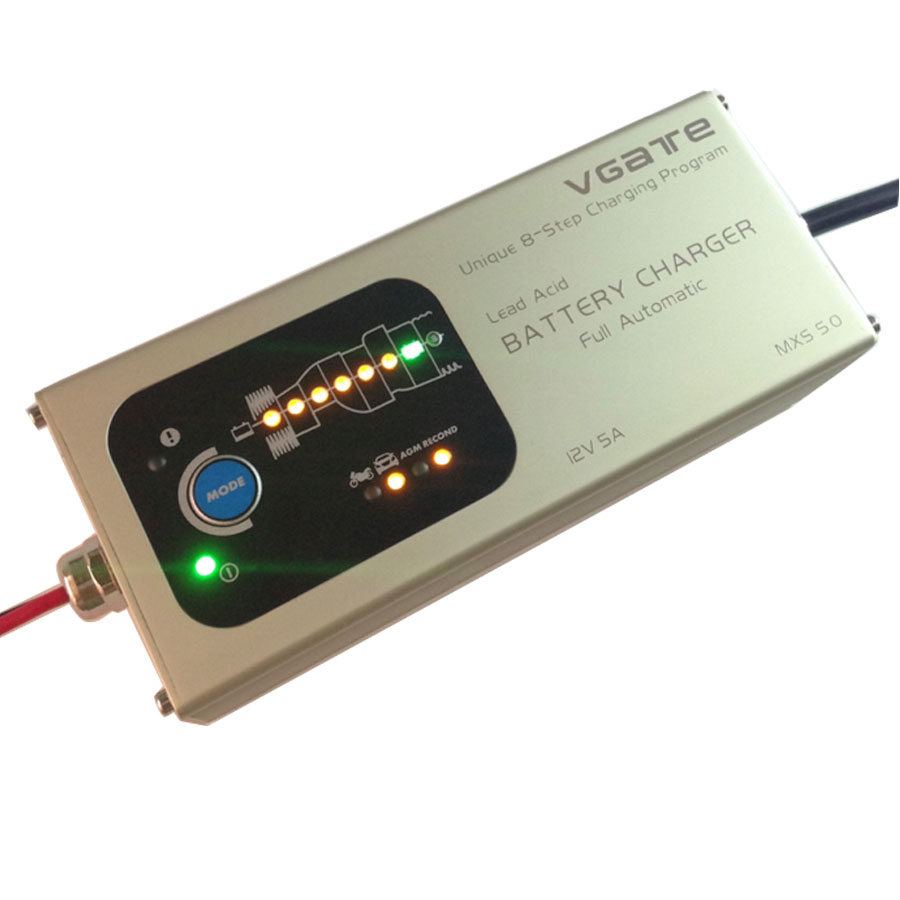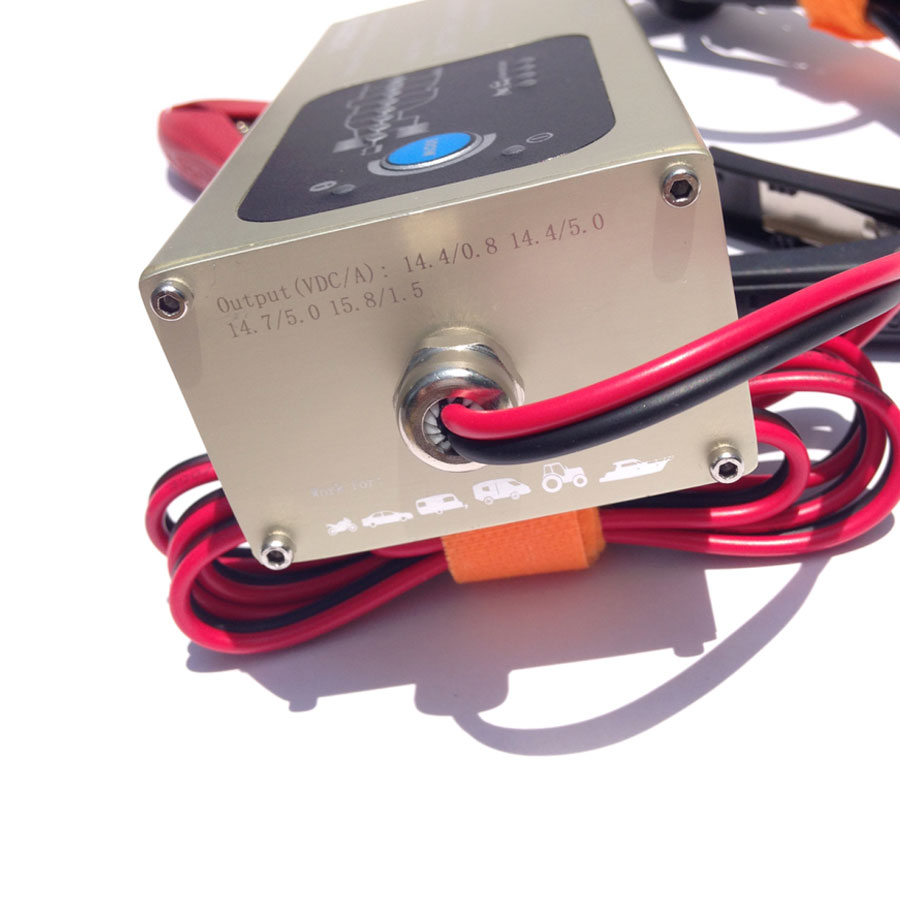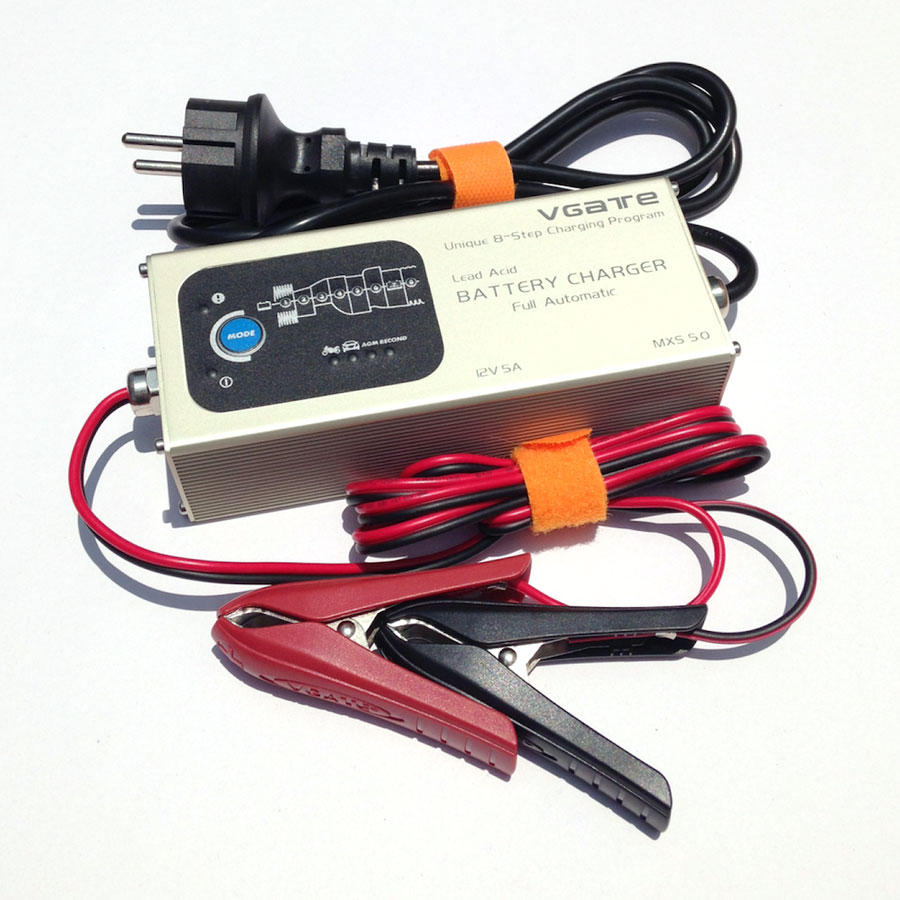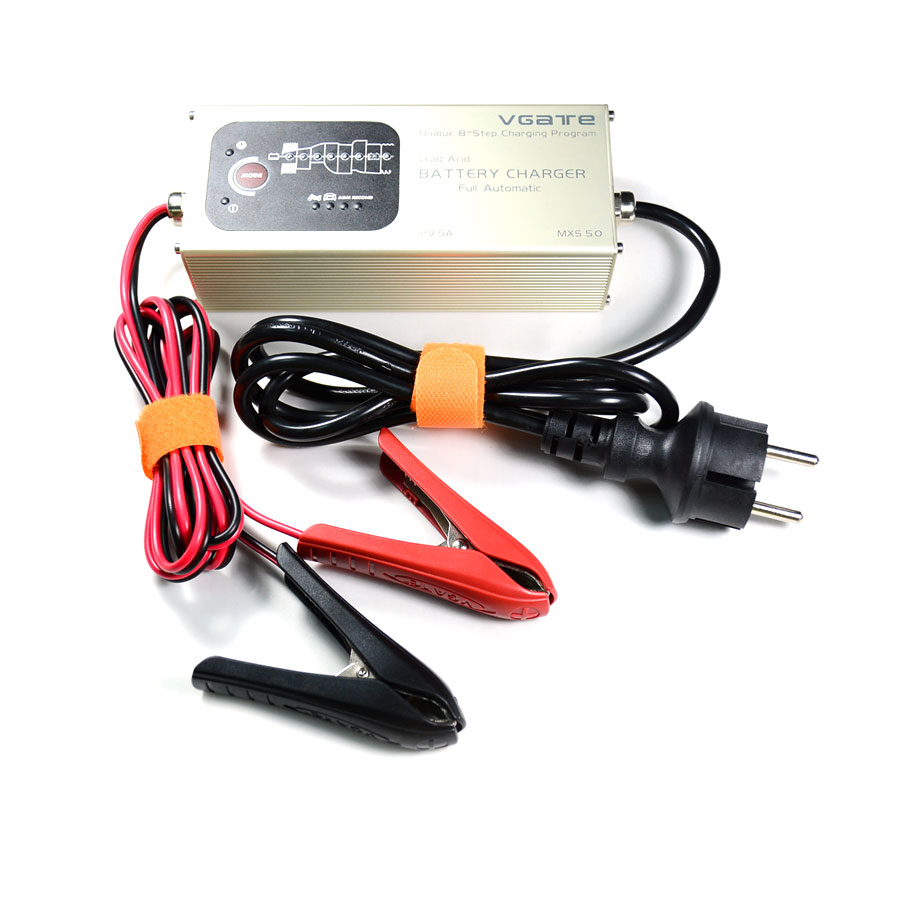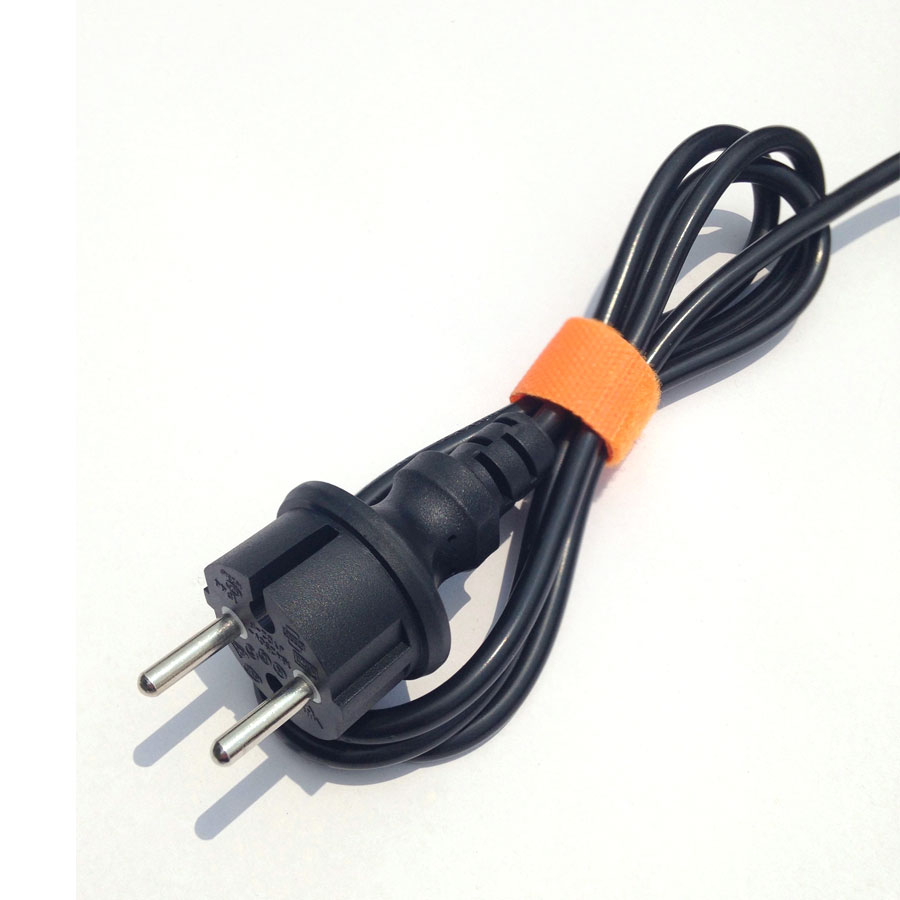 Description
Vgate MXS 5.0 Smart Lead Acid Battery Charger - Fully Automatic 12V 5A with Temperature Compensation Car MXS 5.0

Top 5 reasons to get Vgate MXS 5.0 Battery Charger:
1. Vgate MXS 5.0 is a fully automatic
"connect and forget" 12V charger
with
8 charging steps
and offers selectable
SMALL BATTERY,
and
NORMAL BATTERY
programs
2. The
RECOND and AGM
options operate individually or together in
both SMALL BATTERY and NORMAL BATTERY
programs providing great flexibility for the user.
3. Wide
charging range
on all lead-acid battery types from
1.2Ah up to 110Ah
with additional maintenance capability to 160Ah
4. Splash proof and dust proof.
5. Vgate MXS 5.0 is easy and safe to use, spark-free, vehicle electronics protected, is reverse polarity protected and short circuit proof.
Vgate MXS 5.0 Battery Charger Description:
The MXS 5.0 is an advanced microprocessor controlled battery charger with automatic temperature compensation built in providing unrivalled performance on batteries from 1.2Ah up to 110Ah.
The MXS5.0 solves a broad range of battery problems and?it?is the ideal charger for the user with high demands.
Features of the MXS 5.0 include diagnosis of battery condition to establish if it can receive and retain charge, automatic desulphation programmer and a special reconditioning function that will revive and restore deeply discharged and stratified batteries.
A
GM
mode is perfect for maximizing performance and life of most Stop-Start batteries. The built in temperature compensation ensures ideal charging performance even in the most extreme conditions. Float/Pulse maintenance makes the MXS 5.0 ideal for long-term maintenance.The entire process of battery testing, charging and maintenance is easily followed on the clear LED display.
Technical Specification:
Volt: 12V
Rated Voltage AC: 220–240VAC, 50–60Hz
Charging voltage : SMALL, NORMAL: 14.4V, COLD/A
GM
: 14.7V, RECOND: 15.8V
Min battery voltage : 2.0V
Charging current : 5A max
Current, mains: 0.6A rms (at full charging current)
Back current drain: <1Ah/month
Ripple: <4%
Ambient temperature: -20°C to +50°C, output power is reduced automatically at high temperatures
Charger type: 8 step, fully automatic charging cycle
Battery types: All types of 12V lead-acid batteries (WET, MF, Ca/Ca, AGM and GEL)
Battery capacity :1.2–110Ah up to 160Ah for maintenance
Temperature compensation Built in charge voltage compensation according to ambient temperature
Dimensions: 150 x 65 x 38mm (L x W x H)
Detailed Unique 8-Step Charging & Maintenance Program as Following:





STEP 1 DESULPHATION
Detects sulphated batteries. Pulsing current and voltage, removes sulphate from the lead plates of the battery restoring the battery capacity.
STEP 2 SOFT START
Tests if the battery can accept charge. This step prevents that charging proceeds with a defect battery.
STEP 3 BULK
Charging with maximum current until approximately 80% battery capacity.
STEP 4 ABSORPTION
Charging with declining current to maximize up to 100% battery capacity.
STEP 5 ANALYSE
Tests if the battery can hold charge. Batteries that can not hold charge may need to be replaced.
STEP 6 RECOND
Choose the Recond program to add the Recond step to the charging process.
During the Recond step voltage increases to create controlled gassing in the battery.
Gasing mixes the battery acid and gives back energy to the battery.
STEP 7 FLOAT
Maintaining the battery voltage at the maximum level by providing a constant voltage charge.
STEP 8 PULSE
Maintaining the battery at 95–100% capacity. The charger monitors the battery voltage and gives a pulse when necessary to keep the battery fully charged.
Package include:
1pc x Smart Charger Unit
1pc x User Manual
Reviews

11
#1 Moses Saba
Apr 9, 2019

Super fast, tried on my car works perfect. Great seller.
#1 Jaime Ayala
Jan 9, 2019

Everything ok again
#1 Leo Korkala
Feb 9, 2019

Soldering quality is good. Refinement does not require.
#1 Craig Schoenberger
Oct 9, 2018

The seller sent promptly. I chose according to reviews. How to check add feedback
#1 Lester Sikora
Mar 9, 2019

Very fast delivery less than a week packing super satisfied order not the first time all advise seller
#1 jaromir kielar
May 9, 2018

OK, TOP seller, good supporrt...
#1 torretti anthony
Mar 9, 2019

fast shipping ,awesome this Vgate MXS 5.0 Fully Automatic 12V 5A Smart Lead Acid Battery Charger with Temperature Compensation Car MXS 5.0 is good quality, working very well
#1 holger schillinger
Oct 9, 2018

Everything works as it should!
#1 Arkadiusz Marcin byczkowski
Sep 9, 2018

Everything is fine, it came quickly
#1 James Robinson
Apr 9, 2019

very good are satisfied with fast shipping
Previous: Original RY-F600 Fusion Splicer with Optical Fiber Cleaver automatic focus function 5.6" LCD