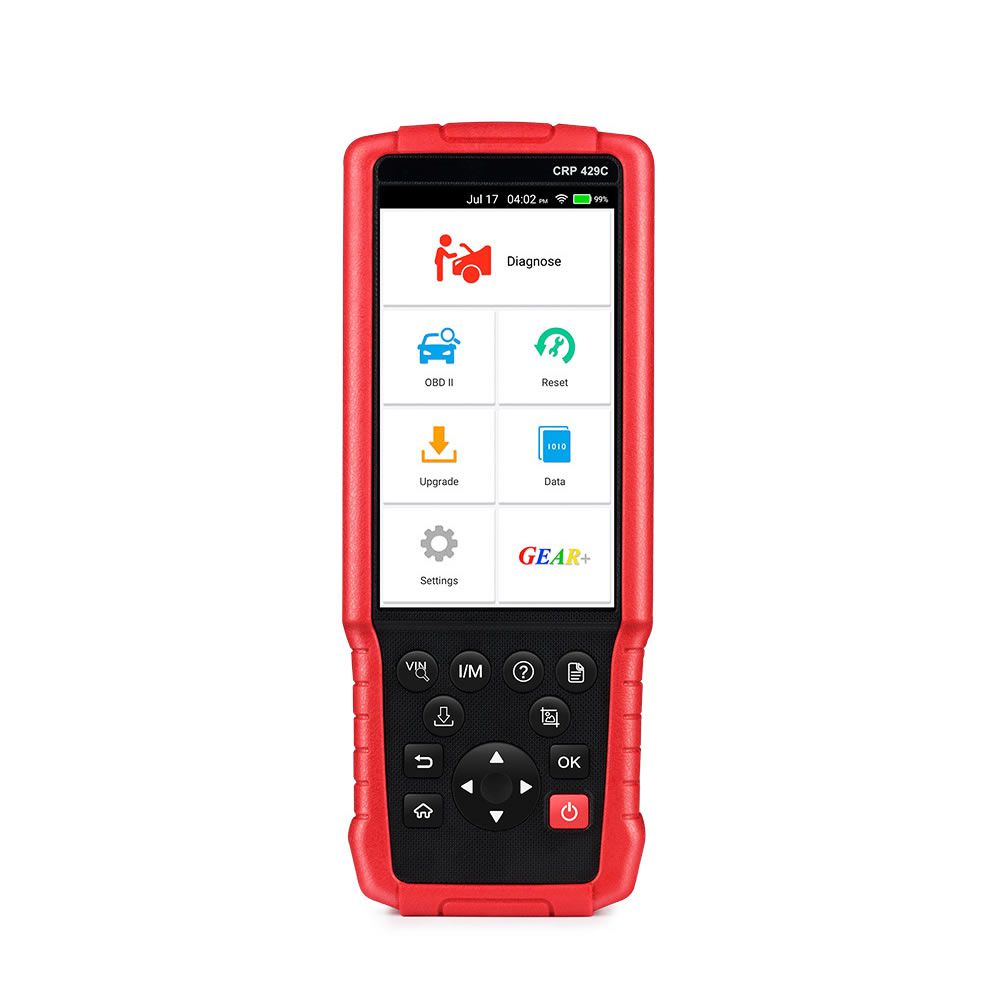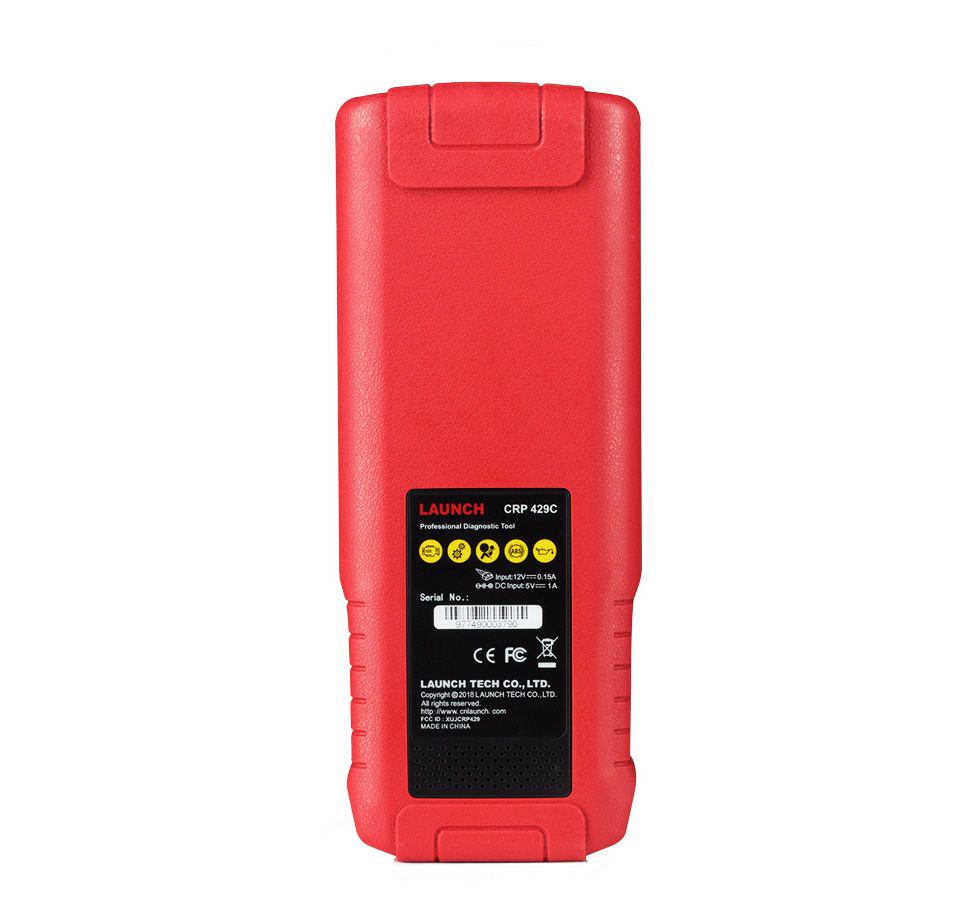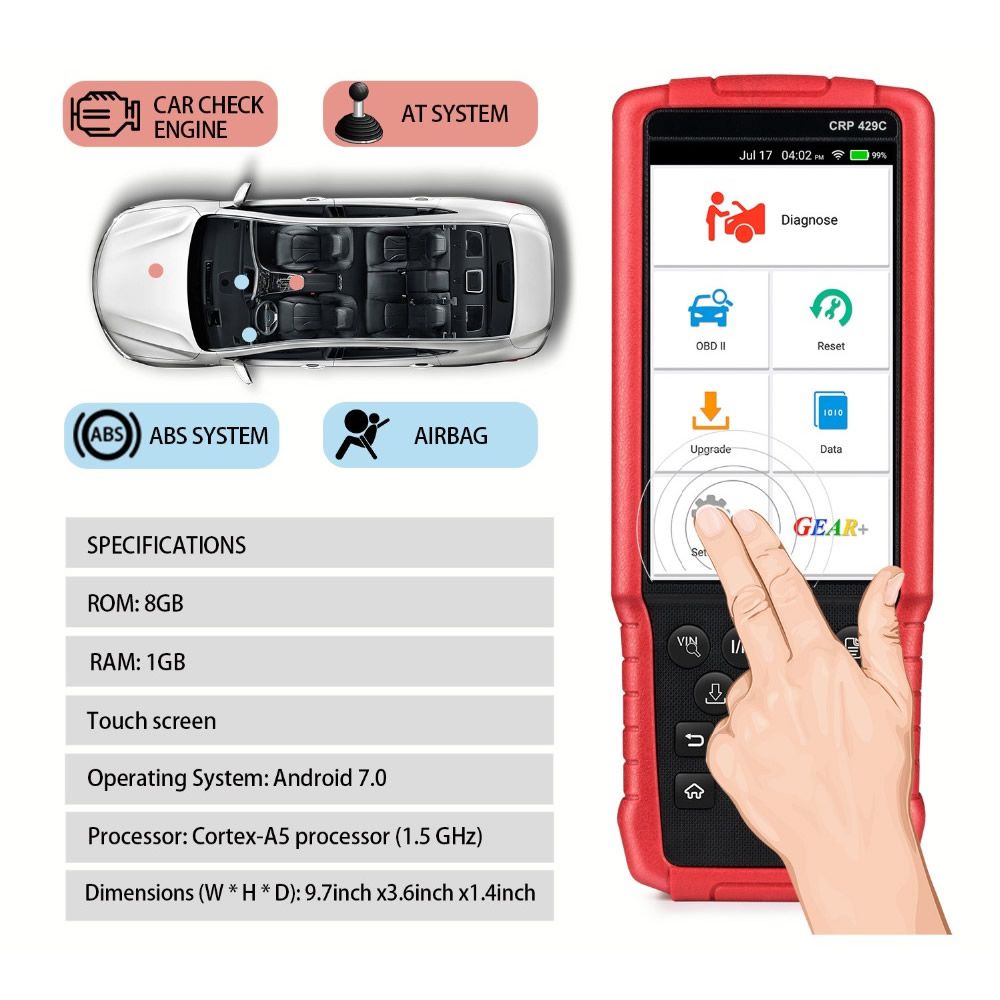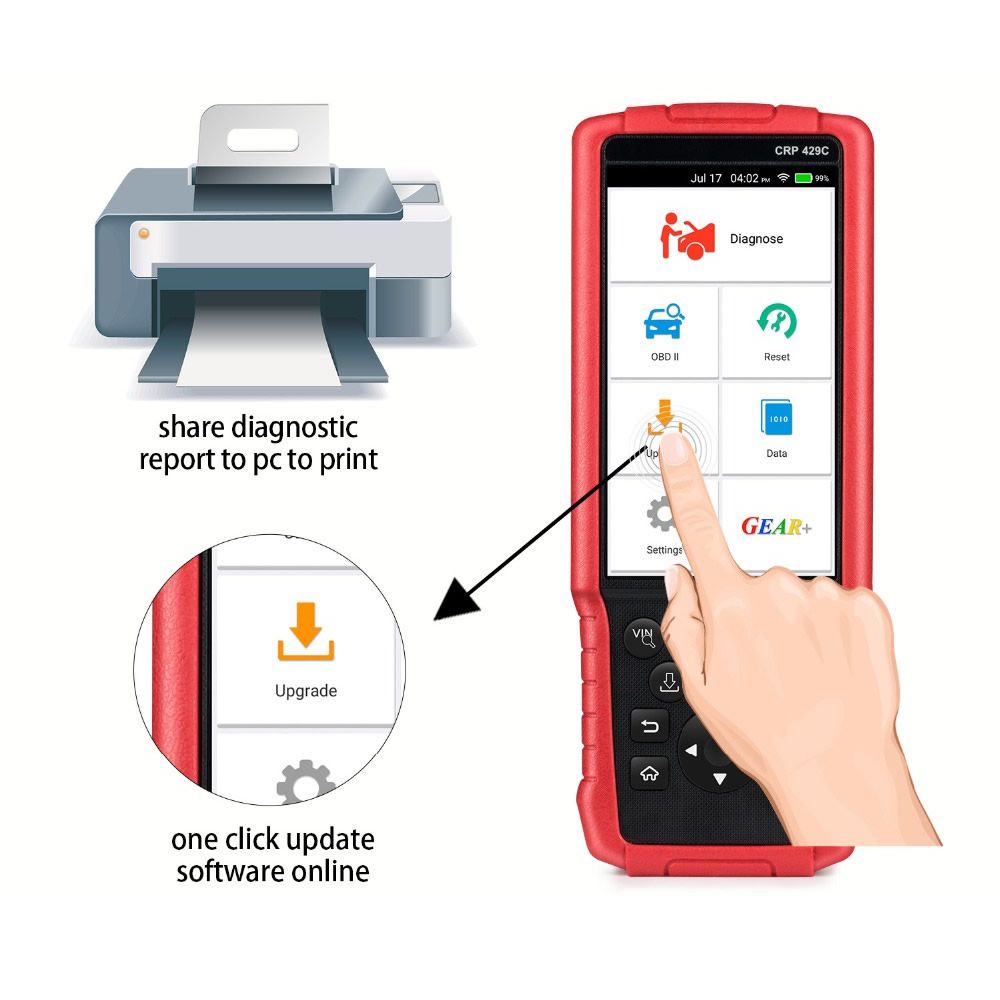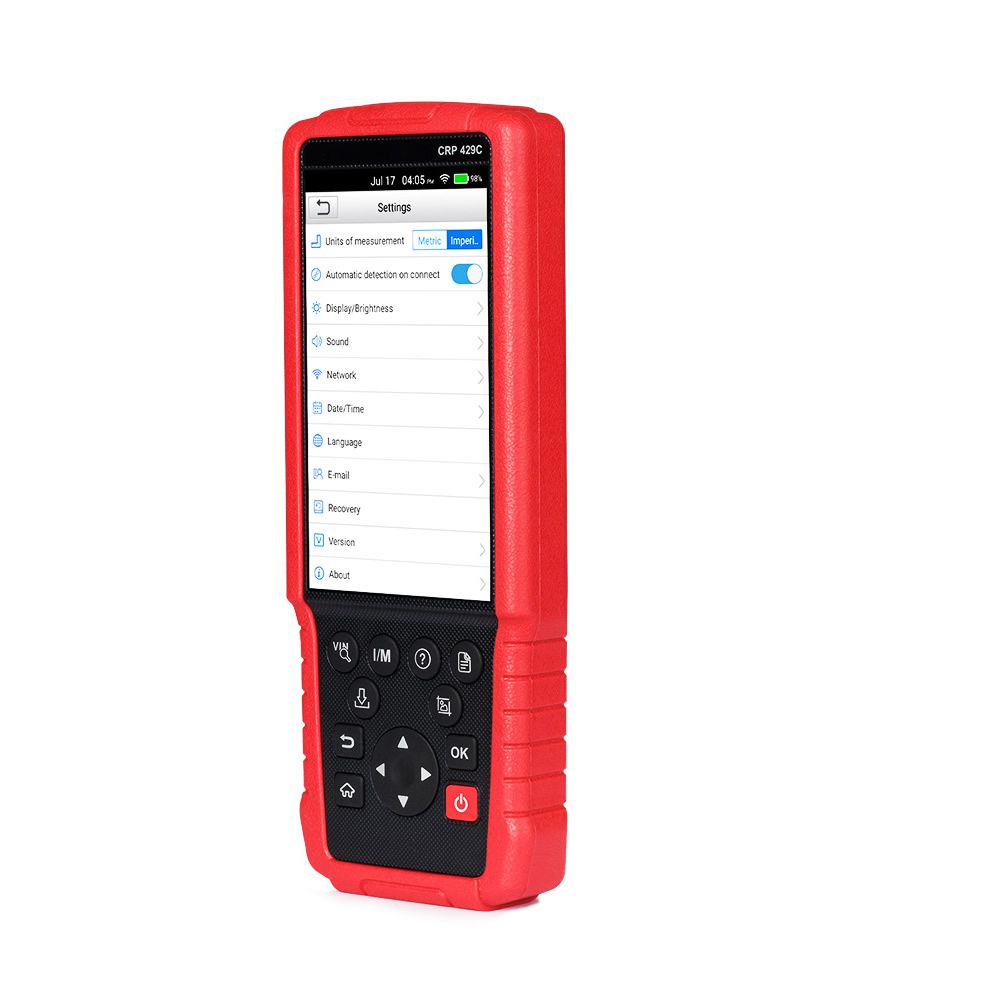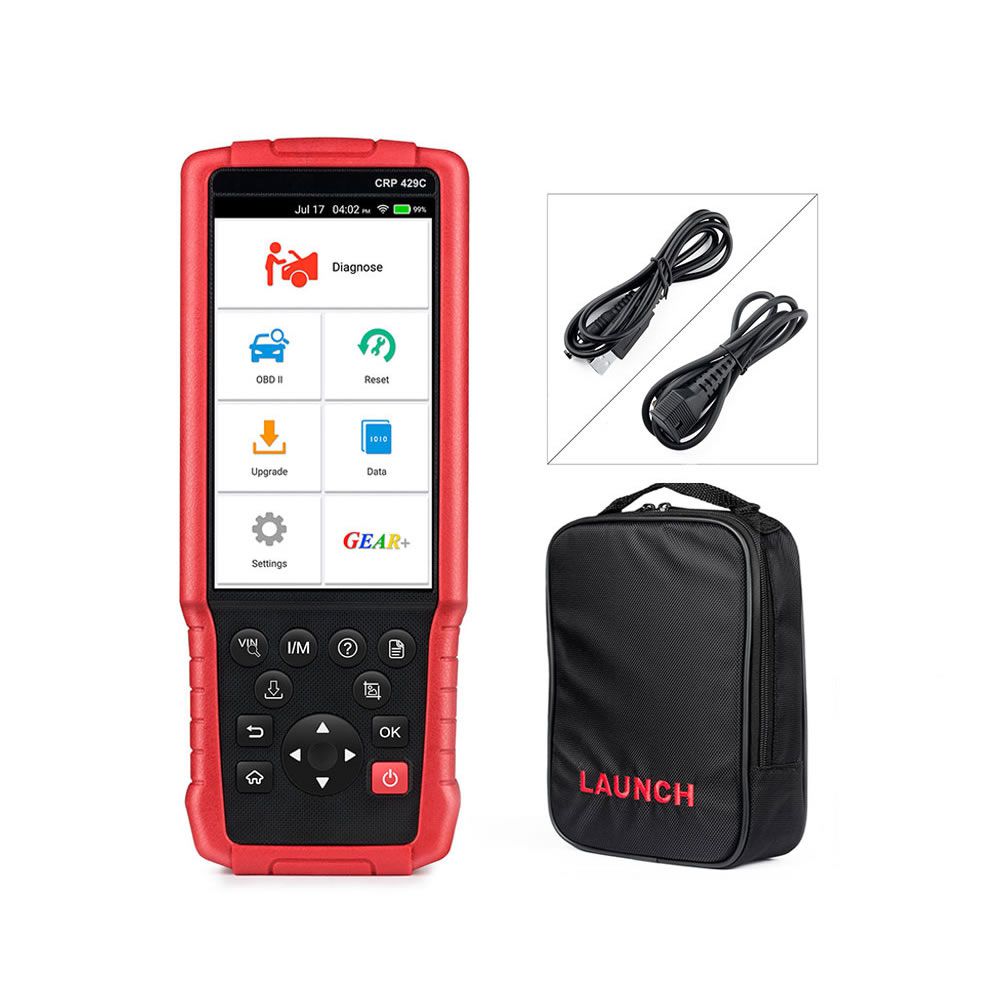 Related Accessories/Similar Items
Description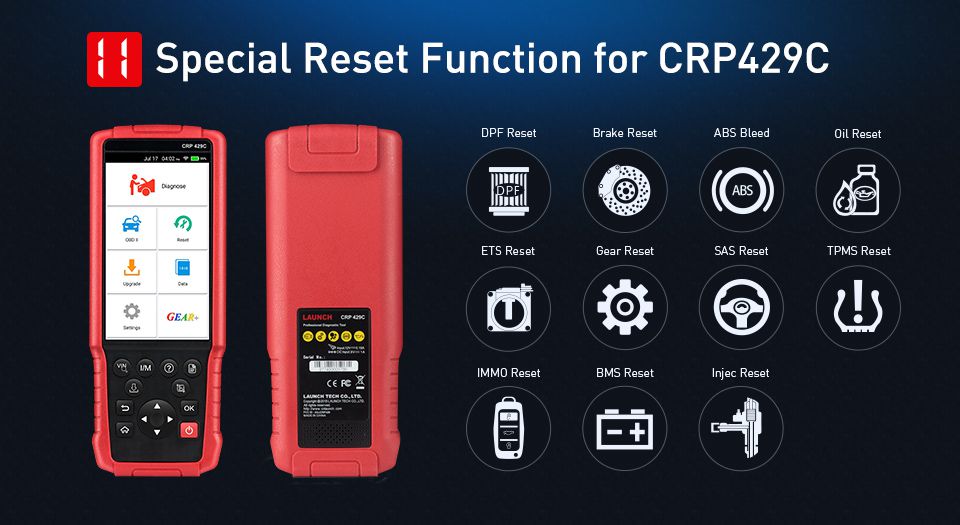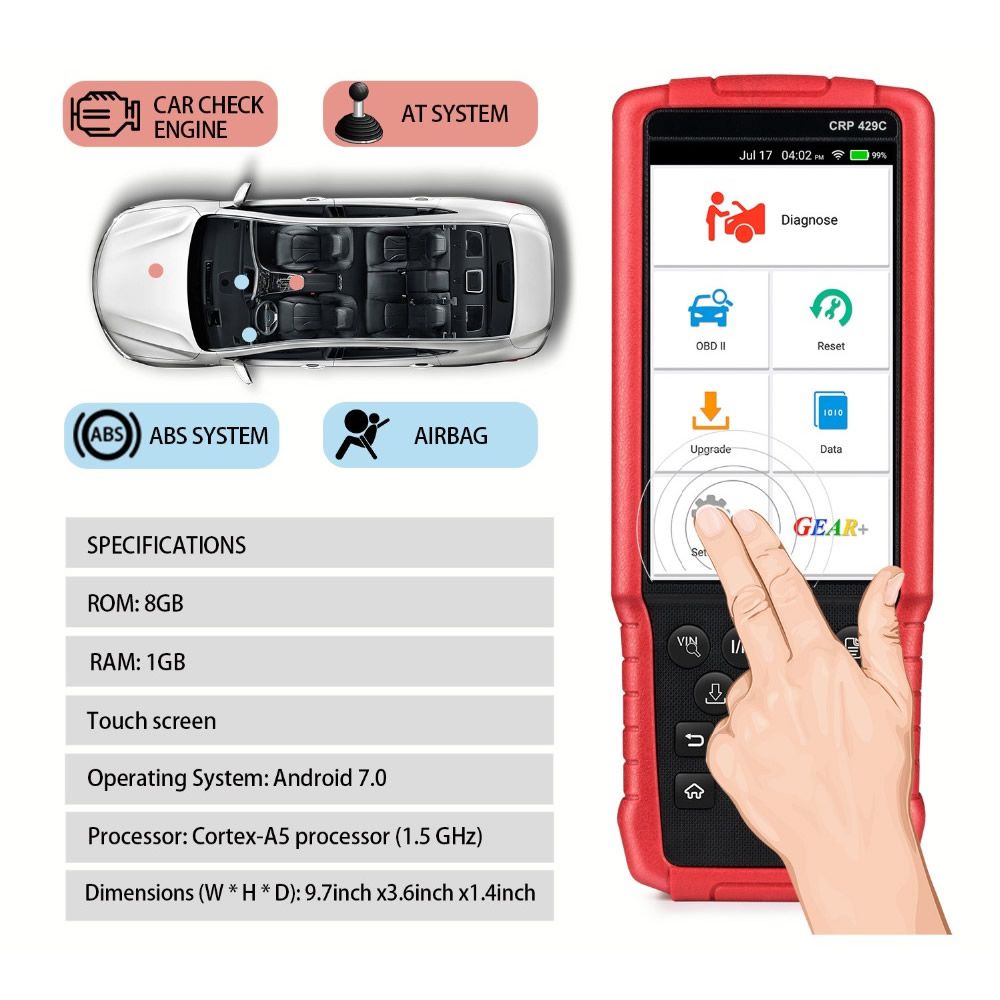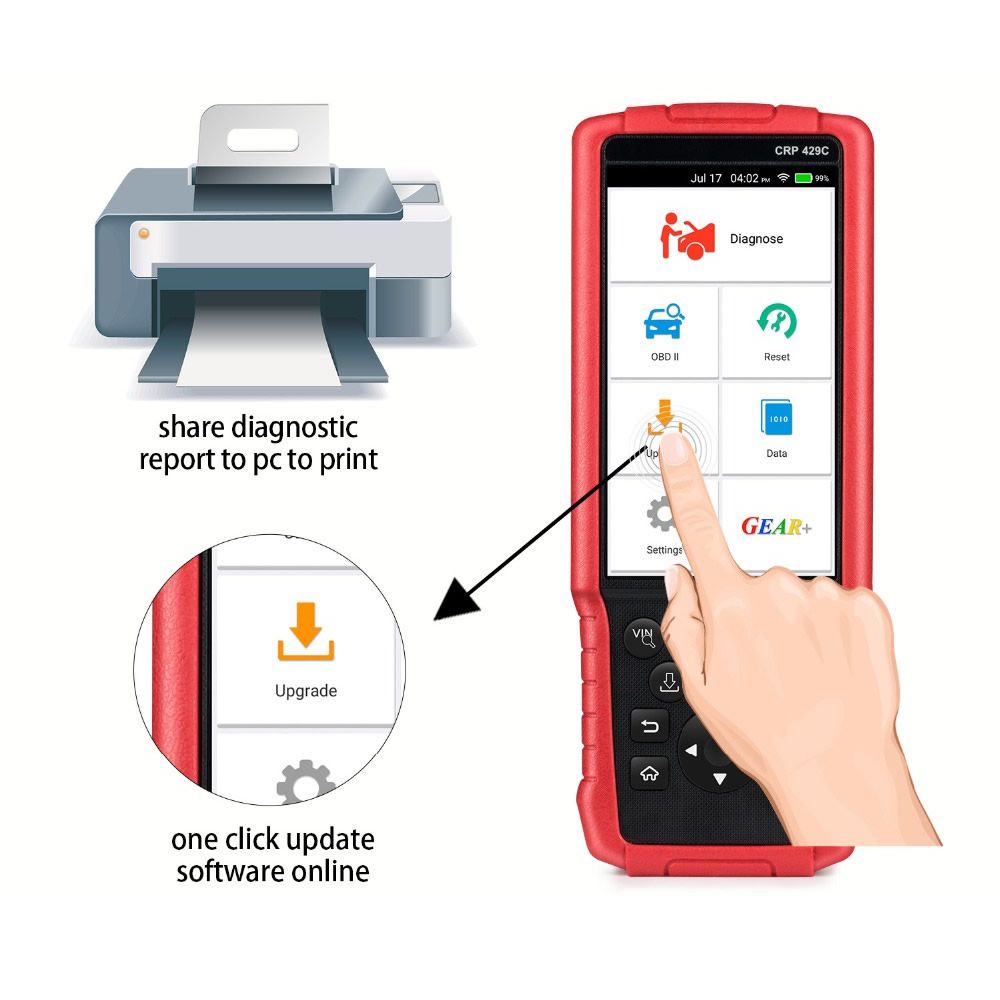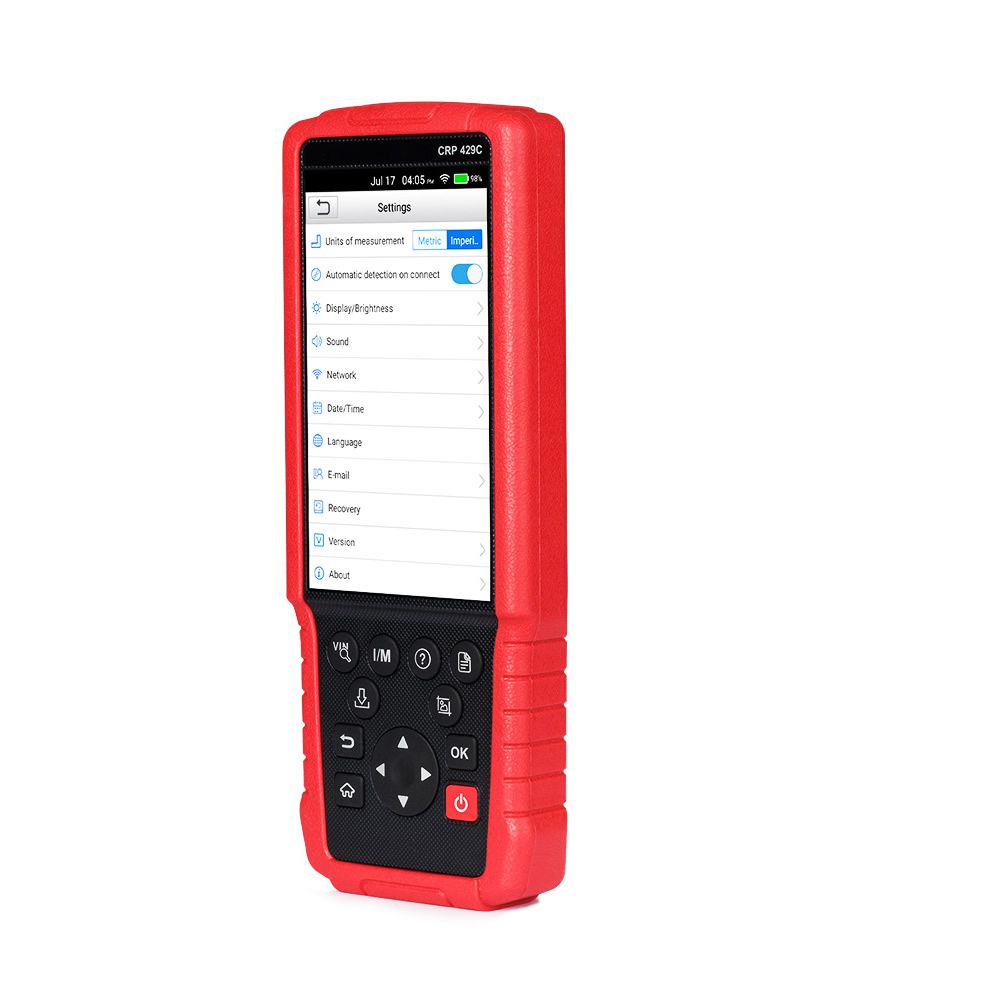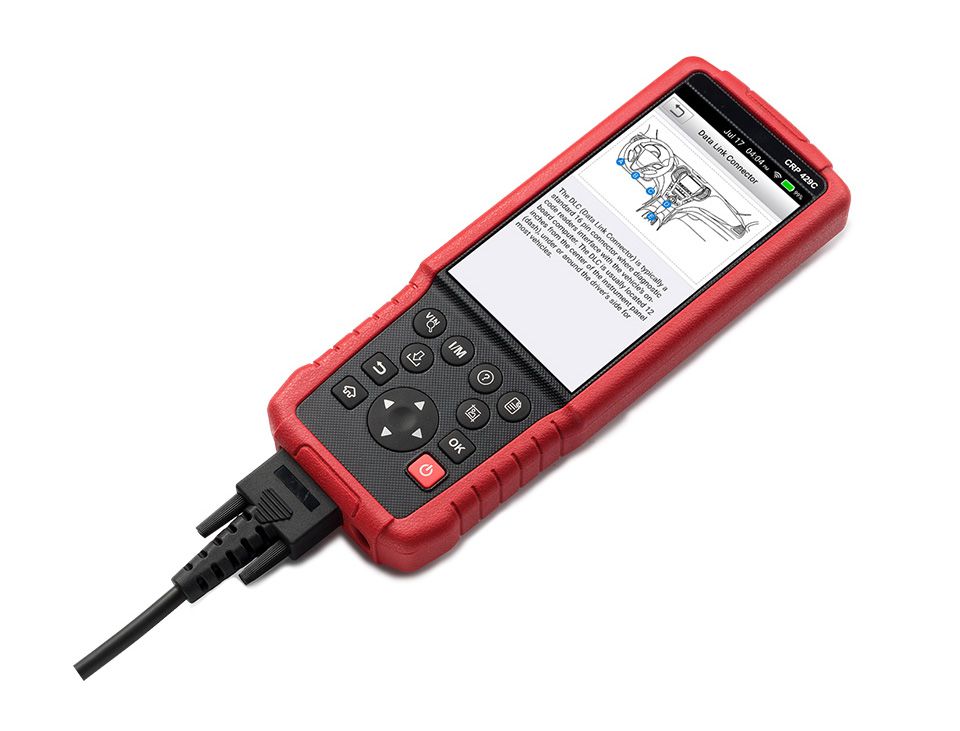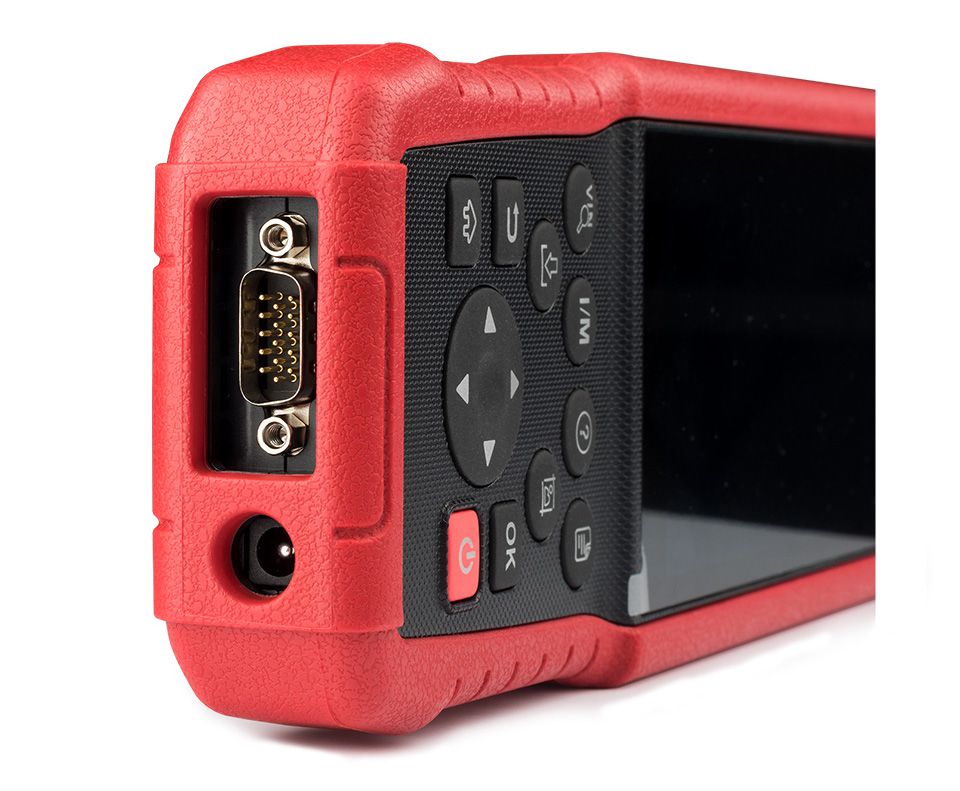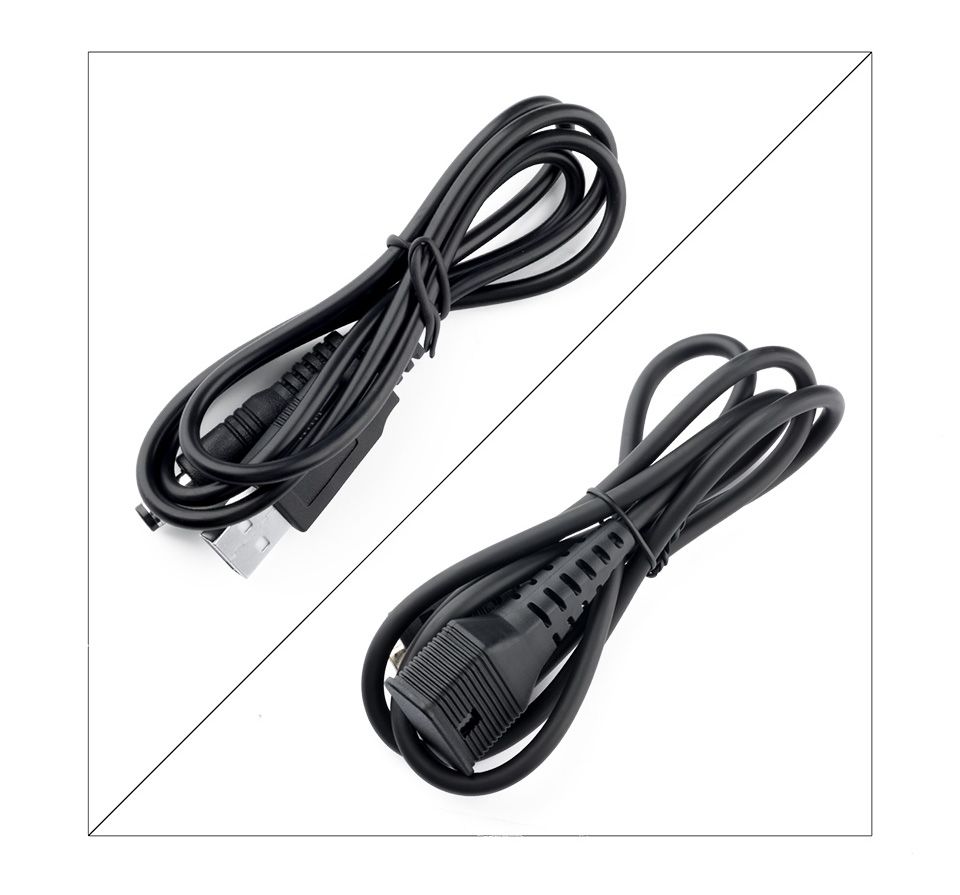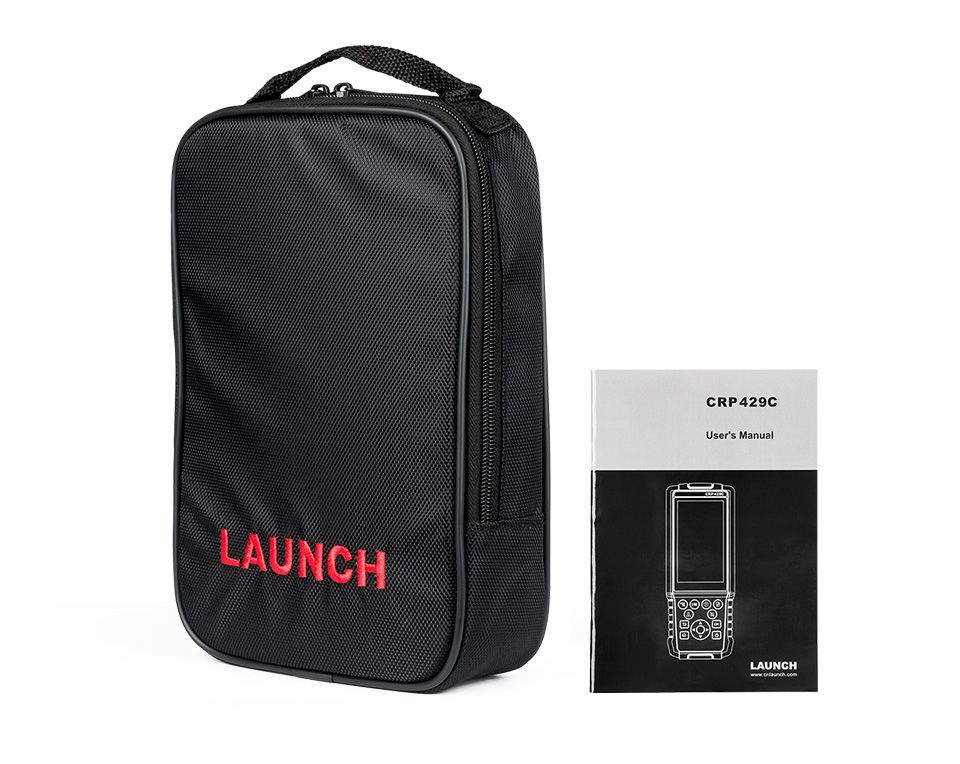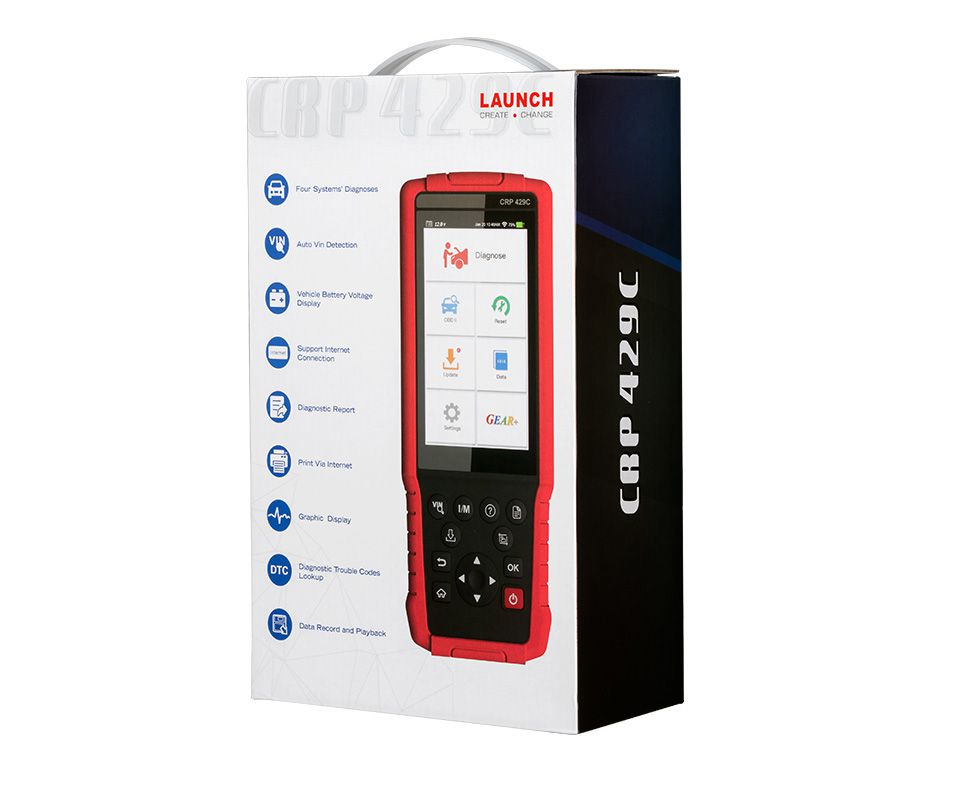 Comparison between Launch CRP129 and launch CRP429C: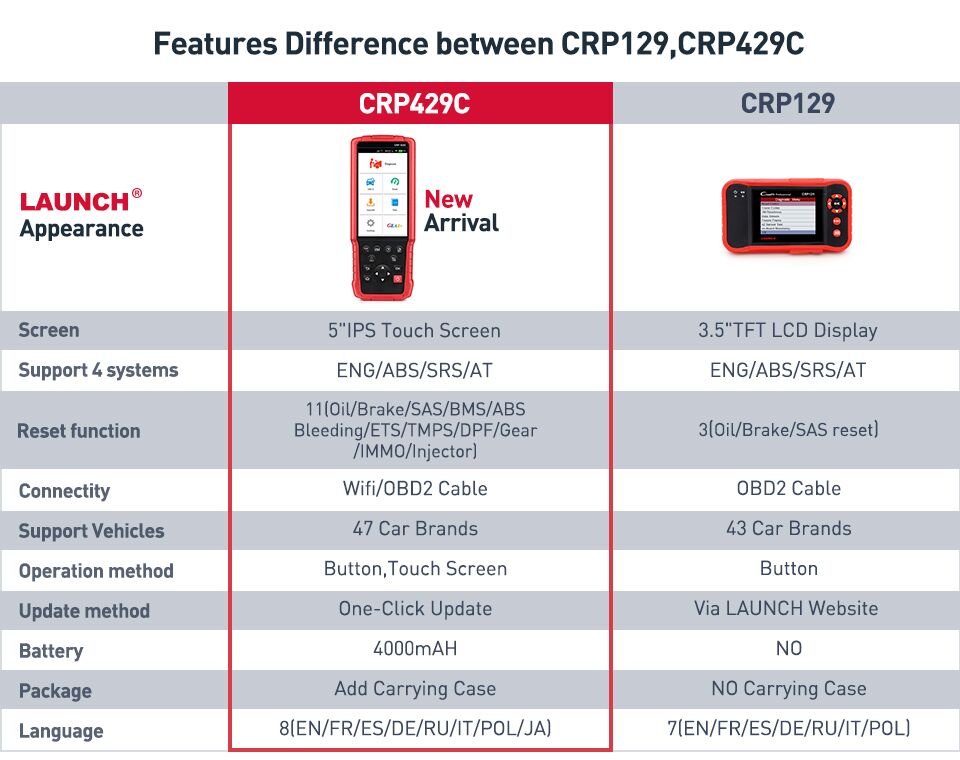 Introduction :
CRP 429C is an evolutionary smart solution for passenger car diagnosis It inherits from
launch
's advanced diagnosing technology and is characterized by covering a wide range of vehicles, featuring powerful functions, and providing precise test result.
CRP 429C supports all 10 models of
OBDII
test for a complete diagnosis.CRP 429C also supports the system diagnosis of
ABS
.
SRS
, ENG and AT system, and supports 11 reset functions.
The advantage of CRP429C
1. Supports all 10 models of OBDlI test
2. Support 4 major systems of Engine , Transmission ,
ABS
and Airbag system
3. 11 Reset Function : including Oil Lamp Reset, Brake Pad Reset,
TPMS
Reset, Battery Matching, Injector Programming, Throttle Adaptation, DPF Reset, Gear Learning, Steering Angle Reset, ABS Brake Bleeding, and Anti-Theft Matching.
4.Basic diagnostic functions: Version Information, Read DTCs ,Clear DTCs and Read Data Stream (supports 3 dispiay modes: Value, Graph and Merged).
5.Support Multi-languages
6.Update:One-Click update online via Wi-fi , One years free update
7. Print : Support print out diagnostic report via PC
8.Multiple car models (covering over 40 prevailing models from Asia, America and Europe).
9.Touch screen and button operation model, meets majority of users needs
Support Language : English, French, Spanish, Russian, Japanese, German, Italian, Portuguese.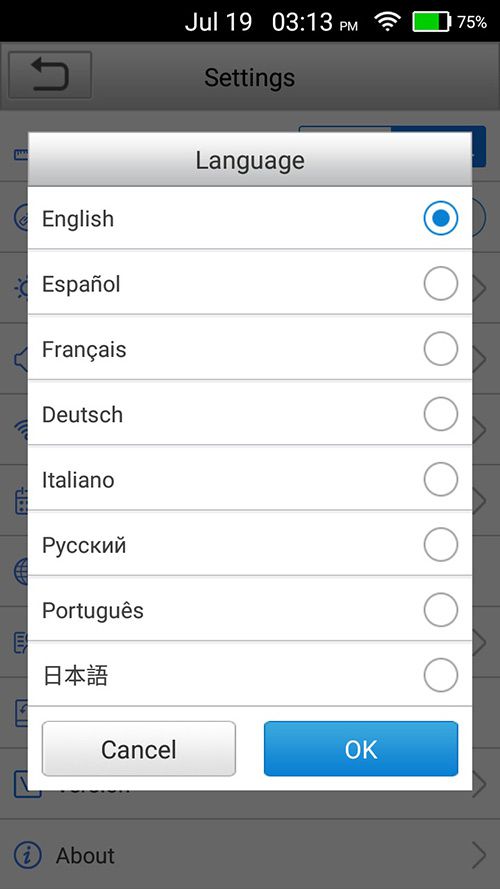 Smart(Auto-Detect Diagnosis: Once CRP 429C and the vehicle are properly connected, the system starts auto-detect process. Once the whole process is successfully finished, a diagnostic report will be automatically generated and sent to your email box (if bound).
Diagnostic Feedback: Use this option to submit the vehicle issue to us for analysis and troubleshooting
DTC_ Library: Allows you to retrieve the definition of the diagnostic trouble code from the abundant DTC database.Displays battery real-time voltage once properly connected to the vehicle Features screenshot capture. Screen shots and reports sharing are supported.Touch & Keypad input are supported. Quick Dial buttons enables you to easily access the corresponding functions.
Supported Brands: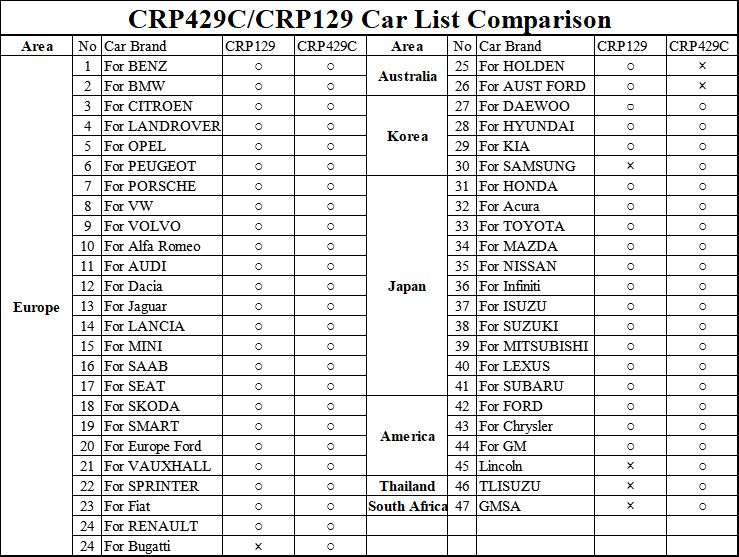 Technical Parameters:
Operating System: Android 7.0
Processor: Cortex-A5 processor (1.5 GHz)
RAM: 1GB
ROM: 8GB
Display: 5 inch IPS touch screen
Connectivity: Mini USB 2.0, Wi-Fi
Power and Battery: 4000 mAh lithium-polymer battery
Built-in Lithium Battery: 4000mAh
Ambient: -20℃ ~ 70℃ (storage); -10℃ ~ 50℃ (working)
Product Size: 248.7x93.5x36(mm)
Product Net Weight: 530g
Package List:
1 * Main Unit
1 * OBDII Diagnostic Cable
1 * DC 5V Charging Cable
1 * User's Manual
Support Car List:



Top 10 reasons to get Launch CRP429C:
OBD2 FULL FUNCTION+11 SPECIAL FUNCTIONS: Launch CRP429C is one professional diagnostic tool with powerful function, support OBD2 full function such as read and clear DTCs for Engine/ABS/SRS/Transmission, graph live data of all system, evap system test. Compared with general obd2 scanner, CRP429C add oil reset, SAS reset,electronic parking brake reset,battery maintenance, ABS bleeding, electronic throttle position reset, DPF regeneration, injector coding, TPMS reset, IMMO matching, gear learn.
POWERFUL SCAN TOOL: CRP429c can do comprehensive diagnosis for Engine/ABS/SRS/Transmission system, and it built in over 3000 generic error code definitions, help you know car problem quickly.
OBD DIAGNOSTIC TOOL: this automotive Code Reader&scan tool not only support obd2 connector car , also support obd1 connector car, it very practical. Please note, launch crp429c only comes with obd2 connector cable.
EASY TO USE: CRP429c is one 5inch touchscreen obd2 scanner, equipped with Android system and A5 quad-core processor, 8GB ROM, high-speed diagnostic and feedback, it is like our mobile phone, very easy to use for every person.
CONVENIENT BUTTON: Launch crp429c have one-click update online button, one-click read I/M readiness button, one-click screenshot, one-click identify VIN, one-click read diagnostic report, and you can print the report by sharing it to pc.Launch crp429c is advanced version of launch crp129 and Launch x431 creader viii.
Multilingual Support: English, French, Spanish, Russian, Japanese, German, Italian, Portuguese.
Compare with crp123, crp129, creader vii+, creader viii+,launch crp429c can not only work for obd2 cars, it also can work for obd1 cars.
Eliminated complex registration steps, crp429c can be used without register.
One-Click Update Scan Tool with Touch Screen and Android system. 70USD/Year for update fees.
Support obd2 full function & Support 11 special functions, it is one economic DIY tool for mechanic!
Reviews

18
#1 Conor Murphy
Nov 9, 2018

all perfect ! Items came to me 3days! I would buy it again, from this seller
#1 Egor Vildtgrube
Feb 9, 2019

Super fast delivery to rostov in 6 days. Checked everything works. I recommend.
#1 Randall Skinner
Mar 9, 2019

Got, took off dump and stitched the car without problems) Thank you seller :)
#1 John Appleyard
Aug 9, 2018

super voundre
#1 Ivan Lauritsen
Dec 9, 2018

Very good… Super fast
#1 Johann Platzer
Feb 9, 2019

Okay okay thanks
#1 xiao cai
Nov 9, 2018

Wrote to the seller, you can send today. The seller confirmed that there is in stock, will be able to send. The parcel was sent on the same day, thank you very much, fast delivery, the goods will match the description. Ordered from russia. this LAUNCH X431 CRP429C Auto Diagnostic tool for Engine/ABS/SRS/AT+11 Service CRP 429C OBD2 Code Scanner is good quality, working very well
#1 lars Andersson
Aug 9, 2018

Very good product
#1 Borislav Vasilev Pavlov
Jun 9, 2018

Excellent product
#1 rocio ramos
Feb 9, 2019

has not been tested yet but everything looks perfect
Previous: OBDSTAR H100 Ford/Mazda Auto Key Programmer Supports 2017/2018 Models like F250/F350
Next: Fcar FOBD OBD2 Adapter Plug and Play Diagnostic & Service Reset for Android & IOS Phone